Learn how to start a blog from scratch like a pro in this easy, simple, 8-step beginner-friendly blogging guide. A few minutes ahead, you'll learn how to start blogging for beginners and everything there is to launch and grow your blog, and even how to start a blogging business. From choosing the domain name to all the way to making 6 or even 7 figures. Pay attention to step #6 because it's the core of everything.
There's a lot to cover, so sit back, and relax. If you're curious about how to start a blog and make money, you're in the right place. Learn along the way, or open a separate tab on your browser to start building your blog now.
Let's get into the good stuff and learn how to start your own blog.
What is a Blog?
A blog is like your personal online magazine. If you've ever pondered over how to start a blog, it's essential to understand its nature. It's a space where you regularly publish content on topics you're passionate about. These can range from personal experiences and hobbies to in-depth guides and professional advice. Unlike traditional media, a blog is often run by individuals or small teams, making it a more personal and direct way to communicate with readers. With the rise of the internet, blogs have become an essential tool for sharing information, teaching new skills, and building communities around shared interests.
If you've wondered how to start blogging to voice your thoughts, share your expertise, or simply connect with others, then starting a blog is the way to go. Dive into this guide to understand how to start blogging.
How to Start a Blog?
Starting a blog is a great way to share your thoughts, hobbies, or expertise with the world. But where do you begin? How do you start a blog? For those thinking about how to start blogging for beginners, the journey might seem daunting. From picking a name, and choosing where to host it, to writing your first post, there's a bit to figure out. Don't worry, though! It might seem tricky at first, but with a clear step-by-step guide, it becomes a lot simpler. If you've ever thought, "I'd love to start a blog, but I don't know how," you're in the right place. Our 8-step guide below will walk you through everything in how to start blogging. Let's get started!
Step #1: Pick the Right Niche to Start a Blog
So, this is the first step in my guide on how to start blogging for beginners. Picking a niche is like picking a specific interest. Your blog topics will revolve around that area, targeting a specific audience. And in order to answer how to start a blog starts, should begin with a niche.
You can pick any niche, but it's important you choose something you're passionate about so your blogging journey can keep you excited.
Here are some tips for brainstorming niche ideas:
1. Blog Your Interest
If you've been considering how to start a blog, it's crucial to choose a topic you're passionate about. Create a list of things you are most interested in. For instance, cooking, photography, traveling, fashion, fitness, technology…and you get the idea.
Now, these topics are too broad and competitive; think about the biggest brands and bloggers in these industries – it's almost impossible to build a following. So, you need to narrow it down before starting a blog. (Aka niche down your market). Let me explain.
Let's say, you're interested in fashion and lifestyle. So, to cut down the competition and to make your audience specific , you'll need to niche down to something like 'makeup tutorials for Gen Z girls' or 'fashion and lifestyle advice for guys in the US' when starting a blog. Don't miss this step in how to start blogging.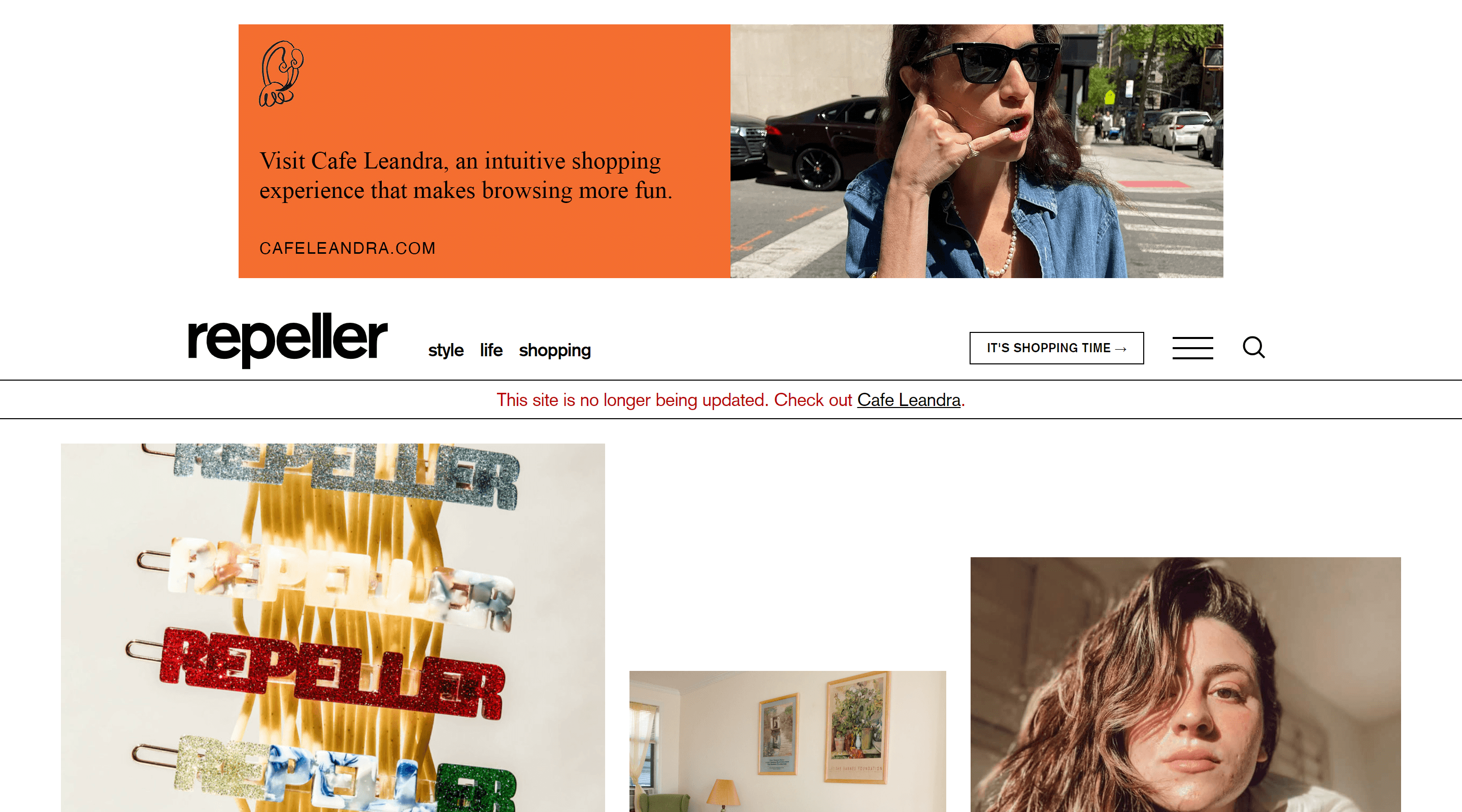 Man Repeller (now renamed Repeller) by Leandra Medine started as a humorous site about fashion trends that women loved and men didn't understand, and now it has grown into a broader lifestyle brand.
2. Get Inspired by Competitors
The secret of how to start a blog is in discovering your field. Pick your interest and do some research starting a blog. Look for your competitors. See what their blogs revolve around. Deeply analyze to discover loopholes or content gaps in their blogs.
You can consider starting a blog from here. Or, see if they're paying very little attention to specific topics, but there's a lot of content that needs to be written around those keywords. Start from there.
3. Blog Hottest New Trends
Visit websites like ExplodingTopics, Google Trends, and Feedly to discover the hottest new trends in all industries before starting a blog. Start your blog around those trending topics to gain attention faster. 
4. Blog Unheard Stuff
Discover new unheard product and information categories by visiting these websites: Amazon, WikiHow, PayPal, and Udemy. Usually, there are very few good enough blogs that cover those new unheard categories. That's an edge to quickly dominate that space.
5. Blog Your Job or Skill
Write about your previous or current jobs or skills. Because, if you are wondering how do I start a blog, you need to learn to demonstrate yourself to the public. Write interesting stories, facts, or publish valuable content that can help newcomers.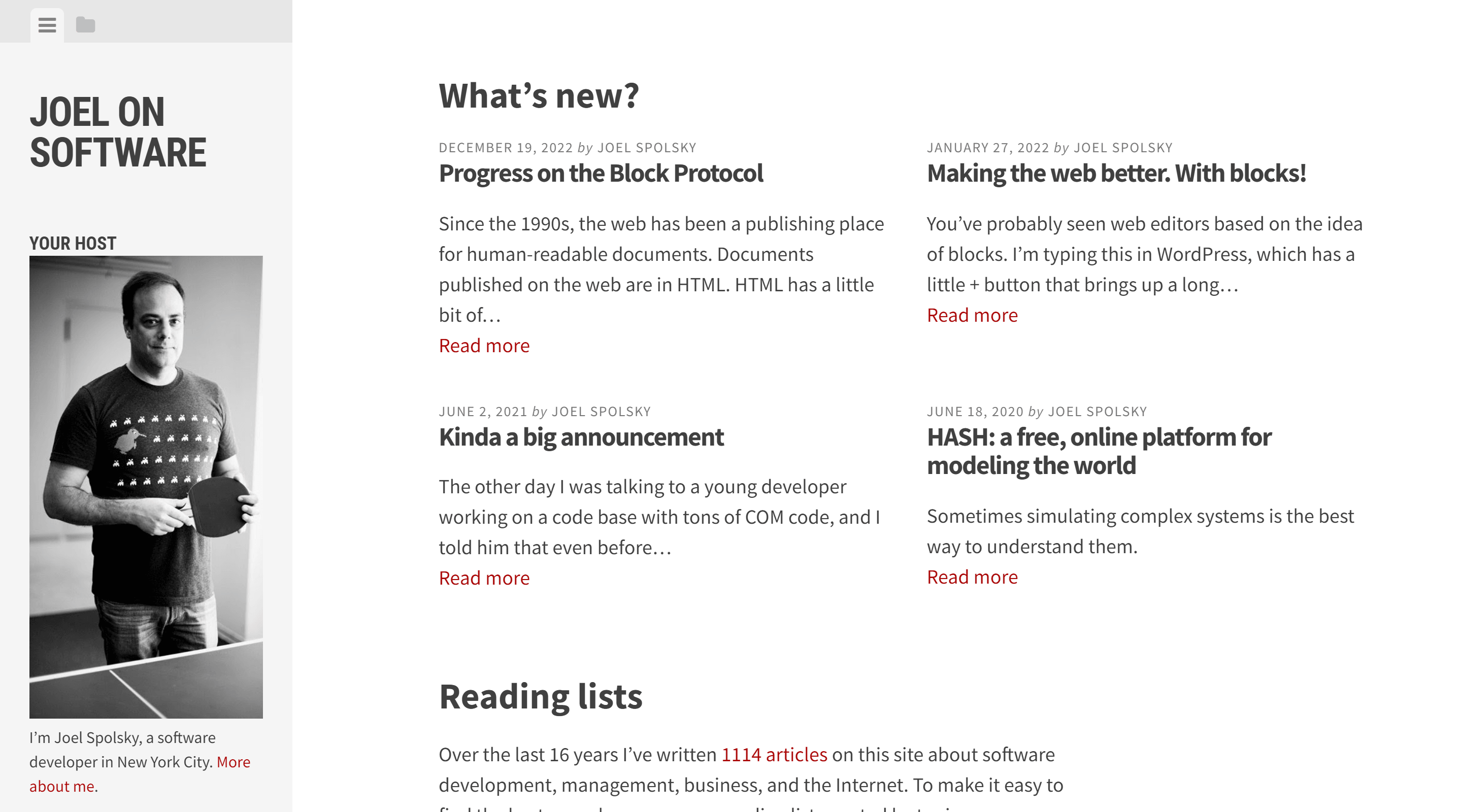 6. Blog Your Favorite TV Show
What's your favorite TV show? As you contemplate how to start a blog, consider blogging around its cast. What they wear, who they are, their net worth, other shows they've made, real-life activities, their interesting stories, and a lot more stuff.
What's interesting is that you can always pivot that blog to new categories as the cast creates more movies, shows, do interviews, or says funny things on social media. Start from your favorite show, and slowly turn that blog into a giant celeb gossip blog.
7. Ask What to Blog About
If you are pondering "how do I start a blog"? Consult your parents, siblings, friends, co-workers, or loved ones. Ask how they perceive you as a personality type? What are the things that you do so well with? Start your blog from there.
At the end of the day, whatever niche you decide to go with, it doesn't matter whether you're an expert in it, still learning, eager to learn, or it feels more personal. The answer to how to start your own blog is setting the right goals and vision from the beginning.
What matters the most is your interest in it and an audience that cares about the topics you'll write about. Once you specify your niche, follow the next step.
Step #2: Choose the Right Blogging Platform
As you are trying to figure out how do you start a blog the foremost and important step is to decide the publishing platform. A blogging platform is a software-based service, which will enable you to publish your blog posts. Just like creating an account on Facebook to publish posts. If you're delving into how to start a blog, choosing the right platform is a crucial step.
There are two types of blogging platforms you should consider when asking yourself the question how do I start a blog:
1. Self-Hosted Blogging Platforms
Simply put, it's paid blogging. You pay for the domain and hosting.
You'll have a unique website URL, freedom of managing your site like installing third-party themes, plugins, and a lot more. With self-hosted blogging, monetization becomes easier, and you get more money-making opportunities.
Self-hosting blogging is always the best option if you're serious about the blogging career. (More on the costs below)
The absolute best and the most popular self-hosted blogging platform is 'WordPress.org', stats show.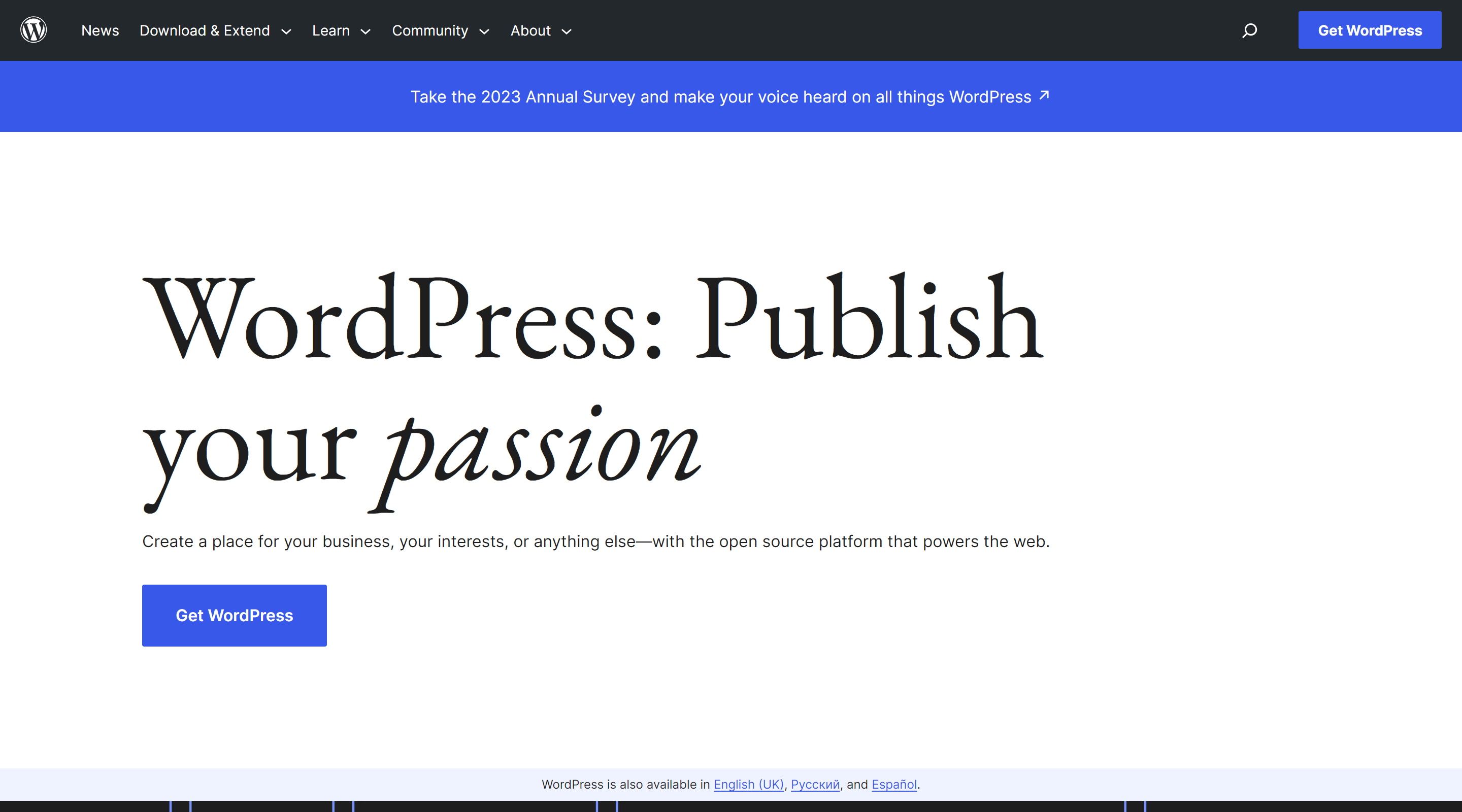 It's open-source, free software that allows you to build and customize your website the way you want. You're not bound by any "terms and conditions" here or won't need to satisfy or convince anyone.
You're free to do your own thing. You can design, publish, sell, give, take, or do anything. That's what makes WordPress.org great. (Don't confuse it with WordPress.com, which is a different platform with limitations). I'll show you in the step #4 how you can set up and design your blog on WordPress.
Some alternatives of WordPress: Hubspot CMS drag and drop website builder, Wix drag and drop website builder, and Gator website builder with pre-made templates.
2. Hosted Blogging Platforms
As you are trying to figure out how do you start a blog, there might be tricky parts. Although hosted blogging is free, it is not ideal because of the limitations that sabotage your growth in blogging. Such as;
The strict rules of the platforms you'll blog on,
A lot less choice when customizing your website. Plus, your website's URL will look unprofessional. (Yourname.platform.com)
In short, you won't truly own anything unless you pay and upgrade to self-hosting.
If you're into blogging to make a living, I will not recommend free platforms. But, if you're just a hobbyist, these can be good: Blogger, Medium, LinkedIn, or Tumblr. So, if you were wondering how to start a blog, you should think about hosted blogging platforms.
3. Costs of Starting a Self-Hosted Blog
It varies. Several factors come into play. Let me explain.
You'll need to purchase a domain name, hosting service, sometimes premium themes, and maybe even some premium plugins. Not to mention the hardware costs; laptop, Wi-Fi router, headphones, etc.
If you have poor Wi-Fi and a slow laptop, please count an upgrade or fix for those separately. Here's what you can expect:
As a full-time blogger on WordPress, with web-hosting and domain from Bluehost, and Domain Privacy and Protection, your initial cost can sum up as 77$ per year with the Basic plan. Since the domain is free for one year on Bluehost, you're saving around 18 bucks in your first year.
(This digit can vary if your domain and service provider is other than Bluehost)
Step #3: Get Domain Name and Web Hosting
How do you start a blog with the right domain and web hosting? There are two main steps in this section. We'll go through them separately to avoid confusion.
1. Choose Your Blog's Domain Name
When you're figuring out how to start a blog, one of the primary considerations is your domain name. A domain name is your unique internet address. Users will type that in the search bar to find your website. But it also serves a deeper purpose: an iconic name can have a positive impact on the overall image of your blog.
A good example is Scary Mommy, a name that is both descriptive and funny, it's a humorous take on the challenges of motherhood. All within a name that's impossible to forget.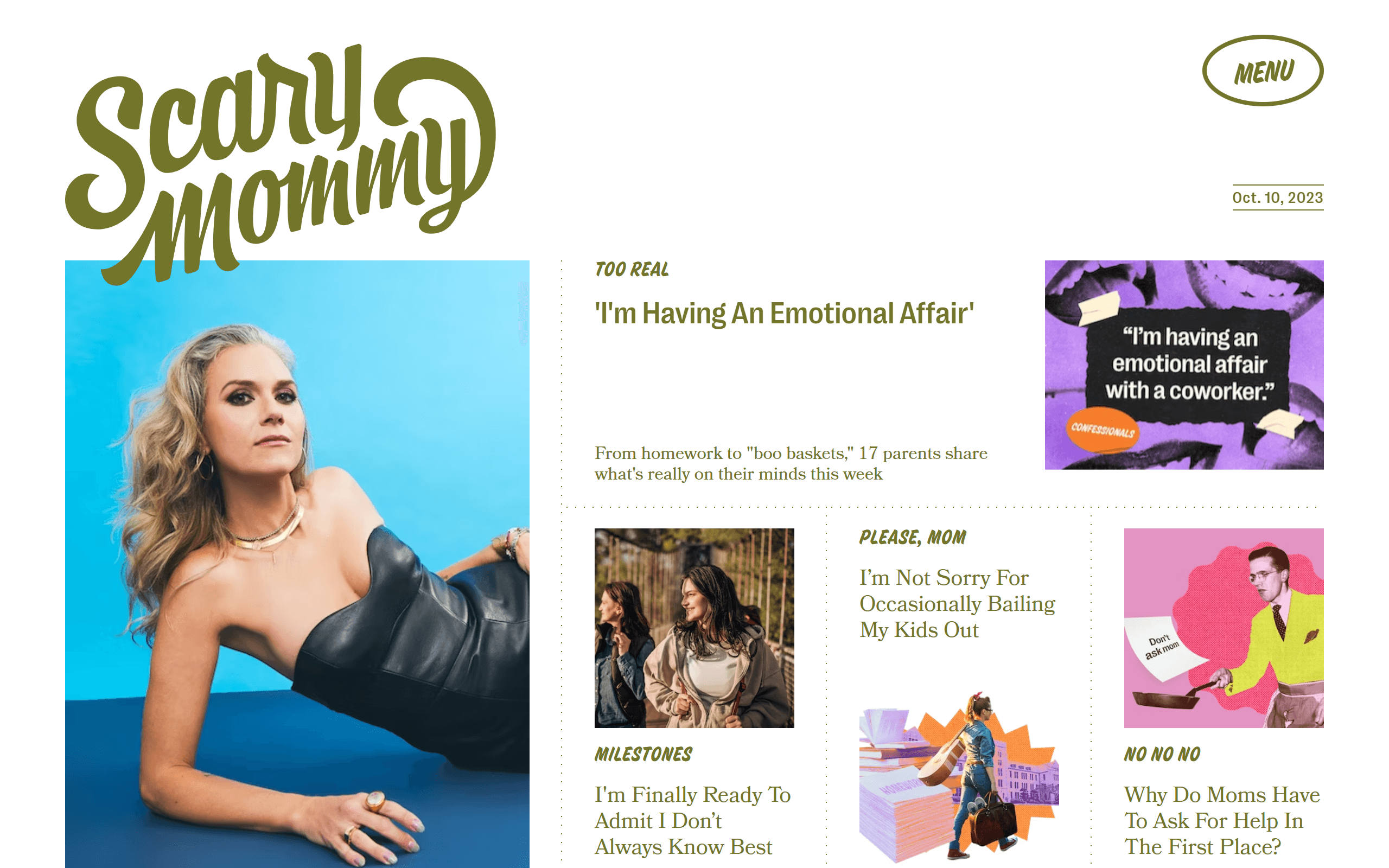 Here are a few guidelines to make it memorable:
Keep it simple, short, catchy, and memorable. Less than 15 characters are usually ideal. (Exceptions for out of the box creative ones)
Read relevant books, watch movies, use a dictionary and thesaurus, or combine words with your name for ideas. It usually works all the time.
It's ideal for keeping it relevant to what your blog is about. For instance, if you're an outdoor lifestyle blogger, maybe you could go with something like 'Outdoorsy.com'.
Use a blog name generator like Nameboy. The names generated with the AI tool might not be the best, but they may get you something desirable to brainstorm epic ideas.
But, where can you get your domain name? There are domain name service providers like Namecheap, Hostgator, or GoDaddy, and Bluehost.
And no harm if it's not a 'perfect' name – you can always change later. The real deal is to start. Once you decide on your domain name, pay attention to the next step. How do you start a blog? With the right domain.
2. Get Web Hosting for Your Blog
How do you start a blog if you are missing a hosting? Web hosting is like purchasing separate storage for your website. When exploring how to start a blog, understanding web hosting is fundamental. The hosting service provider will make sure the content of your blog is online there and is accessible for everyone on the Internet 24/7.
There's more to web hosting, but we don't need to get technical here.
So, how do you start a blog and where do you get web hosting? Bluehost, Hostgator, Dreamhost, SiteGround, NameHero, and Hostinger – these are one of the popular ones to date. All of these are affordable with different prices and plans, and other features. You can get your hosting and domain from any of these you like, all of these are reliable.
I usually recommend Bluehost because:
Easy to use, fully beginner-friendly.
Automatic integration of WordPress.
Affordable for beginners, great value for the money.
Drag and drop website builder
2 million websites hosted by Bluehost currently, suggesting that it's reliable.
Credible, even WordPress.org recommends it.
Free domain name for 1 year.
Step #4: Set Up Your Blog on WordPress
So, if you are figuring out how to start a successful blog, you should get familiar with WordPress. If you're using Bluehost, Dreamhost, or SiteGround as hosting service providers, you don't need to do anything. Your website will be automatically integrated with WordPress. If it's otherwise, you need to manually download and install WordPress. See the installation process here.
Step #5: Select a Theme and Designing Your Blog
How do you start a blog? With the best website design. Your website might look like a worn-out casino as of now. Let's polish things a bit.
In your WordPress dashboard, from the settings menu, click Appearance and then Themes.
WordPress will show you some popular themes. Pick the one that fits your vibe and as well as the blog's nature. Aesthetics and relevancy are the keys here because your theme will make the first impression on the visitors.
Read the description to learn the features of the theme, and check reviews for its reliability. You can also preview before actually installing it. Even if it looks just 'well enough', settle, for now, you can always shift to the perfect theme later. Your content will also automatically transform to that theme.
In the beginning, free themes can do fine. From hundreds of free WordPress themes, you can easily find the perfect one. The popular free themes amongst bloggers today are Blocksy, Twenty Twenty-One, and Astra.
Better to purchase premium themes once you see traffic and revenue on your blog to justify the return on your investment. Premium themes obviously give more features, so if your wallet is warm, you can invest early on. You can try one of these premium themes: Divi and Authentic with more exclusive features. Get Elementor Pro, if you want to visually edit the themes and the whole site in general.
Remember the key here is to choose a theme that's specific to your blog's nature and as well as attracts aesthetically.
Not to scare you, but the design makes 90% and even more impact on the first impressions of your website. Visitors are always judging. Half of the visitors expect your blog to load within 2 seconds.
Stats also show, there's a 47% higher chance they will stay on your website if the text is easily scannable. So make sure you choose a relevant, fast-loading, and aesthetically pleasant theme for your blog.
Again, in your early days, you shouldn't get hooked on designing, themes, and stuff – let's be practical, your website is yet not that popular to be judged by the readers. You need to get recognized first, and that's only possible when you publish a ton of content first and get organic traffic. So, now you know more about the popular question of how do you start a blog.
1. Make Your Blog's Logo
So how to start a successful blog, and not just a simple unnoticed blog that are thousands on the Internet. Everything starts from the branding, more precisely logo. A logo is the front face of your blog. Keep it simple – yet attractive so it's memorable, recognizable, and easily delivers your blog's story. Here's how you can make your blog's logo:
First, evaluate what your blog's personality is really like. Funny? Bold? Emotional? It could be anything. Write it down. Then do a deep, thorough research of your competitors, i.e., how their logos look – this will give you an idea of what's working in the industry.
After that, start sketching your logo on the paper, or digital screen, keeping in mind your blog's personality and what's working in the industry.
Import them into the design software like Adobe Illustrator or Inkscape. Add relevant colors, style them, add new shapes, designs, slogans, play around a little bit.
Become creative there because the visual part is one of the most important in how to start a successful blog. Once you're done, integrate it on your website, social media handles, in your studio, or glue a sticker of it on your laptop. Read the detailed guide on creating your blog's logo.
Remember, as you learn how to start a blog and make money, a strong brand identity through a memorable logo can be a game-changer. Read the detailed guide on creating your blog's logo.
If you are looking for a professional brand logo, then hire a logo design agency. Hire a freelancer on Upwork or Fiverr. Or, visit websites like 99designs to create a logo for your blog online.
You can also use Canva, Visme, or Crello to design your logo from pre-made templates while staying on the web. So, if you were wondering how to start a blog, logo design is the step you shouldn't skip.
2. Customize Your Blog Theme
After installing your desired theme, you can still tweak some things to your liking. One of the secrets of how to start a successful blog is having a unique touch. Let me show you how you can customize your blog theme:
Go into your WordPress dashboard. From Appearance settings, click on Customize.
You'll see some settings like graphics, site identity, colors, header, background image, etc. The names of these settings can vary in each theme, but usually, these mean the same things. (Note: Never mess with the custom Theme Editor or CSS settings, unless you're comfortable doing that)
3. Add Plugins to Your Blog
Plugins help you manage your site. They come with built-in codes to enhance the functionality of your blog. With just a few simple clicks, you can achieve the same effects that you'd otherwise achieve with custom codes.
At an advanced level of your blogging career, you might need more, but here are some essential ones to install at the beginning stage of how to start a successful blog:
Go into your WordPress dashboard. Click plugins, click add new, and you'll see a window where popular plugins are displayed.
You'll just need to do a search, click to install, and you're done.
Here are must-haves and why:
Step #6: Write and Publish Content
Until this step, you've selected the theme, tweaked the design, installed some essential plugins, and everything looks great. You have passed half of the guide on how do you start a blog.
Now, you're ready to write and publish content on your new blog.
First, let's create these new main pages:
1. Create Main Pages
In your WordPress dashboard, look for pages in settings. Click on it, and select create a new page. (You can always create a new page like this – whether it's for about page, disclaimer page, or anything)
Then you'll be asked to enter a title for that page, write content, and upload media. Let's say it's an about me page, type 'about me' in the title, write about yourself/blog and hit publish. Your new page is ready.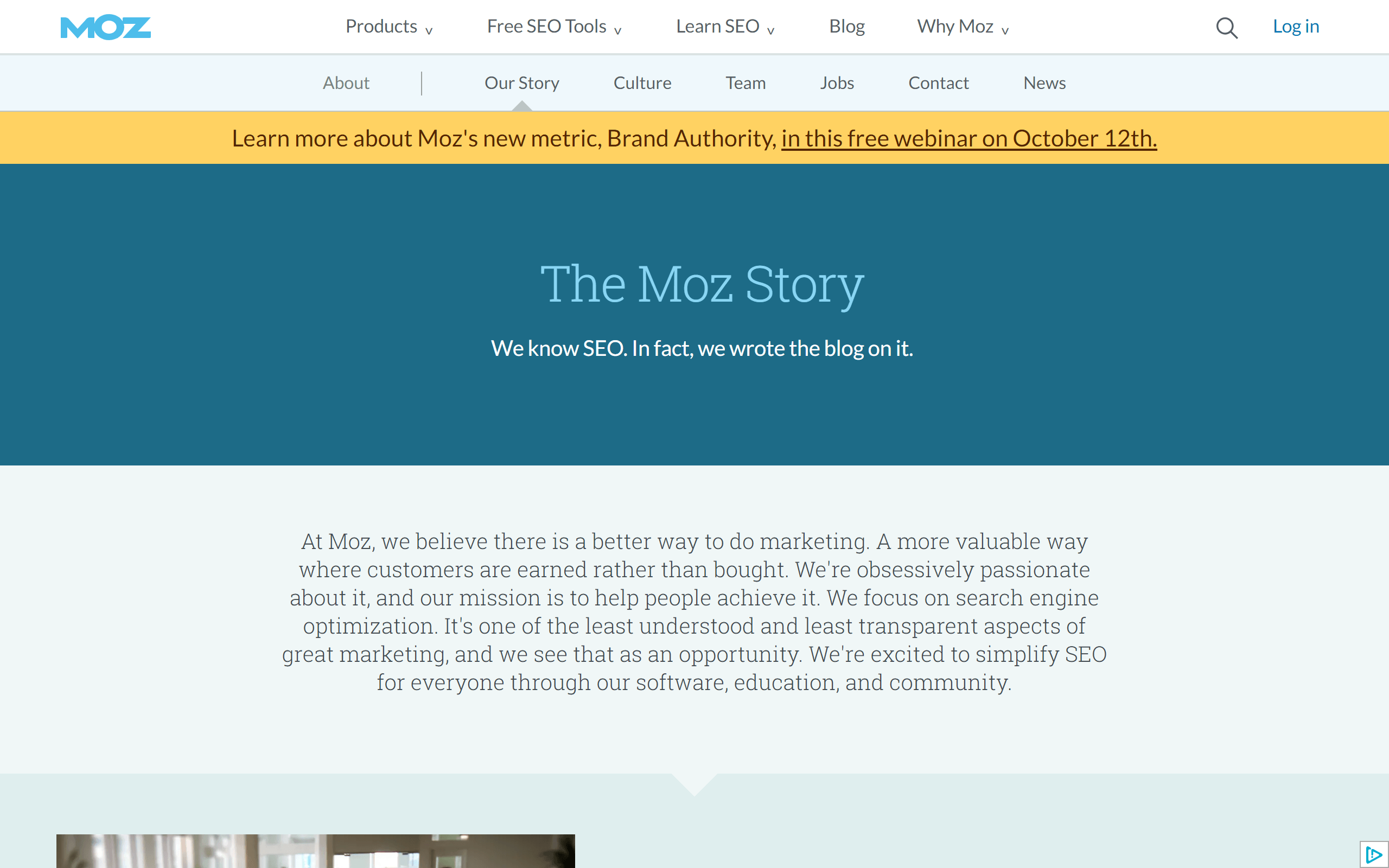 Essential pages usually beginner bloggers create are these:
About me or us
Contact me or us
Disclaimer
Terms and Conditions
Privacy Policy
Create all these pages separately by going through the same steps as above. Write their content, upload relevant images or videos, or throw in some design elements using the Elementor plugin.
Next, we're going to talk about creating blog posts.
2. Write Your First Banger Post
You can be confused how to start a blog because you can't figure out your first post. Here are the steps of actual writing and publishing:
Decide on a topic. Do the audience research on different social media networks. Even though they're closely related to your blog in general, topic-wise audiences can also vary. So make sure you familiarize yourself with them.
Research. This is the key factors in how to start a successful blog. Start your research by reading and analyzing the top results of Google search over that topic. Read them thoroughly, absorb the information, pick the specific key points or headings you love, and write them on the Doc. Also, try to find gaps or in what ways you can do better than your competitors.
Find studies, references, or quotes that can support your post, making it more credible. Use Google Public Data, Hubspot Research, or Statista. Or you can simply Google: Topic + Study to get relevant research.
Make an outline. Write all the important headings that you need to cover so you won't forget anything.
Write your first draft. Write the enticing relevant title, headings, and body text. You may need grammar checker tools to proofread your documents and evaluate mistakes, use one of these popular tools: Grammarly, After the Deadline, or Hemingway.
Edit mercilessly. Make sure your writing is flawless, is focused on the readers, and is easy to understand. Blog posts are different from academic essays – make them digestible, fun, and conversational.
Proofread again. Make sure the format is seamless and makes the whole post easily scannable with headings, sub-headings, bullet points, or numberings.
Last-minute fact-check. Include relevant images to make it more engaging. Also, make sure there's no factual mistake, or you haven't forgotten to add links and studies.
Publish on WordPress.
Just by reading all of this, you might feel overwhelmed, but once you actually start doing this and get the hang of it, all of this will feel seamless. Also, you can use our first blog post ideas.
Next, we're going to talk about your future posts and how you can make them helpful for your audience.
3. Develop a Content Strategy and Publish Regularly
If you want to know how to start a blog, content ctrategy is something you should focus on. This is the core of everything we're discussing today. Forget SEO, designing, marketing, and everything else for a while. As a beginner blogger who is just learning of how to start a blog, content should be your ultimate focus. And not just a few blog posts, but lots of them, published consistently – with a strategic content plan in mind.
And this should not feel like an extra burden – creating a scheduled content plan will help you stay focused and organized.
Here's what and how should you start publishing content on your blog:
Thoroughly research your target audience. Understand what they want, how they use the language, what topics and stories they're most interested in. Write it down briefly on a separate document, if you will. You need this to stay relevant with your readers.
Define your goals: your initial goals can be getting traffic and recognition as an authority blog in your niche.
Research topics. Where can you find them? Go into hyper-specific communities, groups, and forums where your target readers hang out. Quora, Reddit, Facebook groups, Instagram, Twitter, and Tumblr, are the usual places. Analyze what your target audience wants to read. For instance:

What are the things that excite them?
What are the things that are troubling them?
What are the things they currently are looking to purchase?
Let me give you an example. Suppose your blog is about iPhone photography. During your research, you may find things like:
They want to learn to know how to take night shots.
They want to learn how to edit photos.
They want to learn the difference between a RAW image and png image.
They're actively looking to buy iPhone camera lenses but unaware of what and how to choose?
They want to purchase awesome presets but are unaware of what and how to buy them?
I could go on and onb because it is one of the most important steps of how to start a blog. Once gathered enough hyper-specific data, you can turn this into blog posts. For instance, we can convert the above questions, objects, and problems into:
8 Tips on Taking Awesome Night Photos with Your iPhone
9 Best iPhone Presets for Magical iPhone Photo Edits
5 Best iPhone Camera Lenses and Where to Get Them
Detailed Guide on Presets and 5 Best Right Now for iPhone
See the pattern? No matter what industry, what niche your blog is about – you can always do this to brainstorm new ideas. But remember, topics must be relevant to your blog or blog's nature so that you won't target an entirely different audience.
Manually researching can give you a peek inside the mind of the readers – like what stories they were telling or what was the context when they were asking questions, making jokes, or proposing an idea. But although it's great, it can take time.
To make the research faster, you can use Answer The Public tool, which can instantly give you insights into the questions they're asking on the web.
Once you're done discovering topic ideas, make a robust and realistic schedule where you can show up every time to publish. Remember, quality is always the best option over quantity. You need to be regular and frequent, but only with awesome content.
Publishing at least thrice a week is recommended. Use Google Calendar to manage your schedule. A consistent schedule will not only build your momentum and help you stay organized, but it's also good for giving signals to search engines that your website is here to grow over the specific topical area.
Here's how to write your first ever blog post:
4. Optimize Your Blog Content for SEO
One of the most important aspects of how to start a blog is SEO. When starting a blog, it's essential to optimize your content for search engines like Google to increase visibility. This means that when people search for topics you've written about, they're more likely to find your blog. Initially, focus on producing valuable content for your readers without getting too overwhelmed with SEO.
Here's a simplified approach:
Keyword Optimization: The foundation of effective SEO lies in keyword research. Keywords are essentially the topics you write about that have a decent search volume. To find out what your audience is interested in, use tools like Ubersuggest, MOZpro, or Ahref. These tools reveal what people are searching for and provide insights into competition, related topics, and search volumes. Once you identify these keywords, incorporate them naturally into your content so that when someone searches for these terms, your blog has a chance to appear in the results.
SEO Tags: Once you've picked your keyword, it's essential to weave it into specific areas of your post, such as the title, meta description, and headings. This helps search engines understand what your content is about, potentially improving your ranking for that keyword. But remember, don't overdo it; keyword stuffing can be counterproductive.
Value-Driven Content: While keywords are crucial, the heart of SEO is providing value. For instance, if you're writing about "how to make a knot," ensure you cover various types of knots and possibly include visual aids like photos or videos. Your content should inspire readers to engage with it, share it, and return for more. Essentially, prioritize quality and thoroughness over merely inserting keywords.
Remember, SEO is not just about using the right words—it's about creating content that resonates with your audience and fulfills their needs.
Step #7: Grow Your Blog
This step is also as important as previous steps in our guide on how to start a blog. Below, I'm going to list some ways you can grow your blog.
But before promoting, I suggest publishing a few blog posts first. Have something on your plate already before presenting it to others.
Give a few days or 2-3 weeks. Once you see it budding, buckle up for the next steps:
1. Word of Mouth
Tell everyone when you start a blog. Tell your friends, colleagues, neighbors, family, or Exs (at your own risk). The goal here is to let everyone know you're a blogger now. This can create a chain; they'll further tell their acquaintances, and you can start to get some visits early on.
2. Leverage the Power of Social Media
The answer to the question of how to start a blog would have been incomplete without mentioning social media. Social media can help more than you might be thinking. First, create social handles for your blog. Update your bios on every network – use service providers like Linktree to manage all your links.
Next: join relevant communities where your target audience hangs out. Create goodwill there by sharing your posts that are actually helpful to them. Imagine the number of communities, groups, and pages on all social media platforms – and imagine, if you do this, the visits you can get just by doing that.
Find your target audience on these platforms: Facebook groups and pages, Reddit communities, Pinterest, Quora, and Instagram pages.
3. Become Proactive in Your Niche
This is one of the most valuable tips I could give you on your journey to learning how to start a blog. You need to get noticed. Become the go-to guy or gal.
Join relevant blogging communities in your niche. Find them on Reddit, Quora, Facebook, or any other public forums.
Make new blogger friends. Help them grow. You might not see direct visits on your blog – but it's really good for your blog's branding, your own learning, and motivation in the early days.
People publish awesome case studies, success stories, and new things that'll inspire you to keep creating amazing content.
You'll meet a lot of experts that will share their insider growing tips. Take notes – you'll learn a lot just by scrolling your social media feeds. In fact, there are already hundreds of posts based on real-life experiences waiting for you. I'm not talking about the groups where your target audience hangs out – but the ones that are specifically for bloggers to learn and share experiences.
Start from these, but also find more specifically for your niche:
4. Grow Your Blog with Organic Search Engine Traffic
We've already discussed this earlier, that you'll need to create content around the topics or phrases your audience is already searching for in order to successfully start a blog. Make sure your content is there to help them – don't write content just for the sake of it. Write for your audience.
Other things to look for:
Avoid plagiarism; Google might penalize your blog.
Keep your blog pages fast loading.
Use images, videos, or GIFs in the content to make it engaging.
Follow the guidelines of Yoast SEO plugin – it helps a lot. But don't make those guidelines as rules imposed on you.
5. Guest Posting
Another important step of how to start a blog is guest posting. Guest posting is when you publish a value-filled post on another blog in your niche and link from there to your blog. This is a whole science of search engines – it's like the credibility votes; the more websites link to your blog, the more credible your blog gets. And Google ranks a credible blog early as compared to those who have less or no links.
Guest posting is also one of the crucial parts of your blogging journey – but do it at the right time. After you're done publishing your first 60-100 batch of awesome content, you can then start looking for guest posting and link building opportunities.
At that point, join relevant blogging communities, and ask bloggers to let you guest post. Or, email blog owners in your niche, asking politely if they allow you to publish guest posts on their blog in return for a backlink for your blog.
Because both parties are getting something, they usually agree.
6. Email Marketing
Email marketing means growing and promoting your blog by sending direct emails to your readers. It's also one of the best growth strategies – but again, do it at the right time. Don't worry about it right now.
Just for your understanding, email marketing goes something like this: First, you need to get your visitors' email addresses through opt-in pages on your blog.
But, no one wants to give their email address to a blogger online just like that. So, you need to exchange some valuable freebies – a free eBook guide to help them with something, a detailed resource, or even a physical product. It all depends upon what your readers would care for and how much you want to do for them.
When considering how to start a blog, one essential aspect is communication with your readers. When you gather emails, use an email marketing tool like Mailchimp to regularly update your new valuable posts, helpful tips for them, or anything that they'd care for. All sent straight to their inbox. Keep doing this to stay relevant to your audience.
7. Paid Advertising on the Web and Social Media
I won't recommend it for beginners since the return on investment is never guaranteed. Even if you get visits through paid ads, that traffic is not worth it unless you're getting the revenue back any time soon.
Paid ads should be at the advanced level of your blogging career, where the budget is vast, and you're up for some experiments, or you've a product to sell.
Or if nothing else is helping in growing your blog. Give your best 6-8 months to your new blog before thinking about paid ads. There is no rush allowed when it comes to how to start a blog and make money with it.
Step #8: Make Money with Your Blog
The fun part. Below listed are popular ways how to start a blog and make money.
1. Earning Through Display Ads
Ad networks will run ads on your blog, and you get to earn based on how many clicks or views ads get. No matter what niche you're in, this door is always open for you. Famous ad networks for beginner bloggers are: Google AdSense, Adthrive, and Mediavine. So, this is the basic way how to start a blogging business.
Note that some ad companies might require a certain number of visits per month before approving your blog. For example, Mediavine requires 50,000 visits per month to approve monetization. The best way is to publish a plethora of high-quality content first and then worry about the rest. So, this is definitely something you should try if you are wondering how to start a blog and make money from it.
2. Earning Through Affiliates
One of the benefits when you start a blog sre affiliates. Earning through affiliate marketing is when you partner with brands, coaches, or retailers to promote their products or services. When visitors make purchases through your links, you get a commission.
This adds no extra costs to visitors. In fact, in most cases, visitors get some sort of discount from the offer. So this is the mutually-beneficial
Famous affiliates for beginner bloggers are: Clickbank, ShareASale, and Amazon Associate. These tools will show you how to start a blogging business.
3. Earning Through Sponsored Posts
If you're delving into how to start a blog and make money, you'll find that sponsored or review posts are a golden ticket. Sponsored or review posts are when brands or coaches ask you to promote their products or services – in return for a set per post budget for you. Earnings can be higher if your visitors and audience engagement are higher. This can even lead to a long-term sponsorship with the contract of a few months or years; extremely profitable.
Brands will reach out to you if you get famous enough, or sometimes you'll need to reach out to them.
But remember that will most likely happen if you maintain a good audience engagement rate. For example, more people take you as an expert, regularly read, and leave comments. So, if you are thinking how to start a blog and make money from it, you should consider factors like engagement.
Build trust through helpful content and you will unlock the secret of how to start a blogging business.
4. Earning Through Your Own Products, Services, or Coaching Programs
This can be extremely valuable for entrepreneurs to learn how to start a blogging business. I'd suggest launching your own products or services like your own eBook about something, cool illustrations as NFTs, DIY toys, or a whole merch. This is not the ultimate answer to the question of how to start a blog and make money from it, but it might work in many cases.
It all depends upon the nature of your blog and what suits your audience's interest. If you're a personal development blogger, you can even start your own therapy or 1-1 paid coaching classes.
But, you'll need to reach that level first: create the most valuable content in your niche so that your audience will trust you and will happily purchase whatever you offer. It can take time, but it's entirely possible – folks are already doing it. Patience is the secret of how to start a blogging business.
Or, if launching a whole new product of your own seems daunting to you, master a high-income skill instead. When figuring out how to start a blog, you can display this skill on your platform and sell to potential business owners. Display it on your blog, and sell to potential business owners. High-income skills trending in 2022 and beyond are Copywriting, Web Design and Development, Social Media Marketing, and SEO. But, you can learn anything depending upon your interest and your blog's relevancy. Start learning with affordable courses on Udemy.
As Adam (a pro blogger that helps beginner bloggers) likes to say, "to earn big money out of your blog, a purchase has to be made – it's either your own products or affiliates."
Again, in the early days, don't worry too much about the money, product, or services launches – your initial goal is to start a blog and publish a ton of value-packed content for your audience.
So, this is the ultimate way how to start a blogging business.
How to Start a Blog FAQ
Can I start a blog with no experience?
Yes, you totally can. You don't need to be tech-savvy at all. Instructions are always there with step-by-step guidance from any service provider you choose. Or, if you feel you're stuck with something you don't know about WordPress or anything per se, there are hundreds of free articles on Google…for just about anything.
A 'no-tech-background' mindset should not stop you from following your passion.
You can also read some books about blogging.
Is blogging still worth it in 2023?
Blogging continues to grow – from 2014 to 2020, there were 10 million more bloggers in the US alone. And it's on trend.
The platforms and modules might change over time – but the career is still relevant and will stay relevant.
Take a real-world example: Instagram wasn't even a thing a few years back. But, now, there's a whole new breed of Instagram bloggers, making a sustainable income: 70% of the US marketers happily spend on Insta influencers to promote their businesses.
Moreover, as you delve deeper into how to start a blogging business, it's worth mentioning that blogging stats also reveal that bloggers, who publish posts daily, get 57% better results. So, stay consistent, results are imminent.
How can I start a blog for free?
Start a free blog on WordPress.com, Blogger, Tumblr, or Medium by simply registering your account. However, free blogging comes with some limitations. These can be:
Rules of the platforms; you can't talk about certain things etc.
No freedom of creatively customizing your website.
No unique domain. For example, if you blog on Blogger for free, your blog domain will be their sub-domain and will look like this: www.yourname.blogspot.com. This is a major downside as affiliates, or ad companies don't take these bloggers seriously.
Platforms' own ads on your blog, and you'll need to pay to remove them.
For a hobbyist or for fun, free blogging sites are good to practice and express your thoughts. To make money or to make your blogging a full-time career, always go for self-hosted blogging.
How much does it cost to start a blog?
Starting a blog comes with certain expenses, including platform costs, domain registration, and hosting service fees. By combining Bluehost with WordPress, you can begin your blogging journey for as little as $3 per month. This basic package offers sufficient resources to nurture and grow your blog. As your blog gains traction and starts generating income, you can then consider upgrading to more comprehensive packages to accommodate your expanding needs.
What is the easiest thing to blog about?
The easiest topics to blog about are those catering to a specific audience or interest. Whether it's a celebrity's net worth, a particular pet food, a unique skill, or even plots for sci-fi novels, the key is exclusivity. Instead of trying to appeal to everyone, focus on a niche audience with shared interests. This specificity not only makes content creation more straightforward but also helps in building a dedicated readership.
Remember, success lies in choosing the right niche that resonates with a particular group. For a deeper dive, refer to our guide on selecting a blog niche.
How do I choose a profitable niche for my blog?
Almost all niches make good money with ads, sponsored posts, affiliates, products and services, and more. The key here is to find a niche that has low competition. That will be profitable in the sense that you'll grow faster and dominate it.
If you've decided on a niche for your blog, make a Google search about it. See if there are already giant brands or bloggers competing. If there's no room for you, that's not a profitable niche for you.
Narrow down a bit more. For example: Fashion>Gents fashion>Fashion for short men>Fashion wearable for short young guys>Genuine leather jackets for short guys in the US.
Dissect the pattern. If you keep narrowing down like this in any broad niche, you'll see, at some point, there will be almost no competition and plenty of room for growth. The audience there might be less in volume, but will be specific, much more likely to read your blog and buy your affiliate products.
For market search, you can also use tools like Ubersuggest, Ahref, or MOZpro, which will give you insights about search volume and competition.
Do bloggers get paid?
Bloggers get paid or make money through several ways:
Through ads, they display on their websites.
Through sponsored posts, they make for the brands they partner with.
Through affiliate sales commission, in which they recommend a product/service to their readers, and after each successful purchase through their link, they earn a commission at no extra costs to readers.
Some bloggers may provide some sort of skill-based services like photo sessions, social media marketing, or web designing.
Some bloggers may sell their own products, such as eBooks or anything physical.
Through 1-1 coaching or consulting services about any skill or therapy sessions. A brilliant example is Neil Patel who in his blog sells his own SEO and Digital Marketing courses.
How much money can a blogger make?
After going through many real success stories of bloggers, I conclude that if you do everything right, you can easily start making money within the first year of blogging.
Most settled bloggers make 200$-3000$ per month, from beginners to intermediates. And some who are famous and have been in the field for a few years are even earning 5-6 figures every month. Some get lucky because their ideas go viral, and that's the best thing that can happen in a blogger's career.
See income reports:
There are dozens. I could go on and on.
How do I start a personal blog for beginners?
Starting a personal blog is straightforward. First, pinpoint a topic or theme you're passionate about. Choose a blogging platform, with WordPress often recommended for beginners. Secure a unique domain name that encapsulates your content, and pair it with a trusted hosting provider.
Once you're set up, personalize your blog's design using themes. Dive into creating genuine, engaging content and maintain consistent updates. As you advance, familiarize yourself with basic SEO to enhance visibility. Engaging with readers and sharing on social media can further extend your reach. With the right dedication to start a blog, you'll see your community thrive.
Conclusion
Congratulations! You know how to start a blog now.
Blogging for beginners can be overwhelming. Lots of questions and the feeling of overwhelming might feel like a burden.
Even though in this ultimate blogging guide, I tried touching all your concerns and objections, I do acknowledge that one single guide can never cover all. So, the detailed guides for each step are separately created for you. Follow the relevant links, and comprehend each topic in detail.
If you still have questions rolling in your mind related to my guide on how to start blogging for beginners, feel free to ask away in the comment section. I'd be happy to assist.