Accurate grammar and powerful writing style both are important in your blogging journey. When combined, they foster trust, credibility, and more importantly, deliver the right message the right way. But, what if you need help with either or both?
Well, luckily, there are dozens of grammar checker tools that can help, leveraging the power of AI. Let's discuss the 25 best of them, their key features, pros and cons, and their price plans to find you a perfect fit.
25 Great Grammar Checker Tools
Writefull is absolutely for academic writing and elements related to it. If you want to boost your academic impact and productivity, Writefull might be fruitful for you.
Key Features:
Academic and technical writing
Widgets to help you write
Fast and secure
Multiple language checking
Title generator and paraphraser tools are available.
Pros:
Recommended by researchers and students.
Discount codes
Language feedback
FAQs for your guidance.
Cons:
No refund and return policy.
Pricing and Plans:
Writefull is available for a monthly fee of $15.37.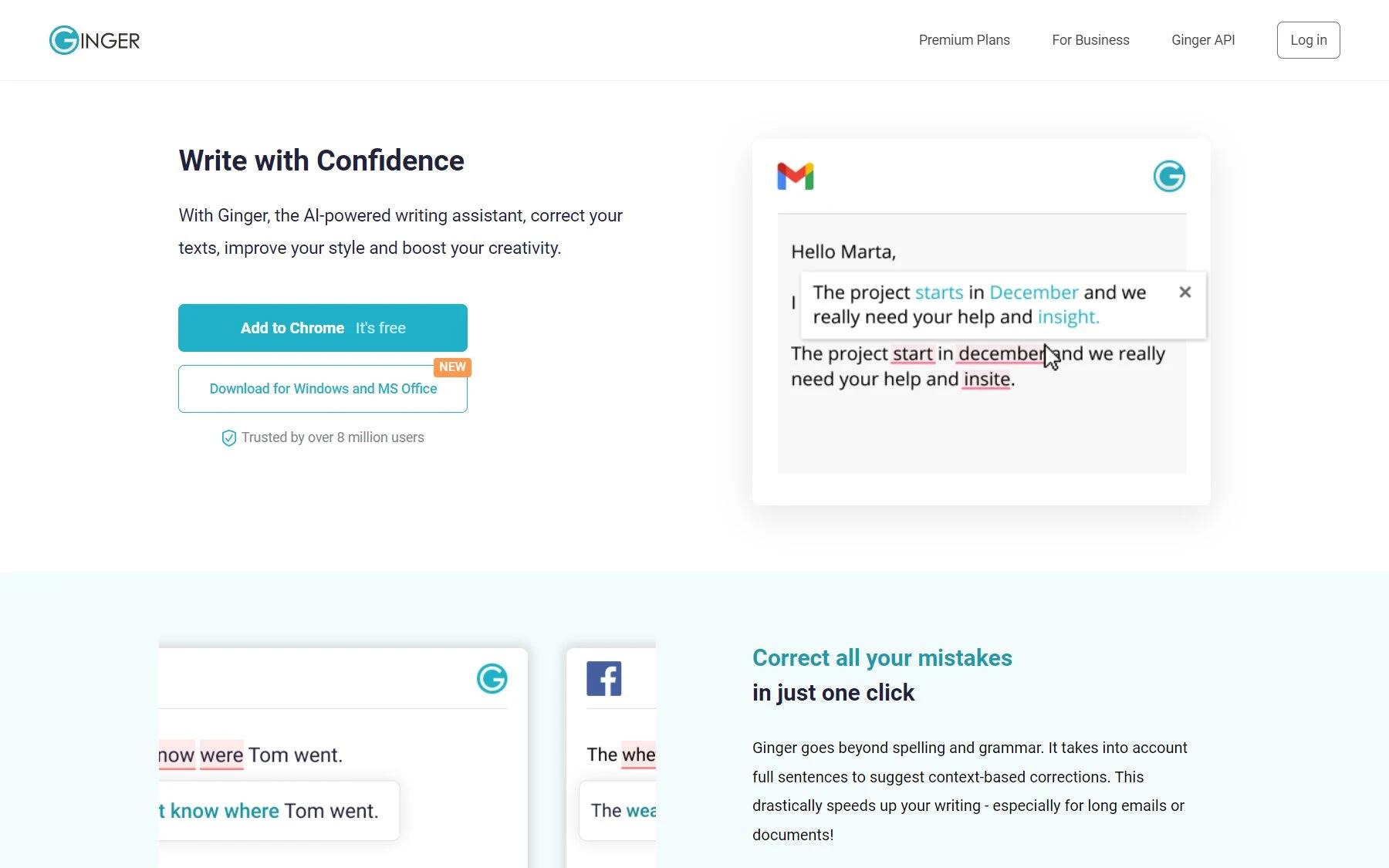 Ginger detects and corrects grammar and spelling mistakes in your sentences using AI. Faults can range from singular, plural and to the most complex sentence or tense errors.
Key Features:
Constructs correct sentences and assists you in creating ideal sentences by using various keywords, synonyms, and expressions.
Corrects contextual errors.
Available for Windows, Chrome, MS Word, Outlook, and smartphones.
Rephrase your texts for a more creative style.
Over 40 languages, translations are also available for each.
Pros:
Ease of use on all devices
Contextual corrections are helpful for non-natives.
Over 40 languages are great to have for people from diverse cultures and countries.
Cons:
Free plan doesn't allow translation.
Pricing and Plans:
Free plan available with limited number of corrections.
Here are the paid plans:
Monthly: $13.99 /month
Annual: $7.49 /month
Billed as one payment of $89.88
GrammarCheck works by reviewing your text and suggesting possible errors – from basic mistakes like spelling and punctuation to even more complicated issues like run-on sentences.
Key Features:
Check through two modes: Basic/Free for common mistakes, and DeepCheck for deeper text analysis for grammar.
Grammar tips and advice available for learning.
Pros:
It's simple: just paste the text on the web and correct mistakes.
Offers wide learning material.
Cons:
Not available for smartphones or as a desktop application.
Pricing and Plans:
Free mode covers basic errors.
Premium/DeepCheck includes everything, but you'll need to purchase Grammarly premium for that. (Grammarly is another grammar checking tool listed below).
Advanced:
$11 per month
$99 billed annually (25% savings)
Everything is Free, plus clarity, delivery, Inclusivity, snippets, writing style configuration, plagiarism
Grammarly not only detects your grammatical errors but also offers advice on how to correct them. Grammarly hires native-speaking editors from all around the world to proofread your documents, assuring the highest quality possible.
Key Features:
Automated Grammar Checker
Free writing assistance
Plagiarism Detection
MS Office plugin
Pros:
Saves your time and ensures that your posts, emails, and papers are error-free.
Highly accurate
Cons:
It doesn't work on everything.
Its free version is minimal
Pricing and Plans:
Free: Basic writing suggestions, spellings, grammar, punctuation.
Premium: Style, clarity improvements, and additional advanced corrections, everything is free and plagiarism detection,
This is a simple grammar checker tool to correct your English document. This tool has two other tools ( Grammar Slammer Deluxe and Grammar Slammer Deluxe with checkers) to make you write and edit even better.
Key Features:
English language correction software.
Spelling and grammar check.
Rich Grammar and spelling references.
Free trial.
Pros:
Helps you improve your writing and grammar while having fun.
Sophisticated algorithm to ensure that you learn critical grammar rules.
Cons:
The AI software highlights correct grammar as a mistake sometimes.
Not an advanced grammar checker tool.
No Official website.
Pricing and Plans:
Grammar Slammer: $25.00/one-time payment.
Grammar Slammer Deluxe: $39.00/one-time payment.
Grammar Slammer Deluxe with Checkers:и$49.00/one-time payment.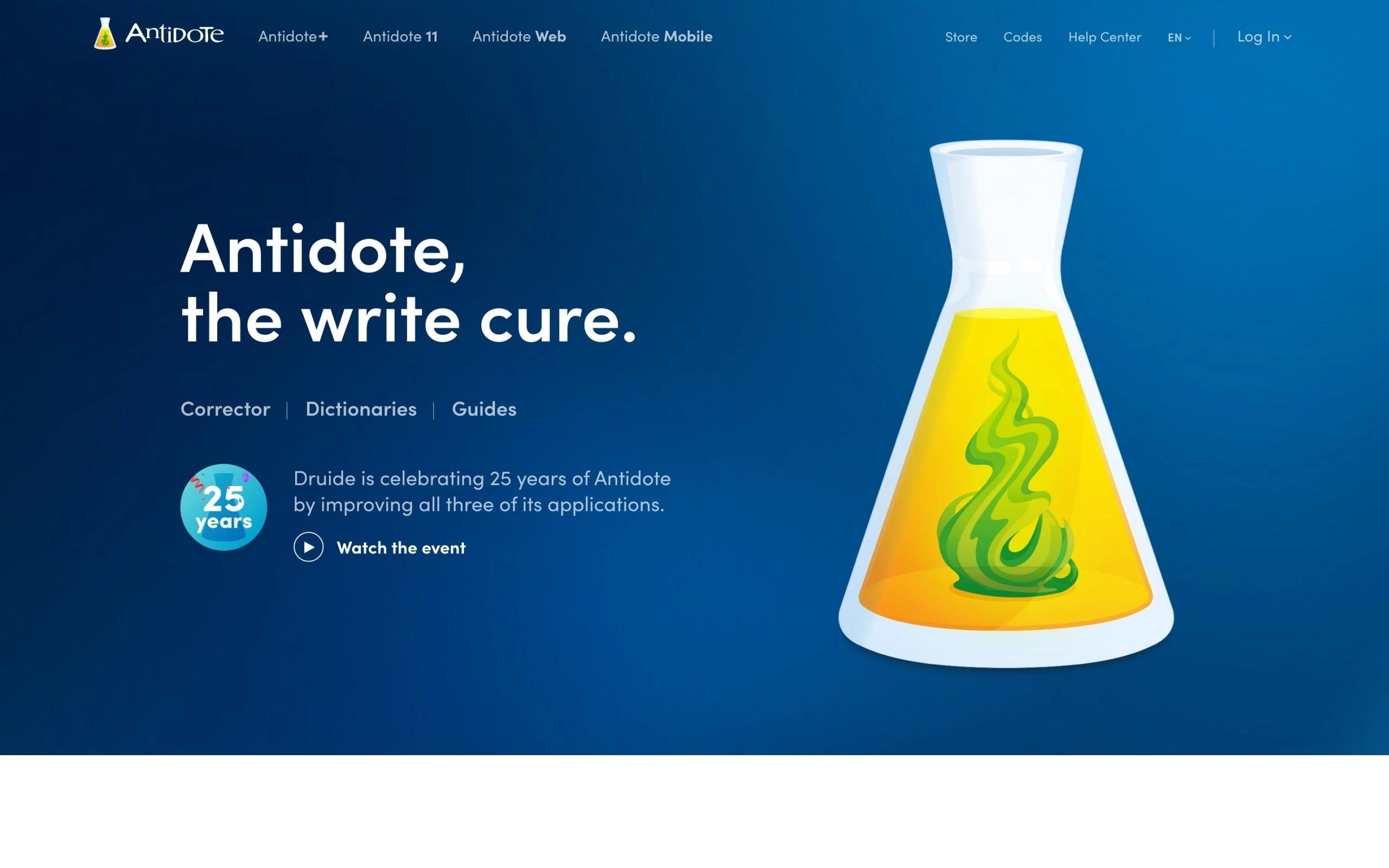 Antidote is a multi-resource platform that is useful for English writers. The tool has a corrector with smart filters, a dictionary with powerful words and clear and detailed guides for you.
Key Features:
Corrects typography and style.
Can be installed on Windows or Mac computers.
Online web or Antidote web is available.
Antidote can be downloaded on the iPhone or iPad.
Works without the internet
French translation, grammar, and spelling checking feature.
Pros:
Analyses texts fast and provides feedback on each part.
It detects various issues, from typos to grammatical faults, stylistic inconsistencies, and logical flaws.
Cons:
No free trial is available.
A paid membership is more useful than a free subscription.
No plagiarism detection.
No reports, feedback, and statistics after checking.
Pricing and Plans:
It costs about $119 for a one-time purchase (perpetual license).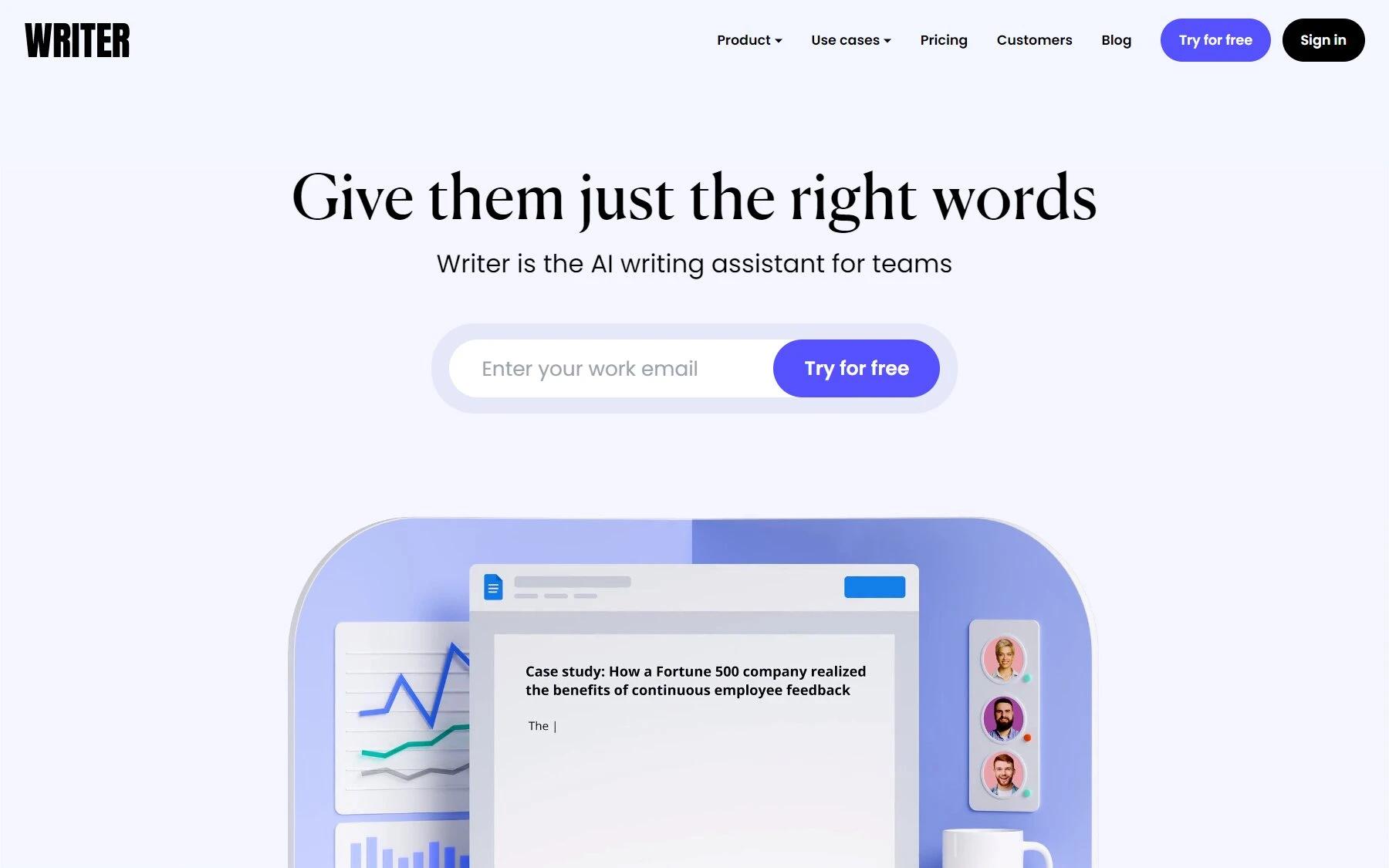 Qordoba or Writer is an AI writing assistant for teams that helps you in brand writing and business writing. Featuring autocorrect and auto-complete writing services, it makes your documents error-free and the writing process faster.
Key Features:
AI writing assistant for teams.
Personal and team snippets.
Terminology management.
Data privacy and security.
Free trial.
Chrome, Microsoft Word, and Figma-friendly.
Pros:
Qordoba assists you in producing outstanding, human-quality writing.
AI-powered grammar checking and editing for all seven thematic spellings.
Useful features like content strategy, editorial, and documentation.
Free grammar, plagiarism, and punctuation check.
Cons:
The refund policy lies for 14 days only.
No plugin.
Pricing and Plans:
There is a free trial available.
Monthly Pro: $11.
Monthly Team: $18.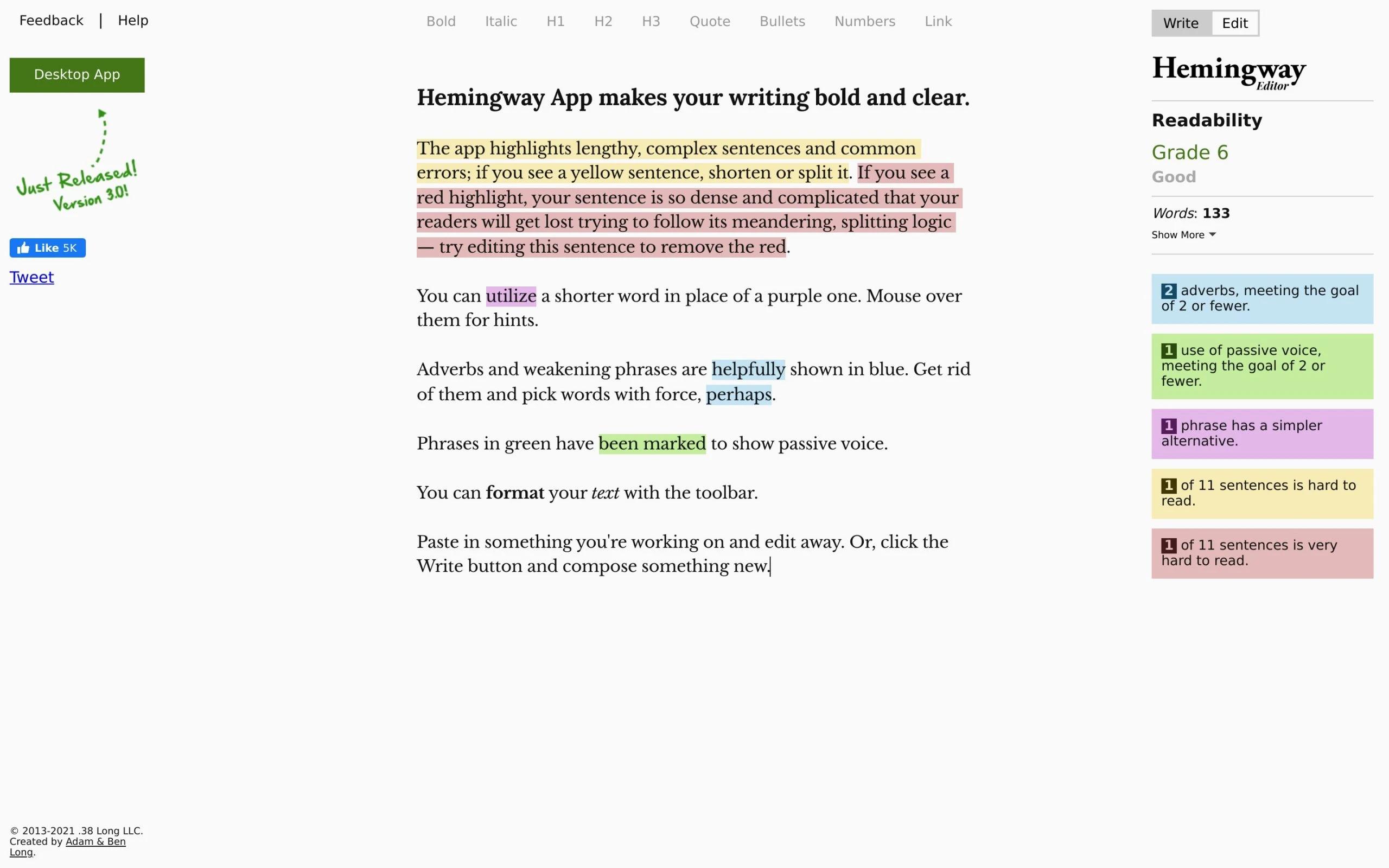 The Hemingway App is a free self-editing tool that underlines components of speech (nouns, verbs, and so on) as well as sentence structure to improve the readability and appearance of your writing.
Key Features:
Readability scores.
Grades for your English writing documents.
Wordcount.
No membership is required.
Desktop app.
Write and Edit while staying on the program.
Pros:
The Hemingway App is a free tool for writers that has received over 4 million downloads.
Cons:
The free tool checks your work for errors that could cause you to lose clarity.
No extension and plugin.
Not favorable for team and business use.
Pricing and Plans:
Hemingway App, the PC version, is available for a one-time fee of $19.99. Both Windows and Mac users pay the same amount.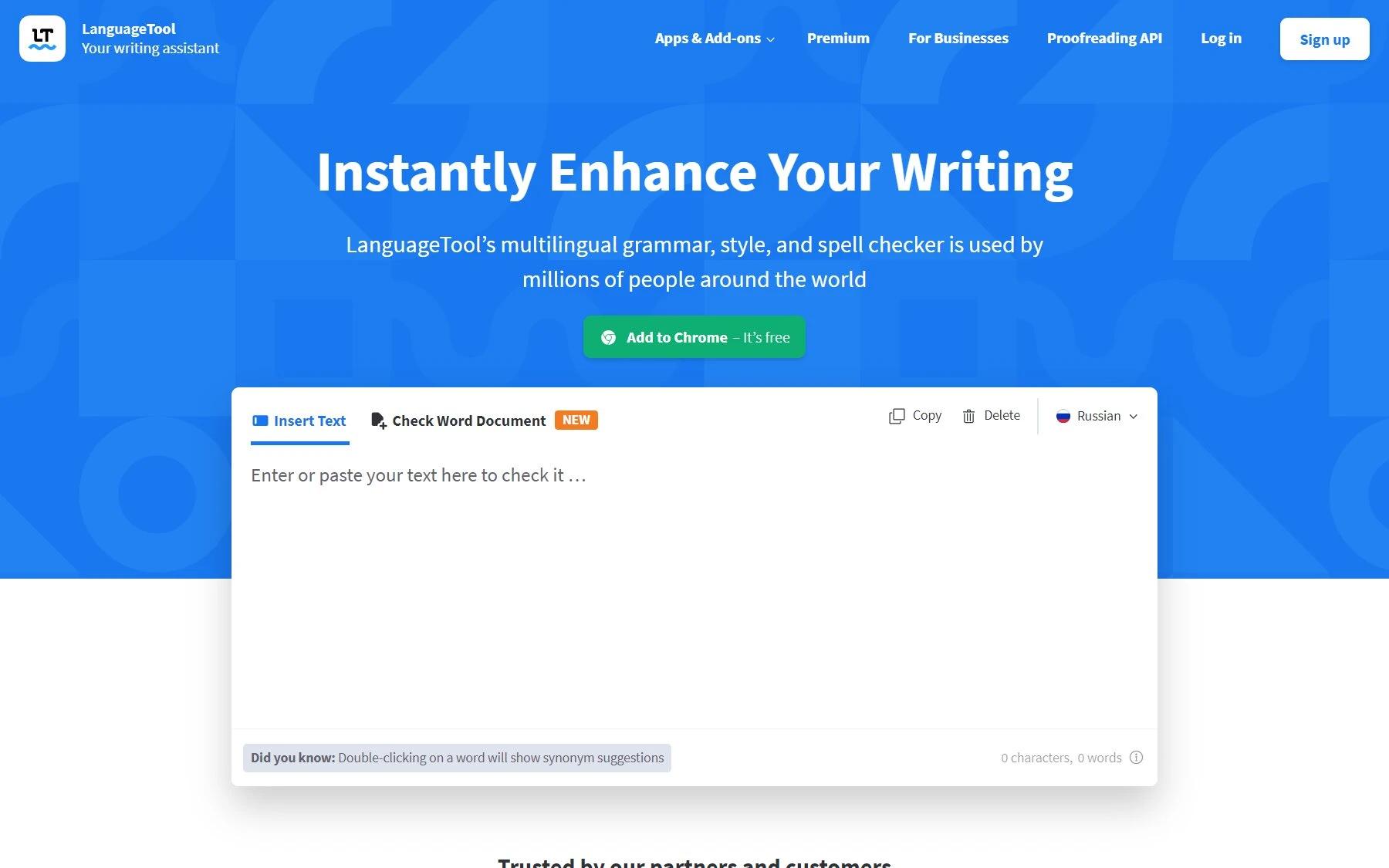 Language tool is a multilingual grammar, style, and spell checker to aid you in writing English confidently. The premium language tool subscription enables the users to write clear and precise impressive writing.
Key Features:
Free Google add-on.
Multiple integrations.
Free extensions for any browser.
Dark and light theme.
Personal dictionary.
Quality scoring.
Proofreading API.
Pros:
Aids you in identifying your spelling, punctuation, and grammar errors.
Free account creation.
Distraction-free writing.
Picky mode for advanced style and typography.
For personal and business use.
Cons:
LanguageTool isn't the most advanced grammar checker, nor is it a total plagiarism solution.
Pricing and Plans:
For Beginners: $ 0 / month (Limited).
For Individual Users: $ 2.50 / month.
For Teams: $ 4.49 / month.
Linguix is made to discover and correct spelling errors in your English documents. This tool examines your writing and gives you the right recommendations in order to make your writing clear, correct, and smooth.
Key Features:
Free Google extension.
AI-based writing assistant.
Personalized language learning.
Repetitive typing automation.
Integrated with several websites.
Native English writing and Editing.
Pros:
Grammar checker.
Plagiarism checker.
Paraphraser.
Shortcuts to write fast and save your time.
Style guides.
Desktop app
Android keyboards.
Templates.
Writing coach and grammar rules.
Cons:
It uses Wikipedia content to check plagiarism.
Not recommended for team use and business purposes.
Pricing and Plans:
Basic: $0 (Limited)
Premium: $8/month
Team: $10/month/member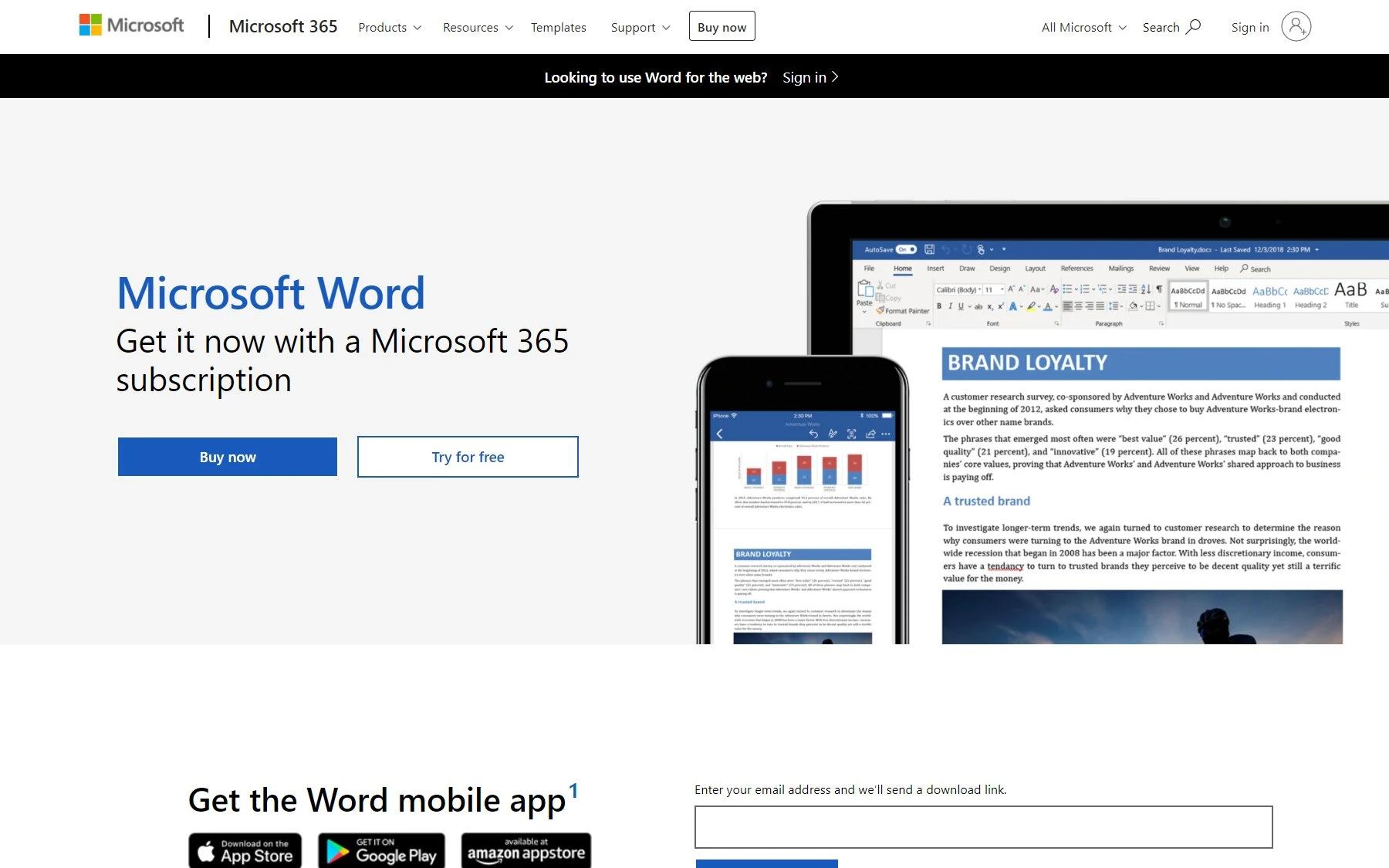 Word and Google Docs allow users to create and save documents using a word processor, whether you are a student or professional.
Key Features:
Microsoft Word creates and edits brochures, letters, assignments, and quizzes.
Microsoft Word can transform your documents into web pages.
Free editor to give you intelligent suggestions.
Google doc edits your document while writing.
Multiple people can work on a single Google doc document at a time.
Pros:
Microsoft and GDoc are currently popular, suggesting they're reliable and efficient.
Easy to use.
Free editor, overview, and suggestions.
Professional writing and editing software.
Multiple formats are available.
Cons:
Not for writing memos and brochures.
No plagiarism detection.
Pricing and Plans:
Google Doc is free to use.
Microsoft Word: a one-time charge of $149.99 is required.
Microsoft Word: the annual fee is $69.99, and the monthly fee is $6.99. (for one computer).
Microsoft Word: the yearly charges are $99.99, and the monthly payment is $9.99. (to install on up to 5 computers).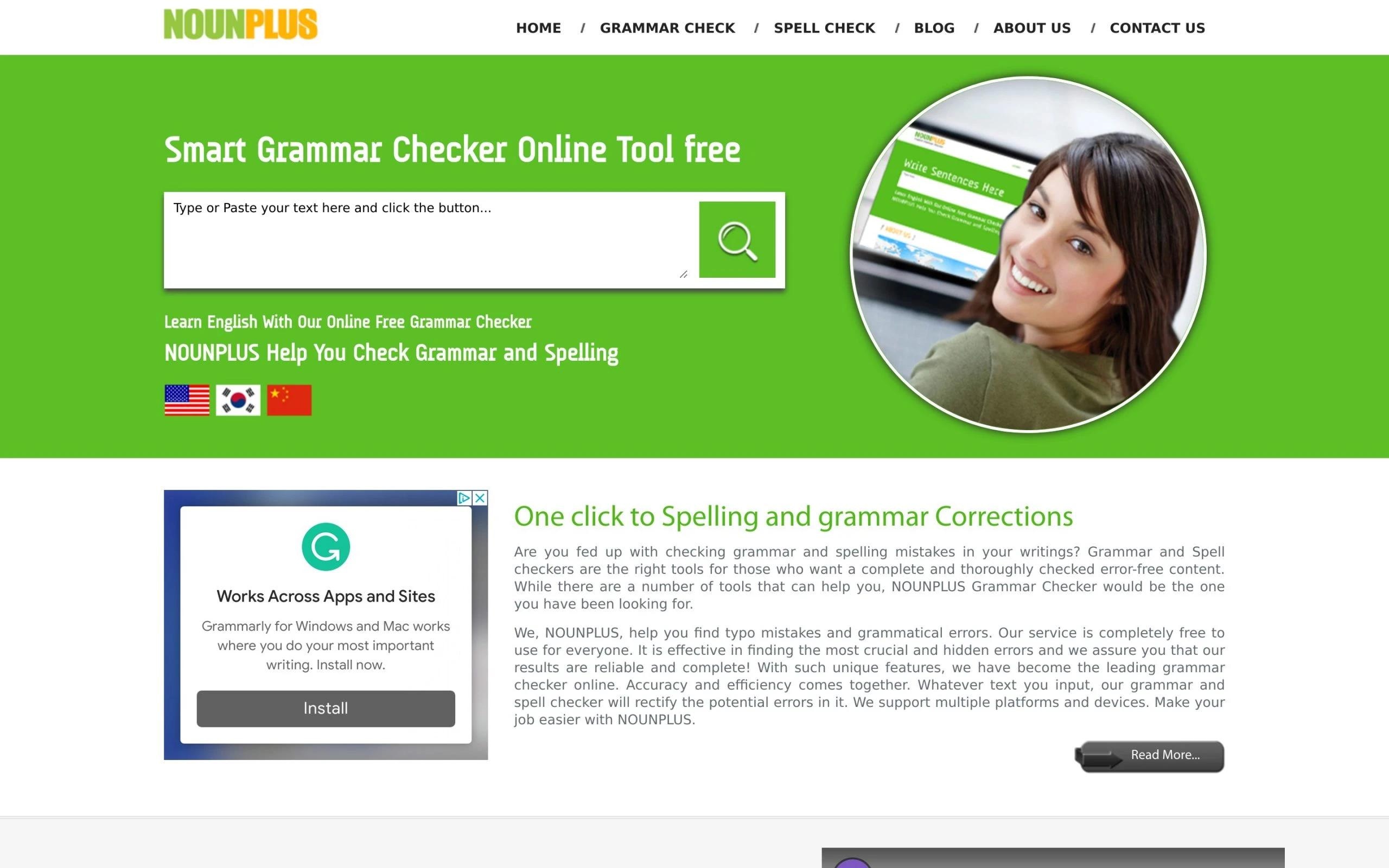 Nounplus is a free grammar checker tool on the internet. It detects critical grammar errors and gives accurate editing results.
Key Features:
Exclusive for grammar and spelling correction.
One-click editing.
Pros:
Completely Free.
Grammar rules and sentence correction.
Edits spelling mistakes.
Cons:
Separate screens for grammar and spelling.
Pricing and Plans:
This grammar checker tool enables its users to correct basic grammar and spelling errors. Online Correction suggests you remove irrelevant elements from your writing and helps you gain pro-writing skills.
Key Features:
Can edit Spanish, German, French, Italian, Russian, and Portuguese languages.
Auto-correction.
No paid tools or membership.
Pros:
Simple and easy to use.
Supports various languages.
Basic editing tool.
Cons:
No plagiarism checker is available.
No advanced-level editing.
Not suitable for professional use.
Pricing and Plans:
Free.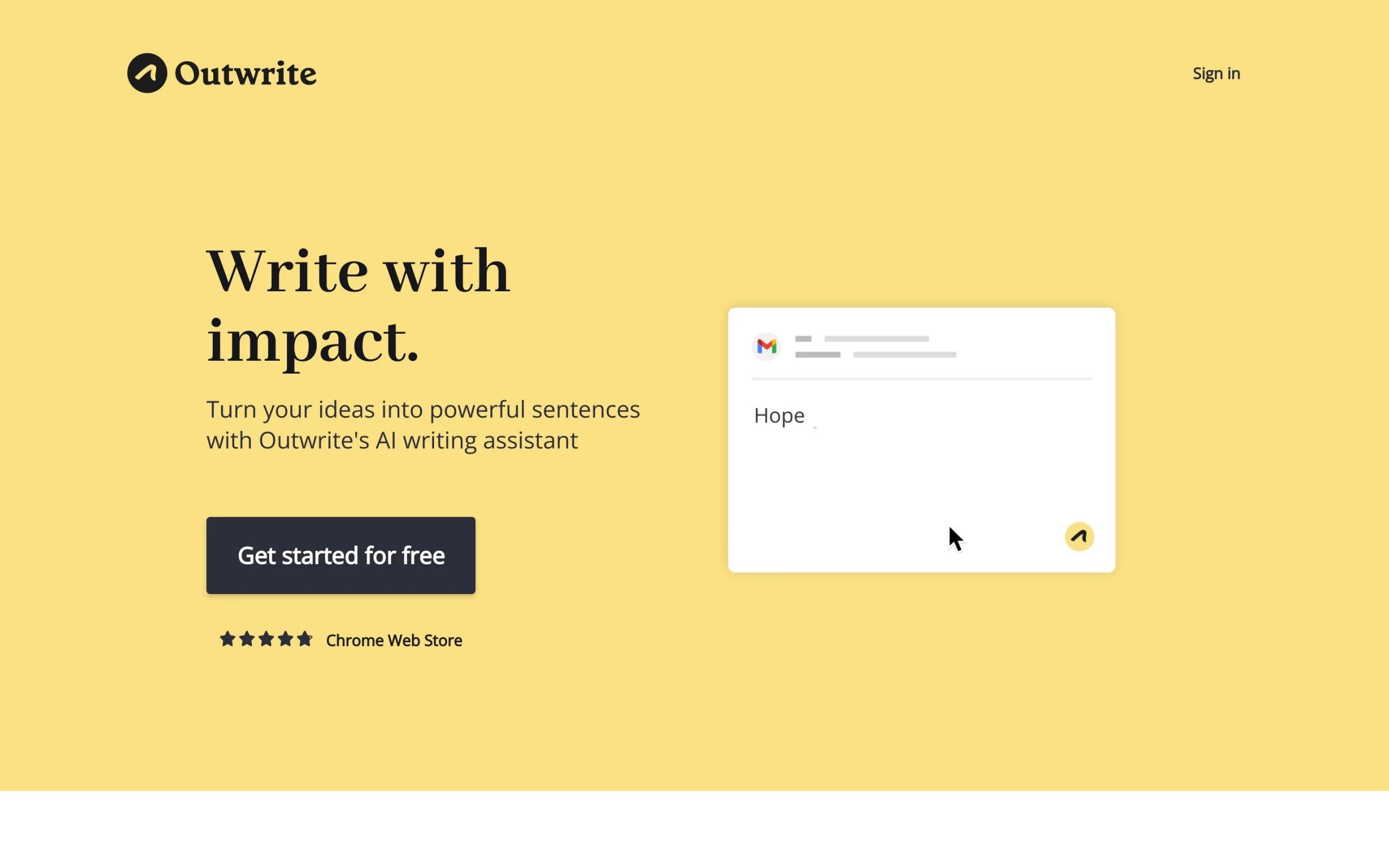 Outwrite aids you in turning your ideas into powerful sentences with no grammatical errors and punctuation mistakes.
Key Features:
Supports Google Docs, Word, LinkedIn, WordPress, and Outlook.
1 million users.
Free account creation and ideas.
Support and contact available.
Pros:
Accurate writing with spelling and grammar checker.
Style and structure improvement.
Better for business style writing.
Cons:
Style, paraphrasing, and passive voice correction lie under the premium plan.
Pricing and Plans:
Free Essential: Only spelling and basic grammar mistakes.
Pro: $9.95 per month.
Team:$7.95/user/month.
PaperRater provides immediate results of plagiarism checking, automated proofreading, and grammar check. This grammar checker tool enables users to follow useful writing suggestions and correct even the tiniest of mistakes.
Key Features:
Proofreading.
Plagiarism Detection
Editing
Feedback and writing instructions.
Automated scoring.
Vocabulary Builder.
Pros:
All in one writing tools and software.
Passive voice detection.
Readability statistics.
Sentence length improvement and variability.
Cons:
Limited integrations and extension.
Ad-free site and files upload is available in paid membership.
Slower processing.
Not supportive for lengthy writing documents.
Pricing and Plans:
Basic: $0 (Limited).
Premium: $11.21 per month or $71.55 per year.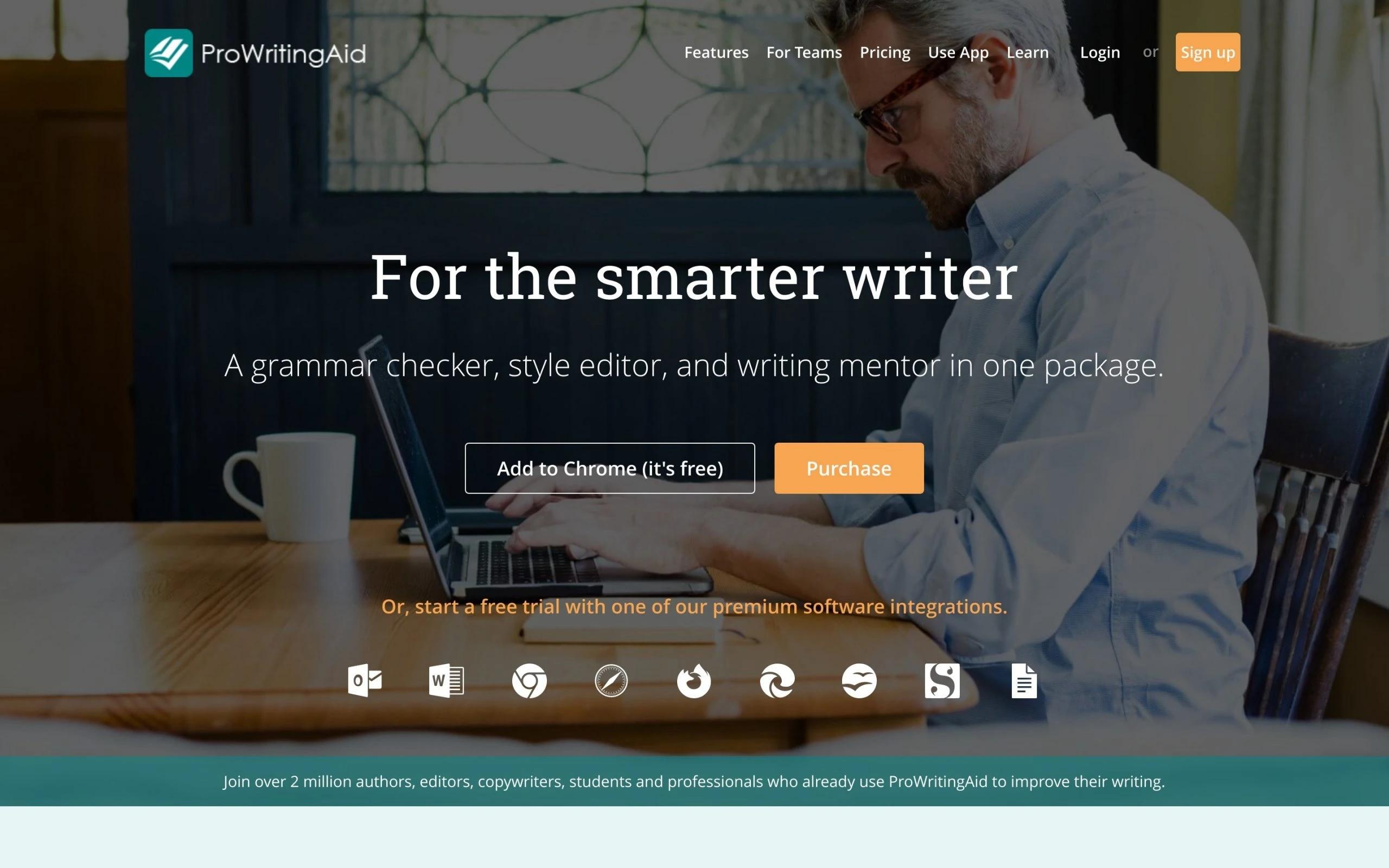 This grammar checker tool is best for fiction and non-fiction authors, content writers, students, and business writers. ProWritingAid edits, improves and clarifies your writing to boost confidence in it.
Key Features:
Money-back guarantee.
Multiple integrations.
Data privacy.
Reasonable plans and prices.
In-depth reports.
Pros:
Corrects overused phrases, repetitive words, adverbs, passive voice, and other writing issues automatically.
Grammar guide, dictionary, word cloud gallery, and writing techniques as resources.
Plagiarism checking and grammar checking API are present.
For personal use and business team usage.
Cons:
Most useful features are included in paid plans, including the plagiarism detector.
Pricing and Plans:
Free with limitations.
Yearly Premium: $79.
Yearly Premium+: $89.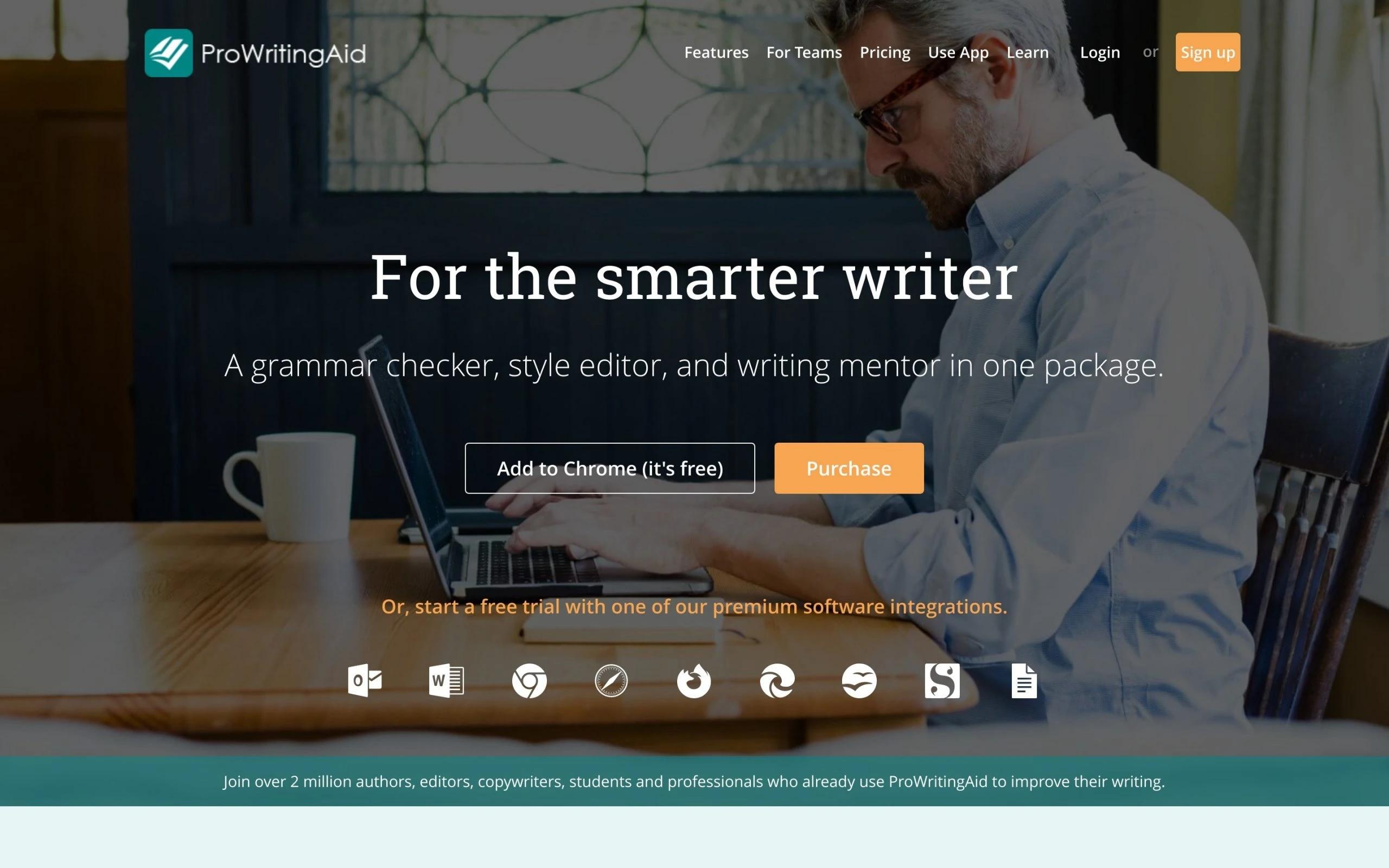 Cooperation between Google and the European Union resulted in the Reverso translation system. Get translations and basic grammar correction for words and expressions with a single click for 15+ languages. Hundreds of millions of translations in a wide range of genres, including literature, theater, and poetry, are now available on the platform.
Key Features:
It features translation dictionaries, so you can look up for words and synonyms right on the platform.
Text from any source, including photos and webpages, can be copied and pasted.
Any text you translate will be saved in your history and accessible at any time.
Built-in spell-checker.
Pronunciation available.
Pros:
Free translation and basic grammar checking on the same platform can be useful.
Downloadable to computer and mobile app.
Advanced reliable technology for accurate results.
Popular: 60 million active users.
Cons:
Operating the program can be tricky.
Pricing and Plans:
The monthly cost of Reverso Context starts at $6.50 per user.
A free version is available.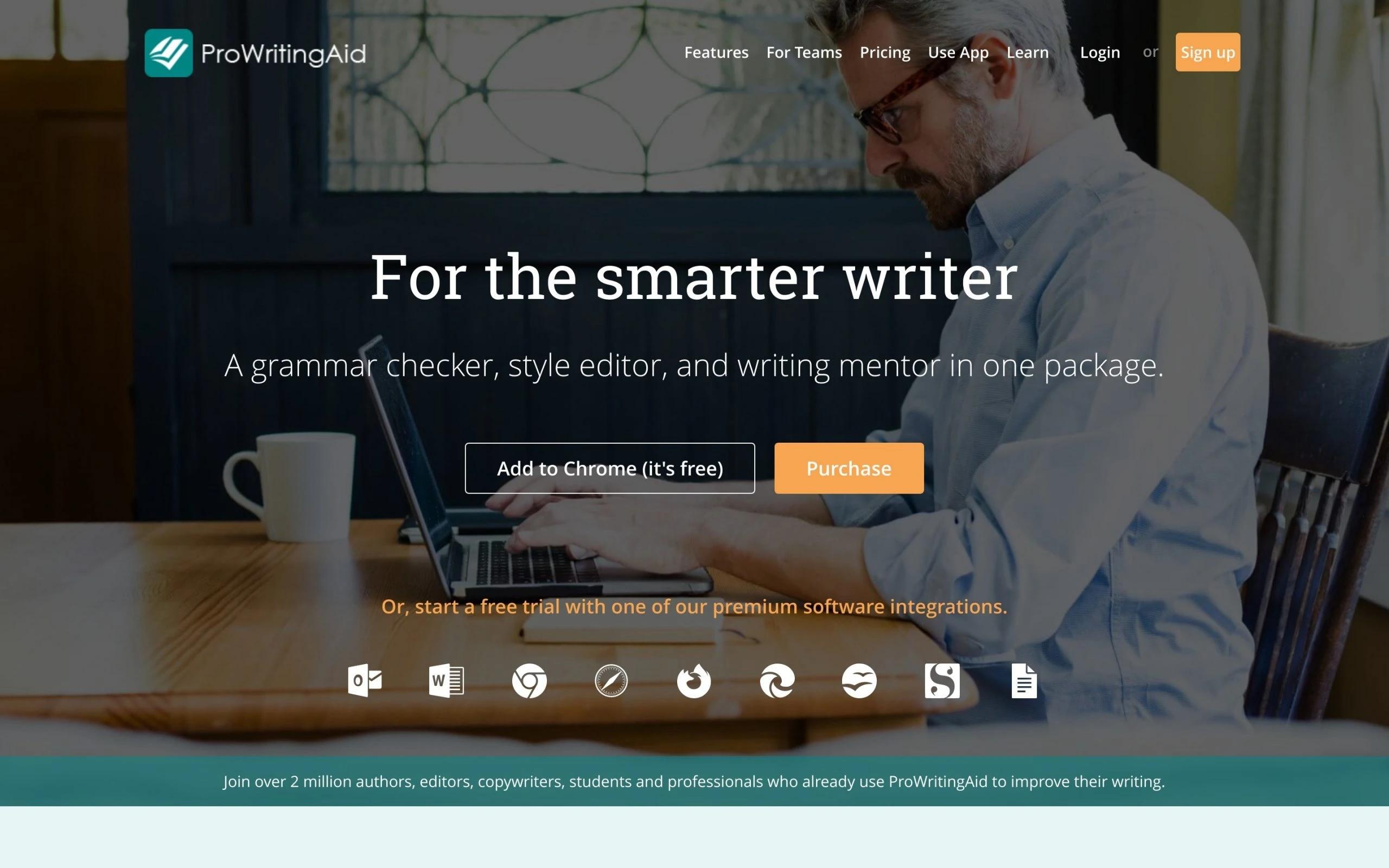 Scribens claims it can edit your document 10X better than Microsoft word. The tool has a powerful thesaurus and dictionary to support your writing style. On top of that, scribens secures your data with SSL encryption. You can write and edit your document freely anywhere.
Key Features:
Extensions for Chrome and other browsing sites.
Free grammar checking software.
Premium tool to make your writing better.
Ad-free site. (premium)
Pros:
Quick and efficient results.
Dictionaries, explanation, and correction in one go.
Smartphone friendly.
Trusted by 8M users.
Cons:
Not so popular among the writing community.
Pricing and Plans:
Monthly: $19.90
Yearly: $50.00
Slick Write is a grammar checker tool that supports all types of writing. It has a free extension available so that you can use it everywhere. Slick write enables its users to write freely.
Key Features:
Chrome and Firefox extension.
Fast grammar checking.
No installation is required.
Customized feedback for new documents every time.
Content generator.
Pros:
Ideal for every style.
Courses available.
Documents are not to be shared with anyone else.
Cons:
No free version and credits are available.
Monthly subscriptions begin at $49.99.
Pricing and Plans:
The cost for Slick Write proofreading software is absolutely free.
Slick write content generator is $49.99 per month.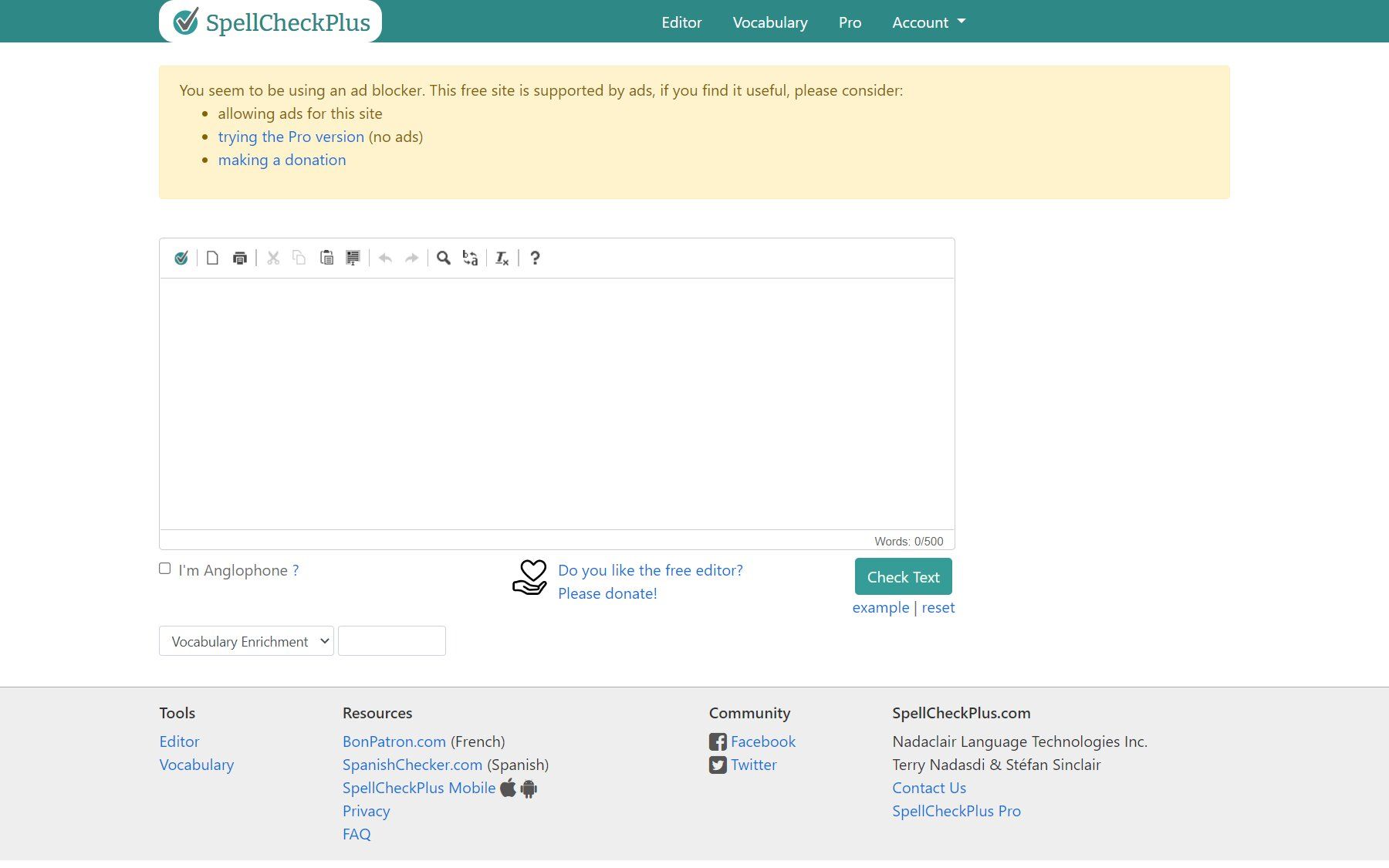 SpellCheckPlus is a browser extension that identifies text errors when writing for blogs, emails, and other apps. Current browsers, including Chrome, Firefox, Internet Explorer, and Opera, support its extension. A comprehensive English language dictionary with over 1 million words is also included.
Key Features:
Editor and vocabulary.
No ads.
No text limit.
Error Summary.
Pros:
Free trial and version available.
Does what it says.
Cons:
It cannot recognize homophones.
It is incapable of understanding proper names or foreign languages.
Pricing and Plans:
$5.99 for a monthly subscription.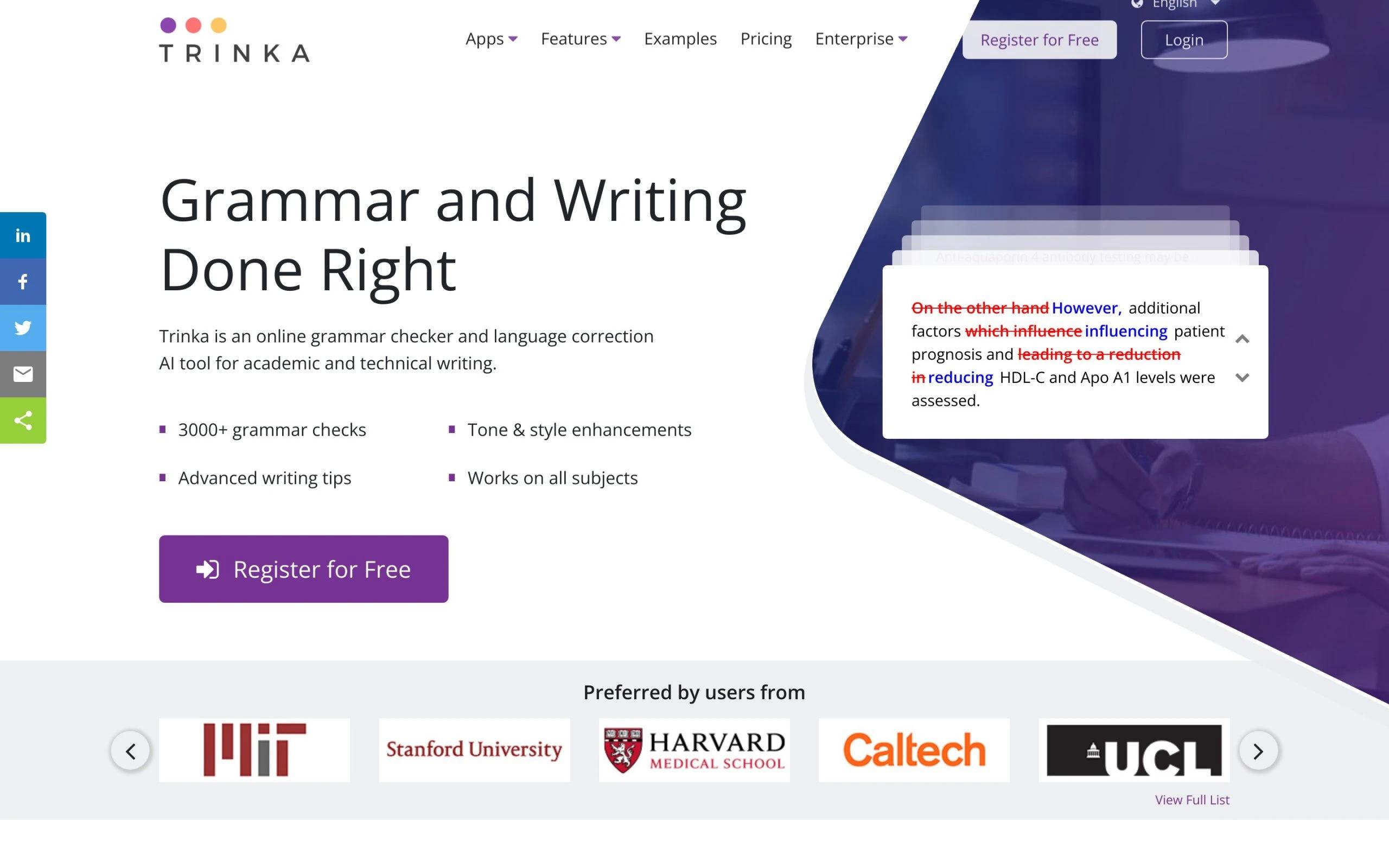 Trinka is a grammar checker tool that assists your English writing on a professional level. Trinka was created for academic and technical writing. However, it does cover all the subjects and tones.
Key Features:
3000+ grammar checks.
Advanced writing tips:
Tone and style enhancements.
Style guides.
Formal tone.
Technical word choice.
Medical grammar check.
Pros:
Free membership and resources.
Makes your writing concise.
Great for the team and enhancements.
Auto file edit.
Cons:
Limited grammar checking and error detection.
Focuses more on formal writing.
Pricing and Plans:
Trinka's monthly subscription starts at $6.67 per user.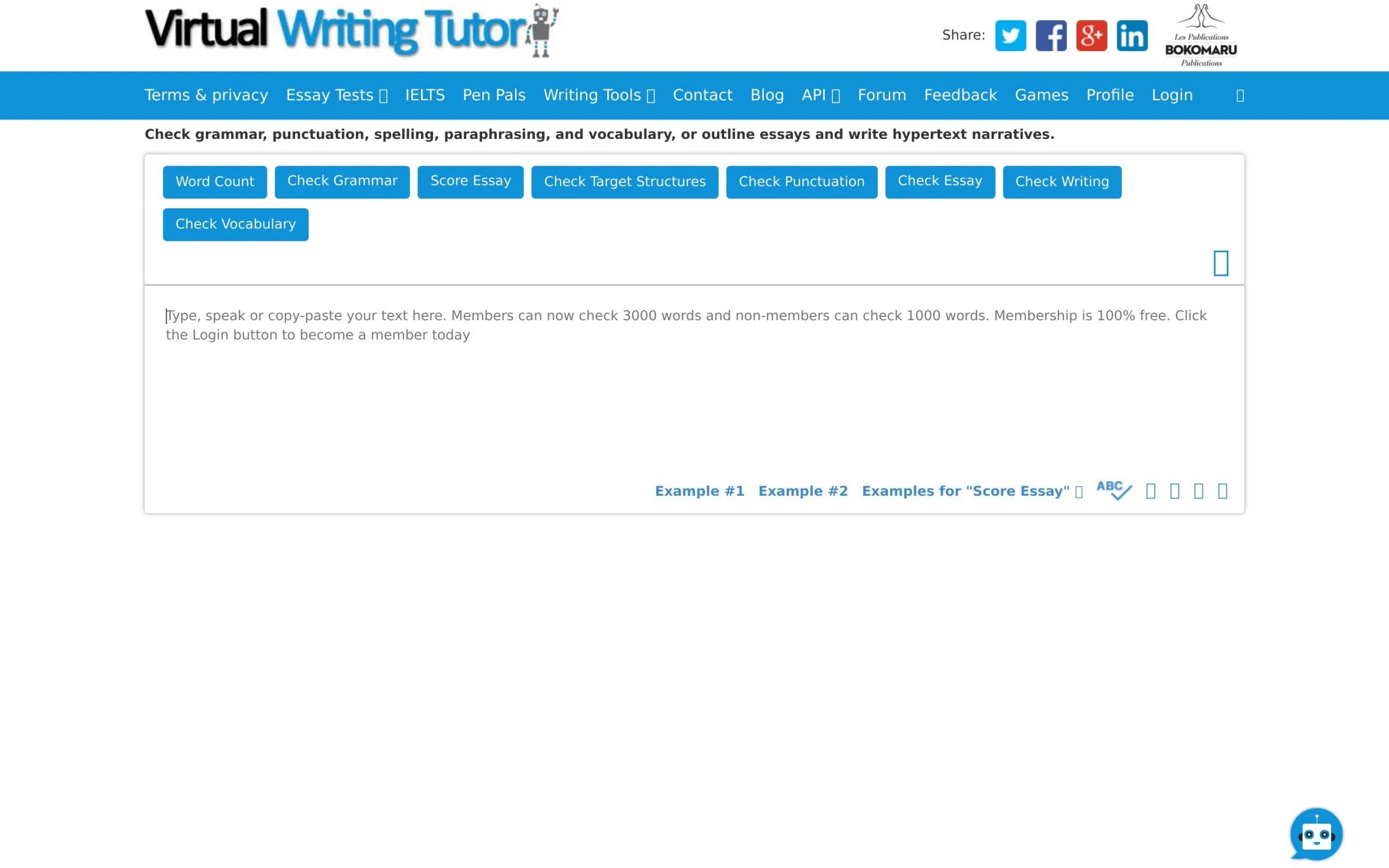 Virtual Writing Tutor checks grammar, spellings, and punctuation. Also, it helps you in paraphrasing the text. The tool has a rich vocabulary to provide your writing uniqueness.
Key Features:
A virtual writing tutor can edit a document of up to 3000 words of their members.
It has a free membership.
It writes hypertext narratives.
Creates chatbox, chatbot dialogue, glossary, and summary.
IELTS speaking exam preparation.
Pros:
You can save numerous versions of your work.
Images can be used in the document and will be aligned automatically. If the image is too huge, it will be automatically shrunk.
Cons:
No face-to-face engagement.
No suggestions.
No recommendations.
Pricing and Plans:
The Virtual Writing Tutor is completely free.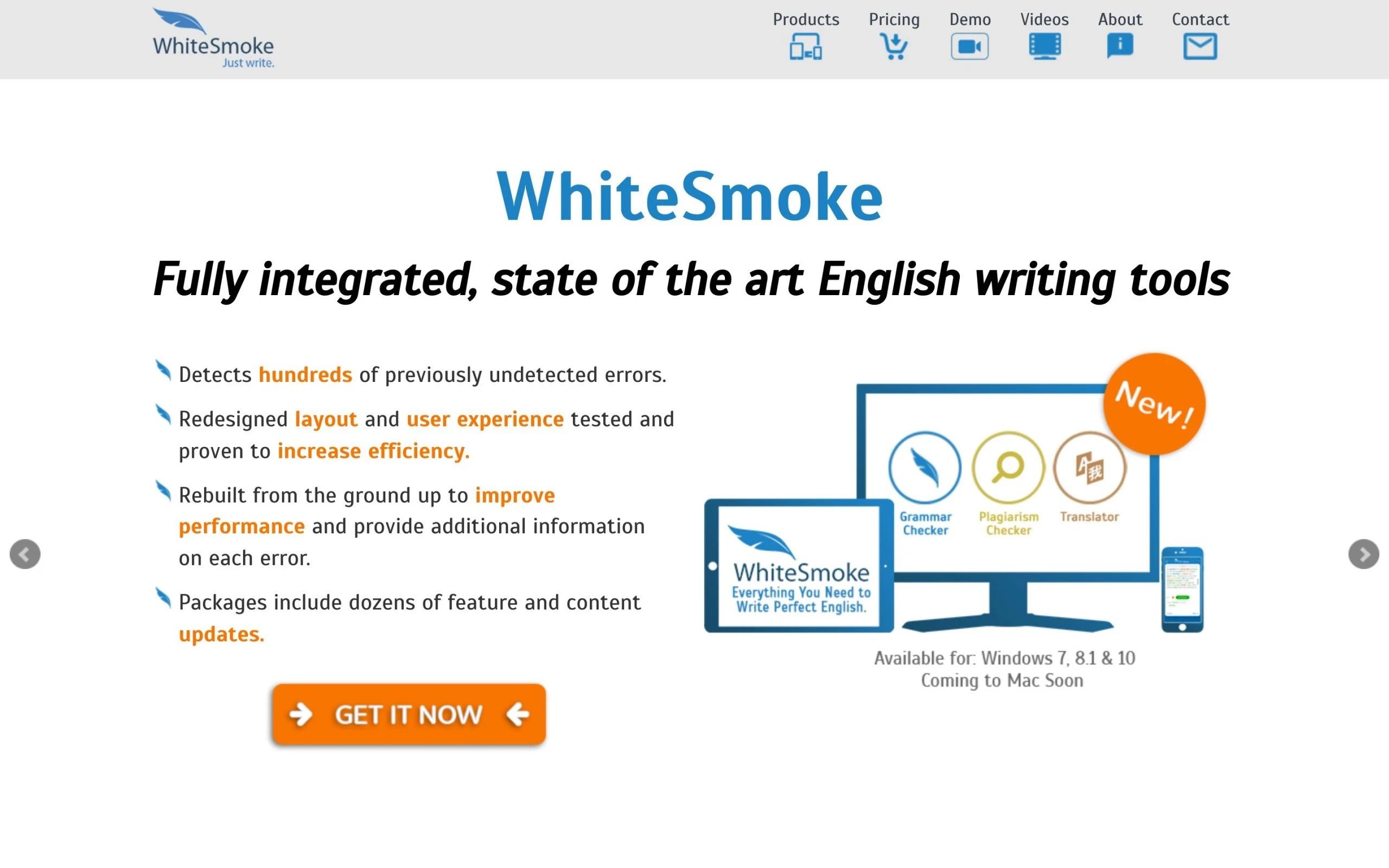 WhiteSmoke is a content creation tool that can handle anything from simple word processing through editing, rewriting, and even translation.
Key Features:
Desktop premium.
Web-based Writing Powerhouse.
Grammar, spell, and punctuation checker.
Translator.
Pros:
Offers a diverse range of high-quality language materials.
The custom dictionary function allows you to create your wordlists from existing dictionaries or from scratch.
Supports all major global languages.
Cons:
It doesn't work with a lot of browsers and OS systems.
No plagiarism checker.
Pricing and Plans:
WhiteSmoke's monthly price starts at $5.00 per feature.
There is no free version available.
After The Deadline (AtD) is a grammar checker tool available as an extension for various browsers and as a plugin for forums and WordPress, using AI and the natural language selection process, it helps you correct grammar, style, and spelling mistakes.
Key Features:
AtD uses open source technology to make it easier for anyone to contribute.
AtD uses natural language processing and AI for accurate suggestions.
Detects, explains, and resolves all the contextual errors.
AtD supports English, German, French, Spanish, and Portuguese.
Available on various platforms: Libraries, forums, and CMS platforms like WordPress. See detailed information on the AtD developer's page.
Pros:
Easy to use by simply using it as a browser extension or plugin.
Multilingual, so a lot of users can benefit from the tool.
It does what it says.
Cons:
No mobile application.
Unreliable customer support.
Pricing and Plans: correct
● Free to use.
How to choose grammar checker software?
The idea of getting a grammar checker tool seems seamless since there are hardly any ins and outs involved. Because what a grammar checker does is pretty straightforward. But, there are some things that you should wrap your head around before choosing a tool, especially when you're purchasing one. Read below:
1. Ease of use
This is the most important factor to consider when choosing a grammar checker tool. If there are a lot of complications involved, it can get pretty annoying overtime.
For example, when they ask you to download or purchase a whole new tool just make one other thing work. Or, when there's a whole new training or learning curve involved with a bunch of training videos or guides to read. You don't need to be trained separately to use a grammar tool: it should be easy already.
Make sure it's simple: you either download the software on your PC or it's web-based app. You paste the text and you correct your grammar. If it's an extension, it's even greater. But anything else involved in between can only prolong your duration of use, taking up a lot of your time, and making everyday use annoying.
2. Extra Features
See whether the grammar checker application includes more editing tools to enhance or make your experience better. For example, having a plagiarism checker or translation tool built right into the main application can be super beneficial for some folks.
You won't need to purchase or download any other apps separately to get these two features.
3. Price
You may not like the idea of investing in a simple grammar checker tool, but it can be worth it. Especially when you're publishing consistently and want to save time on edits. But when and what should you pay?
Here are some guidelines to help you determine:
a. If you're at level 1 of your blogging career
If you have just started to write and publish stuff, and not sure you want to invest yet – look for the best free grammar checker tools to get started.
Google Doc is one of those options, and it gets the job done pretty decently. (Except it can't detect or resolve advanced style and tone mistakes). You can also look for premium tools with free trials to see if they can get you the desired value.
b. If you're in the midst
If you have published some stuff already, and even started to see some results, but now you want to save time on editing and writing, and focus on other things – look for mid-ranged premium tools.
A yearly one-time payment can be great since you're already expecting to make money out of your blog soon. So the return on your investment is already justified.
c. The advanced level
This is where you have a ton of stuff to focus on, your blog is already doing awesome, and you might hire new writers to contribute to your blog. This is where tools like Grammarly come in – an all-in-one tool to add more than one user, check advanced level of mistakes, and even check plagiarism.
Pro tip: If you want to enjoy the same premium features from more expensive and advanced tools, but by paying less – collaborate with other bloggers in your niche.
In Facebook groups or relevant blogging Reddit communities, reach out to them who are at almost the same level of needs as you. Buy those tools together and divide the cost.
Best for grammar check
Grammarly. It helps you and assists you in writing without errors. It is one of the most effective proofreading tools accessible. Use its Chrome extension, and anytime you write anything on your browser, it will automatically underline mistakes, and offer suggestions. Overtime, it can even make you a better writer.
Best For Checking Punctuation
Hemingway is a strong writing program that helps you write with clarity, conciseness, and confidence. Over 500,000 authors use it.
Based on the logic of grammatical rules, the "Check Your Sentences" tool will recommend the appropriate punctuation mark. It automatically corrects punctuation problems and highlights them with colors.
The "Readability" function assesses the complexity of a text and provides methods to make it easier to read by simplifying the structure or using shorter phrases.
The "Keyword Density" bar displays the frequency with which a specific term appears in the text compared to other words. This aids in detecting words that are repeated too frequently or insufficiently.
The Best Free Grammar Tool
Grammarly: It's paid, I know, but it also has a free version. For most writers, the free version can do a lot of work, especially the Chrome extension. Grammarly analyzes work in real-time and flags any problems before pressing "Send", "Publish", or "Save". It identifies the mistakes right on the spot, without having you to manually copy the text and paste on a separate interface to correct the document. So it kind of feels like you become worry-free, thinking Grammarly is always there to detect your mistakes, before you make an 'oops'.
The Best Android Grammar App
Ginger and Grammarly, (again I know but it's useful, so worth mentioning). Both are basically additional keyboards with advanced built-in features. Apart from basic spelling and pre-type suggestions, they detect style errors, which is pretty cool considering these two are mobile apps. Next time, when writing emails, texts, or posts on mobile, if one of these two is installed, it can make your writing clearer, and more confident.
Best iOS Grammar App
Typeright is one of the best iOS grammar checking apps for bloggers, offering support via new dedicated keyboard, advanced AI-powered checker, translation, synonyms, and a lot more. Currently with almost thousand positive reviews, it's safe to say that you can download it instantly. It's a paid app, but you can get it for free from the Apple Store, and use it's trial offer to see if this is best fit for you.
If you write posts frequently on your mobile, I suggest downloading GDOc for both Android and IOs. It's fast, efficient, and detects basic grammar mistakes and evaluates them. Best part, you can write offline, share them with people, or download them in different formats.
Comparison Table
| Grammar Tools | Key Features | Price |
| --- | --- | --- |
| After The Deadline | Supports English, German, French, Spanish and Portuguese. Uses open source technology. | Free to use. |
| Ginger Online | Translation and punctuation. Grammar rules and sentence rephraser. | Monthly: $13.99 Annual: $7.49 |
| Grammar Checker | Infographics. Spelling errors, grammar and style suggestions. | Basic: Free. Advanced: $11 monthly. Advanced: $99 yearly. |
| Grammarly | Free writing assistant. Plagiarism checker. | Basic: Free Monthly Premium: $12.00 Monthly Business: $12.50 |
| Grammar Slammer | Grammar and spelling check references. Free demo. | One time purchase: $25: Grammar Slammer. $39: Grammar Slammer Deluxe. $49: Grammar Slammer deluxe with checkers. |
| Druide Antidote | French translation. Typography and style. | One time purchase: $119 |
| Qordoba/Write | AI writing assistant. Personal and team snippets. | Monthly pro: $11 Monthly Team: $18 |
| Hemingway App | Desktop app. Grades and word count. | One-time fee: $19.99 |
| Language Tool | Dark and light theme. Personal dictionary, quality scoring, proofreading API. | Beginners: $0 Individual users: $2.50 Teams: $4.49 |
| Linguix | Native English writing. Personalized language learning. | Basic: $0 Premium: $8 Team: $10 |
| Microsoft Word and Google Docs | Free editing. Multiple people can work on a single document. | Google doc is free. Microsoft Word one time purchase: $149.99 Annual: $69.99 Monthly: $6.99 |
| NounPlus | Grammar and spelling correction. one-click editing. | Free to use. |
| Online Creation | Can edit Spanish, German, French, Italian, Russian and Portuguese languages. Auto-correction | Free to use |
| Outwrite | Supports Google Docs, Word, LinkedIn and WordPress. Business style writing. | Monthly Pro: $9.95 Monthly Team: $7.95 |
| PaperRater | Proofreading Plagiarism detection. | Basic: $0 Monthly Premium : $11.21 Yearly Premium: $71.55 |
| ProWritingAid | In depth reports. Money back guarantee. | Yearly Premium: $79 Yearly Premium+: $89 |
| Reverso | Translation dictionaries. Pronunciation available. | Monthly: $6.50 |
| Scribens | Ad free site. Multiple integrations. | Monthly: $19.00 Yearly: $50.00 |
| Slick Write | Customized feedback Content generator | Yearly: $49.99 |
| Spell Check Plus | Error summary No word limits. | Monthly: $5.99 |
| Trinka | Medical grammar check. 3000+ grammar checks. | Monthly: $6.67 |
| Virtual Writing Tutor | Writes hypertext narratives. IELTS exam preparation. | Free to use. |
| Whitesmoke | Grammar, spell, and punctuation checker. Translator. | Monthly: $5 |
| Writefull | Academic and technical writing. Paraphrasing and title generator. | Monthly: $15.37 |
Grammar Checker FAQs
Who Needs A Spelling Or Grammar Checker?
A grammar checker is a necessity for folks who struggle in grammar. Especially the ones who are bloggers, writers, and work in offices in customer support teams. While it shouldn't be like this, a single grammar mistake subconsciously questions the credibility of that person. That's why these tools are becoming pretty important.
Or, in other scenarios, a grammar checker can be helpful when you're in a rush and want to type something, or dealing with a lot of written work consistently. Even if it's just an email, text with prim and proper grammar can make a huge difference.
Is A Grammar Checker Safe To Use?
Yes, popular grammar checkers use industry-standard encryption to protect their users' data. This means that everything you type and check with a grammar checker is safe. So, if you're working on any work-related documents – you can do it without worrying about your important documents getting redistributed.
However, it is vital to use a well-known grammar checker to ensure that it has industry-standard encryption in its algorithm.
Is Grammarly A Reliable Grammar Checker?
Yes, in most cases – Grammarly is a reliable checker as it's easy to use, anyone can get the hang of its UI, and it does what it says.
However, according to some reviews – sometimes, when you don't pay attention while correcting your mistakes, Grammarly can lead you astray because after all, it's AI.
It cannot understand the context as well as a native person would. Therefore, human supervision is always advised.
What Is A Good Free Grammar Checker?
Many free grammar checkers are available on the market like Grammarly and Ginger. Their standard versions can do enough for most users.
All you need to do is visit their websites, and/or install the application on your computer or mobile phone. However, most of them have pay walls for some high-end features.
Does Microsoft Word Have A Grammar Checker?
Yes, Microsoft Word has an inbuilt grammar checker. You can find it under the review tab by clicking on "spellings and grammar."
It has almost all the features that you can find on any other grammar checker. But, for some high-end features like sentence structure correction, it's best to use third-party grammar checking software.
What Grammar Checkers Work With Word?
Several grammar-checking software work with Microsoft word. The more popular ones include Grammarly, Hemingway Editor, After the Deadline, and ProWritingAid.
Can grammar checkers work offline?
No, most of the grammar checkers do not work offline. It's because they require an internet connection to connect to the servers in their databases to access the dictionaries and word glossaries to point out mistakes in real-time.
However, grammar and spelling checkers in Microsoft Word do work without an internet connection because you already downloaded all the data on your computer.
Can a grammar checker replace a human proofreader?
No, grammar checkers cannot entirely replace human proofreaders. Mostly because grammar checkers do not take the context of the text into account – and even if some of them do, they can't be fully trusted like a blind eye.
This is why you need to do last-minute fact-check to ensure that the context of your text stays the same.
Conclusion
Free tools have their own limitations, and paid ones of course are better in assisting. But, remember, at the end of the day, it's always you. Injecting desired emotion in your content is something that AI may not be able to do efficiently.
Last minute proofread is always yours. So, keep an open eye to catch that unintended typo before hitting 'publish', and keep learning for the better. At some point, who knows, maybe you won't even need to rely on grammar checker tools anymore.
Do let me know in the comments if you think this post was helpful. Or keep reading next on writing and publishing content on your WordPress site.