Stuck on what should be your first post? Don't worry. This is the story of every successful blogger ever started. Blogging is a journey. You'll evolve from "feeling awkward in sharing the first post", to "Hell yeah! I am loving every bit of it."
Today, you'll come across 20 amazing first blog post examples and 50 ideas for first blog posts to get started. Plus, lots of more insider tips to evolve and get more people listening to you. If you're in need of more blog examples for beginners, keep on reading.
Keep on reading, we're here to show you how to write your first blog post.
💡 How We Chose the Best First Blog Post Examples
To pick out the prime examples of killer first blog post examples, we looked at a ton from new blogs we follow. Things we focused on were structure, tone of voice and ability to hook readers.
For structure, we chose posts that had a clear intro, body and conclusion. You gotta tell readers what you're saying, say it, then wrap it up nicely.
Tone is so important too - you want an energetic and fun voice to make people want to stick around for more. Dry is a no go out the gate.
Can the post grab attention? Posts with intriguing intros that teased what was to come scored high. Leave em wanting and lurking for that next paragraph!
Not too long, not too short - you need a good balance to dive into a topic without making it a chore to read.
Ultimately we narrowed it down to examples we thought were perfect templates any new blogger could follow to nail their first post.
✍️ 8 Tips on How to Write the Introduction of Your First Blog Post
Begin your first blog post with your introduction, it's a nice kick-start. But, what should my first blog post be about? How do you write an attention-grabbing introductory blog post? Remember mentioning these key points when keyboarding:
1. Who Are You?
Just before starting your first blog post jot down a quick context; who are you, your interests, background, and mention anything that might help define who you are as a person.
2. Why Are You Blogging?
When you start with your first blog post, it's essential to clarify your motivation. Your first blog post should establish why you're writing. Perhaps you've taken inspiration from various blog examples for beginners. Adding 'why' to your blogging journey gives birth to a story. A story of a hero or heroine who's on the voyage to, let's say, expressing creatives, helping people, or innovating. As you ponder how to write your first blog post, remember that stories connect better with your visitors and keep them hooked.
3. What Are You Blogging About?
Tell what you'll be blogging about? What should your first visitors expect from you? How frequent you'll be posting? Whether it would be videos or how-to's? What niche would you cover? Think of setting these expectations in your first blog post as giving reasons to your visitors to keep checking on you.
4. Who Are You Writing For?
As you consider ideas for first blog post, it's crucial to know your audience. Call your target audience out in your intro so they know this blog is for them. Whether it's coaches, general audience, athletes, marketers, or writers — whoever they're, they should know you'll be helping them in the future through your blog.
5. What Are Your Blogging Goals? (Aka Mission statement)
When considering what should your first blog post be about, think of your overarching objectives. This is pretty important. Mention your goals; whether it's building a community, helping your visitors with your content, sharing your own achievements, or anything that sounds like your future goals.
6. How Can You Help?
When drafting your first blog post, it's essential to clarify how you'll be of assistance to your readers. Expressing how you can help with your content, builds connection, trust, and authority over your topic. If, for example, your mission is to help fitness coaches get more clients, how can you help them?
Whether through your own expertise? Or helping them connect with clients through your blog? Or by posting tips and ideas to get more clients? It's important to tell them because that's how they know what's in it for them and why they should follow your blog.
7. Link to Your Social Network
Everyone hangs out on social networks today, and as you plan out your first blog post ideas, keep in mind that eventually your visitors will also wish to join you on social media. Linking your social channels also builds a more humane connection because your audience will get to know you're a real person with real passion, and not some AI generating content on the web.
8. Write Engaging Titles in Your First Blog Post
Your blog post title, especially when it's your first blog post, will decide whether someone should read your article or skip it. For those wondering what should my first blog post be about, inducing elements like curiosity, uniqueness, and something catchy in the title is a good start. These kinds of headlines and blog titles get more organic clicks.
Below, you'll discover 20 of the amazing blog examples for beginners to get inspired and to learn how you can stand out in the crowd.
20 Of the Best First Blog Post Examples That Inspire You to Create Your Own
We've all been there, wondering what should my first blog post be about or how it should be structured. So, here are the first blog posts of popular bloggers that were once in your shoes. We'll talk about the goods of these first blog post examples and what you can learn from them.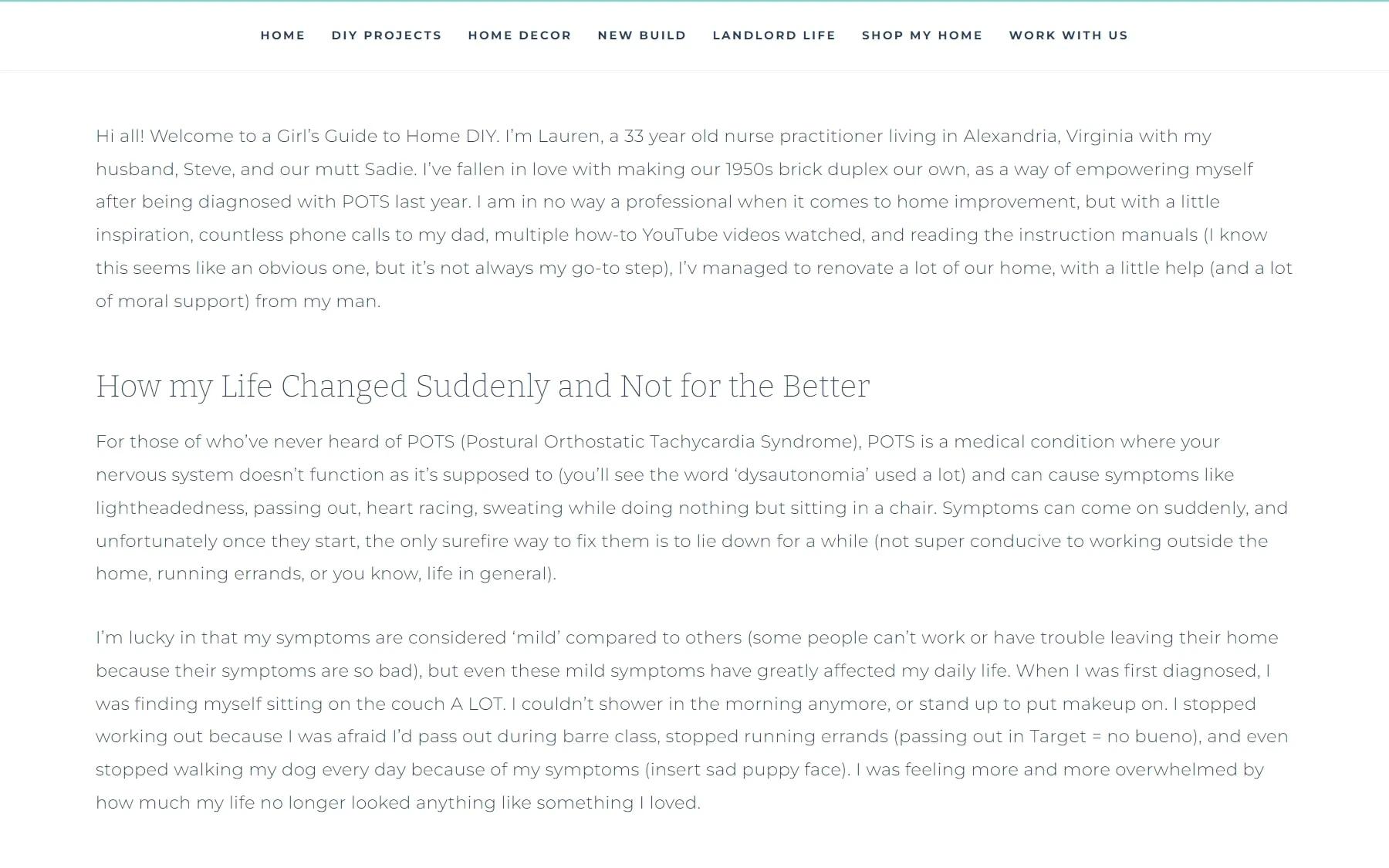 This is a great example of a first blog post. Lauren quickly grabs attention with something cute, shares about her, and includes her husband in the intro. The best part, she adds a story element by telling how she was struggling with POTS, and how just a light bulb inspired her to start her blog.
Even though she's not an expert at DIY, she overcomes this objection by sharing she gets help from her dad, learns from YouTube, and more. Great way to connect and set expectations with the audience.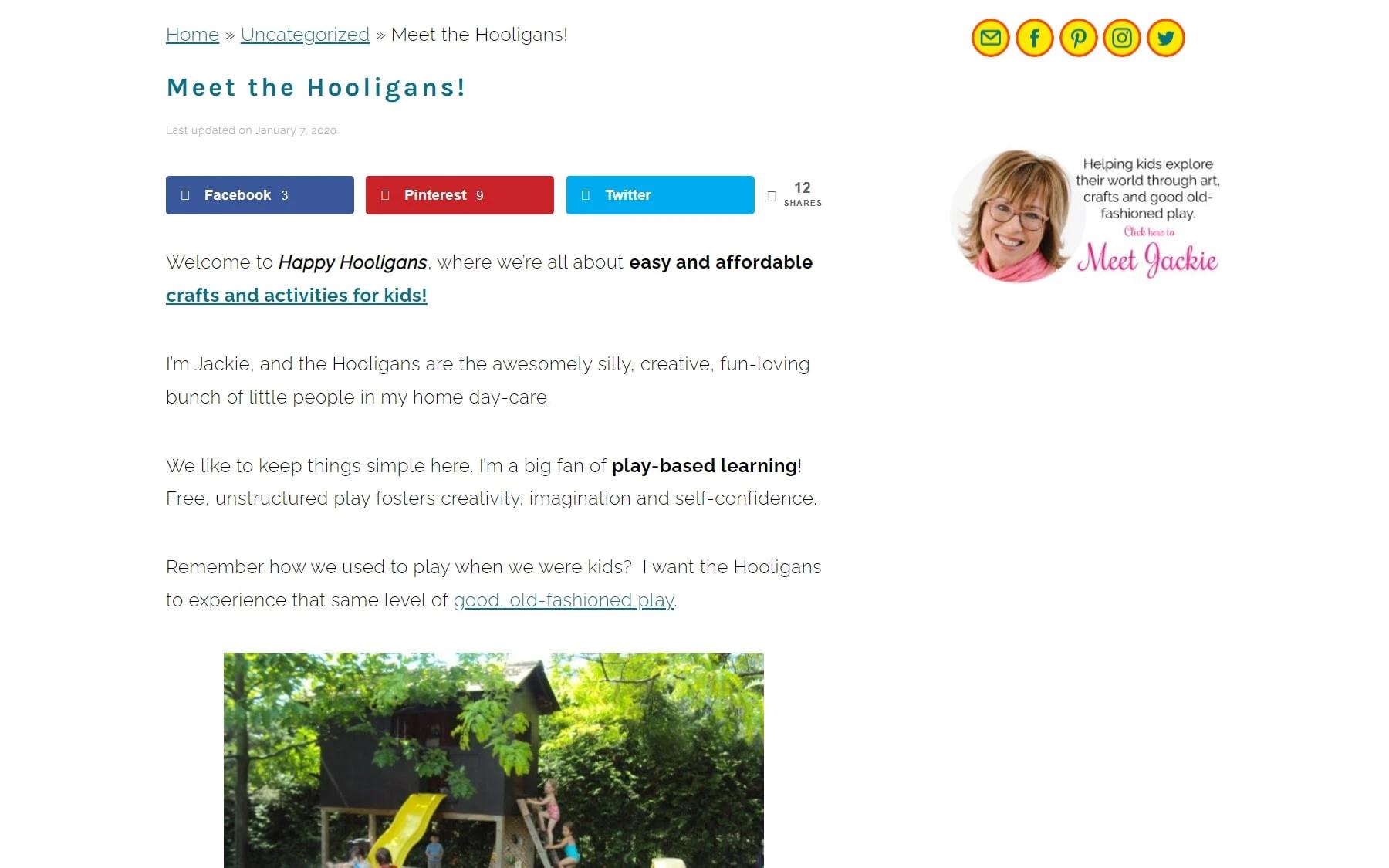 Jackie in her first blog post shares what the blog is about in simple, creative one line. She uses amusing words, and adds pictures of cute kids playing — that keeps us reading.
Then, she also interlinks other content on her blog to help visitors find what they might be interested in. Plus, she does a good job using multiple call-to-actions to invite visitors to follow her on social media — a great way to build a community. This is the ultimate blog post example to learn from.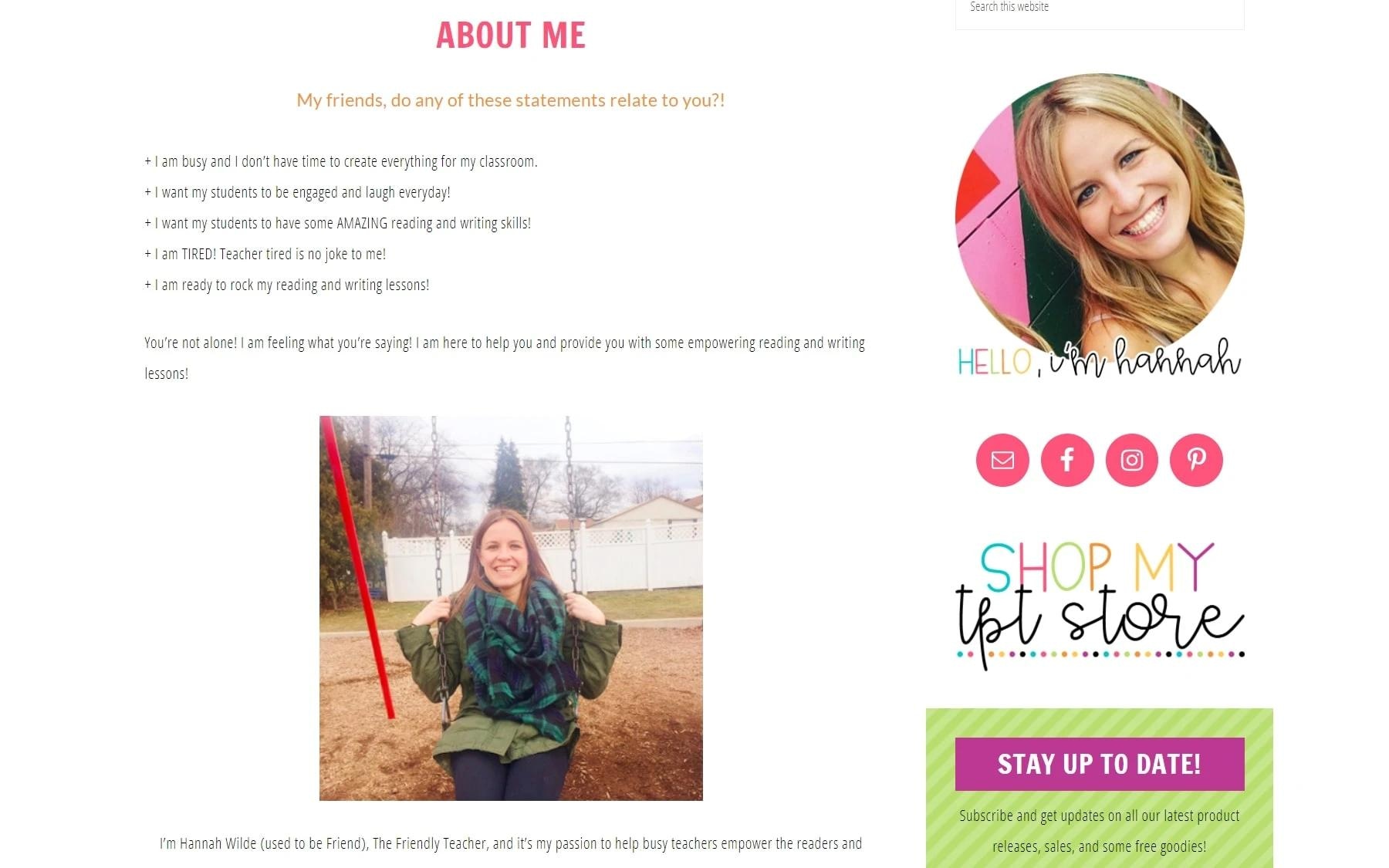 In her first blog post Hannah starts with a friendly tone, and asks a few questions if her target audience can relate. Those questions are the real issues of her audience, i.e. teachers, which she discovered after deep research. For those pondering over what should be my first blog post, taking a cue from Hannah is beneficial.
Then she proceeds to show her passion of helping teachers through her eBooks and write-ups. In the end, she talks about the things she loves, and in the list, she includes her husband, too. That way she includes everything that makes a great intro post.
Why is The Friendly Teacher First Blog Post Our Top Pick?
Hannah really took the time to understand her audience of teachers before writing. By asking questions about the real issues they face, she showed she genuinely cares and can provide useful insights. Starting with demonstrating you truly get your readers builds instant trust and connects them to your content. Beyond addressing their challenges, she highlighted her passion for helping through her work. This is a polished blog post example.
"The Blog Begins" — it's a great first blog post example that starts with a catchy headline, and quickly molds into telling the story and setting expectations for the future updates. For those looking for first blog post ideas, this stands as a shining example.
The choice of words is simple. The length of the intro is fairly short and to the point, one of the things that makes the intro unique and showcases the personality of the blog.
This intro post is an excellent example of building authority, telling that you're an expert at what you're doing, while keeping yourself humble and at your audience's level.
Michael showcases how he was struggling as a CEO before, and how he overcame his struggle, and how he will be helping his fellow CEOs who are stuck in the trench. That's it. That's the whole post with mission, vision, and goals.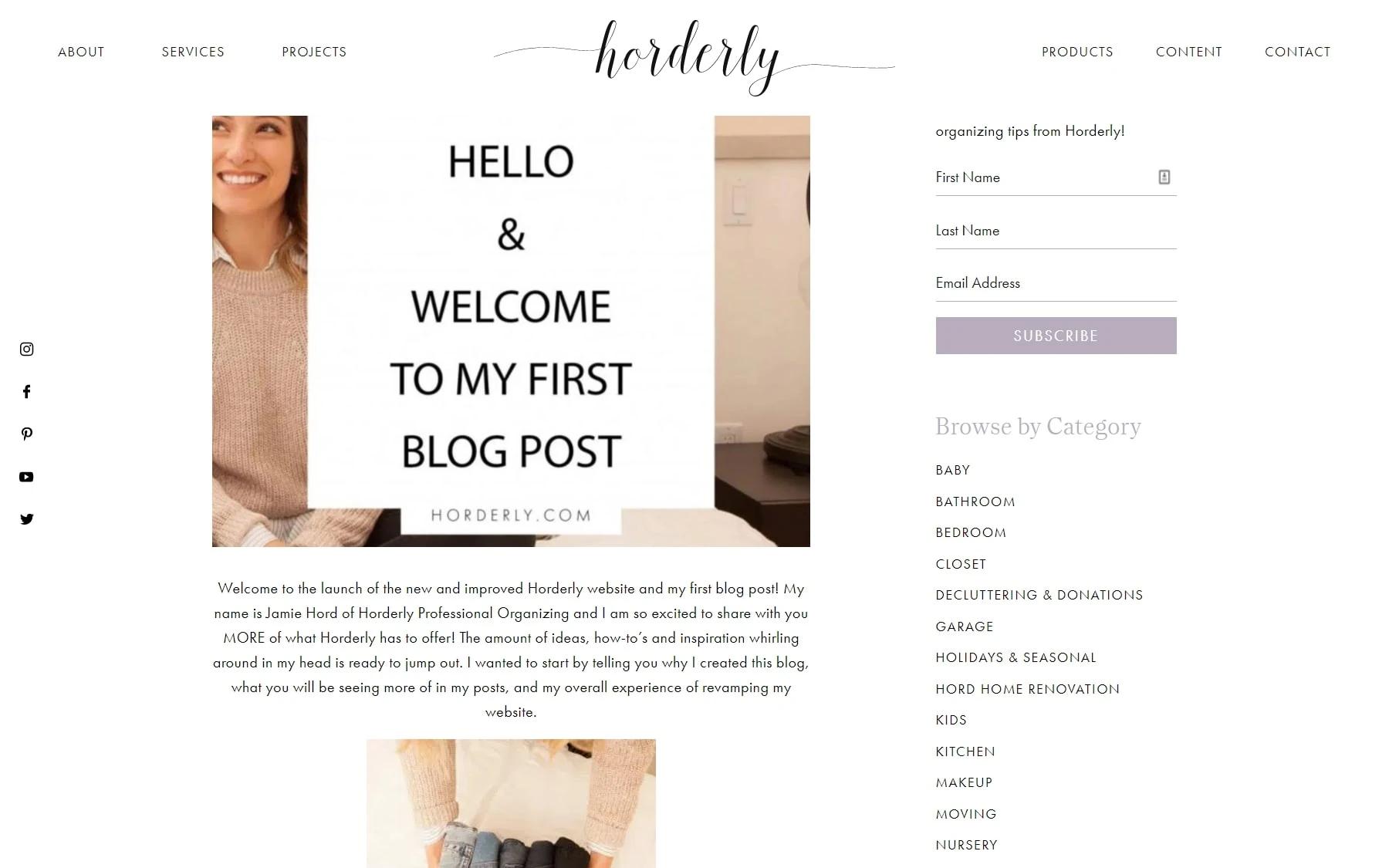 This is an inspirational intro post that starts with welcoming the readers. Then Jamie segments why she started blogging and what we should expect from her. Plus, she also includes her pictures.
The key thing here is not how organized her post was, it was her story and vision that inspired her fans. So, just as in this blog post example, always include your story and what you stand for.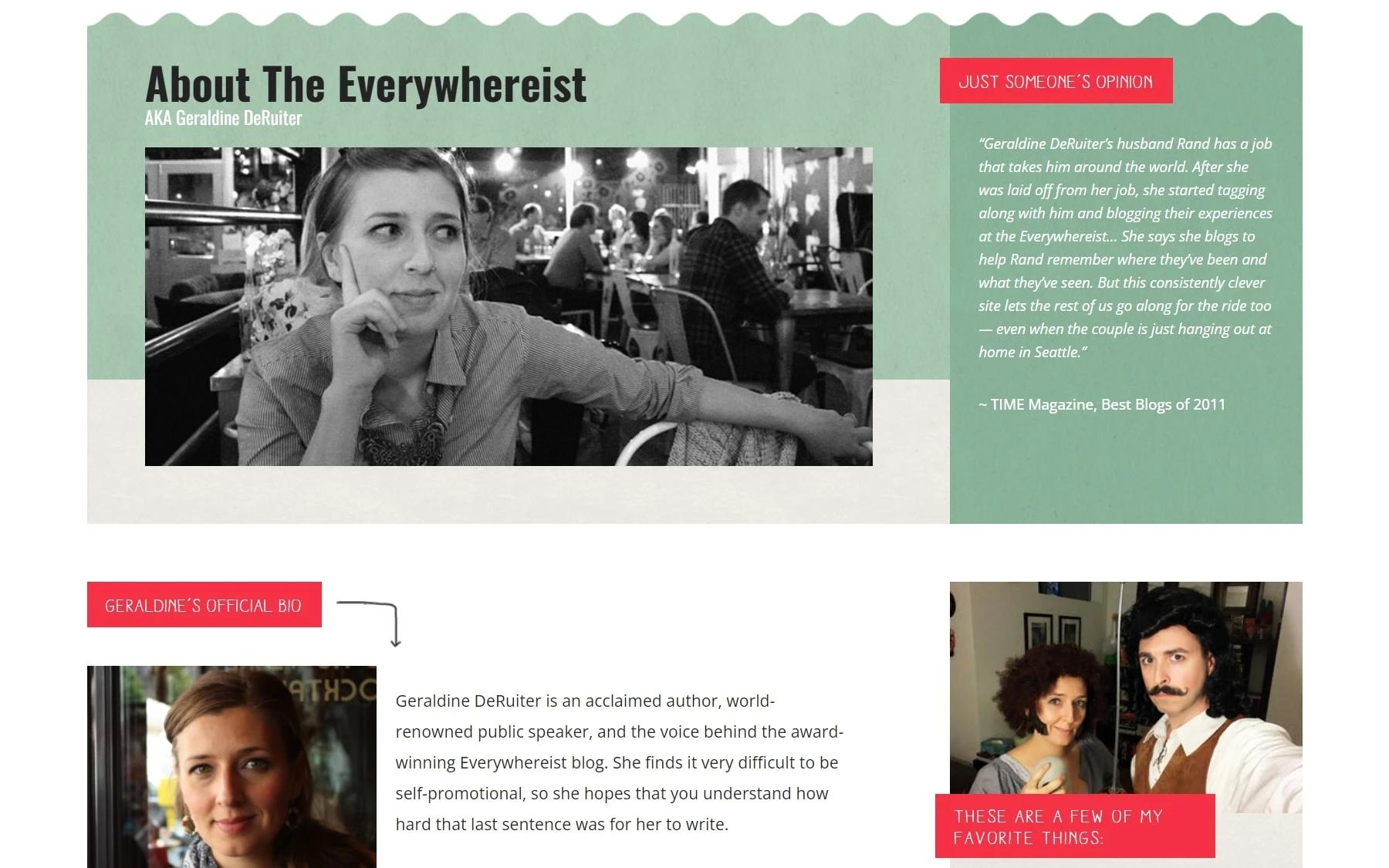 Learn using humor as a great way to build authority and personality of your personal blog through Geraldine's About me post. This is a great example of a catchy and interesting first blog post.
She talks about how she was mentioned by the New York Times, Forbes, and Time's Magazine as a 'dark comic writer who is consistently clever'. Plus, she shares what she posts on her blog, and what she does when she's not writing something.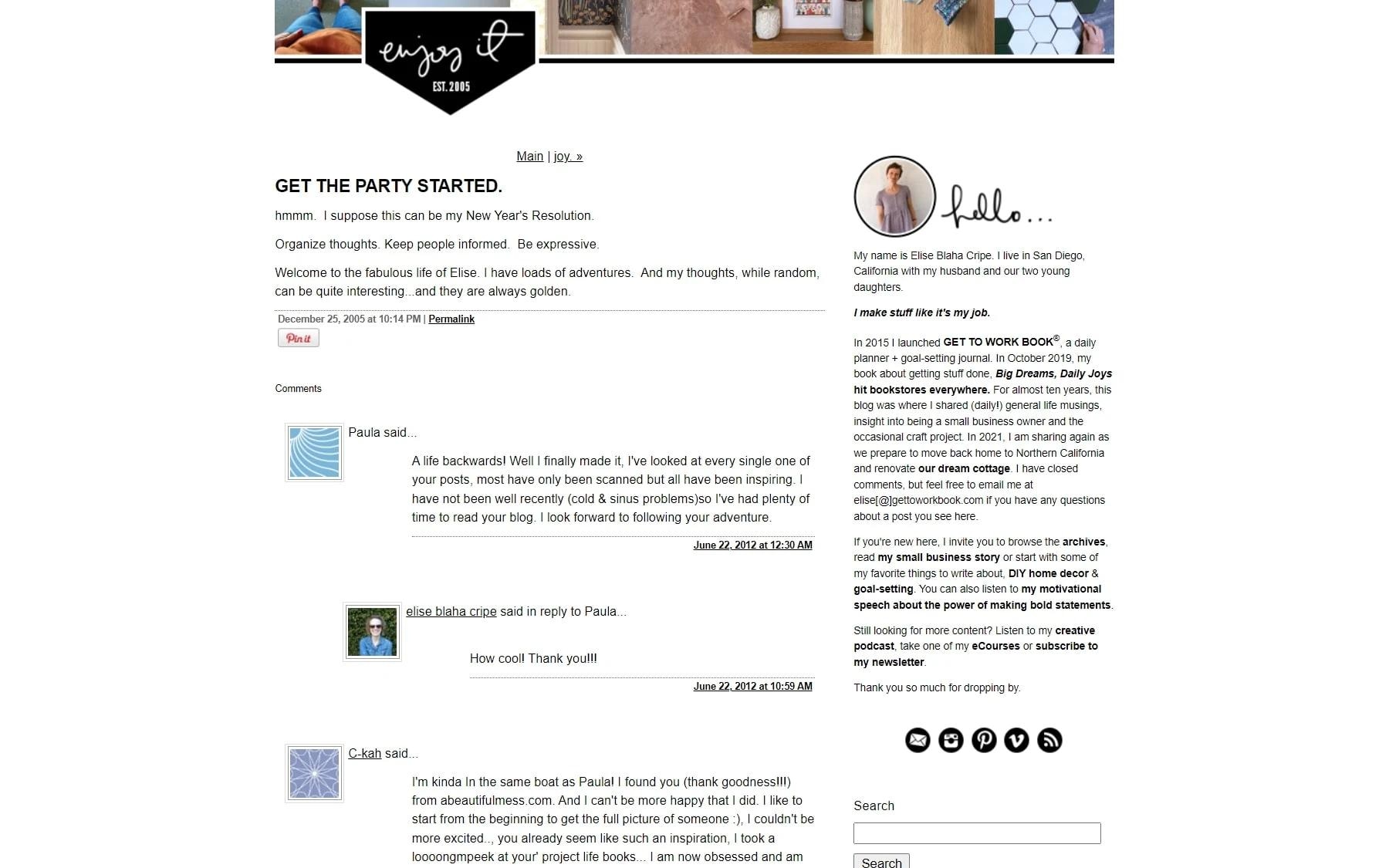 Elise is fun, expressive, and casual (you'll know why). Her first intro post was published on Dec 25, 2005 — the time of the year right when we hand-write our list of new year's resolutions. For someone seeking ideas for first blog post, taking inspiration from events and days that resonate universally, like Elise did with New Year's resolutions, is a great approach.
Guess what, Elise, starts her first blog post with the same new year resolution hook, a great way to be relatable with everyone. Then she builds expectations of posting something informative, fun, and adventurous every day. 16 years to her first ever blog post...she remained consistent...and now she's everywhere.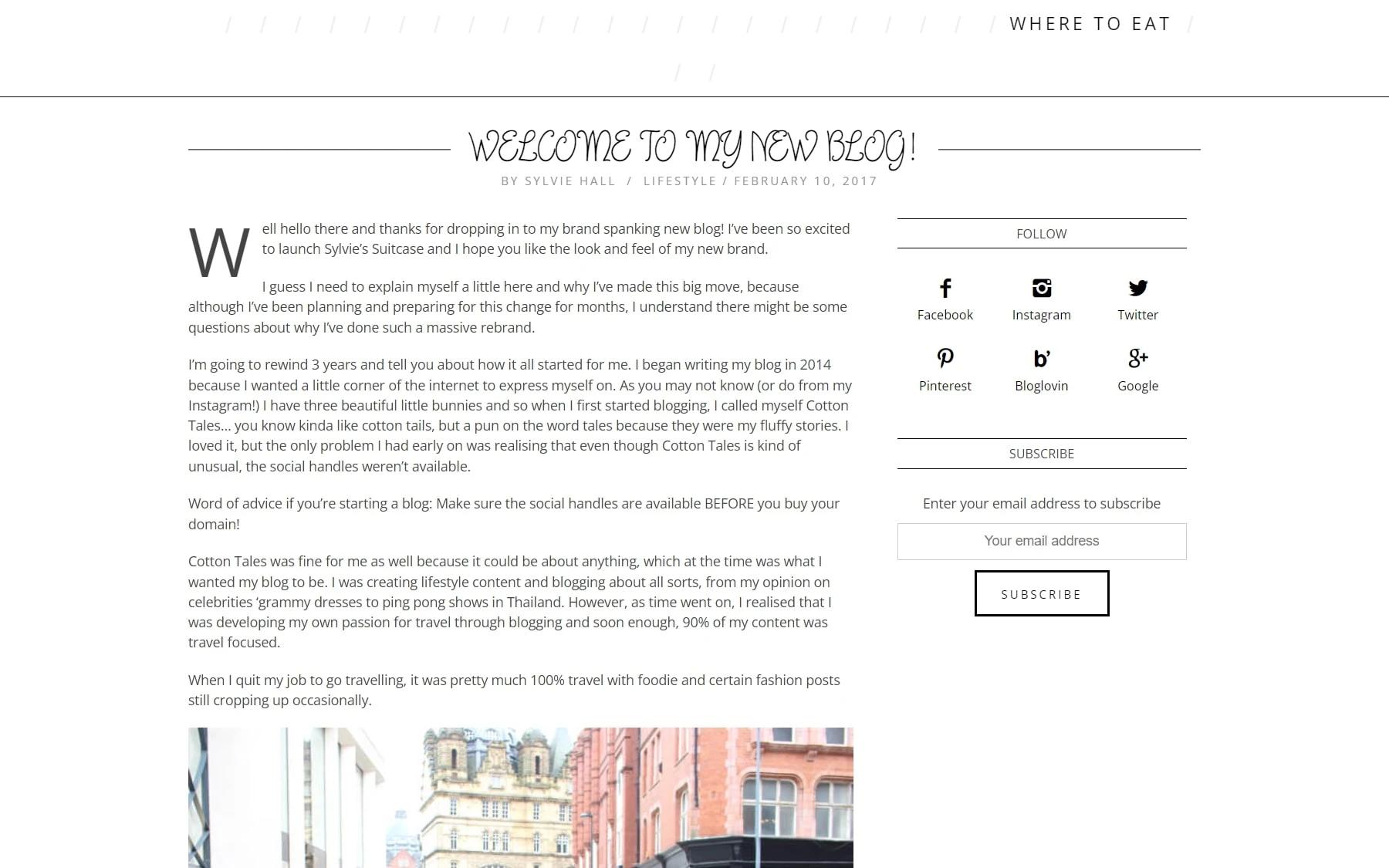 Sylivie starts the intro with why she started this new blog — because she already had her lifestyle blog that was doing well, so this first question needed to be answered immediately.
She shares her story as how she started her first blog, then what made her start this new blog, and then what should her fans expect in the future.
Takeaway? Tell your story and build expectations. So, this example covers everything, in case if you were worried with a question: what should my first blog post be about?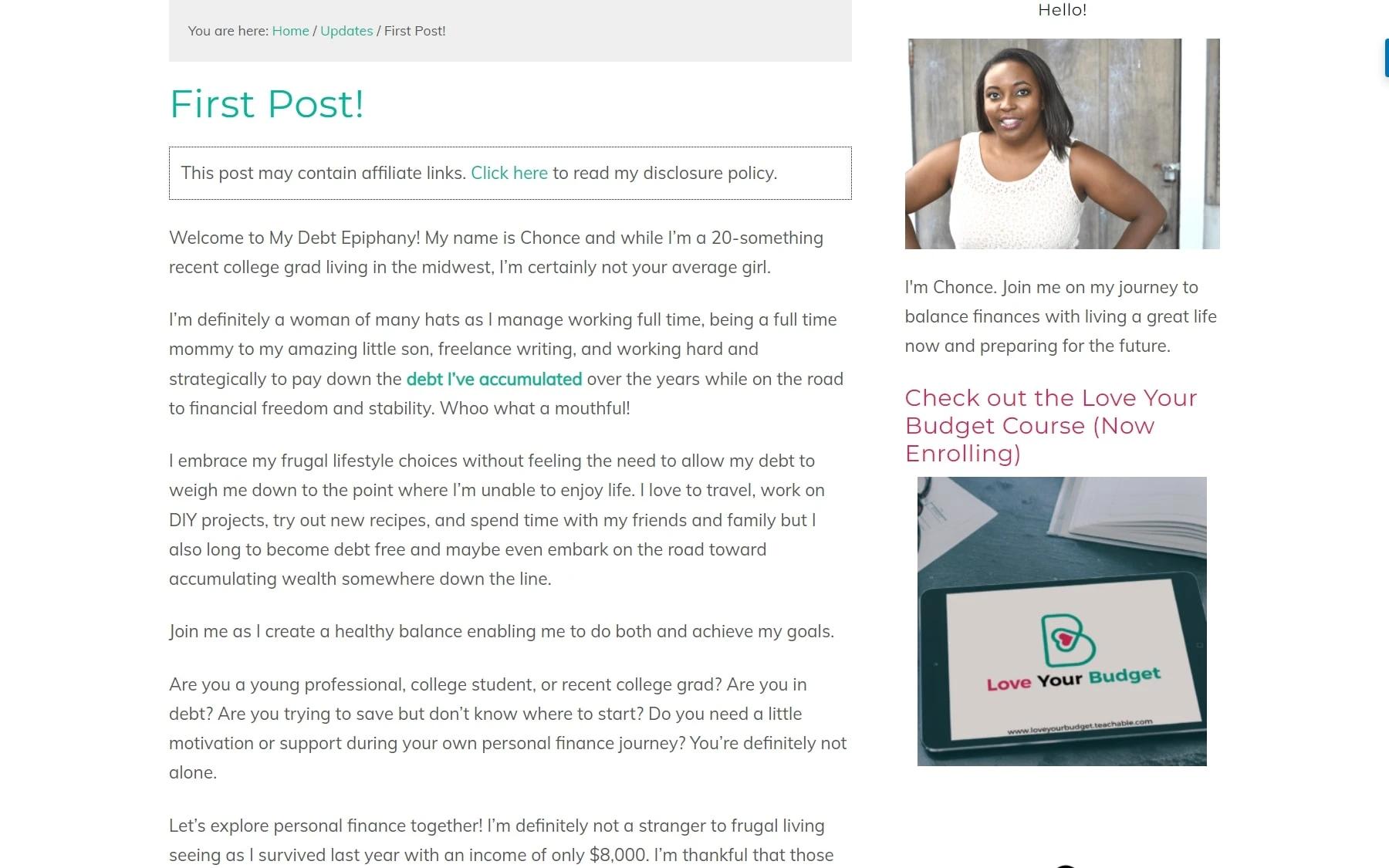 Chonce, starts her first blog post with her intro, shares what she likes, and what she believes in. Then proceeds to call out her target audience, which was any one stuck in debt.
After that she tells them how she'd be helping them with personal finance's tips and tricks so they can get out from the abyss of debt. You'll see in the comments that folks were happy to find her, and were also expecting what's coming in the future.
So, the takeaway here is that do share what your future goals with your blogs are and how you will add value to the community.
Ashley is fun and uses subtle humor in her intro. The first blog post of her cuts straight to the point that she'll be sharing in-house decorating, organizing, and cleaning tips — which, apparently, she says she's not good at.
That sprouts a tickle, but of course she's good at budget-friendly home decoration. Ashley also includes a little bit of her background and the picture of her 2-year cute son.
So, what's the takeaway here? If you're starting a personal blog, just be who you're, share your quirks, and state what value you can add. People will listen to you.
Leslie introduces herself, what she's been doing in the past, and what she will share on the blog. The intro post is short, simple, and includes a picture of her with her husband and the new born in a baby stroller. A simple example of a first post of a personal blog.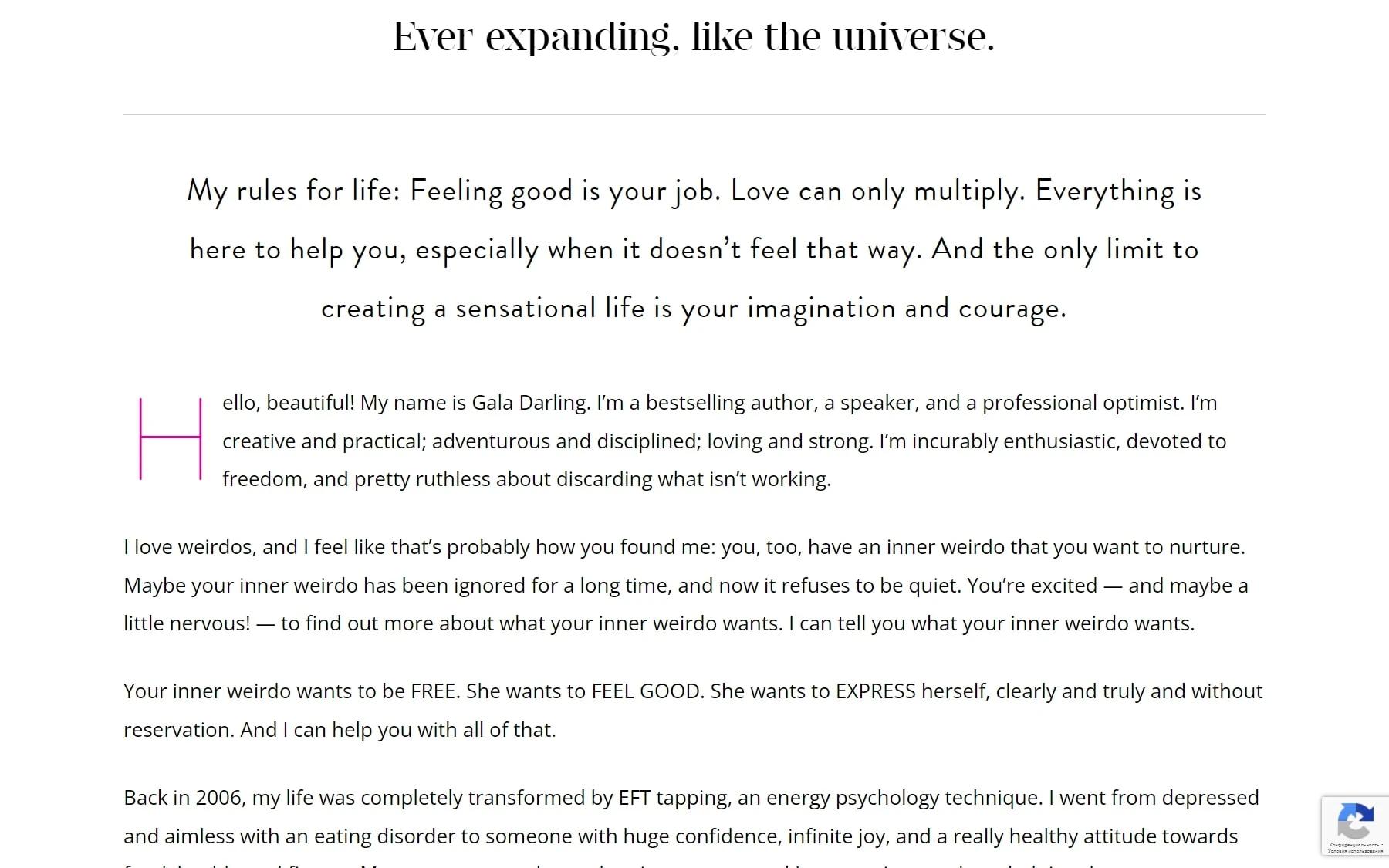 This is unconventional. The intro starts with a really catchy headline, "ever expanding, like the universe." Throughout, Gala remains excited with her words, boldly shares what she loves and hates, and more importantly, how she will help her readers become a free bird like her.
Because this is a personal development and self-love kind of blog, so this intro for her target audience totally makes sense. Plus, she also gives reasons why her audience should listen to her by mentioning that she's a best-selling author and a speaker.
So, the lesson here is, even though your about us page is about you, still try making it about your readers as how will you add value in their lives.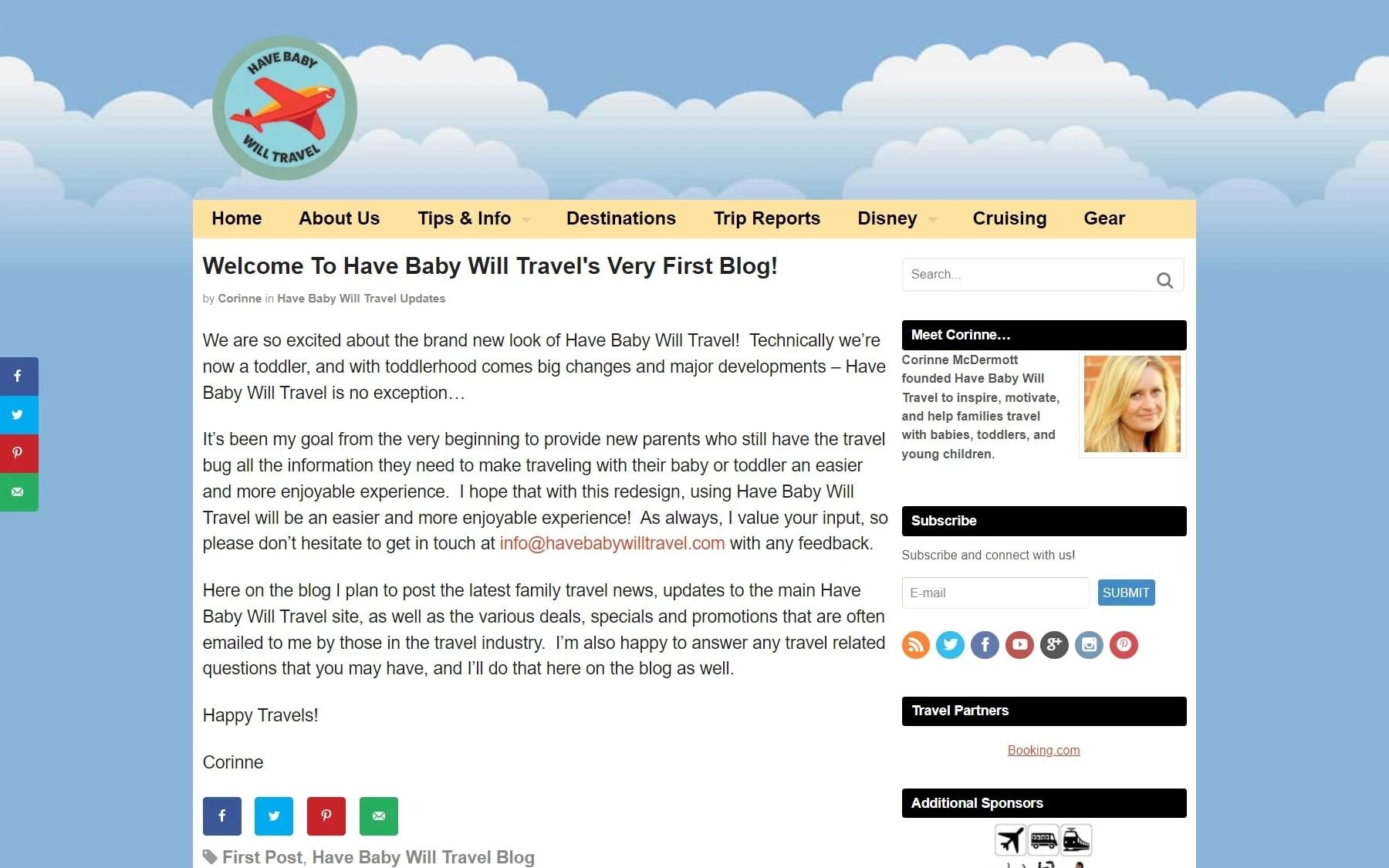 Because this is a parenting and travelling blog, right after introducing herself, Corinne instantly calls out her target audience in the first blog post: new parents who love to travel.
She promises she'll be helping them with her insider travel tips as she also has a toddler, but she still travels around the country. Plus, another good thing in her intro is she encourages her readers to send her questions and suggestions on her email.
Why a good thing? Because later she can use those email addresses to send updates or promotions in their inboxes.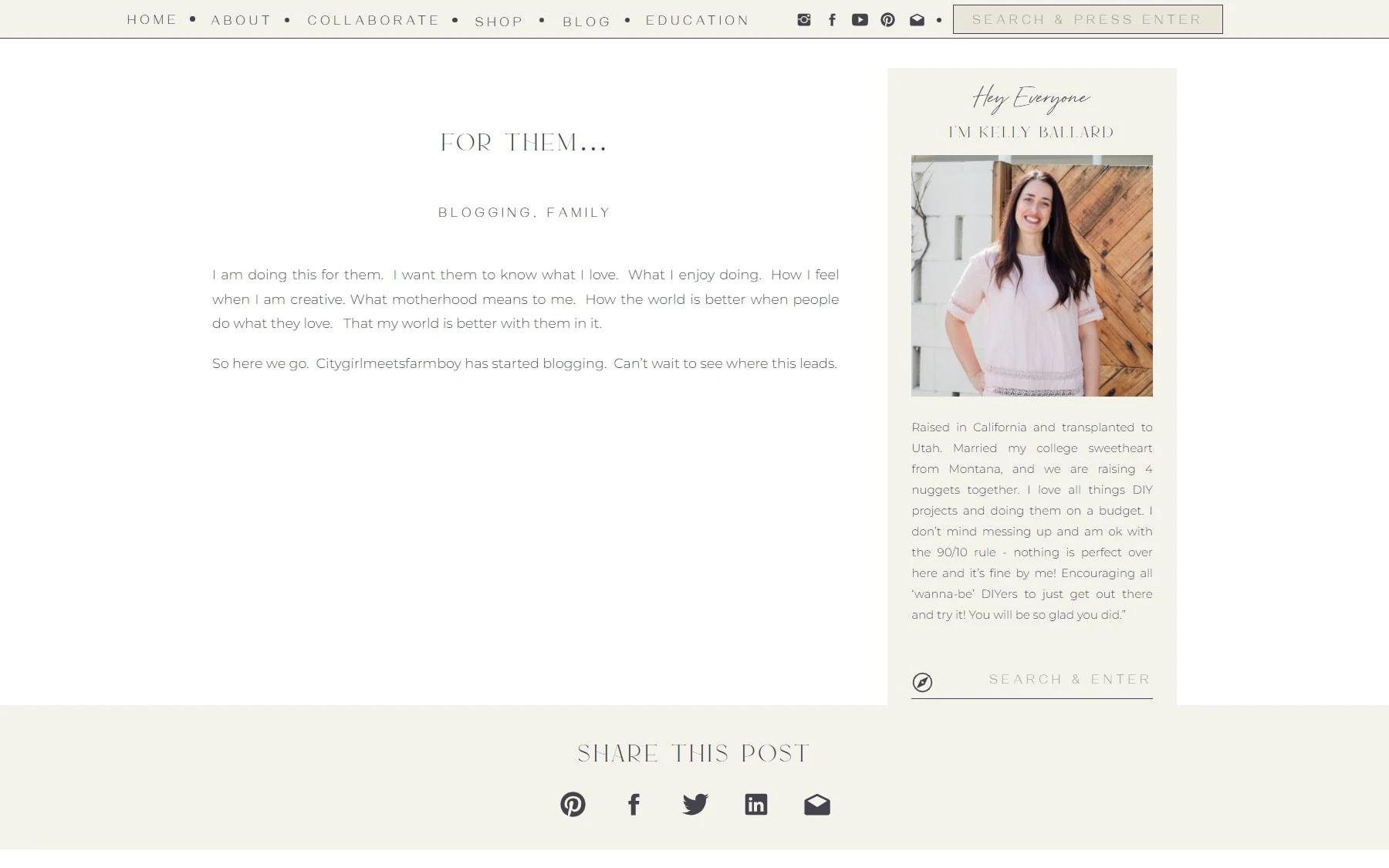 This one is short, sweet, and starts with a big idea. Apart from sharing the things she loves, Kelley also shares the main message that how the world would be like when everyone does what they love. Clearly a better place to live in.
Zen's lifestyle personal blog is a creative example of you don't always have to stick to the conventional intro post. Instead, she reviews the year 2006, the best year of her life at that time, she says.
You can do the same for your first post. Review this year, tell your accomplishment, and even publish your future goals. Will it not make a banger first post? Zen really sets the bar high in blog examples for beginners.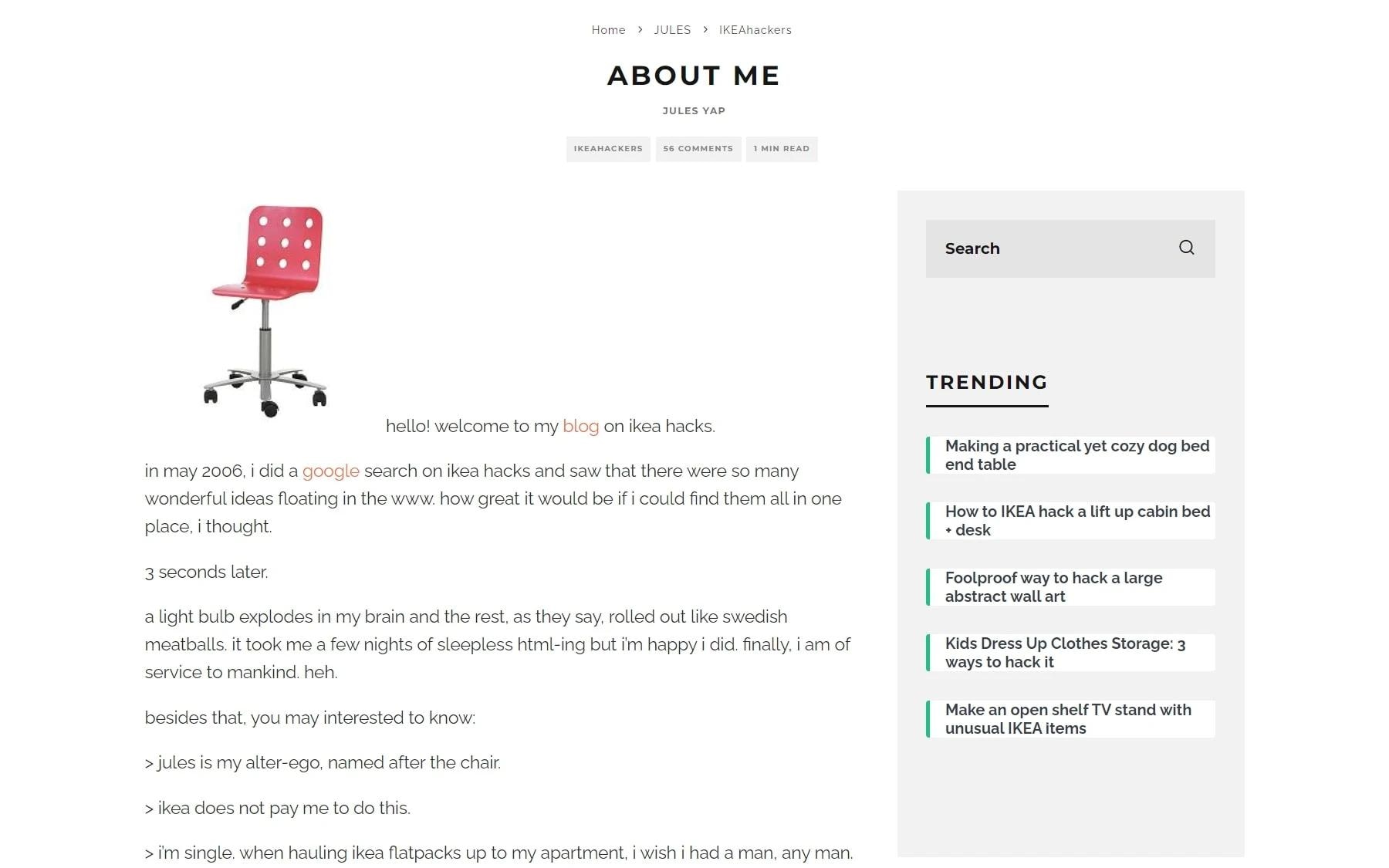 The owner of the blog shares what led to the creation of the blog. Plus, what other things he (or she?) loves to do in her life, apart from discovering ikea hacks on the Internet and putting them in one place.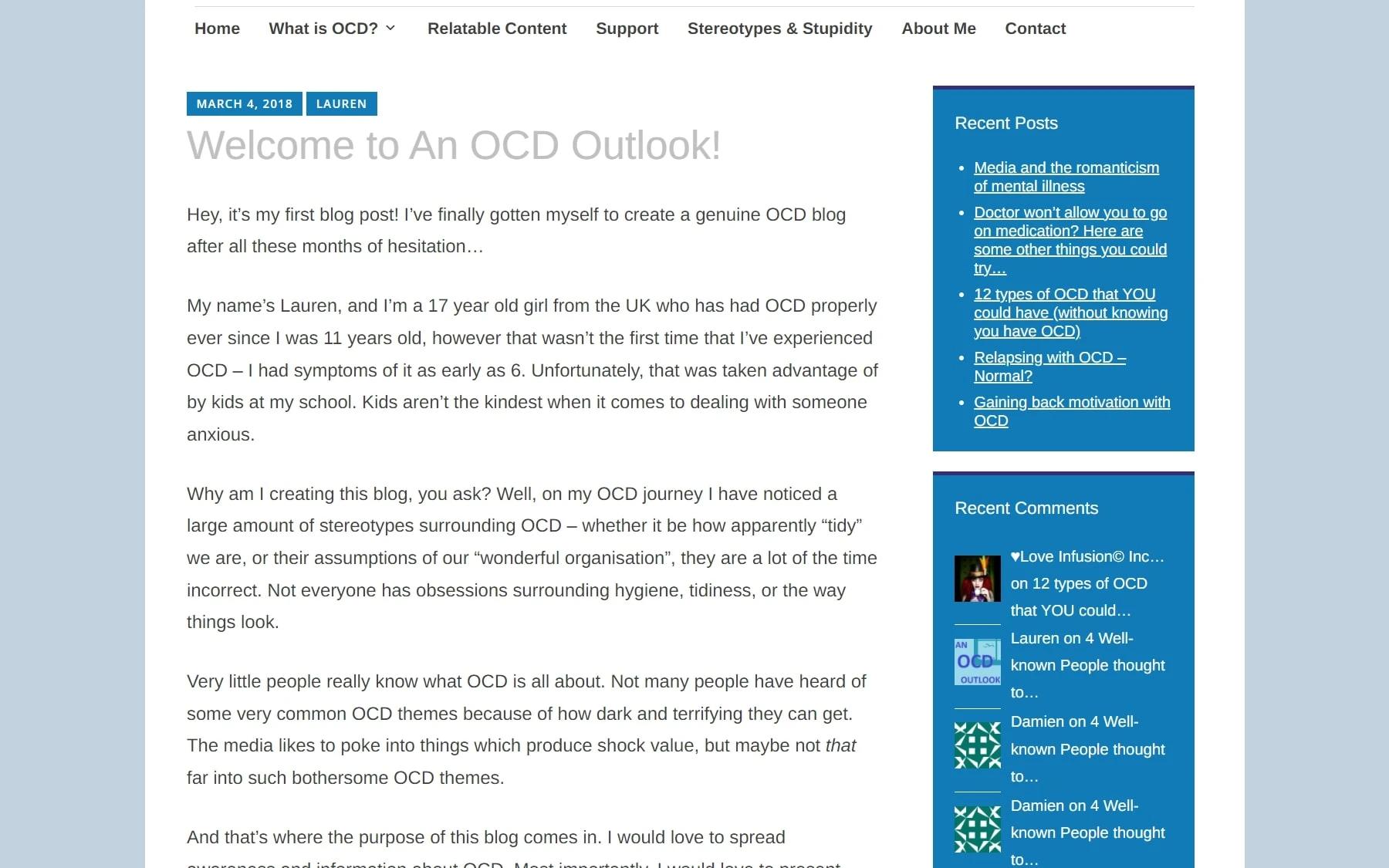 She was only 17 when Lauren published her first ever blog post. She shares her story of how she struggled in school as an OCD patient. Plus, in her intro, she shares her plans with the blog. The takeaway here is the confidence to stand out and finally do something for your sake. If you were looking for top-quality blog examples for beginners to get inspired, this is the right one for you!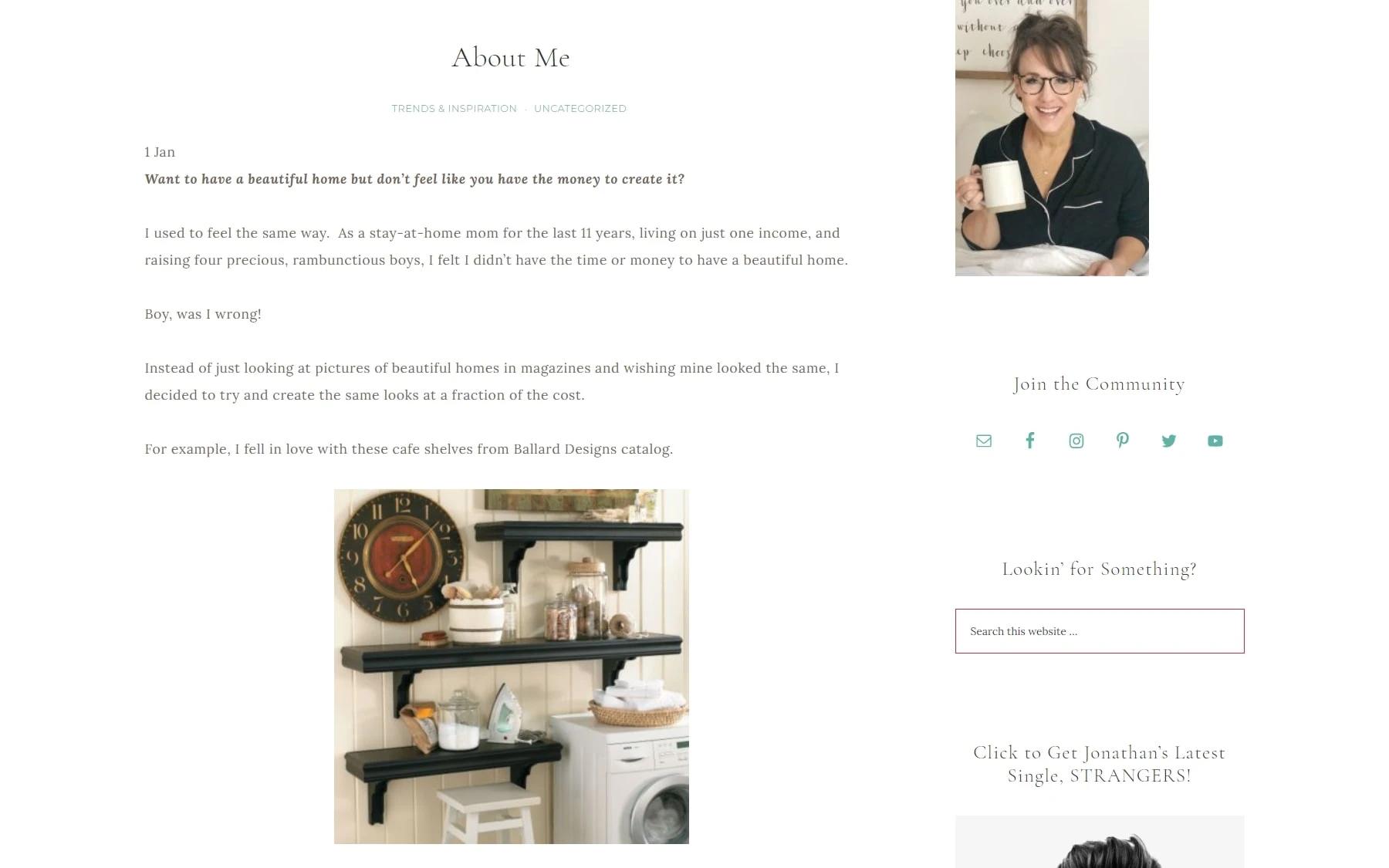 This intro is so beautiful and makes its way right into the hearts. Traci includes every bit of her life, but in an interesting story telling manner.
She starts with a question that relates to her audience, and then slowly bridges to her life; family of four sons and her husband, her mother she loved that passed away, and everything in between. It's a solid example of creating an about page.
📝 9 Expert Tips on How to Write Your First Blog Post
Okay, but, what should be my first blog post? What should I consider before writing it? Here's a quick list of tips to keep in mind.
1. Pick Useful Topics
You'll come across a big list of first blog post ideas that you can write on. Not everything will interest you, neither everything will be of everyone's interest. So, when considering what should my first blog post be, choose a topic that's helpful for your target audience, and follow the next step.
2. Research is Important
Every great first blog post starts with deep research. Research your topic, research your audience. The more you dig deeper, the more valuable your post will be — and as a result, you'll get more attention.
3. See What Your Competitors Are up To
During your research, hover over your competitors, and deeply analyze their content. They might provide you with blog examples for beginners that you can draw inspiration from. Try finding loopholes, see how you can fill them, and come up with better content. See their content structure, and try coming up with something relevant, but better.
4. Explore Some SEO Keywords
When contemplating how to write your first blog post, this is crucial. There's no point of publishing your blog posts when no one gets to read it, right? Use tools like UberSuggest, SEMRush, or MOZpro. Or, you can also get some decent keywords through Google suggestions.
5. Use the Right Editing Tool
To save time and streamline the process, use the right tools. Some of the famous editors are MicroSoft, Google Docs, or Ever Note.
6. Back up Your Claims
What should your first blog post be about? Beyond topic choice, authenticity is key. To sound credible and a trustworthy blogger, do make claims, but back them up with research and references.
7. Write as Your Audience Speaks
When you write as your audience speaks, your words will connect with them, making you a trustworthy blogger.
8. Add Relevant Images, Videos, Gifs
Visual elements can often serve as excellent first blog post examples in illustrating concepts. Images, videos, and gifs keep hooked and evoke a better emotion than words. Because we're more responsive to visuals.
9. Include a Catchy Meta Description
Include meta text of 150-160 characters. It should tell what the topic is about to entice readers to click your title and read.
💡 11 Steps to Write the Content of Your First Blog Post
If the question what should be my first blog post is still in your mind, follow these 11 simple steps to write your first ever blog post as your real content. These insider tips not only will help you in your first post, but you can frame this structure in your every future post.
1. Pick a Unique Topic
So, this is the first step. What should be my first blog post about? Think about a topic according to your blog's niche. It'll only take a few minutes of brainstorming. Pro tip: Try thinking of something that other blogs in your niche are rarely talking about because it will help you stand out.
2. Explore Relevant Keywords to Attract Traffic
Just writing and publishing blog posts is only one part. You need eye-balls on your blog to grow. So, explore some keywords that your audience is searching for.
Use keyword explorer tools like UberSuggest, Ahref, or MOZpro to discover keywords related to your topic. Dive deeper into how to write your first blog post with an SEO perspective. (More on this later below in the post)
3. Create an Outline
What makes all the blog post examples successful? Structure. Before writing, create an outline of the headings. That way you'll speed up the writing process and make sure you don't miss anything.
Plus, it also helps if you've a certain word count limit to reach. But what's the ideal length of a blog post? You'll discover this below later in the post.
4. Spend More Time on Writing Headlines
When you're brainstorming about what should your first blog post be about, don't ignore the power of headlines as they're the first to decide whether someone should read your article or skip it. Add uniqueness, curiosity, and benefit elements to excite readers so they read the whole thing.
5. Intro is the Lead Magnet
After the headline, your intro decides whether the visitor will stay on your blog or press backspace. Intro should show what's in the post below, why they should read it, and what they will get after they're done reading it.
6. Don't Forget Outro
Some folks don't read the whole post, and instead, they skip to the conclusion part. This is why the best blog examples for beginners have outro part. Your outro should include the takeaway or results of the whole above article. If you're pondering what should be my first blog post conclusion, make it memorable and actionable.
Plus, you can also include what next things your readers should do. For example, subscribe to your newsletter or check out some first blog post examples for more insights.
7. Write Your First Ever Blog Post
Alright, now is the time to start, as we've discovered how to write your first blog post. While pondering how to write your first blog post, consider tools like WordPress editor, Microsoft Office, or Google Docs. We recommend Google Docs because the layout is easy, you can share docs online, and can even write offline. The best part, you'll never lose your files because they'll be backed up in your GDrive.
8. Don't Leave a Single Stone Untouched
Follow your outline and thoroughly cover the topic. Go in every detail and write it down. It satisfies your readers and search engines.
9. Mere Words Don't Convince
Remember, if you've chosen a topic from popular first blog post examples, make it stand out. Include pictures, videos, gifs, or references to really create an impactful first post. Not only your first, but do this with your every post. But, don't overdo it. Add wherever you feel it's necessary.
10. Polish It
When you're thinking about how to write your first blog post effectively, grammar and coherence are crucial. Use tools like Grammarly or Hemingway editor to resolve grammar mistakes and cut out unnecessary words.
Big blocks of text hurt eyes and scare away the reader, so keep paragraphs shorter. Also, remember to sprinkle those keywords you found in your content to get found in search engines. What makes our blog post examples the best? They look perfectly good.
11. Add Different Types of Content
You're writing to help your audience. So try being as helpful as possible with your content. Include researches, informative pieces, ask their opinions, and even go an extra mile by answering their queries in the comments. If they ask about first blog post ideas, be ready to guide them!
Struggling with first blog post ideas? We're outlining 50 of them for you.
50 Creative First Blog Post Ideas to Get Started with Your Thriving Blogging Journey
Now, you know how to write your first blog post. And here comes the question: what should my first blog post be about? Don't stress out. Read below 50 very first blog post ideas on different niches.
10 First Blog Post Ideas for LifeStyle Blogs
Start with something like this to get your direction and build personality of your first blog post:
A blog post on 10 things you can't live without.
The list of the best blogs to follow (It is really creative way to start, and during research, you'll get to learn plenty of stuff)
Your favorite movies, TV series, or horror stories of all time.
Share your best (or worst) experiences of life.
Publish a blog post on your favorite hobbies.
A blog post on reviewing the books that you've read.
Write something to your younger self. (For example, 10 advices to my younger self)
Start with a giveaway post.
Publish a list of inspirational quotes that are your favorite and what you've learned from them.
Give your opinion on a topic that might be trending.
10 First Blog Post Ideas for Travel Blogs
Publish a thorough travel guide for your city, state, or country.
Share the list of traveling blogs you personally follow.
What's in your traveling backpack?
What's the best advice you could give to your fellow travellers?
Top destinations you'd wish to visit at least once in your lifetime.
Share your best (or worse) travelling experiences.
The tasty food restaurants you'd want to recommend?
Share the list of your favorite travelling books.
Things to do at night in your city, or the city you'd love to share about?
What to absolutely avoid when travelling?
10 First Blog Post Ideas for Photography Blogs
Talk about your favorite images you shot and why you love them.
What camera gear do you own? (Simple and basic, but folks become really curious when they see this headline)
Share your presets if you've any or share the editing style you love.
Insider tips or tricks that you use to get more clients? Share them and help fellow creators.
Publish the list of photography YouTube channels, podcasts, or blogs you love.
Talk about your favorite photographers of all time.
What inspired you to step into the world of photography?
Any posing tips you want to talk about to look awesome in every picture?
How do you organize your photos?
Share tips and tricks on making photo sessions easier.
10 First Blog Post Ideas for Beauty Blogs
Share your skin care routine. (Simple idea, but really effective to get them read)
What celebrity make-up routines or style do you love to follow?
Post some DIY tips to ignite makeup routines.
Post the list of fashion or beauty blogs you follow.
Your tips on following a skin care routine while staying on a budget.
The list of the best salons you've ever been to?
Share what beauty products you shouldn't have bought.
What's inside your makeup kit? Make a list.
How do you put on your make-up when you're in a hurry?
Where do you learn to do your own makeup? Share with the world.
10 First Blog Post Ideas for Business Blog
Publish some stats in your industry that might help your audience.
Share a success story, either yours or your customer's. Or both?
Make a list of the softwares or tools that might help businesses.
Write a post on the biggest mistakes businesses make.
Make a list of small business blogs you follow.
Post creative ideas to make money online.
Share tips on preparing for the interview.
Publish business modules and behind the scenes of famous brands. (The research part might be hard, but it's unique and will help you stand out)
Post some business ideas.
Publish a guide on how to get hired in big companies.
🔍 7 Steps to Take After Publishing Your First Blog Post
Well, well, things have just started sky-rocketing. So, what should be your exact steps after you're done publishing your first ever blog post? Your first post is live now and no one is reading it. You need more and more eye-balls on your blog. Here's what to do:
1. Share. Everywhere. Anywhere.
Share your post on every social channel: Facebook, Instagram, Twitter, LinkedIn, Pinterest, and even TikTok. Because it's absolutely free and you can bring decent traffic to your blog.
That's not it. Tell your family, friends, neighbors, or coworkers that you've started blogging and show them some first blog post examples. Ask them to visit your blog, comment, and share on their social media. Imagine the reach.
2. Make New Online Friends
Now is the time you can finally join relevant blogging communities on Facebook, Reddit, or Instagram. Share your post there, call out your passion, make new buddies, and get some traffic coming your way.
This will not only help you get traffic, but you can also get free help from your fellow bloggers if you're ever stuck. This will also help you from a technical SEO perspective.
3. Brainstorm New Ideas for Posts
You'll be needing thousands of more posts. So, why not think of some new and unique blog post ideas early on? And probably even start working on them?
4. Study Your Foes
In the blogging world, your foes are your friends. Make a list of your top competitors in your niche. Analyze their content, style, and strategies.
You'll find plenty of data. If you dig deeper, you'll even find some content gaps. Create some blog posts on those gaps and get a chance to earn some free traffic from search engines. Get help from tools like MOZpro, SEMRush, or Ahref.
5. Build a Brand Voice
You're a brand now. Build a unique style of your write-ups, color templates, or anything unique that helps set you apart. Then stick to it.
Brands are remembered that way. Some content creators choose humor as their unique style, some choose purely formal and news-anchors' style discourse. You decide what makes your blog so special?
6. Research
Research and deeply understand your audience. Their pain points, desires, problems, behavior, and even study what sort of language they use. It's really important to understand them so you can *actually* talk to them through your blog posts and can resonate with them.
7. Bring Traffic to Your First Blog Post Through Marketing
3 ways you can do marketing two increase your reach:
1. PPC Ads
So, this is the method of getting more reach by investing money. When you Google something, you often see some sponsored post at the top of the search results. Those are PPC (aka Pay Per Click) ads. This method is usually for business related queries, and it might be costly for you as a new blogger.
2. Search Engine Optimization
The best and cost-effective way to bring traffic is through SEO, the choice of more than 57% marketers for their businesses. Even for Google itself.
3. Backlinking
It's a crucial part of SEO and immensely helpful in increasing traffic. Link building is like vouching; the more high-authority blogs vouch for you, the more credible your blog will be. Resultantly, you'll earn more traffic. But, you might be wondering how do I build a strong backlink profile?
Well, there are a bunch of different ways you can try:
Resource Page Link Building
It's a simple, basic, and effective way to start. You do this by reaching out to resources that are relevant to your content and ask them to link back to your blog posts. For a step-by-step guide, watch this video on resource link building by Ahref.
Remember earlier we talked about making blogging buddies on social media? Well, now is the time you can leverage their help. Ask them to link back to your relevant content pages. Or, better, offer them a free blog post written in exchange for a link. It's worth it.
Okay, this one is demanding, but totally worth putting effort into. Make a list of high domain authority sites in your niche. Manually reach out to them through emails and give a quick intro of you.
Then offer them a free guest post or anything valuable that might be helpful to them. All in exchange for a backlink. This works, and thousands of bloggers do this all the time.
🗒️ Checklist: 8 Must-Haves Before Publishing Your First Blog Post
Blogging isn't only writing. There are a lot of ins and outs you need to wrap your around. So, to start with, do you have these things already in place?
Are Social Handles Available for Your Domain Name?
This is the INSIDER advice. Before you decide on a domain name and proceed to buy, check on social networks that no one else is using that name.
Have You Bought a Domain?
If not already, buy one from GoDaddy, BlueHost, or NameCheap. These are popular, and most bloggers opt for one of these.
Have You Bought a Hosting?
If not already, start from BlueHost, GoDaddy, or Hostinger.
Have You Created an Email Associated With the Domain Name of Your Blog?
Use either the free email provided by your host or invest, if you can, on G Suite by Google.
Have You Installed All the Plugins Required?
Plugins are tools to help you run your site easily. Followings are must-haves when you start: For SEO, install Yoast SEO or RankMath. For security, install WPScan or Wordfence.
Install Akismet Scam Protection plugin. Sassy Social Share for the social channels buttons to help visitors share your content instantly. Last, install WP Rocket to clear cache and speed up your site performance.
Have You Chosen a Theme for Your Blog?
Free themes might not provide the value. Invest on a premium fast-loading theme for a good SEO score and better user-experience. These few are amongst the best ones: Writee, Divi Theme, or Social Me.
Have You Installed Opt-in Forums to Gather Subscribers?
Gather subscribers through opt-in forums. Why? For future opportunities of earning money, sending them deals, or promotions. Or for just having a loyal community that you can talk with daily on emails.
Have You Set-up Email Marketing Software?
Email marketing software makes your life easier. You can schedule your emails, send emails to all the contacts with just one tap, customize your email design, and so much more. Start with free MailerLite, then you can upgrade to a premium one, MailChimp.
So, What Will Be Your First Blog Post?
It's alright. If you can't become innovative, simply be helpful. The Internet is filled with unlimited resources already. All you need is a clear voice and something to say. Something that you own. Something original. And there you've it; a future where you'll be telling your successful blogging journey on Reddit.
We hope you loved reading throughout. Let us know what else we should include?
Out of those first blog posts examples, which one is your favorite so far?
And what post you're planning to write or have already published? Do share in the comments. We'd love to read.
FAQs
How Long Your Blog Post Should Be?
Ah — word count — the good old debate ever since the blogging started. Every blogger questions when starting, how long really the length of a blog should be? If you've also the same befuddling question in mind, especially about how to write your first blog post in terms of length, let's settle this once and for all.
Well, from an SEO perspective, the sweet spot for an ideal blog post is somewhere between 2100-2450 words. However, this shouldn't be your ultimate measuring scale. Here's why.
Backlinko, a popular marketing blog, analyzed 11.8 million blog posts. The results revealed that the average word count of a blog post that ranks on Google is...wait for it...1447 words. That's less than 1500! It proves you don't always have to meet the criteria of 2450 words. You can still rank and get traffic with shorter posts, even if it's your first blog post.
It all boils down to the value, and quality of the content. Whether you've genuinely helped the reader or filled the web page with vague and unhelpful words. If you mess up there, even if you write 10,000 words, it is of no use.
Talking about 10,000 words, here is another interesting study that discovered that posts between 3,000-10,000 words get the most social shares. But, that's true for pillar posts (aka Ultimate guides, just the one you're reading right now).
But Why Do Long-form Content Get The Most Attention?
The psychology behind long-form content is that it's comprehensive. Readers leave with every bit of info they might need. For those brainstorming first blog post ideas, it's essential to recognize the value of depth in content. To provide the same satisfaction with shorter and thin content is simply impossible.
Plus, long-form content is easily scannable because of lots of subheadings and bullet points. Let's admit it, most of us don't read word by word.
In fact, Nielsen, a user-experience research company, discovers that readers only read 20-28% of the content on an average web page. So, for those wondering about how to write your first blog post in a way that captivates, it totally makes sense to publish long-form content with pointers, sub-headings, and sub-topics to help them read exactly what they want.
And that brings the most important factor to the light, which is directly beneficial for you. That is...with longer posts, readers will spend more time on your website, pointing to a better user experience — which is exactly what Google wants. The reward? More traffic for you through higher rankings.
Why Should You Write Your First Blog Post?
So, there will be hundreds (or probably thousands?) of blog posts in the future — and your first intro post will get buried in the content, then what's the point of writing it?
Well, publishing the first blog post is a different feeling, and an awesome accomplishment. Even if no one ever gets to read it.
But, you can make it stand out even after years so it never gets lost in thousands of blog posts. Here's how:
Either make your first intro post as an about me page.
Or, create a separate page and name it as "My First Blog Post". That way, it will always stay there for the new visitors and for you to remind you of your good old days.