If you're on the lookout for a reliable keyword tracking tool to monitor your SERP position, welcome. Today, I have compiled a list of the 10 best keyword tracking tools in 2022; based on the reviews, popularity, and performance. Go through the intros, key features, and price structures of each to get the one you need (or the one that gets you vibing).
If you still feel confused about which one to pick, check out the detailed guide at the end.
Let's get started.
10 Best Keyword Tracking Softwares for Bloggers of Any Niche in 2022
Here's the list:
1. Serpple - Best Rank Tracker For The Money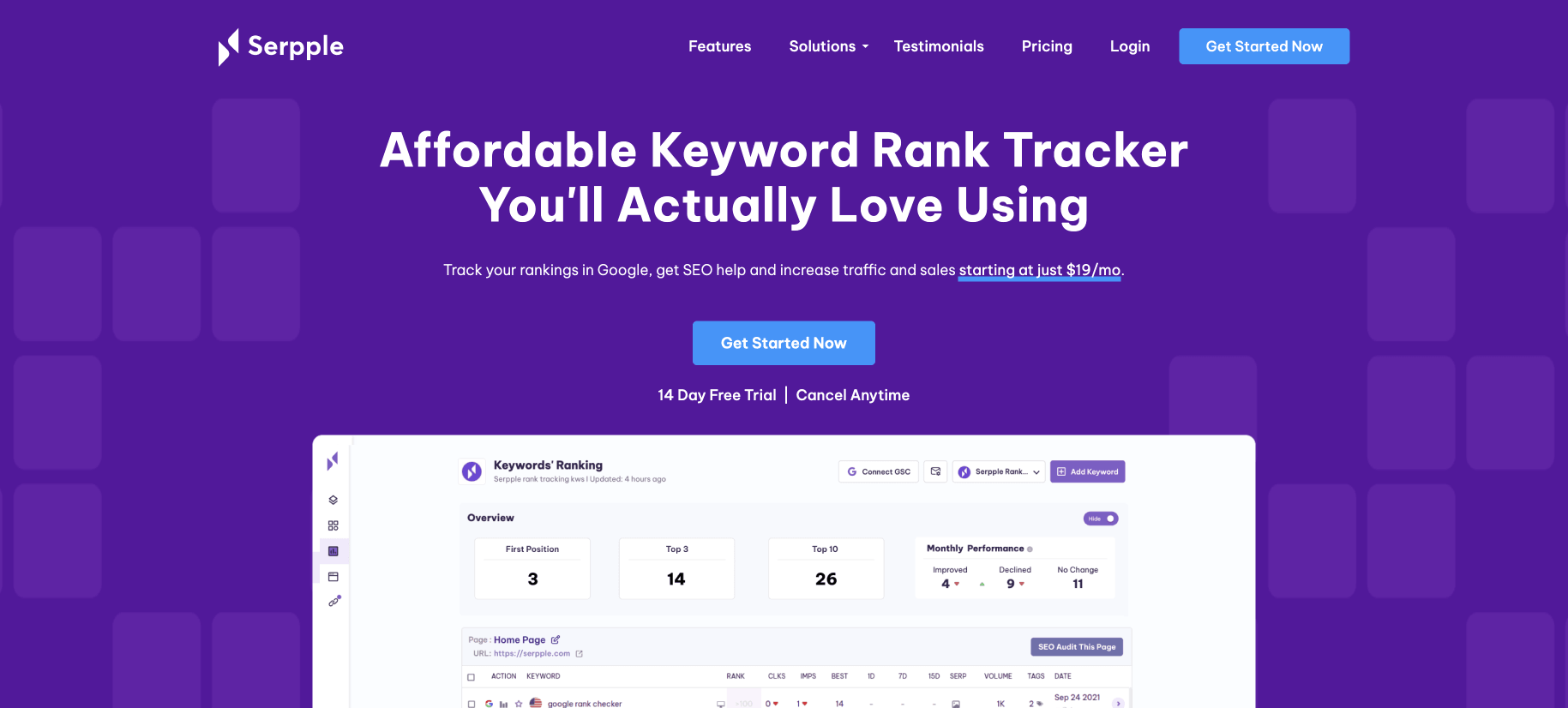 What we love about Serpple is how it has a fresh take on SERP tracking. Unlike other tools, it's super user-friendly and easy to understand. It doesn't bombard you with tons of unnecessary data, but instead provides you with just the search data you actually need to make smart decisions for your website's SEO.
One of the coolest features is that it automatically organizes all your ranked keywords by pages. This means that with just a quick glance, you can see which pages on your site are performing well and which ones might need a little more SEO attention.
But that's not all! Serpple also includes a built-in SEO audit, as well as competitor analysis and keyword research tools. These additional features really help you boost your Google rankings in no time.
We've tried a bunch of rank tracking tools before, but Serpple is definitely our favorite. And starting at just $19/mo, it makes it our top pick.
Key Features
Keyword Rank Tracking
Keyword Research
Competitor Analysis
SEO Content Audit
Pricing
Good for side hustles all the way up to SEO agencies, prices range from $19/mo to $99/mo. You can also get a custom plan depending on your needs. See their pricing plans.
2. SE Ranking – All-in-one solution for SEO and social media management
SE Ranking is an all-in-one software for every SEO and social media management task. With a range of built-in tools like keyword tracker, backlink monitor, web analyzer, on-page SEO checker, competitor analyzer, and much more – it's near-perfect for bloggers.
By leveraging all the tools properly, you can rank your website, improve user experience, increase affiliate sales and ad revenue, and many more good things.
Fun fact: SE Ranking has 600,000+ users worldwide. And it's also featured in big publications like Entrepreneur and Search Engine Journal. Goes without saying that it can prove to be a good investment for your blog.
Key Features:
Competitor analysis.
Keyword research.
Backlink monitoring tool.
Marketing and management tools.
Social media managing software.
Website audit and op-page SEO checking tools, and more.
Price Plans:
Pricing structure varies – suitable for beginners to enterprise-level businesses. Packages start from $37 to $151 per month. You can also get a customized plan depending on your needs. See all Price Plans.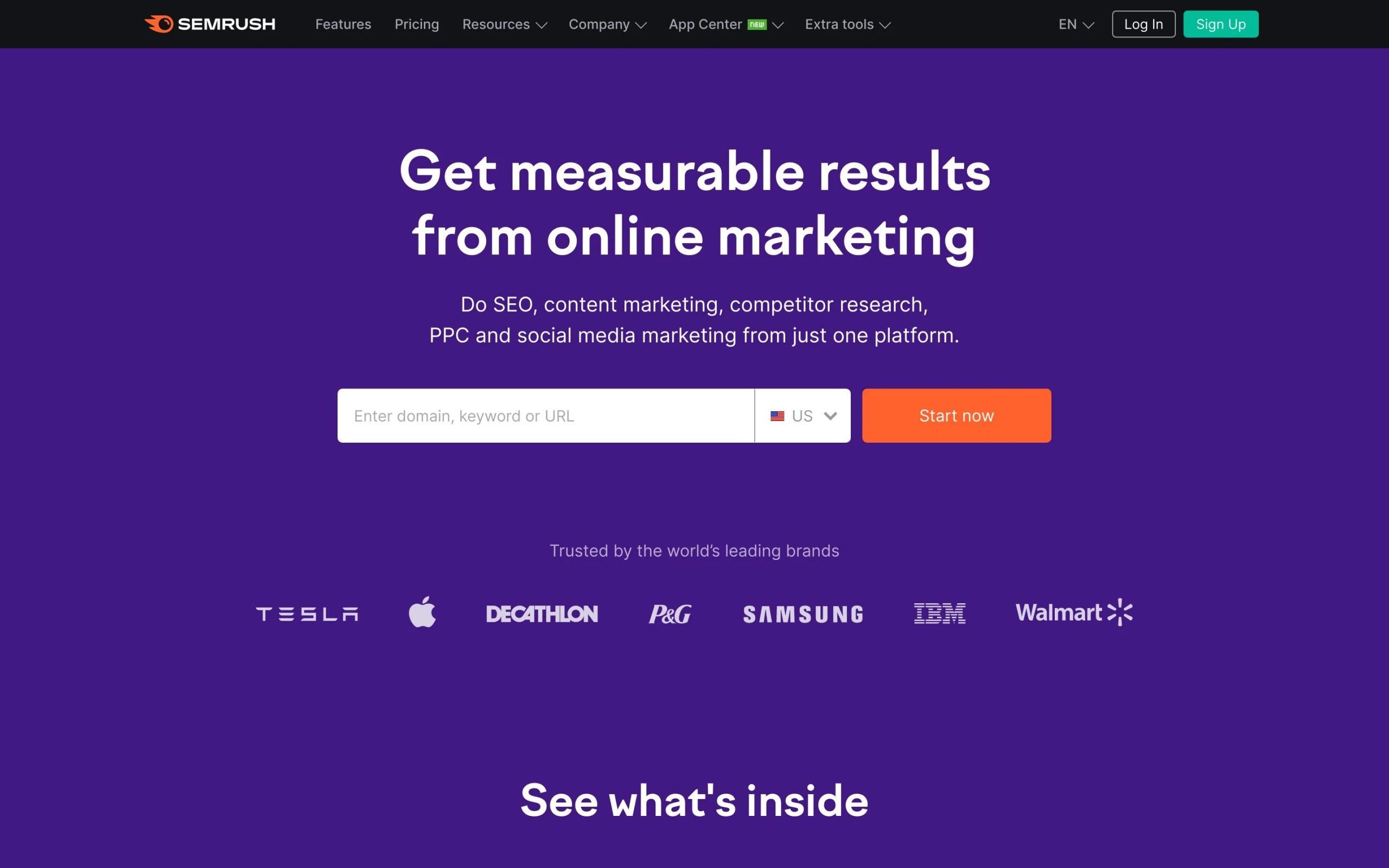 SEMRush is also an all-in-one tool kit, just like SE Ranking. You can track keywords, get accurate search volume data, competitor analysis, link-building opportunities, and so much more.
Basically, it's a digital marketing platform that offers solutions related to SEO, advertising, content marketing, and market research.
As a blogger, you can leverage its power to boost your visibility more effectively.
Is it reliable? Yes, it has active subscriptions of more than 470K.
But is it for you when it comes to pricing and plans? It can be expensive for a beginner blogger just looking to track keywords and nothing else. (Find more below if you only need a tracker tool)
If you're at an advanced level, looking for more insider features for keyword tracking, link building, developing a content strategy, PPC campaigns, and stuff – then it can prove to be well worth your money.
Key Features:
Tools for all of your SEO needs: tracking, auditing, competitor analysis, link building, and more.
Content marketing tools.
Social media management.
Advertising tools, and more.
Price Plans:
There are different price structures to suit different levels. The lowest starts from $119 per month, with up to 500 daily keyword tracking updates and a few more features. Click to see the detailed price plans or start your 7-day free trial.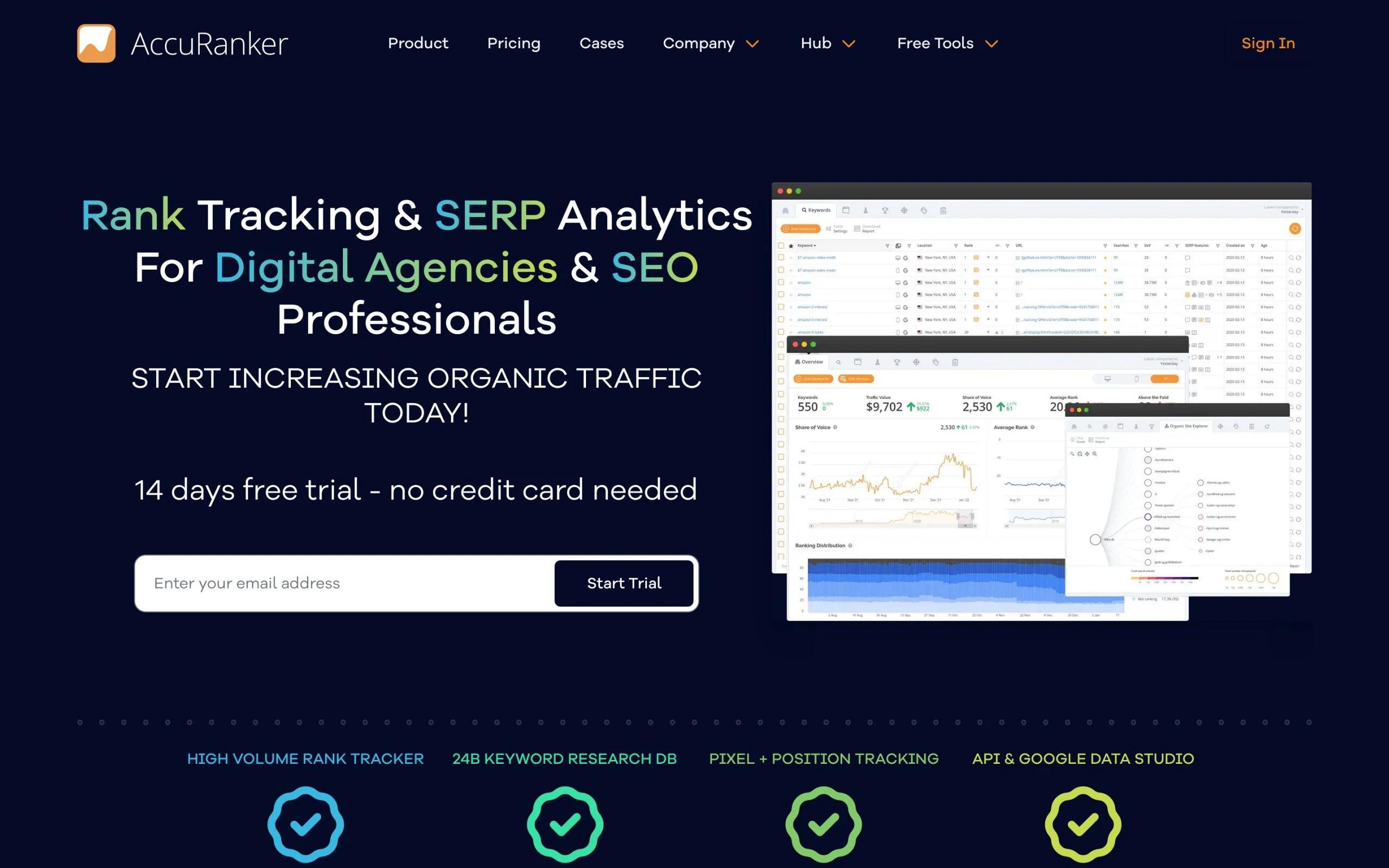 AccuRanker is a popular rank tracking software with over 32,000 active users currently. The simple and easy-to-use interface allows you to track ranking keywords on-demand.
What's best about it is that it offers other side tools like site explorer, competitor analyzer, and keyword researcher. Now, SEO suites like SEMRush or SE Ranking also offer many of these tools, but with them, you're limited on the number of updates for keyword tracking.
But, it's not the case with AccuRanker: its specialty is keyword tracking, and you can do that anywhere, any time on-demand.
So, if you're a blogger looking for an online tool that can track your ranking keywords without much fancy stuff, AccuRanker can be it.
Key Features:
Free live SERP tool.
On-demand updates and email notifications.
Automated and insightful shareable reports.
Add unlimited users.
SERP history.
The trend tracking tool for search phrases, and more.
Price Plans:
The fixed price structure depends upon the number of tracking keywords. The lowest is $109 for 1000 keywords. Upgrade as your need expands. Both monthly and yearly subscriptions are available. Cancel any time without any fee. You can start with a free 14-day trial. See the details here.
It's an online tool solely built to help you check where your website ranks on specific keywords. Simply type your desired keyword, and then type your domain's URL to see where your website's position is. It's Free for up to 10 keywords daily. But you can pay to unlock more – with features like the 3-month history of your website's position or even all-time history. The more you play, the more features you unlock.
So, is it for you? Well, yes, if you want a tool that can present accurate ranking data at an affordable cost.
Key Features:
Free browser extension available.
Upton 100 searches are always free.
Over 100k locations to track from.
No captcha or proxies are required.
Price Plans:
Get started with its free plan of 100 searches per month without the requirement of a credit card. The paid plan starts from $45 per month for up to 5000 queries. $210 for 30,000 searches. See the details.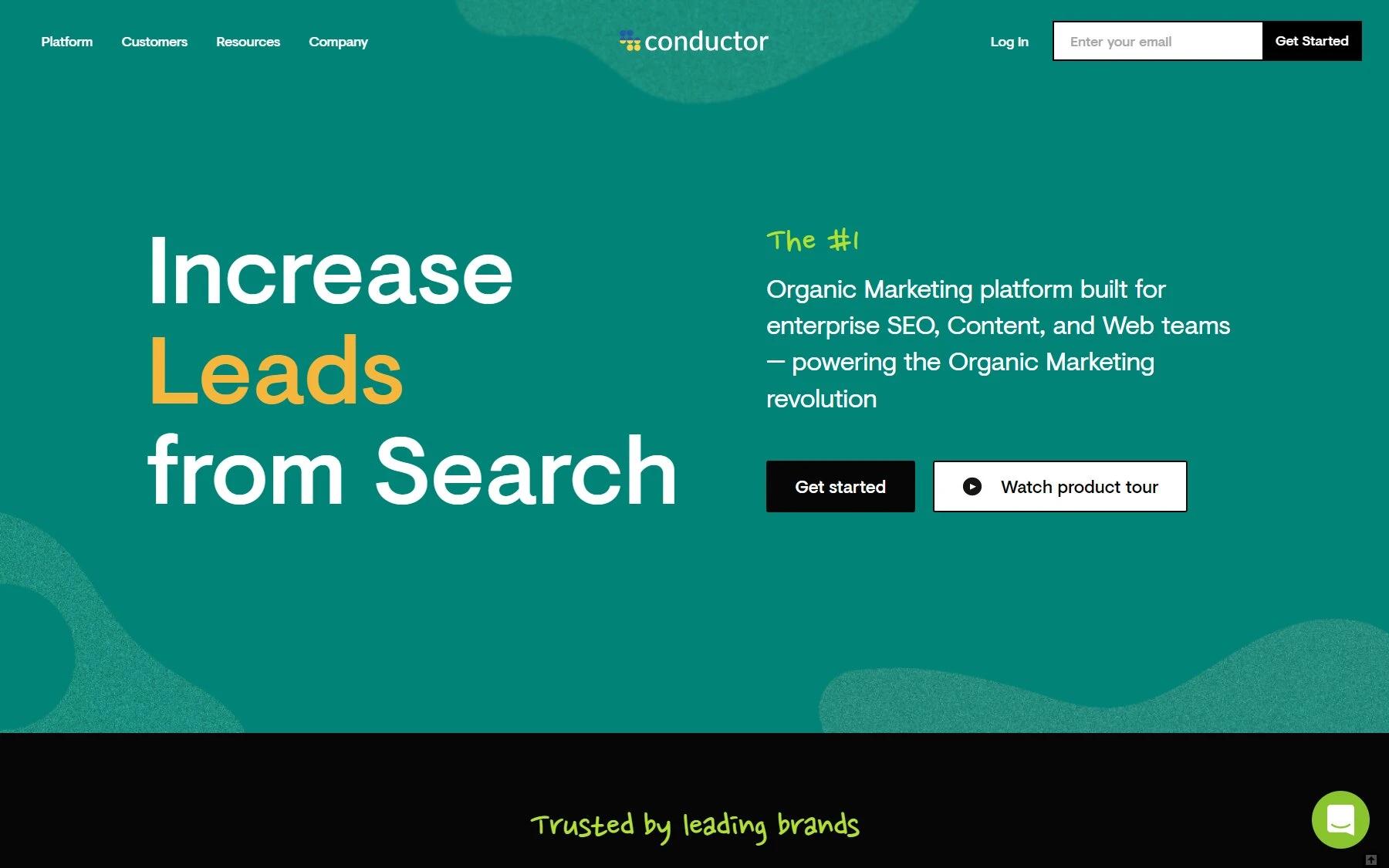 Conductor SEO is an online organic marketing platform. Besides an exclusive tool that lets you track keyword rankings on-demand, there's much more. You can discover keyword ideas, analyze competitors, generate AI-powered content briefs, improve your site's SEO health, get automated reports, and more. There's pretty much everything any modern-day SEO suite will provide.
So, what's unique to Conductor? It's credibility. You can trust the tool. It's been featured and mentioned in well-known publications, won awards, and rated five stars on websites like TrustRadius.
But it's obvious that it's not ideal for a beginner or solo niched blogger who has just started. The price plans can be expensive.
Key Features:
Keyword rank tracking software.
The browser extension is available for free.
Voice search tracking of Alexa/Google.
Live adobe reports.
Built-in content briefs creator.
Researching and competitor tracking.
Content ideas generator, and more.
Price Plans:
You can request a free demo directly through the site for Rank Tracking Software (Or anything per se). They will reach out to you with custom prices.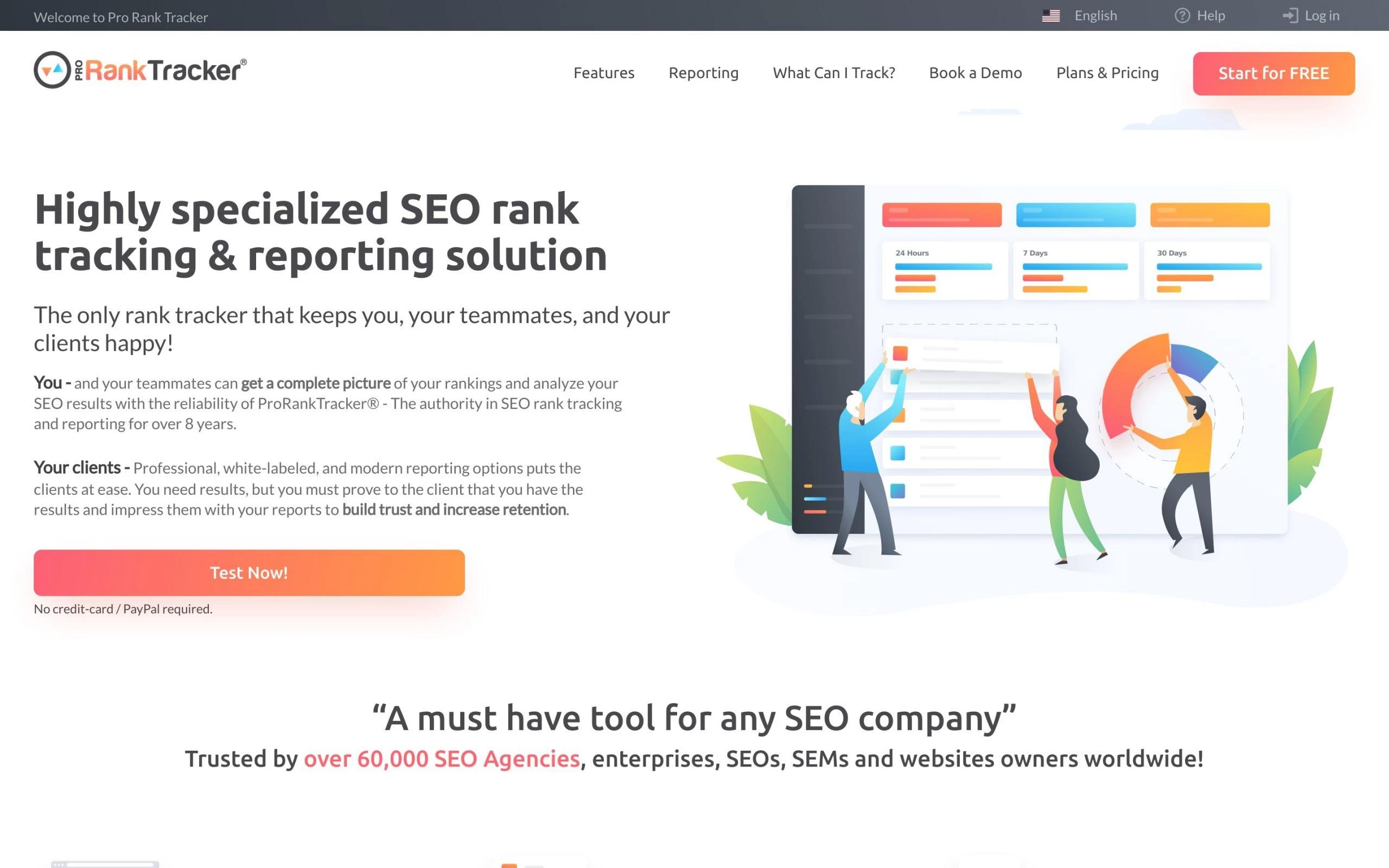 ProRankTracker does only one thing, and it's perfect at it. You can track the rankings for any site; international, local, desktop-focused, mobile-focused, listings, and everything that can appear in search results. Multiple language support, advanced high-accuracy algorithms, and daily and on-demand updates are some of the key features.
The best part is their variable price structure that aids beginner to advanced level bloggers.
Also, if you want to know how trustworthy the tool is, more than 60,000 website owners use ProRankTracker to make content strategies.
Key Features:
Rank tracking with the high-accuracy algorithm.
Multi-lingual tracking available.
Mobile/desktop/local/international tracking available.
Web-based app; no installation or download is required.
Price Plans:
Free version: track 100 terms without giving your credit card info. Different paid plans are available: Starter one starts from $13.5 with up to 100 terms, with some insider features unlocked.
Pro starts from $85 with most of the features unlocked. And then the last one is Agency mode with custom price, and all the features are unlocked. See details.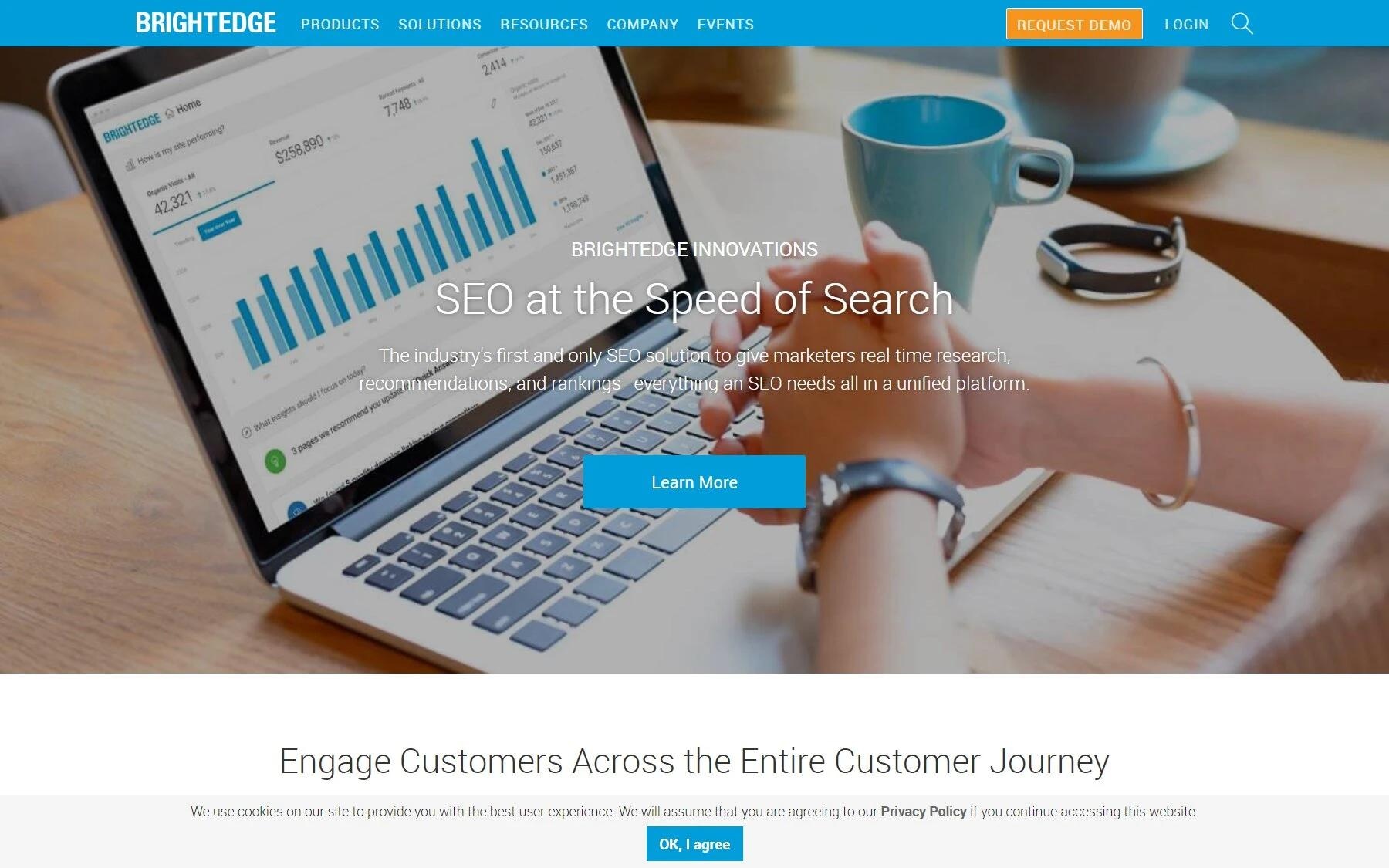 Brightedge is an AI-driven platform, offering software as solutions to boost the online presence of bloggers and businesses. Out of all of their products, one is their Keyword Reporting tool.
This tool lets you analyze the top-performing keywords that are bringing you traffic and money. By using the tool, you can see the ranking position, content insights, search volume, and several more things to keep an eye on what's working really well.
You can monitor not only your site but can also extract the data of your competitors, which can prove to be profitable.
Also, what's interesting is that you can purchase this tool as a solo – without having to pay for other side dishes that come along, often increasing the pricing. Request a demo and a custom price for this tool to save money and get what you exactly need.
Key Features:
Specialized keyword reporting tool.
Keyword tracking of competitors.
Detailed reports.
Free SEO guides, resources, case studies to get insights.
A range of other related tools.
Price Plans:
You can request a demo for Keyword Reporting or any other tool. Prices of Brightedge are customized according to the needs and size of businesses/bloggers.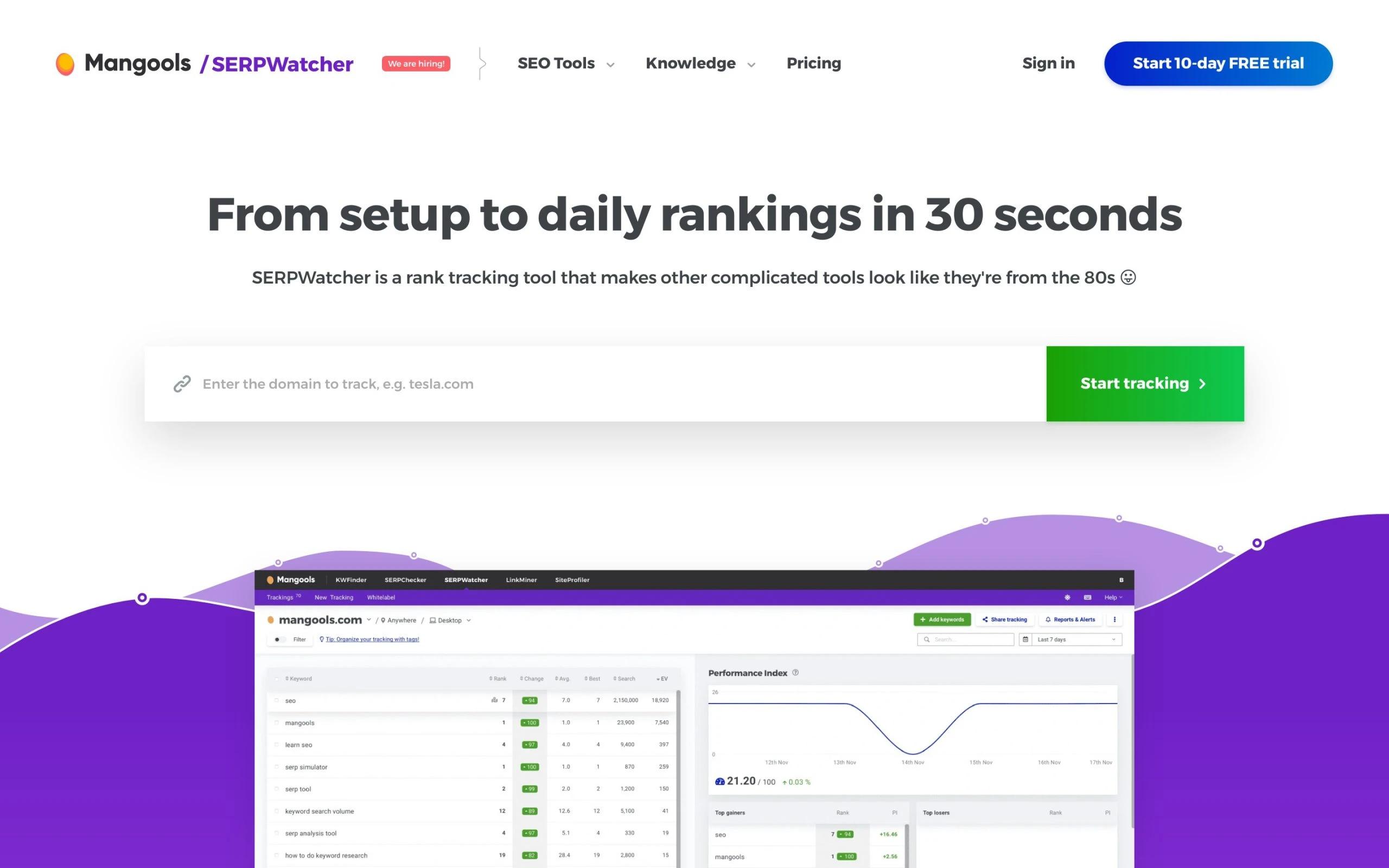 It's a fast and easy way to check your daily rankings without having to face any complex APIs or dashboards. Just sign up and start tracking by putting your URL.
Besides on-demand tracking, you also get automated email alerts.
From the phone, desktop, or tab, you can track international or location-based keywords easily.
Plus, you can make reports, convert them into a link, and share it with your team or client.
Is the tool reliable? Yes. It has thousands of users, and it has been featured in dominant SEO platforms like Backlinko and Hubspot.
If you need, you can also purchase other SEO tools there; Keyword Finder, SERP Analyzer, SiteProfiler, and LinkMinor.
Key Features:
Fast and easy Rank Tracker.
Free resources and guides to learn from.
SEO browser extension is available.
Daily rank reports.
Shareable reports with customized links.
Several more SEO tools are available on the platform.
Price Plans:
The lowest plan, Basic, comes at $29.5 with up to 100 keyword lookups every 24 hours and several other features. Premium comes at $39, and the Agency comes at $79 with every feature unlocked. You can get started with a Free 10-day trial video. See the details.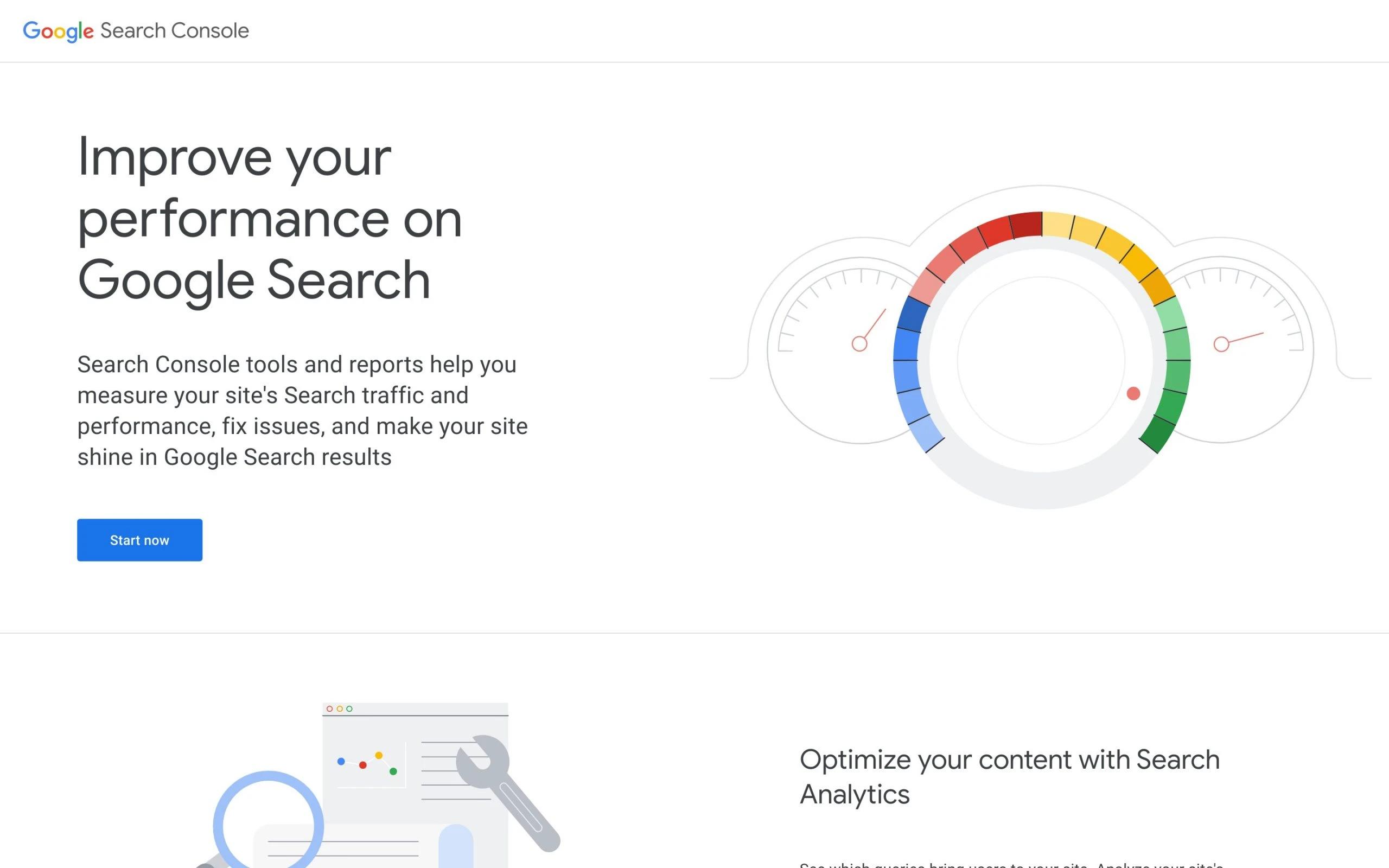 Google Search Console is a free tool by Google. With the help of GSC, you can easily track your ranking keywords, analyze audiences, see impressions, clicks, and more.
But, it offers more than that: you can monitor, analyze, and even fix several issues regarding indexing, content performance, and other metrics to really boost your presence on Google. All of that for free.
The tool might require a learning curve, especially if you're a beginner and yet haven't really wrapped your head around all the acronyms or SEO lingos. You can master the tool from Google's official YouTube here.
Key Features:
Search Analytics to analyze performing keywords.
Submit sitemaps or URLs for crawling.
Free email alerts on new identified issues with your site.
Free training available.
Price Plans:
Free. You just need a Google account.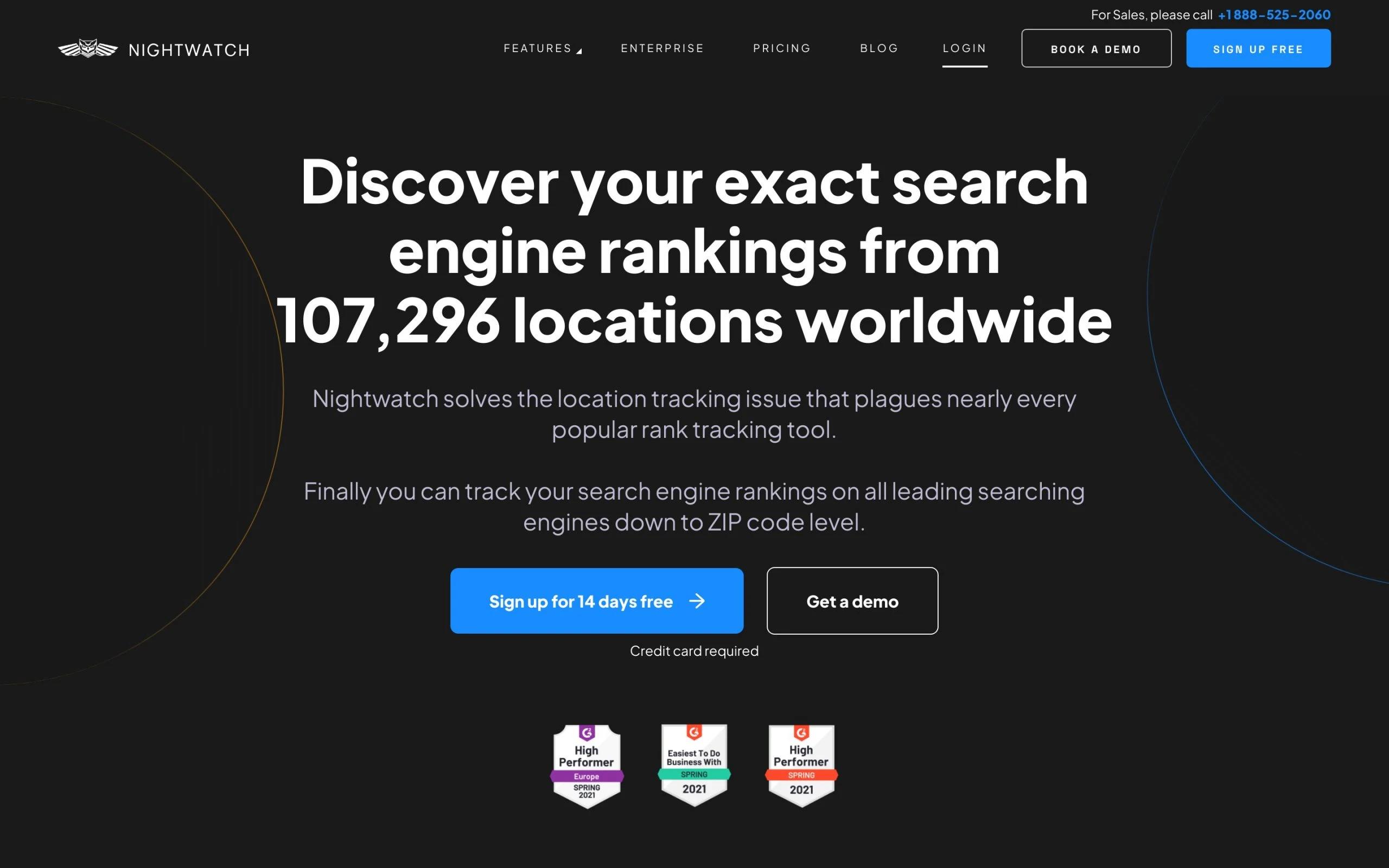 Nightwatch is an easy and compact tool offering rank tracking solutions at affordable rates. Hear me out why this tool can be interesting: the problem with most keyword tracking tools is that they lack the support of location-based tracking. There are always a very limited number of locations available.
But, it's completely different with Nightwatch; it offers local keyword tracking for over 100k locations. So you can easily monitor and optimize your keywords for local searches to bring more visitors.
What's more? You can get automated tracking reports, and with the help of the built-in tool, you can perform website audits to fix on-site issues.
Key Features:
Rank tracking software.
Automated reports.
Website audit tool.
Price Plans:
At $32 per month, you can track 500 daily keywords and get more relevant tracking features. $79 for 1000 daily keywords and more insider features. $295 for agency size use. You can start with a free 14-day trial to test things out. See the details.
Need further help in choosing the perfect one? Discover what features make any keyword tracking tool a good tool.
If you're unsure which one to pick, remember the good SEO software for agencies is the one that:
1. Allows you to spend less time
Time is money. Blogging isn't just about tracking keywords, discovering keywords, or analyzing on-site errors. It's more than that. You're constantly writing and implementing new ideas, handling social media, or maybe even reaching out manually for link-building opportunities. You need to cash out every single hour. And you cannot spend too much time waiting for SEO reports.
2. Earns you money, instead of earning money from you
Paid tools are always feature-enriched and deliver more reliable results. But they should earn you more from the results or reports they deliver – instead of cutting dollar bills every month in negative.
If you truly have some money-making keywords ranked, which must need to be tracked to further improve the content, then you can think about investing money in SEO tools like Keyword Trackers.
But, again, at the end of the day, it should be you who's getting the best value out of your money. If you think it's expensive for you or your ROI is negative, maybe you don't need to invest in a keyword reporting tool yet. Test things out.
3. Gives you exactly what you need
Some paid plans of the tools may come with extra features, tools, or anything per se – increasing the prices. That's all good – but do you need those extras? If yes, then it's fine. If not, consider another option; the one that delivers exactly what you need and comes within the budget limits.
4. Is less complicated
A Keyword Tracking tool shouldn't be complicated. It should be simple, straightforward, and easy to use. Because learning the tool may also require your enough time, which you could spend on doing something more productive; such as writing a blog post or engaging with your community.
For example, SERPWatcher makes keyword tracking seamless. Just put your URL, and you're good to go – all within seconds.
5. It is not free entirely
Free tools aren't bad. For beginners especially, they're great to practice, learn, and implement new less risky ideas.
But when it comes to real decision making where you're designing new content strategies; where if one single wrong keyword might ruin the whole effort, you need a reliable tool in your hands. And those reliable ones are often always paid ones. (Or come with paid plans)
6. Provides accurate data-driven results
Free tools, although accessible, may provide insufficient accuracy. But it shouldn't be a problem if you're in the early stages.
When you're at an advanced level, you need accurate data to make different content strategies. So make sure you get the tools with the highest accuracy. (Above mentioned are reliable ones)
Conclusion: Ready to get insights on your site's content?
Keyword tracking is essential to get critical insights and to discover what's working awesome on your site. You can continuously monitor and improve the existing content to boost audience engagement, organic traffic, affiliate sales, and many more good things.
If you want an all-in-one SEO solution, SEMRush SEO Toolkit can be a good investment. But if you only need a single tool to track keywords, SERPWatcher can be a fast and easy way.
Good luck!