Some blog types or niches make more money than others, why is that? We're going to figure that out today and a lot more.
Discover 16 types of blogs that make you a passive income, real-life examples, and blogging platforms to start with. This will be a simple and ultimate guide for you.
Let's get into it.
16 Types of Blogs that can Make You a Sustainable Income
Here are 16 types of blogs with the highest potential of earning. Let's talk about them.
1. Finance Blog
Finance blogs can be competitive but equally rewarding. The ads in this niche pay really well, ranging from $4-12 per click or more depending upon the region and topics. It's a great money maker that attracts all kinds of readers. From those interested in personal finances and tips on how to save money, to business owners looking for advice on how to experiment with pricing models, there's plenty to cover.
How can finance blogs make money:
Personal finance advice/consultancy services.
Ebooks/webinars on finance, money-saving, investments, or subscription-based memberships.
Virtual accountant services.
Affiliate marketing; promoting firms, products, investment programs, or promoting the courses of consultants/coaches, or finance remote jobs.
Display advertisements through Google Adsense, Mediavine, and other relevant networks.
Here are examples of finance blogs making a good living: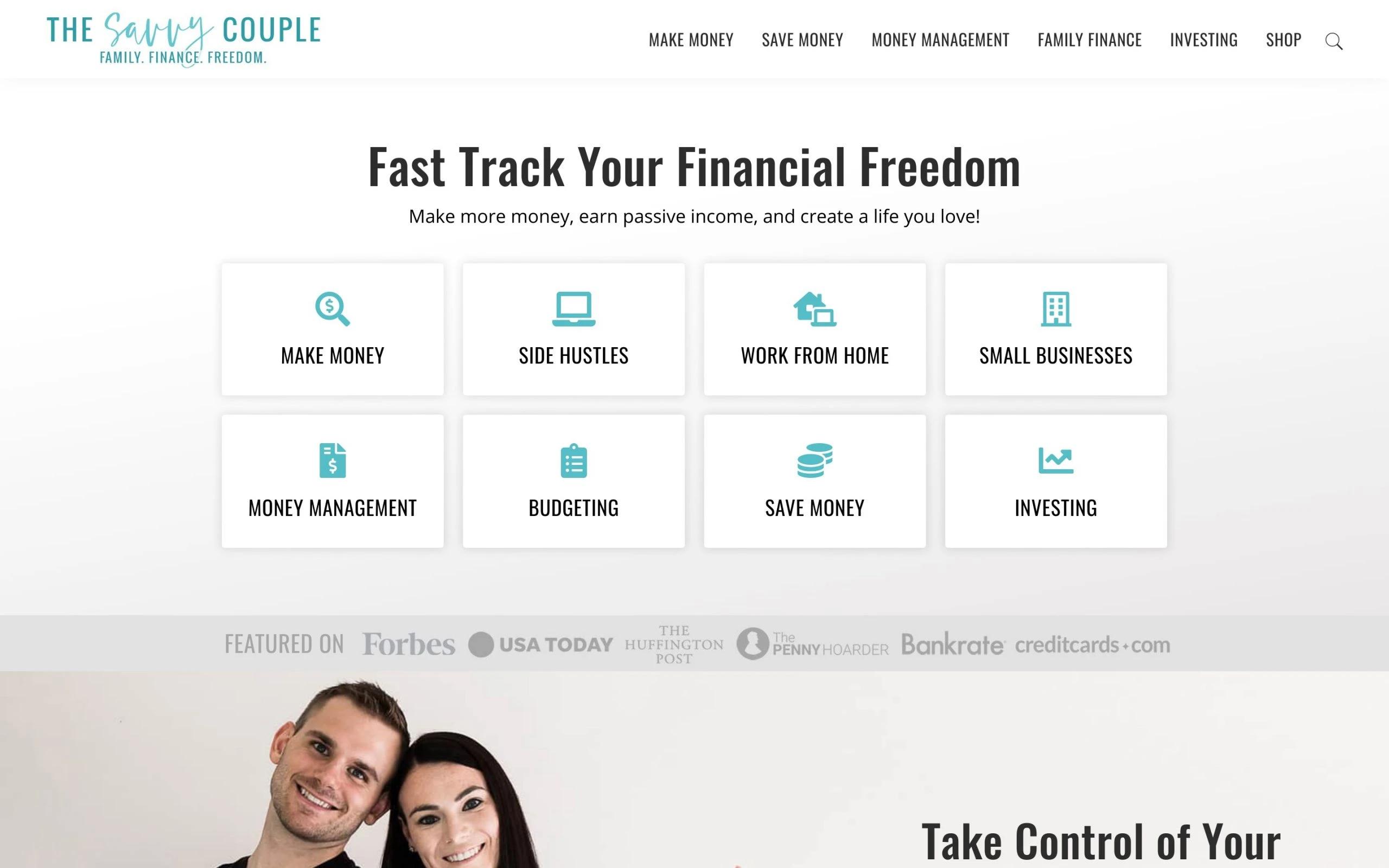 A family finance blog that's helping with practical financial advice to save money, pay off debt, increase revenue, and more. Their blog's income report in 2021 showed they made $43,547 in a single month.
Income breakdown: 61% sponsorships, 15% ads, 5% products, and 19% affiliates.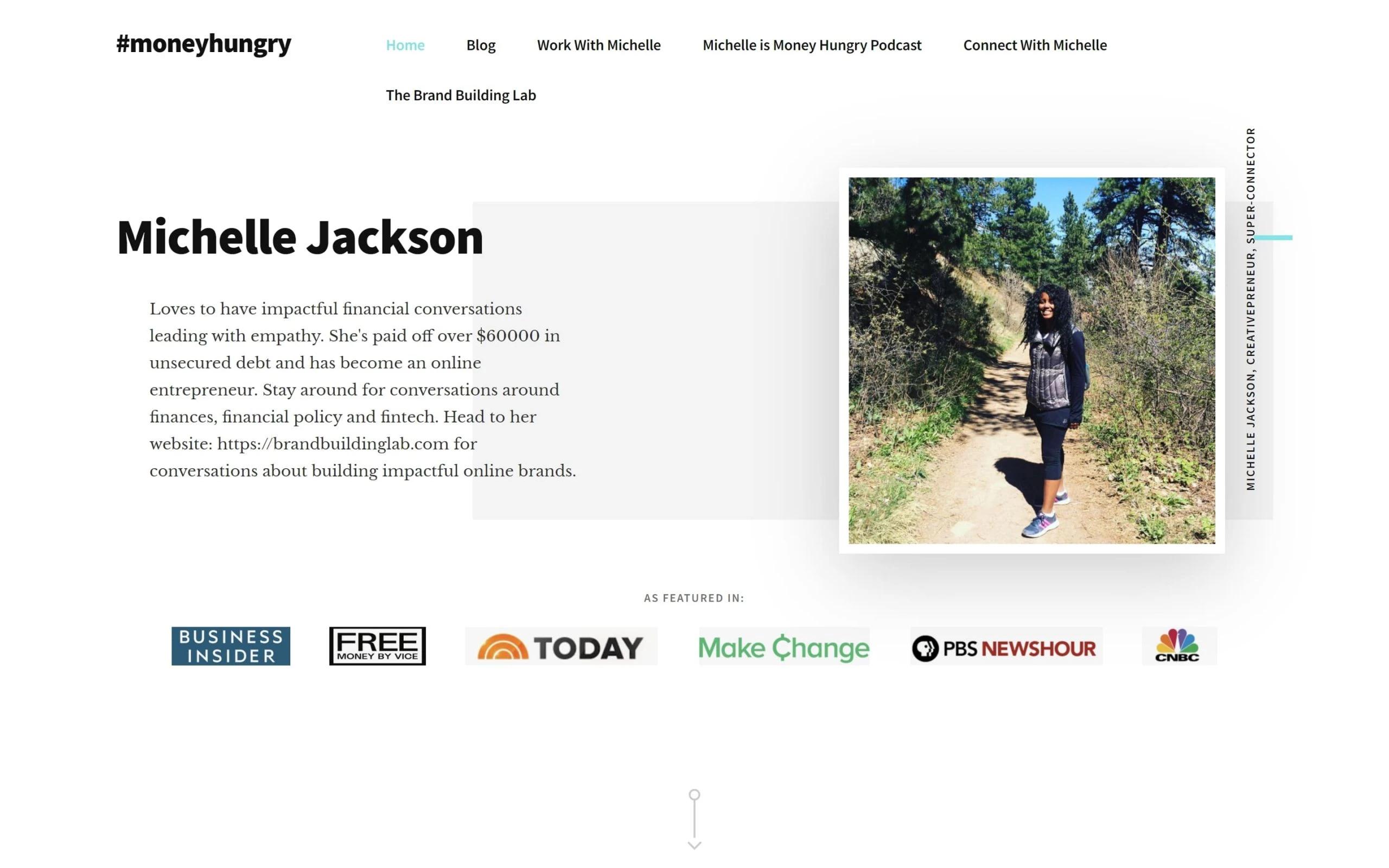 Michelle shares practical advice on making and saving money. She posts helpful articles, reviews the latest finance stories, and owns two books related to money-making.
Her 2019's September income report showed she made $7974 in a single month.
Income breakdown: 60% sponsorships, 8% affiliates, 12% side hustle, 15% her eBooks, and 5% courses.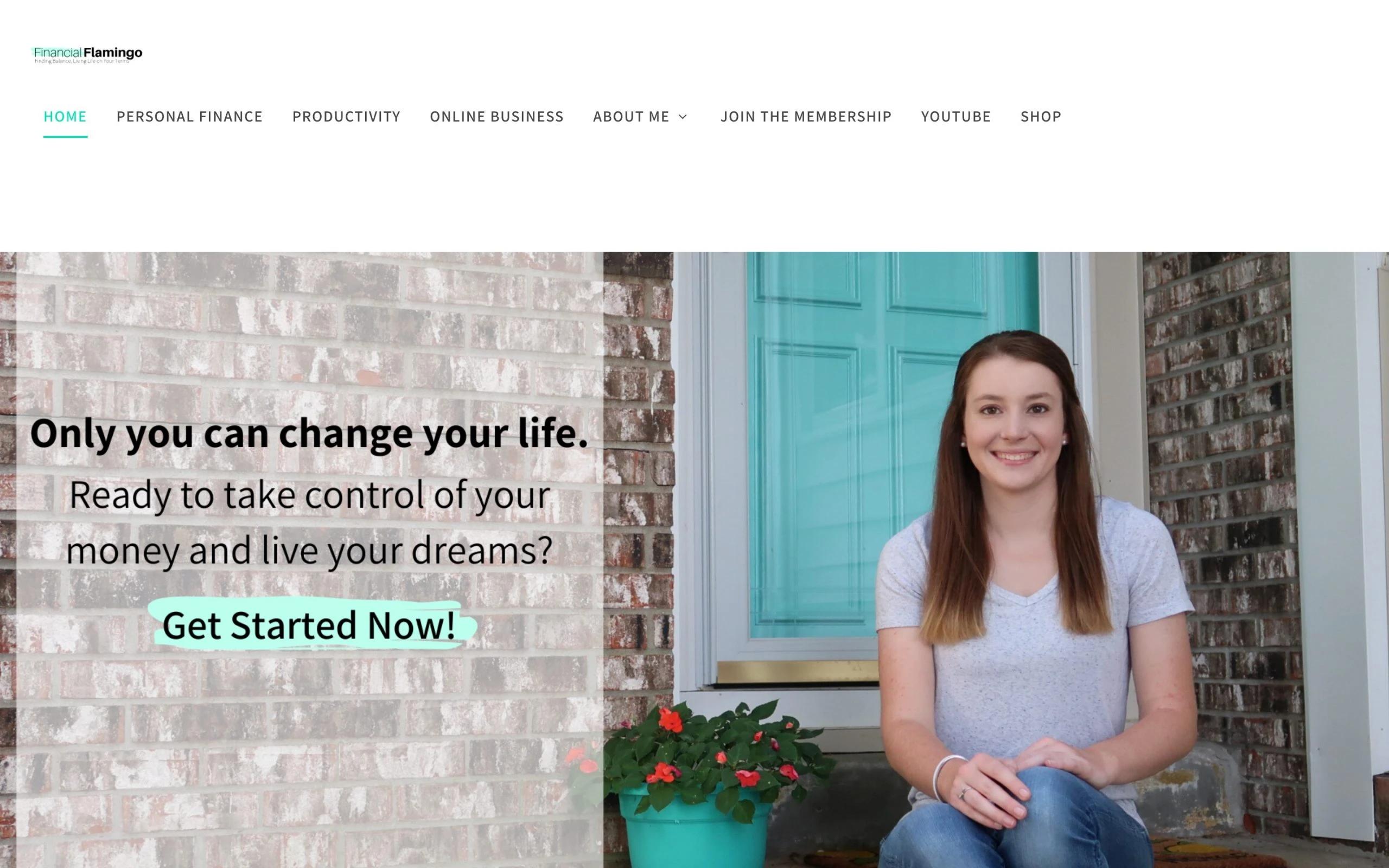 Allison teaches money-saving tips, new small business ideas, and money management. In short, she helps take control over financial breakdowns.
To her January 2020 income report, she made 1000$ in her 7th month as a blogger.
Income breakdown: 51% affiliate, 32% ads, and 27% YouTube.
2. Travel Blog
The money-making opportunities are easy and vast for travel bloggers. Besides, imagine the freedom.
How do travel blogs can make money:
Selling travel guides/resources/eBooks/cheat-sheets.
Create a travel photography course or sell your own awesome landscapes in print.
Launch your own physical travel gear or a tool like backpacks, water bottles, or cool gadgets.
Affiliate or sponsored content of travel agencies, airlines, or companies that sell travelling gear.
Display advertisements.
Here are examples of travel blogs making a good living:
Ashley travels around cities and publishes helpful tips, tricks, and guides. To her Sep 2019 income report, she made 2,112$ in a single month.
Income breakdown: 50% ads, 48% affiliates, and 8% products.
For over 13 years, Jeremy and his wife have been travelling around the globe and publishing helpful guides for the audience.
In his income report in September 2021, Jeremy revealed they made $17,469.
Income breakdown: Ads 55%, Sponsored 40% and affiliates 15%.
Young Maya, in her early twenties, made 686$ in just her 4th month of blogging. She's a travel addict, sharing beautiful locations and guides.
Income breakdown: 90% affiliates and ads, 10% her own products.
3. Fashion Blog
Fashion blogs are diverse, ever-green, and lucrative. Why? Imagine the fashion brands and products and the people who look for fashion advice.
How do fashion blogs can make money:
Collaboration with fashion brands for sponsorships, partnerships, contracts, or affiliate programs.
Make-up tutorials or fashion style guides on YouTube or other video platforms and earning from there.
Sponsored reviews of fashion products.
Launching your own physical fashion product such as footwear, sportswear, accessories, or more.
Here are examples of fashion blogs making a good living: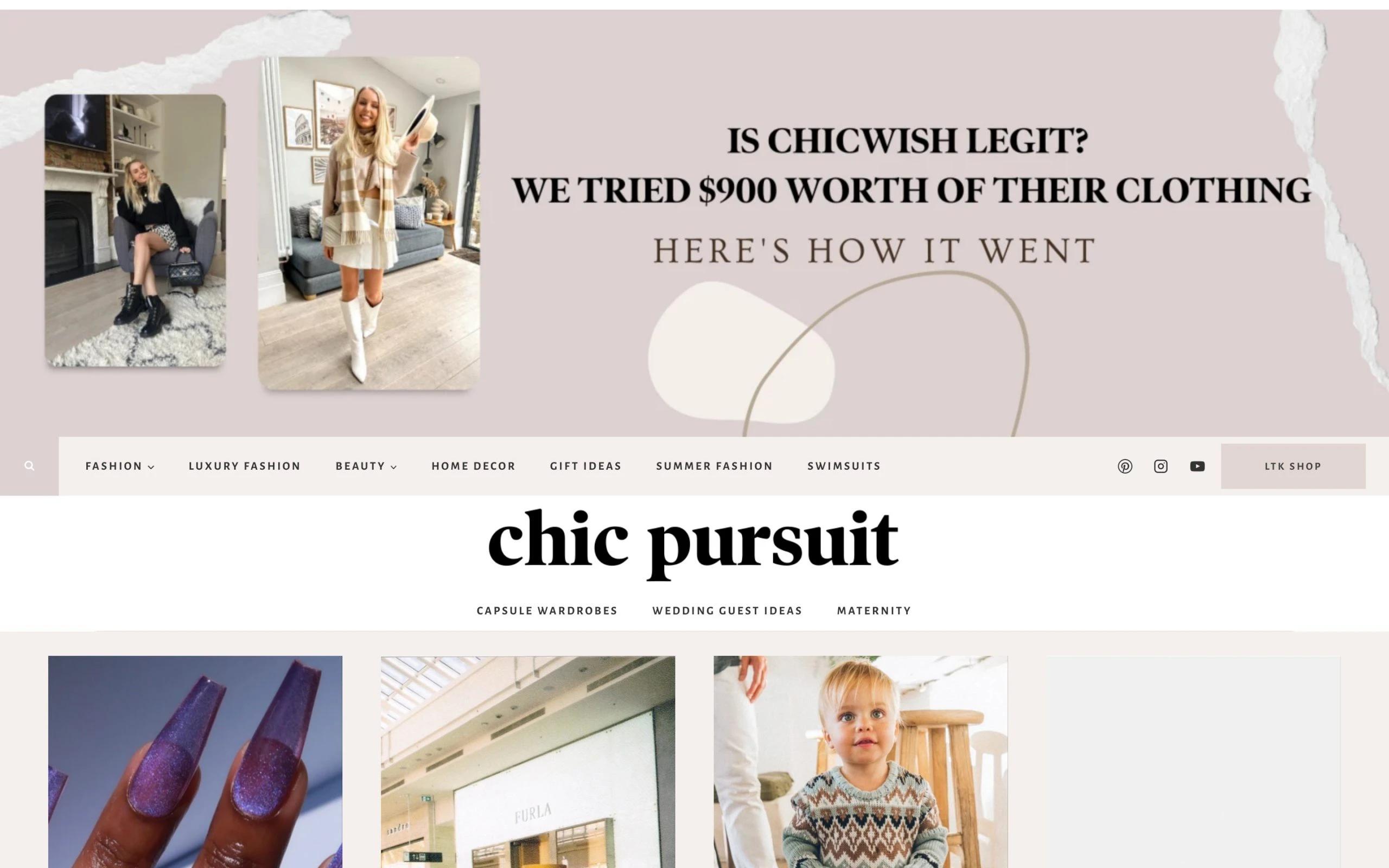 Amanda shares style guides, wedding ideas, luxury fashion ideas, and more. Her 2020 income report reveals she made $10,133 in February.
Income breakdown: 60% affiliates, 20% ads, 15% own products, and 5% sponsored content.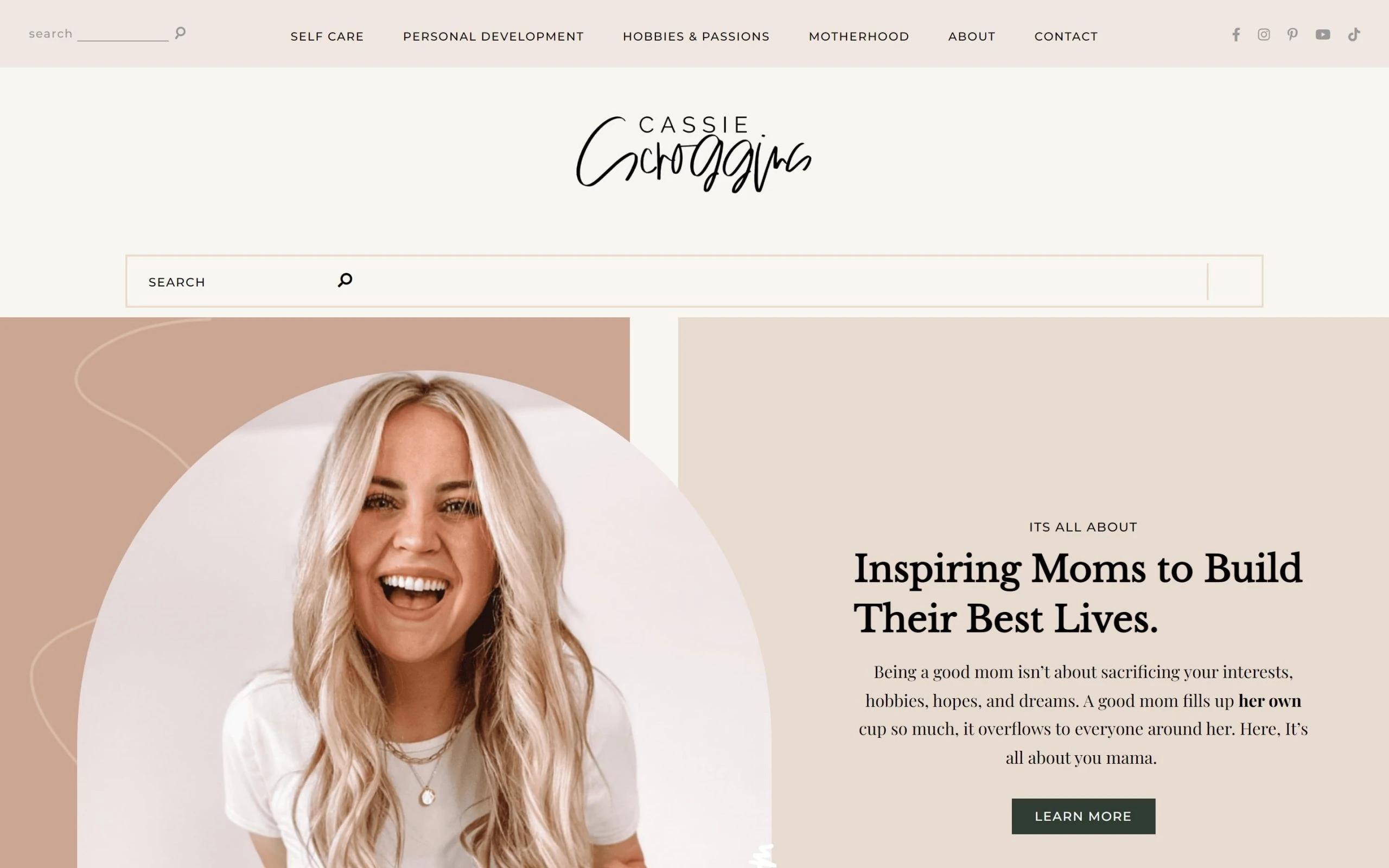 Cassie talks about beauty, fashion, fitness, and productivity on her blog. Her January 2020 income report revealed she made $3,713.
Income breakdown: 40% affiliates, 40% ads, and 20% own products.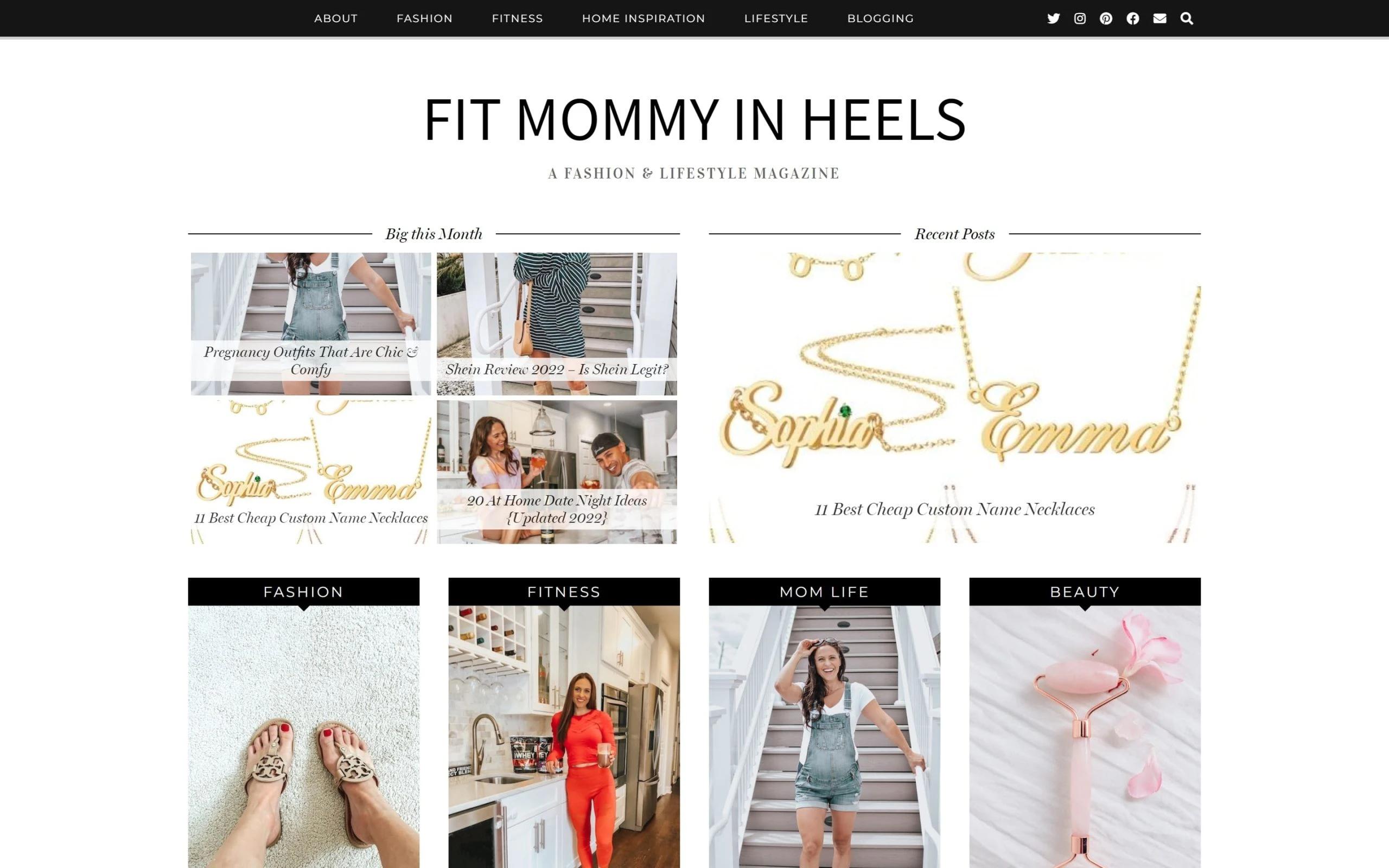 Lauren shares mommy style guides, fashion and fitness advice, and general lifestyle tips. Her 2019 income report in October reveals she made $11,562.
Income breakdown: 85% sponsored posts, 10% contracts, and 5% affiliates.
4. Personal Development Blog
Personal development blogs are also ever-green, and unfortunately, mental health cases are soaring due to COVID. People need more personal development help than ever, and you can help them.
How do personal development blogs make money:
Affiliate partnerships with coaches, similar products such as self-help books, programs, or private clubs.
Launching your own courses, eBooks, creating a premium email subscription plan where you can send tips and advice, or 1-1 consultancy services.
Live premium webinars online or real world.
Here are examples of personal development blogs making a good living: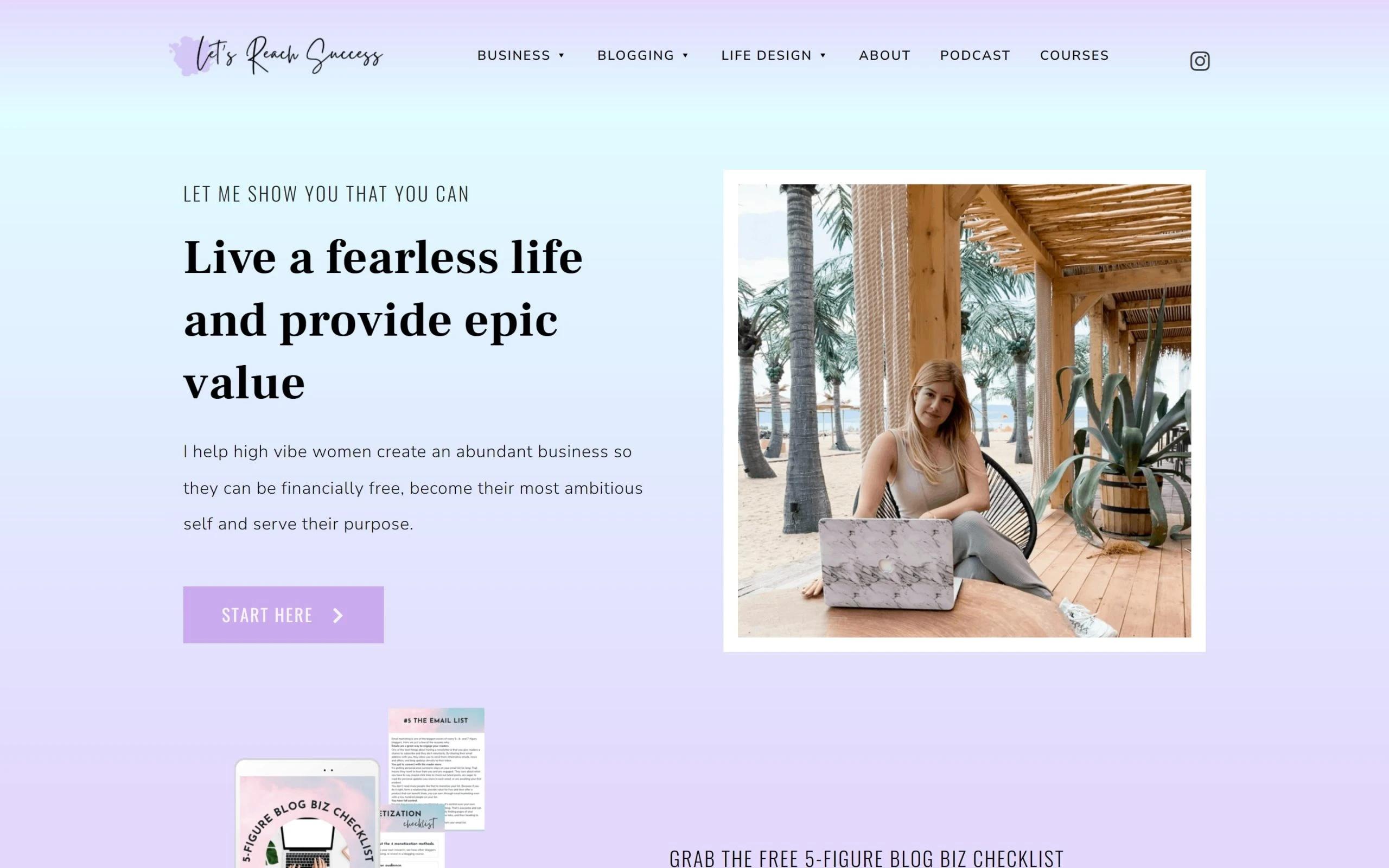 Lydia reveals she made $5,178 in just one month of blogging. She's a life coach and business advisor.
Income breakdown: 60% sponsored, 30% ads, 9% affiliates, and 1% own products.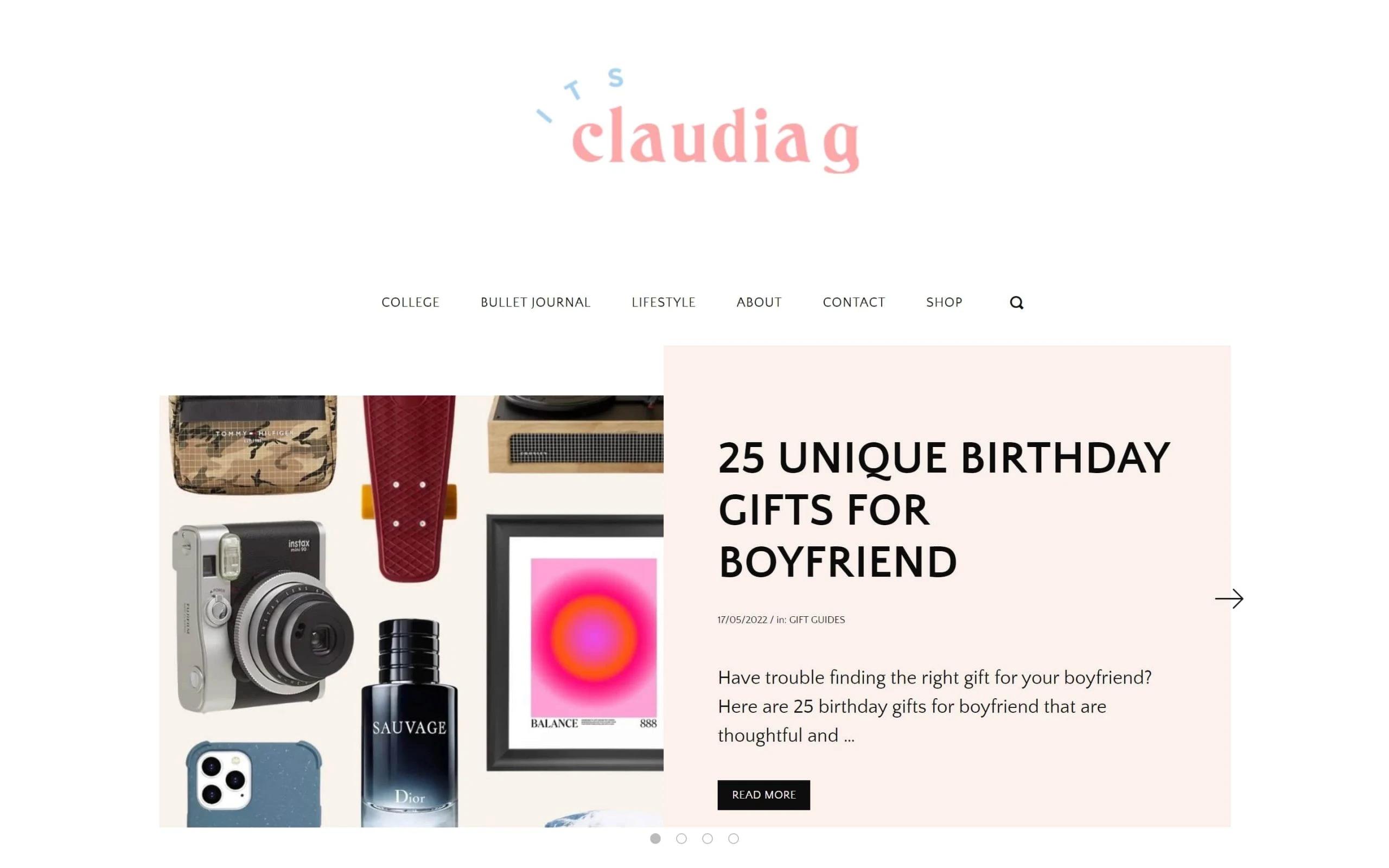 Claudia, a 21-year-old, shares lifestyle advice, career advice for students, business tips and ideas, fashion guides, and more. Her latest income report showed she made $2761 in one month.
Income breakdown: Ads $2460, and affiliates $301.
5. Marketing/Entrepreneurship Blog
These types of blogs are lucrative because there's a direct investment involved.
How do marketing or entrepreneurship blogs make money:
By digital marketing services; web design and development, copywriting, email marketing, social media, SEO, or even print media.
Launching your own courses on any skill, like writing, SEO, or coding.
1-1 consultancy service.
Ebooks, courses, memberships.
Selling business or start-up ideas.
Affiliate or sponsorship programs with other business coaches, marketing agencies, authors, industry experts, or other affiliate programs.
Display ad revenue.
Here are successful blogs in the niche: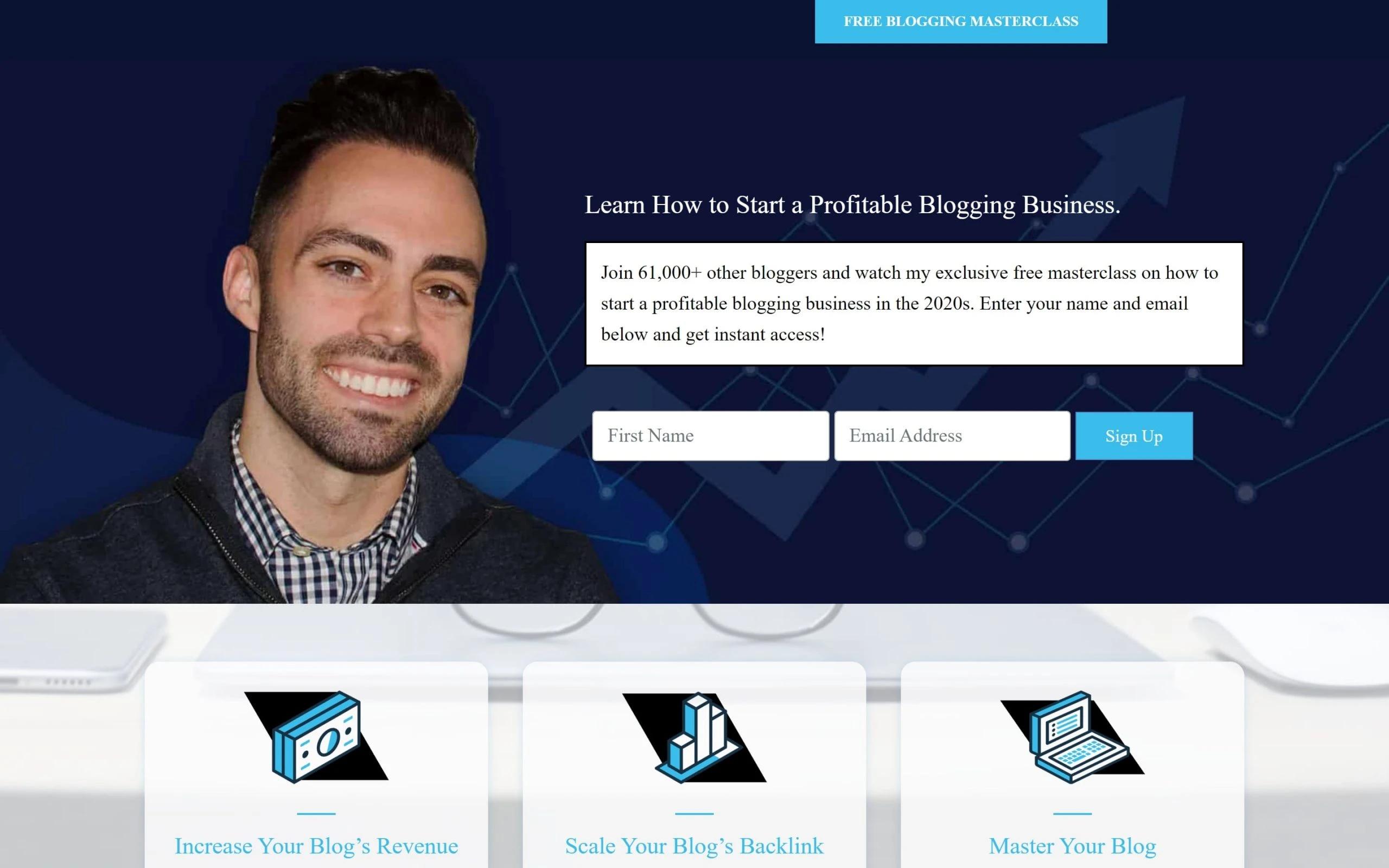 Adam helps his audience grow their startups successfully with his practical advice and softwares.
His July 2021 income report showed he made $281,776 in one month.
Income breakdown: $193,808 courses, $80,950 affiliate, and $7,017 ads.
Tom helps with new side hustle ideas, money-saving ideas, and how we can use AI to generate passive income streaks.
His yearly 2020 income report revealed he made $22,000+ from his blog.
Income breakdown: $15,085 ad banners and the rest from different affiliate networks.
6. Health and Fitness Blog
Ever-green content, immense audience, and easy money-making opportunities: but these types of blogs might require some sort of expertise to build trust in your audience.
How do health and fitness blogs can make money:
Selling training and workout guides, diet plans, or creating your own fitness App.
Launching your own physical product like a supplement, a gym tool like a dumbbell, or even a booty band.
Creating your eBook.
1-1 fitness coaching services.
Sponsorships or affiliate partnerships with fitness brands to promote their supplements, fitness tools, vitamins, diet plans, or clothes.
General affiliates like Amazon Associate for linking to products and earning a commission.
Display ad revenue.
Here are examples of health and fitness blogs doing well:
Chantal, a mom of two, helps people overcome anxiety and depression and maintain a positive and healthy lifestyle.
Her 2020 blog income report revealed she made 754$ in one month.
Income breakdown: 80% ads, 10% products, and 10% affiliates.
Kyth helps achieve mental supremacy through yoga, meditation, and spirituality. Her health blog made $15,534 in one month, she revealed in an income report after 7 years.
Income breakdown: 70% own products, 10% affiliates, 12% ads, and 8% marketing.
7. Parenting/Mom Blog
Parenting blogs will always be relevant. Be a fun parent, help others, and spend time with your loved ones – whilst making money blogging.
How do parenting or mom blogs make money:
Sponsorships or affiliate programs with brands to promote a ton of baby products; toys, towels, scooters, and a lot more.
Mom or parenting advice eBook or cheat sheet. Or a family recipe book.
1-1 parenting advice consultancy services.
Launching your own physical product can be lucrative; anything like a toy, DIY gadgets like dollhouses, or hand-sewn sweaters (generally really high priced).
General affiliate programs like Amazon Associate create a ton of baby products buying guides, linking to them, and earning a commission.
Display ad revenue.
Here parenting blog examples doing great: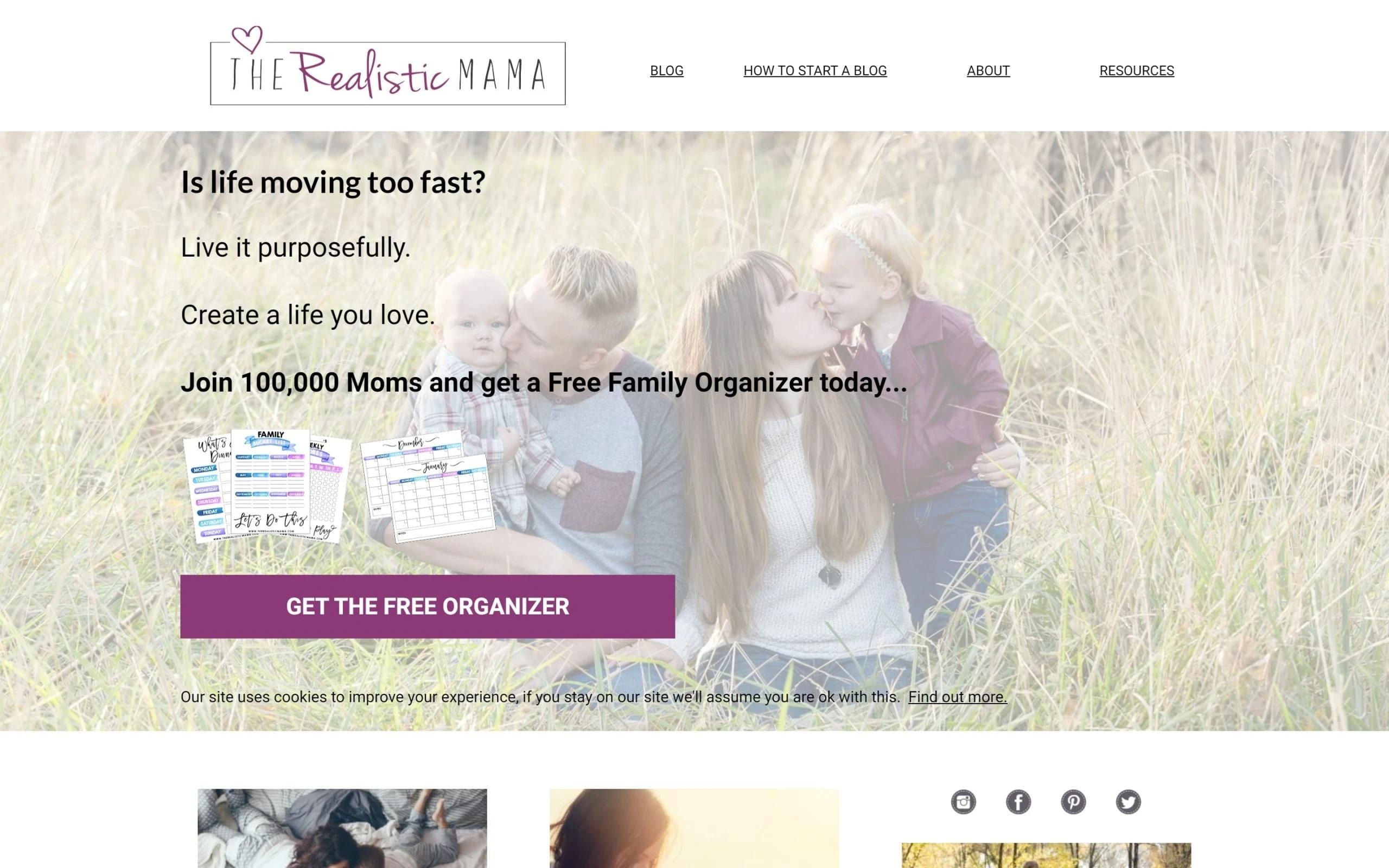 Alida covers tips on motherhood. Her blog income report revealed she made $20,000 in a month.
Income breakdown: Ads: $1,865, affiliate: $11,290.58, and products: $11,326.
Also, a parenting blog where Stacy shares insider parenting advice. Her blog income report revealed she made $11,288 in a single month.
Income breakdown: Ads: $3732.64, affiliates: $956.99, sponsored: $6590.00, and products: $7.
8. Food Blog
Food bloggers are earning in a number of ways you might not have imagined.
How do food bloggers can make money:
Affiliate partnerships or sponsorships with similar brands, such as restaurants, or food and beverages brands like Nestle, Starbucks, Burger King.
Selling your own recipe eBooks or physical books, vegan or non-vegan recipes or menus, diet-specific recipes, easy mom recipes, or any other recipe lists.
Paid reviews of restaurants, stores, cafes, or kitchen products, or food delivery services.
Cooking or food vlogs on YouTube or other video platforms to earn from there.
Selling your own food photography prints or creating a course on taking good food photos with an iPhone or professional camera.
Display ad revenue.
Here are food blogs doing great: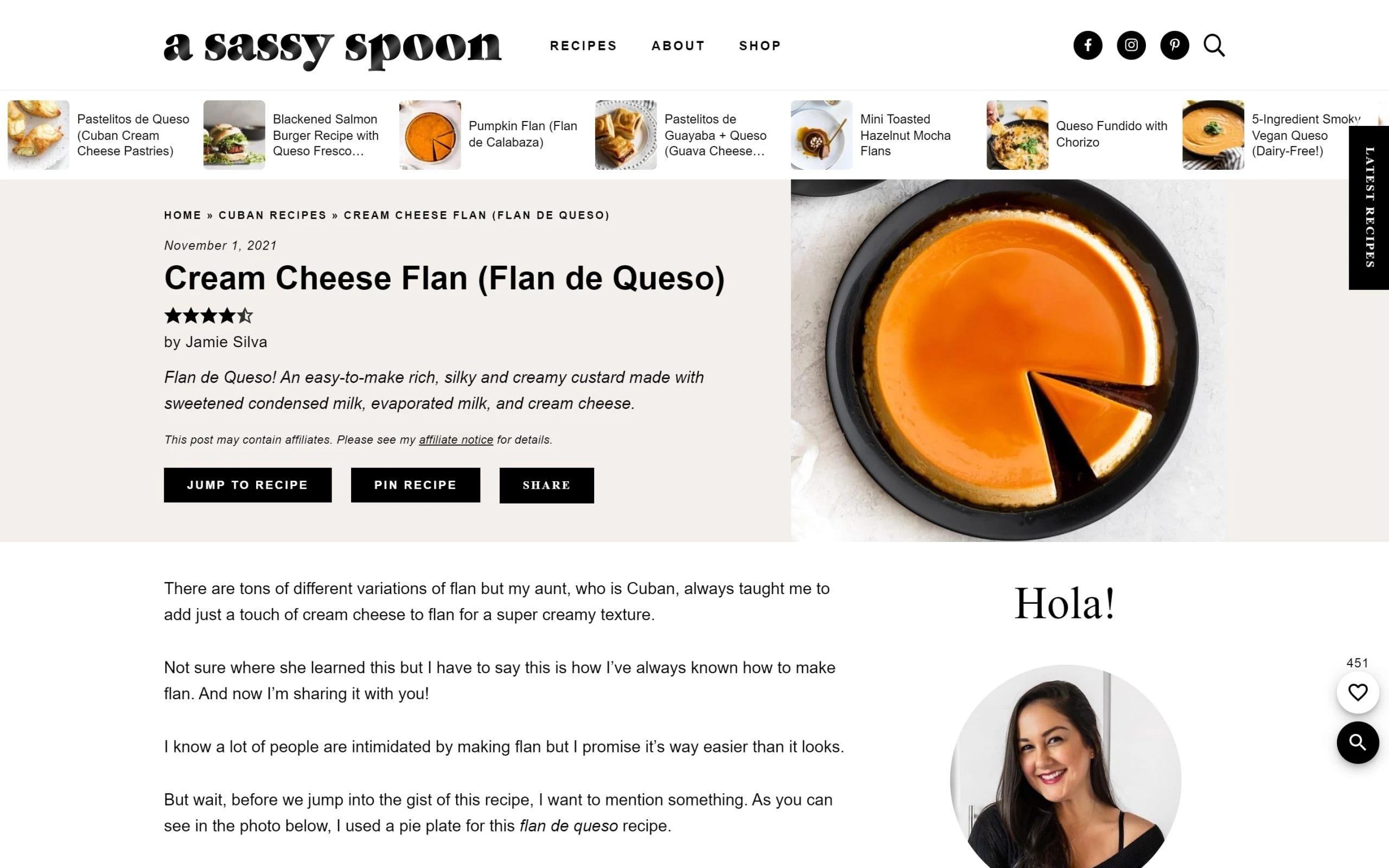 Jamie shares exciting recipes and takes photographs of them. Her food blog income report of 2019 showed she made $15,483 in a single month.
Income breakdown: 30% ads, 40% coaching program, 20 sponsored, and 10% affiliate.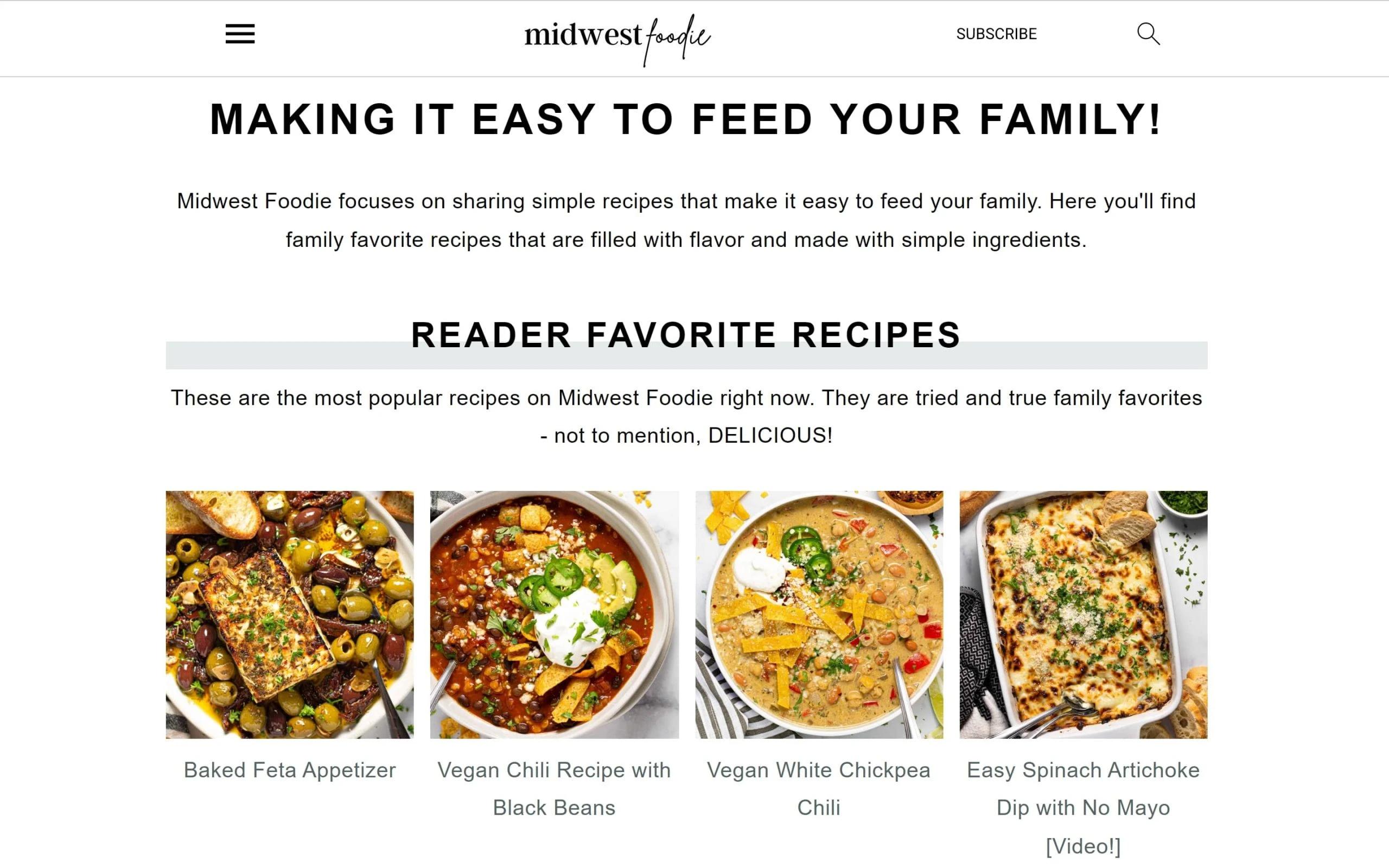 Kylie, a mom, shares simple family recipes to cook at home. Her latest income report revealed she made $1324 in one month only.
Income breakdown: 90% ads, 10% affiliates.
9. Business Blog
Business blogs are long-term rewarding: besides creating helpful blog posts, the best way is to launch your own product and blog around it.
How do business blogs make money:
The #1 way is to launch your own physical or digital products targeted at a specific audience to give a direction to your blog. For example, launch a productivity or management App. Or launch physical products that could be anything like a gadget, gear, backpack, fitness equipment, or anything in general. Create content around it, promote, and earn.
1-1 life and business consultancy services or membership plans. Or, sell your skills to help other businesses succeed, i.e., copywriting, SEO, coding, or marketing.
Launch your courses, coaching programs, eBooks, digital business tools such as website traffic tracker.
Affiliate or sponsorships with firms or brands like Ahref and Bluehost.
General affiliates to promote related eBooks or physical products.
Ad revenue. (Not ideal if you've your own products – since you'll be redirecting your traffic to someplace else)
Here are business blogs doing great: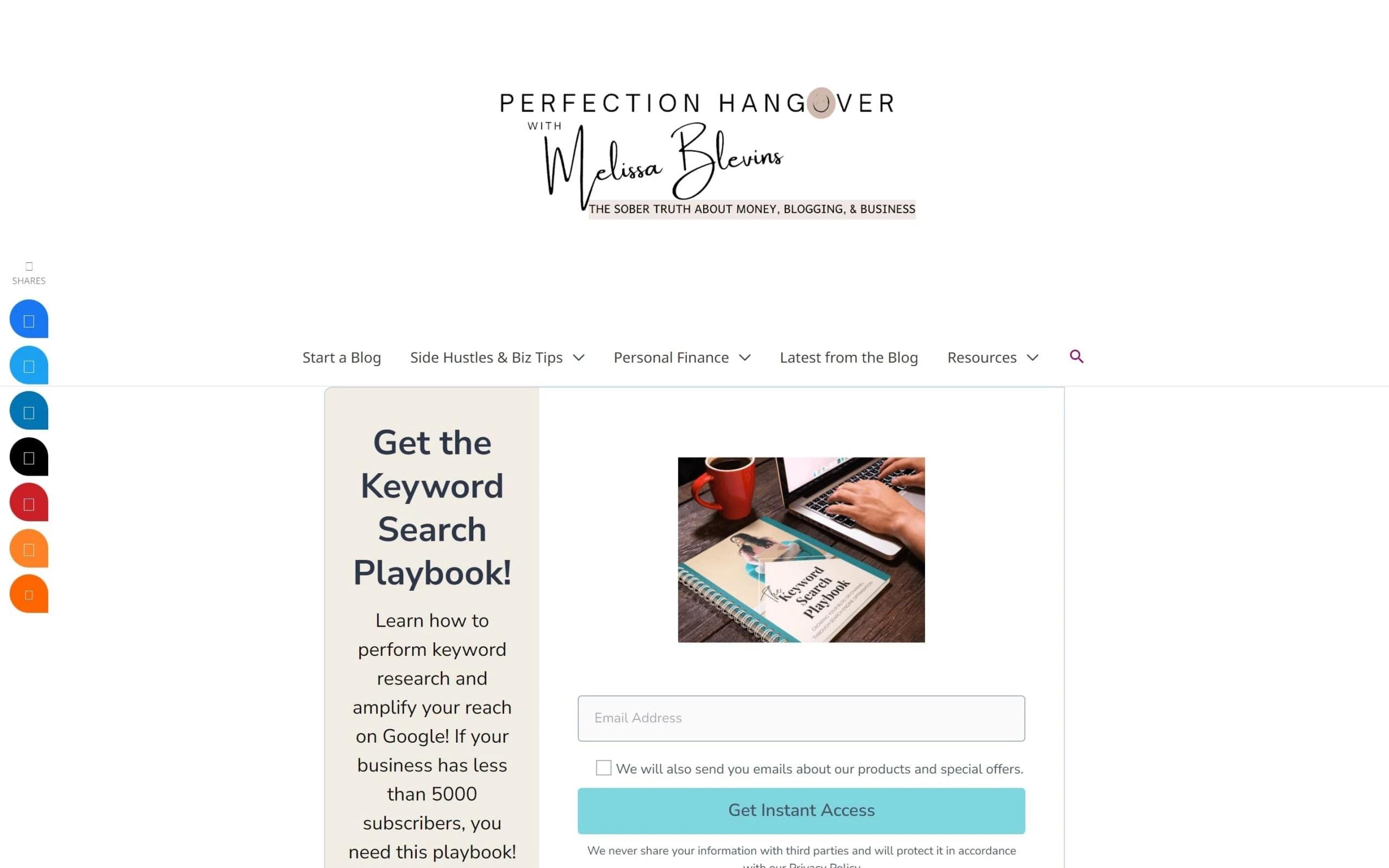 After dabbling in the real estate industry, Mellisa discovered she's better off with her own online business. With her blog, now she helps others as well.
Her blog income report revealed she made $1627 in one month.
Income breakdown: 30% YouTube, 20% Affiliate, and 50% ad banners.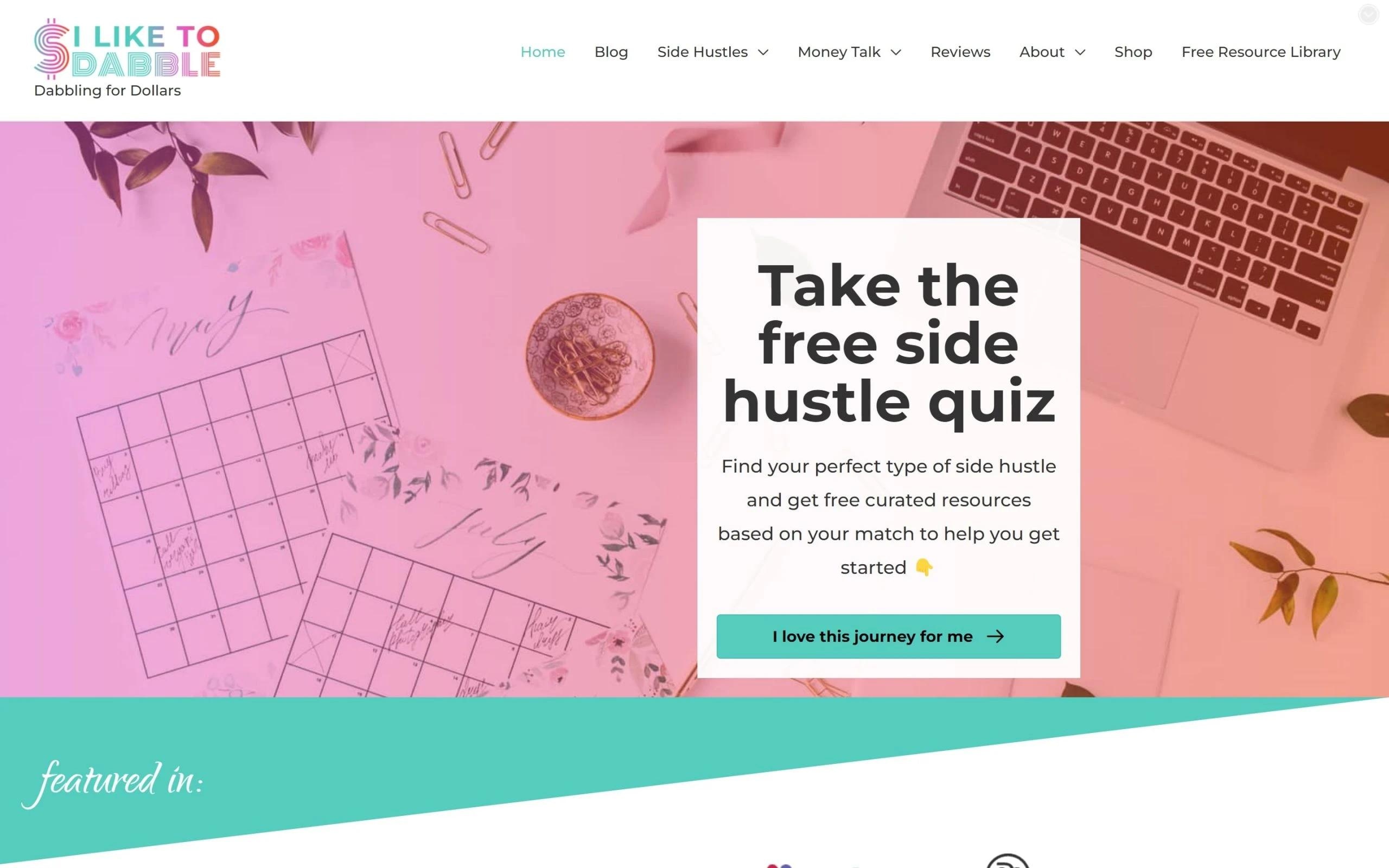 Daniella shares side hustle ideas to help everyone achieve financial freedom. Her latest blog income report revealed she made $29,887.26 in a single year.
Income breakdown: Ads: $9,438.68, affiliate and referral links: $13,407.65
sponsored: $5,932.50, digital products: $89.95, products (merch): $18.48, and
freelance: $1,000
10. Lifestyle Blog
I personally love the freedom lifestyle bloggers have: they can talk about anything. Not to mention the money-making opportunities.
How do lifestyle blogs can make money:
The #1 way is to earn through affiliates – since lifestyle blogs are diverse, they can talk about anything. That gives them the opportunity to partner with brands from all industries: fitness, fashion, business, culture-specific, food and beverage, and more.
Sponsored or paid reviews posts of products or services.
Launch your desired physical product; sportswear, coffee mugs, gadgets, or anything of your interest.
Sell eBooks for a specific audience you're talking to. Let's say your audience is young adult men; sell them career advice books to help them discover the right career path. Launch more eBooks for any or all of your audiences. Imagine the reach and revenue.
General affiliates like Amazon Associate to promote any kind of product.
Display ads.
Here are examples for your inspiration: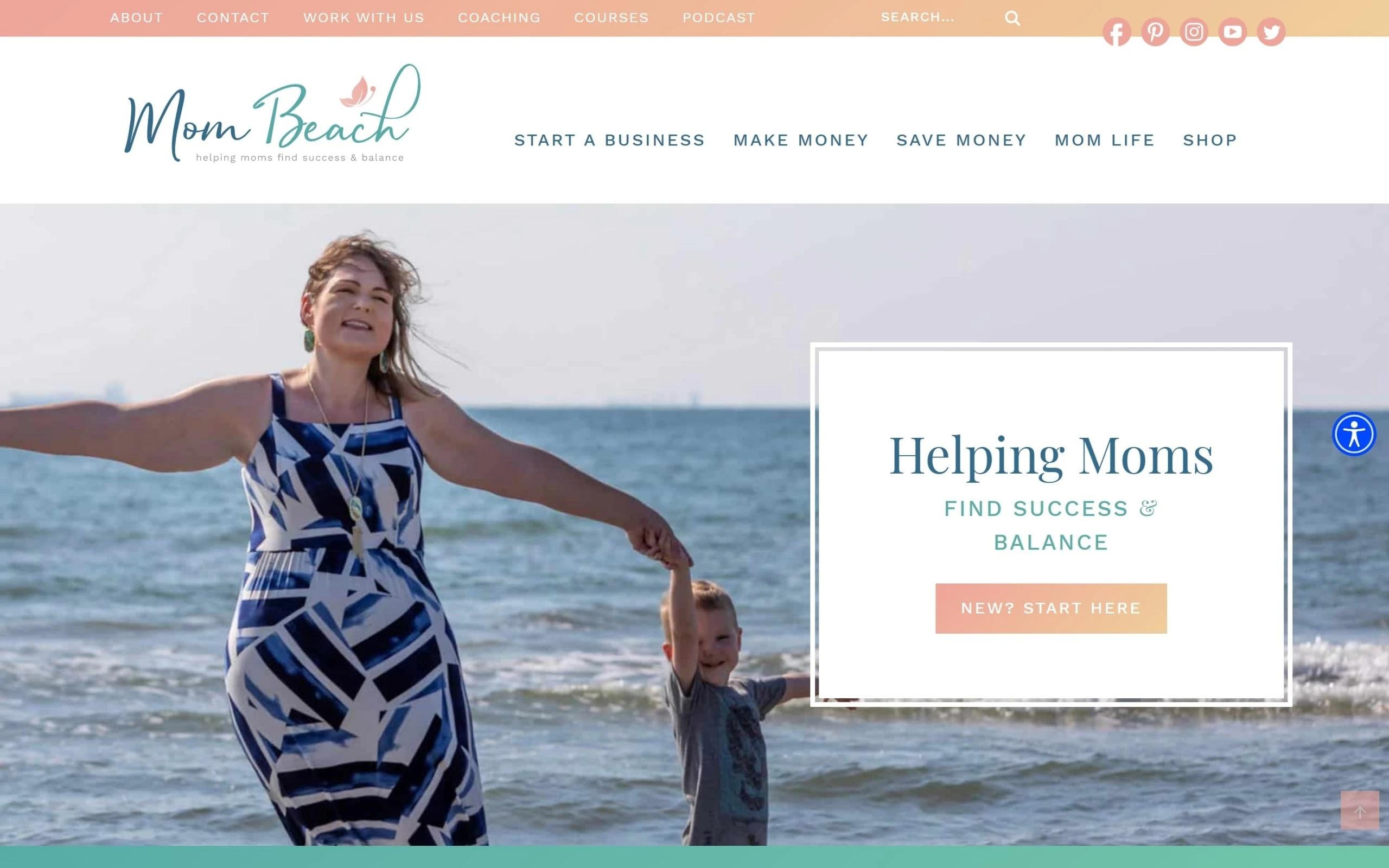 Becky, a mom, shares parenting and organization tips and proposes new ideas for financial stability. Her blog income report revealed she made $1515 with her 6-month-old blog.
Income breakdown: Mostly affiliates and a bit side projects.
Run by an independent blogger, this blog helps overcome depression, anxiety and boost productivity. The latest blog income report showed this blog made $2000 in just the second month.
Income breakdown: 80% ads and affiliates, and 20% products.
11. Sustainability or Go Green Blog
Save our dear planet – and earn money.
How do sustainability blogs can make money:
Launch your own physical alternate product that is sustainable. For example, reusable water bottles, recycled swimwear, reusable bags, or more.
Launch your own eBook on how to become eco-friendly.
Affiliate or sponsorships with go-green brands like Toms or Beyond Meat.
Promote general sustainability products from affiliates like Amazon Associate.
Display ads.
Here are go green blogs doing well:
This blog spreads awareness about sustainability — more specifically, it focuses on planting trees. Monthly traffic on this blog is approximately 6,600 visits.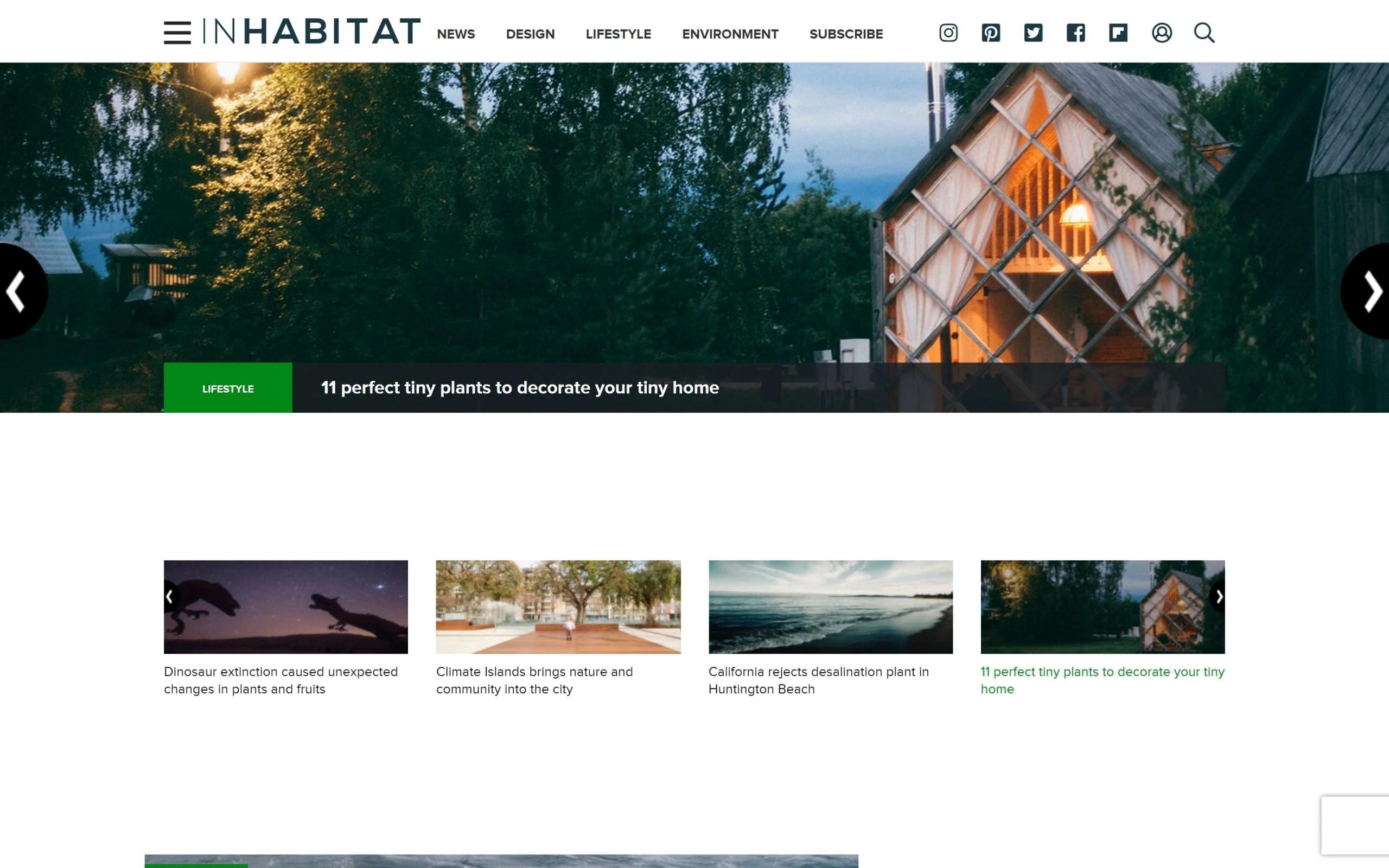 This is a site that covers environmental stories and visions of clean technology for our future. They get 99,000 visits per month on their website.
12. DIY/Decoration Blog
Learn, earn, teach, and have fun – by doing it yourself.
How DIY blogs can make money:
The #1 way is to sell your own hand-made DIY gifts, tools, toys, and gadgets. Because they're hand-made, there will be fewer costs involved, and you can also price them higher.
Sell courses, eBooks, or do live webinar trainings on how to do it yourself.
Partner with DIY brands like Bosch, Hitachi, or Ryobi for affiliate or sponsorships.
Promote general DIY products from Amazon to earn a commission.
Here are examples of DIY blogs doing great: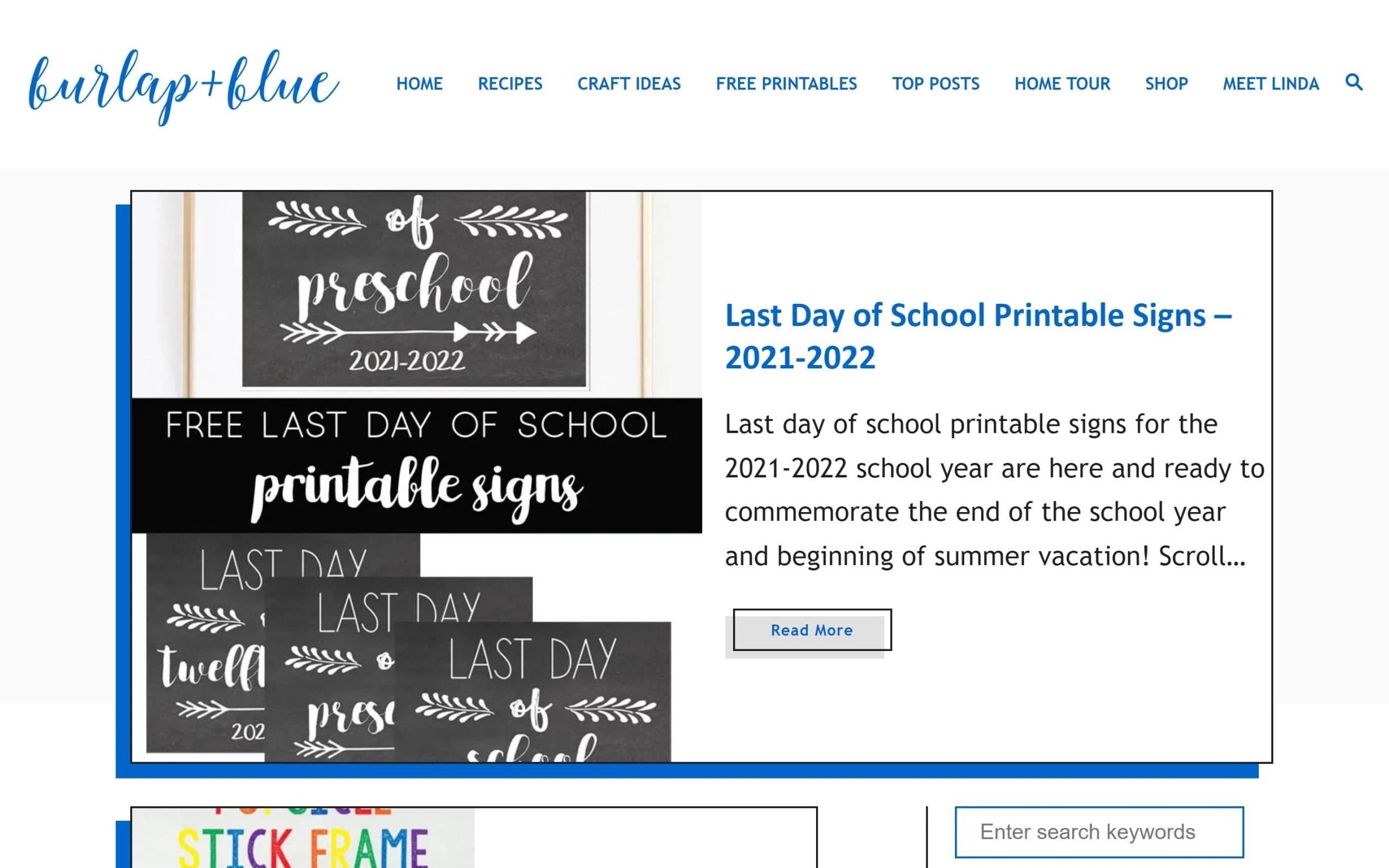 This blog publishes gift ideas, DIY craft guides, and recipes. Their first blog income report showed they made $4801.
Income breakdown: Ads 70%, sponsored 20%, affiliates 10%.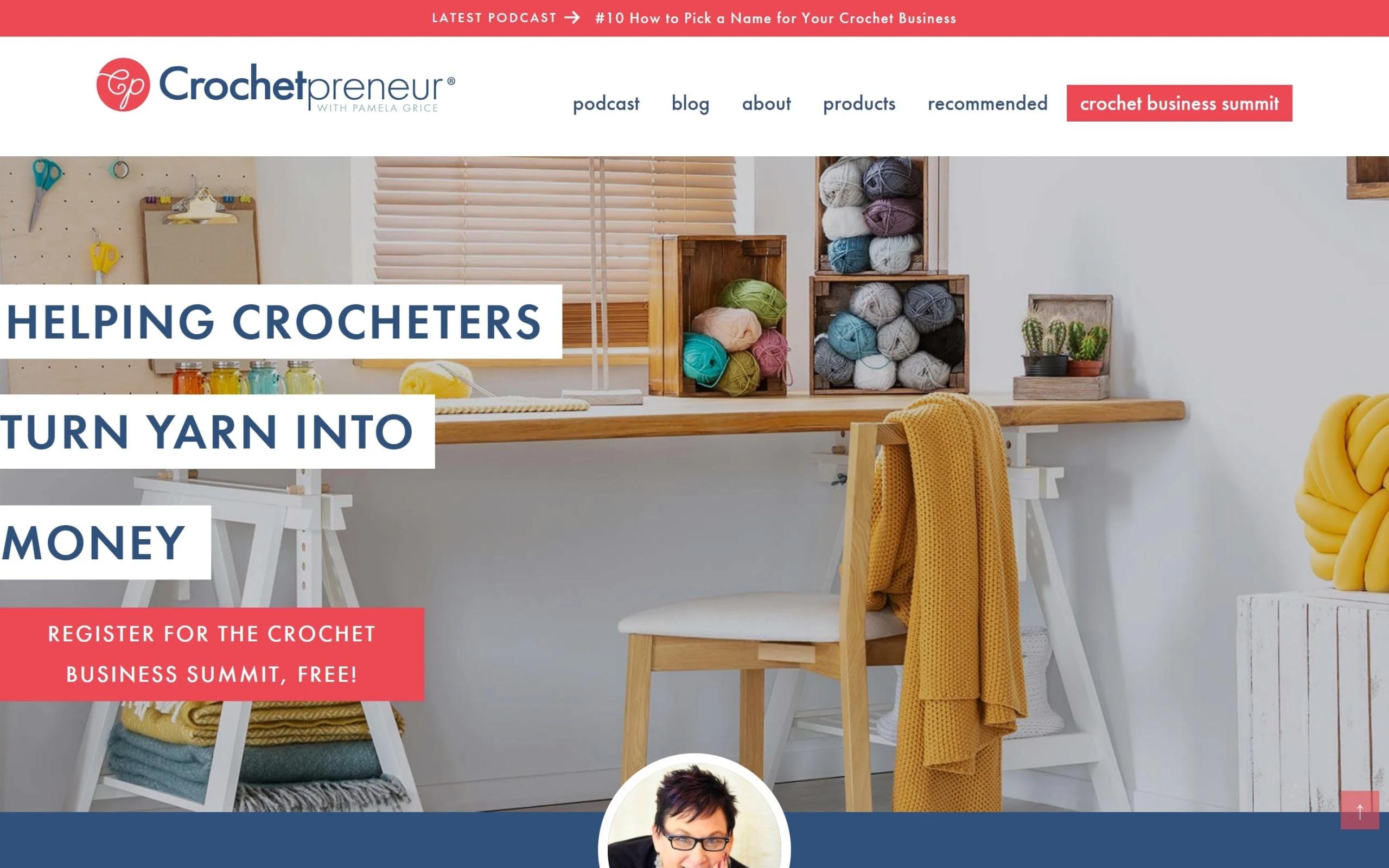 Pam helps other crochet businesses succeed through her blog with insider branding and marketing guides. Her latest income report revealed she made $17,295 in one month.
Income breakdown:
Mediavine Ads: $1,714.62
Affiliate Sales (Amazon, Siteground, Ultimate Bundles, etc.): $146.44
Pattern Sales (on Etsy, Ravelry, and my Shopify Sites): $3,839.98
Other Digital Product Sales (Printables): $257.98
Pattern Bundle Sales (30 Days of Cozy): $216.00
Courses: $7,045.00
Craft Fairs (2): $4,075.00
13. Pet Blog
Pet niche can be extremely profitable. According to the American Pet Products Association, about 85 million families have a pet and pet ownership has increased from 56% to 68% of all households in the last 30 years. Pet related e-commerce and services ranging from grooming, supplies, and accessories to insurance coverage as such offered by Pumpkin.com are vastly growing.
How pet blogs can make money:
Sell courses, eBooks, or live training on how to train or care for their pets. Besides dogs and cats, pets can also be fish, birds, rabbits, hamsters, or ferrets. Create and sell training separately for each of them, and imagine the reach and revenue soaring.
This might be daunting: sell pets on your website for your local citizens.
Launch your own physical product like pet food, pet camera for safety, clothes specifically for pets, cute beds, or couches.
Pet photography is also trendy: create a course around it, or sell your pet photo prints.
Partner with pet stores and brands for affiliate commission.
Paid reviews of pet foods, delivery items, or any other cool and trendy pet products.
Promote general pet products from Amazon to earn a commission.
Display ads.
Here are pet blogs as examples: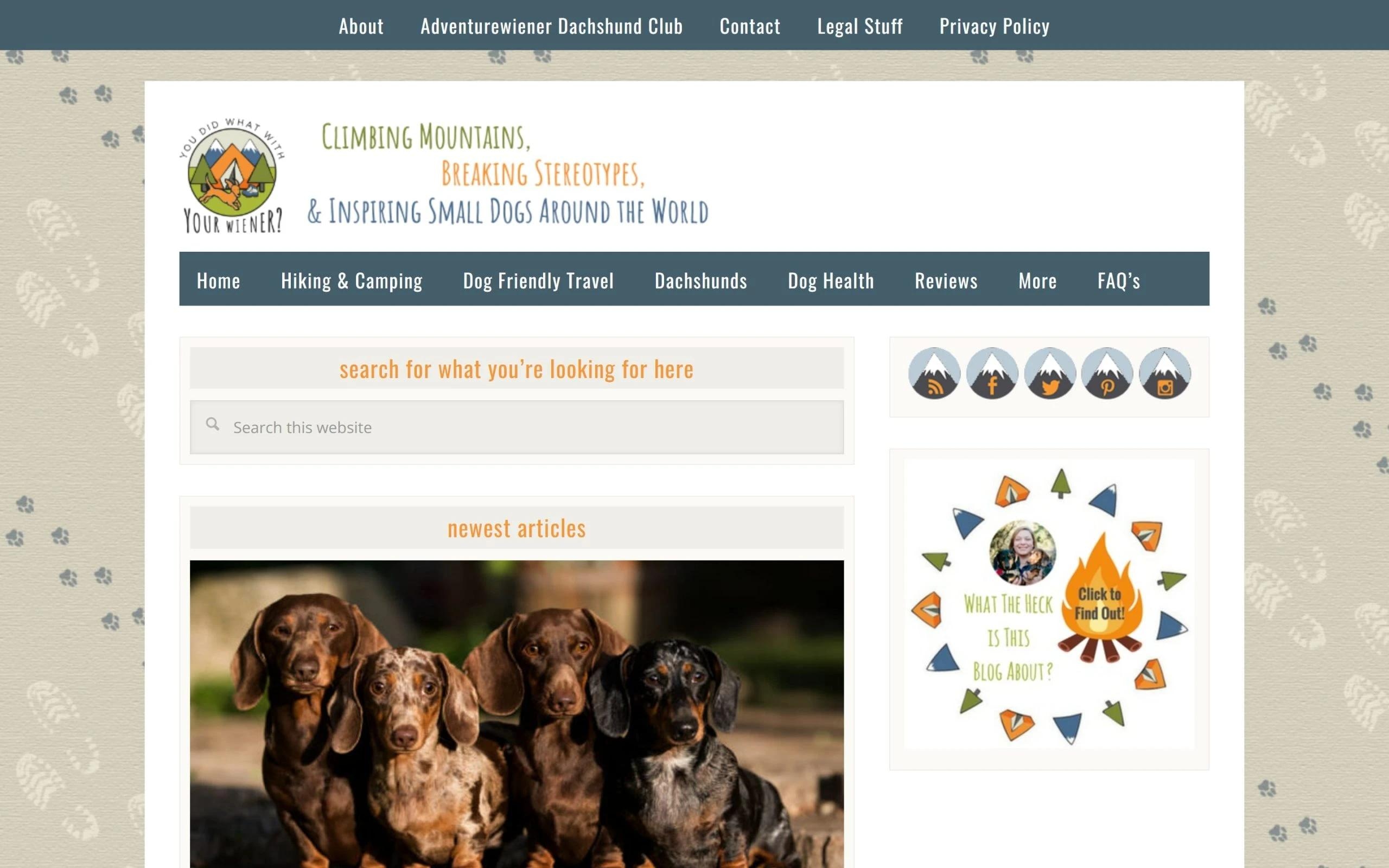 Jessica is a full-time pet blogger, doing it for several years. She revealed her several income reports in a single post, and the maximum she made was $7,795 in a single month.
Income breakdown:
Mediavine Ad Network: $6,206.70
Blog Mentoring/Coaching: $82.00
Sponsored Content: $0
Affiliate – Amazon: $1,506.96
This blog covers tips and guides about choosing the right products for your pet, doors specifically. They get 31,000 visits per month on their website.
14. Technology Blog
Technology rules the world – also creates diverse money-making ways for bloggers.
How do tech blogs can make money:
Earn by partnering for sponsorship or affiliate with tech companies, like mobile, gadgets, or laptops manufacturers. Since the tech industry is one of the most competitive ones, the affiliate commission rates are generally higher. And imagine the number of brands competing and their products you can promote. Affiliate earnings can be huge.
Promote tech products and gadgets from Amazon for sales commission.
Do paid or non-paid reviews on YouTube as well to earn extra income.
Display ads revenue; it will also be higher because of the competing brands.
Here are tech blog examples to get inspired:
This blog covers stories related to tech, AI, gadgets, and more all across the world. We couldn't find the income report, but the blog's monthly traffic is almost 22,100 visitors per month currently.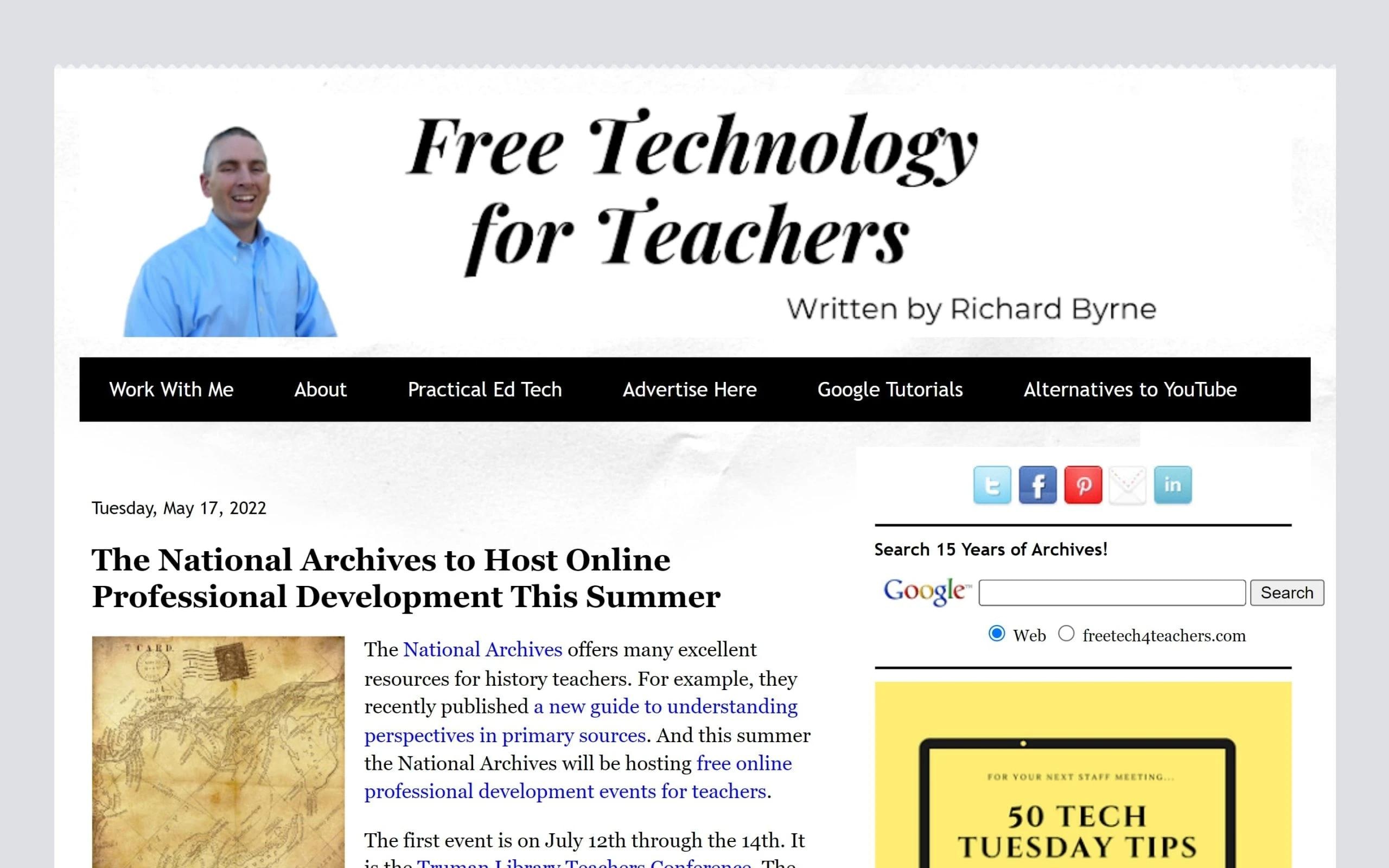 It's a blog that covers all subject-related tech news and guides for teachers. The traffic report showed they're currently at 26,400 visitors per month approx.
15. Gaming Blog
Most people are unaware of how lucrative gaming blogs can be.
How gaming blogs can make money:
By playing games. Literally. Stream non-stop on Twitch, YouTube, Facebook, or any other platform to earn from ads, paid subscribers, and brand deals. Or, you can take part in competitive Esports events to win prizes.
Some gamers are partners with the platform itself. Like, Shroud is partnered with Twitch.
Some gamers partner with game development companies as well. For example, Athena's YouTube channel is sponsored by PUBG Mobile.
You can do paid games, gaming chairs, keyboards, machines, or related product reviews.
Promote general gaming products from Amazon for commission.
Launch your own product like a gaming chair like PewdiPie did, keyboard, mouse, or energy drink.
Or, to go wild, launch your own game.
Display ads.
Here are gaming blog examples for inspiration:
This is a PC gaming news, opinion, and reviews site. They get almost 1,208,100 visitors every month. (Their clever name might be helping there)
This website covers stories about every mobile and tablet game. (That's what the name says, *pocket*)
They get 240,900 visits per month on their website.
16. Legal/Law Firm Blog
Ever thought you could become a 6 or 7 figure blogger talking about pure legal things?
How legal blogs can make money:
By doing sponsored posts or affiliate partnerships with law firms, advocates, or legal authors. This industry is also pretty expensive, so the affiliate or sponsored commission can be rewarding.
Earn by 1-1 legal consultancy services online or offline. (Will require relevant expertise before visitors can trust you)
Launch an eBook for laymen to understand legal jargon or basic rights.
Display ad revenue.
Here are examples of legal blogs doing great: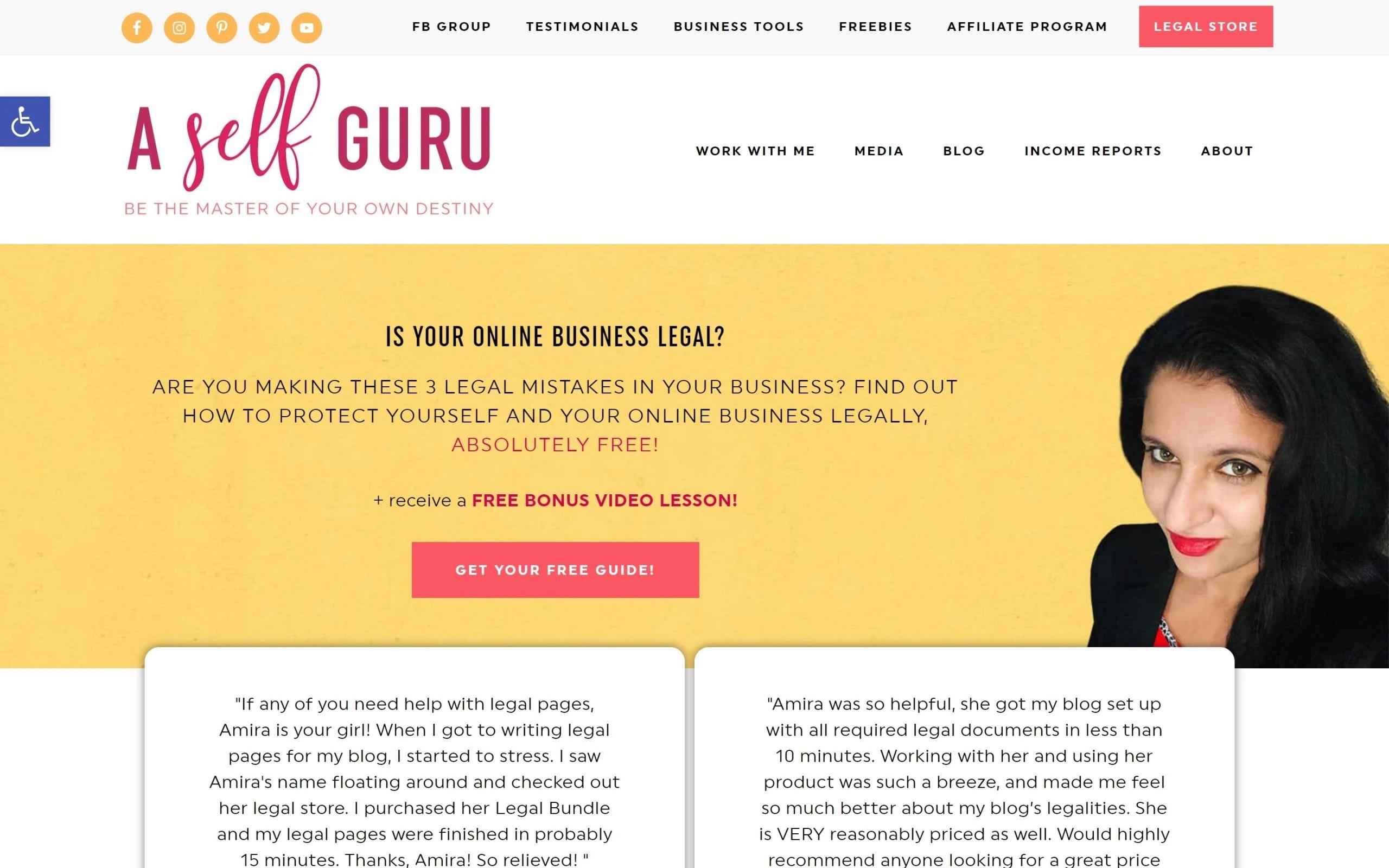 Amira, a business lawyer and seven-figure blogger, shares tips to secure online businesses legally. Her latest blog income report revealed she made $35,000 in a single month.
Income breakdown: 85% her own products, and 15% affiliates.
This is a law site covering legal issues, news, insights, and everything legal. Their website gets 196,700 visits every month.
10 Examples of the Most Profitable Blogs In Different Niches
Here are money-making blogs of every industry. Take inspiration, and learn as your name can also be in the most lucrative blogs lists in the future:
Owned by Allon Cartlon, this blog revolves around gadgets. They started in 2005 to help make their audience the right purchasing decision when it comes to gadgets.
In this blog, there's direct purchasing involved, and it's actually helping people. That's the reason their affiliate income soars.
The blog's main income comes from ad banners and affiliates, which is around $166,600 per month currently.
Started in 2006, this independent blog revolves around practical tips and guides related to web development and designing. Throughout the years, they've gathered a massive fan base.
This blog is earning well because it's helping people solve their problems through courses and memberships, which increases the blog's engagement, leading to more ad income.
The blog's main income comes from ad banners, which is around 4.7$ million per month currently.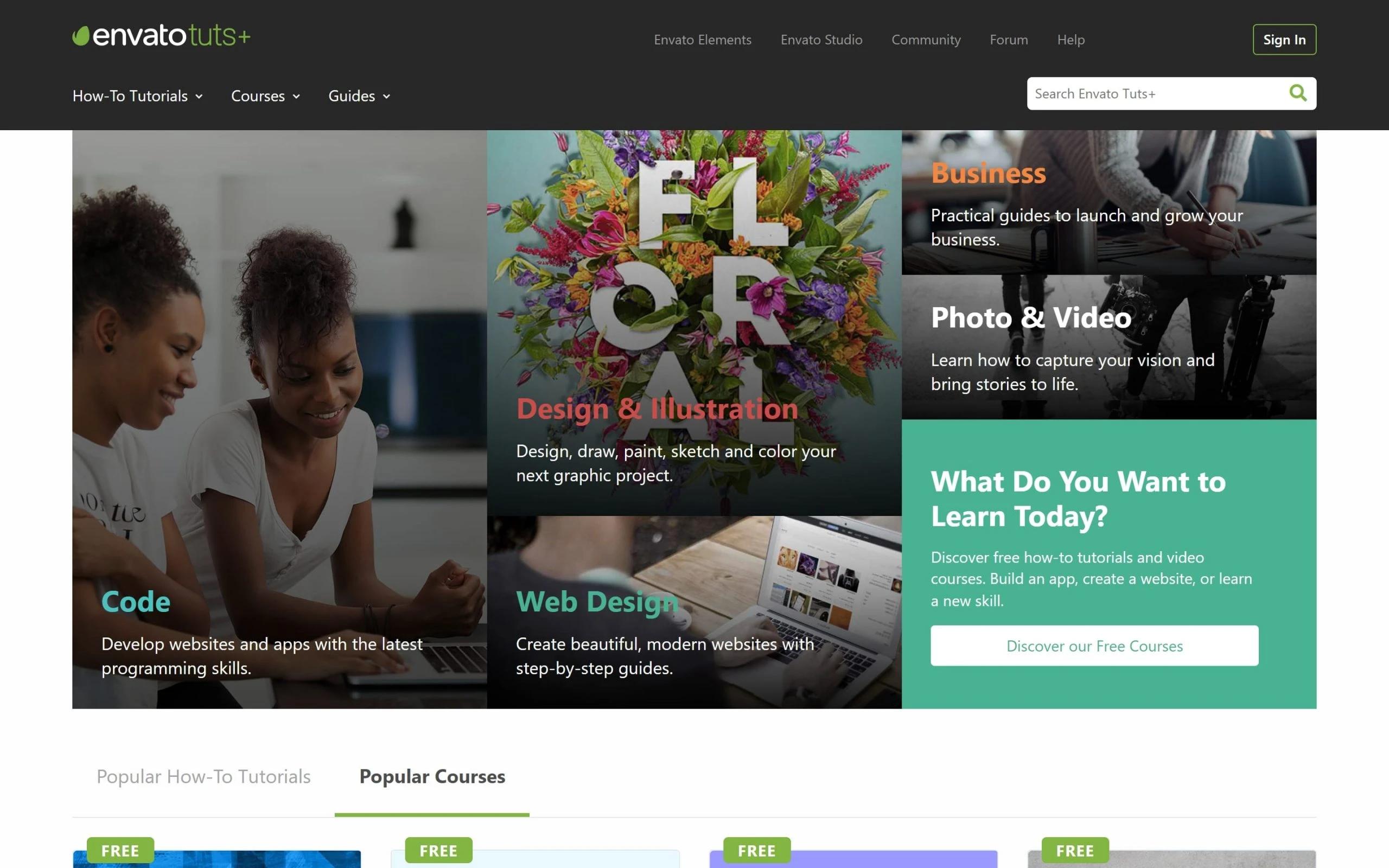 Begun with only Photoshop tutorials in 2007, now they're helping the whole world learn and earn online. Through their content, Tuts+ is helping people learn valuable skills, discover opportunities, and make sustainable living online.
Apart from display ads, because this blog is offering membership plans as its own product to a huge audience, it's earning great.
The blog's main income comes from membership plans, which is around 3.8$ million per month currently.
This is a general lifestyle blog that posts tips and tricks related to everyday things. Be it food and drink, technology, money, parenting, relationship, and more. Anything.
Lifehacker is a general lifestyle blog, which is relatable to everyone. That's why more people read it, increasing ad impressions and ad revenue.
The blog's main income comes from ad banners, which is around 3.3$ million per month currently.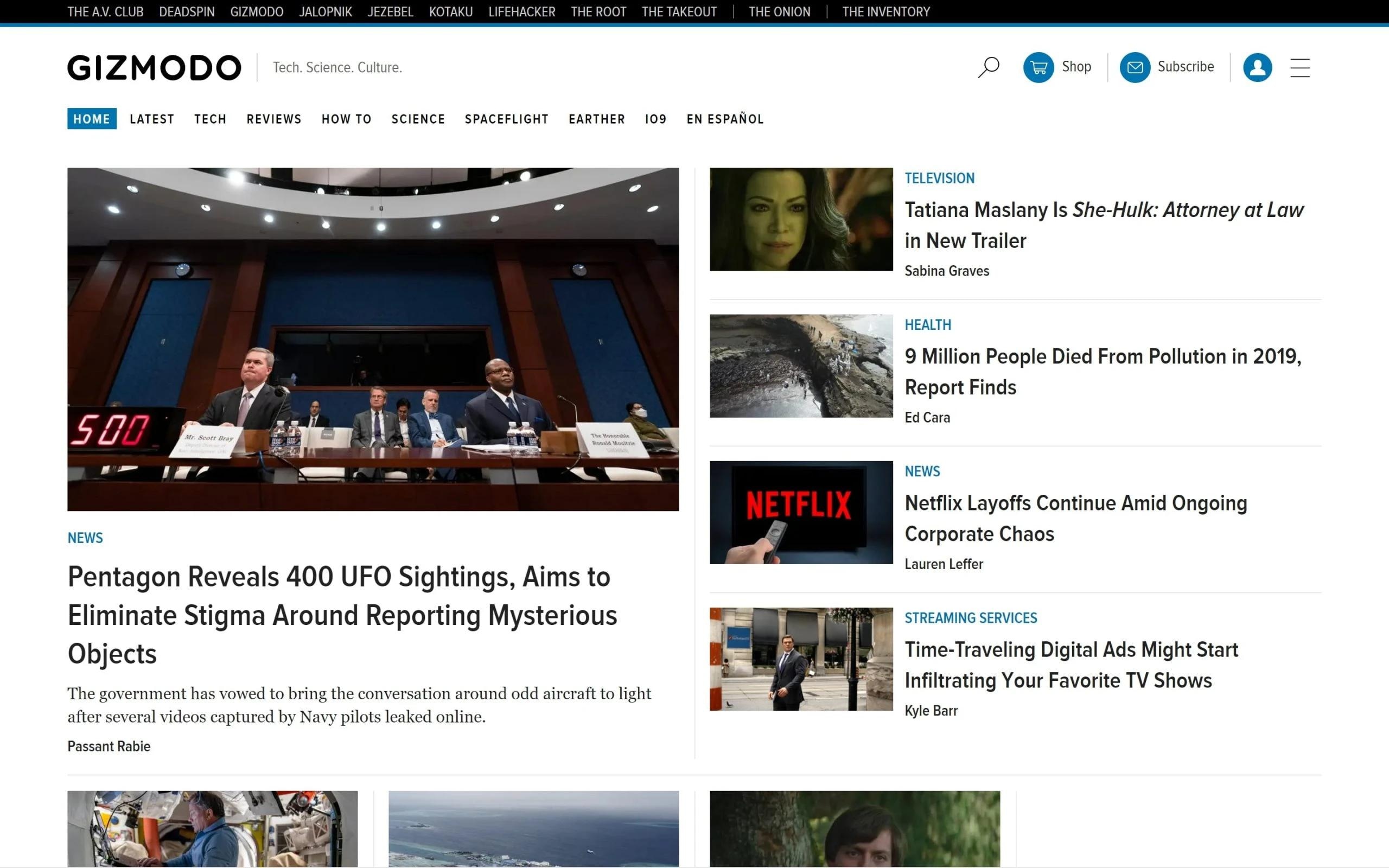 Gizmodo is a news and opinion blog revolving around tech, culture, lifestyle, money, and more. Mostly, they review tech stories with bold opinions.
News and opinionists websites can be great: people love to read trending stories and different opinions on them. That increases this blog's read time, surging its ad revenue.
The site's main income comes from ad banners, which is around 2.9$ million per month currently.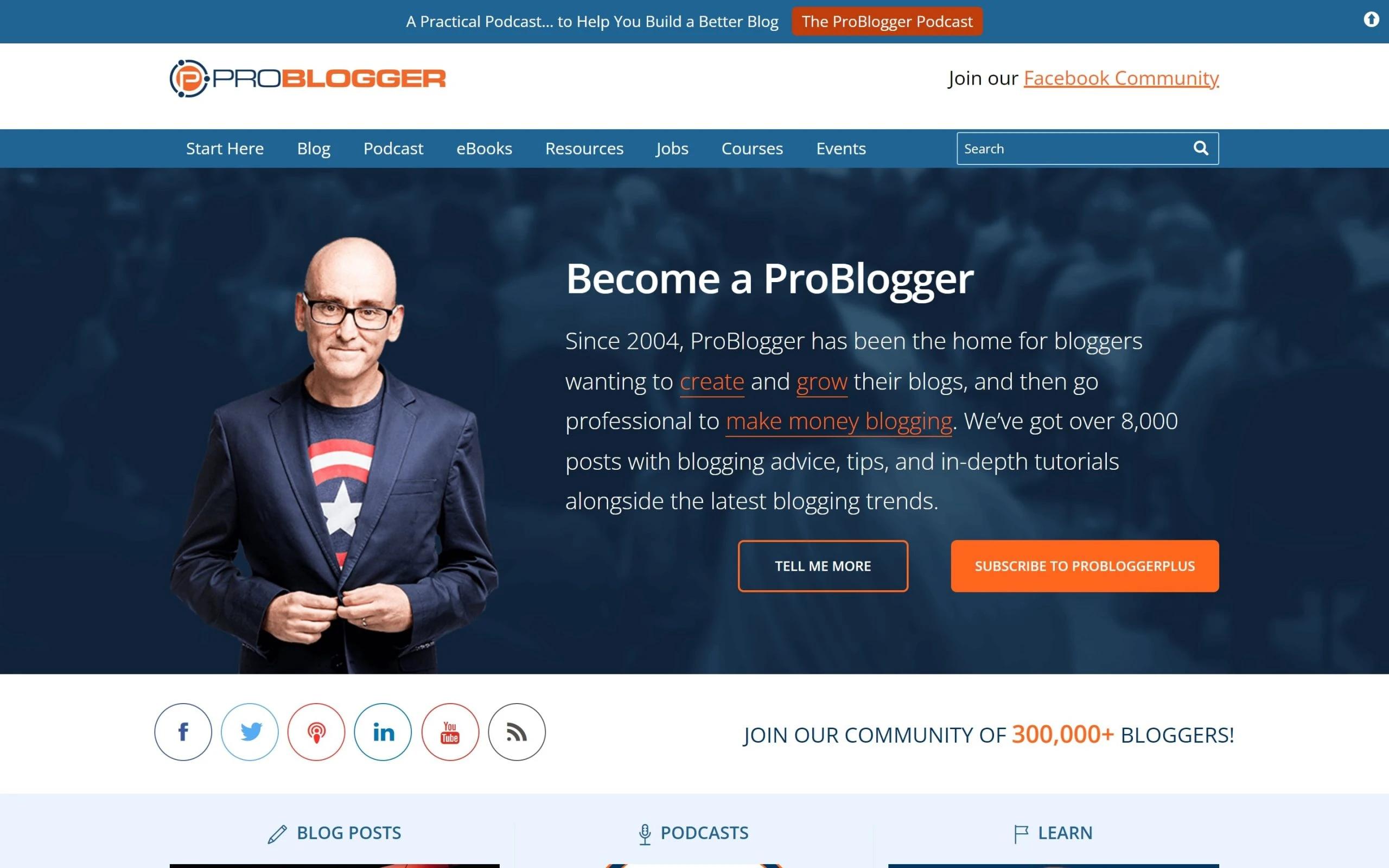 Owned by a reputable name, Darren Rowse, this blog is about helping other bloggers make more money. From podcasts to posts and from events to courses, ProBlogger covers each and everything to help bloggers increase revenue streams.
Problogger offers a range of premium courses, which adds up substantially to the earnings. Plus, the free resources are also immense, increasing the blog's engagement and adding up to ad revenue.
The blog's main income comes from ad banners and products, which is around 1.3$ million per month currently.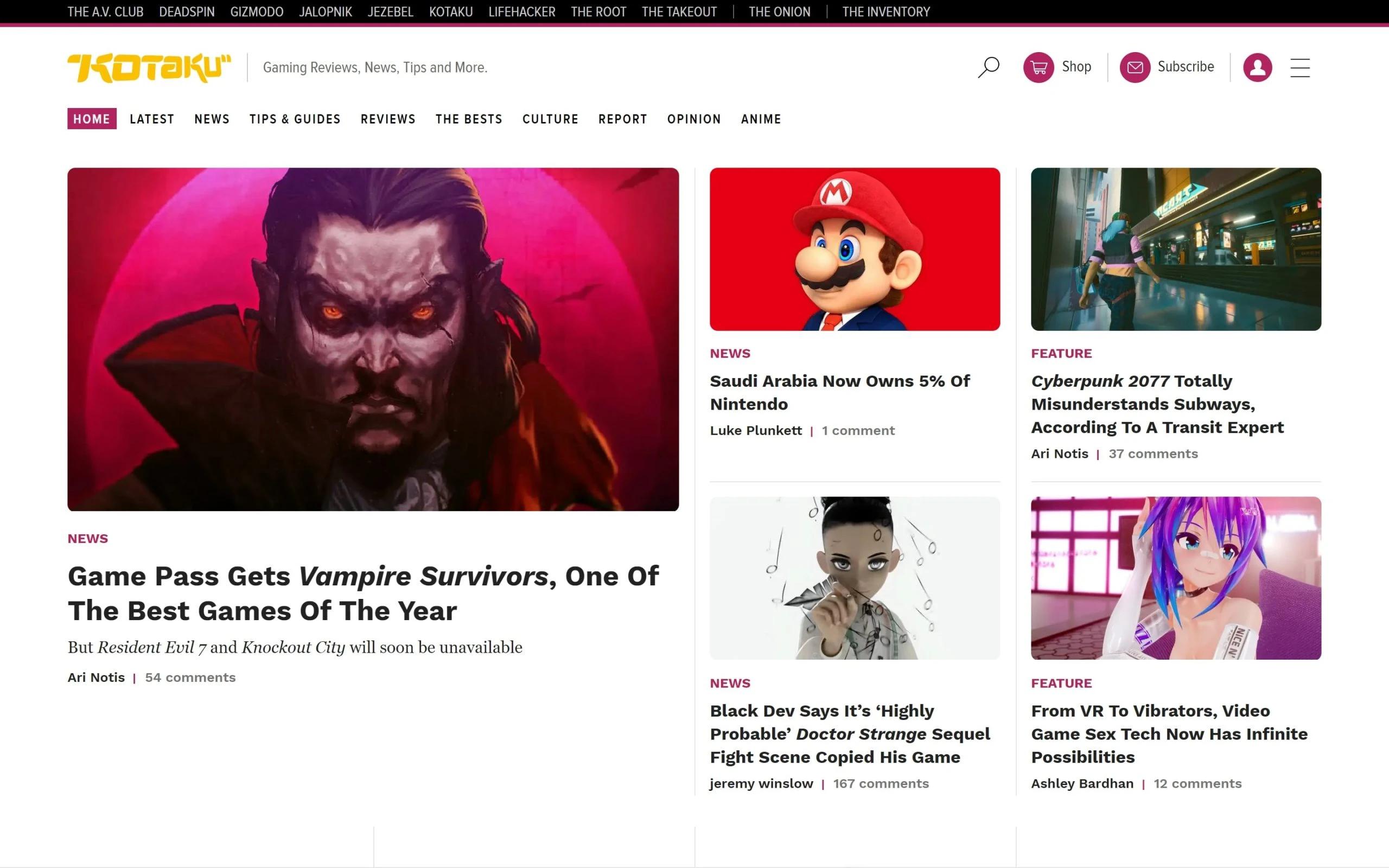 This blog only covers stories related to games and gamers. Kotaku shares news, opinions, and entertainment with its audience.
The gaming audience loves reading reviews, impressions, leaks, and releases of new games. That's exactly what Kokatu covers, increasing its engagement and ad revenue.
The blog's main income comes from ad banners, which is around 1.8$ million per month currently.
This is a personal development blog that helps anyone and everyone gain conscious growth. They cover helpful topics inside out in the written, video, and audio format.
Apart from ads, Steve also offers premium courses, which add to the net revenue of the blog.
The blog's main income comes from pay-per-click ads, which is around 486,000$ currently.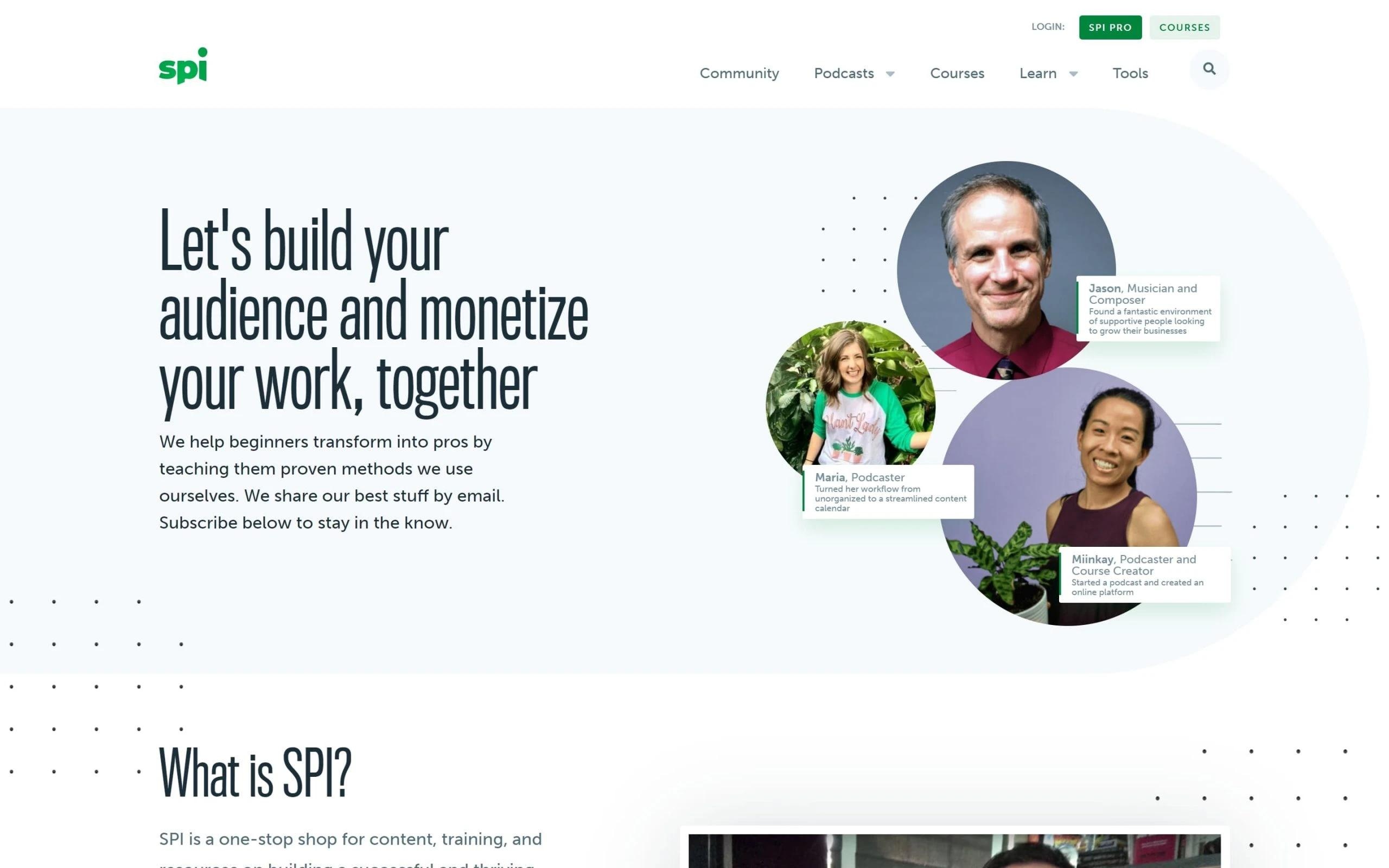 A media-based company that educates and empowers new entrepreneurs through knowledge. They share insider success secrets, opportunities, and industry-leading educational training.
Because SPI's target audience is businessmen and women, and wannabe entrepreneurs, their courses and products are the high tickets. That adds up to increasing the revenue of the blog.
The blog's main income comes from products and affiliate programs, which is around 444,000$ monthly now.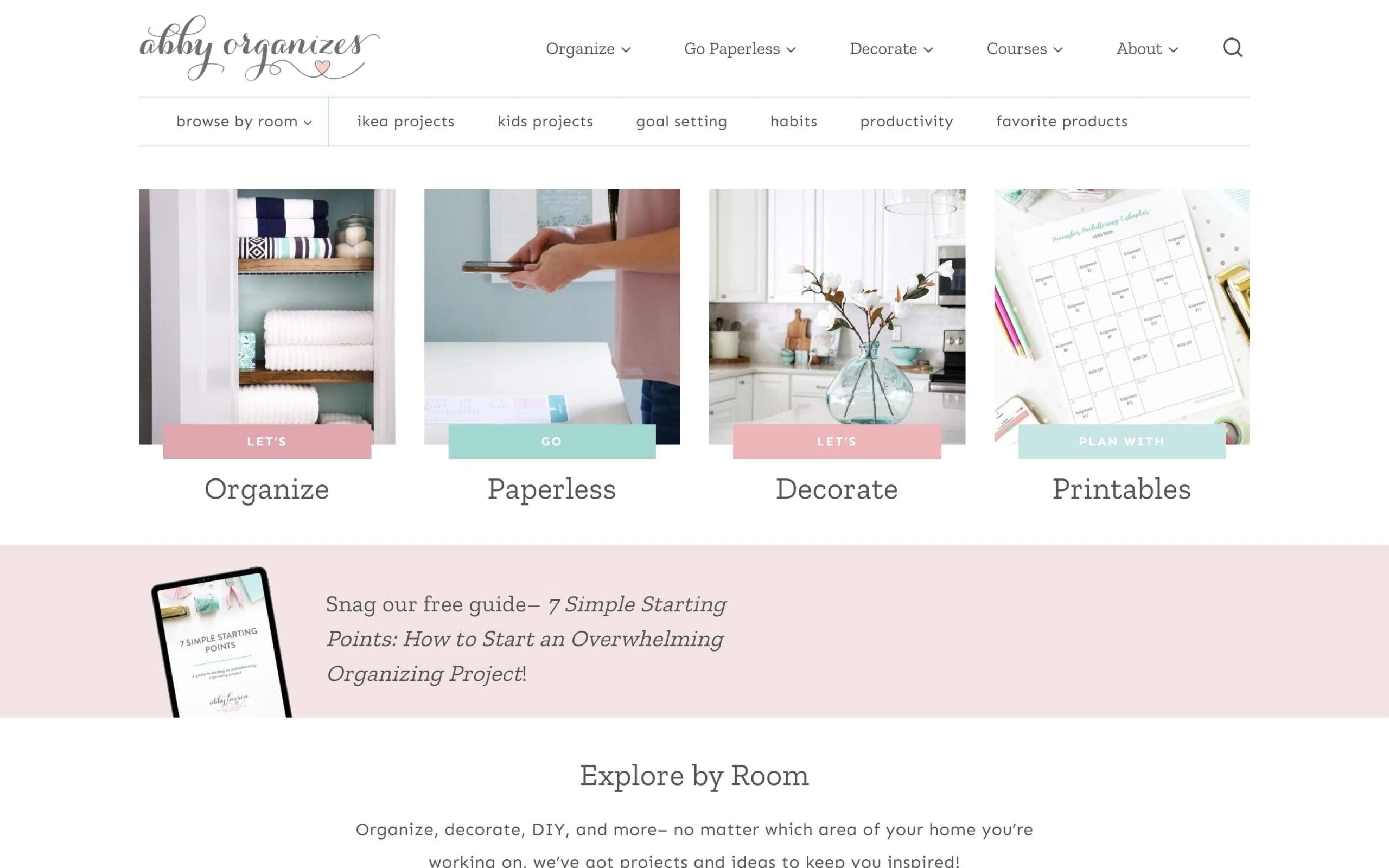 Abby started blogging in 2013. She helps her audience with her productivity and organization tips.
Abby earns from ads and affiliates, plus, she has her own courses and digital products that she sells to her audience. Combining all that makes her a good fortune.
Her blog's main income comes from her products and affiliates, which is around 41000$ per month.
4 Easy Steps: How to Find a Profitable Blogging Niche
Here are 4 ground basic steps to keep in mind before going live:
1. Discover your inner skills
What's something that you love doing? Something that can identify you? Are you a tech guy? Beauty queen? Real-life Monica Geller? Funny guy? Photographer? Bargain hunter? Travel junkie? Or the one that plans and manages everything in your friend's group? Discover your everyday interest and expertise.
If you go with that, you'll find blogging less laboring. Of course, you'll still need to commit yourself and put effort, but you'll be doing what you love and earning money out of it. That's exactly what you want when thinking of earning passive income through blogging.
Once you discover that, follow the next equally important step.
2. Explore categories
So, now you're keenly aware of who you are.
Suppose, you love photography, and you want to start a photography blog.
But, wait, you cannot randomly publish blogs on photography. There's so much competition. Giant brands like Sony or Nikon will never give you a chance to outrank them.
That's when the game of categories comes into play. Or, in other words, "niching down your market."
You can either brainstorm sub-categories of photography (or any major market) or use one of these three quick hacks:
Visit Amazon, and go into the Photography category. Now from sub-categories of products, discover that magical one that interests you. And start from there.
You can do the same thing on WikiHow.
Or, do a quick Google search: "categories of Photography" (or any market)
That's true for every major market, whether Finance, Fashion, Travel, Tech, or Home and Garden.
What that will do is it will help you zoom onto the specific audience in the frame, cutting down the major competition that you don't need to fight with.
Follow the next steps for quick validation of whether the niche you chose is ideal to go with.
3. Quick competitor overview
Google: blogs + your specific niche.
See the top bloggers, the type of content, and how much they are making. If the competition is lower, or let's say, you can find some loopholes in their content to produce better than theirs, you're good to go. Generally, the top 10 competitors in the Google search will give you the whole spectrum.
Or, install a free extension of Keywords Everywhere (or any other tool for that matter), which will reveal their DA. If you see most of your competitors are above 50, you'll have a hard time making your place in that niche. But, it doesn't entirely mean that you can never take your place there, but because of competition, it can take longer and might require very smart and hard work.
If the DA of most of your peers is below 40, it should be a good deal.
Follow the next step, the final tick.
4. Validate niche's profitability
Now, you need to verify that the money-making possibilities are easy and great. Most bloggers start blindly but struggle later in finding the right affiliates or ideas to make money. Here's what you should do before deciding:
See the ads cost per click in your niche. Use a free tool like Ubersuggest. It depends upon the region and industry as well, but anything above 1 dollar would be awesome. The insurance niche is probably the highest paying in the US — above 10 dollars per click is the average cost. 
Affiliate opportunities, and how much can you earn maximum? (Track your competitors for this one).
Can you sell your own products, either physical or digital in that niche? (This will be a bonus) In some niches, it's hard to sell a product. For example, if your target audience is 'students', it can be hard because they don't make as many adults do.
Blogs that mostly survive and thrive are the ones that actually help people solve their problems. More on this, later below.
How do Beginner Blogs Make Money with Less Visitors?
Blogging can be profitable, but to reach that level where you get thousands of visitors every single day, might take time. So, how can beginner bloggers with smaller visits make money?
Here are 4 ways you can start earning even if you're getting thousand or fewer visitors per month:
1. Ads
The easiest way to start making money is through Ads placement on your website. While it might not be huge, still seeing some wheels moving gives the confidence that you're going in the right direction. The popular choice for beginners is Google Adsense, Propellerads, Popads, and Revenue Hits.
2. Affiliate programs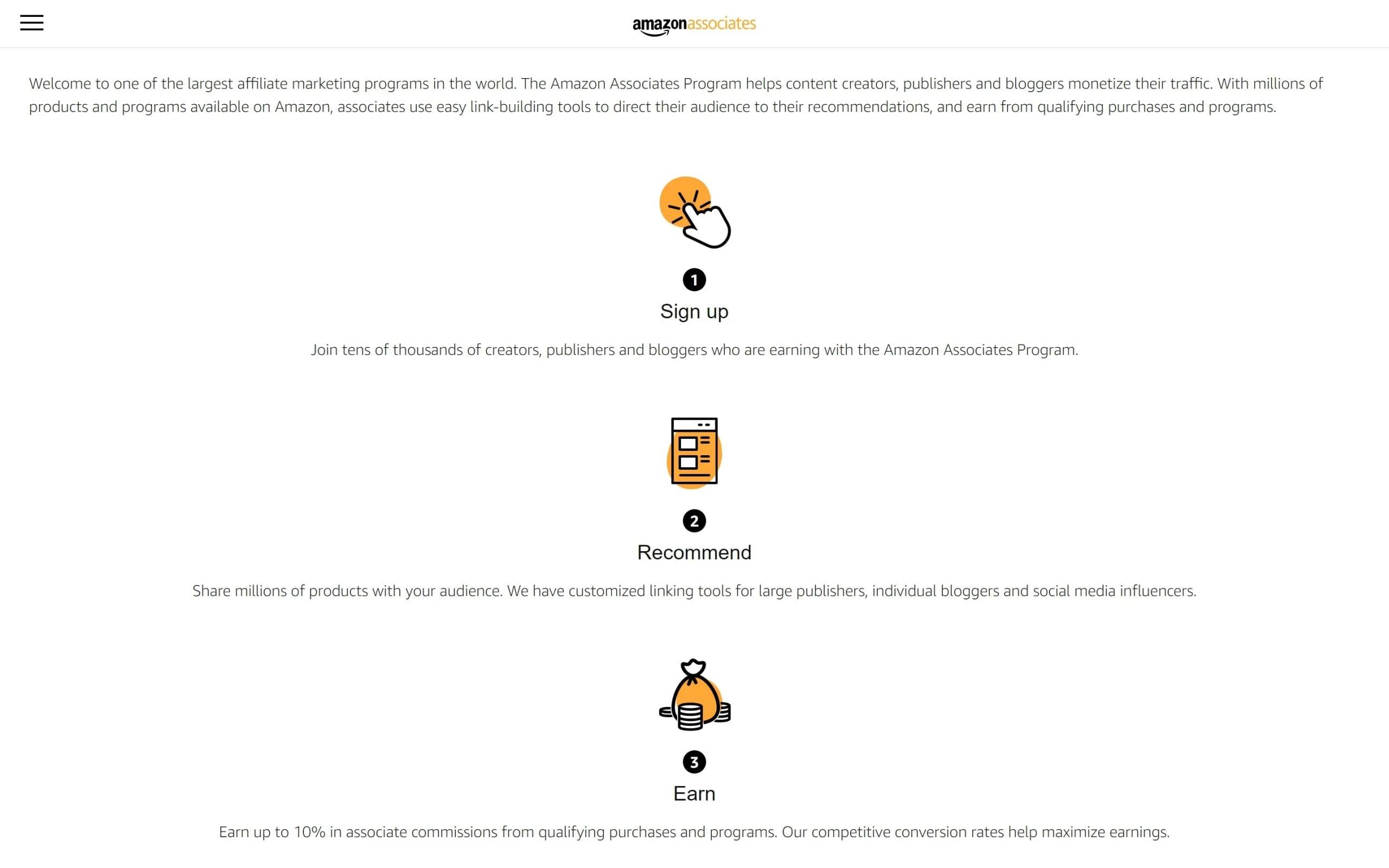 Earning through affiliates is another best way, without waiting to complete a certain number of visits. All you need is a well-settled blog, some original content, and you can apply for affiliate programs.
The famous choice is Amazon Associate. It's free to join, and you can earn a respectable amount even with less traffic: because it depends upon the queries you create content around. Publish content that involves purchasing to boost your number of sales.
Apart from Amazon, you can find other similar ones in your niche or directly contact brands for affiliate commission.
3. Create a digital or physical product
Think you can help with something? Create a product around it. It can be merch, a course, or even a book. Market it sophisticatedly by mentioning your product's benefits and how it can help your audience.
Imagine, if you create a product priced at 20$, and out of, let's say, a total of 1000 visits per month, you only sell 20 products, that's an extra 400$. And this number will grow substantially as your traffic grows.
4. Learn a skill, sell yourself
Spend a few weeks learning a high-income skill like Coding, Copywriting, or Social Media Marketing. Target business owners in your blog posts, help them, present solutions, and start pitching, too. If the skill resonates with what you're blogging, that will be a huge plus.
Even if you hit a couple of gigs every month, that's some extra bang for your bucks.
Why are Some Blogs More Profitable than Others? – 4 Qualities of Blogs that Make Money
Below, you'll discover characteristics of the type of blogs that has the highest potential of earning:
1. Blogs with solution-driven content
The types of blogs that help readers take some kind of action, or solve their problems, are generally more profitable. For example:
A blog that helps in making the right purchasing decision.
A blog that publishes funny posts.
Now, there's nothing wrong with either of the blogs. Both are helping in some way or the other, but because the purchasing decision can involve so many things, readers engage more with (b) types of blogs. That increases the blogs' ads revenue, affiliate revenue, or product revenue.
Help them with a solution; teach them a skill, help them find a job, help them sew, or help them fish. These types of blogs can involve products, coaching classes, and tools that can help you earn more.
2. Blogs with a clear USP
USP stands for the unique selling point, and in the online world, you need to have one.
Blogs with a clear message that directly resonates with their audience can be far more profitable.
Make sure the message revolves around helping the audience. For example:
Blogging to make money.
Blogging to help people make money.
There's nothing wrong with making money for yourself, but the question is, why should people care? Everyone works for themselves. (a)
But, if you help others make money, that's when you're adding value to their lives. (b) These types of blogs get more engagement, increasing money-making opportunities.
Adding more, USP doesn't just mean clarifying your message but also sticking to the same colors, fonts, structure, brand voice, and more. Everything has to be lined with the message to show sincerity.
3. Blogs that don't fake it
Blogs that fake it, either by miss-presenting their identity, lying to their audience or in any way, don't last long. It's really hard to build trust in the online world, especially with the rising number of scams.
To earn a passive income, you'll need to build a loyal fan base by truly showing yourself to them, building genuine connections, and showing up every time.
4. Blogs that can stay relevant
It's hard to stay relevant when there's so much noise on the Internet. Every day, there's something new; a new movie release, new iPhone launch, new gadget, new e-sport bike, new Space-X launch, everything new. Outdated and less exciting stories easily get fogged on the horizon.
But, if your blog covers relevant and interesting stories for everyday read and watch, you might have a better secured blogging future. For example, a tech news blog, review blog, business ideas blog, travel stories blog, or showbiz blog.
Again, let's not make it a rule, though. If your blog is evergreen, let's say, workout guides, style guides, money-saving ideas, or story-based, the content will have a long lifespan. That type of content can stay relevant even after years.
5 Best Blogging Platforms to Make Money
Based on the popularity and reviews from users, here are 5 blogging platforms to make money while blogging:
WordPress is, hands down, the most popular platform for blogging. The reason for that is the vast room it gives for customization, ease of use with thousands of tools, plugins, themes, and more.
And when you pair it with an affordable and professional hosting service provider like BlueHost, things get really hot.
Pros:
Freedom of customization in any way you want.
Thousands of tools and plugins.
Plenty of free guides available on the Internet, in case you feel stuck anywhere.
Easy to integrate.
Cons:
It might be a learning curve at the start.
Note: WordPress.org is paid and comes with all those benefits, while WordPress.com is free but comes with some limitations.
Wix is a drag and drop website builder, which gives you the ease of building your website however creatively you want.
There is a free version and a paid one: to make money blogging, you'll need to go with the paid one because of professional tools, plugins, support, and more.
Pros:
Beginner-friendly, anyone can use it.
Freedom of customization.
Cons:
In the free version, Wix displays ads on your website, which can look unprofessional.
Coupled with hosting and a paid version of Wix, you can expect the cost 10$+ a month.
Much like Wix, it's also a drag and drop website builder, which allows users to easily build and run a website. The paid plan starts from 12$/month.
Pros:
Easy to use.
Can creatively customize your blog.
Cons:
Expensive than its peers.
Less tools and plugins as compared to WordPress and Wix.
Squarespace feels good for portfolio sites. To run a blog, you need plenty of third-party plugins and tools, which sadly it lacks.
Owned by Google, it's a free platform for you to express your passion through blogging. There's no such thing as paid hosting or domains. But it might feel unprofessional when your blog's URL looks like this: yourname.blogspot.com
Pros:
Free.
Reliable and secure, as owned by Google.
Unlimited website storage.
Easy to use.
Cons:
Hard to monetize, less money-making opportunities.
No plugins.
You can earn money through Google Adsense on Blogger, depending upon your niche, it can be high or low.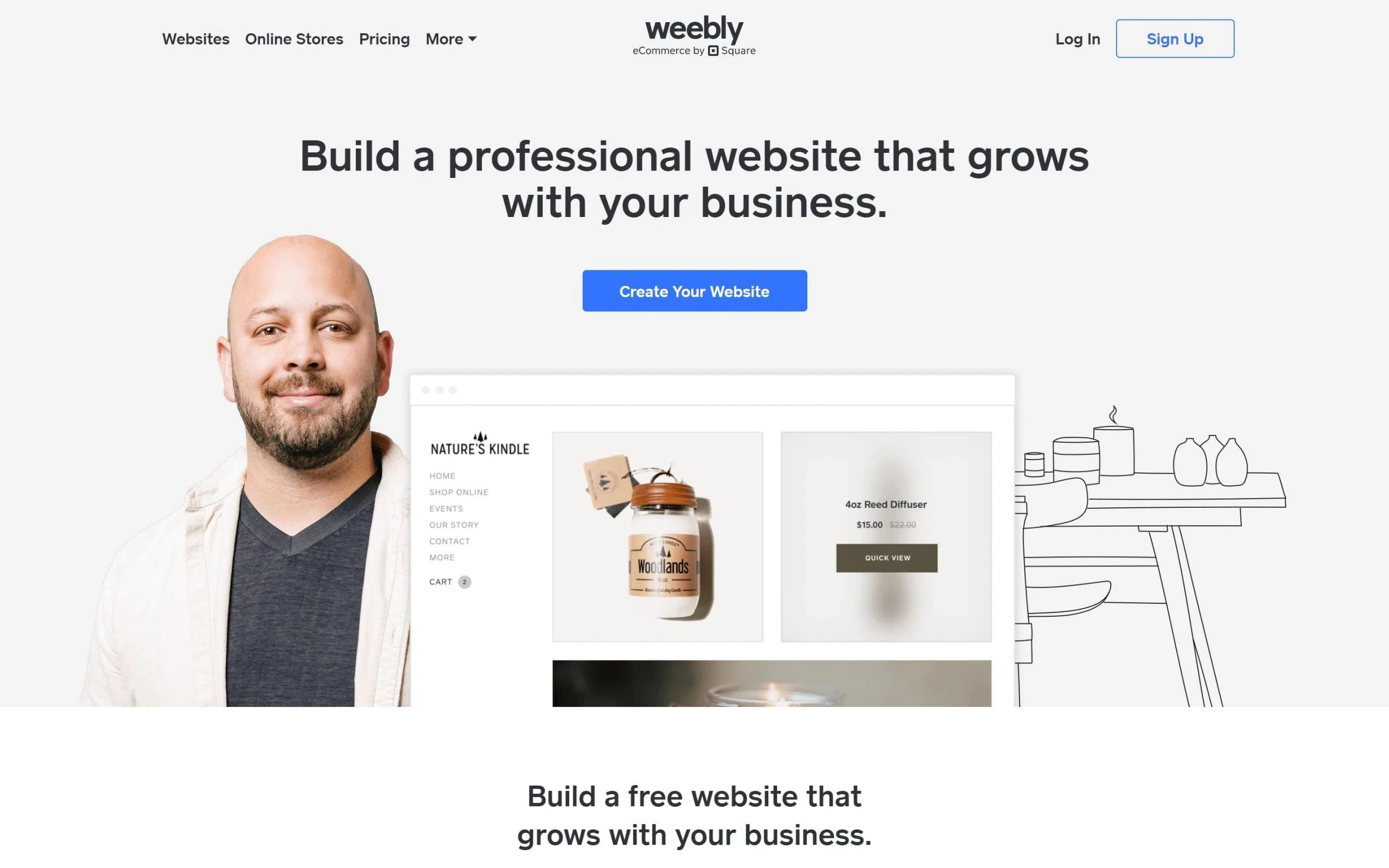 This again is like Wix and Squarespace, a website builder ideal for beginners. It has a free and paid version. The free version comes with limitations, of course.
Pros:
Easy to use.
Professional.
Cons:
Less tools and plugins are available.
Ready To Become A Multi-Figure Blogger?
A successful blogging career starts with true passion. Many bloggers, as you've seen in the above examples, have earned in huge numbers and are still earning. Out of all the above blog types that make money, choose the one you love, stick to it, and you can also make a fortune.
We hope you loved reading throughout.
We want to hear it from you: what type of blog you're pursuing?