Managing your time while blogging might feel like a chore. But, lucky, there are some apps and websites, specifically designed for bloggers like you, to save time and effort, and increase productivity. So, today, we're talking about the 18 most useful blogging apps and websites you can use. Some of them also have paid plans to unlock more exclusive features.
Keep on reading. Here's the list.
1. Unsplash – Great for Free HD photos
Unsplash is a platform for free high-definition images. The website claims that 265,000 photographers are contributing, and with the help of these, monthly thousands of free images are being published. You can simply go and download any image you want for free, for almost any blog topic, without worrying about copyright issues. (Credit to the owner is a condition though).
Easily search by the desired keyword, sort, and filter images by color, and orientation. You can also scroll through different categories to discover relevant images for your blog posts, social media, or even emails.
Unsplash also welcomes every photographer (if you want to contribute). You can sign-in anywhere, on any device; iPhone, iPad, Android, Mac, or Windows.
2. Canva – Cool graphic design tool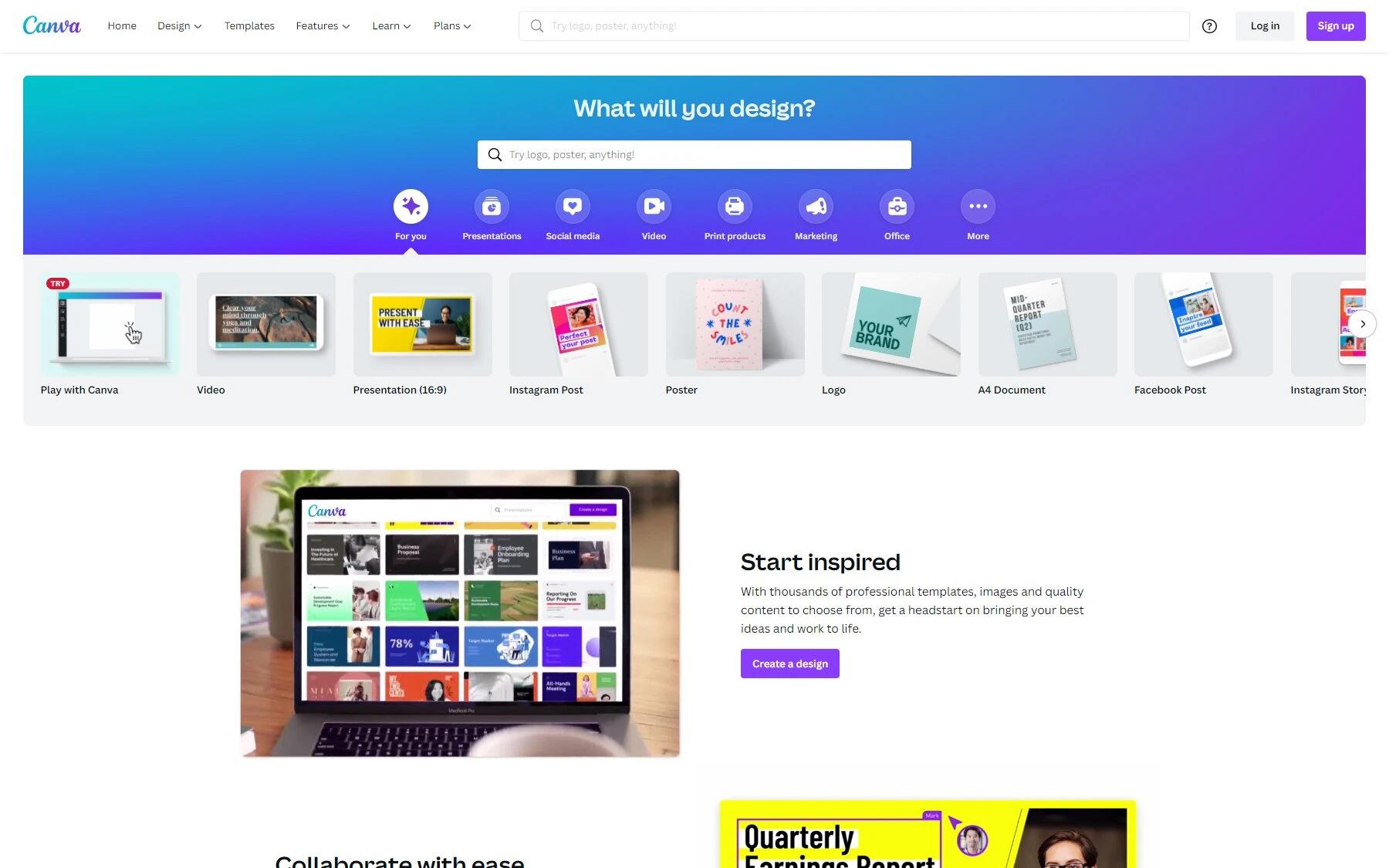 Canva is a free graphics design platform, which is good enough for making social media graphics, presentations, posters, logos, business cards, and other visual content. As a blogger, you may often require graphic design help, especially for your social media. You can easily create cool social media posts, logos, or animated design elements to enhance your content.
Canva offers thousands of free templates, which is great for saving you time. And also great if you have no editing/graphics background.
The website has more than 60 million active users, who have created 7 billion styles so far. Use it for free with some limitations, but if you want premium features and unlock more templates, you'll have to pay.
3. Google Docs – Extremely useful for writing and editing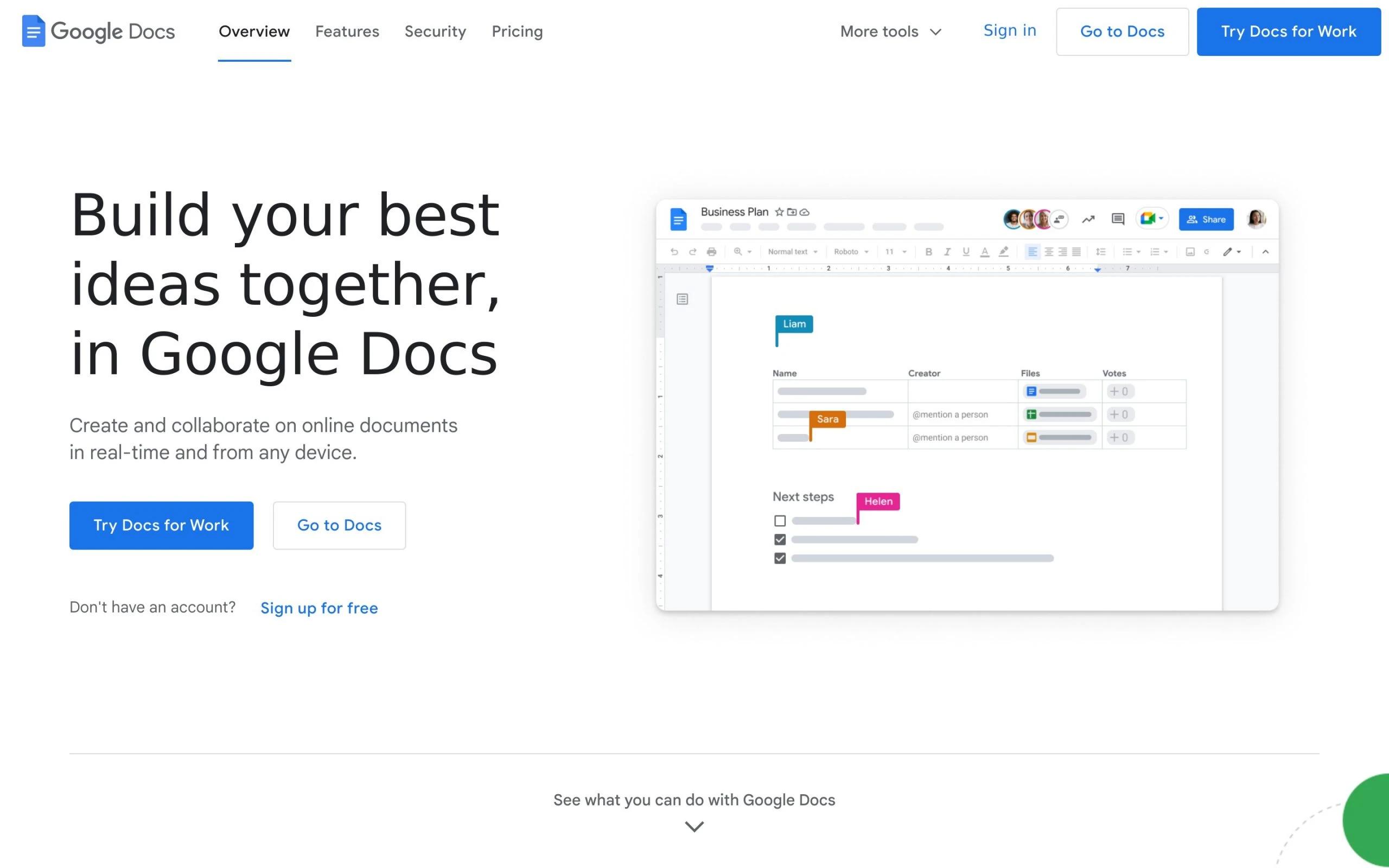 Google Docs is a web-based application used to create and edit documents online. Powered by Google itself, you can get access to your Google Docs account from anywhere and be able to write and edit your blog posts, social media posts, or emails, on any device. Plus, you can also share them with others online from within the app, edit, and work together on the doc. Which is great if you plan to hire writers and editors.
Also, there is no fear of data loss because the app automatically saves your current work, even if the computer shuts down abruptly. And the files are automatically saved on GDrive.
Cherry on the top, GDoc identifies and helps you solve your grammar mistakes while typing. It's my most favorite app, and in fact, this post is written on GDoc.
4. Buffer – Useful for managing social media accounts
Being a blogger also means staying active on all your social media networks – but that can be difficult, as you have a ton of stuff to pay attention to. With the help of Buffer, you can control all the social media profiles in one place.
On this app, you can set the schedule for posts on Facebook, Instagram, Twitter, LinkedIn, Pinterest, or nearly anywhere you want, in one click. Plus, you can also make a team of 2 people to manage, which is nice if you hire someone to do your blog's social media.
Buffer's free account allows you to manage one Facebook, Twitter, and LinkedIn profile with up to 10 updates. Pay $10 monthly to manage 12 social profiles at once.
5. WordPress – Awesome for building and growing websites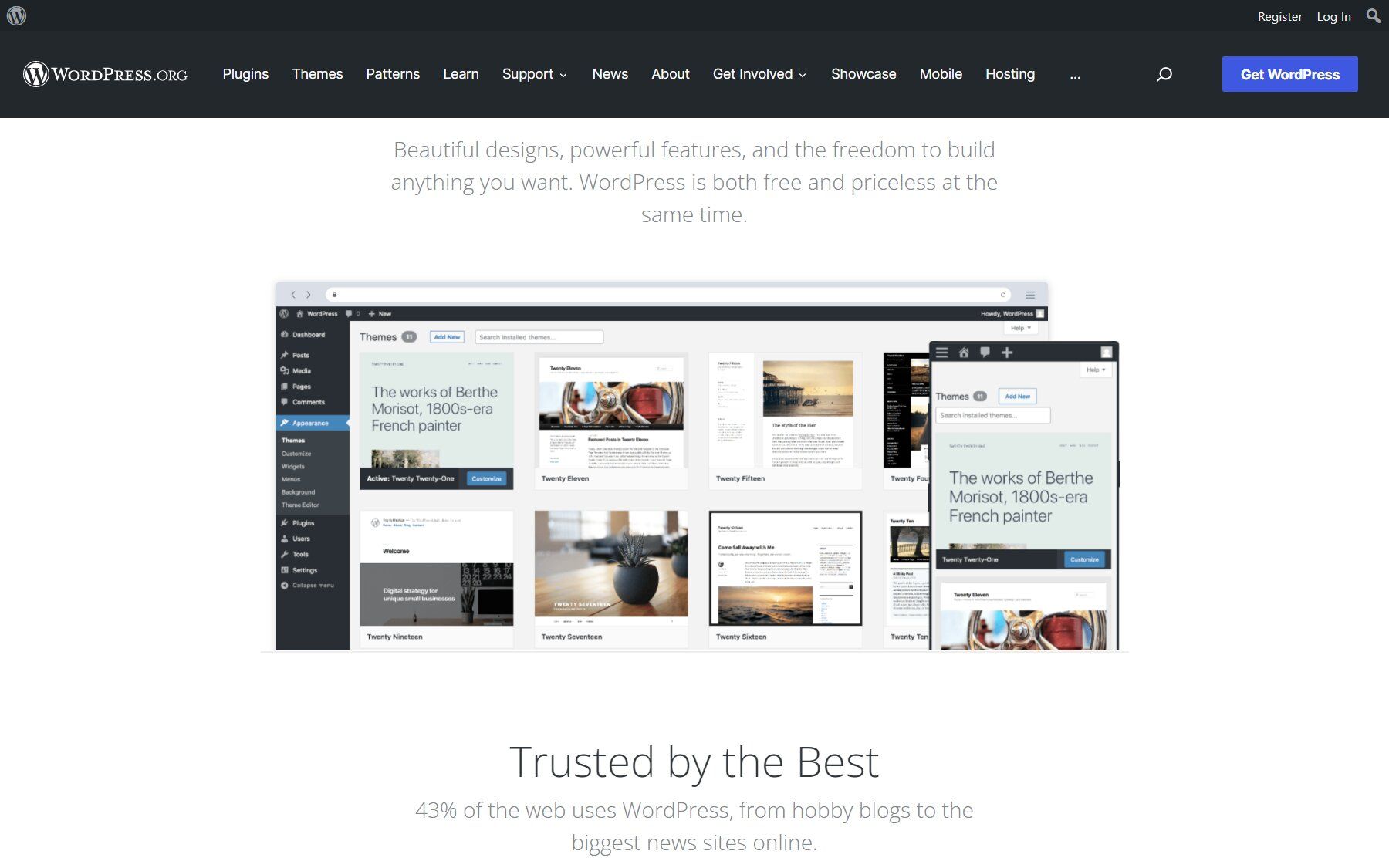 WordPress.org is an open-source content management system (CMS) used to build and host websites. You can create your website and customize it on your own—without learning code. WordPress is based on plugin architecture and a template system, making website management much easier.
A simple, easy-to-use dashboard provides all customizing options to enhance your website however you want. WP is free for all and can be used to make any website, for anything. There are dozens of free resources on the web, all about helping you learn WordPress.
If you're blogging on a hosted platform like Blogger or Medium, you can migrate your website to WP to unlock more monetization opportunities and freedom of customizing your website with thousands of free plugins and themes.
6. Notion – Great for staying organized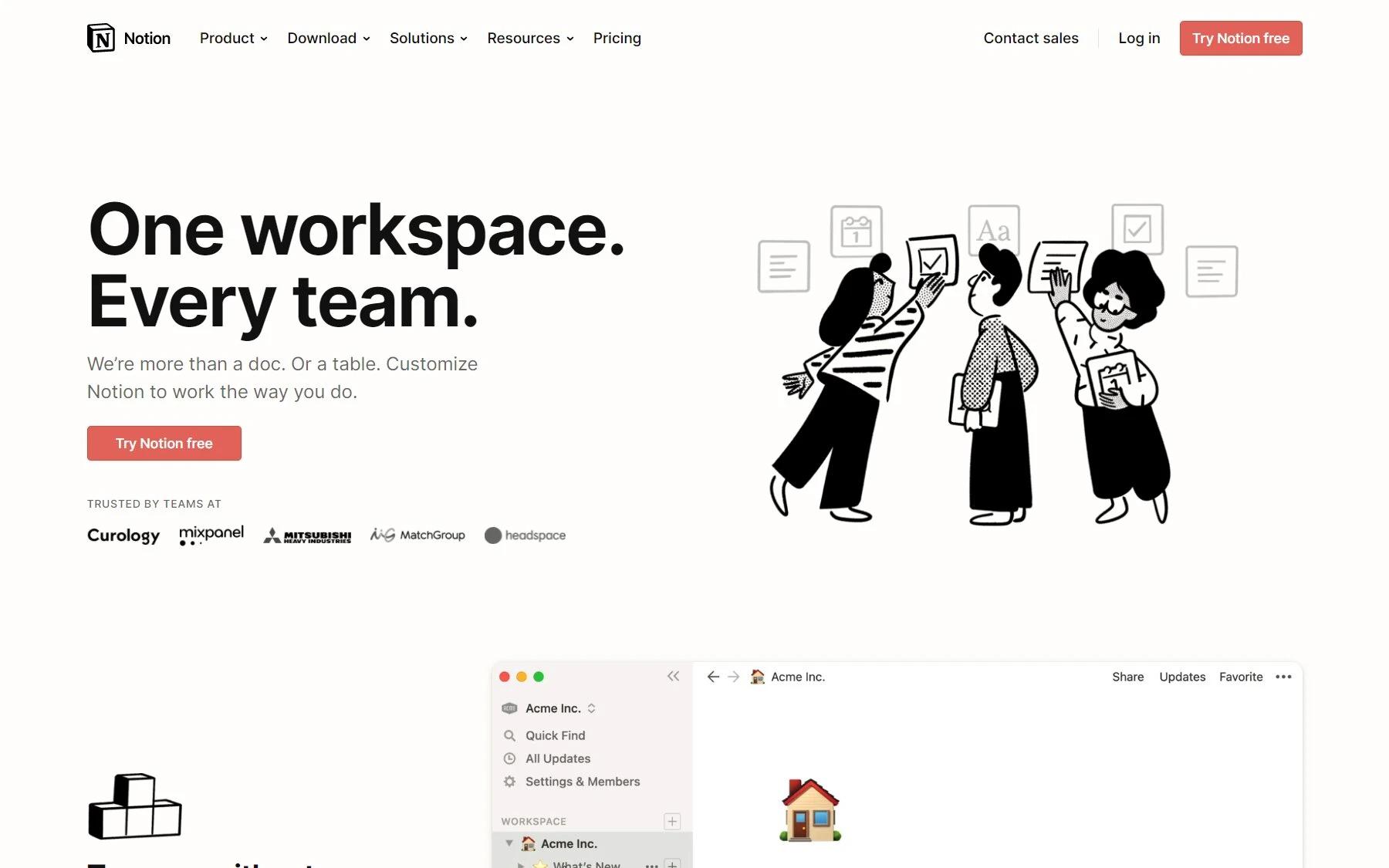 Notion is project management software that is used to manage tasks, set reminders, organize documents, manage files, and much more. You can set your blog posts reminders, manage research notes, files, and keep yourself on the right track. You can access Notion from your mobile to easily add or remove tasks on the go.
The app also offers you a gallery that can be used to share your notes, upload pictures, and videos. Best part: Free to use for everyone.
7. Google Analytics – Useful for web traffic analysis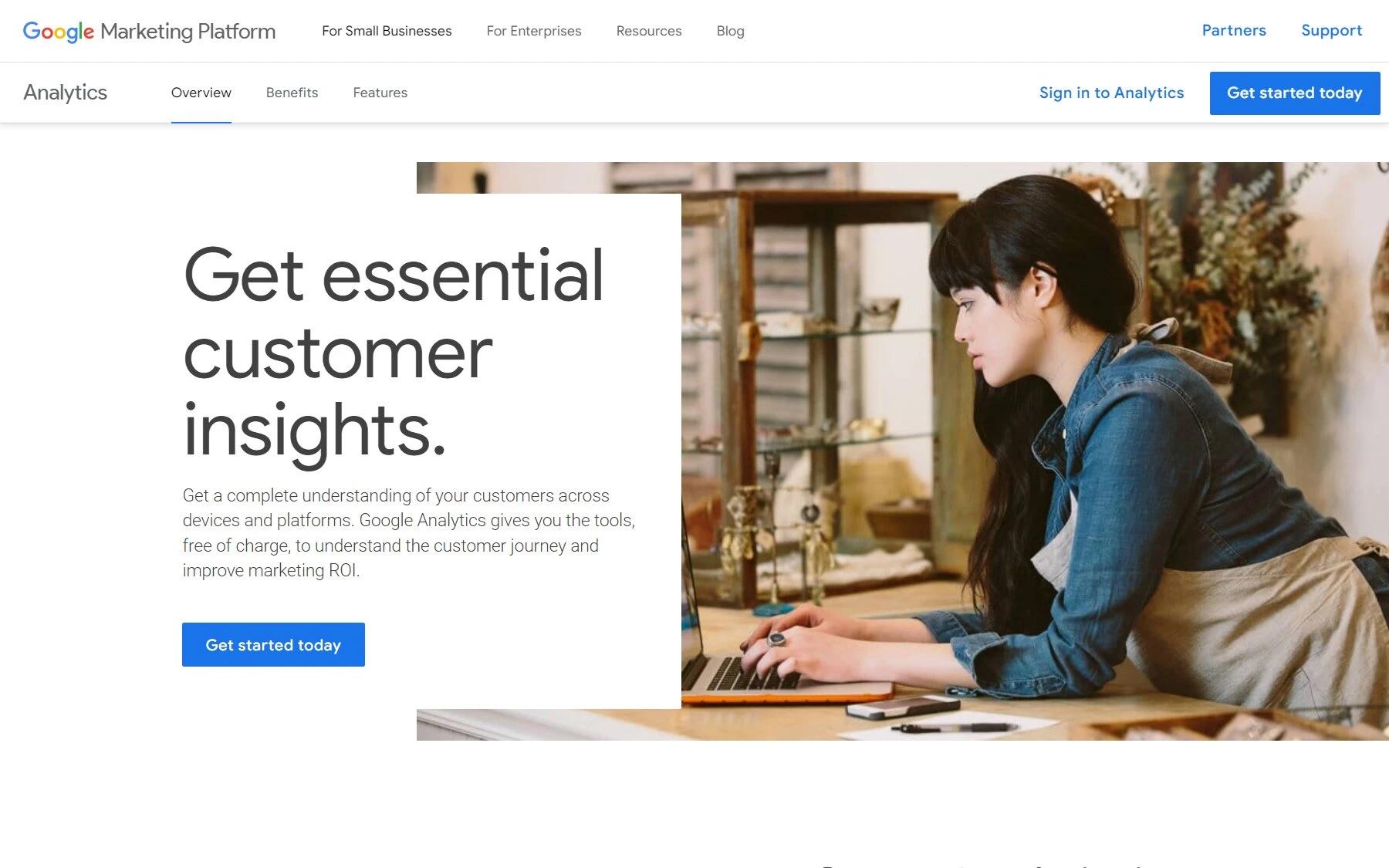 Google Analytics is a tool that allows you to track real-time traffic on your website. You can analyze what your visitors want, where they are coming from, which pages of your site are more effective, ways to improve ads on the site, and so much more.
There may be a small learning curve, but, by properly using this tool, you can improve Google ranking, engage your audience better, and get more sales through your blog. Google Analytics is free for small businesses and bloggers – pay if you need more exclusive features.
8. BeFunky – Allows Effortlessly Editing Photos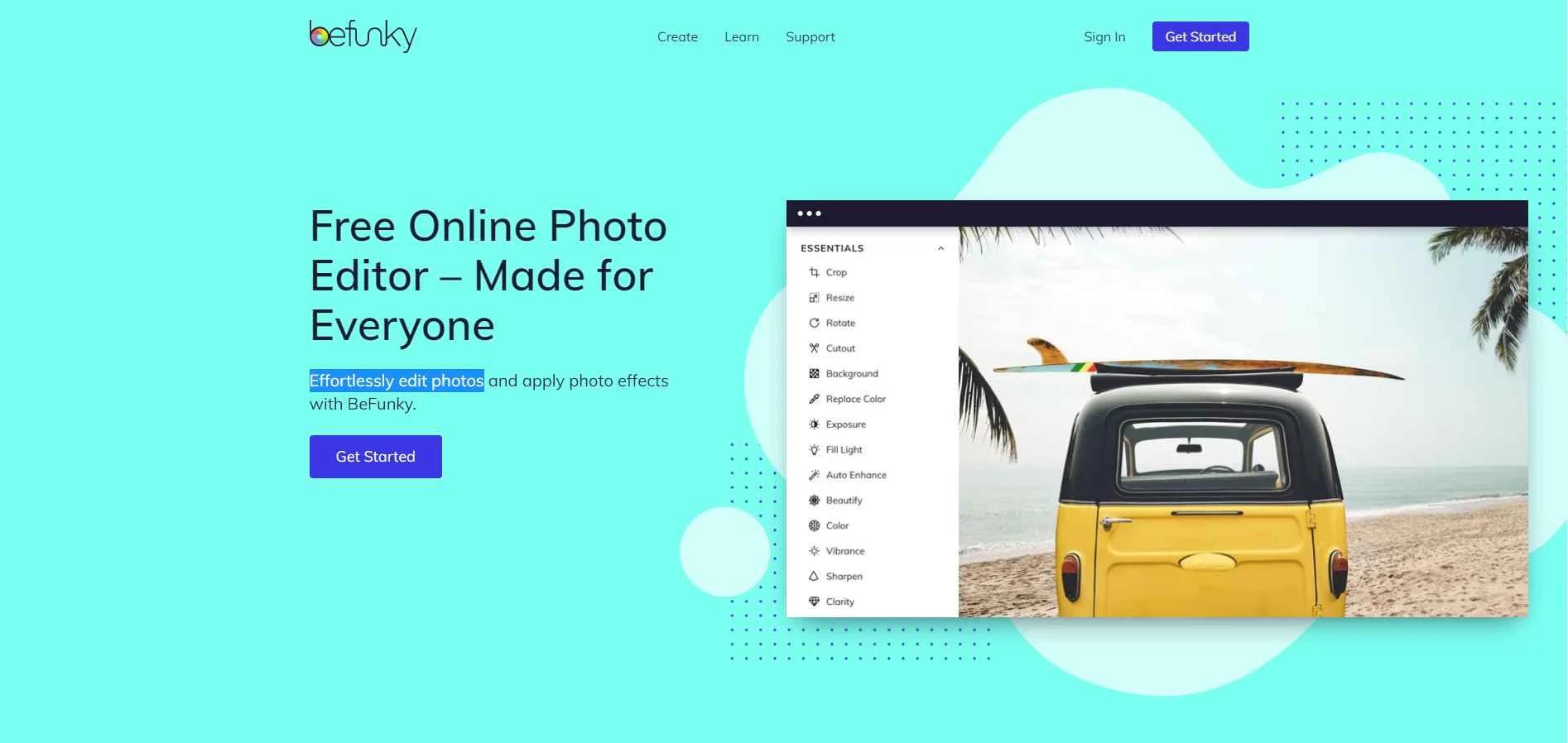 BeFunky is an AI-based graphic design and photo editing tool that supplies designers and non-creatives with high-quality features and customizable templates. It allows businesses and teams to create collages, advertisements, and graphics quickly and easily. Artists can remove backgrounds, apply filters, and edit photos with a single mouse click.
Team members can use BeFunky to collaborate on visual projects by adding coworkers onto a shared workspace. With BeFunky, teams can leave comments and suggestions in real-time to ensure projects are created with the client's vision in mind. It can even share your projects directly to Dropbox, Pinterest, and Twitter or store them on Google Photos or Google Drive.
There are plenty of reasons to use BeFunky as your business's go-to design software, such as:
Customizable branding features and watermarking
Convert files in paintings, sketches, or cartoons using filters
Stock imagery integration with Pexels, Pixabay, and Unsplash
Third-party integration and total device compatibility
Design management and a searchable brand content library
Custom brushes, templates, fonts, templates, and more
Secure data storage and the ability to import or export files
9. LastPass – Useful for managing your passwords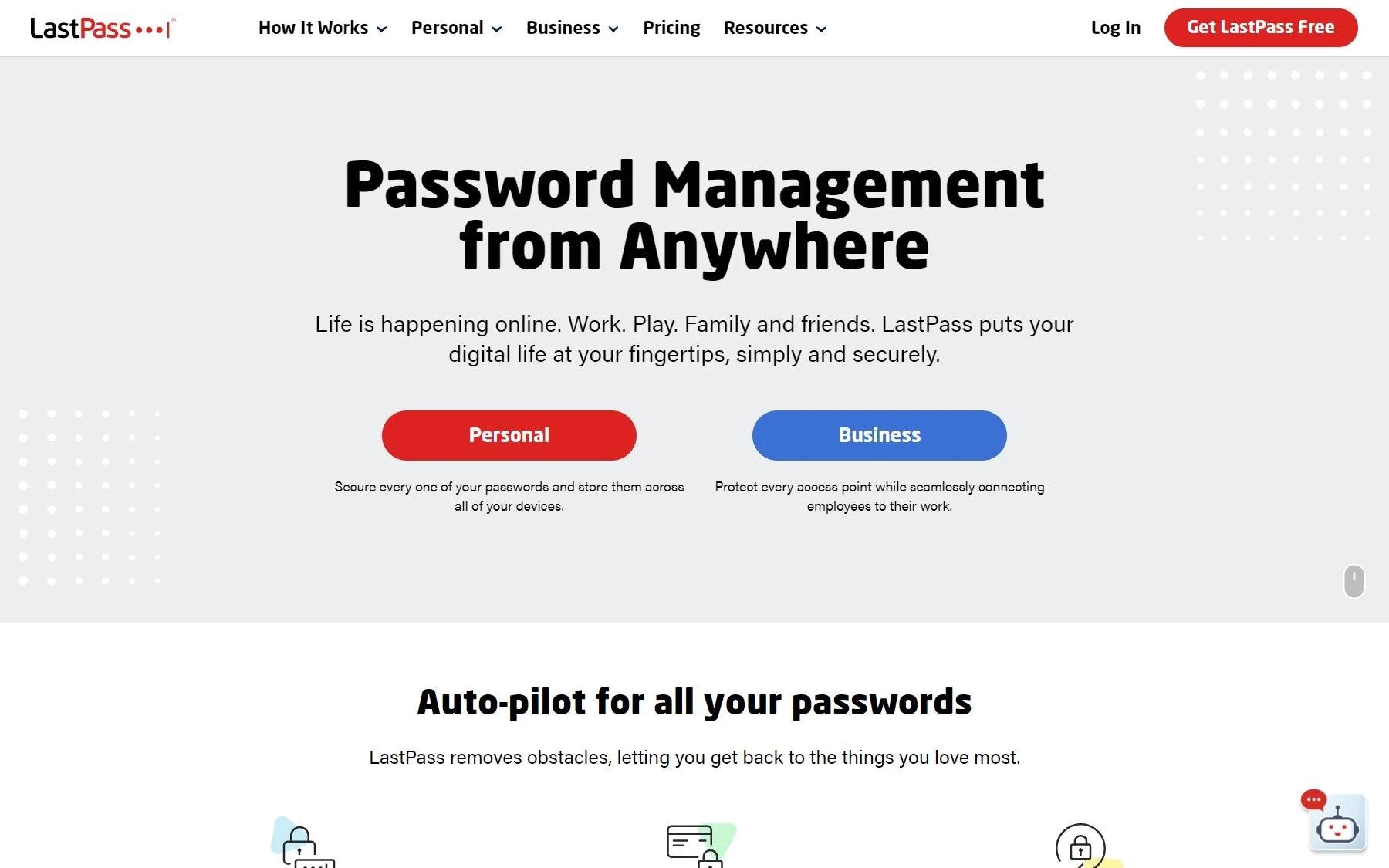 LastPass is a password manager, with a secure store, called Vault, to secure all your passwords and usernames. All in one place. The tool offers cross-platform syncing, password strength reports, two-factor authentication, and secure sharing.
With it, you no longer need to remember or manually type every single password; your website, social media, email accounts, and other platforms. Because it can cross-synch, and can be integrated on almost all popular browsers, LastPass automatically enters username and passwords for you.
Use basic and premium tools for a month free as trial. After that, you'll need to pay 3 or 4 bucks to get premium features – the free version will still be available though. With great many reviews, it's one of the reliable password management tools out there.
10. Grammarly – Your personal AI-powered writing assistance
Grammarly is an online tool that is used to correct grammatical errors in your content. Not only great for spelling check, punctuation, and basic grammar – it also improves your overall writing experience with AI-powered assistance, making your writing more effective. Effective writing is important while blogging, to increase the credibility of your blog, and help readers absorb the information easily.
What's even better is that you can integrate it in your browser or mobile phone to instantly reply to emails and comments, without worrying about grammar mistakes – because Grammarly will take care of it.
If you want to check only your basics, its free version is a lot for you, but the premium version contains advanced features, including a plagiarism checker.
11. Medium – Good for learning from experts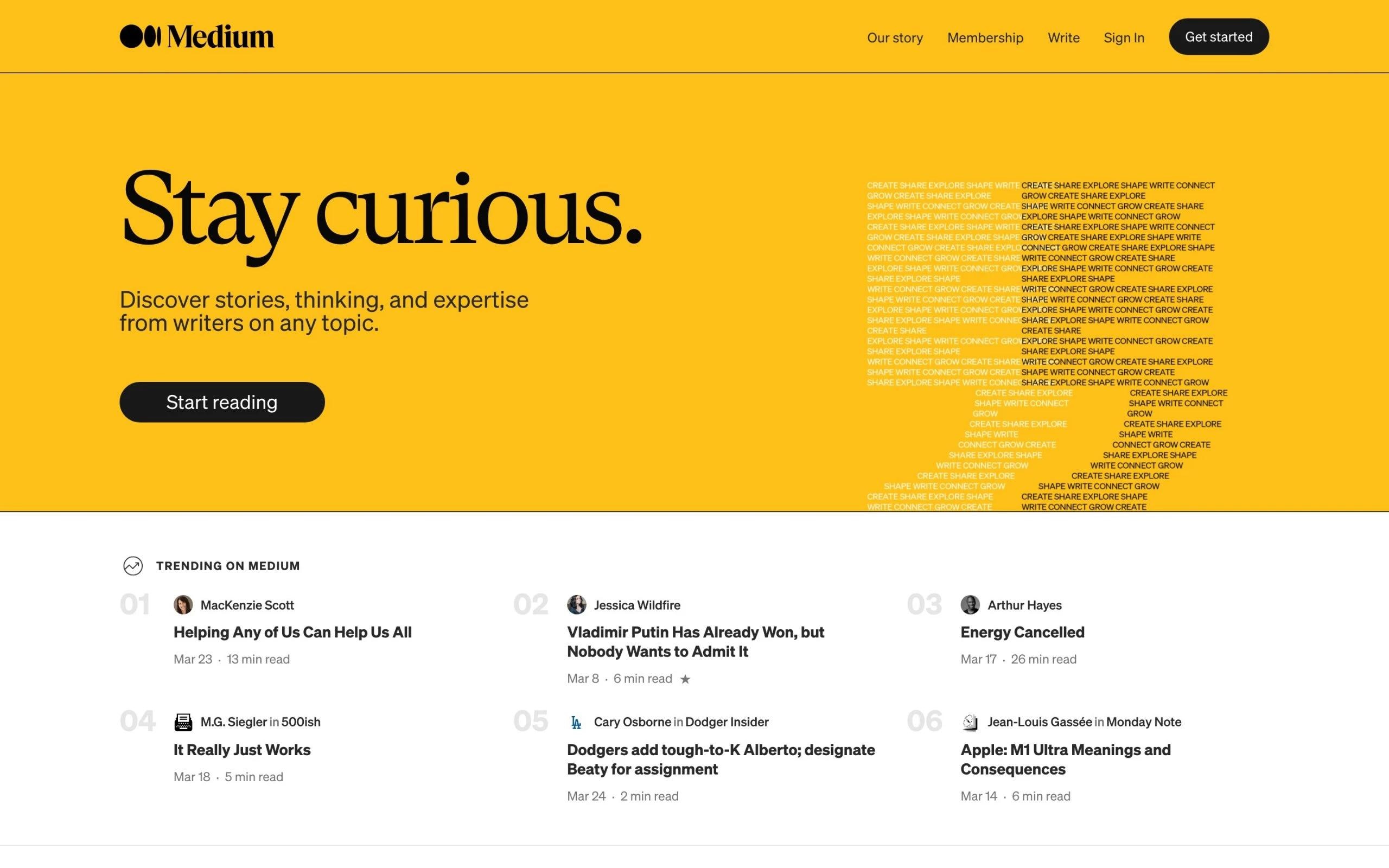 Medium is an online platform where anyone can write or read articles. You can sign-up for free and publish your thoughts on almost any topic. Medium is the best place for those who have just started writing and want to publish their blogs somewhere. Experts from every industry share thousands of articles daily, so you can gain more knowledge by just visiting the feed.
Most people also use it as their blogging platform, but it comes with limitations. If you want to make money and want freedom in managing your blog however you want, start your blog on WordPress.org
12. Dropbox – Useful for storing and sharing files safely
Dropbox is online cloud storage that allows you to store and share your data. It contains 2 Gb of space in a free package (you can increase storage by doing some tasks) where you can store and share files.
By using Dropbox, you can work with others without security concerns because the files are always encrypted with AES. Which is great because you can securely share or store unpublished posts, marketing campaign outlines, your blog's matrix, and nearly anything. The offline mode also allows you to access your data anytime, anywhere, on any device.
With a premium subscription, you can get up to 3Tb of storage.
13. Flipboard – Keep up with the social media trends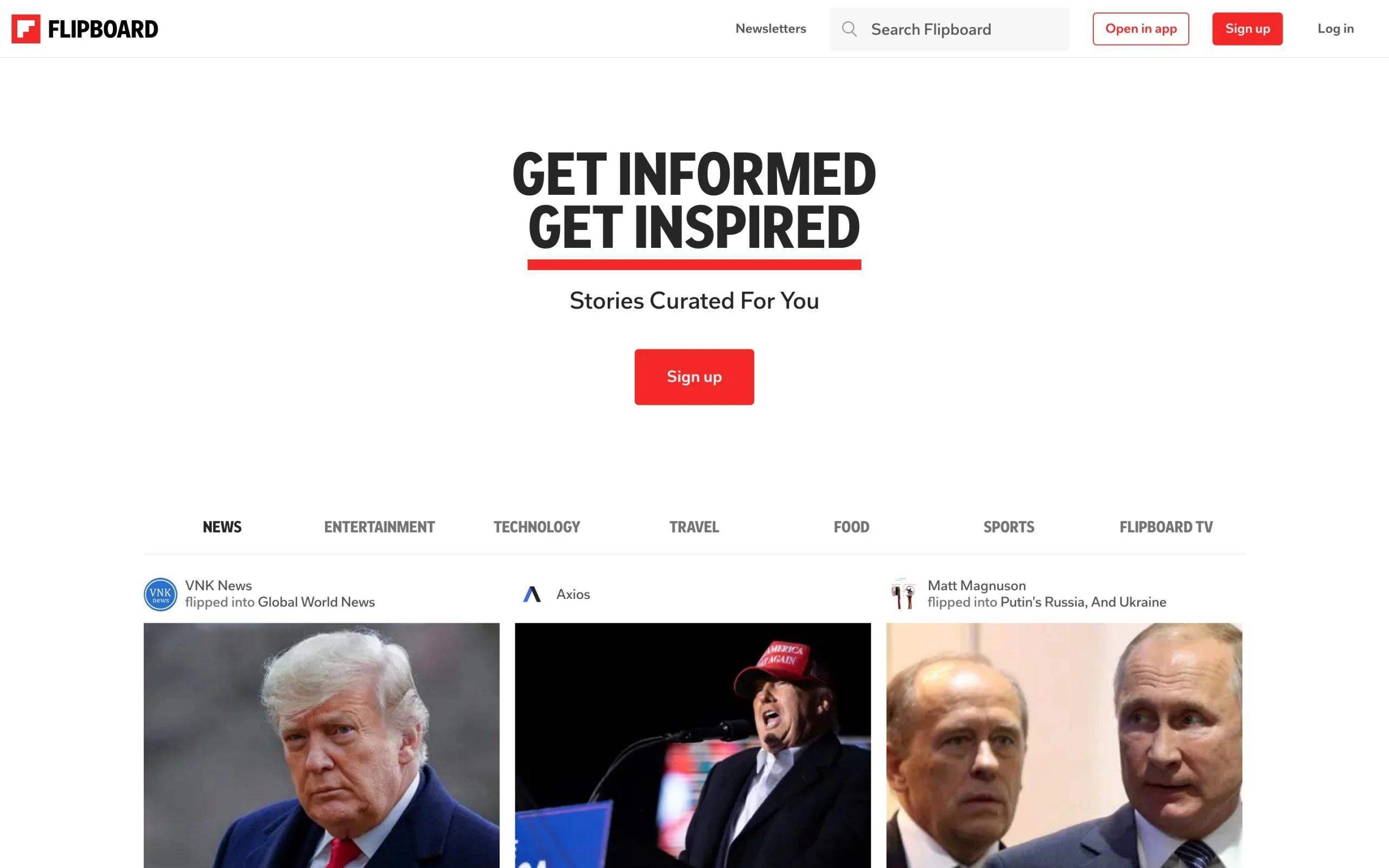 Flipboard is a half social, and half news website. This site gathers information from other social media platforms, news reports, and blogs, and later shares it in magazine format. You can sign-up for free, on any device, and can instantly read trending stories.
Inside, with the community option, subscribe to communities according to your blog, and view news and magazines that are relevant. Keeping up with the relevant trends that your target audience follows can be great. You can get to know them better, and create content around trending topics to steal some attention for your blog.
14. MailChimp – Do your email marketing well on a budget
MailChimp is a popular email marketing platform used to create email marketing campaigns, where bloggers can send emails to their subscribers. You can share updates to your subscribers, can set automatic emails, special offer reminders, and so much more. There are thousands of pre-design mail templates available, ready-to-use.
Email marketing is a must for bloggers to monetize their audience and build a loyal fan base. There are other email marketing tools as well – but MailChimp stands out with positive reviews, cool features, and ideal price plans.
Free to use with some limitations: 2000 contacts, 10K emails/month, with ads. Pay to unlock premium features, starting from 10 bucks.
15. Pocket – Digital pocket for "later reads"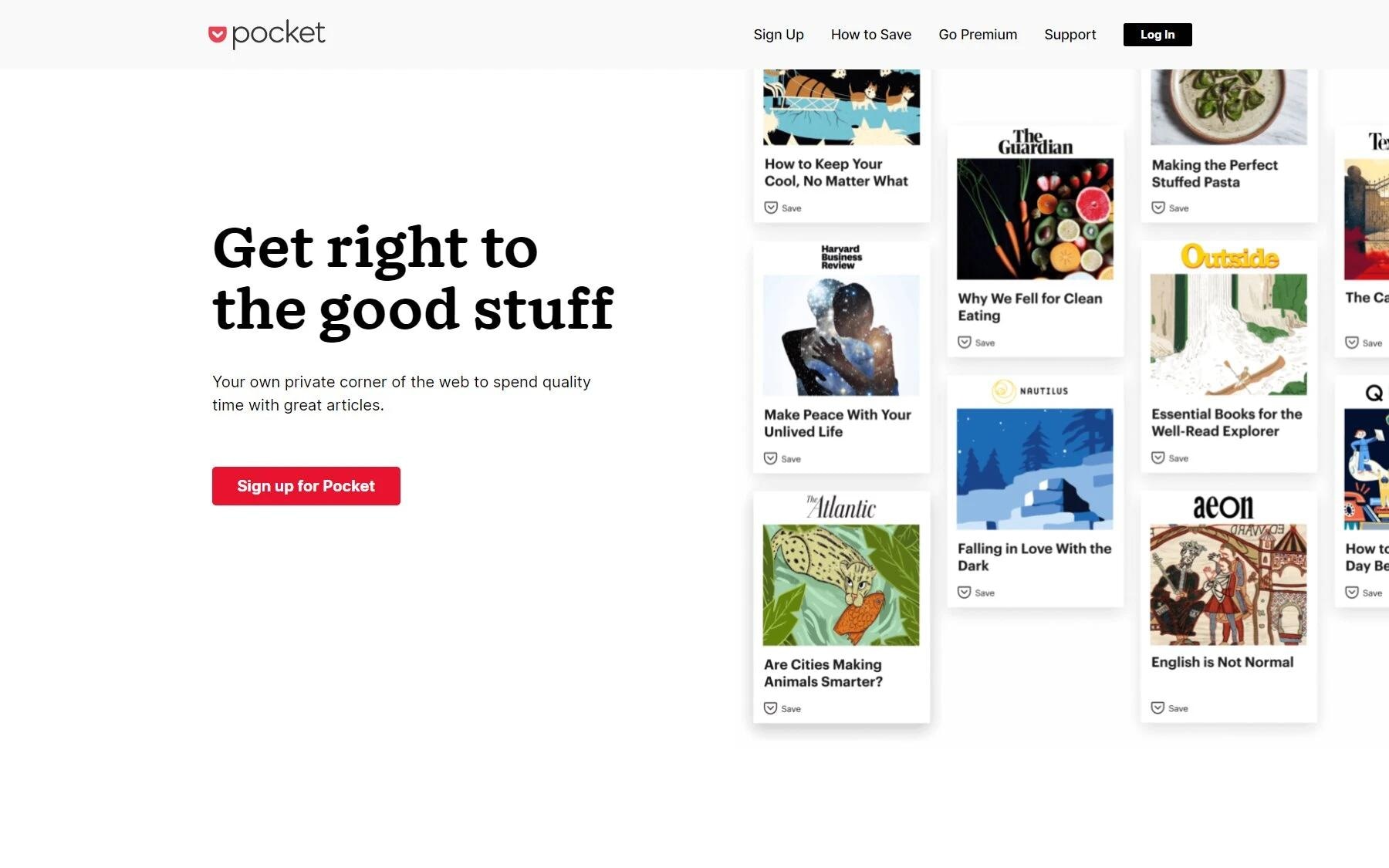 Pocket allows you to bookmark interesting articles, stories, and videos to read and watch later. Once you download, you can easily watch or read the content even offline.
There are thousands of posts available to get discovered on the platform. Once you read, you've the choice to delete or archive them.
And if your blog covers the latest interesting stories, this platform can be extremely useful. You can easily keep tabs on latest interesting stuff, and later create content for your blog.
Busy, or don't want to read? You can switch any news story, article, or blog into an audio file to listen to on the go, while you do your work, just like a podcast. Pocket is free to use and is available on both the web and mobile.
16. Pinterest – Visual ideas and inspirations for everything
Pinterest is a visual discovery engine. People upload photos and videos of gaming setups, home decorations, personal styles, recipes, DIY crafts, and nearly anything for inspiration. If you ever feel like you're running out of ideas and inspiration for your blog's content, you can go there and discover almost anything. But, there's something more interesting.
Pinterest is also a gold mine for discovering blog topics. How? Simply visit the website, and search for anything. As soon you type your main keyword, Pinterest's auto-suggest shows you the most searched terms, which is basically what your target audience wants. Pick something that seems interesting and boom! You get the topic to write about.
For example; if you search for the term "Gardening", auto-suggest will show you something like:
Gardening for beginners
Gardening for landscape beginners
Gardening for kids
Millions of users spend time on the platform. How is it beneficial for you as a blogger? You can grow traffic on your blog. Here's how:
Create a dedicated profile for your blog. Upload eye-catching images that are relevant to your blog topics, write catchy descriptions and pin them on your profile. Visitors then can click through the pin, and land straight on your blog. It's a popular way to fetch some extra visitors.
To enhance your blog's online presence, it is advisable to establish a dedicated profile that showcases its unique voice and style. This can be achieved by uploading visually-striking images that are pertinent to your blog's content and crafting captivating descriptions to accompany them. By pinning your posts on your profile, interested visitors can easily click through and land directly on your blog, thereby generating additional traffic. Alternatively, you may also consider incorporating QR codes on your profile to provide quick and seamless access to your blog, as this is becoming an increasingly popular way to connect with potential readers.
Pinterest, the platform itself is free to use, but images are copyrighted – so get permission from the owner before using them in your blog.
17. Shutterstock – Hub to premium royalty HD photos, music, and videos
Shutterstock contains royalty stock images, illustrations, music, and videos – which basically means, after you pay for Shutterstock's subscription, you can download and use any image, anywhere. Just like Unsplash, as we discussed above – but here, since you're paying, you can use these images and videos even for commercial purposes like social media ads, or marketing campaigns.
The Shutterstock's gallery is filled with over 350 million images and 21 million videos. With that much resource, you can never run out of photos and videos for your blog, social media, or emails.
You can also share pictures and videos there, but keep in mind, only professional-quality content gets accepted.
18. Kompose – Human & Advance AI Chatbot Tool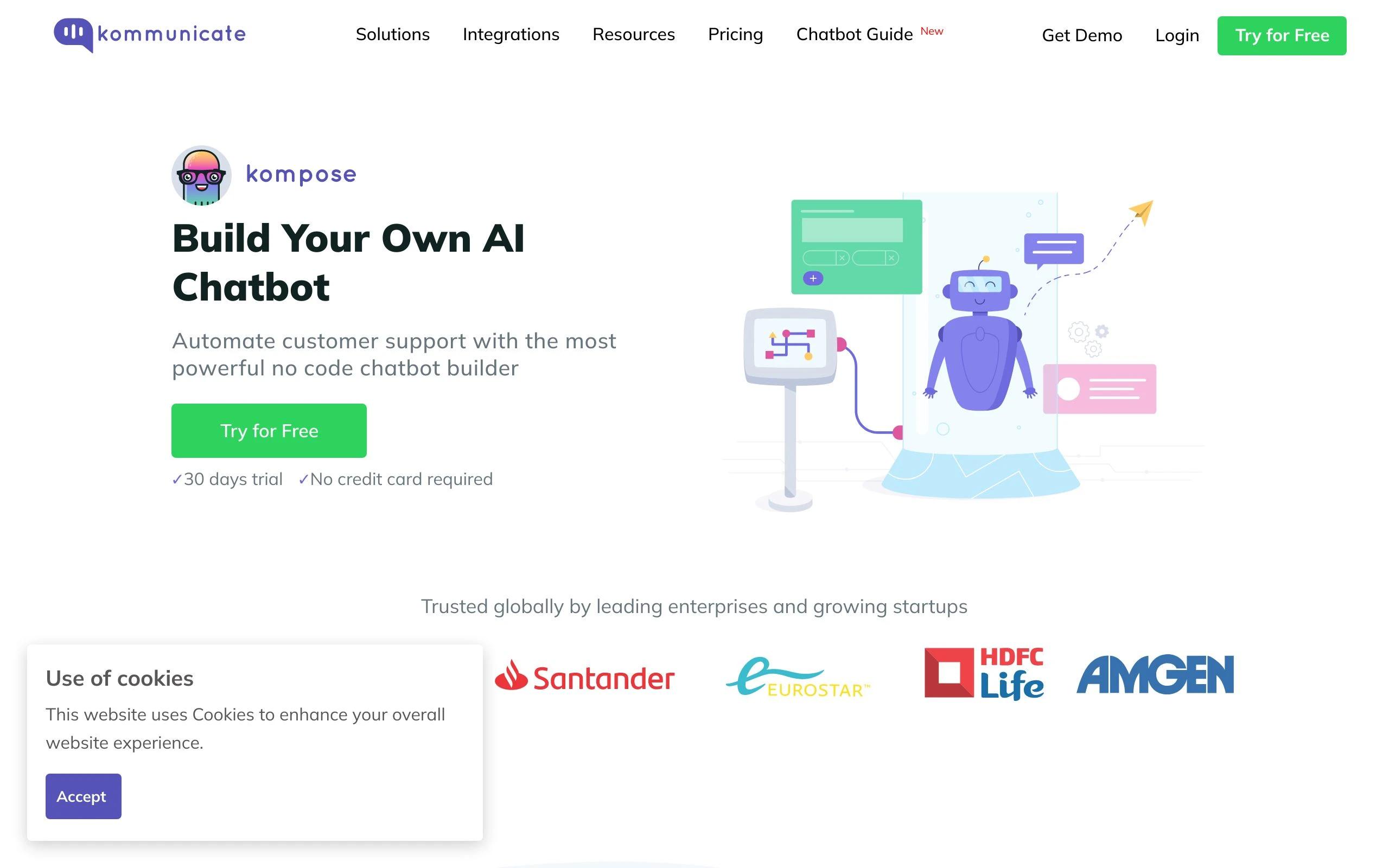 Businesses must have a strong online presence to succeed in today's digital age. A seamless and efficient online experience is therefore a necessity for businesses. This is where chatbots come in.
Chatbots simulate human conversations using artificial intelligence and machine learning algorithms to understand and respond to user queries. Businesses can integrate them into websites and messaging platforms to provide 24/7 customer service and engage their audience in a more personal way.
One of the main benefits of chatbots is their ability to handle a high volume of inquiries simultaneously. This means that businesses can provide instant support to multiple customers at once, without the need for additional staff or resources.
Conclusion
Managing your time more productively helps a ton while blogging. And this is where apps and websites like these come in handy. Get the desired help for your benefit, and keep growing for the better.
Comment down your favorite app or website that you love or would love to frequently use. Also, do share your personal favorite app if I missed it here in the list.