Feeling a creative drought? No worries; we all have been down that road too. But guess what? We've got the perfect solution to lead you to the fountain of inspiration!
If you're always on the lookout for fresh perspectives and inspiration in the art world, you need to check out some of the coolest art blogs we handpicked for you.
Whether you're into painting, sculpture, photography or other mediums, these blogs have got you covered with must-see projects, interviews with major players, and commentary on trends you don't want to miss.
So grab a cup of coffee or tea, get comfortable and start exploring some of these top recommendations.
🖍️ How We Picked the Best Art Blogs
Here are some simple, casual factors we considered when choosing the best art blogs:
Content: You want a blog that shares cool art stuff like paintings, sculptures, photography and more. Pictures are key so you can check out the actual artwork.
Updates: Looking for a blog that's actively posting new art pretty often, whether it's daily, weekly or somewhere inbetween. Don't want one that only does a couple posts a month.
Topics: Think about what types of art interest you most like modern art, street art, graffiti, whatever. Find a blog focused on those areas.
Writing: The writing should be fun and easy to read, not super stuffy or formal. You want to enjoy reading about the art too, not feel like you're in an art history class!
Features: Check if they interview artists, do behind the scenes looks, have guest posts, artist spotlights, and that kind of stuff to mix it up.
Design: The overall look and design of the blog should be visually appealing and easy to navigate around. Bonus if they have cool original graphics too.
🤝 Why You Should Trust Our Recommendations
Our blog's got that good good - high-quality stuff that'll keep you interested, so we can be counted as blog pros.
We also are great at WordPress theme development. Tons of blogs out there use our wicked templates to build their sites. They put their faith in us and we deliver the goods. Our themes level up blogs like whoa, helping those readers roll in.
Over the years we've really perfected the art of blogging success. We take sites to the next level cuz we learned all the pro strats. So you know you can trust our best art blogs recommendations - we only endorse the top art blogs.
🖼️ Top 45 Popular Art Blogs You Should Follow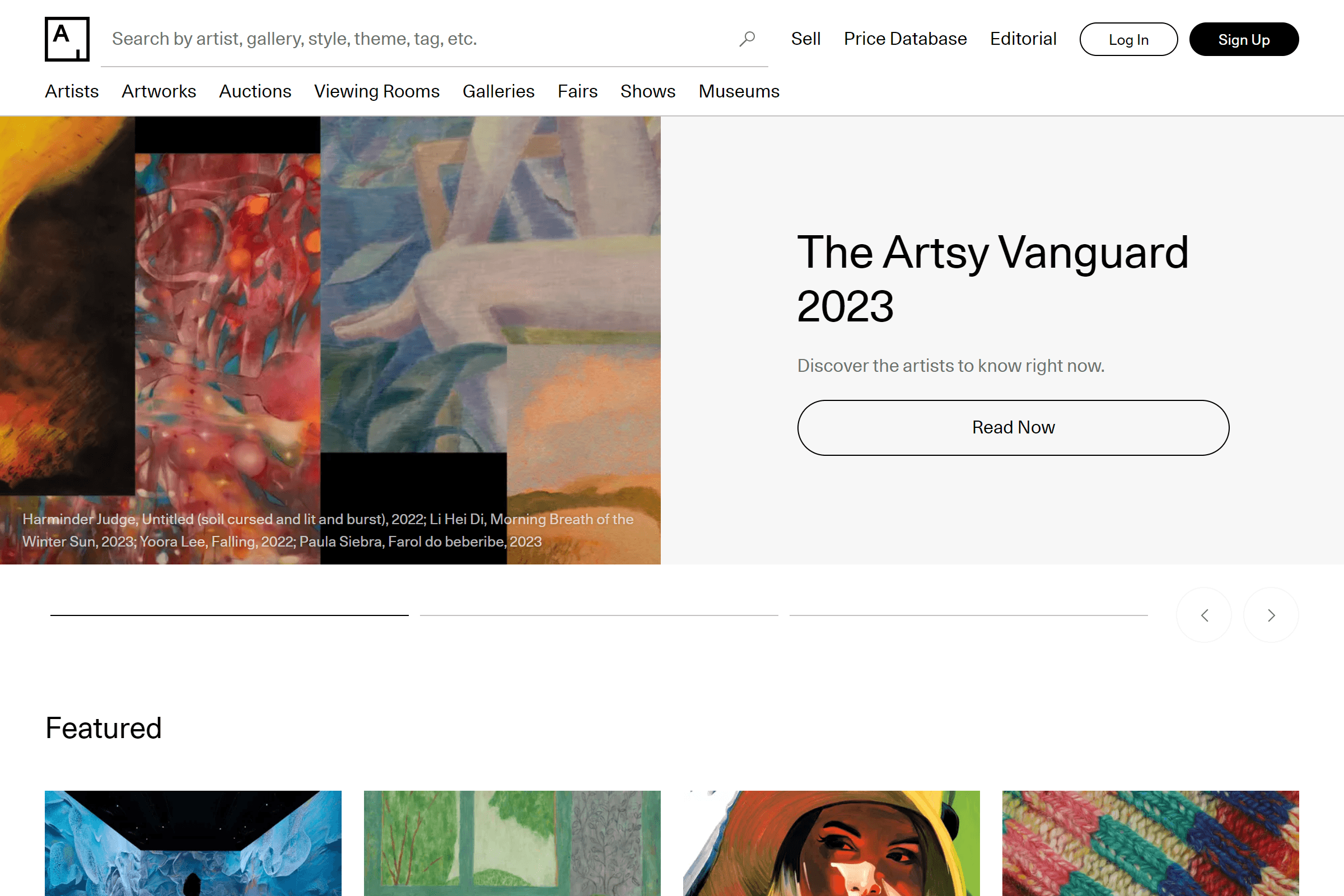 Looking to snag some fabulous art? Artsy is your place, boasting a collection that's large enough to satisfy even the pickiest art enthusiasts. And it's more than just a marketplace; it's your new go-to for everything from art trends to deep dives into the art scene, tailored for both rookies and pros alike.
Get this – they're teamed up with the giants of the art world: renowned galleries, iconic museums, and happening art fairs, bringing together over a million artworks just for you. It's a feast for your eyes, all in one spot. 
And if you're thinking it's all about visuals, think again! This is one of the art blogs that engage with fascinating articles, almost like having a cool, artsy buddy who always has the best art blogs gossip and facts at hand.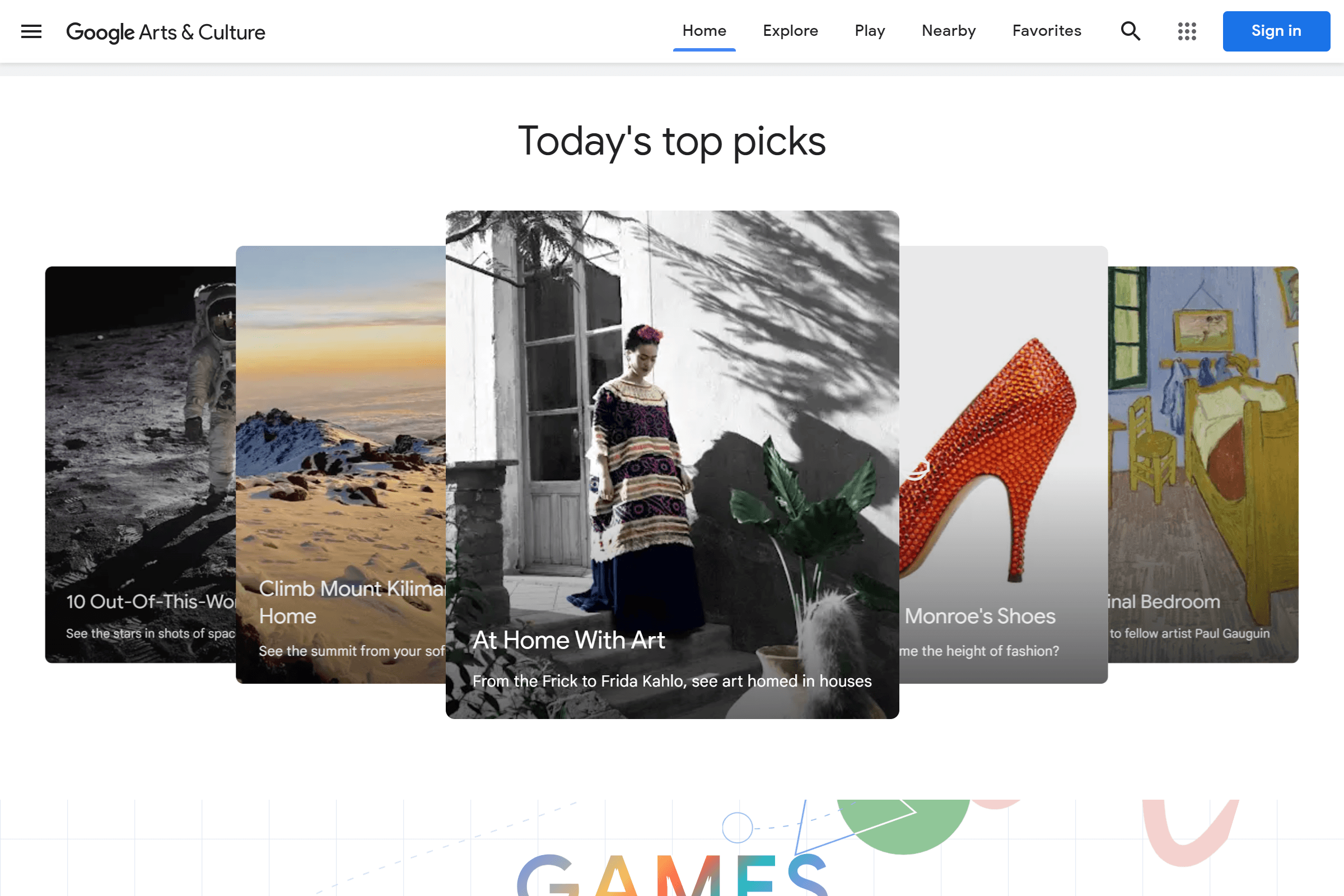 Ever wished to have the world's most iconic art and culture spots packed into your smartphone? Well, dreams do come true, 'cause Google Arts & Culture, the most popular art blog, is here to do just that! 
Picture this: over 1200 top art bloggers from around 70 countries teaming up with Google to throw the most awesome online art party ever. You're getting VIP access to the coolest galleries, museums, and art spots globally, all from your comfy couch. 
But this ain't an average site; it's an immersive journey! Fancy a virtual stroll through world-renowned museums? You got it. Keen to zoom in and inspect every tiny detail of famous artifacts? This art blog has set it up for you. It's like having a magnifying glass for the world's most treasured pieces.
Why is Google Arts & Culture Blog Our Favorite?
It's super interesting to read. Like, you don't have to be an art history expert or anything. Their posts always teach you something cool about famous paintings, sculptures, or hidden stories from the past. They do a great job of making history and culture feel fun and accessible.
The pictures are amazing too. Sometimes you can just browse it to look at all the high-quality images of famous artworks they have. It's like going to a virtual museum. Some of the pieces are just breathtaking. So, this is one of the best art blogs out there.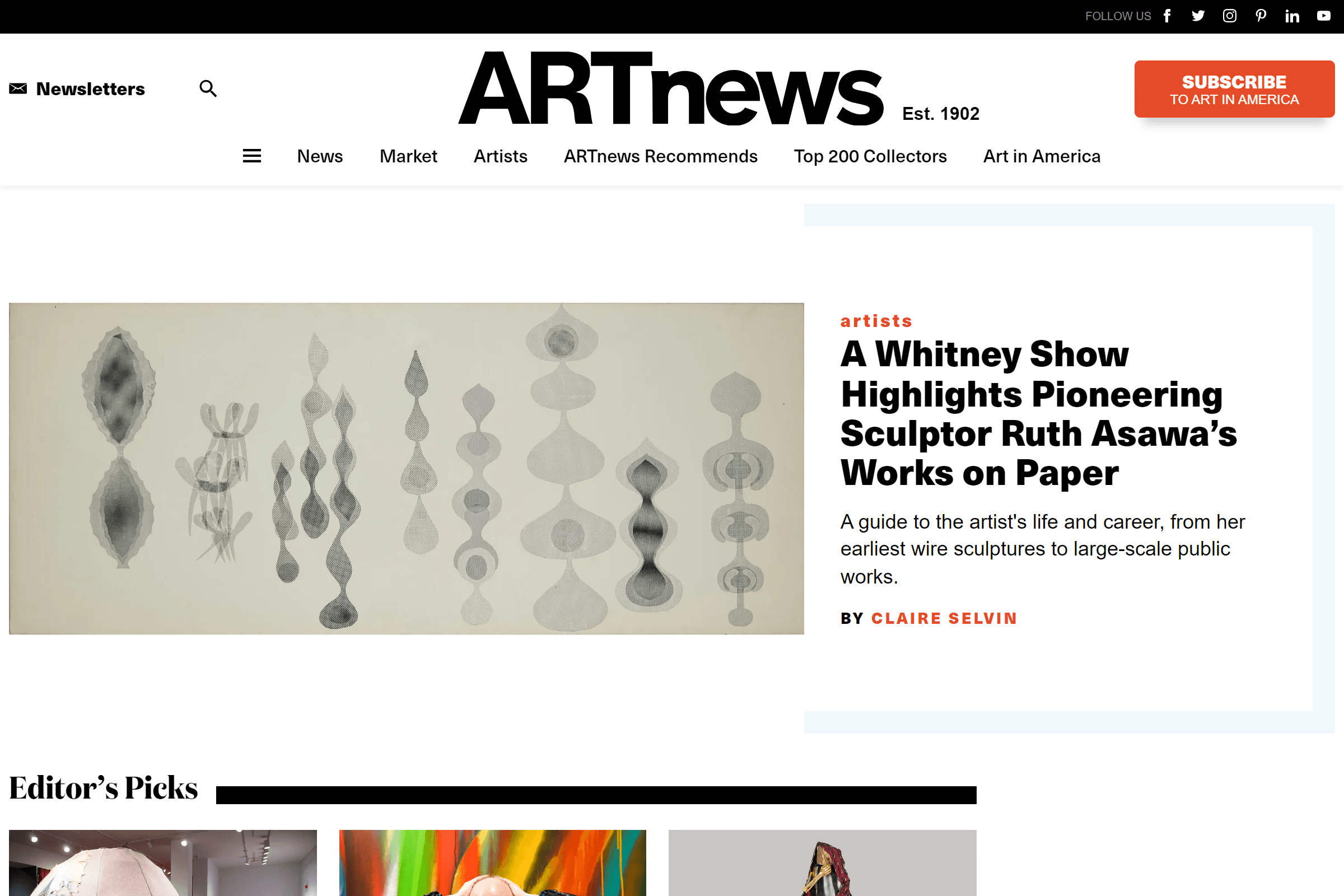 Want the inside scoop on the freshest exhibitions and the coolest contemporary artists? ARTnews Magazine is your daily destination for staying in the loop. They cover everything, from ancient relics to modern masterpieces, it's all just a click away! So this is another popular art blog to check out.
Think of it as your best friend in the art scene, always ready to dish out the latest gossip and the most epic artworks gracing the galleries globally. Whether you're into age-old classics or today's trailblazing pieces, this blog covers all bases!
It's not just about the artwork! They bring you face-to-face (well, virtually!) with both emerging and already legendary artists through their candid interviews. We did our search for art blogs, and trust us, this is a cool one.
You see, artnet is more than just a resource; it's a community. We all love a little behind-the-scenes, right? Well, they share insights to the world of art auctions. Know the what, when, and how much of art pieces sold at auctions globally - it's like having the scoop before everyone else.
Finding the perfect gallery is kind of like dating, isn't it? It has to be just right. Here, artnet plays matchmaker, connecting you to a network of over 300,000 artists and their masterpieces.
Stay in the loop without breaking a sweat. From breaking news to in-depth analysis, get a daily dose of everything happening in the art universe right at your fingertips. These guys are one of the top art bloggers out there.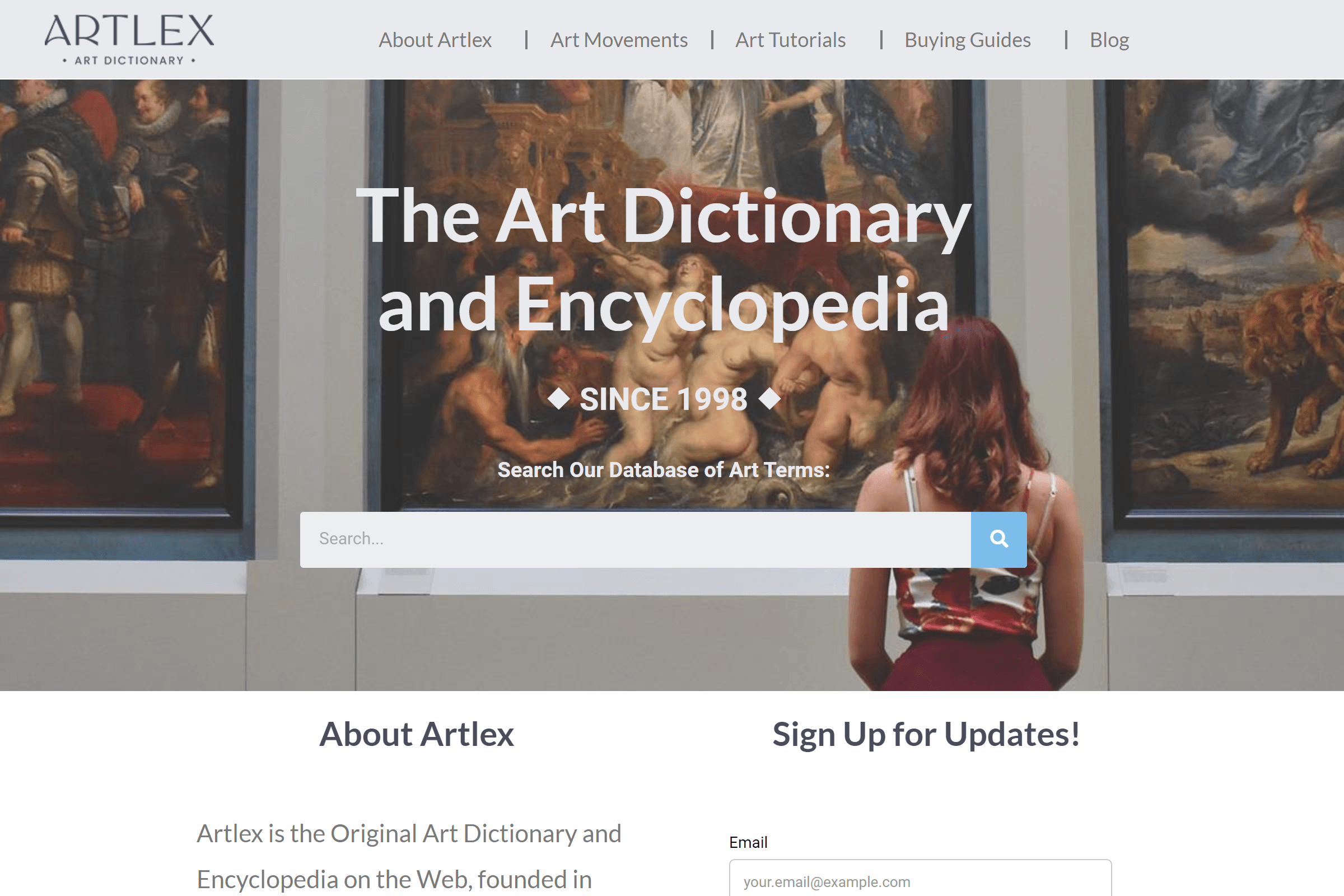 Picture this, a platform that's basically the 'Google' but for art terminology. You got a term you can't quite place? Maybe it sounds super fancy and artistic? ArtLex, one of the top art blogs, is here ready to help.
They also have profiles on famous artists through history and analyze famous artworks. It's neat how they break everything down in a way that's easy to understand. This blog is truly among art blog websites that are 100% worth checking out.
They also have tutorials for learning art skills and coloring pages you can print for fun. We think the tutorials would be helpful for people trying to get better at drawing or new types of art. And the coloring pages look like a relaxing way to learn about art too.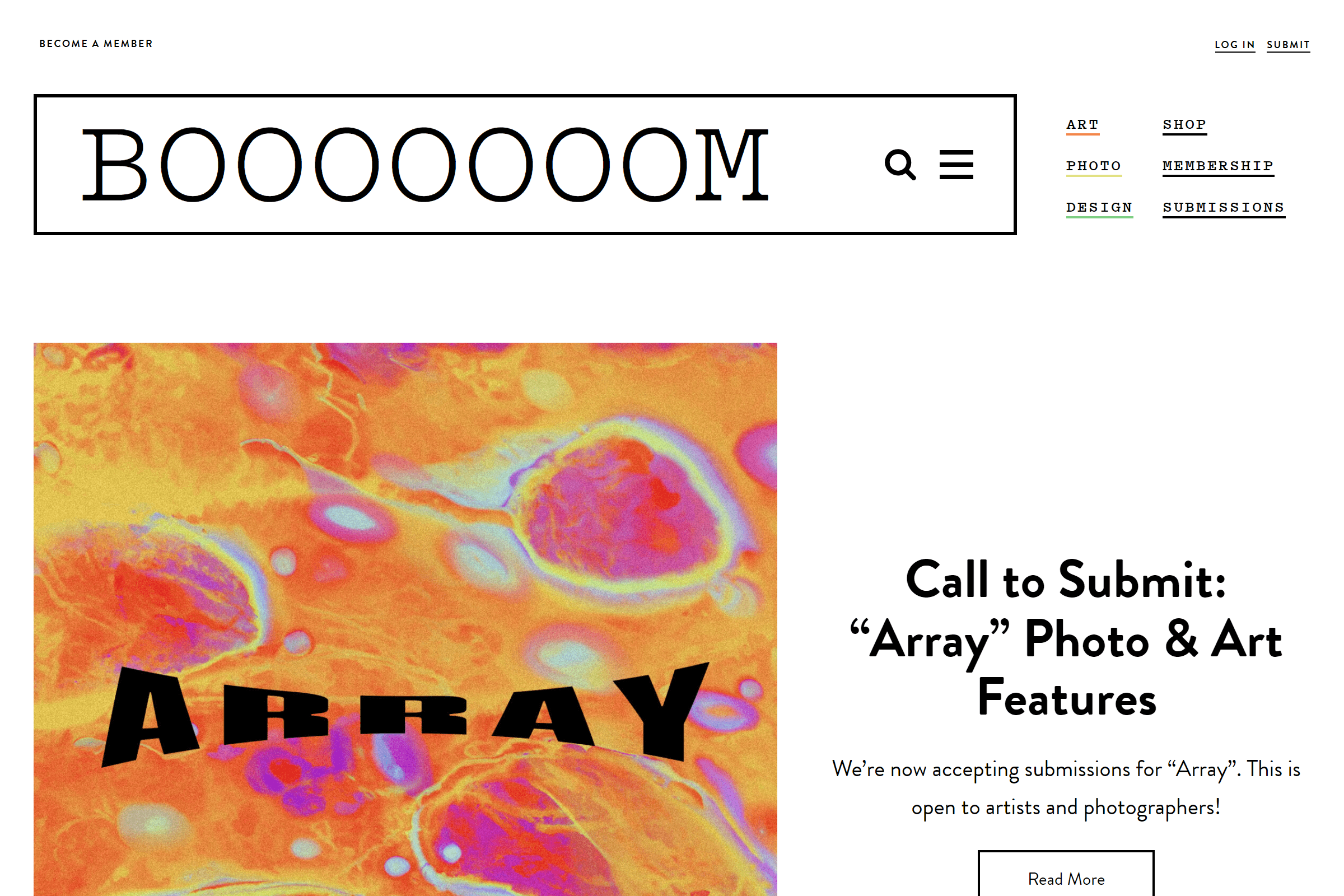 is a neat site to check out all kinds of cool art like photos, music, films and more. They feature different artists and show off their creative work. It's good for finding new talented people. They also have a submissions page where anyone can share their own art.
They write spotlights on artists to learn more about them. The pictures and designs look awesome. They update it a lot so there's always fresh stuff. Sometimes they also have announcements about art shows or contests happening too.
It's easy to browse through the different categories to find what you like best. And they make it fun with the name Booooooom. Anyone interested in creativity would enjoy seeing what's posted. So if you are looking for art blogs to get inspired.
7. 🥇 Our Favorite - Juxtapoz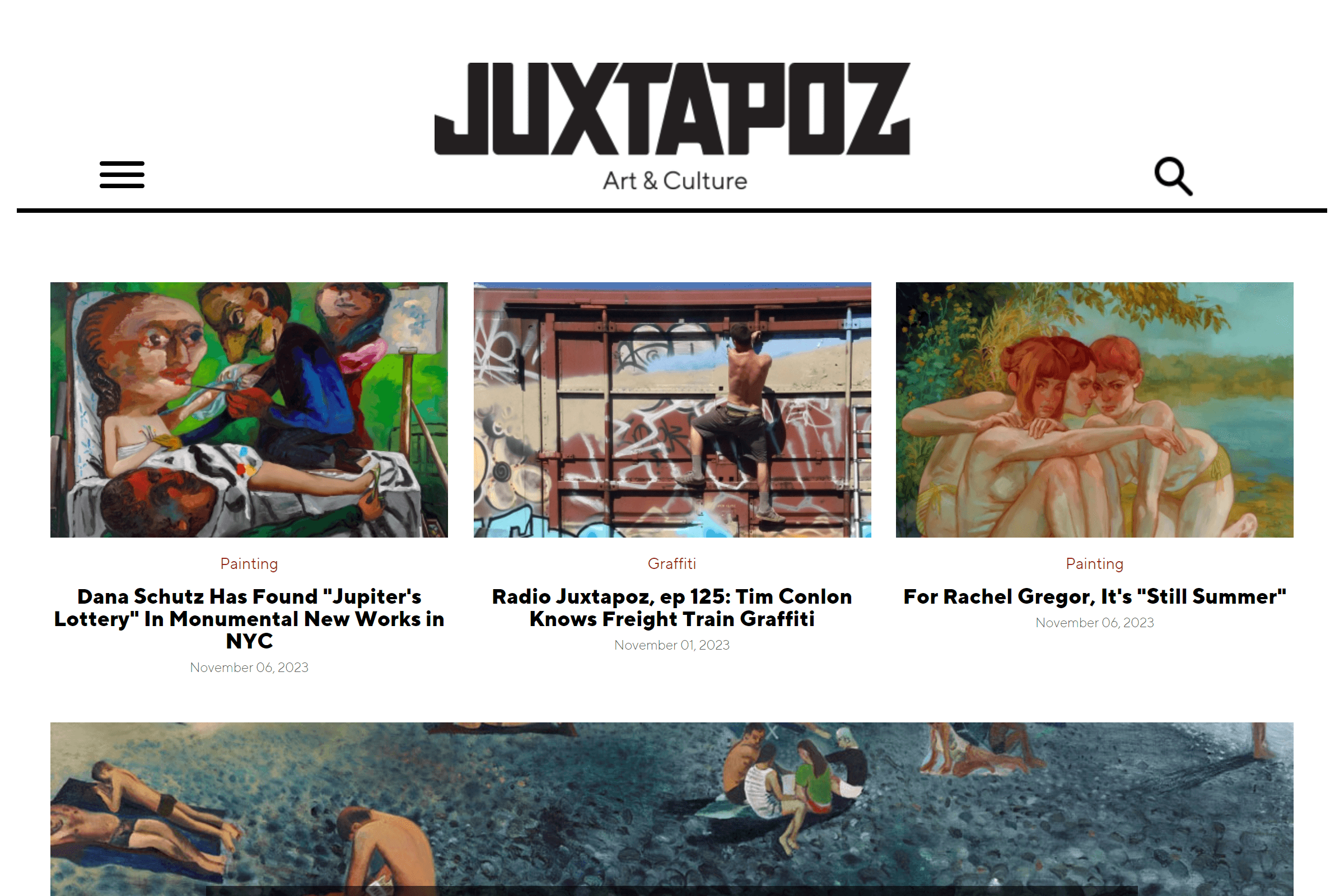 Ever find yourself caught in the whirlpool of mainstream art and craving something a little... fresher, a bit more "you"? Well, that's where Juxtapoz enters the stage, giving a voice to the underground art scene and serving a daily dose of inspirational and innovative content right at your fingertips.
This is a popular art blog that talks about all different kinds of art. They share things like paintings, photos, music and more. It's nice because you get to see new art from all types of artists.
Diving deep into the world of Juxtapoz, a platform birthed in 1994, it has been the friendly neighborhood spider-web for underground artists, shining a light on the lesser-known geniuses in the art space.
Why is Juxtapoz Blog Our Favorite?
Here, you will get to discover artists you've never heard of and artworks that breathe freshness into the art world. It's not just a gallery, Juxtapoz is akin to an interactive art classroom, offering a wealth of information through articles and features.
Whether you're a creator or a consumer of art, this is definitely one of the best art blogs that will undoubtedly spark that inner fire of creativity in you. This is definitely one of our favorite art blogs.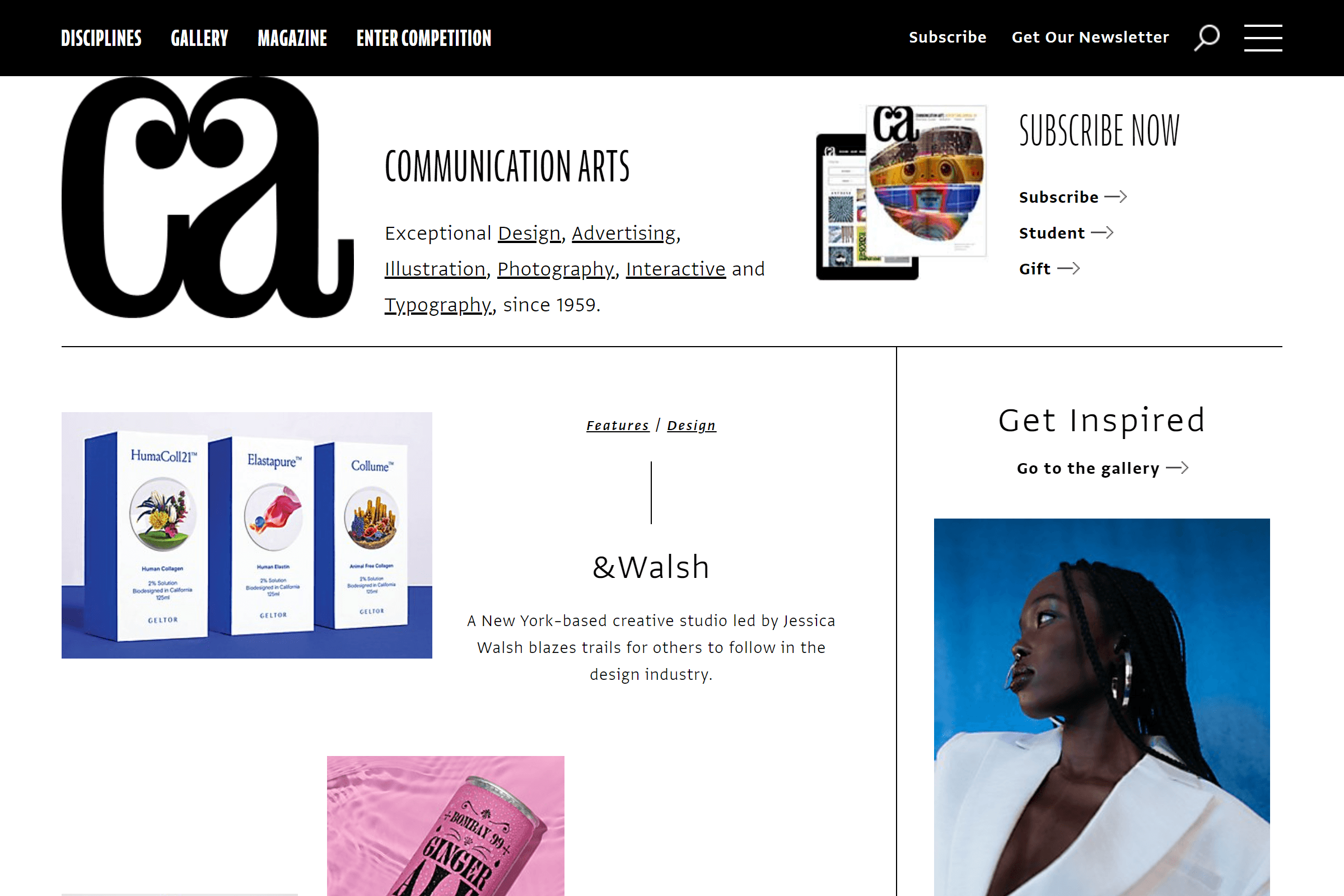 Communication Arts is really interesting to check out different types of art. They have stuff like designs, photos, illustrations and more. It's cool because they show new creative things from all kinds of artists. They sometimes tell you about art shows or competitions too.
On Commarts they write about artists and share their work. This is one of the art blog websites that lets you learn more about the people who make stuff. They also post what other websites are talking about so you know new places to look.
They update Commarts a lot so there's always new art. Even if you never made your own art, it's still fun to see what others came up with. So, your can trust our choice of top art blogs, and this one is handpicked for you.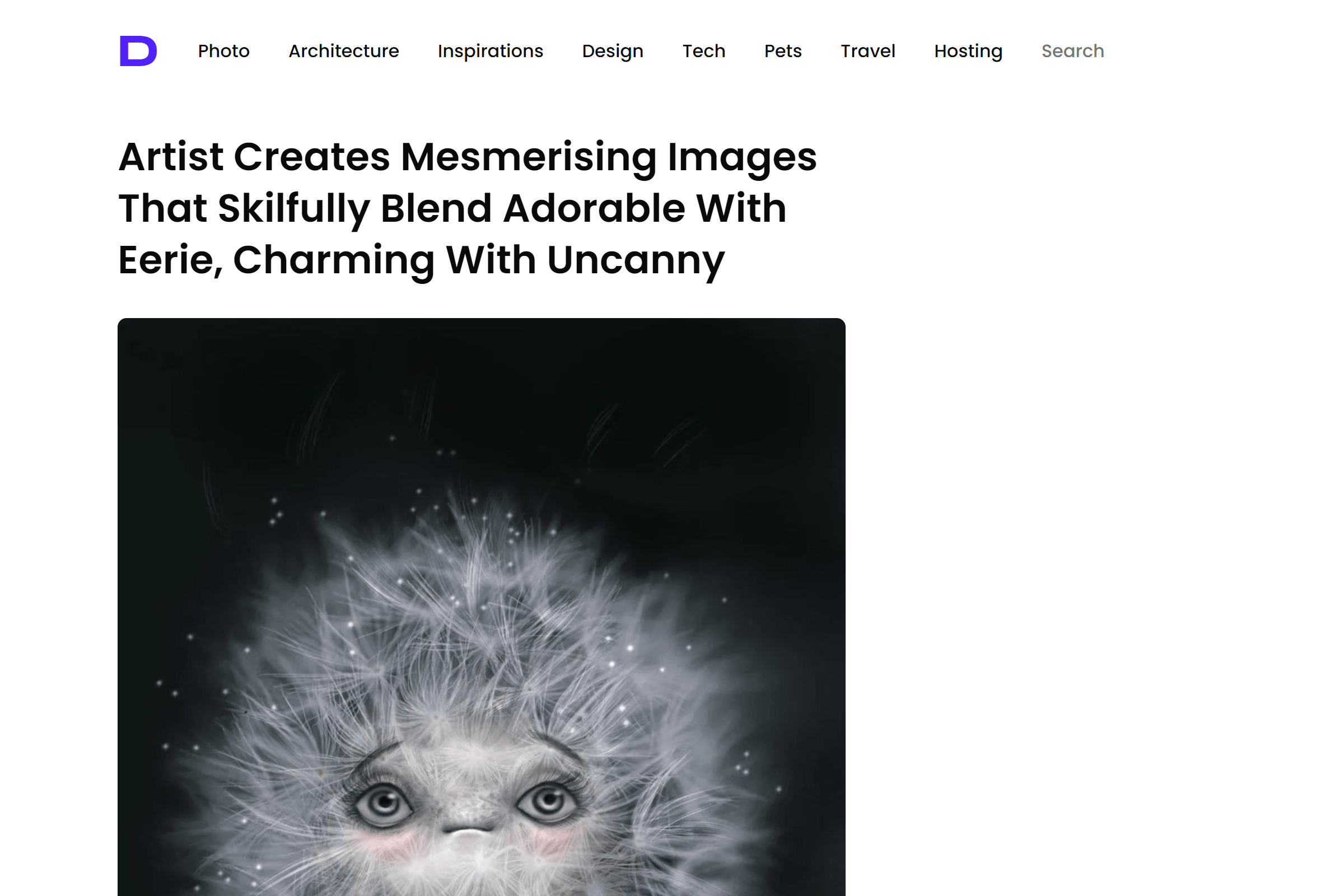 Ever thought about creating a content strategy that screams uniqueness at every pixel? From vibrant photographs to some of the most avant-garde designs, this is the place where creativity is not just encouraged, it is celebrated.
It's the kind of space that encourages you to think outside the canvas, offering a fresh perspective on the everyday! What about those who are venturing into the exciting journey of developing a content strategy, perhaps for the first time?
Well, fret not! This is an artist blog to not only find inspiration but to also get practical tips on how to develop a content strategy that resonates with your unique style. So, this is one of the coolest art blogs to follow.
Hi-Fructose is a really popular art blog to check out all kinds of different art. They have things like paintings, photos, designs and more. It's nice because they show new creative art from different artists all around. They sometimes write about cool art happening too.
On Hi-Fructose they do features on artists to learn more about them and their work. The art looks awesome. They update it often so there's always fresh stuff to see. Even if you don't make my own art, it's still fun to see what other people come up with.
Whether you like paintings, photos or another type of creative thing, you could probably find something interesting on Hi-Fructose. They have art from all kinds of styles which is neat.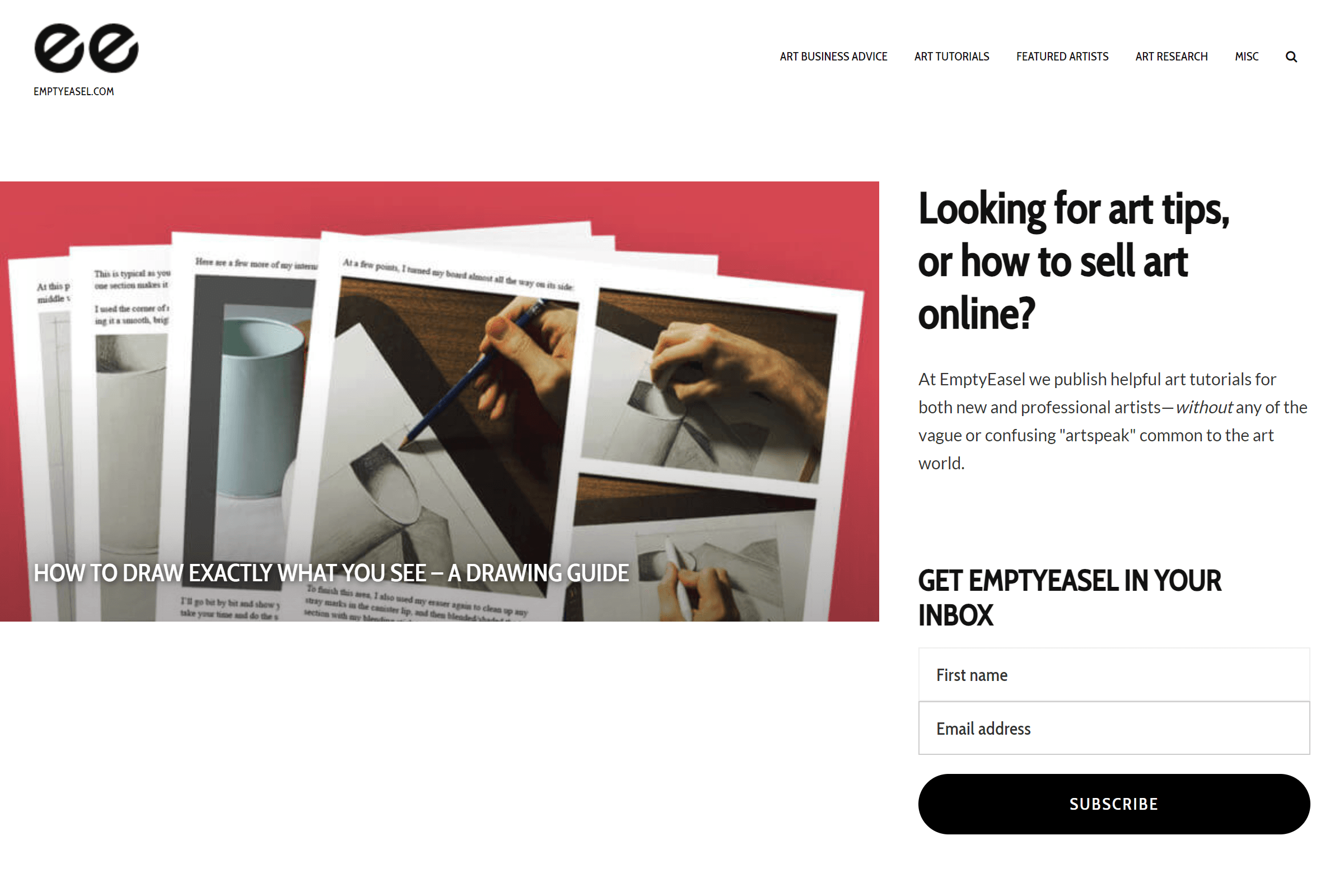 This place is practically overflowing with tips, tutorials, and guides, designed to fill your creative toolkit to the brim. This is the most insightful artist blog to learn new things and improve your skills.
Picture detailed tutorials for the budding artists, phenomenal art showcases for the inspired onlooker and oh-so-useful tool recommendations for the savvy content creators among us. This is one of the most insightful art blogs out there.
But wait, there's more! Empty Easel dives deep into the nuances of art-making. Think of it as your friend who's always got a trick up their sleeve, offering up advice that ranges from painting techniques to selling art online. So, this is yet another popular art blog handpicked for you.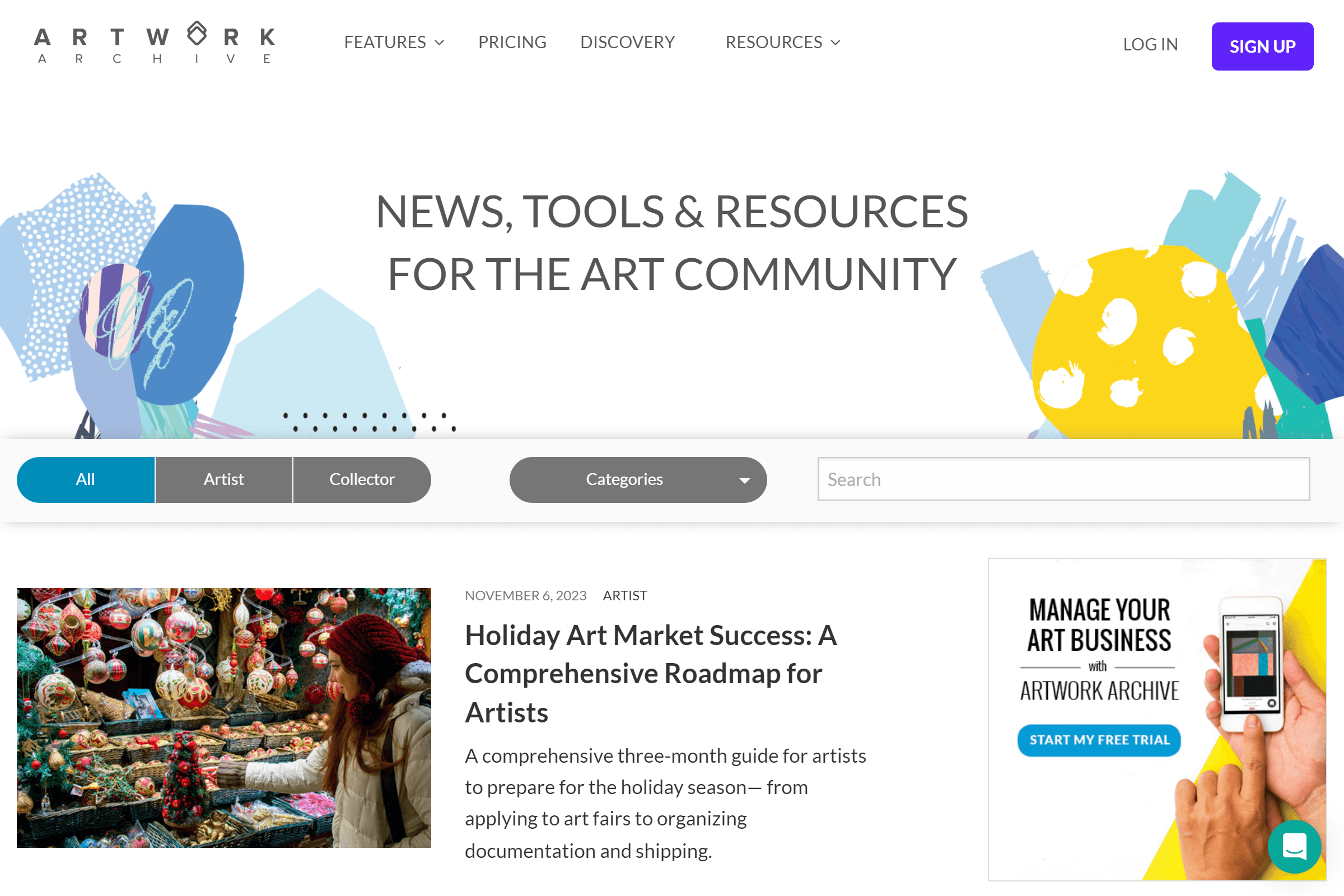 This is one of the art blog websites that feels like an absolute haven for artists and art admirers alike. Picture a warm virtual hug enveloping you as you dive into a plethora of articles designed to help you navigate the art world with ease and confidence. We did our search for art blogs, and this is surely a great one.
Pro-tip for the digital marketers here – this is one of the best art blogs that is a goldmine for insights into the art industry. Want to craft a campaign that resonates with the art community? You'll find your inspiration because this is one of the most insightful art blogs.
And to our fellow content creators, you are in for a treat! The Artwork Archive Blog offers tips and guides that are just the spice you need to bring that artistic touch to your content.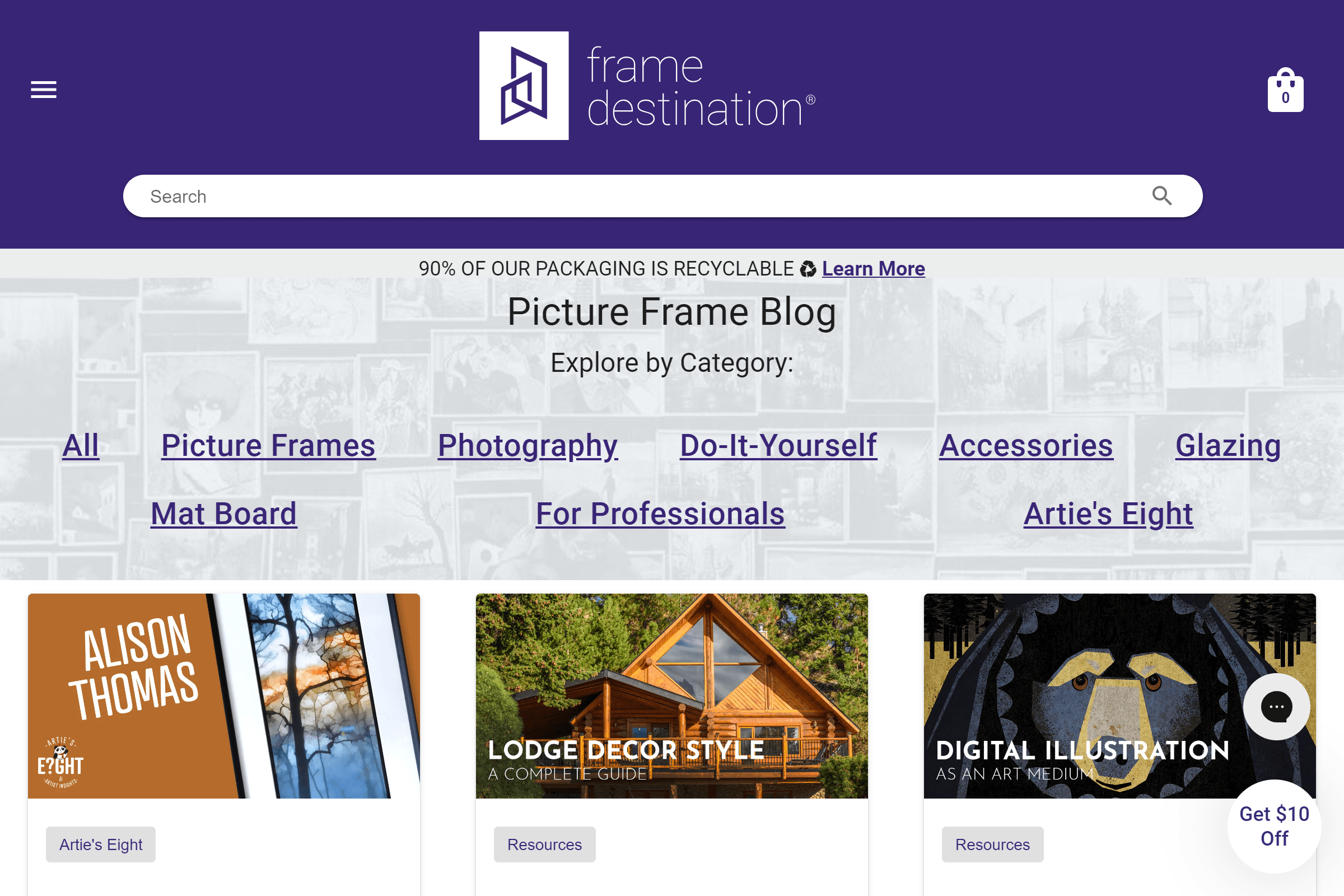 Frame Destination is a cool site to look at picture frames and learn about art. They also have an art blog that talks about different kinds of creative stuff. In the art blog they write about framing tips, new frames coming out, and art trends. It's neat for getting ideas if you wanna frame photos or paintings.
On the Frame Destination art blog they sometimes feature artists too. This lets you learn more about the people who make cool art. They post about art shows happening too.
They update the art blog often with new posts so there's always fresh things. Frame Destination makes framing and art easy to get into even if you're just starting out. Their art blog is a chill place to explore creative stuff. So, this is one of the most inspirational art blogs to follow.
If you're into cool metal art posters, you need to check out the Displate blog. This is where the Displate crew shares all the latest artist showcases, product launches, and behind-the-scenes stuff. They regularly feature interviews with creators so you can learn about their process and inspirations.
There's also sweet deals and giveaways announced here too. The blog is updated like once a week so there's always something new to check out. So this is definitely one of the art blog websites worthy to check out. So, this is definitely one of the best art blogs for exclusive information.
These dudes have super unique styles like fantasy illustrations and sci-fiscapes. Another article went into how they print the posters using special technology - it was kind of fascinating to read about.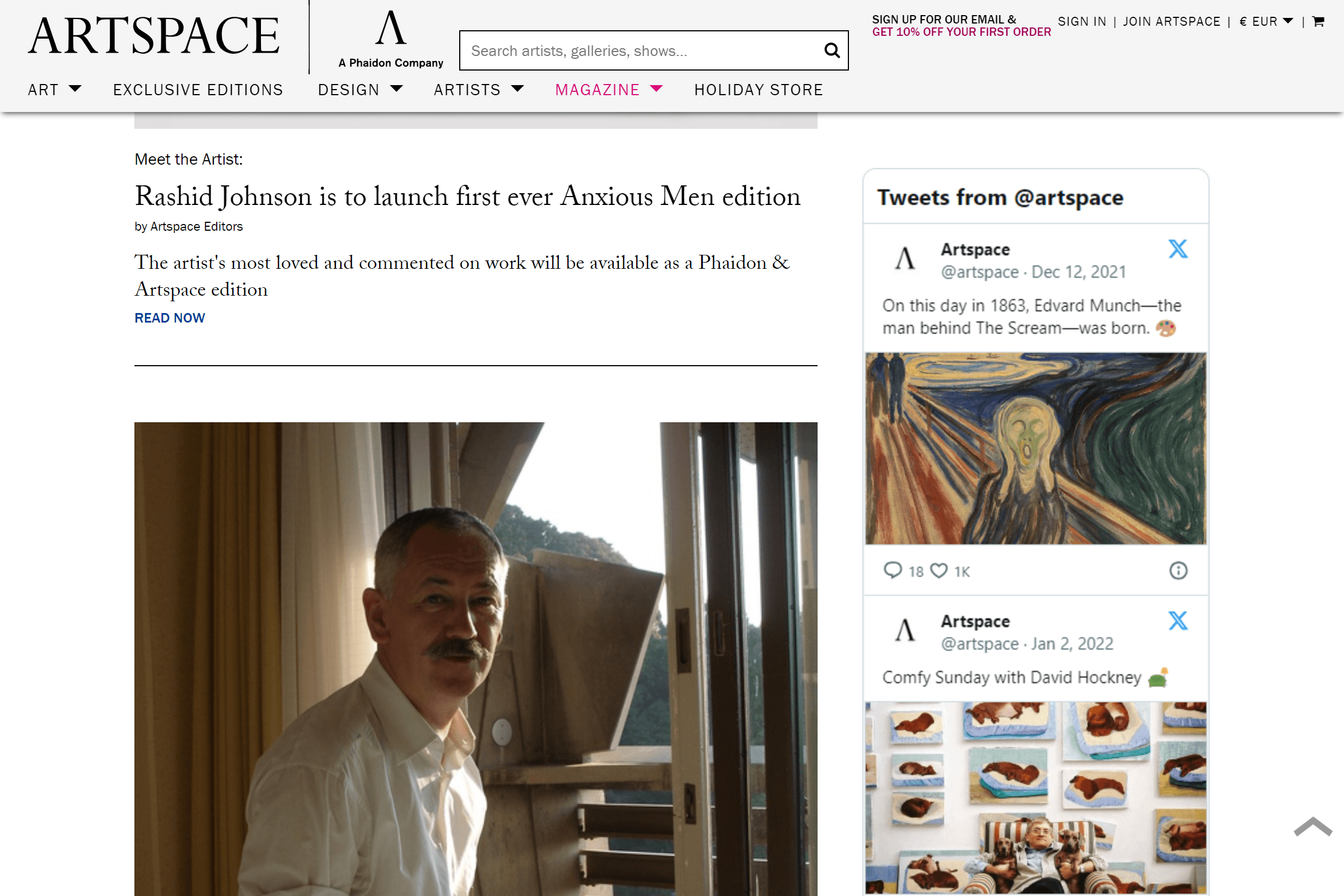 Artspace Magazine has tons of cool stuff about the art world happening nowadays. They post interviews with big name artists to get insights on their process and current projects. There's also features on new galleries opening up or shows that are must-sees.
As well as artist spotlights, they cover art market news and trends. Like we read one about how NFTs are shaking things up in the auction world. Handy if you wanna know what's hot or if values are going up for certain styles.
They break down art topics into easy to understand pieces too so it's good for anyone getting into collecting. You don't need a stuffy art degree to follow along! This website is among the best art blogs for a reason, so check it out.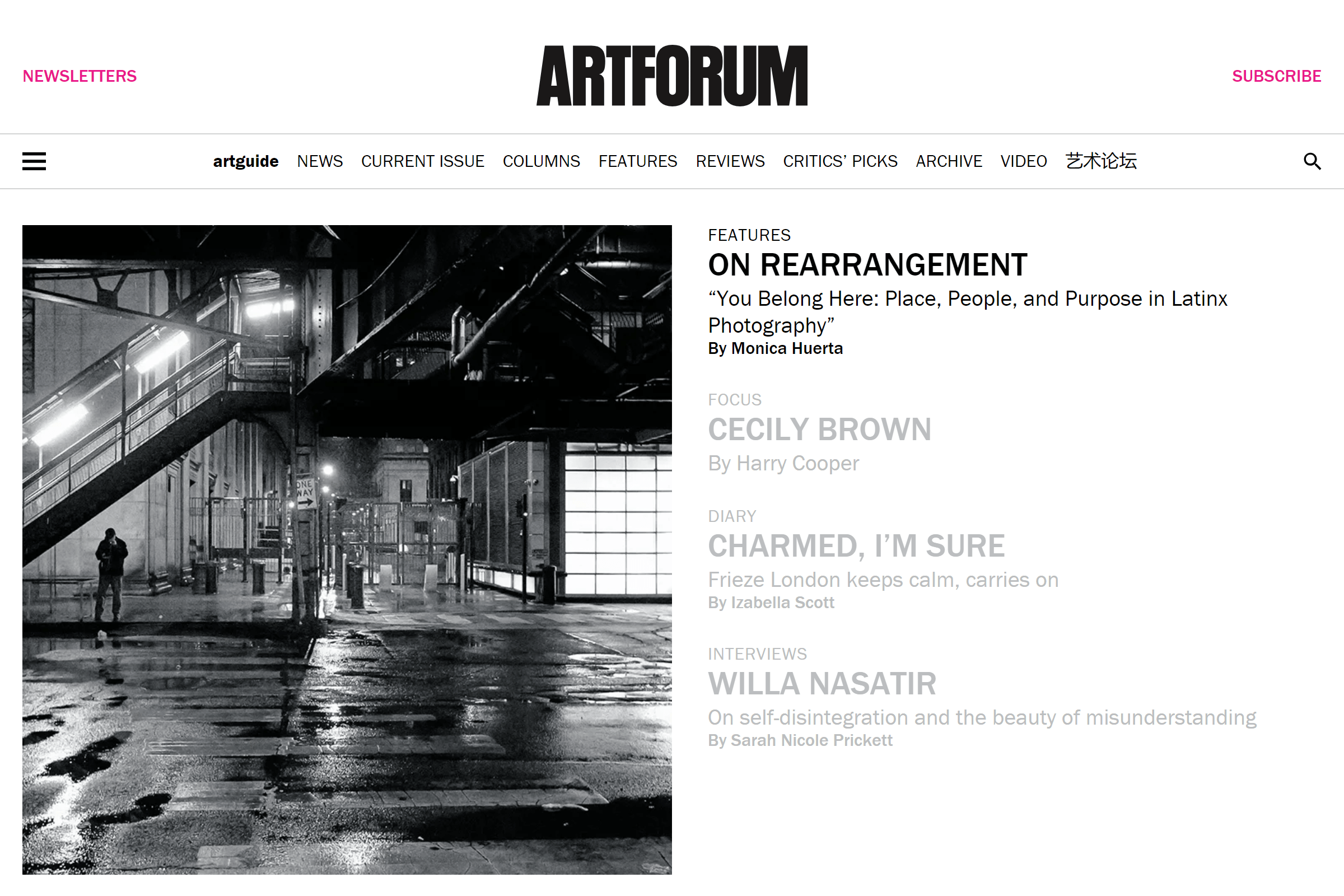 Artforum is one of the established art blogs that is an esteemed elder in the art world, boasting a rich history of being the go-to hub for contemporary art since the 1960s. Now, imagine merging that deep-rooted history with the digital sphere – yes, it's like having a legendary art maestro right at your fingertips!
It's even super useful for social media managers: leverage the treasure trove of insights on Artforum to spice up your social media strategies. Got a blog or website? Craft content inspired by the artistic movements discussed in Artforum, and watch your engagement soar!
But wait, there's more for the eager beavers looking to delve deep into the art world. Artforum offers a print magazine too, for those moments when you want to unplug and savor the artistic brilliance the old-fashioned way.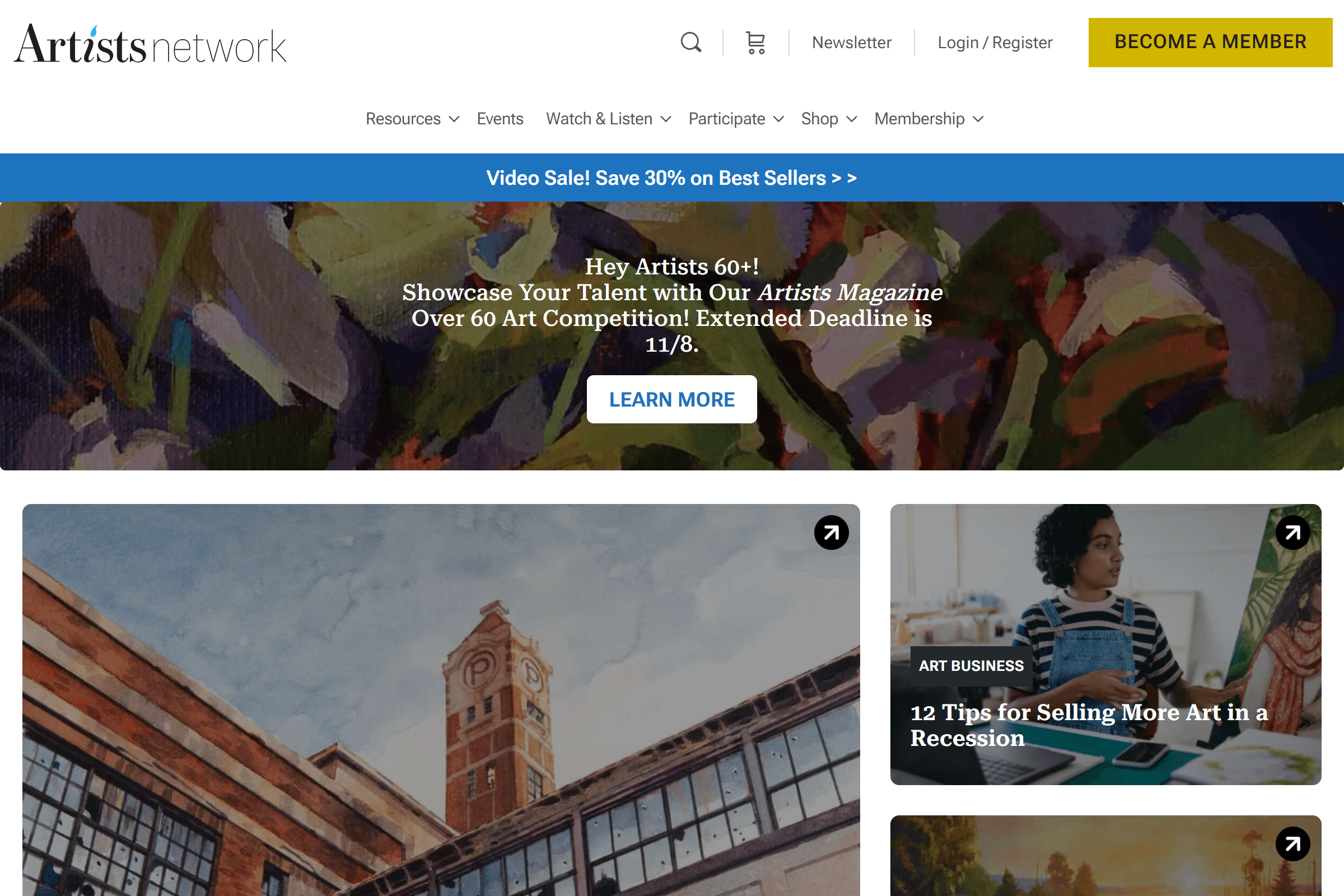 Imagine having a friendly mentor in the art world, ready to share all the pro tips and secrets - that's Artist Network for you: one of the best art blogs you could ever find. From website owners looking to jazz up their platforms with art to bloggers craving creative content – all here.
Here they teach techniques too. This helps you learn how to make art better. They post about new workshops and classes happening too. Even if I'm just starting out, it's still interesting to browse their art blog and see what others are doing.
Whether I want to learn about watercolors, drawing techniques or just see examples of art, I could probably find something interesting on their art blog. They update it all the time with fresh posts so there's always something new.
Lost Art Press is a haven for both greenhorns and old hands in the woodworking world. It's all about cutting, carving, and creating something extraordinary from the ordinary. So, this is one of the best art blogs to learn something new.
Looking to add some authenticity to your digital creativity? Check out their step-by-step guides. These are real gems for learning the art, sprinkled with tips that are as handy as a pocket on a shirt!
And they have books too! Dive deep into the wisdom gathered over years, in easy-to-understand words (we're not doing rocket science). These book recommendations could be your next best friend in the journey of woodworking.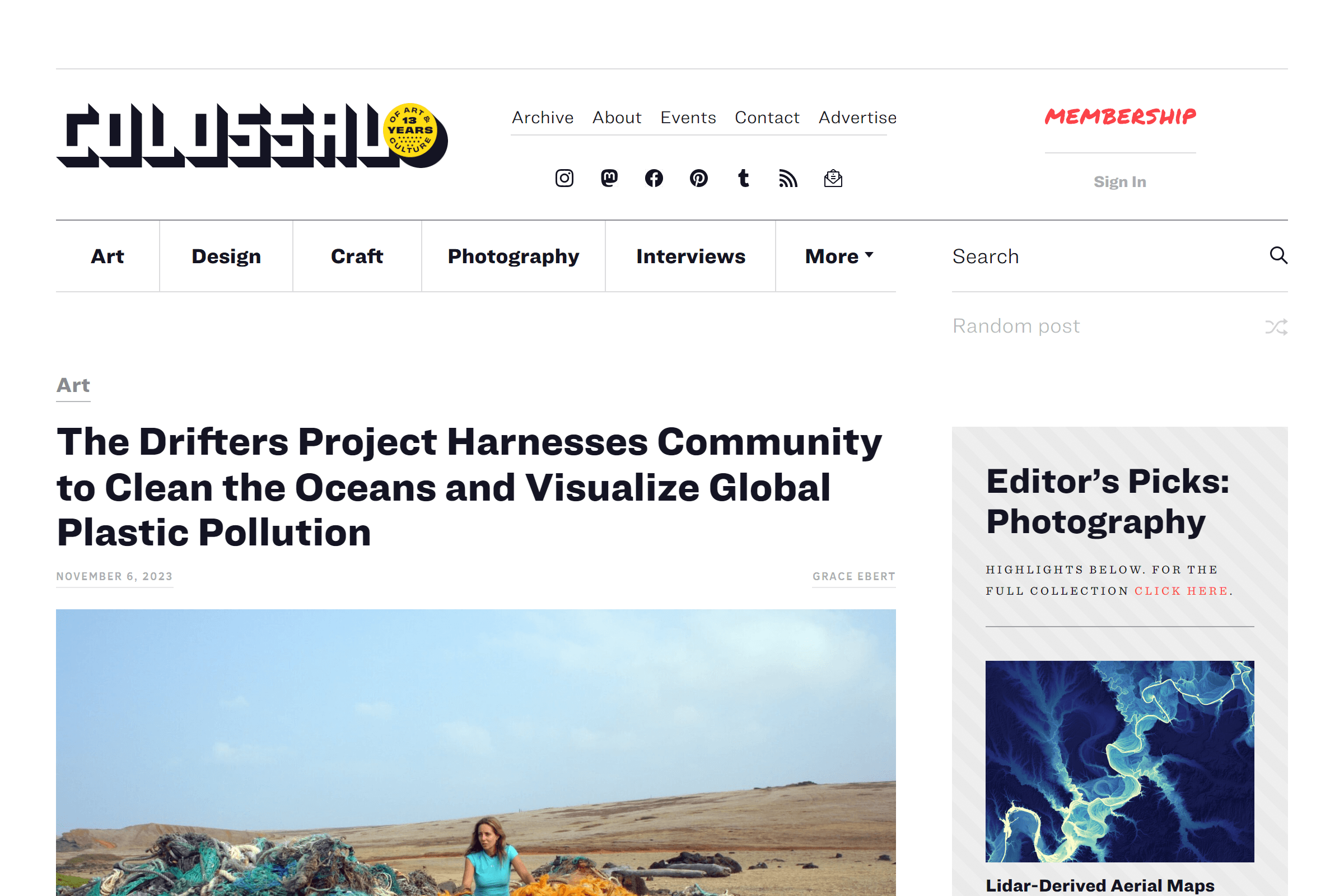 Colossal is a cool site to check out all kinds of art and creative stuff. They post really interesting stories about new sculptures, paintings, photos and other projects people are working on. It's cool to see what talented artists around the world are making.
On the Colossal art blog they sometimes explain how certain art is made too. This gives you a better idea of the techniques and hard work that goes into pieces. They share photos of artists in their studios too.
They update very often so there's always fresh art to browse. Colossal makes discovering new artists and different types of art fun and easy. Their art blog is a chill place to spend time looking at creative ideas.
Ever had that moment when you're scrolling through an artsy post and thought, "What's the big deal about this blue square?" We get it. But There's a blog that makes all those complex art tales very simple for you.
The Art Story takes you on a journey through different art movements and techniques. Imagine, instead of just seeing a painting, you're getting the whole backstory – the drama, the passion, the midnight oil burnt.
Why did Van Gogh go for that particular shade of yellow? What's the fuss about Cubism? This blog isn't just a look-see; it gives context. So this is definitely one of the top art blogs out there.
Artfinder has a cool blog where they post fun stuff about art. They explain different types of paintings and artists which is interesting to read about. They also talk about art trends and news happening in the art world. It's one of the chill art blogs to learn new things.
On the Artfinder blog they sometimes interview artists too. This is neat cause readers can find out more about the people making the cool paintings. They share photos from artists' studios too. Readers can learn what others are working on, even if they don't make art themselves.
Whether looking to learn about painting techniques, reading about famous artists, or just enjoying pictures, there's lots to explore on Artfinder's blog.
If you've been surfing through photography blogs or even music blogs, trying to get that sprinkle of art inspiration, well, it's time to halt right there and shift your gaze to Eye Level.
Eye Level takes you on a rollercoaster of artistic vistas that resonate at just the right frequency with both new and expert artists. Imagine walking into a gallery where every piece speaks to you, revealing a story, unraveling a mystery - that's the kind of depth we're talking about here.
Don't forget to check out their intuitive guides that serve as the best blogging apps in tutorial form, helping you navigate the content they have for you.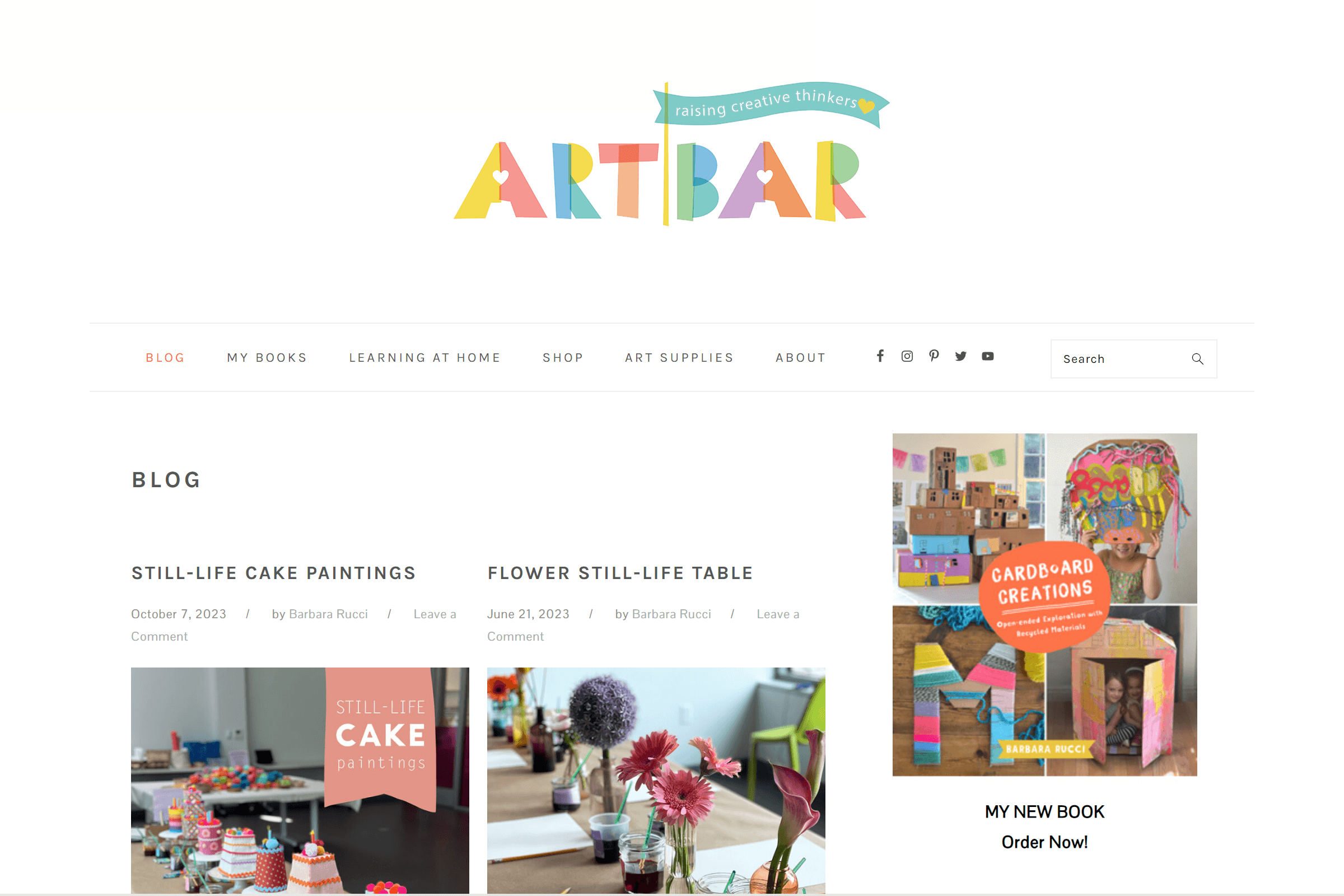 Artbar has a cool art blog that gives fun craft ideas. They share things you can make using stuff around the house like recyclables or nature things. It's neat to see what you can create without buying a bunch of supplies.
Wondering what sets it apart from other artistic motivational blogs? Art Bar is not just a space to spur your creativity but a community where artists, be they beginners or experienced masters, come together to share, learn, and grow. It's an ecosystem that fosters creativity.
If you're gearing up to share your artistic journey with the world, their tutorials are handy to help you craft content that resonates with your audience.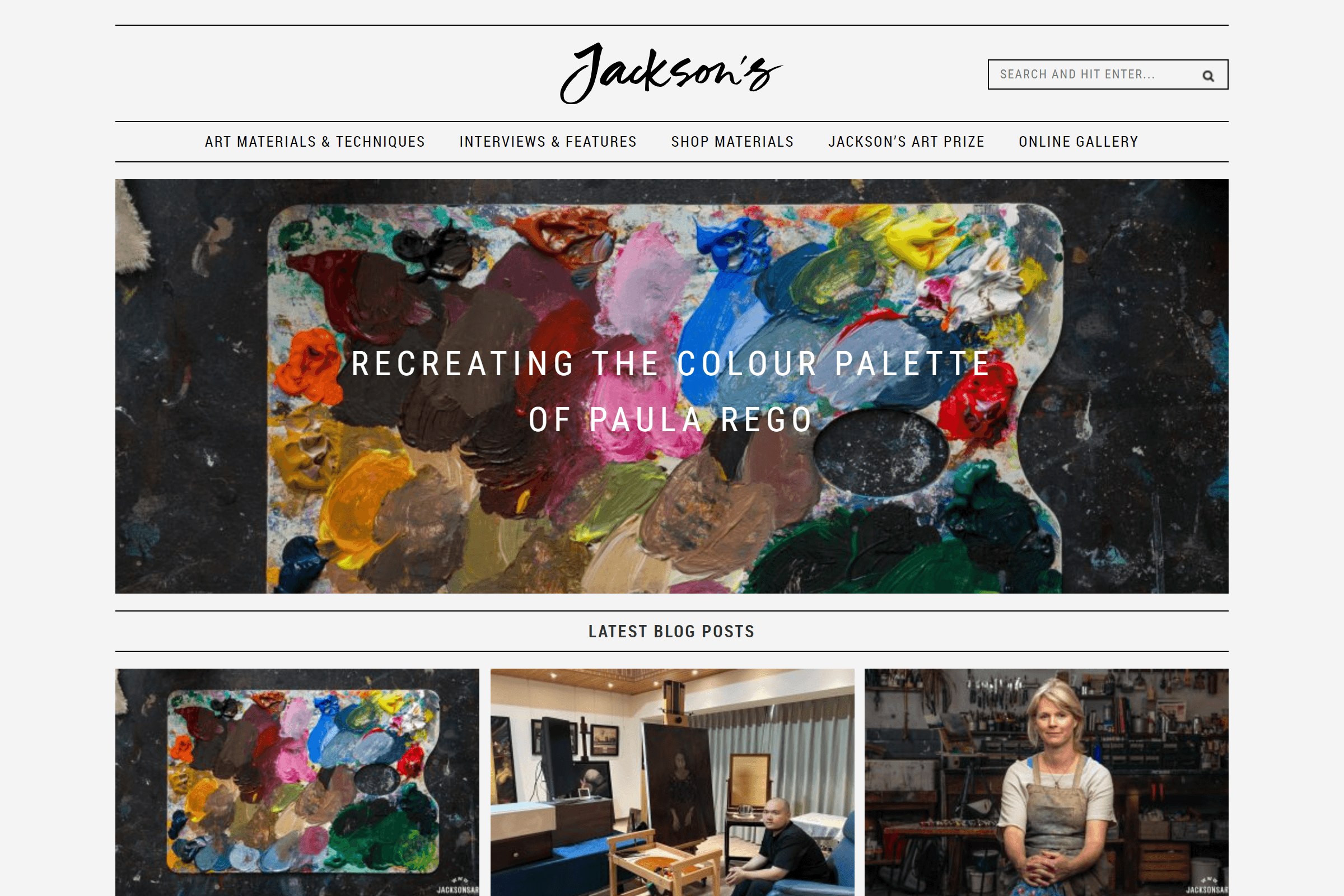 Whether you are a pro artist armed with brushes or a newbie sketching dreams in your notebook, Jackson's personal art blog got something for you. This is one of the personal art blogs you never knew you needed, guiding you gently by the hand through the colorful world of art.
On this art blog, they'll sometimes feature artists too. It's nice to learn about the people creating awesome sculptures or paintings. There's also interviews that give you an idea of what artists are like. Even if I don't make professional art, it's interesting to read about.
The Jackson's Art blog covers lots of topics so there's always something new. Whether you feel like discovering painting colors, checking out new art styles, or just browsing pictures, it's easy to spend time there.
Hyperallergic shares lots of easy to understand articles about new art and what artists are doing. They tell about art shows, artists and interesting ideas in art. The posts help explain what art means and what it's about.
Sometimes they talk to artists too. This lets you learn how artists make their creations. Readers can also find different takes on popular shows or movements. These help readers know more about the art world. So, this is one of the coolest art blogs to follow.
Whether looking at new ways of making art, talking about tricky topics, or reviewing big museum exhibits, Hyperallergic covers lots of art. They add many posts each day so there's always new stuff to read. It's a good site if you want to learn more about today's art in an uncomplicated way.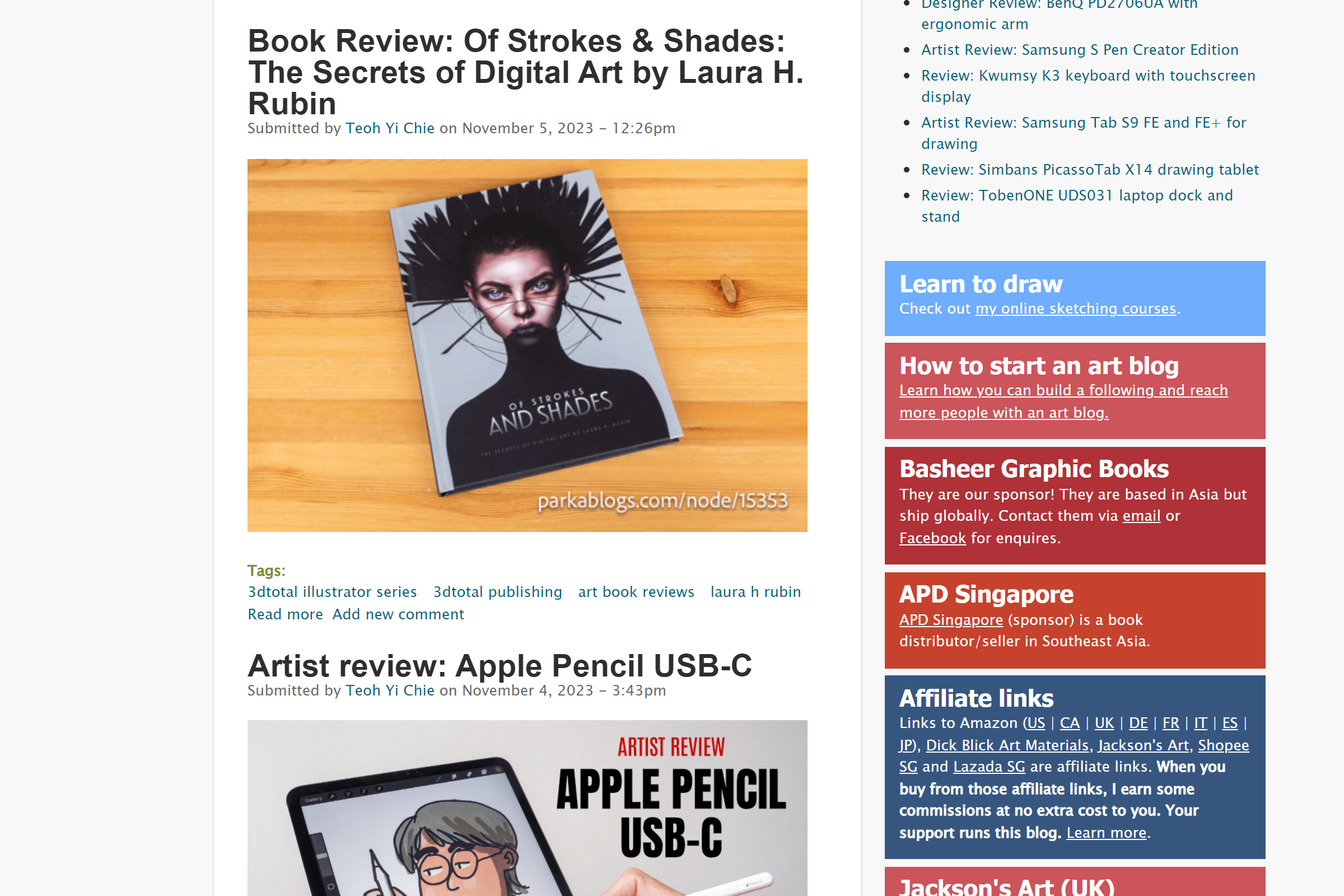 Parkablogs posts lots of cool reviews about art supplies and tech stuff artists like to use. They try out new drawing tablets, styluses, monitors and tell you what they think. It's good for finding out which tools work best before buying them.
As well as gear, they also talk about art books a lot. Parkablogs looks at interesting sketchbooks and instruction manuals to see if they're helpful for learning. They give overviews of what's inside so you know if a book is worth getting.
If you want recommendations for art materials or want to keep up with new drawing tablet models, Parkablogs is a nice blog to check often. They cover everything in simple terms so even beginners can understand. We did our thorough search for art blogs, this one is definitely worth checking out.
Dezeen posts loads of neat stuff about buildings, interiors and designs. They show cool architecture projects from all over and explain what makes them interesting. It's good if you wanna keep up with what famous designers are working on.
Besides being a top interior design blog, they also share new furniture, tech things and art. Dezeen gives overviews so you get an idea of what projects at events like Dutch Design Week are about. Some of the designs are really funky! So, its' definitely one of the most outstanding art blogs out there.
If you like checking out modern homes or want inspiration for your work, Dezeen has you covered. They add new posts super often so there's always stuff to browse on their art blog. Even if you're not an expert, it's easy to understand too.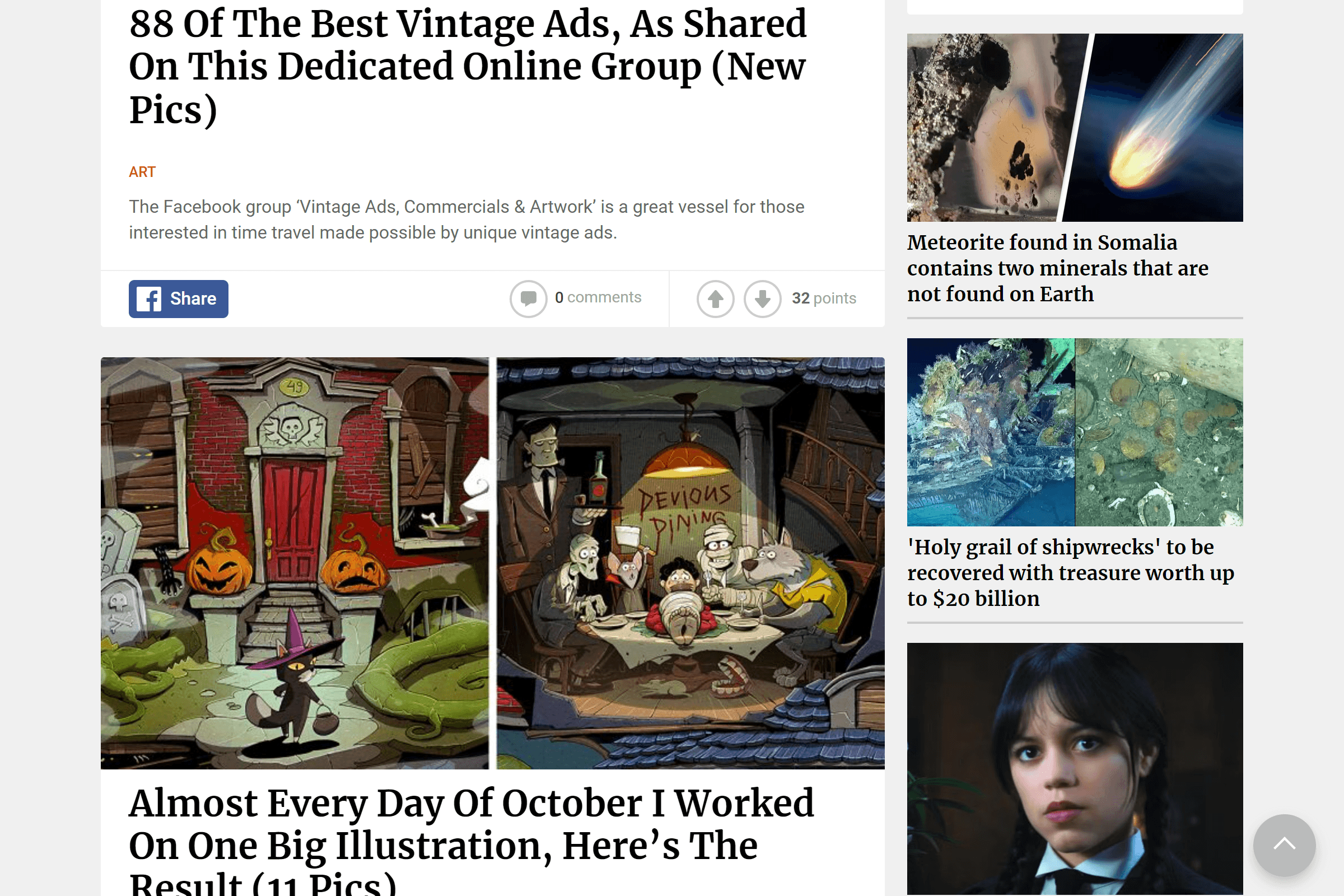 NBored Panda has lots of cool art to check out. They show stuff like drawings, paintings, photographs and even weird digital pictures made by AI. Sometimes it's modern art mixed with memes, which is always fun!
There's different types of art too, like graffiti pieces spotted on the street or crafts made from junk. The site explains more about the artists and how they made their stuff. Even if you aren't artistic, it's neat to see what other people come up with.
This is a good place to find art when you're bored. They regularly upload pictures so there's new things to look at. We like browsing the street art photos - some of those murals are huge! The digital pictures made by computers trip us out too.
If you're an aspiring artist waiting for that 'boom' moment of inspiration, then we have the right artist blog for you. Creative Boom has lots of cool new art stories to check out.
They post about exhibitions, sculptures, paintings and things happening all over the world. It's good if you wanna know what's happening in the culture scene. You can also find inspiration from artists featured on the site.
They explain the meaning or process behind the pieces. Some of the digital art creations are pretty crazy! The articles are quick and easy to read so you can learn about different types of art.
Born in 1999, Designboom prides itself on being the very first and one of the coolest digital architecture and design magazines. You get the most intriguing news, insightful interviews, and indeed the crème de la crème of the artistic world, all under one roof.
Are you a beginner artist dreaming about your first big break? Dream no more! Designboom frequently hosts competitions, giving young talents a golden opportunity to showcase their talent to a global audience.
But wait, there's more! Whether you're a newbie or a pro, there's always something new to learn. They don't just stop at showcasing art; it takes a step further by offering educational resources, workshops, and lectures to level up your skills to perfection.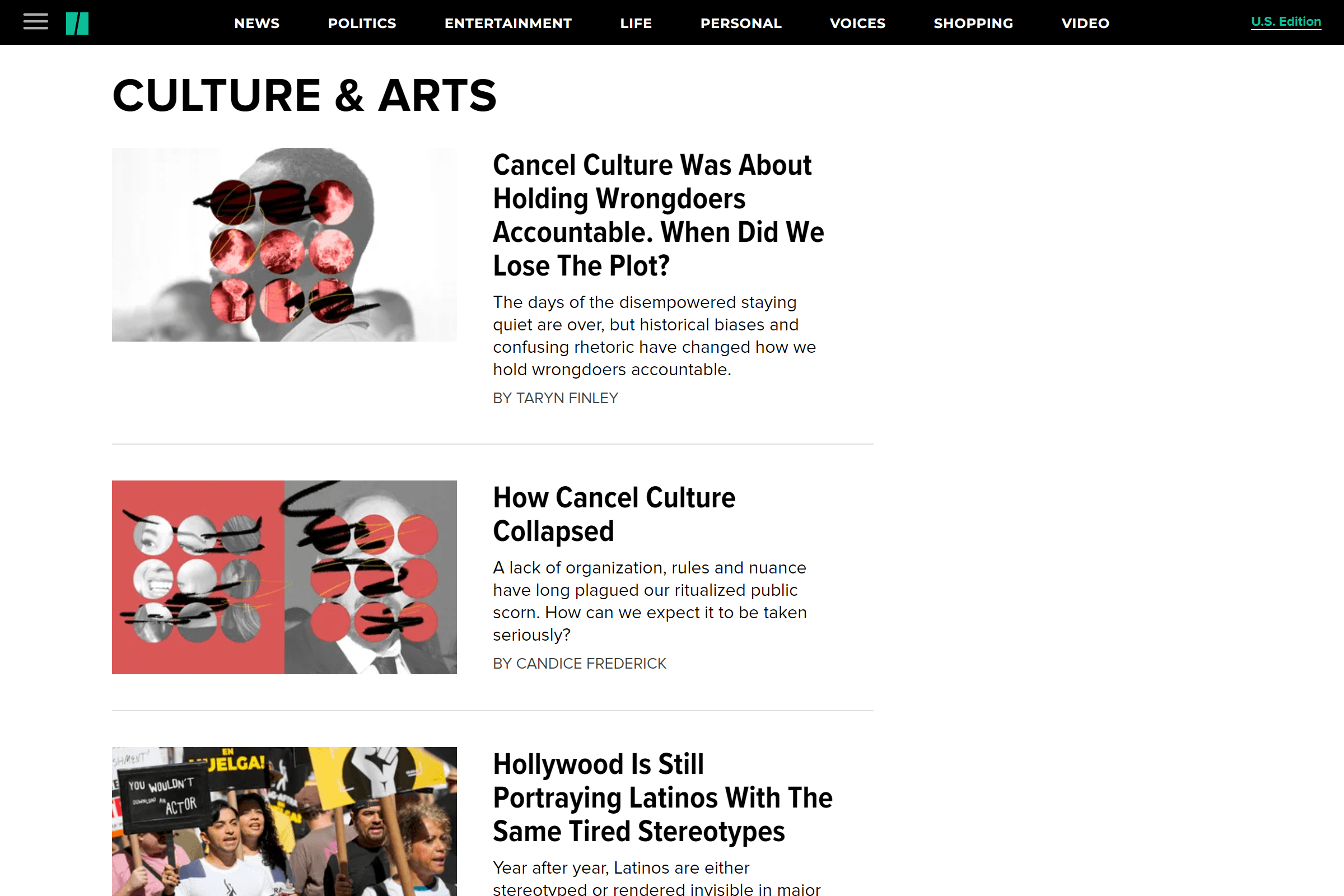 HuffPost has a bunch of cool stuff about movies, TV shows, books and music. They post reviews of new things coming out so you know what might be worth checking out. Some of the articles talk about big name celebs too, like what they're working on or any drama happening with them.
You can also read articles about documentaries and learn interesting facts. They talked about one about poverty that showed how free money can help people. It's neat to learn real life stories from movies and shows.
This is a good site to browse if you're bored and want entertainment news. They update it regularly so there's always new stuff. We also like how some writers give their opinions on things, whether it's good or bad.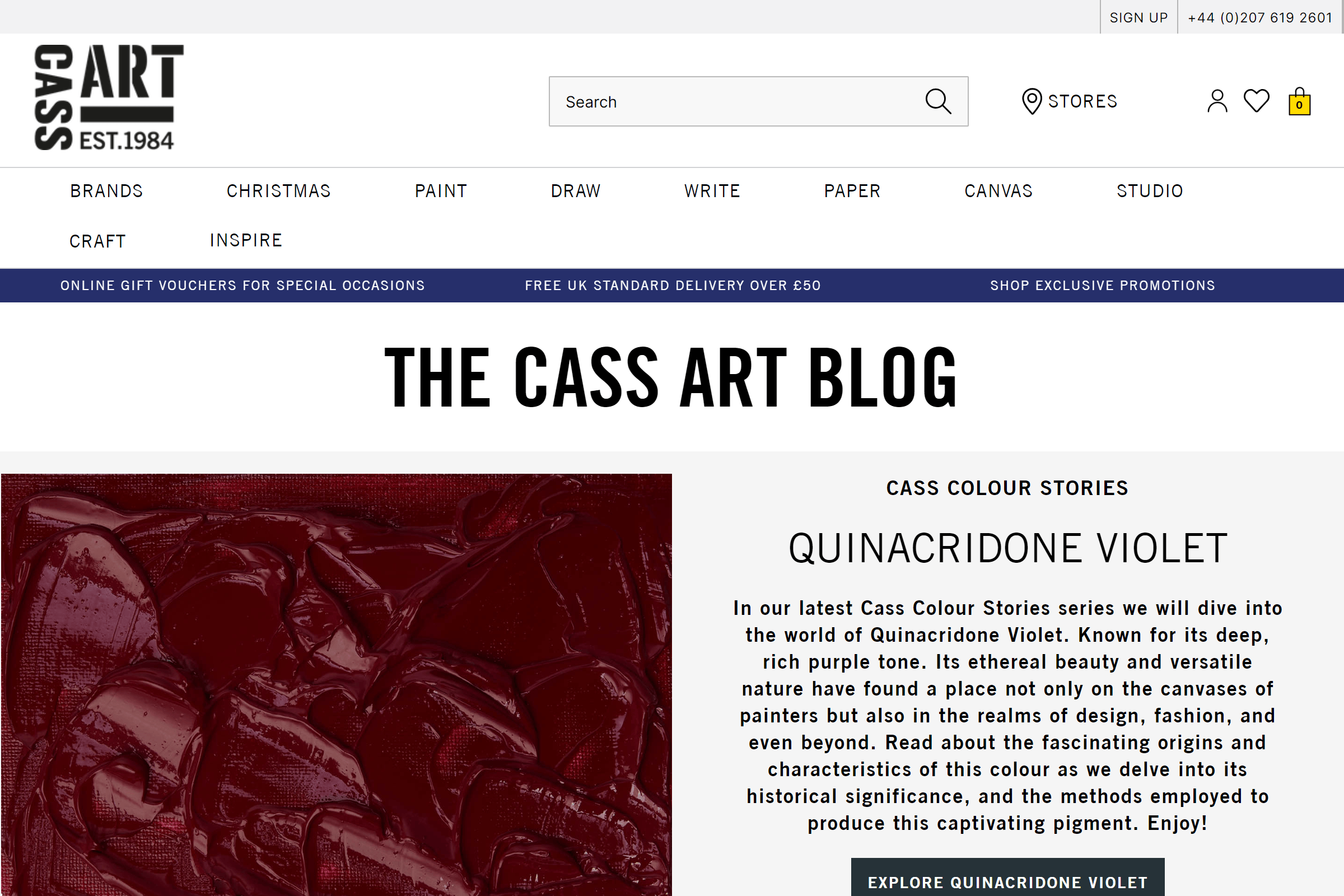 If you like art and want tips on painting or drawing, check out the Cass Art blog. They post lots of cool tutorials on techniques you can try like watercolors, acrylics and more. Even stuff like stretching canvas - which can be tricky!
Whether you're a professional or a newcomer embarking on a creative journey, here, each click is a gateway to fresh, handpicked insights handpicked for you to stay inspired and updated.
The blog promotes a warm and friendly conversation, weaving in a hint of humor to keep the content light and enjoyable. It's like having a casual chat with a buddy who has been there, done that, and is now sharing the insider secrets with you.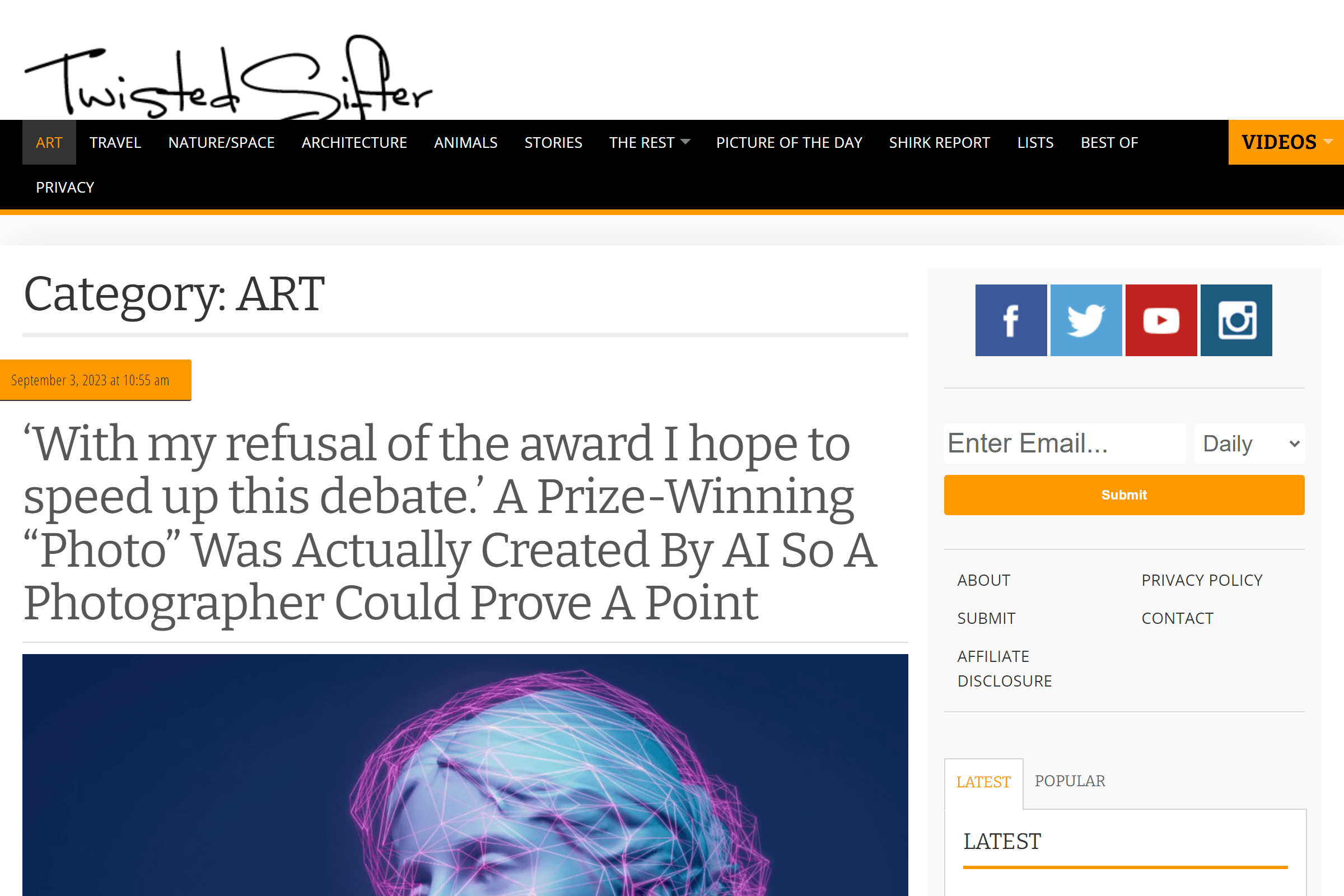 TwistedSifter has a bunch of cool art stories if you want to check out what's happening in the art world. They find all sorts of different stuff like weird sculptures someone made or photos that went viral.
A lot of the posts are about issues artists deal with too, like getting paid enough for their work. It's interesting to learn what it's really like behind the scenes. They also explain art history stuff sometimes so you understand the deeper meaning behind things.
We like how they talk about famous paintings or artists people might recognize. The site explains cool facts you didn't know about the art or the person who made it. Some of the videos are really trippy too, like that stop-motion wooden box one.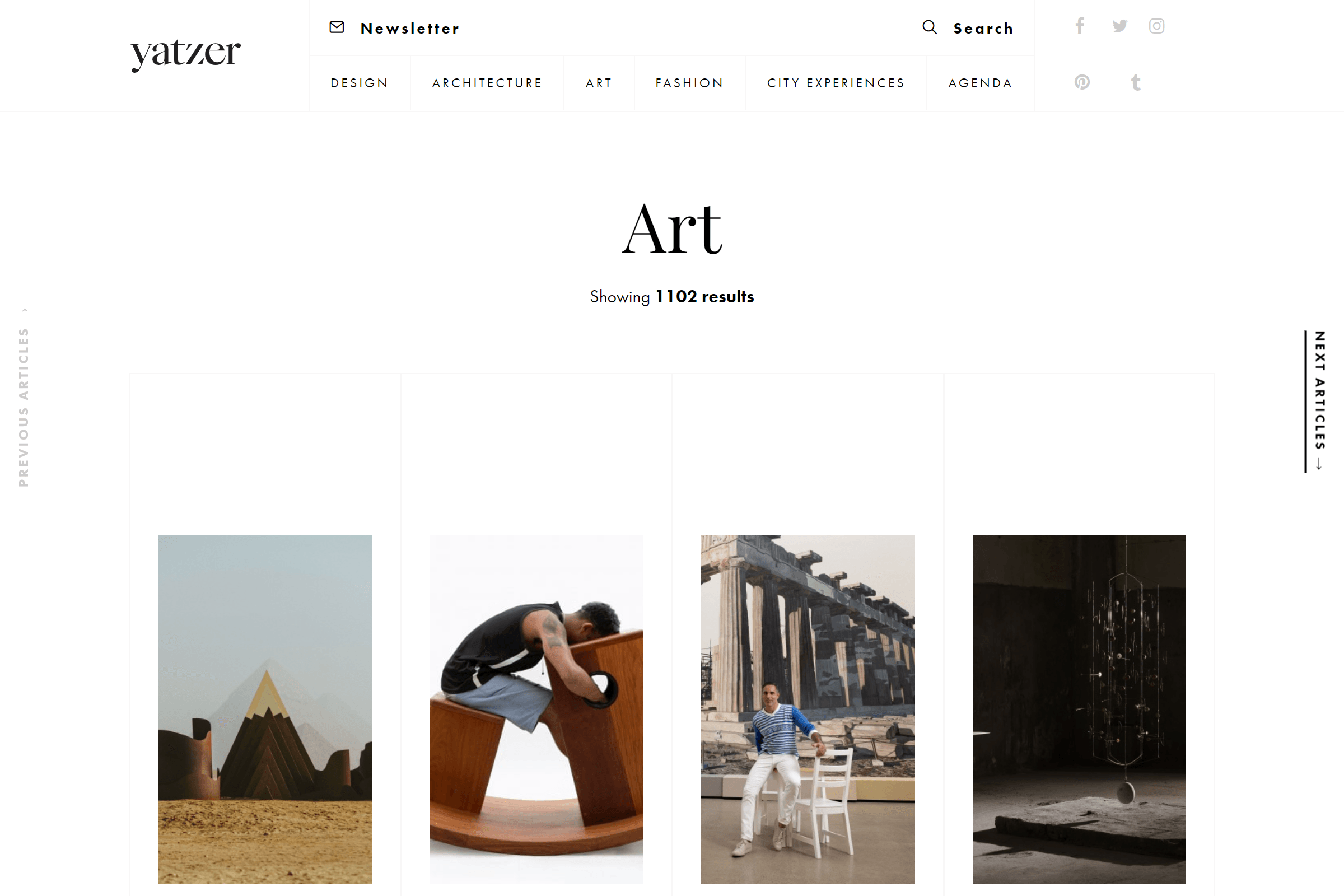 This blog is like that stylish friend who always knows the coolest places to be and the trendiest things to see. Yatzer isn't just feeding you info; it's narrating stories, each with its unique heartbeat.
Every piece here is carefully crafted, offering you a tapestry of design, art, and fashion that is alive and pulsating with creativity and freshness. Yatzer grants you this wish by presenting global art phenomena through a lens that is both refined and vibrant. So, this is one of the coolest art blogs to follow.
From the buzzing art streets of Berlin to the high-end galleries of New York, take a virtual world tour that ignites a creative spark within you. It's not just an art blog but a lifestyle.
So, you might wonder, "Why GARAGE, of all places?" Well, picture this – it's the place where you'll find a confluence of contemporary art and the pulsating rhythm of modern culture, served fresh and hot, right onto your digital platter. The top art bloggers share the best content about modern art.
First thing first, GARAGE is a blog with an edge, presenting content that is a treat for both the eyes and the soul. How, you ask? Through immersive multimedia experiences, for starters.
The site also shows crazy art projects people are working on. Some of the sculptures and paintings look totally wild. They even talk about stuff like magazines from the past and how they predicted the future - which is pretty mindblowing!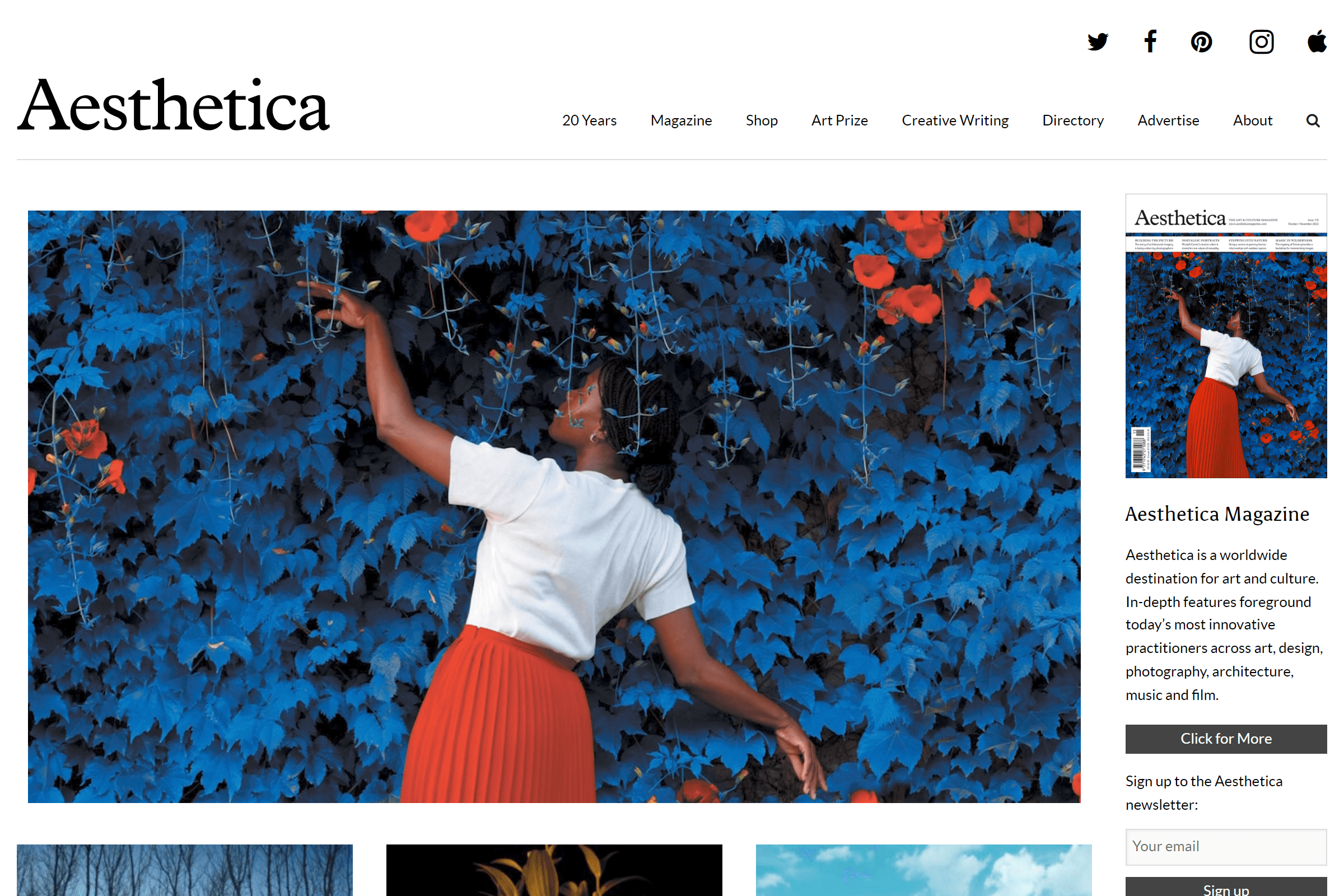 Aesthetica covers tons of cool art, design, photography and film stuff. They have in-depth articles about different artists and what they're working on. It's cool to learn about different styles and get inspiration.
They show a lot of crazy photos too, like these landscape shots in Norway about climate change. Some are really trippy abstract stuff. I also like reading interviews with photographers talking about their process.
You can tell they put a lot of work into researching different events too, like design festivals and photo exhibits around the world. It makes me want to check some of those shows out if I get a chance.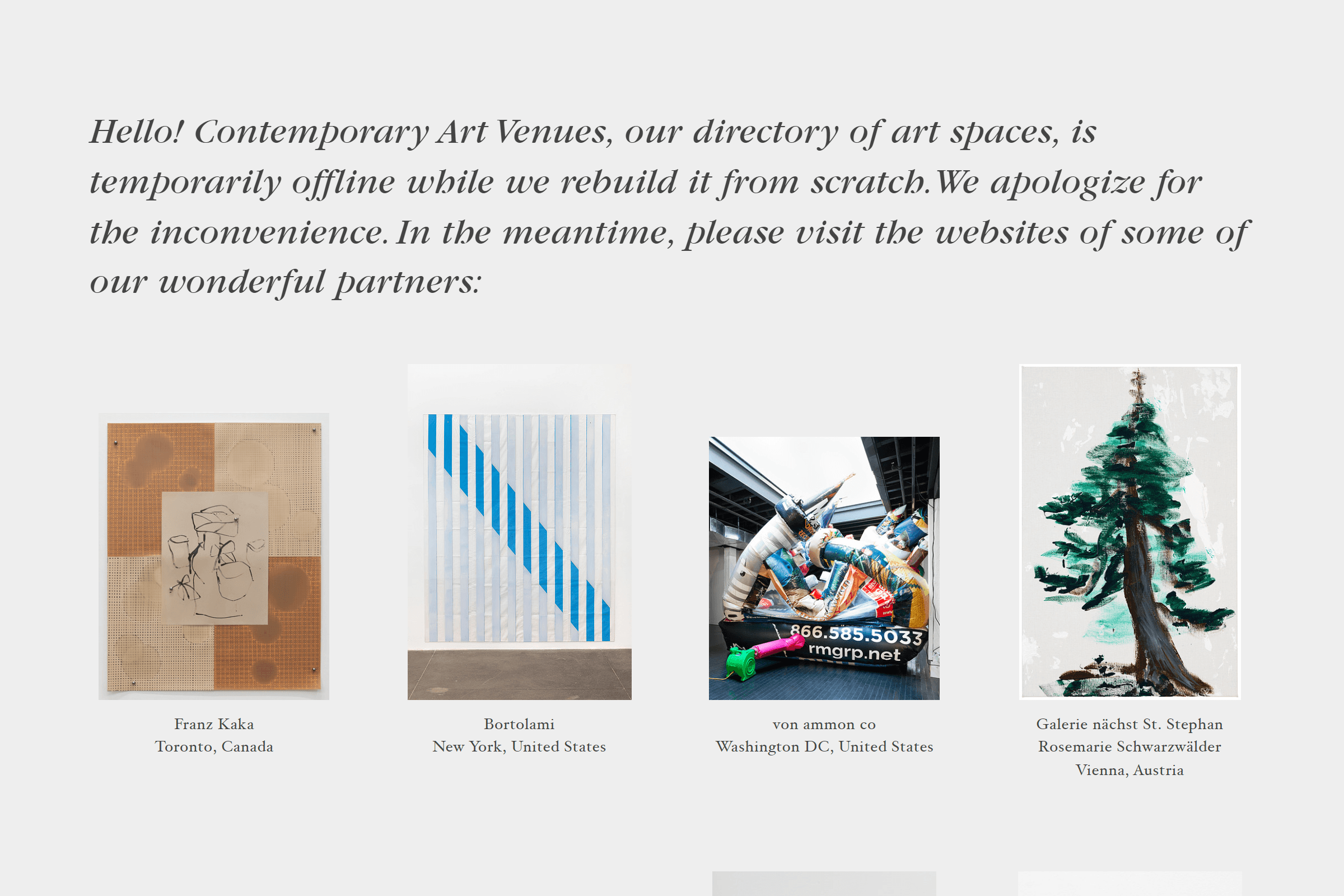 This site is all about different galleries and museums around the world that show modern art. It's kinda like a map to check out cool new art in different cities. The top art bloggers here make sure you stay updated.
They list tons of places in big art cities like New York, Berlin and Tokyo. But also smaller spots too if you wanna explore what's happening somewhere less obvious.
It's nice that they include info on what countries venues are in too, so you can search by location. Some of the galleries look super modern and sleek from their websites. Who knows, maybe this website will inspire you to start personal art blogs.
Spoke Art has tons of cool art show announcements on their blog. This ar blog regularly posts about major conventions like Comic Con which is great because there's always new artwork being debuted.
It's interesting to see the different pop culture themes different artists are working on. One recent post showed some Ted Lasso pieces that looked really fun.
They update frequently with new reviews of exhibitions, both ones at their own gallery and elsewhere. It's a good way for readers to discover new artists even if they can't make the shows in person. The blog also provides sneak peeks of upcoming limited edition prints before their official release.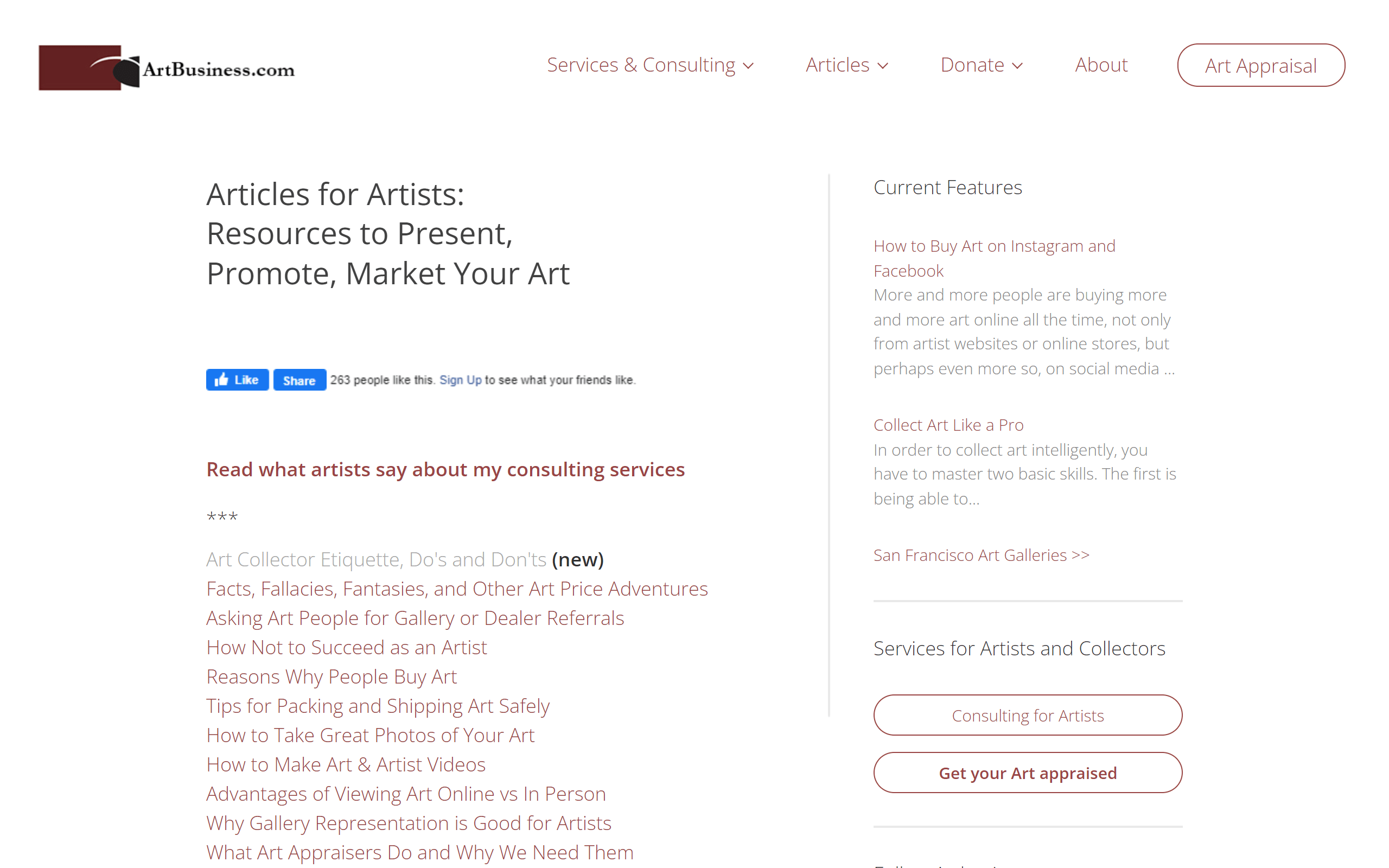 This site has tons of great articles to help artists out. There's basic stuff like how to take good photos of your work, but also more advanced topics.
They give practical advice for promoting yourself online through social media. Instagram and Facebook are huge now so it's important to use them well.
There's also lots of articles about pricing your art and how to sell it. Things can get tricky with grants, contracts and all that stuff. This site breaks it all down simply. You can learn how to find galleries to show your work at and tips for talking to them.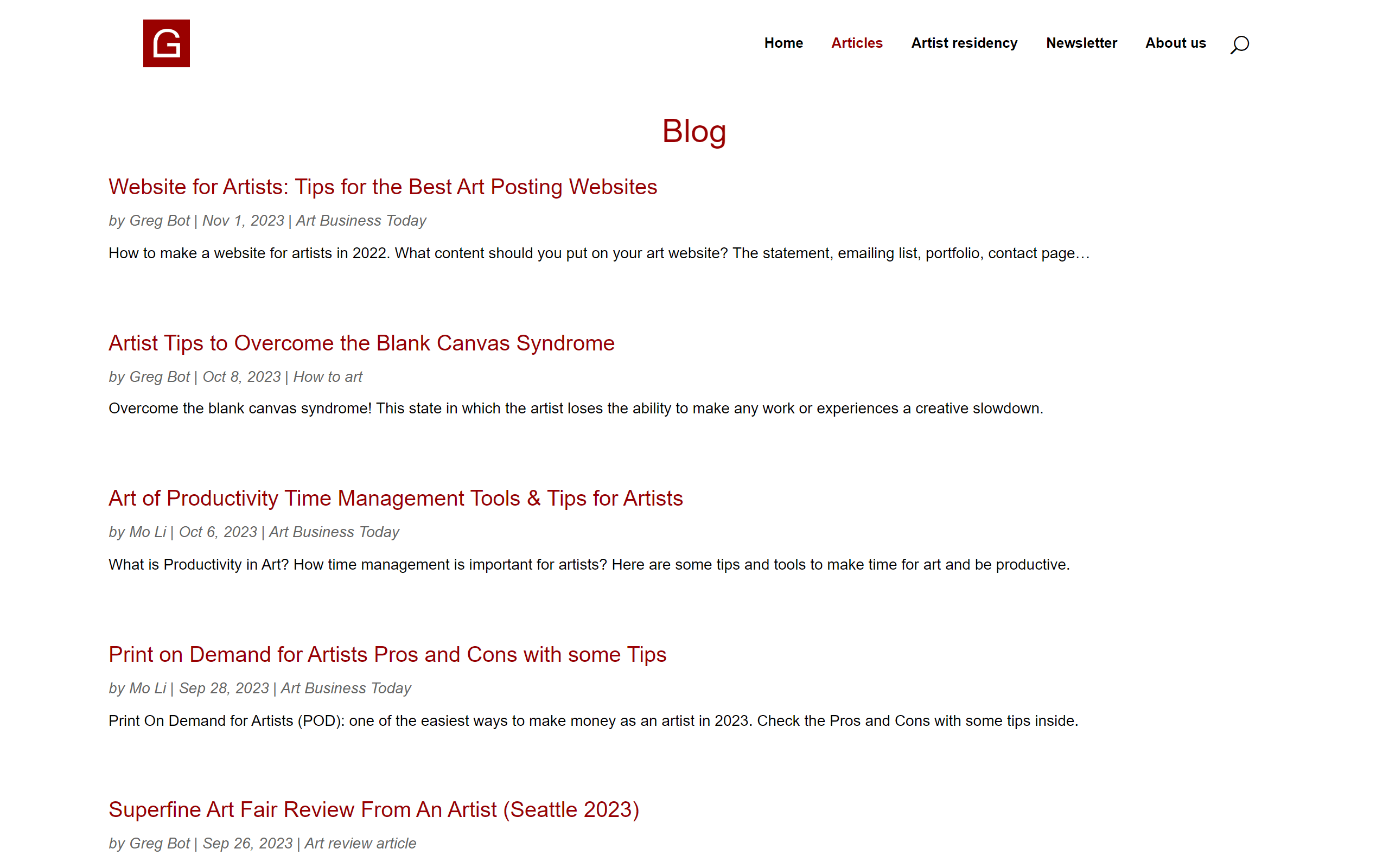 This blog has lots of useful tips for artists just starting out or trying to improve their art business or personal art blogs. They cover things like making websites, managing your time, and photographing your pieces.
A few articles went over using Instagram Reels and hashtags, which are great ways to get your art noticed these days. Social media is so important as an artist and they give some ideas unique to visual art.
It was cool to read a review of an art fair from an artist's perspective too. Usually you just hear about these kinds of events from collectors or galleries. Getting that inside view is interesting. Some posts talk about more advanced topics like print on demand and working with AI art.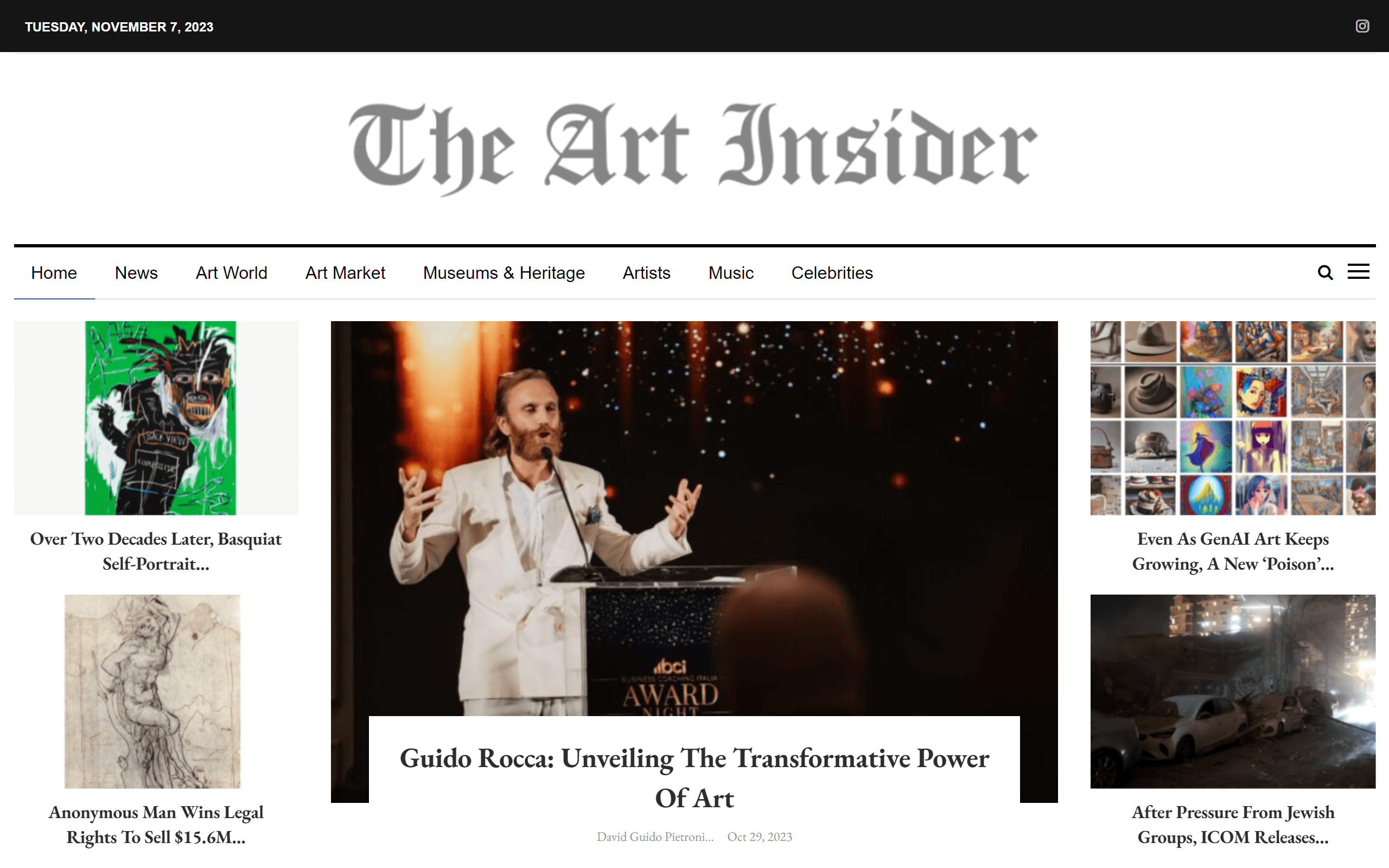 This is one of the art blog websites that covers all sorts of art world news that's interesting to look through. They have quick updates on things happening at different museums, which is cool to keep up with. This website has top art bloggers who share the best content.
There are also profiles on different artists and their work. It's neat learning about new people and getting insights into their process. The articles have a casual, easy to read tone while still talking about higher level topics. Even the more serious stuff feels approachable.
Sometimes they dive deeper into stories around the business side of art too, like legal cases over ownership. As someone just getting into art, I like learning what goes on behind the scenes.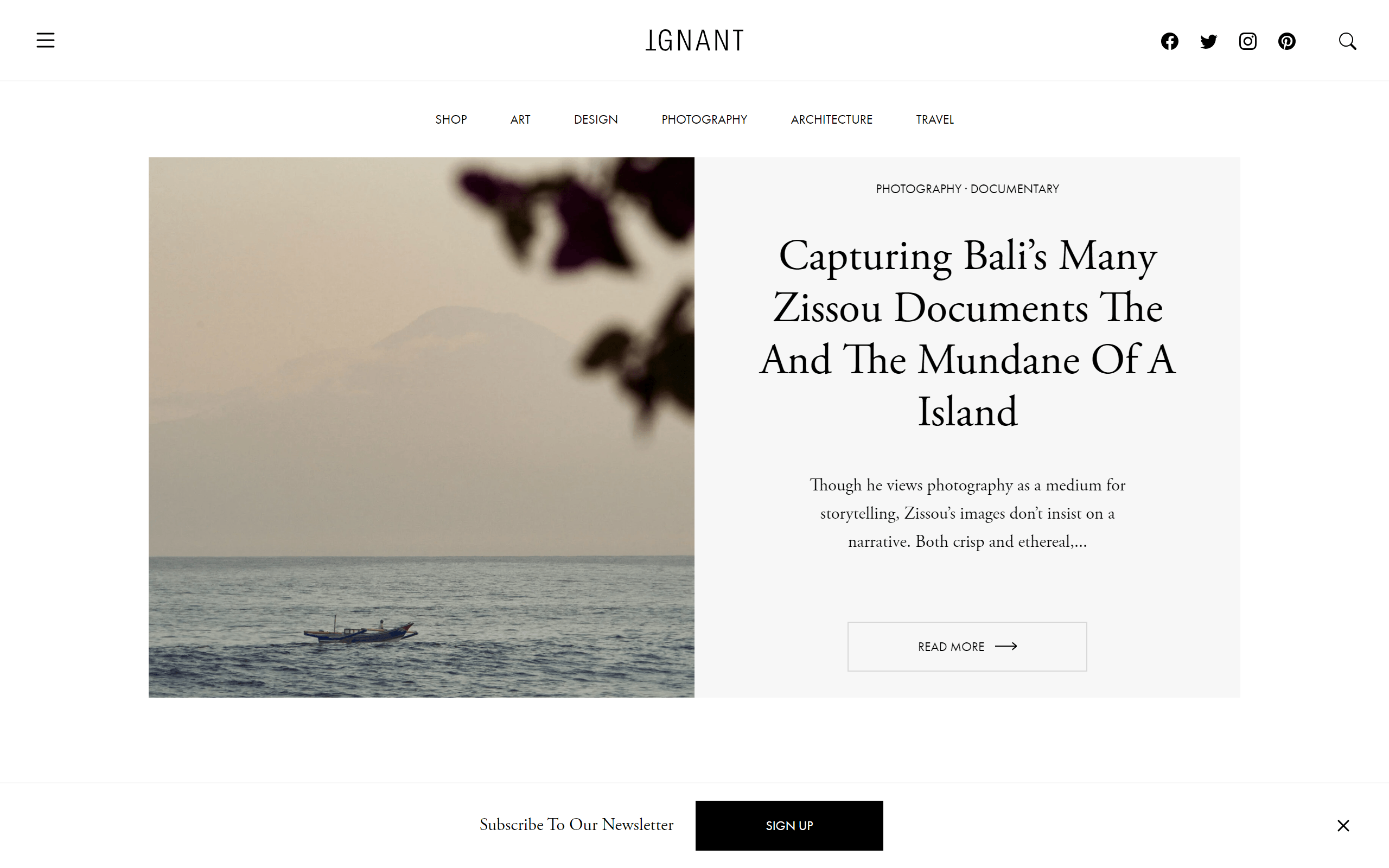 The articles on this art blog are like mini adventures. You can see photos from Bali by Zissou that show the island's spiritual vibes and everyday scenes without needing to read between the lines.
It also shows you behind-the-scenes at cool design studios. One example is Hanne Willmann's studio where the design looks great and feels deep. If you like minimalist styles, you'll like pieces on Isern Sera and Valeria Vasi that make simple things look calm.
The blog has helpful how-to articles too, not just pictures. It celebrates people who are creative with their hands like Latika Nehra and clay. It also talks to thinkers who know how to set the right mood, like Milena Kling. In this art blog, you'll find real stories about turning your home into an art space too.
This blog posts really cool short videos about all kinds of creative stuff. A lot of it shows different artists and designers in their studios too. Since we did our thorough search for art blogs, this one id handpicked for you.
It's interesting getting a glimpse into their processes. In some you can see them actually working on projects step-by-step. They feature people from all over too, so you learn about creative scenes in other places. It's neat finding new artists from different parts of the world.
There's clips on everything from painting and sculpture to architecture, fashion design, photography and more. The videos give you a quick look without being too long, which I like. If you were looking for some unique art blogs, this is the right choice.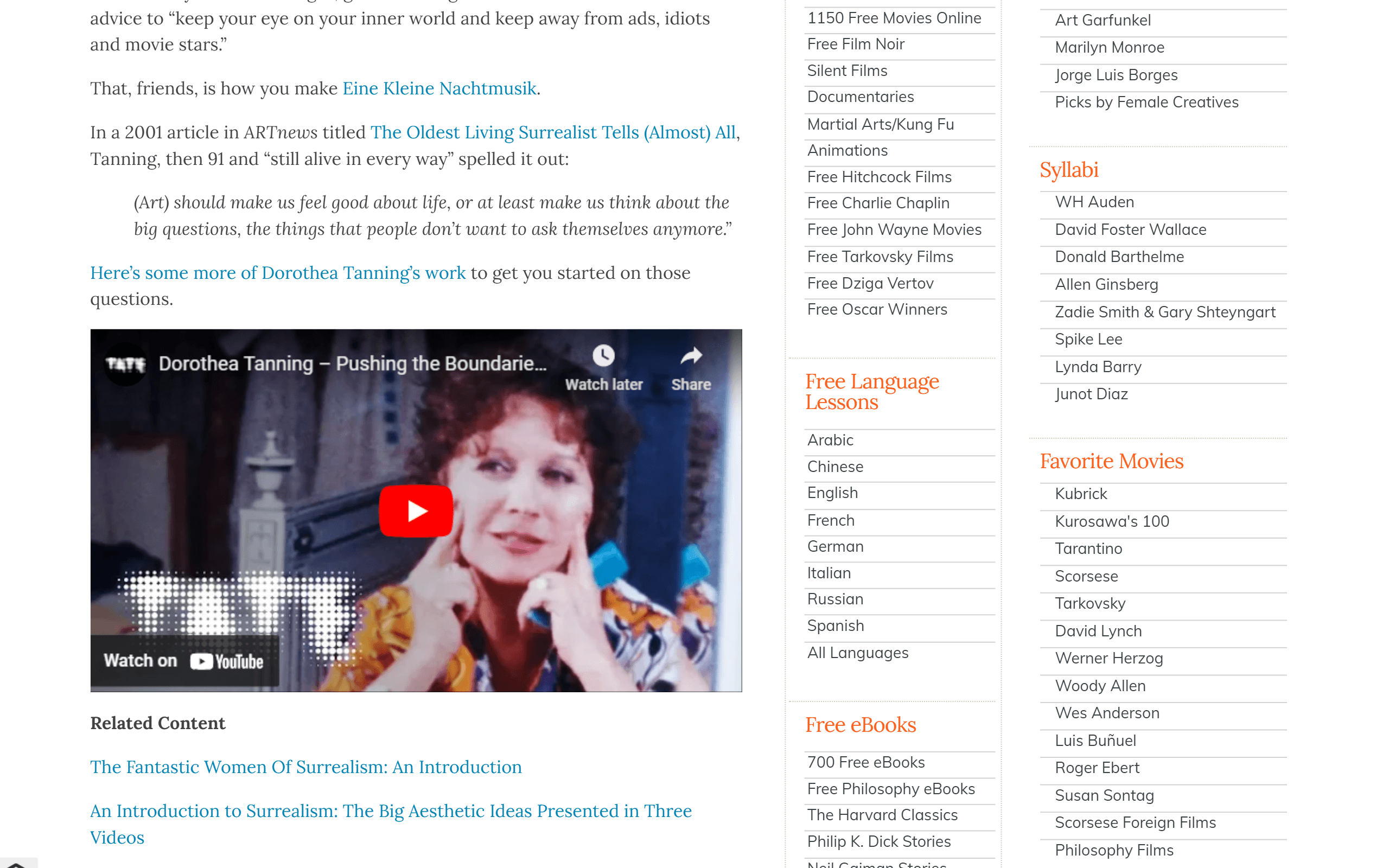 This is one of the art blogs that is all about discovering cool art, music, films and such. Whoever runs it posts all kinds of interesting videos, photos and articles on cultural stuff. They share documentaries on artists like Van Gogh and exhibitions from big-name museums.
You can also find recordings of poetry readings by famous folks or movies adapted from classic novels. The videos are real informative too, explaining complicated art movements or theories in easy to understand ways.
If you're into learning about history, there's podcasts and timelines that chart everything from the rise and fall of cities to the growth of big empires. Plus there's all kinds of free online courses, books and articles on every topic under the sun.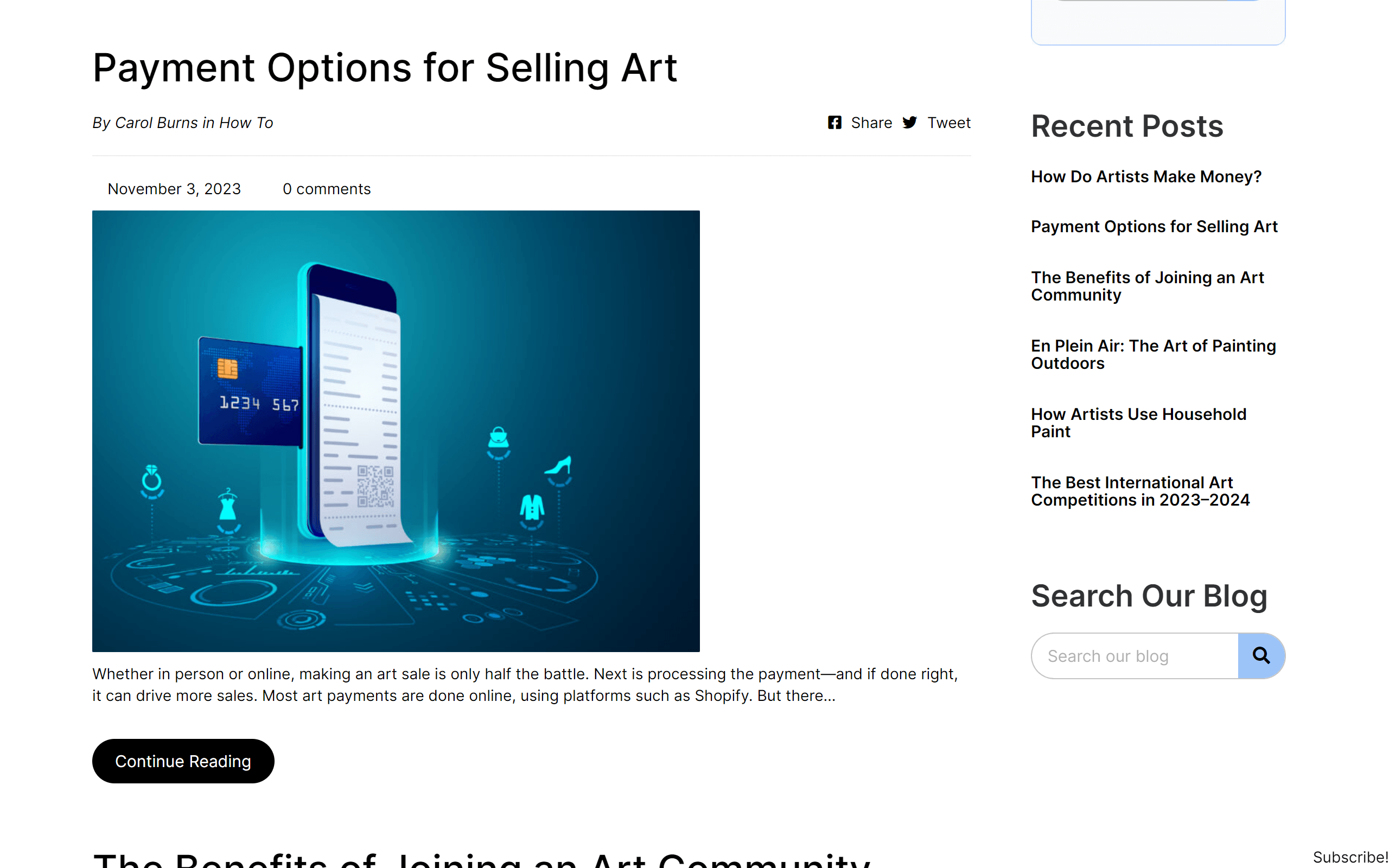 This here blog is all about art and helping visual artists grow their business. It's run by the good folks at Artweb, who got some pretty neat online tools for making websites and marketing your craft.
Every week they post articles on all sorts of useful topics. There's pieces on payment options for selling your work, benefits of joining an artist group, or tips for painting outdoors. They even got tutorials on mediums like watercolors and how different painters use common house paint.
If you want to stay inspired, they also share stuff on trends in the art world and a fun A-Z of different materials to work with. Plus you'll find reviews of big art competitions going on worldwide with chances to win some cash.
Ready to Create 🎨
So, we've cruised through some of the best art blogs out there, right? It's your turn now – time to dive in head-first and let those top art blogs sprinkle a bit of their magic on your creative spirit.
Go on, give those blogs a peek, snag some inspiration, and hey, don't forget to share your awesome creations with the world.
Ready, set, create! Let's see what amazingness you'll bring to life. You've totally got this!