Thinking of starting a book blog to add unique content or style in a specific genre? Fantastic thought. Book blogging niche is ever-growing and gives you the freedom to talk about anything in any way you want.
But, when you're not sure where to actually start from, things might feel a bit puzzling.
This is where our beginner-friendly ultimate guide on how to start a book blog comes to the rescue. Read, learn, and implement everything you need to know to perfectly launch your book blog this year like a pro.
Let's start with why book blogging is a fantastic decision:
Here are 10 Reasons Why You Should Start a Book Blog this Year
1. You'll build a community of alikes
That's a good enough reason to start your book blog right now. Imagine having your own virtual world, where you can talk about ANY book you love, review it, and even write your own dream book — and all while getting people who love listening to you. You'll finally get your space on the Internet with real people who are just like you.
2. You can plan to finish your book that you've probably started years ago in the realm of your imagination — and share it with thousands of people
For a writer, there's nothing more satisfying and wholesome than getting his or her book read by thousands of people. As you grow as a blogger, you build an active community of like-minded book lovers.
You can talk about your book with them, all the great things that inspired you while writing, a weird plot change that happened last minute, a character that you most love, and anything around. All while getting hundreds of comments and reviews on your book.
3. Earn a fortune, in ways you can only imagine
Starting a book blog makes you a living more than you might be imagining. Think about the possibilities: you can write your own book and sell it to thousands (or probably millions if you get out of the world-famous) of your daily visitors.
Or you can earn via affiliate marketing, by promoting other best-selling books of famous authors in any genre. There are millions of books, think of it? Or if you dig even deeper, your daily fans will give you books, stories, and all of their stuff to promote on your blog, and you can respectfully earn good money from there, too — all while helping others grow.
And on top of all of that, you can earn money from Adsense or other ad services on your blog. Or maybe you can develop a course on writing a book, or on how to start a book blog, once you become a pro? Possibilities are endless.
4. Get noticed by famous authors and bestsellers of the industry
With respectable repute, you can actually meet and talk to famous authors of your industry, which you might have dreamt of long before. Even if you don't plan to write a book, it can still become a casual thing for you to meet awesome people, learn insider things from them, and grow more.
5. You CAN become a famous author, actually
This is a big, big dream come true for every author. Imagine being mentioned by Forbes, New York Times, Wall Street Journal, and Kiplinger as one of the most influential writers or bloggers of the decade.
Who knows you might even be able to write for them — another possibility of making a good fortune, while at the same time, being honored by giant publications.
Take a look at John Scalzi: A famous American science-fiction author and blogger who won Hugo Award for the Best Fan Writer in 2008 based on his blog. Later, he won Hugo Award for the best Novelist in 2013, for his novel Redshirt.
6. You exclusively get to read stuff from writers who are unknown to the rest of the world
Yes, your fans. People are super creative. Literally. Millions of writers around the world on social networks are constantly writing for themselves, creating inspiring stories and characters using only their imaginations.
Imagine how deep you can get into it? Picture this: a completely anonymous person, living on the other end of the world, emails you a masterpiece for your eyes only. You get to exclusively read their work, review it, get inspired, and even create your own masterpieces by learning their ways.
7. You get to voice your & your fans' opinions, and actually get noticed by the media and general public
Say whatever your thoughts are on a story, novel, book, or even a news article. You're more confident now because you've got a lot of people beside you. You can even voice their opinions on your blog or socials.
Yesterday you had nothing, and today, you're giving people a platform where they can share their thoughts with the world — imagine the power.
And it's only exclusive to book blogs because you're writers and you've an observant-critique rational human inside. That's why people respect writers' opinions. Every content you see on the Internet is coming from the mind of a writer — even videos.
Have a look at the Jeff Bullas story: He started with a simple 10$ content creation site in 2008 — and now he gets millions of visitors on his site, millions of followers on social channels, and he's also mentioned in Forbes, Entrepreneur, and got several awards as a top influencer, blogger, and marketer. Imagine the impact this guy created by starting with just a simple blog.
8. You'll build a secured future
Forbes says "robots, technology, and AI will replace millions of jobs in the future". However, creative writing is the only essence we might preserve for the next hundreds of years.
Therefore, if you start a book blog today, you're guaranteed that you won't lose your job and will never run out of enough books to curate on your blog. You're here to stay and can even transfer your book blog asset to your kids.
9. "Writing Maketh an Exact Man"
Francis Bacon, a famous philosopher and writer of the 20th century, puts; "Reading maketh a full man; conference a ready man, and writing an exact man."
Reading and writing about books every single day will open new realms of wisdom. You'll be someone people will look up for advice or comments — and it will all come from the book blog that you'd write on consistently.
10. Book blogging is actually easier than most niche blogs
Think about it; you'll only talk about books. And that's it. Meanwhile, other niche blogs might require extensive expertise over a certain profession or topic. Some of them might even require insider industrial knowledge to create unique and valuable content.
But, with a book blog, you can stay at home, read books from the comfort of anywhere, write however you want, and publish. You don't even need a lot of in-depth research to create a post. Anyone with a bit of reading and writing sense can start a book blog. It's that easy.
Decide an Ultra Specific Theme of Your Book Blog
The book blogging niche is saturated. There are thousands of blogs out there. So, it will be difficult for you to get noticed by Google or people if you go on generally and publish anything related to books.
Thoughtfully decide on a specific theme, which should interest you as well, make it your style, and stick to it. Here are some ideas for you to get started this year:
1. Book Reviews
This is simple, and one of the easiest to start. All you'll do is publish book reviews of famous or less-famous, anything, on your blog. But, you'll need to read them first to be able to review them thoroughly and point out takeaways.
The book reviewing theme is popular because people rarely get time to read whole books. Or even if they do, they dislike spending way too much time reading the book, only to discover that this book was not meant for them.
So, you can help people decide what books they should read by doing book anatomy, and help them make a profitable decision. Plus, when you review, you can promote those books as an affiliate partner to make a living at the same time.
Let's take Kirkusreviews, for example. They publish legitimate reviews of every genre and sub-genre; thriller, romance, business, history, and more.
2. Book Recommendations
It's a bit different from reviewing books. You'll select some of the best books and recommend them to a specific community. For example, the best books to read for business owners. Money-making opportunities are the same, as an affiliate partner or Adsense. Some publishers might even pay you to curate their books on your blog.
A famous example of a book recommendations site would be, LoveReading. They constantly give top book recommendations to help their visitors find their next favorite book.
3. Community Discussions
Build a blog like Reddit, but it will be specific to book lovers only. Visitors will come to your blog post and discuss their thoughts and opinions. You'll be the conversation starter.
You can also talk about a trending book topic that will help you generate instant visitors to your blog. The chances of growing this theme of the blog are fast and big because people really want to be heard. Your blog can become a platform where they can voice their opinions and help everyone grow as writers, bloggers, or readers.
Visit GoodReads to see the discussion and community part in the action.
4. Criticizing Books
Ok, this might be the time when you need to wake up your inner Samuel Johnson or Virginia Woolf. You'll dive deep into the abyss of plots, characters, themes, backgrounds, symbols, and literary devices of each book. You'll then criticize them to present to your target audience.
This brings you freedom, but you also need that expertise first. You can talk about anything you want and can voice your opinions freely. You can pinpoint a specific audience as well to attract visitors to your blog.
For instance, you can critique literary books to target high school kids. Or, you can critique entrepreneurship books to target small business owners. It's totally up to you, but the possibilities of separating a specific audience or age group are endless, which is insanely good for attracting traffic on your blog.
Have a look at the Wertzone, publishing in-depth book critiques and reviews. If you think you have the same taste, you can start a book critiquing blog. Fewer folks are doing this, so you have a good chance of getting faster and better reach.
5. Share Tips and How-to Guides
This will require extensive knowledge. But once you spend a few weeks learning and practicing yourself, you can actually help others with detailed how-to guides and insider tips and tricks.
For example, how to write a book, how to start a book blog, how to publish it, how to read, and a lot more. You can even talk about how to create plots, characters, and stories. This is really diverse and you can never run out of ideas. Why? Because there's always something we need answers for.
The best example in action is Reading Rockets. Why best? Because it is specifically targeting kids who are struggling with reading. It's like zooming from the space, whooshing through all the clouds, and pin-pointing the only location you're looking for.
6. Uniquely Specific Genre Book Blog
This can be unique and can get you ranking and traffic faster than other themes. But, first, let's see what it means.
You'll choose a very specific genre, for example, comic, horror, business, realism, or anything you're good at or interested in. Then you'll only create content around that — and nothing else.
This will give you two major benefits, which are big pluses to give you traffic fast: a) Google will specify your blog as a single genre, and whenever users will search blogs about that genre, your blog gets a high chance of ranking as compared to general book blogs that talk about anything. And, b)
You'll build a specific audience, which will identify you for one great thing, and they might even share your blog with other friends and networks. Results: more reach.
Take, for example, The Fantasy Hives — they publish all-things fantasy, from book reviews to interviews, games, and stories.
7. General Book Blog
This should be your last option because you'll have a hard time getting ranking and views. General book blogs are incredibly competitive.
Even if you plan to go with a general book blog, keep in mind these tips to grow fast:
Categorize everything.
Start with low volume keywords.
Give a unique angle to your posts.
Offer as much free value as possible.
Keep yourself active on social media.
If budget allows, run ads.
Book Riot is an example of a general book blog. They talk about anything and everything related to books and writing.
Get Specific with Your Book Blog Niche
Randomly starting a book with no target audience in mind is unsuitable. You'll end up getting a lot of competition, and might even tire yourself of creating content and still lacking on views.
Therefore, for a new book blogger like you, you need to get specific with your niche. There are two broad categories to choose from, and you can even dig deeper into them. Find out below.
1. Fiction
If romance, mystery, imagination, and thinking beyond the boundaries creatively inspire you, then start with the fiction book blog. It will corner half of the audience, and will only interest specific fiction lovers.
And if you want to get even more specific, you can choose either of the sub-genres of fiction, such as; horror, thriller, romance, mystery, or science fiction. Doing so will cut a lot of competition, giving you higher chances of ranking faster.
2. Non-Fiction
Non-fiction is also a very broad niche in itself. But, good news, there are many more subgenres you can select from. For example, books on business, kitchen, lifestyle, self-help, art, religion, science, biographies, and more.
If you stick to any of these sub-genres, you can go from a broad audience to a very specific group of book lovers. And, of course, resultantly, it will help you get traffic faster and will make you a go-to resource for a specific non-fiction genre.
Choose the Right Blogging Platform — 5 Platforms Reviewed with Pros and Cons
A great blog, without a doubt, comes with a great platform. And for this, there are several popular options to choose from. After analyzing reviews from the users of these platforms, we enlist them here with pros and cons to help you choose the right blogging platform for your book blog.
1. WordPress
WordPress is the world's most popular blogging platform with more than 60+ million active users. The most amazing thing about WordPress, which makes it a go-to choice for millions of users, is that it is an open-source CMS platform. That means anyone can create customized plugins, themes, or tools to customize their blogs in any way they want.
This much freedom and flexibility is the main reason that even some of the most popular businesses are on WordPress. See the pros and cons listed below:
Pros:
Easy to use.
Free plugins available to manage and grow your website.
Highly reliable and secure.
Easily customizable to your specific niche.
Audience monitoring tools.
Growth potential is high.
Cons:
Websites often break down suddenly either for updating or maintenance as AI changes every now and then.
Using outdated plugins and tools might cause hacking, so you'll need to constantly keep them up to date.
2. Wix
Another one of the most popular blogging platforms, Wix, allows easy-to-use drag-and-drop features to create your own customized website.
The platform is beginner-friendly and offers good customer support, which is why it has over 200 million active users across all channels. But, you'll need to buy one of the premium plans to unlock insider professional tools.
Some of the highlighted pros and cons are listed below:
Pros:
Beginner-friendly.
Easily customizable.
AI support.
Free SEO tools and guidance.
Decent growth potential.
Cons:
Annoying Wix ads on your website if you choose the free plan.
Long & Unprofessional URLs.
3. Squarespace
It's another blogging and drag-and-drop website building platform, much like Wix. In 2021 alone, according to Backlinko, Squarespace got 3.7M unique subscriptions. That's a really impressive digit, which shows the popularity of the platform. But, let's look at the pros and cons to weigh the decision.
Pros:
100+ professional templates to build your website.
You'll get plugins, widgets, and other necessary tools to grow and manage your blog.
With one premium subscription, you'll get hosting and security as well.
Reliable platform with customer support.
Cons:
It might be expensive for starters.
You cannot use third party tools, plugins, and widgets, which means less control over your site.
Beginners might find difficulty getting used to initially, especially when creating new pages, and editing.
4. Medium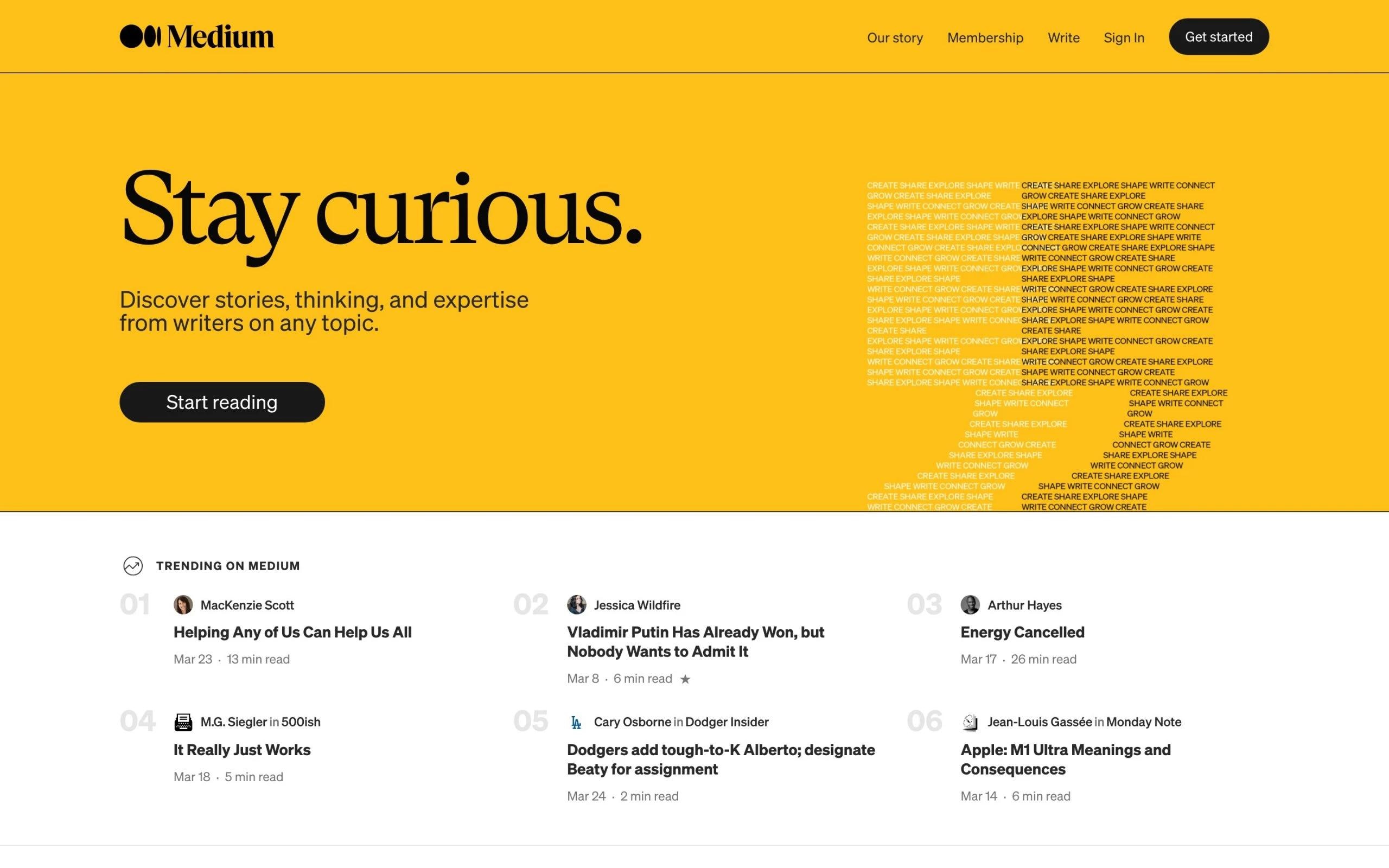 With up to 100 million active users monthly, Medium has a decent potential for growth as a book blogger. What's really unique is that Medium has separate categories to browse through, so readers can easily navigate the categories and find profiles they're looking for. Here are some of the pros and cons of the platform.
Pros:
Readership in millions.
So simple and beginner-friendly to use and publish a post.
SEO is not your concern anymore. Medium takes care of it.
Secure platform.
Cons:
If you're blogging on Medium, you're growing the Medium brand, not yours, because you're publishing on their domain.
High competition if compared with only 100 million users, that too if you combine all categories.
5. Blogger
Owned by Google, blogging on Blogger is as simple as writing an email. You can easily set up your profile for free and start publishing your book blogs. With over 50 million visits, Blogger is also amongst the top blogging platforms. Here are the pros and cons.
Pros:
It is free for a lifetime with up to 15GB of cloud storage by Google.
Easy to use.
If you want, you can later shift to premium by purchasing your own custom domain.
Hundreds of themes and templates.
Monetization supported.
Most of the SEO part is already done by Blogger. You simply have to customize your theme and use keywords in HTML tags accordingly.
Cons:
Google will be the real owner of your blog. You'll simply use their provided dashboard with administrative access.
Free version has 'Blogspot.com' in the URLs, making your brand non-professional.
Fewer plugins and tools in the free version.
Once you make up your mind for the platform, read below the next step.
How to Choose Your Book Blog's Domain Name [15 Examples of Unique Names]
Choosing the right name, right from the start is crucial. Why? Because if you ever wish to switch later, it hurts your brand image and you might lose a portion of your daily visitors. So, to help you choose the right name, here are some tips to keep in mind.
Keep it Short
Short names are catchy and easy to remember. Lengthy names often cause typos when searching, giving users a hard time. Just think of Google, Facebook, or Amazon. Short & sweet. Keeping it less than 15 characters is recommended by most SEO guys.
Go with '.com'
It's challenging to find a brandish name with a .com domain, but it is also as fruitful. Dotcom is like a thing, even a random person, completely unaware of the internet and hosting, unintentionally types '.com' at the end to search for a website. It makes your website look more credible.
Keep it Brandish
Especially in this era, more and more people are subconsciously aware of what's brandish, and what's coming from their next-door neighbor. Associate some inspirations and stories with your name. Something that people can remember and talk about. That's branding.
And you don't need to include 'book' or 'bookish' in your blog name. Think of 'Amazon' as when it started as a book-selling website. Can you imagine now Amazon being 'BuyBooksOnline'? No? That's why you need to keep it brandable.
Keep it Broad
If you, for example, go with 'ThrillerStories', in the future, you don't have that much room left to publish other genres. You cannot talk about business books, cooking books, or general news — because that would be irrelevant to your blog.
So, it is a good practice to go with something broad so in the future, you can easily pivot to something else, without going through the hassle of completely changing the domain name.
Including a Relevant Keyword Can Help in SEO
Discover a name that also includes the targeted keyword, it can help you in search engine rankings. Your target audience can easily qualify you as a relevant blog for them, and search engines can qualify you as an authority over that keyword. That 'keyword' in your case can be something related to books.
Research
With simple research, you can discover tones of name ideas, and you can even see what your competitors have come up with. Analyzing that research data, you can come with a better name for your domain.
Get Inspired by 15 Examples of Successful Book Blog Names
Here's how your book blog name should look like in the real world. These are famous book blogs, read by thousands of readers:
Follow the next step once you've decided on your domain name.
Next Step: Buy Your Domain Name & Choose Your Hosting Service Provider
This step consists of two necessary things: buying the domain & getting a reliable hosting platform where your website will live. We'll discuss some of the registrars to choose from, but first let's see how you can set up these two things first.
a) Buy a Domain Name
Here's a step-by-step breakdown to buying your domain name:
Decide a Name
It's always good that you use the .com extension. But, you'll have a hard time finding the .com name because most of them are already occupied by businesses and blogs. Performing a little research and brainstorming some new name ideas will surely help.
Choose a Reliable Domain Registrar
Always go for a domain registrar with tons of positive reviews. Make sure:
They don't have any hidden charges.
They auto-renew your domain after it expires after a certain period or at least remind you.
They allow domain transfer policy and don't complicate the whole process. Because in the future, if you decide to change your blog's name, you should be able to do that easily.
They also give you some add-on features like domain security.
The company is accredited by ICANN, a non-profit organization that ensures users have valid addresses.
Here are some of the reliable and cost-effective domain registrars to choose from:
Go Daddy
Namecheap
NameSilo
Proceed
The last step is to proceed with the purchase and verification through your email address to dictate the ownership. Different platforms might have different dashboards, but the process is pretty much the same:
Pick the name, choose a payment option, and pay for a certain duration. Most of the time it's one year, but some registrars might have plans for longer durations, too.
Then, you'll give your contact information to complete the registration.
The last step will be to verify your ownership through the email you'll provide, just like you verify a new sign up on a new platform.
b) Buy Hosting
Here's the step-by-step breakdown:
Land on the service provider's home page and click on get started.
You'll see some different price plans. Choose the one depending upon your needs and budget.
Then you'll be asked to enter your domain name. Since you have already bought it, type it there and proceed.
Then you'll provide all your contact details, including your street address.
Proceed with the payment.
You'll be asked to create a strong password.
After verification, you'll be logged into your Cpanel.
(Generally, the steps are similar for every platform, but please note that different platforms might have different processes and steps).
Here are some reliable ones to choose from:
Bluehost
Dreamhost
HostGator
Hostinger Web Hosting
Next Step: Install a Fast-Responsive Book Theme for Your Book Blog
Choosing a relevant theme helps readers experience the feeling that they're at the right place. Some of them are free and some are paid. Free themes are less valuable. We suggest, if the budget allows, go for a paid version, it pays off eventually.
But, choosing a relevant theme alone isn't enough. Pick a theme that:
Is fast-responsive so that you can speed up your website's ranking on Google.
Allows you to creatively add or remove sections.
Offers a section of selling or promoting your future books.
Has zero distractions.
Doesn't have a bad effect on your website's loading speed.
Keeping that in mind here are:
Overall 10 Best WordPress Themes for Your Book Blog
One Page EBook Landing Theme
Bookista
Talim
Arasu
Editorso
Mafiaso
Meltony
Divi
Soledad
Typology
5 Best WordPress Plugins for Book Bloggers
Plugins save you heaps of time and energy and speed up your growth. While there are many plugins to help you with SEO, speed, and managing your site, followings are specifically for book bloggers.
Ultimate Book Blogger Plugin
This plugin is the all-in-one solution for book bloggers. Jam-packed with exclusive features like adding sidebar widgets, adding buying links, adding blog and book summaries, book covers, and a LOT more.
Currently with a lot of positive reviews, which appreciate the overall work and lovely customer support, you can get this plugin for the price of a dinner.
Copyright Proof
It's really important you own your work so no one can steal it and use it for their own benefits — without giving you credits for your hard work.
So, to protect your stories, book reviews, or book critiques, install the Copyright Proof plugin. It will automatically generate a digital testimony on every post stating that you own the rights and no one should infringe it.
Mooberry Book Manager
Whether you've your own books to promote or sell, or you want to add books of your affiliate partners, this plugin will make adding books to your website a lot easier.
By filling out a form, you can add excerpts, reviews, author bio, book cover, and link to the book where visitors can purchase or download the book. You also get features like organizing a certain category, sort them as best-sellers or newest releases, and more.
WProofReader
If you're talking about books and writing in general on your blog, your writing itself should be spot-on to look credible to the visitors. Some typos are here and there, and your visitors will instantly start questioning your authenticity.
Well, that's where WProofReader can help — it automatically underlines the mistakes, and gives suggestions of corrections. If you upgrade to the pro version, you can get more features like your personal dictionary where you can add acronyms and slangs according to your target audience.
Simple Author Box
Creating an author box can enhance the credibility of your site. With this plugin, you can create customized author bio, add links to your social networks, and add photos. This will automatically create an author box at the end or top, as you prefer, of every post.
Next Step: Create Important Pages & Your Brand's Logo
Of all the other important things when starting your book blog, these two steps hold equal importance. Create some must-have pages that instantly build credibility and show that you're genuinely serious about what you're doing. Also, create your brand's logo — logos identify you as a unique brand, and they have a tendency to be remembered for a longer period.
Below you'll find how to go through both of these steps the right way.
6 Must-Have Pages for Your Book Blog
These 6 are a must, but you can create more depending upon your needs and the style of the blog. Starting with:
Homepage
Your home page displays what your blog is about and how you're helping your target audience. Make it attractive, unique, and so that it instantly excites visitors to read the rest of the blog. Also, if you have a unique slogan or mission statement to proclaim, your homepage is the place to showcase.
About Page
This is one of the most important pages, which is often taken a lot less seriously. Focus a lot and make it a valuable page that gives all the necessary information. For a detailed take on this, checkout our ultimate guide on creating an about me page in less than an hour.
Blog Page
This is the page where you'll publish value-packed content for your visitors. Creating it separately will help readers discover articles, blog posts, or book reviews instantly.
Products or Service Page
On this page, list all your books, stories, merches, services, or anything you're promoting or selling. You might not need this page in the beginning, but once you have something to sell or promote, you'll need to create this page.
Contact Page
Create this page and give your email or phone number where your target audience or potential clients can contact you. You can also create an opt-in form so the visitors can leave a message, suggestion, or critique.
Disclaimer or Privacy Policy Page
This one is critical. You always need to already set up your privacy policy statements or any disclosures, in case something unfavorable happens in the future. Tell them how you're using your visitors' information or what things you don't stand behind on your website.
Create Your Brand's Logo and Add it to Your Website
Logos are important for branding. Those unique visuals stick to the back of our mind, and the next time we see them, we instantly recall the brand behind it. Simply think of Google; whenever we see red, blue, and yellow mixed together, our mind automatically resonates with Google, Gmail, or any other Google's product.
Here are some tips for creating a logo to keep it brandish:
Keep it Readable: Choose the right font that's easily readable and is far from creating confusion. You'll use the same logo on social media, business cards, websites, or any webinars. So be thoughtful.
Keep it Simple: Simple logos get easily recognized by almost everyone, which is exactly the purpose of creating a logo in the first place.
Keep it Scalable: Make sure it looks good in different sizes. Different platforms give you different rooms to display your logo. For example, Coke's looks iconic on their website or on a large billboard on a building.
Keep it Impactful & Unique: Make your logo memorable and filled with your desired impact or emotion by attaching a relevant story or message with it. For instance, KFC's logo features Colonel Harland Sanders, the founder, displaying his inspirational story with the world.
Keep it Relevant: Last but not the least, keep your logo relevant to your book blog's theme. If you're curating the horror genre, for example, you cannot display a digital portrait of a cute pet cat, right? You'll go for something spooky or creepy-looking.
To make a unique and customized logo for your brand, you can use the services of Tailor Brands, Logaster, or 99Designs.
Or, visit marketplaces like Freelancer, Fiverr, or Upwork, to hire a skilful logo designer.
Add Logo in the Header of Your WordPress Website
It's simple. Once you've your logo ready, follow these steps:
Log into WordPress dashboard.
In the settings menu, click Customize.
Then go into Site Identity.
Then upload your logo there, and hit save & publish.
Begin Blogging: Write Your First Ever Blog Post
Writing your first ever blog post might feel daunting, you might be running short on ideas, and feel befuddled where to begin with. And that's completely fine.
To help you kickstart, here are some ideas.
50 Ideas for Book Blog Posts — Get Inspired
X reasons why someone should read a certain book.
Your thoughts on a certain book.
Write a book review. (Simple and good strategy to start)
Make a list of top books in a particular genre.
Create a reading challenge. (For example, 1 book a week)
Share your all-time favorite books with the world.
Create a post 'If you read X book, then you should read this Y book' for a certain audience.
Where & how should someone start reading? Help beginners.
Curate books for kitchen recipes, marketing, health & fitness, wellness, mindset, or any area of interest.
Make a list of 'Stay Away from these X Books & Why'.
Talk about your fun or awkward library experience.
Talk about your all-time favorite writers.
Create a list of gifts for a book lover.
Publish a discussion post by asking your audience a question. For example, 'What are your thoughts on X book by *Author*?'
Write about famous publishers.
Create a guide around how writers can publish their books?
Create a guide around how to write a book from scratch?
Publish tips and tricks to increase reading time & speed.
Reveal some of the books that are less famous but are absolutely worth reading.
Create a list of books famous people read. For example, "X Books read by Bill Gates".
Make a list of seasonal or holiday special books.
Don't limit yourself to conventional reading. Suggest some of the best audiobooks to listen to.
Talk about books that were only famous in their time period or era.
Pick an author, and list his or her best books. For example, 'X books to read by Earnest Hemingway'.
Pick a theme and list the best books around it. For instance, the best horror, comedy, or romantic books to read.
Talk about book clubs that people should join — either physically or virtually online.
Make a list of books for a specific age group; books for the elderly, teens, or adults.
Create a list of picture books to add fun to children's lives.
Talk about books that were life-changing, either for you or someone you know.
Post famous quotes from the books that inspire you always.
Ask a question to your readers; which characters do they love the most? (or they would love to date, to be specific)
Make a list of the book characters that are too famous & who created them.
Talk about the plot twists in books that are absolutely genius and add to the story. (This might take hours in doing research)
Start with a giveaway. Set a winning award for a famous book or anything valuable for a bookworm. (This is good for increasing engagement)
Latest trends in the writing and publication industry.
Famous authors that are alive today.
Create a pillar post suggesting tons of books to read in a year. (This is a good idea if the new year is around the corner)
Make a list of books that won awards for anything.
Create a list of books to read while travelling or staying at home.
Publish a character analysis. (This might drain brain energy, but worth the value)
Talk about movies and their books. Point out what's done differently or better in the movie.
Publish some writing tips or writing routine that you follow.
Help others become good writers by posting resources or books on writing.
Talk about the ways today's writers can make money. (Help your community)
Write your own short stories and publish.
Mention best podcasts on books and writing in general.
Share best ways writers can take new ideas and inspiration from.
Make a list of books for a specific community. For example, books for CEOs, politicians, or women at home.
Make a list of spooky books; for example, 'books that predicted the true future.' (These topics gain more attention because they inject curiosity)
Share what books, novels, or stories you want to write in your lifetime.
Important: Promote Your Book Blog to Grow Viewership and Earn Money
You'll need to do the work. Publishing consistent content is only one part of the equation. Promote your book blog — and you'll do this…whether as a beginner or after becoming a famous book blogger. Marketing always goes side by side to stay relevant in today's busy feeds. Read as we lay out some of the ways to increase your blog's traffic.
1. Through SEO
The most adopted method by many bloggers is increasing their blog's traffic by optimizing their site for search engines. It saves tons of money that you'd otherwise had to spend on marketing and ads. And how do you exactly do this? Read our full guide on growing your blog through SEO.
2. Join Relevant Communities
Plunge into the world of social media and public forums — Facebook, Instagram, Twitter, Reddit, Quora, and more. Or, join hundreds of relevant groups on GoodReads. You'll discover thousands like you. Share your book blog's story there, attract new visitors, and even buyers of your new book.
3. Through Guest Posts
Reach out to other book bloggers that are already doing well. Offer them a guest post in return for a link to your blog — that way, they get quality content, and you get a link that will get you more new visitors.
4. Through Medium and LinkedIn
Publish some of your valuable content on both of these platforms. Since both of these already get visitors in millions, you can take that to your advantage, and get more visits on your blog.
5. Through Advertising
This might be expensive, especially if you're just starting. But many bloggers advertise themselves on the relevant social channels or on Google to attract more visitors. This should be one of your last options after you've tried everything else.
Discover 15 Well-Paying Affiliate Marketing Programs for Book Bloggers
Affiliate marketing is easy money for book bloggers. You simply talk about the books, courses, or any other related stuff of a retainer, and you get a commission on each purchase through your blog.
Almost every book blogger who's doing well right now, ahead of you, is earning through affiliate marketing. Read as we enlist the most popular and well-paying programs for you.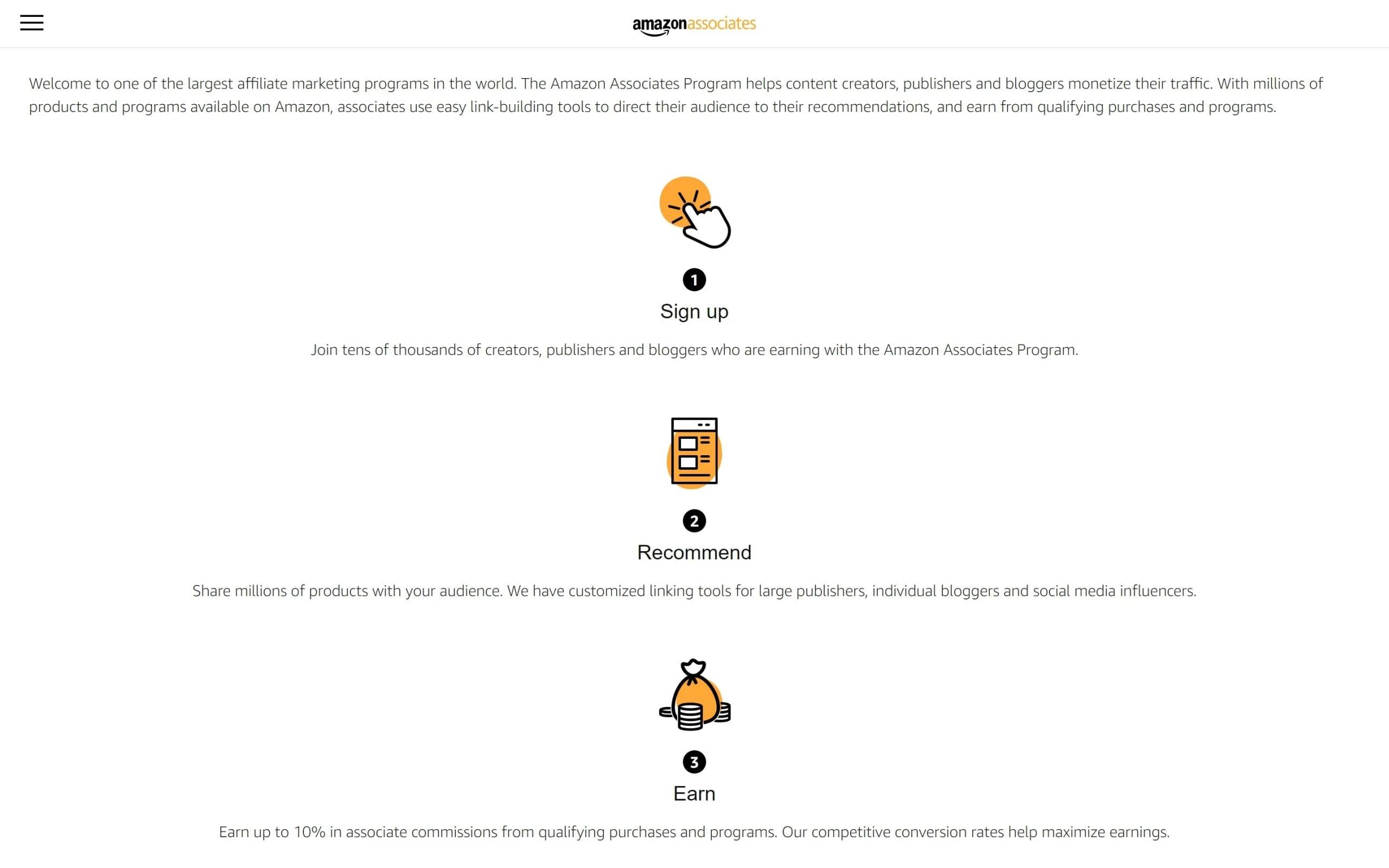 Amazon offers possibly the biggest affiliate program that most book bloggers go for. It's completely beginner-friendly and you can sign up for free within minutes. You can easily track offers, income reports, and other important stats. They even give you ad banners and buttons to easily integrate on your website.
Here's what you should know before considering Amazon's affiliate program:
If you fail to make a certain amount of sales in a given time, you'll not be approved by Amazon. You'll need to apply again, and your old links won't make you any money.
You cannot spam. Amazon tracks IPs and on-screen time, to flag sales from friends or family that might be helping you out.
There's a 4.50% commission on physical books.
The minimum payout is 100 USD.
For detailed insights, please do read their terms and conditions before applying.
ShareAsale is also one of the popular choices of book bloggers. Starting from 2000, the company has been growing substantially for two decades. In 2017, it became part of Awin, another company that offers affiliate programs.
Unlike Amazon, here you'll apply for brands that you wish to promote products or services of. Many brands like Wayfair or Etsy are partners with ShareASale. If one denies you, you've got a hundred others.
Here's what you should know about the system:
ShareASale pays in two ways: a) PayPerLink, which means the visitors don't necessarily need to 'buy' from your link. If only they click on your link, you'll get your commission secured. b) PayPerSale, which means the visitors need to complete the purchase using your link. PayPerSale is usually high-paying, even up to 50% to the actual product's price.
The registration is free and finding and applying for companies' programs is relatively easy.
The minimum payout is 50 USD.
Plus, you get detailed video guides on the ShareASale's website.
Working for over two decades, Awin has won several awards and many affiliate marketers have earned insane returns from this company. Much like ShareASale, Awin also connects businesses and affiliate marketers for mutual benefits.
During our research, we discovered many book bloggers to be using Awin. Here's what you should know about its affiliate program:
Sign up fee is 5$, which they will pay you back instantly once you finish your registration.
Different programs and companies have different guides on where you can post links, which you should read before applying.
The minimum withdrawal is 20$, you can also set this higher if you like.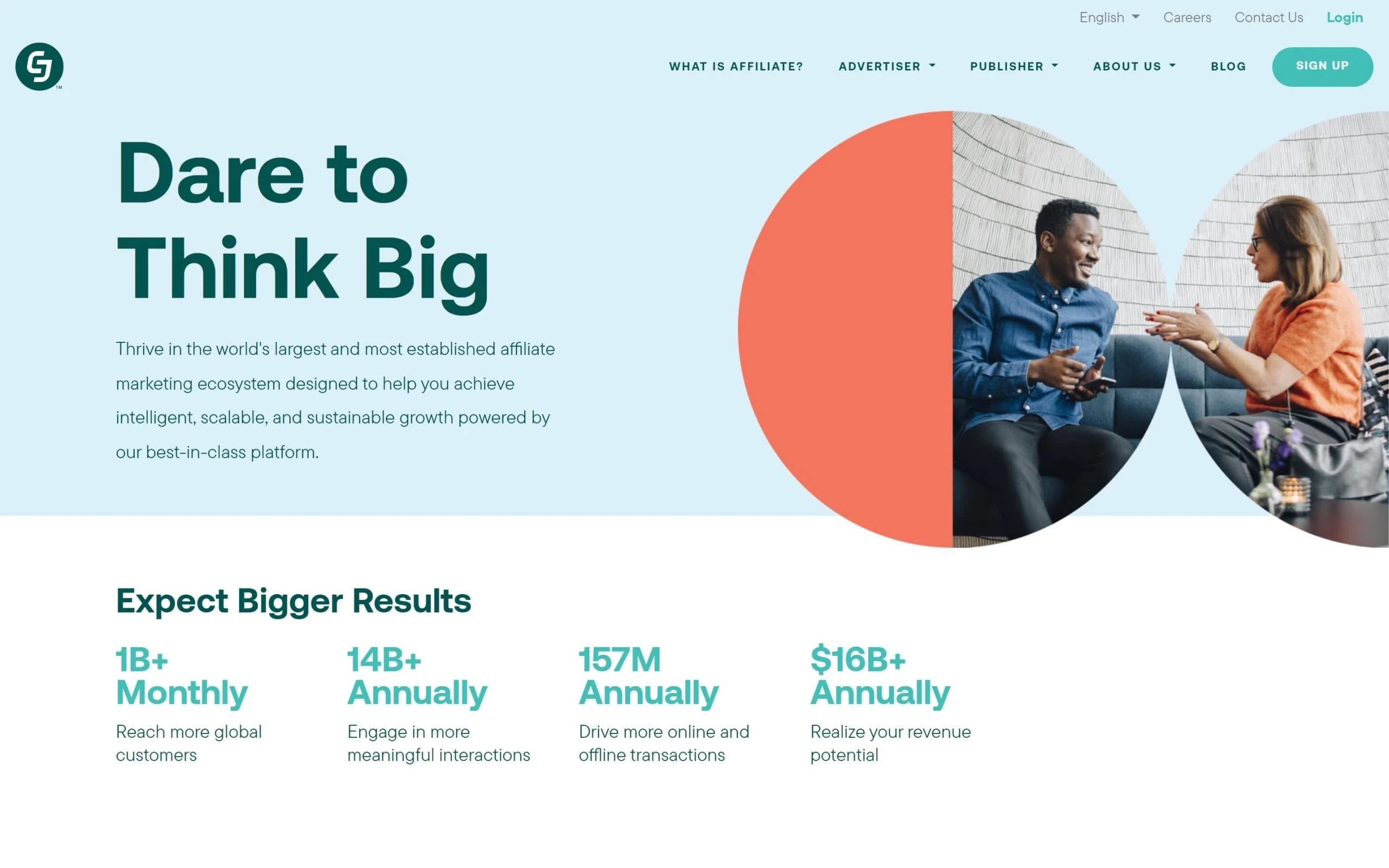 Founded in the US, in 1998, CJ Affiliate is also one of the well-paying online ad companies. The support, dashboard, and features are completely beginner-friendly. The same as Awin, you can apply for different brands' programs, and earn money after visitors make a purchase through your link.
Here's what you should know:
Sign up is free.
If you fail to deliver the required number of sales, you might get removed from the affiliate partnerships.
The minimum direct deposit is 50$. For cheques, it's 100$.
Founded by a former employee of Amazon in the UK, Book Depository grew larger to the point that it threatened Amazon as its giant competitor of online book trading. Later, in 2011, Amazon finally acquired it.
Here's how it works:
You'll create your account using Awin and choose one of the Book Depository affiliate programmes that suits your region.
You'll earn a 5% commission on each purchase.
You'll get monthly payouts.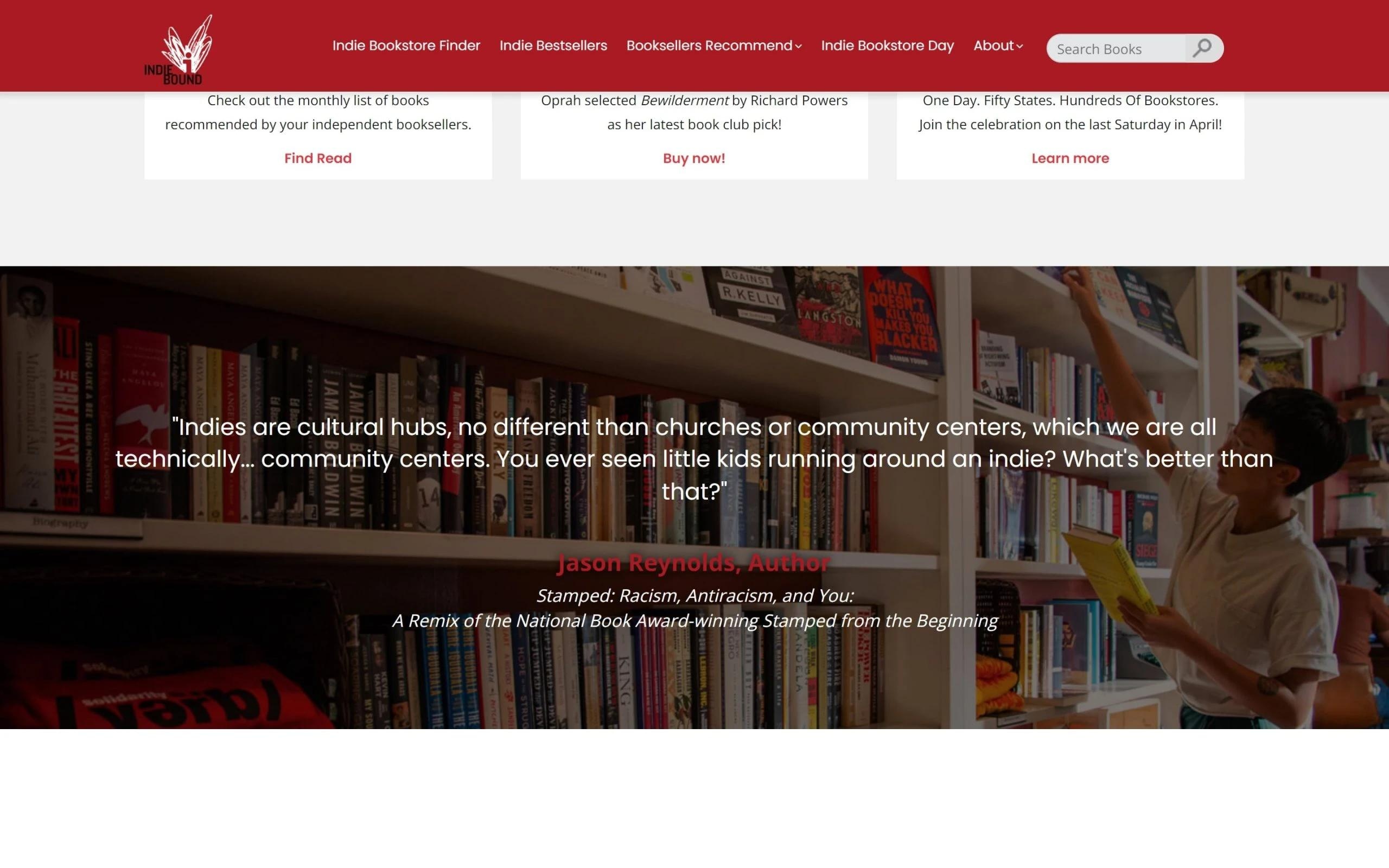 IndieBound is a network of hundreds of independent bookstores, owned by ABA. Their mission is to help bring trusted choices of books to the readers. And you can help elevate this mission by partnering with their affiliate program, and linking to the books that are worth reading.
They regularly update best-seller lists, new writers in the industry, and popular options for a certain genre. You can earn a 10% commission on each sale, which is pretty decent, and better than most book affiliates out there.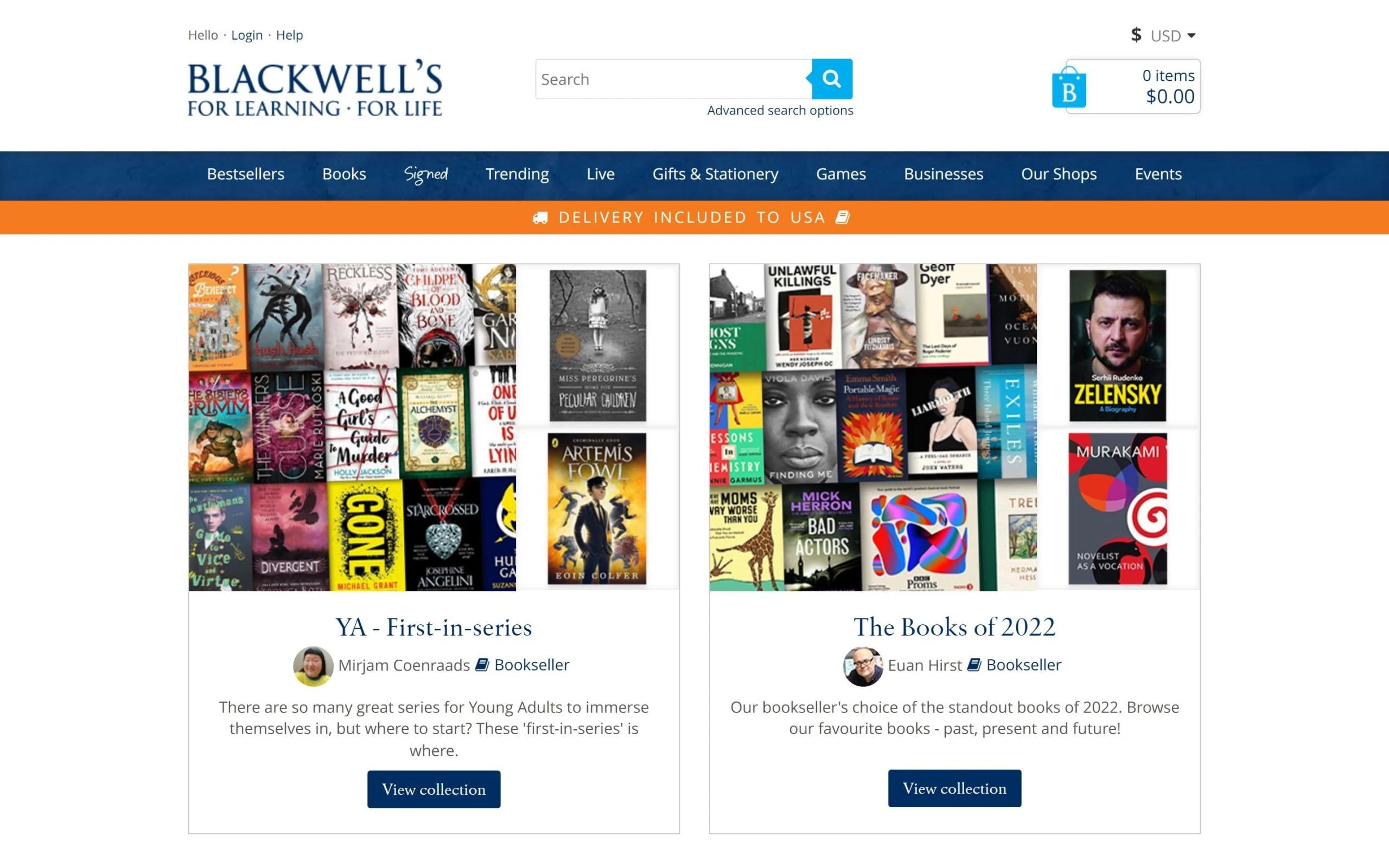 Founded way back in 1879, in the UK, Blackwells is a books and library supplier with over 45 shops. Their affiliates work the same: you link to Blackwells on your website, visitors make a purchase on Blackwells through your link, and you earn a commission on each purchase. Currently they're offering 6% of a total order. Signing up is totally free and only takes minutes.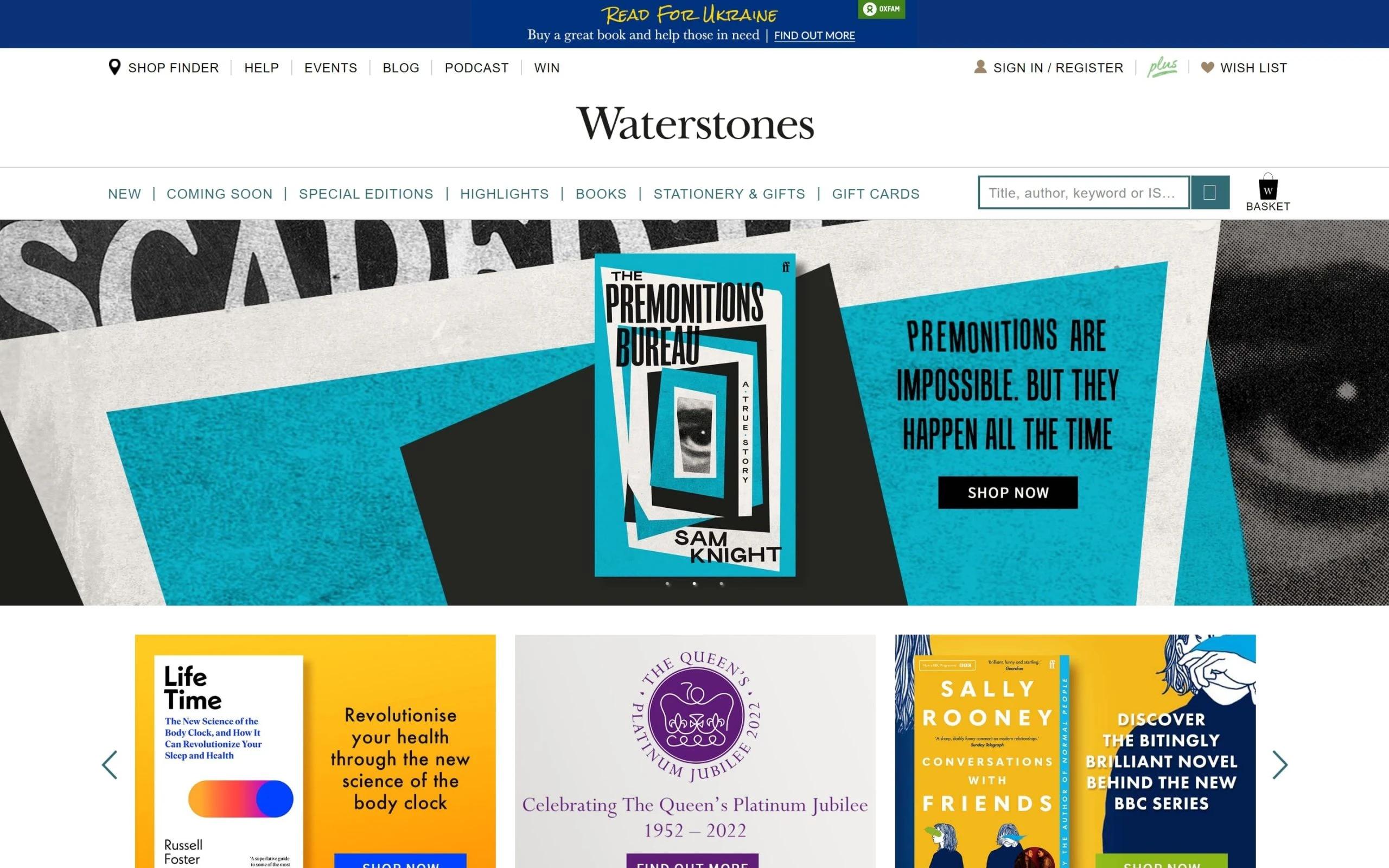 Operating since 1982, the bookshop retailer, Waterstones now runs 283 shops in the UK and other countries. Just like Blackwells, you'll sign up for their affiliate and get a commission on each purchase through your link.
But, you'll sign up through Awin, an ad network agency that gives you banners, links, and everything. They offer a 4% commission on each sale with monthly payouts. Sign-up is free and you can join instantly.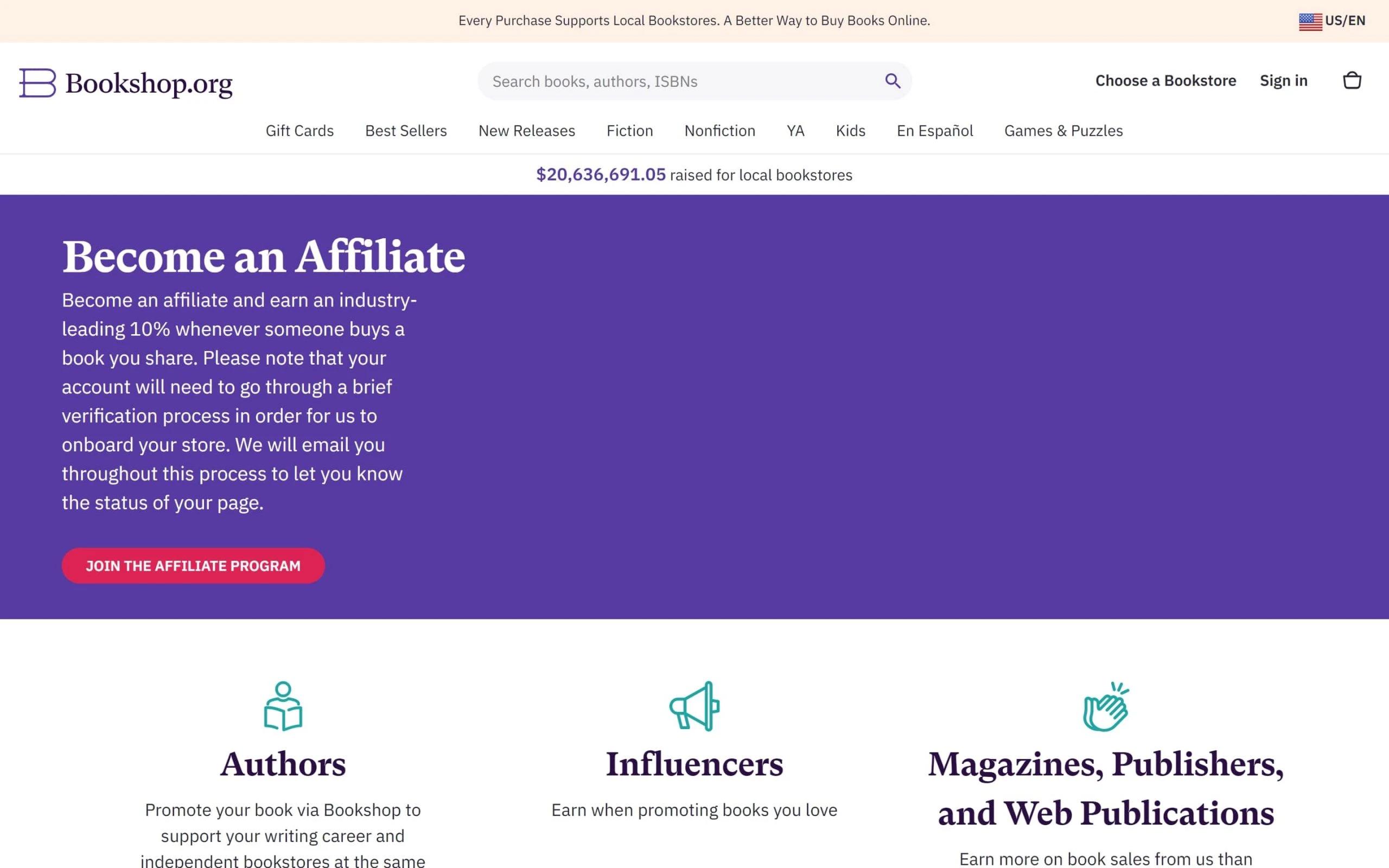 This new organization, founded in 2020, aims to connect readers with authors by providing them an online book marketplace. Readers can discover and buy books of their choice.
You simply need to sign up for free, and share the links of the books you love on your website, and when someone buys a book through your link, you'll earn a 10% commission.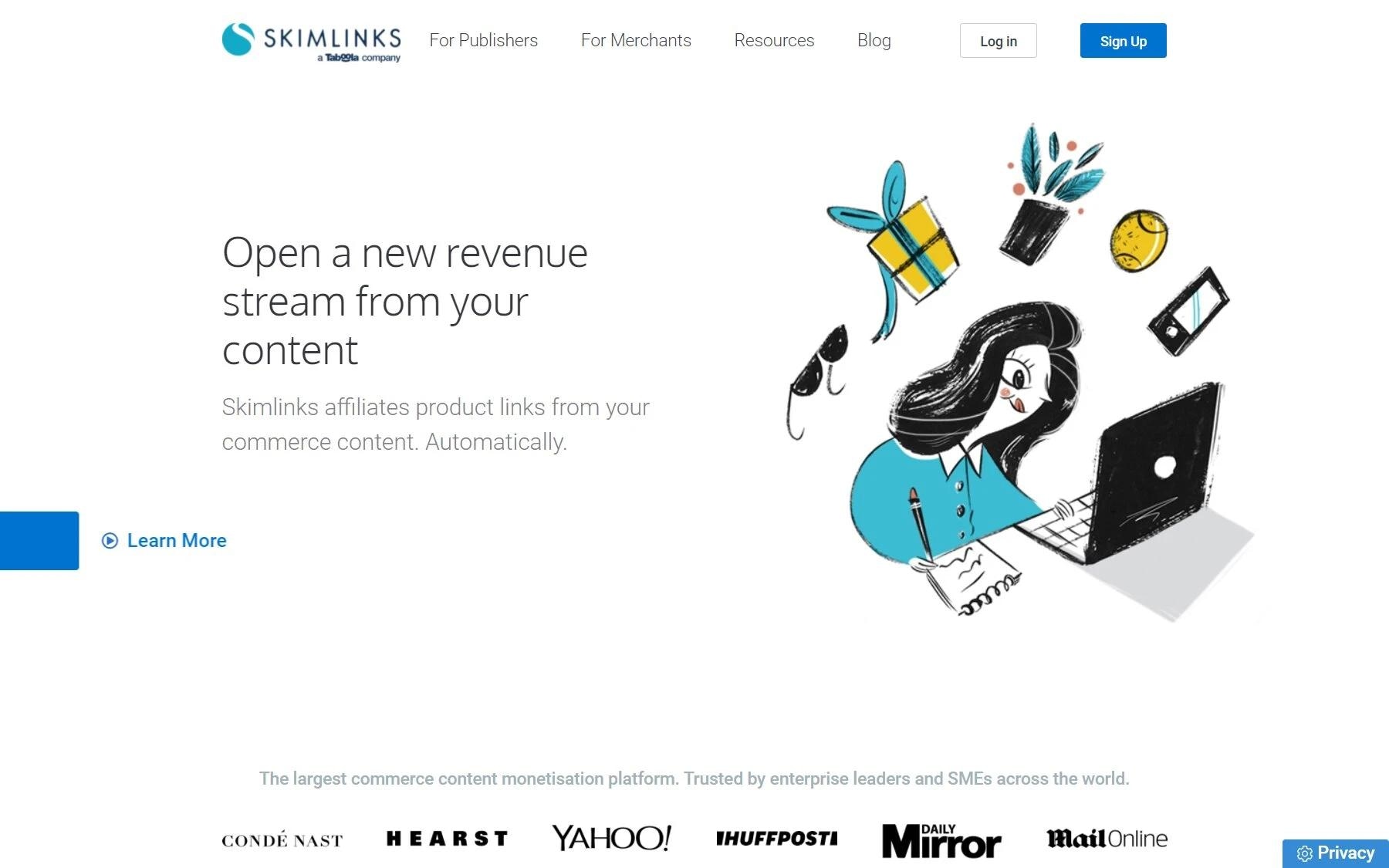 Founded in 2007, in Australia, Skimlinks is using technology to help content creators earn more through their content, and help merchants and publishers worry less about marketing their products and services.
By joining Skimlinks' affiliate programme, you can promote the products of over 20000 merchants worldwide. All you need is a code from Skimlinks to embed in your website, which you'll get after you join their affiliate program.
Then you'll only link to the available merchant, and Skimlinks will automatically generate a certain commission on each sale you generate through your link. Commission varies from merchant to merchant; sometimes 10%, 15%, or even 30%.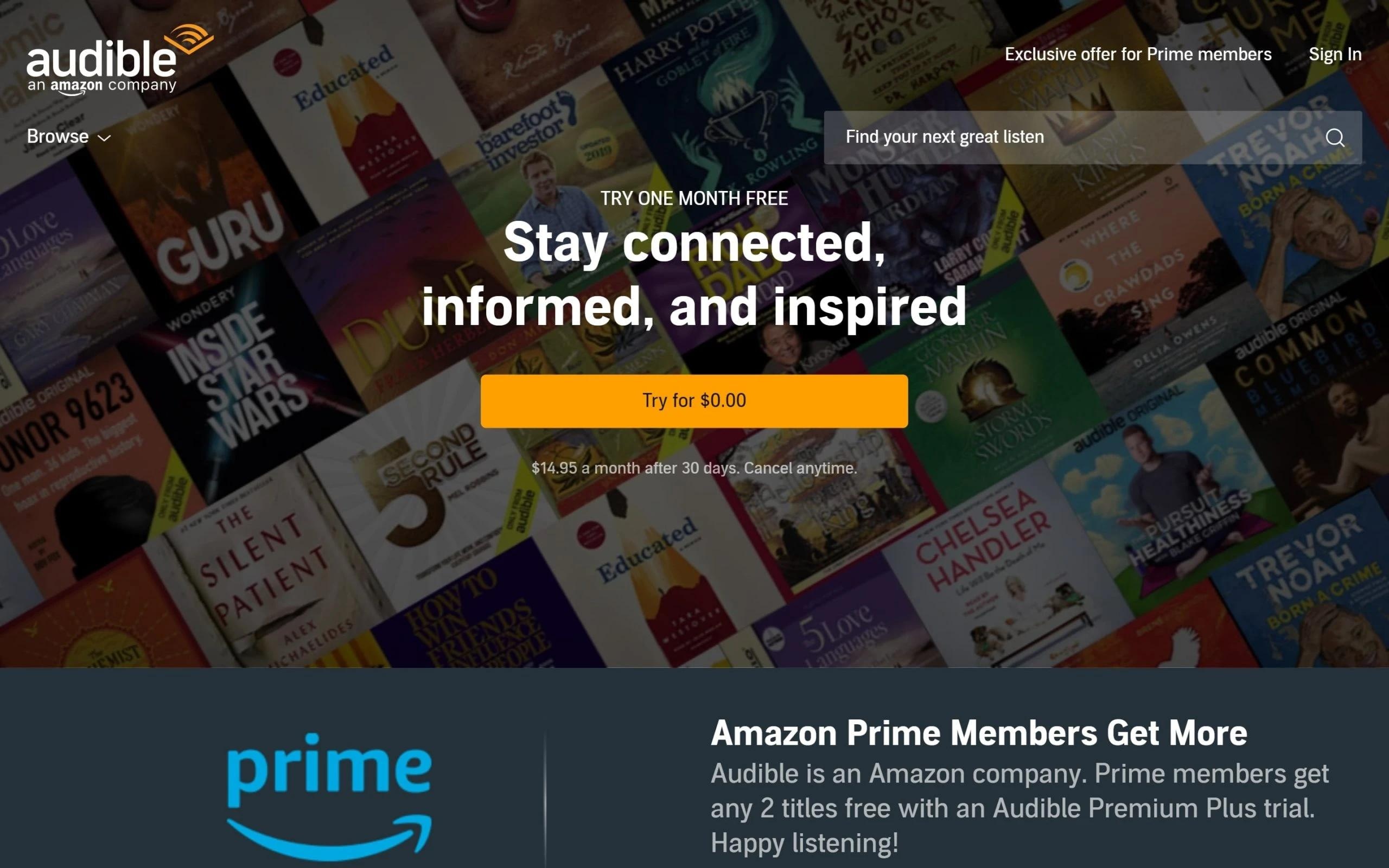 You probably are already aware, the product of Amazon, Audible generates premium quality audiobooks. So, once you sign up for the Amazon Associate program, you're eligible to promote Audible books on your website. You'll earn 0.50$ on each ALC sale, which means when a non-member pays a retail price to buy a book on Amazon, but not through Audible membership.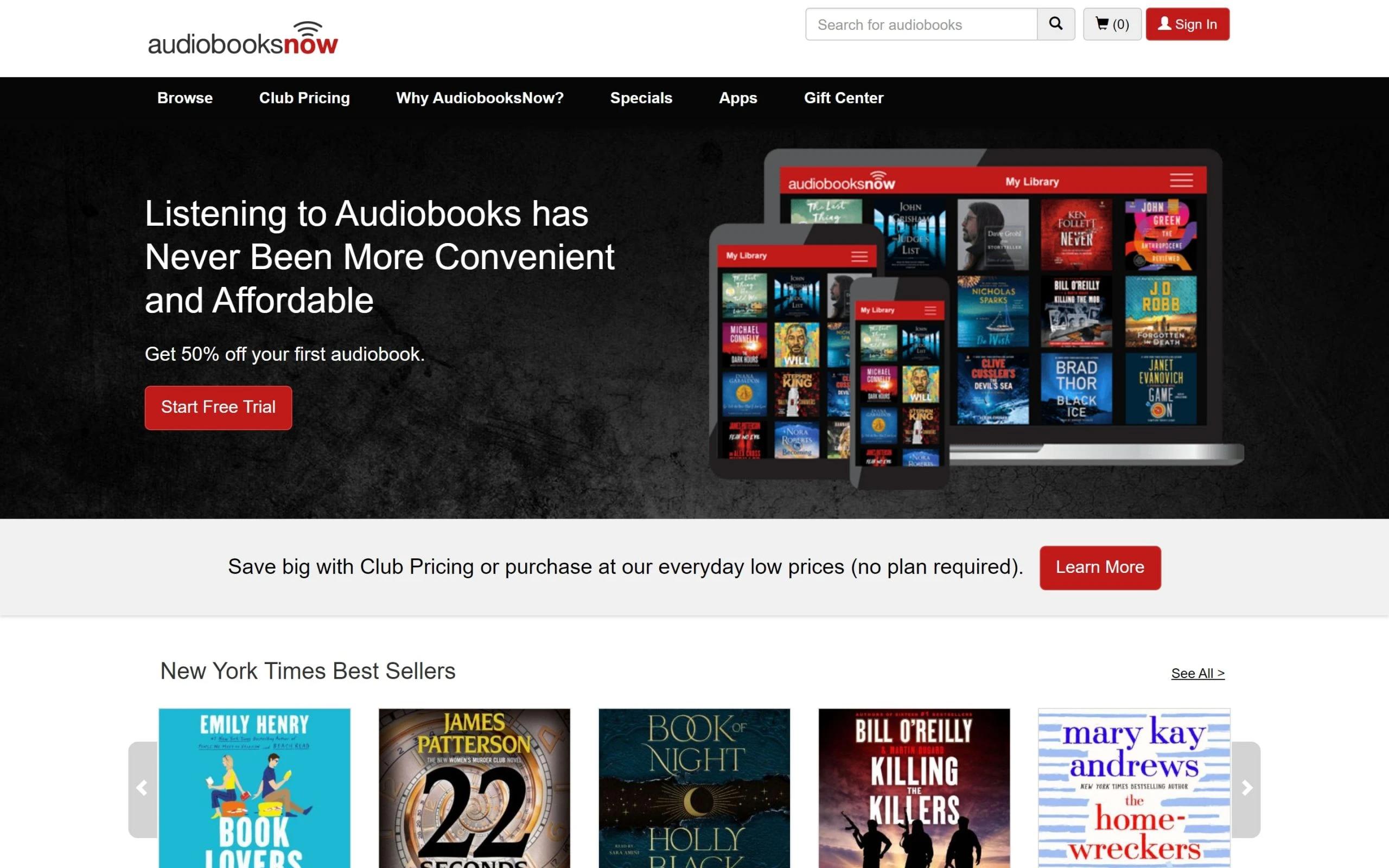 AudioBooksNow is an audiobooks streaming platform where you can become a premium member of the club or directly purchase. They have over 120,000 book titles that you can wish to promote.
When you sign up for their free affiliate, you earn 10% commission on each purchase. Another good thing, the cookie duration is 15 days, which means if someone clicks on your link, and purchases within the next 15 days, you can still have the commission of it.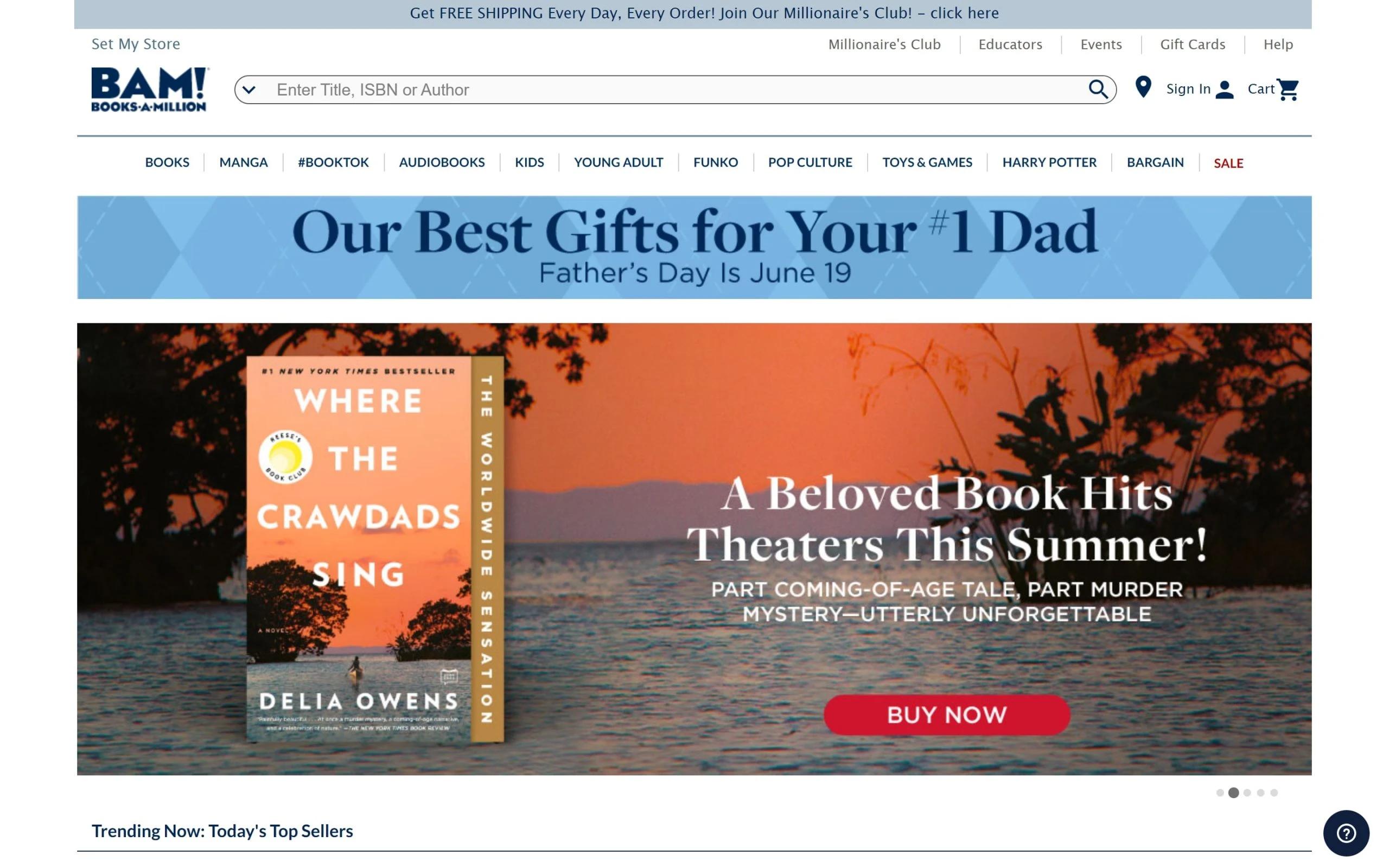 Since 1917, BooksAMillion has provided services as a book retailer. Now, it has grown to one of the largest book retailers in the US. You can not only find books there, but toys, gifts, and other stuff related to the book's theme, which means you got more things to earn money from.
Their affiliate programme is open for every size website so that you don't have to generate a certain amount of visitors to be eligible. For each qualified purchase, you can earn a 5% commission. Sign up for free to get started.
Working since 1996, AbeBooks has been helping sellers of books, fine arts, collections of rare historic prints, and only-editions across the world. Since 2008, it's owned and controlled by Amazon.
You can sign up for the AbeBooks affiliate for free, and earn 5% commission on each 500$ order or more. You get paid once a month through their own independent payment network, Impact Radius.
15. eBooks.com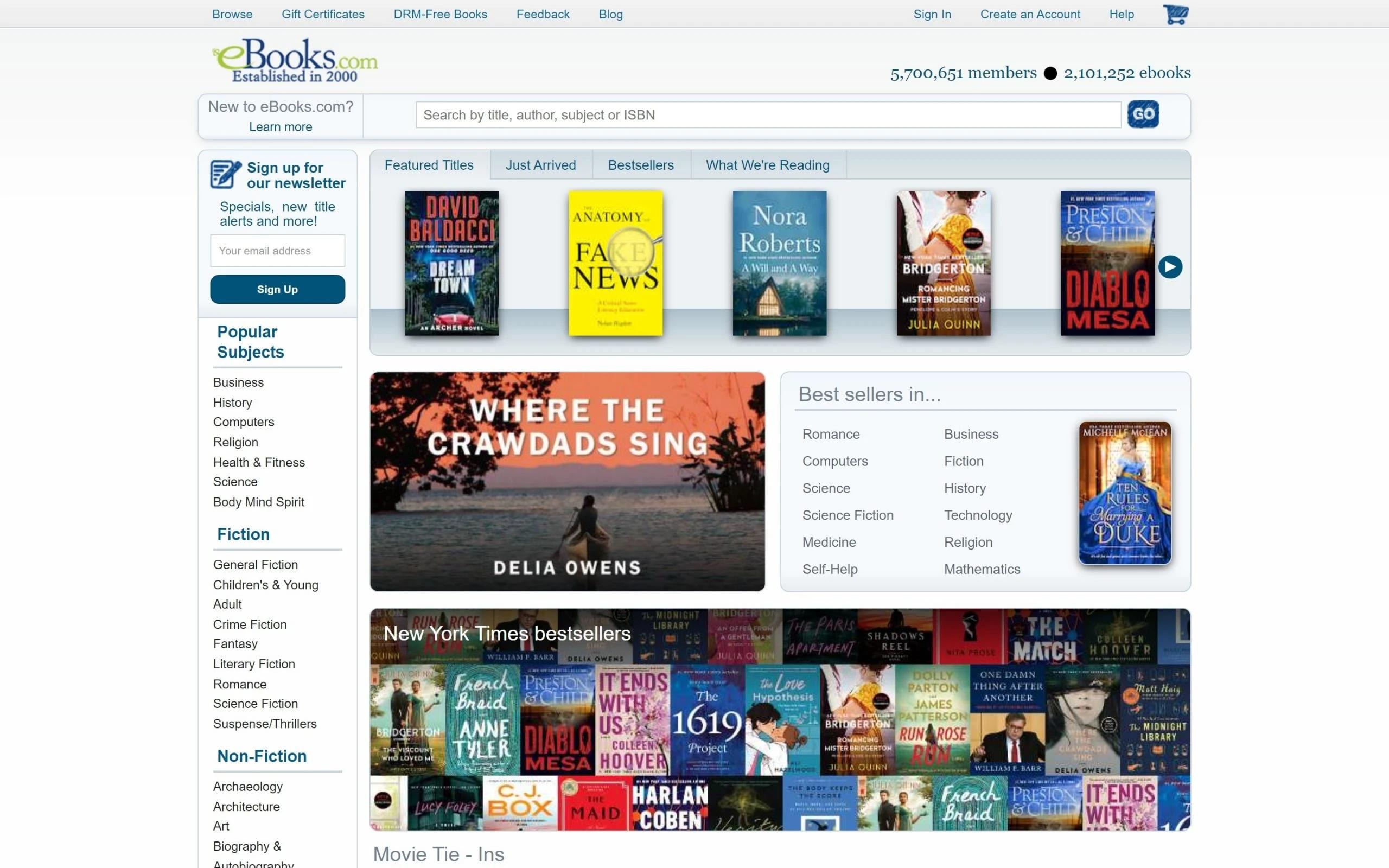 Since 2000, the eBooks platform has sold millions of books worldwide, including in Antarctica. Joining their affiliate program will help you earn depending upon the number of sales or commissions generated.
Unlike others, where commission is fixed, eBooks are different. If you generate up to 499$ at the end of the month, you'll get an 8% commission. But, if you generate up to 499$ – 999$ a month, you'll get a 10% commission. That's rewarding. Sign up for free to get started.
7 Well-Paying Ad Networks for New Book Bloggers
After growing visitors to a certain limit, you can apply to ad networks to display ads on your website, and earn from there. You'll earn by:
PPC — when someone clicks on the ad.
PPV — or also known as impressions, based on how many people see the ad on your website, you'll earn accordingly.
Different networks have different criterias and money to offer. Below, you'll find some of the best ad networks for new book bloggers.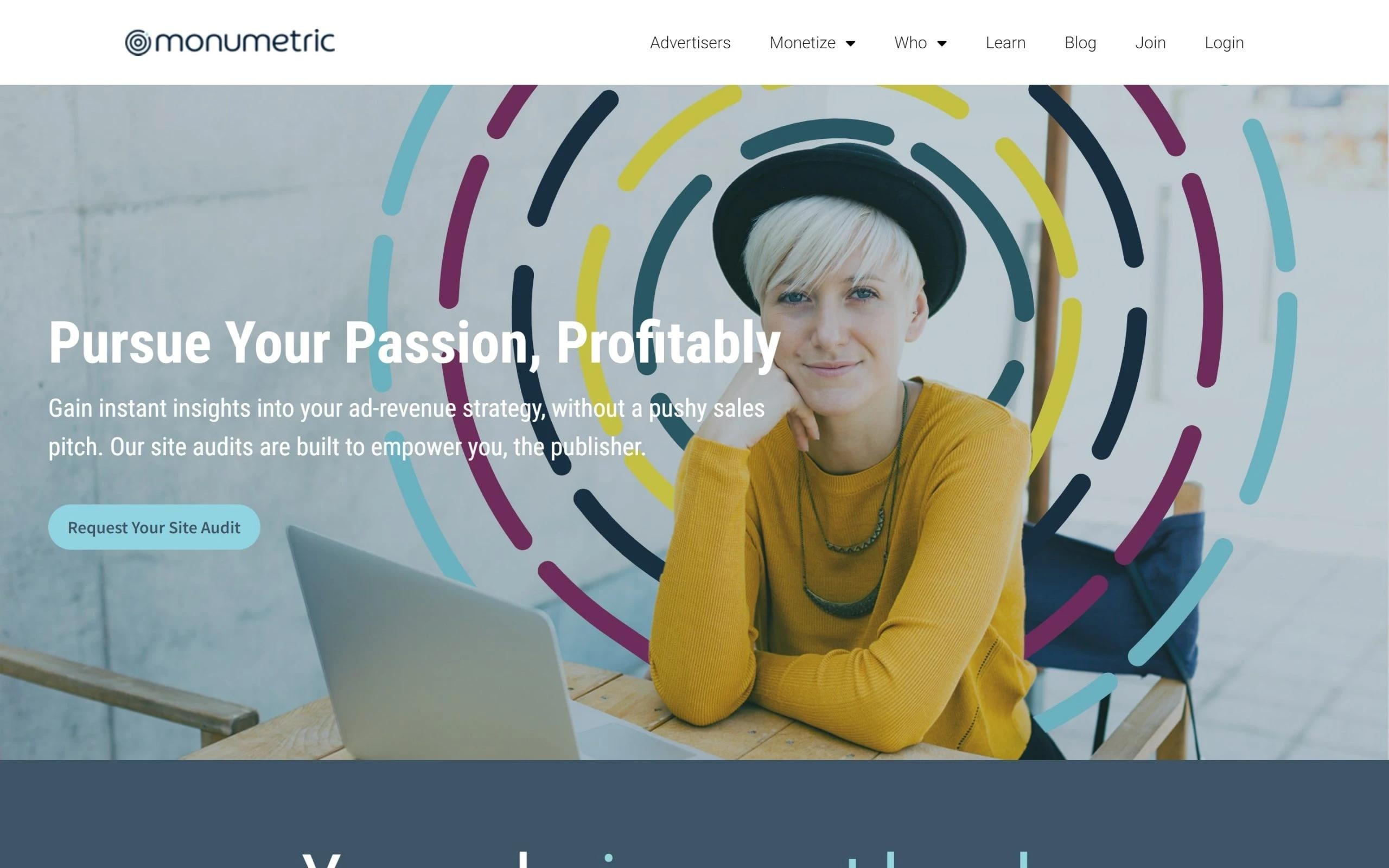 One of the popular choices, since 2012, Monumetric is helping bloggers increase their revenue stream through full solution ads management.
Their customer support is incredible, as they even hop on a call to answer your queries. You only need to focus on creating quality content, and they do all the burden lifting. On per 1000 ad views, you can generate revenue of 5-15 USD.
To sign up:
You need 10,000 monthly page views.
Your site must be on Blogger or WordPress.
You need 6 slots for ads space.
You'll pay a one-time 99$ set up fee, which is not returnable.
This might seem a way out of your league as a new blogger, but that number of views comes easy if you stay consistent.
Ezoic is a powerful website optimizing platform that automatically improves your site speed, display ads earnings, and design layout. They're certified Google partners, which means Ezoic also helps Google in optimizing Google Adsense and Google Ad Manager.
To sign up:
You need 10,000 monthly visitors.
Your site must be supported with Adsense.
Your site must adhere to Google policies.
You need unique and value-filled relevant content.
Their support is simply amazing, you can get any questions answered 24/7. Start with a free 30-day trial, no credit card or contract required.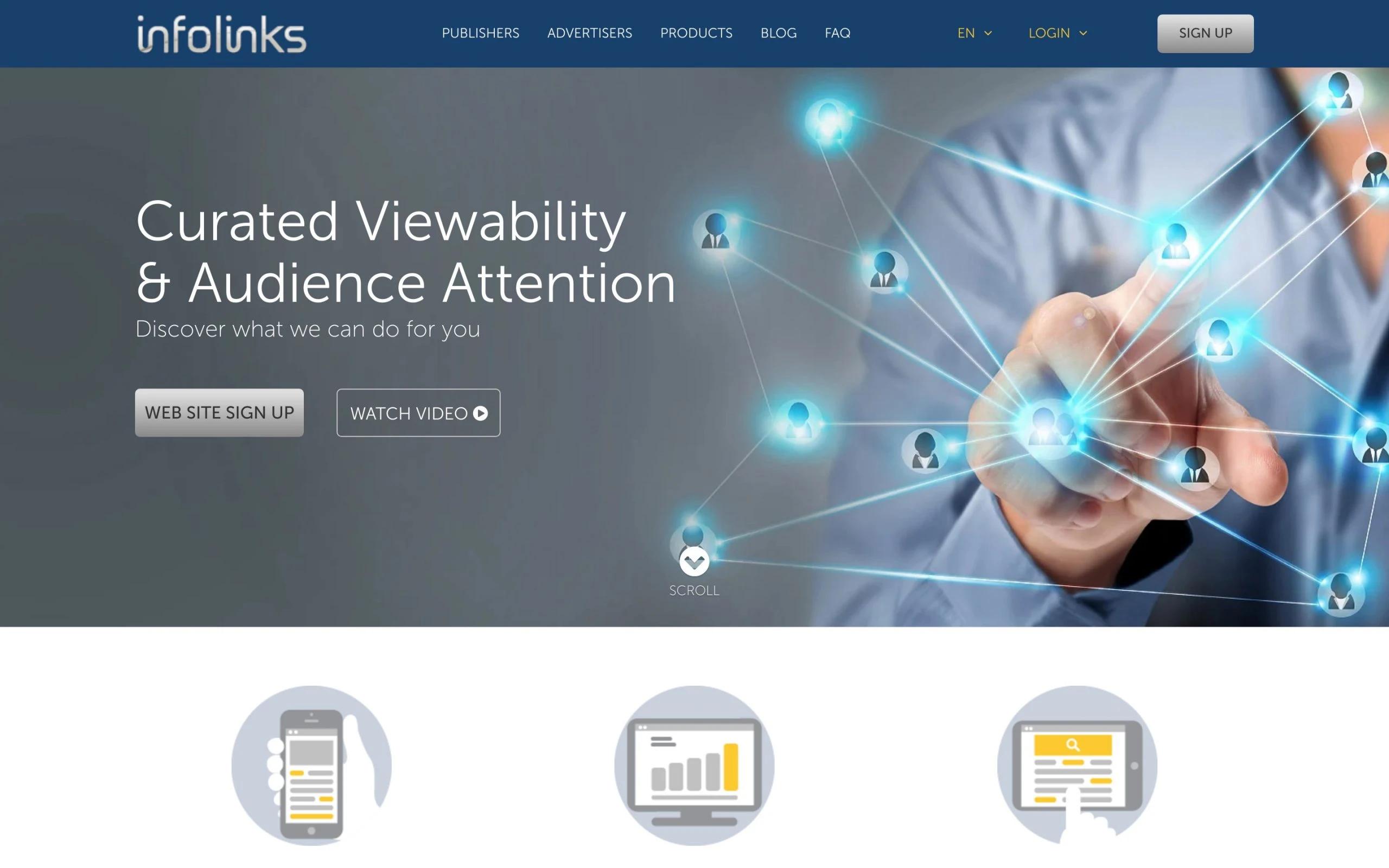 With over 1000,000 websites worldwide using Infolinks to generate revenue through ads, Infolinks is an ideal choice for a starter. The best part, unlike others, is the approval is easy, and you don't need a higher number of per month visitors.
Here's what you need to get approved for Infolinks:
At least 1000 visitors per month.
20-30 high-quality posts published.
Add all the essential pages of your websites. (Not sure which ones? See the section above in this post)
Integrate the code provided by Infolinks, after you're registered.
Another good thing, revenue rates are not fixed, which means you can earn maximum depending upon the ads on your website. The minimum payment threshold is 50$ through PayPal or Payoneer.
4. Google Adsense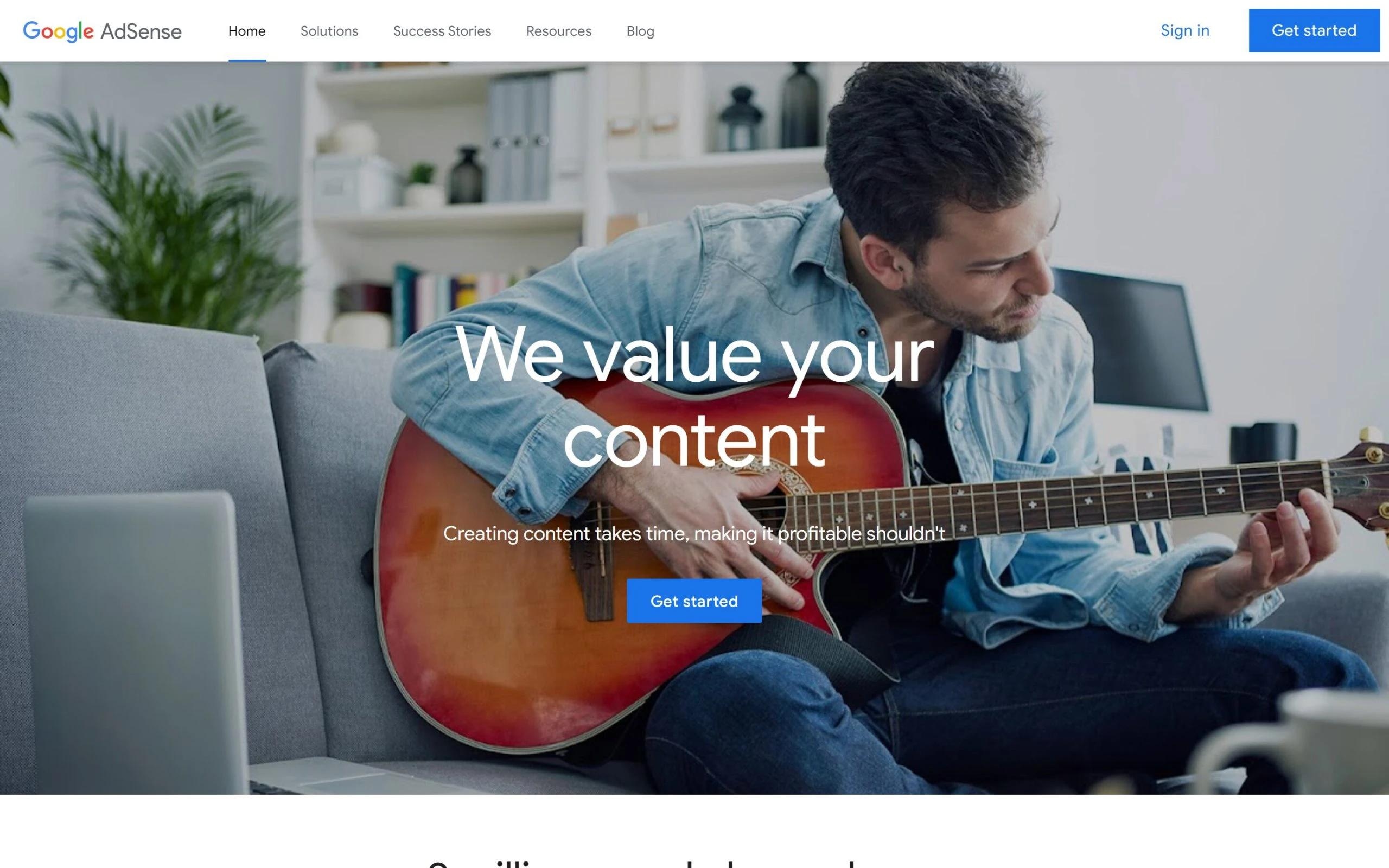 Adsense is probably the most trusted and most heard ad network for bloggers. It offers a wide range, types, and industries of ads. The best part, which saves a lot of time and effort, is that you can set up auto ads.
Ads will automatically show on your website, depending upon which place you assign. And you've the choice to totally customize the space, and turn on or off the auto-ads feature.
Here's what you need to know:
The minimum payout is 100$.
Sign up is easy and free, but if your content lacks the quality Google loves, you might get a hard time for approval.
You should be at least 18 years old or otherwise, you'll need to use your guardian's Google account for approval and transactions.
Depending upon the region and ad niche, rates are between 0.20$ to 15$ per click.
Earnings on impressions or per 1000 views are generally extremely low — 1$ for 1000 ads views.
The pro tip here is to first focus on generating valuable content for the readers to give an outstanding user experience — Google loves that.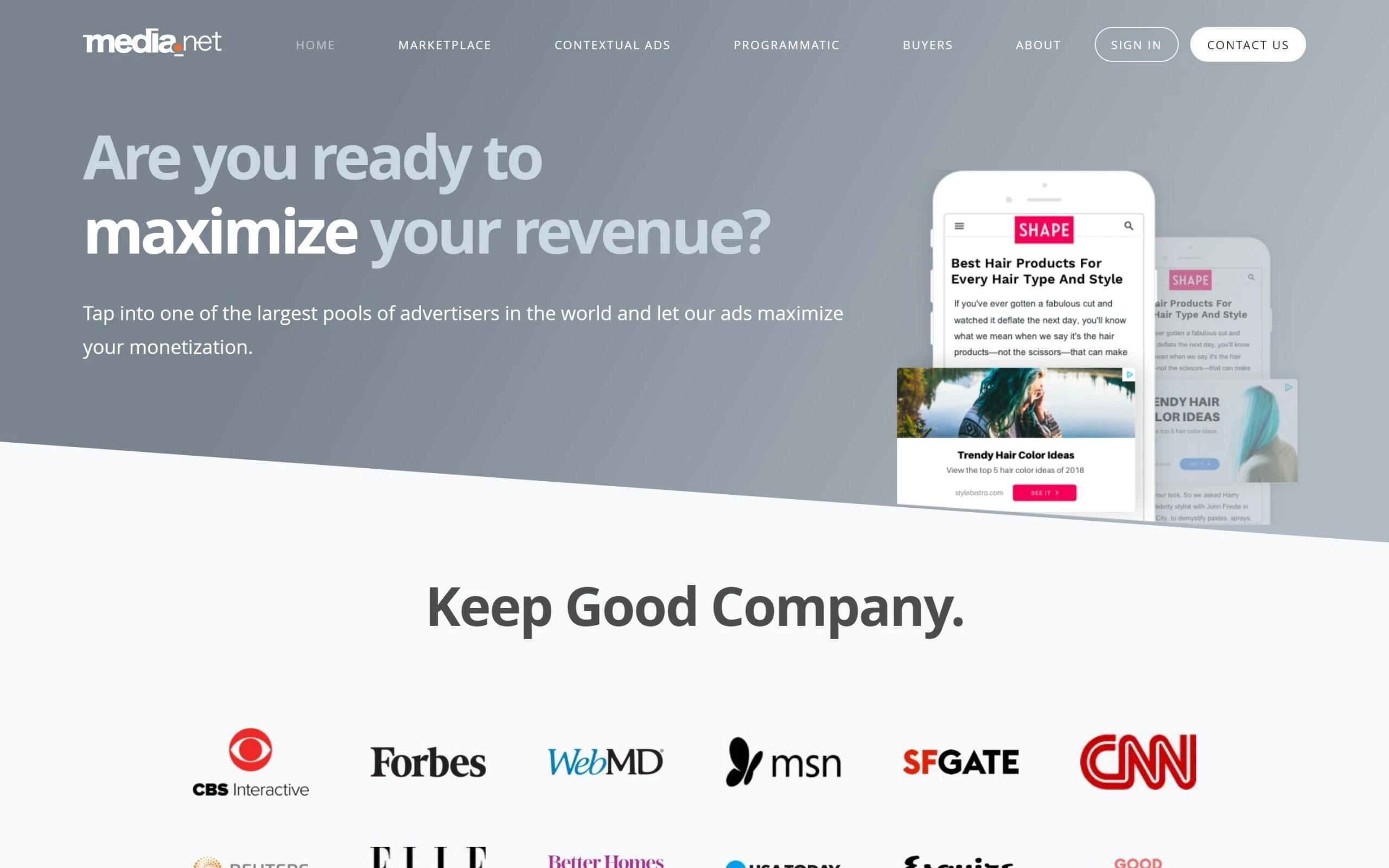 Media.net is also amongst the popular ad networks — but unlike others, this platform displays ads that are relevant to the website's content. That's good because visitors are most likely to click on those ads, increasing the revenue potential for website owners. And Media.et is powered by Yahoo!.
Here are some tips to get approved on Media.net and start earning:
Create a lot of unique and valuable content.
The target audience should be mostly from the UK, US, or Canada.
Have some decent traffic before applying — at least 1000 per month.
Media.net pays 5$ per 1000 ad views or impressions, which is pretty decent compared to Adsense.
Final Words: Ready to Start Your Book Blog This Year?
Starting something from scratch is always overwhelming. But if you're firm, optimistic, and willing to put consistent energy into your own book blog, you'll feel that success is just around the corner.
We hope this guide has been helpful for you. And you're now ready to kickstart your blogging journey this year!
Comment below and let us know, when are you starting? And what names currently you've in mind?