You know how quickly things move in the wild world of eCommerce these days.
One minute you're crushing it with your best-selling yoga pants, the next some new social media platform comes along and suddenly your customers want smart watches instead of stretchy pants!
It can definitely feel like everything is changing all the time in this industry. But you know what doesn't change?
The importance of constantly learning new ways to reach customers and boost your bottom line.
That's where this handy list of eCommerce blogs comes in - we're about to walk through 30 of the best blogs and resources out there for keeping your eCommerce strategy at the top of its game. 🛍️
🛒 What is an eCommerce Blog?
Before jumping to the list, let's make this clear.
In case any of you are new to the game, an eCommerce blog is basically an online journal or website dedicated to sharing tips, strategies, opinions and news related specifically to running an online store.
Think of an ecommerce blog like your ultimate guide for staying on top of all the latest tips in the world of internet retail.
Good eCommerce blogs are written by fellow entrepreneurs just like you, or industry experts who've been in the game for years. They share lessons they've learned the hard way so you can benefit.
🚀 How We Picked Best eCommerce Blogs
First off, we made sure these top eCommerce blogs posted fresh and useful articles regularly. Gotta keep up in the fast-paced eCommerce field!
We also looked at which blogs broke down complex strategies simply. Y'all need info even newbies can understand to level up your stores.
Naturally, blogs with lively communities scored major points. You best believe we searched for the sites with commenting.
Insider info like from startup owners themselves also scored big. Rather hear from real pros than mega companies.
🤝 Why You Should Trust Us
We've been blogging for a long time and our blog is always full of great articles. We know what makes a blog good.
At Code Supply Co, we make cool designs for WordPress blogs that lots of blogs use all the time. We've helped lots of different blogs become popular.
We've been blogging and helping people make their blogs for a while, so we really know what we're doing. We've learned lots of ways to get readers and get them talking.
We love and know all things about blogging!
💡 The 30 Best eCommerce Blogs for Businesses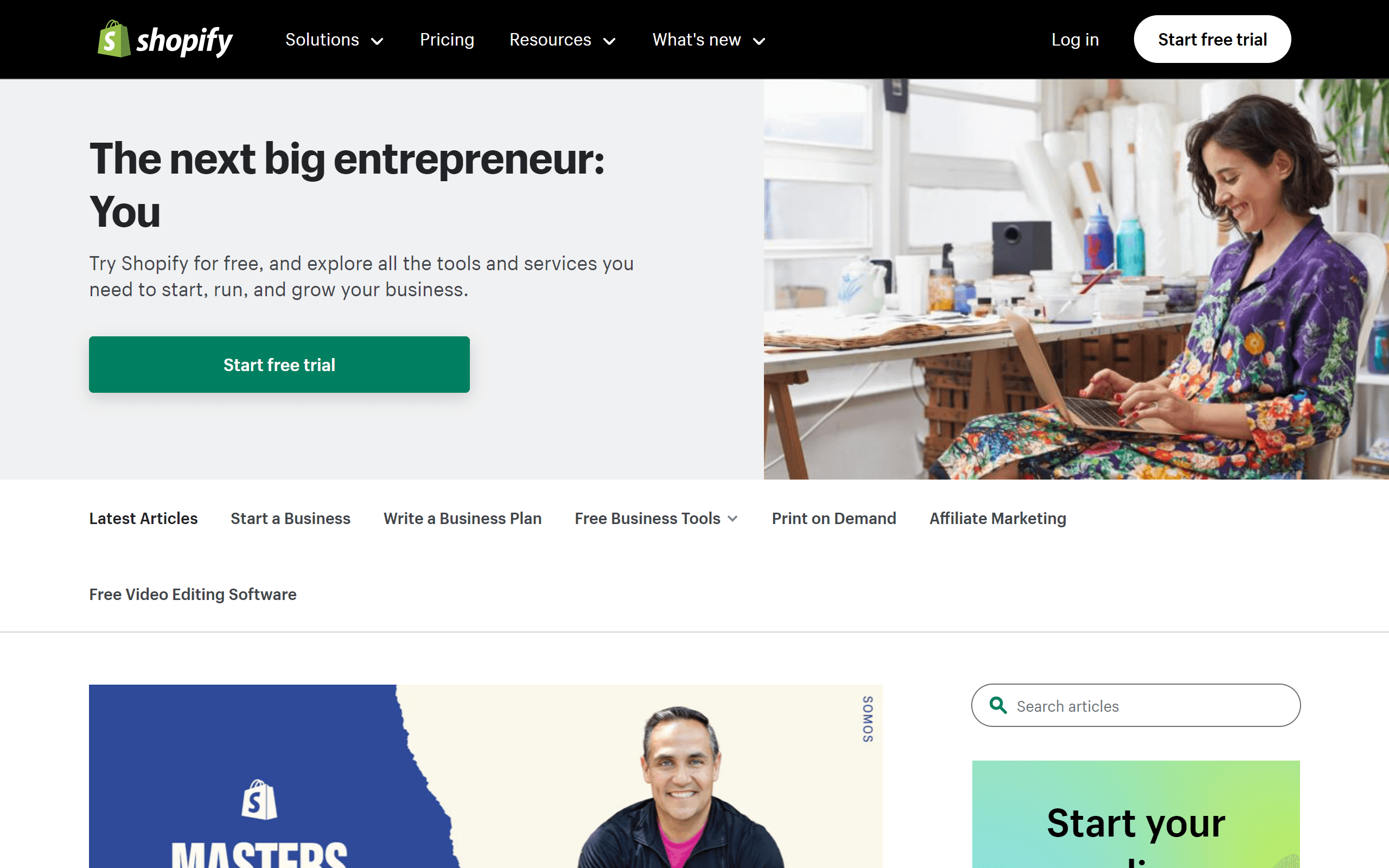 Alright so first up we have to mention one of the most popular e-commerce blogs, Shopify blog. Now if you're one of the countless merchants running shops on the Shopify platform, this is the best eCommerce blog for you.
Those Shopify folks are always posting super helpful how-tos on figuring out all the ins and outs of pimping out your store. Got a question about a new app? Chances are they've covered it. Want some inspiration? They highlight cool store owners crushing it all the time.
Why is Shopify Blog Our Favorite?
First off, they're constantly dropping new posts about selling online - like multiple times a day. As someone trying to learn, that's super clutch since things change so quick in this field.
All the topics are mega useful too, whether you're just launching a store or trying to scale it up. They cover strategy, marketing, apps, you name it.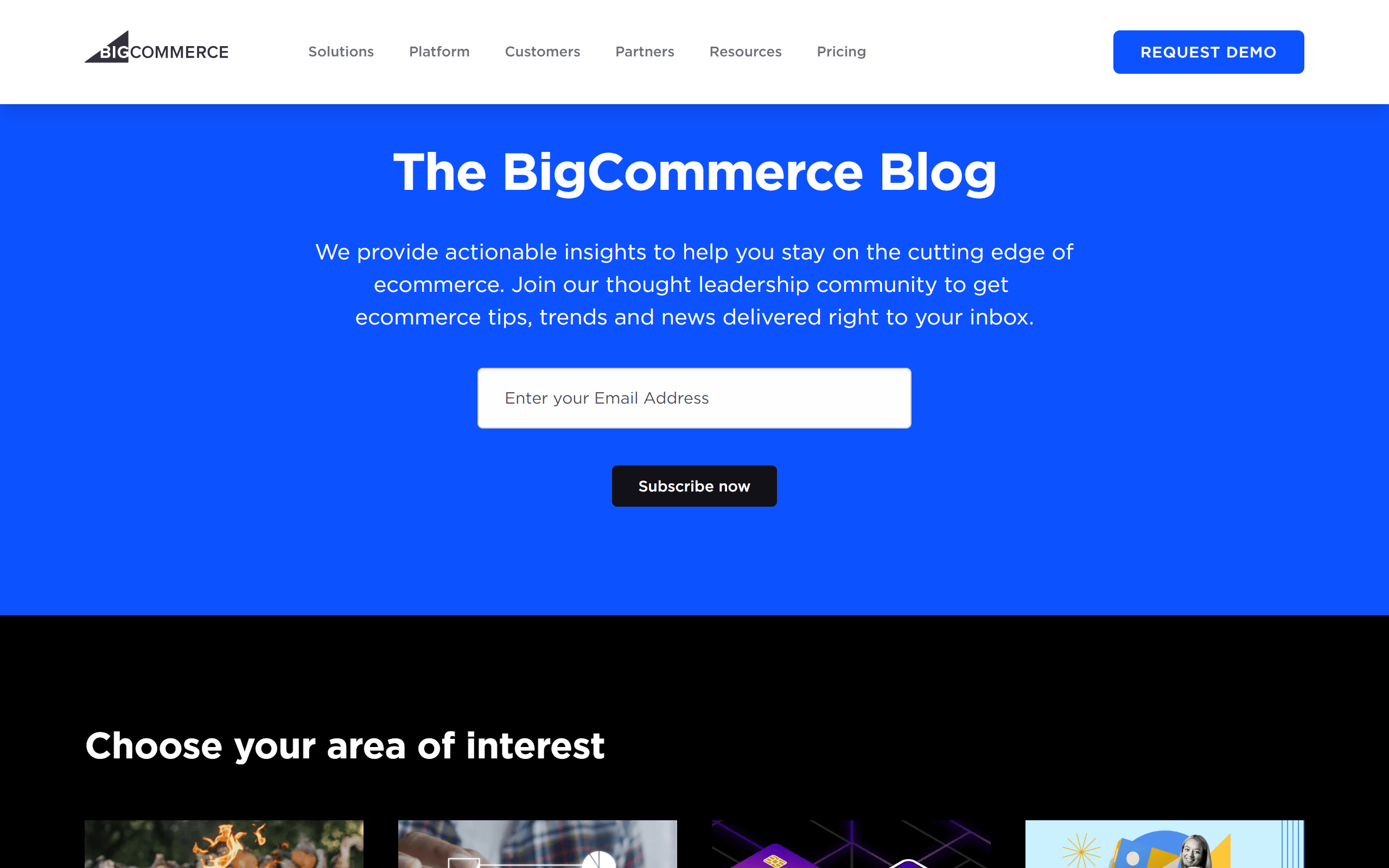 As for BigCommerce, this is definitely one of the most legit eCommerce blogs. You need a refresh on the latest BigCommerce features or just feel like reading about fellow merchants' wild success stories — these guys deliver.
The good news is, they don't just stick to eCommerce content - sometimes you can even learn a thing or two about marketing or industry news. They mix it up to keep us attention-span-challenged people engaged. This platform has your back with always-helpful blog updates.
This is an eCommerce blog that can become be your virtual assistant. These experts are constantly posting insightful tutorials on managing products, customizing checkout pages, and harnessing the power of themes and extensions.
But they don't just cater to newbs - if you are an expert, you still can learn about integrating new payment methods, analyzing store stats, and case studies of real merchants' best practices. Whether you sold your first item or have thousands of orders behind you, this eCommerce website blog has something to teach.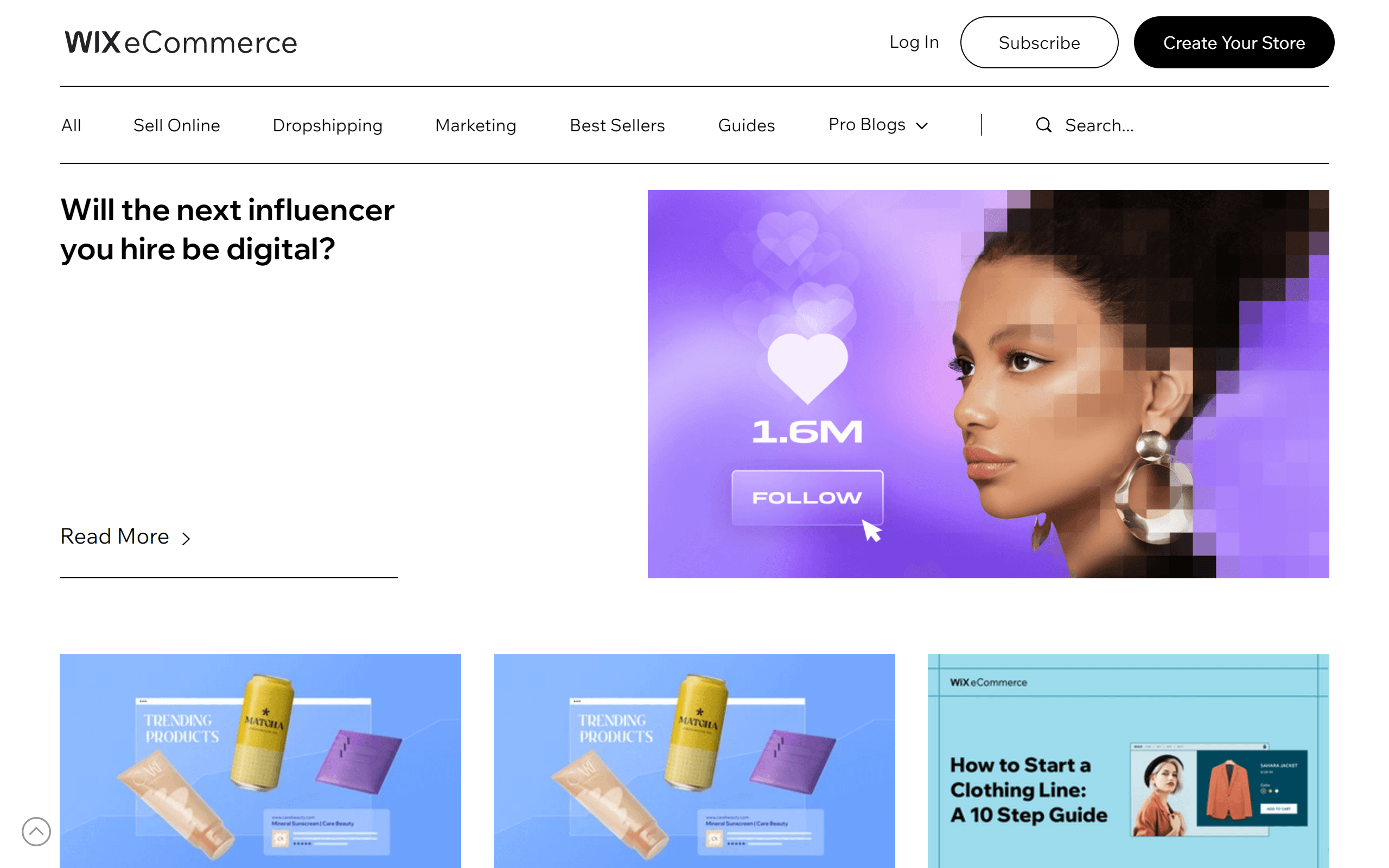 If vibrant designs and marketing are your thing, check out this blog. Even if you don't use Wix, their creative case studies and guides are worth browsing. One article broke down how a florist optimized her site UX and visuals for holiday shoppers.
Elsewhere they unpacked cross-channel ad strategies and maximizing sponsorship deals. It's your wat to find out how to, for example, promote blog for free. Don't be surprised if lurking inspires your next store overhaul. Whether online or in-person, they know how to promote and please customers.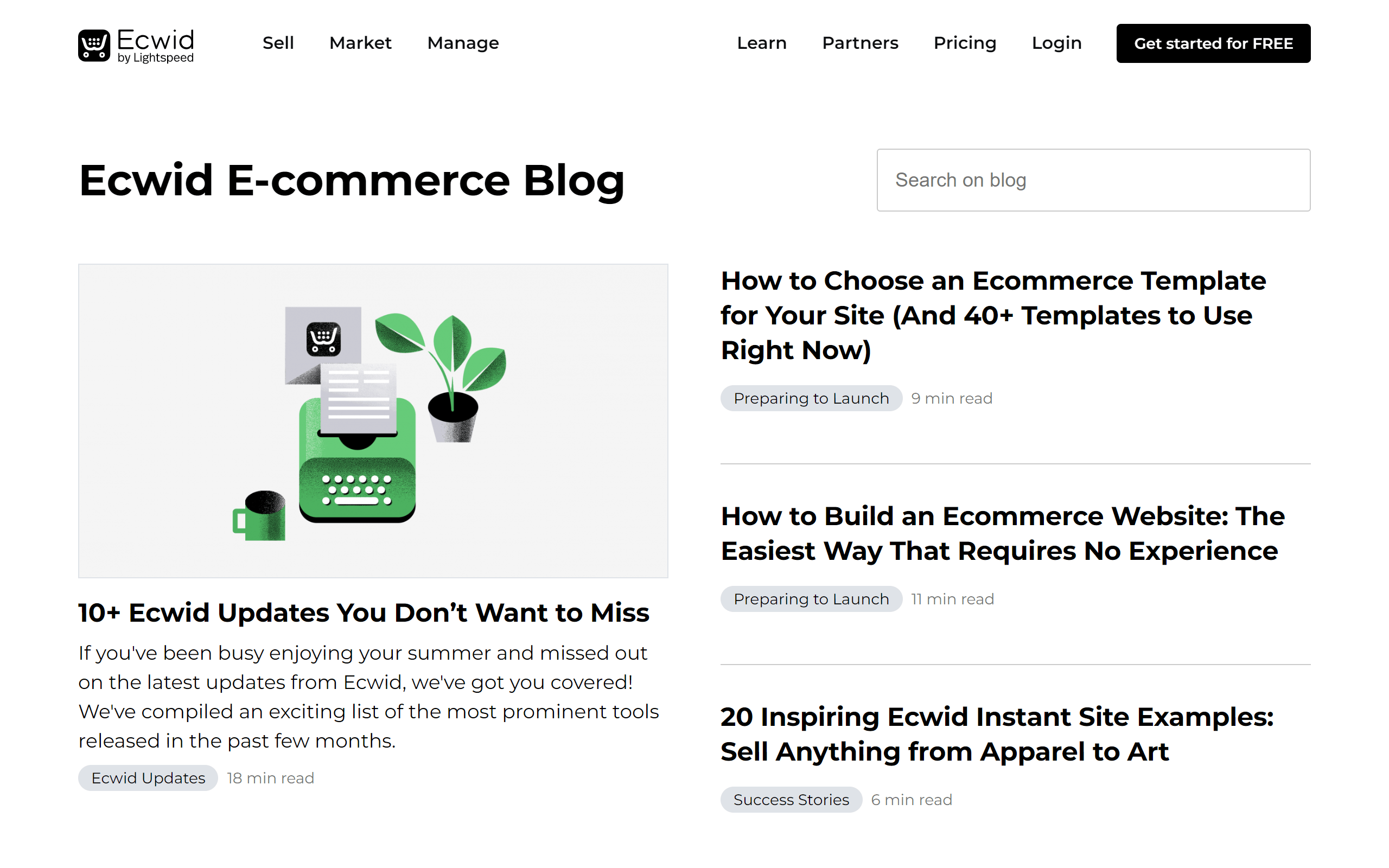 Don't sleep on Ecwid's blog, another one among top eCommerce blogs, as a go-to resource no matter your eCommerce solution. From new shipping regulations and payment security to exploring product photography best practices and leveraging marketplaces - their wide-range of topics keeps us versatile.
Besides that, the occasional reality check, like normalizing the stress of sales slumps, keeps things lighthearted. You can also find best blogging apps there. This is one of the most insightful blogs on eCommerce out there.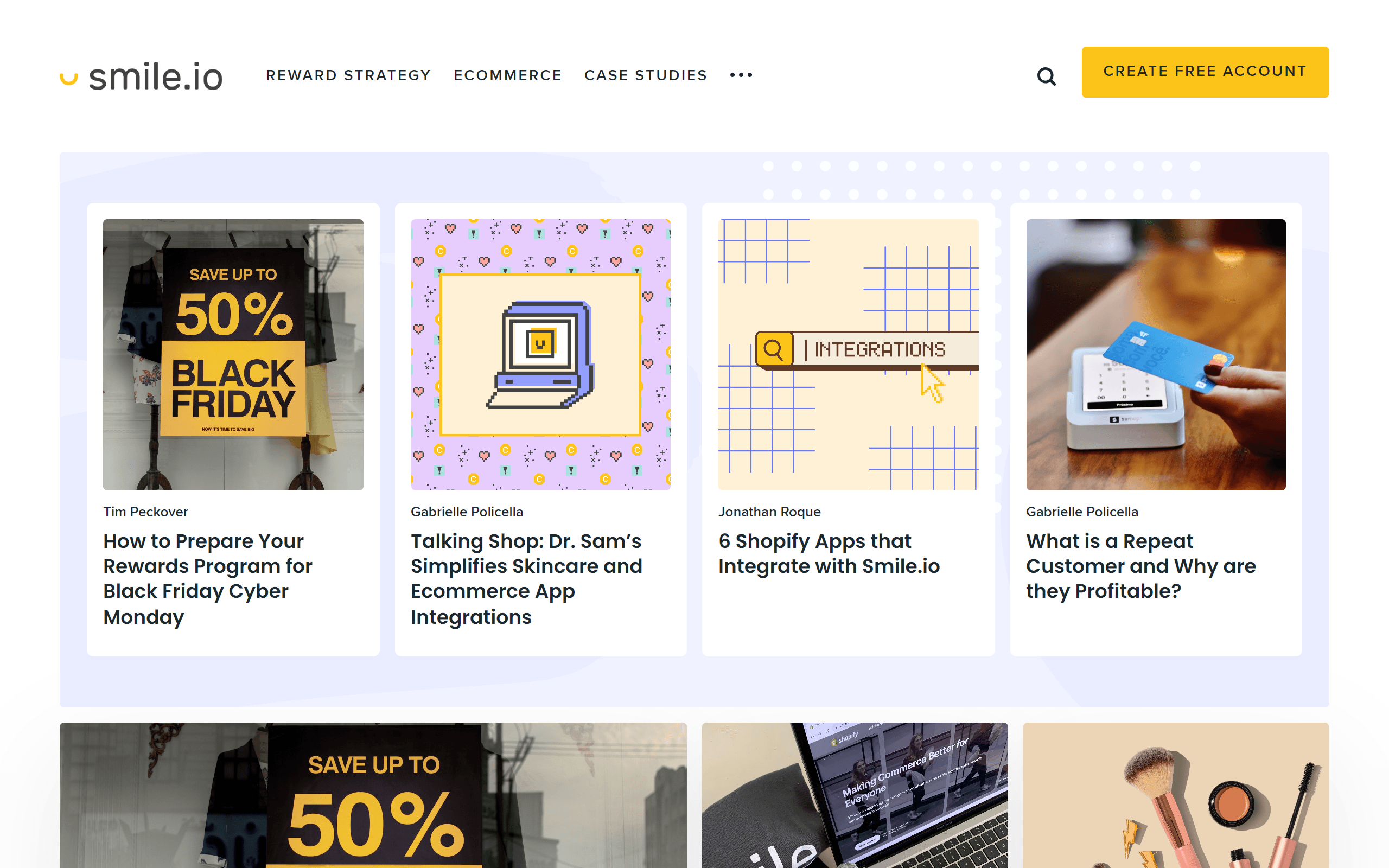 Now if you're in the loyalty game like us, these posts are a must-read. Their writers are always grilling the audience about how they amped up customer engagement with cool Smile perks and rewards. So this is definitely one of the eCommerce blogs that you should follow.
One brewery even doubled sales! Plus they've got primers on attraction all types of customers whether you want 'them hooking on points, VIP status, or referral deals. Really helps flex those program muscles.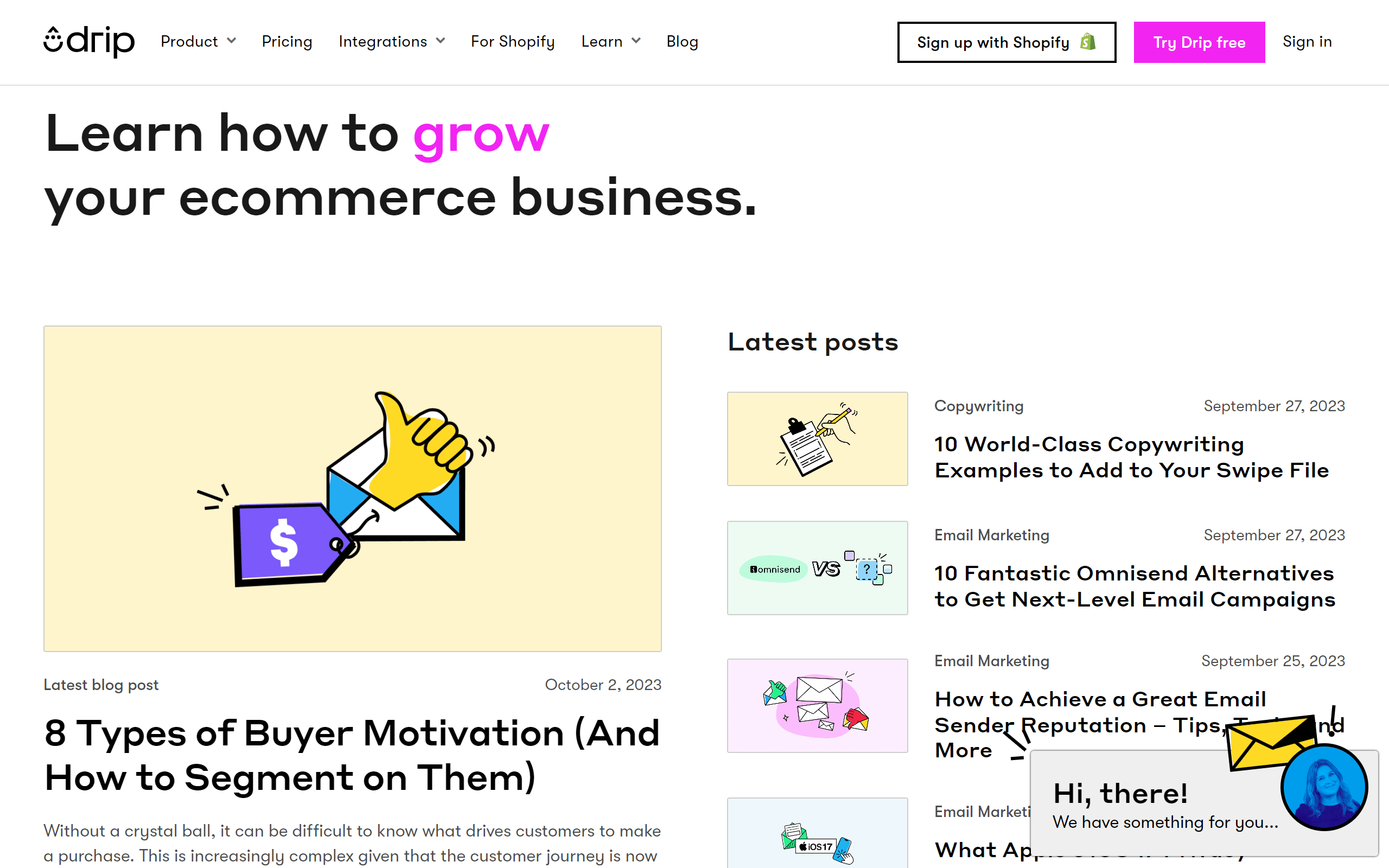 Drip's blog is another fave - especially if you're trying to stop sending one-off emails and start chatting with your peeps on the reg. Their tutorials about building magnetic email sequences teach tricks for funnels, drip campaigns, the works.
But what we like is they also philosophize on the wise psychological reasons humans actually buy stuff, you know? It sure makes thinking like our subscribers a whole lot easier. So, this website is among those best eCommerce blogs you need to check out.
This eCommerce website blog is the master of email and SMS. They touch on everything from captivating first-timers to loyalty maintenance through quick texts. Don't be shy - their blog's a great place to try some mobile moves even if you are not SMSing or emailing yet. So, trust us, this is one of the top eCommerce blogs handpicked for you.
A few minutes reading there can spark some ingenious ideas for your multi-channel mashups. All in all, solid blogs to steal a strategy from - you'd be silly not to peek. Omnisend Blog is the ultimate eCommerce blog to get the answers and insights.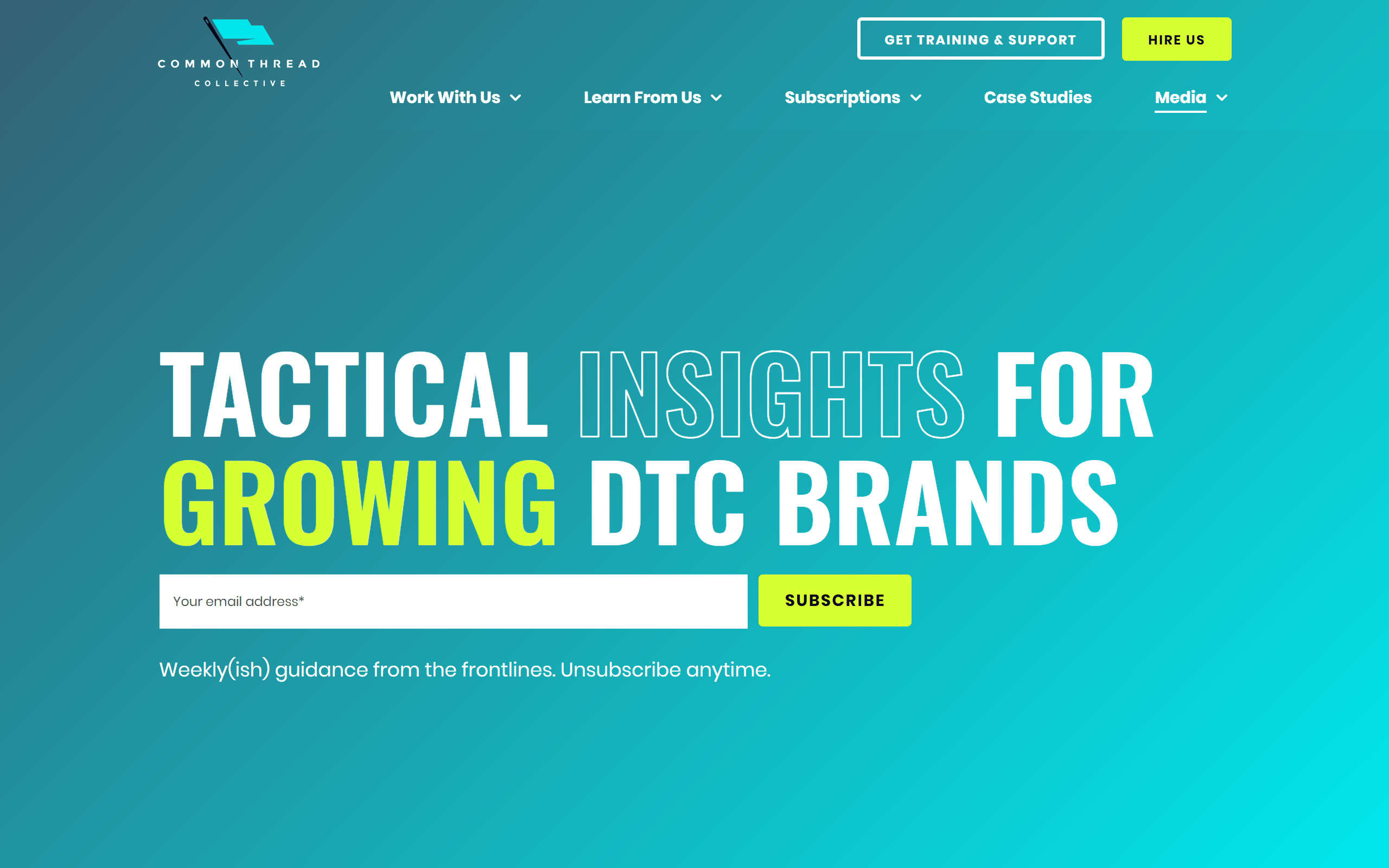 This one's also among best blogs on eCommerce. The Common Thread blog is really inspiring for anyone running their own craft or artisan business. Their features touch on unique companies finding success, so you can be sure this option is the best eCommerce blog for inline sellers.
Like the post about a fleece vest maker who boosts winter sales with limited-edition plaid designs - always leaving customers wanting more. Or how one print shop thriving in a small town does pop-up markets to reach new audiences. You really feel like you're learning from other indie entrepreneurs who've tested strategies.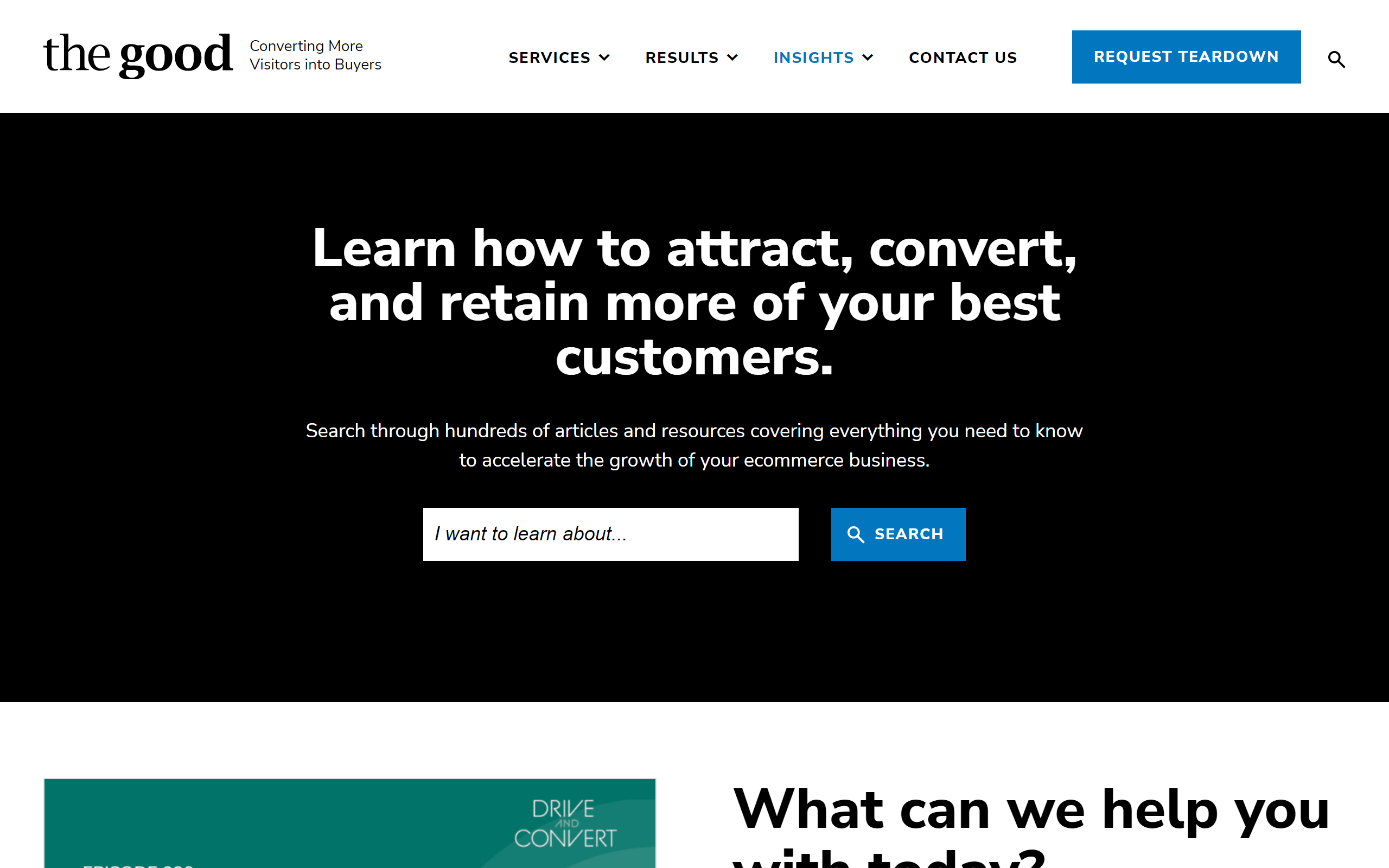 Another eCommerce blog that covers all the angles of online selling! You can tell they really care about representing all kinds of customers. One article highlighted how a shoe brand caters to disabled feet through custom options.
Very cool to see a company so thoughtfully serving a whole group often ignored. They give other bloggers a run for their money with humanity and heart. We've definitely picked up empathy and perspective reading there. Trust our expertise, this eCommerce website blog is high-standard.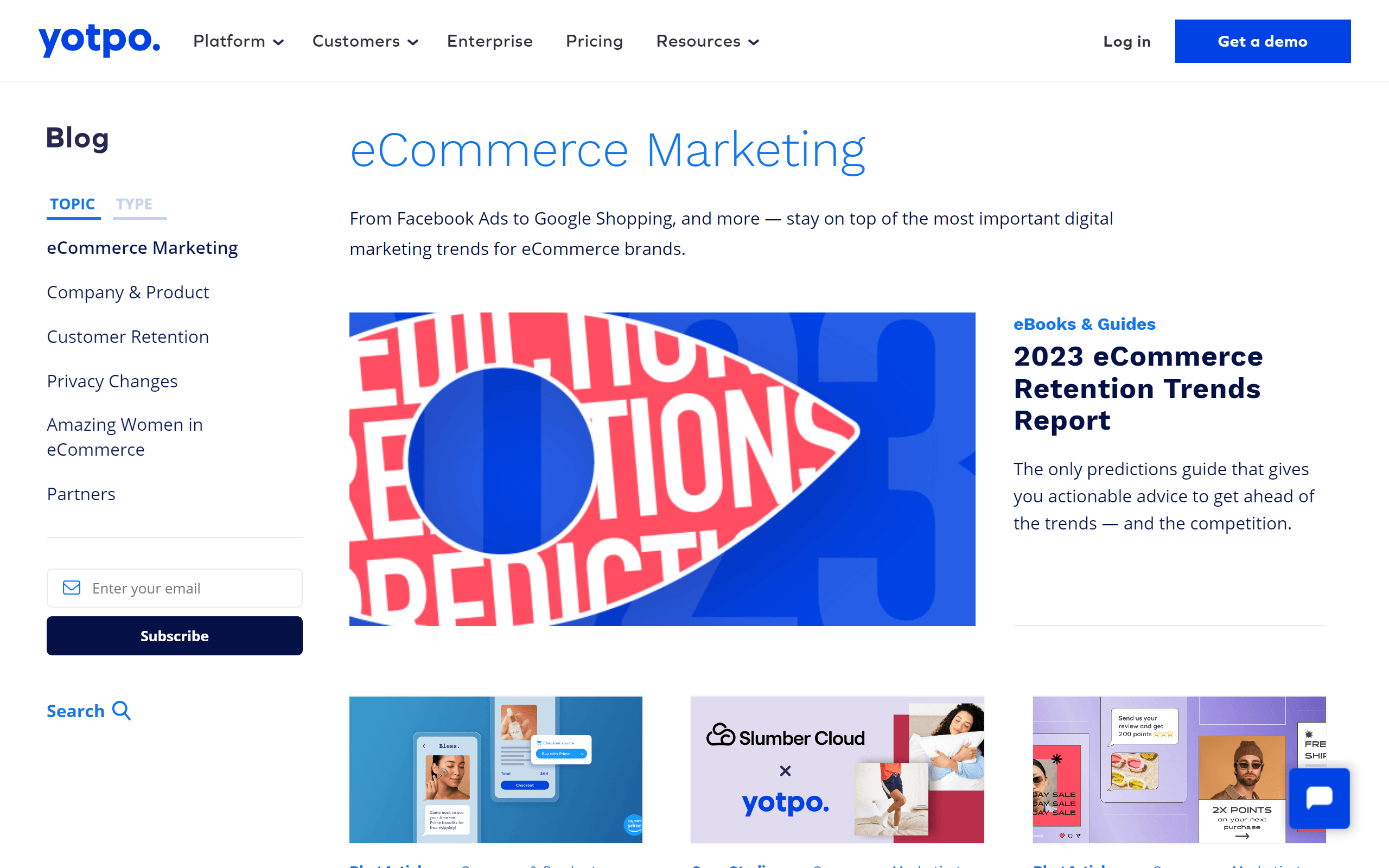 You can learn so much about private label products from them. Like a deep dive into how to start a sustainable clothing line from sourcing fabrics to branding. Their look at new Amazon programs is invaluable too if you're trying to grow there.
Even better, their tutorials are super practical. This can serve as one of those motivational blogs that make you set goals and act. Definitely one of the most insightful blogs on eCommerce we found for online sellers.
This is yet another one of eCommerce blogs that is all about helping online sellers out. It's run by marketing automation people, Klaviyo, and has heaps of case studies, stats, how-tos and insider tips for growing your online performance.
Doesn't really matter if you're new to eCommerce or a pro, you'll find strategies for getting more customers, building email lists, making shopping personalised and juicy stuff like that. Trusting their professional approach, we can say that this choice is one of the most useful one among eCommerce blogs.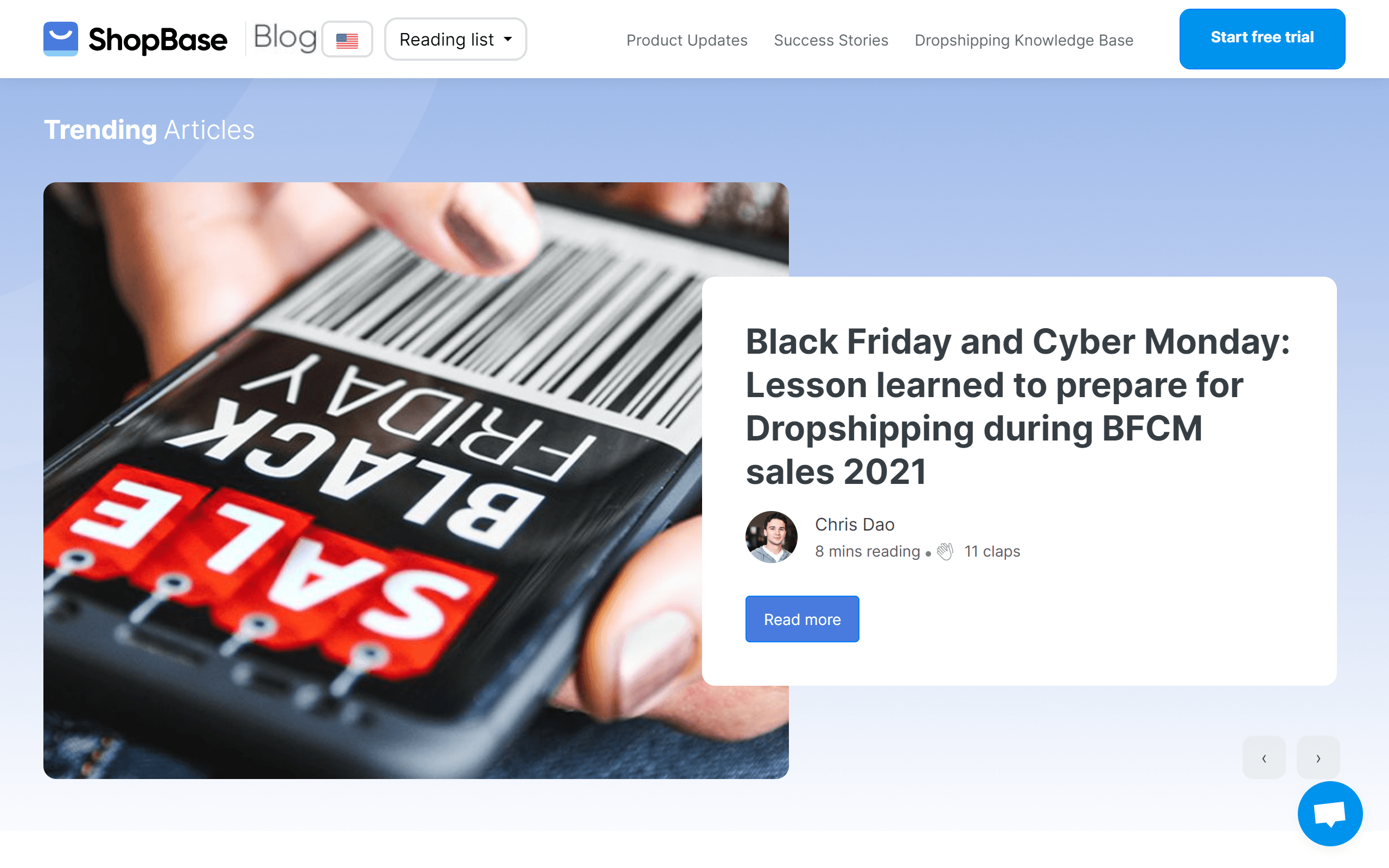 ShopBase is an eCommerce website blog that lets you stand up an online store quick and easy. You'll find articles about growing your performance, managing stock, boosting sales and all that good stuff. Even if you don't use ShopBase, it's got lots of handy tips, so it is one of the best eCommerce blogs that covers everything you need.
They cover trending topics like using social media marketing to bring in customers. Also shipping tips to keep orders moving. Super useful for small businesses or anyone starting an etsy shop basically.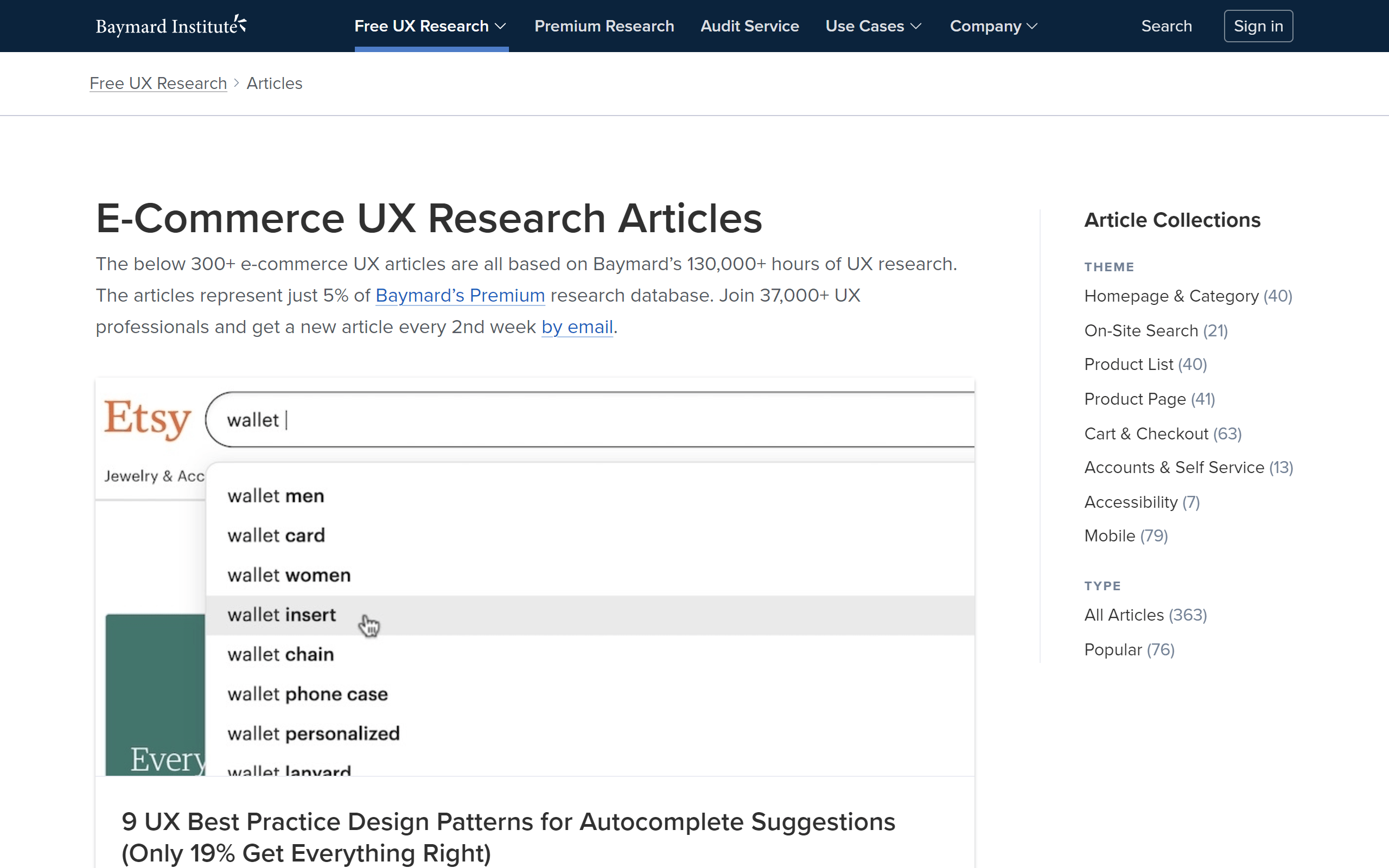 This one's coming at you from user experience research company Baymard Institute. Yet another one among top eCommerce blogs! They share learnings from analyzing top eCommerce sites like Amazon and Target. Articles break down how different layouts, features and decisions affect sales.
It's a cool source of data-backed recommendations if you want to improve navigation, product pages, checkout and more on your storefront. This eCommerce blog is all about enhancing the online shopper experience!
The Printful blog is basically a must for anyone in the print-on-demand game. As a fulfillment company, they know what's up when it comes to running a printing business. If you just started or try to level up what you're already doing, this is one of the top eCommerce blogs that got all the questions covered.
On their site, you can find in-depth tutorials that will show you the ropes - we're talking merch design tips and tricks, step-by-step guides for integrating Printful with sites like Shopify, loads of strategies for marketing your printed gear, optimizing products that sell, you name it.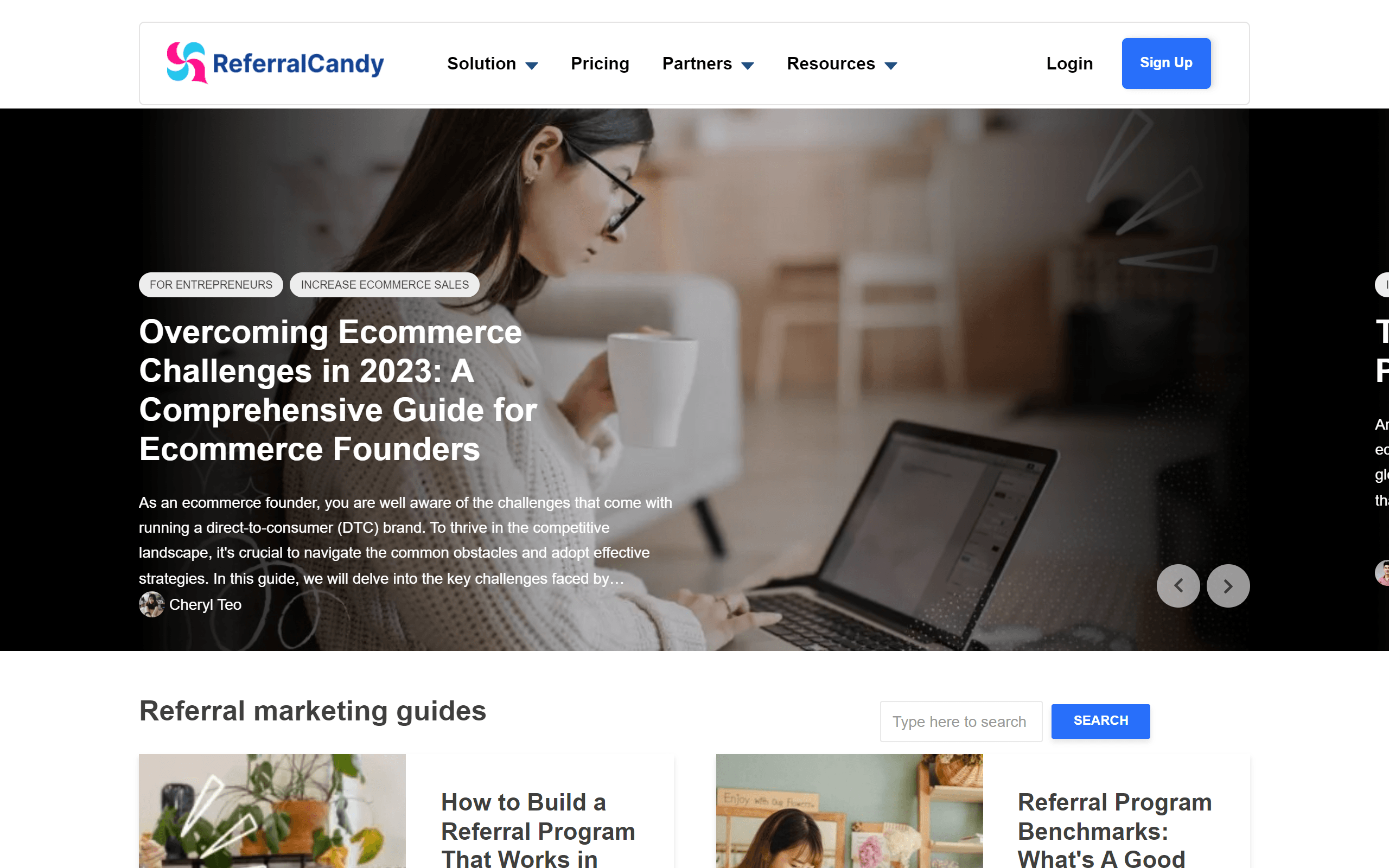 Now these dudes know how to get customers through word-of-mouth. As a referral platform, they've cracked the code on programs that actually work. Here you'll find loads of ideas to propel your business forward through referrals. This is the best eCommerce blog to look up for all insights.
Their blog shares bomb case studies and mad research all about referral strategies that convert. Like how to get loyal customers signing up friends for your company. Total game-changers for brands trying to boost acquisition using their existing fanbase.
Shogun blog helping DTC brands break onto the global scene. Shogun makes expanding your audience abroad much easier to navigate. Definite must-read if you're thinking of taking your brand international. Whether you just wanna test the waters or go all in, Shogun's intel will help you level up globally.
This eCommerce website blog unpacks all the messy stuff like multi-country payments and shipping, dealing with different languages and cultures, regional marketing tactics - they even show analytics to optimize your foreign sales game. Totally worth checking out.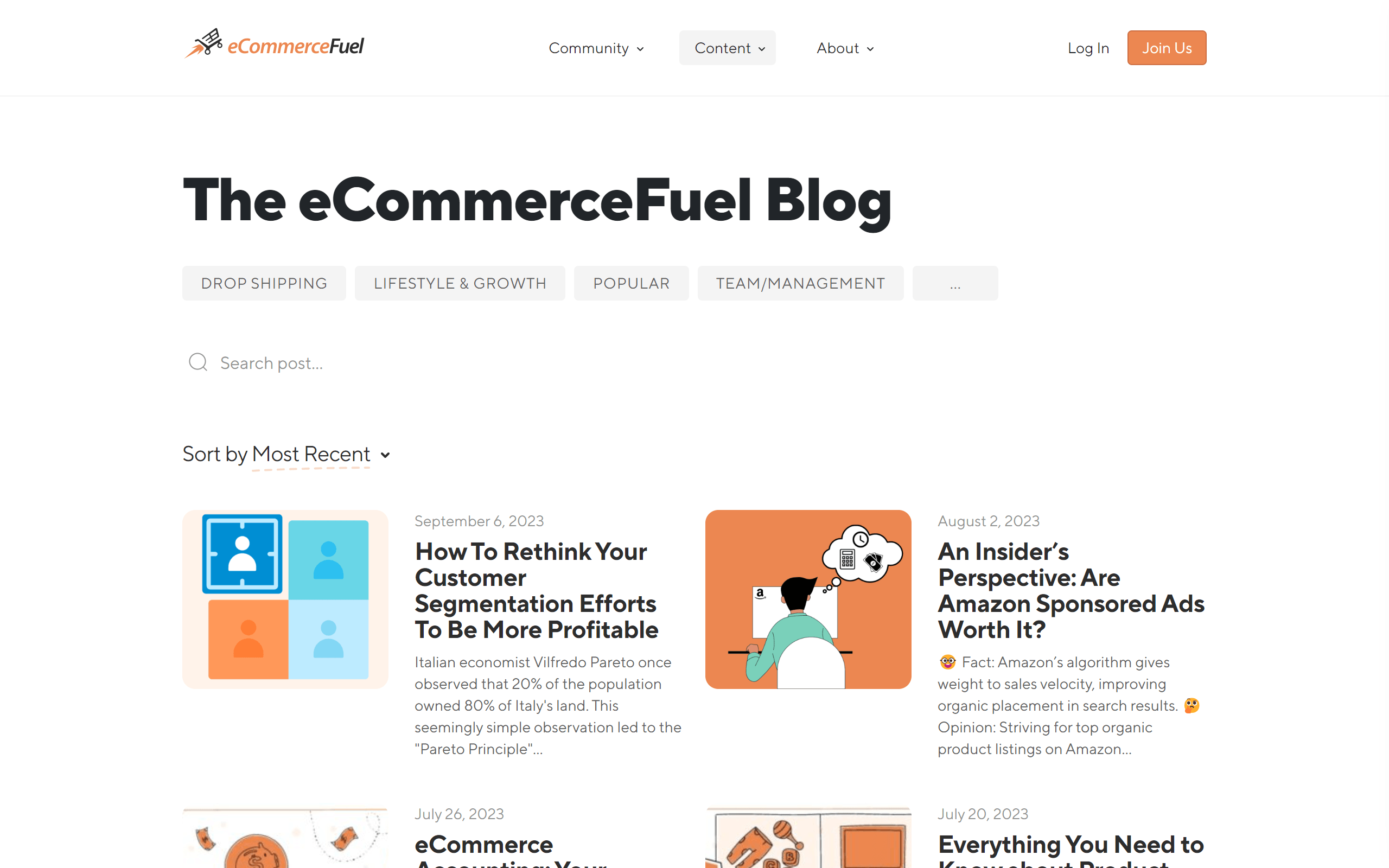 This blog is chock full of eCommerce tips and insights from the Ecommerce Fuel, a company that helps merchants optimize their stores. They cover everything from marketing strategies like email automation, to product page best practices, to analytics tricks.
If you sell on Amazon or your own site, there's always some advice to take away. It's a must-read for any entrepreneur trying to squeeze more juice out of their online sales.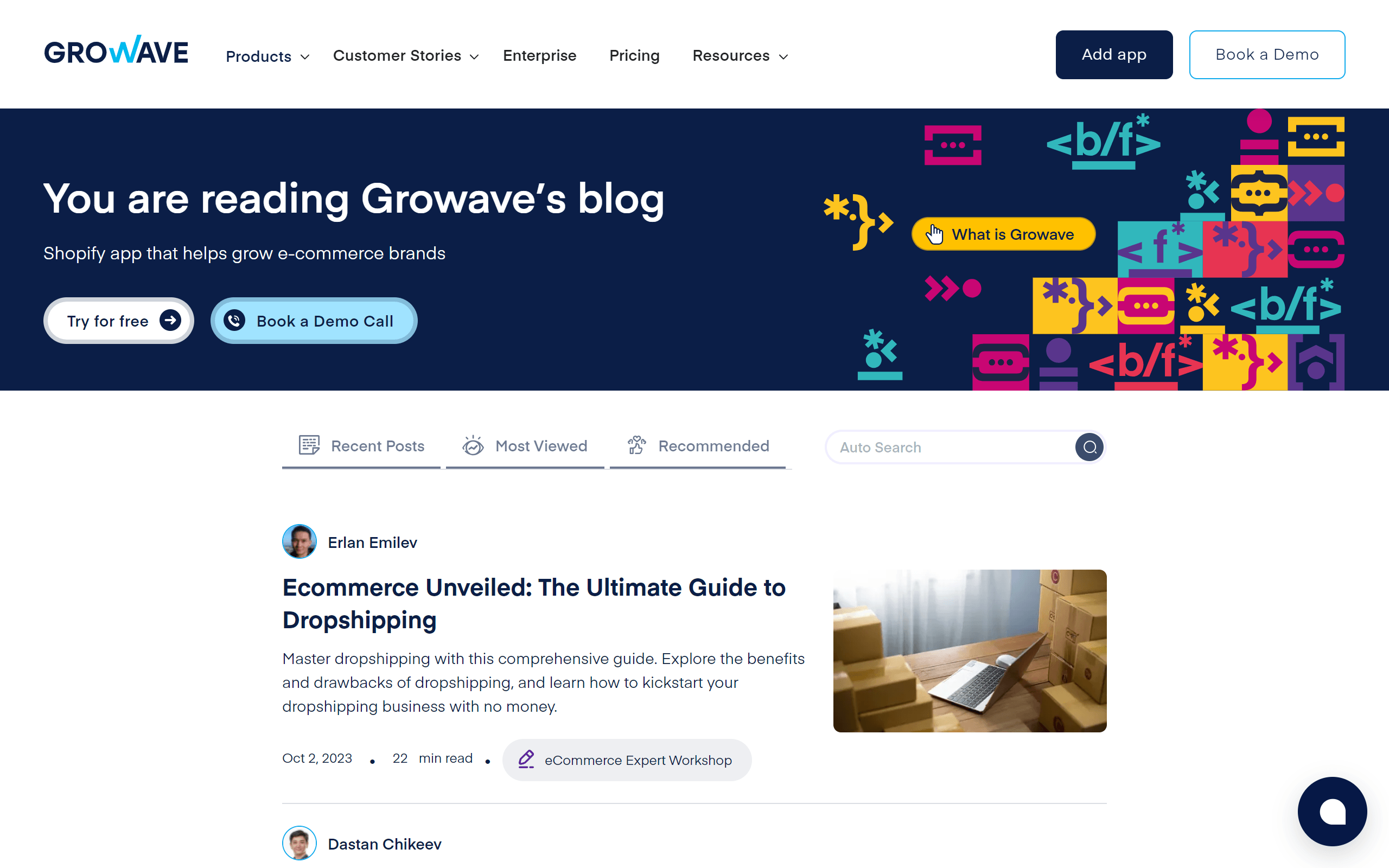 Growave builds productivity apps for Shopify stores. On their blog, they break down how to make the most of all the data and automation opportunities in your online sales. So if you are for the best blogs on eCommerce, this is a good option.
Tons of case studies showing how brands leveraged apps and integrations to boost sales and customer retention. Also deep dives into industry trends and strategies from chatbots to loyalty clubs. Definitely one to follow if you want to stay ahead of the curve with your ecomm game.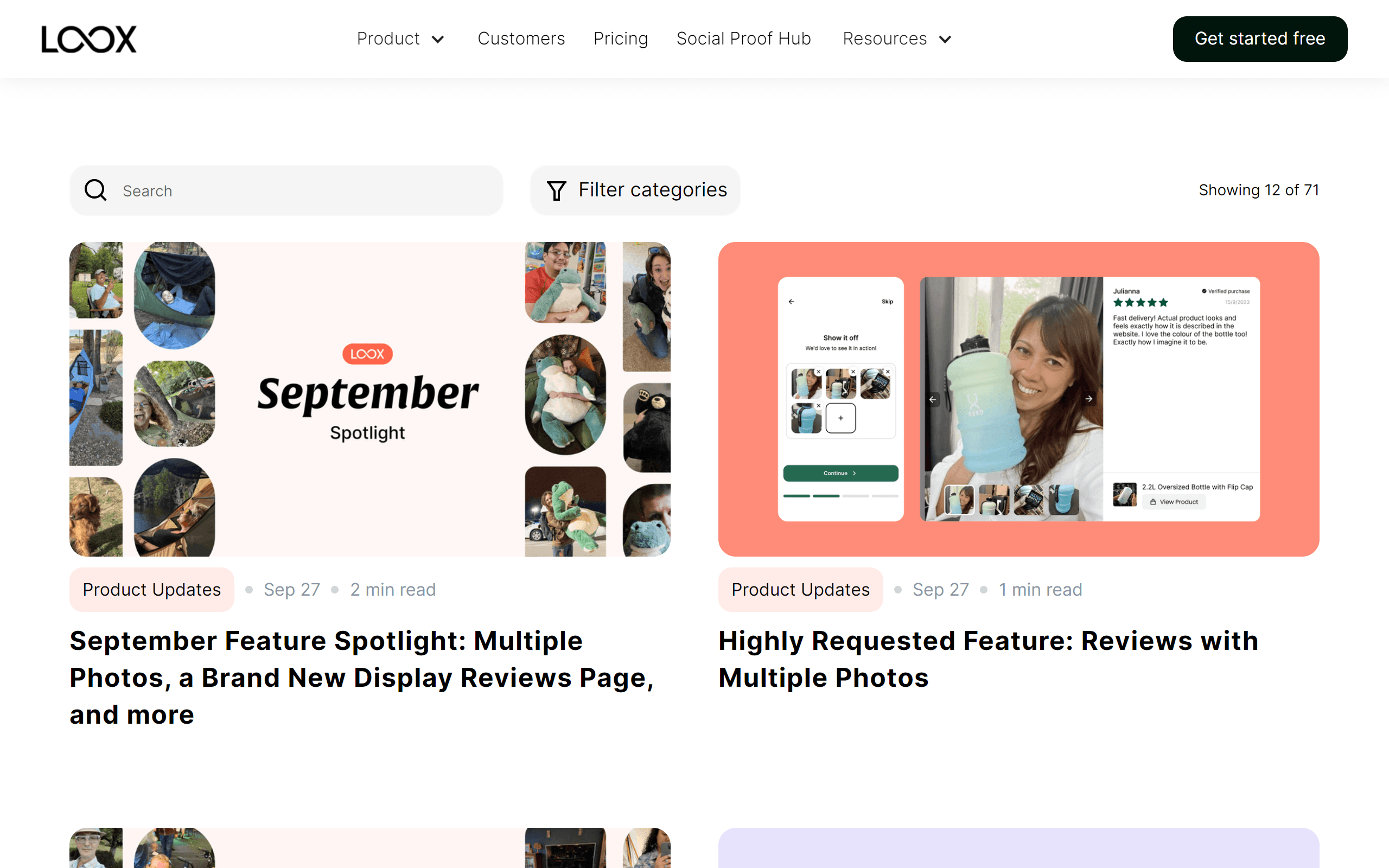 As a platform that handles custom product imaging and 3D/AR models for eCommerce, Loox knows a thing or two about visually optimizing products online. Their blog is all about high quality, high converting product content, so you can be sure that it deserves to be in our list of best eCommerce blogs.
They share research on what photo styles and content types sell best and tutorials for DIY product photo shooting. It's both for solo entrepreneurs and large retail brands. This is one of the eCommerce blogs that helps make sure your products look their absolute best online.
This blog creates chatbot software for live messaging on sites. They are one of the best eCommerce blogs that provides tons of guidance for businesses using chatbots. So you can trust ou choice, as this website is among the high-quality eCommerce blogs.
They explore how brands are leveraging bots for lead generation, customer service and sales. Pro tips from big hitters like Microsoft too. Perfect for any marketer trying to unlock the conversational commerce potential.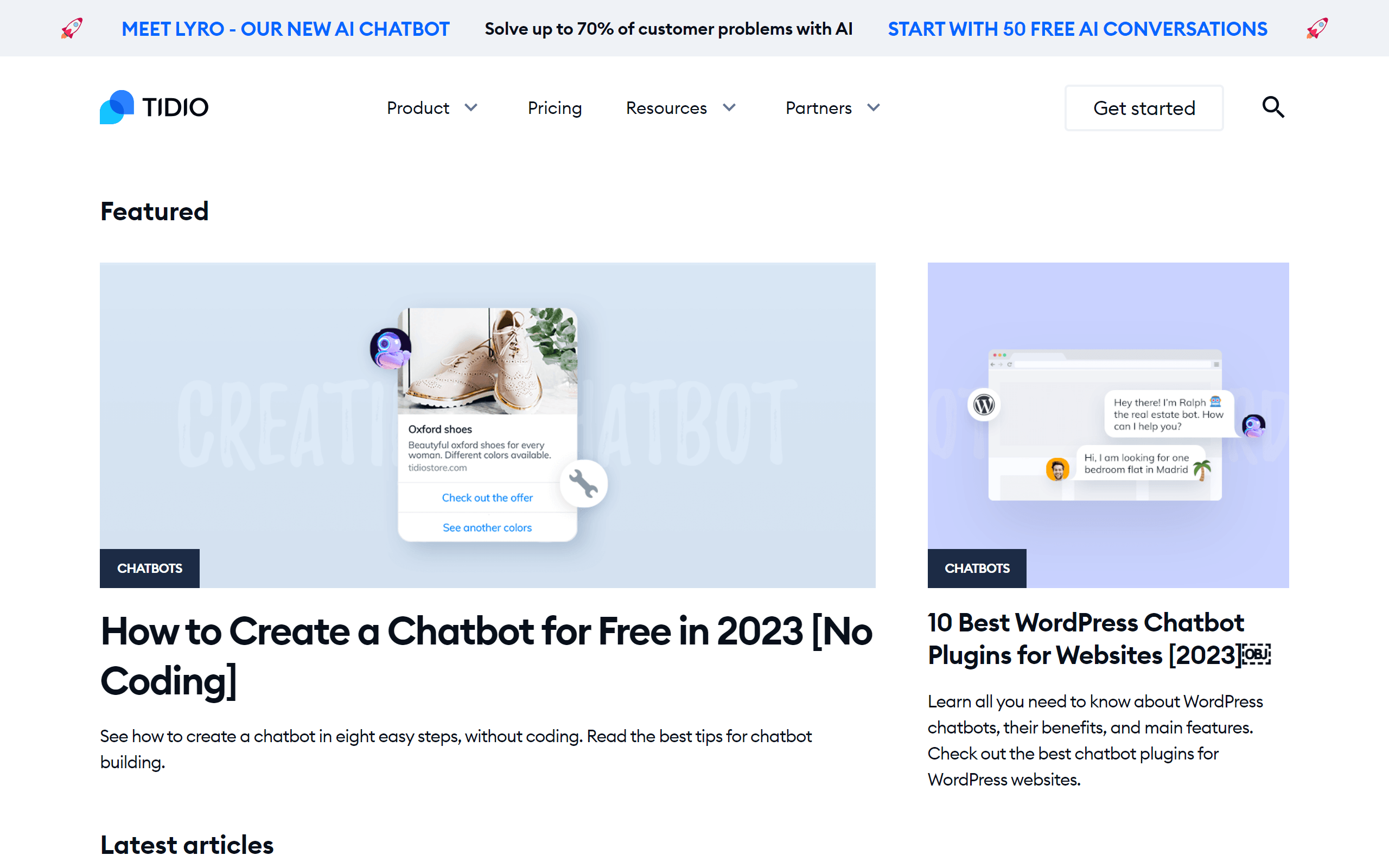 Tidio offers a chat and messaging platform for customer support. Super useful for enhancing CX and increasing sales through online conversations. Tidio is ultimately a great website among the best eCommerce blogs that covers it all.
This is the best eCommerce blog that shares case studies and stats proving the impact of live chat on the bottom line. They also share things like optimizing agent performance, personalizing responses at scale and keeping visitor content on top.
As a company that builds, migrates and manages WordPress sites, CloudWays knows online performance inside and out. It's elpful for any solopreneur or agency keeping their WordPress systems in top shape. So if you are looking for guidance, suggestions and tips, this is one of the coolest eCommerce blogs for you.
This is one of the blogs on eCommerce that gives insights into speeding up sites, plugin best practices, security issues and more. Also a good source to stay on top of hosting innovations and industry news.
Prisync helps retailers sync inventory data across sales channels. It's a very useful guide for any business selling through multiple touchpoints, so, trust us, we included this website in our list of best eCommerce blogs for a reason.
This is one of the best eCommerce blogs that shares tips for multi-channel management mayhem like avoiding out of stock items or wasting product. Profiles of big brands like Armani showing their integrated tech stacks too.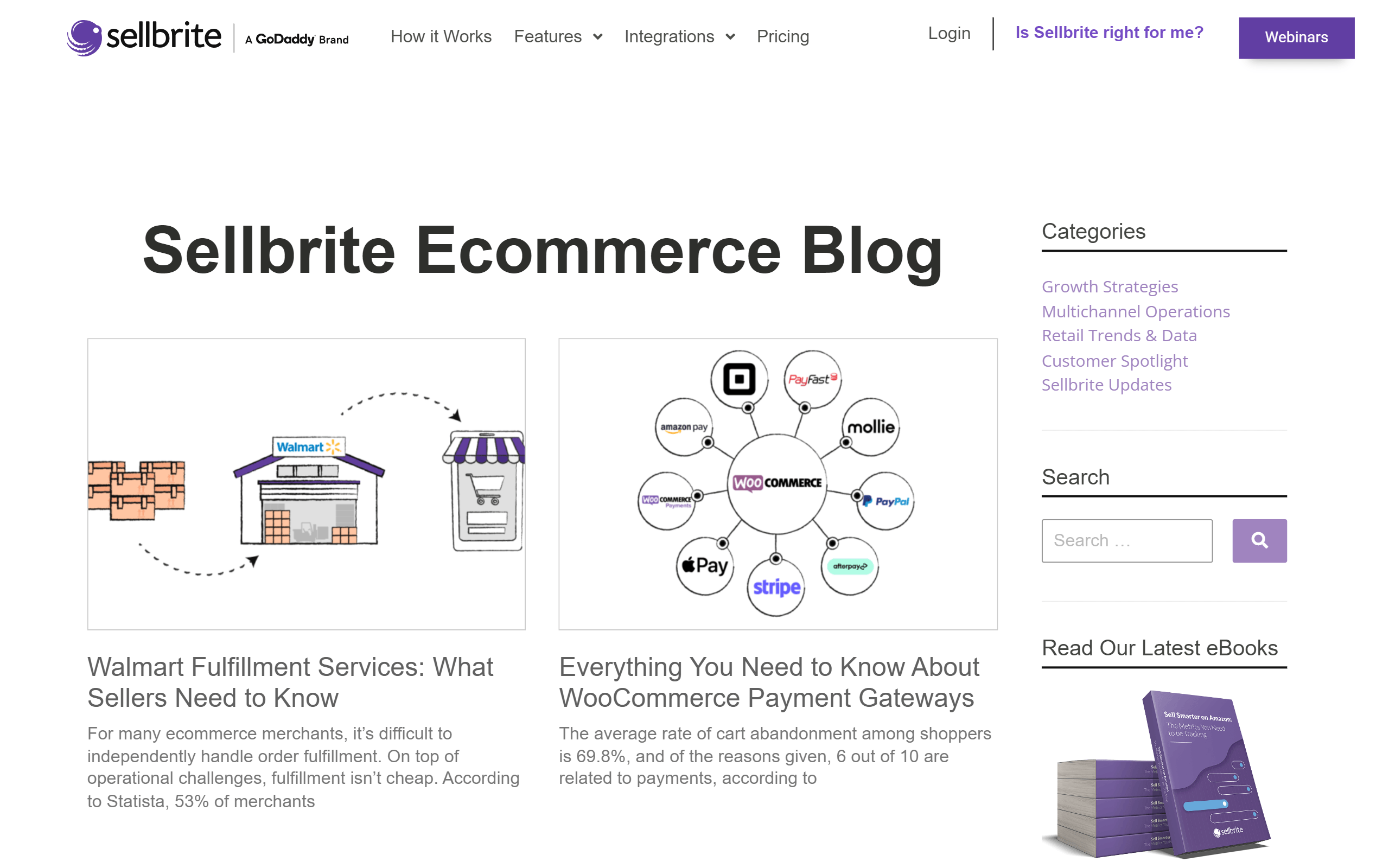 As an all-in-one marketplace management platform, Sellbrite is one of the eCommerce blogs that knows the struggles of product listings. Ideal for anyone trying to streamline and scale their marketplace businesses.
Their blog offers case studies of brands boosting revenue by up to 30% through optimized listings. Also has tips and insights on automated syndication, analytics insights and injury compliance.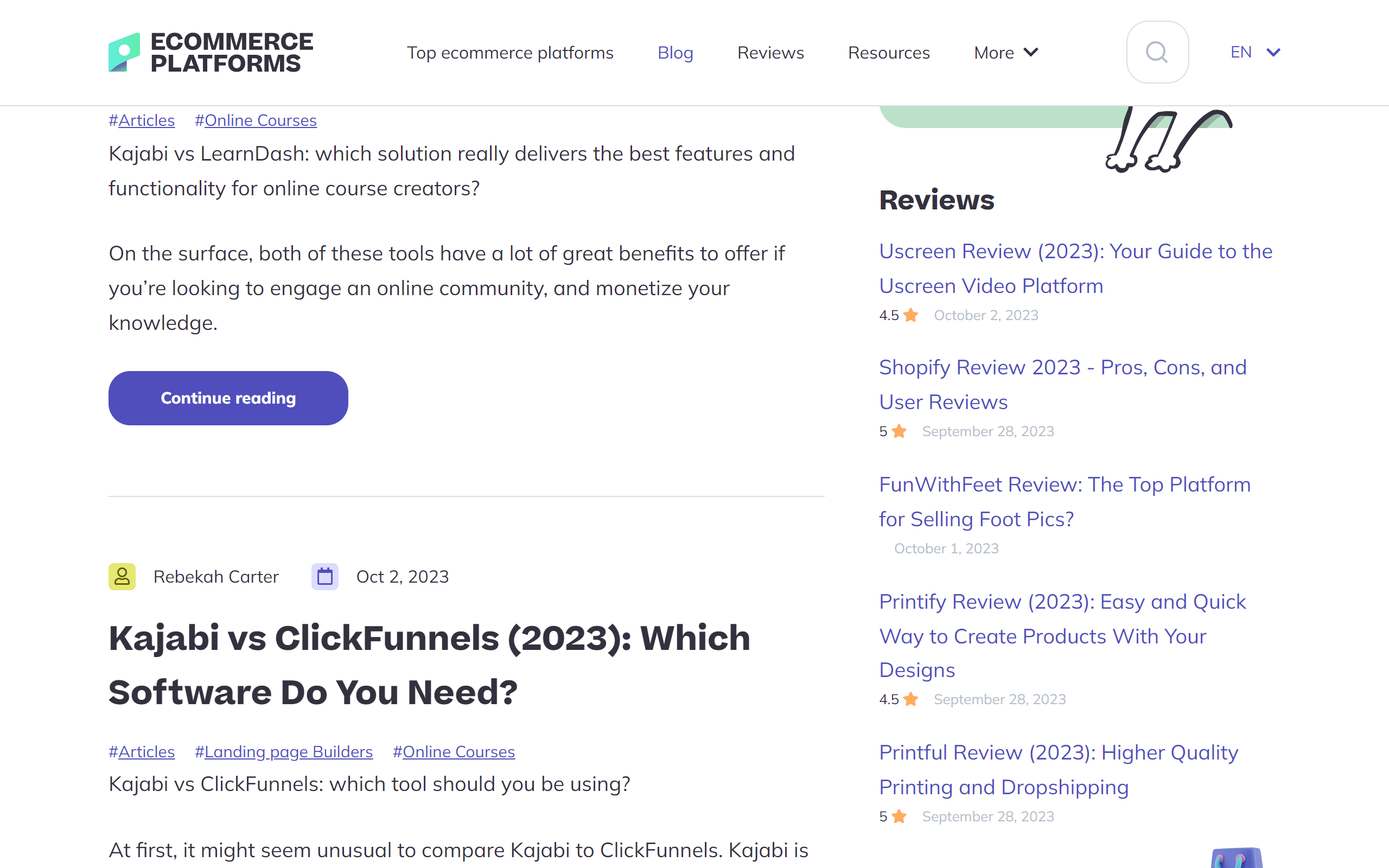 This blog compares and reviews all the major eCommerce solutions. Also shares advice from agencies on successful migrations. Helpful third-party resource for research phases of launching an online store.
Handy is among eCommerce blogs for those trying to pick platforms like Shopify, Magento or BigCommerce. Does deep dives into features, costs and which industries each caters to. We handpicked this website in our eCommerce blogs recommendations to get your business shine.
Oberlo is an eCommerce blog that helps dropship items from global suppliers straight to customers. Great resource for people new to dropshipping or leveling up their Oberlo setup.
Their blog is packed with tactics for finding hot products, crafting compelling ads and growing a successful store. Lots on Facebook marketing too. This is a great option among eCommerce blogs if you want to get some fresh information.
This is one of the eCommerce blogs that is all about helping folks grow successful online businesses. The writer shares lots of tips and tools for all aspects of running your own online shop or business. You'll find articles on topics like marketing your products on social media, taking great photos of your items to sell, etc.
They also give reviews on different tools and services like selling platforms, accounting software, and apps to help with tasks like shipping. It's a great place to learn about options for things like print-on-demand manufacturing too.
As a company helping SMBs launch online, this is the type of eCommerce blogs that shares actionable advice for startup brands. This is like those small business blogs with insights for starting something from scratch.
Profiles real entrepreneurs and breakdowns of six figure launches. Also goes into finance, operations and marketing must-dos. Encouraging for anyone dreaming up their own business. So, check this website out, it's one of the most insightful eCommerce blogs out there.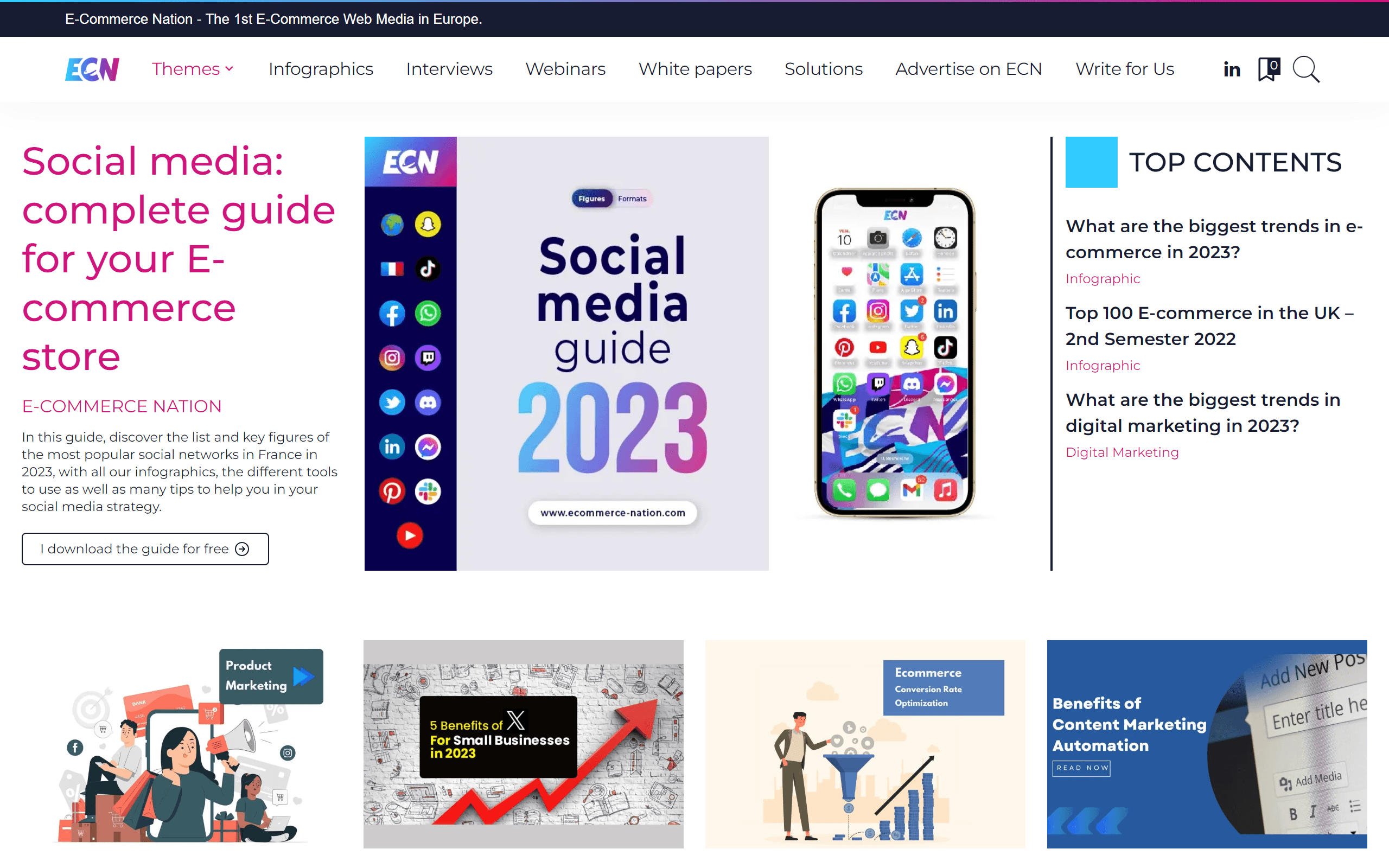 Nosto lets merchants personalize the shopping experience through AI. Helpful for enhancing sales through smart digital strategies. This is one of the eCommerce blogs that makes stuff easier for you.
Their blog teaches tactics for 1:1 engagement at scale through site customized recommendations, abandoned cart emails and other useful stuff. They examine latest tech trends from Pinterest shopping links to conversational commerce.
📌 Summed Up
Managing things across different sales channels, optimizing your product listings on marketplaces, figuring out the best platform for your store - just some of the bits these blogs can teach you on.
Dropping serious knowledge too if you're into building a business from scratch or mastering things like dropshipping.
We're all in this eCommerce thing together, right?
So might as well lift each other up. Time to pick the right blog for you and change the game!
Pay it forward and all that good stuff. A rising tide lifts all boats, as they say.