Evergreen Small BusinessTo really make your small business a hot hit, you need expert knowledge to put into work. The knowledge from the people who have been in your shoes, and who have 'actually' nailed it.
So, after carefully researching, reading, and analyzing reviews of folks who visit these blogs regularly, we're curating: 110 of the best small business blogs to avoid costly blunders and mark your profitable success — the smart way.
Some of them are free and some have paid plans.
(Because even if you're willing to spend money to learn, spend on the right person to get the right benefits)
So, keep on reading to discover the good stuff.

20 Best Small Business Blogs for Inspiration and Insights
MarketingProfs is a blog to learn about SEO, emails, branding, customer retention, actionable strategies to hot marketing campaigns, and everything marketing. They have tons of free and paid resources.
Our Favorites: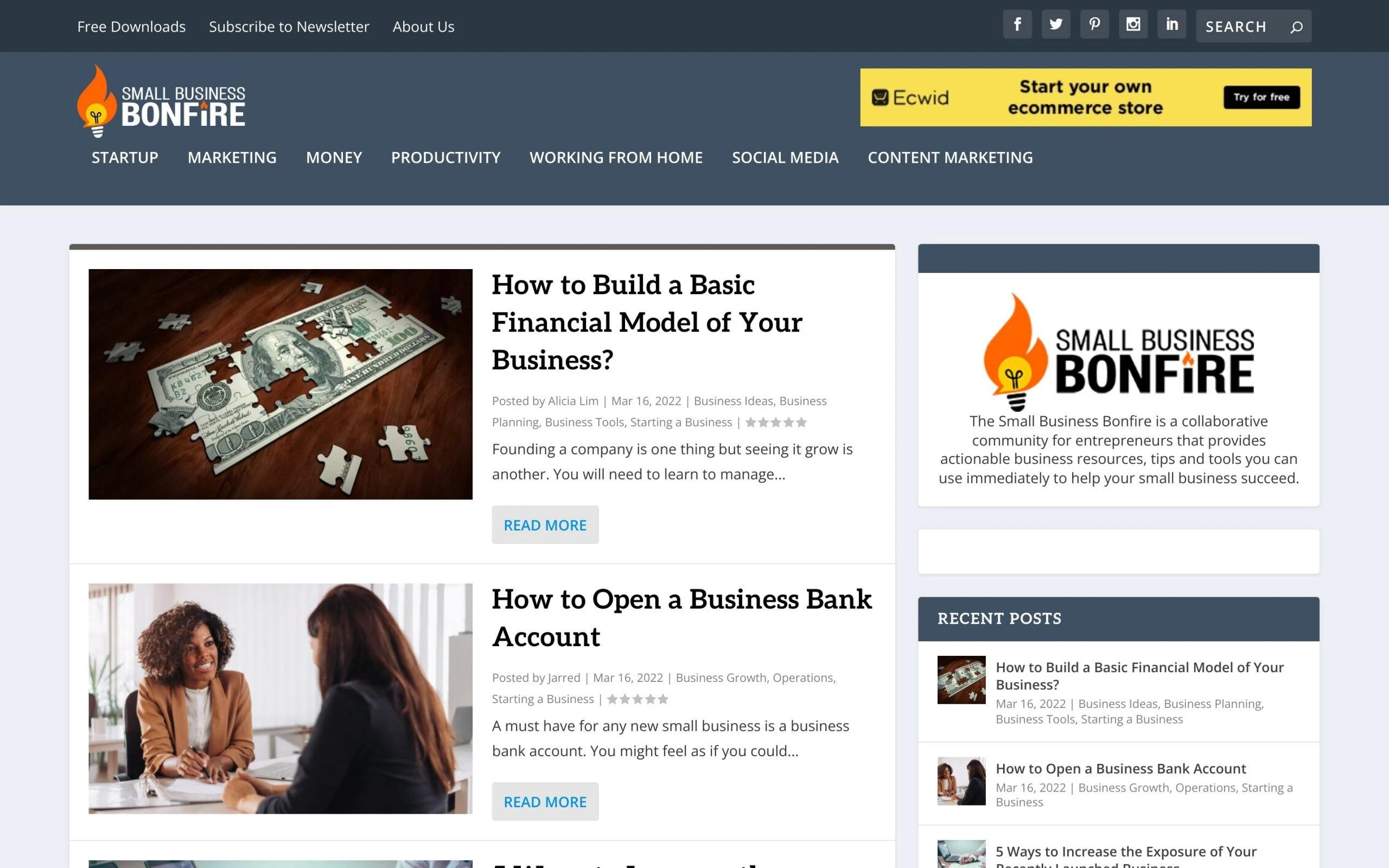 Talyssa Gregory's blog Small Business Bonfire shares insights, ideas, and proven solutions to planning, managing, and growing every kind of start-up.
Our Favorites: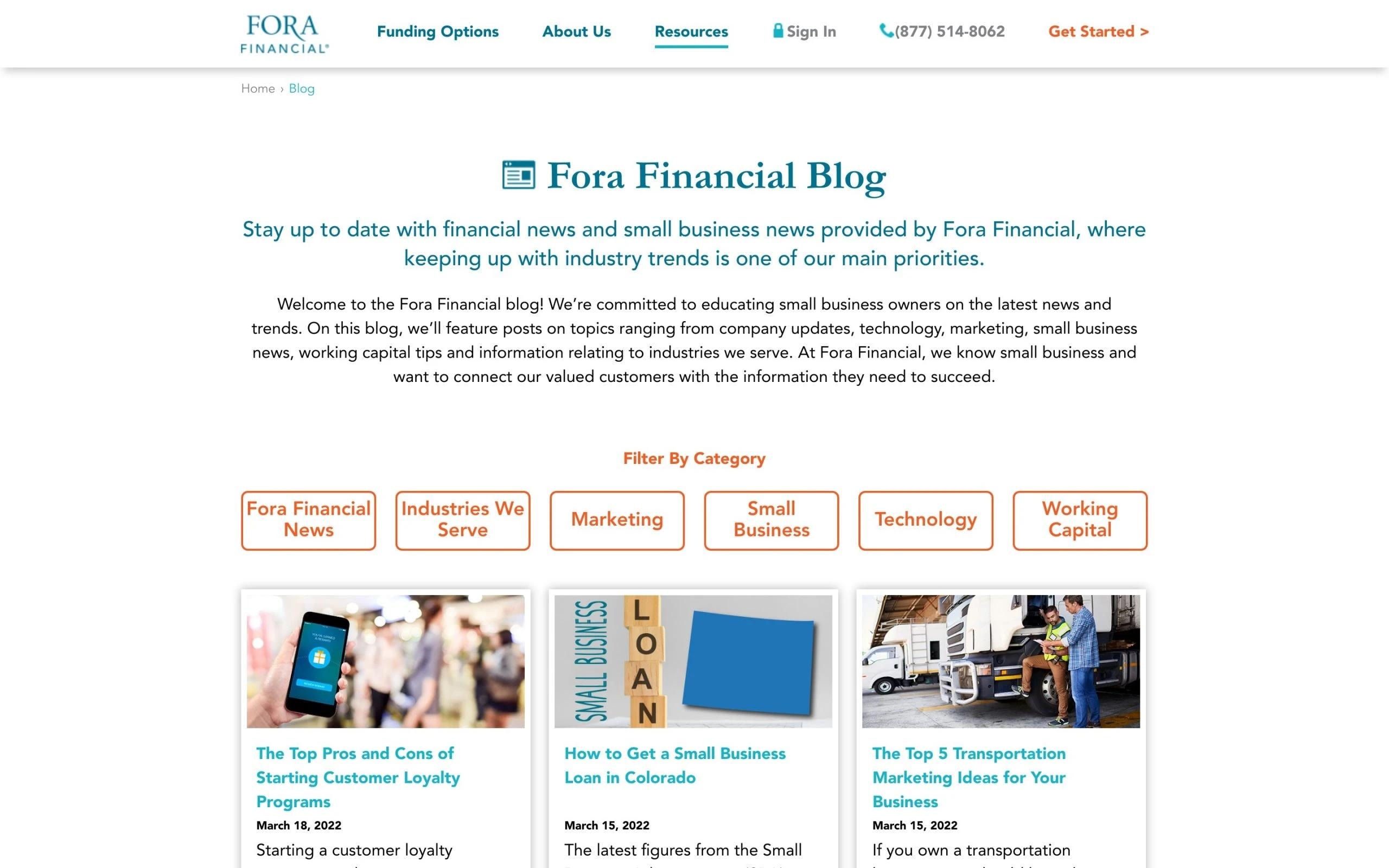 Fora Financial's blog covers the latest trends, information, and new ideas to do your finance the right way. The company can also fund your start-up with up to $500K.
Our Favorites: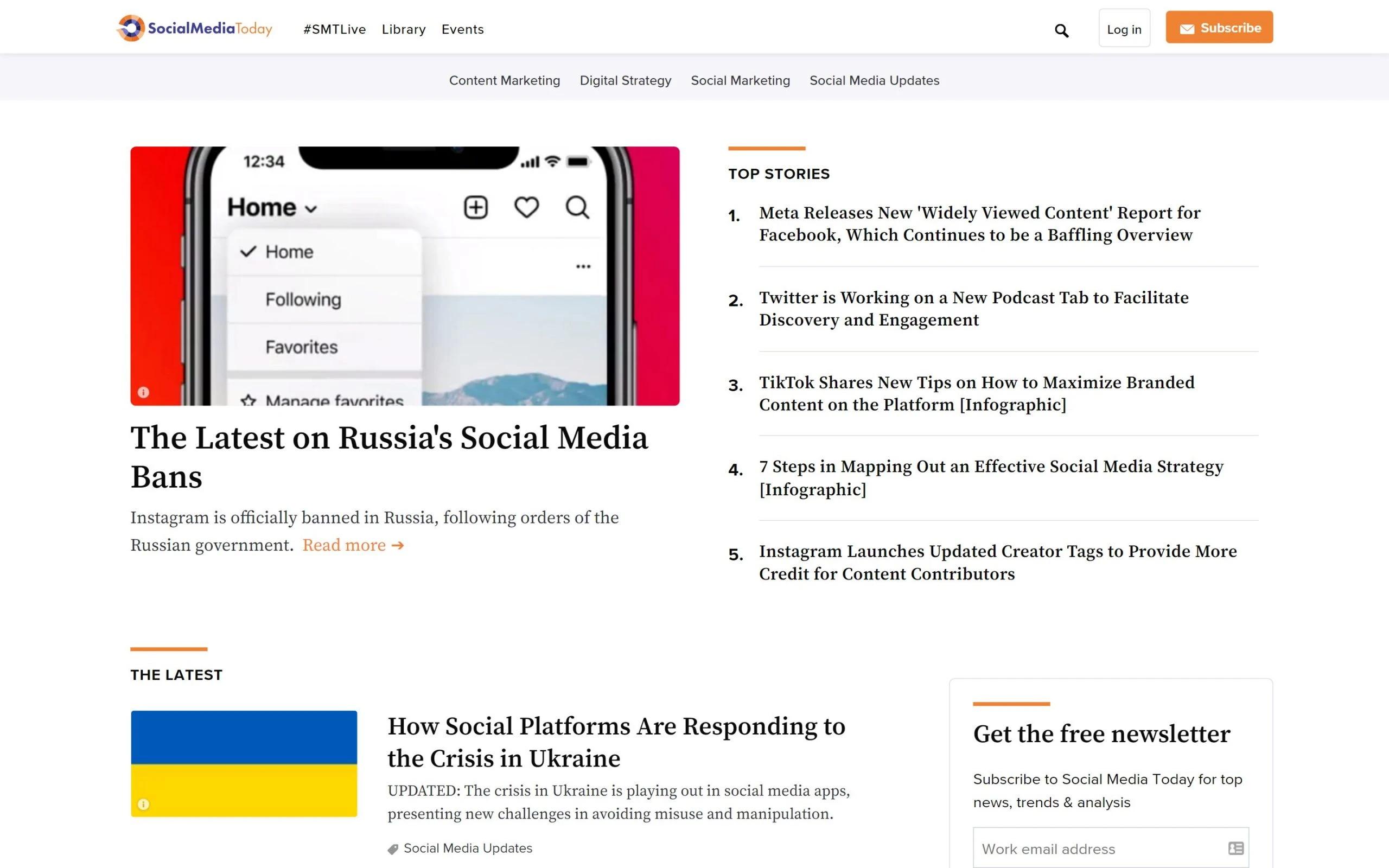 Social Media Today is a platform that tells what's up with social media right now in terms of marketing. All the marketing trends — of every social channel — are analyzed by them, and they're available for you to read.
Our Favorites: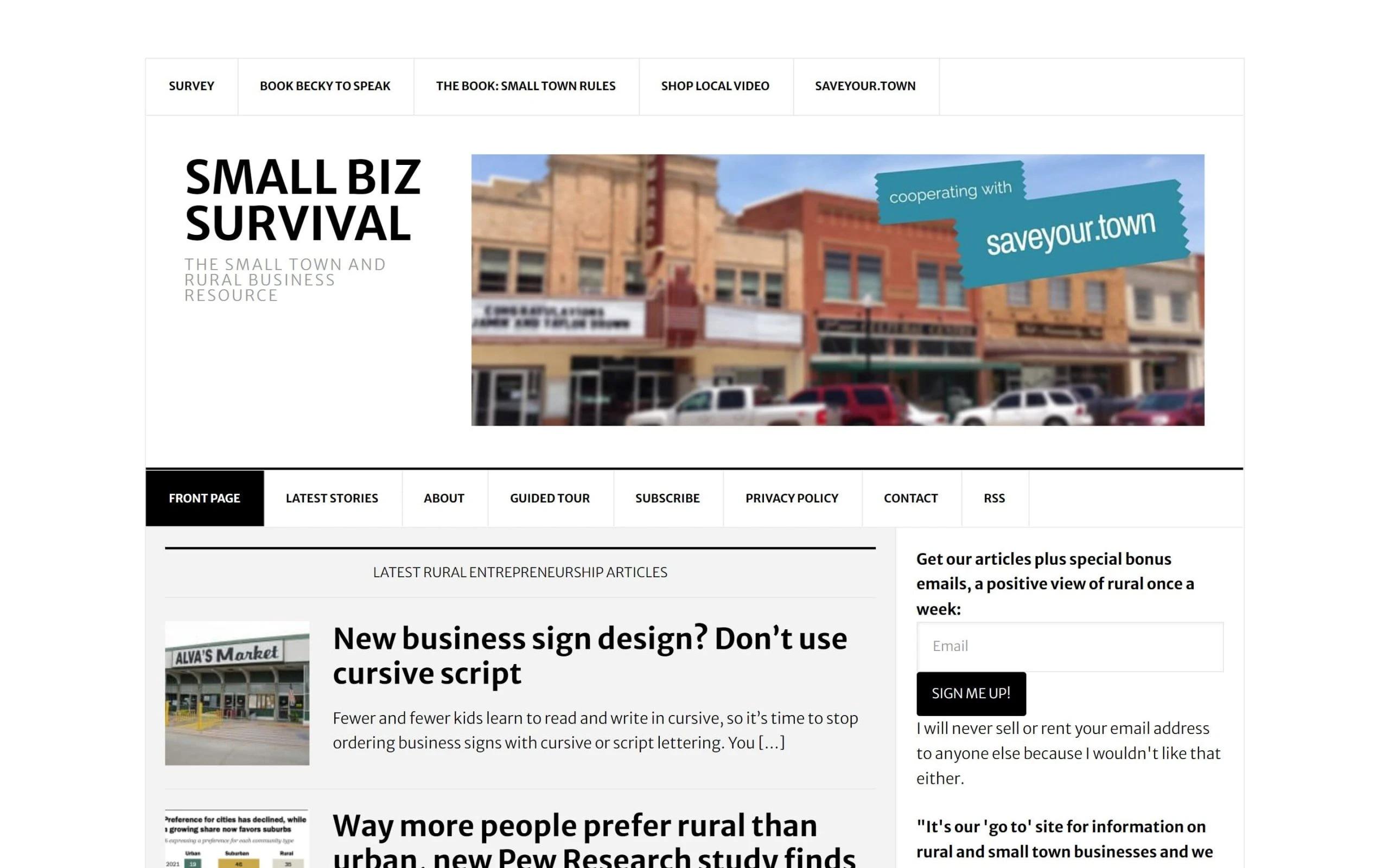 Got a small business in a rural area? Becky McCray's multiple award-winning 'Small Biz Survival' is the best blog for small business owners.
Read detailed how-to's to manage and scale your business using marketing.
Our Favorites:
Get business ideas, learn management & finance, and 'actually' grow your business by just reading their resources.
Our Favorites: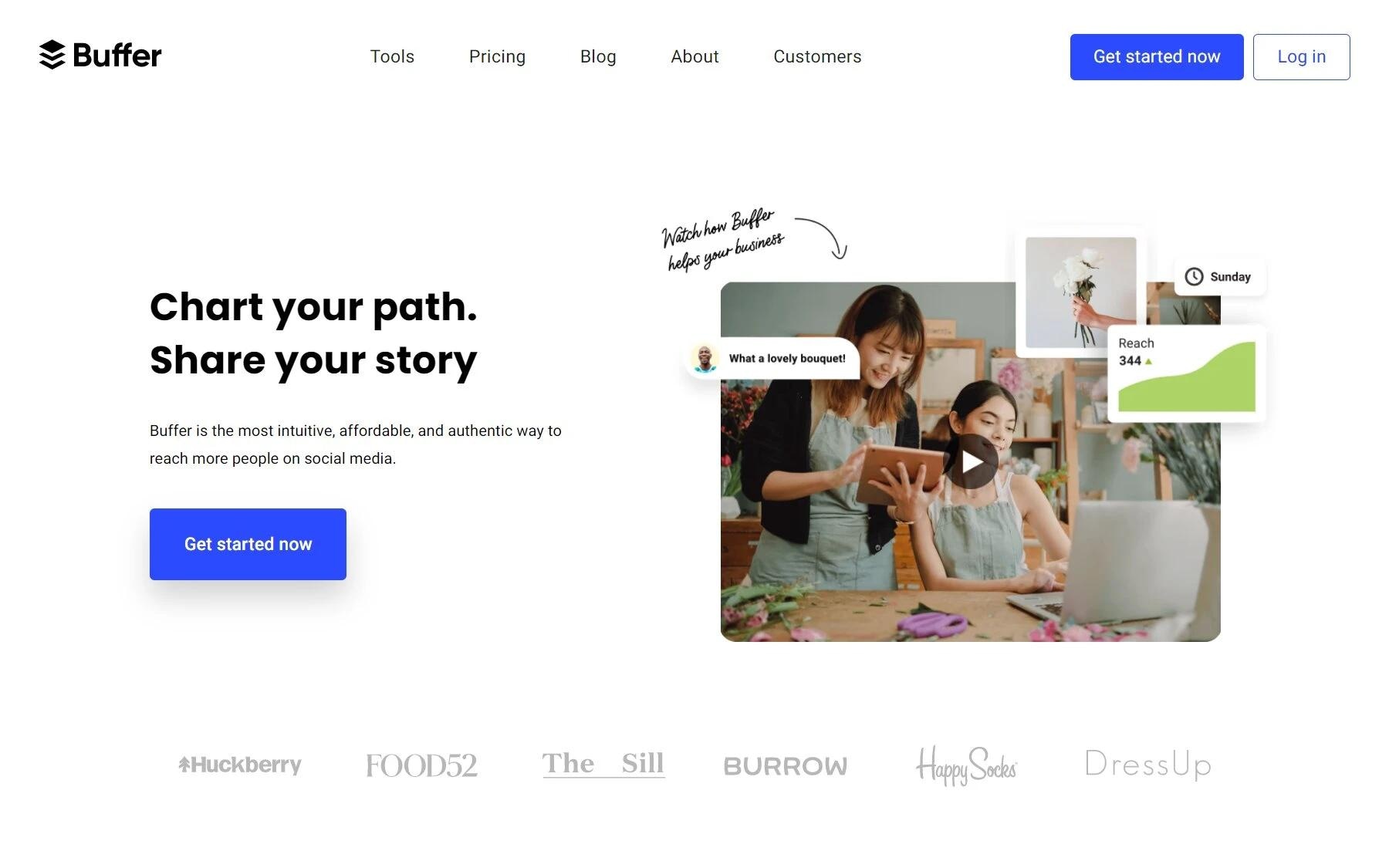 Buffer's blog is full of resources to create stellar branding-worthy social media content. Hundreds of guides and insights and success stories of start-ups are posted frequently.
Our Favorites:
This blog shares know-how and learning guides on hosting, WordPress, marketing, and more. It helps small business owners to scale their websites on their own.
Our Favorites: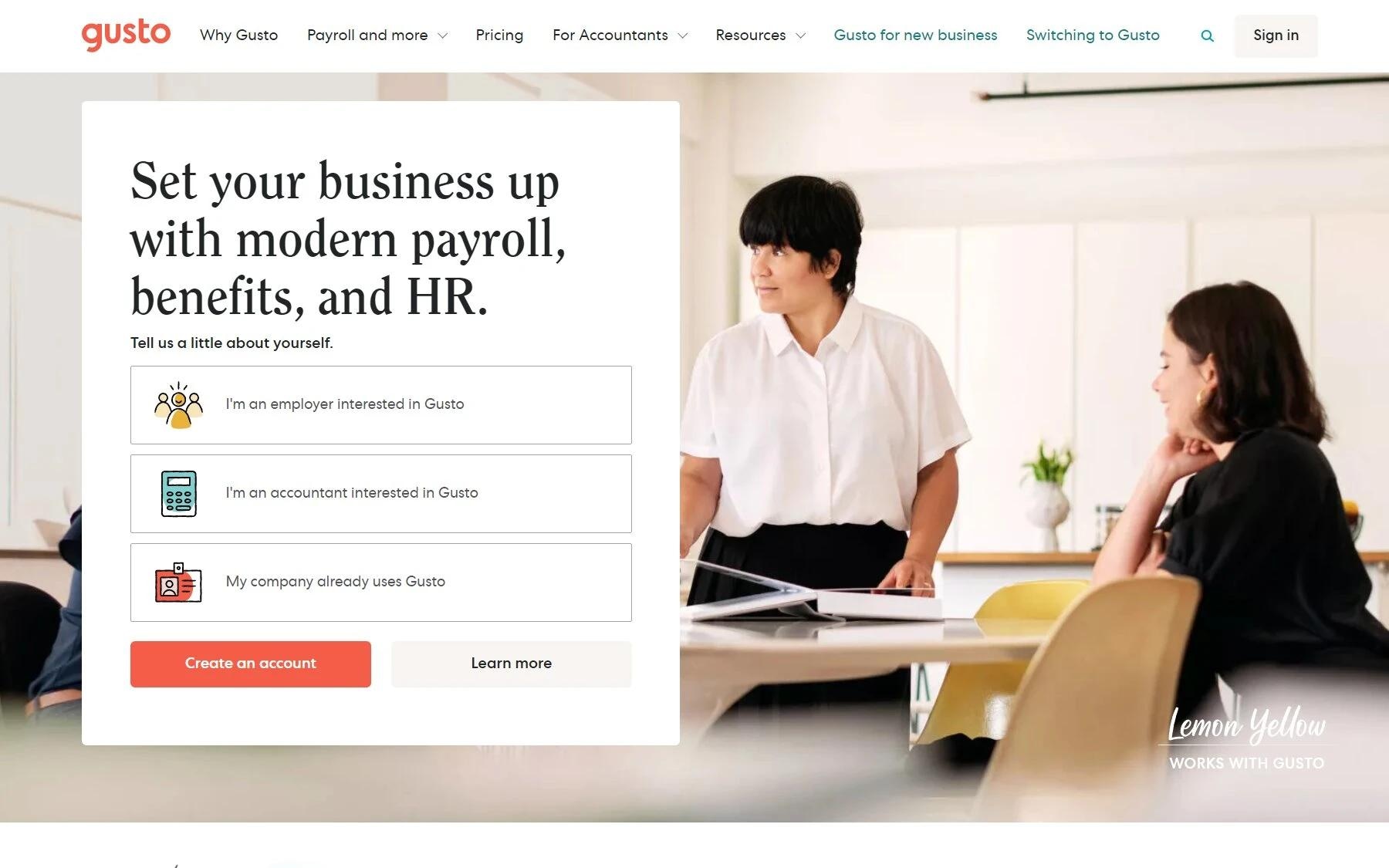 Gusto is one of the best small business blogs to learn how to set up your biz, hire the perfect manpower, train them for the workplace, and manage them afterward. Plus, learn finance to speed up your taxes and payment processes.
Our Favorites: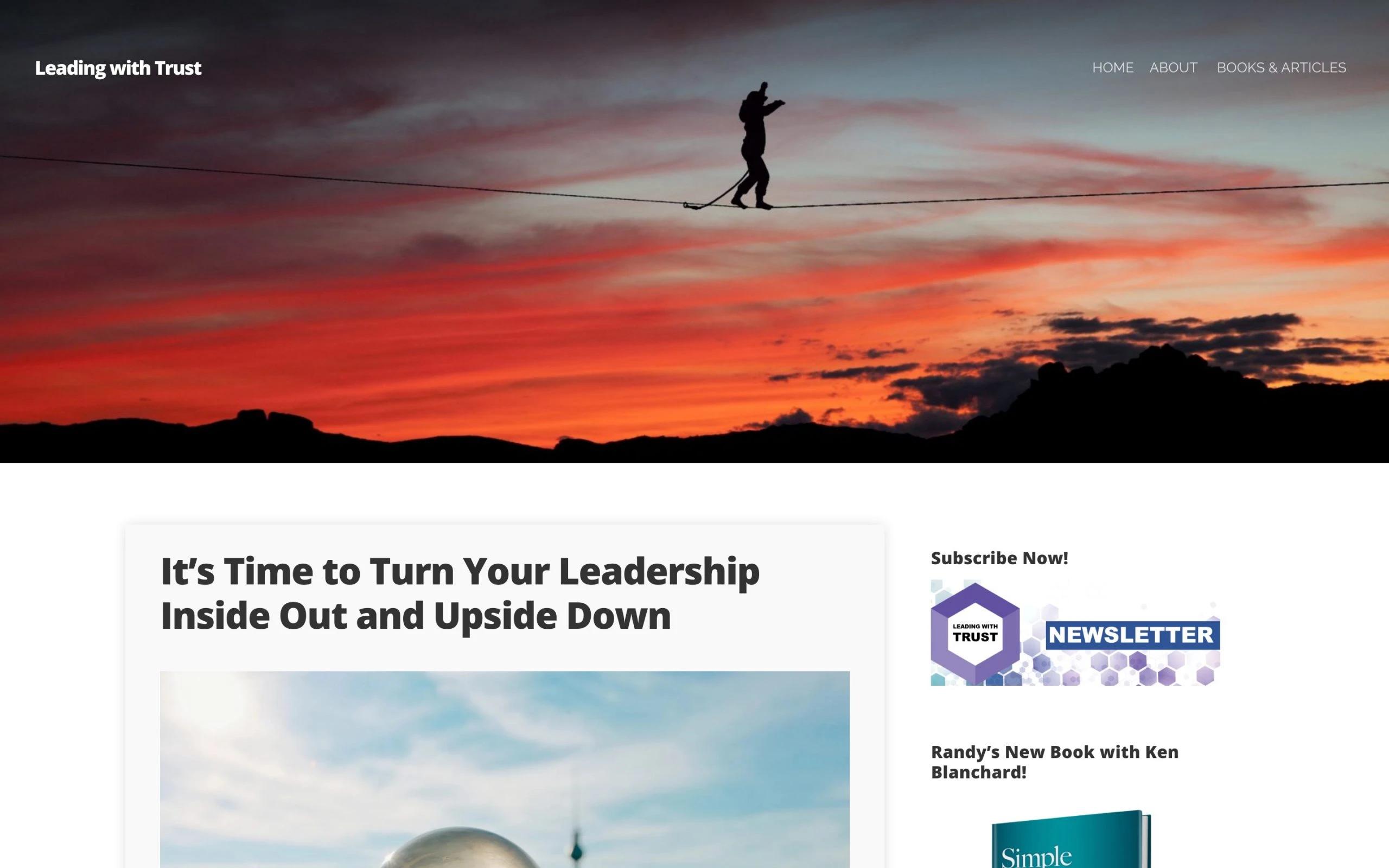 Trust in leadership is — the most — important factor for a blooming start-up.
Just as Seth Godin says, "Earn trust, earn trust, earn trust. Then you can worry about the rest."
But how do you achieve that?
Visit Leadership with Trust blog run by Randy Conley to learn the secrets of true leadership and how you can win the team's trust.
Our Favorites: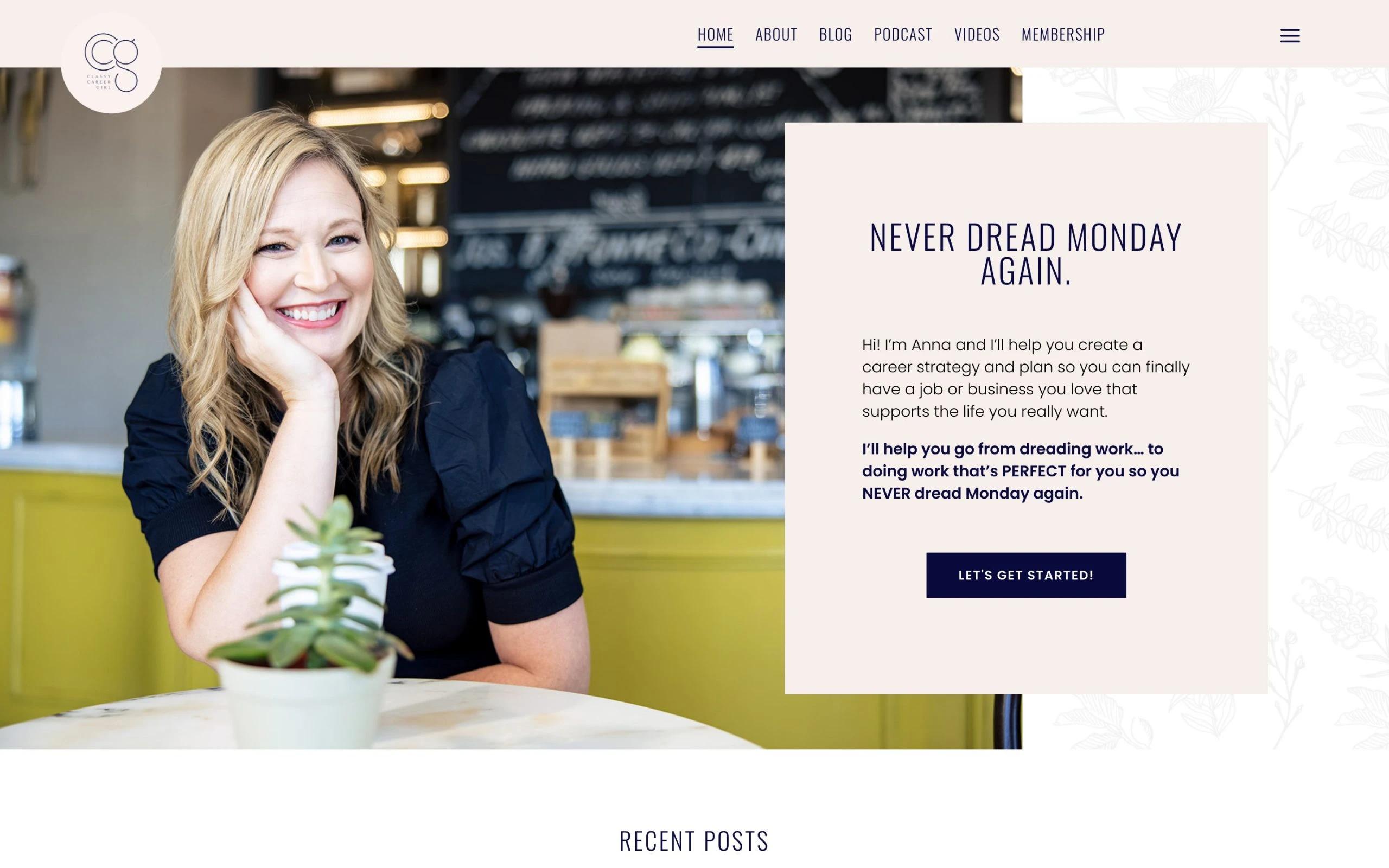 For women looking for career and leadership advice, and detailed guidance on setting up and growing a biz, Classy Career Girl is the best small business advice blog.
CCG's motto is women should be fulfilling their dreams, building their careers, and living life with style and grace.
Our Favorites: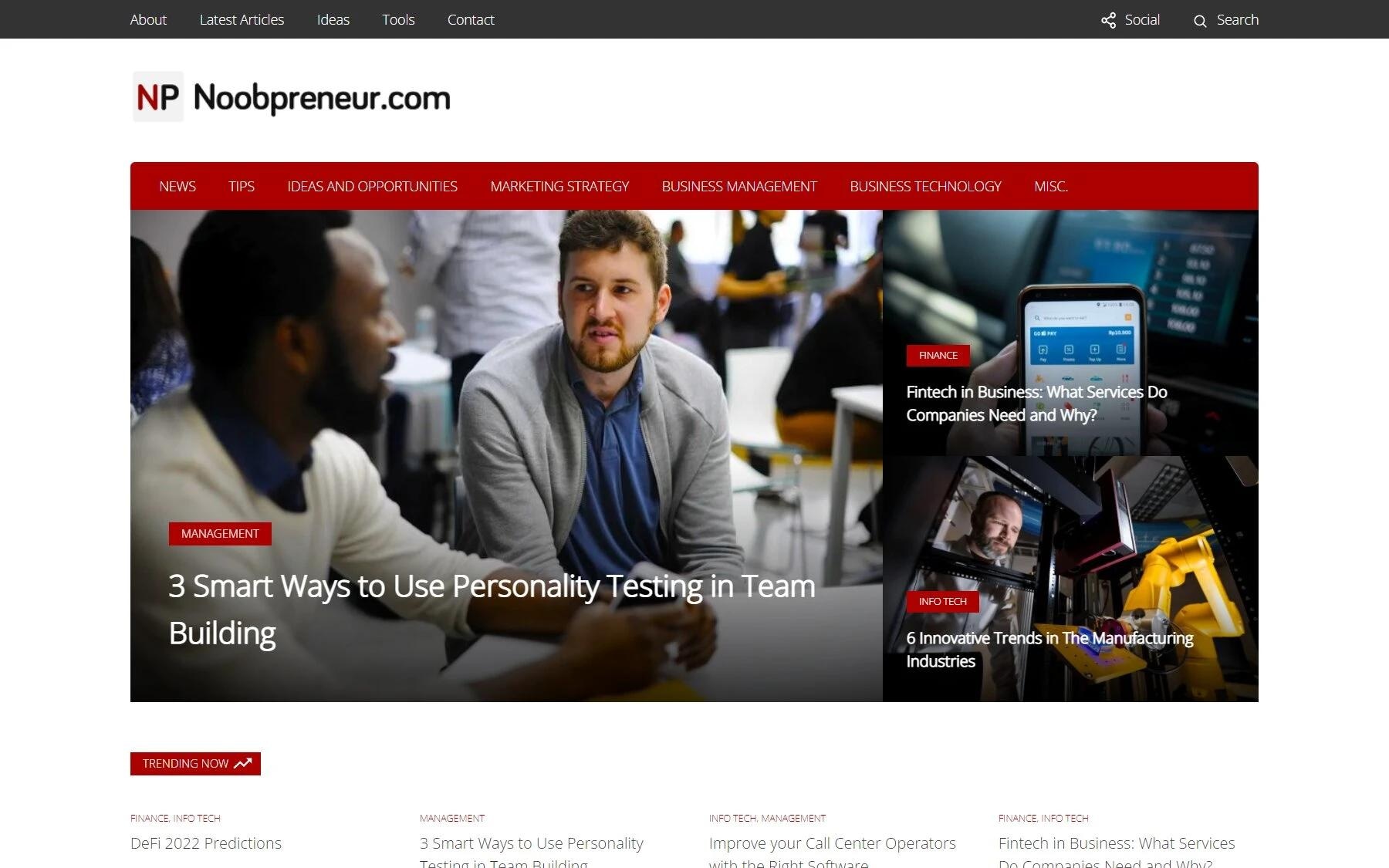 Just tapping into entrepreneurship or starting your dream business?
Noobpreneur shares the latest trends, industry insights, and stories of small business owners. Topics ranging from marketing, finance, management, business tools, and new business ideas are posted regularly.
Our Favorites:
Dedicated to young passionate minds, this blog covers stories on different aspects of business, real-life tips on mindset and entrepreneurship, interviews of successful people, and articles on leadership.
Our Favorites:
ZipRecruiter's blog shares strategies on recruiting the right talent, interviewing the right way, managing the team, and networking on various platforms.
Plus, their market insights reveal the market trends, new things to adapt in the workplace, and takeaways on yearly job reports.
Our Favorites:
Ivana Taylor's blog shares the secrets of doing marketing when you're short on budget.
After 30 years of trial and error, she discovered it's your values that sell. And she knows how to market that by spending less money.
Our Favorites: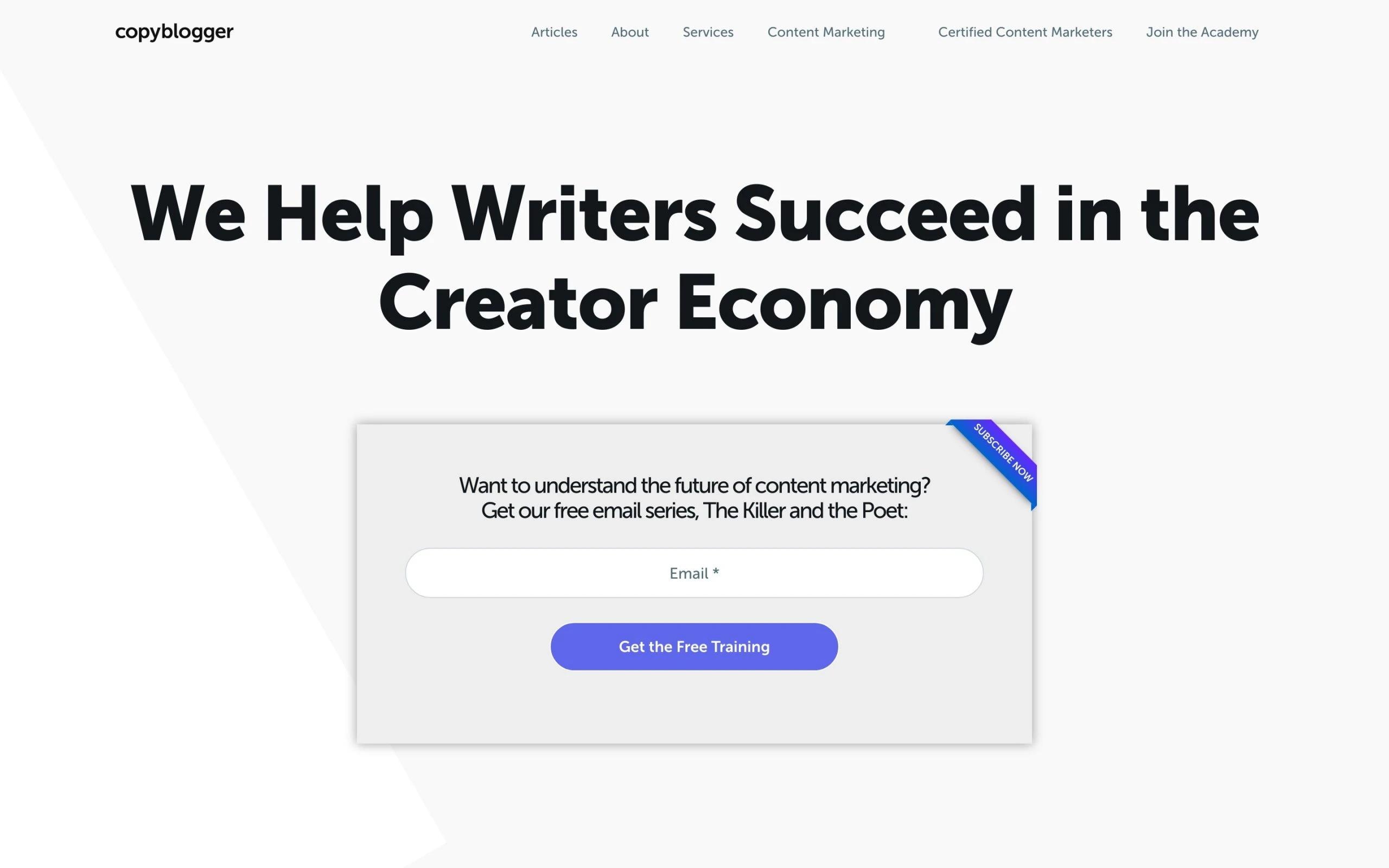 Focusing only on teaching writing that sells, Brain Clark, the founder of CopyBlogger, started as a one-man-army in 2006.
Soon the blog evolved and they became a learning house of content marketing for businesses and individuals.
CopyBlogger's resources are one of the best to learn about sales pages, landing pages, SEO writing, email marketing, copywriting in general, and much more.
Our Favorites: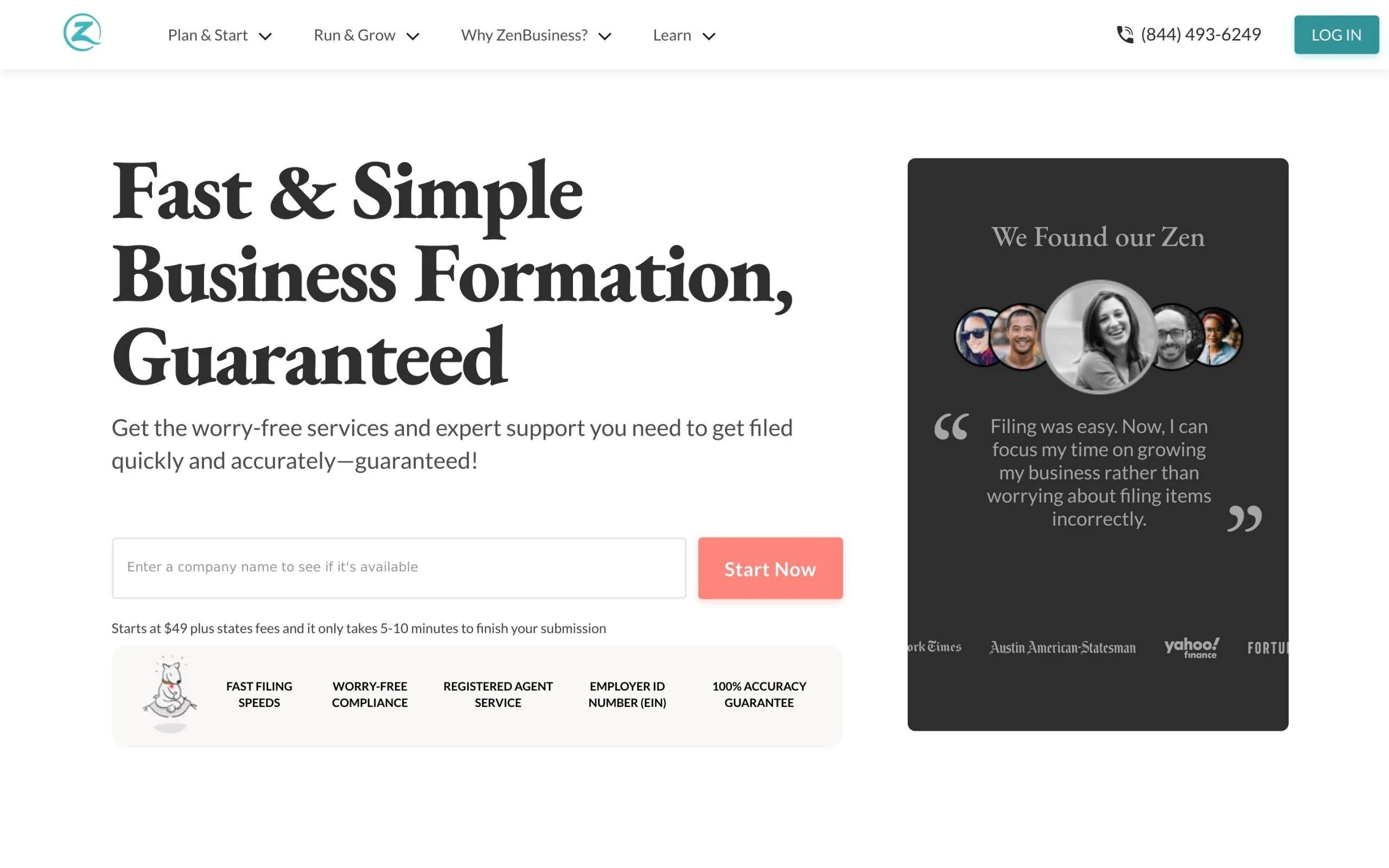 Powered by two passionate entrepreneurs, Rieva Lesonsky and Maria Valdez Haubrich, SmallBizDaily focuses on every aspect to help small businesses grow.
By everything, we mean everything: Read articles on money, finance, management, sales, technology, trends, new start-up ideas, and more.
Our Favorites:
Seth Goding is a best-selling author, an entrepreneur, a speaker, and a teacher. He has revolutionized the marketing industry by introducing modern marketing.
Subscribe to his blog for free to scale your business and build your personality as an entrepreneur.
Our Favorites:
He's a New York Times best-selling author, amongst the top 10 marketers in Forbes list, creator of 100 most awesome companies, and dozens of more achievements.
To get marketing insights that are practical and working right now, check out Neil's blog and YouTube.
Our Favorites: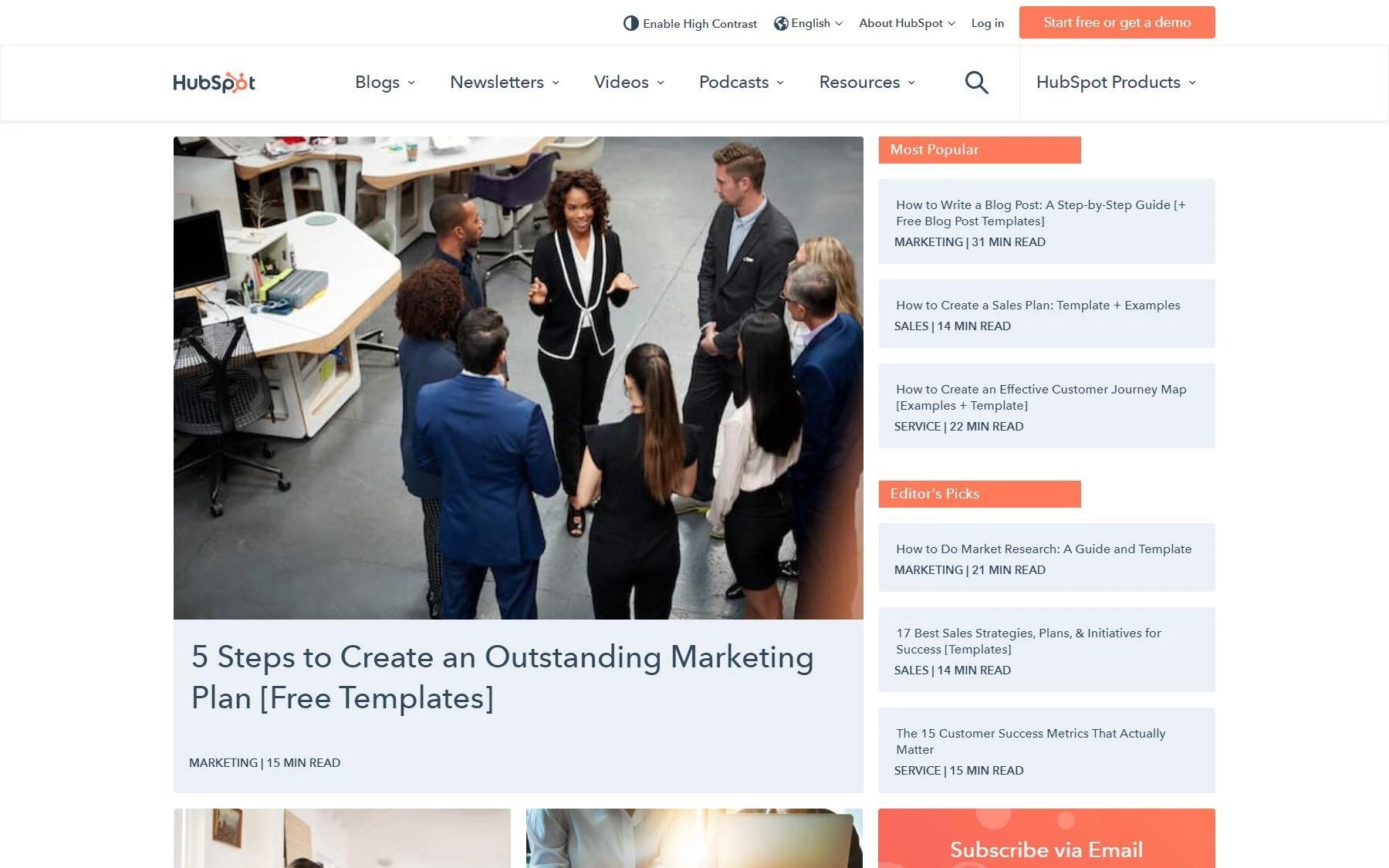 Their blog shares free ultimate guides and how-to's on from writing a blog post to launching a campaign. Get insights and stats on customer retention, sales, marketing, and more.
And, HubSpot offers dozens of free courses and certificates on digital marketing, business analytics, designing, developing — on almost anything you can think of.
Our Favorites:
Top 20 Small Business Marketing Blogs to Surge Your Marketing Stats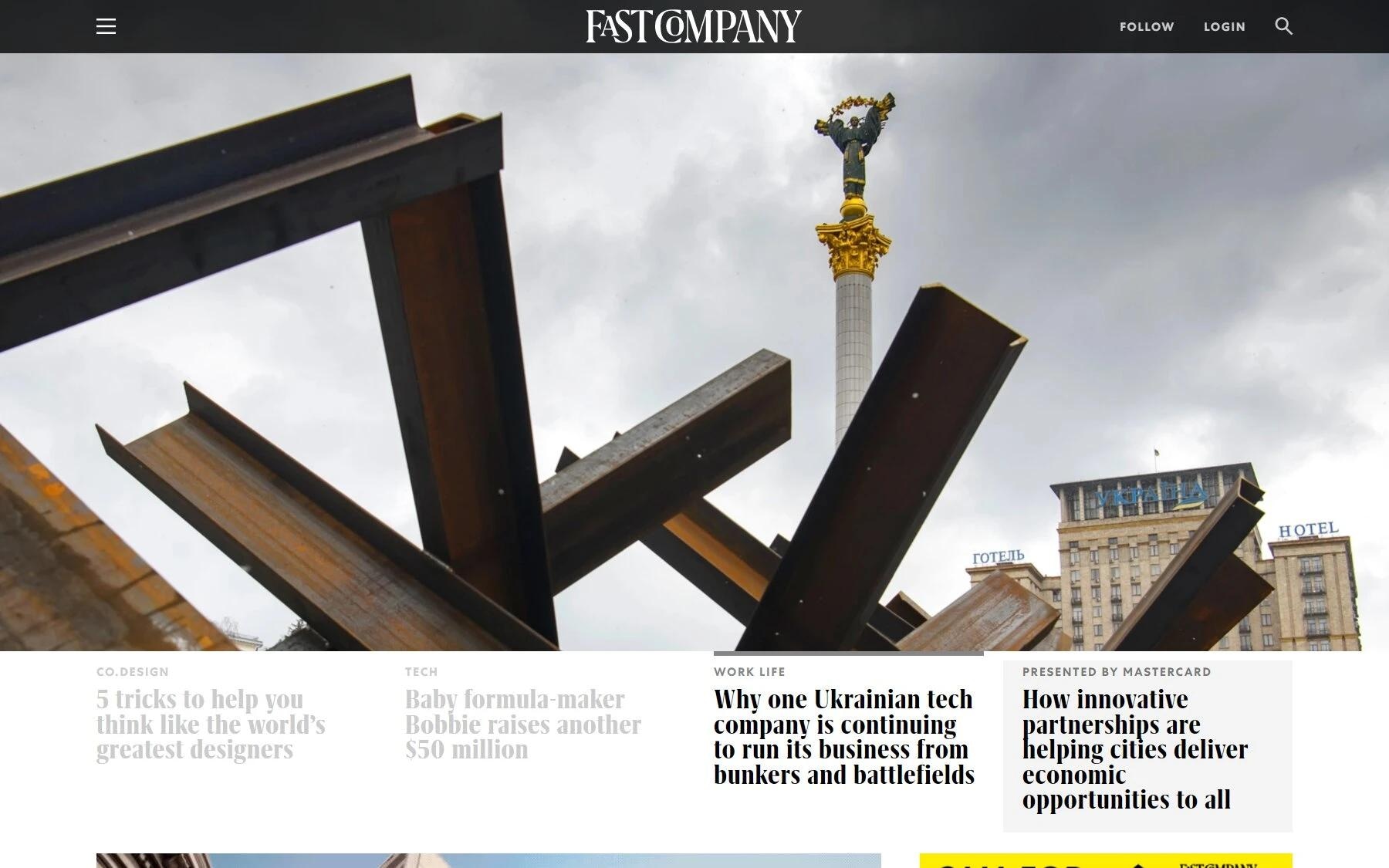 One of the leading business media brands, Fast Company's blog shares editorials on technology, creativity, leadership, innovation, transforming ideas, and design.
Our Favorites:
This blog is a resource house for actionable content marketing insights and proven templates to steal attention on social media. They have also built a free headline analyzer tool to help you write attention-grabbing headlines that glue readers into your posts.
Our Favorites:
Tired of boring-old marketing jargon? Want something that's based on storytelling, and makes learning fun and easier to digest? StoryNeedle's blog is your place.
Our Favorites:
The blog shares how to build genuine connections with your target audience on social media. Their resource house and marketing insights mostly revolve around winning social media presence.
Our Favorites:
SEO, which is currently the most effective way for marketers to scale their businesses, MOZ shares dozens of insights, how-tos, statistics, and guides on SEO.
Our Favorites: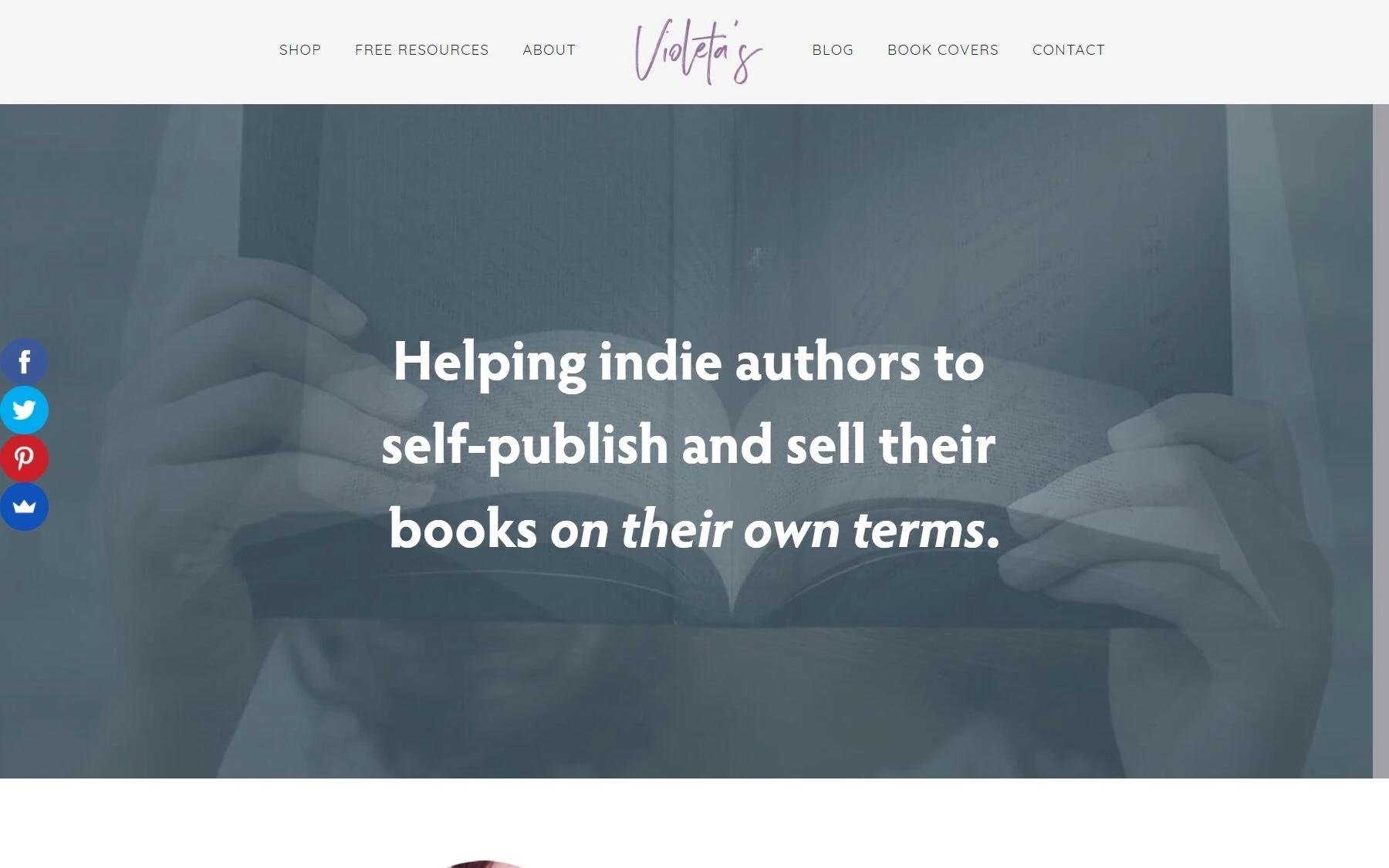 Standing out from the crowd is really hard. But, not if you follow Violeta's advice. She shares how to own your business, become a marketing rebel, and gain the attention that you need by doing out-of-the-way marketing.
Our Favorites: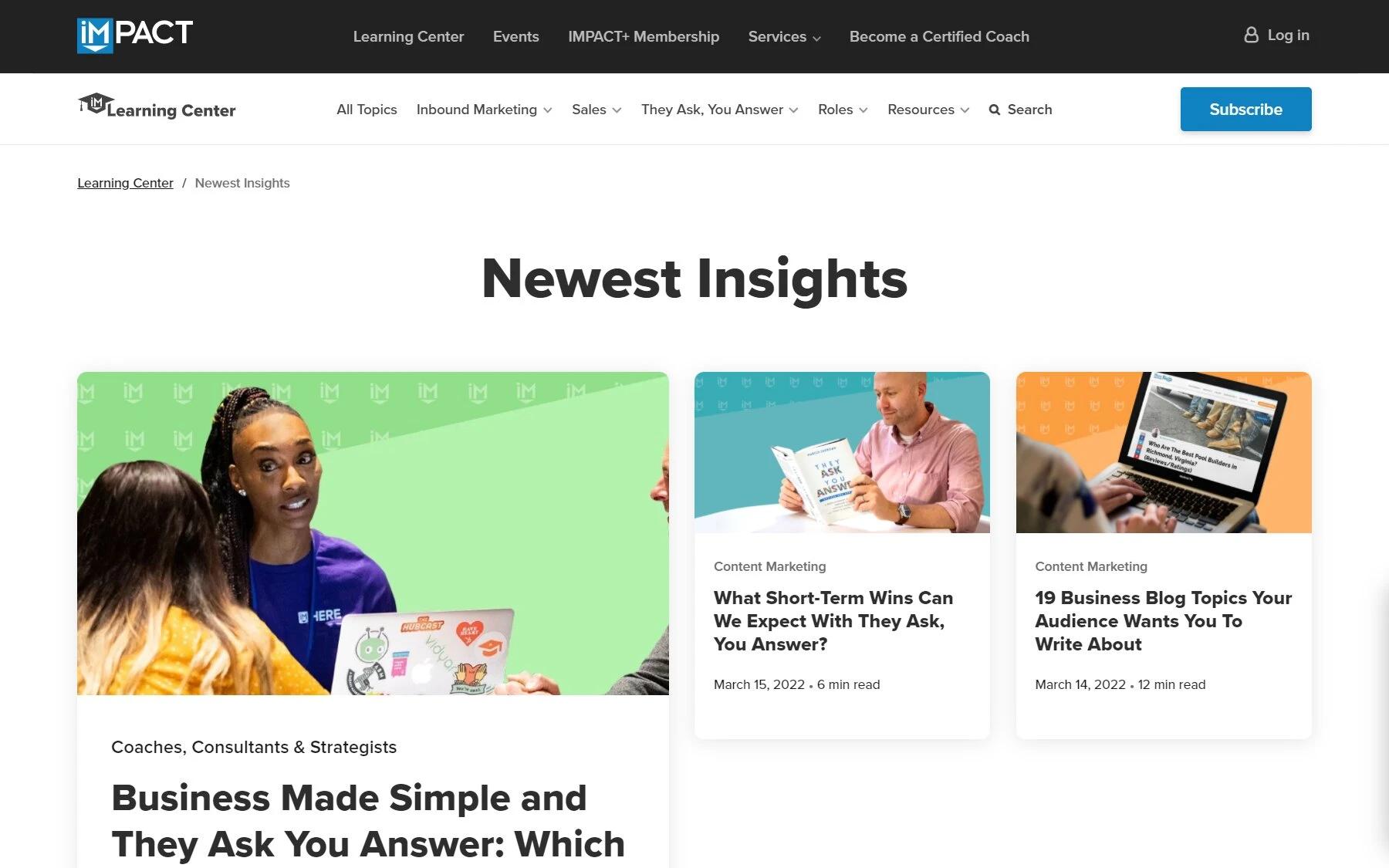 Inbound marketing is important for small businesses to become a priority against giant brands. But how do you do this effectively without losing your brand's reputation? That's where IMPACT comes in — a giant learning house to do inbound marketing and win those leads and revenue.
Our Favorites: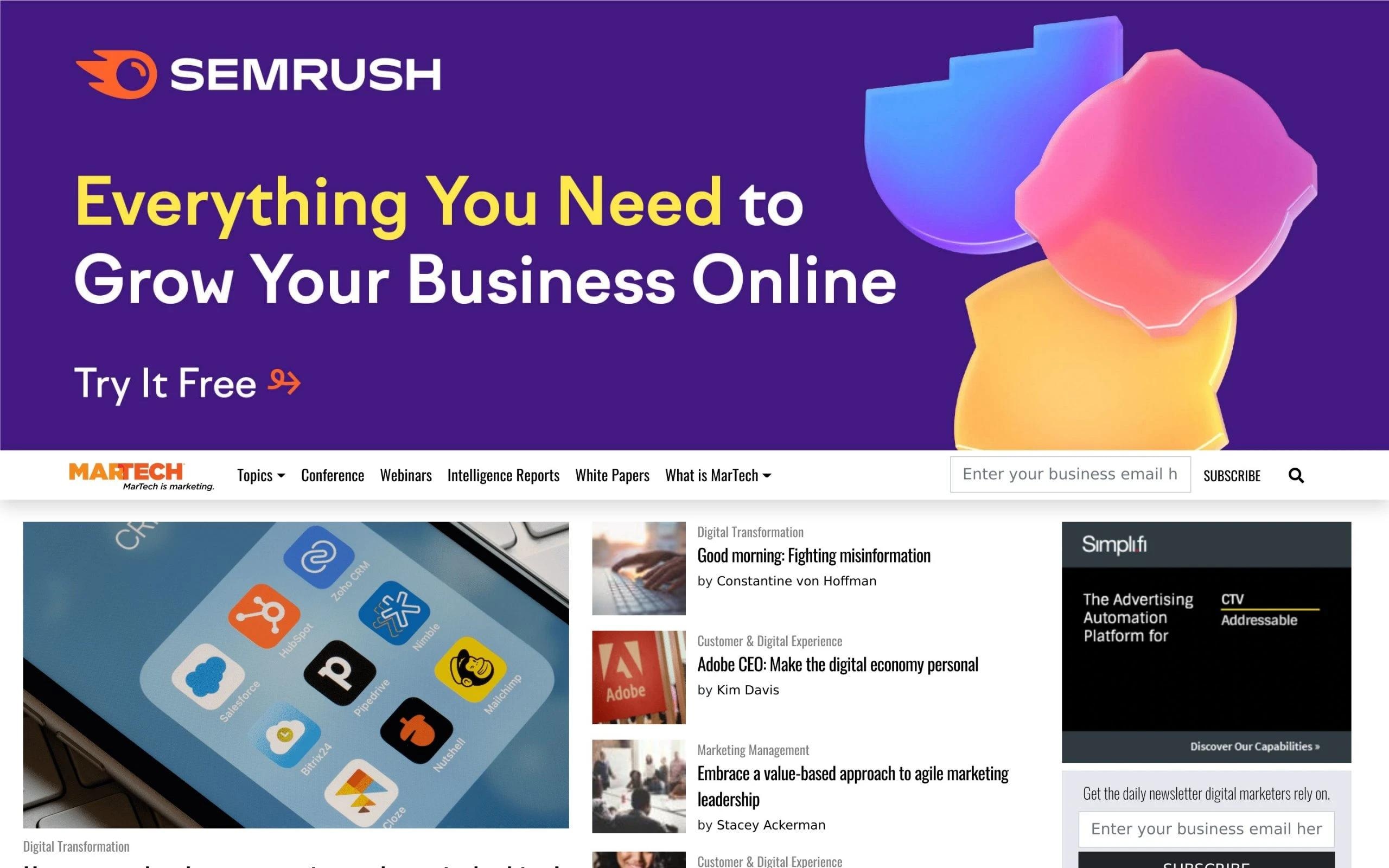 MarTech's blog shares marketing insights of every kind. The unusual and hit campaigns of brands, what's trending in AI that can aid in your ROI, resources on management, and all things related to digital marketing.
Our Favorites: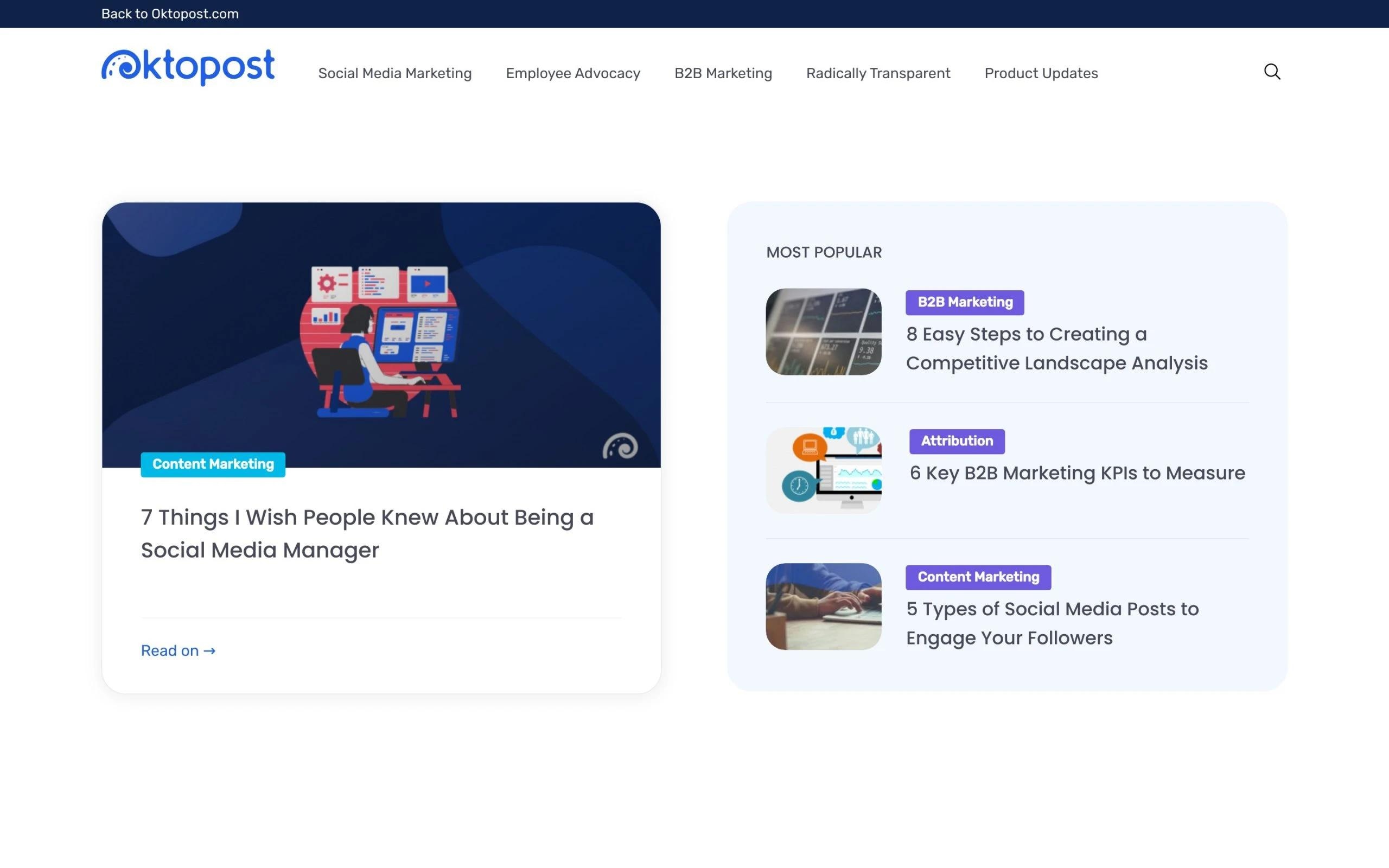 OktoPost's blog shares marketing hacks, tips, and creative ideas that you can use in your campaigns. Their most of the focus remains on how you can generate the revenue you want using only on social media.
Our Favorites: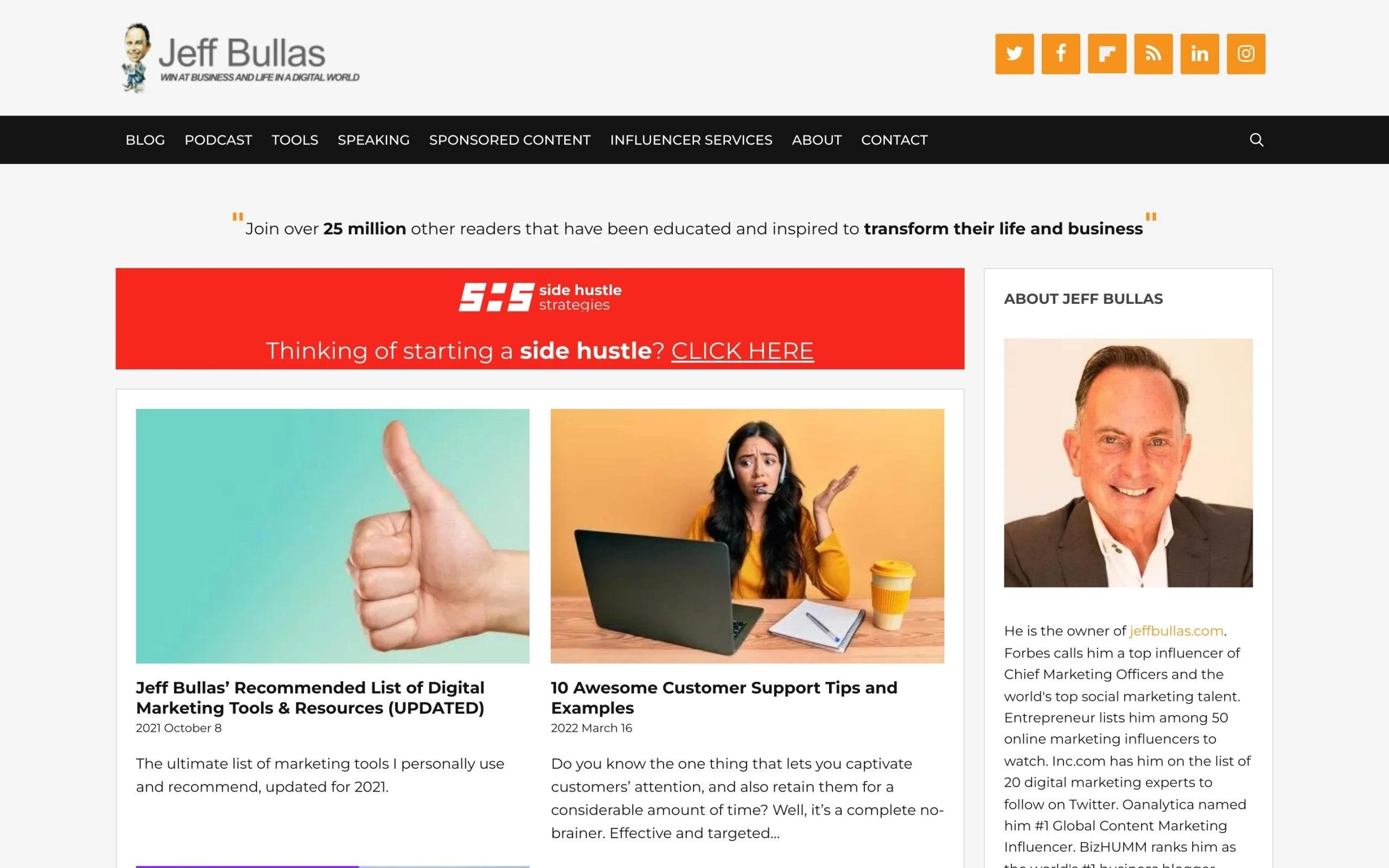 He's an entrepreneur, author, and speaker, and has been mentioned in Forbes as 'the top influencer of Chief Marketing Officers'. His blog shares his proven insights about social media growth, entrepreneurship, and marketing.
Our Favorites: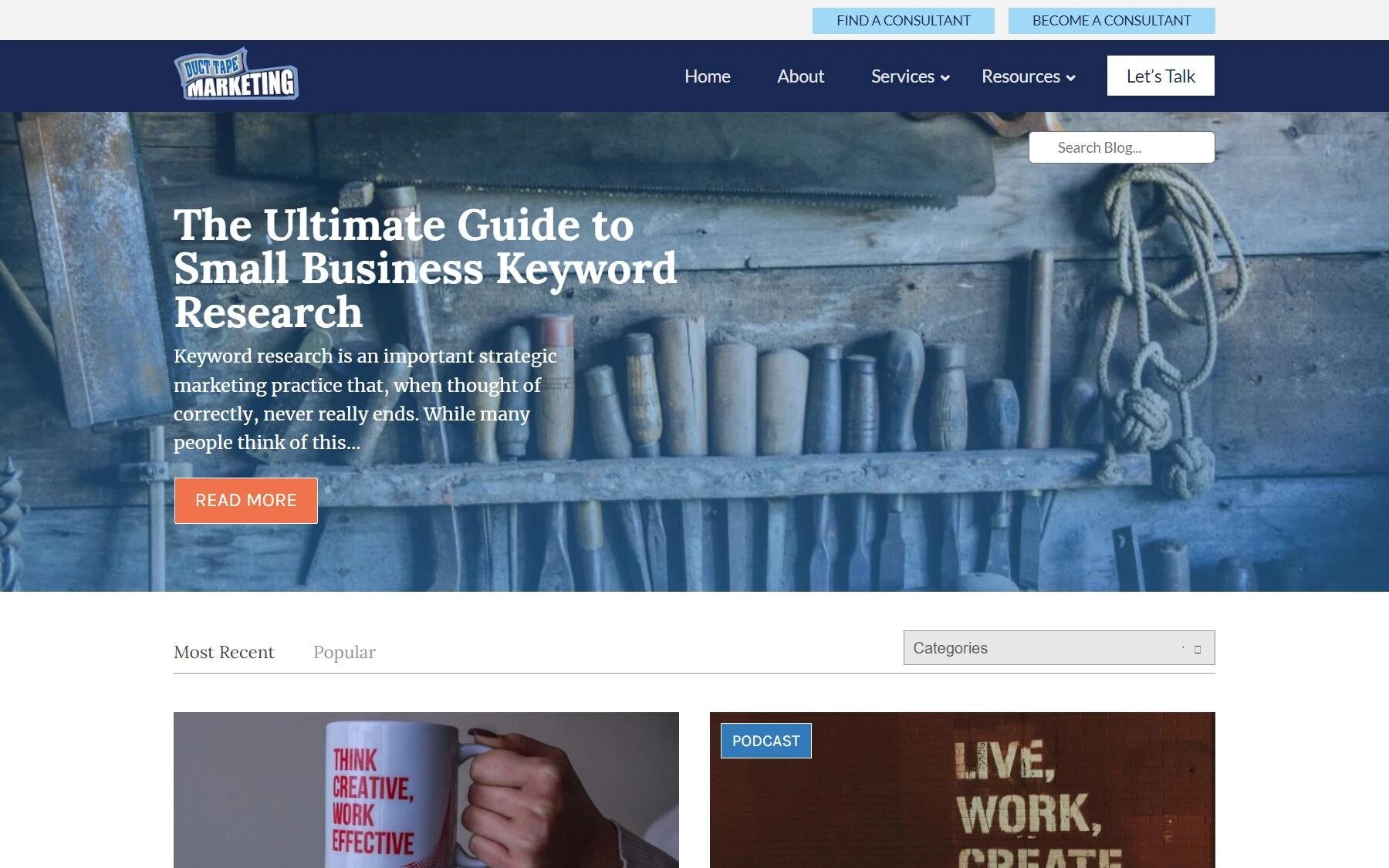 Run by John, the blog shares insights and advice on marketing, what's trending, and how to become more productive. If reading bores you, their podcasts will surely keep you hooked up.
Our Favorites:
If you feel like your business' marketing is outdated, and needs a fresh, modern 'upgrade', ThriveHive is your helping hand. Their blog shares modern and trending information and guides that are working...today.
Our Favorites:
Want something 'real' from a 'real' marketing guru? Meet Jim. He's been running his business since 1995. Jim has discovered pretty insane insights over the years that small businesses can frame into their marketing campaigns.
Our Favorites: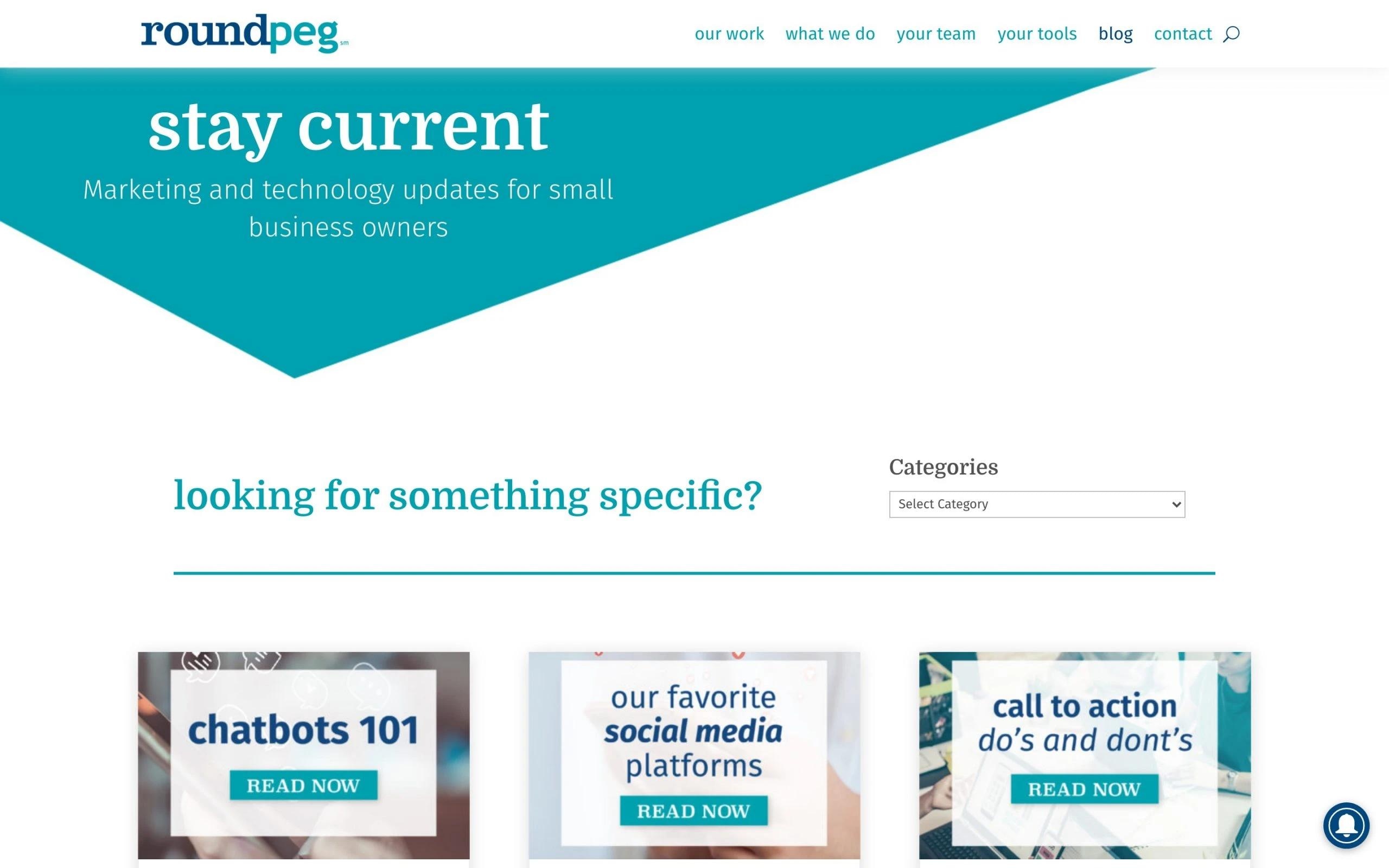 Learn about actionable marketing advice from the company that is 'actually' producing results. Plus, they update the latest trends in technology that might help you in closing more sales.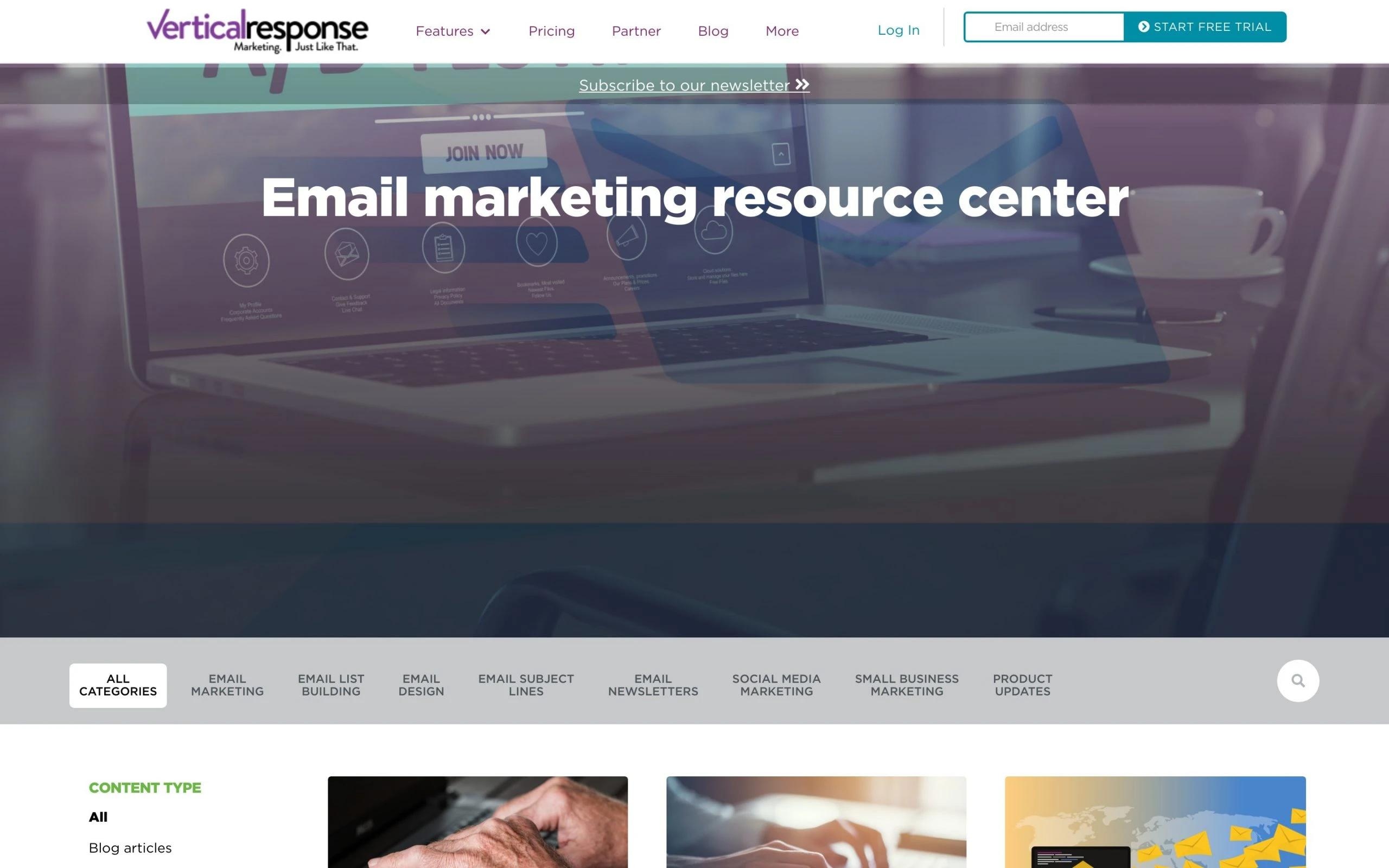 Learn the secrets of launching iconic campaigns and delivering your clear brand message with your marketing. This firm has been in the business for more than 15 years — they do know what they're doing.
Our Favorites:
Debra Murphy, the founder of Masterful Marketing, makes marketing easier for small business owners. She shares the expert knowledge that she gathered after years of trial and error.
Our Favorites: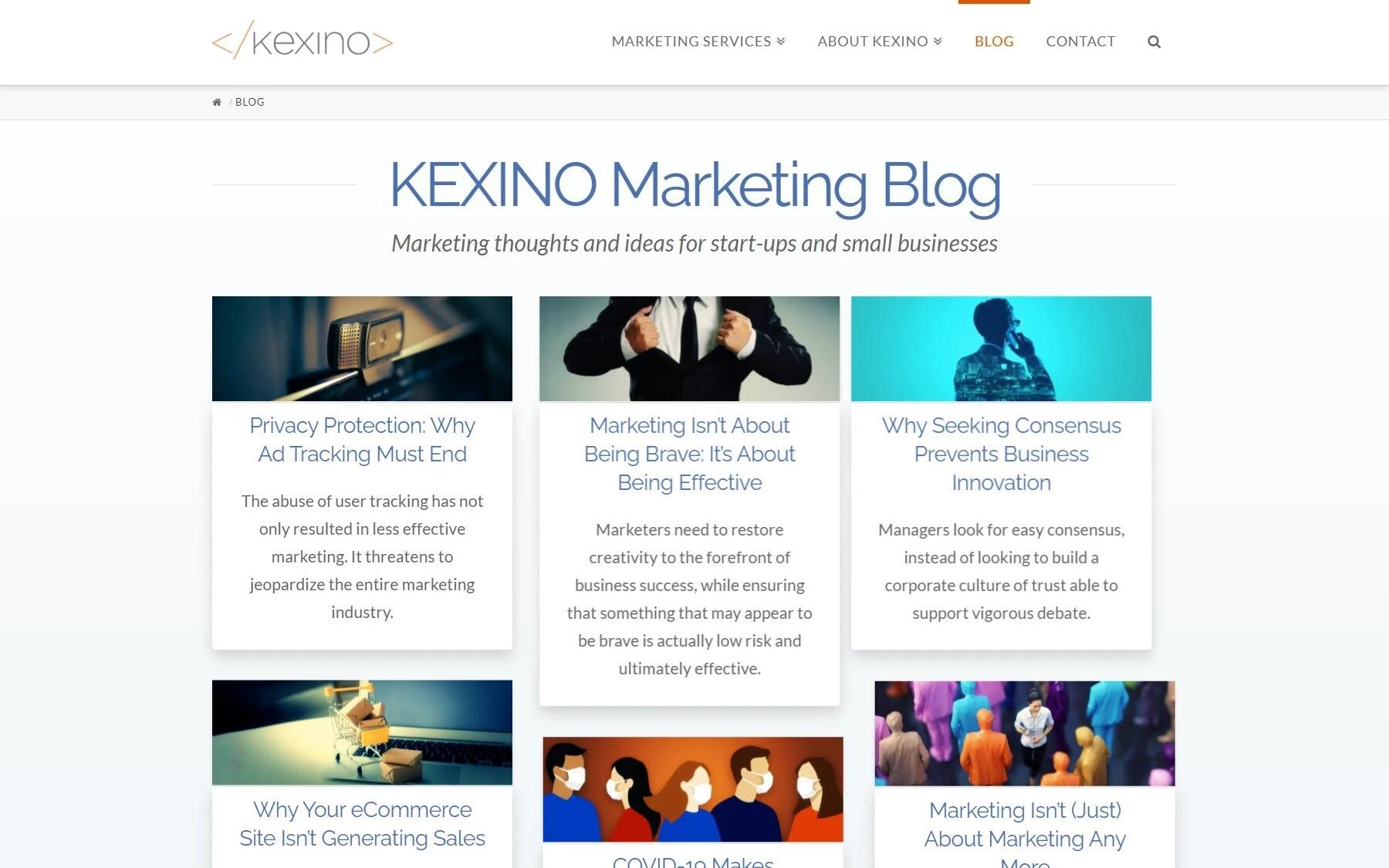 Kexino's shares his own worldview about marketing. His approach isn't generic. Kexino is opinionistic and shares only what worked for him, and that might help other business owners as well.
Our Favorites:
The specialty of their blog is that they make the marketing jargon very simple and easier to understand for everyone. This is great if you're just stepping into marketing, and aren't aware of the marketing lingo.
Our Favorites: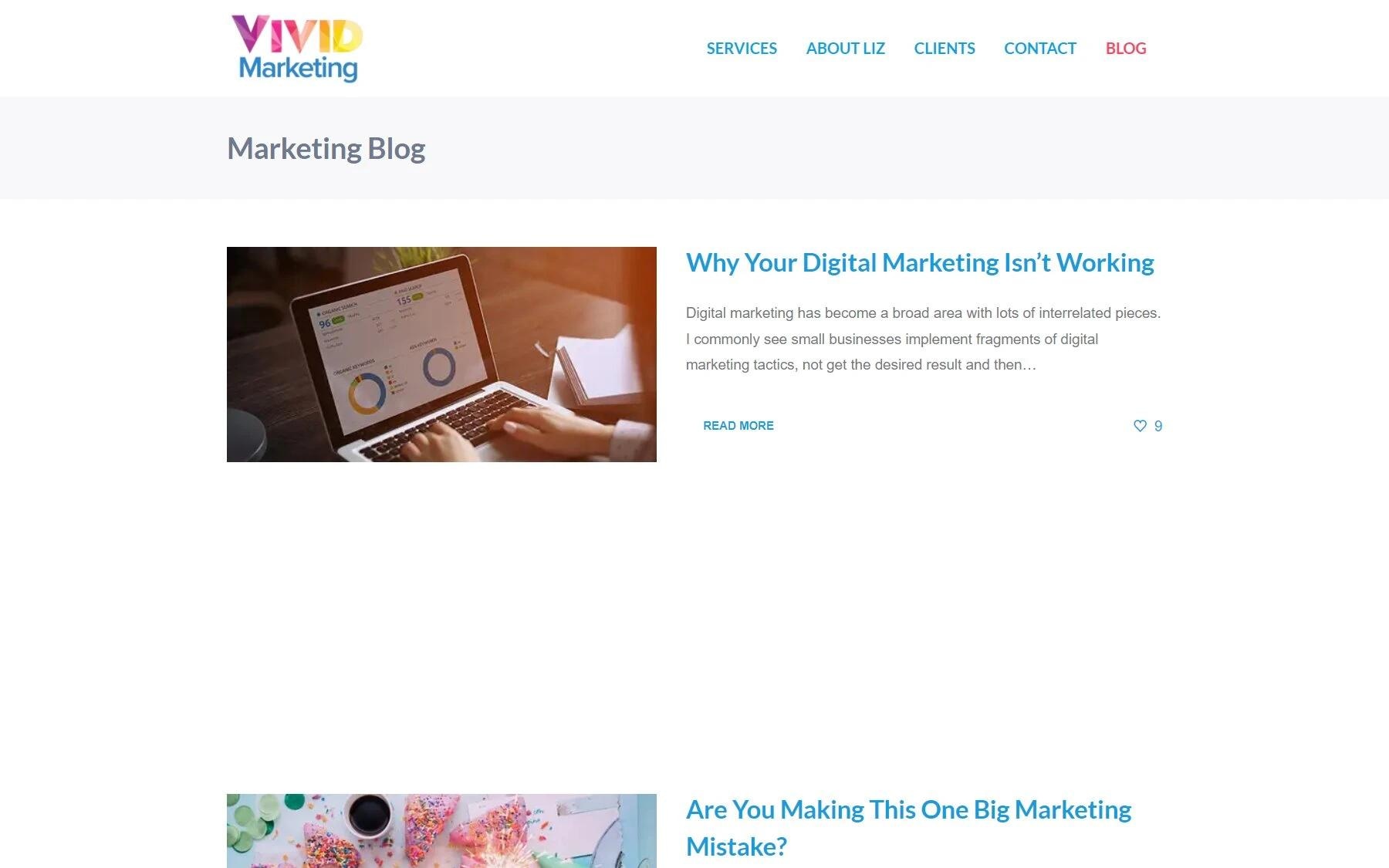 Vivid Marketing blog is run by an independent marketing strategist, Liz. She shares her actionable tips on digital marketing. Explore her blog to find out what might be wrong with your current marketing campaign.
Our Favorites:
Clear Goal Marketing is a digital marketing agency. Their blog publishes tips and tactics on branding, SEO, social media marketing, and communicating with your customers.
Our Favorites:
Top 20 Small Business Retail Blogs to Discover Practical Industry Insights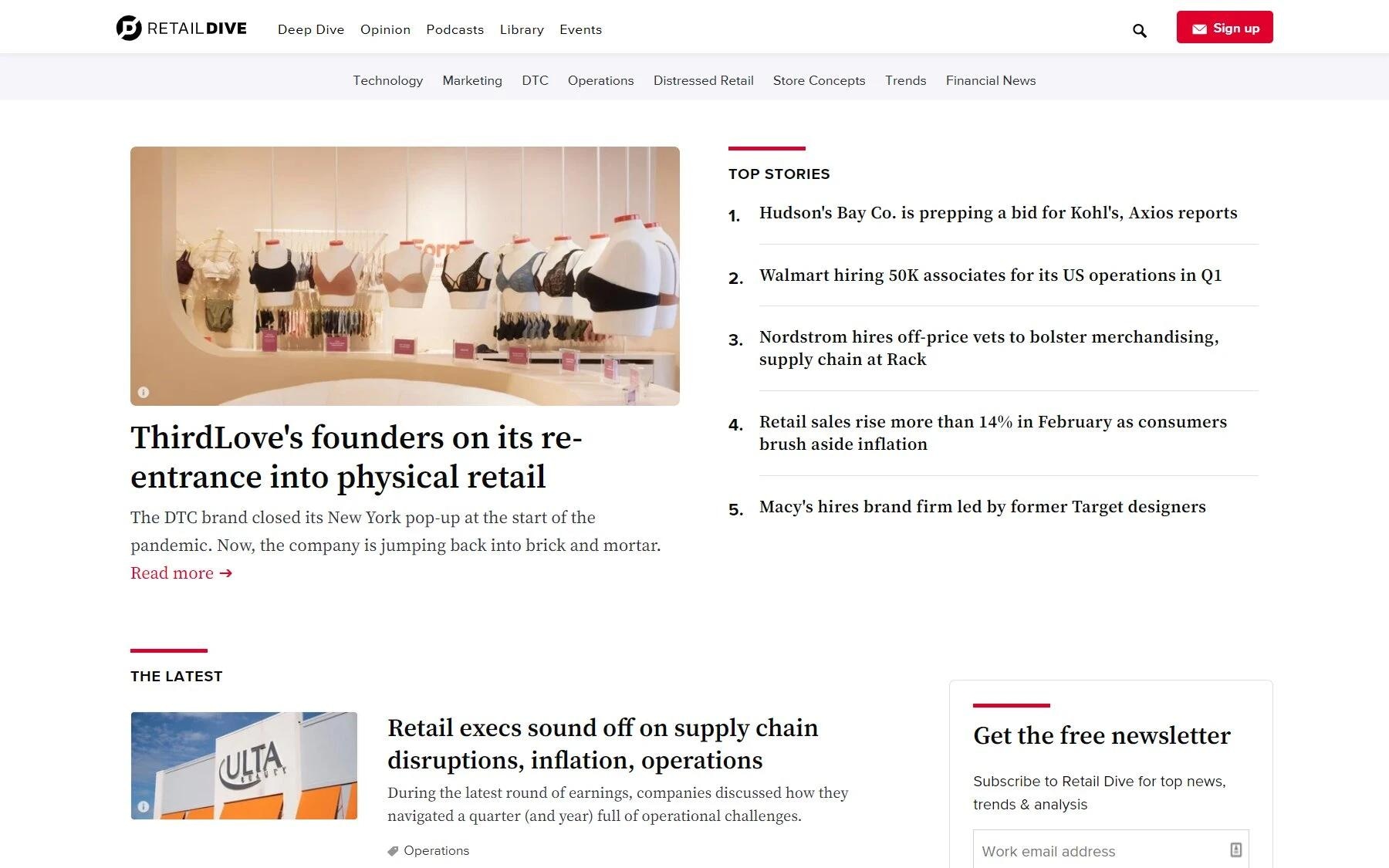 Retail Dive is one of the leading publications to get insights into the latest trends, information, and statistical data of the retail industry. By hopping onto their blog, you'll see in-depth write-ups on the economy, technology, sales, payments, loss prevention, and more.
Our Favorites: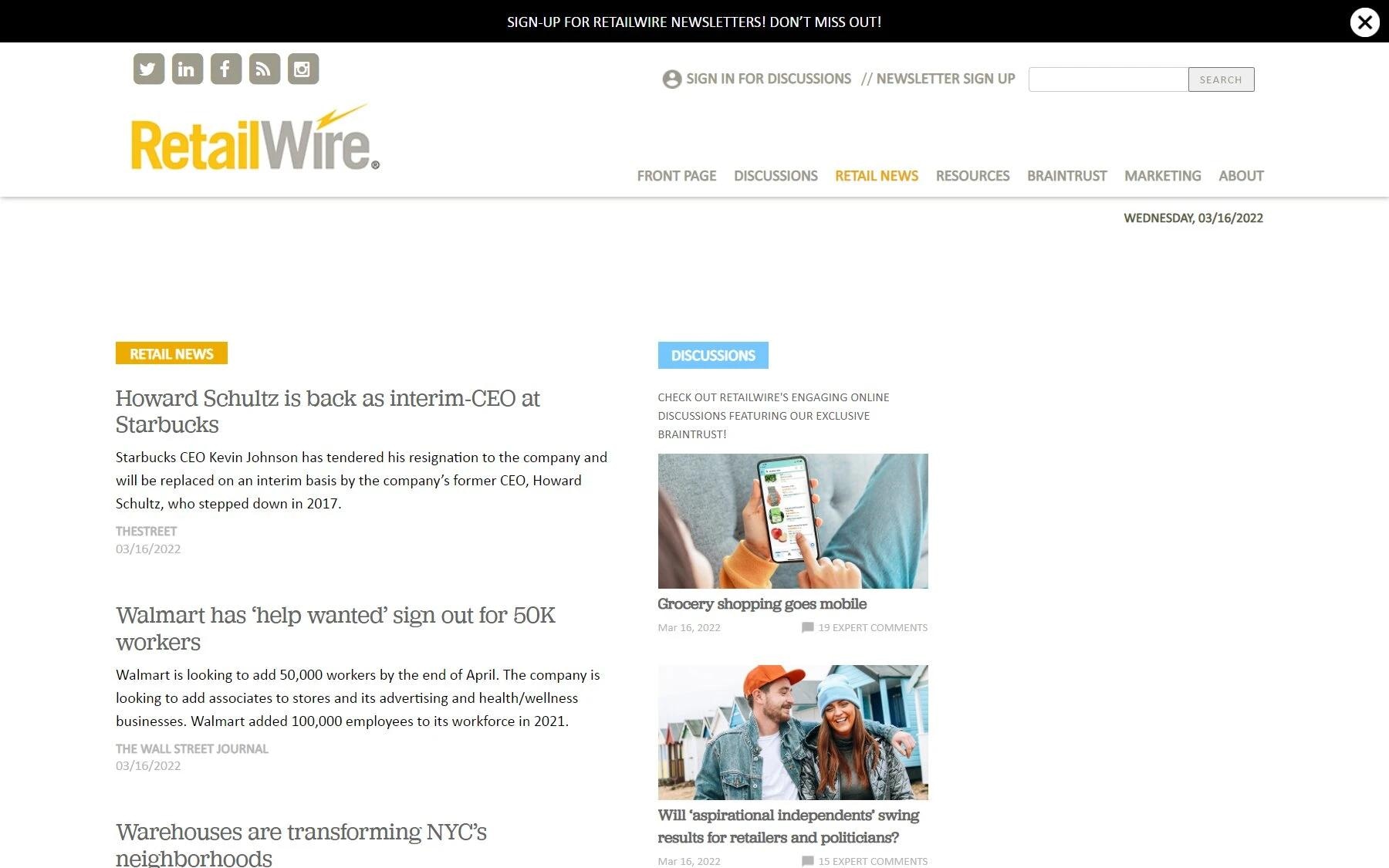 18 years in the field, RetailWire is helping small business owners with the industry's trends, insights, and data that is affecting businesses. The best part, their blog publishes retail news and expert advice daily.
Our Favorites:
The primary focus of this blog is to share retail industry news. What's trending, what's working, and what retail industry giants like Amazon, Target, Walmart, and Wayfare are up to.
Our Favorites: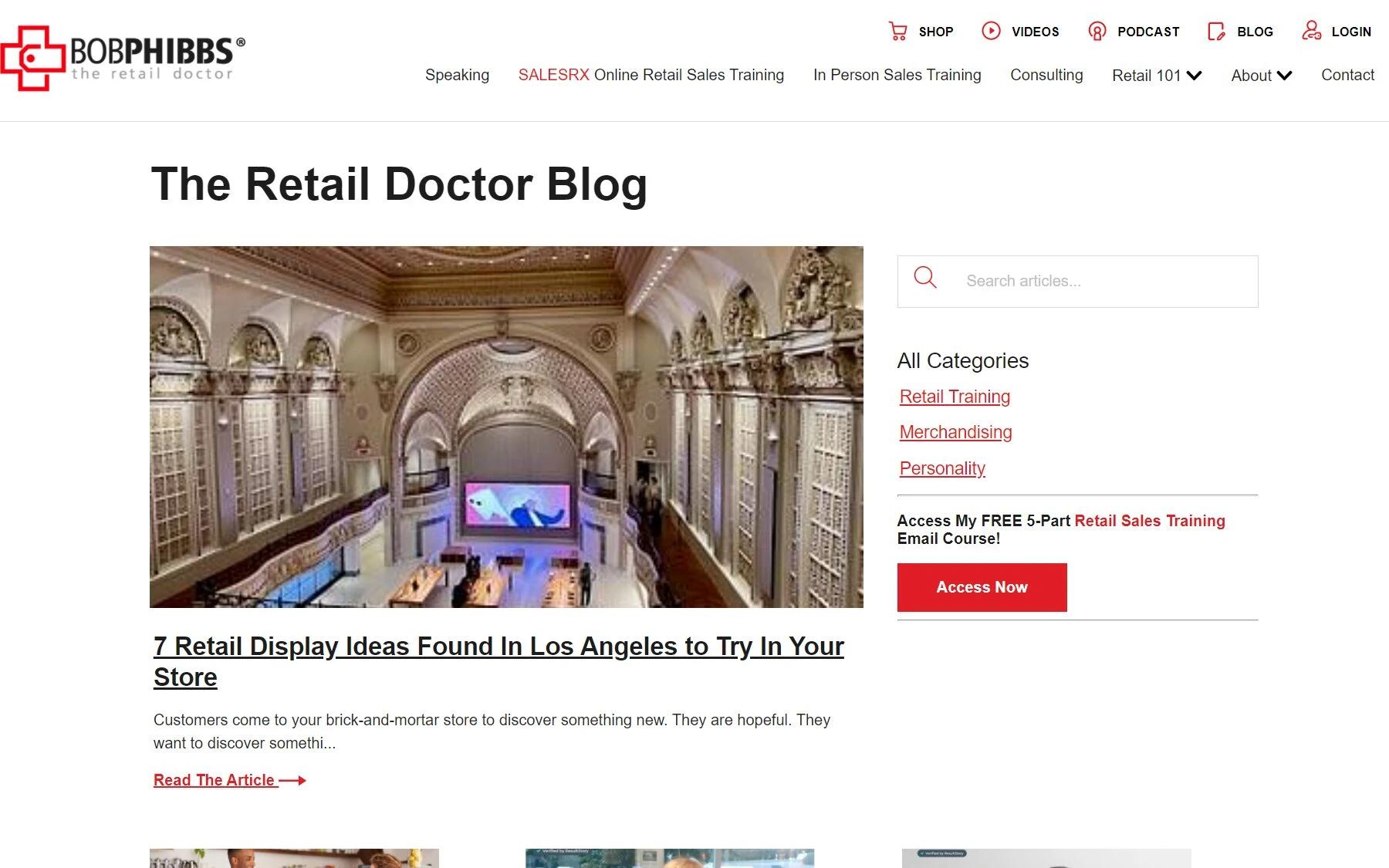 Bob Philips (aka The Retail Doctor) reveals the secrets of growing fast after 25 years of trials and errors. He's scaled thousands of successful brick-and-mortar brands over the years.
Our Favorites: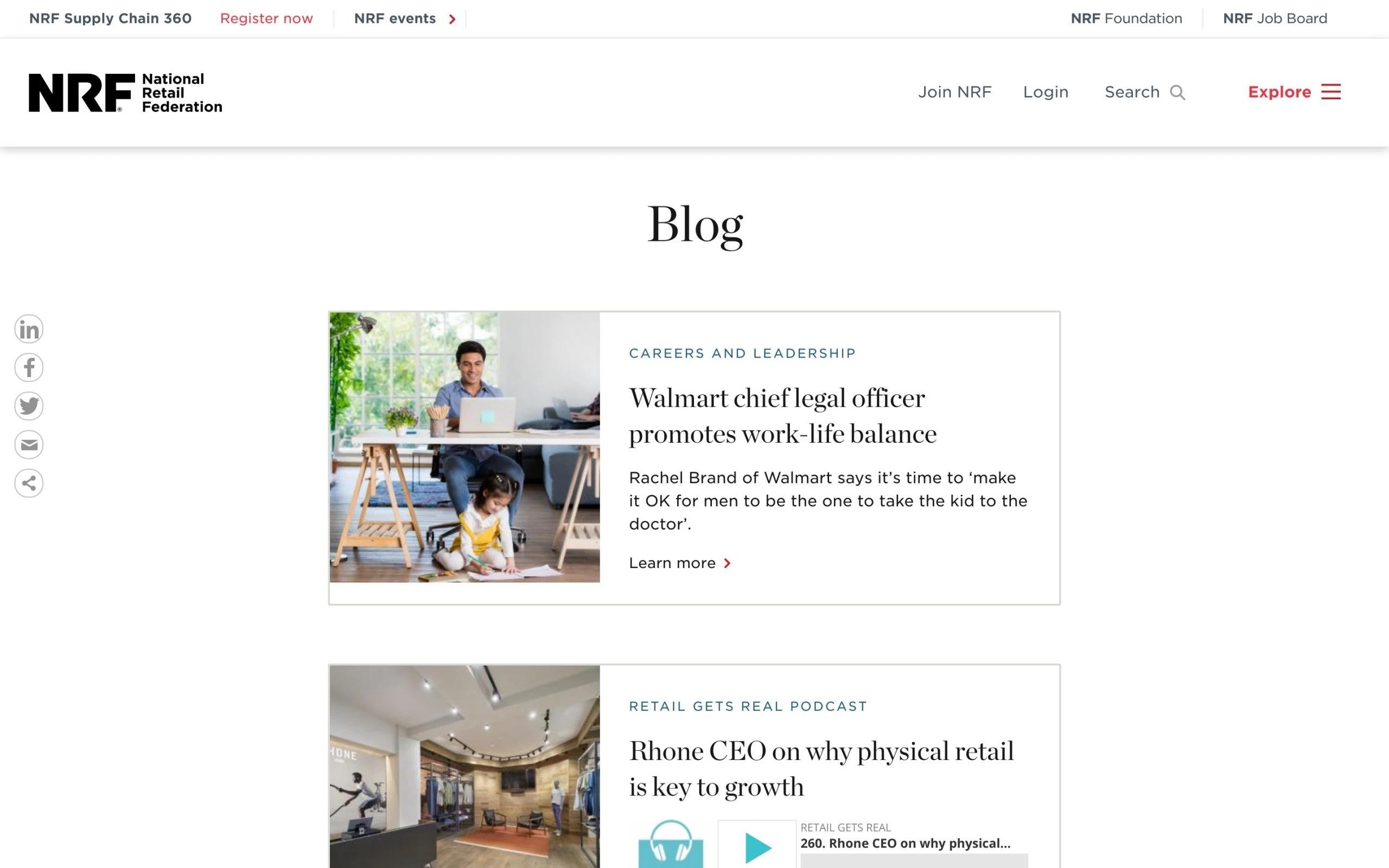 NRF, the USA's biggest association, has been helping the industry for the past 100 years. Learn trends in the retail industry, consumer reports, economy, and exciting findings that they publish after in-depth surveys.
Our Favorites: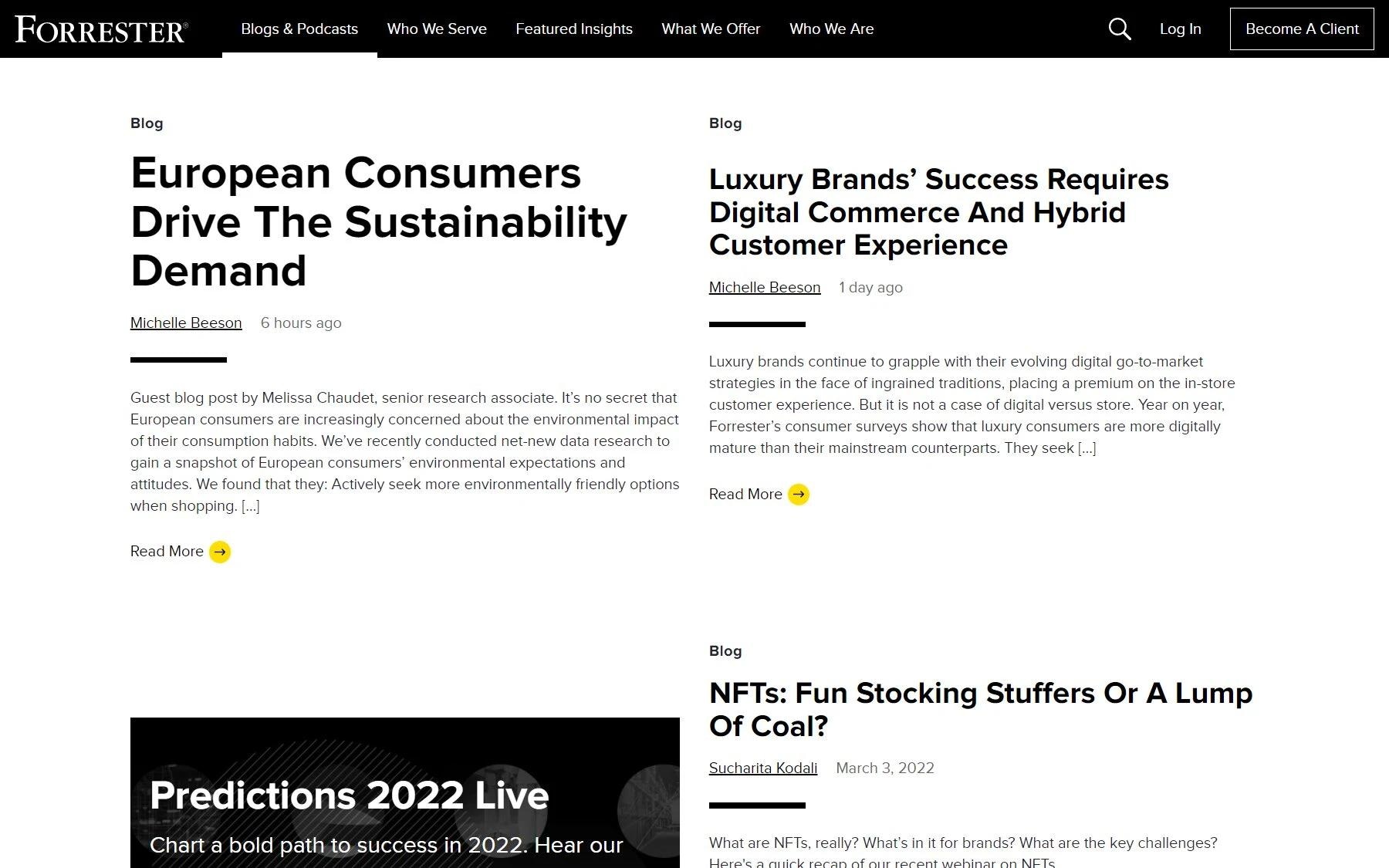 Want to learn how technology is transforming the retail industry for good? Visit Forrester Retail blog. Based on deep research, they publish how innovations are leading the industry into a new era.
Our Favorites: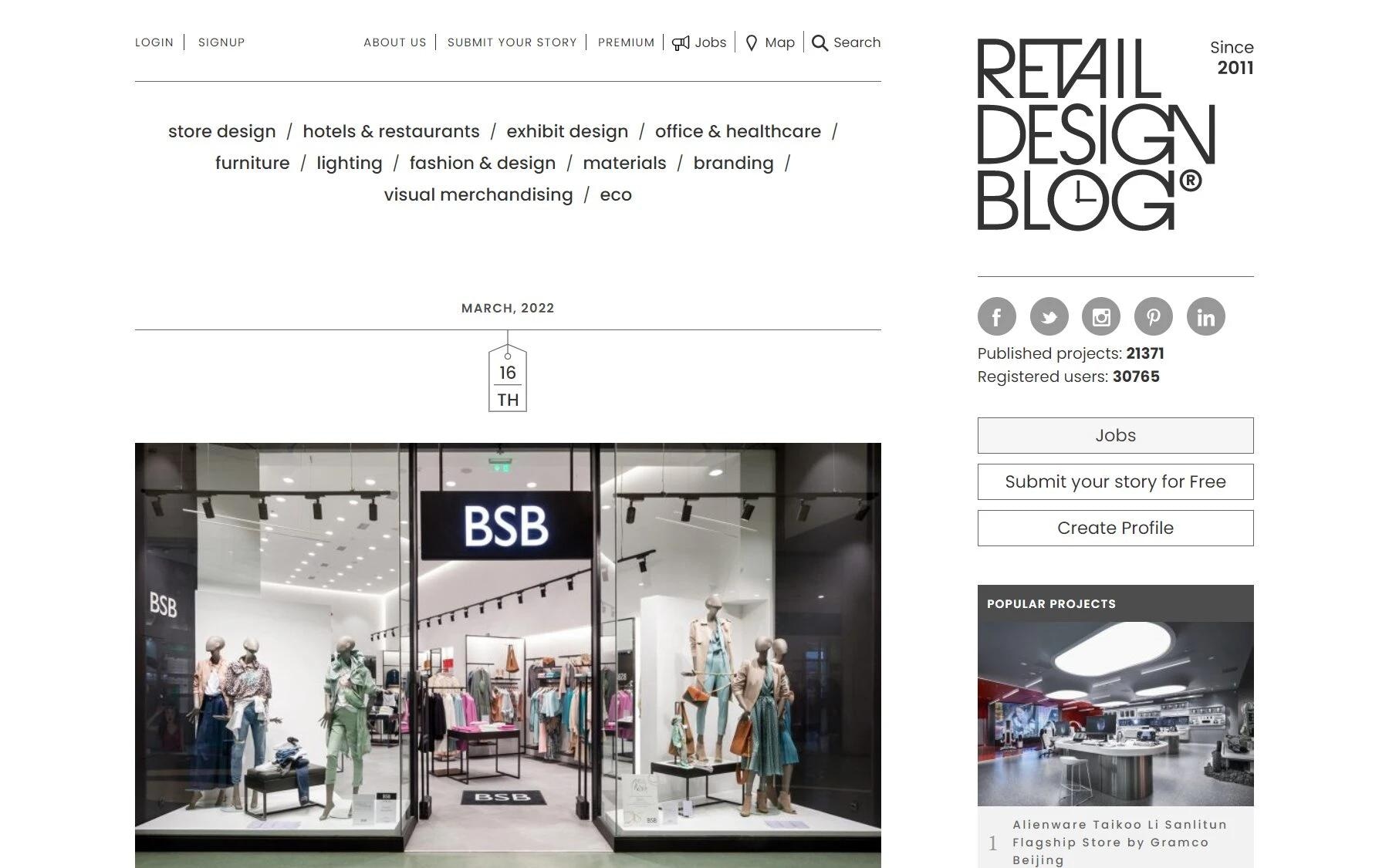 If you're unaware of the importance of the design of your store, visit Retail Design's blog. Discover how you can improve the functionality and customer experience by just improving the design and style. But, their blog only offers paid subscriptions.
Our Favorites: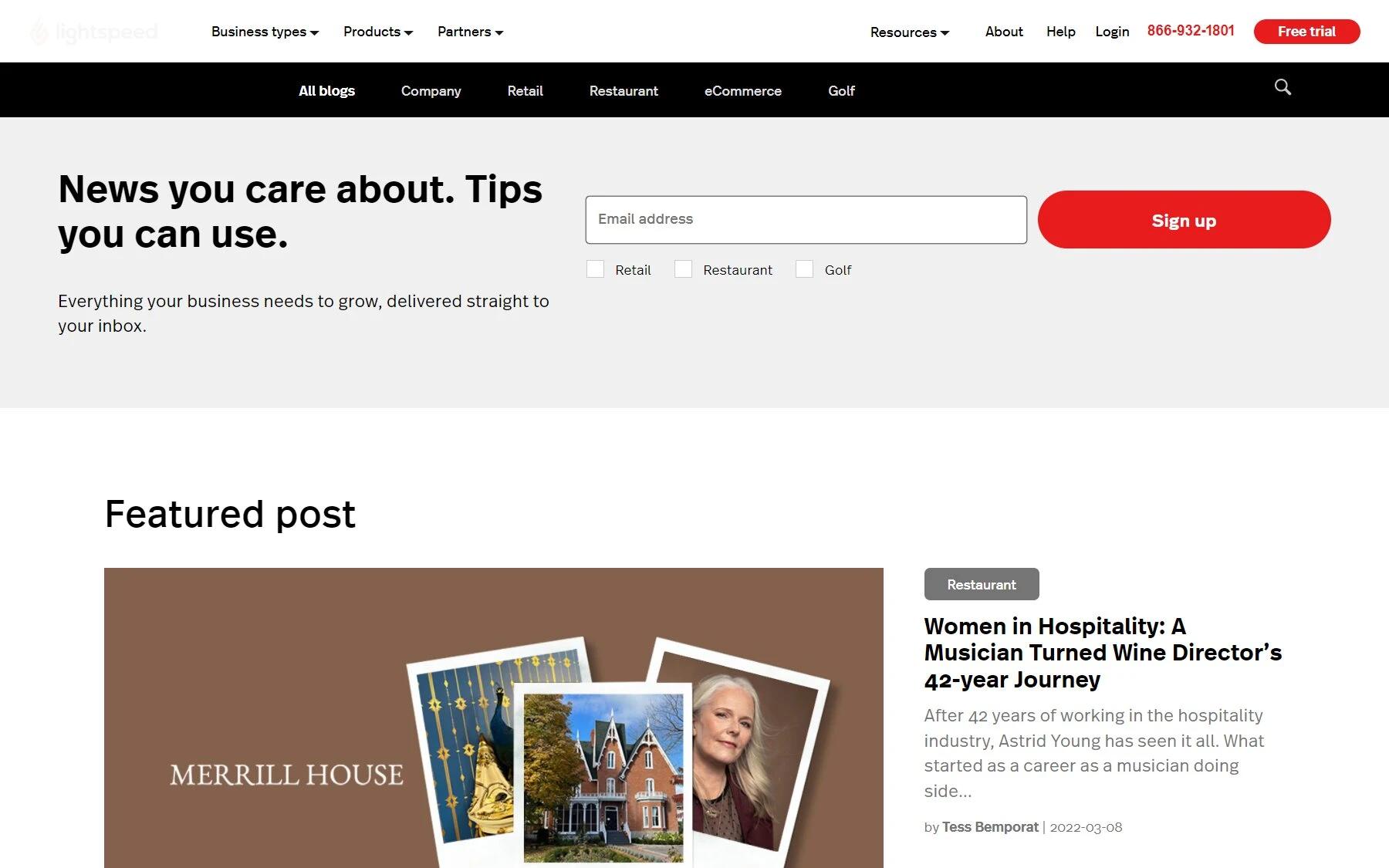 For independent retailers, the blog publishes insights on every key thing: from starting to managing, marketing, building social media presence, and 'actually' growing your retail business. Read all for free.
Our Favorites: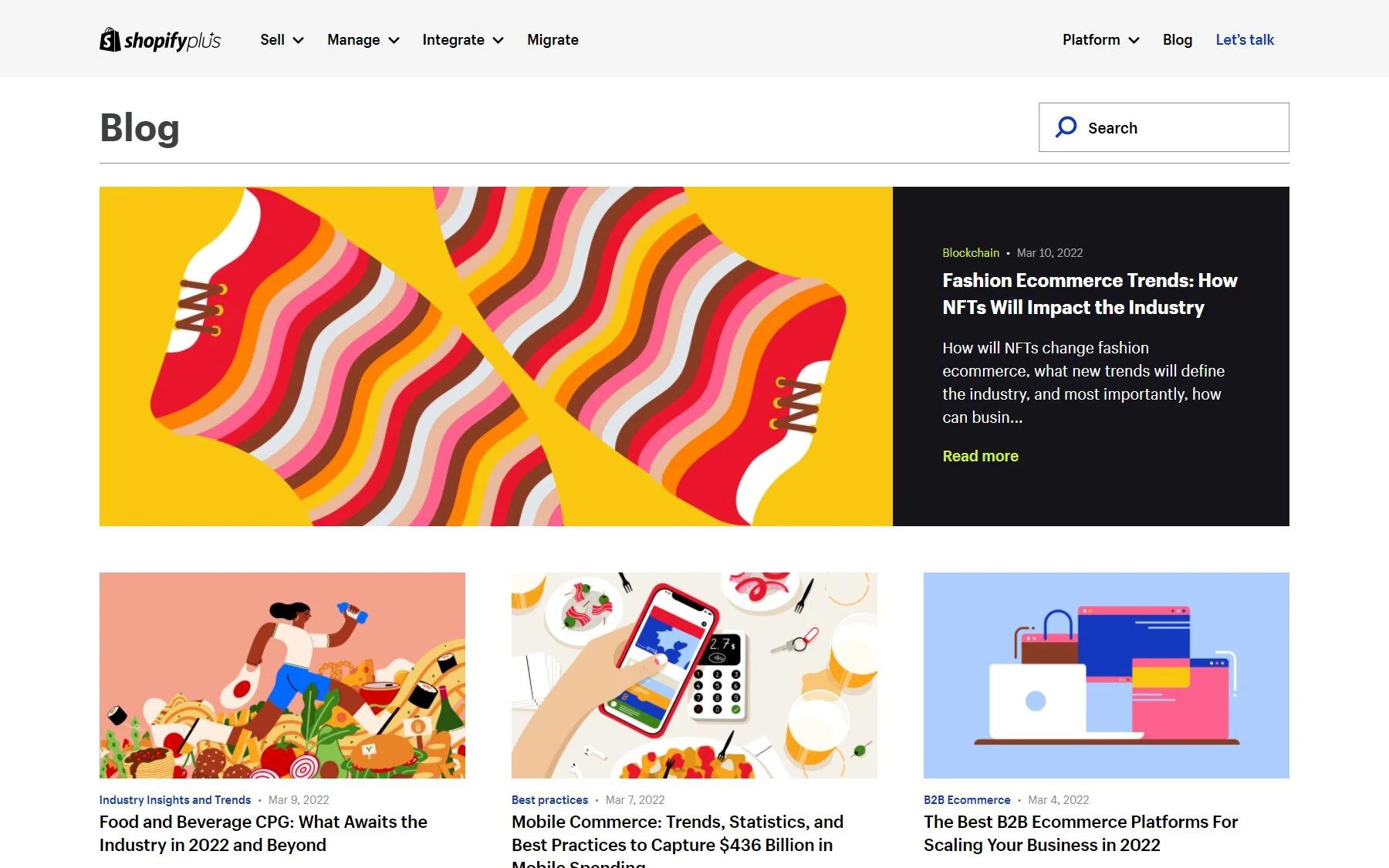 If you want proven insights into the industry's data from a trusted resource, Shopify Plus is your way out. Explore success stories, research on buyers' psychology, and eCommerce trends.
Our Favorites: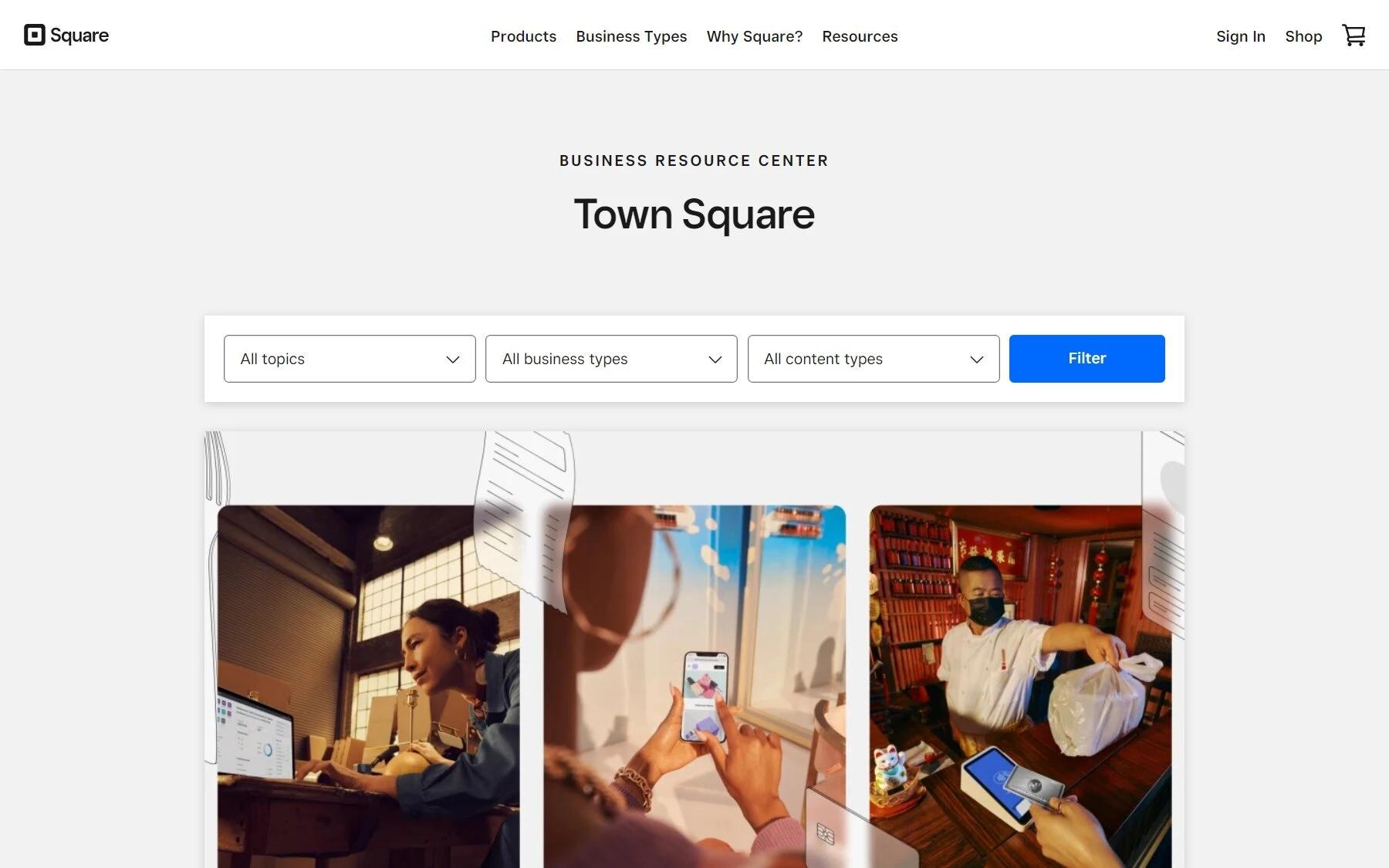 With millions of customers around the globe, Square is a famous credit card reader company. Square publishes articles on finance, management, marketing, growth tactics, and statistical data that can help you scale your retail store FASTER.
Our Favorites:
Learn from the retail expert: Medallion has been helping small businesses for over 50 years. The company has scaled stores like Starbucks and Mark Avion. Extract their practical advice in scaling your own retail store in less time.
Our Favorites:
OneStepRetail is a firm that provides retail solutions to small to midsize businesses. Their blog shares possibly everything you need to know to sky-rocket your success.
Our Favorites: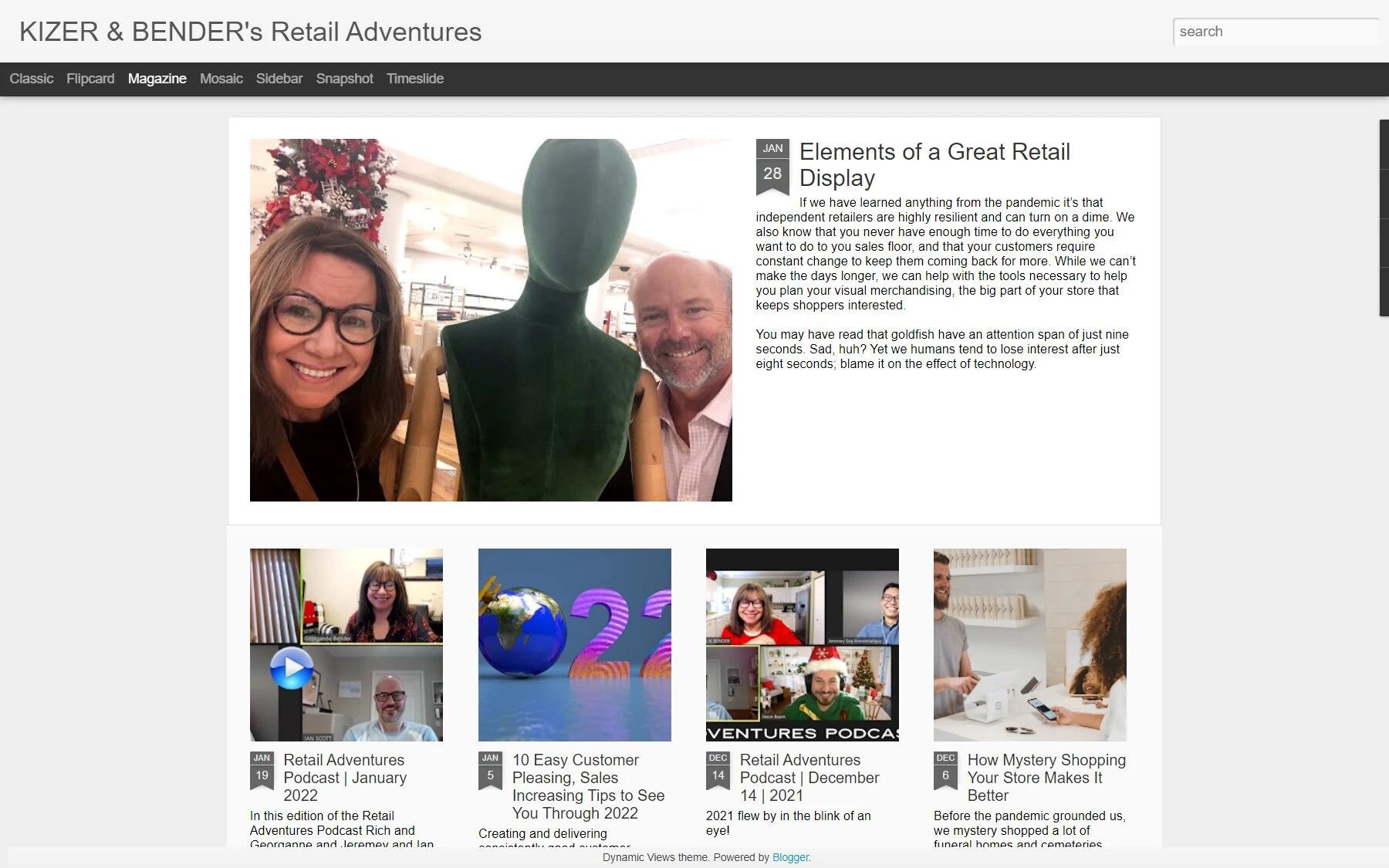 Rich Kizer and Georganne Bender's award-winning blog shares the secrets they have discovered after working in the retail industry for more than 30 years. Get a unique perspective on retaining your customers, merchandising, and making the success graph go higher.
Our Favorites: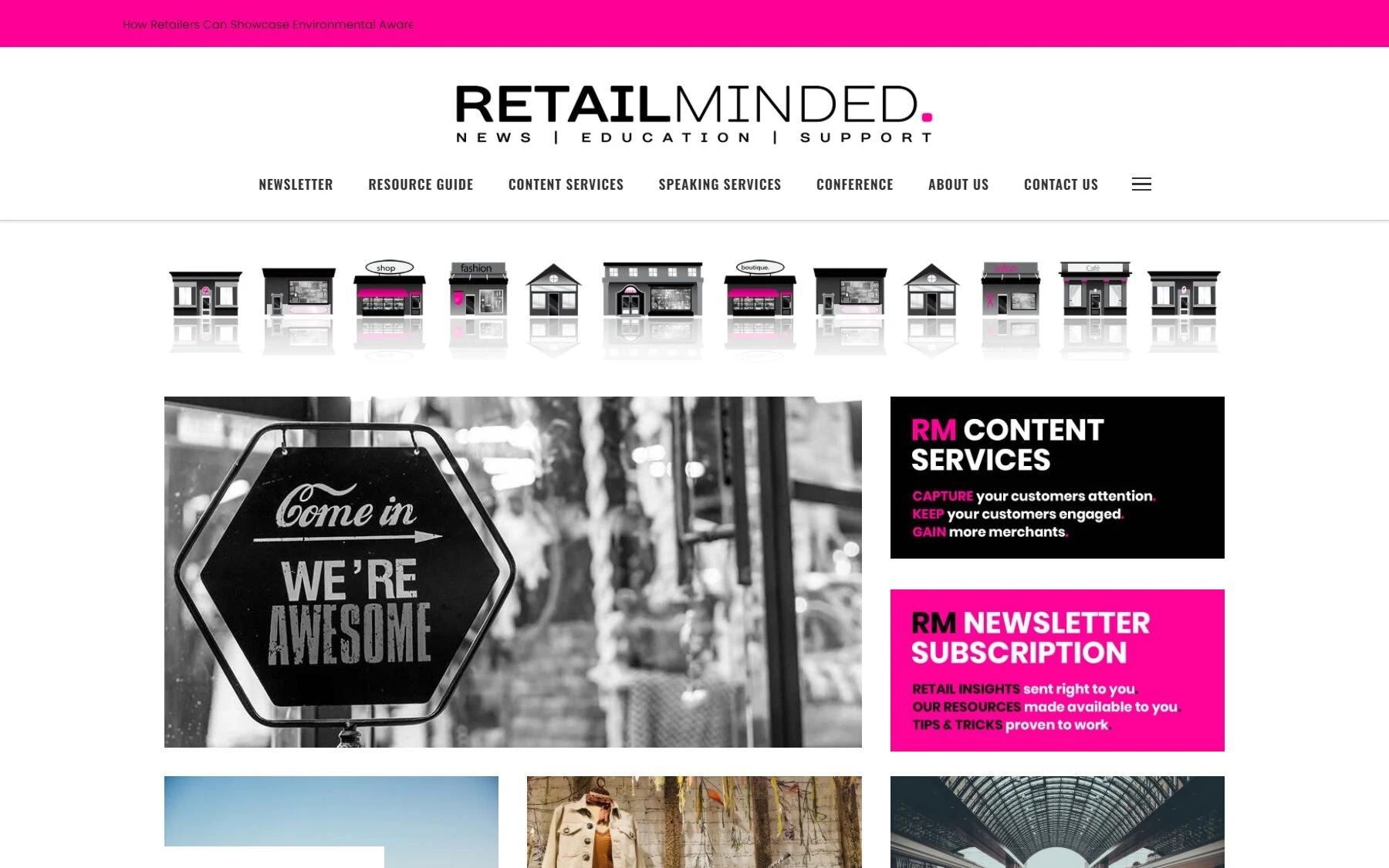 Since 2007, founded by Nicole Leinbach Reyhle, RM blog shares insights on developing a great work and life balance for small business owners. It's the trusted resource for many independent retailers to advance in the industry.
Our Favorites:
Imagine more than 50+ retail industry experts telling you how to get more customers, more sales, and more eyeballs on your retail store. Pictured already? Well, this blog is your go-to place to make this imagination a reality.
Our Favorites:
Visit their blog to get A-Z insights on setting up your retail store, developing brand strategies, customer trends, marketing trends, and more — from the experts of this industry.
Our Favorites:
As suggested in the name, the author and the world-famous retail industry expert, Doug Stephens, shares what the future of the retail industry will look like. Absorb his knowledge that he spent 20 years gaining.
Our Favorites:
Jason Goldberg, the owner of the blog teaches how you can deliver an excellent customer experience. Leveraging his tips and techniques, you can make your one-time customers into your raving fans for life.
Our Favorites: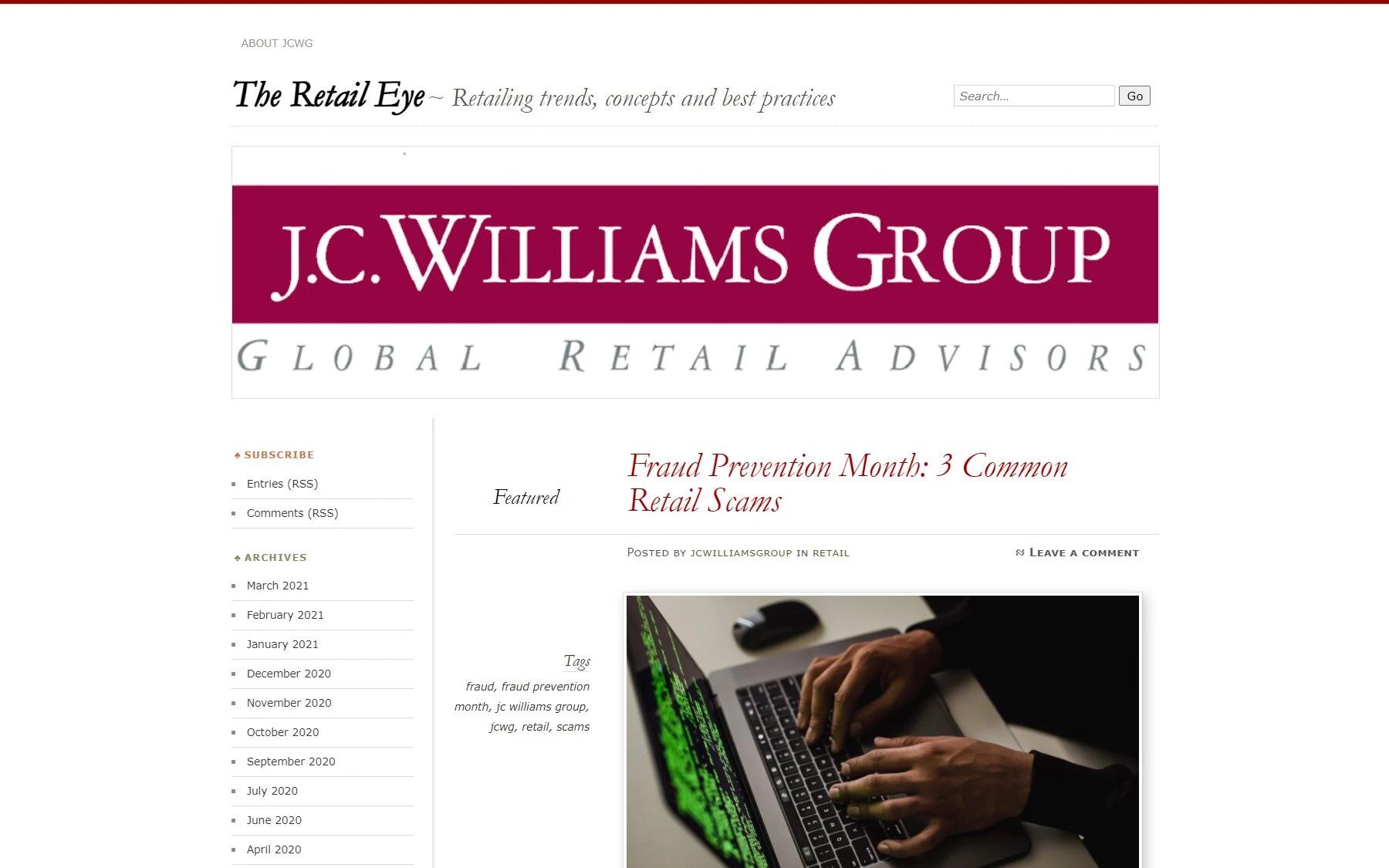 Powered by J.C Williams Group, the blog shares global innovations in the retail industry that are helping businesses succeed. This 'hawk-eye' view is much needed for a small business owner to catch trends and innovations beforehand.
Our Favorites:
The name speaks for itself. An expert retail consultant for NCR Corporation of Canada, Tim Dickey shares the latest trends in the retail industry introduced by new technologies.
Our Favorites:
10 of the Best Blogs about Running a Small Business to Scale Your Small Business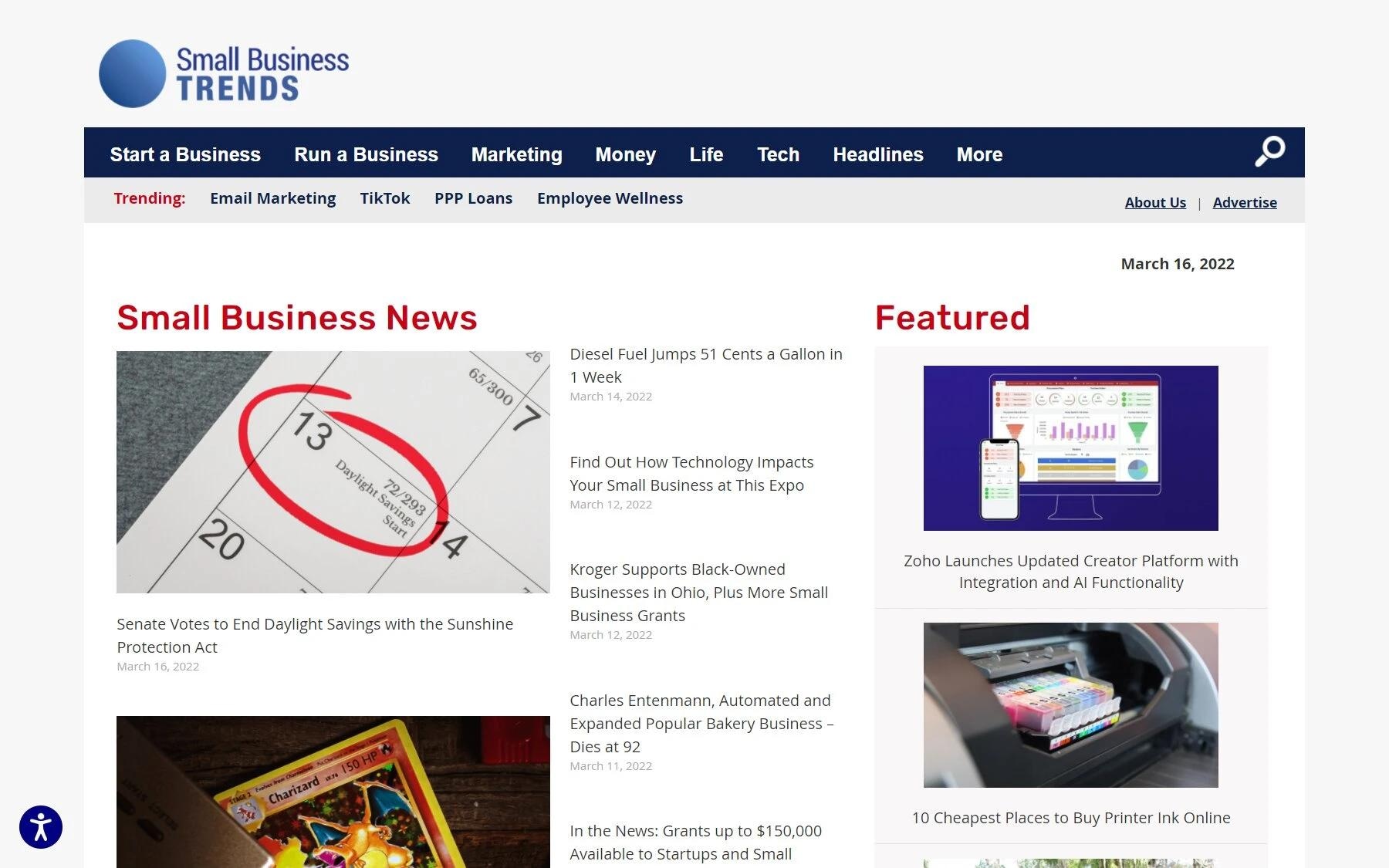 This blog is all about industrial analysis and articles on finance, management, marketing, leadership, technology, and business advice.
Our Favorites: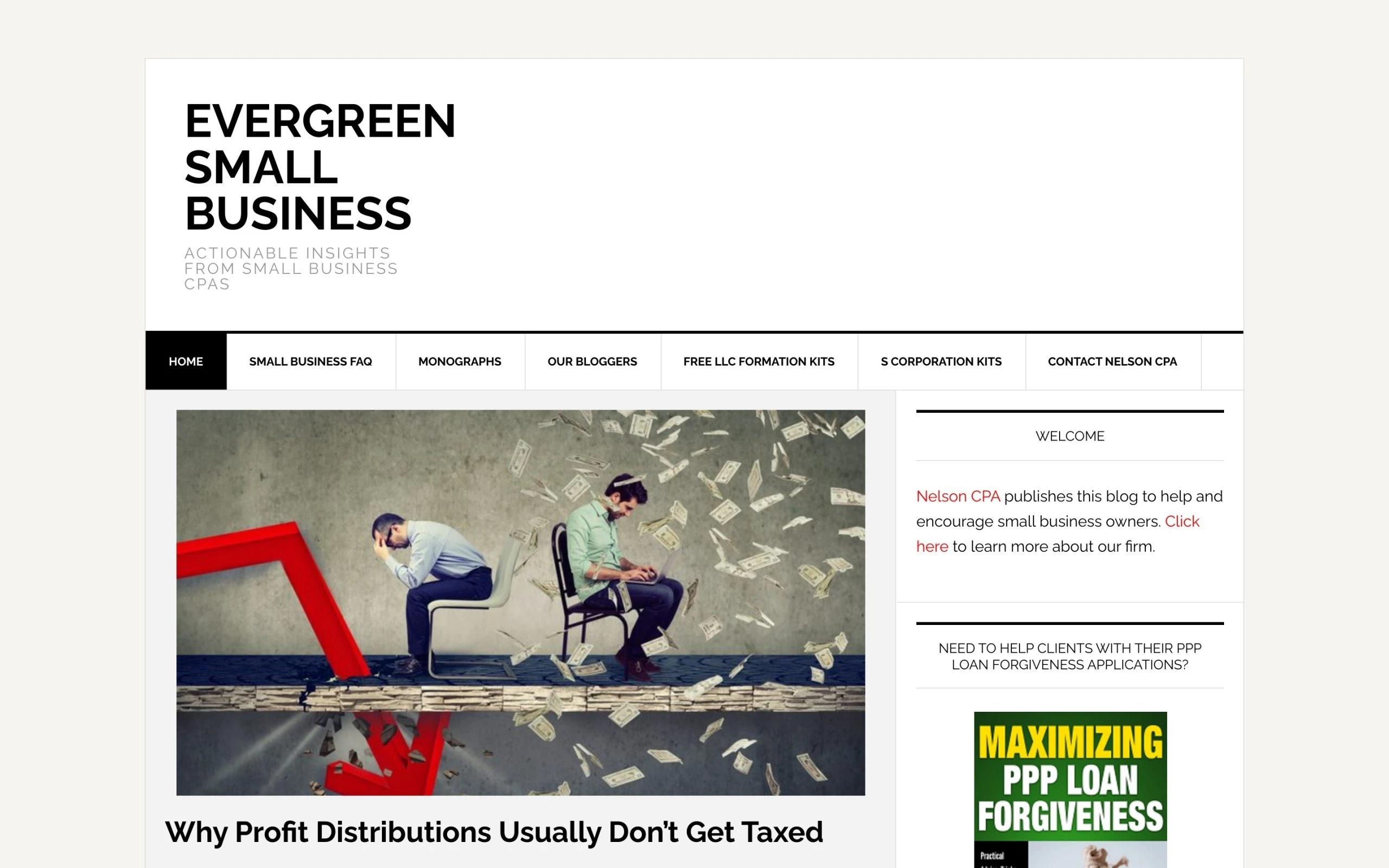 Operated by two financial advisers, this blog tells you how to do your finance the right way. Plus, it answers FAQs of real issues small business owners have with long-form write-ups.
Our Favorites: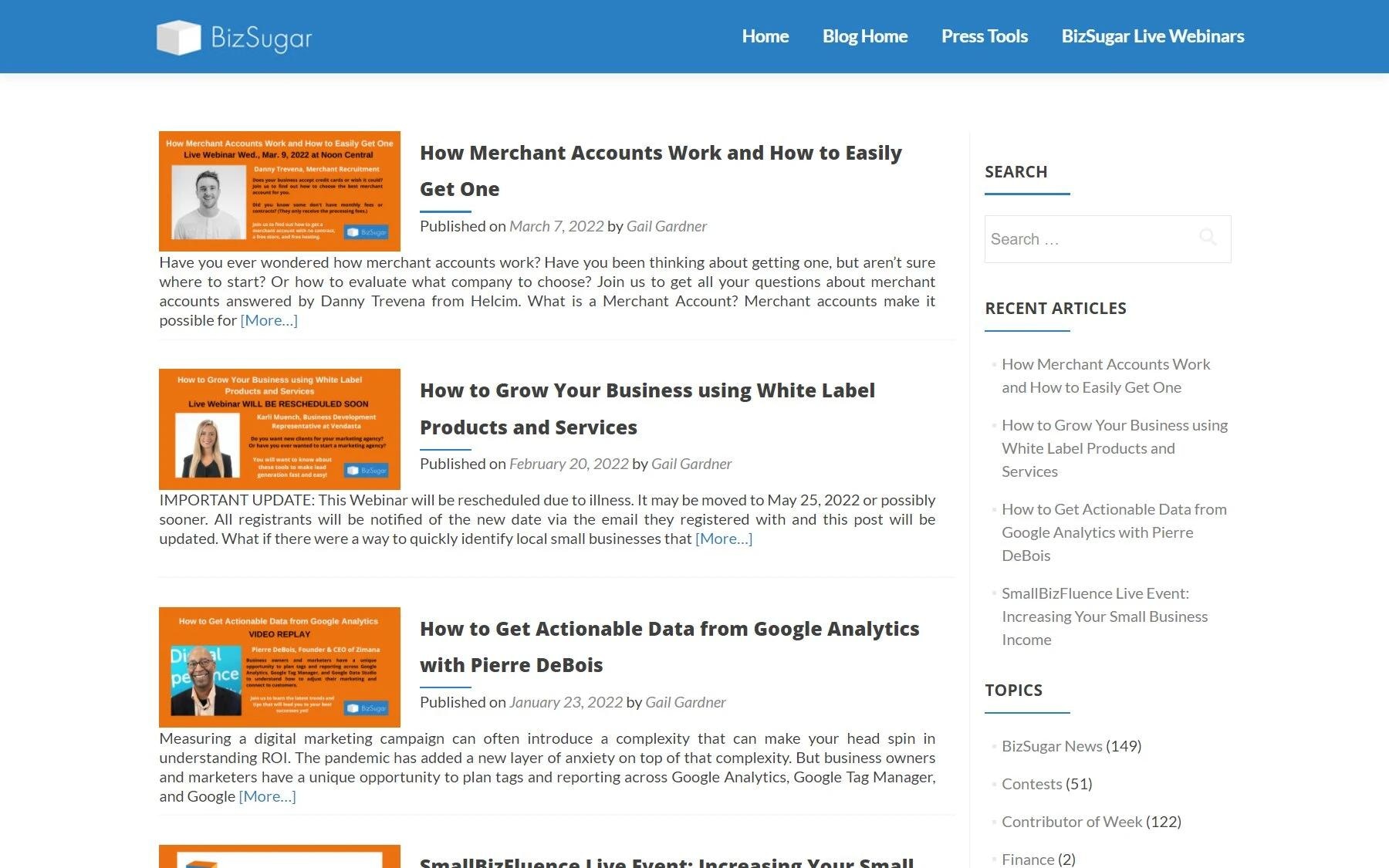 BizSugar's blog sheds light on enhancing your marketing campaigns with long-form write-ups, events, and webinars.
Our Favorites: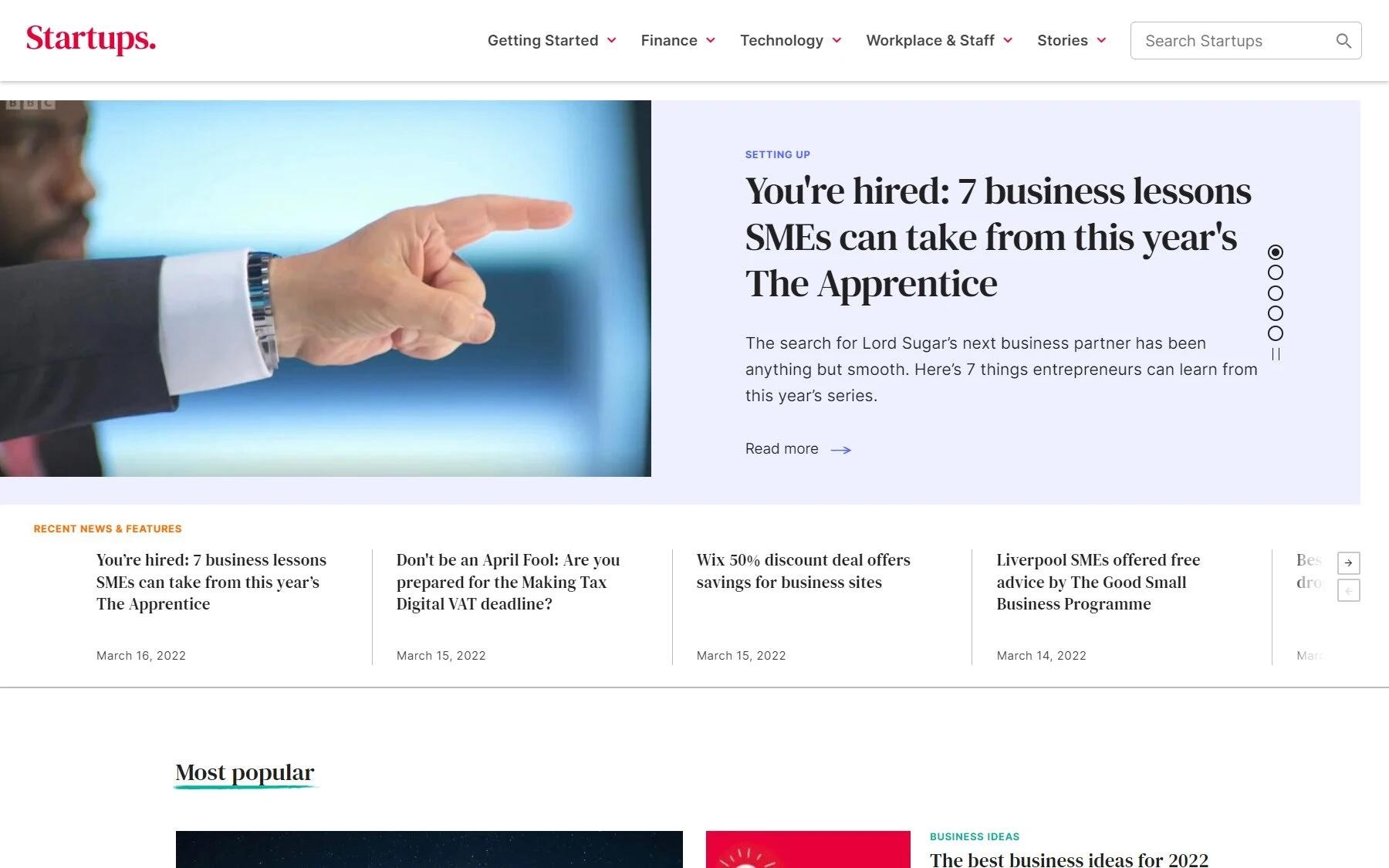 This blog is for startups: anyone who's looking to get business ideas, setting up new biz, growing it, and sustaining it for longer periods.
Our Favorites: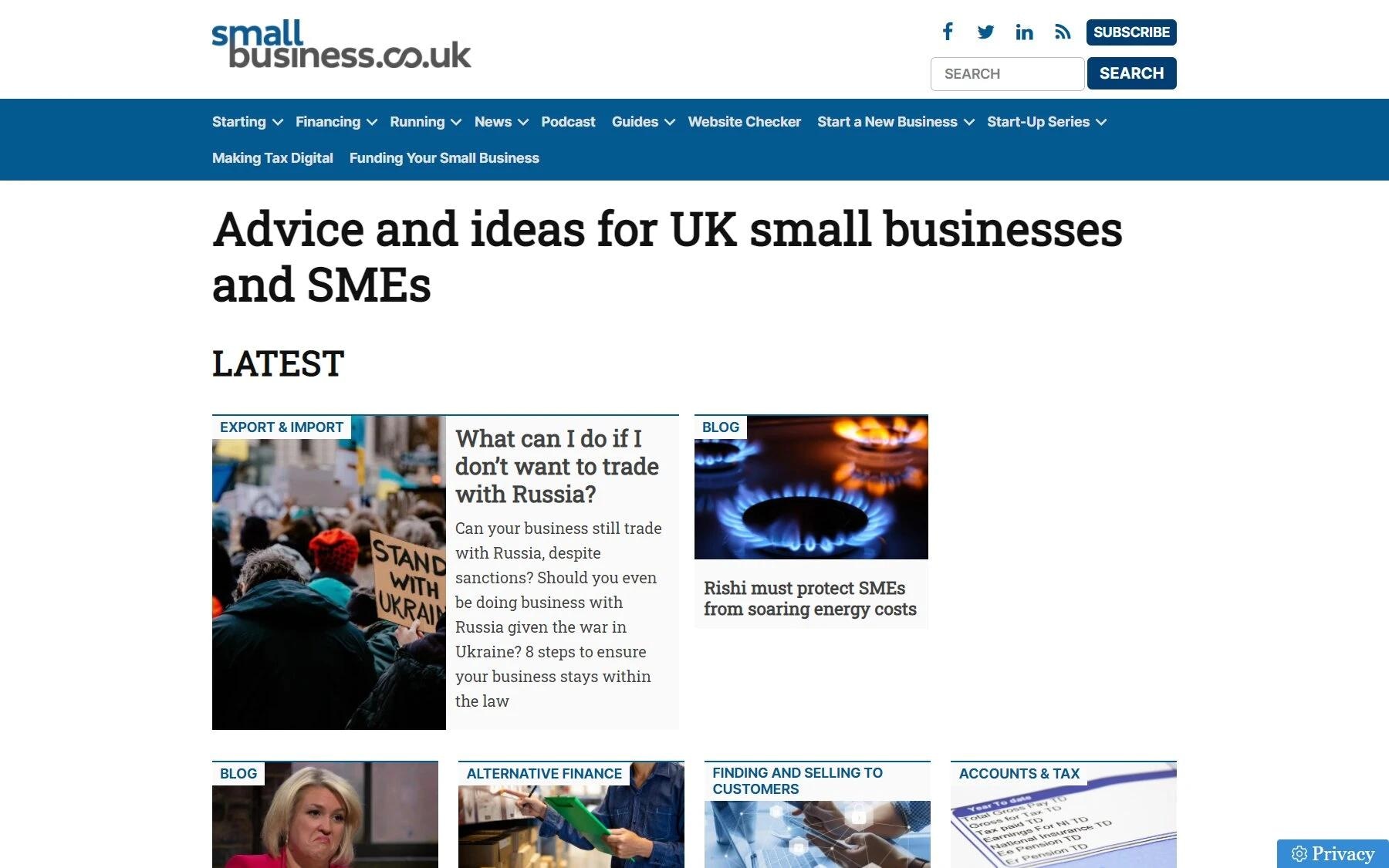 Get the right direction with the latest news, insights, tips, advice, and creative ways to do marketing. Just follow.
Our Favorites: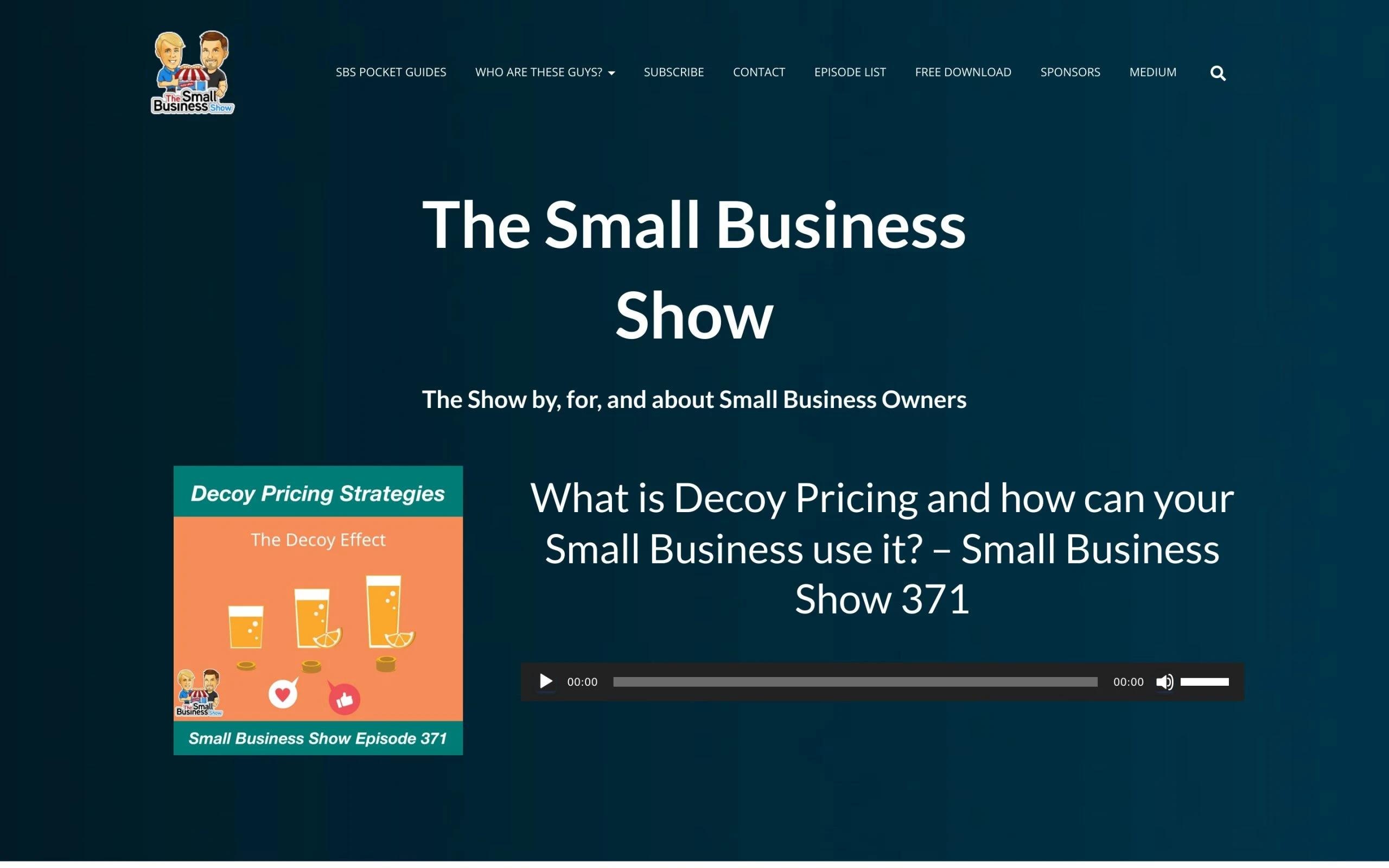 Two serial entrepreneurs, Shannon Jean and Dave Hamilton, reveal secrets of being more productive in weekly podcasts.
Our Favorites:
The blog shares only what works. Ranging from tips, hacks, ideas, and information on growing as a small business.
Our Favorites: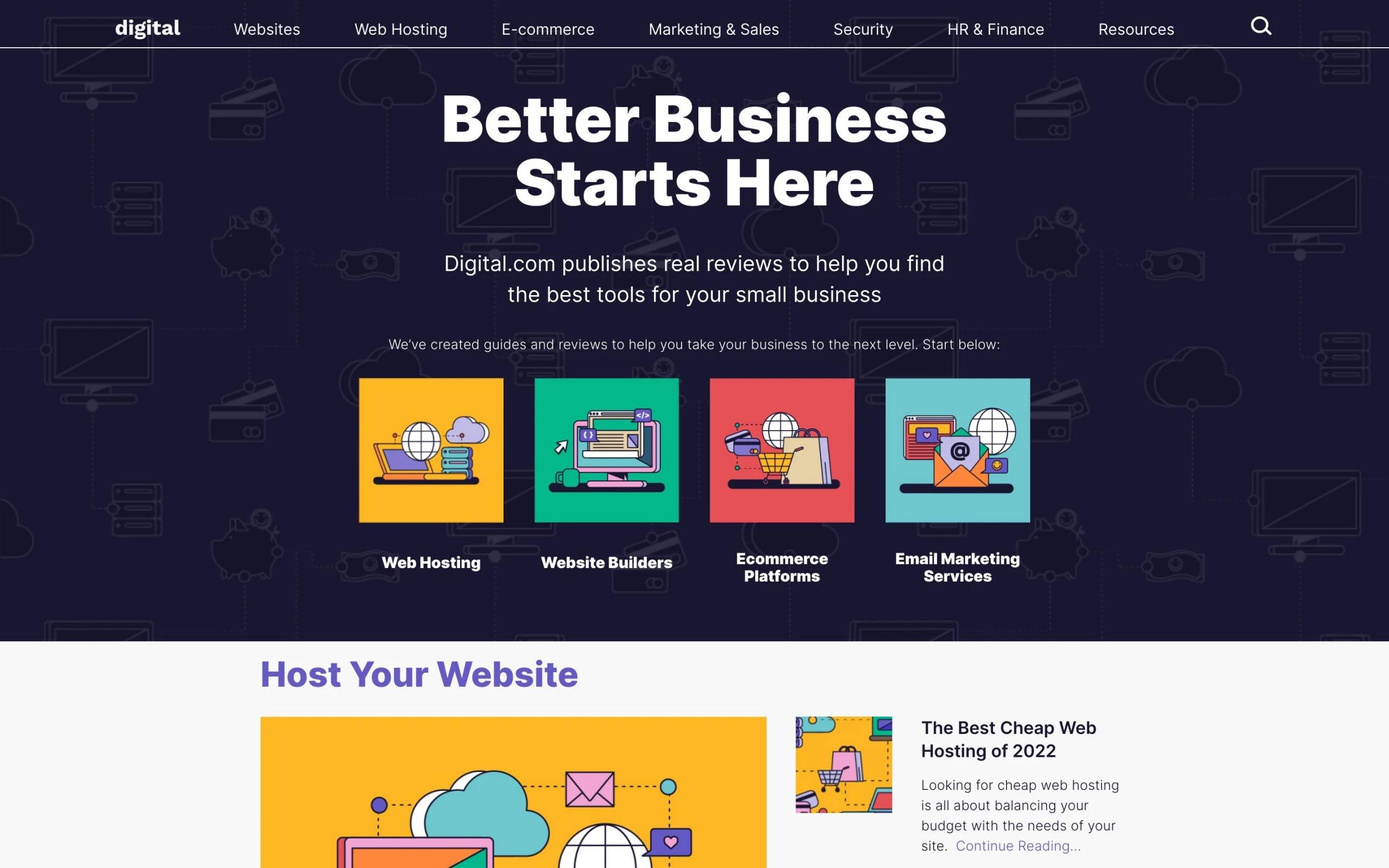 The blog shares what real people at the ground level think of different tools, strategies, and services that companies provide to small business owners.
Our Favorites: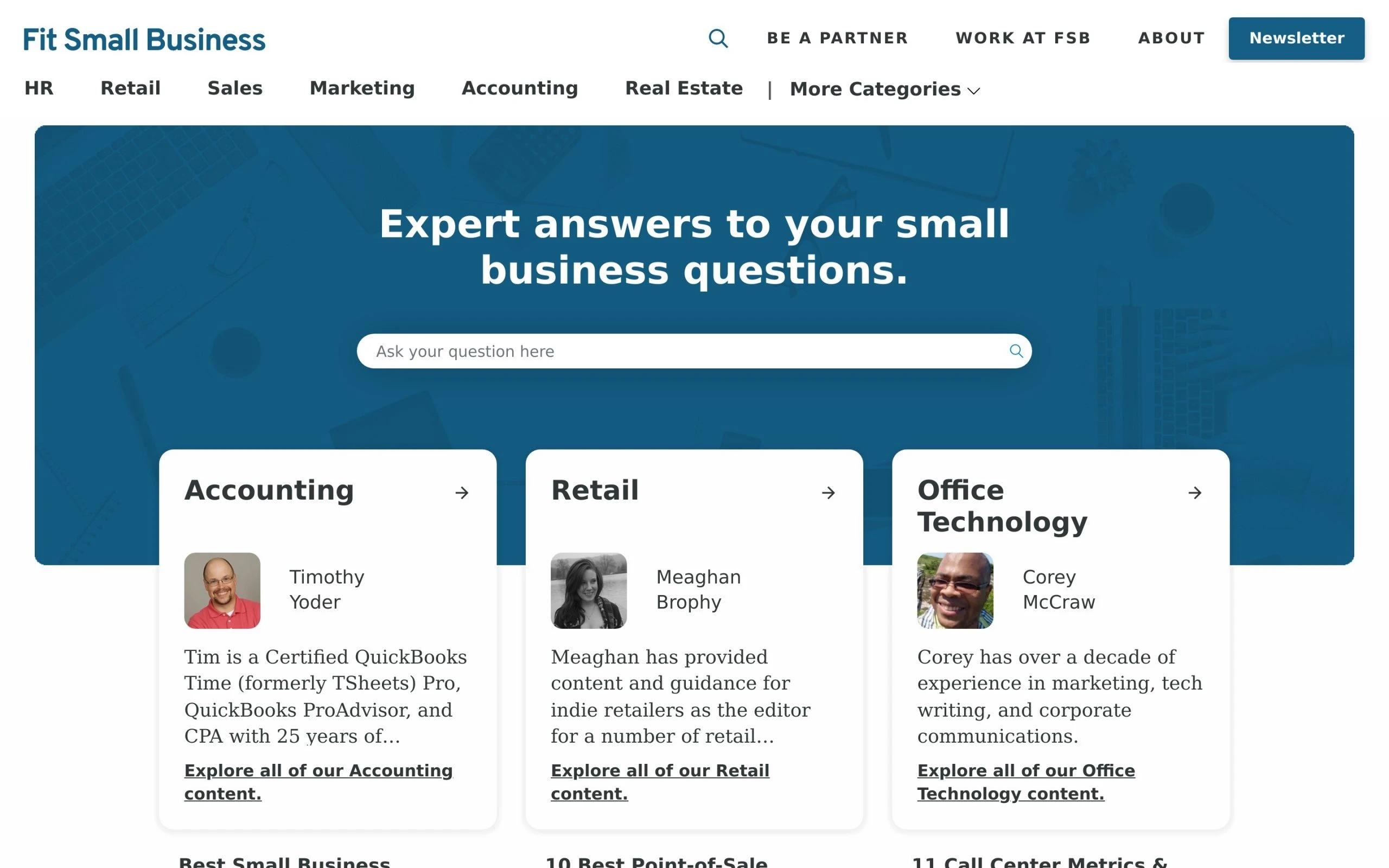 Read articles on everything a business needs. Topics covered: Finance, management, marketing, HR, workplace, and even starting from the first ladder.
Our Favorites:
The blog covers information on legal issues, safety issues, and finance to help businesses be aware of the unwanted.
Our Favorites:
Top 19 Small Startup Small Business Blogs to Get the Right Direction
Get growth hacks by learning the insights and secrets of 500 fortunate brands that nailed their success as small start-ups.
Our Favorites: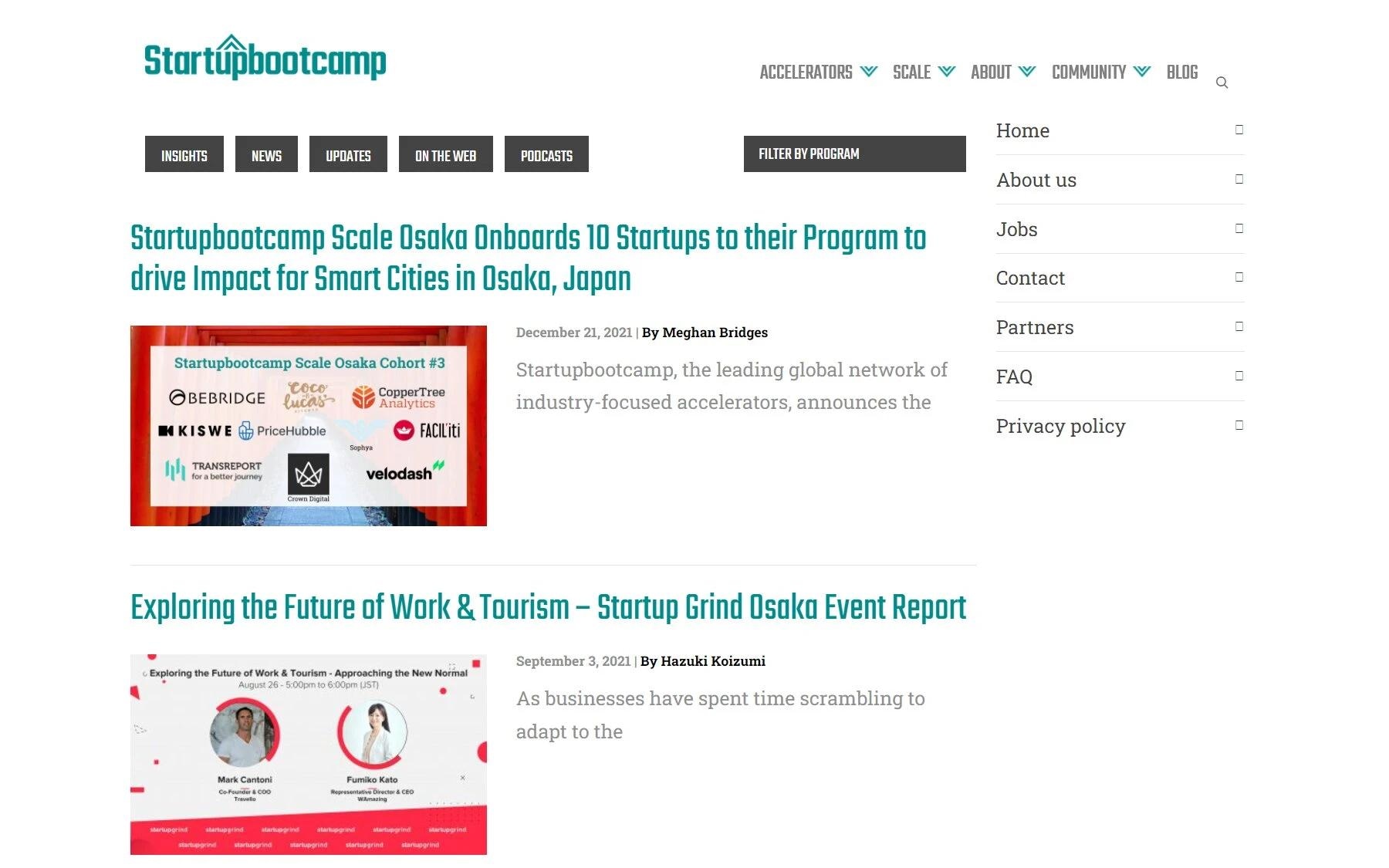 This is a network of global startups scalars. Their blog shares proven insights from mentors and experts to scale small startups the smarter way.
Our Favorites:
This is less like a blog — and more like a news website — that shares what's latest and what's working today for European startups, entrepreneurs, and business geeks.
Our Favorites: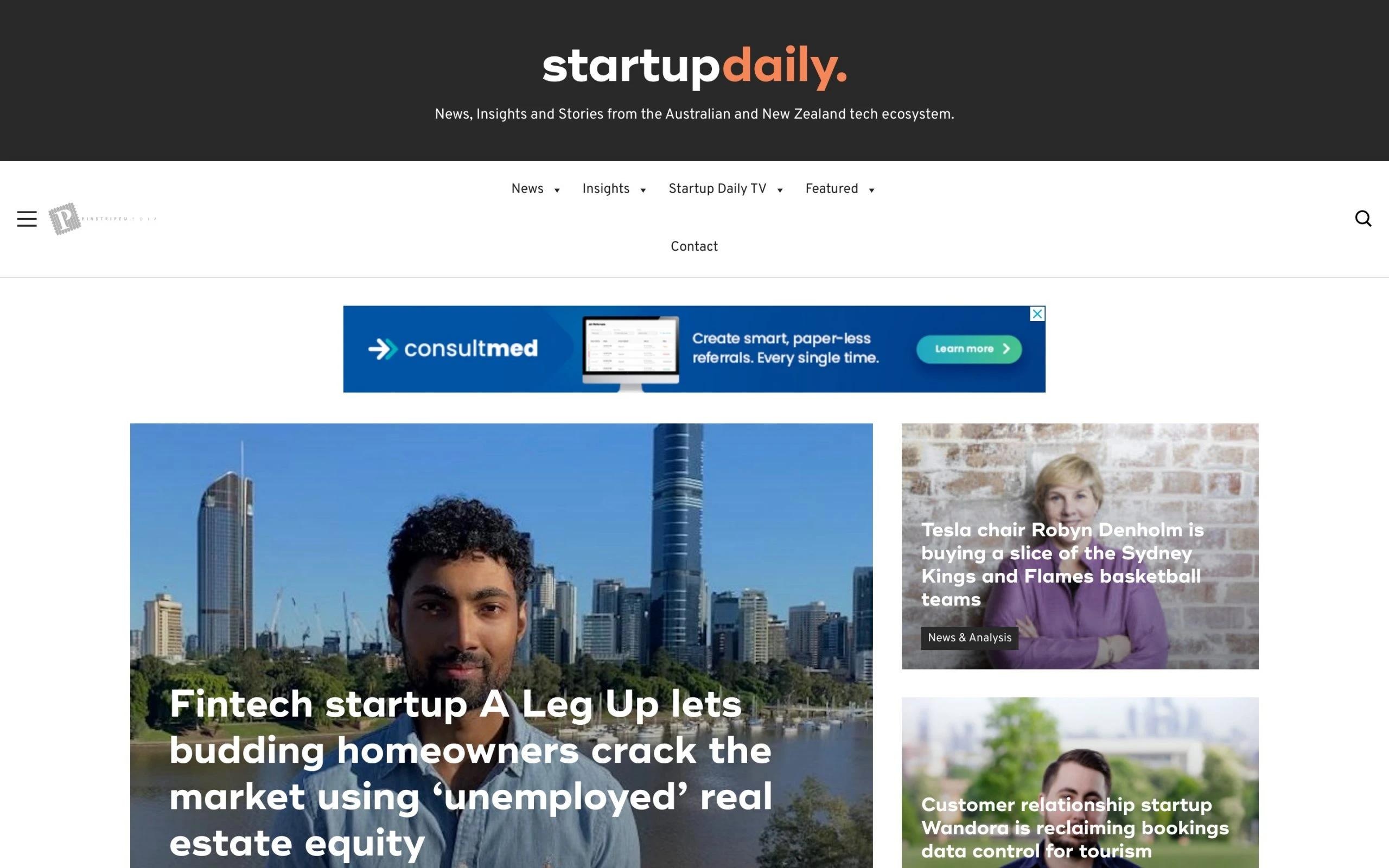 This is also a news website that covers the latest stories of successful startups and shares how startups can grow faster, especially in the ANZ region.
Our Favorites: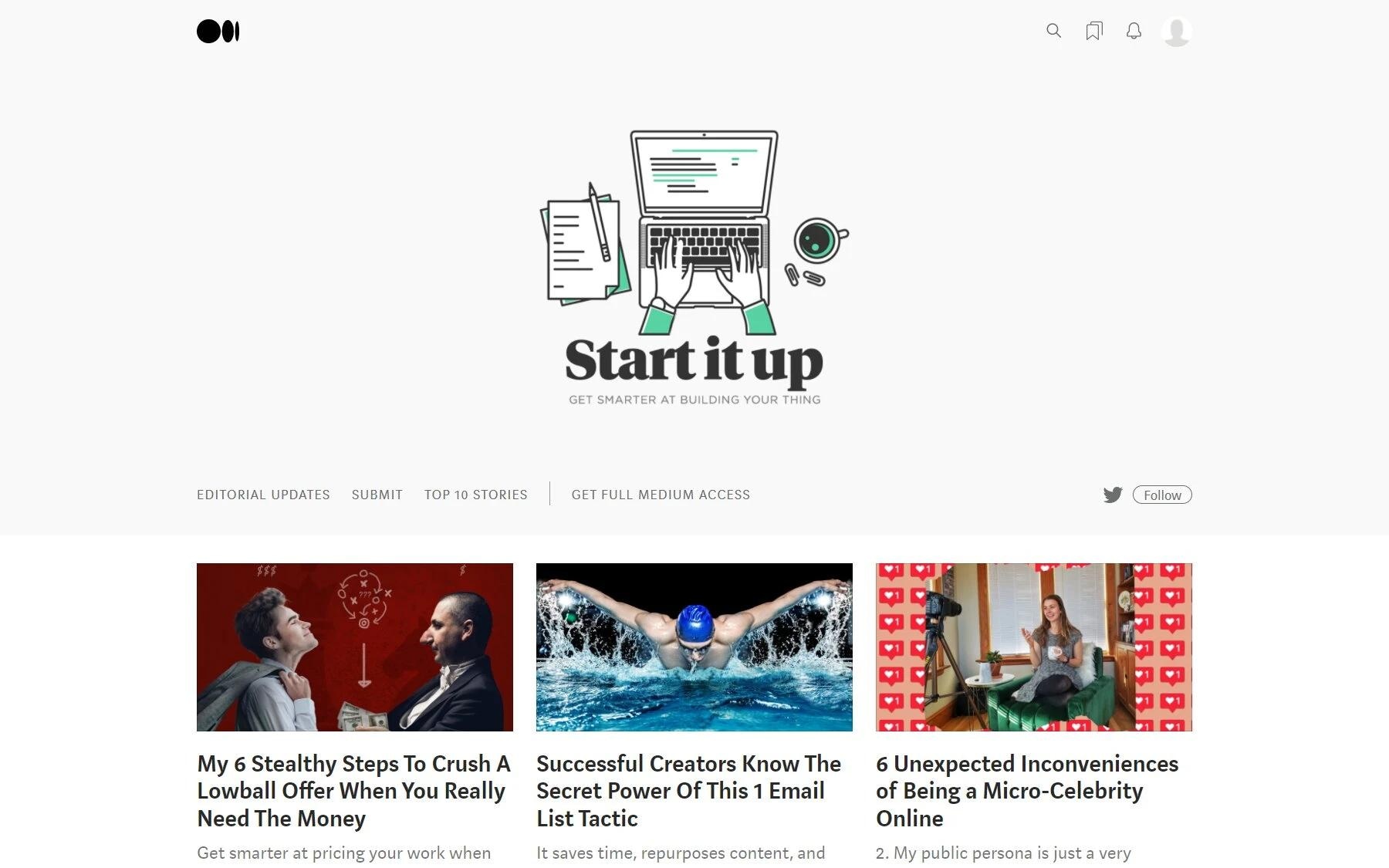 Start it Up motivates and shares actionable ways you can build a business without building a business. Confused? Visit it to discover how to start it up from your kitchen table and get more business than 'actual' businesses.
Our Favorites: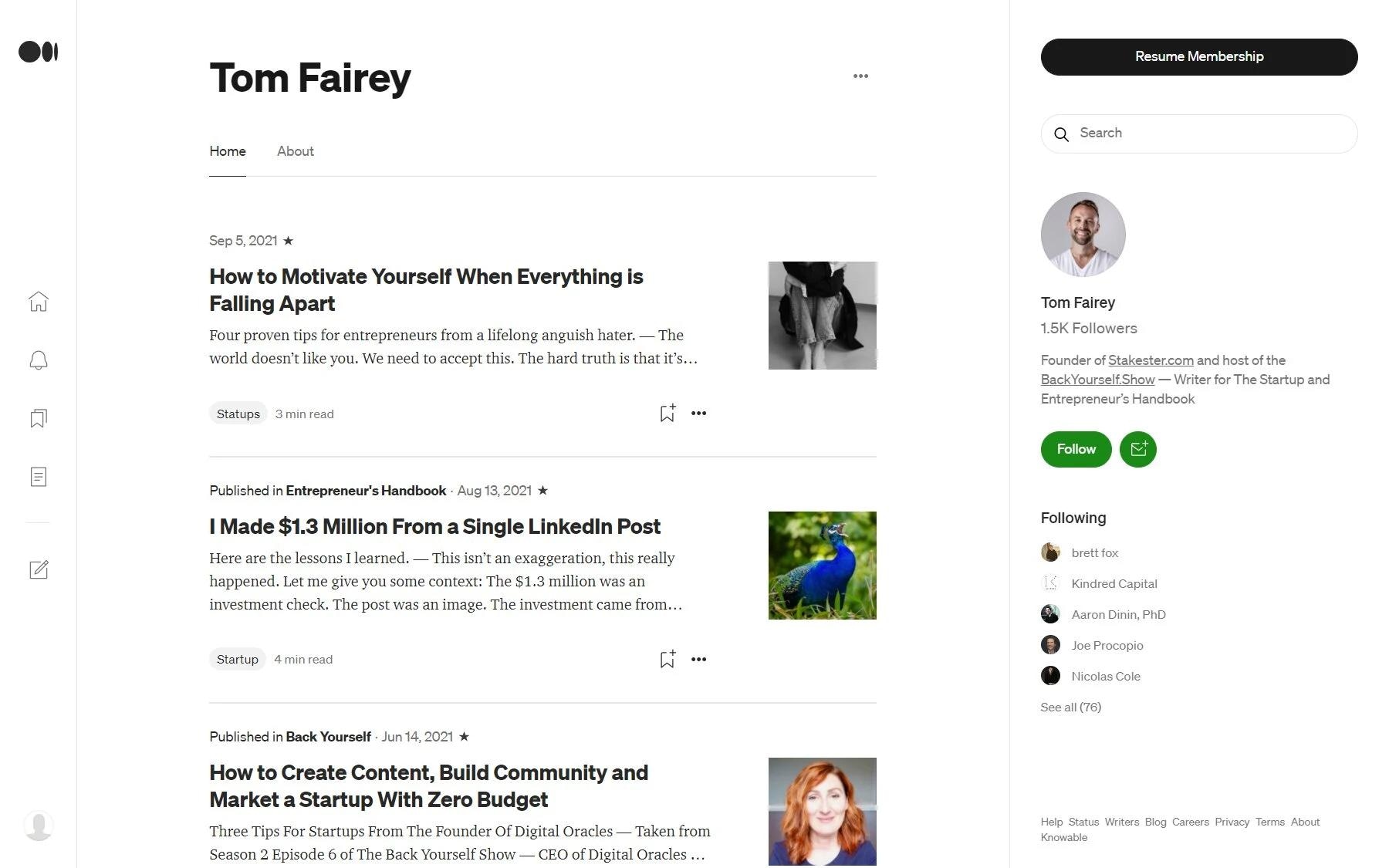 Nothing extraordinary — just a nice fellow to follow for building and scaling a start-up from scratch. Why him? He's the founder of Stakester.com, a popular platform for playing free video games and earning real money.
Our Favorites:
Awarded as the #1 marketing and start-up website, Feedough is a place to learn and scale for small business CEOs and wanna-be entrepreneurs.
Our Favorites:
A platform for investors to fund global budding start-ups. Visit the website to learn from their latest news stories every day.
Our Favorites: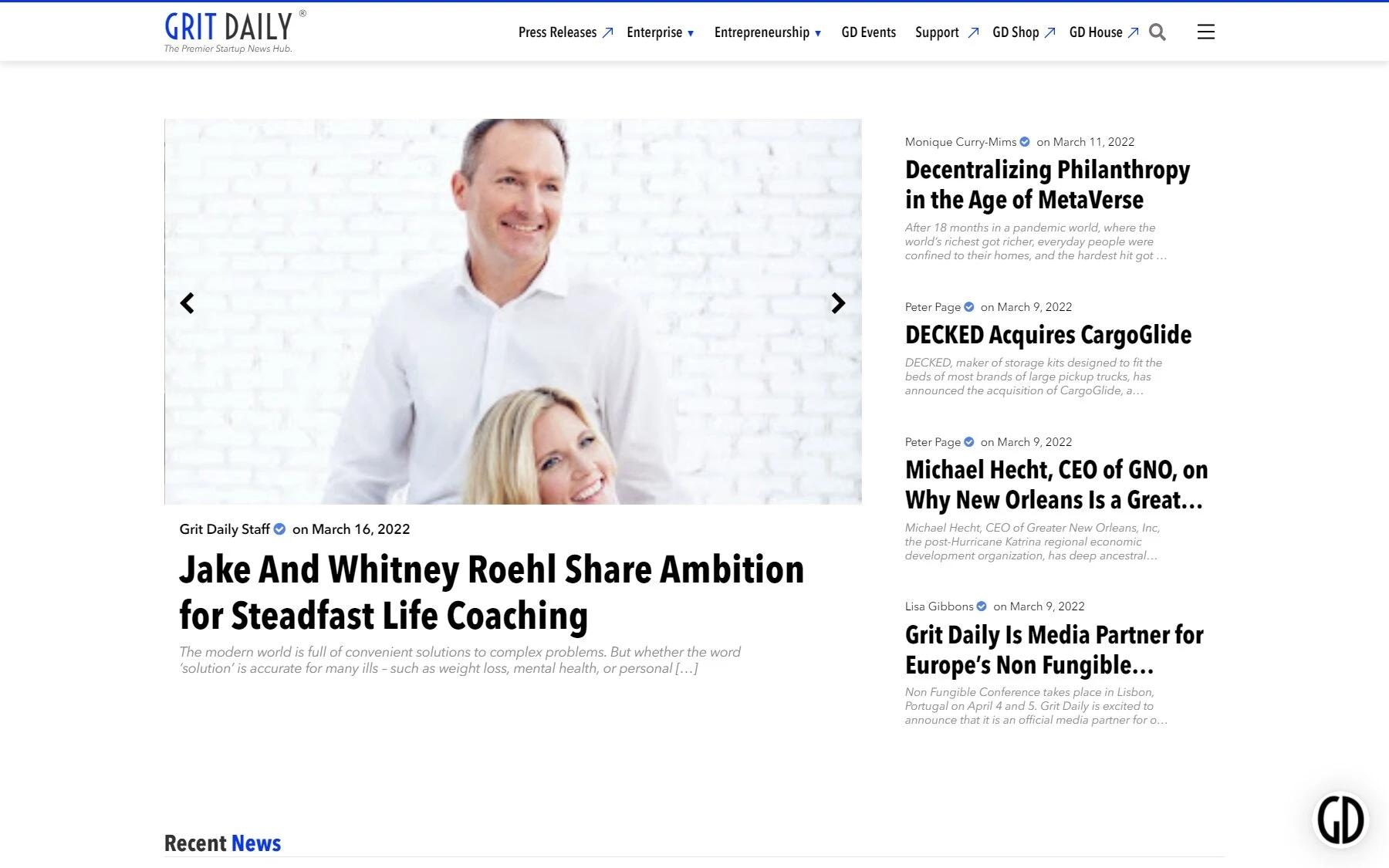 Grit Daily's blog is a news hub for small startups, entrepreneurs, and Gen-Z business modules. They cover news stories for fashion, entrepreneurship, tech, and more.
Our Favorites: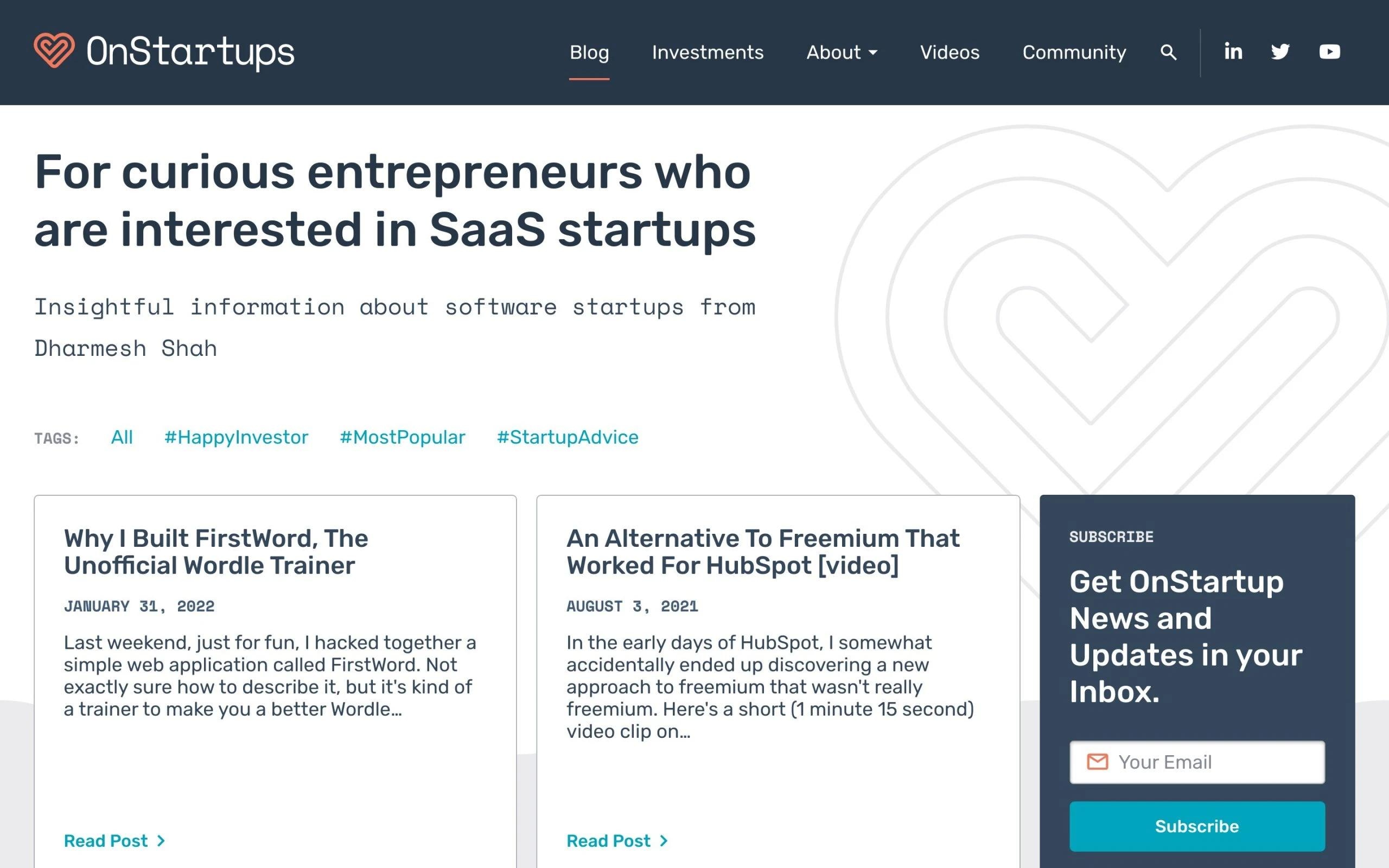 This blog (or should we say; community?) is especially dedicated to giving practical advice to young entrepreneurs. Great place to hang out to listen to alikes.
Our Favorites:
Get help to succeed in your journey from experienced entrepreneurs and stay up to date on the latest trends and craze in the entrepreneur world.
Our Favorites: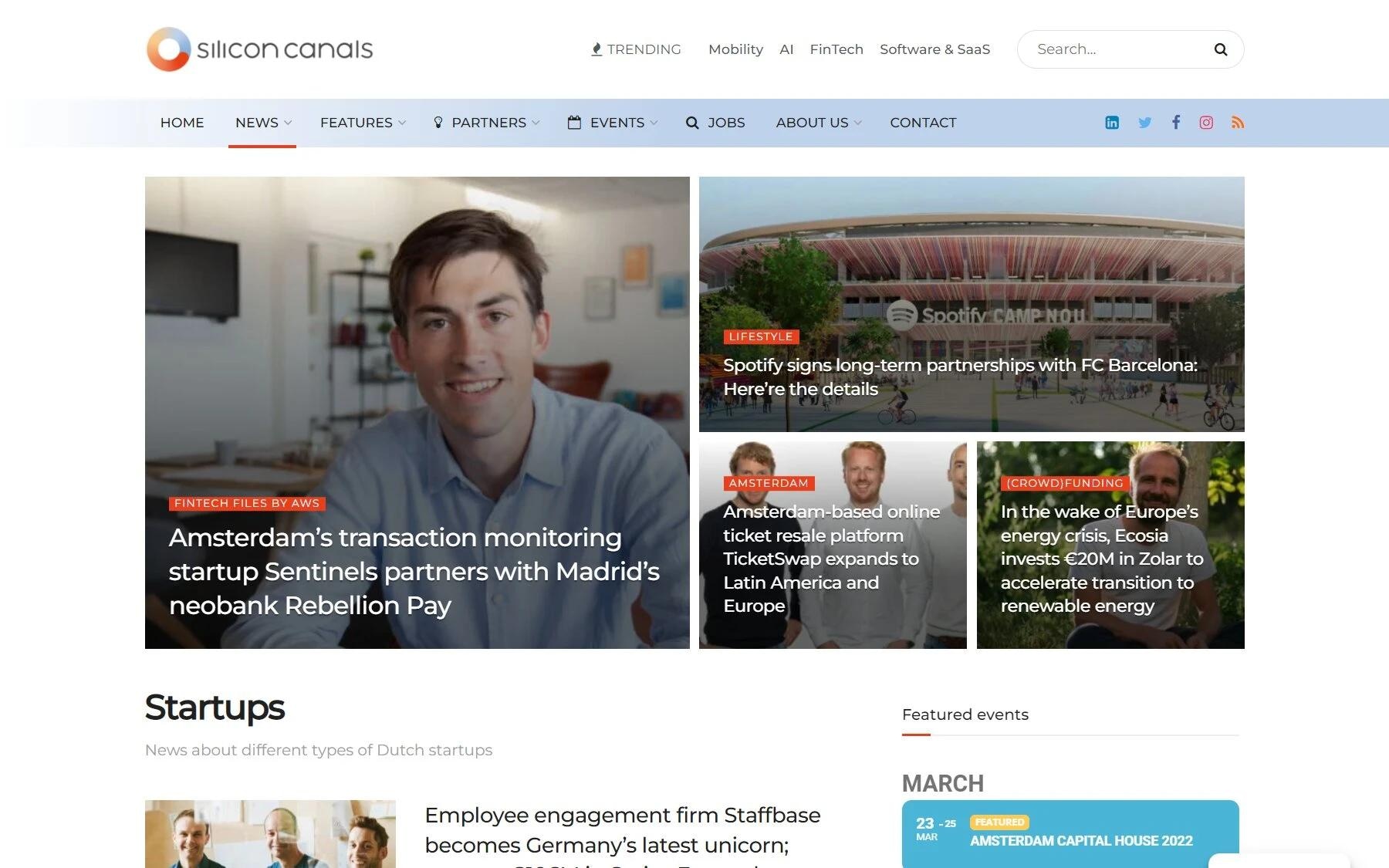 Europe's one of the most popular publications, Silicon Canals, covers news articles on the technology and small start-ups' ecosystem. Keep yourself hooked on the latest in your industry.
Our Favorites:
InnMind is all about helping start-ups grow. They promote small start-ups, connect them with investors, and act as a helping aid in every stage.
Our Favorites: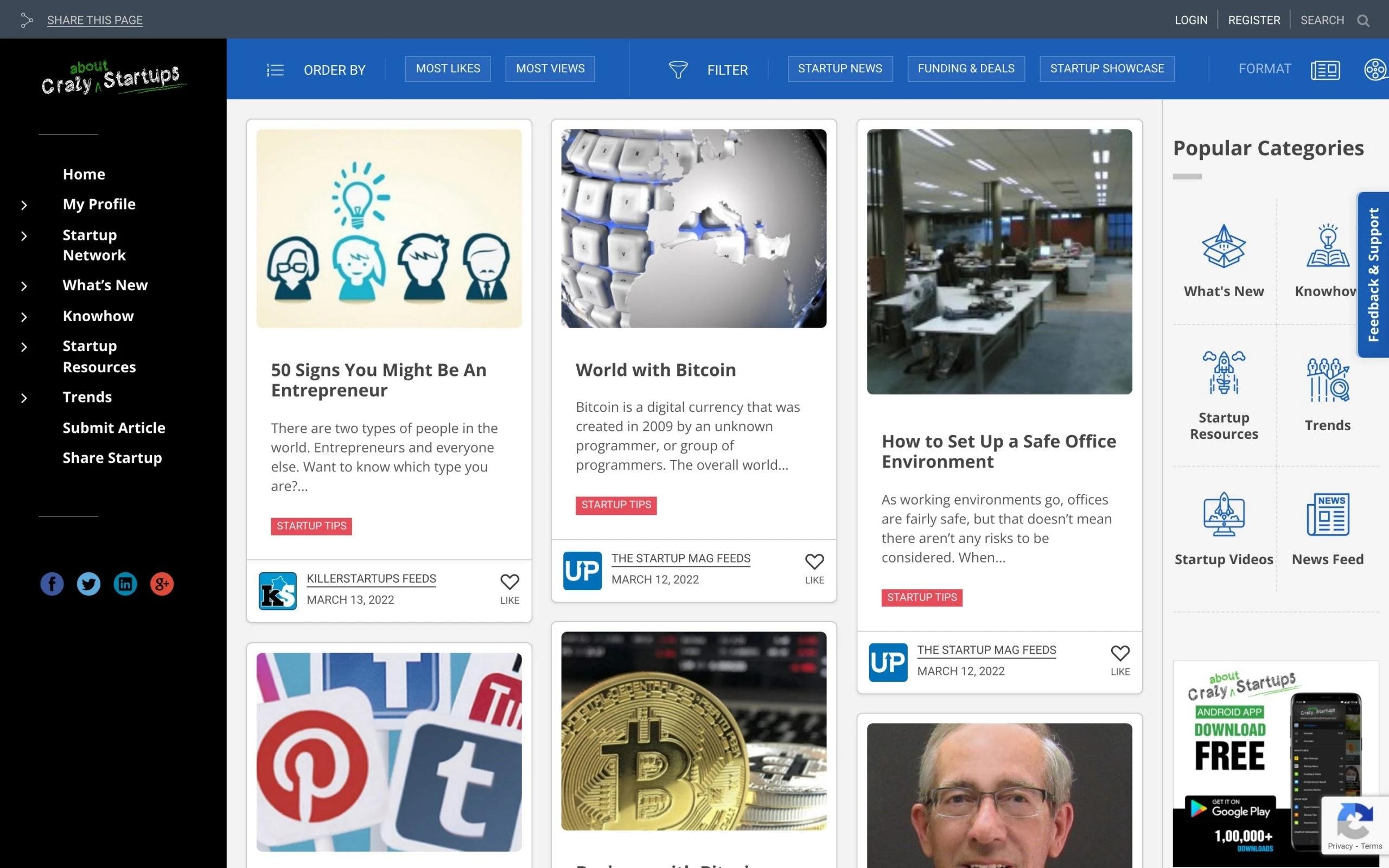 As you can get from the name — this blog is for entrepreneurs who're into starting their own business like crazy. Follow their blog to join a community of people like you and read stuff on growing your business.
Our Favorites:
Take your small enterprise to a whole new level with the help of webinars, resources, articles, news, ideas, and more. The blog covers everything you need.
Our Favorites:
This is a global-level startup magazine. Their blog covers all the essentials you need to know as a small business owner. For example, believing in your ideas, thinking like your customers, and leveraging technology in your brand's growth.
Our Favorites: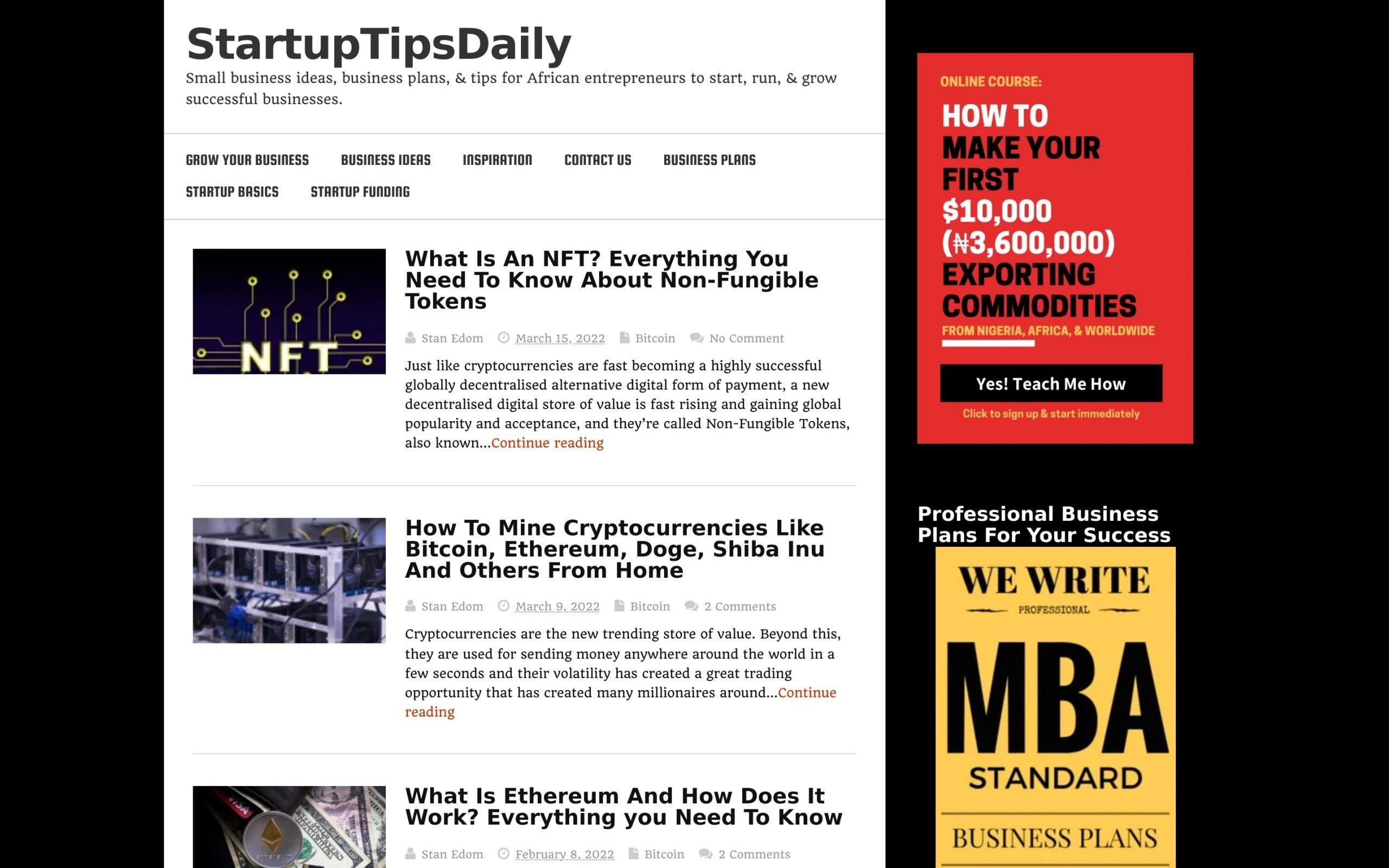 Focusing only on African startups, this blog shares news, ideas, innovations, and useful insights that businesses can use to grow rapidly.
Our Favorites:
The blog covers A-Z startup tips and advice. Plus, it shares the latest news about technology and entrepreneurship to keep you updated on what's happening in the industry.
Our Favorites: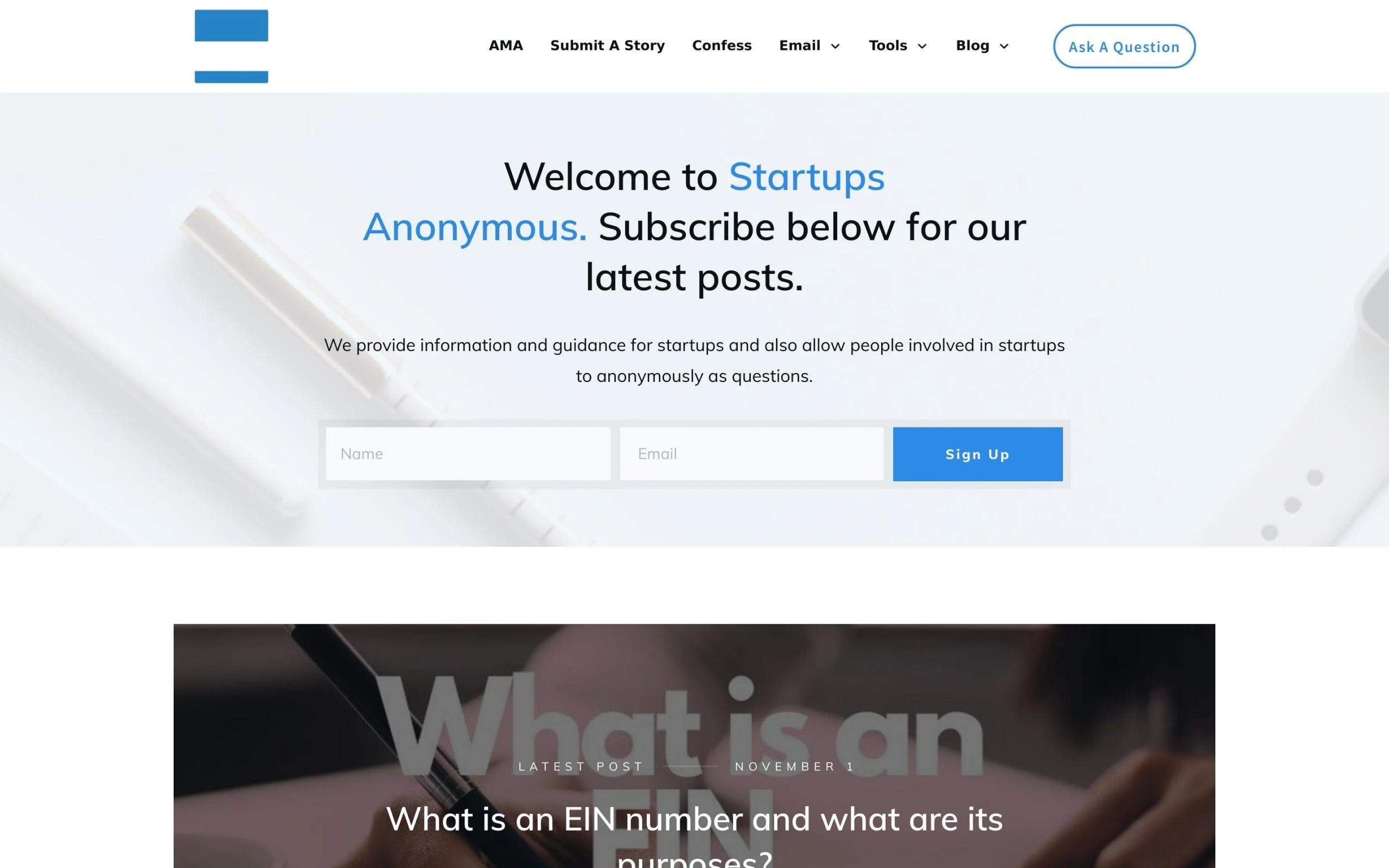 You'll love this one — this is a place to hang out and share your stories with others like you around the world. Ask questions and get feedback from entrepreneurs across the globe.
Our Favorites:
Top 10 Women-Owned Small Business Blogs for Savvy Women Out There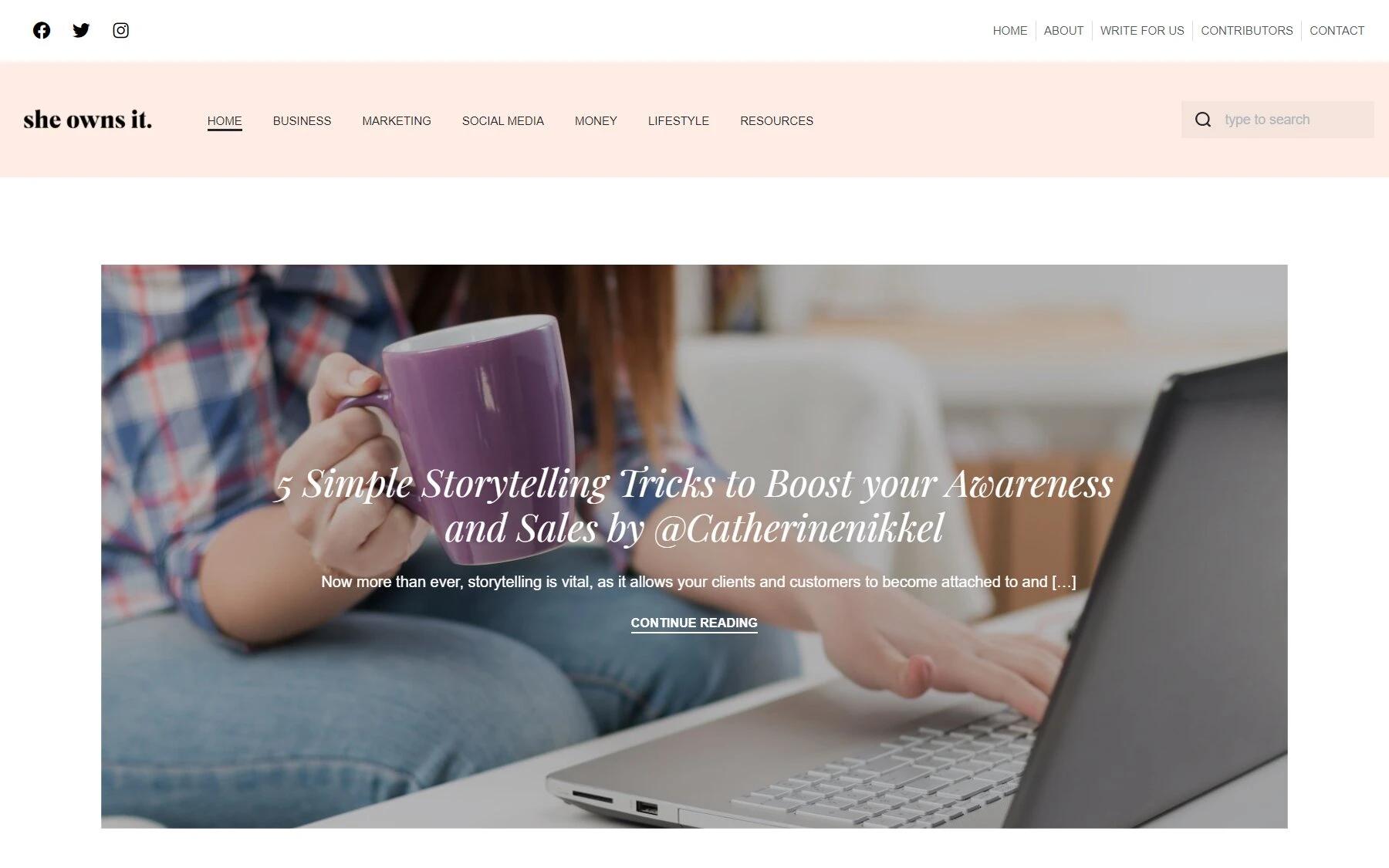 This blog is based upon inspiration, ideas, and how-to guides to help wanna-be entrepreneurs ladies focused, and powerful women in business.
Our Favorites: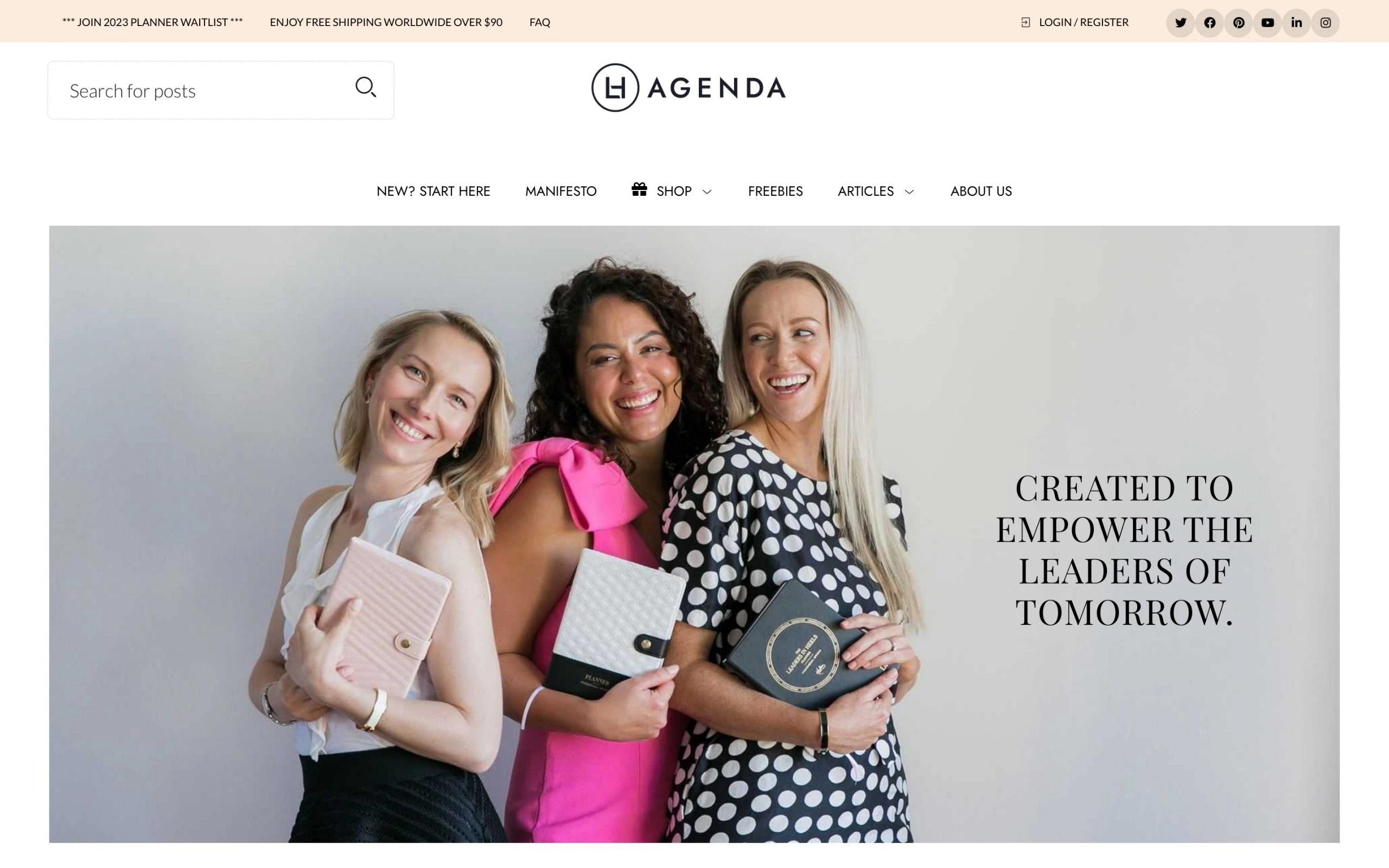 Founded by Kasia Gospos, this blog is about supporting, empowering, and nurturing future leaders in heels with new ideas, resources, and interviews of successful female business owners.
Our Favorites:
For women who run a tech startup, this blog is a treasure to get industry insights and how-to's to scaling brands. Plus, they've introduced a platform that helps to recruit the right talent.
Our Favorites:
This website features 10-minute podcasts and interviews of boss business girls. Learn from them to get actionable advice and motivation.
Our Favorites: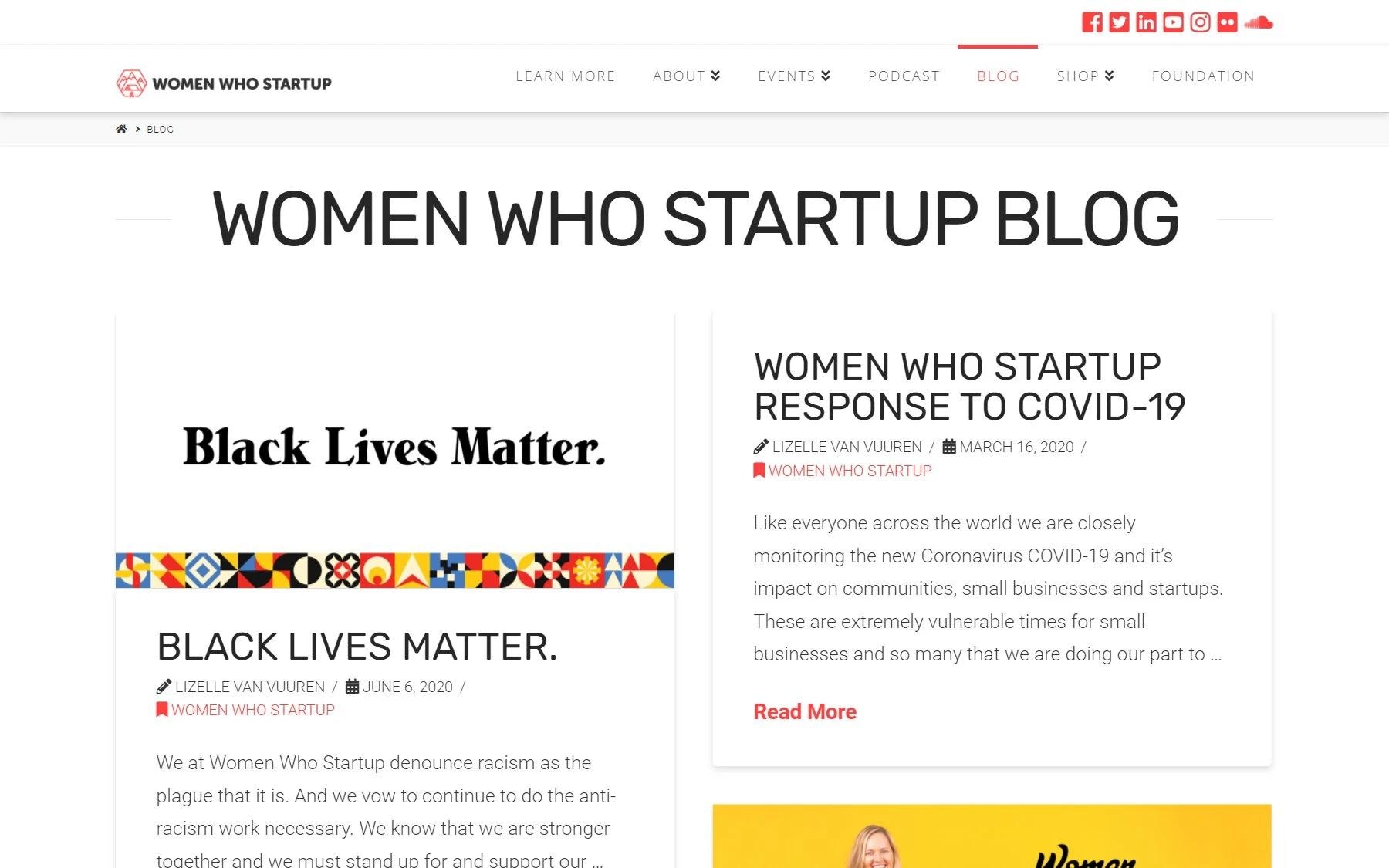 This one is a rapid-learning house for women from famous women business owners. It features hour-long interviews filled with secrets of success.
Our Favorites:
This blog helps women to fulfill their dream of an independent lifestyle. The website is overflowed with tips to get monthly grants, success stories, and ways to grow businesses.
Our Favorites:
Holly Reisem Hanna, a businesswoman, shares her insights on how women can become successful business owners without ever leaving their houses.
Our Favorites:
An award-winning businesswoman, Ali shares her tips on launching a really cool creative marketing campaign to get data-driven results.
Our Favorites:
This blog is dedicated to passionate girls who want to become independent and develop a lifestyle of freedom and fulfillment. Get How-to's and insights on freelancing, career, and entrepreneurship.
Our Favorites:
The blog teaches how women can make money online while staying at home with affiliate marketing.
Our Favorites:
10 Home Based Business Blogs to Set up & Scale Your Home-Based Business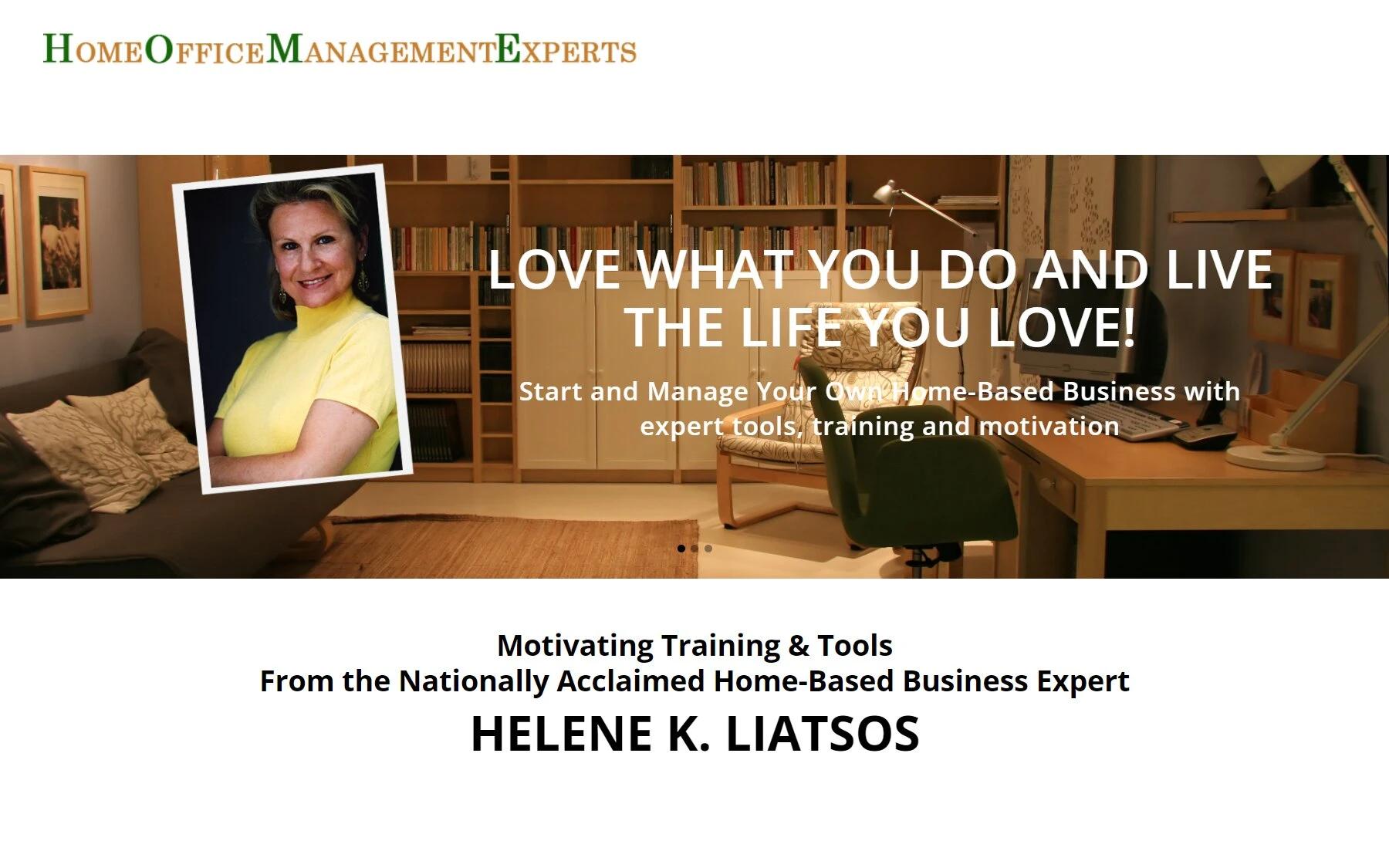 Helene K. Liatsos, the founder, shares her insights on starting your dream business from home — after 20 years of helping businesses in real life.
Our Favorites: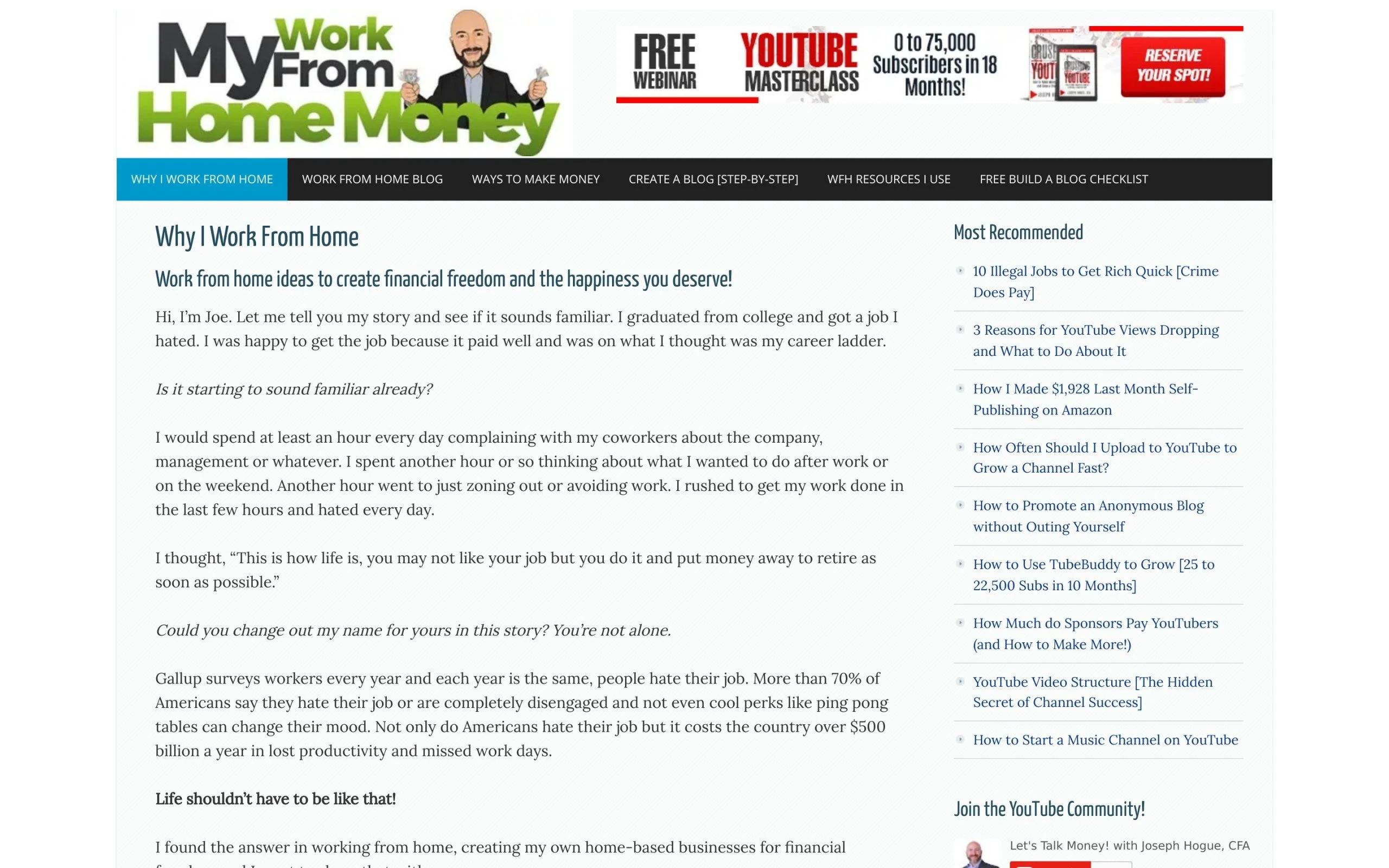 The founder, Joe, lists dozens of ways you can start a side hustle right now and start earning from home, from your comfy couch.
Our Favorites:
After working as a writer for many years, Ashlee Anderson, now shares different ways you can make money at home. She posts career advice, freelance, side hustles, small businesses ideas at home, and more.
Our Favorites:
For the people who appreciate the work-from-home lifestyle, this blog is filled with detailed guides and ideas you can to run a successful business from home.
Our Favorites: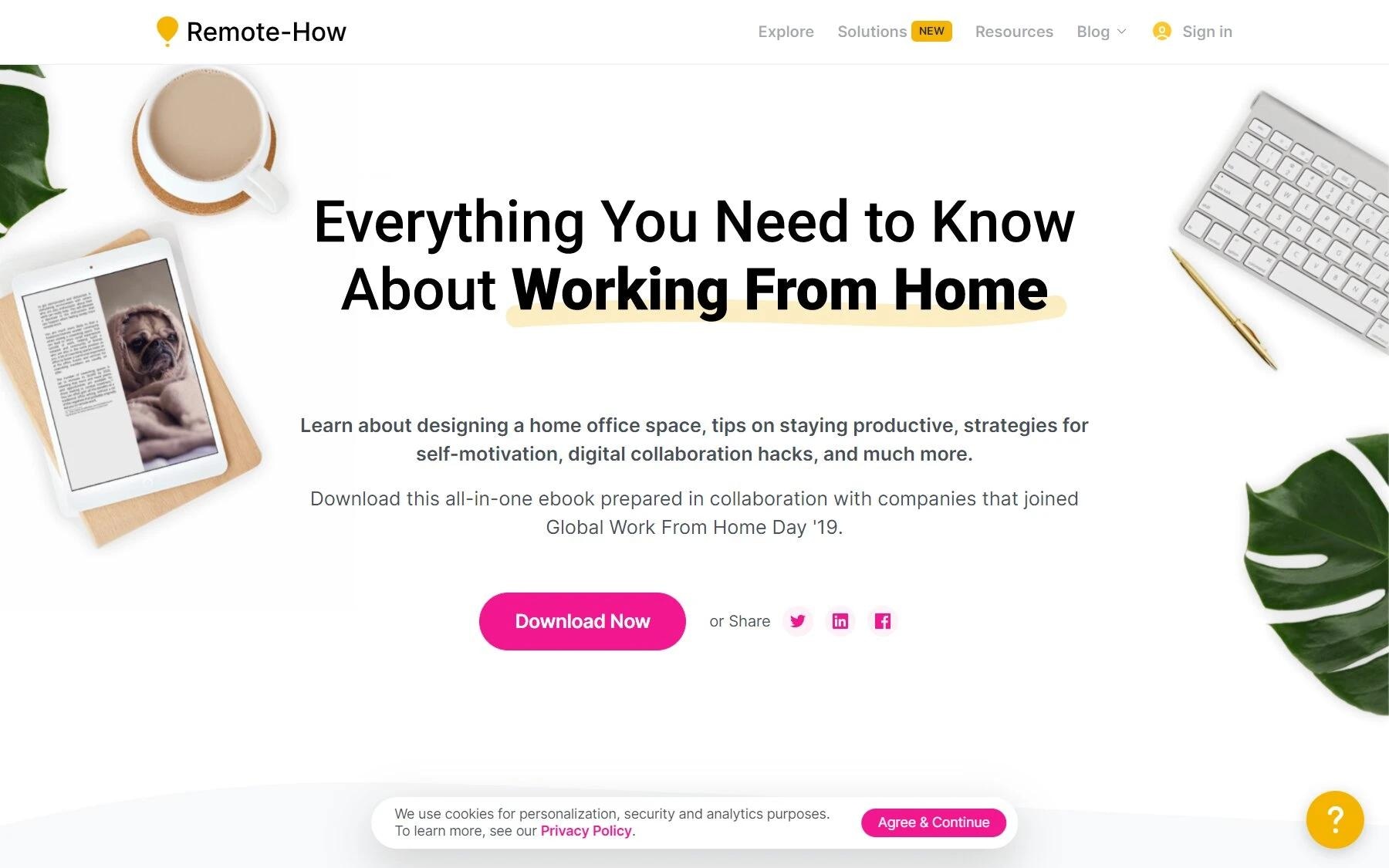 This blog shares articles and videos on working remotely and creating your own independent world. Get insights on self-motivation, building a home office, and strategies on working at home, and more.
Our Favorites: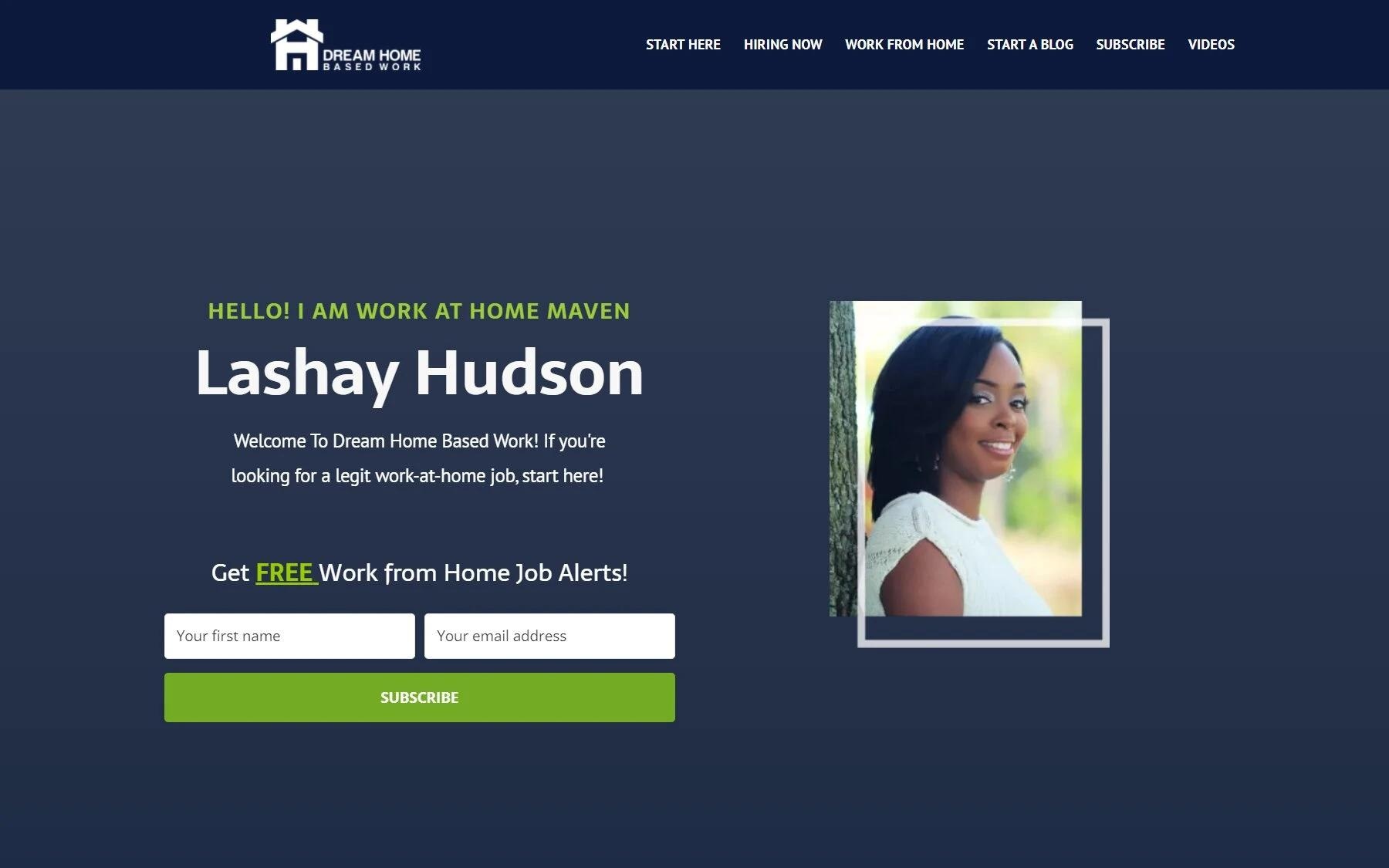 Get detailed learning and earning opportunities. This blog shares tips, ideas, and earning opportunities as a writer, data entry expert, designer, and more.
Our Favorites: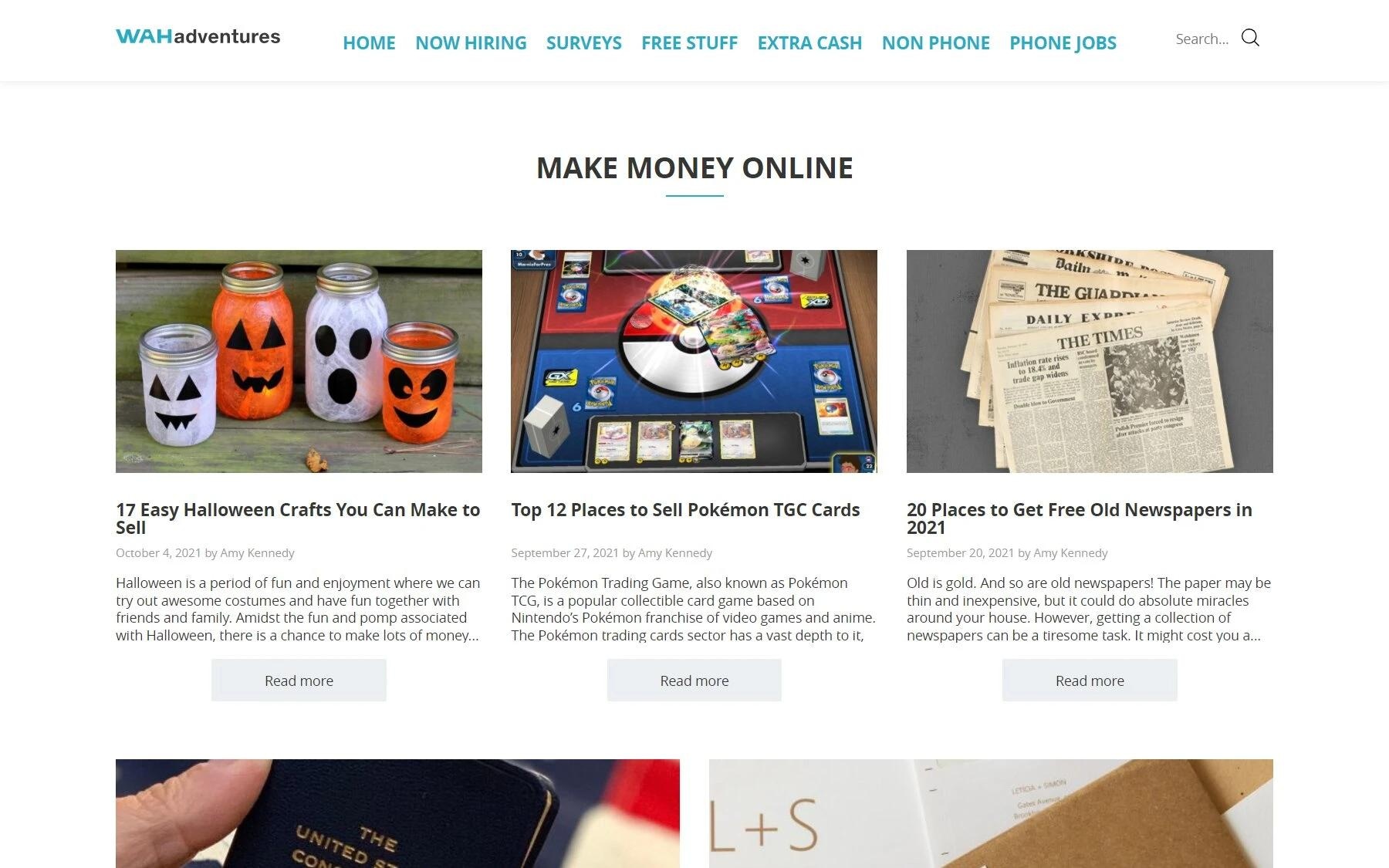 This blog publishes the latest work from home trends, ideas, and opportunities to earn a handsome living — all while staying at home.
Our Favorites: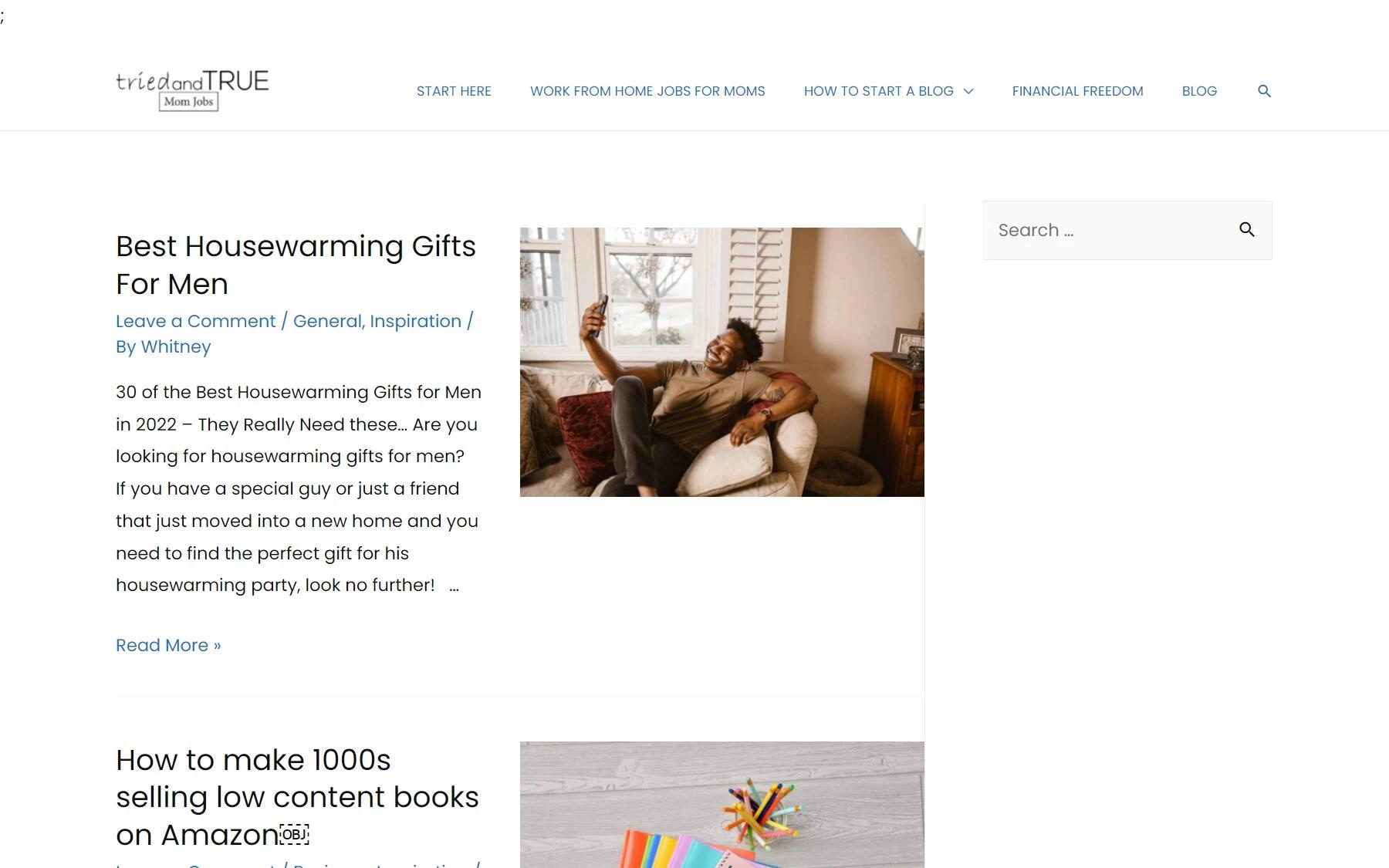 For moms who want to stay at home, raise their children, and while at the same time, want to earn well too — this is the blog to follow. It posts jobs that pay well and offer flexibility.
Our Favorites:
Earn some extra cash from your computer by learning skills, getting new earn-from-home ideas, and joining a community with people like you.
Our Favorites: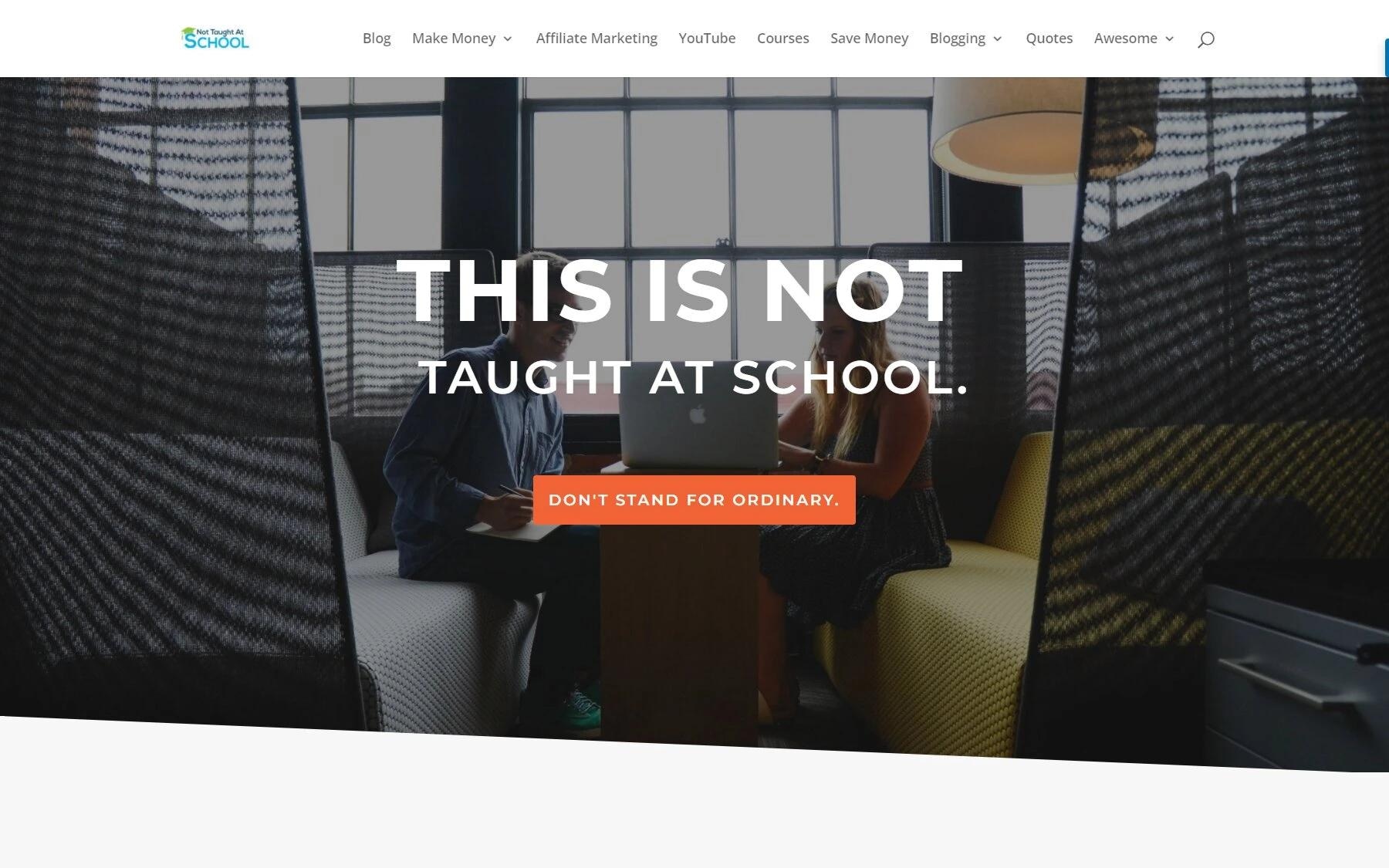 This website offers creative insights on making money online, detailed guides, living with freedom, interviews of successful entrepreneurs, and much more.
Our Favorites:
It's Time to Level Up!
So, that's it for now. We hope you enjoyed reading and got the value from our ultimate list of best small business blogs.
Visit these blogs as your habit. Keep your eyes on the latest trends and learn the success secrets — to make your business superhit.
Let us know in the comments if you want us to include some more?
By the way, which one is your favorite so far?