Selling online is tough with over 1.7 million shops fighting for attention. Conversion rates are so important - only 2-3% usually buy. Improving your rate by 5% can boost profits by 95%!
The good news is simple switches can help. Choosing the right Shopify theme is hugely impactful. Themes with clean layouts and prominent products improve your rates significantly.
If you're stuck in the low single digits, an upgrade may be needed. A new look could bring in thousands extra per month. It's a low-risk way to give your business a boost.
📝 How We Picked the Best Converting Shopify Themes
Past sales: We chose themes that helped other stores sell lots of stuff based on their sales numbers.
Easy shopping: The themes made buying things simple and clear for customers.
Fast loading: The best themes are loaded quickly on phones and computers for a smooth shopping trip.
Personalized look: Stores could change colors and pictures without coding to match their brand.
Popular extras: We thought about extras customers like like best sellers and reviews.
Developer help: Getting ongoing support from creators is important to fix issues and make the themes better over time.
Works on phones: Since most people shop on cell phones, themes had to be easy to shop on phones.
See how it does: Connecting themes to Google and Shopify helped stores know how the theme was doing.
👍 Why You Should Trust Us
We've been making themes on Shopify for a while - since May 2022. We've made 7 different themes so far.
Some of our themes are popular already - they are ranked at the top of the Shopify app store.
Our themes have been used a lot - over 2,700 stores have tried them. This gives us info from thousands of stores.
Stores pick our themes - When stores choose ours over others, it shows they think ours are good.
Our company grows fast - We're one of the fastest-growing theme builders on Shopify, so our themes must be helpful.
We know what works - Making lots of themes means we understand what kinds of themes do well for different stores.
🖥️ What Are High-Converting Shopify Themes?
You know those Shopify themes you see all the cool online shops using? The ones with super clean and easy designs that really let the products shine? Those are considered high-converting themes.
The layouts have been optimized through testing to get more people adding stuff to cart. They make it simple for visitors to browse and buy.
That's what you want for your site too, right?
🔍 Factors to Consider When Choosing the Best Converting Shopify Themes
When picking a Shopify theme, there are a few key things to look out for that can boost those conversions.
🖱️ Smooth Browsing and Navigation
A theme needs smooth sailing when it comes to browsing your gear. Nobody wants to struggle to find stuff on your site. Make sure a theme has clear menus and filters to let folks easily explore what you offer.
📱 Mobile Responsiveness
These days most traffic comes from phones. A theme has to look bomb on any sized screen for a good shopping experience no matter the device. Scrolling and tapping need to be simple.
✏️ Customizability and Flexibility
It's nice to have room to brand a theme as uniquely yours. Check if colors, fonts, logos and sections can be tweaked so your style truly shines through.
✔️ SEO-Friendliness
Search engines favor themes with clean optimized code so people can find you easier. Themes built with keywords and speeds in mind perform well in Google and other bots' eyes.
Take the time to thoroughly examine how a theme stacks up in these key areas to set your store up for success.
🖌️ Best Converting Shopify Themes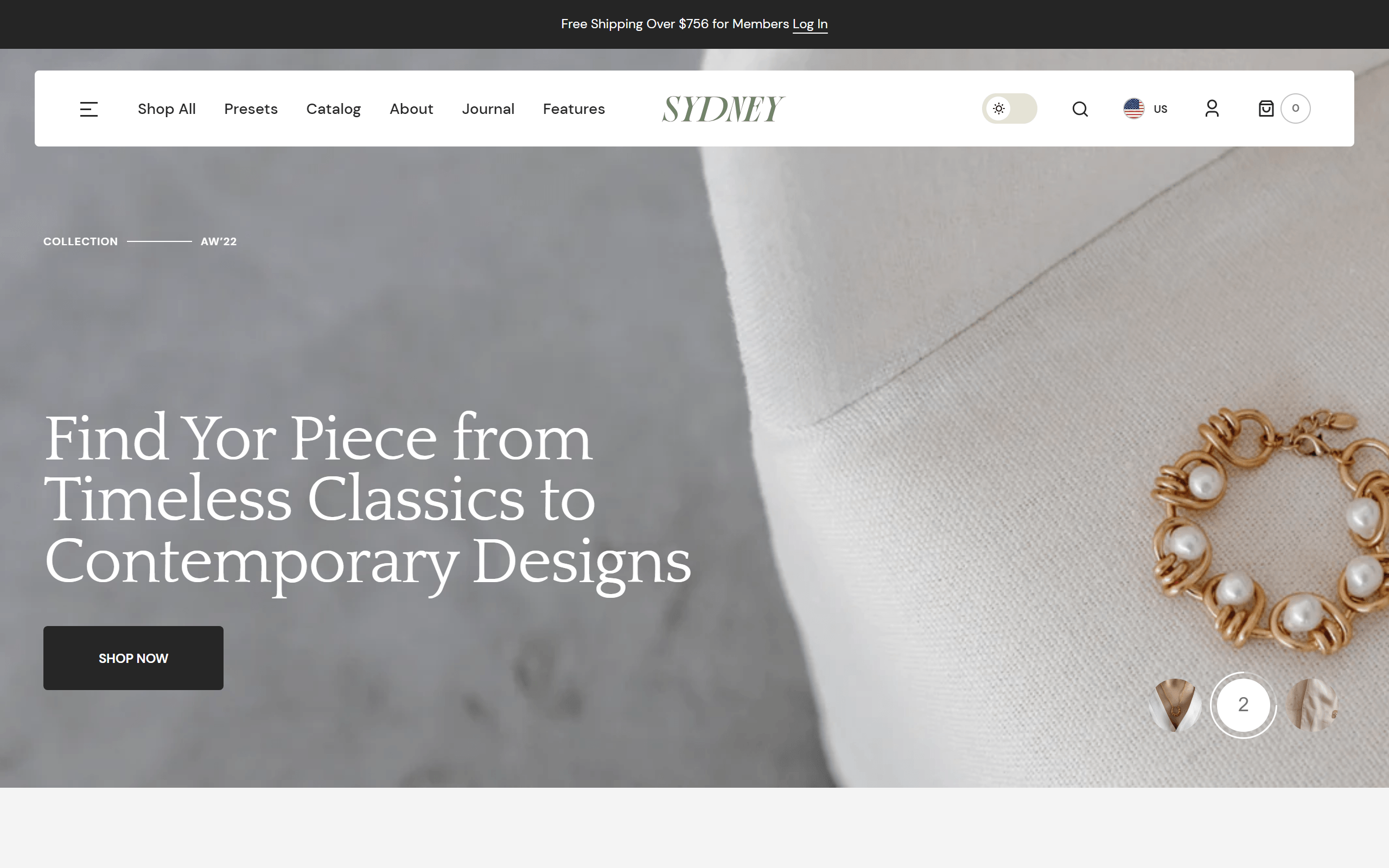 One of the highest converting Shopify themes in a sophisticated style that is supercharged to help increase your sales.
Key Features:
Effortless Dark Shopping: Has a dark mode that reduces eye strain and promises a great shopping experience.
Endless Section Varieties: A huge collection of sections that allow merchants to showcase their brand's personality and enhance store layout and customer engagement.
Advanced Features to Sell More: Quick view, dark mode, mega menus, promo sliders, countdown timers and more.
Best for: fashion and apparel stores, jewelry and accessories, skin and body products.
Price: $320
2. 🏅Our Pick - Berlin
Definitely one of the best converting Shopify themes that can deliver both functionality and style.
Key Features:
Dark Mode: This feature gives your store a dark mode look that looks awesome and is easier on people's eyes.
Tons of Section Choices: The theme offers a huge variety of section types so you have options for spicing up your site.
Top Tools: This theme packs a powerful punch with must-have tools like quick view, galleries, big fancy menus, compare features and collection options.
Best for: fashion and apparel stores, accessories.
Price: $320
Why is Berlin Our Top Pick?
Berlin seamlessly combines design, functionality, and powerful tools. It maintains a modern look through features like dark mode and galleries. Flexible sections and menus empower creative product storytelling.
Most importantly, Berlin includes all the essential eCommerce elements proven to boost conversions. Merchants have everything they need to optimize the shopping experience.
No other theme so effortlessly blends attractive styling with true sales-driving capabilities. Berlin's focus on both experience and performance means merchants are set up for success. That's why it earns our highest recommendation.
This beauty is also among high converting Shopify themes where everything is nicely laid out so your products are front and center.
Key Features:
Build, Boost, Scale: Made by a team with over 10 years of experience that helps you throw together your store fast and make sales big time.
Unlimited Possibilities: 3 different themes in one purchase. Choose columns, hierarchies or other layouts - all kinds of options for your store.
Features that Sell: Your site will load lightning quick on any device and their features are proven to boost sales.
Best for: Fashion and apparel, jewelry, home goods, furniture, art and design.
Price: $390
Key Features:
Night Shopping Redefined: This theme has a dark mode that's easier on the eyes late at night.
Diverse Section Powerset: Stores get tons of different section options to showcase their stuff and style.
Fullwidth Product Showcase: Going full screen with your products really grabs people's attention and makes sales.
Best for: Fashion and apparel, jewelry, home goods, furniture, art and design.
Price: $320
5. 🏅Our Pick - Dawn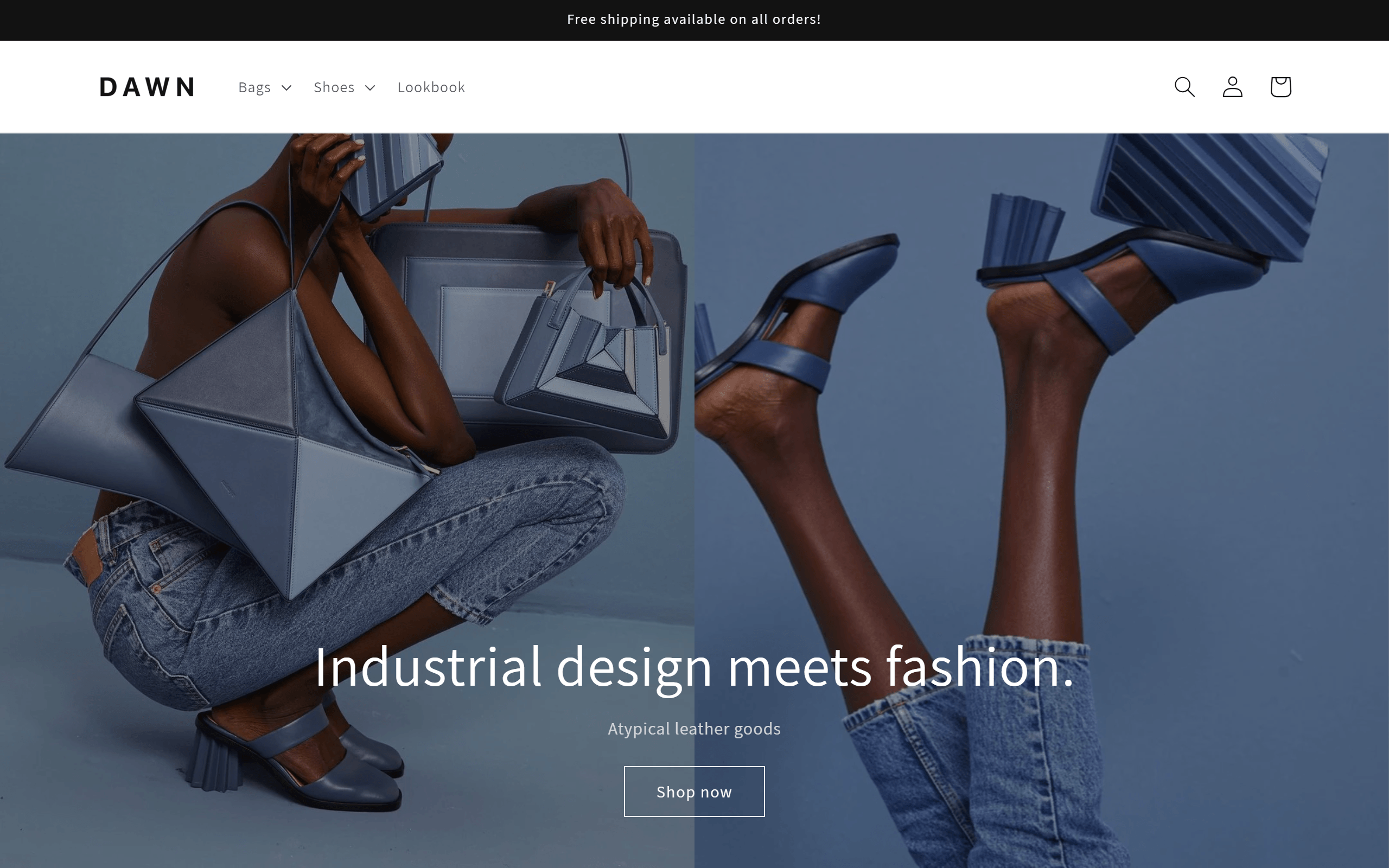 With its minimalist design, this is the best converting Shopify theme to highlight the best features of your brand. The tip ranked option among free Shopify themes.
Key Features:
Simple and Sleek: Big pics and clean design let your stuff really shine and keep shoppers looking at the good stuff.
Big Media: Huge images and media to show your items in all their glory, so customers get the vibe.
Easy Customizing: Mess around with the design how you like without going into any code stuff.
Best for: clothing brands, boutiques and other fashion businesses.
Price: Free
Why is Dawn Our Top Pick?
Dawn stands out as our favorite theme because it shows products in a nice clear way. The layout is clean without clutter so you can easily see everything. It uses large pictures that look very nice. Store owners can change some things in a simple way too. Dawn lets you nicely present your items without distractions.
Dawn is rated as the best free theme by many stores. This proves that a theme with a layout focused mainly on selling can work really well. Dawn gives a sharp shopping experience for people who want results more than extras. It keeps all attention on the product, which is the most important part - helping things be bought by customers. This theme may be subtle but it is also very powerful. That is why we give it our strongest suggestion.
Best converting Shopify theme that is fast, simple, and powerful all in one.
Key Features:
Easy-to-use and Customizable: This theme makes it easy to tweak little things like logos and colors to match your brand.
Powerful Presentation: You get tons of sections and widgets to build your site however you like and really make your products pop on the pages.
Boost Your Sales: It comes with some sweet sales boosting features that will level up your business in no time.
Best for: Fashion and apparel, jewelry, body and skin products.
Price: $250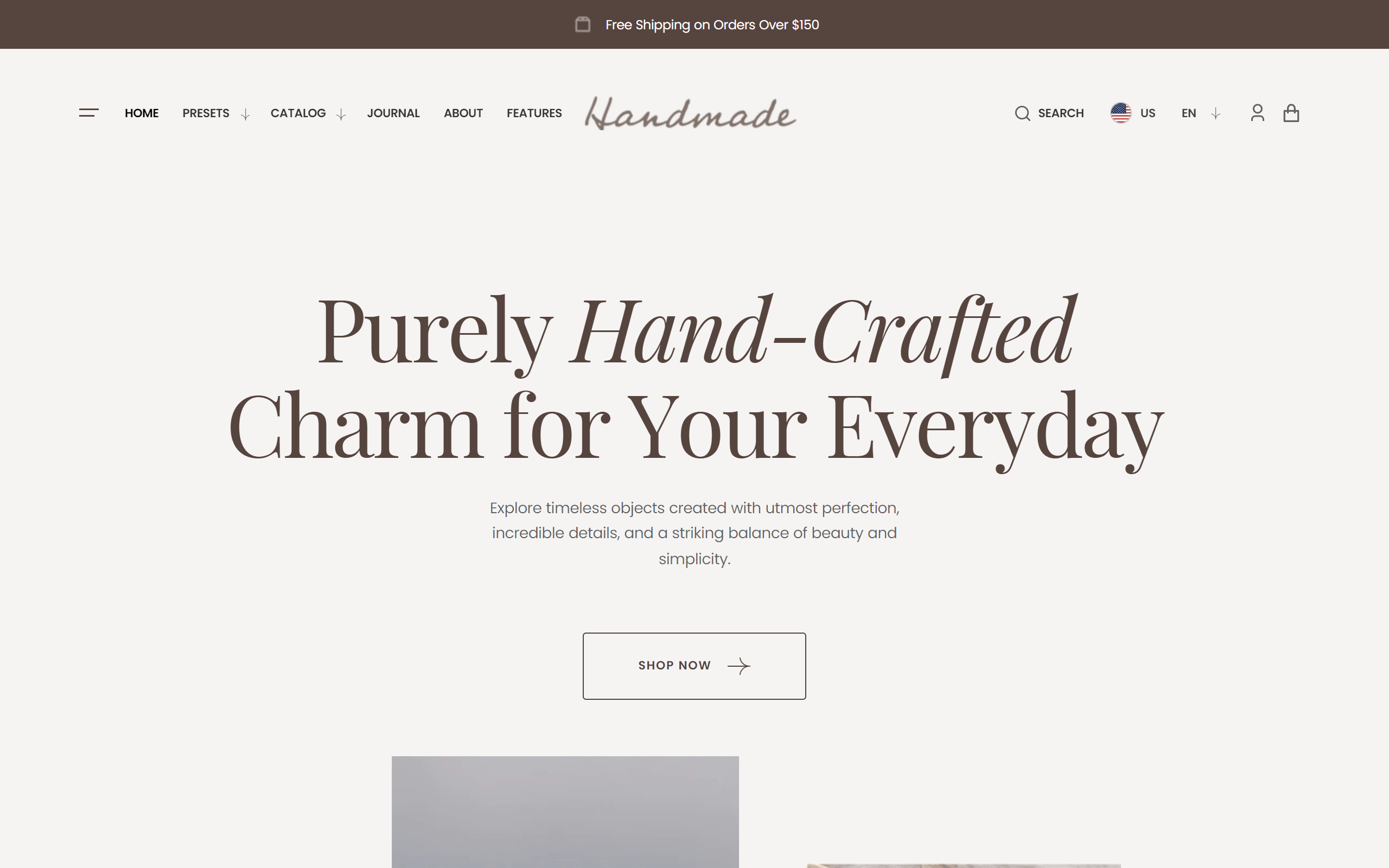 Yet another best converting Shopify theme where you will find warmth, authenticity, and a lot of charisma.
Key Features:
New Version: Updated mega menu, popups, before/after image sliders, countdown timers.
High Speed: Running lightning-fast with special presets.
Product Filters: Help your customers easily find what they're looking for.
Best for: fashion, jewelry, homemade, hand-made products.
Price: $320
Modern and performant, and so accessible that it will boost your sales. That's why this theme is also on our list of best converting Shopify themes.
Key Features:
Search That Gets Sales: The search is like an app and is all about getting you more sales.
Shoutout Your Deals: Make your customers look at the cool stuff! Highlight the big deals and offers so they can't miss them.
Menus for Big and Small: Sell more by showing off your products and collections in our bendy menu. Make it simple or go big with mega-menus.
Best for: skincare, organic products, fashion, accessory.
Price: $320
A highest converting Shopify theme that is about being sharp, strong, and quick on your feet, making every visit super impressive.
Key Features:
Video Backdrop: With Impact, you can have a video playing right when customers drop by, setting the mood with your brand's tale.
Build-it-Your-Way Design: Mix, match, and move stuff around easily, making your site look and flow just how you want.
Slide-In Cart: When customers add stuff to buy, the cart just slides in without taking them to a new page. Easy peasy shopping.
Best for: fitness, tech brands, or any energetic brand that wants to motivate and inspire its audience.
Price: $350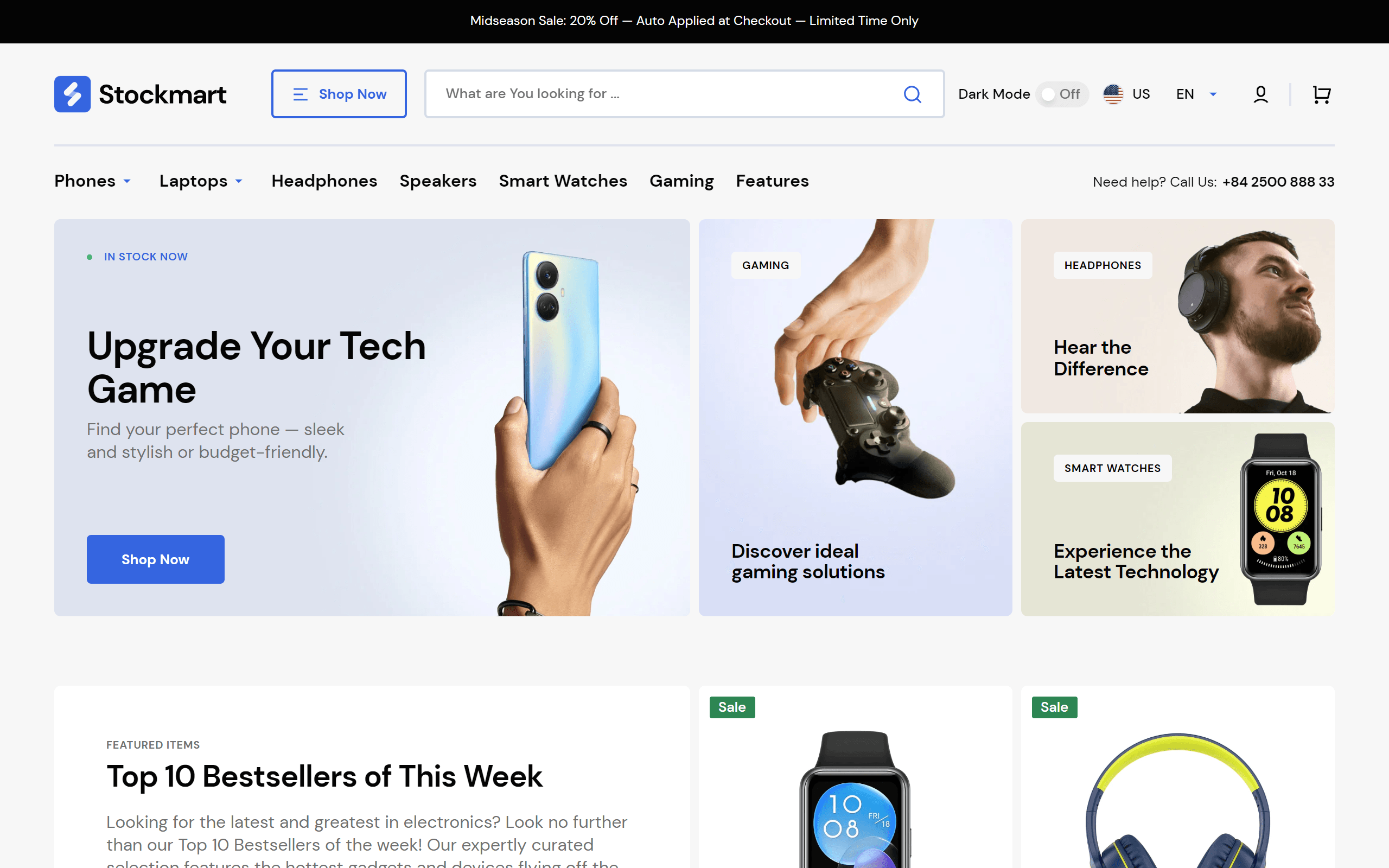 We introduce you to another high converting Shopify theme that kills with its perfect simplicity.
Key Features:
Shopping Experience: There's a huge selection and many choices for your brand style.
Dark Mode: It's easy on the eyes and keeps folks glued to their shopping list.
Sections: Show off your brand's vibe with lots of unique sections. Makes your store look fab and gets people more into it.
Best for: electronics, or simply anything tech-related.
Price: $320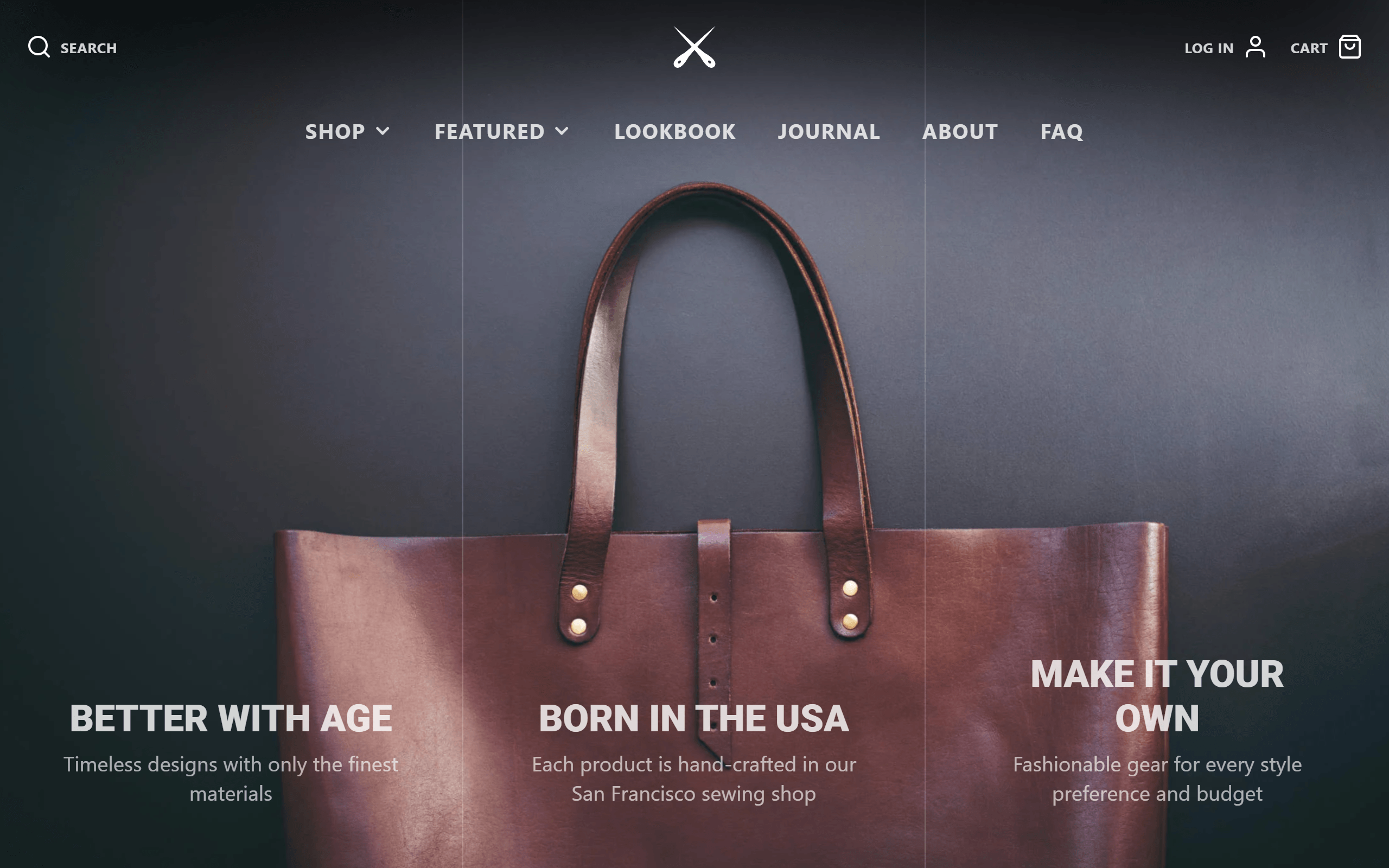 This is where elegance meets functionality. Another handpicked option among the best Shopify themes for conversion.
Key Features:
Features Overview: Check out our video tour to see all the cool customizations and stylish homepage additions you can include.
Stunning Gallery: Show off your brand or product pics in an awesome layout perfect for the homepage or lookbook page.
Unique Column Slideshow: Regular left-right sliders aren't that engaging. Try our new take - slides stack up in columns for a fresher look that keeps people hooked.
Best for: accessories, shoes, fashion.
Price: $250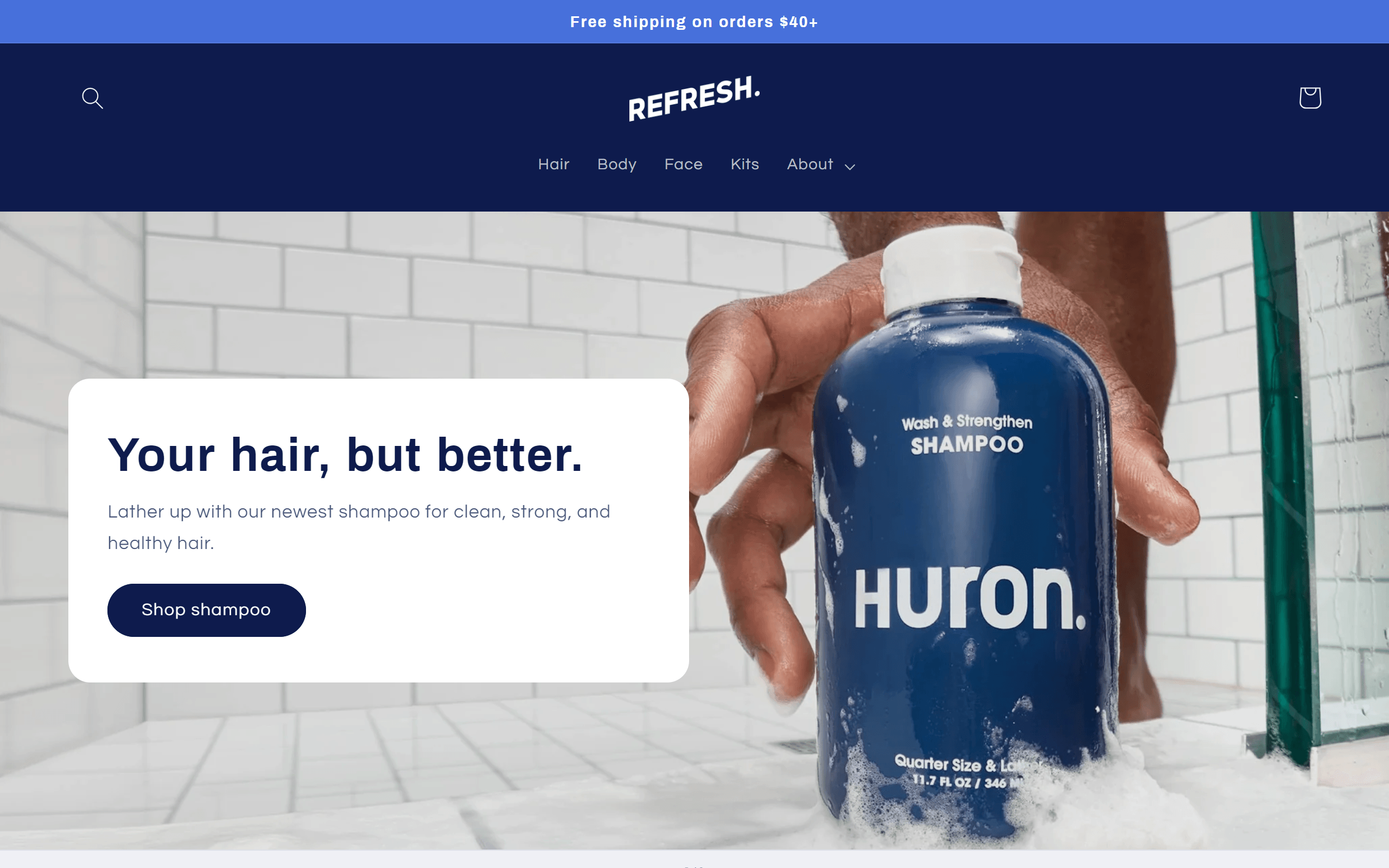 This is another bold and energetic and at the same time high converting Shopify theme for you.
Key Features:
Clean Design: Make a statement with headers that pop and pick colors that let the products take center stage.
Emphasize Product Details: Share little extras like reviews, ingredient lists, cool certs and stuff using sections that adjust nicely.
Advanced Customization Options: Tons of options to tweak the look and feel to suit your brand exactly.
Best for: fitness brands, tech industries, drinks.
Price: Free
This is one best converting Shopify themes that are the visual representation of pure coziness and warmth.
Key Features:
Real and Genuine Look: A chill design with lots of space and fancy text stuff to make your content shine.
Tell Your Story Right: Show off what your brand's all about with cool sections made for awesome storytelling.
Tweak It Your Way: Play with the design how you want without messing with any techy code things.
Best for: handcrafted brands, accessories, interior decor.
Price: Free
So elegant, so minimal! Just the right option for you among the highest converting Shopify themes.
Key Features:
Quick Shop: Sell more by making people click less.
Support: Got questions? The awesome support squad's got your back.
Adaptable: Creative makes everything look cool on any device.
Best for: fashion, accessories, shoes.
Price: $350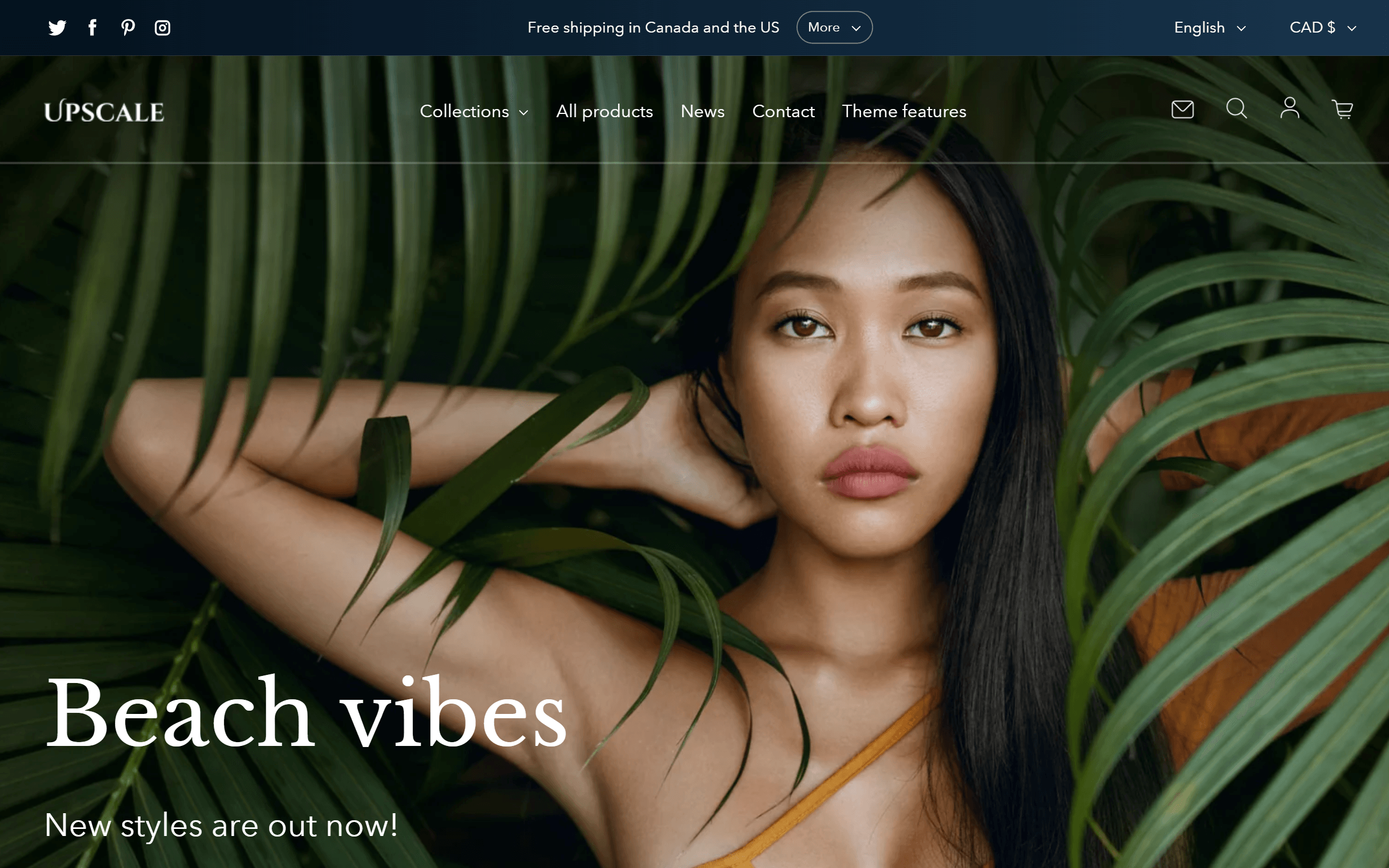 Another one among the best Shopify themes perfect theme for your brand with a bunch of features and a flexible interface.
Key Features:
Design How You Like: Show off your brand and rock your online store on any gadget.
Sell More: Inspired by what works best, Upscale's got your back to show off products, suggest extras, and get more sales.
Smooth for Users: Top-notch search and moving around. No fuss for your customers, so they find and buy your stuff without a hitch.
Best for: skin and body products, fashion, and accessories.
Price: $350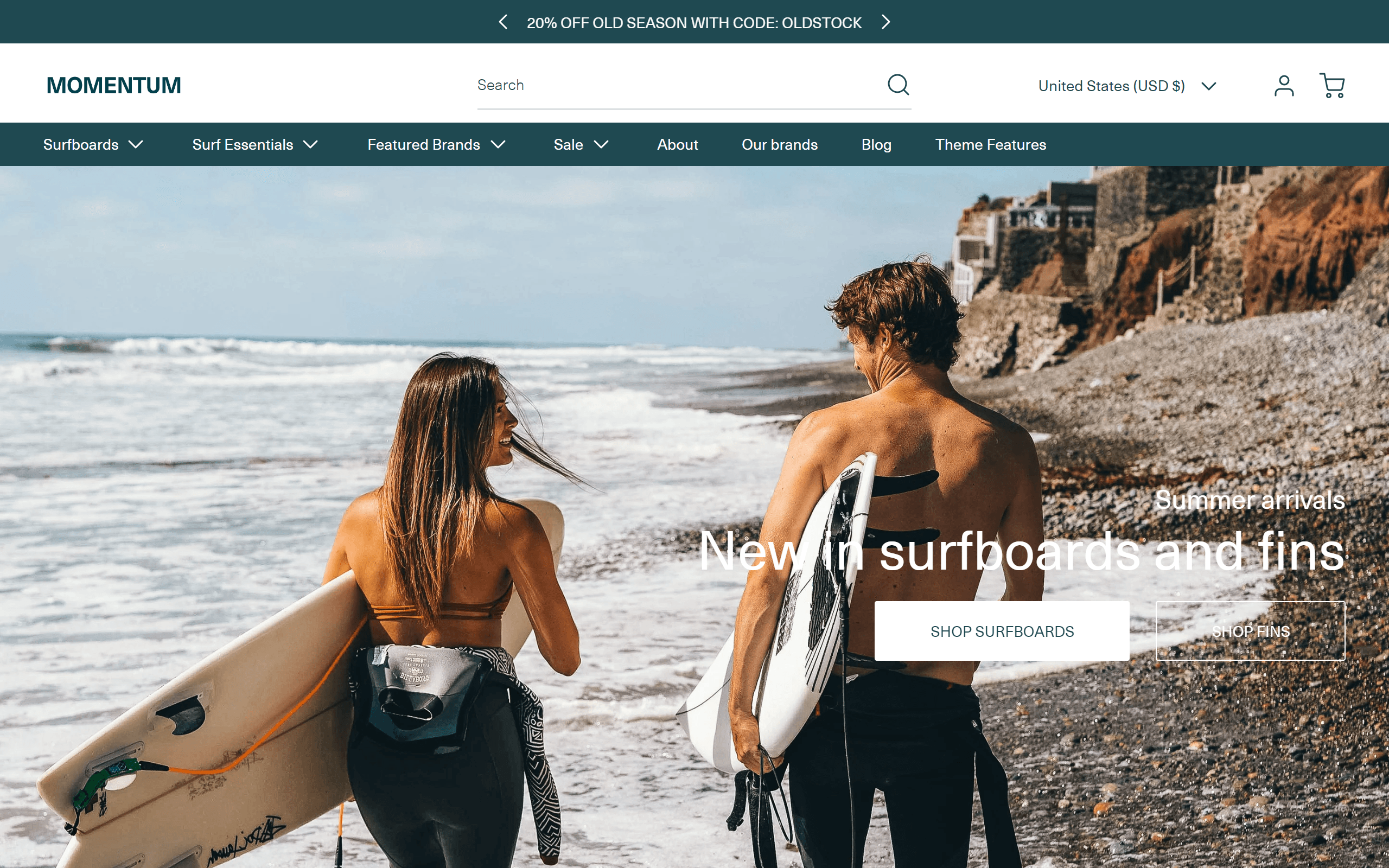 This is one of the best converting Shopify themes out there that will make your product shine.
Key Features:
Start Off Right: It's made for phones, loves search engines, and everyone can use it. And a bunch of sections and layouts, set up your store your way.
Product Details: Easily add all the juicy stuff about your products with handy tables, cool highlights, and some icons.
More Sales: Thanks to an awesome search, big ol' menus, a speedy buy button, more product suggestions, "running out!" warnings, etc.
Best for: sportswear, fitness and sports brands.
Price: $250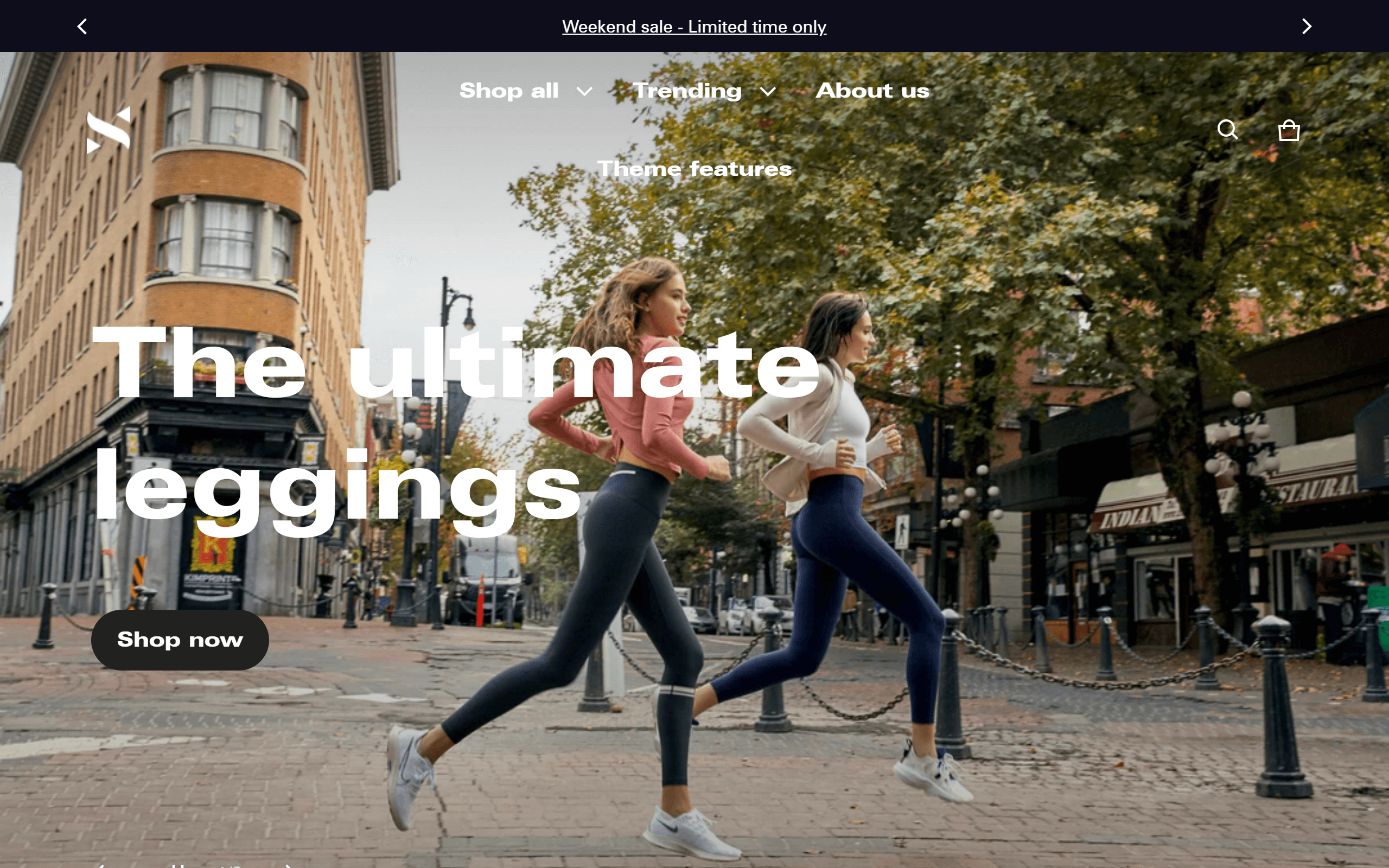 This is another one among hand-picked, best converting Shopify themes with high-speed made for flash sale.
Key Features:
Grab Attention: Keep people hooked with large and standout text styles. Highlight your deals with eye-catching features.
Fast Pages: The pro coders tweaked this theme to its best, so you've got an edge in raking in those sales.
Phone Adaptation: Blum's designed with mobile in mind, so your customers can vibe with your brand anytime, anywhere.
Best for: sportswear, fitness and sports brands
Price: $170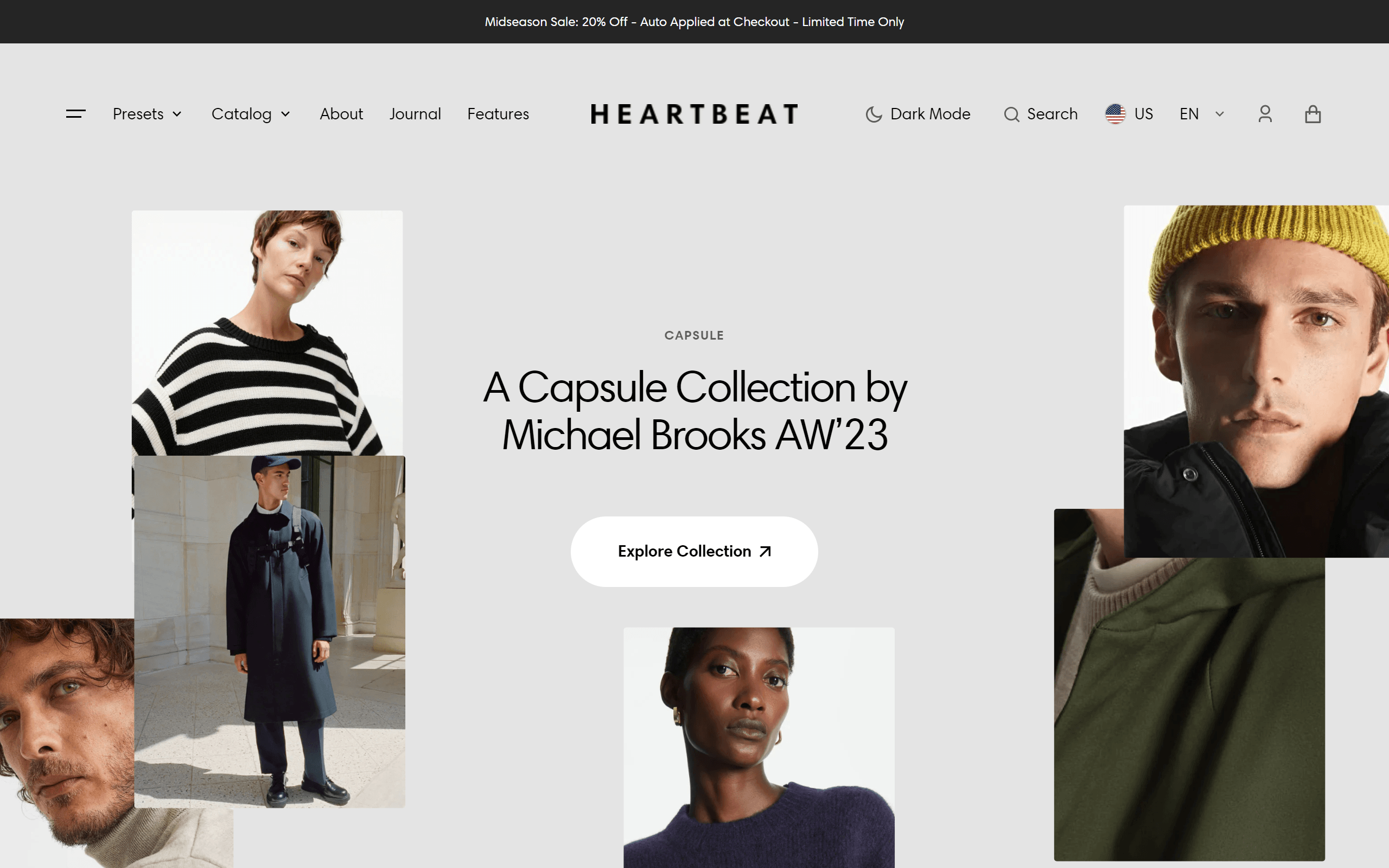 This is the highest converting Shopify theme that captures the heart of handcrafted work and cozy community feels.
Key Features:
Grid Style: The grid is like a puzzle, so every product adds to the big picture and has the attention of your customer.
Product Videos Inside: Add videos to make shopping more real. Let customers see your items in action.
Community Shoutouts: Show off the good words from your local people. It's all about trust and real vibes.
Best for: Artisanal goods, boutique stores, accessories, etc.
Price: $320
This theme is among those special, unique and highest converting Shopify themes.
Key Features:
Strong Foundations: This theme is built for phones, helps search rankings, and works well for everyone. Tons of sections and layouts to make your store just right.
Product Info: Fill out product details across the site with ease using tables, highlights, and icon lists to pack the pages with tons of useful info.
Conversion: Convert visitors like crazy with handy search and filters, huge menus, quick buy options, related product suggestions, low stock notices, customer question forms and preorder setups.
Best for: fashion, accessories, shoes.
Price: $350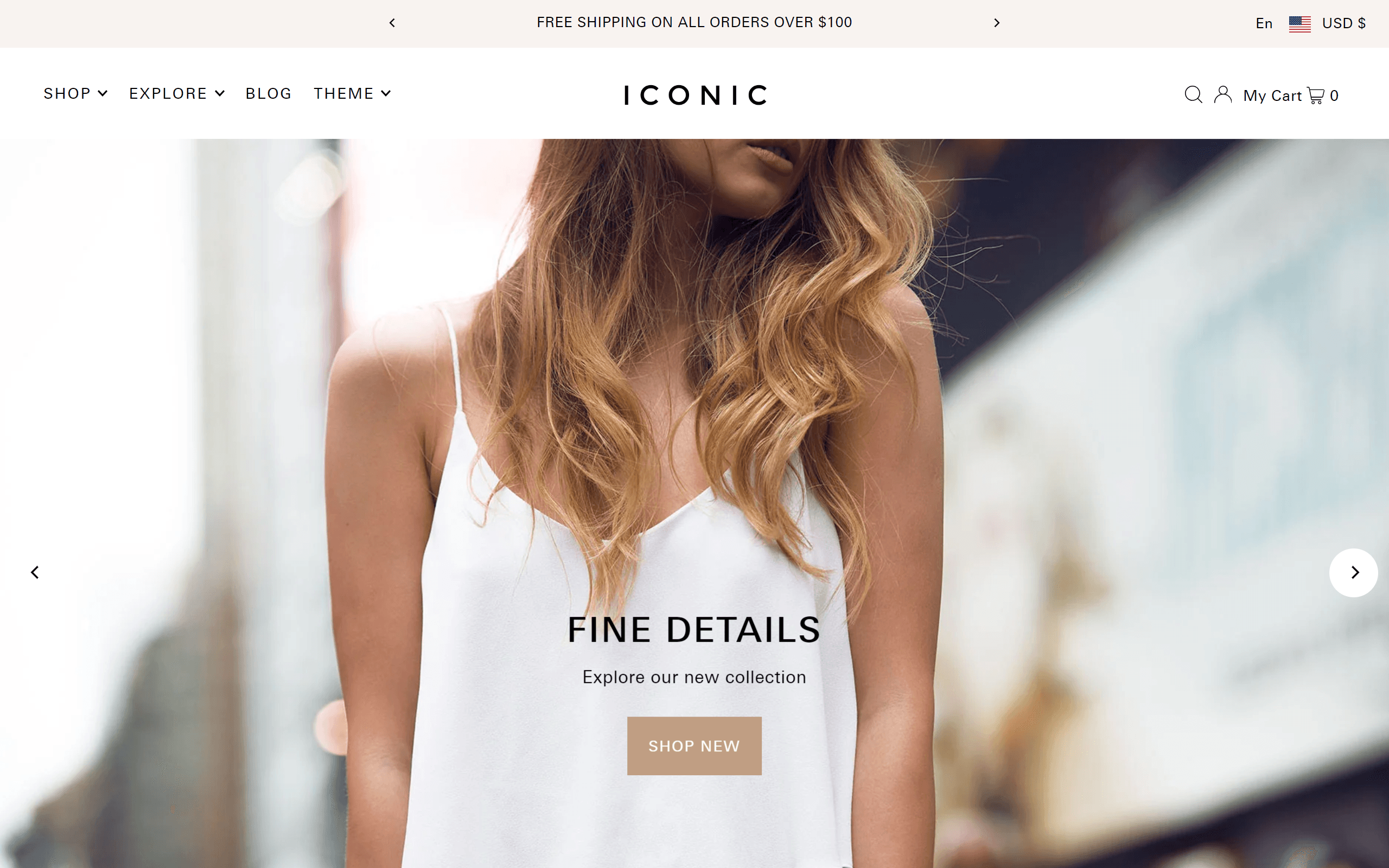 This clean and minimal option deserves to be on our list of best converting Shopify themes for your business.
Key Features:
Upsell & Cross-sell: You can show extra stuff while folks are looking at products.
Filter and Refine: With the cool filter system, customers can easily sort things out, even by colors.
Fast and Accessible: It's up-to-date, has awesome features, and is perfect for stores that are looking ahead.
Best for: fashion, accessories, shoes.
Price: $280
One of those high converting Shopify themes with minimalist and clean aesthetics.
Key Features:
Layout: Your products will shine bright with these diverse layouts.
Sophisticated Menu: Makes the navigation so easy that you don't want to leave the website.
Buying Option: There's a quick buy option so your customers can easily add products to their cart from the product listings.
Best for: Home goods, furniture, fashion.
Price: $320
This one is all about clean aesthetics and rich simplicity. Truly deserves to be on our list of best Shopify themes for conversion.
Key Features:
Shopping Experience: This theme has everything you need to build an awesome shop on Shopify with a really slick and fancy look.
Quick-view: A viewer can see product details easily from anywhere on the site with a quick scan.
Slider & Slideshow: The sliders let you pack in different kinds of media like pics and vids all together. And the slideshows show off images, videos, etc.
Best for: furniture, skin and body products, handmade crafts, home decor.
Price: $320
If you are looking for clean and elegant aesthetics for your brand, then this is the right choice for you.
Key Features:
Gain Superpowers: This theme packs all the essential bells and whistles to build amazing stores and give customers the best experience ever.
Get a Better Picture: People wanna see exactly what they're buying. This theme helps you highlight every last product detail with crazy clarity.
Outrageously Fast: Lightning-quick load times - this theme goes zero to 60 very quickly.
Best for: accessories, shoes, fashion, skincare.
Price: $310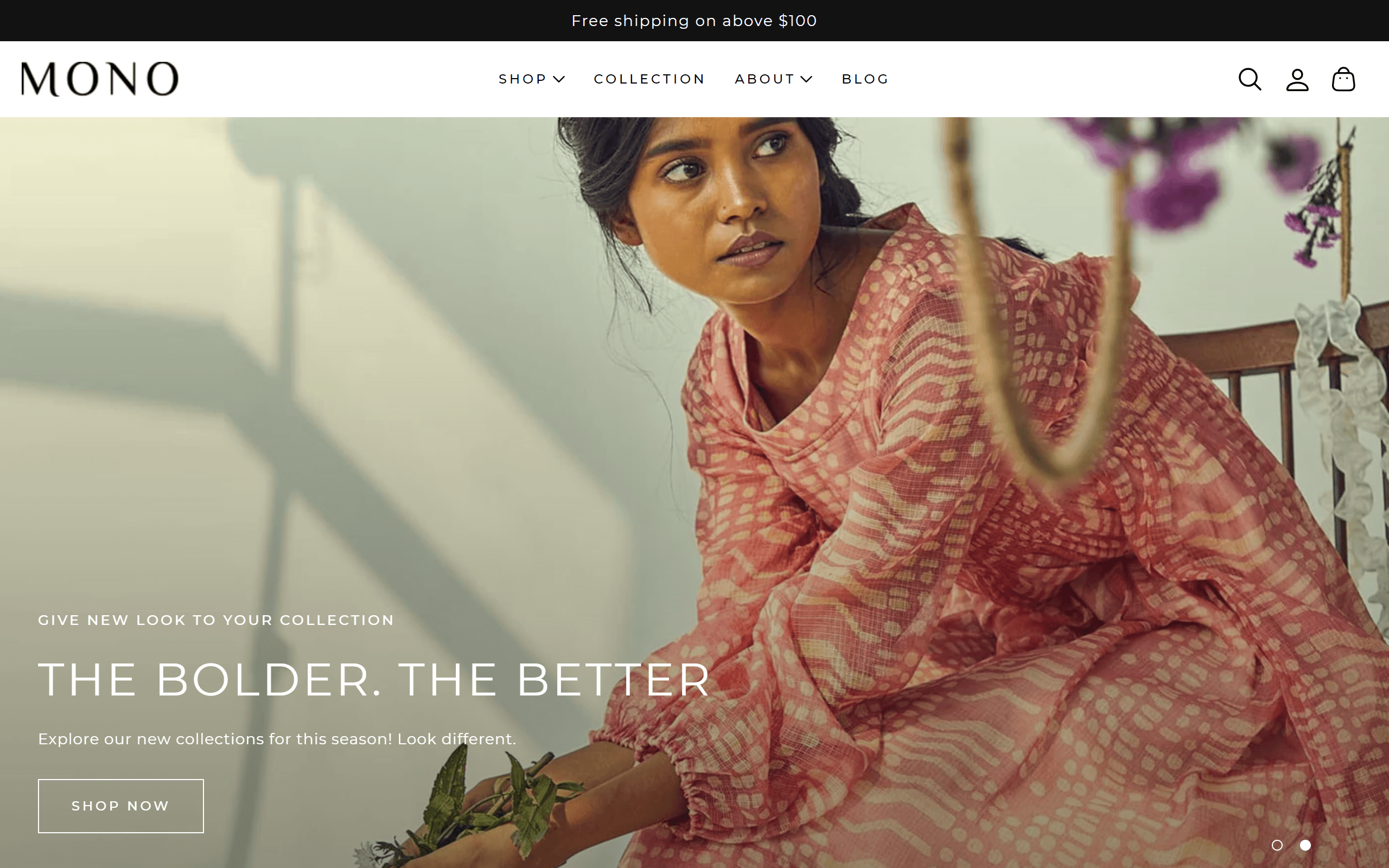 Another simple yet perfectly crafted and flawless option for your business among the list of best converting Shopify themes.
Key Features:
SEO-Optimized: Rank higher easy with this SEO-smart Shopify theme. More eyes on your site means more sales.
Conversion-Driven Design: Captivate customers and boost sales with this sales-focused design.
Maximize Sales: Hit your sales goals with this e-commerce theme.
Best for: accessories, shoes, fashion, skincare.
Price: $200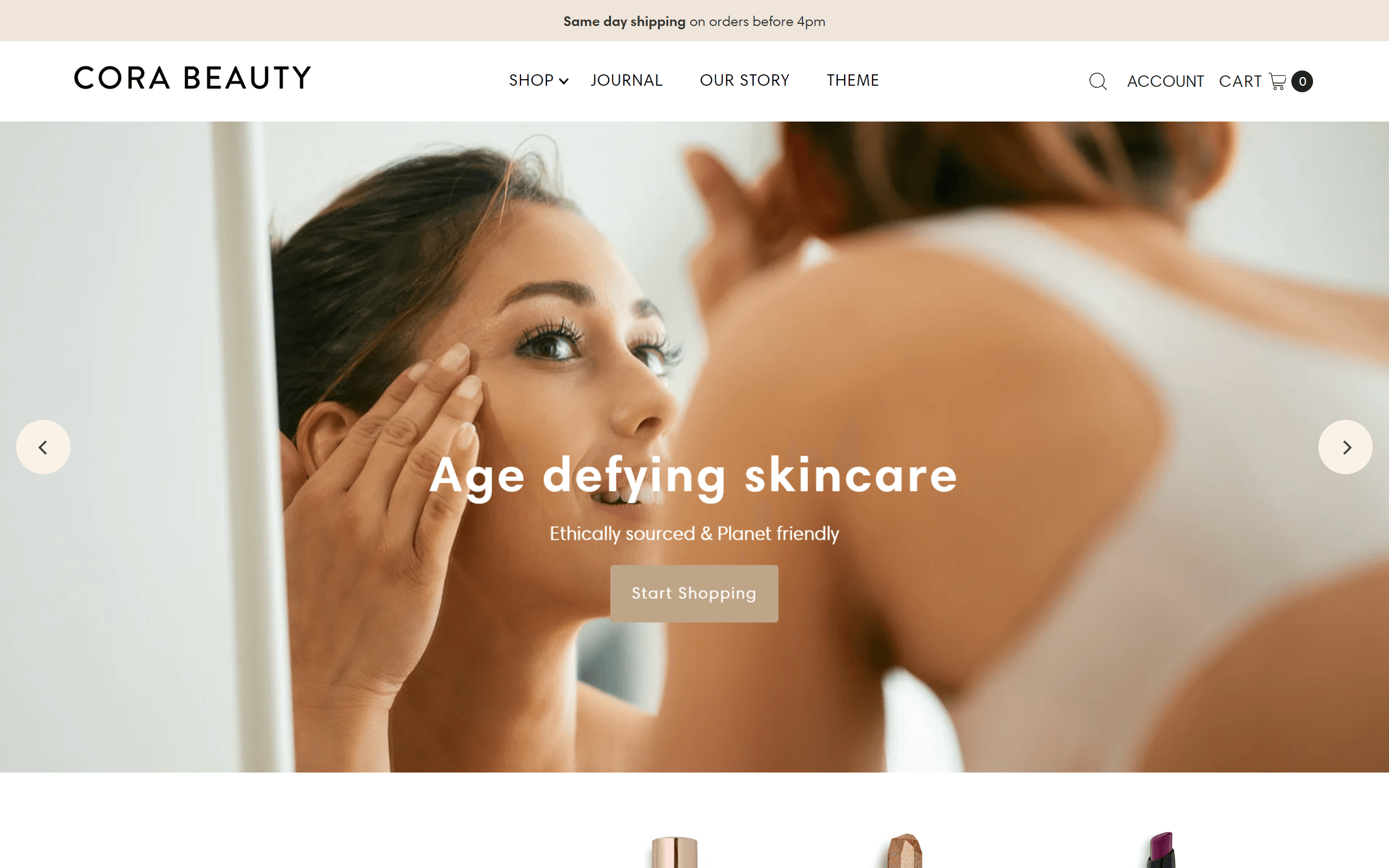 This minimalist treasure is made to support your business with its attractive and fresh looks.
Key Features:
Showcase Products: This theme has tons of sections made for flaunting your stuff and being creative.
Conversions: The sales-focused layout plus the spotlight on findability converts more people and gets higher cart sizes.
Free support + Free updates: Grab free help and free updates forever from the pros who've been Shopify masters since 2007.
Best for: body and skin care, makeup, organic products, beauty.
Price: $300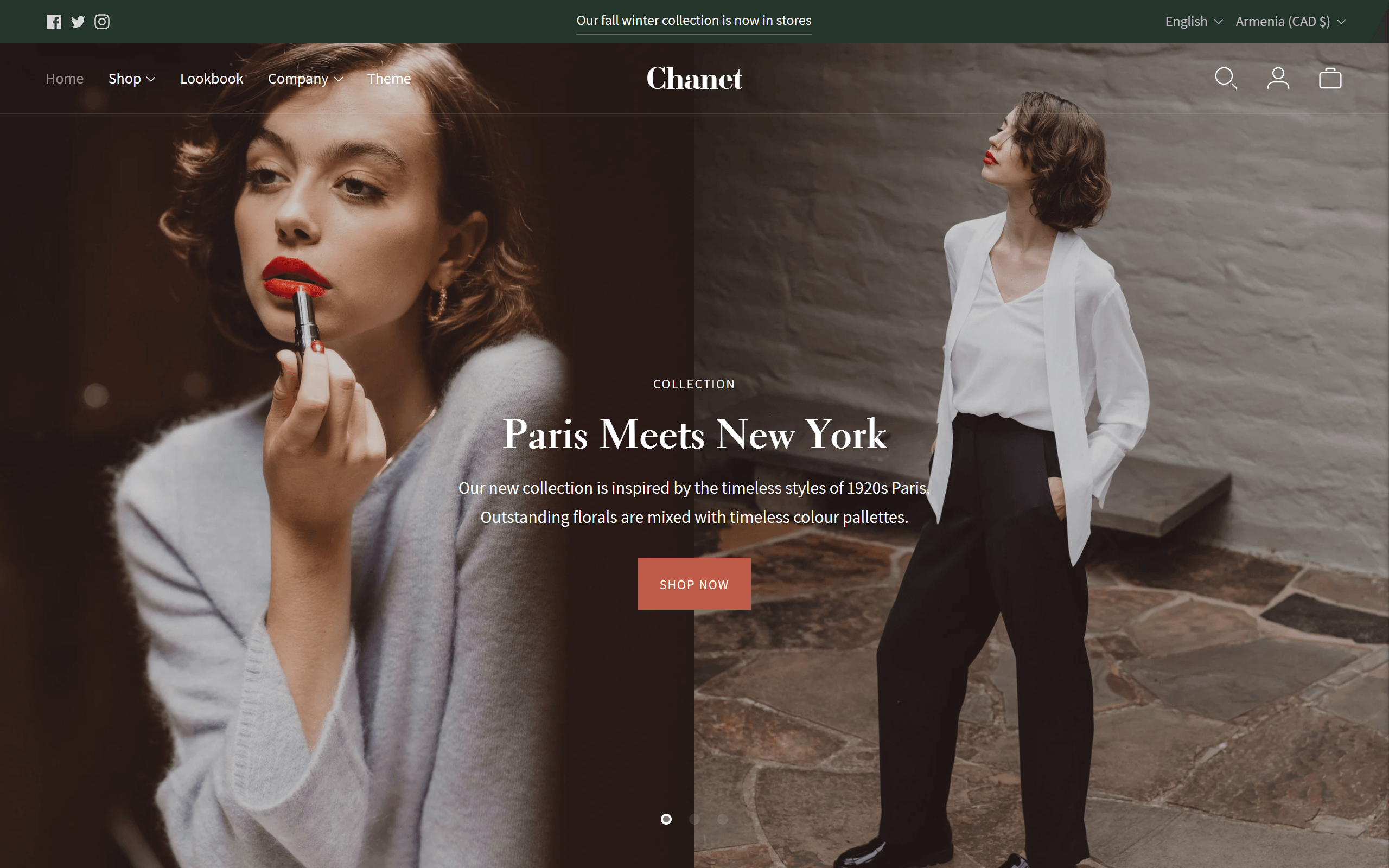 This theme is the best to share an elegant, beautiful story of your brand. The style of the theme is eye-catching and extremely good-looking. Truly one of the best Shopify fashion themes.
Key Features:
Storytelling: Use cool section styles like mosaic displays and split slideshows to tell an awesome brand tale.
Timeless Style: Lorenza couples slick editorial looks with full customization so you get a high-end vibe with minimal work.
Outstanding Support: Detailed how-tos and friendly helpers are always around to walk you through tweaks and customizations.
Best for: fashion, accessories, shoes, makeup.
Price: $320
One of those flexible and easy-to-use themes out there. So clean that you will get an elegant user experience.
Key Features:
Help Buyers Convert: Awesome filters to get folks ordering. Expertly made, top-notch code, and super helpful support too!
Packed with Features: Crams in all the must-haves like SEO smarts, swift speed, flexible sections, killer filters and tons more.
Multiple Product Layouts: Pick from a bunch of product page styles to find the best fit for your brand and customers.
Best for: fashion.
Price: $320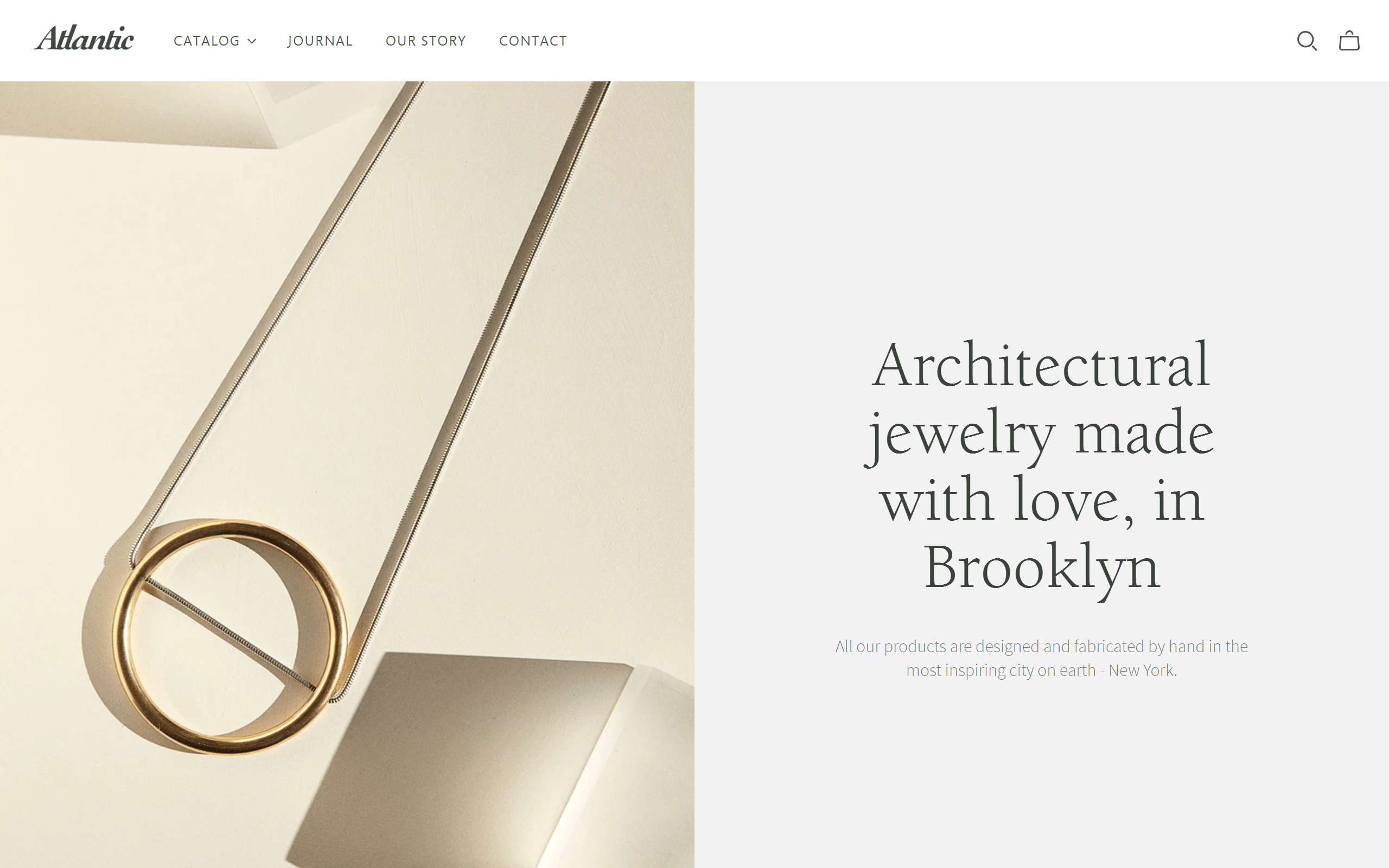 This theme is the representation of simple yet rich aesthetics.
Key Features:
Product Discovery: Highlight your items while building faith in your brand with image zoom, live search, multi-line menus and extras that sell.
Helps Stores Grow: Set up to handle big catalogs - this theme has boosted loads of stores by helping customers find more.
Classic Design: The clean layout is easy for buyers to navigate plus still eye-catching enough to keep them browsing.
Best for: fashion, accessories, shoes, skincare, makeup.
Price: $280
This theme is perfect for small inventories specifically.
Key Features:
Age-Restricted Products: Ideal for selling items like alcohol or smokes needing age checks.
Physical Stores: Perfect for businesses also doing in-person sales from a brick-and-mortar shop.
Storytelling: This theme is made to spotlight pics and help you tell your brand's story in a cool way.
Best for: foods, drinks, etc.
Price: $250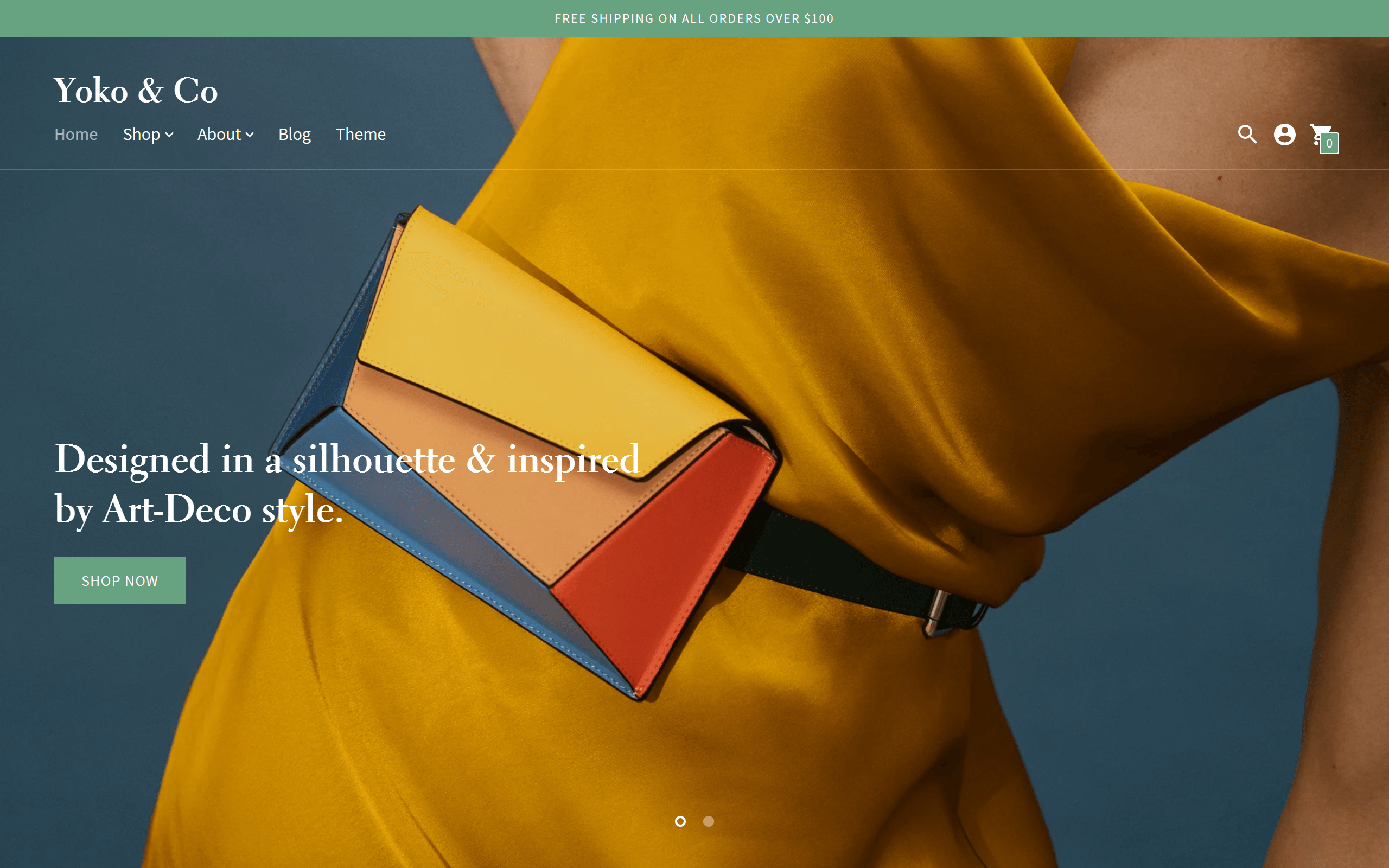 If your store requires larger catalogs, we would definitely recommend this Shopify theme from our list of Shopify premium themes.
Key Features:
More Conversions, Less Clicks: Made for an intuitive user experience, Context offers awesome features that let customers find stuff quick.
Cutting-Edge Style: See your ideas come to life with Context's modular design and geometric style giving a fresh, modern look.
Full Control: You can choose a starting theme or customize sections without writing code.
Best for: fashion, accessories, shoes, skincare, makeup.
Price: $280
Wrapped Up
Now that we have gone through the best selections, we recommend testing different themes to see what works best at boosting your sales.
A theme is a major part of your online store look and feel, so find one that fits your brand and helps buyers see what they need fast.
With the right theme, your conversions will be cruising!