Did you know thousands of online stores, maybe even your friendly neighborhood pet shop, use Shopify as their back-end eCommerce magic-maker?
Yep, you heard that right. But here's the tip: designing a gorgeous B2B online store doesn't have to empty your pockets.
We're about to spill the beans on some free Shopify themes that'll make your store's website an attractive destination for your customers.
But before going through the free selections, let us introduce some hand-picked premium themes that will make your store extra compatible in this crowded market!
📌 How We Picked 15 Free Shopify Themes
We started by searching the Shopify theme store and filtering for just the free options.
That left us with over a hundred themes to look through, so we knew we had to get really selective. Here are the factors that we considered:
Design: The theme had to be professionally designed and polished. We didn't want anything amateurish-looking.
Functionality: Ease of use on both desktop and mobile was key. Navigation, product pages, checkout all needed to be smooth without bugs.
Performance: The theme had to load quickly and not slow down the site. We checked load times and did speed tests.
Customization: Even though free means less options, we looked for themes that at least let us tweak colors, fonts, and modify pages a bit.
After filtering for all that, we were left with a shortlist of 15 awesome free themes. Hopefully, these tips help if you're ever theme shopping too!
🤝 Why You Should Trust Us
We're an up-and-coming theme development studio that launched in May 2022. Since then, our small but mighty team has created 7 high-quality Shopify themes that have been downloaded over 3000 times.
Many of our themes are top-ranked on the Shopify Theme Store thanks to their great design, functionality and focus on boosting sales for online stores.
As new players, we understand the importance of creating themes that look professional, work seamlessly across devices and browsers, and help merchants sell more.
Through rigorous testing, we ensure our themes perform well so customers can feel confident using them. Excellent support is also a priority, as we want merchants to feel supported. We regularly update our themes based on customer and market feedback too.
It's clear from our growing number of successful stores using our themes that we deliver high value products. We're committed to helping more online businesses shine through strategic theme design.
So you can be sure that we've got the expertise you need!
15 Best Shopify Themes & Templates 🛍️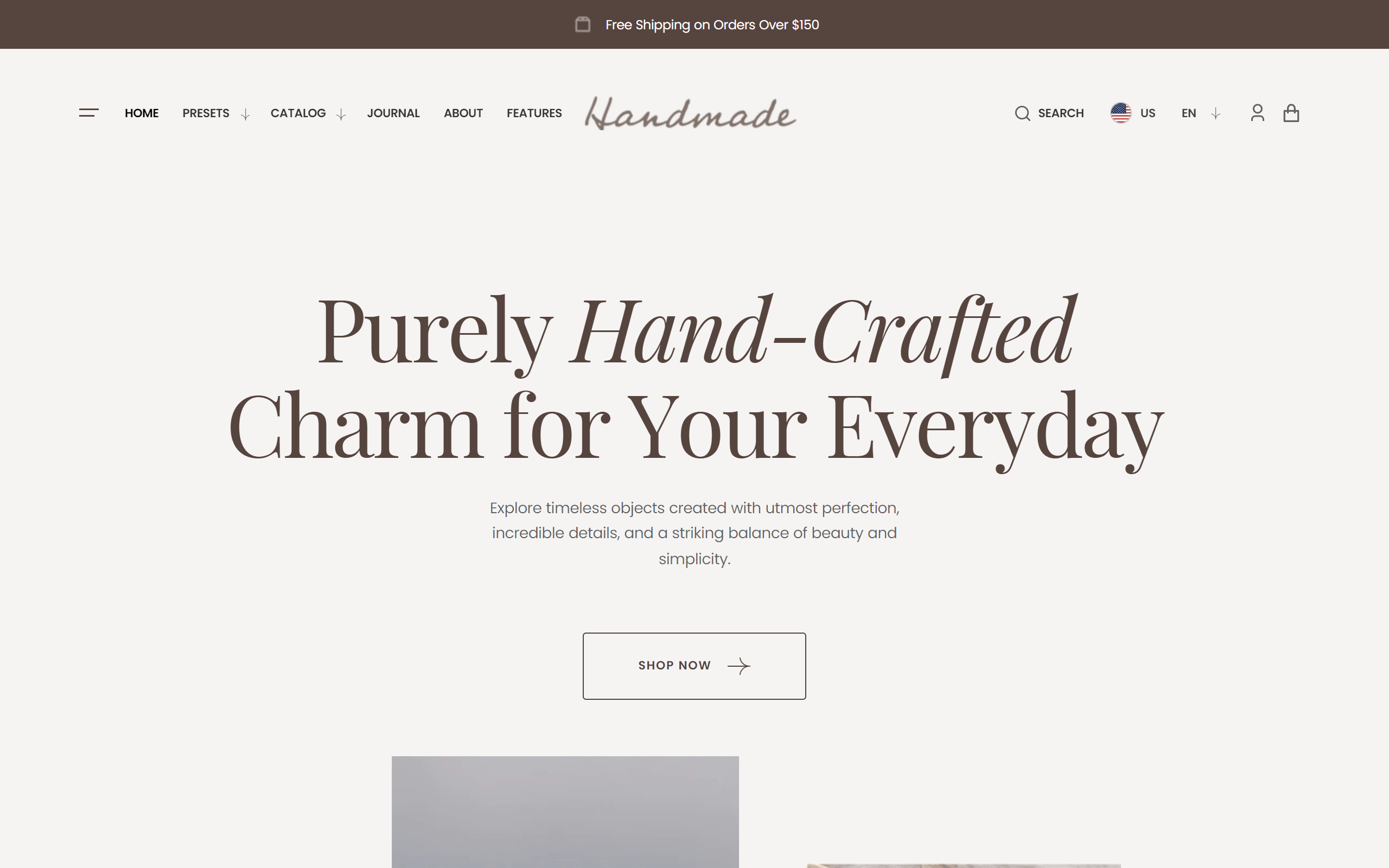 This is a theme that evokes warmth, authenticity, and a dash of crafty charisma. It's like a digital artisan market right in your browser, giving your products the artisanal spotlight they deserve.
Key Features:
Crafty Slideshows: Showcase your handiwork in smooth-sliding visual stories. Let those products shine!
Dedicated Testimonial Section: Because when someone raves about your handmade marvel, it should take center stage.
Interactive Product Filters: Let your customers sift, sort, and find the treasures they seek with ease.
Best for:
It's best for those heartwarming artisanal stores. Whether you're peddling handcrafted jewelry, homemade candles, or knitted wonders, this theme wraps your products in a cozy digital embrace. Perfect for crafters, makers, and creators who want their passion to shine online.
2. 🏅Our Pick - Stockholm (Premium)
Meet Stockholm, one of the best Shopify themes, the minimalist's dream and the visual storyteller's paradise. Simplistic yet stylish, this theme breathes a fresh air of Scandinavian design style right into your online store.
Key Features:
Menu: Navigation's never been cooler (or easier)! Help your customers find their way around in style.
Dynamic Product Grid: Adjusts magically based on the products you have. No more weird empty spaces or squished images.
Quick View: No more endless clicking! Your customers can get a sneak peek of products without leaving the page.
Best for:
Stockholm is a match made in heaven for eCommerce shops keen on a clean design with a touch of elegance. Think boutique fashion, handcrafted goods, or even upscale home decor. If less is more is your mantra, Stockholm's perfect.
Why is Stockholm Our Top Pick?
This theme just has such a clean and stylish Scandinavian vibe that we love. It's simple but still looks really polished and professional. Everything is well laid out while still feeling really minimal.
3. Sydney (Premium)
This theme is not about the iconic Aussie city, but it's just as breathtaking. Crafted with sophistication, Sydney effortlessly combines elegance with functionality, bringing a sleek metropolitan vibe to your digital storefront.
Key Features:
Full-width Banner: Grab visitors immediately with striking visuals that stretch across the screen, making a grand first impression.
Modular Design: Arrange, rearrange, and personalize to your heart's content, making sure every pixel resonates with your brand.
Integrated Instagram Feed: Because who doesn't love a good Insta moment? Seamlessly pull in your feed and make your products Insta-famous.
Best for:
Sydney is the go-to choice for contemporary brands with a flair for the urban and chic. It's ideal for fashion boutiques, contemporary art sellers, or any high-end product that demands a touch of city sophistication. If your brand screams modern metropolis, Sydney will echo it beautifully.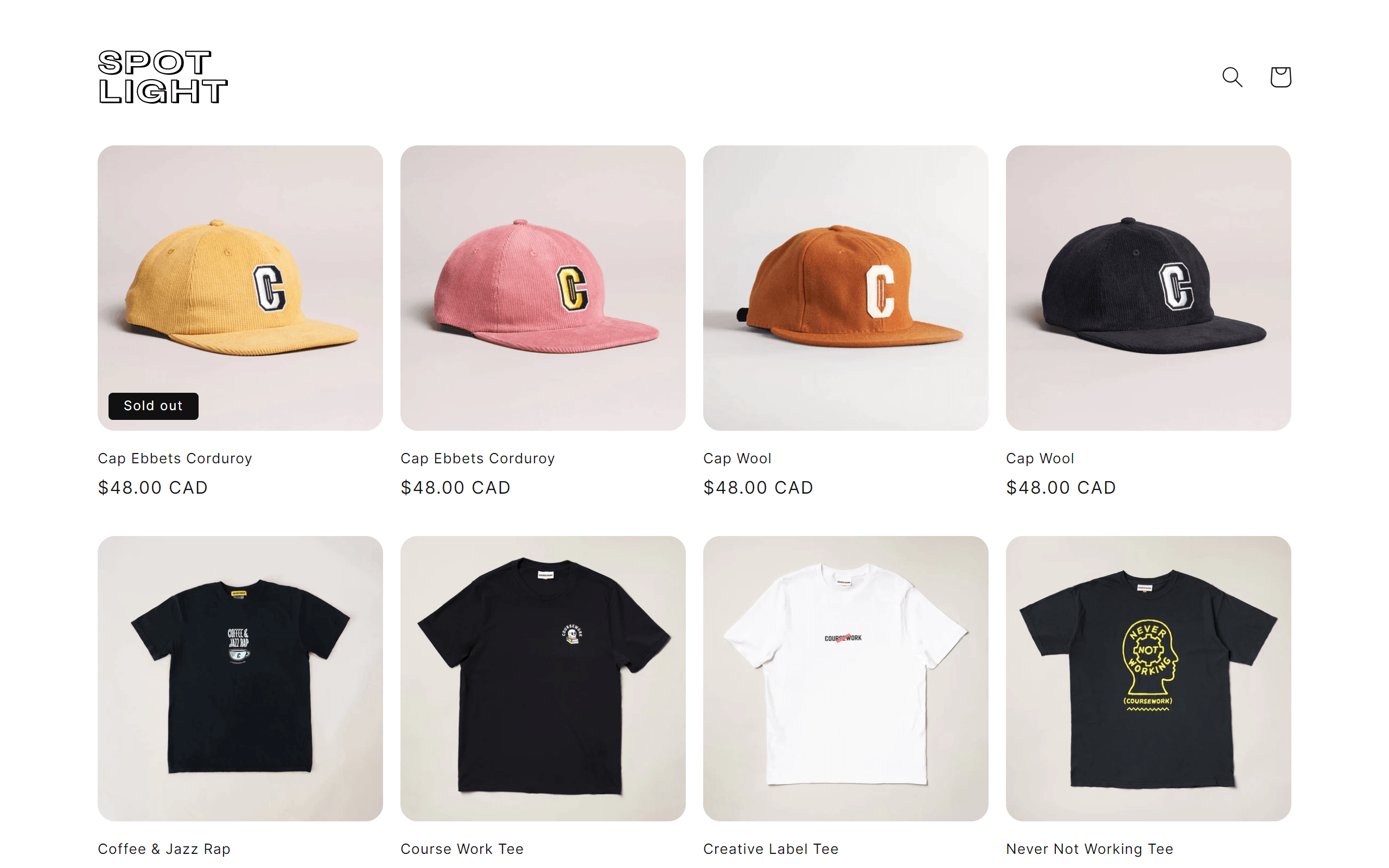 Dim the lights, roll out the red carpet, and let your products take center stage with Spotlight! As the name hints, this theme is all about giving your products their well-deserved limelight, making sure they dazzle and shine in the best light possible. Another great one among Shopify templates free for use!
Key Features:
Hero Product Display: Let your star products shine! Spotlight them right on the homepage for maximum visibility and allure.
Interactive Carousel: Rotate through bestsellers, new arrivals, or anything you want to... well, spotlight! A smooth scrolling experience ensures all eyes are on your products.
Advanced Filters & Sorting: Let customers find their showstoppers with ease. From sizes to shades, ensure they find the perfect match without missing a beat.
Best for:
Spotlight is tailored for those brands that truly have standout products begging to be seen. Whether it's limited edition sneakers, designer fashion, or exclusive collector's items, if your products need that grand stage, Spotlight is your theme's Oscar-worthy performance. Ready for your close-up?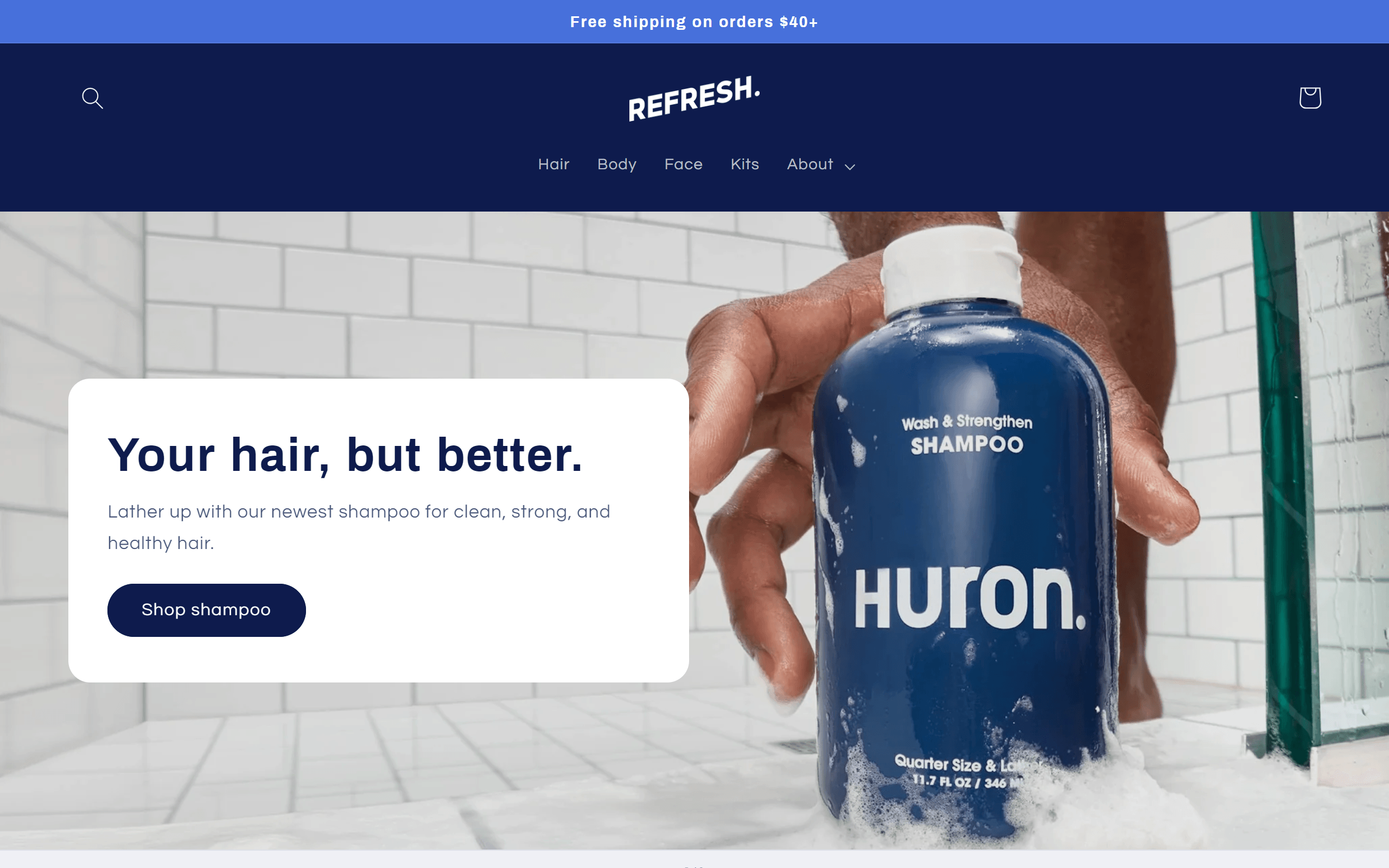 One of the unique free Shopify themes where sleek meets unique. This Shopify original doesn't just give your store a makeover; it provides a rejuvenating digital spa day. It's all about breathing new life into your products and giving them the vibrant backdrop they deserve.
Key Features:
Animated Content Reveal: Add a touch of drama! As customers scroll, products and content gracefully slide into view.
Collapsible Navigation: Keeping things tidy and accessible, this feature ensures a clutter-free browsing experience.
Customizable Color Gradient: Paint your store with a spectrum of shades that seamlessly blend, mirroring the dynamism of your products.
Best for:
Refresh is a versatile gem, but it especially shines for brands that are all about innovation and rejuvenation. Whether you're selling wellness products, fitness gear, or even fresh produce, this theme ensures your items feel as refreshing as morning dew. If your mantra is 'out with the old, in with the new', Refresh is your digital partner in crime among free Shopify themes.
6. Ride (Free)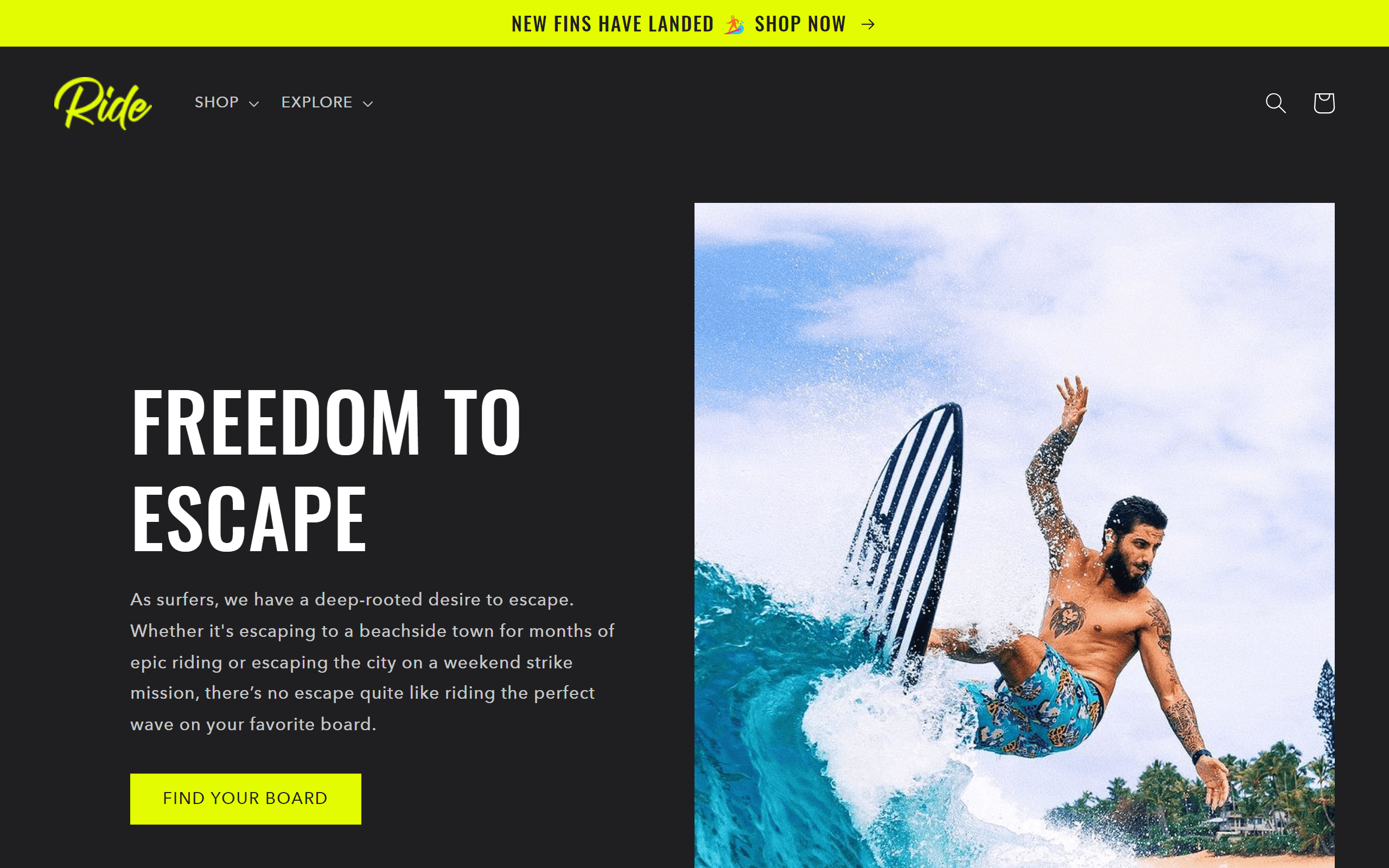 This one is among Shopify free themes that aren't about the destination; it's all about the brand journey. With a dynamic layout and style for showcasing products on the move, Ride ensures your store's journey online is smooth, fast, and unforgettable.
Key Features:
Parallax Scrolling: Bring depth and dynamism to your storefront. As visitors scroll, the background and foreground content move at different speeds, creating a delightful 3D effect.
Interactive Hover Effects: Engage and entice! Products pop and sizzle as customers hover over them, encouraging clicks and exploration.
Integrated Video Backgrounds: Tell your brand's story with motion. Seamlessly incorporate video elements to captivate your audience right from the get-go.
Best for:
Ride is the perfect one among Shopify themes free for use for brands on the move, especially those in the automotive, adventure gear, or sports equipment sectors. If you've got products that epitomize speed, adventure, or the thrill of the open road, Ride is the vehicle that'll drive your online sales to new horizons.
7. 🏅Our Pick - Sense (Free)
One of the best free Shopify themes a theme that truly appeals to all your... well, senses! With an intuitive design and a flair for spotlighting products in their full glory, Sense ensures your customers don't just see, but also feel the essence of your brand with every scroll.
Key Features:
Dynamic Grid Layout: Showcase products in a masonry-style grid that adjusts and organizes itself beautifully, no matter what you throw at it.
Interactive Product Zoom: Let customers get up close and personal! A hover zoom feature gives a detailed view of products, enticing those almost ready-to-buy shoppers.
Engaging Animations: From subtle fades to attention-grabbing transitions, Sense brings products to life in ways words just can't.
Best for:
Sense is a masterpiece for brands among free Shopify themes that sell more than just products; they sell experiences. Think artisan perfumes, gourmet foods, or luxury textiles. If you're in the business of appealing to emotions and senses, this theme will be the bridge between your brand's essence and your customer's heart.
Why is Sense Our Top Pick?
The whole vibe it creates is just stimulating. You truly see and feel the brand in a way that gets you emotionally invested. It's a theme you experience with your senses, for real.
8. Dawn (Free)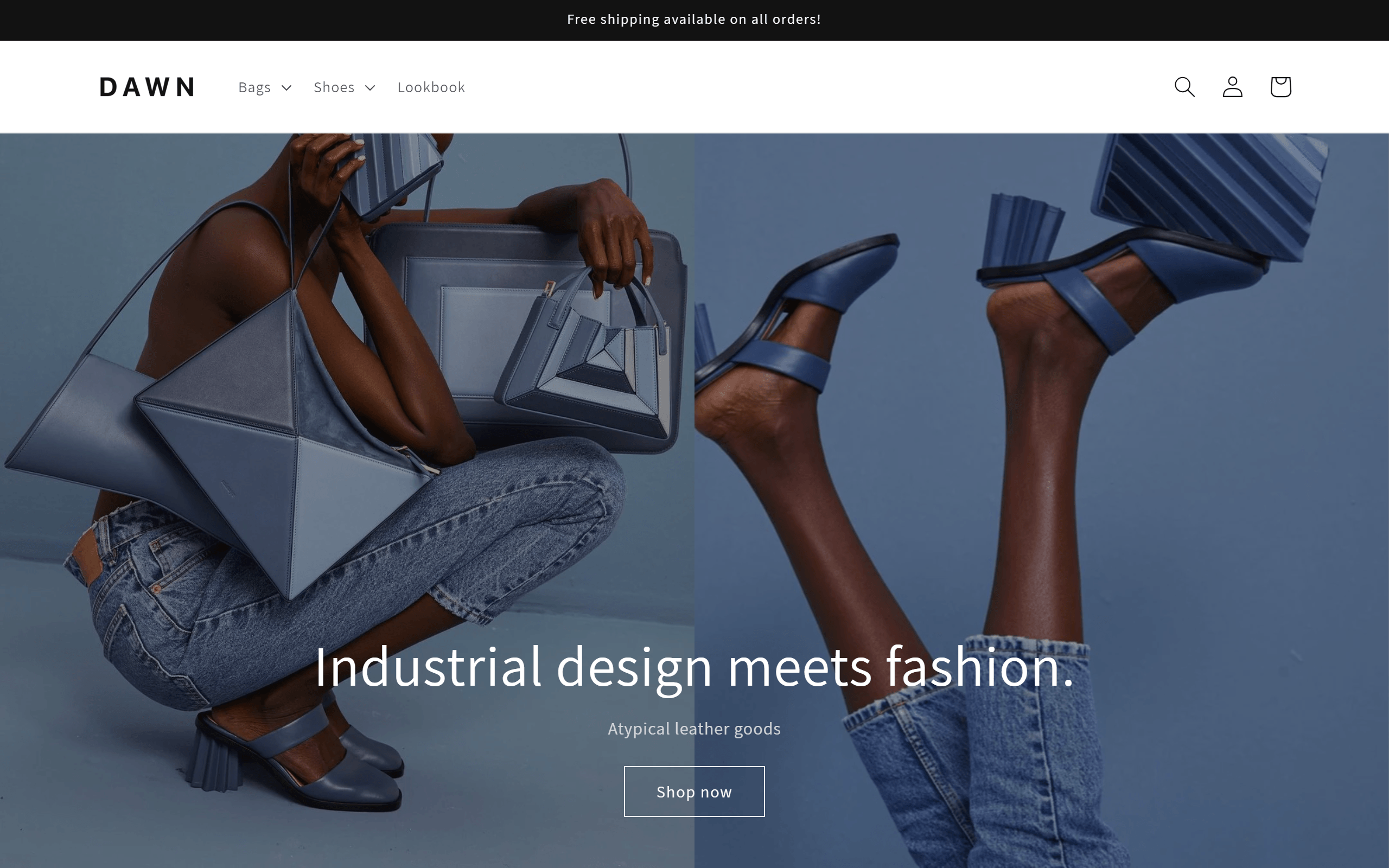 Welcome Dawn, another beautiful option among Shopify templates free for use, where the first light meets the digital realm. It's the fresh start your online store might be yearning for, bringing clarity, innovation, and a touch of morning sun to every product it touches.
Key Features:
Mobile-First Design: In a world that's gone mobile mad, Dawn ensures your store looks stunning on smaller screens. Your customers can shop while sipping their morning coffee!
Modular System: Like building with digital Lego, stack sections and components your way, creating a storefront that's uniquely you.
Eco-friendly Metrics: In an era where sustainability matters, Dawn lets you showcase your eco-credentials, from carbon-neutral products to recycled materials.
Best for:
Dawn is the ultimate choice for modern brands with an eco-conscious heartbeat. Perfect for those selling sustainable goods, green innovations, or just any forward-thinking brand ready to greet a new day in eCommerce.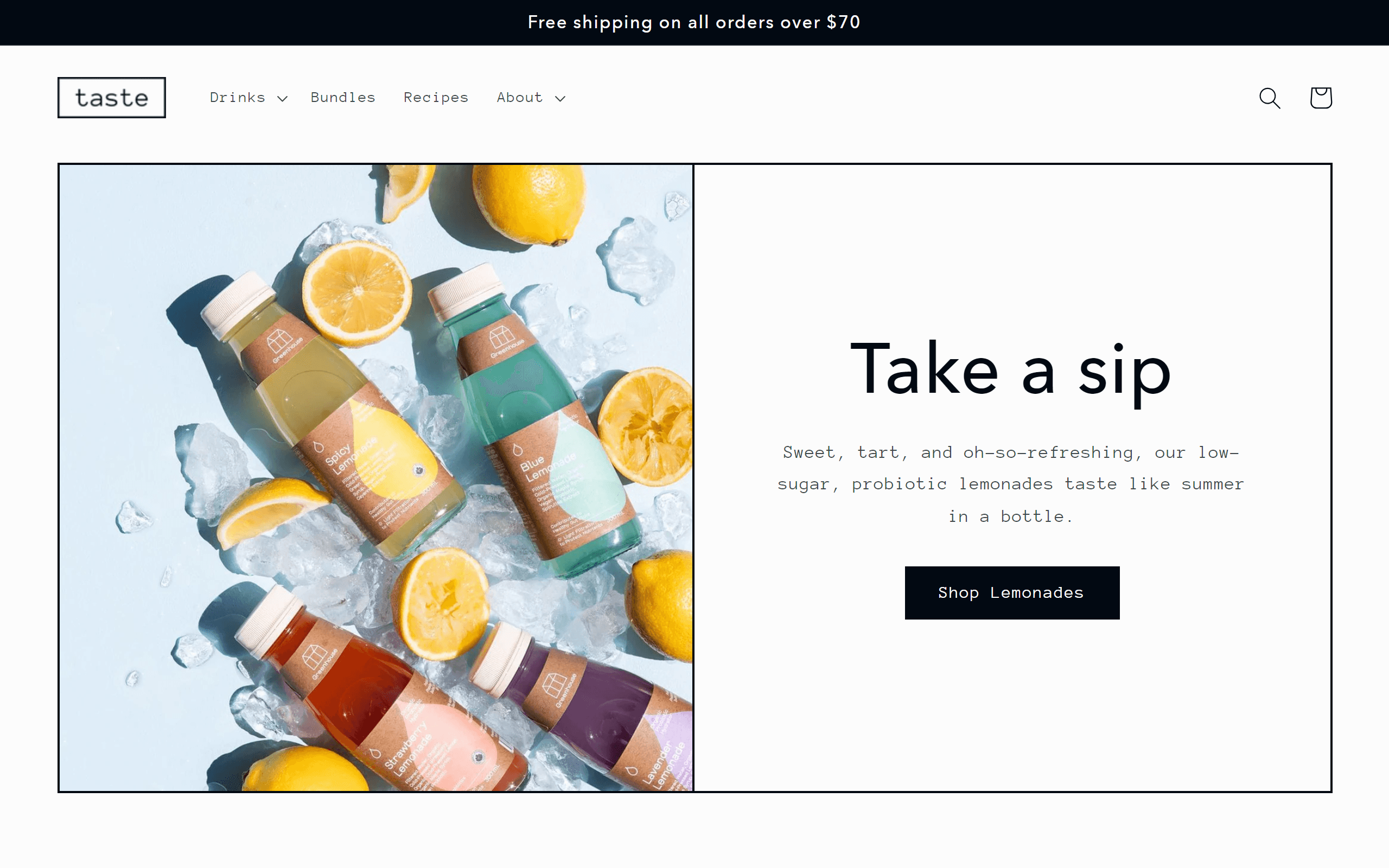 Feast your eyes on another one of Shopify free templates, Taste – the theme that's as scrumptious as it sounds! Taste turns your online store into a gourmet digital place, where every product is the dish of the day.
Key Features:
Recipe Integration: Blend in your favorite recipes with product listings, perfect for those selling gourmet foods or kitchenware.
Rich Media Layouts: Serve up tantalizing images, videos, and animations that make customers' mouths water with anticipation.
Dynamic Product Recommendations: Like a sommelier suggesting the perfect wine, Taste curates product suggestions based on user behavior.
Best for:
Taste is the chef's kiss among free Shopify themes for brands in the culinary world. From gourmet food shops and wineries to artisanal kitchen gadgets and cookware, if you're stirring up a storm in the world of flavors, Taste offers the perfect palate for your online presence.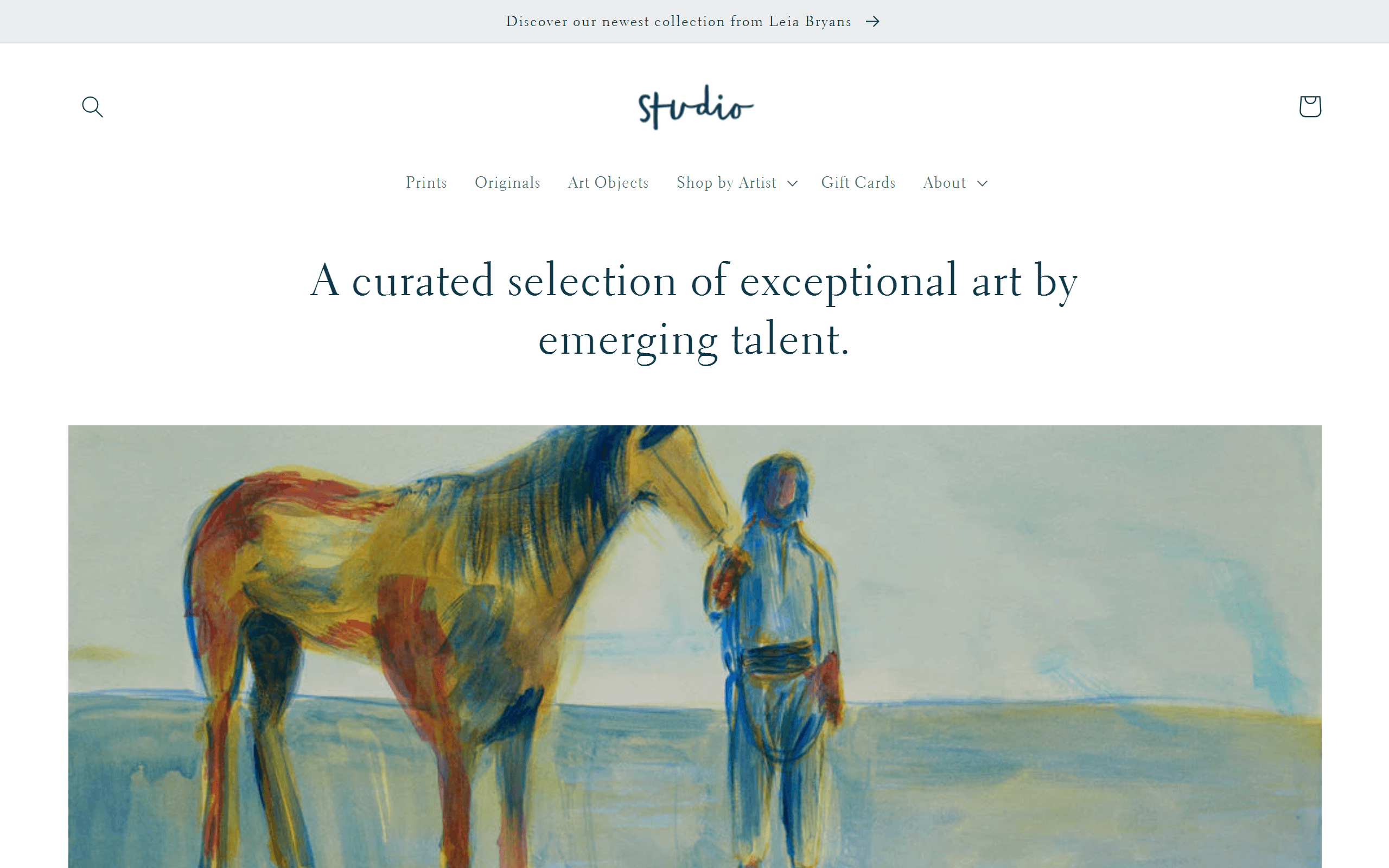 Step into the Studio, a good choice among free themes for Shopify, where creativity knows no bounds! Tailored for the artisans and the innovators, Studio transforms your digital storefront into a canvas of possibilities, making every product feel like a masterpiece in an exclusive gallery.
Key Features:
Collage-style Layouts: Create a mosaic of your offerings, letting each product tell its own tale while complementing the bigger picture.
Integrated Artist Profiles: Spotlight the brains behind the brilliance. Showcase artist bios, stories, and more, building a deeper connection with your audience.
Dynamic Lightbox Feature: A closer look without distractions. Zoom in on product details in a beautifully illuminated pop-up, bringing the nuances to life.
Best for:
Studio is a dream come true for brands that thrive on creativity and artistry. Ideal for art galleries, boutique design studios, or any store that sells unique, handcrafted, or designer pieces.
This is a unique theme that celebrates roots, craftsmanship, and the authentic tales behind every product. It's like flipping through the pages of a brand's personal diary, every pixel giving genuine charm.
Key Features:
Storytelling Layout: Craft a narrative around your products. Use integrated blog features, timelines, and more to tell your brand's unique tale.
Hand-drawn Elements: Add a personal touch with custom sketches, signatures, and doodles that make your store stand out from the digital crowd.
Craftsman Spotlight: Highlight the artisans, craftsmen, and creators behind each product, forging a deeper bond with your customers.
Best for:
Origin is tailor-made for brands that wear their heart on their sleeve. From indie crafters and local artisans to brands with a rich legacy or heritage, if your products have a tale to tell, Origin is among Shopify templates free for use that ensures it's narrated beautifully.
12. Craft (Free)
This is a theme where every pixel is hand-stitched with love and precision! It doesn't just display products; it knits together an artisanal experience that makes your store feel as cozy as a handwoven blanket on a chilly evening.
Key Features:
Material Showcase: Highlight the raw materials and processes behind your products, adding depth and authenticity to every item.
Maker Profiles: Shine a light on the creators, their journey, and their passion, creating an emotional bond with your shoppers.
Interactive Workshops: Integrate tutorials, DIYs, and classes, making your store not just a place to shop, but a hub to learn and engage.
Best for:
Craft is the darling of the DIYers, the hobbyists, and all those brands that take immense pride in handcrafted goodness. Whether you're selling bespoke jewelry, homemade soaps, or knitting kits, Craft wraps your products in a digital embrace that feels personal and heartfelt.
You can also check out the WordPress portfolio themes in case you want to show the world your latent!
13. Crave (Free)
The theme that's as attractive as a triple-chocolate cake on a diet day! Designed to whet appetites and tempt even the most discerning of users, Crave transforms your store into a virtual delicacy, leaving visitors hungry for more.
Key Features:
Taste-First Design: With rich visuals and mouthwatering layouts, products aren't just displayed; they're served up on a silver platter.
Interactive Recipe Integration: Pair your gourmet products with drool-worthy recipes, turning shoppers into loyal chefs in no time.
Nutritional Info Tabs: For the health-conscious, easily showcase calorie counts, ingredients, and dietary specifics, making shopping a wholesome experience.
Best for:
Crave is a gourmet chef's dream come true. Perfect for specialty food stores, gourmet chocolatiers, or even fine wine and cheese boutiques. If you've got flavors and tastes that are out of this world, Crave ensures your customers get a virtual taste they'll never forget.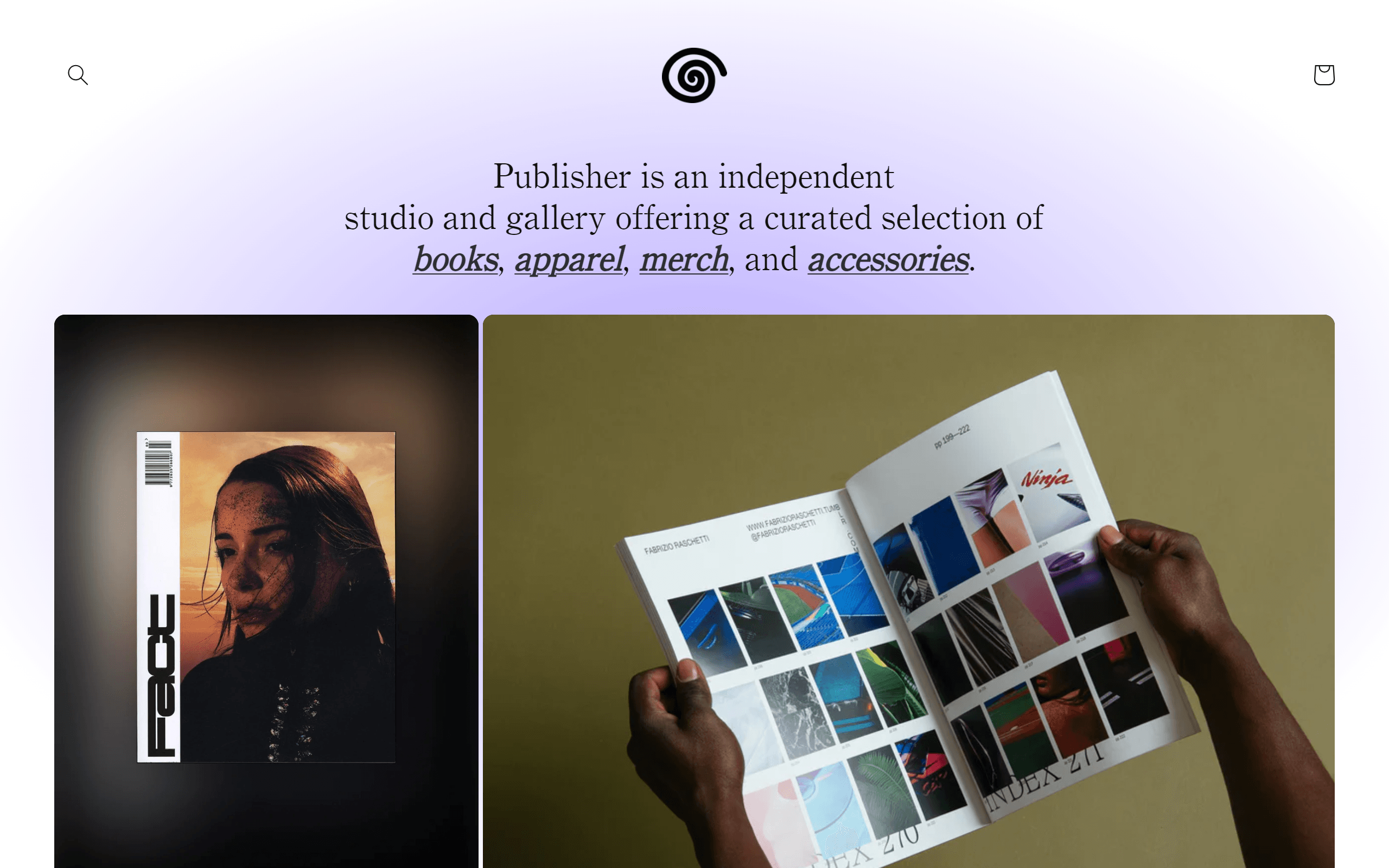 Trust us, this is a theme that speaks volumes! Made for the storytellers and information disseminators, Publisher brings a touch of literary elegance to the digital realm, making sure your content is not just read, but truly experienced.
Key Features:
Dynamic Article Layouts: Showcase your write-ups, blogs, and stories in layouts that are as compelling as the content itself.
Bookshelf Display: Perfect for online bookstores, display your collection in a virtual bookshelf that'll have bibliophiles swooning.
Integrated Reviews and Comments: Let your readers share their thoughts, feedback, and rave reviews, turning your site into a bustling hub of literary discussions.
Best for:
Publisher is the pen stroke of genius for authors, online bookstores, publishers, and even digital magazines. If your brand thrives on words, stories, and the magic of narratives, this is the perfect choice.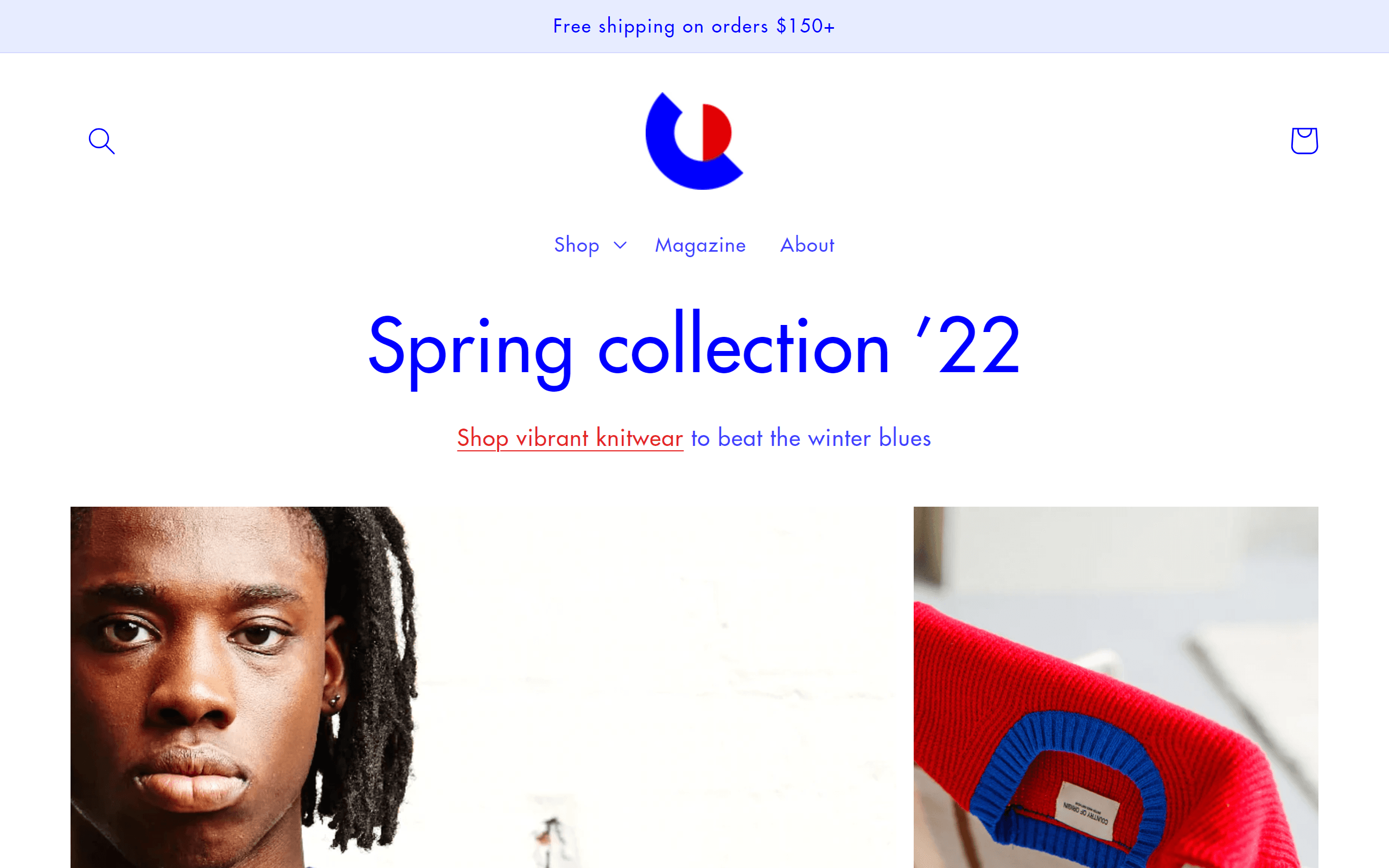 Bold, vibrant, and unapologetically colorful, this theme turns your online store into a canvas of creativity where products pop and visitors are dragged to stay.
Key Features:
Segmented Display: Organize your products in visually striking blocks, each with its own unique color palette, making browsing a visual treat.
Dynamic Color Schemes: Effortlessly match product categories or collections with specific hues, setting the mood just right.
Interactive Hover Animations: Engage visitors with delightful color transitions and animations as they hover over products, turning browsing into a playful experience.
Best for:
Ideal for fashion boutiques, art supplies, or any brand with a colorful array of offerings. If you believe in living life in technicolor, Colorblock is your digital paintbrush of choice.
Wrapping Up
Your website is the window to your brand's soul, and having a design that's both visually delicious and functionally fabulous is no longer a luxury— it's a must.
So, go on, and explore these captivating Shopify themes we've lovingly laid out for you.
Explore their features, feel their aesthetics, and pick the one that resonates with your brand's heartbeat.