Tired of your clothing store website not pulling in sales like it should?
The design could be to blame.
When it comes to fashion, it's not just about the clothes - it's about showing them off in a way that makes customers want to hit "Buy". Some websites do this way better than others!
The good news is, you don't need design skills to make your store a success online. We've found Shopify themes that do all the work for you.
One of these theme picks will take your store to the next level without much effort.
So check them out - you could be missing out on sales by not shining online!
🛍️ What Makes a Shopify Theme Great for Fashion and Clothing Brands?
For online clothing stores to be successful, the Shopify theme needs to look good and be easy to use.
The theme should clearly show what the brand's style is. Since fashion is all about how things look, having nice, clear pictures is super important. Everyone should like looking at the pictures.
Many people shop using their phones or tablets, so the theme needs to work well on those devices too. It should let shopping be simple no matter what device you use.
Brands want to tweak the theme to make it their own unique style. It's also good if the Shopify fashion themes load fast, are simple to navigate, and help people find the store easily.
Basically, a theme that looks nice, has clear pictures, works on all devices, can be changed up, and runs smoothly is perfect for clothing stores using Shopify.
📌 How We Picked the Best Shopify Fashion Themes
When choosing a Shopify theme for a fashion store, there are a few key things we considered:
Presentation: Fashion is all about visuals, so the theme needs to really make those product photos and styles pop. Dynamic grids, zoom features, etc are your friend here.
Responsiveness: You'll want a theme that looks good on any device like phones, tablets, laptops. People shop from anywhere these days so fluid responsiveness is a must.
Customization: As a fashion brand, you'll likely want to tweak colors, fonts, layouts to match your unique aesthetic. Look for themes with solid customization options.
Quick Checkout: Nothing kills sales more than a frustrating checkout. Make sure your theme has sleek, simple checkout flows to keep buyers in buying mood.
Sections: Good themes will let you showcase different categories, new arrivals, sales, outfits of the day - whatever helps promote your gear.
Speed: Slow themes make for slow shops. Speed is important for fashion so go for lightning-fast options.
🤝 Why You Should Trust Us
We're one of the fastest growing theme companies on the Shopify marketplace. Since starting last year, we've made 7 premium themes that have been downloaded over 3000 times total.
Many of our themes are often at the top of the popularity and sales lists on the Shopify theme store. We focus on making high quality, well designed themes for online sellers.
As a new company, we use the latest styles and coding techniques. This helps make your store fast, secure, and good at getting people to buy. We test our themes a lot to make sure they work on all devices and browsers.
Making customers happy is our top priority. We offer great support after people buy and regularly add new features based on feedback.
Lots of successful stores already use our themes, so you know your business will be in good hands. The growing number of users and sales shows we're dedicated to creating beautiful, fully-functional themes for Shopify.
So you can totally trust us in this field!
Best Shopify Fashion Themes
1. 🏅Our Pick - Berlin
Berlin doesn't just look fast, it is fast. A quick store means happier customers.
Theme Features:
More Languages: Want more shoppers? Berlin translates to English, French, Italian, German, and Spanish.
Night Shopping Mode: Make visitors feel cozy. The dark mode reduces eye strain so people shop longer, like browsing a luxury boutique at night.
Showcase Products: No matter if it's a slider or close-up product view, Berlin makes sure your items look tempting to buy.
Handy Tools: From a speedy "quick view" to gallery options and a big menu, Berlin has lots of tools. It's not just the best Shopify theme for clothing, it's made to seriously boost sales.
Price: $320
Why is Berlin Our Top Pick?
The Berlin theme has a clean and modern look that is pretty easy on the eyes. The white background makes products really pop on the site. It feels light and bright without being too plain. At the end of the day, it creates a clean looking shop that's easy to set up and customize without a ton of hassle.
Monaco isn't just one of the Shopify fashion themes; it's an experience. A statement. Made especially for brands that believe in nothing less than perfection. When you want your products to not just be seen, but FELT – Monaco steps in.
Theme Features:
Full-Screen Magic: We're talking about a total immersive experience. Your customers will feel, see, and almost touch every product detail. Monaco's full-screen showcases ensure that the product doesn't just occupy a spot, it commands the entire screen. This means your stuff looks fab, be it on a desktop or a mobile.
Gallery Flexibility: One size doesn't fit all. Depending on what you're selling, choose between a slider, an image grid, or even a stacked gallery. And, if your product needs spotlighting, create a product-specific gallery that does justice.
Variety in Product Grids: This isn't just a grid; it's an artwork. Play around with up to 250 photos to make grids that pop. Mosaic, tiled, structured - you imagine it, Monaco brings it to life.
Hero Sections That Steal the Show: Branding done right! With Monaco, every visual tells a story, every product pops, and every design element sings in harmony.
Price: $320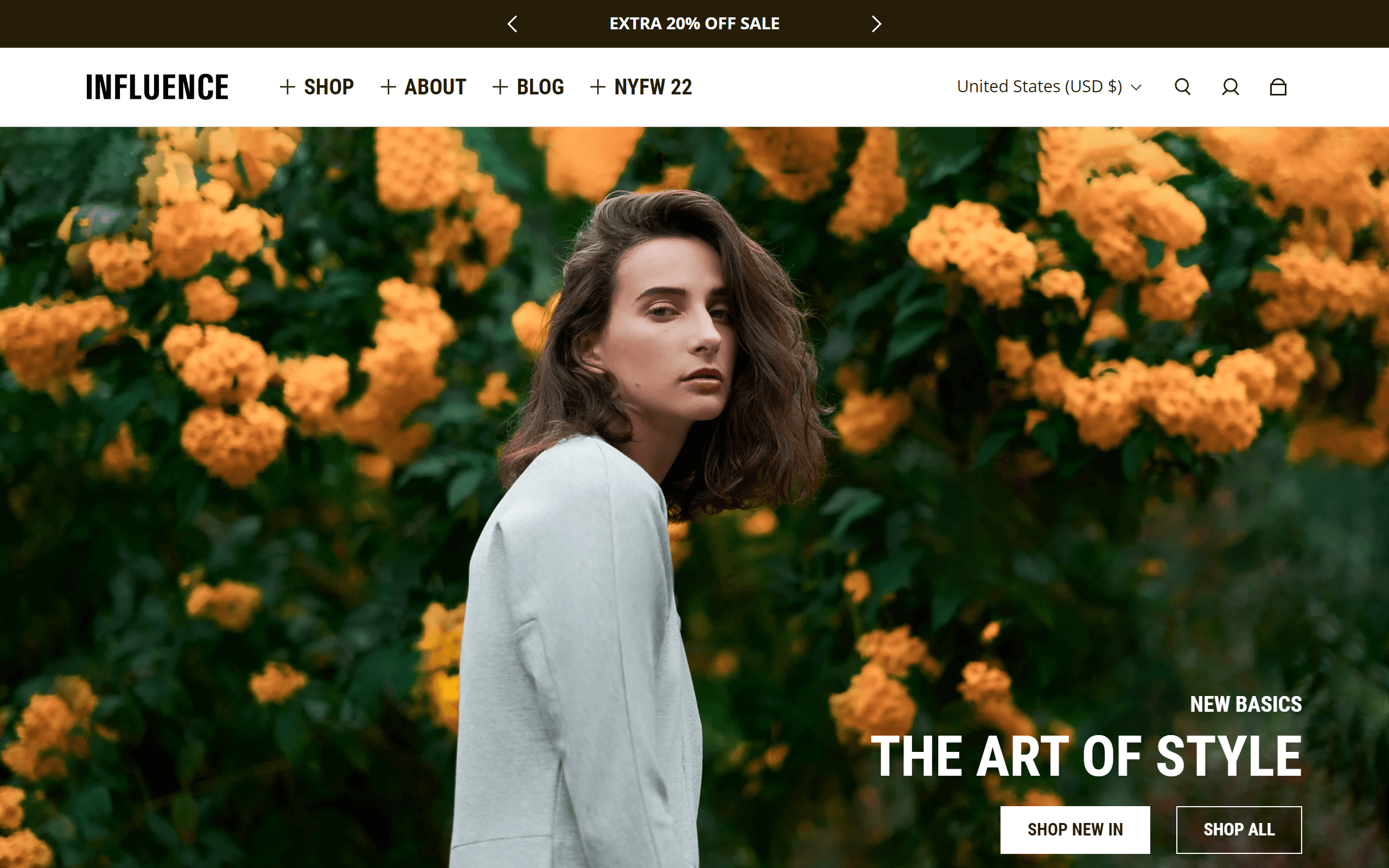 Influence empowers editorial brands through captivating storytelling. Its simplistic style lets your creative visions shine while smart tools seal the deal.
Theme Features:
Color Swatches: Subtly guide customers to choosing the right top or trousers with simple clickable colors.
Quick View: Peak customer curiosity with at-a-glance peeks that unfold minor mysteries into must-haves.
Mega Menu: Browsers on a budget will adore how your immense inventory is neatly organized for easy selection.
Extensive Imagery: Your vision demands the right visual real estate; Inspire customers from lookbook spreads to individual pieces.
Price: $180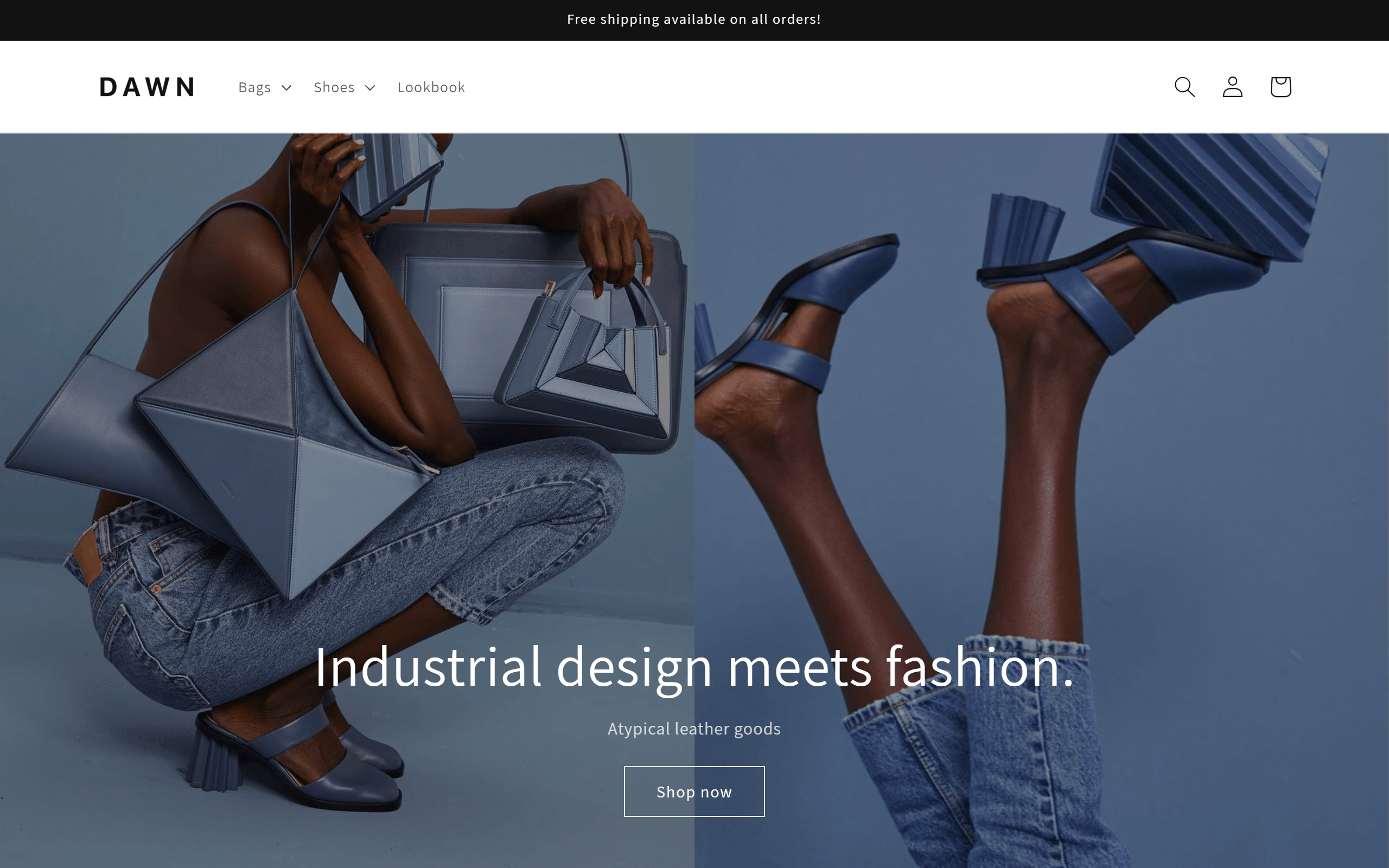 Dawn, as one of the free Shopify themes, lets pictures do the talking with its crisp, minimalist vibes. Large imagery and simplified fonts ensure customers focus on what you're selling
Theme Features:
Zoomed-in Product Pages: Customers can really appreciate your details and fabrics up close.
Mega Menu: Browse your extensive inventory with ease in this neatly organized expanded menu.
Sticky Header: As shoppers scroll, your brand name stays put at the top for added recognition.
Price: Free
5. 🏅Our Pick - Origin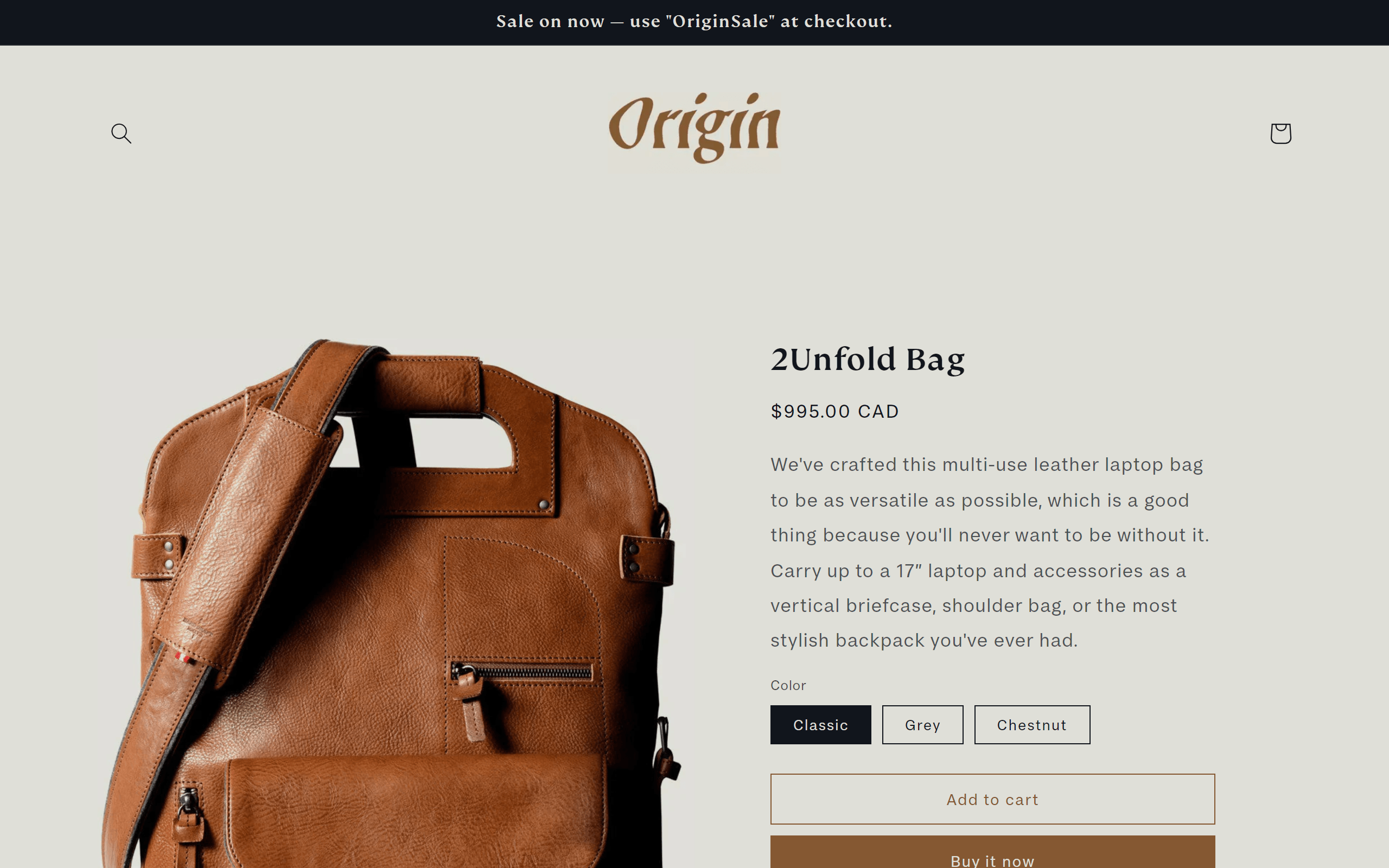 Origin, as one of the popular Shopify fashion themes, was designed to attract thoughtful buyers to handmade goods through a quirky yet sophisticated look. It's one of the perfect Shopify premium themes for independent makers and artisans.
Theme Features:
Mega Menu: Display your diverse inventory neatly organized in this expanded menu.
Sticky Header: As visitors peruse pages, your brand name stays visible at the top.
Stock Counter: Customers love knowing what's in stock so they don't miss out on their find.
Price: Free
Why is Origin Our Top Pick?
Origin makes managing the site a breeze while still looking high-end. It gives off a polished vibe that feels professional without a lot of work behind the scenes. The flexibility means it can work for all kinds of different businesses too. And it's totally free.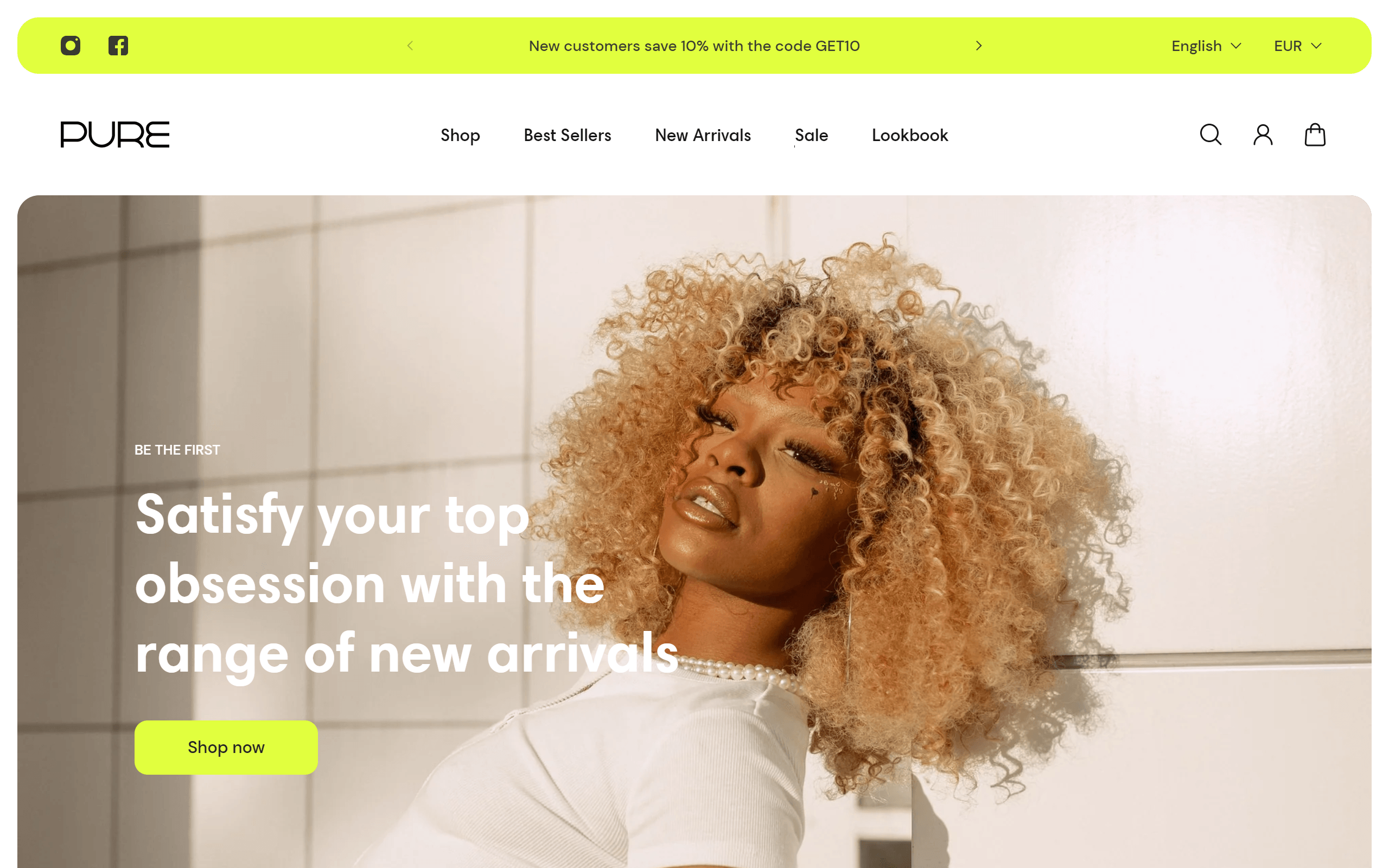 Aurora makes it easy to tweak colors, fonts and more however you please. Change up your whole style or sections for special events. We know how much inspiration can strike randomly.
Theme Features:
Color Swatches: Guiding customers to just the right shades is a breeze with these clickable options.
Multilingual Support: Reach global audiences in their own language with translations for 5 major tongues.
Robust Menus: Entice shoppers with images, videos, and featured items right from your header menu.
Price: $290
Spotlight, as one of the finest Shopify fashion themes, helps you launch faster than a fashion model down the runway with its simple, streamlined styling. Just add your clothing items, post a brief brand intro, and you're good to sell.
Theme Features:
Mega Menu: Display your fashion inventory neatly organized in this expanded menu.
Sticky Header: Keep your fashion shop name visible as visitors browse pages.
Stock Counter: Customers love knowing what fashion items are in stock so they don't miss their find.
Price: Free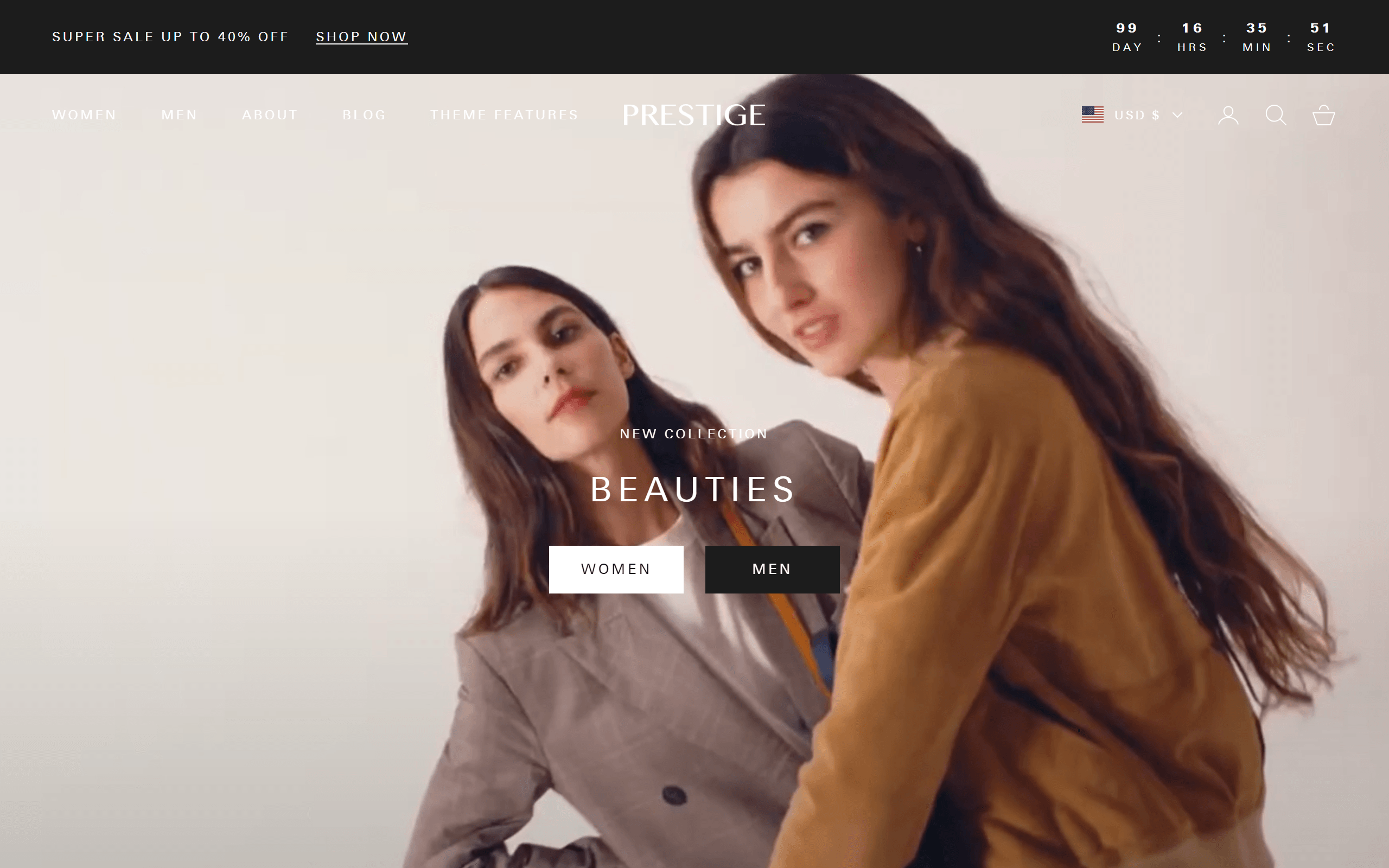 Prestige, as one of the best Shopify themes, is expertly crafted to deliver an ultra-luxe aesthetic that demands attention. Its elegant design highlights your fashion products and brand identity for a maximum "wow" factor.
Theme Features:
Multilingual Support: Reach global fashionistas in their own language with translations for 5 major tongues.
Quick View: Offer convenient virtual try-ons of your finely crafted clothing items without leaving the page.
Stock Counter: Give customers peace of mind knowing what designer fashion pieces are available.
Price: $350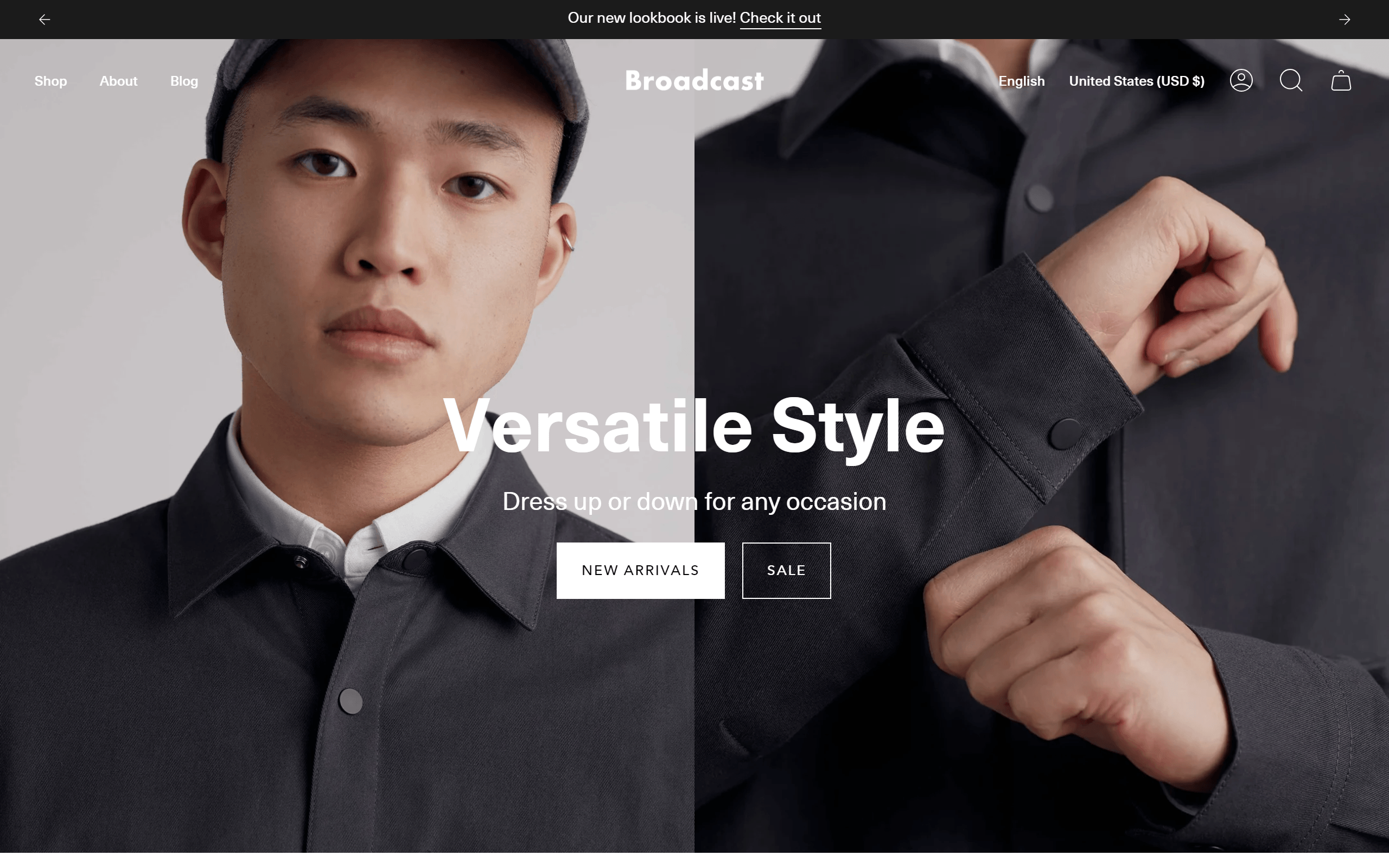 Broadcast, as one of the popular Shopify fashion themes, is perfect for high-volume clothing stores or those wanting an extra kick to drive fashion conversions.
Theme Features
Mega Menu: Clearly display your expansive clothing inventory in this large navigational option.
Multilingual Support: Reach global fashionistas in their preferred languages of English, French, Italian, German or Spanish.
Color Swatches: Help shoppers envision exactly how clothing colors appear to avoid returns.
Price: $360
District is ideal for showcasing featured clothing items and apparel collections with its clean design highlighting imagery above all. The lookbook-style theme lets your fashion products take center stage. It is also considered to be one of the best Shopify themes for clothing
Theme Features:
Color swatches: Help customers envision exactly how clothing colors and fabrics will look.
Mega menu: Clearly display your clothing lines and apparel organized in this expanded navigational option.
Translations: Reach global fashionistas in languages like English, French, Spanish, German and more.
Price: $220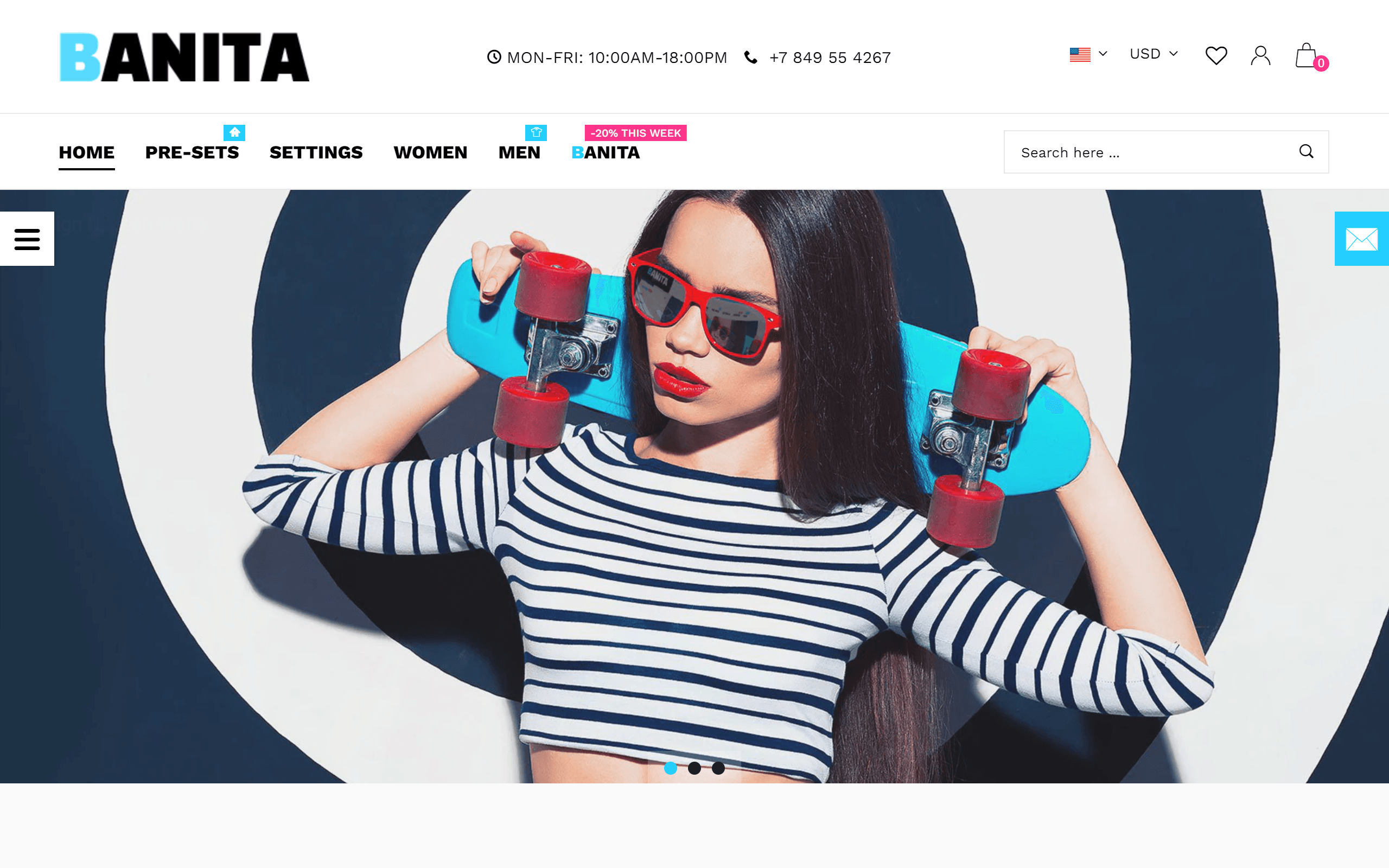 Ever had a wardrobe malfunction right before a big event? That's what picking the wrong Shopify theme feels like for your store. Enter Banita, the little black dress of Shopify themes.
Theme Features:
Speed Assurance: Nobody likes waiting, especially when on a shopping spree. Banita ensures your customers get a speedy shopping experience.
A Customized Header: It's like the statement necklace for your store, making that unforgettable first impression.
Custom CMS & Sections: You know those adjustable waistbands in your favorite pants? This is the digital version. Tailor your content and layout the way you like it!
Price: $57
Warehouse was purpose-built from the ground up for merchants with tons of inventory to display. Its powerful filtering and layout options make browsing huge collections a breeze, and one of the best Shopify themes for clothing.
Theme Features:
Translations: Reach global customers in multiple languages
Stock Counters: Provide inventory transparency at a glance
In-Menu Promos: Feature bestsellers and new arrivals prominently
Price: $320
Best Shopify Clothing Themes
Sydney's clean look lets your items take center stage. Handy tools also encourage more sales, and make it stand out among the best Shopify themes for clothing.
Theme Features:
Go Full Screen: When photos demand space, Sydney satisfies with a full-view option.
Mega Menu for Big Inventory: Tons of stock? Sydney's expanded menu organizes it beautifully.
Sliders for Promos: Sydney helps hustle your deals with attention-grabbing sales strips. Shout on the home page about bargains or how your boutique's the best around.
Price: $320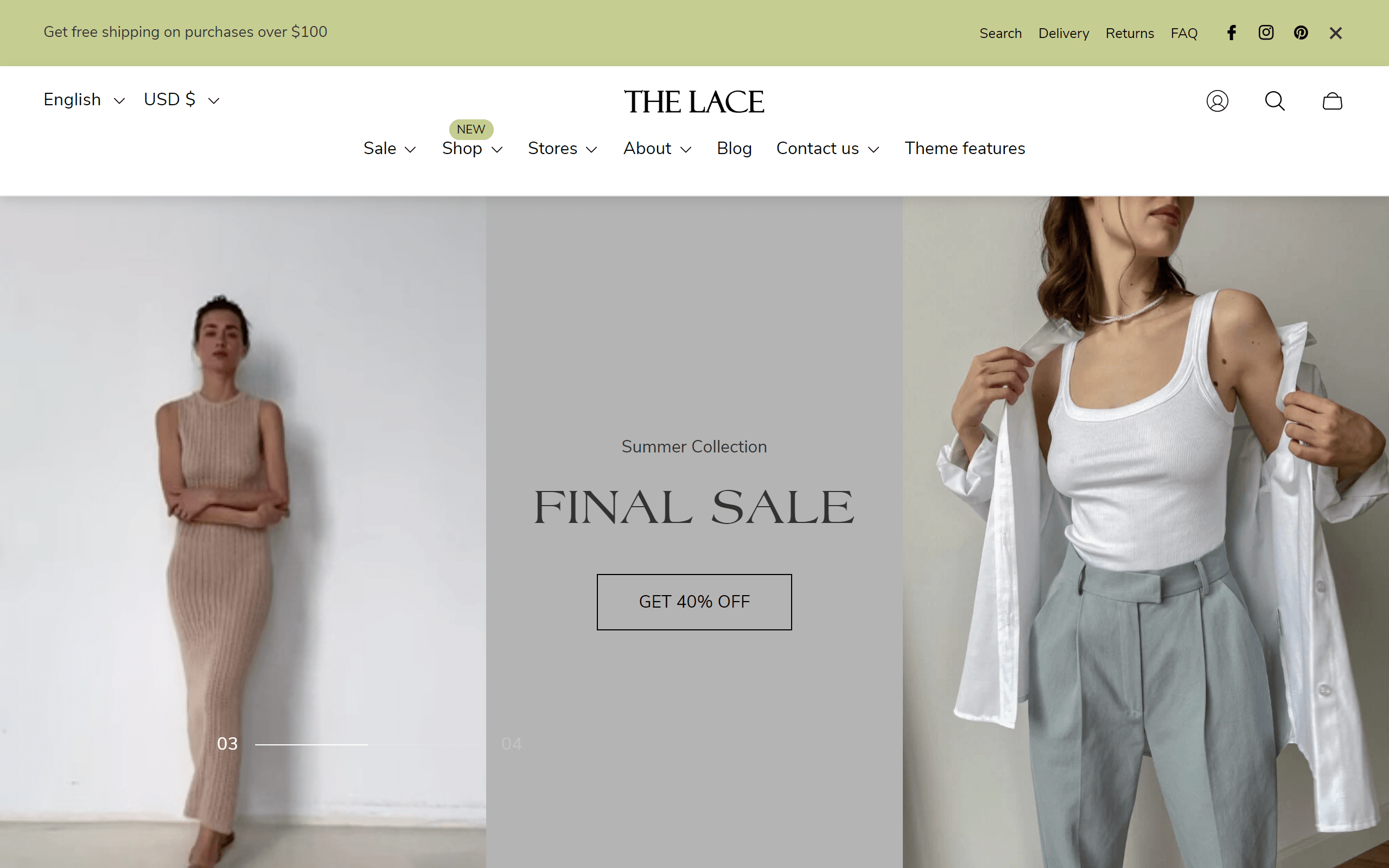 Gain, as one of the best Shopify themes for fashion gives you a fully customizable area for clothing stores without writing any code. Its strong tools let fashion sellers get started quickly and easily.
Theme Features:
Translations: Choose languages like English, French, Spanish, German for customer convenience.
Store Locator: Help customers quickly find your real shop or pickup place for clothing.
Countdown Timer: Make sales feel urgent and limited with promotion timers for clothing.
Price: $260
Be Yours is considered as one of the best Shopify fashion themes. It makes super quick site builds a breeze with its lightning-fast responsive layouts. Its thoughtful designs create intuitive journeys for customers to discover clothing.
Theme Features:
Translations: Reach global audiences with translation options for key languages to purchase clothing.
Store Locator: Help physical clothing store customers find you with interactive maps.
Color Swatches: Let clothing shoppers virtually "try on" different color options for items.
Price: $320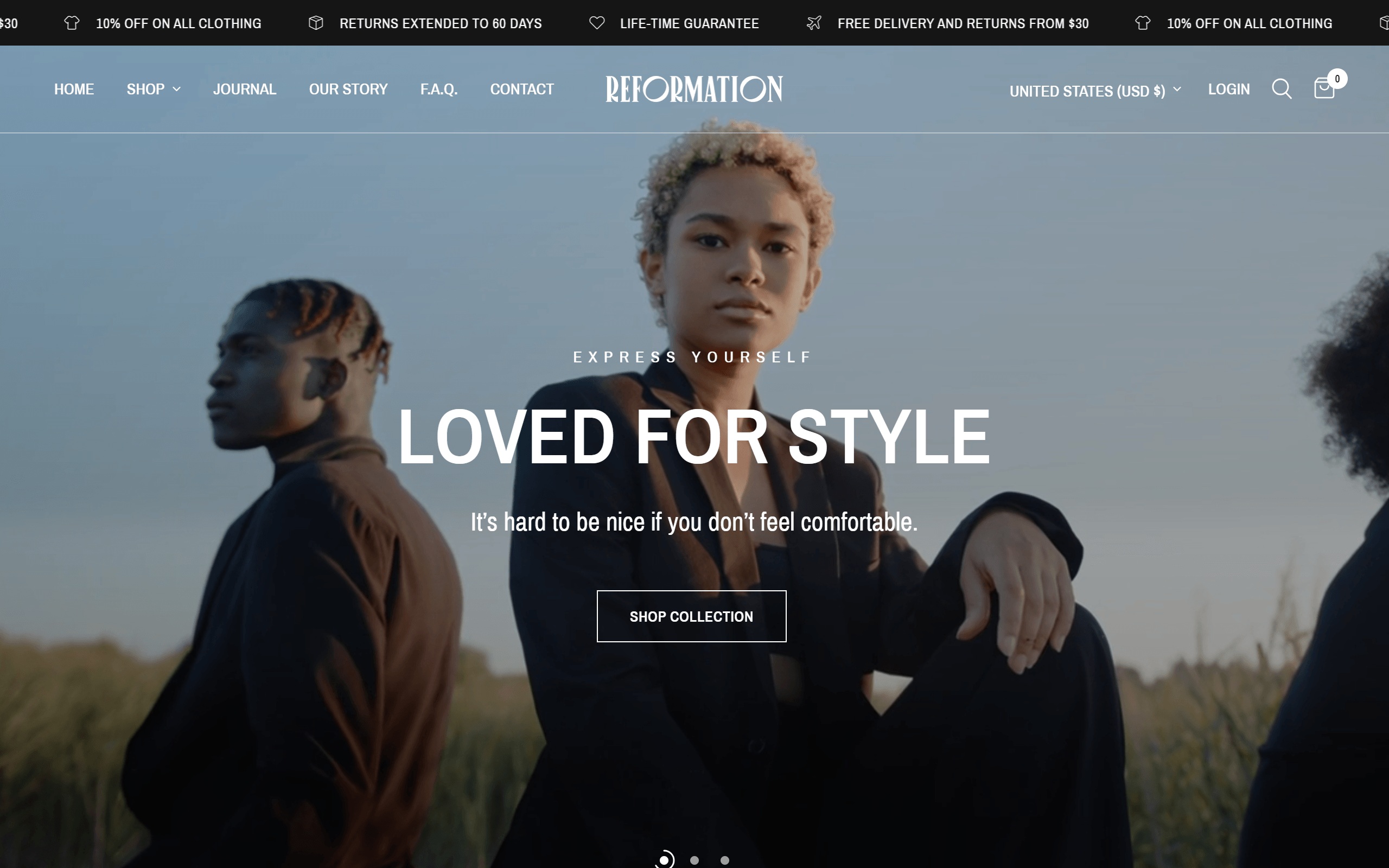 Reformation makes it very easy to show your best photos and brand story. It works great for stores with lots of sales, shops with real stores, and brands that want nice pictures to simply tell their story.
Theme Features:
Languages: With Reformation, more customers can shop using the language they know best.
Quick Peek: This lets shoppers take a quick look at things without leaving the page. It's an easy way for them to look through what you sell.
Color Tiles: Also called swatches, these help customers easily pick different colors for products. They can pretend to try on shades without grabbing anything.
Price: $320
Stiletto, as one of the finest fashion Shopify themes, is great for stores that sell lots of clothing, clothing brands with detailed stories, and small business owners increasing clothing sales.
Theme Features:
Translations: It lets more people shop for clothing in their own language.
Event Calendar: Show upcoming things to bring in clothing friends.
Dynamic Product Pages: Looking at clothing can be more fun.
Price: $340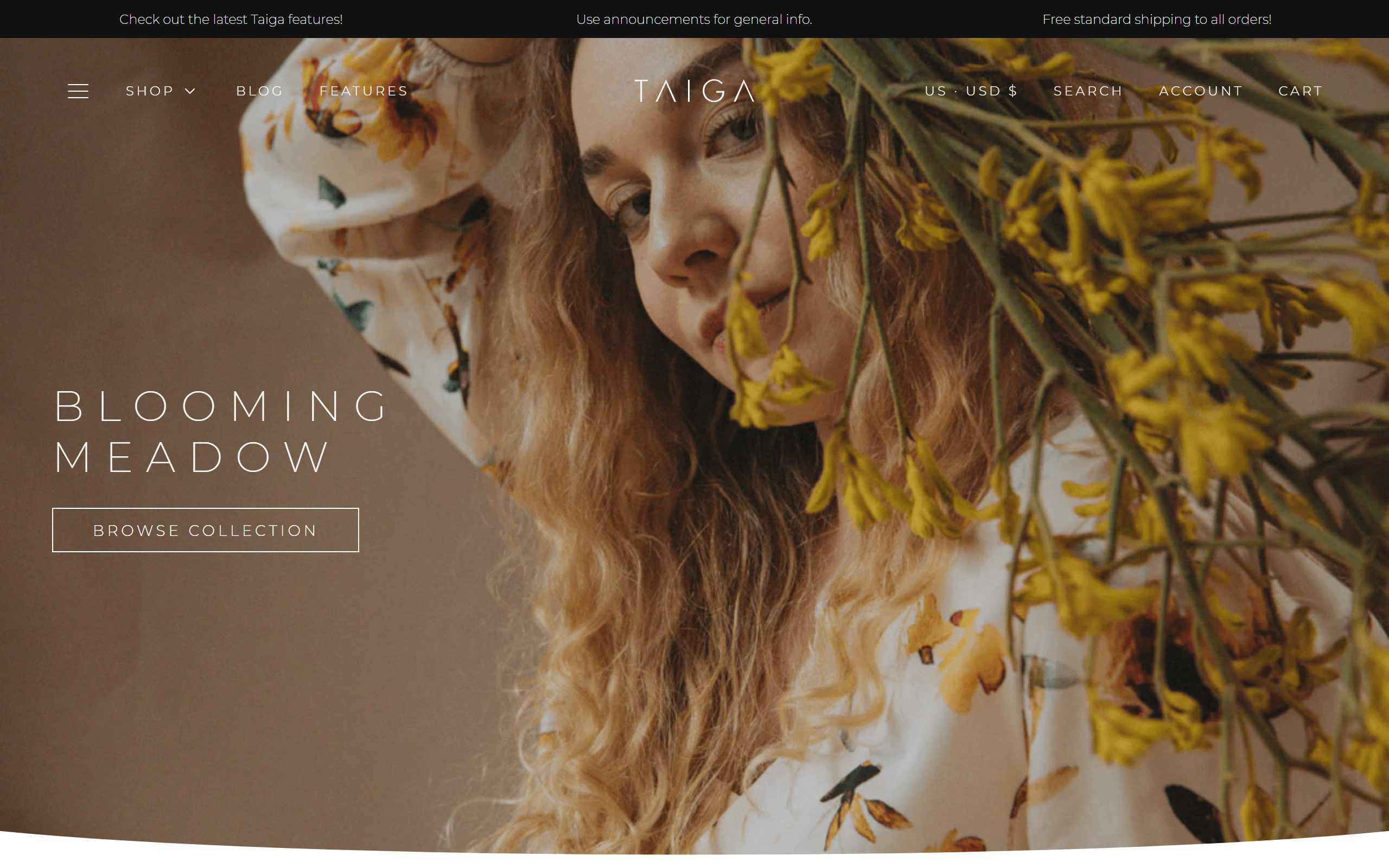 Taiga is known as one of the finest Shopify fashion themes. It was designed to showcase your clothing content beautifully and speedily with over 10 video sections. Its minimalist design and quick setup mean your clothing brand shines through fast.
Theme Features:
Translations: Reach wider audiences shopping for clothing in their native languages.
Quick View: Give clothing shoppers a sneak peek without leaving pages.
Color Swatches: Virtually "try on" clothing shades without picking up.
Price: $350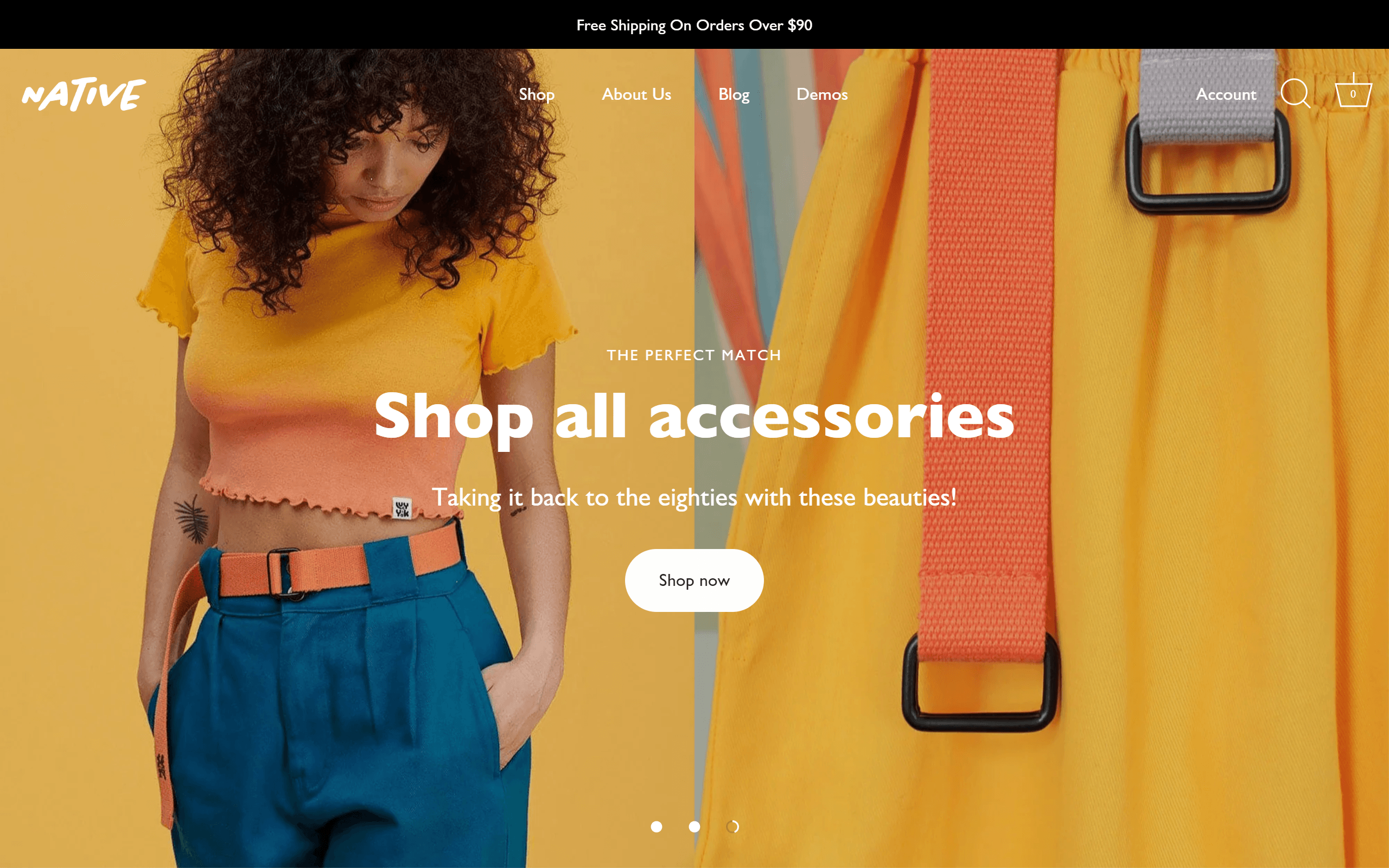 Showcase was made for clothing shops on Shopify. how its clean look and tools help people find your brand on Shopify.
Theme Features:
Translations: Shoppers can see your store in their own language. Then more people worldwide can buy clothes.
Color Pictures: Customers can see what clothes look like in other colors. They don't need the real clothes.
Sections: Use the flexible sections to showcase your fashion brand on nice looking store pages.
Price: $320
Minimog is hands down one of the best Shopify themes out there for fashion and clothing stores. Minimog really stood out to me with their focus on creating amazing online shopping experiences.
Theme Features:
70 Professionally Designed Home Page Layouts: Who has time to design from scratch these days?! You can literally just import one of their pre-made demos and be up and running in minutes.
Built For Speed: They optimize everything under the hood so your site loads super fast on mobile and desktop. Important these days when people have short attention spans!
Mobile Optimized: Let's be real - most of your customers are shopping on their phones. Minimog makes sure the shopping experience remains seamless no matter the device.
Price: $88
Retina has everything you need to showcase your goods in the best possible light.
Theme Features:
Tells Your Story Stylishly: Embellish pages with sophisticated promotional banners, vivid product videos, and polished testimonials. Build brand recognition everywhere.
Popups: Elevate quick-view popups with dynamic options like additional images, size charts, and layered video previews. Give customers complete clarity, quickly.
Designed For Speed: A lightning-fast load time means sleek mobile performance on any device. Shoppers can confidently browse from anywhere, anytime.
Price: $220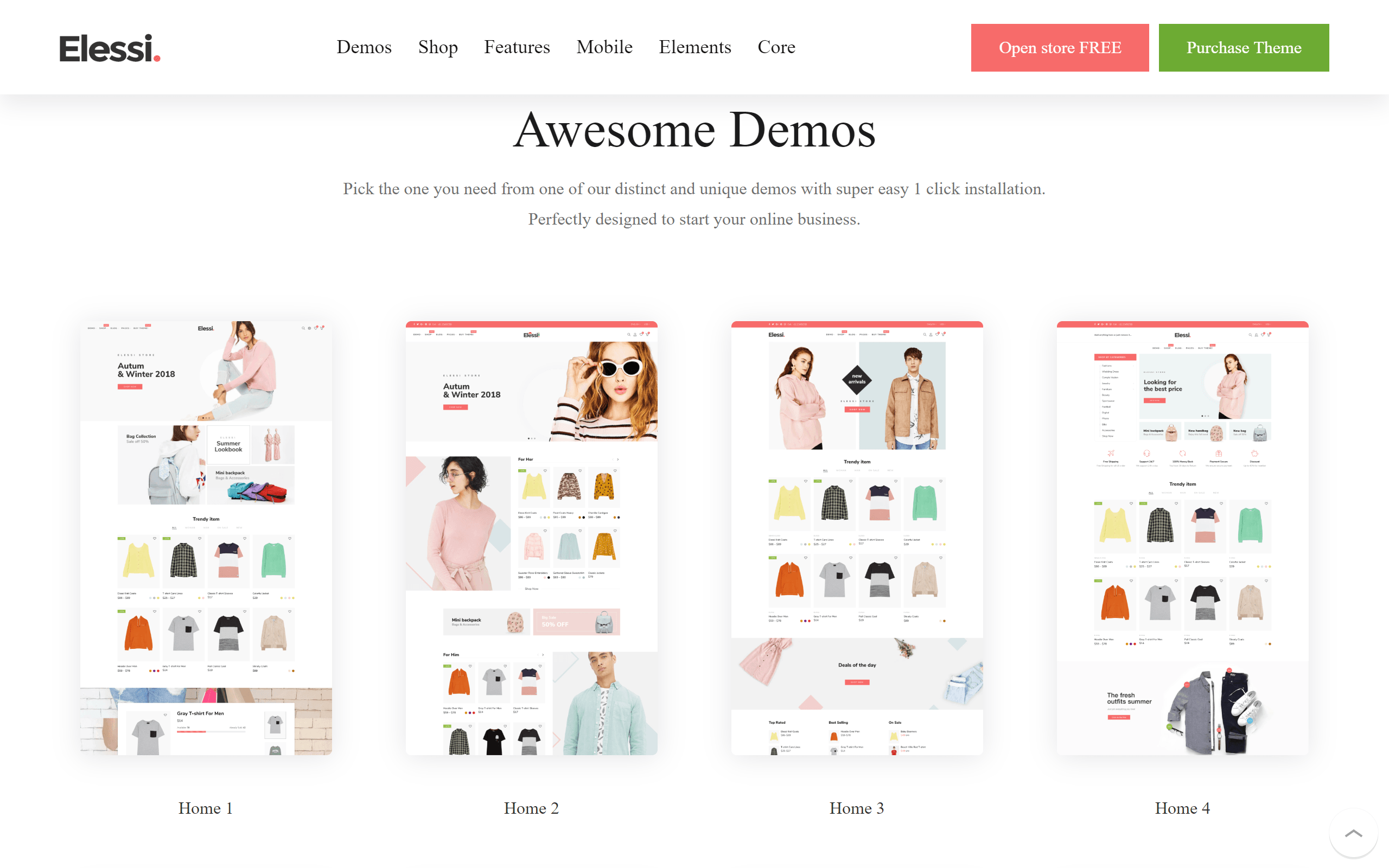 Elessi is one of the most fully-featured and easiest to use.
Theme Features:
Speed Thrills: Lightning-fast load times and flawless responsiveness let you delight shoppers on any device, anywhere. Performance wins ftw.
Customize Every Detail: Tweak colors, fonts, header styles, and more throughout your entire store with the robust theme options panel. Your style rules.
Tier-One Support: Never go it alone with top-notch docs, tutorials, and priority help always at hand from the Elessi trailblazers. Assistance assured.
Price: $99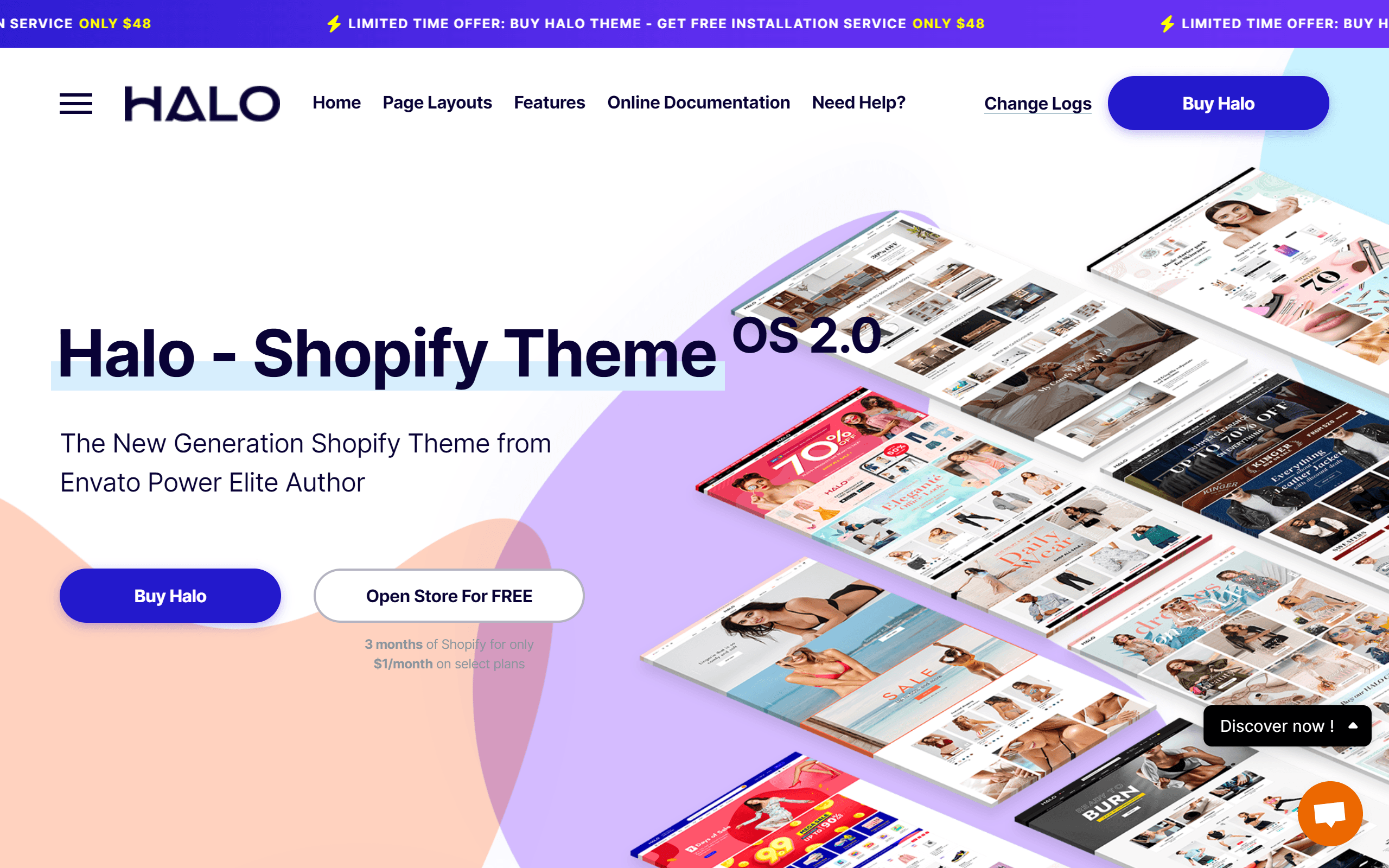 Packed with 15+ stunning layouts and over 47 high-end features, Halo takes a great place among one of the best fashion Shopify themes.
Theme Features:
Multiple Layouts: From homepages to product pages, we've got over 15 layouts. And guess what? More are coming. It's like Netflix, but for design. Binge-worthy!
Shopify OS 2.0: You know that shiny new update everyone's been talking about? Yeah, Halo's got that. Fast loading, better UI/UX, and even ADA upgrades. In tech terms, it's kinda like upgrading from a bicycle to a jet.
Mega Menu Layouts: Because a simple menu is so last season. Show off your collections, blogs, and more in style.
Price: $48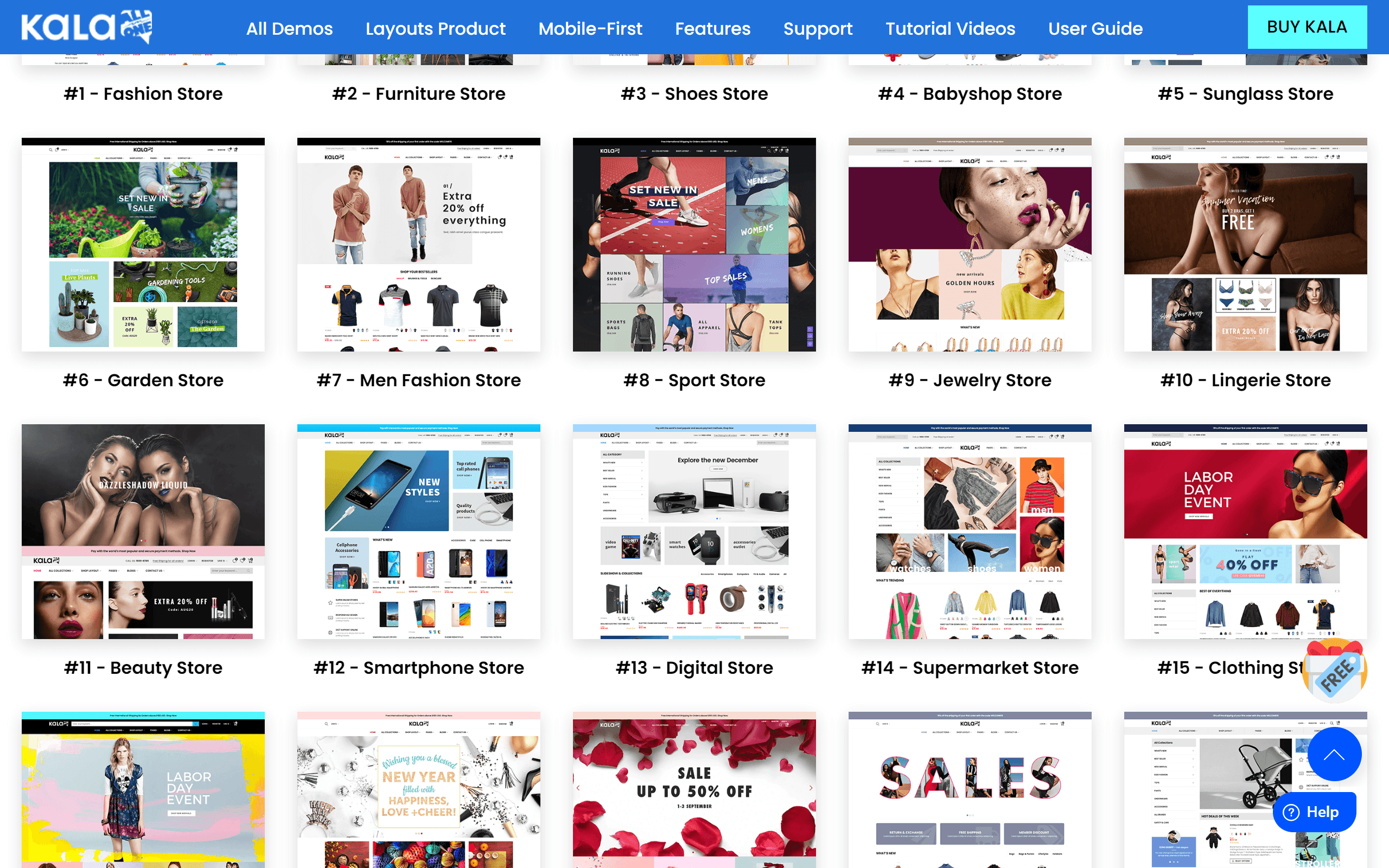 This theme is good because it works fast, was made really well, and lets you change it in lots of ways.
Theme Features:
Different Languages: You can show your store in more than one language like English and French.
Good on Phones: Have you wanted your online store to look as nice on phones as on computers? With Kala, it can. It was made to work well for shopping on phones so you may get more sales that way.
Helps with Google: Kala also works well with Google, which can help more people find your store. It includes things Google likes to help show important details clearly when people search.
Price: $69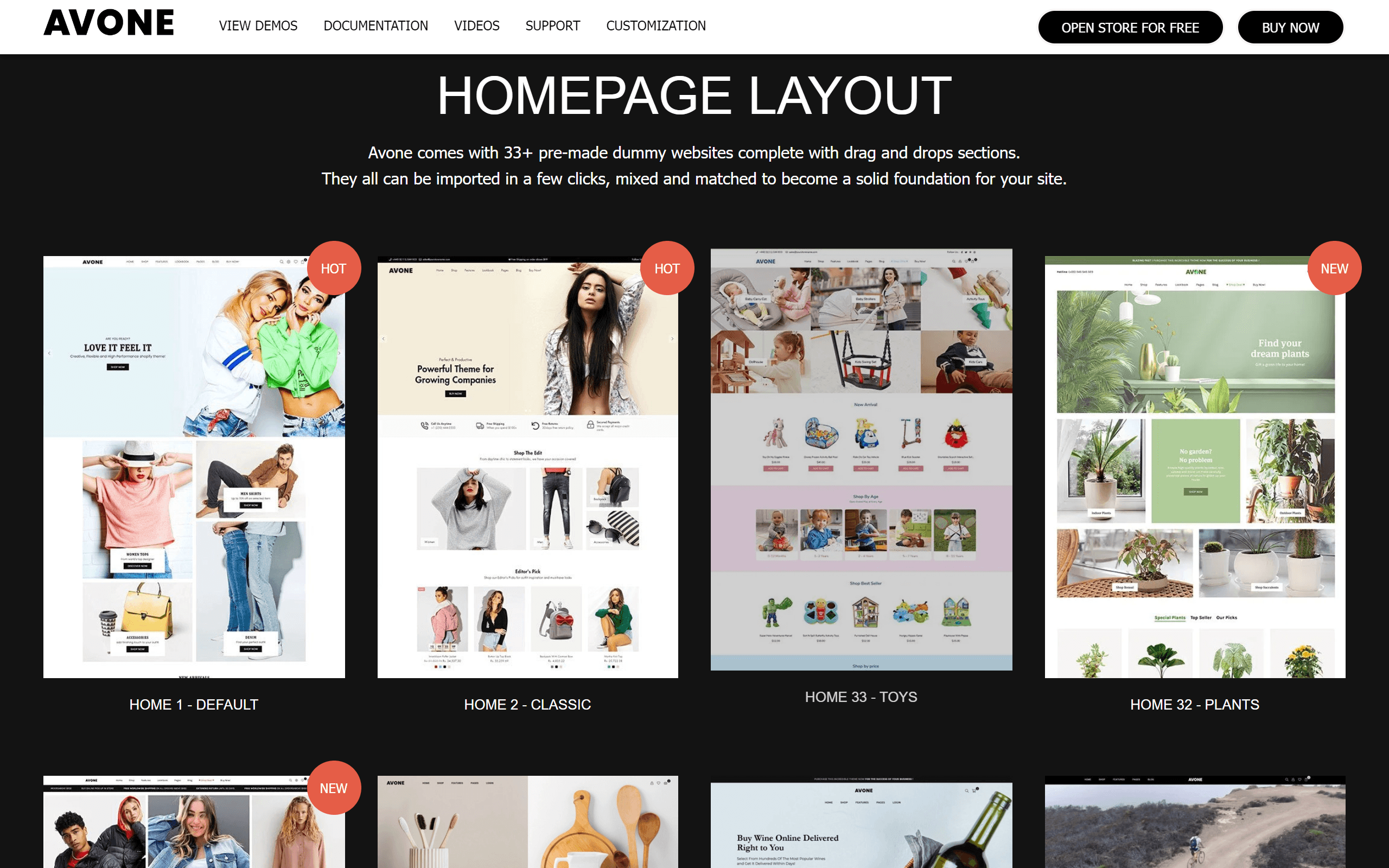 Avone is a highly customizable, multi-purpose Shopify theme designed to help your online store look great and perform at its best. Also, it stand out among one of the best fashion Shopify themes.
Theme Features:
Highly Customizable: Changing colors, layouts, and sections are super straightforward. No stressful hours of tweaking code are needed.
Blazing Fast Speed: Load times are lightning quick so no missed sales from slow sites. Users dig for a speedy shopping experience.
Social Proof: Customers feel more confident buying when they see others love your stuff. Avone has reviews and testimonials built-in for that social proof factor.
Price: $79
Dressed to Kill
Having an online clothing store is like picking outfits. The right look makes everything shine!
Your Shopify themes for clothing act as the front window for your store online. It must look good and also let people shop easily.
We found Shopify clothing themes that do both well. Each one is like its own unique outfit - made for different brand styles. By choosing a theme styled for you, it helps your store succeed. So look through our theme picks now. Finding the perfect fit will really make your brand stand out.
Pick the clothing Shopify theme that passes your vibe check.
Dressing your store in just the right virtual outfit opens the door to more sales and customers.