Theme Want a store that actually sells?
Here's a little secret - your theme does more than just decorate pages. It's a salesman in code, converting curious browsers into loyal buyers.
Tired of guessing which of the Shopify premium themes speak your language? We did the listening for you. Now you can stop stressing and start selling - because these premium partners pack punchy profits in every line of code.
Who are you waiting for to try it out?
📌 How We Picked the Best Shopify Premium Themes
With over a hundred to sift through, we had to be picky. Here's what mattered to us:
Design: We wanted only top-notch, professional designs. No amateur vibes allowed!
Functionality: It had to work smoothly on both PC and phone. Every step, from browsing to buying, needed to be bug-free.
Speed: Quick loading times were a must. We did some speed checks to be sure.
Tweaking: Even for free themes, we wanted some customization wiggle room, like changing colors or fonts.
After all that digging, we narrowed it down to 25 cool premium themes. If you're ever hunting for themes, hope our checklist helps!
🤝 Why You Should Trust Us
We started our theme development studio in May 2022 and our dedicated team has since created 7 quality Shopify themes that have been downloaded over 3000 times by merchants.
Many of our themes rank highly on the Shopify Theme Store thanks to their user-friendly designs and focus on increasing sales.
As a new business, we understand how important it is to make themes that present stores professionally across devices and browsers while assisting sales. Extensive testing ensures themes meet expectations.
Supporting customers is also core, as we want merchants using our themes to feel supported. We regularly update themes based on user feedback.
The success of stores using our themes shows our commitment to providing high-value products. Our goal is helping more stores thrive through well-designed themes.
So in summary - as a new studio passionate about themes, you can trust we offer expertise to meet their needs!
25 Best Shopify Premium Themes & Templates
Berlin's refined dark style draws customers in without straining eyes. Its moody yet sophisticated design makes stores stand out in ever-changing Berlin.
Key features:
Versatile Sections: Showcase products through diverse sections perfect for galleries, collections, and more.
Power-Packed Functions: Essentials like quick view and advanced filters for an optimized browsing experience.
Ultra-Fast Performance: Incredibly lightening-quick loads keep customers engaged.
Best for: Berlin is ideal for fashion and accessory boutiques, lifestyle brands, jewelry/home goods stores, and creative studios. The versatility suits various stylish shops.
Price: $320
Sydney is one of the best Shopify themes from Apparent Collective known for its minimalist and captivating dark mode design. It focuses on telling brands' stories and simplifying the shopping experience to help customers find exactly what they need.
Key Features:
Endless Section Varieties: Showcase your brand through a wide range of exceptional sections that drive engagement.
Advanced Features to Sell More: Includes quick view, countdown timers, and more to help convert shoppers
Effortless Dark Mode: Immerse visitors in a soothing dark experience that reduces eye strain.
Best for: Sydney is ideal for high-volume fashion stores, visual storytellers, and physical/online accessories brands. Its customization suits various niches.
Price: $320
3. 🏅Our Pick - Monaco
Monaco is a premier luxury Shopify theme from Apparent Collective known for its refined dark mode and sophisticated design aesthetic. The theme aims to transform online stores into upscale shopping destinations on par with high-end boutiques.
Key Features:
Night Shopping Toggle: Simple mode switches foster relaxed sessions.
Diverse Section Powerset: Flaunt your personality through exceptional high-end sections.
Fullwidth Product Showcase: Exude sophistication through lavish single-product displays.
Best for: Monaco excels at attracting and converting discriminating clientele interested in exclusive, high-quality products. The sophisticated design lends instant prestige to brands in the luxury marketplace.
Price: $320
Why is Monaco Our Top Pick?
This theme has such a polished, refined vibe that just screams luxury. With its toggleable night shopping mode, it's so relaxing to browse. At $320 it's definitely an investment, but for high-end stores we think it'll pay off tenfold with the automatic reputation boost.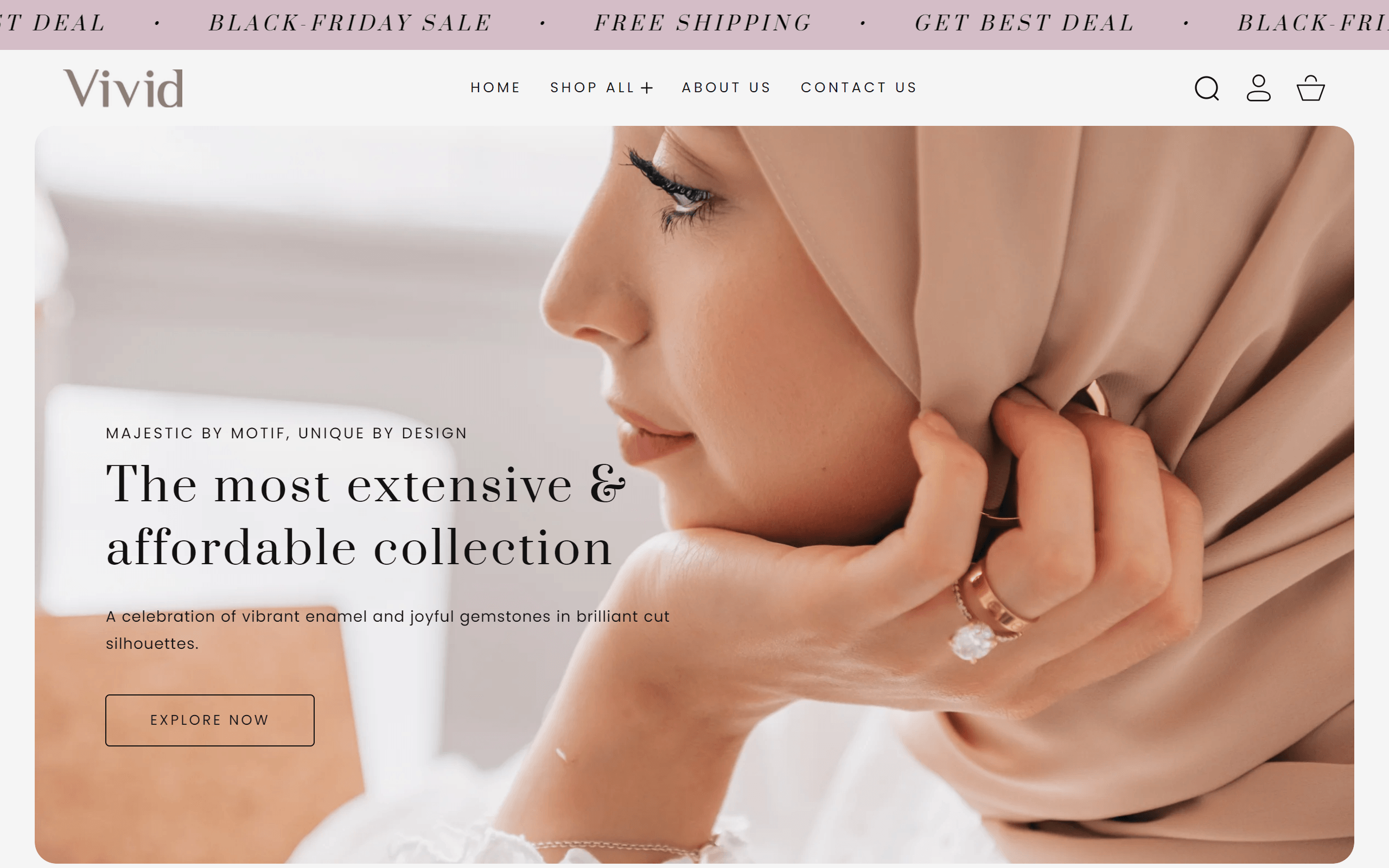 Meet Vivid, a theme that helps online shops look super cool. It's like giving your shop a fresh coat of paint, making it stand out in a crowd.
Key Features:
Looks Amazing: Vivid helps your online shop look unique. It's like putting on a fancy outfit that turns heads.
Easy Set Up: With Vivid, starting your shop is a breeze. No confusing steps.
Made for Sales: Planning to have flash sales? Vivid has your back. It's built for time-based promotions.
Best for: Anyone who wants their online store to look cool and tell a story. Especially if you love sharing lots of photos and stories about your products.
Price: $200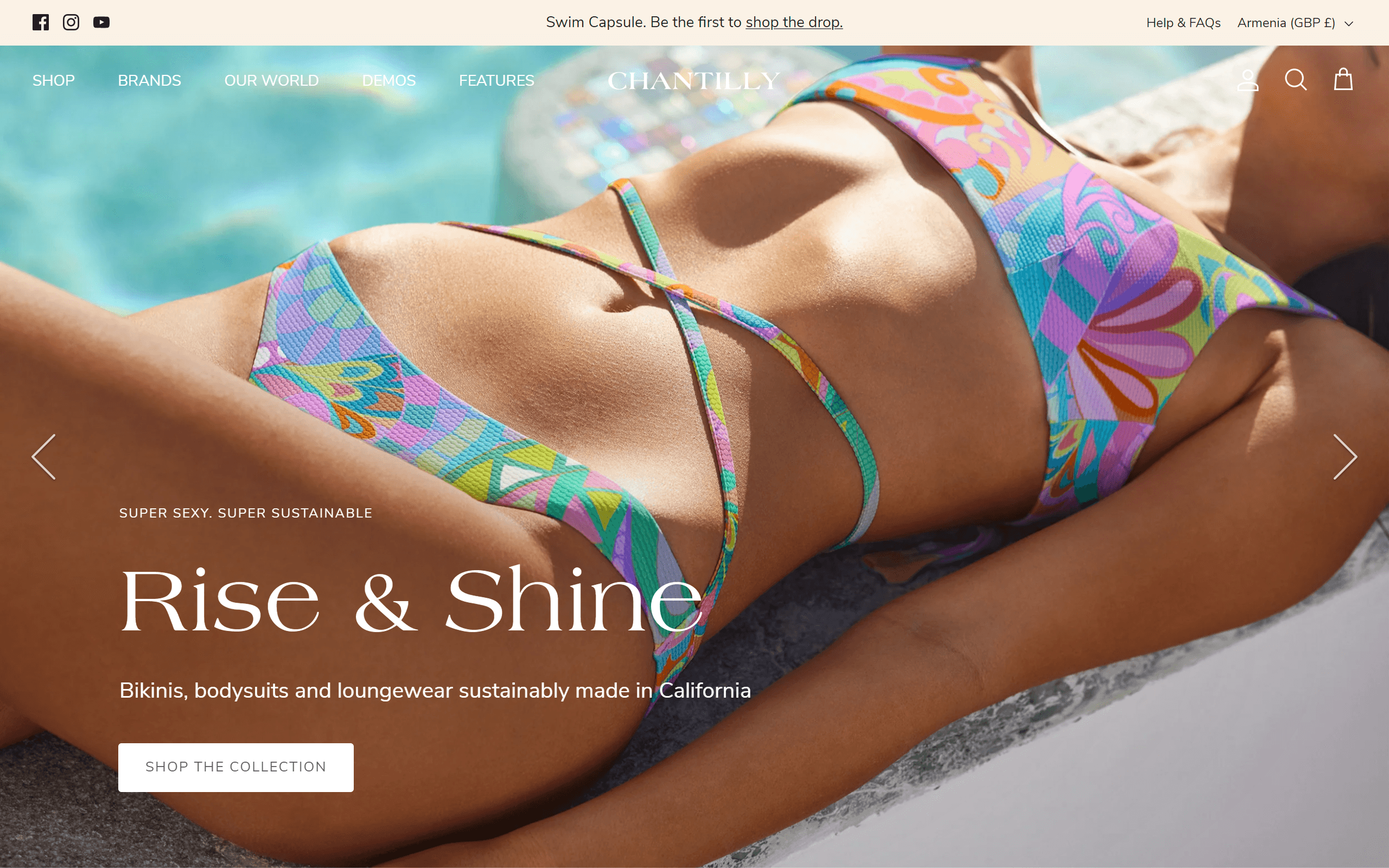 Created by folks who've been making one of the best premium Shopify themes for over a decade, Symmetry is here to make your online shop pop and help your sales soar.
Key Features:
Stand Out Design: It's not just one of the Shopify premium themes; it's an experience. With Symmetry, you're getting a design made by top pros in the Shopify world.
Helps Make Sales: It's got some neat tools to help your buyers decide faster and, well, buy more.
All About Pictures: Got cool pictures or stories to share? Symmetry is perfect for that, letting you show off in style.
Best for: If you've got a shop that's buzzing with sales or a physical store that you want to take online, Symmetry is your buddy. It's also a dream come true for those who want to tell their brand's story through pictures.
Price: $340
Why is Symmetry Our Top Pick?
These guys have been crushing it in the Shopify theme game for over 10 years, so you know the quality is there. With Symmetry, you're getting a design from true professionals. But it's not just about how it looks - this theme really helps increase sales too.
Handmade is one of the perfect premium Shopify themes for artisans looking to showcase their talents.
Key Features:
Unleash Version 2.0 Power: Includes everything from mega menus and popups to image sliders and countdowns.
Jump-Start with Demos: Get started fast with pre-built demos that highlight Handmade's endless possibilities.
Supercharge Your Store: Quick view, search features, slideouts, and more - it's all included to boost sales
Best for: Handmade is perfect for makers, crafters, artists, and other creatives selling unique homemade or handcrafted goods. The theme excels at presenting custom or limited-run items through strategic imagery and storytelling about the creative process. Its quick setup also makes Handmade ideal for new shops launched by independent creative businesses and studios. Whether you sell jewelry, ceramics, art prints, fabrics, or other specialty wares, Handmade provides a polished platform to attract customers interested in supporting artisan goods.
Price: $320
Pipeline was designed specifically to empower creative merchants looking to tell compelling product stories through imagery and style.
As soon as customers land on a site using Pipeline, they are immersed in a high-impact visual experience tailored around each individual collection. Giant hero images set the scene, while filtered galleries allow browsing entire lines with a single click.
Key Features:
Colorful Filters: Customers can find items effortlessly with advanced color/tag filters.
Blog Integration: Share your brand story and expertise through a content-rich blog
Multilingual Support: Translations for English, French, German, Italian and Spanish riders
Best for: For fashion, jewelry, and artsy product stores, Pipeline delivers all the tools needed to showcase collections to their fullest potential. It's a top choice for visual storytellers!
Price: $360
Portland is one of those premium Shopify themes that really takes your site to the next level. Developed by Superfine Digital, these guys have been in the theme design game for over a decade and really know their stuff.
Key Features:
Before/after image sliders: Sell the lifestyle with your products by showcasing them in action. These sliders are hugely engaging for customers.
Dark mode: Make your site available to customers 24/7 with a sleek dark theme that's easy on the eyes at any time of day.
Extensive customization: Whether you want to rearrange sections, add new ones, or change up the styling, Portland is fully editable without any coding needed.
Best for: These features make Portland perfect for high-volume stores, physical retailers, and anyone wanting to use visuals to tell their brand story.
Price: $320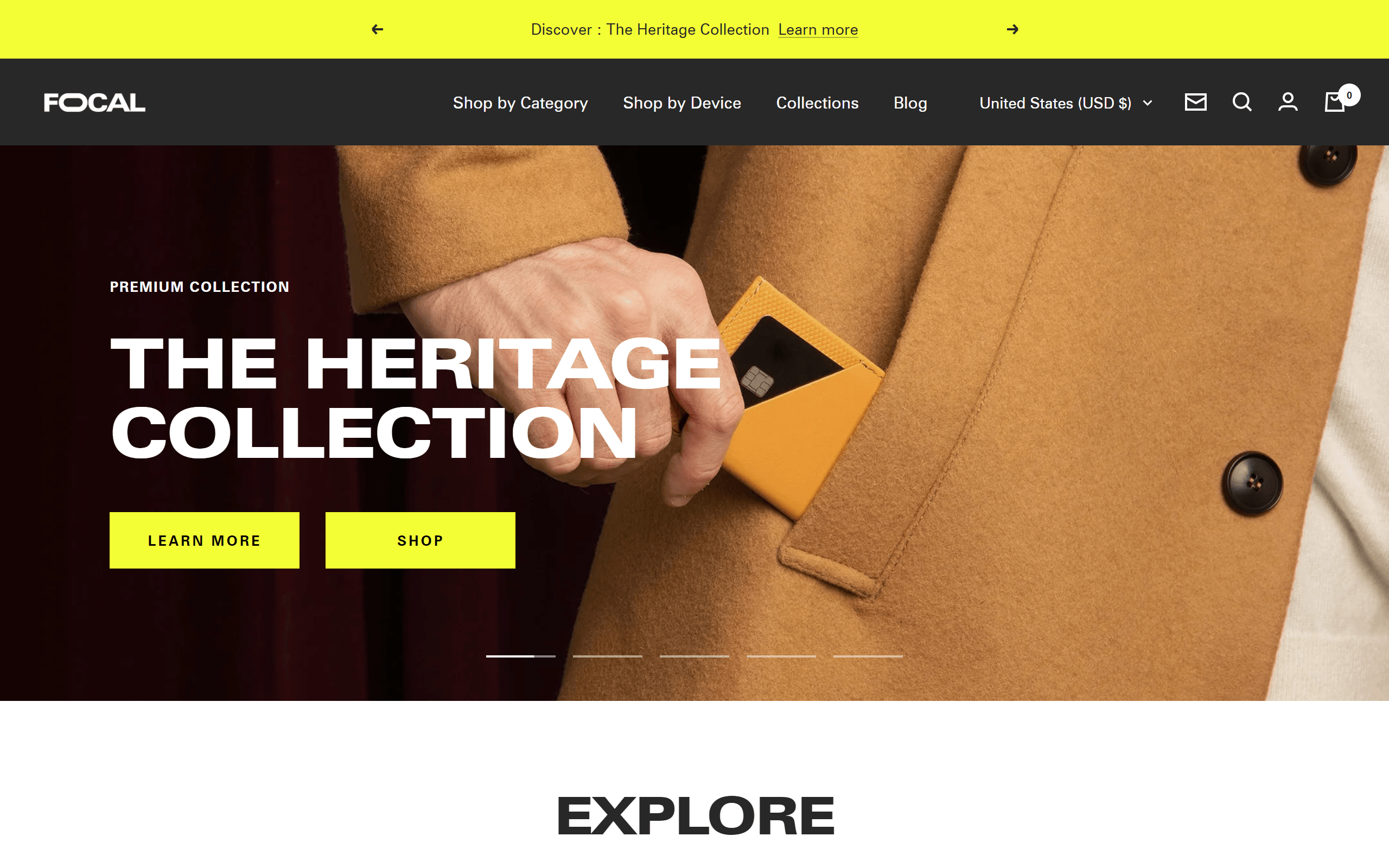 Focal was designed to empower merchants who want to use their online store as a platform for compelling brand storytelling. It provides sophisticated tools for creative visual merchandising combined with optimized functionality for sharing rich editorial content.
Key Features:
Advanced Filtering: Leverage enhanced filters, sorting and navigation.
Polished Animations: Subtle motions bring your store to life
Cross-Selling Tools: Recommendations and sticky add-to-cart boost additional sales
Best for: Focal is best for artists and creative retailers looking to showcase their unique aesthetics online.
Price: $320
While many Shopify paid themes focus primarily on aesthetics or transactional capabilities, Boost represents a holistic solution optimized from the ground up for performance. It incorporates a decade of expertise into a streamlined platform dedicated to empowering merchants of all sizes to compete on a larger scale.
Key Features:
Intuitive Customization Tools: Fully customize theme elements, color schemes, and templates quickly via a simple drag-and-drop interface.
Robust Content Sections: Over 15 pre-built sections allow the highlighting of important brand discussions, tutorials, reviews, and more rich content.
Advanced Product Filters & Search: Leverage faceted navigation, auto-complete search, and AI-powered recommendations to improve discoverability.
Best for: High-volume fashion, accessories, and specialty retailers. The marketing and conversion-focused feature set allows companies of all sizes to quickly scale up operations online. Particularly suited for stores seeking to automate and streamline engagement tactics.
Price: $320
Within minutes your store will be looking fly without writing a single line of code.
But don't think simple means lacking features - Stockholm is jam-packed with goods like mega menus, before/after product sliders, and built-in OS 2.0 functionality.
Key Features:
Intuitive Setup: Have your store looking great within minutes, no coding is needed
Customizable: Limitless control to customize your site, drag-and-drop editor
Lifetime Free Updates: Ensures your theme stays optimized for years to come
Best for: The Stockholm as one of the Shopify themes premium is an excellent choice for any Shopify store wanting a highly capable theme that also offers an intuitive interface and simplified management. Its focus on aesthetics and selling makes browsing effortless for both shoppers and owners.
Price: $320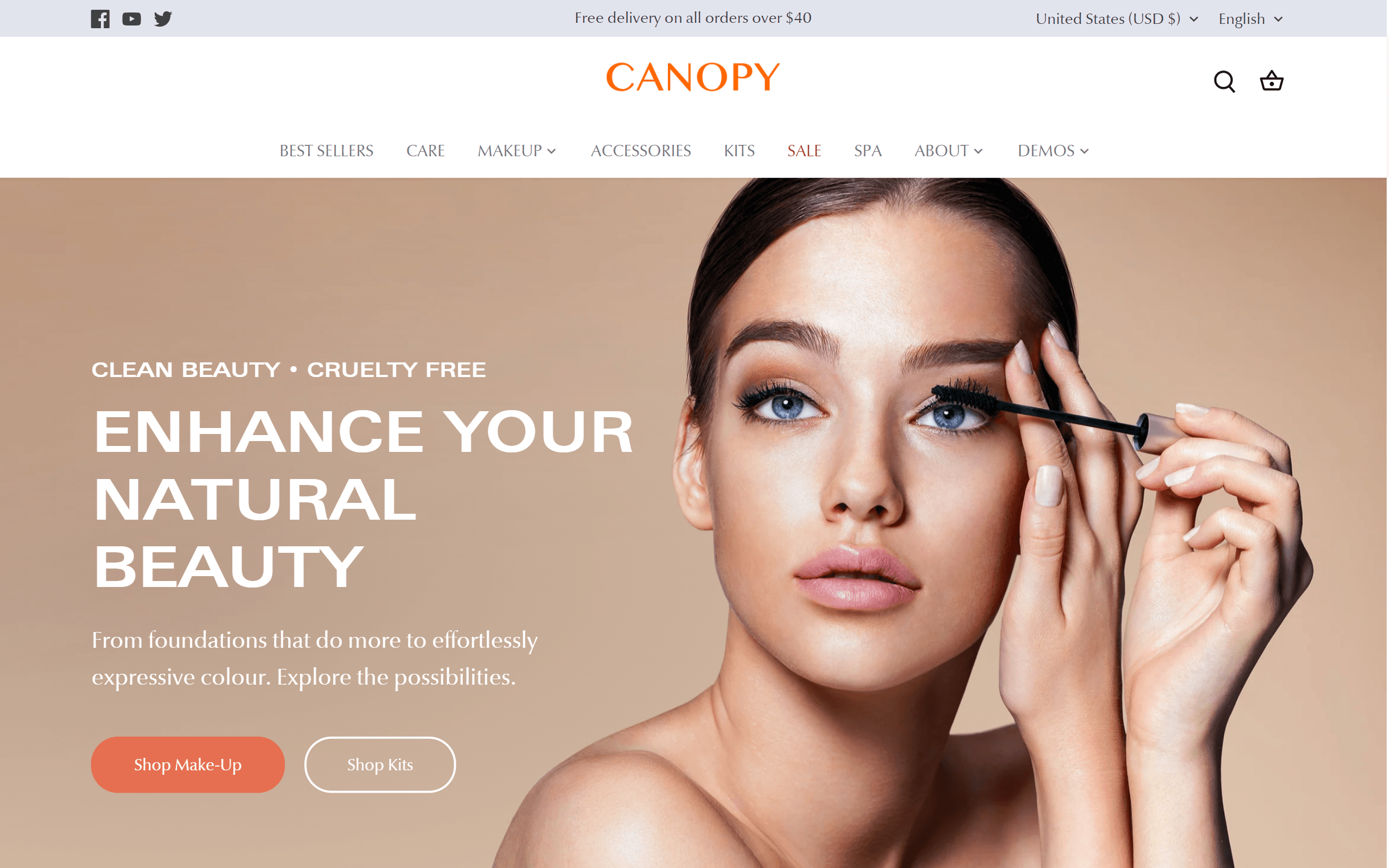 While many paid Shopify themes emphasize visual design, Canopy represents a fully-featured backend platform to streamline complex operations. Its suite of productivity, automation, and analytics tools work harmoniously to remove friction from scaling up a successful business.
Key Features:
AI-Powered Personalization: As customers browse, AI identifies related products, previous purchases, and habits to recommend personalized content.
Robust Product Display Tools: Showcase products visually through galleries, videos, swatches, and more. Options like zoom and infinite scrolling improve discoverability.
Intuitive Order Management: Manage complex orders, track fulfillment, create shipping labels and connect to major shipping carriers directly from the back-end dashboard.
Best for: The Canopy as one of the finest Shopify premium themes works well for drop shippers as it has features that make managing inventory-free businesses easy, like syncing stock between sales channels.
Price: $300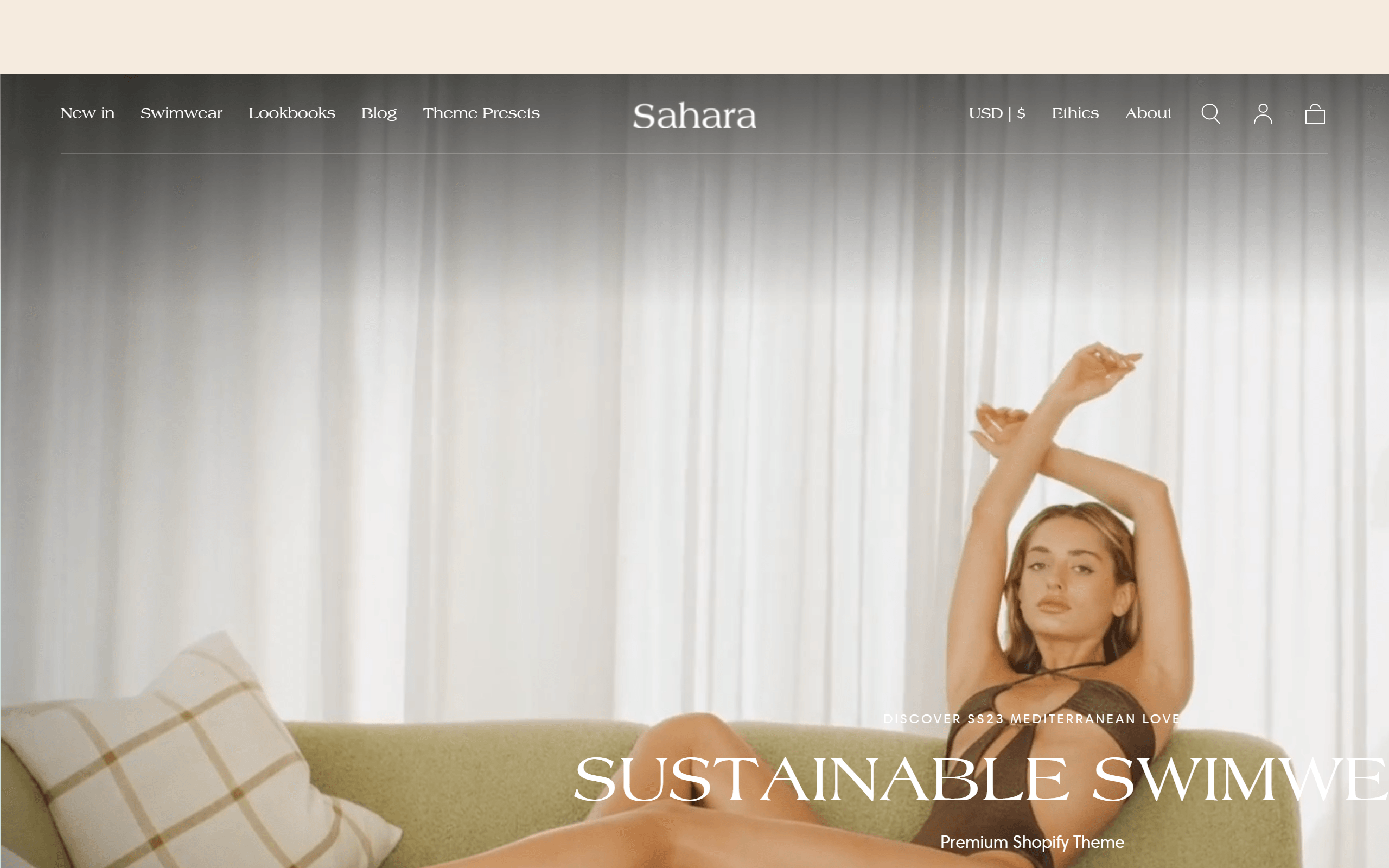 While many top paid Shopify apps have limited personalization options, Sahara was designed to fully reflect the unique spirit of each brand using it. Merchants gain unprecedented control over every visual aspect without extensive development knowledge.
Key Features:
Robust Visual Storytelling Tools: Powerful features like zooming product images, video clips, size charts etc. allow stores to creatively showcase products and narratives through visual media.
Three Pre-Built Storefront Options: The theme offers a choice of pre-made homepages that can be used as-is or customized further. This provides starting points for stores of different niches/styles.
Lightning Performance for High Traffic: Sahara is optimized for rapid page speeds and smooth browsing even under high volumes of traffic and sales. It can scale to accommodate surges in demand.
Best for: Brands seeking to fully reflect their unique personality and visual identity through an ecommerce theme. The highly intuitive customization empowers truly bespoke personalization. Also ideal for image-rich stores and high-volume retailers requiring optimization.
Price: $350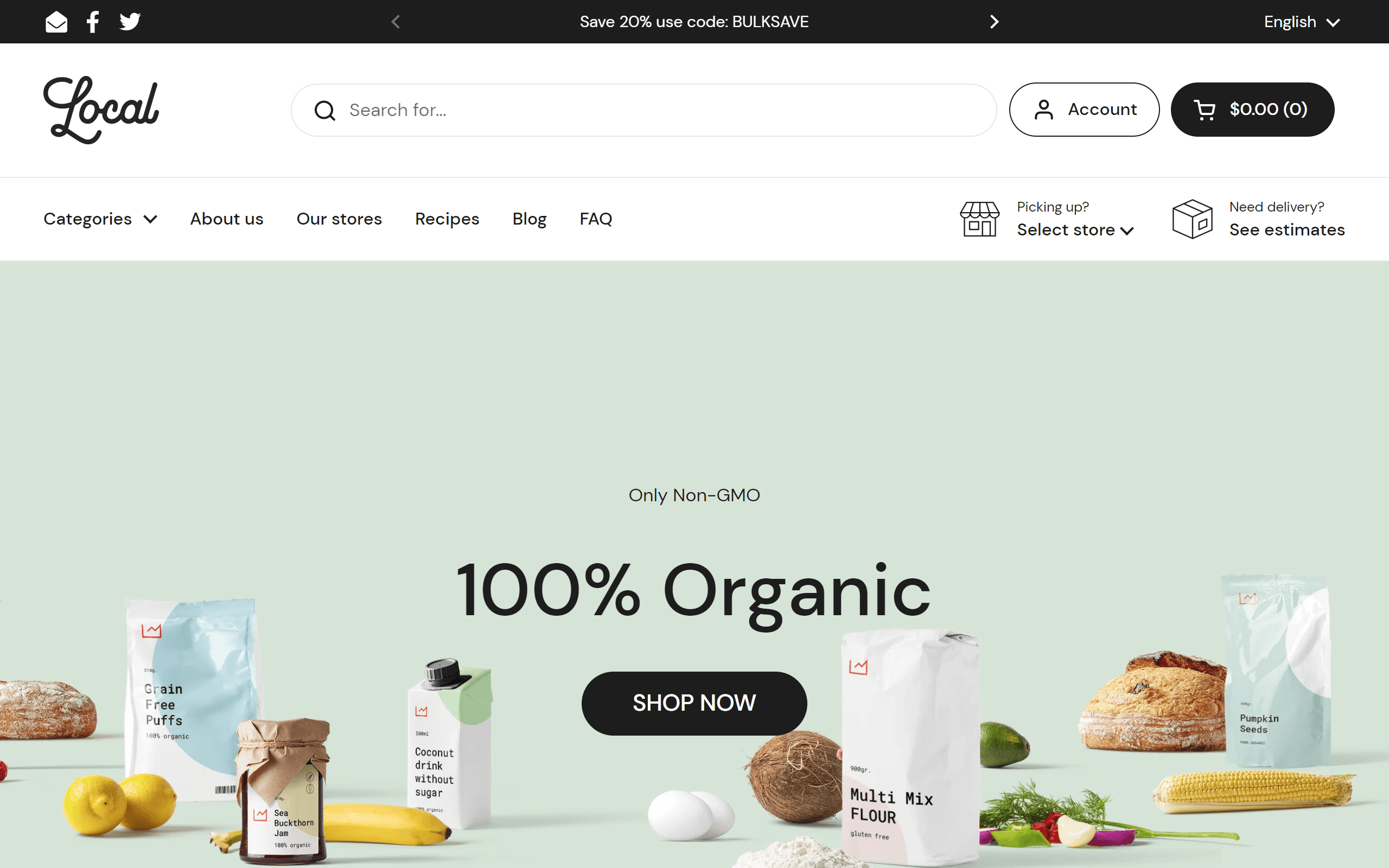 The Local theme was made with local businesses in mind. It makes connecting your physical and online stores easy.
Key Features:
Store Location & Inventory Check: Customers can find your store locations on a map. They can also see what products you have available at each place before visiting. This links shopping online and in-store.
Offline Orders: Employees can take orders from customers in the store or over the phone. These orders then automatically get added to your online store too. This gives buyers more flexibility.
Real-Time Inventory Updates: The theme constantly keeps your stock levels, sales, and customer info updated across all sales areas - online and physical locations. Staff and customers will always know exactly what you have in stock.
Best for: It works well for stores with a physical space looking to smoothly extend their face-to-face service online. Particularly suitable for businesses with multiple locations or that rely on walk-in sales. The features connect your different selling areas into a cohesive operation.
Price: $300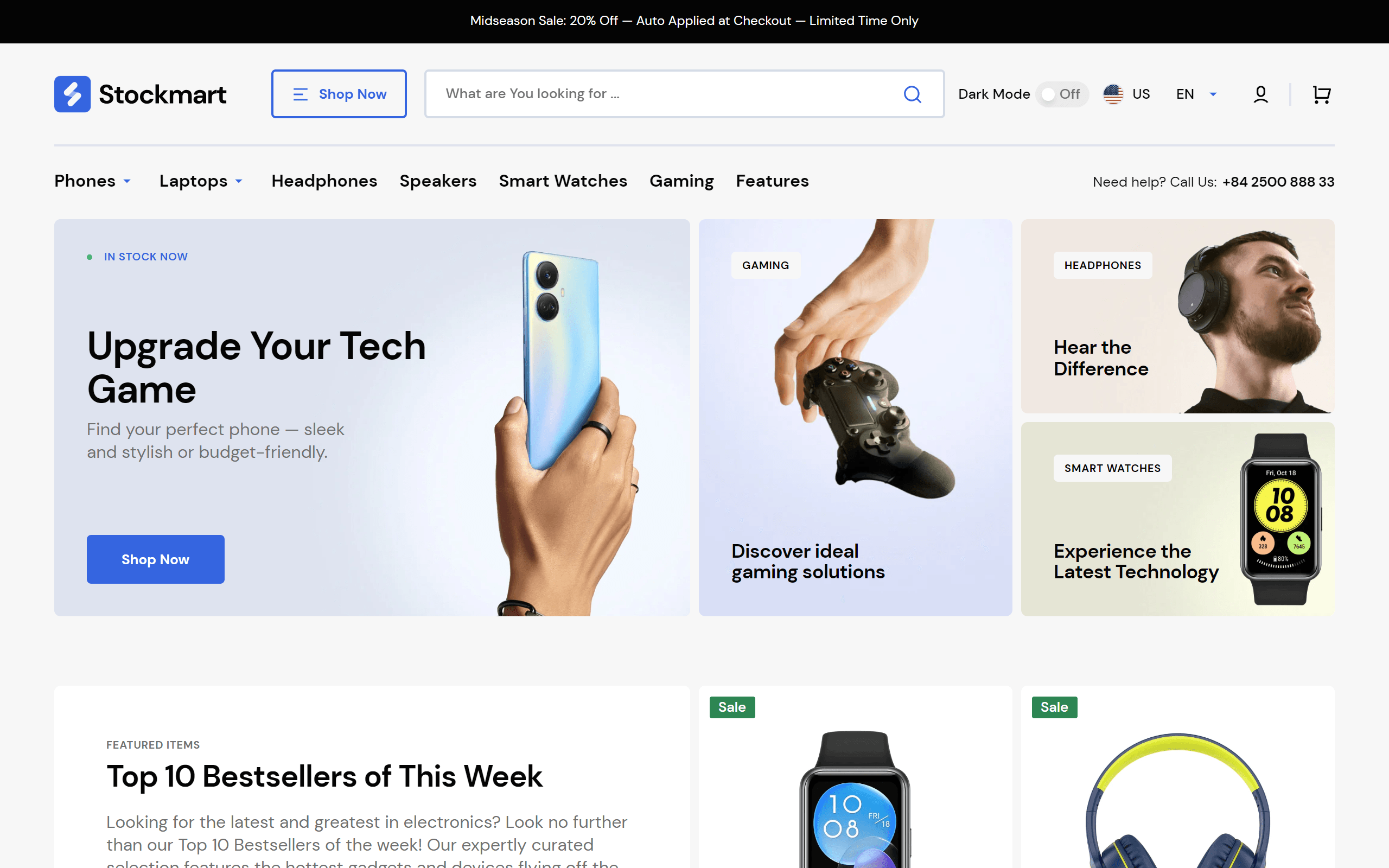 Stockmart is like a dress for your online store. It makes your store look good. With Stockmart, you can make a cool online shop without being a computer expert.
Key Features:
Big Menu: It has a big menu to help customers find what they want.
Easy Start: Setting up your store with Stockmart is easy. No techy stuff needed.
Good for Busy Stores: If lots of people shop at your store, Stockmart can handle it. It doesn't slow down.
Best For: If you want to sell things online or if you help others sell online, Stockmart is for you.
Price: $320
Effortless, as one of the finest premium Shopify themes, makes building your store easy breezy. Setup is simple and then it works hard for you behind the scenes.
Key Features:
Product Pages: Pages showcase items well with big close-up pics, details, and videos. Customers learn everything effortlessly.
Checkout: Features like one-click buys and smooth cart cut-down steps at checkout. People can buy with just a few clicks.
All Devices: The theme adjusts to any screen for a consistent experience everywhere. Folks can shop from any device with no problem.
Best for: It's great for store owners who want easy shopping. The seamless design is perfect for general retailers and global sellers seeking low hassle worldwide. Effortless makes everything a cinch.
Price: $180
Blockshop has been perfecting its premium features for over 10 years. It has lots of display tools to captivate customers. Promote sales through collections with timers, banners, and more colors.
Key Features:
Large stores: Its powerful features handle lots of orders smoothly. Big stores can process many orders with ease.
Visual brands: It shows off products really well with nice pics and videos. Visual brands can truly share their artistic story online.
Medium to large stores: More established shops with more items will find it has every tool to organize, showcase, and sell inventories simply.
Best For: Blockshop is great for all-sized shops focused on visuals, optimized shopping, or hybrid online/in-person sales. Its robust features strongly improve store experiences.
Price: $320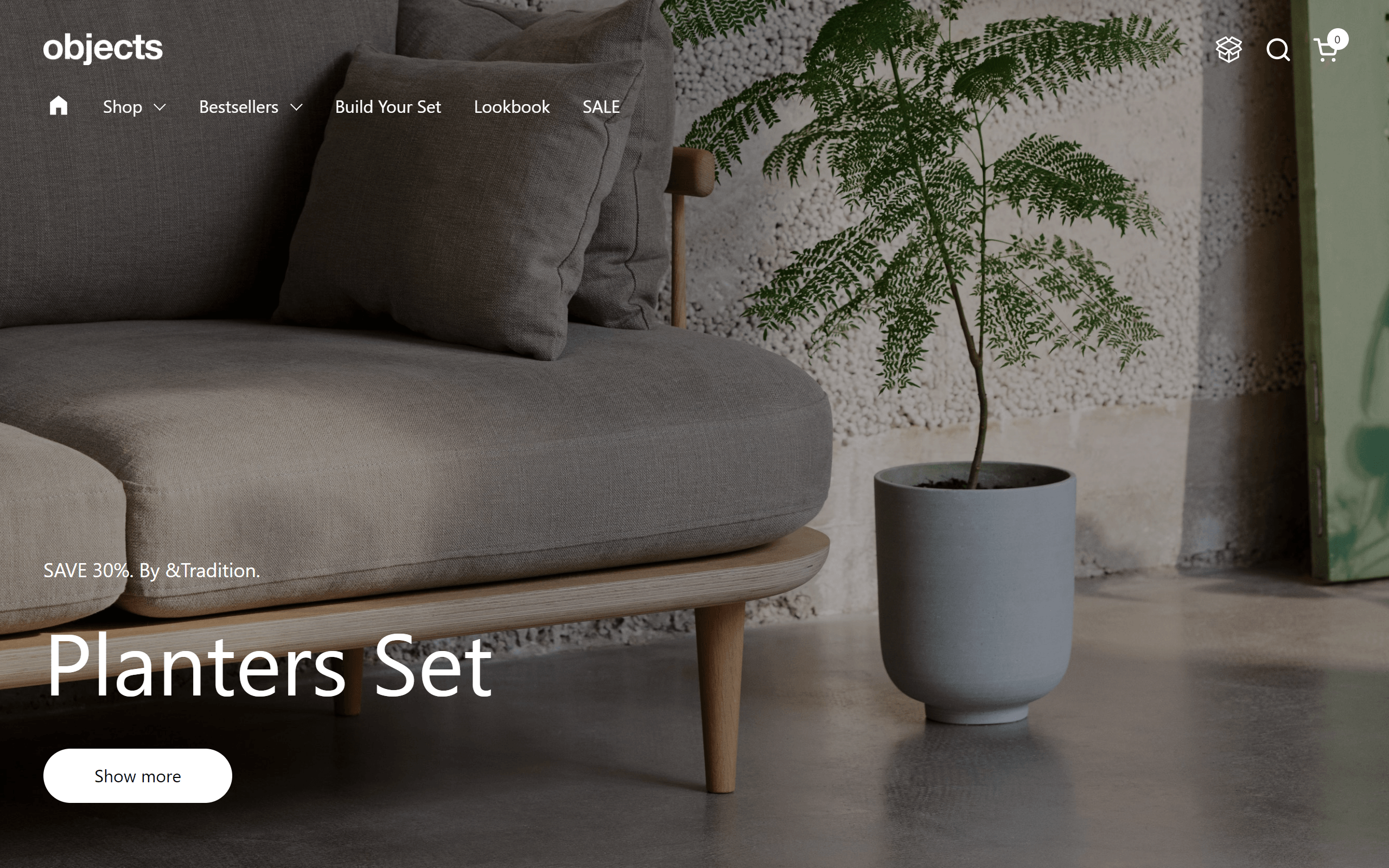 Combine draws customers in with visually engaging product presentations. Slideshow galleries showcase must-see collections creatively. Immersive
Key Features:
Visual Display: Creative galleries, sliders and design flexibility bring products to life visually. Shoppers indulge in browsing store highlights.
Strategic Product Pairing: Tools like bundles, addons and recommendations guide shoppers to accessories naturally. This increases average spends.
Intuitive Shopping Tools: Easy filters, search and category navigation aid discovery. Customers can narrow options to find just what they need.
Best for: Merchants wanting to optimize discovery and boost average order value. Its versatility benefits general retailers, as well as visual brands seeking new presentation angles. Combine engages customers throughout their journey.
Price: $300
Fashionopolism immerses customers in vibrant visual storytelling. Stylish galleries spotlight your vibrant designs perfectly.
Key Features:
Vivid Visual Presentation: Dynamic galleries and high-res photos bring styles to life for virtual window shopping. Customers visualize themselves in curated outfits.
Integrated Omnichannel Experience: Seamless transitions allow customers to browse online then try-on or purchase in physical stores. Order updates engage shoppers through the whole process.
Multichannel Marketing Synergies: Joint promotional tools activate both digital and physical customers simultaneously. Strategies like pop-ups and geo-targeting connect diverse sales avenues.
Best for: Dropshippers wanting polished frontends. Hybrid retailers gain from unified in/out-of-store shopping. The versatile tools benefit pop-ups, showrooms or multichannel brands. Fashionopolism optimizes the interconnected shopping journey.
Price: $280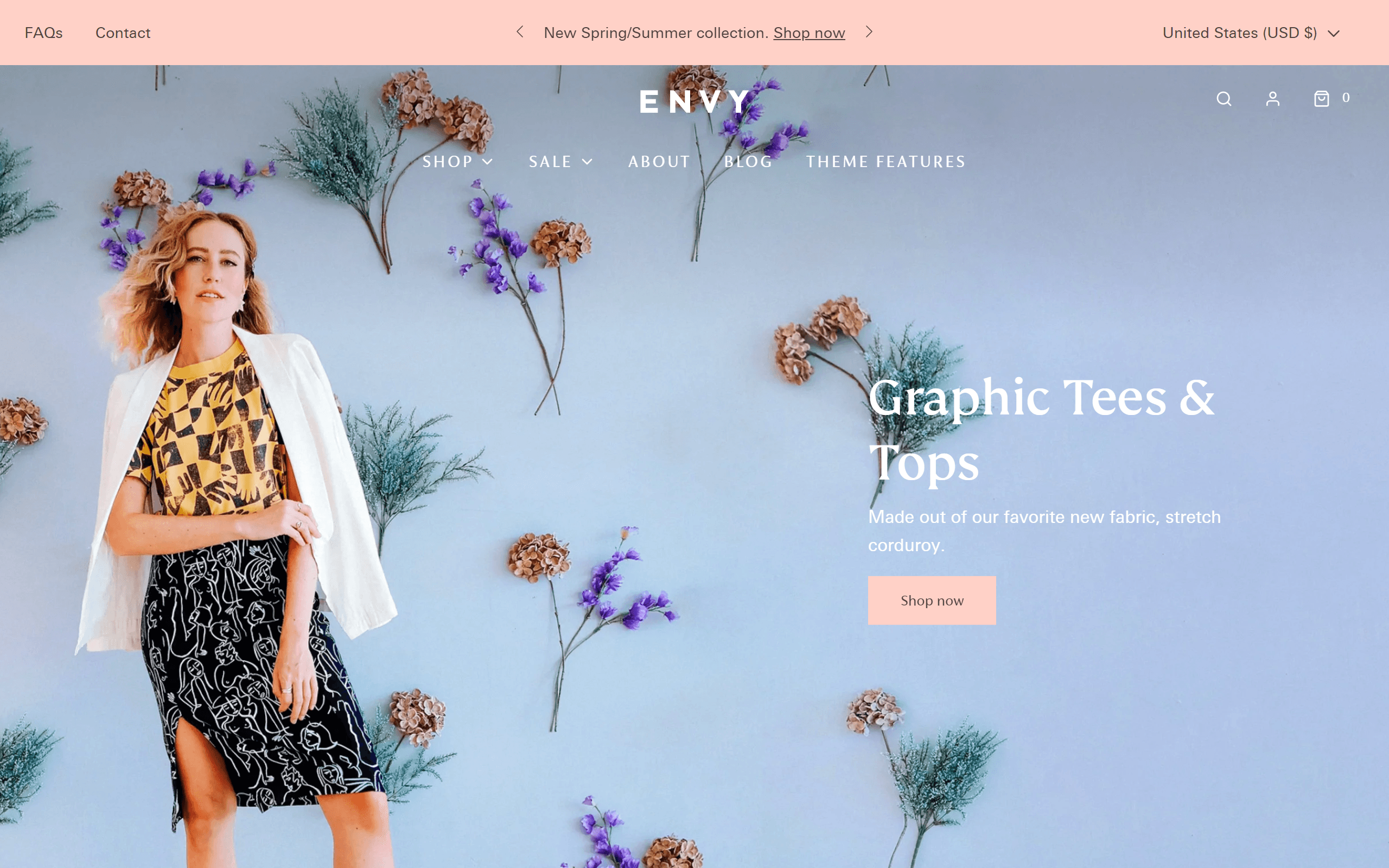 Envy creates a calm yet elegant online shopping experience. Stylish product images and galleries highlight items beautifully.
Key Features:
Polished Design Without the Work: Brands seeking elegant aesthetics gain a professional look without design efforts. General retailers also enjoy focus on confidence and care.
Powerful Marketing Integrations: Metrics-driven sellers have access to highly optimized integrations for driving growth. Strategic promotions and messages reach customers.
Cohesive Customer Experience: From visual product presentations to sales optimizations, Envy presents a curated shopping journey nurturing customers from start to finish.
Best for: As one of the finest Shopify premium themes, this theme works well for brands wanting an upscale look without design work. Data-focused retailers also gain powerful marketing integrations. In general, Envy accommodates trust-building and discovery in a curated shopping environment.
Price: $350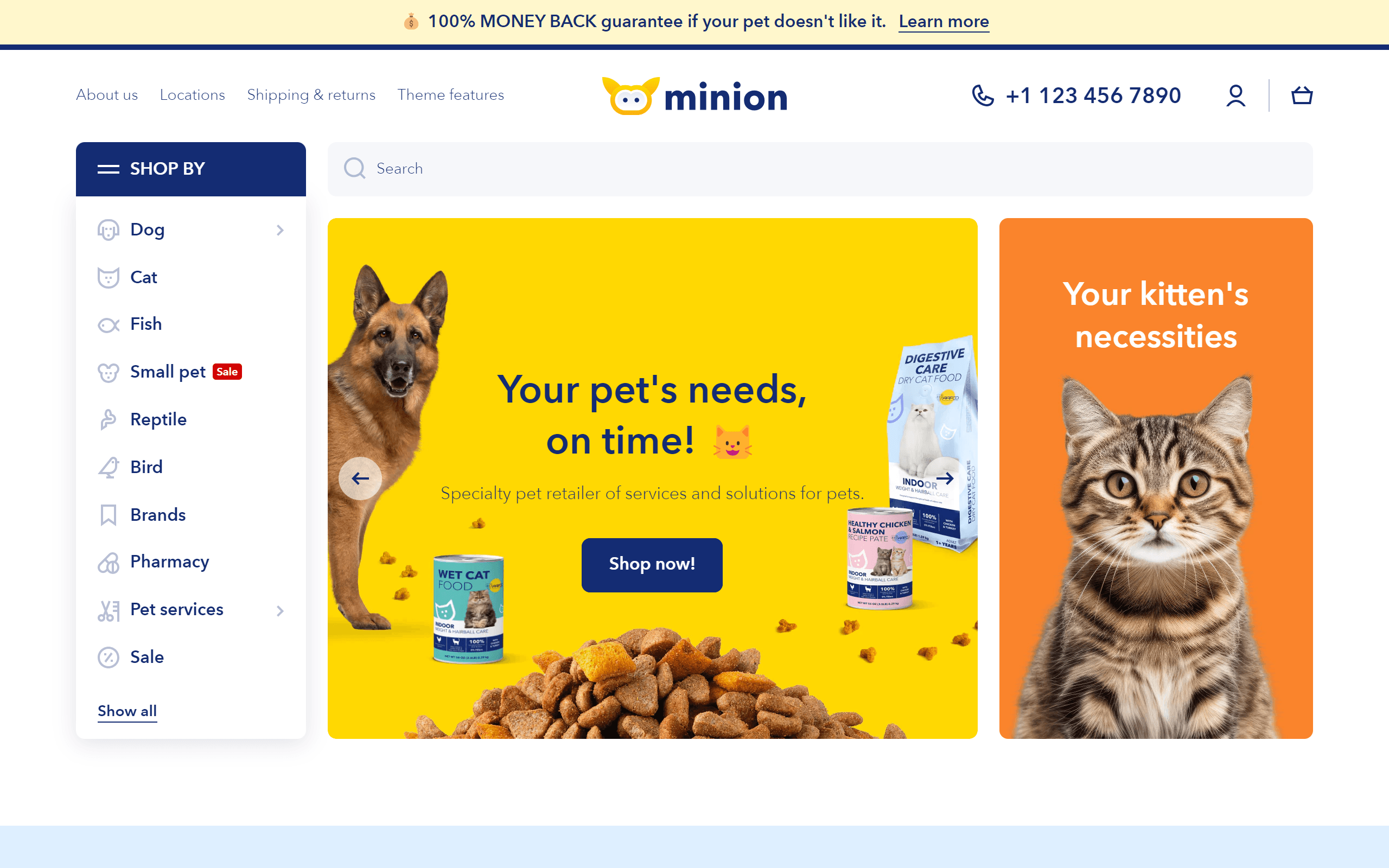 Minion provides intuitive exploration through a clean yet functional layout. Customers enjoy seamless discovery across devices.
Key features:
Seamless Shopping Experience: Simple yet effective navigation aides discovery.
Strategic Sales Optimizations: Tools like cross-sells and promotions increase orders at key moments.
Flexible Customization: Tailor the look while maintaining lightweight performance.
Best for: Dropshippers needing quick and easy setup above all else. High-volume brands streamline with optimized marketing. General ecommerce stores also find versatile functions within a minimal footprint. Minion's balanced design supports growth goals simply.
Price: $250
Honey invites exploration through gorgeous lifestyle photography. Visitors indulge in envisioning products in context.
Key Features:
Immersive Image Presentation: Gorgeous photos pull customers into the brand vision.
Shoppable Content: 'Shop the Look' and QuickShop make any image a mini catalog.
Strategic Recommendations: Bundles, upsells and related products increase average order value.
Best for: Lifestyle brands enhancing storytelling with visual merchandising. Omnichannel retailers maximize each touchpoint. In general, Honey streamlines its promotional strategy through user-friendly commerce on engaging content. Rich browsing leads naturally to optimized sales.
Price: $380
Testament provides merchants with the tools needed to build an impactful online store and scale their business. Testament as one of the best Shopify premium themes offers an intuitive interface and thoughtful design elements to enhance the customer experience at every stage.
Key Features:
Flexible Store Setups: Advanced options for small or big shops like mega menus.
Strategic Sales Optimizations: Tools across pages boost revenue like popups.
Lifetime Support: Free updates ensure long-term success from Shopify experts.
Best for: Growing organizations wanting scalability alongside powerful promotional integrations. Its balanced customization empowers imagination on any budget. Testament builds long-term stores that perform.
Price: $300
Habitat Shopify premium themes allow merchants to craft online destinations that stimulate exploration and discovery. Visitors are immersed in uniquely styled showrooms presenting products beautifully.
Key Features:
26 Custom Sections: Freely craft unique layouts to showcase offerings perfectly.
Intuitive Style Options: Personalize the look via typography, colors and spacing.
Quick View: Enhance discovery with close-up product views without page loads.
Best for: Merchants needing complete layout freedom. Visual storytellers enhance experiences. Omnichannel retailers maximize each touchpoint effortlessly. Habitat cultivates business individuality through flexibility.
Price: $300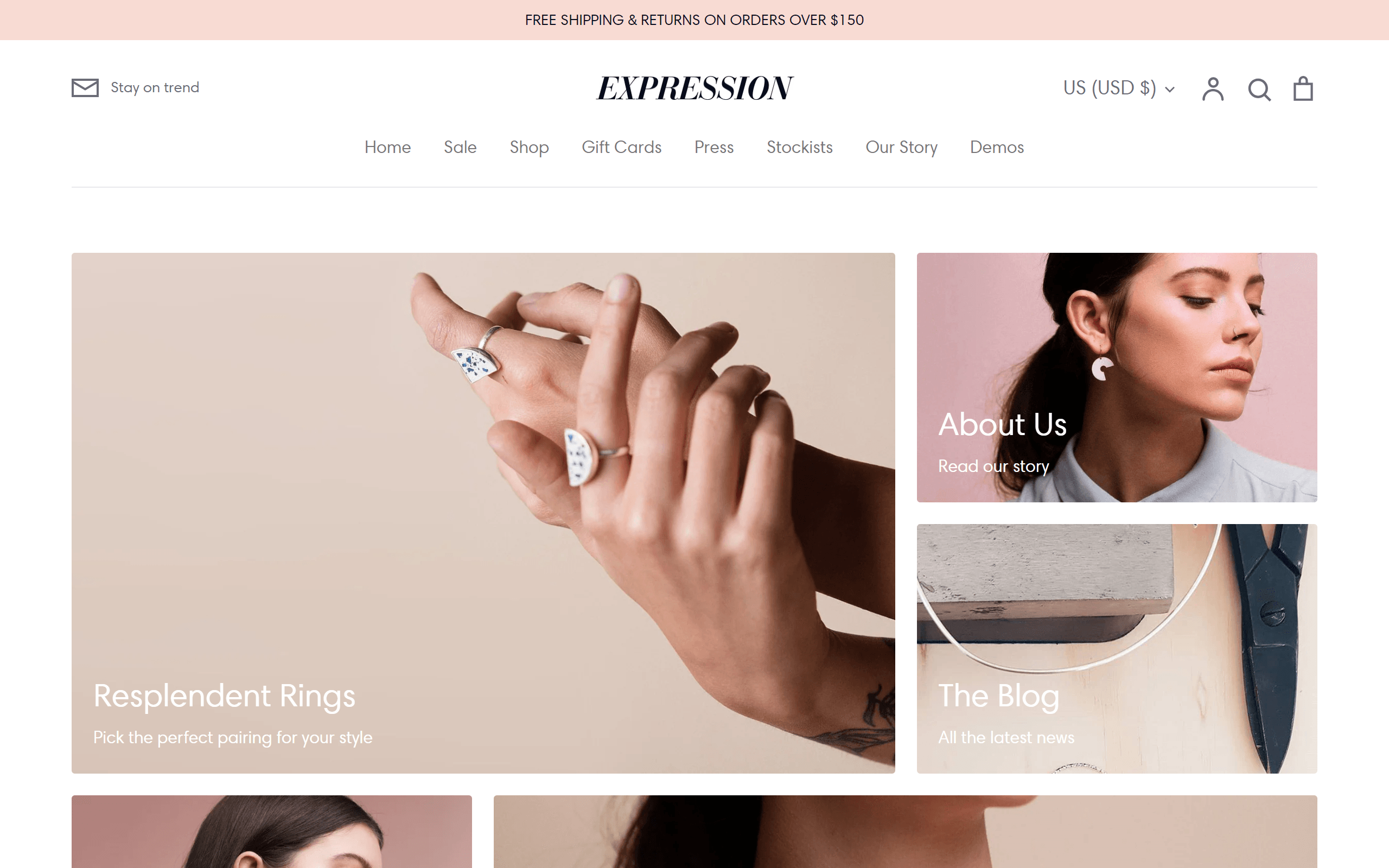 Expression allows merchants to craft stylish virtual storefronts that stimulate discovery and spread brand stories. Its versatile sections give life to compelling photography, copy and curated collections through clean, adaptive layouts.
Key Features:
Customizable Sections: Flexible columns highlight stories through photos and text.
Conversion Tools: Promos, recommendations and more engage visitors and boost sales.
10+ Years Expertise: Trust refined guidance from a Shopify expert.
Best for: Anyone wanting to choose the best Shopify jewelry theme and immerse audiences in their unique vision. This theme empowers expression alongside optimized sales.
Price: $240
Summed Up
Creating an effective eCommerce presence can be daunting. With so many Shopify premium themes available, choosing one perfect for your brand isn't easy. You want great design that converts customers seamlessly.
Each has a track record of success. Streamlined designs craft memorable brand experiences customers love. Advanced features guide shoppers smoothly towards purchases.
Rather than scrolling low-potential options endlessly, our tailored picks save time. Every theme empowers quick, optimized store building and sales growth.
Your store's upgrade stands ready - will you choose a theme unleashing growth today? Success awaits just one click away.
What are you waiting for?