The moment a potential customer clicks on your website, they're essentially 'walking' into your online store.
And let's be honest, first impressions matter. A lot.
In fact, according to some super official studies, you have only a few seconds to capture your visitor's attention before they decide to move on.
We totally understand the pressure. And that's why we've done the hard yards for you. To save you from endless scrolling and potential decision fatigue, we've compiled a list of the top 35 Shopify themes that will change the game (and the rates).
📌 How We Picked the Best Shopify Themes
We put the major Shopify themes to the test to find the cream of the crop. When selecting themes, we looked at things mentione above like design, speed, customization options and features.
Design-wise, we checked how good each theme looked and how flexible the layouts were across different devices. We wanted to pick themes that will display nicely no matter what customers use.
Performance was also key, so we tested how fast pages loaded and how smoothly the themes ran. Slow themes were an automatic no-go.
Customization was big too since shop owners need to make their stores their own. The top themes gave lots of editing options without being confusing to use.
Extra features like sales notifications and abandoned cart recovery were a bonus. Themes should help shops promote products and drive sales.
🤝 Why You Should Trust Us
We're a pretty cool team that makes themes for Shopify. We started in May 2022 and have made 7 awesome themes since then. Over 3000 people have downloaded our stuff!
A lot of our themes are popular and rank high on Shopify's store. We're all about making slick, useful themes that online shops love.
Even though we're new, we make sure our themes look good, work well, and help you sell more. We test them a lot, so they work on all devices and browsers. We've got the backs of our customers with great support. We keep updating our stuff based on what you and the market tell us.
Loads of stores are already rocking our themes, so you know you're in good hands with us.
Our numbers and our growing family of users show how committed we are to making your store look its best!
🖥️ 35 Best Shopify Themes for Your eCommerce Store
It's sleek, sophisticated, and sure to make heads turn. With a minimalist approach, it delivers both aesthetics and functionality without breaking a sweat.
Key Features:
Clean Layout: The theme offers a clutter-free design, making sure your products are the spotlight and not lost in the noise.
Mega Menu: An organized and visually appealing dropdown menu lets customers navigate your store effortlessly, no matter how vast your product range might be.
Quick Buy Option: No more endless clicking. With Stockholm's quick buy, customers can add products to their cart right from the product listings.
Best for: The Stockholm theme is perfect for eCommerce shops that love elegance with a modern twist, especially those in fashion, decor, or any brand that thrives on minimalist beauty.
Price: $320
2. 🏅Our Pick - Sydney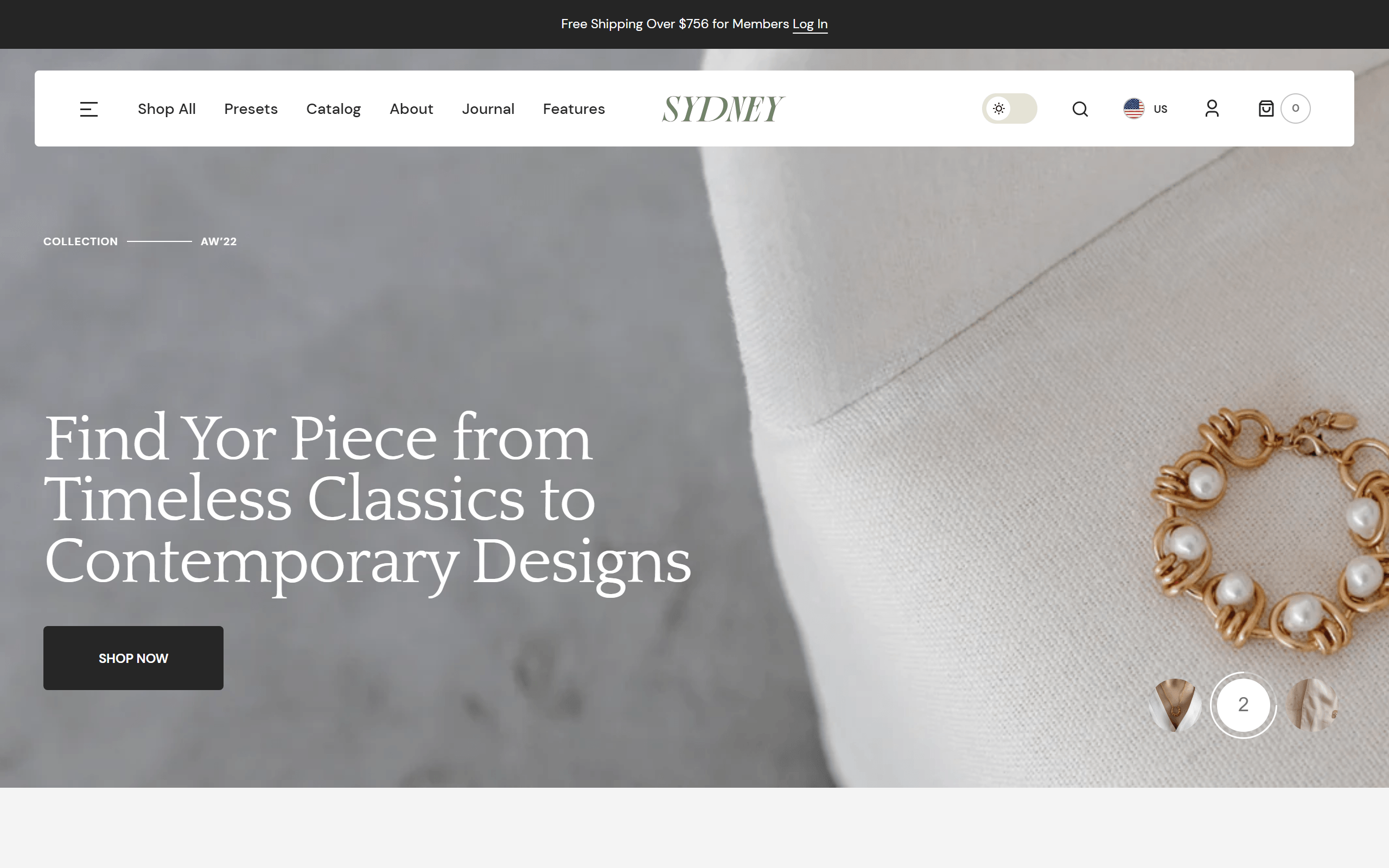 Another great option among best Shopify themes bursting with energy and versatility, it's tailored to cater to the dynamic needs of today's online sellers.
Key Features:
Dynamic Slideshow: Showcase your latest collections, promotions, or any major highlights with a responsive slideshow that adapts beautifully to different devices.
Product Zoom: Let your customers see every detail. With Sydney's product zoom, every texture and feature is in sharp focus.
Multi-Level Menu: Organize your products and collections effortlessly with a structured menu that's both intuitive and detailed.
Best for: Sydney is the best Shopify theme for eCommerce retailers who are all about energy, variety, and the 'wow' factor. It's particularly great for tech, sportswear, and any vibrant brand ready to make a statement.
Price: $320
Why is Sydney Our Top Pick?
When you consider everything from its sleek design to options for customizing, Sydney is hands down the best theme for helping dynamic brands thrive. While it's pricier at $320, you really get what you pay for to take your shop to the next level.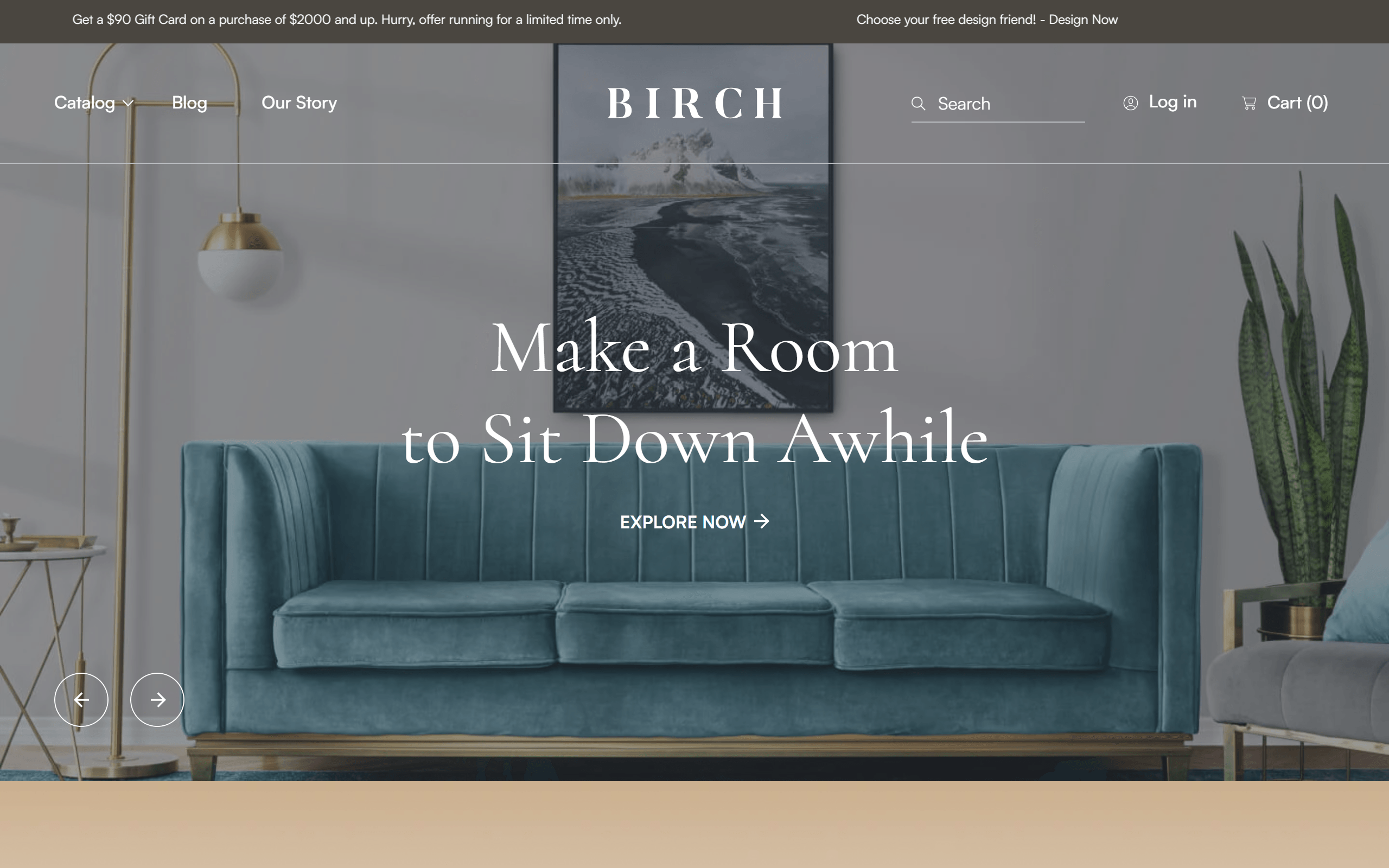 This theme marries warmth with sophistication, making it a cozy place for online shoppers. This can be a Shopify alternative to minimalist WordPress themes.
Key Features:
Grid Layout: Display your products in a structured grid layout that's visually appealing, ensuring shoppers find what they're looking for without the fuss.
Storytelling Interface: Perfect for brands with a tale to tell, Abode makes it easy to weave narratives around your products, enriching the shopping experience.
Optimized Checkout: Streamlined and efficient, the checkout process is designed to reduce cart abandonment and keep customers happy from start to finish.
Best for: This best Shopify theme is a snug fit for eCommerce stores seeking a homely touch, especially those in home and living, artisanal crafts, or any brand aiming to create a sense of comfort and nostalgia.
Price: $320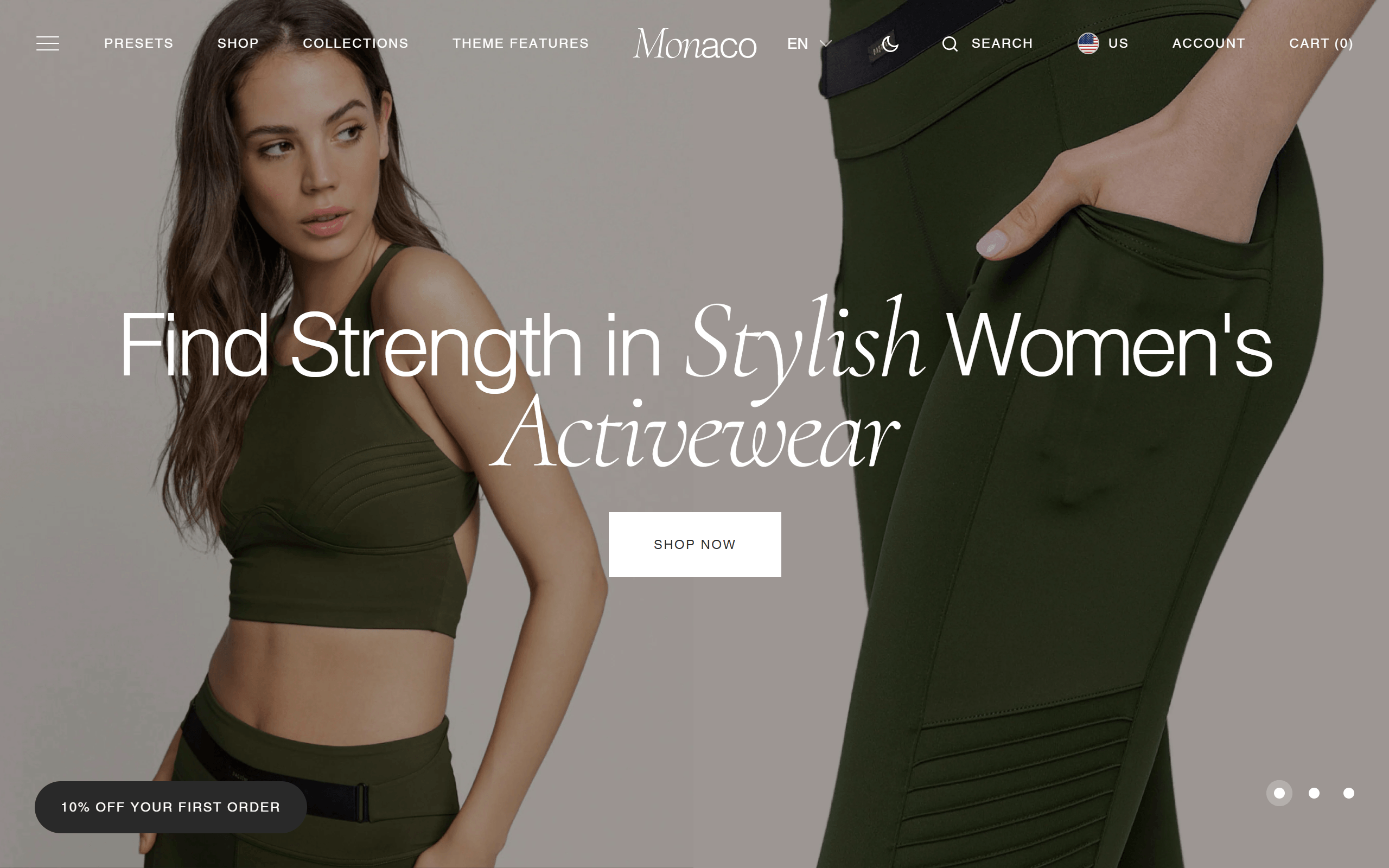 Monaco is unquestionably one of the best Shopify themes on our list, and it doesn't stop there—it's also renowned as one of the best converting themes, effortlessly combining glamorous design with exceptional accessibility to create an online shopping experience that makes every visitor feel like they're attending a premiere.
Key Features:
Parallax Scrolling: Deliver a captivating browsing experience with Monaco's parallax scrolling, making your website come alive, layer by layer.
Video Integration: Let your products do the talking. Embed videos easily to give a dynamic showcase of what you offer.
Advanced Filters: Customers can quickly find exactly what they're searching for with intuitive filtering options.
Best for: Monaco is the ideal backdrop for eCommerce shops aiming for the limelight. Think luxury brands, high-fashion, or any retailer looking to infuse a touch of Hollywood glam into their digital storefront.
Price: $320
5. 🏅Our Pick - Impact
It's not just about looking good; it's about performing with precision, strength, and agility, making every visit a knockout experience.
Key Features:
Video Background: Impact allows you to integrate a video right in the background, telling your brand story as soon as visitors land.
Modular Design: Think of it as building blocks. Customize and rearrange sections effortlessly, giving you total control over your site's look and flow.
Dynamic Sliding Cart: No need to navigate away. As customers add products, the cart slides in dynamically, ensuring a seamless shopping experience.
Best for: Impact is the best Shopify theme for brands that are action-driven and goal-oriented, be it fitness gear, tech startups, or any store that wants to motivate and inspire its audience.
Price: $350
Why is Impact Our Top Pick?
This theme really wowed us. Impact's all about performing at a pro level and making every visit an awesome experience. Right off the bat, it stands out with its video background on the homepage. No need to describe your brand - show it in action!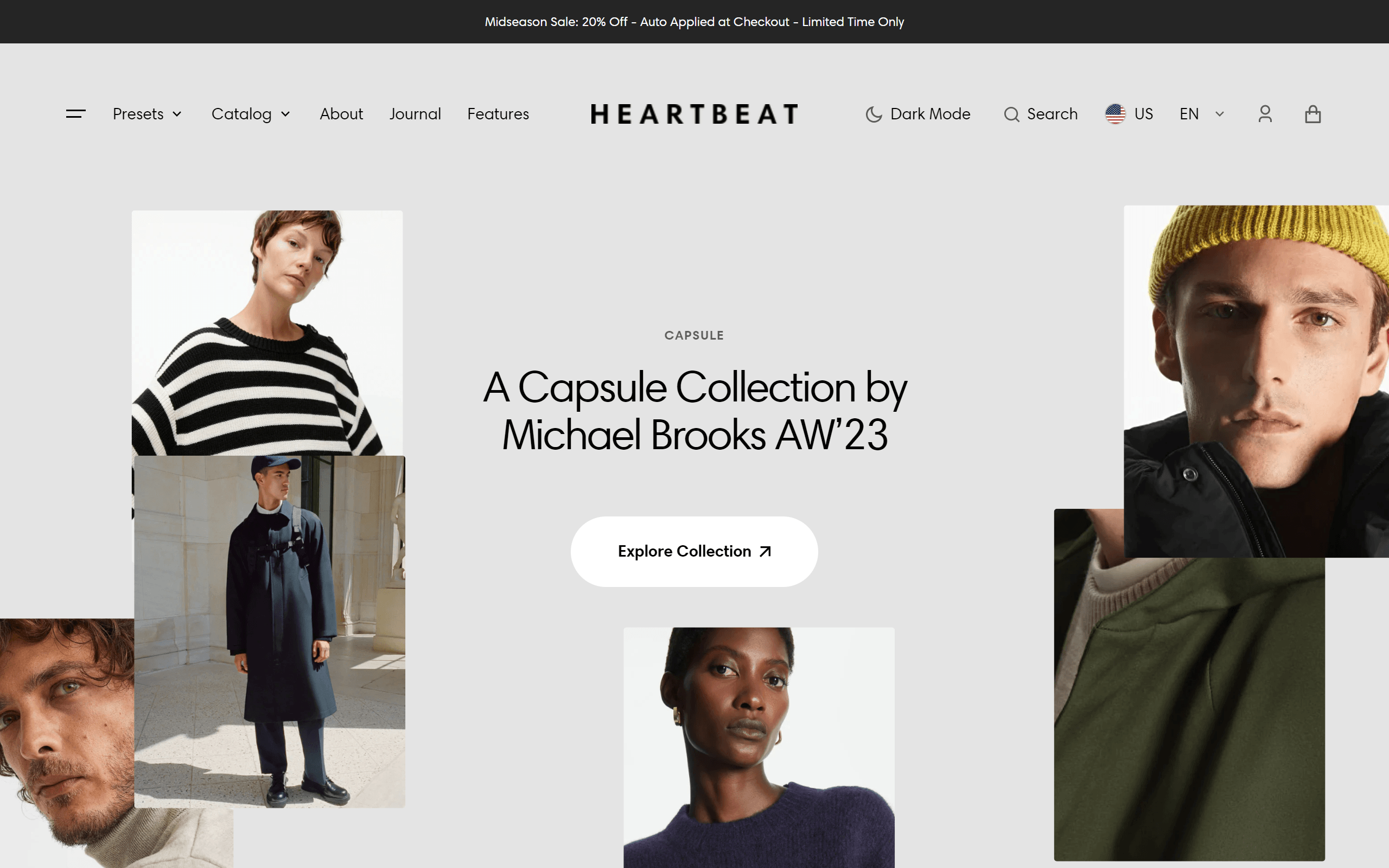 This theme embodies the spirit of artisanal craftsmanship and intimate community vibes, making every click feel like a warm handshake.
Key Features:
Unique Grid Layout: Portland offers a mosaic-style grid, allowing each product to tell its own story while fitting perfectly into the larger narrative.
Embedded Product Videos: Enhance the tactile experience by integrating videos, letting shoppers visualize products in motion.
Local Testimonials Feature: Build trust and authenticity. Showcase reviews and testimonials, highlighting the love from your local community.
Best for: Portland is among best shopify templates for artisanal goods, boutique stores, or any brand that celebrates the local, the handcrafted, and the heartfelt.
Price: $320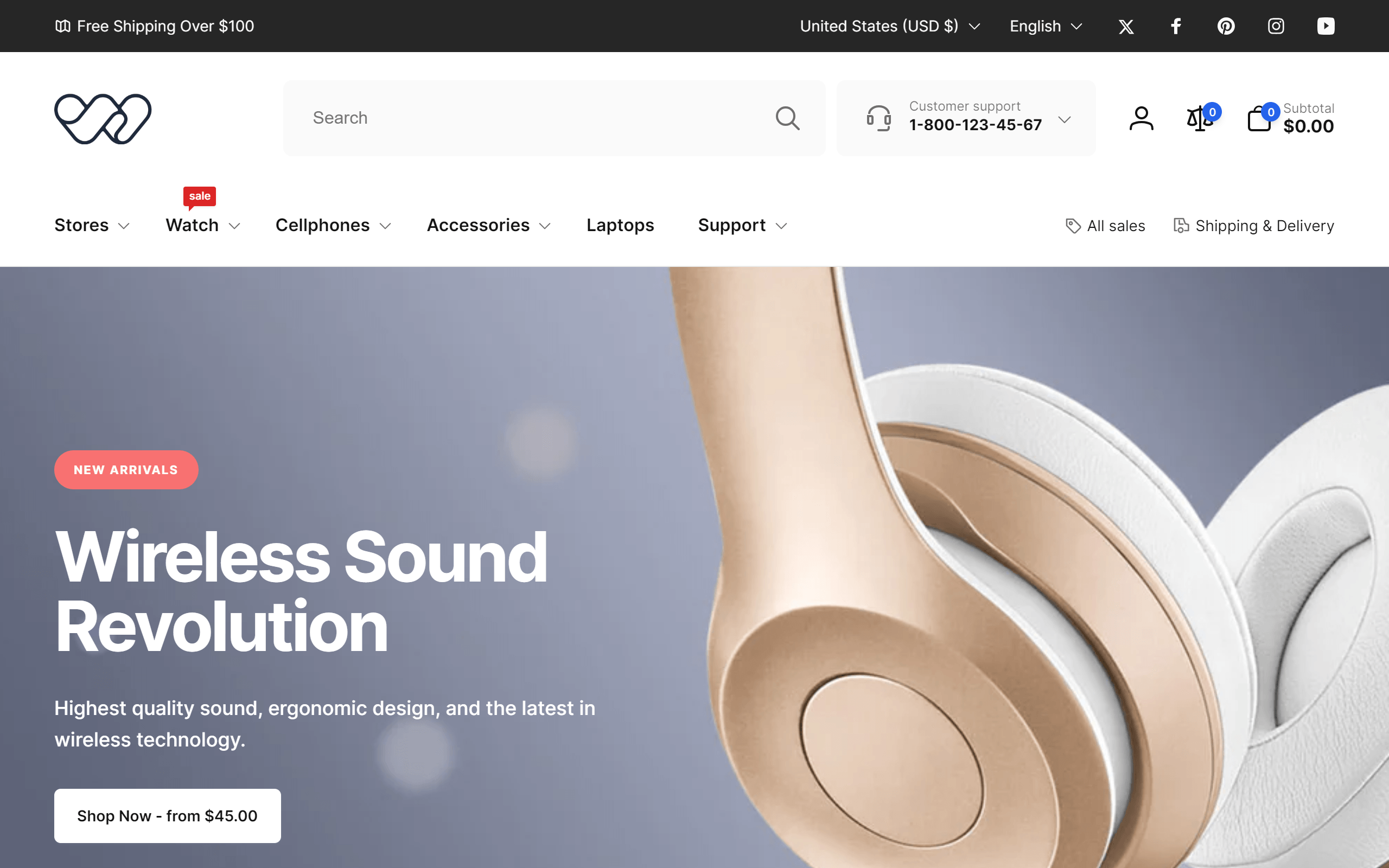 Enter Woodstock, this Shopify theme is minimal, modern, and clean. It's simple but still so effortlessly cool.
Key Features:
Streamlined: This theme's clean lines and uncluttered design ensure your products pop without all the extra fluff.
Responsive Design: Whether your customers are on their laptops or mobiles, Woodstock adapts like a champ, ensuring a smooth scroll every time.
Quick Product View: Because who has time to wait? Shoppers can get a sneak peek of the product details without leaving the page.
Best for: Got a tech store? Maybe some modern gadgets or futuristic items? Woodstock is the theme you've been searching for, making sure your products shine.
Price: $270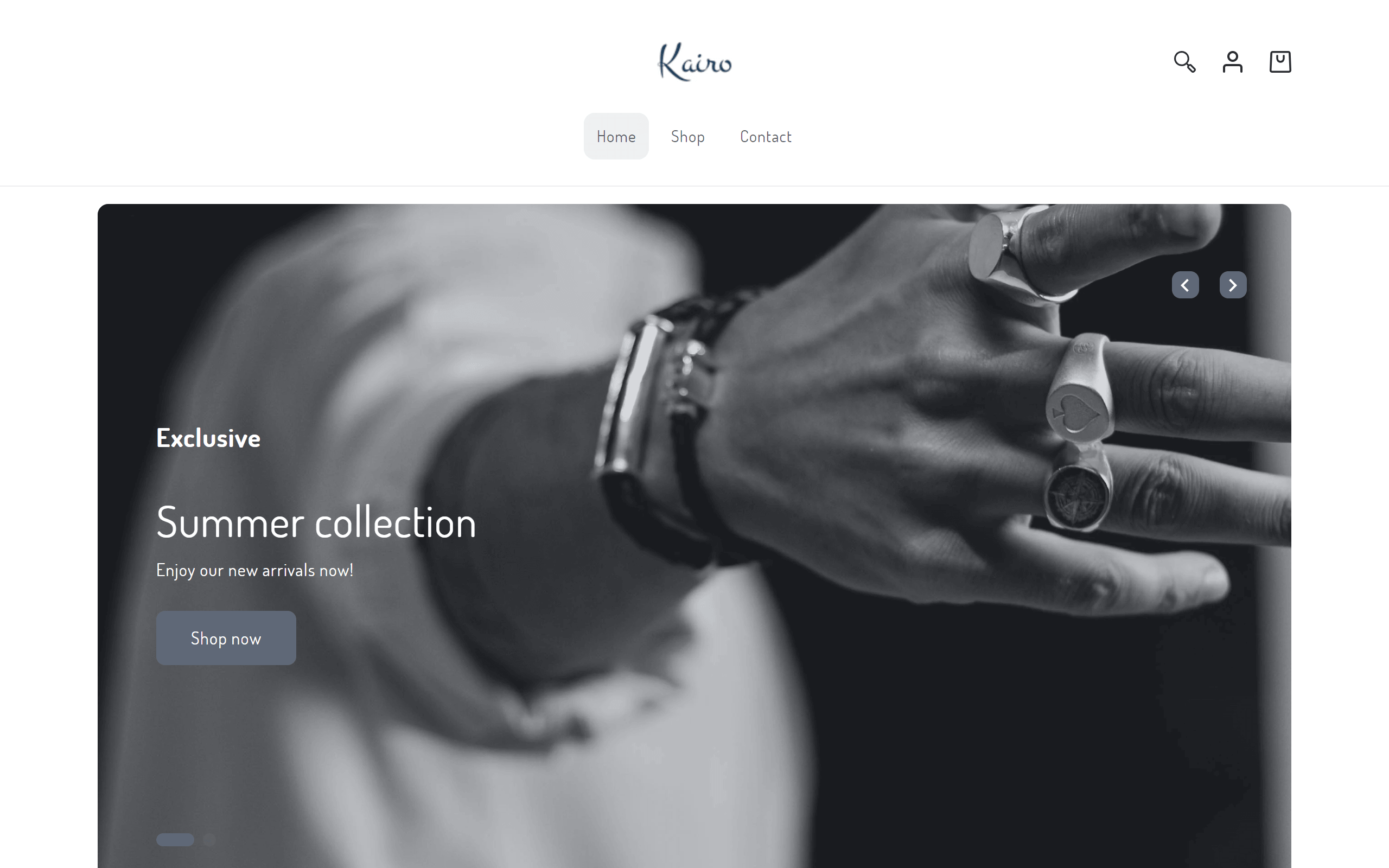 One of the best Shopify eCommerce themes where every pixel screams modern elegance. This theme doesn't just invite visitors in; it engages them, making every scroll and click a testament to refined design.
Key Features:
Targeted Announcements: Kairo's announcements aren't just visually appealing but also smart. Target specific customer segments and tailor your message for maximum impact.
Built for Mobile: Kairo offers an experience that rivals the smoothness of mobile apps, ensuring your customers always feel right at home.
Quick View: With Kairo's quick view, customers can peek at product details without hopping between pages, nudging those conversion rates upwards.
Best for: Brands keen on blending sophistication with smart functionality will find a perfect partner in Kairo. Especially if you're a tech store or any forward-thinking retailer that values both simplicity and efficiency.
Price: $150
Enter Nostalgia, the Shopify theme that's a delightful blend of old charm and aesthetic and today's tech prowess.
Key Features:
30 Sections & Theme Settings: With a wide range of sections, you can showcase your products and content in a visually flowing masterpiece.
Additional Page Templates: Beyond the basics, this theme ups the ante with extra pages tailored for intros, contact forms (complete with maps), and your latest campaigns.
Packed with Features: Everything from variation swatches and mega menus to quick views, a snazzy cart drawer, and nifty filters.
Best for: Perfect for stores that embrace tradition while pushing boundaries, be it in fashion, antiques, or any brand with a story that bridges the old and the new.
Price: $250
Brava is a super visually appealing theme. The big pics and clean layout really let your stuff shine.

Key Features:
Fresh and Modern Design: Those large images, simple lines, and fonts keep all the attention on what really matters - your products.
Packed With Options: Over 25 sections mean you've got tons of flexibility to make your pages unique. Get creative and customize to your heart's content.
Conversions on Lock: Features that help encourage sales like recommendations, quick checkout, and bundles will have buyers clicking that purchase button.
Best for: If you're running an online store for electronics, gadgets or other tech goods, Brava could be your perfect match.
Price: $300
The Brava theme is perfect for creative people who make unique handcrafted goods. It's like WordPress portfolio themes for your craft.
Key Features:
Modern Design: Neutral colors paired with surprise-me typography give just the right balance of visual appeal and fun personality.
Room to Brag: Lay everything out so people can get excited learning about your process, materials used, feedback from past customers - really dial them into why your work matters.
Customization: Flexible layouts and options mean expressing your vision is totally doable without messing with code.
Best for: Whether you're a potter, jeweler, or woodworker, Brava provides meaningful ways to engage folks and nurture understanding of your unique talents and creativity.
Price: Free
This one's also about the best themes for Shopify. Clean design, intuitive vibes, and just the right amount of creativity to keep your visitors scrolling and shopping.
Key Features:
Bring Your Vision: Intuitive settings and dope sections mean realizing your branding vision is a total breeze.
Shopping Bliss: Pages load lightning fast whether customers are on their phone or desktop. Quick checkout tools make the sale that much smoother too.
Boost Your Profit: Tools like discovery features, promotions and converters aim to get customers chilling in your shop longer and spending more bills.
Best for: Selling some sweet home goodies, cozy candles, or skin care products? This is one of the best Shopify themes for eCommerce that sets the mood just right.
Price: $350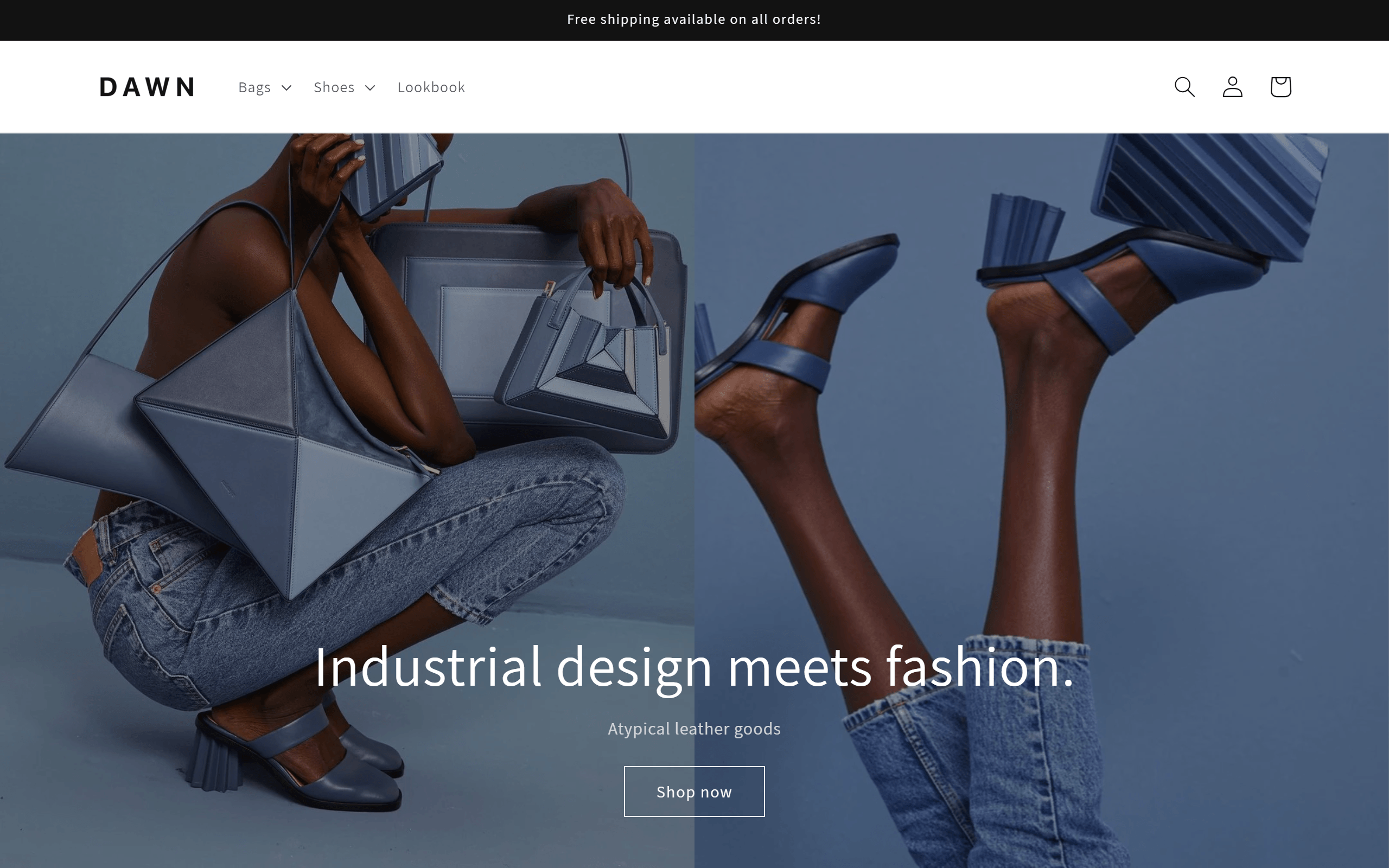 This is one of the best Shopify themes that screams "Less is more." With its minimalist design, every unnecessary frill and fuss is stripped away, allowing your product images to truly shine.
Key Features:
Chic and Minimal: Big pics, clean lines, and easy-to-read fonts keep customers zoomed in on your gear.
Product Pages: Give folks a true feel for color, texture, size, etc. with huge high-res visuals.
Customize: Flexible designs and settings mean you can achieve your perfect vibe without cracking open any code. Full control, you do you!
Best for: This theme is a top choice for clothing brands, boutiques and other fashion retailers looking to really showcase their products online.
Price: Free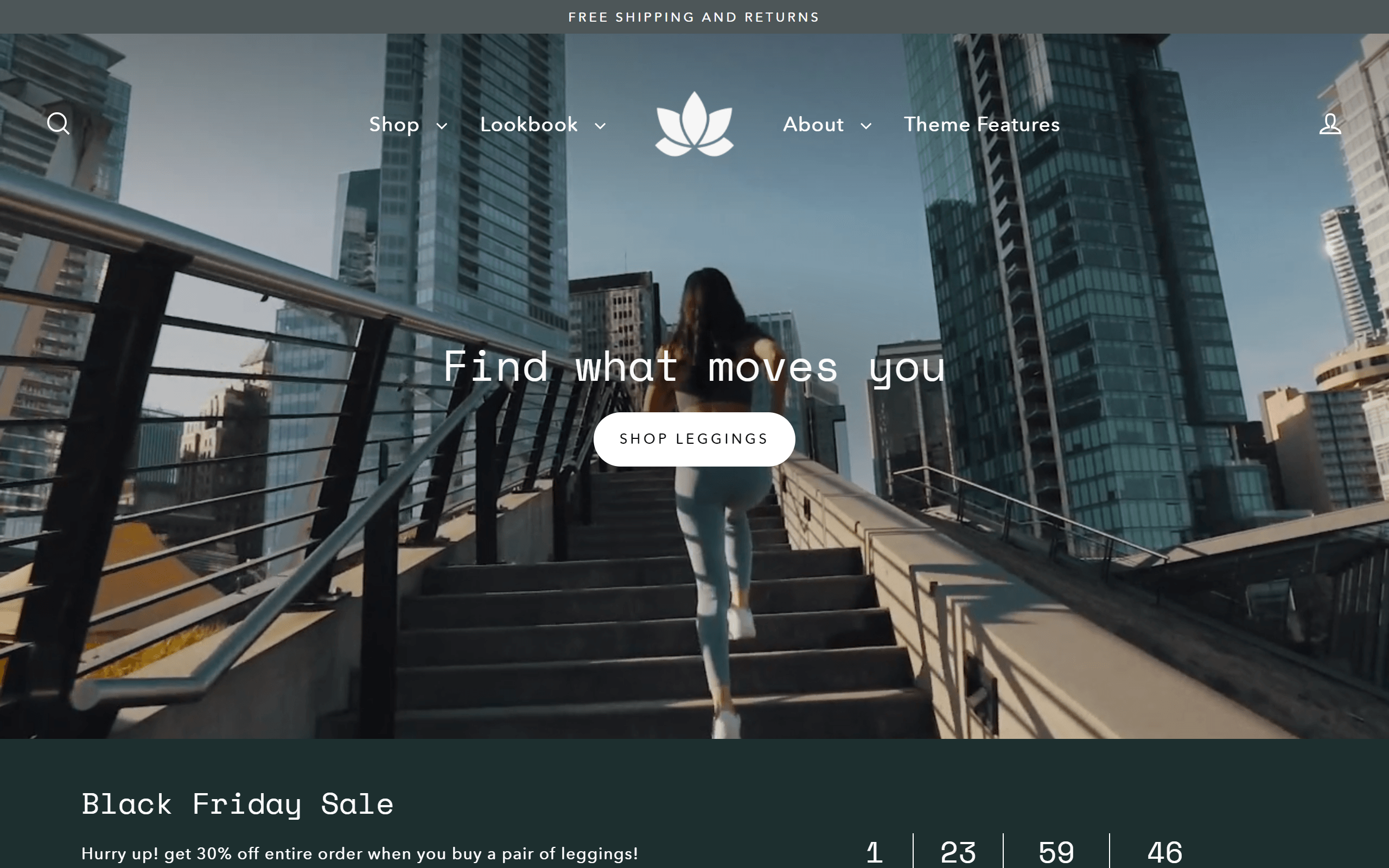 Designed to guide the user's gaze effortlessly, this is the best Shopify theme that ensures that your products aren't just seen, but truly experienced.
Key Features:
Set Up to Win: Comes packed with must-have tools like filters, menus and bundles to convert like crazy.
Quick Shops: Customers can peek at products and add to cart easily without hopping pages. Sweet for impulse buys!
Phones First: Say more with less using tricks like scroll text, smooth animations and thumb-friendly menus.
Best for: This one's go-to Shopify theme for the movers, shakers, and sporty product makers. It's tailored for businesses with an athletic edge.
Price: $350
Yet another best Shopify theme that is all about rocking your products with a slick design and smooth moves.
Key Feature:
Set Up to Thrive: 20+ droolworthy sections, custom sales points, multiple templates and more for endless options.
Promos: Flexible promotions plugin lets you test different tactics to keep customers browsing and hyped on your stuff.
Variety: Features like quick view, filters, bundles, vids and tabs give you heavyweight store chops on a startup budget.
Best for: With its slick design, it's perfect for showcasing the latest trends and fresh drops.
Price: $350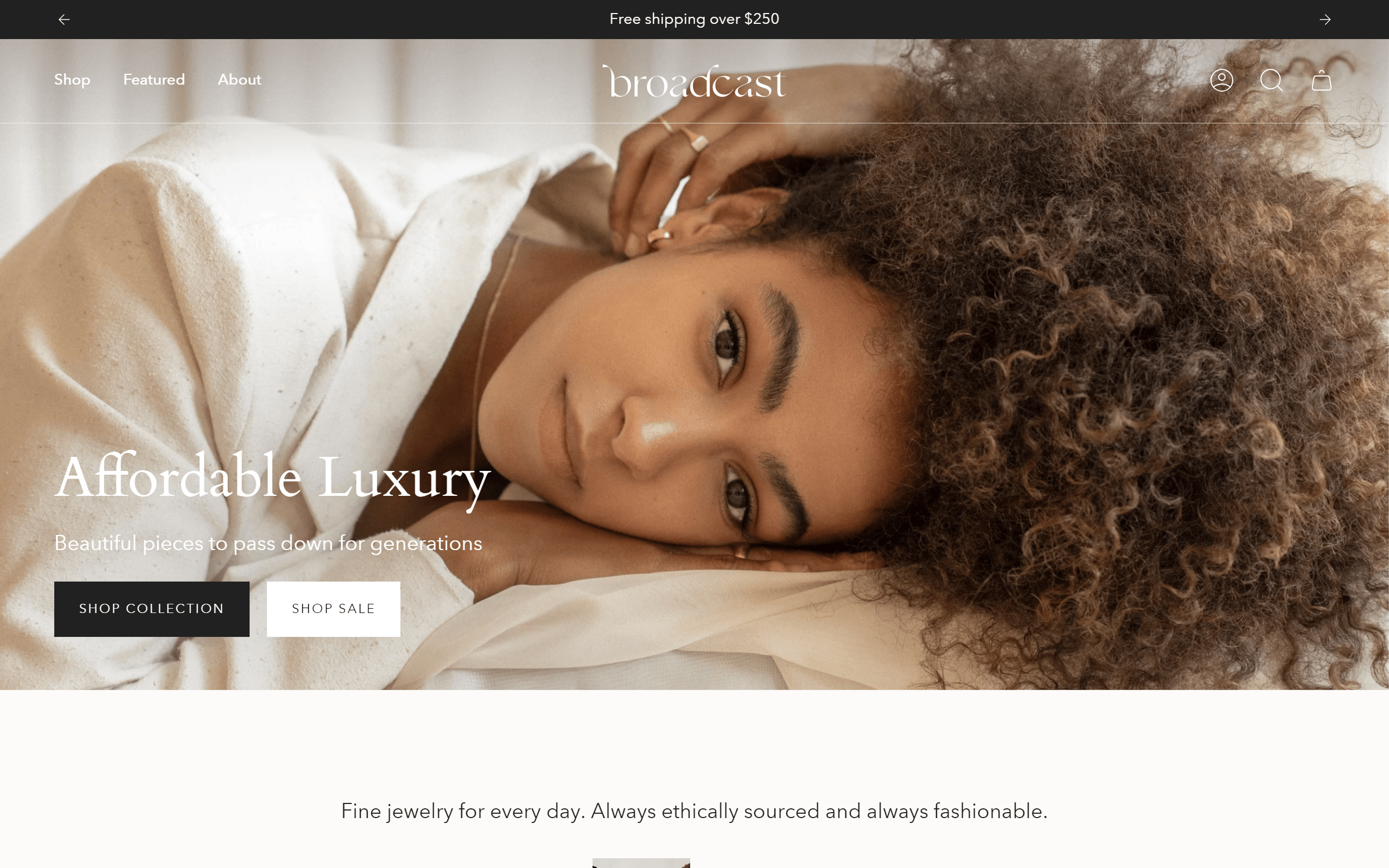 The best Shopify theme that not only looks fantastic but is also loaded with features that'll make your eCommerce game strong and streamlined.
Key Features:
Loaded with 20+ Sections: From "About" to "Contact", Broadcast's got ready-made sections to help you hit the ground running.
Say Goodbye to Extra Apps: With nifty tools like 1-click add to cart and product upsells, you might just find yourself ditching those extra apps.
Mobile and Speed Friendly: For everyone shopping on their phones (so, like, everyone?), Broadcast's got you.
Best for: This top-ranked theme is perfect for lifestyle and fashion brands, boutique shops.
Price: $360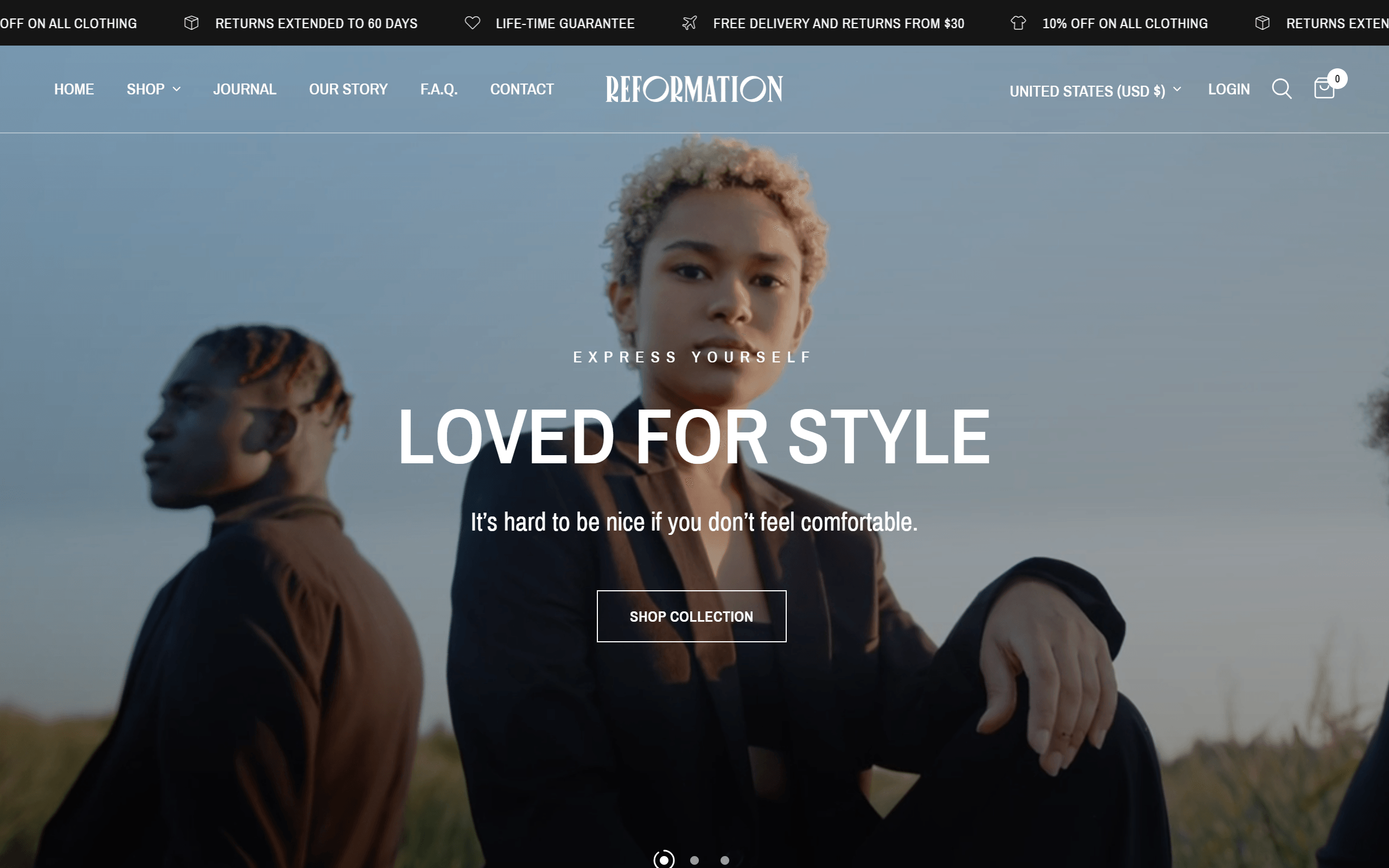 Another option among best Shopify templates that's like the perfect cup of coffee - catchy, versatile, and exactly what you need to kickstart your online store journey.
Key Features:
30 Custom Sections: Reformation's got a bunch of sections and templates.
Unique Product Features: Hover over product pics and see them switch up – it's almost like magic.
Video Slideshow: And here's the kicker: a slideshow that supports videos. Reformation is kinda ahead of the game on this one.
Best for: if you're in the fashion game and you're all about turning heads with every new drop, then Reformation's for you.
Price: $320
Ever met someone and thought, "they've got it all figured out?" That's Venue for you – the best Shopify theme that's as clever as it is good-looking.
Key Features:
Sell More with Less Clicks: Venue's Quick Shop feature is pure gold. Shoppers can get the deets and make their move without endlessly hopping around.
Been Rocking Since 2016: Venue isn't some newbie on the block. They've been helping people like you shine online with their great support for years.
Beauty Meets Simplicity: It's super intuitive, works like a dream on any device, and makes setting up an online store super easy.
Best for: Fashionistas, decor mavens, or anyone aiming for that polished store vibe without breaking a sweat – Venue's calling your name.
Price: $350
Check out this option among the best Shopify themes. It's where luxury meets growth, with a dash of style on the side.
Key Features:
Optimized for Sales: It's packed with all the bells and whistles to supercharge your sales and get those carts filling up.
More Bang for Your Buck: With built-in app functionality that meshes seamlessly with the theme, Stiletto's got your back (and your budget).
Dynamic Product Pages: Stiletto combines a clean design with nifty customizable features, making product browsing something to rave about.
Best for: High-end brands, luxury boutiques, or any store that wants to feel like the VIP section of eCommerce.
Price: $340
Designed to put your product catalog in the spotlight, it's where style meets substance.
Key Features:
Modern Design: Clean typography, handy multi-level menus, and a design that looks awesome on any device.
Countdown Sale Banner: With Yuva's countdown sale banner, you can keep your customers in the loop about all the cool promos you're running.
Introducing "Re-Order" Feature: For your shoppers, reordering their go-to items just became a cinch.
Best for: If you're running an online shop for electronics, computers or other gear-centric goods, this is the best Shopify theme for you.
Price: $210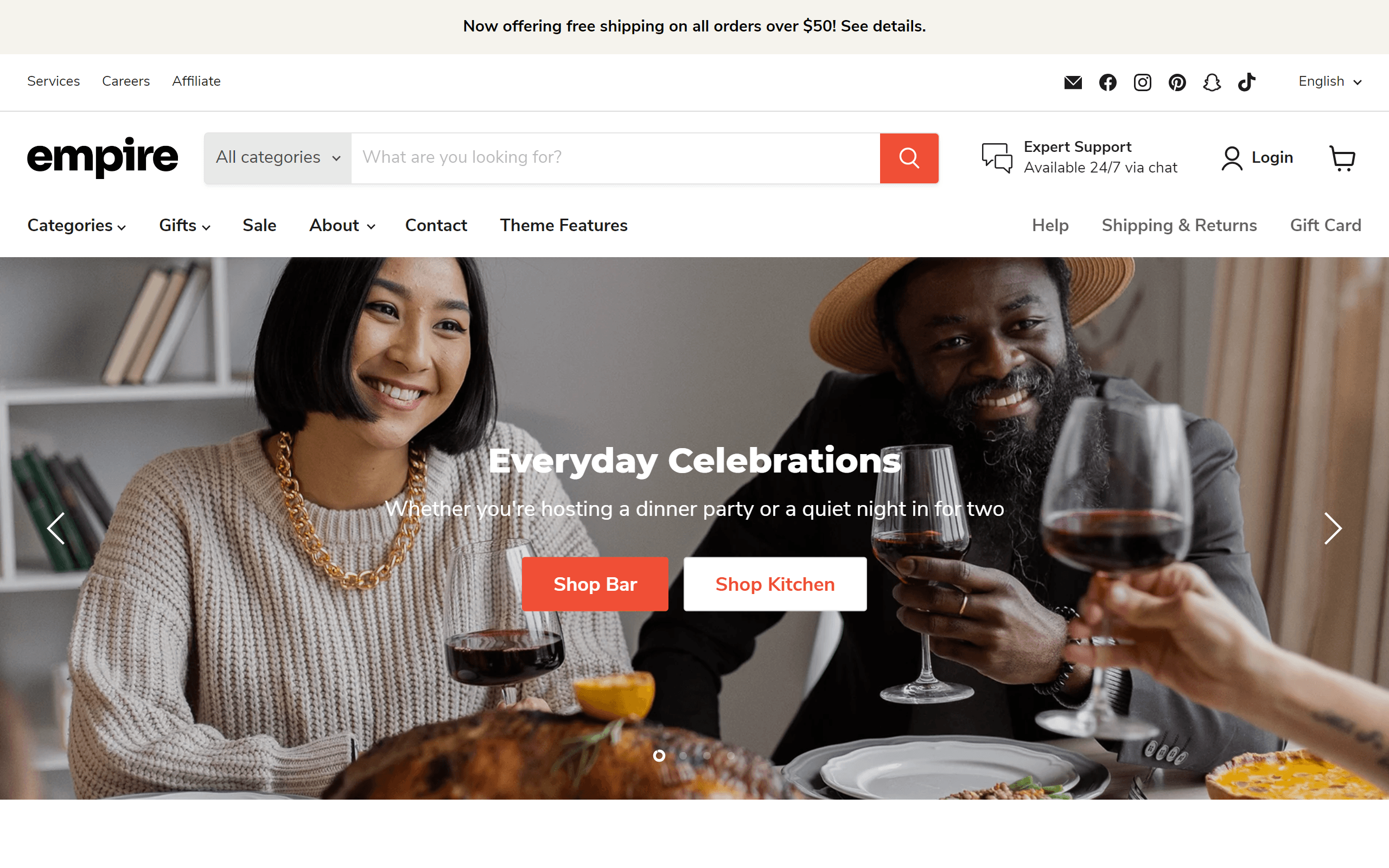 Designed especially for those BIG product catalogs, it's the kind of theme that says, "I've got this handled."
Key Features:
Colossal Capacity: Empire's got the muscles, making product discovery, comparison, and conversion a walk in the park.
Boost That Cart Value: Thanks to its nifty tools, upselling and cross-selling become as easy as possible.
Industry Acrobat: It's adaptable and stuffed with functionalities that give many apps a run for their money.
Best for: For businesses having a massive product range.
Price: $340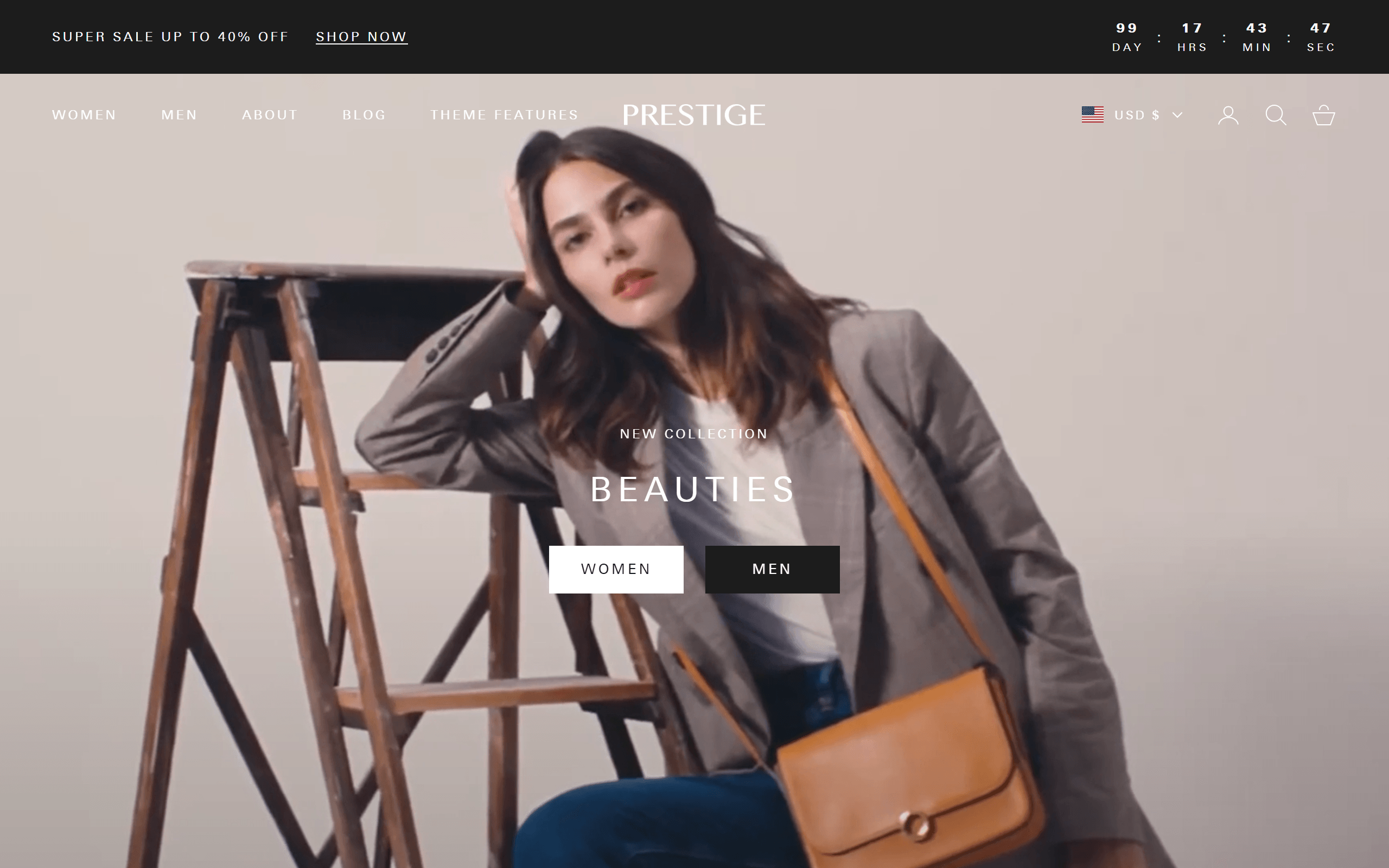 Think of it as the VIP lounge of Shopify themes. One of the best Shopify themes, it's built for those premium brands that want to strut their stuff.
Key Features:
Shining: Prestige is all about that luxury feel.
Boost Your Brand Game: With 30+ tweakable sections and some sweet new features, your store's about to level up big time.
Fast & Smooth: Super-fast browsing and a smooth user experience.
Best for: Whether it's couture, premium accessories, or luxury interior goods, Prestige sets the right tone for a great shopping experience.
Price: $350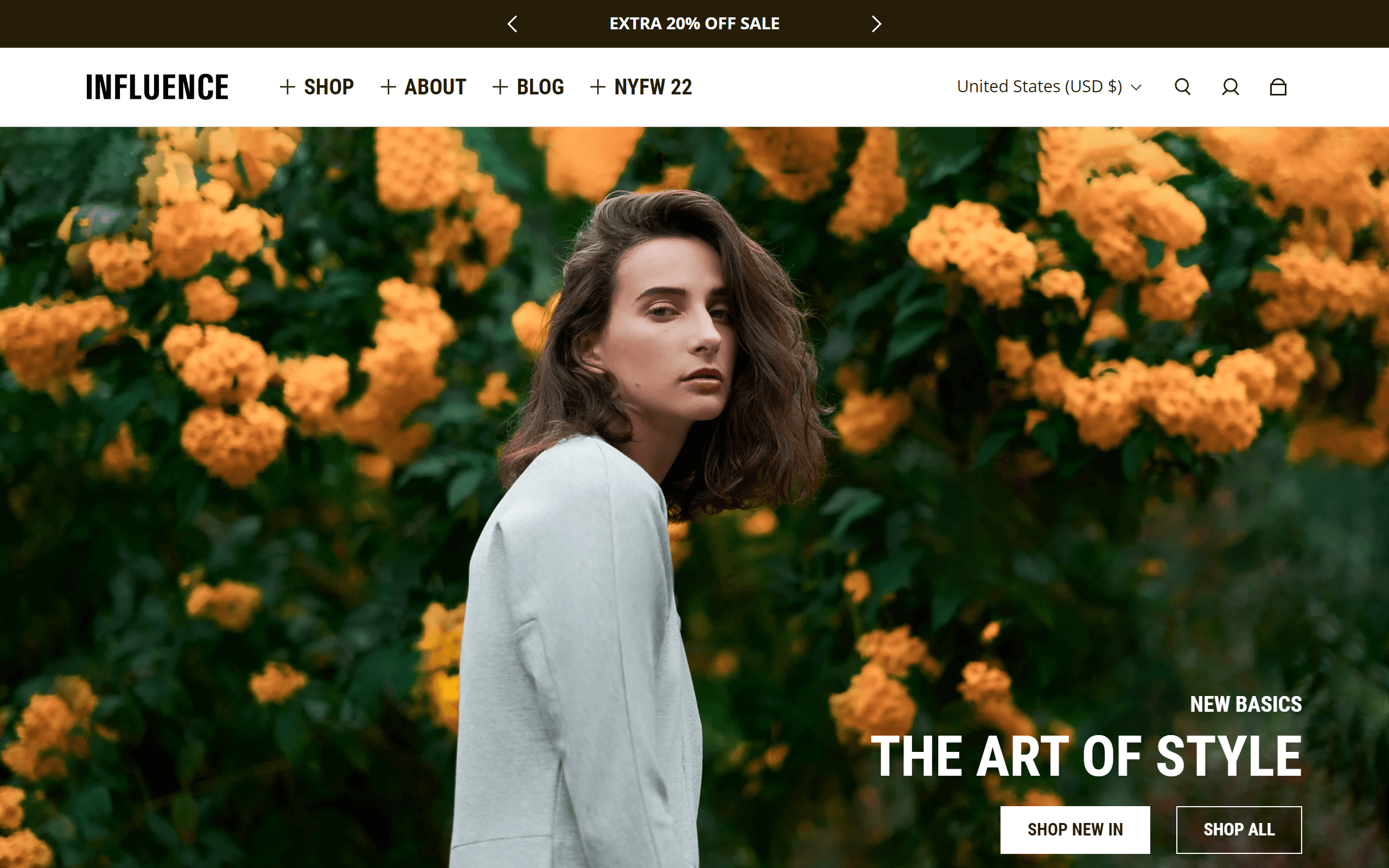 If your brand were a movie, this Shopify theme would be its Oscar-winning director. It's one of the best Shopify themes we can suggest.
Key Features:
Premium Look: Influence is mobile-first and super stylish with 23+ cool sections.
Advanced Product Discovery: Flexible menus, clear visual navigation, and a search that's on point for smoother shopping.
Storytelling: You can tell the story of your brand with unique fonts, slick videos, and pics that shout "Look at this!"
Best for: If you're all about making waves in the fashion scene and want to tell your brand story in style, Influence is the right option.
Price: $180
This is the best Shopify theme that is effortlessly cool and always on point. A minimal design is always a good choice.
Key Features:
Fancy Features: From 'shop the look' to quick buys, it's packed with all the cool stuff.
Get Them Buying: With some promotional tools, Palo Alto makes sure your visitors don't just window-shop.
Zero to Hero: Whether you're a newbie or a big deal in the selling game, Palo Alto's got your back, making sure you look good doing it.
Best for: Those selling city-inspired fashion, trendy gadgets, or contemporary home decor that vibes with a younger, urban audience.
Price: $330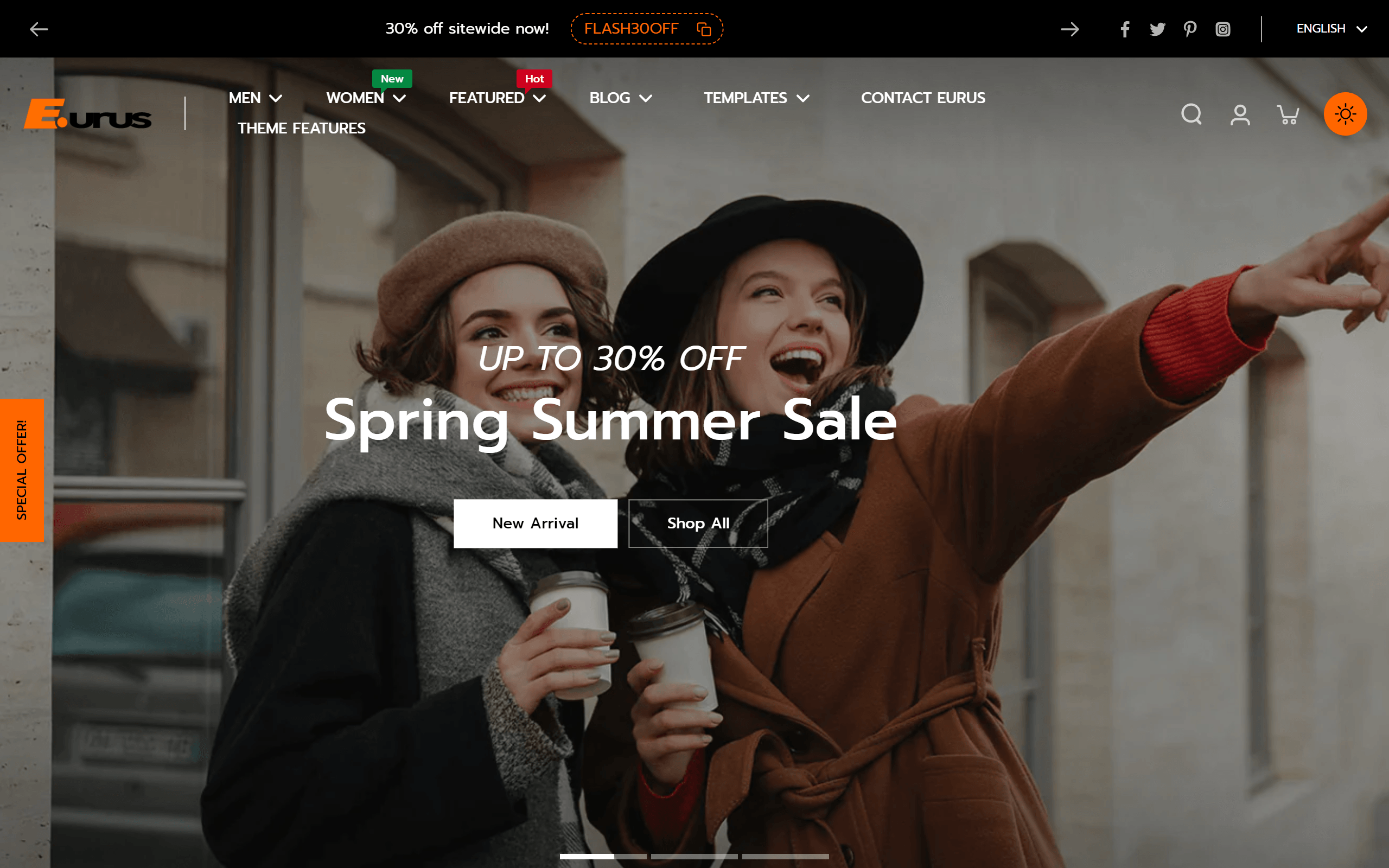 It's like that perfect option that's always one step ahead, never slows down, and looks sharp doing it.
Key Features:
Skip Extra Apps: It has built-in features like big menus, badges, and pop-ups, so you don't need added apps.
Fast on Phones: Eurus is quick and designed for mobile users. It even has light and dark viewing modes.
Make It Yours: You can easily change how it looks with over 30 customizable sections.
Best for: Brands that want speed, adaptability, and a modern vibe. It can be street-style fashion, accessories, or tech store.
Price: $200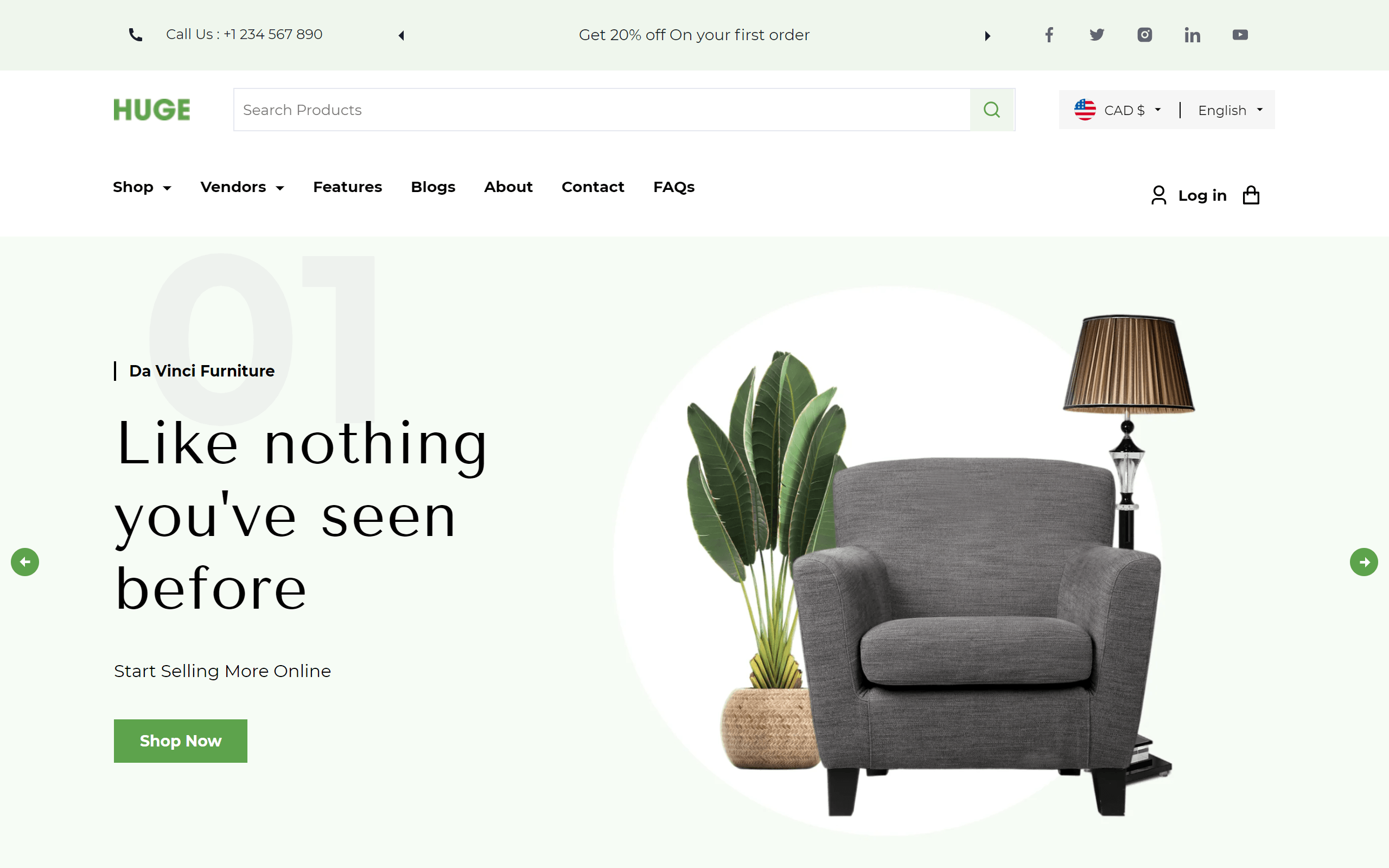 Huge is a different kind of modernity and clean aesthetics.
Key Features:
Made for Big Online Stores: Designed especially for Shopify OS 2.0, helping you set up and grow your online marketplace.
Get More Visitors and Sales: This design is good for SEO and promoting products.
Stand Out From the Rest: It lets you show off your brand in a special way, matching up to big online retailers.
Best for: This is one of the best Shopify templates for stores that have a big range of products and want to be like the big eCommerce platforms.
Price: $220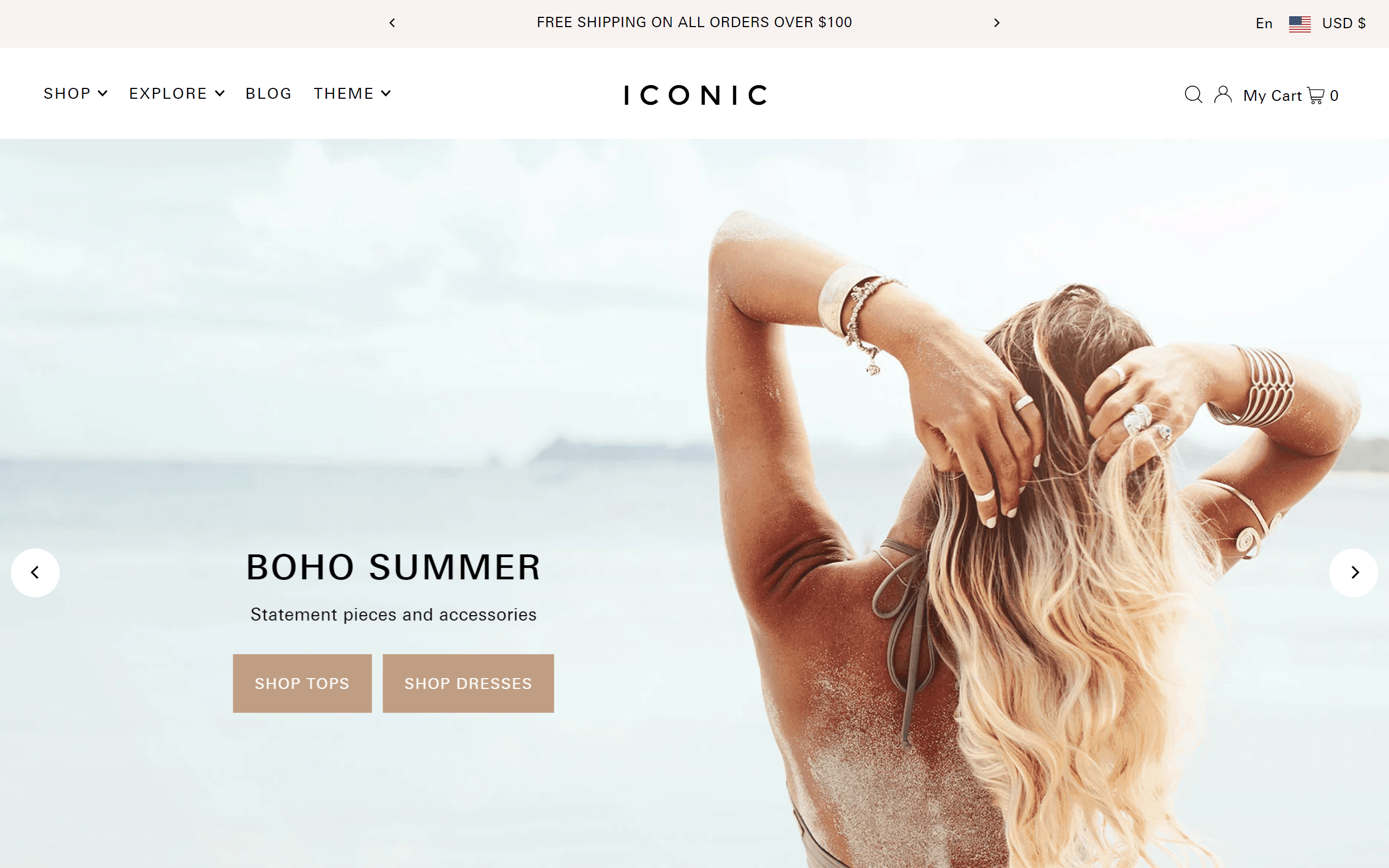 Another option picked for you among the best Shopify themes. Perfect for visually striking brands with image-focused content
Key Features:
Upsell & Cross-sell: Let shoppers easily see other products that go together with what they're looking at to encourage buying more.
Filter and Refine: Help customers find what they want by letting them sort products by color, size, and other options to narrow down long lists.
Fast and Accessible: The theme gets regular improvements and fixes bugs quickly. It also makes the store easy to use for everyone including people with disabilities.
Best for: The list is wide, it can be fashion, jewelry, home goods, electronics, toys/hobbies, sporting goods, or gourmet food products.
Price: $280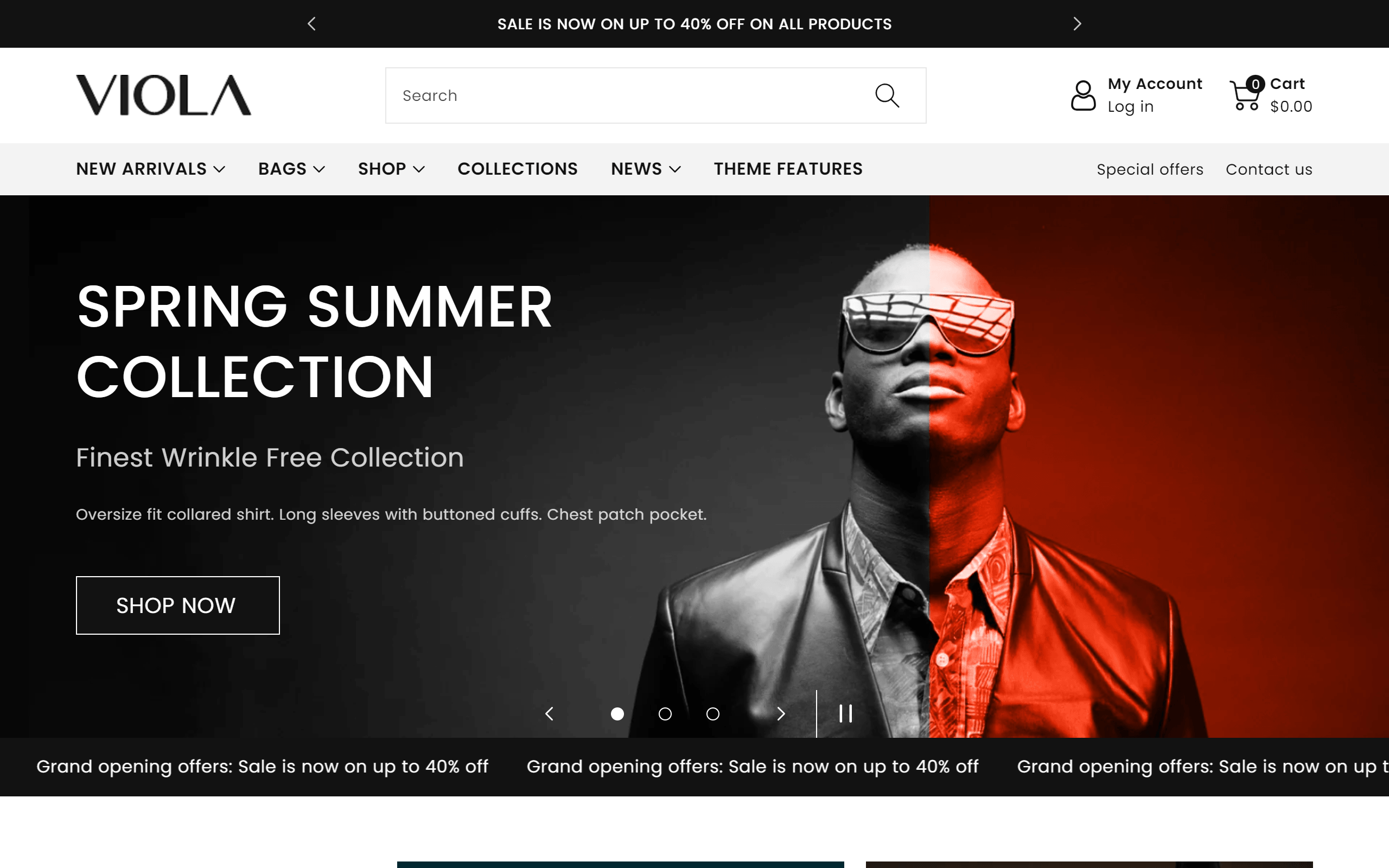 This one's the best Shopify theme if you want to create a unique user experience for your customers.
Key Features:
Multiple Product Layouts: Different styles for different tastes.
Lookbook: Show products being worn or used through pictures you can hover over and click to see the product itself.
Advanced Product Filtering: Make it easy for shoppers to find what they want by letting them sort products in many different ways like by brand, size or other options
Best for: May be a good fit for clothing/accessories, beauty/skincare, furniture, kitchen/home accessories.
Price: $250
The extremely attractive aesthetics of the website make Bazaar one of the best Shopify themes out there.
Key Features:
Create an Epic Shop: This theme has all the tools you need to make a totally sweet online store on Shopify.
Quick Peek at Items: Shoppers can pull up a quick look at the details and choices for a product from anywhere on the site using the quick peek feature.
Creative Slideshows: You can add different types of media like photos and vids together to show them off.
Best for: Clothing or accessories, gourmet foods, furniture... anything that requires minimal and elegant looks.
Price: $320
Another outstanding, best Shopify theme picked for you! It's fast, has a lot of features and will make sure to attract your customers.
Key Features:
Modern Look: Tweak the style however you want with tons of awesome display choices.
Decades of Know-How: Over 10 years means it's well tested and has a great support team.
Big Sales: Boost sales like the giants with promo tools that hook people. Let slick video and scrolling pics do your hyping for you.
Best for: Specific industries that may benefit are sports clothing/accessories, specialty foods, outdoor equipment or craft supplies.
Price: $320
The organic shape of the theme can become an attractive highlight of your brand story.
Key Features:
New Fancy Pickers: Now you can swap between color tiles, pictures, and buttons to pick your product options. Also get 4 cooler swatch styles.
Change It Up: Spice up your site with crisp or curvy borders and shapes for pics and sections.
Buy from Articles: Add recipes and "you may also like" items into any blog post.
Best for: this is one of best Shopify templates perfectly crafted for specialty foods, recipes, and anything related to food.
Price: $280
Extremely fast, extremely modern-looking, it's made to highlight the best features of your products.
Key Features:
Fancy Store Look: It's all done for you, you can focus on important stuff like products instead of design.
Been Around Forever: All that know-how collected through years is baked right into the theme.
Go Toe-to-Toe with Big Brands: Got every tool you need covered. Stuff for search, speed, flexible sections, sales, promos - it's all there!
Best for: A pretty good choice among best Shopify templates for fashion and accessory brands.
Price: $260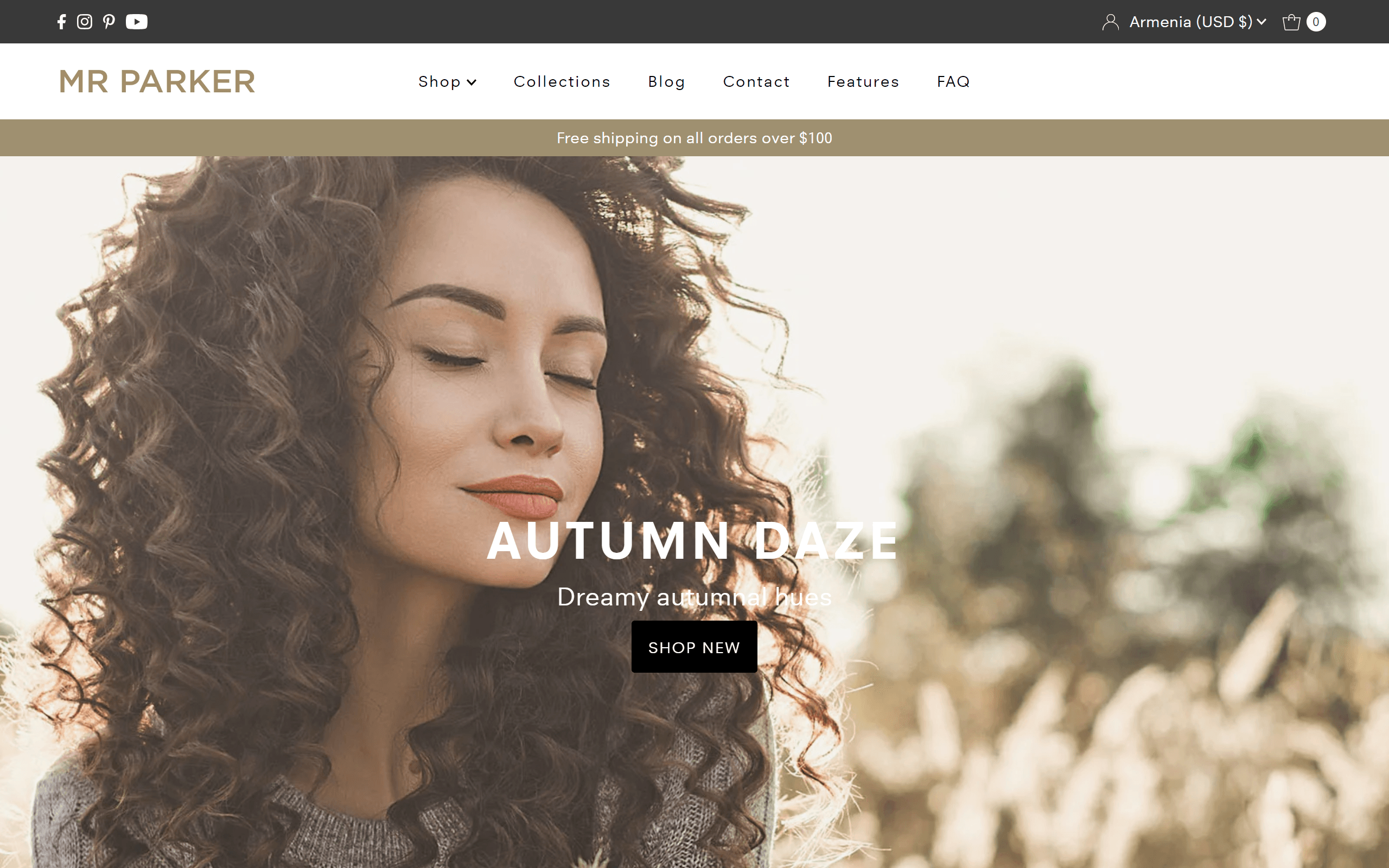 It's so universal that can fit all your needs at once. Another perfect example in our hand-picked list of Shopify best themes.
Key Features:
Product Picking Made Simple: Suggest other stuff your customers might dig right inside a product page. No extra apps or codes needed!
Quick Store Setup: Got sections for days to pick from so you can slap your store together fast. Simple stuff that lets your products shine.
Free Stuff Forever: Get new features for free anytime and if ya need help, their team is always here with answers.
Best for: fashion & apparel retailers, accessories stores, footwear brands, large jewelry websites.
Price: $240
Elegance, minimalist and high-quality imagery - this can be the secret to your sales boost! Yet another treasure find in our list of Shopify best themes.
Key Features:
Lift Your Brand: Get trustworthy with promoted products and other stuff that helps customers believe in you more.
Super Styling Shop Look: Its slick layout looks polished on phones and looks good, making your brand appear professional and put together.
Easy Setup: Simple to slap your store together thanks to easy editing and basic styling choices.
Best for: This is one of the top Shopify themes for fashion & lifestyle brands, specialty retailers, galleries/museums, media/publishing sites, makeup/beauty stores, home goods merchants, etc.
Price: $220
This is a dream for SEO metrics! The exclusively flawless theme among the best Shopify templates in our list of top Shopify themes.
Key Features:
Find More Eyes Online: Get noticed better with this SEO-helpful theme.
Sell More With Style: You can dress up your website in a way that makes people want to spend money.
Make Bank Online: Boost your sales with this eCommerce theme.
Best for: Fashion & accessories, home goods, specialty food, galleries, craft/design stores, beauty/lifestyle stores can firtperfectly into this theme!
Price: $200
Wrapped Up
When you're picking out a theme for your online shop, make sure it's got the features that'll really matter.
Most importantly though, get a theme that'll help you achieve what you wanna achieve. They all cater to different types of businesses. Figure out your vibe and goals, then choose one that vibes with that.
At the end of the day just find a theme that feels right for you and your brand.