The whole content creation world has been flipping with all this new AI stuff popping up. There are tons of tools now that use artificial intelligence to help with writing, editing, keywords, all that good stuff.
But AI has gotten so good, and while it's not taking over for human writers yet, it's definitely changing how people do their thing.
Some people just use AI for little things like spellcheck or finding the perfect keywords. Others let the computer write the whole first draft for them to polish up.
Who even knows where it's all heading? But AI is here to stay when it comes to writing online.
That's why we put together this list of some AI tools out there. We looked at options that could lend a hand in different ways - maybe you want to write more, write faster, or improve what you've already got.
✍️ Best AI Writing Tools for Content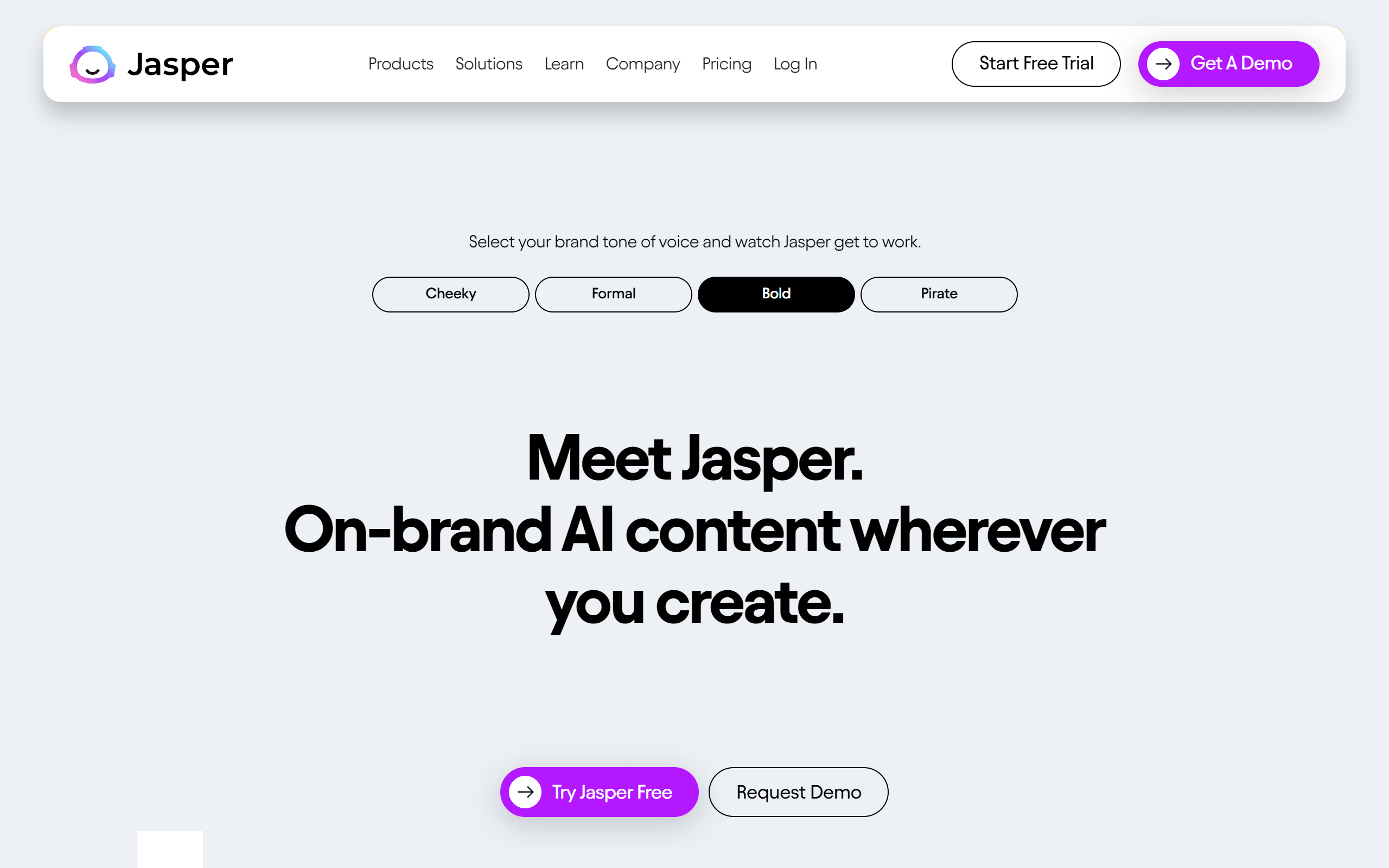 So, Jasper is one of these cool AI writing tools that can help you out with all kinds of writing and content creation tasks. It uses artificial intelligence to learn about your brand and the way you like to communicate so it can generate text for you.
Key Features:
Learns Your Brand Voice/Tone: Jasper pays attention to how you talk about your company so it sounds authentic.
Write Anywhere: With integrations and an extension, Jasper is available wherever you create content.
Generates First Drafts: The AI can quickly write initial versions of blogs, emails, ads to save you time.
Suggests On-Brand Topics/Angles: Jasper knows your brand and can recommend content it thinks would fit well.
Supports Over 30 Languages: Create or translate content across many different languages.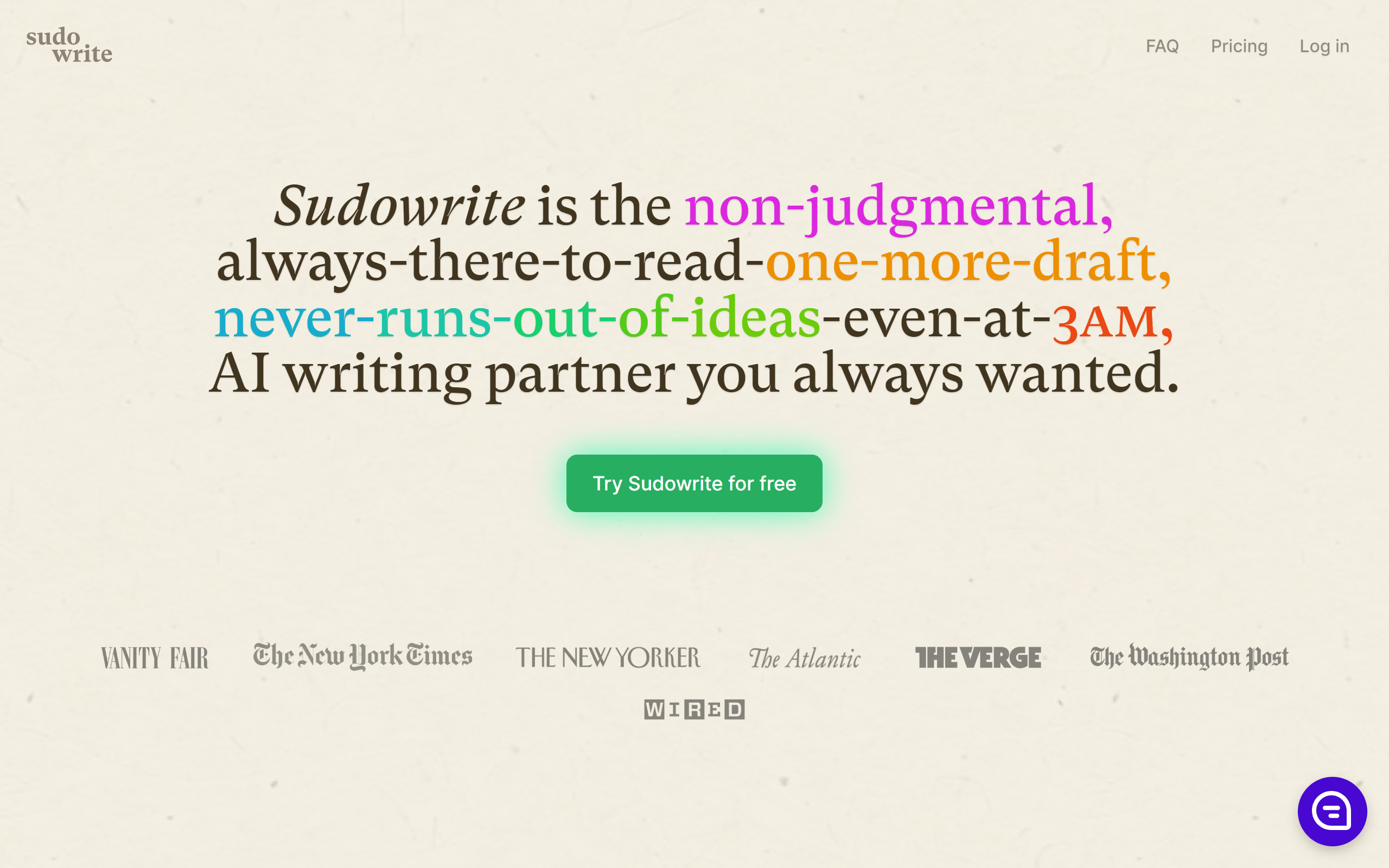 Sudowrite is one of the best AI writing tools that can totally help with all your content needs. And it's absolutely friendly and sweet.
Key Features:
Pumps Out Drafts: Just give it a topic and it'll spawn a whole first draft for an article, paper, whatever while you kick back.
Edits Your Work: If you have a piece that's not quite hitting the mark, it can review and make suggestions to refine it.
Recommendations: The AI is trained in tons of subjects, so it can offer cool ideas or angles if you need inspiration.
Multi-Purpose: Whether you need help with school stuff, blog posts, or anything in between, Sudowrite has you covered.
Easy to Use: Just connect through Google Docs or their website. No downloads or complicated setup - just point and click writing help.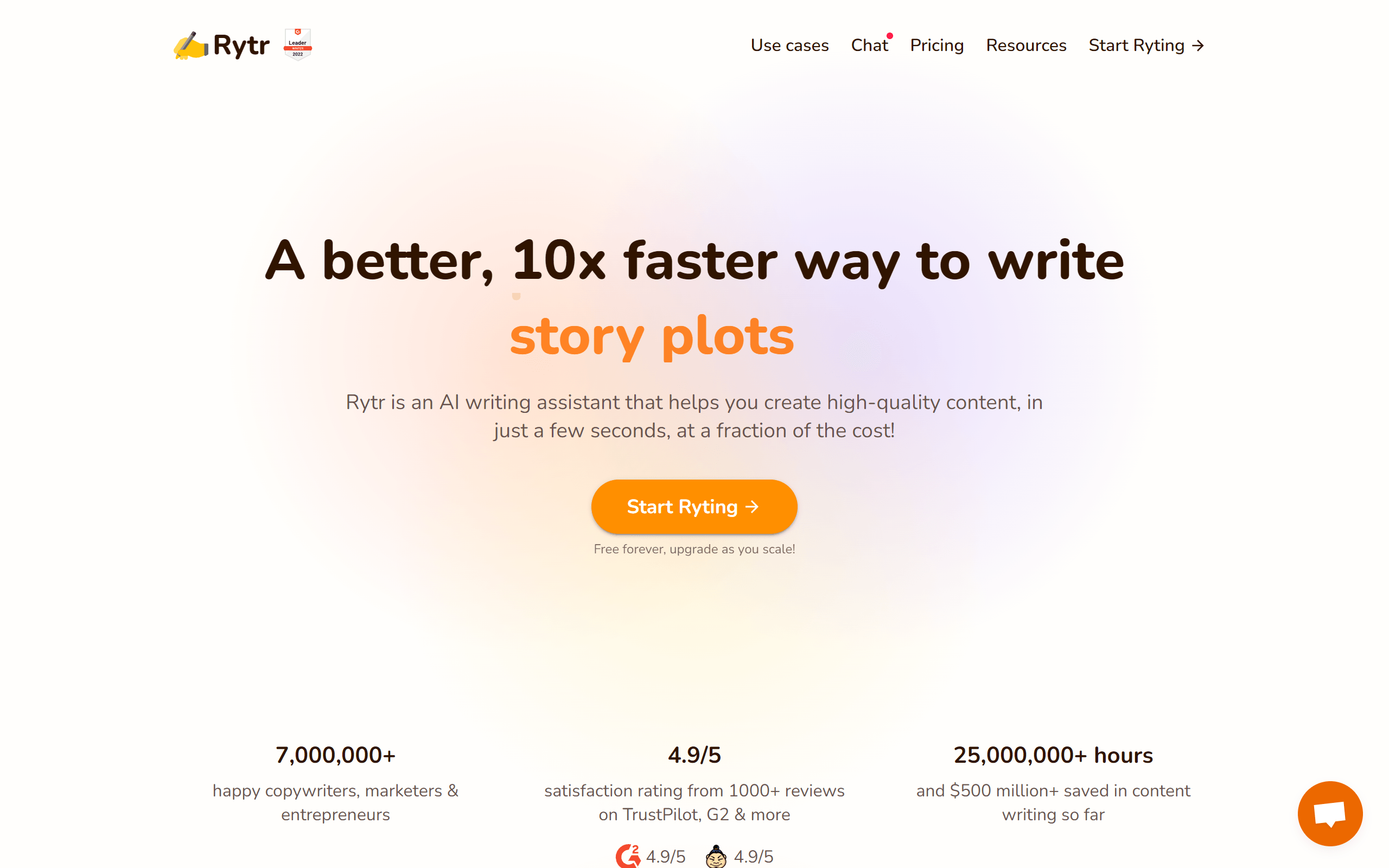 With Rytr, the best AI for writing, on your team to spit out quality drafts in no time, content-making will be so smooth. This AI helper can really save you when you're crunched for time.
Key Features:
Gives Drafts: You give it a topic or use case and it'll crank out a full draft real quick to get you started.
Easy to Use: Connect through their website or extensions and you're good to go. No hassle setup.
Tons of Features: Covers stuff like SEO, tones, languages, images and has tools for editing too.
Great for Different Tasks: Whether you need blog posts, emails, ads or whatever, Rytr has you covered.
Affordable Pricing: The free version lets you write a good amount and you can upgrade as your needs grow for affordable prices.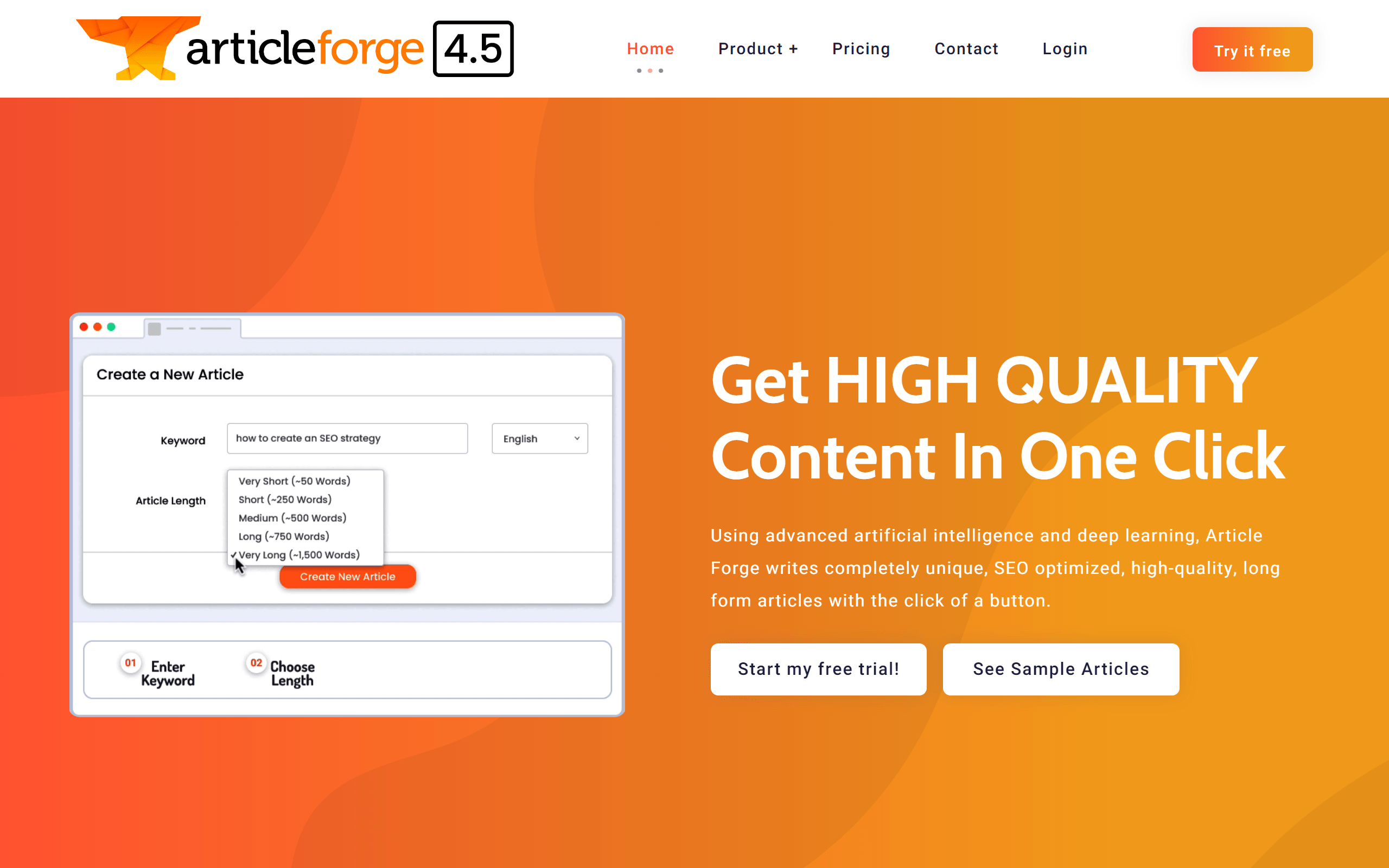 This best AI for writing is an assistant that can generate entire articles for you with just a click. This is your ultimate solution on how to write a blog post fast.
Key Features:
Save Your Time: Just type in your topic and length, then boom - a brand new article on that subject pops up. No more hours of writing and editing yourself.
Articles Sound Natural: The stuff it writes is super readable. It all flows together like an article a human wrote.
Covers Any Topic: Want an article on the latest Game of Thrones episode or trends in sustainable farming? It can write about anything you ask.
Shares the Workload: Need content for your blog or business site? This little robot writer will pump out loads of fresh articles for you no problem.
Passes Plagiarism Checks: The articles are all unique too. Article Forge uses special AI so every piece is original - perfect for publishing online.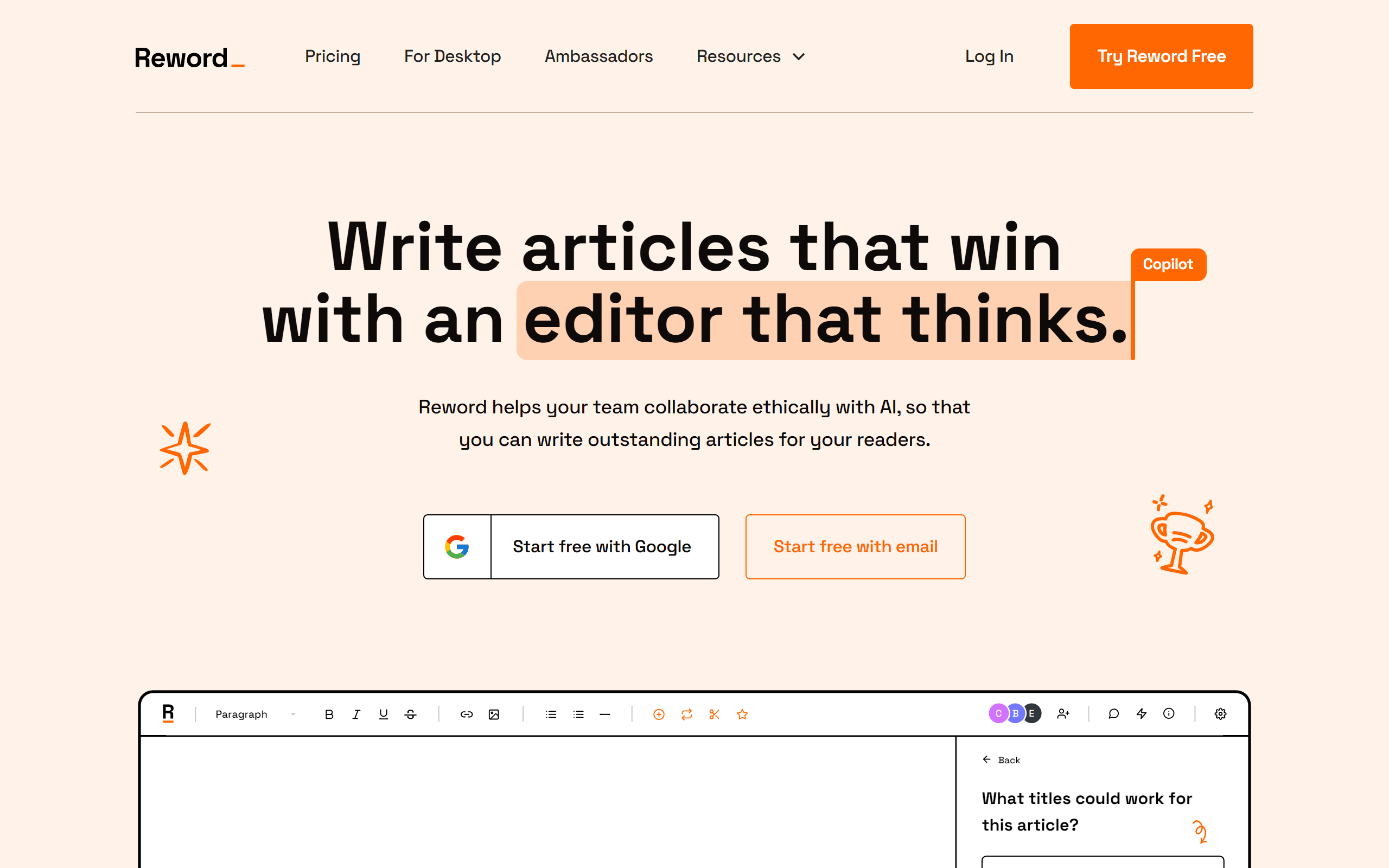 Reword is basically an AI assistant that you can train to be your own personal helper for writing articles. It can generate trending blog topics for you to make your content eye-catching.
Key Features:
Help With Research: Type in a topic and it'll find relevant info to get you started on an article. No more digging around endlessly online.
Give Editing Suggestions: As you write, it reads along and can recommend tweaks like improving flow or adding details. Kinda like a second pair of eyes.
Generate Content For You: If you teach it your writing style, it'll start creating full sections of text on its own to save you time drafting.
Try Different Ideas: Got stuck? Reword has tools to brainstorm fresh headline or subheading ideas to get your creative juices flowing again.
Translate Everything: Once you train it, you can write articles in 30 different languages which is super handy if you want to expand your reach.
LongShot is one of the best AI content writing tools that you can train to help with all your content needs. It's pretty smart and saves so much time by helping with all types of content for a blog.
Key Features:
Generate Full Articles: Give it a topic and bam, it'll write a whole blog post for you complete with facts, citations, and optimization.
Add Facts: Struggling to find sources to back up your points? LongShot can research info directly and insert citations as it writes.
Tweak Templates: It comes with templates for different use cases, and you can customize them to fit your brand.
Check Your Facts: Worried AI might get details wrong? LongShot has a built-in checker that reviews articles and flags any inaccuracies.
Integrates Everywhere: Once you hook it up, LongShot works across sites like WordPress, Medium, and more so you can create on any platform.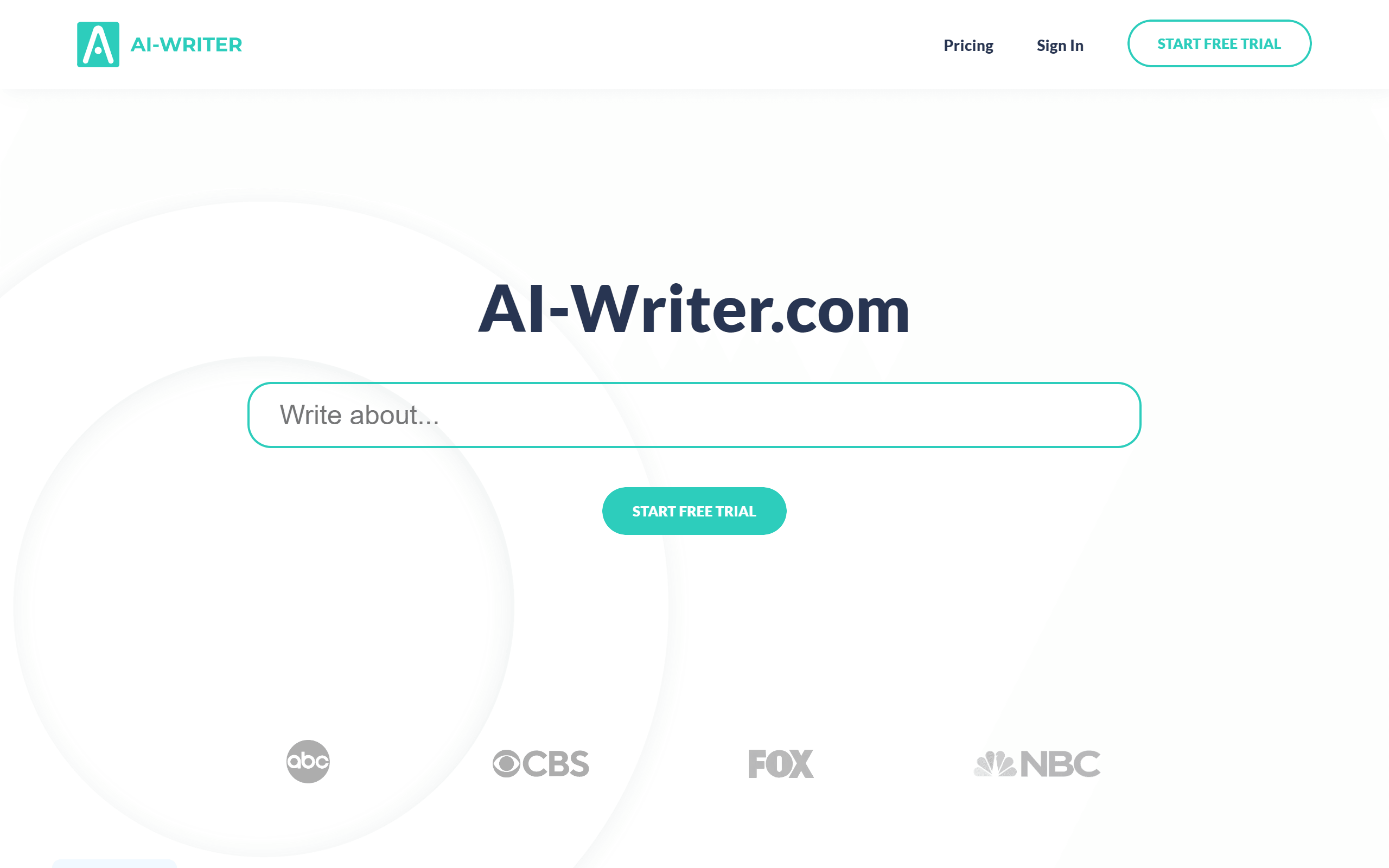 Another one of the AI writing tools that can generate full blog posts and articles for you based on keywords or headlines. Might be worth a shot if huge volumes of unique content is your jam.
Key Features:
Write Full Articles: Give it a topic and it'll spit out a complete draft for you to tweak. Saves loads of writing time.
Add Citations: Which is clutch, cause articles come with a list of sources so you can verify facts easily.
Tweak Templates: It's got custom templates too so you can build out articles formatted just how you like.
Optimize For Search: The writing is all optimized for SEO right out of the gate so your content gets discovered.
Integrates Everywhere: Once linked up, you can publish generated articles straight to platforms like WordPress.
This is one of the AI tools for content writing that lets you chat and get help from an AI. Pretty useful tool to have in your back pocket if you ever need some quick help or answers.
Key Features:
Personal Assistant: You can ask it questions about anything and it'll respond. Need info for your content? ChatGPT's got your back.
Quick Answers: Unlike searching online forever, it replies instantly so you get responses fast without hassle.
Explains Things Clearly: Ever tried explaining a concept to a friend? ChatGPT is amazing at breaking things down simply so anyone can understand.
Helps With Tasks: Stuck on homework or a work project? Chat with it to get tips, ideas or guidance to help you along.
Always Available: Since it's an AI, ChatGPT is there 24/7 whenever you need a hand. No waiting around for human friends to reply!
One of the best AI tools for writing from Google! It is a super handy tool to have in your pocket whenever you need some quick answers or info. Definitely worth checking out!
Key Features:
Chatbot: You can have natural conversations with Bard by typing questions and messages. It responds just like chatting with a friend.
Got Info: Bard is very knowledgeable and can help explain things, answer questions about all sorts of topics, or provide information for school or work projects.
Learns From You: The more you chat, the more Bard will understand your interests and way of communicating. It will get to know you better over time.
It's Harmless: You don't need to worry about it giving you wrong or dangerous information.
📢 Best AI Writing Tools for SEO
This is one of the AI writing tools that are really helpful for saving tons of time researching, writing and optimizing content. It can also explain the role of SEO content to you.
Key Features:
SEO research: You can analyze your competitors' sites and content to see what keywords they're using.
Makes Outlines: Frase makes it easy to put together an outline using headings from search results or its AI can auto-generate one for you.
Writes Content: Once you have an outline, you can use Frase to churn out a full draft of a blog post or article.
Optimizes: As you work, Frase gives tips on keywords to include so your content ranks well on search engines.
Integration With Tools: You can publish content straight from Frase to sites like WordPress.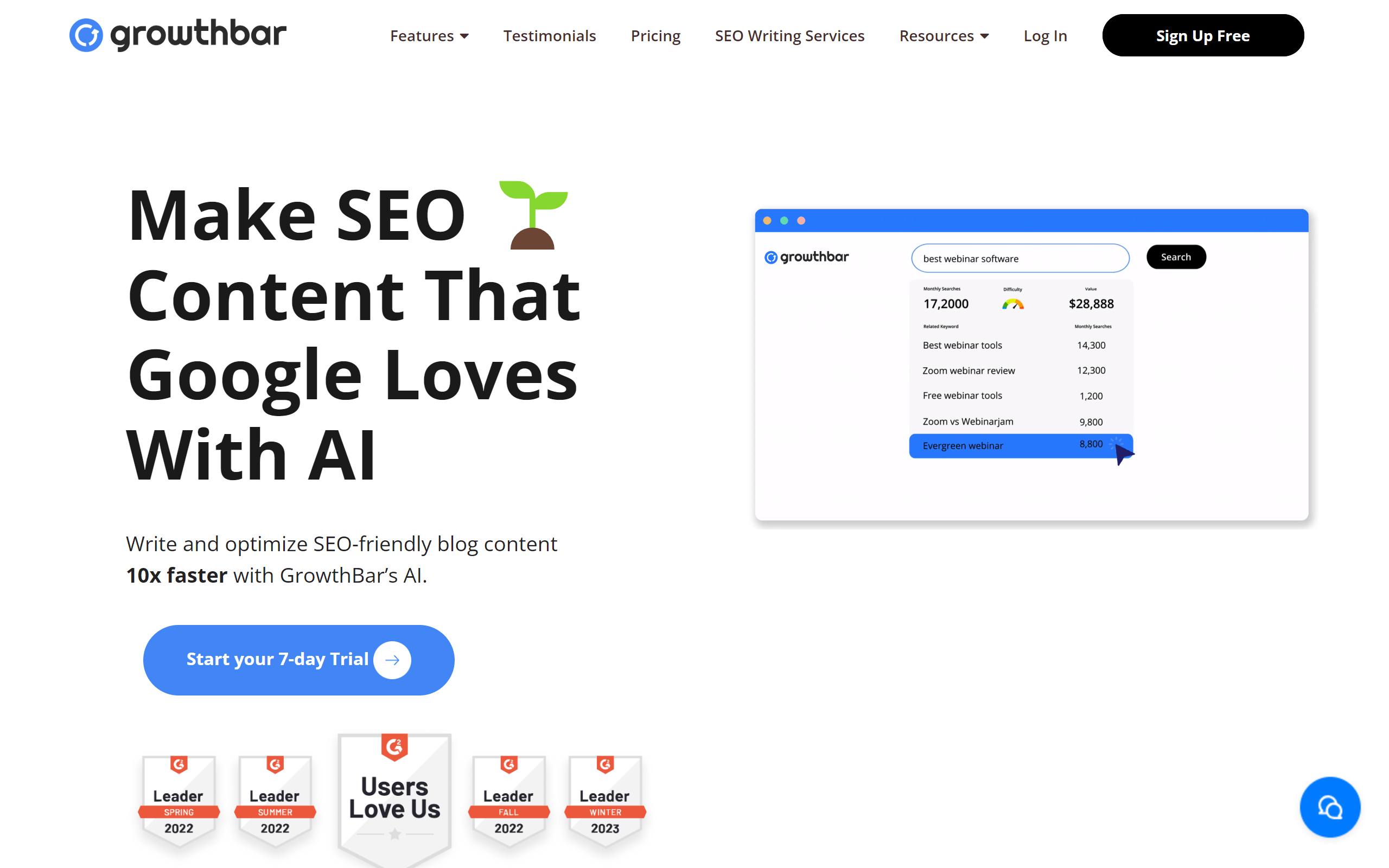 This is one of the best AI tools for writing that could seriously speed up content creation and make it attractive to Google algorithms.
Key Features:
Research: GrowthBar can analyze search results and suggestions to find you keywords, topics and what your competitors are doing.
Builds Outlines: Give it some keywords and it'll auto-generate an outline with headings, word counts and links all optimized for SEO.
Writes Content: With one click, it'll churn out a full blog post based on the outline it made, taking SEO into account the whole time.
Works for Teams: You can collaborate on projects with others and divide up the writing tasks.
Bonus Tools: It does keyword tracking, backlink checking and more. Plus there's a Chrome extension so you can write in WordPress.
Surfer has some awesome features to streamline your whole content process. This tool looks really helpful for SEO and boosting your traffic.
Key Features:
Keyword Finder: Does all the legwork to hunt down awesome topic ideas for you.
Outliner: Maps out your pages for you with potential headers and stuff.
AIHelper: Actually writes articles for you based on the outlines.
It Optimizes: Gives tips as you type to rank your stuff higher.
Page Inspector: Checks over what you already made and says how to make it better.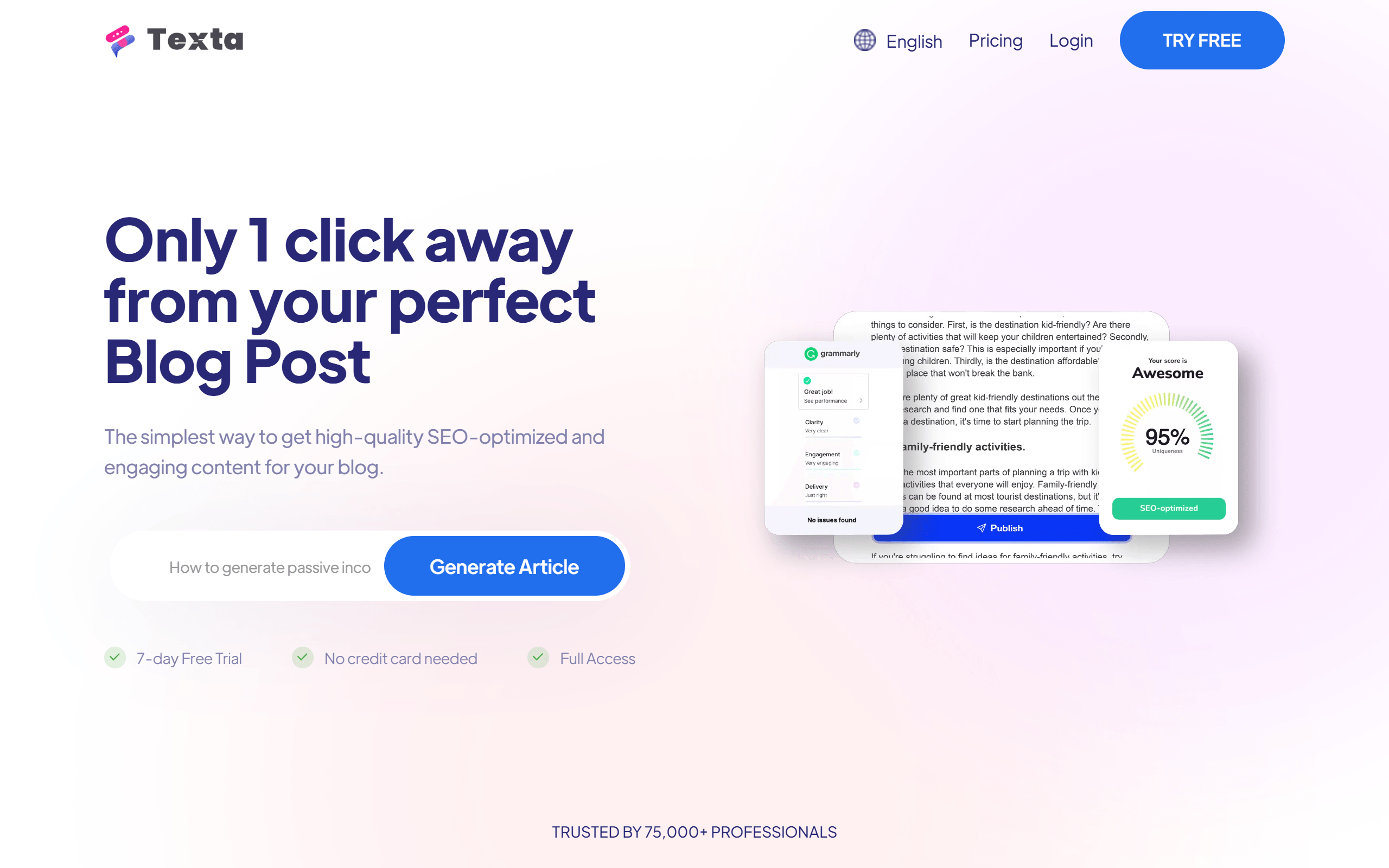 Texta is an AI-powered content generation tool that helps you create all types of writing quickly and easily. With it, you can generate blog posts, articles, social media posts, product descriptions, email copy and more.
Key Features:
SEO Optimized Content: Everything it generates includes the right keywords and structure for search engine rankings.
Keyword Research Tools: Helps you find related terms, see search volumes and trends directly in Texta.
Trending Topic Ideas: Gives suggestions for popular articles your audience and Google are interested in.
Easy Integrations: Simultaneously publish content across your websites and social profiles to expand backlinks.
Content Analyzer: Paste text in to have Texta spot any issues that could hurt your search engine performance.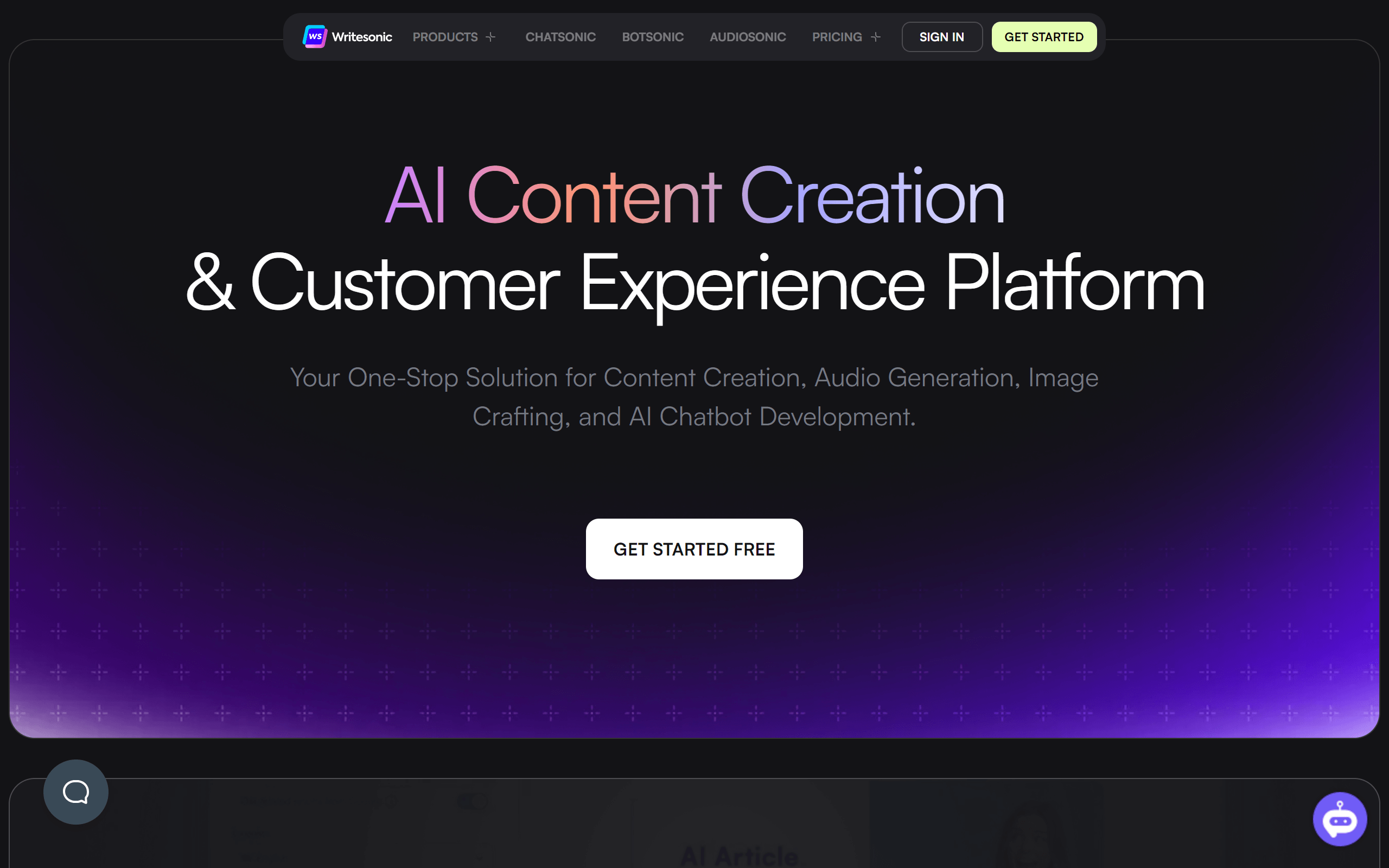 WriteSonic is one of the online AI writing tools that uses artificial intelligence to help you write all kinds of stuff. It takes some of the pressure off of SEO and gets you moving in the right direction.
Key Features:
Idea generator: Just tell it what you need to write about and it will spit out topics and angles to get those creative juices flowing.
Outline Creator: Once you have your topic, it can map out a basic structure so you're not starting from complete scratch.
Edit Suggesting: Want a second pair of eyes? It will analyze your writing and point out areas that could use improvement or expansion.
Style Matching: Not sure what "voice" to use? It can analyze examples and match the style of your writing to suit different types of content.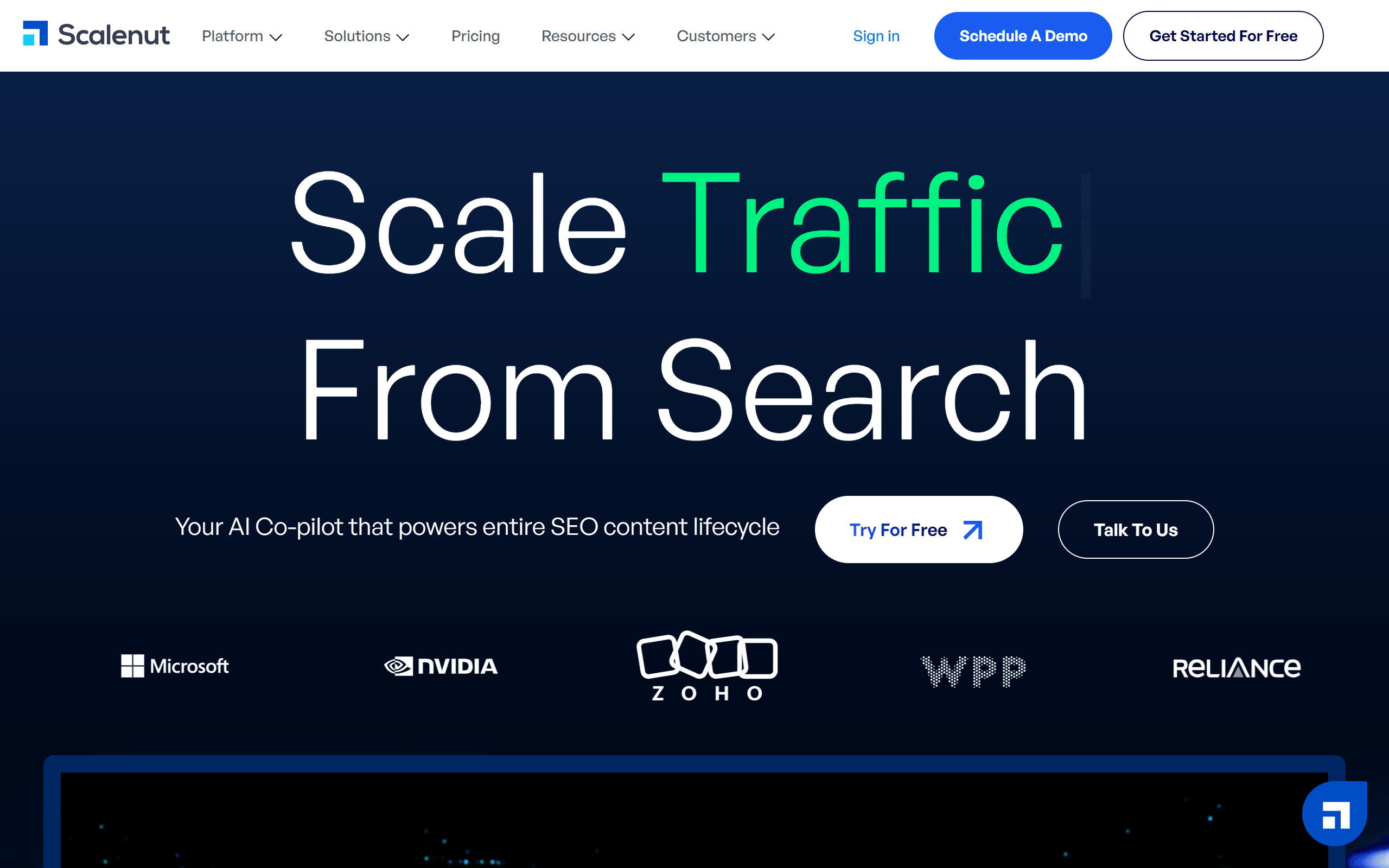 Scalenut is one of the best AI writing tools that makes creating content a breeze. Whether you need blog posts, product descriptions, or marketing copies - this little robot can help you out.
Key Features:
Easy Content Creation: With features like "Cruise Mode" you can generate full blog posts super quick with just a few clicks.
SERP Research Tools: It gives you insights into what your competitors are doing and trending topics in your industry so you know what to write about.
Automatic Optimization: The AI will analyze your content and flag any areas that could help with SEO and ranking, like keyword opportunities.
Natural Language Generation: Need copy for social media or emails? It can churn out human-sounding text tailored to your brand voice.
Real-Time Metrics: Track how your pages are performing with traffic stats right in the dashboard. See what's working and what needs improvement.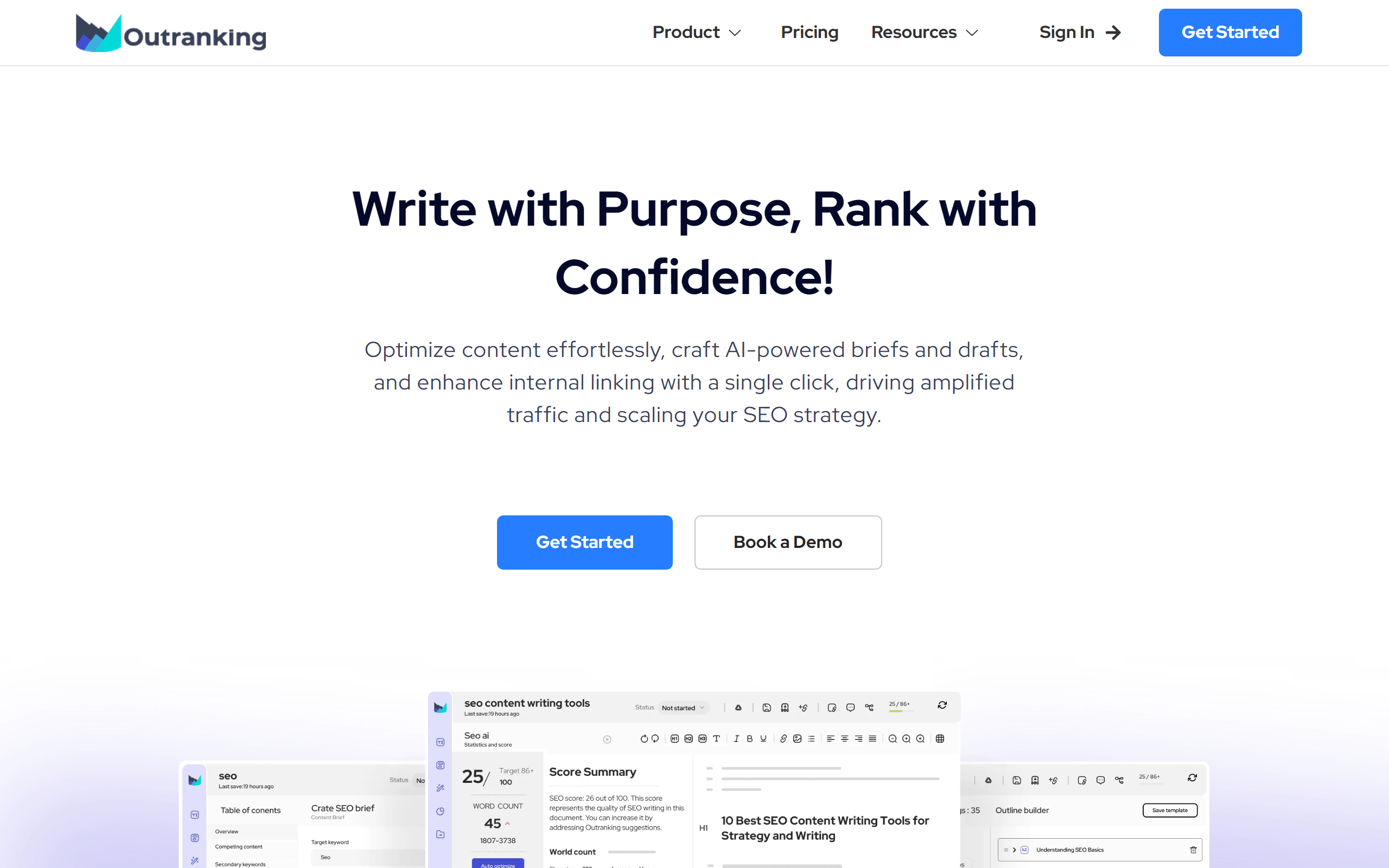 With Outranking you get the best AI for writing that does the heavy lifting plus real SEO smarts baked in. It takes the stress out of content creation so you can rank and succeed.
Key Features:
Automatic Optimization: It'll analyze your existing content and flag any areas that could help with SEO, like keywords that are missing.
Smart Writing Assistant: Use features like "Concepts" to get suggestions straight from top search results to help write engaging, informative articles.
Built-In Research: It gives insights into competitors and trending topics so you always know what people want to read about.
Team Collaboration: Tools to easily plan, write, review and publish content as a team in one place.
Customized Outlines: The AI can make detailed outlines customized to your brand from keywords it analyzes.
With Content at Scale, the robots do all the work for you while writing no worse than pro content writers and marketing specialists. It's a total game-changer for SEO.
Key Features:
Automatic Writing: Give it a keyword, existing article, video, podcast, etc. and it'll crank out a high-quality draft for you in minutes.
Bypasses Detection: Its content is so human-like that it can't be detected as AI-written, saving you potential Google issues.
Tons of Options: You're not limited to just keywords - it can take all kinds of inputs like docs, URLs, and spit out blogs.
Many Integrations: Plays nice with WordPress, Shopify, and more so publishing is seamless.
Sample Editor: Check out sample outputs before you buy to see its skills.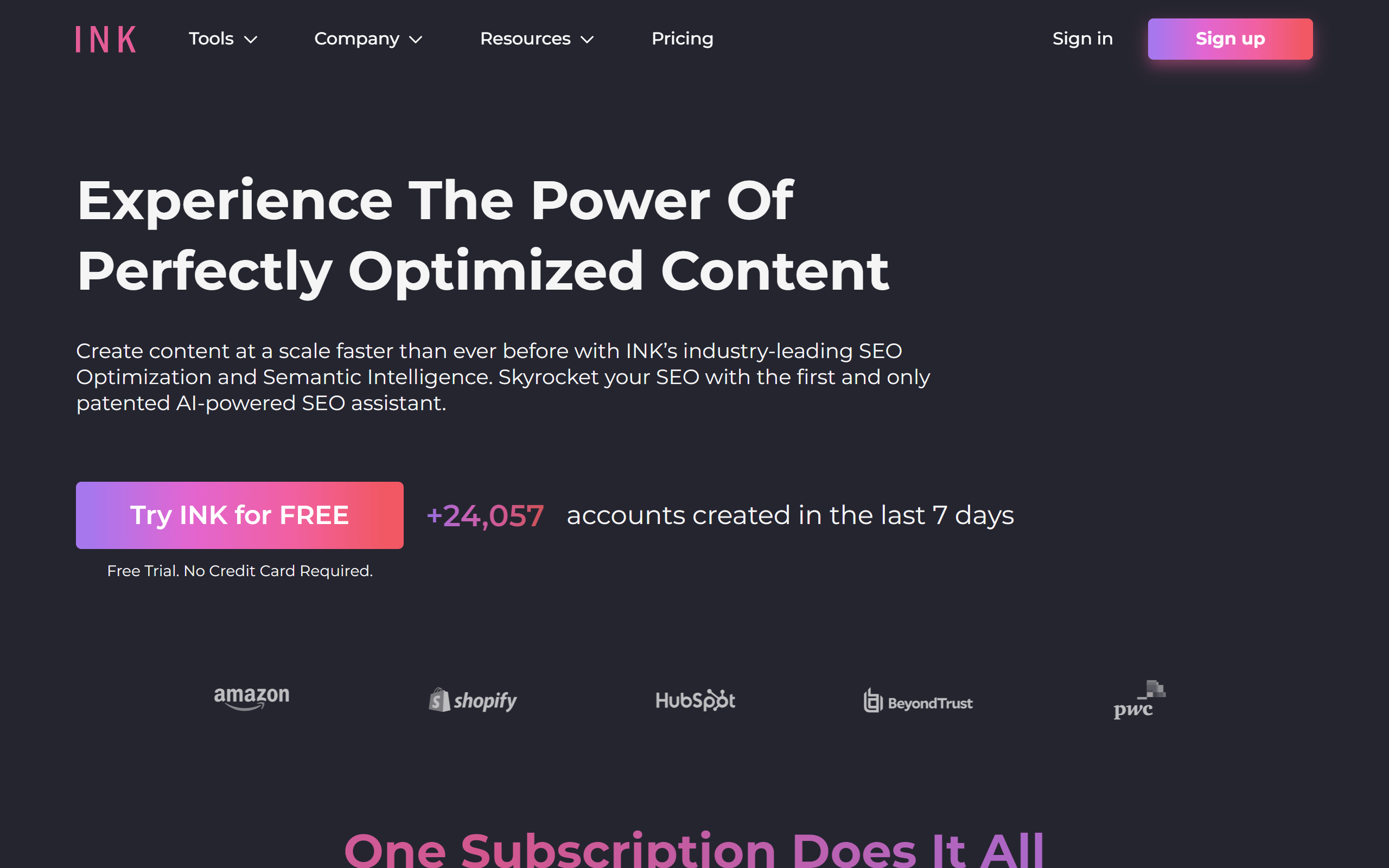 INK is a full-service AI writing and marketing partner that makes content creation so smooth while boosting your SEO. It takes all the headache out of writing at scale. You can even create a content calendar.
Key Features:
Automatic Writing: It'll spit out a draft for you from any topic in no time.
SEO Optimized: Everything it writes is analyzed and tweaked to rank higher on Google.
All-In-One Platform: Covers tasks like keyword research, clustering topics, and protecting your work.
Built-In Editor: Easily refine drafts directly in INK before publishing.
Large Community: Join their Facebook group to connect with other users.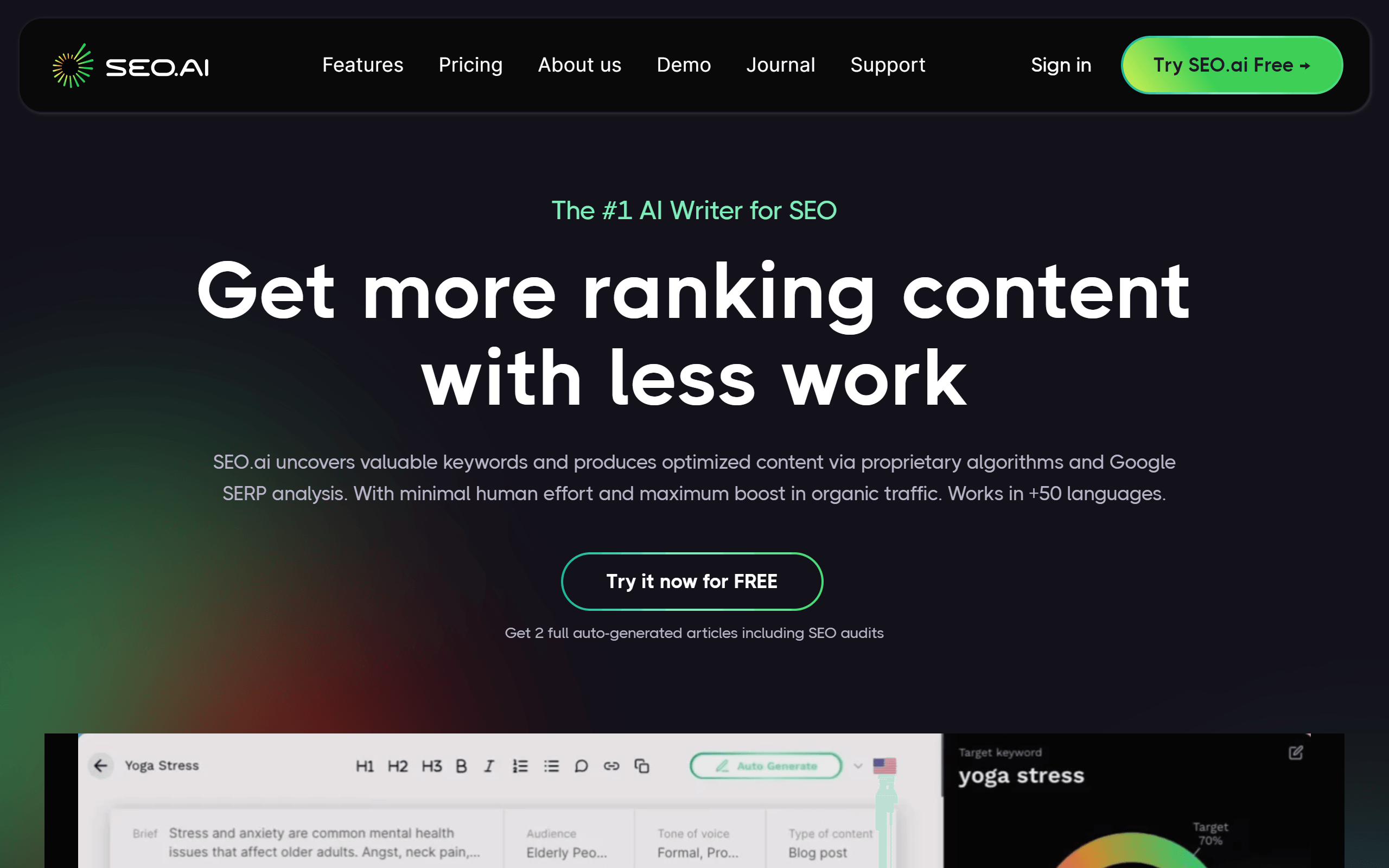 SEO.ai is a set-it-and-forget-it content machine that does all the writing grind while boosting your SEO. It's perfect for solopreneurs and agencies who want max output with minimal effort.
Key Features:
Automatic Writing: Give it a topic and bam, you've got a polished draft ready to go.
SEO Optimized: Everything it writes is tailored to rank higher on Google searches.
Multiple Languages: Works in over 50 tongues so you can reach international audiences.
Free Trial: Test it out before you commit with a no-risk trial run.
Large Scale Output: Drafts average over 1,600 words each so you can scale up content fast.
🖊️ Best AI Writing Tools for Copywriting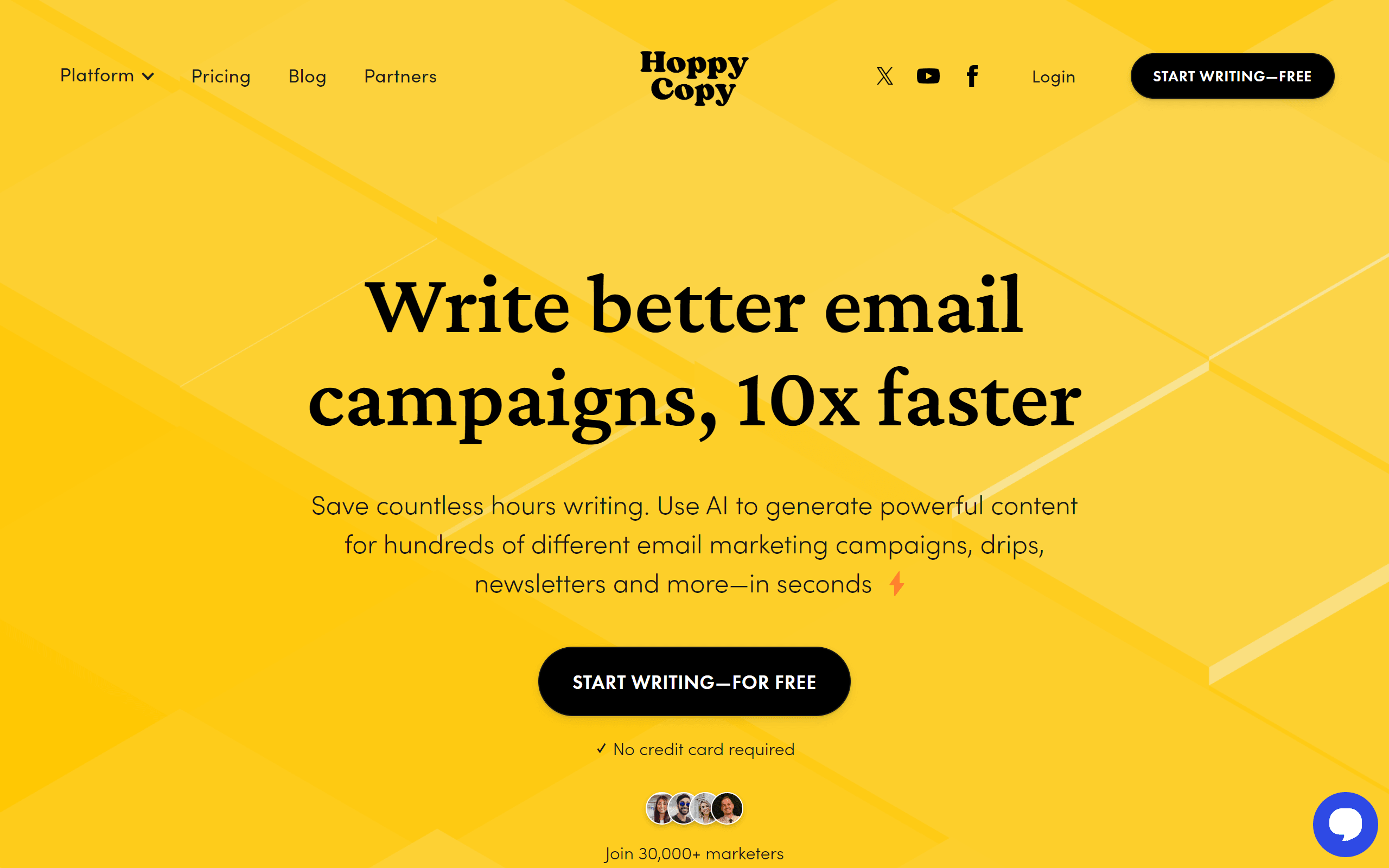 Hoppy Copy is an AI assistant made specifically for email marketing. It can generate slick copy so you don't have to spend hours writing every campaign.
Key Features:
Automatic Drafting: Need emails? Just choose a template and boom - you've got a full draft.
Editor Tools: Tweak wording, headlines, calls to action - it gives you options to refine everything.
50+ Templates: Covering things like newsletters, promos, abandoned cart emails, etc.
Content Repurposing: Repurpose blogs, articles into emails or other formats with ease.
Free Trial: Test it out risk-free before committing to see how well it works.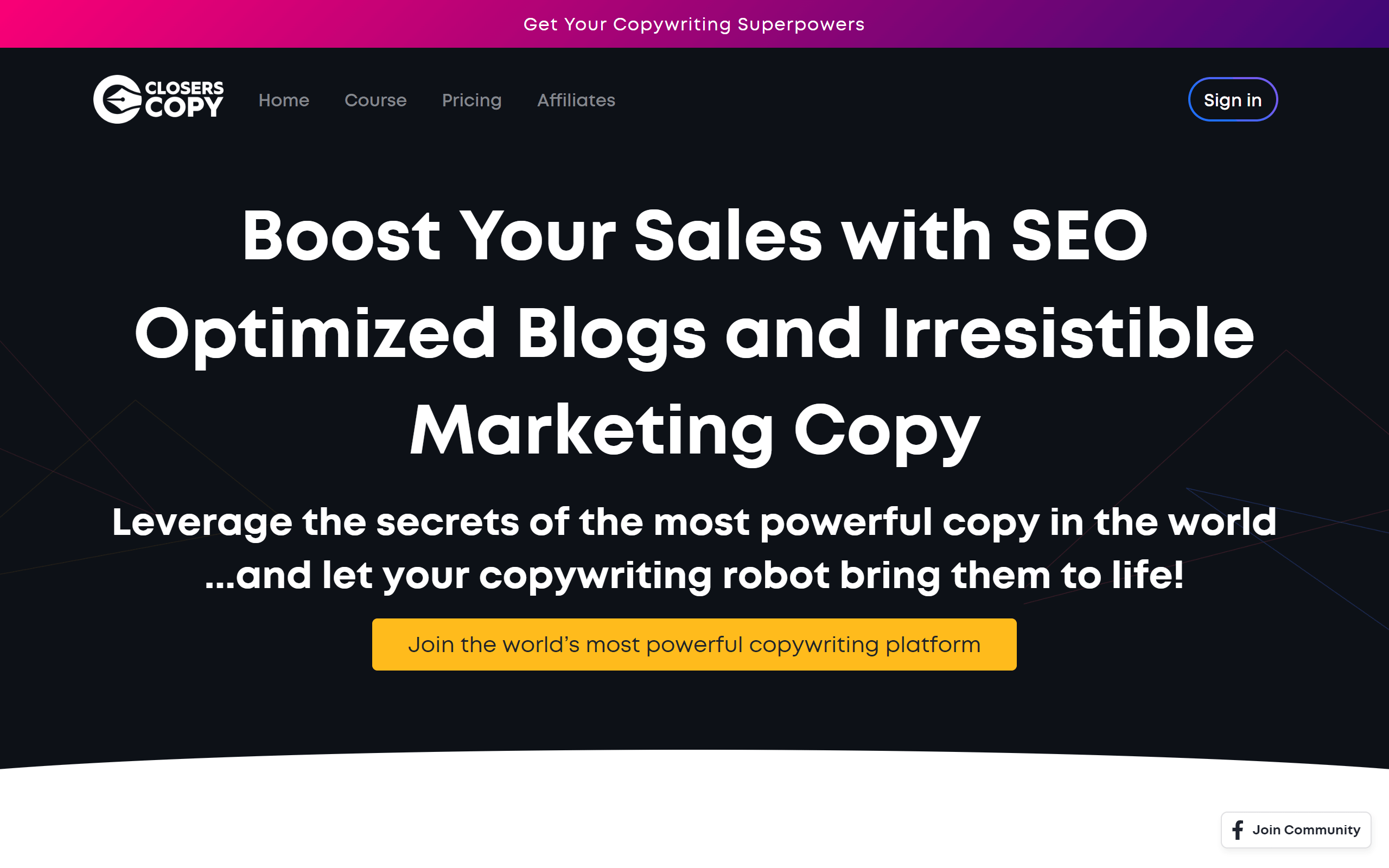 This is the best AI for writing that can help you write all sorts of stuff. Whether you need to write sales pages, emails, articles, social posts, or anything else - ClosersCopy is here for you.
Key Features:
The Template Vault: With dozens of pro-level templates for things like sales pages, emails, blog posts and more, you'll have plenty of ideas to spur your creativity.
The Idea Generator: Feed the AI assistant a word or two and it will flesh out an outline full of inspiration for your next hit piece of content.
Modes for Every Masterpiece: Whether you're crafting a sales letter, article or novel, there are "modes" tuned for various content types.
Frameworks: Make templates of your own with the framework feature. Reuse and adjust them anytime the same topic comes up.
Write Smart Tools: Analyze your copy, research trends and topics, and get insights to optimize calls-to-action and more.
Give it a shot to one of the best AI writing tools - just feed it a prompt and bam, you've got high-quality content customized for your business. Pretty handy little robot friend if you ask!
Key Features:
Ideas: Creates tons of unique content with just one click. No more staring at a blank screen trying to think of what to write!
Chat GPT: Runs on this crazy powerful AI from OpenAI called GPT-3. This bot is next-level intelligent.
Other Tools: Has over 50 different tools for whatever you need to write - covers basically anything.
Helper: Lets your creativity flow by exploring different spins on your ideas.
Time-Saver: Saves you hours of writing so you can focus on more important things than wordsmithing all your posts and ads.
No more blank pages - just chat with Copy.ai to get high-quality output made just for your business. Pretty handy little helper
Key Features:
Chat Buddy: This little bot is your new best friend for brainstorming, research help, and expert writing assistance. Just ask and it provides what you need.
Workflow: Not only can it create one-off content, but it can also automate entire workflows like prompts with customizable templates.
Brand Knowledge: Onboard your brand info and catchphrases so it understands your unique voice and stays consistent across all generated pieces.
Translation Transformer: Expand your reach by easily bulk translating an entire website, product listings, or any content into dozens of languages.
Integrations Station: Hook it up to your other apps through APIs and custom workflows so content flows seamlessly between programs.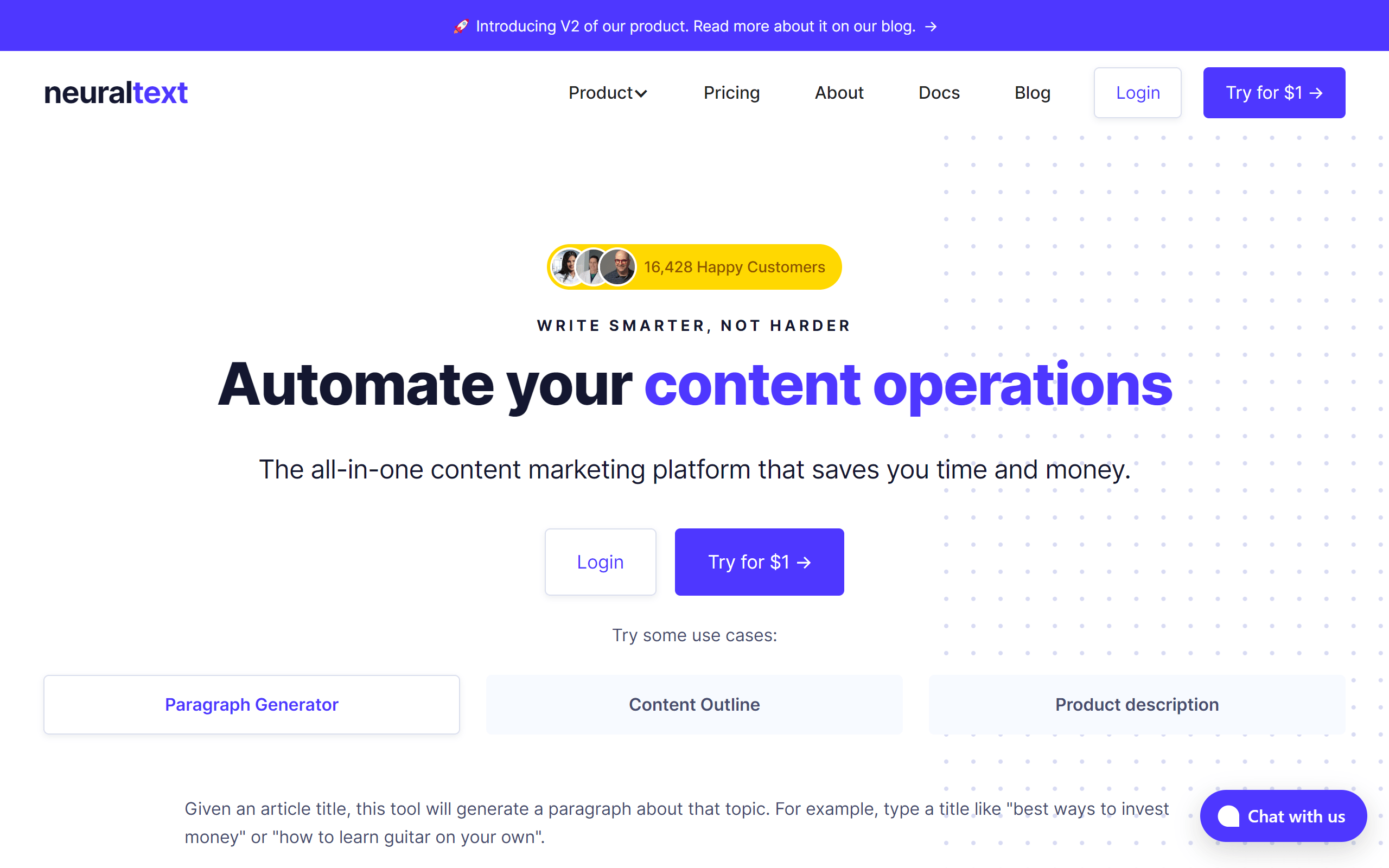 NeuralText is a pretty nifty AI writing assistant that can help speed up your content creation process. It uses some smart robot brainpower under the hood to take over a lot of the more tedious tasks.
Key Features:
Keyword Kwacker: This feature spits out tons of related keyword ideas to help spark new content topics.
Cluster Captain: It groups similar keywords together so you can see natural article flows and themes at a glance.
Brief Buddy: Quickly generate detailed outlines and pitch decks from keyword clusters toassign writing tasks.
SERP Spy: Analyze competitors' content to find the best angles and structure for your next piece to rank higher.
Text Twirler: Generate drafts from outlines, round out articles with missing details, and polish existing text.
Pepper Content is among the AI writing tools that is all-in-one platform for handling all your marketing content needs. It brings together tools, teams, and data to make content creation and tracking super easy.
Key Features:
Idea Igniter: This feature sparks creativity with AI-generated topic suggestions based on your goals.
Content Concierge: A network of top-notch freelancers you can call on for any writing, design, or translation tasks.
Platform Pal: A centralized hub to strategize, create, publish and analyze all your content in one place.
Analytics Accomplice: Track metrics and ROI at every stage to see what content is really performing.
SEO Supreme: Built-in optimization tools like keywords, links, metadata to boost your organic reach.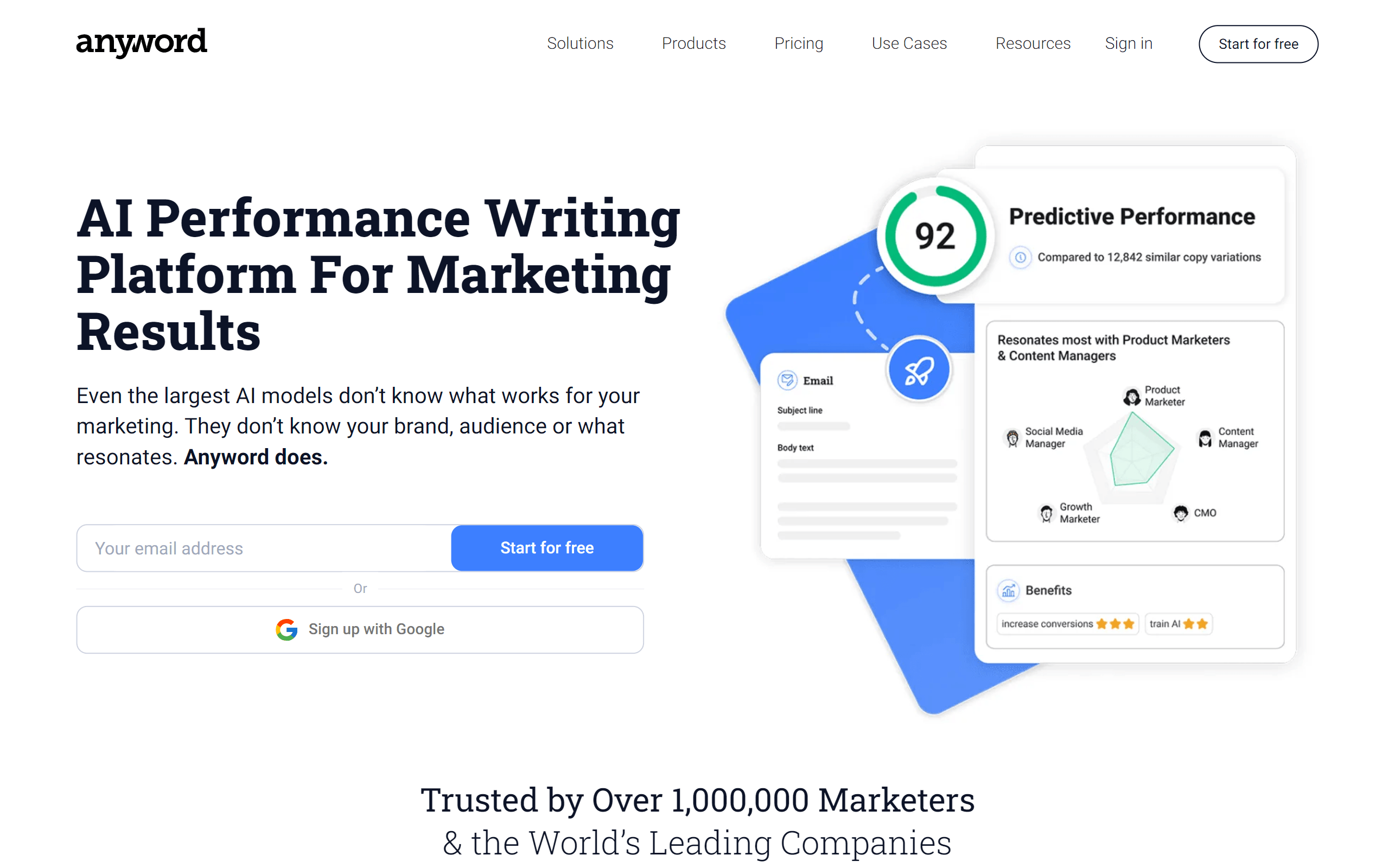 Anyword is a pretty sweet AI writing assistant geared towards helping marketing people get results. It uses some fancy machine learning under the hood to crank out optimized content.
Key Features:
Performance Profiler: Analyzes all your past content to see what copy actually converts best for each channel.
Custom Copier: Teaches itself your brand voice by looking at your best stuff, so all generated content sounds right on message.
Campaign Creator: Quickly bang out multiple content variations based on personas for things like ads, emails, social posts.
Everywhere Editor: Export your trained AI to tools like ChatGPT, Canva and more so it can help wherever you write content.
Real Results Reporter: Tracks metrics to prove the content it helped make is actually moving the needle on leads, sales and other important KPIs.
🛒 Best AI Writers for eCommerce
Whether you're a solopreneur or big business, this AI assistant can handle all your content needs so you have more time to focus on the important stuff.
Key Features:
Content Creation: Give it a topic and it'll crank out high-quality blog posts, product descriptions, social media captions, pretty much anything you need.
Image Generator: Not just words, this tool can also make pictures and art related to whatever you tell it. Handy for social posts or landing pages.
Mass Production: Use the batch generator to pump out tons of content all at once. Save loads of time for larger sites.
Multiple Languages: Write content in over 30 languages, so you can expand internationally with ease.
Integrations: Publish straight from Hypotenuse to sites like Shopify, WordPress or through its API. Super convenient.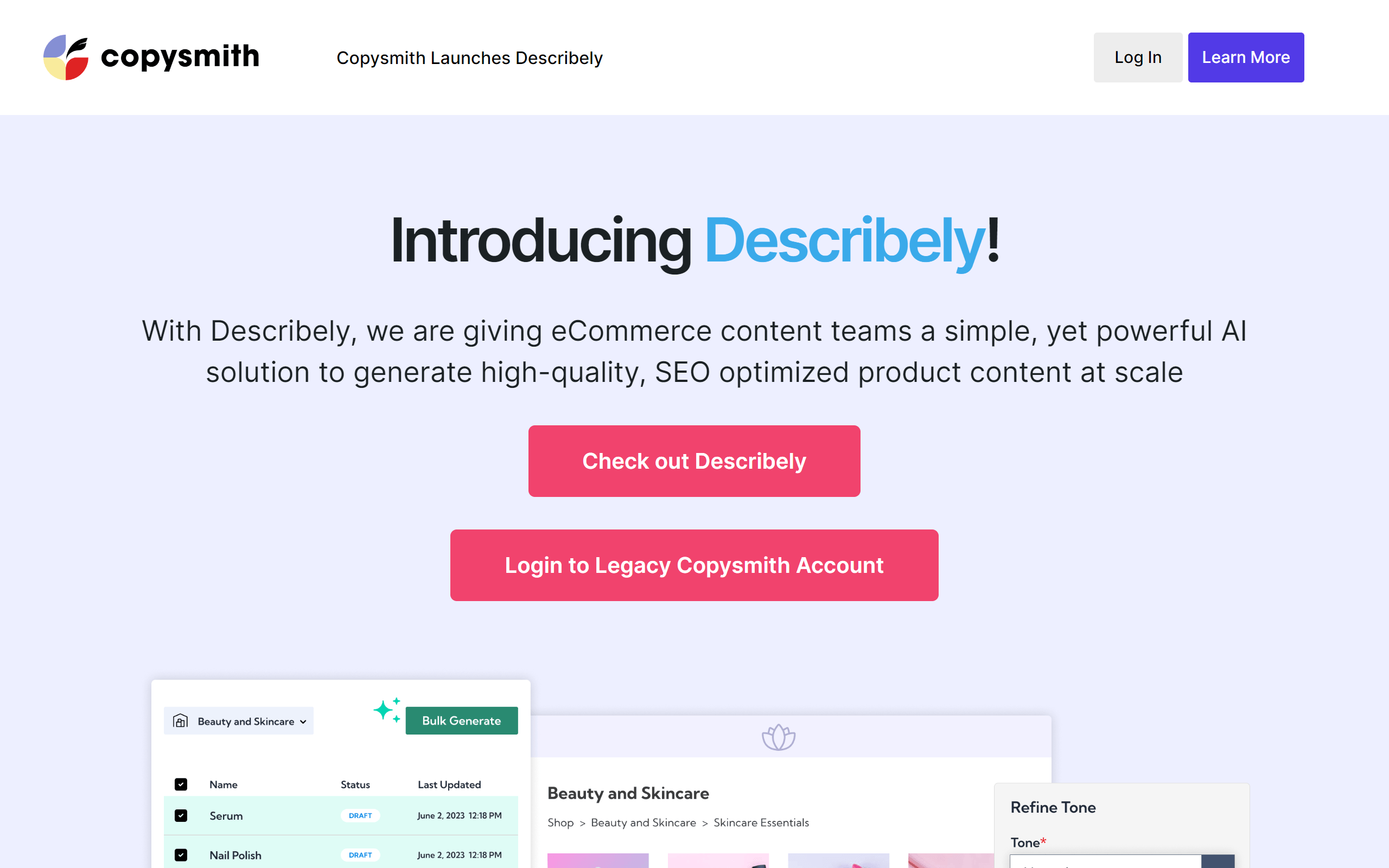 Copysmith is one of the best AI writing tools for marketers. It's got a bunch of different tools to help you write optimized copy fast.
Key Features:
Describing For You: Generates high-quality product descriptions, bullet points, titles, you name it. Super handy for ecommerce folks.
Bulk Generator: Create tons of content all at once. Great if you've got a big catalog to deal with.
Keyword Focused: Helps you pick the right keywords and sees how your content ranks. Saves hours of research.
Multiple Languages: Write in different languages so you can sell worldwide.
Integrations: Plays nice with shopping platforms like Shopify and CMSes. Publish straight from the tools.
🤖 Best AI Writing Apps and Browser Extensions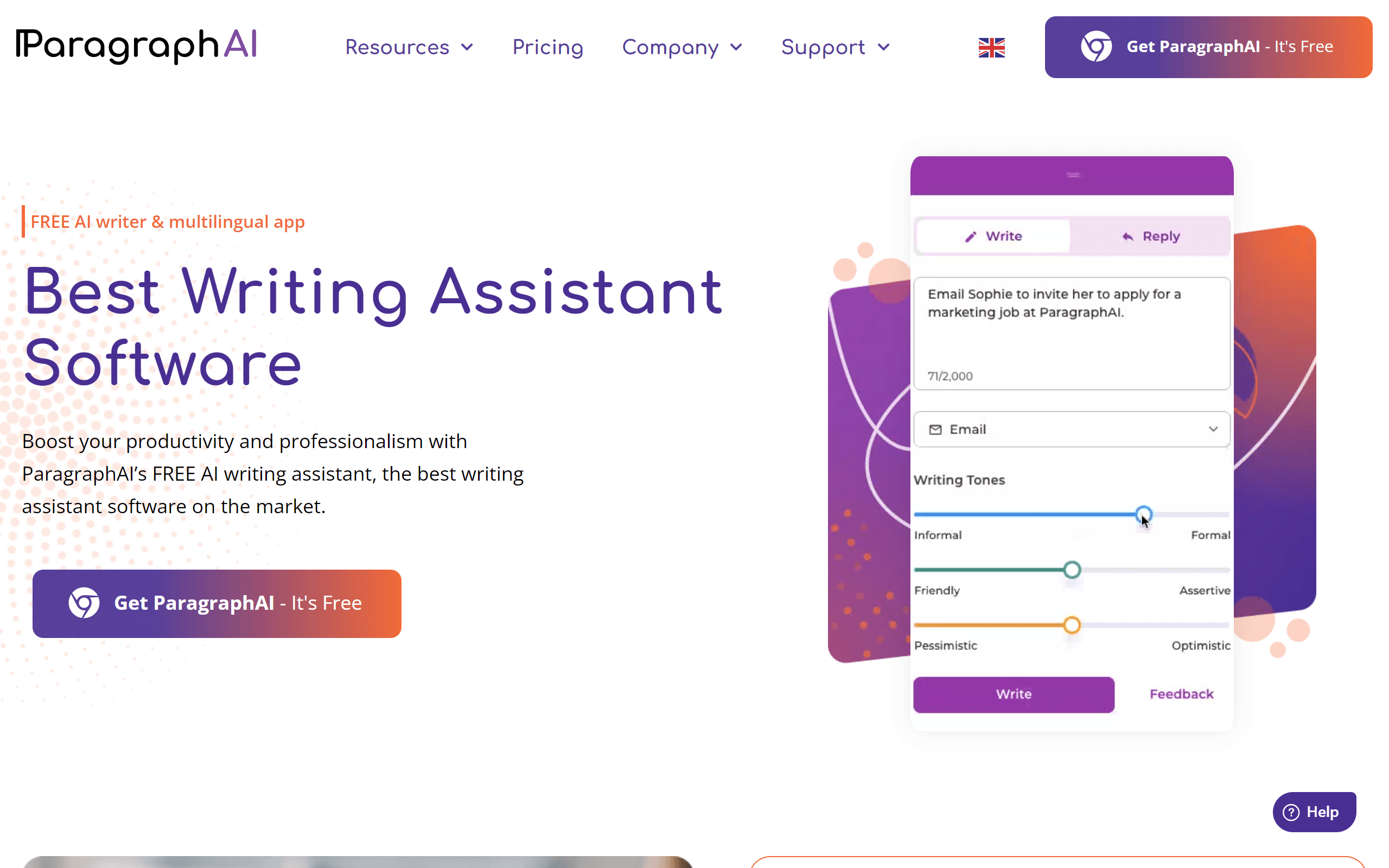 Whether you need content for business, school or just for fun, Paragraph AI can give you a hand. The bot does most of the heavy lifting so you can be more creative.
Key Features:
Essay Bot: Use it to brainstorm topics or get essay help from grammer checking to outline creation. Great for students.
Story Bot: Generate story ideas or get full story drafts. Perfect if you're stuck for plotlines.
Article Bot: Pump out blog posts, product descriptions, you name it. Saves tons of time researching and drafting.
Multiple Languages: Write content in several languages so your audience isn't limited.
Human-Like Tone: The AI understands natural language so it writes in a casual way like an actual person.
Whether you need help writing emails, blog posts or social media, Wordtune can give you a hand. This is one of the AI writing tools that does the hard work so you can focus on being creative.
Key Features:
Rewrite Tool: Perfect your writing from single words to full pages with AI suggestions.
Smart Synonyms: Get different word options to make your writing more interesting
Summarizer: Condense long articles or videos so you just get the important bits.
Available Anywhere: Use it from your desktop, phone or favorite apps like Google Docs.
Multiple Languages: Write in different languages and Wordtune will translate as you go.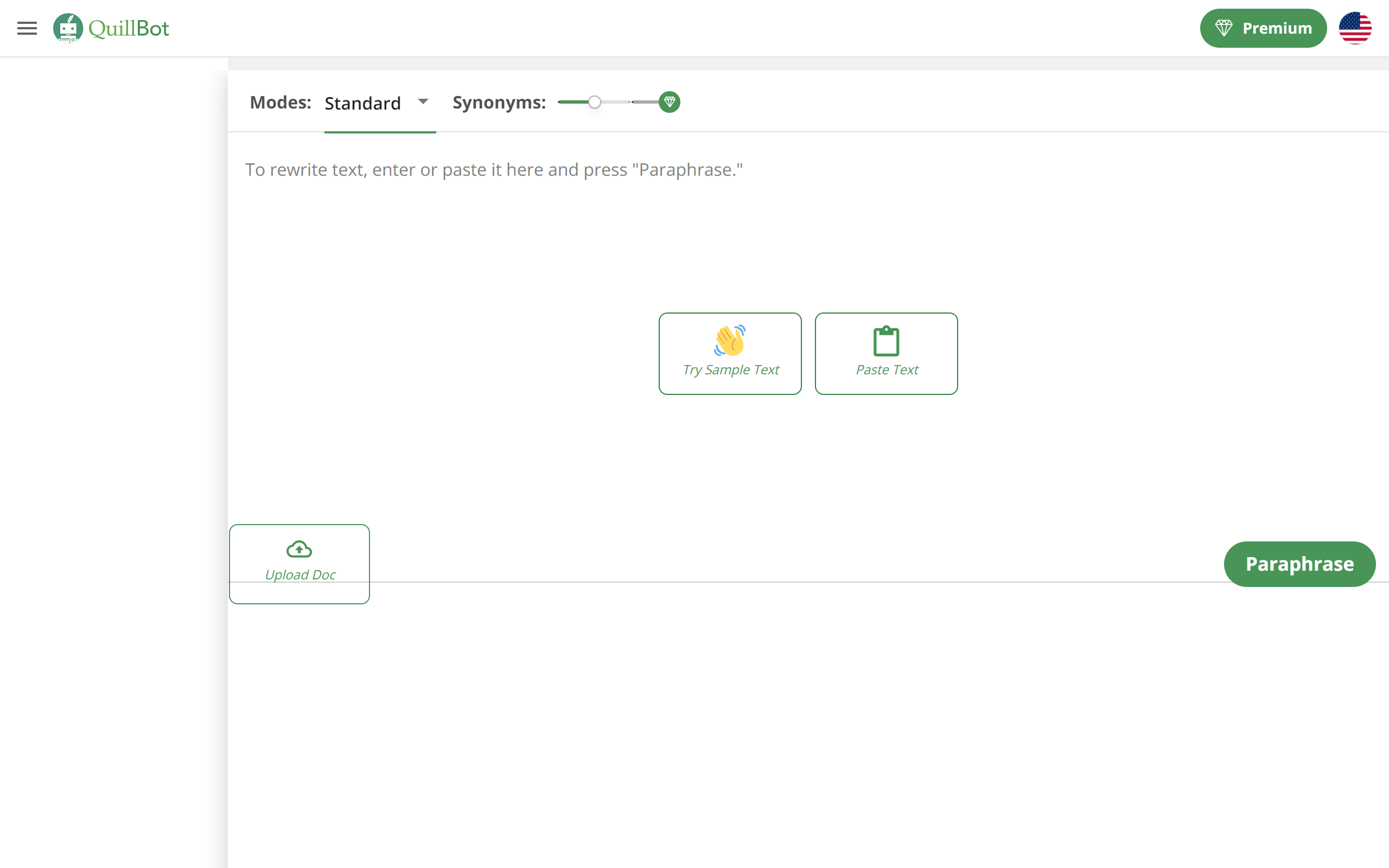 QuillBot gives your writing an upgrade. It's basically one of the best AI writing tools to reshape your text. No more spending hours in writing content!
Key Features:
Paraphrasing Tool: Rewrite paragraphs or full articles with just a click to avoid plagiarism.
Grammar Checker: Catch silly mistakes so your writing looks more polished.
Tone Analyzer: See how positive or negative your writing sounds to adjust the vibe.
Multiple Languages: Translate, rewrite and edit in languages like Spanish, French, German and more.
Access Anywhere: Use it from any device as long as you've got an internet connection. No downloads needed.
Grammarly is your number-one editing bestie. One of the best AI writing tools out there to make your text perfect.
Key Features:
Grammar Checker: Catch silly spelling and punctuation mistakes like nobody's business.
Style Editor: Polish up your writing so it sounds perfect whether formal or casual.
Tone Analyzer: Make sure your tone matches what you're going for like happy, confident, etc.
Works Everywhere: Use it on basically any website or app you write in like docs, emails, social media.
Multiple Languages: Improve texts in languages beyond English too like Spanish, French, German and more.
Hemingway Editor is a site that analyzes your writing and helps you tighten it up. Give it a test run on a paper or post - it'll help you elevate your writing for sure.
Key Features:
Readability Score: It'll rate how easy or difficult your text is to read at a glance.
Wordy Phrase Buster: Finds spots where you're using too many words and can simplify.
Passive Voice Checker: Helps switch up sentences to be more concise and punchy.
Grammar Checker: Catches grammar boo boos so your writing looks polished.
Works on Any Text: Paste in something you wrote or from another site and it'll analyze.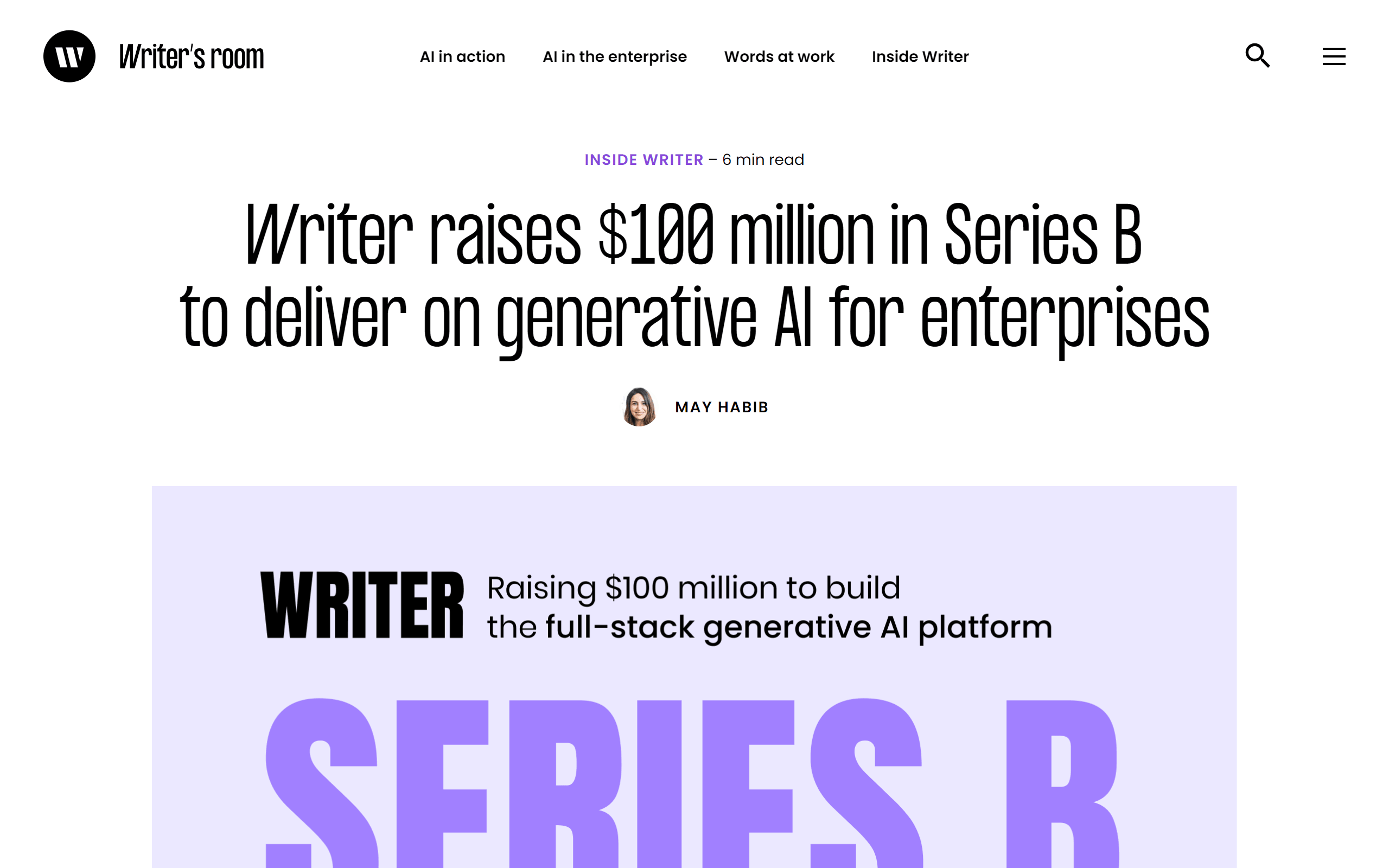 Writer is an AI writing assistant made specifically for businesses. Whether you need help writing content, analyzing data or building workflows, Writer has you covered.
Key Features:
Full-stack Platform: It's not just one tool but a whole suite of AI products to power your work.
Custom Models: Writer builds its own language models tailored to different industries like healthcare.
Integrated Knowledge: Pulls facts from your data to power accurate chatbots and documents.
Multiple Use Cases: Develop templates, chatbots, analyze interviews and more across marketing, sales, support, etc.
Secure Deployment: Host it yourself or use their managed service with protections like no training on your private info.
ProWritingAid is like a personal writing assistant in your pocket ready to help level up your skills. This is one of the AI writing tools that saves bunch of time and makes your content high-quality. a
Key Features:
Grammar Checker: It'll scan your writing and point out any spelling, punctuation or grammar mistakes.
Style Editor: Catch ways to improve your phrasing, word choice, sentence structure and more for a polished finished look.
Plagiarism Checker: Make sure your text is all original to avoid any copy issues.
Works Anywhere: Use the tools from any device on sites like Google Docs, Word, emails and more.
Free Version: You can try the basics without paying a penny to see if it's useful for you.
Wrapped Up
In the end, these AI writing tools can seriously help boost your skills without much effort. Having that extra set of eyes to catch bloopers or give ideas is super handy.
More than anything, these techy assistants can give you confidence by making all your writing look totally polished. Can you imagine how pumped you'll feel pressing send knowing it's flawless?
We say give some of the free versions a spin and let the AI do the heavy lifting for you.
So get out there and level up your skills - your readers and deadlines will thank you later!