As the technology landscape rapidly evolves, blogs consistently deliver crucial updates on demand. While growing businesses requires focus, fueling knowledge through these informative sources ensures competitive advantage.
Dive now into the top 40 tech blogs for an edge encompassing emerging gadgets, in-depth analysis of innovations like AI, and more. Ranging from beloved brands to fresh startups, their diversity and daily delivery of insights illuminate the path ahead.
Open your mind to the rich learning and reliable perspectives these devoted communities provide.
Your discovery of handpicked tech blogs begins now!
🧑‍💻 How We Picked Best Tech Blogs
First thing we looked for was dope new content in those technology blogs. None of that outdated stuff - we wanted blogs dropping fresh articles regularly. You tech junkies need those constant updates!
We also peeped for blogs that covered a wide range of topics. Hardware, software, gaming, startups - the works! More variety means something for everyone.
Engagement was important too. Leave it to you nerds to spot the blogs with the coolest community. Those tight-knit communities are where real discussions happen.
🤝 Why You Should Trust Us
At Code Supply Co. we really get blogging. Our blog is super slick – it's packed with top-notch posts you should definitely take a look at.
Plus, we crank out some awesome WordPress themes. Loads of bloggers have used our designs for their sites.
We've spent years in the game, turning blogs into eye candy that draws in the crowds.
If you're looking to boost your blog, we've got your back. We're all about the ins and outs of nailing the blogging scene. So when it comes to blogs, we're the real deal!
You can trust us with the choice of the best tech blogs.
💻 Top 40 Tech Blogs You Should Follow
As a premier tech blog, VentureBeat delivers comprehensive coverage of emerging businesses, gaming, and innovative events.
Readers rely on their team for valuable insights across industries like AI, AR/VR and more in articles and newsletters. Organization of impactful conferences centered on empowering ideas underscores their mission of convening important dialog.
Extensive readership and respect among leaders conveys VentureBeat's authority as a must-read technology blog.
Individuals and companies consistently benefit from reliable perspectives connecting communities through insightful exploration of transformative technologies.
2. 🥇 Our Favorite - CNET
For over two decades, CNET has provided technology blog guidance and insights. Their team of experts demystifies emerging trends in an approachable way.
CNET covers topics from computing to mobile devices. In the early days, they helped average users understand computers. Today, coverage includes smartphones, automotive tech, gaming, and more.
Articles explain new innovations so anyone can benefit. 'How to' guides, as How to Start a Blog address both tech issues and lifestyle areas. CNET anticipates trends to keep readers informed.
Whether learning or improving skills, CNET's mix of coverage is a go-to destination for understanding technology. They aim to be a trusted resource for insight into innovations shaping our future.
Why is CNET Blog Our Favorite?
First off, their writers are super knowledgeable. They always break down even the nerdiest tech topics into simple terms us regular folks can understand. You don't have to know coding or have a degree in engineering to follow along.
But at the same time, they don't dumb it down too much either. You can tell these people actually geek out on this stuff. So they add interesting geeky details that I find fascinating.
Gizmodo has provided best tech blog and culture coverage for over 20 years. As one of the earliest tech blogs dedicated to these topics, they helped establish the technology blog media space.
The site offers independent reporting on innovations beyond the surface level. Readers receive critical analysis and testing of products, without promotional influences.
Coverage also extends to related fields through sections like Earther for climate change reporting.
For those seeking an unfiltered view beyond hype into what's really disrupting industries, Gizmodo is the best tech blog that delivers informed perspectives ahead of mainstream awareness.
Digital Trends guides audiences through technology. Their coverage filters hype to provide meaningful insights on how innovations impact life.
As a top independent publisher, they reach millions monthly across platforms. Reporting explores the daily impacts of devices and emerging tech through analysis beyond specs.
Editors with diverse tech expertise aim to engage and challenge readers with transparent, integrity-backed reporting. Insights benefit newcomers and professionals.
Trusted perspectives on current and future influential trends offer a comprehensive resource beyond marketing for understanding technology.
Why is Digital Trends Blog Our Favorite?
They cover literally everything from phones to games to streaming devices. No matter what new piece of tech you're into, they got you covered.
We also love how they're always first to the leaks and rumors. If some big announcement is coming, you can bet Digital Trends already knows the deets. They're like the OG insiders.
Mashable tracks new tech, media, and culture. Their team has reported on trends for over 10 years.
The Editor-in-Chief is one of those tech news blogs that leads global coverage. Stories look at topics like tech, entertainment, culture, and social issues. Mashable shows how innovations impact daily life.
Marketers follow for new ideas and knowledge. Insights on changes inspire motivation.
Mashable gives access to changes through many formats. This makes them very helpful for understanding the digital world.
As one of the largest and best tech blogs, Wired's experts reliably deliver comprehensive insights across all aspects of emerging technologies.
Business owners, marketers, and enthusiasts alike depend on their cutting-edge reporting and standards of in-depth exploration to stay informed on trends, reviews, and societal impacts.
Earning mass global readership and respect through multiple engaging formats for decades, Wired consistently brings invaluable ideas that empower understanding of evolving industries.
Their game-changing perspectives make Wired one of the best technology blogs and an essential read for anyone seeking authoritative guidance to navigate technological change.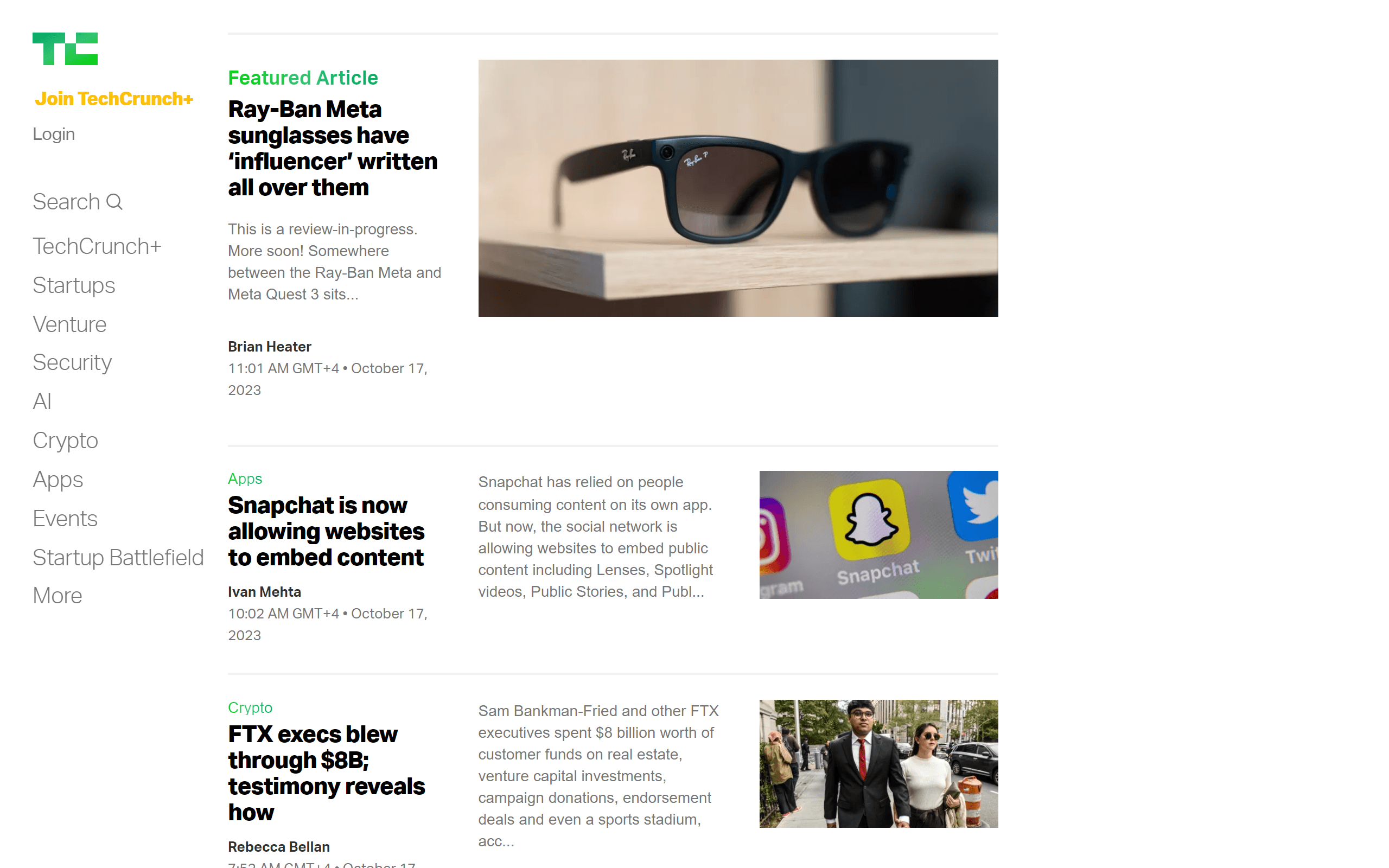 TechCrunch offers thorough insights into business and emerging trends through articles, interviews and reviews.
As early leaders in startup coverage, their experts established TechCrunch as a go-to source for information on new companies and an evolving entrepreneurial landscape.
Readers and industry players have trusted TechCrunch for years as a reservoir of global tech knowledge on topics from products to funding.
So, this is one of the most useful and informative tech blogs out there and we totally recommend checking it out.
Since 2011, The Verge has explored technology's impact on our lives. As mobile devices became central, this tech blog provided insider views of revolutions.
Editor-in-Chief Nilay Patel leads coverage of breaking news, award-winning features, and honest reviews. The Verge investigates tech and emerging science with a critical perspective.
Reporting balances hard technology with lifestyle topics like transportation and entertainment. Podcasts and videos offer learning for busy people.
Part of the data-driven Vox Media group, The Verge builds influential audiences. Marketers gain industry knowledge and connection opportunities through their teams.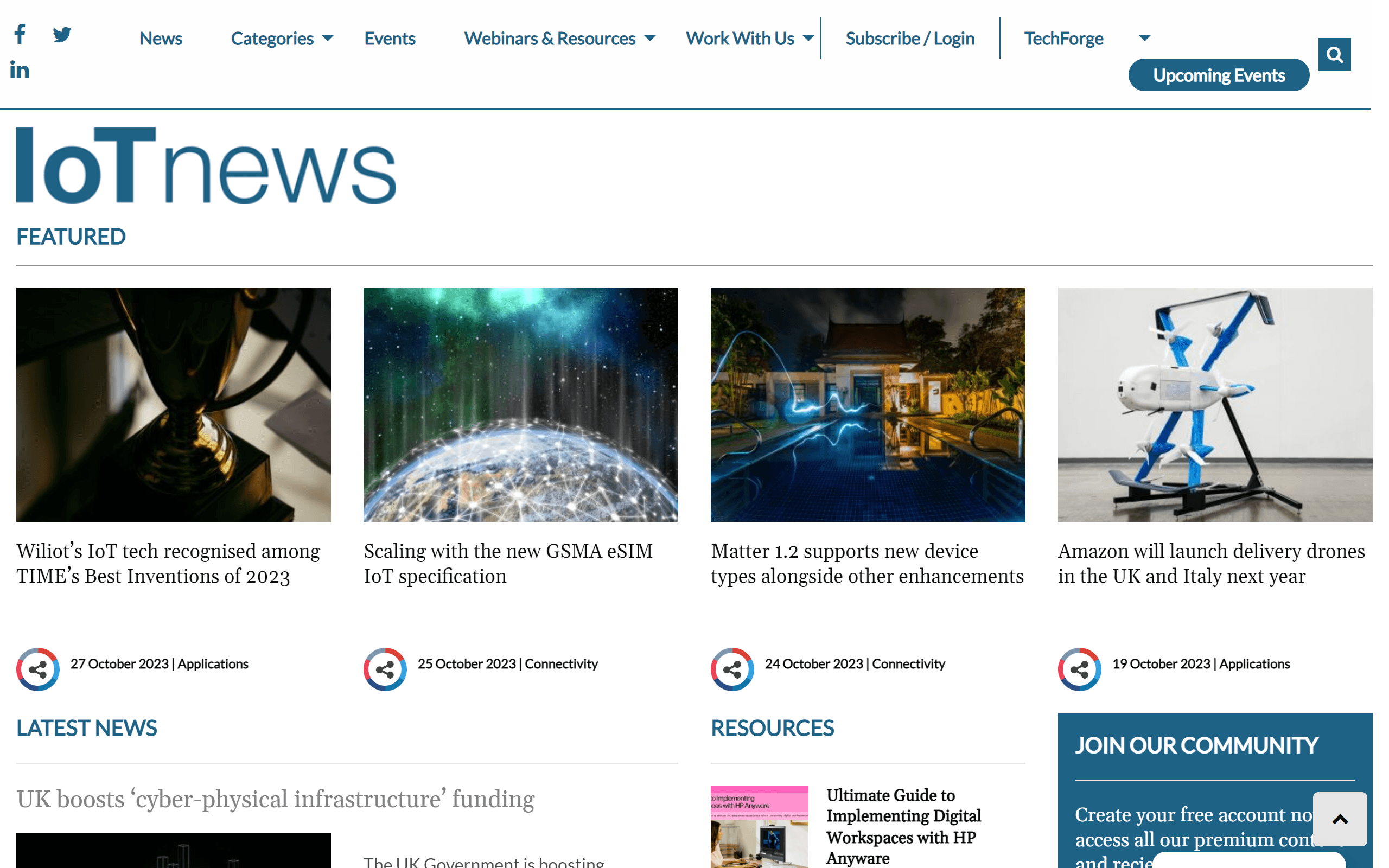 This technology blog is all about cool new IoT tech and ways businesses and groups are using internet-connected devices to make things better.
They post articles pretty much every day talking about the latest stuff in areas like smart cities, industries using robots and sensors, healthcare tech, and even fun consumer stuff like smart homes.
You'll find news about new gadgets, projects companies are working on, and updates on tech standards and security issues. They explain it in a way that's easy to follow even if you're not an expert.
The writers do a great job breaking down big announcements so regular folks like me can understand what it means. They also give context about how certain tech can help with real problems.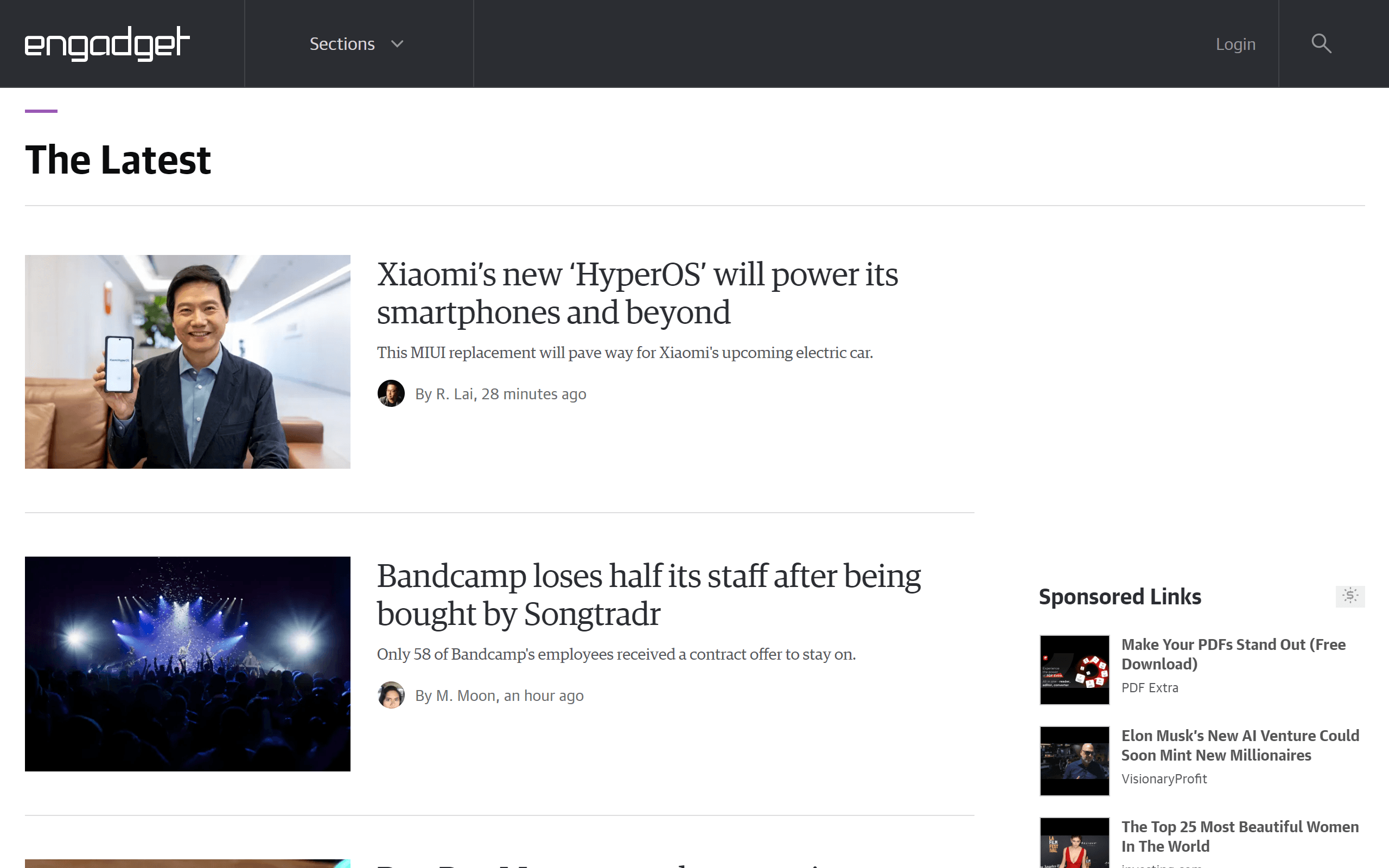 Engadget delivers cutting-edge technology news and reviews globally. Led by Editor-in-Chief Dana Wollman, reporters explore industry trends and new products.
Video production enhances learning on the go about gadgets and events. Social media allows you to stay informed without wasting time.
In-depth sections like reviews from editors help all audiences make purchase decisions. Insights on emerging opportunities aid innovators.
Engadget is one of the best tech blogs that equips both businesses and individuals with knowledge to navigate constant industry changes.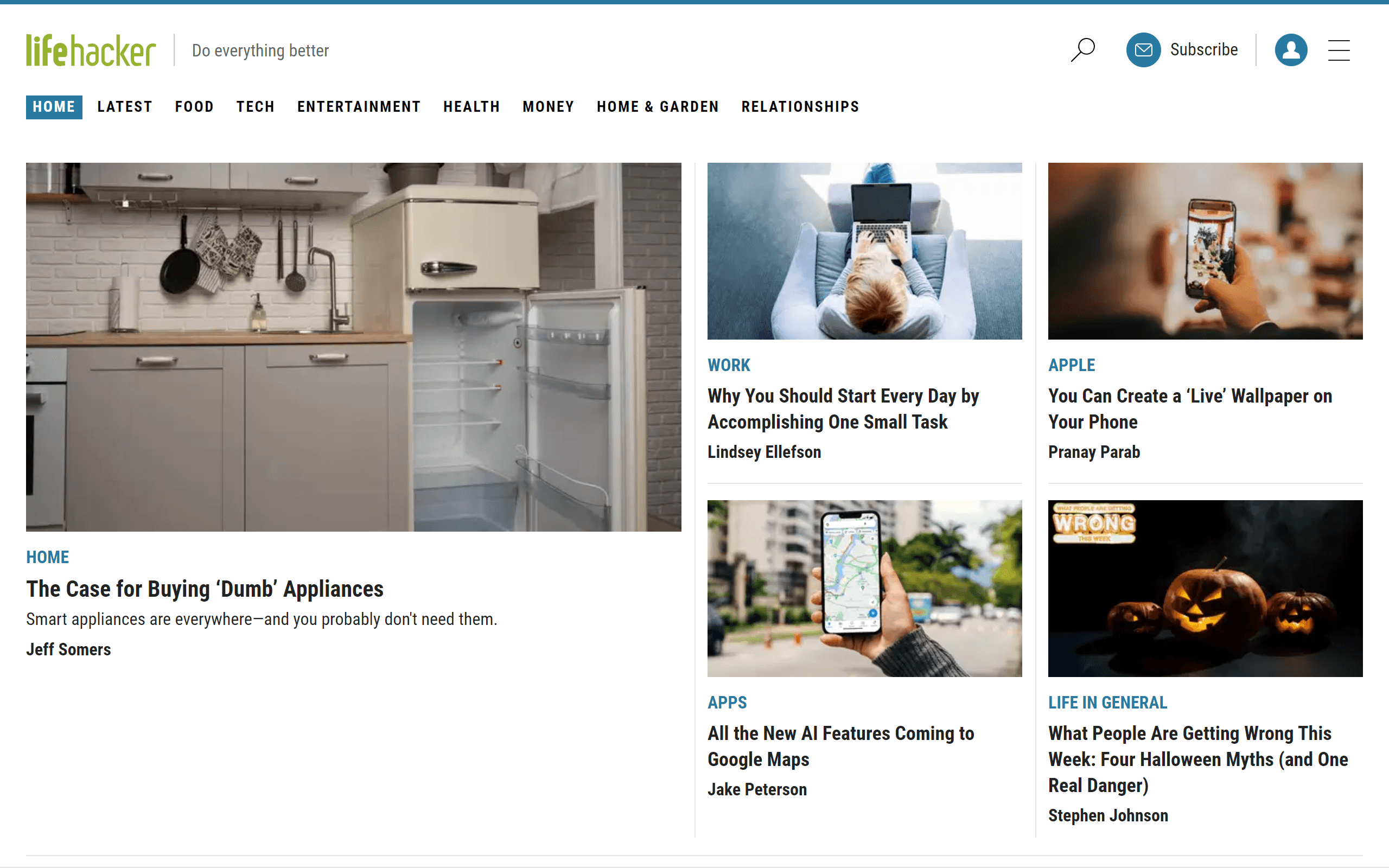 Lifehacker is the best tech blog that helps readers hack their way to a better life through productivity tips and expert advice.
Editor-in-Chief Jordan Calhoun leads diverse coverage of health, finance, relationships and more. Sections edited by specialists provide insights across many topics.
Writers fuel motivation by optimizing routines and decisions beneficial for both work and home life. Coverage depth supports continual learning.
Deputy Editor Joel Cunningham ensures revisions stay on top of trends. Marketers can partner with Lifehacker to engage their results-driven audience.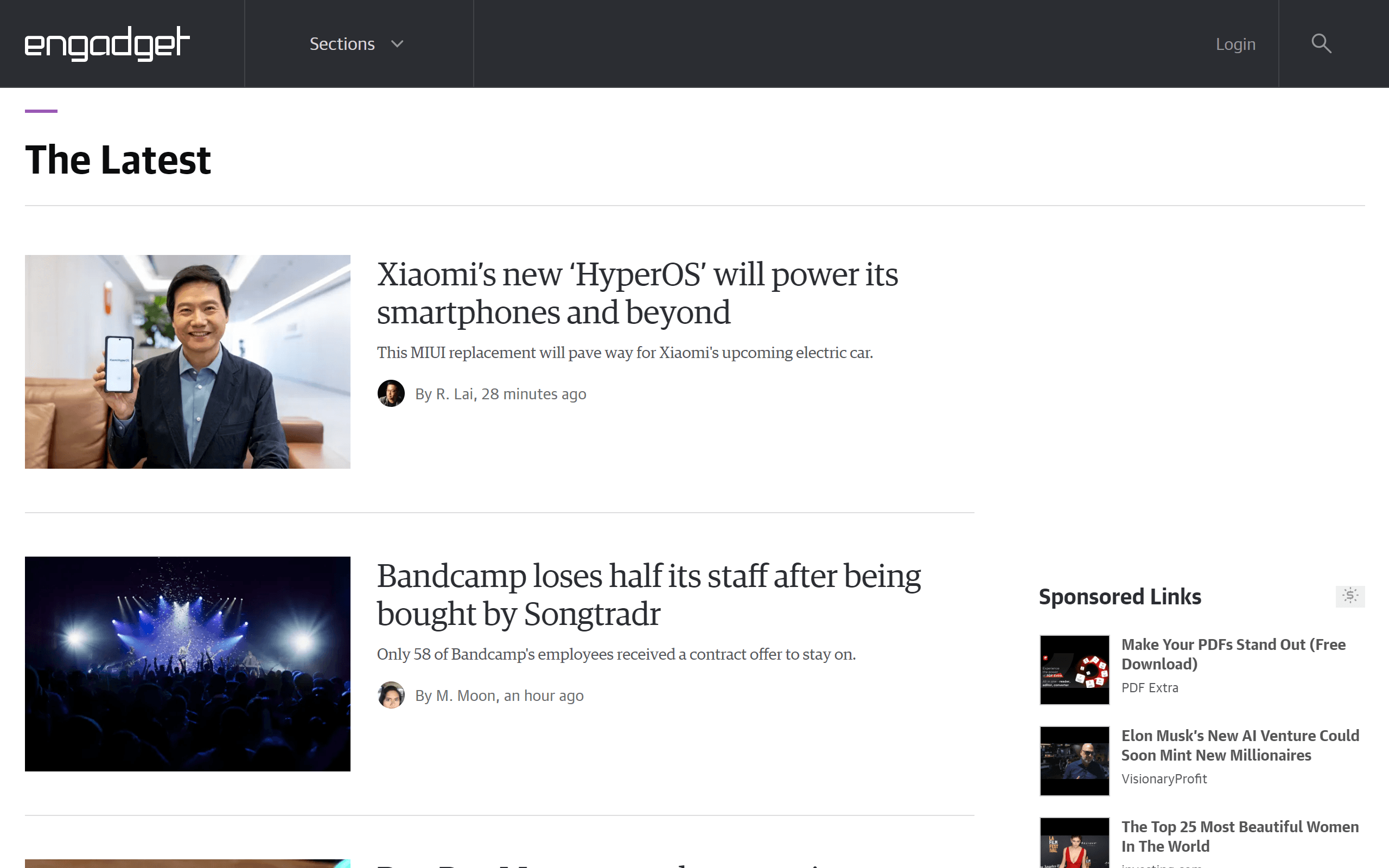 Ars Technica delivers in-depth technology coverage for over two decades. Founded by Ken Fisher, they provide tech news blogs, analysis, and community.
This is one of those tech news blogs that balances breaking updates with expert explainers. Sections like CPU and security aid understanding for professionals and newcomers alike.
Reviews and esteemed forums foster learning. Ars Technica builds trust as a valuable resource across industries.
Marketers gain from partnering with their engaged audience. PR directors can discuss opportunities for businesses to connect with Ars Technica's brand.
Establishing itself as an industry leader for lightning-fast coverage of emerging tech trends and innovations, The Next Web (TNW) continuously fuels global readerships. So, this is basically one of the top tech blogs.
Beyond news, TNW explores the transformative edges of business through epic annual conferences sharing ideas shaping entrepreneurship.
With exponentially growing reputation, experts at TNW have cemented it as the premier destination for up-to-the-minute insights accessed through a fun yet credible style.
Guaranteed to keep any business, marketer or enthusiast right on the cutting edge, TNW's continuous fueling of knowledge merits making themessential to stay informed on innovating the future.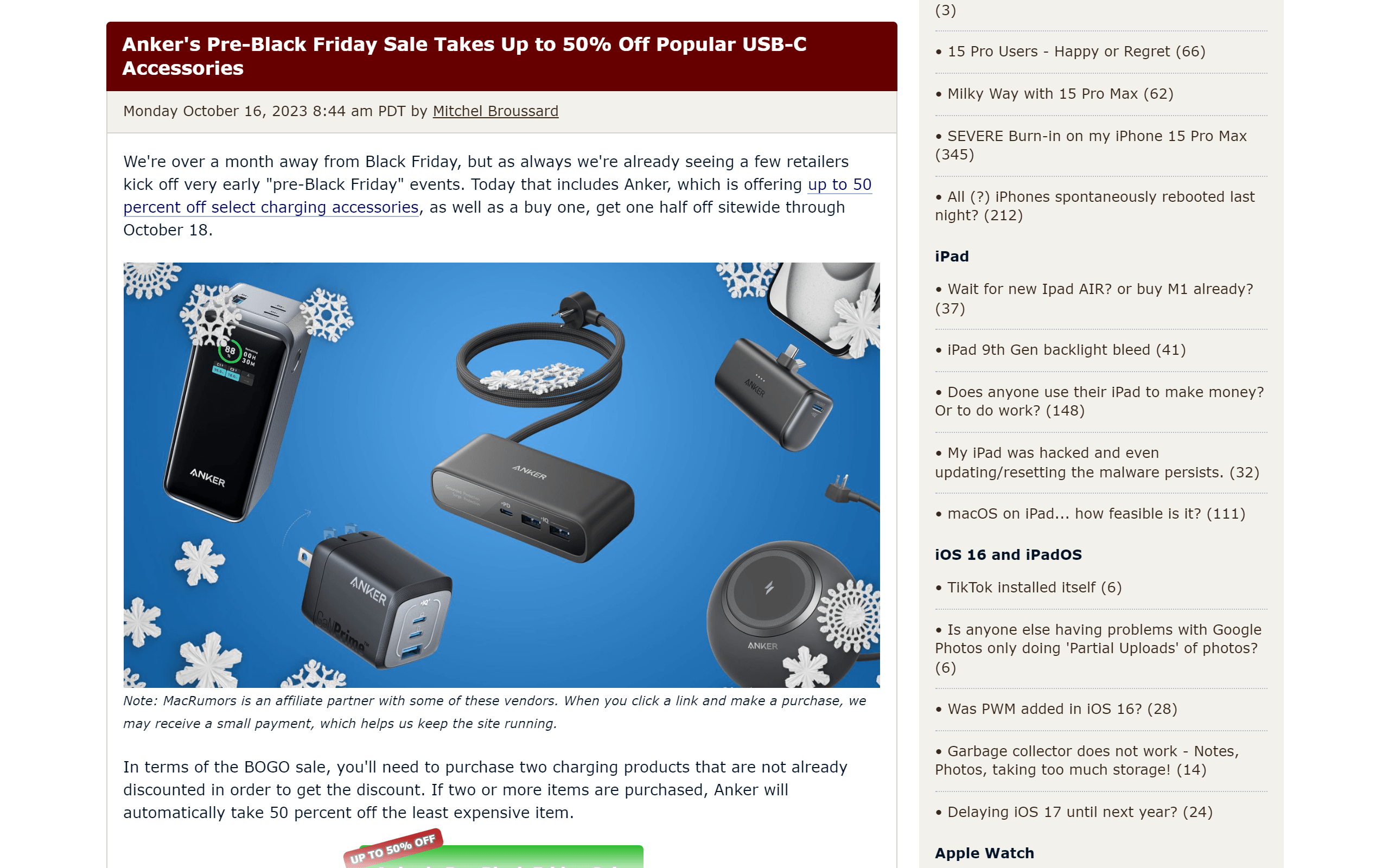 MacRumors establishes itself as the premier source for easy-to-digest roundups answering "what to expect" from upcoming Apple products, so this website is ultimately among the best technology blogs.
Their team's credible distilling of the constant buzz is a daily staple for both die-hard Apple fans and professionals trying to keep pace with innovation.
With humor and heart, MacRumors builds global communities for engaging commentary on all things Cupertino.
Continually delivering valuable insights in enjoyable yet reliable fashion has fueled dedication to staying ahead of transformative emerald tech. Expecting more each day merits making their insightful exploration part of one's routine.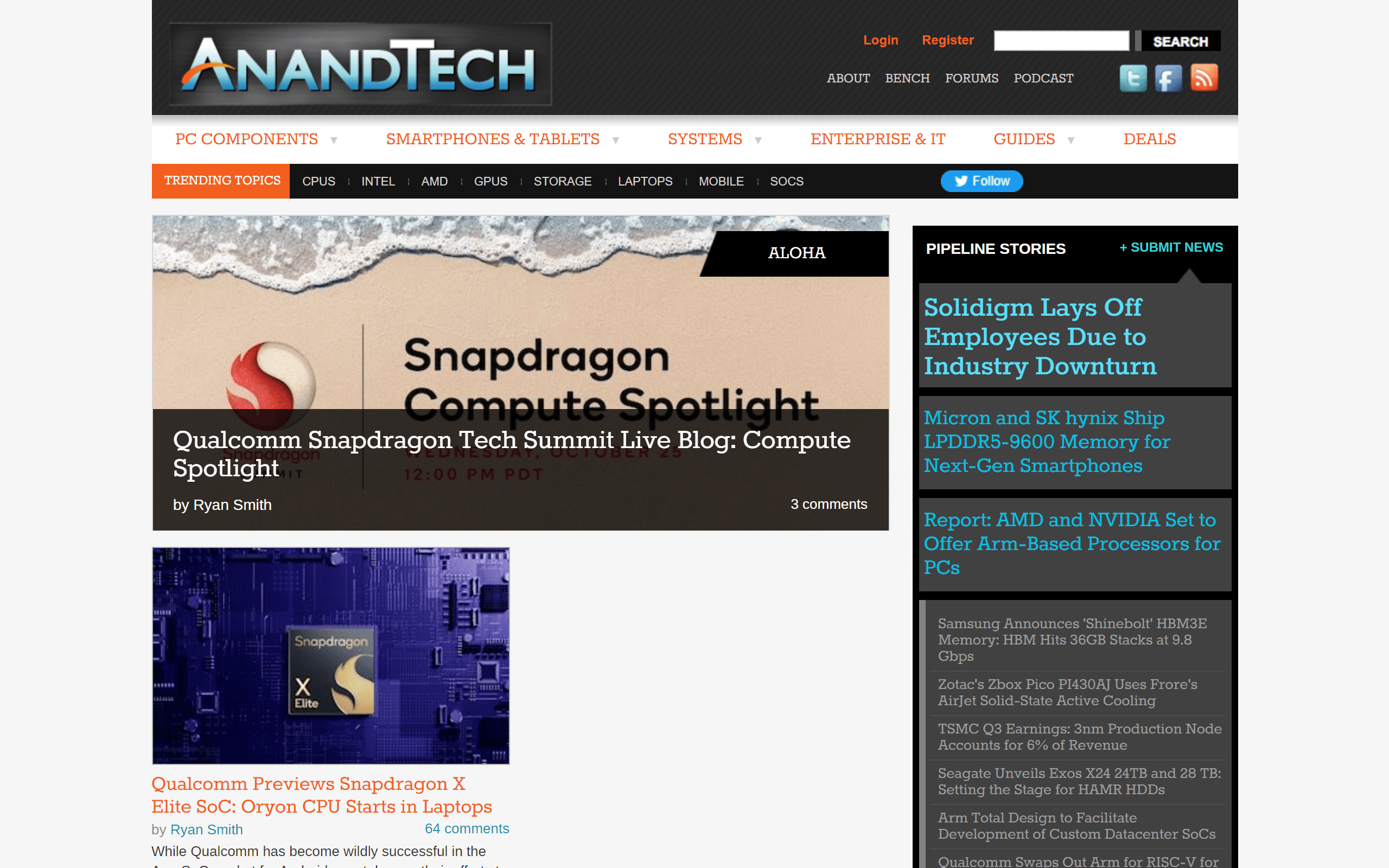 AnandTech is one of the best technology blogs. It is a long-time leader in tech news and reviews. They started way back in 1997. While other sites rush posts, AnandTech takes its time to really understand each product. They do their own testing so you know the results are honest.
No matter what new computers or phones emerge, AnandTech covers it all. Their expert team tests everything from little parts to full devices.
Whether you love tech or just learning, AnandTech informs without hype or fluff. Trust them to learn what works best at any budget or need.
For over 20 years, AnandTech has stayed true giving full, real understanding. This is why serious readers keep going back to them to buy with confidence.
For over 25 years, The Register has delivered reliable tech industry coverage, being one of the leading tech blogs. With teams worldwide, they provide around-the-clock insights.
What started as an email list is one of the top tech blogs with millions of readers. Both IT professionals and executives trust their knowledgeable reporting.
While others chase clicks, The Register focuses on original journalism. You'll find in-depth explainers alongside quirky stories from the frontier.
It's refreshing entertainment and education wrapped in one. So for truly informed perspectives, The Register is your backstage pass to what's really moving tech needles.
TechRadar is the world's largest technology site, helping over 30 million users each month. Their team of experts provides clear, unbiased advice in everyday language.
Getting personal recommendations is easy with their "Ask an Expert" service too, so this website deserves to be on our list of coolest technology blogs.
Complementary sites like TRG and TechRadar Pro cater to specific interests in gaming and business tech too. These experts also track broader industry trends. From new devices to emerging form factors, they've got the insights.
Whether navigating smart homes or smart spending, consider TechRadar your trusted guide through an ever-changing tech world.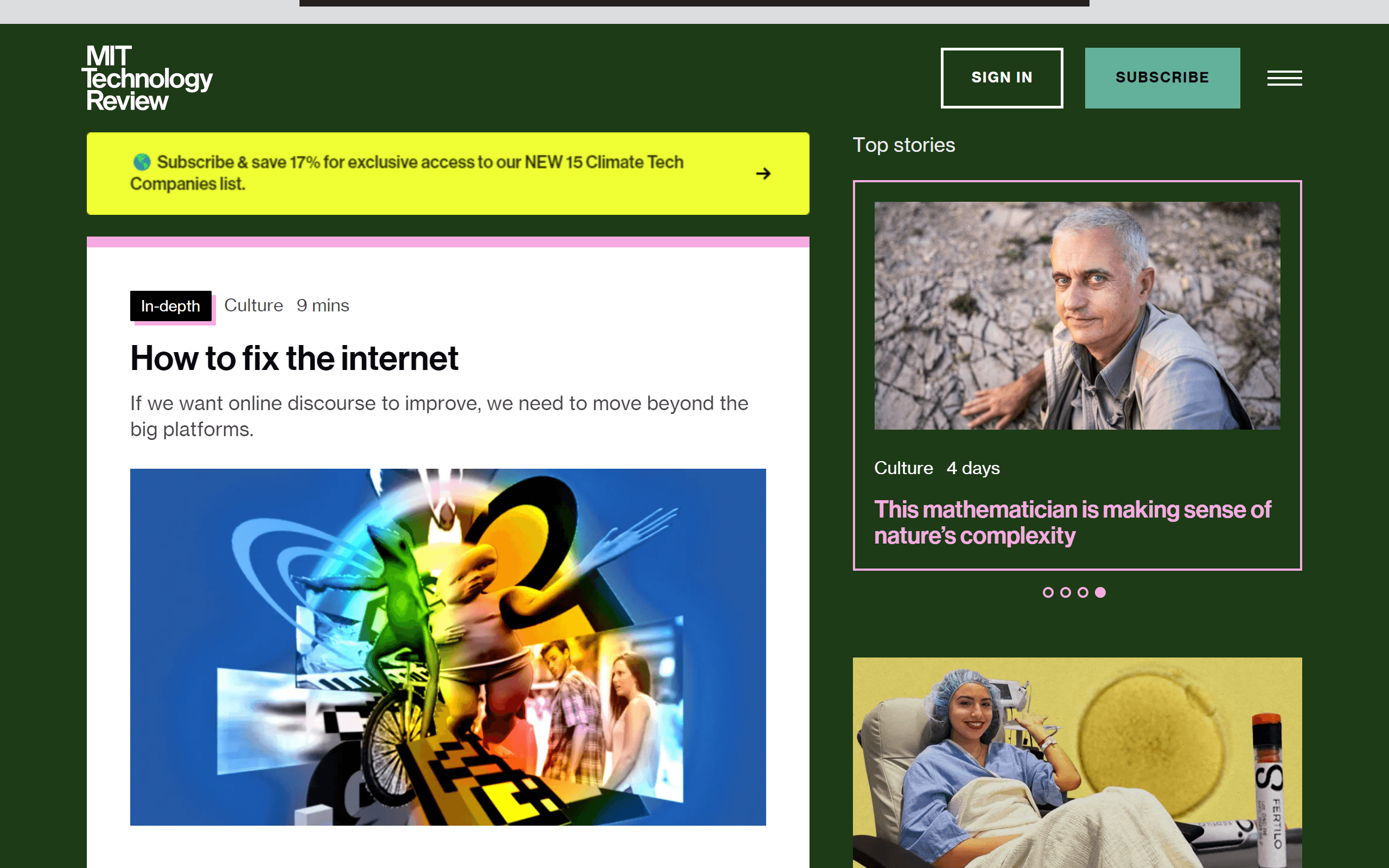 MIT Technology Review is the gold standard for credible tech coverage, so it's undoubtedly among the best tech blogs out there.
Whether you're a business leader or an enthusiast, their approachable but thorough reporting prepares you for both present and future trends.
Can't get enough of their analysis? Tune into popular podcasts for lively discussions or attend their events with top innovators. Trusted worldwide, MIT Tech Review provides the full context often missing elsewhere.
So to stay competitive in this rapidly shifting field, use these experts to guide your focus. Their insights give a real edge to businesses and individuals alike.
For decades, PCWorld has guided users on desktops, laptops, and all related gear, so this is tech news blogs to stay updated.
Whether building a hardcore gaming rig or boosting productivity, their jargon-free reviews cut through the hype. PCWorld stays ahead of evolving chips, operating systems, and apps. Helping you decide what's really worth buying.
Deep dives into gaming hardware and accessories make them one of the best gaming blogs and a one-stop shop for gamers too.
Need a new laptop, monitor, or router? Let their experts be your advisors on unleashing peak PC power. Both noobs and pros trust PCWorld.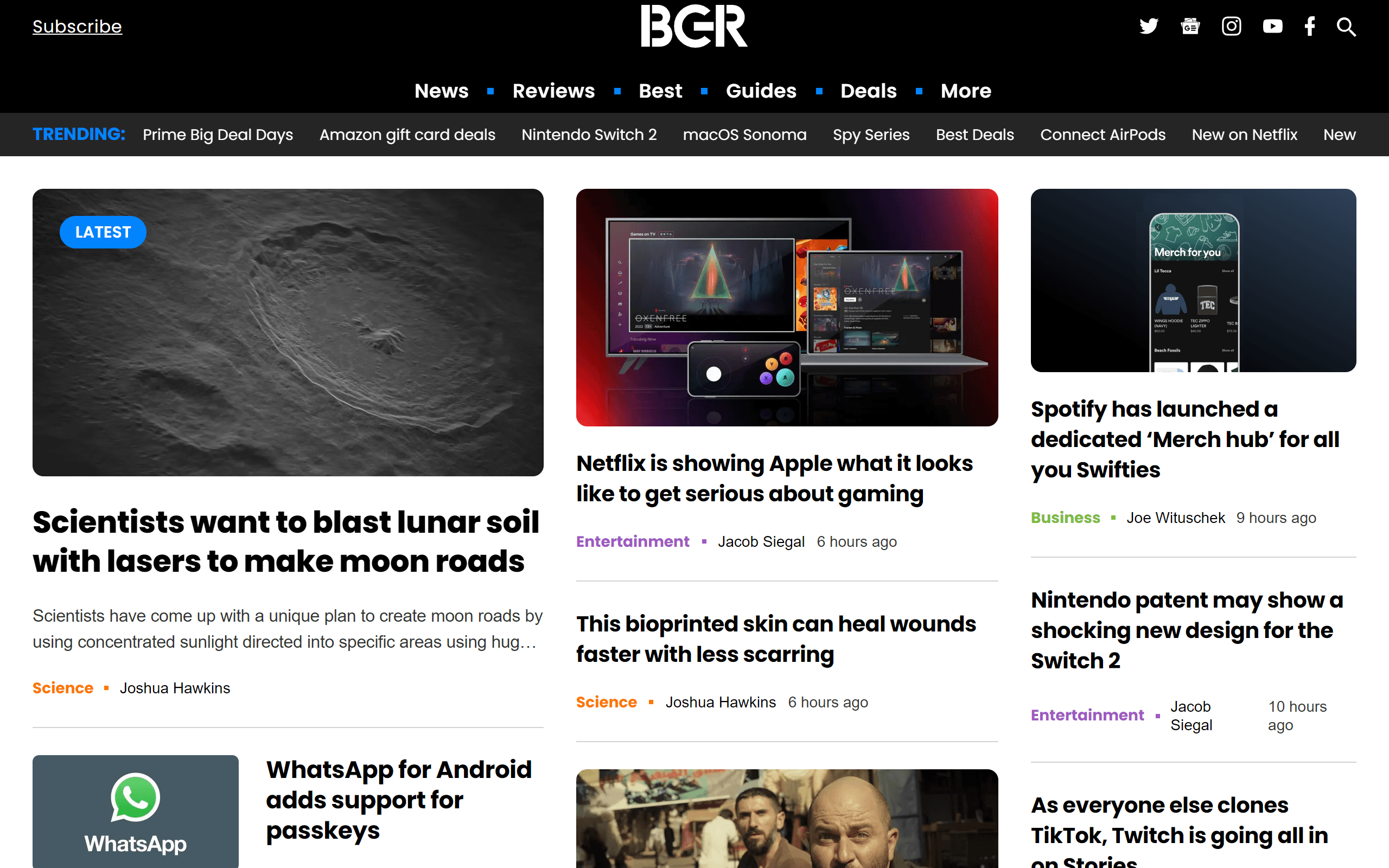 BGR has been a leader in tech news for over 15 years. With most of their talented team in place that whole time, you know you're getting deep expertise.
Whether you want early glimpses of upcoming devices or full reviews, BGR delivers exclusive insider intel. Their global network of pros offers unique insights.
Fast-paced coverage of devices, entertainment, and science gives a well-rounded perspective on trends. Reviews cut through the hype to show you what gear truly excels.
For an inside edge on the latest and greatest in consumer tech, make BGR your go-to source. Consider them one of the most insightful technology blogs, keeping you always in the know.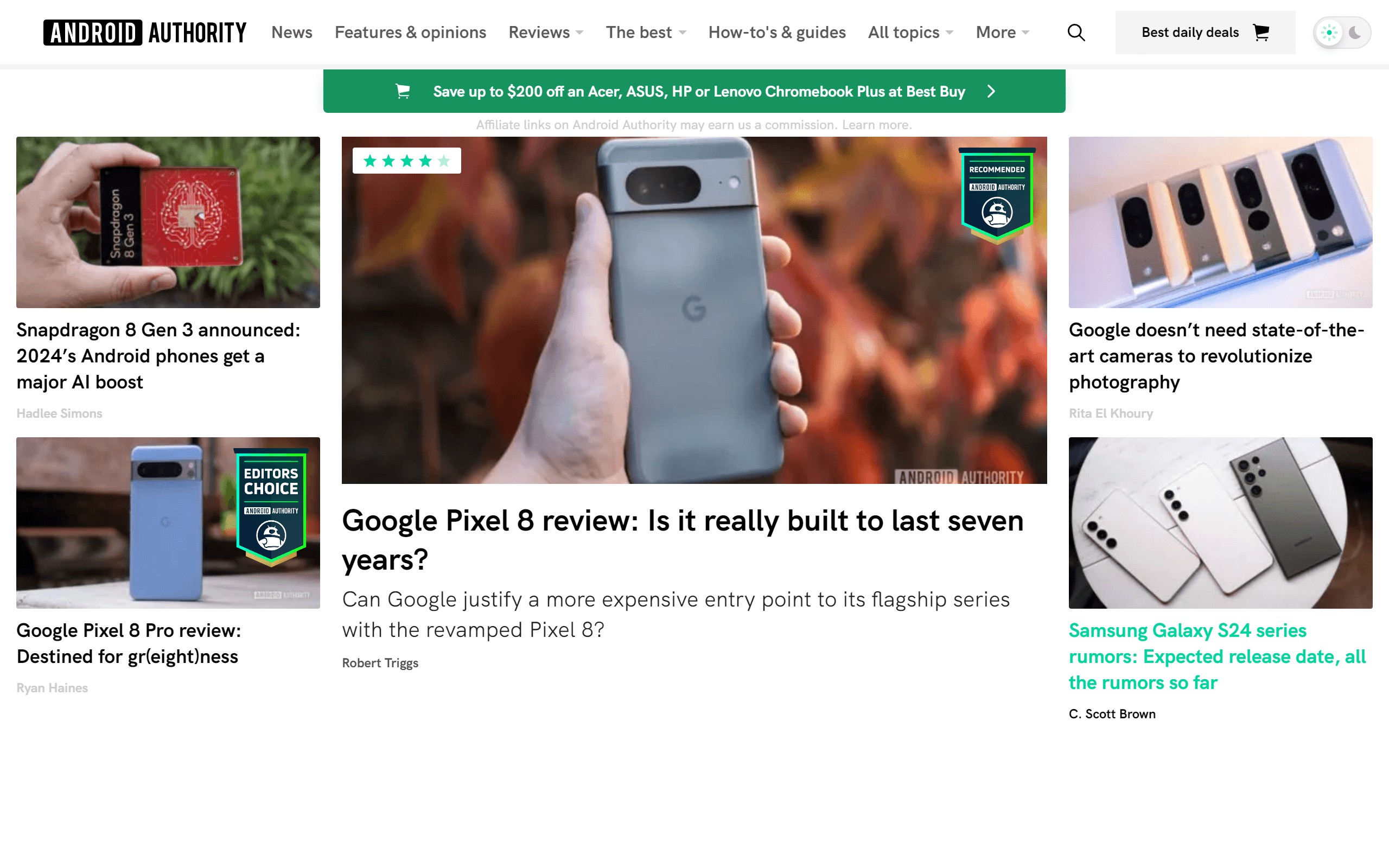 Android Authority leads the way in all things Android and beyond. Their team of experts explains new tech clearly without jargon.
While mobile started them, coverage now spans robot vacuums, streaming services, and innovative AI too.
Device reviews go beyond specs to show what really matters for daily use. Always recommend great gear actually worth buying.
Whether an Android or general tech geek, let AA be your guide through an exciting gadget world. These reliable friends are one of the best tech blogs for Android lovers.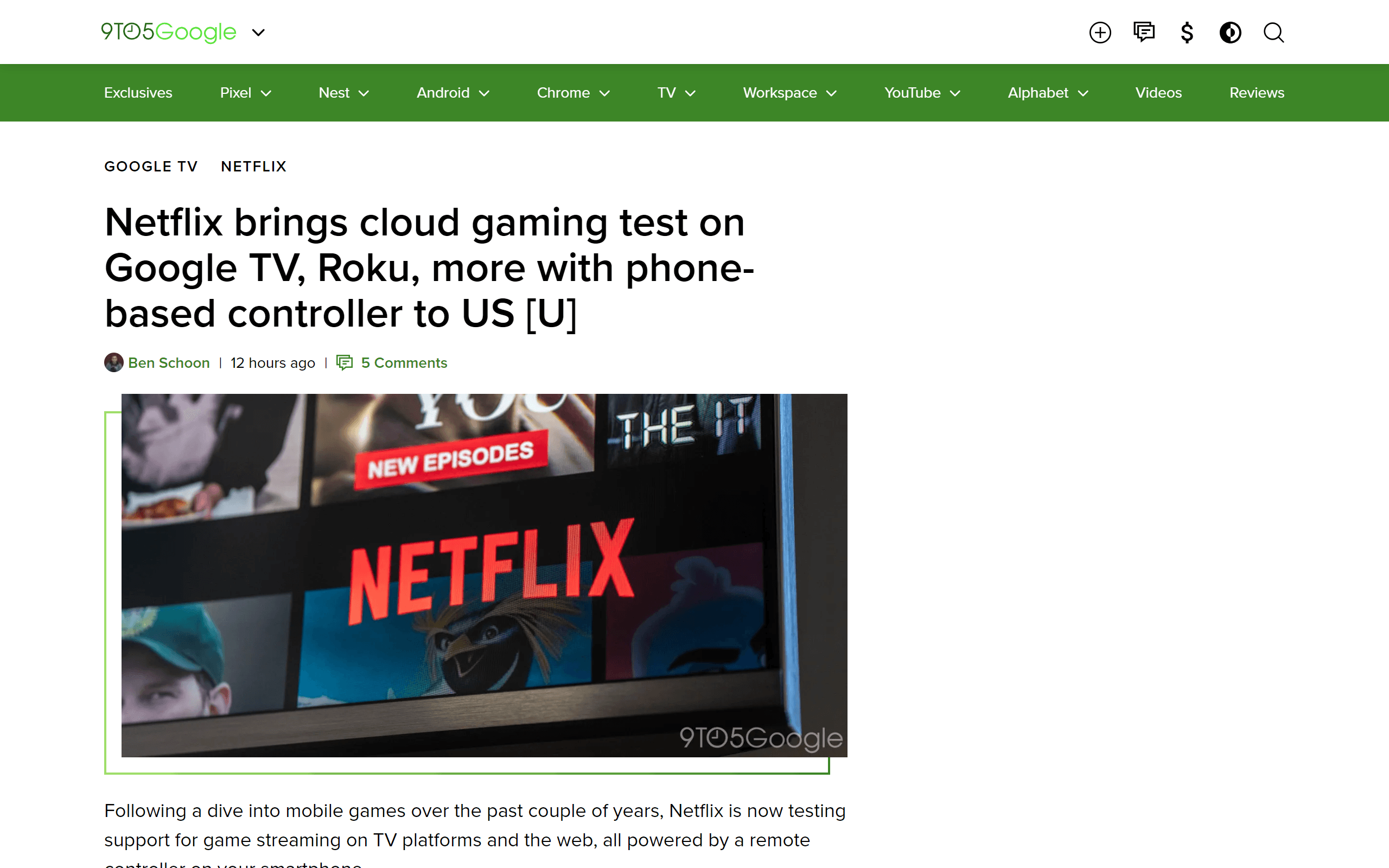 Establishing itself as a top influencer through exclusive breaks of news readers care about, 9to5Google is among the coolest tech blogs that delivers information in an entertaining and visual format.
Their community enjoys witty commentary and deep journalistic expertise, fueling reliable yet easily digested insights into Google's latest innovations.
Recognized globally for consistently breaking news faster with depth, 9to5Google has won awards validating their distinction as the premier destination for optimizing knowledge of Mountain View.
Whether seeking competitive advantage or celebrating creativity, 9to5Google's daily infusion of information gets to the heart of technology with flair, ranking them indispensable to stay ahead of what's next.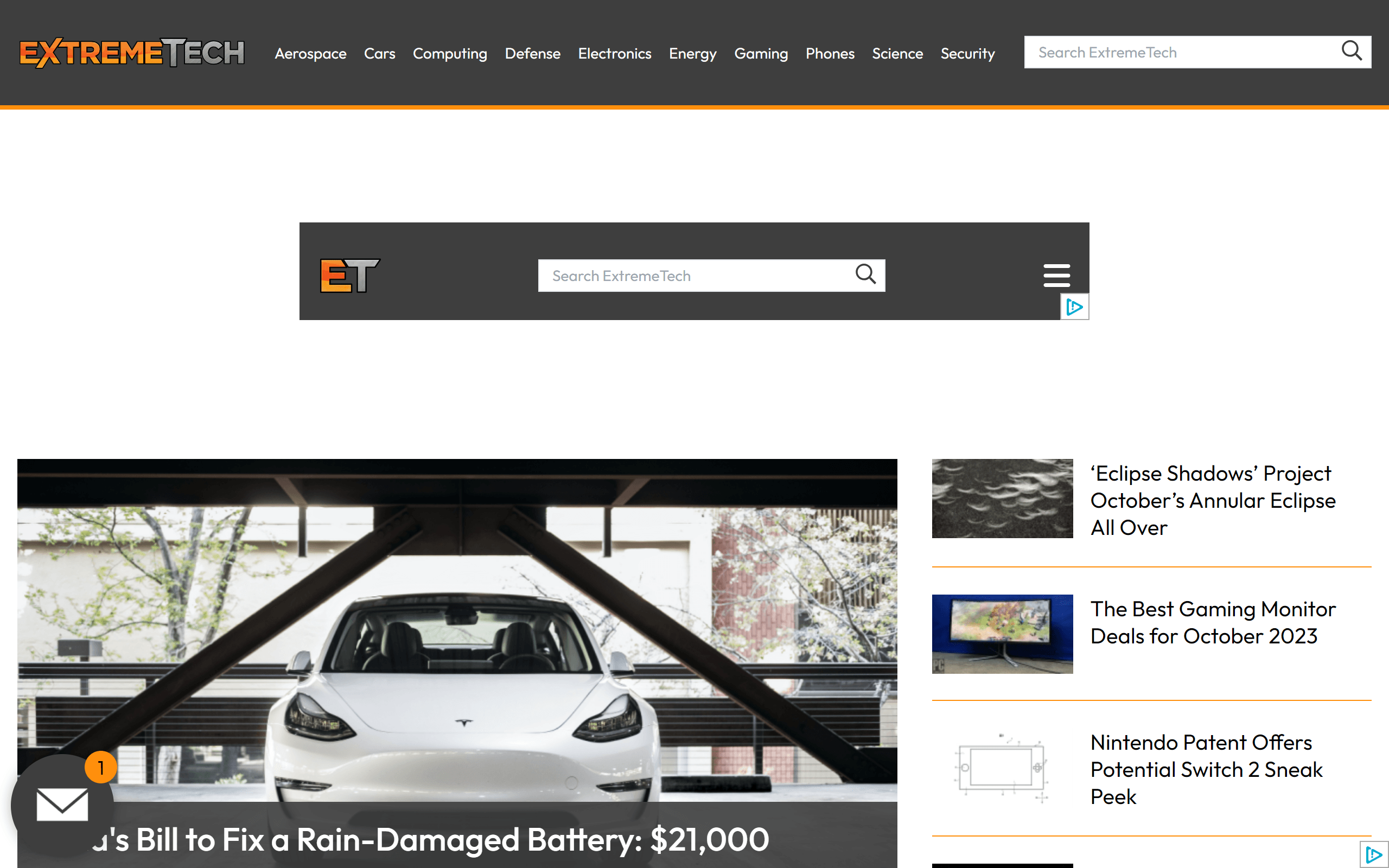 Android Police is your one-stop source for everything related to Android and mobile tech. Their team of writers publishes dozens of articles daily to inform and entertain their large readership.
You'll find the latest news, app reviews, device comparisons, and helpful How to Write a Blog Post guides to get the most from your Android experience. They go beyond surface-level coverage by deeply analyzing each OS update and mobile trend.
They aim to be the first to report major stories while also providing expert analysis of under-the-hood changes.
Whether you're a tech enthusiast or simply enjoy your smartphone, Android Police serves as your personalized hub for all things related to the Android universe.
Extreme Tech is one of the best options for technology blogs for in-depth coverage of emerging technologies. Beyond just the latest gadgets, their team of writer-experts dives into the concepts and engineering driving innovation.
Need to understand the capabilities of AI, quantum computers or new hardware? They publish extensively researched explainers to satisfy your curiosity. But they also keep things fun and engaging across reviews, news, and lively comment threads.
Whether you're just starting out or consider yourself a techie, their community offers friendly discussions for all levels. Join them to stay ahead of the technology curve and satisfy your passion for discovery on a daily basis.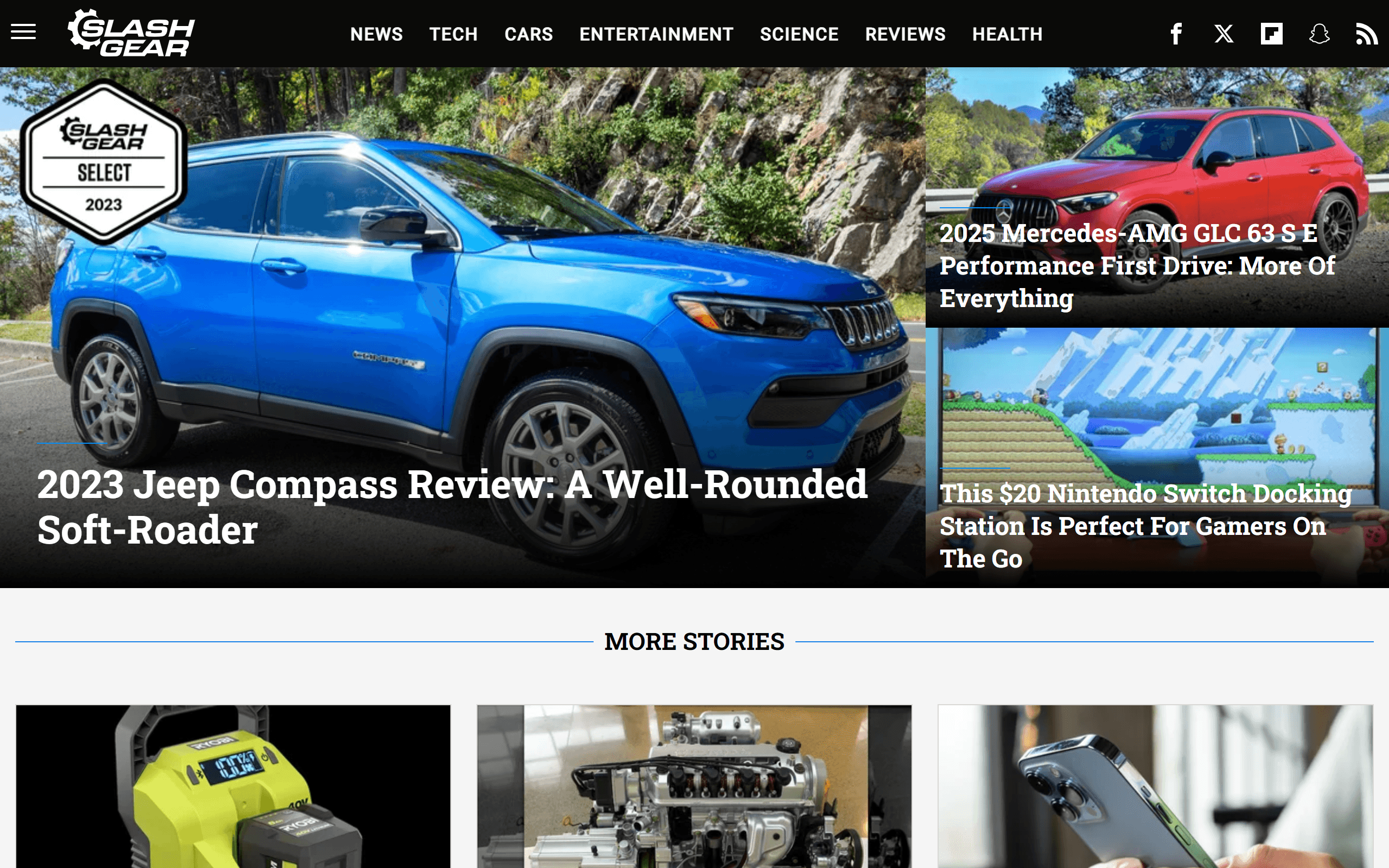 SlashGear is a leading publisher of technology-focused news and reviews. Established in 2005, they've built a reputation among readers for timely reporting on gadgets and industry happenings.
Expect to find the latest smartphone updates as well as insightful commentary on business trends and the consumer perspective.
Major conferences receive in-depth coverage so you can stay informed on what's new. SlashGear's team of experienced writers ensures engaging, knowledgeable articles daily.
Whether you're a tech enthusiast or new to the space, SlashGear is among the best tech blogs handpicked for you. Their long-standing track record highlights satisfying even discerning audiences with quality coverage.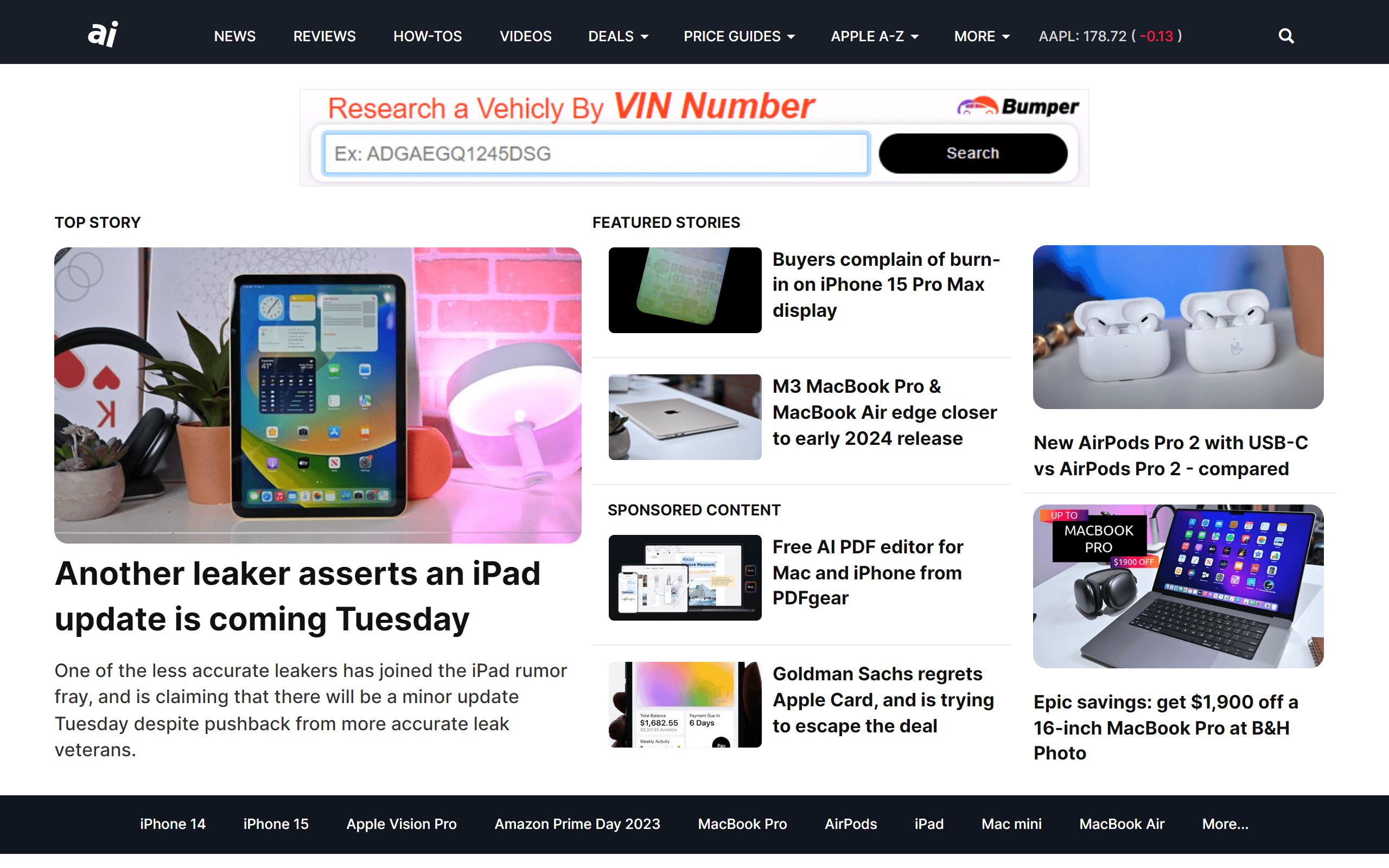 Establishing itself as a global destination solely devoted to in-depth yet accessible Cupertino coverage, AppleInsider excels at delivering witty updates that consistently keep readers optimally informed.
Their passion shines through devoted discussions celebrating each innovation, building an enthusiastic community of Apple enthusiasts worldwide.
Recognized for unbiased reporting fueled by journalistic expertise, AppleInsider merit placement as a daily fixture for any entrepreneur, marketer or fan seeking competitive knowledge of emerging trends.
Apple fans, this is one of the most suitable tech blogs for you.
For over a decade, SiliconANGLE has focused on in-depth enterprise technology reporting. Their team closely covers topics ranging from hardware to cloud, AI, blockchain and more.
Readers depend on them for indispensable analysis beyond just news articles. Event livestreaming at conferences through their studio, theCUBE, allows direct access to top industry executives.
As a small media startup achieving high-level reporting, they provide valuable insights for professionals and businesses.
SiliconANGLE aims to separate major signals from background noise in the tech world. Their expertise makes them a trusted source for industry expertise and guidance.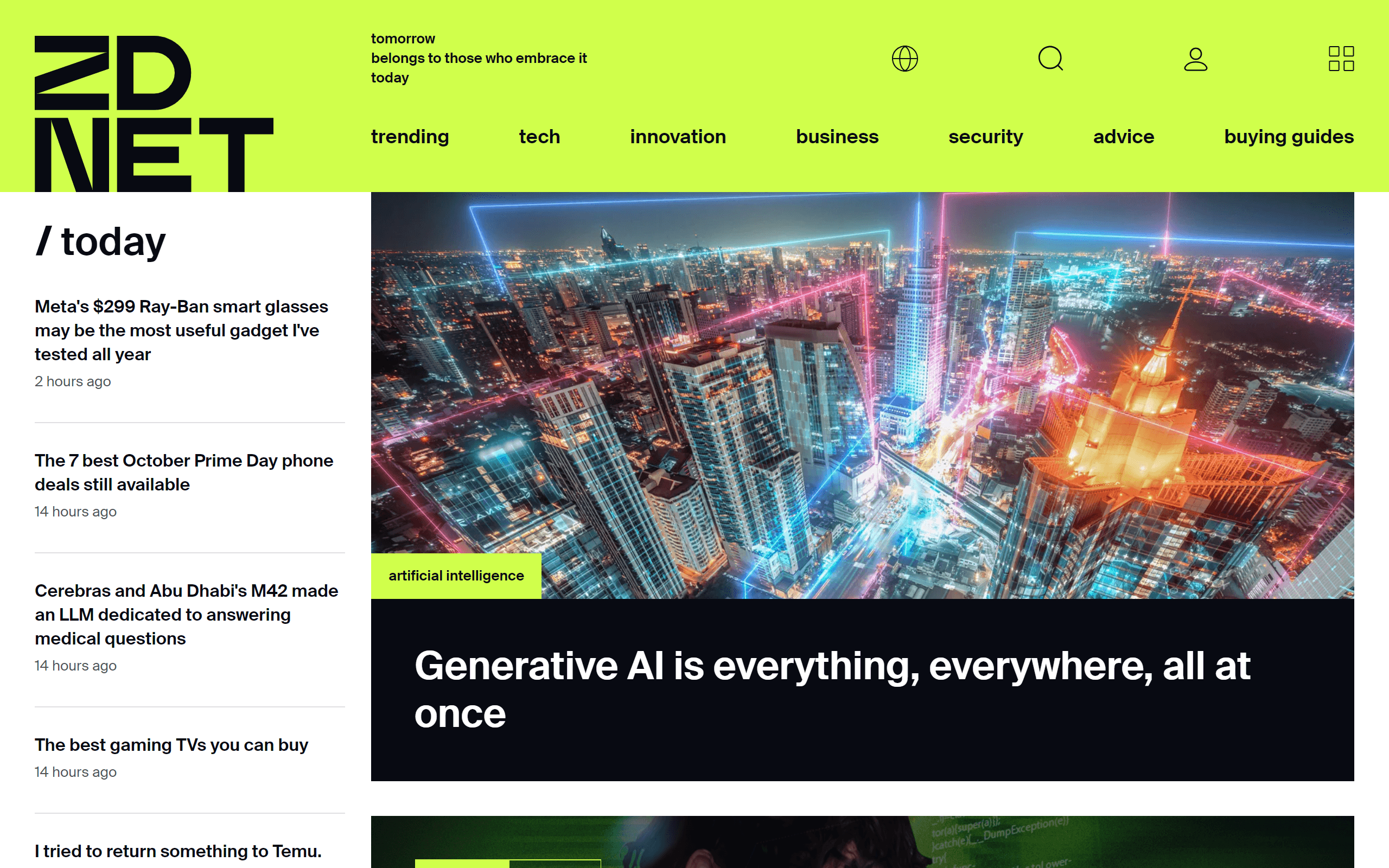 For over three decades, ZDNet as a tech blog has provided pragmatic technology analysis and coverage. With a deeply experienced team, they cut through buzzwords to identify real opportunities.
High standards ensure reliable, unbiased reporting on emerging innovations and trends. Readers trust ZDNet to deliver facts without outside influence.
Whether you need brand exposure or strategic guidance, ZDNet can help through advertising, thought leadership, and global scale.
At its core, ZDNet aims to enable progress by sharing vetted perspectives on cutting-edge topics. Both businesses and professionals find invaluable industry expertise.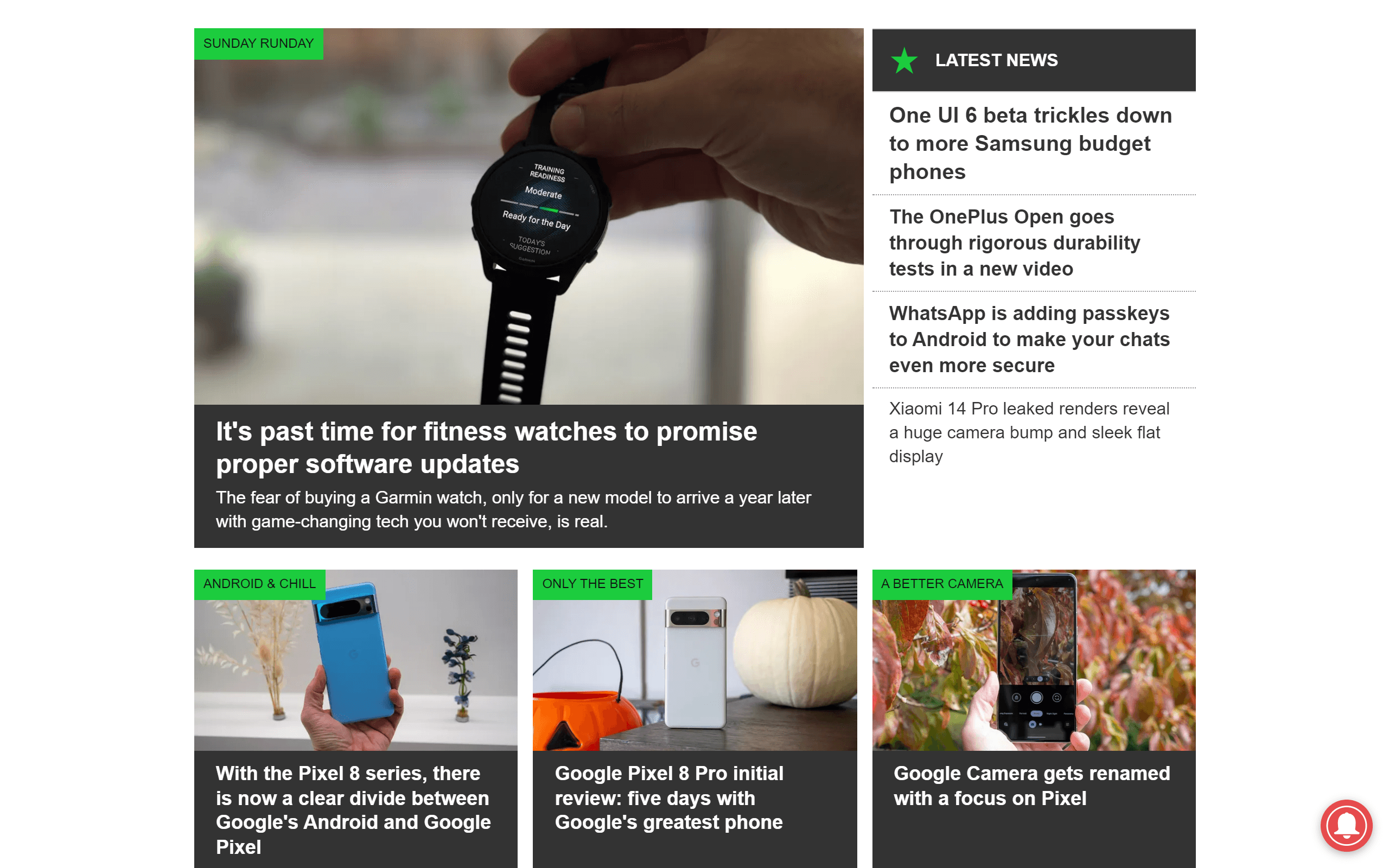 Led by industry experts for over a decade, Android Central provides trusted guidance on Android devices and beyond. Writers apply deep expertise through hands-on testing and community input.
Comprehensive buyer guides and troubleshooting help ensure reliable coverage. Future US as the parent company ensures editorial independence.
Reaching a vast Android audience, their insight benefits both individuals and businesses. Feel free to discuss platforms, strategies, or emerging trends.
At its core, Android Central aims to empower users through vetted perspectives on Google's ecosystem. This is one of the technology blogs to find valuable expertise.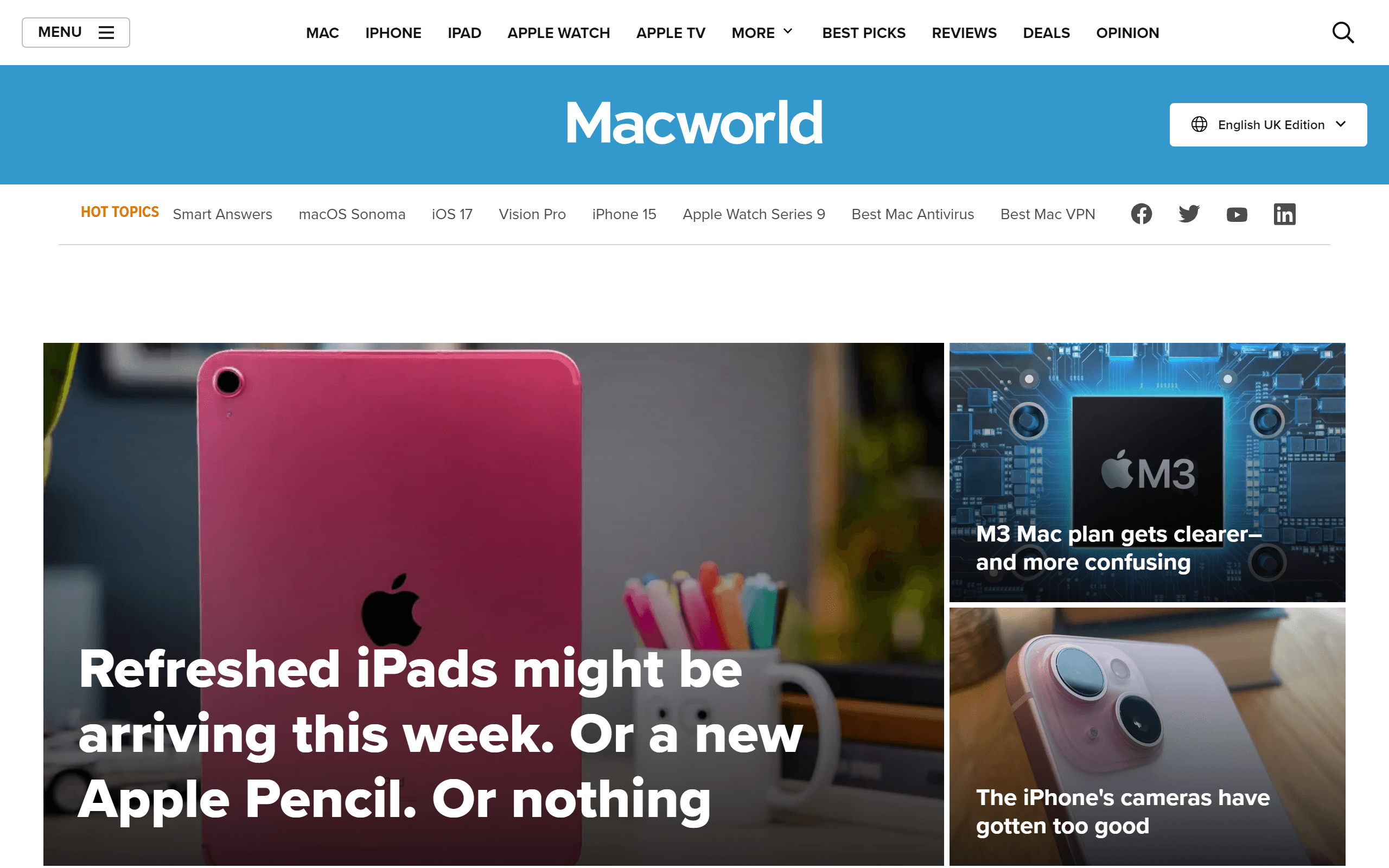 As a trusted source for Apple enthusiasts for decades, Macworld delivers essential buying tips and hands-on reviews from true experts.
Coverage spans iPhones, iPads, Macs, Watch, TV, services and more - plus apps, accessories and the overall Apple experience.
Whether you need brand exposure or just want savvy advice, Macworld offers partnership options through various marketing avenues.
Ultimately, Macworld aims to empower users through dedicated reporting that helps people master Apple's expansive ecosystem. Reliable industry expertise can be found on their site.
For 25+ years, TechSpot has served hardcore PC and tech enthusiasts with top-notch reviews, features and analysis. Editors launched during hardware's mainstream emergence and continue delivering the most comprehensive writing available.
Power users rely on software selections, massive product database and transparent testing methodology.
Whether you're a business promoting innovation or passionate about PC parts, TechSpot offers devoted hardware coverage and trusted industry insight.
Their evolution alongside cutting-edge technologies ensures ongoing value for both individuals and professionals.
Founded in 2011, GeekWire has grown into a nationally renowned tech publication rooted in Seattle and Silicon Valley.
Beyond headlines, experts provide unique perspectives on entrepreneurship, science and trends through diverse reporting and events.
Resources like job listings and startup rankings serve professionals, while podcasts and videos expand coverage. Under professional founders, editorial integrity remains core - informing readers without bias.
Ultimately, their dependable reporting and insights aim to empower industry understanding and progress. Both individuals and organizations can gain value.
For over two decades, TechRepublic's goal has been providing well-rounded insights to keep IT professionals ahead of changing times.
This is one of the coolest tech blogs that delivers candid perspectives on the full technology landscape through breaking news, best practices and education.
Partnering with StackCommerce expands affordable training options on key certifications and tech/business skills. With dedicated information access critical in fast-paced IT, their reporting empowers credible decision-making and progress.
Insights are built by true professionals to benefit both individuals and organizations through strategic brainstorming opportunities as well.
For over 40 years, Computer World has empowered tech leaders through expertise in maximizing web, mobile, and desktop applications.
Focusing on exploiting powerful tools to revolutionize experiences and gain advantages, journalists and analysts provide well-rounded strategic and hands-on advice. IT professionals additionally rely on sister site IT-World for optimizing client systems management.
Insights cover both emerging trends and opportunities to better understand evolving landscapes.
As a trusted voice empowering informed decision-making, Computer World's real-world perspective benefits organizations and careers alike. This is one of the most interesting tech blogs to check out.
KnowTechie provides accessible tech coverage through relatable, jargon-free writing and short, informative articles.
Catering to all readers, editors offer entertaining explorations of trends in an engaging conversational style.
Multimedia additions enhance coverage, keeping wide-ranging audiences up-to-date on gadgets, cybersecurity and more. Acclaim from major outlets affirms their success in capturing emerging technologies for non-experts seeking lighthearted knowledge.
An approachable window into today's tech landscape, KnowTechie makes staying informed simple without compromising quality.
Run by renowned expert Kim Komando, Komando.com is one of the best technology blogs. It excels at delivering dependable tech advice business owners can trust each day.
Breaking down complex topics accessibly through humor and expertise, its massive following continues growing for the invaluable insights fueled.
From gadgets to privacy, Komando.com optimizes readers' knowledge seamlessly without stress. Recognized as a global destination, its community discusses progressing innovation seamlessly.
Whether prepping or catching up, Komando.com merits making a routine fixture for staying ahead of what's next through proficient guidance. Future success shines brighter optimized by their gifted assistance.
Technology Personalized aims to simplify users' lives through thousands of approachable and meticulously researched reviews and guides, so it's one of the tech blogs worthy to follow.
Known for clearly explaining topics without jargon, readers can depend on their library of content to identify suitable solutions and opportunities.
Recognition from top outlets affirms TechPP's value as a trusted resource for navigating the industry. Both individuals and businesses stand to benefit from their expertise.
Delivering on making the most of innovations through reliable yet accessible insights, Technology Personalized proves invaluable.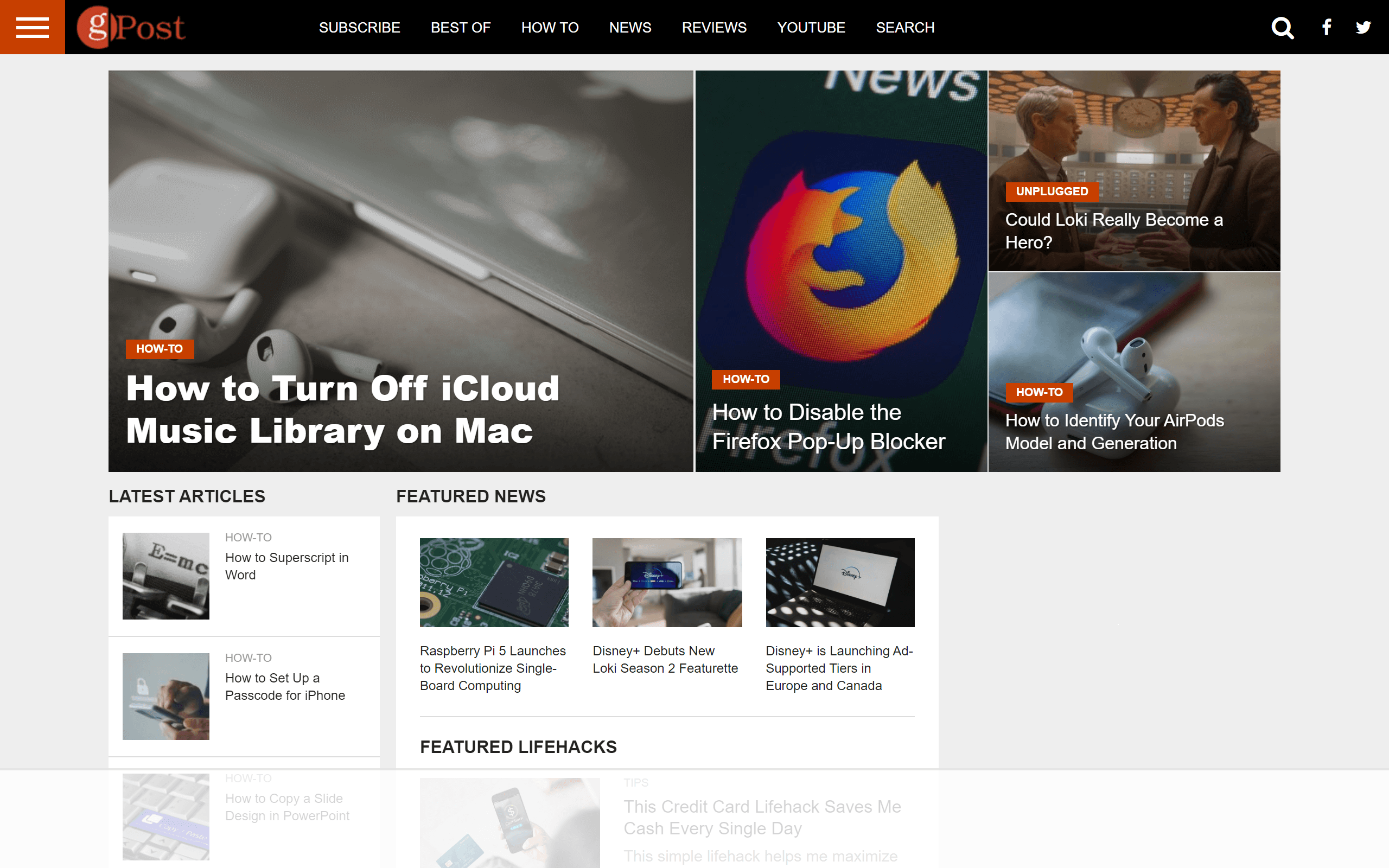 Founded over 15 years ago to create an accessible community focused solely on geek culture, GroovyPost has since grown into one of the largest online tech hubs.
With thousands of tutorials, reviews and discussions published to millions of readers globally, their expertise proves massively valuable.
Both individuals and businesses stand to better navigate emerging landscapes through the trusted insights and connected community GroovyPost offers.
Welcoming yet knowledgeable guidance has served users exceptionally well for over 15 successful years.
TechEngage is one of the best technology blogs. It provides unbiased reviews and coverage of the latest tech breakthroughs. Their experts aim to make every click educational.
Readers can rely on in-depth yet unfiltered explorations of industry developments.
Originally a nonprofit, TechEngage helped equip many during an economic downturn through training and industry connections.
Founding goals of accessibility, integrity and empowering progress through knowledgeable perspectives continue guiding their work. Both individuals and businesses benefit from TechEngage's balanced approach and expertise.
Founded to fill gaps between news coverage and true comprehension, Vox's team of experts utilize multiple mediums to make complex issues approachable.
Readers can rely on meticulously researched stories that consider all sides and identity's vital role in perspective. Transparency builds essential trust.
Videos, podcasts and articles engage vast audiences worldwide, as highlighted by classrooms, health efforts and awards received.
Accessibility, integrity and service to communities through thorough yet understandable reporting have significantly impacted modern media landscapes.
Conclusion
In closing, keeping up with rapidly changing tech can be challenging for busy individuals. This guide highlights 40 top tech blogs that reliably deliver timely updates on innovations and trends.
Browse the list to broaden your understanding from different sources, large and small. Their engaged communities also fuel ongoing learning.
We encourage you to check out tech blogs catering to your areas of focus. Discovering fresh insights will strengthen your knowledge base.
Your journey of continuous tech discovery starts now. Don't delay - start exploring these recommended tech blogs to stay informed.