Nursing blogs are something special to stumble upon in your career path. They're filled with talks of wisdom, heartfelt stories, and expert insights that you just can't get anywhere else.
Imagine having a bunch of resources right at your fingertips, from the latest research findings to real-life experiences from professionals.
And the best part? It's a platform that's continuously updated, ensuring we're always in the know.
So, if you're on the patch of professional growth and want to soak up new knowledge, this is your best way!
We've combed through the huge world of the internet and rounded up a list of 25 outstanding nursing blogs for you.
✅ How We Picked the Best Nursing Blogs
There are tons of nursing blogs out there these days. It's definitely overwhelming trying to figure out which ones are actually good reads. We wanted to find blogs that would be useful for nurses. Blogs that provide helpful information, different perspectives, and share real experiences. So we had to get picky about which blogs made our list of the best ones. Here are the main things we looked at:
Content: We focused on the best nursing blogs that covered topics relevant to nursing, like care tips, changes in healthcare, stories from the field, and advice for nurses. They needed to regularly post new, high-quality content.
Credibility: It was important that the blog authors were actual nurses or had medical backgrounds. We wanted to get info from reliable sources who "walk the walk."
Interactivity: Interacting with readers is huge. We favored blogs that engages commenters, answer questions, and foster an online nursing community.
Updates: With how busy nurses are, we went for frequently updated blogs so readers always have new posts to check out. Out of date nursing blog sites were passed over.
👍 Why You Should Trust Our Recommendations
At Code Supply Co, we're really good at creating cool blog content and designs. If you look at our company blog, you'll find it's interesting and well-made.
We also make nice and easy WordPress themes that a lot of websites use. We've been working with blogs for a long time.
Our themes make blogs look better and grab people's attention. We know a lot about how to make blogs popular because we've been doing it for years. So, we really understand what makes a blog good.
When we suggest the best nursing blogs, you can trust us. We know what we're talking about.
Nursing Blogs For Nursing Students 💉
Wouldn't it be fantastic if you had a secret weapon in your toolkit, something to give you a fresh perspective beyond the textbooks and classroom walls? Enter: nursing blogs.
Textbooks are great. They give you the foundation, the theory.
But nursing blogs? They provide real-life scenarios, stories, and experiences. It's like having a mentor guiding you, sharing those invaluable "I wish someone had told me that" moments.
Let's discover the best nursing school blogs the internet has to offer.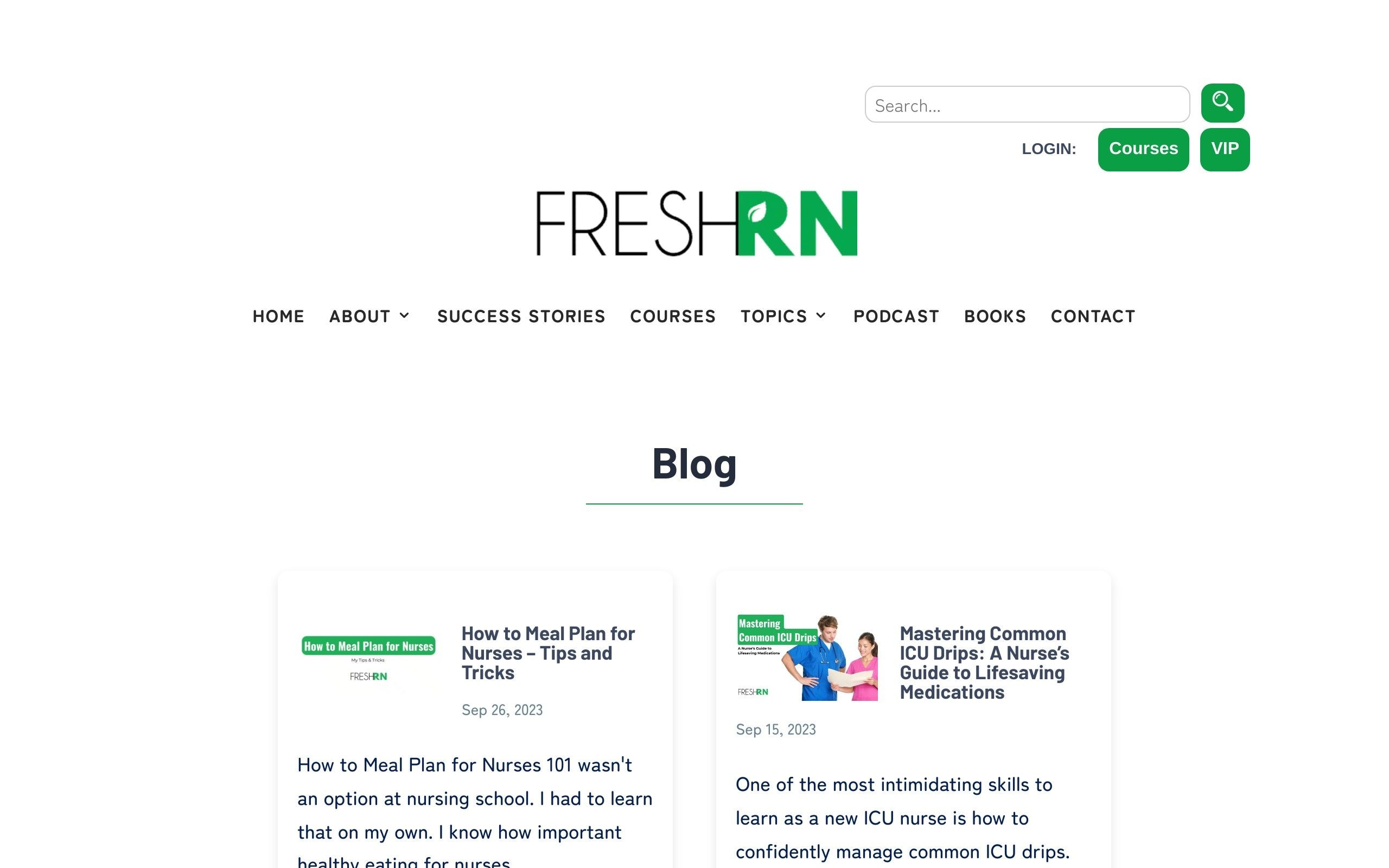 It's basically like that mentor you wish you had during your first chaotic weeks on the job.
Stepping from class into a bustling hospital setting? It's no joke. This nursing blog gets that. It's packed with those real-life tales, practical advice, and the kind of 'been there, done that' wisdom that textbooks just don't cover.
Every time you browse through, it feels like catching up with a fellow nurse over coffee, sharing those "I can't believe that just happened" stories. If you're new to the field, trust us, you'll want FreshRN bookmarked.
Alright, if this nursing school blog was a person, we'd imagine them as that super-smart friend who always had their notes organized and was ready to go into discussions after class.
It's thorough. You will be particularly in love with their podcast series. Pop in your earbuds, and it's like you've got this incredibly knowledgeable nursing buddy chatting away, breaking down everything from ICU scenarios to the challenges of mental health nursing.
If you want to not just pass, but excel in your nursing journey, Straight A Nursing is like that study partner who always pushes you to be your best.
Why is Straight A Nursing our Favorite Nursing Blog?
It splits up into different nursing parts like med-surg and moms & babies. This makes it easy to find things for the stuff you're learning about. They have separate pages for each part. So, this is one of the nursing blog sites with a clean structure. You can get free study materials like downloads and flashcards too. You don't have to pay any money - just use your time. This makes it easier to keep learning nursing.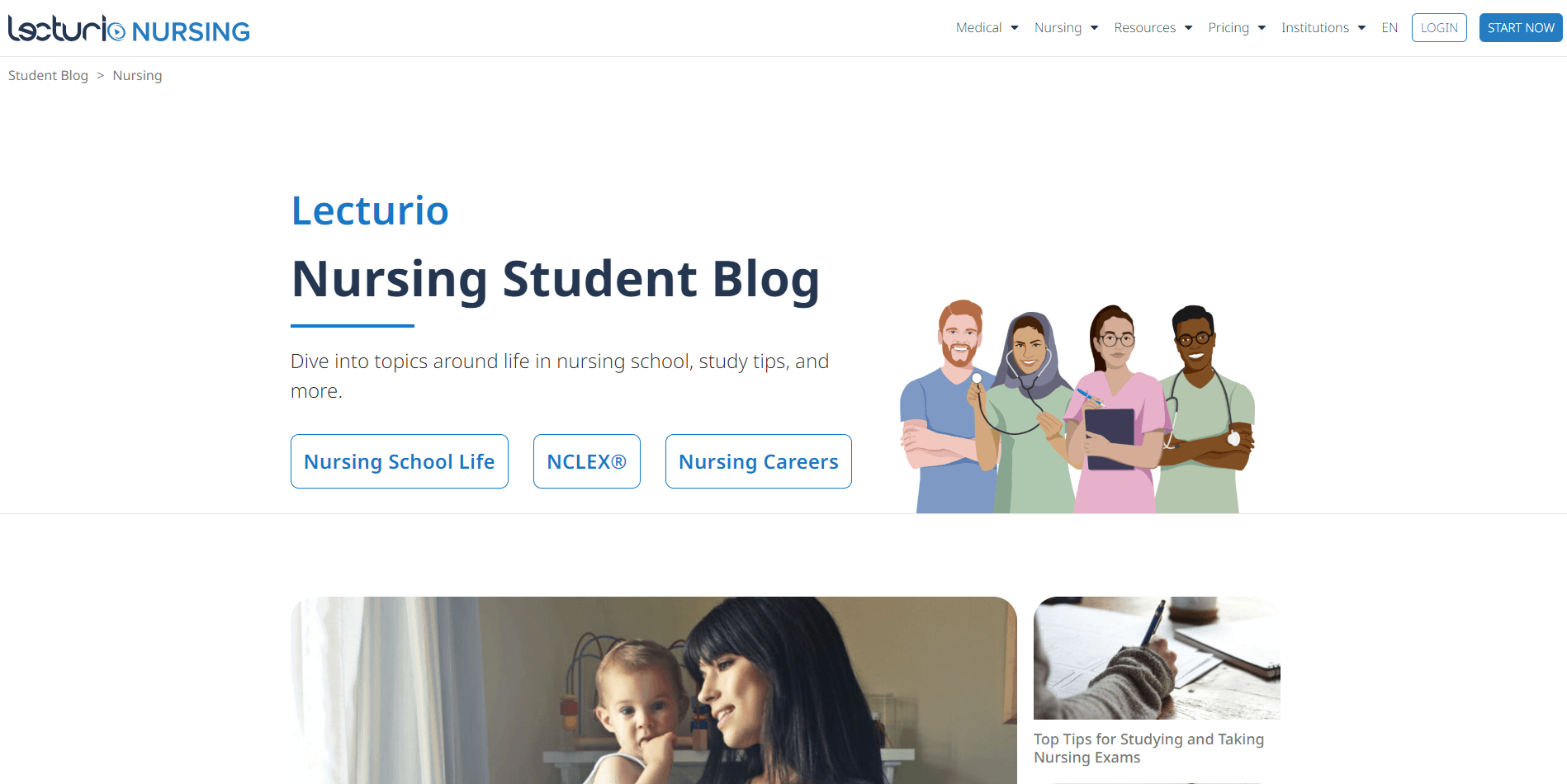 Ever had one of those "I need to know this NOW" moments? That's where Lecturio steps in. Imagine it more like your nursing school library but in the digital realm. This is one of the ultimate nursing school blogs to find support.
The beauty of Lecturio is how dynamic it is. Videos, quizzes, in-depth articles - it's like this ever-evolving knowledge hub. When you're struggling with a tricky topic, jumping into one of their interactive lessons feels like turning on a light in a dim room.
And for all you busy bees, the Lecturio mobile app is a game-changer. Those little pockets of free time in your day? They just turned into super productive mini study sessions.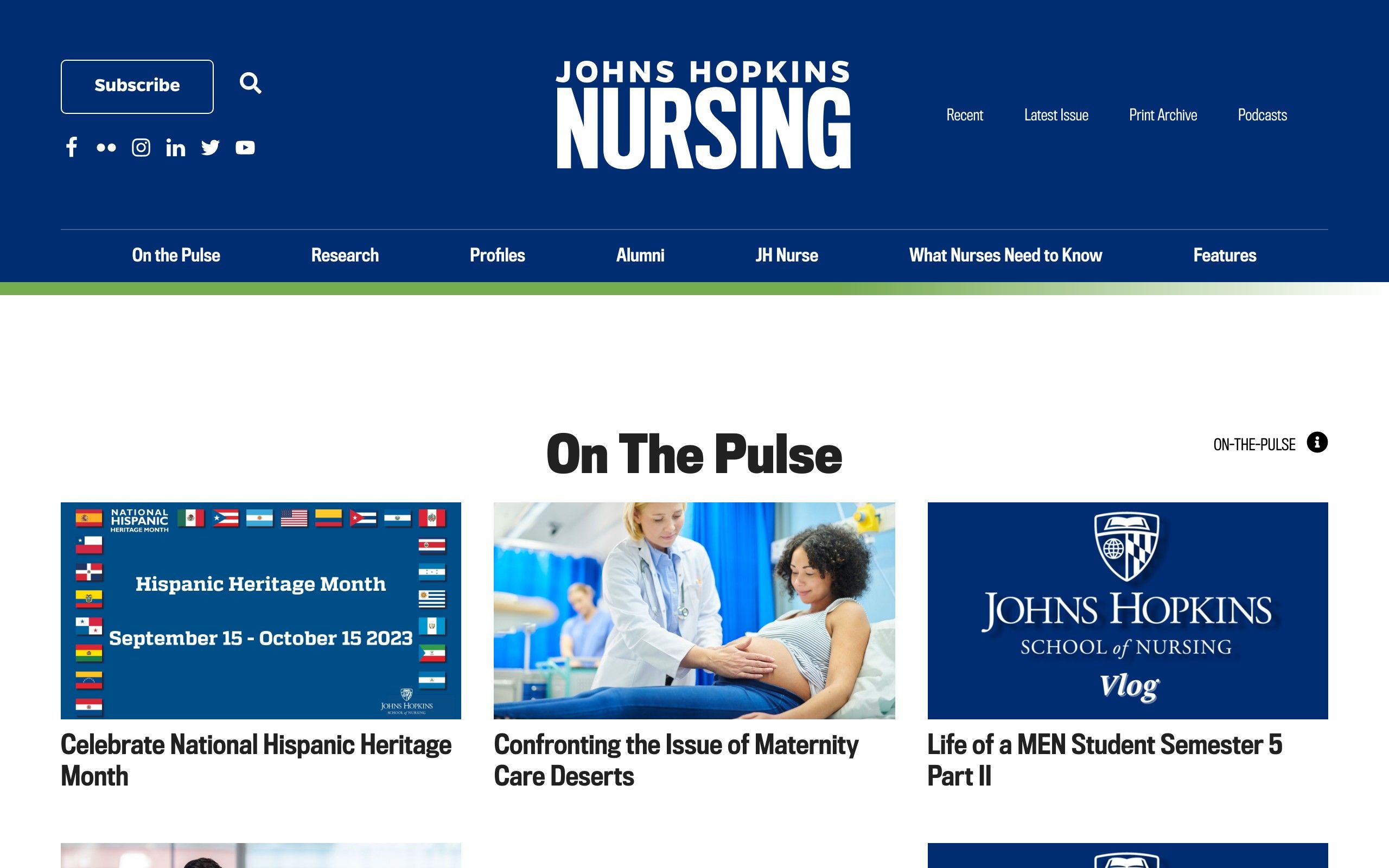 Now, if we're talking about institutions that are synonymous with groundbreaking healthcare, Johns Hopkins rings a bell, doesn't it?
This is one of the best nursing blogs to find scholarly articles, innovative research findings, and personal experiences penned down by some of the best minds in nursing.
Every post feels like attending a masterclass that makes huge topics accessible and intriguing. This is one of the best nurse blogs that will ultimately guide you in your studies, holding your hand during the hard times. If you were looking for nursing school blogs to back up your academic path, this is the right place.
Nursing Blogs for Careers 👩‍⚕️
Staying updated is the most important thing in this industry. Career-focused nursing blog sites keep a finger on the pulse of healthcare.
Ever felt the thrill when something just clicks? That's what it feels like when you discover your nursing specialty.
And these blogs? They're like personal guides, helping you explore the big landscape of nursing fields. Maybe you're destined for pediatrics or perhaps public health is calling your name.
Find out with us!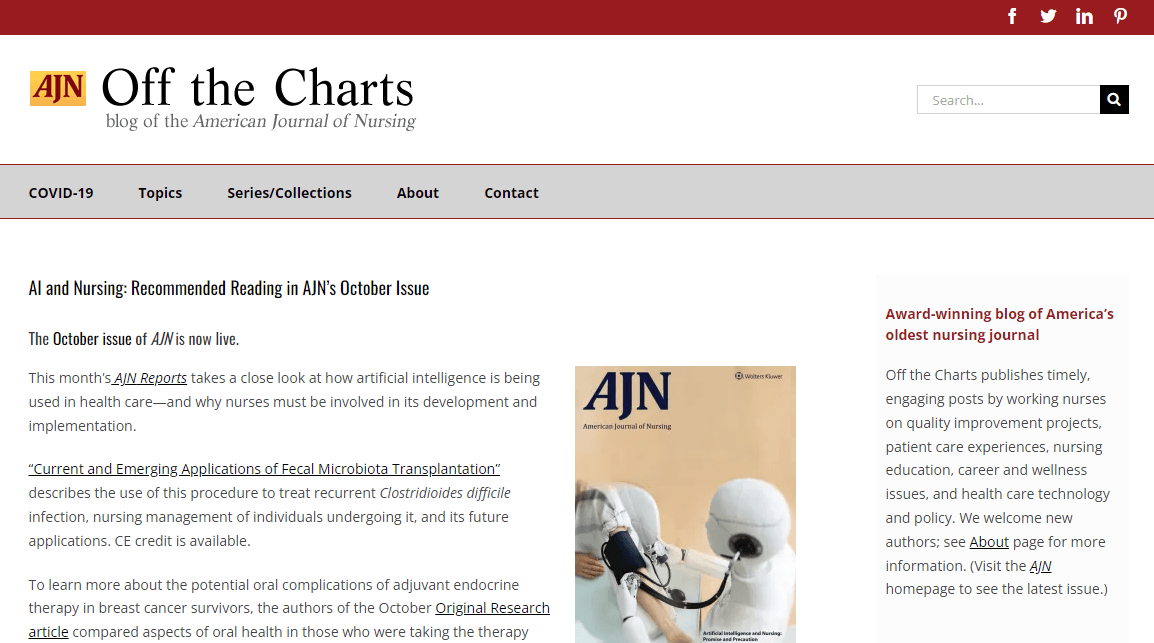 Packed by the pros from the American Journal of Nursing, it's like they bless you with stories and wisdom. If you were looking for best nursing blogs, this is definitely the ultimate website to follow.
You can find a touching story about a nurse's late-night revelations and the next thing you know, you're learning about the latest clinical innovations.
Thinking of giving your nursing journey a fresh spin or just need a daily dose of motivation? Trust us, you'll want to come back to this nursing blog. It's not just a blog, it's like your morning coffee chat with fellow nurses.
Imagine a nursing hub, bustling, brimming with ideas, wisdom, and lots of tips. This is among the best nurse blogs with that exact vibe.
You'll discover videos that make you go, "So that's how it's done!" or articles that feel like they read your mind. And oh, the community! Ever wanted to chat with nurses from all walks of life, sharing their highs, lows, and everything in between? This is one of the best nursing blogs to check out.
So, whether you're mapping out your next career move, or just need a pep talk, visit this blog.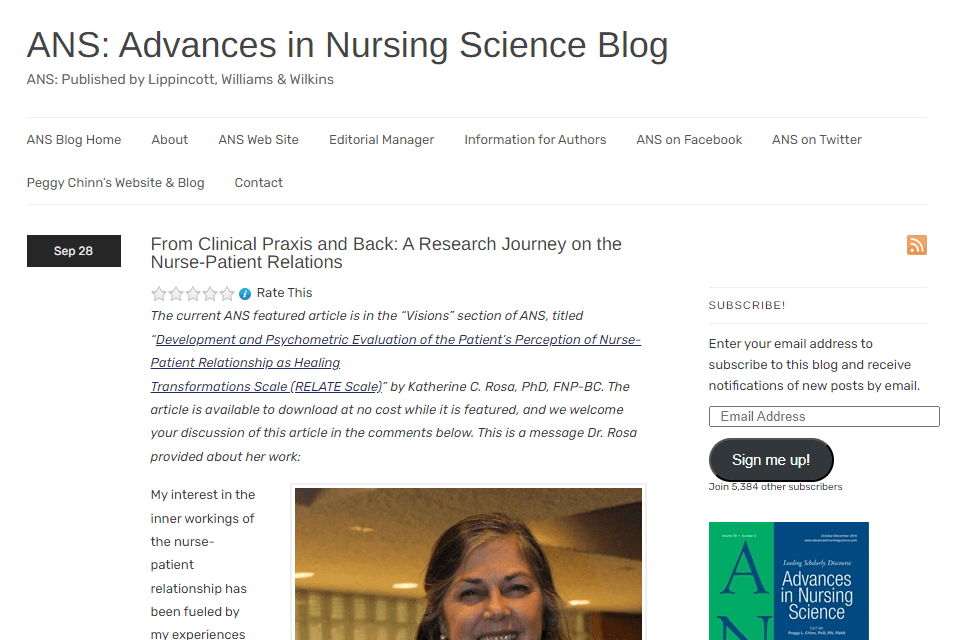 This is one of the top nursing blogs stepping into which feels like unlocking intellectual insights.
Every article here feels like an invitation to a brainstorming session. From theories that shape our profession to exploring new-age research techniques, it's one amazing journey. But it's not all about the academia. It's about the stories, the dreams, and the aspirations on the path.
Whether you're a curious specialist, a researcher, or someone just looking to learn, ANS is here for you.
You probably felt lost in your nursing journey at least once. We know that it feels like standing at a crossroad, unsure of which way to go. And this blog can be the lighthouse guiding you through.
There are relatable stories, resources that inspire, and tips that feel made for you. This is one of the best nurse blogs that gives some solid advice on shaping your career, or show what other nurses are up to. They've got stories that'll make you smile, nod, and occasionally, get sentimental.
Their content is similar to having a sweet chat with someone who's been there, done that, and is there to support you in every step of the way.
Why is RNCareers.org our Favorite Nursing Blog?
It has guides for over 100 nurse jobs so you can see what they involve and pay. It shares how much nurses really earn based on things like where you work, how long you worked, your degree, and type of job. This is important when choosing your first job or thinking of changing jobs. The blog also tells you the rules for becoming a nurse in each state. Knowing things like costs, tests, and ongoing learning is important. RNCareers makes the rules easy to understand for each state.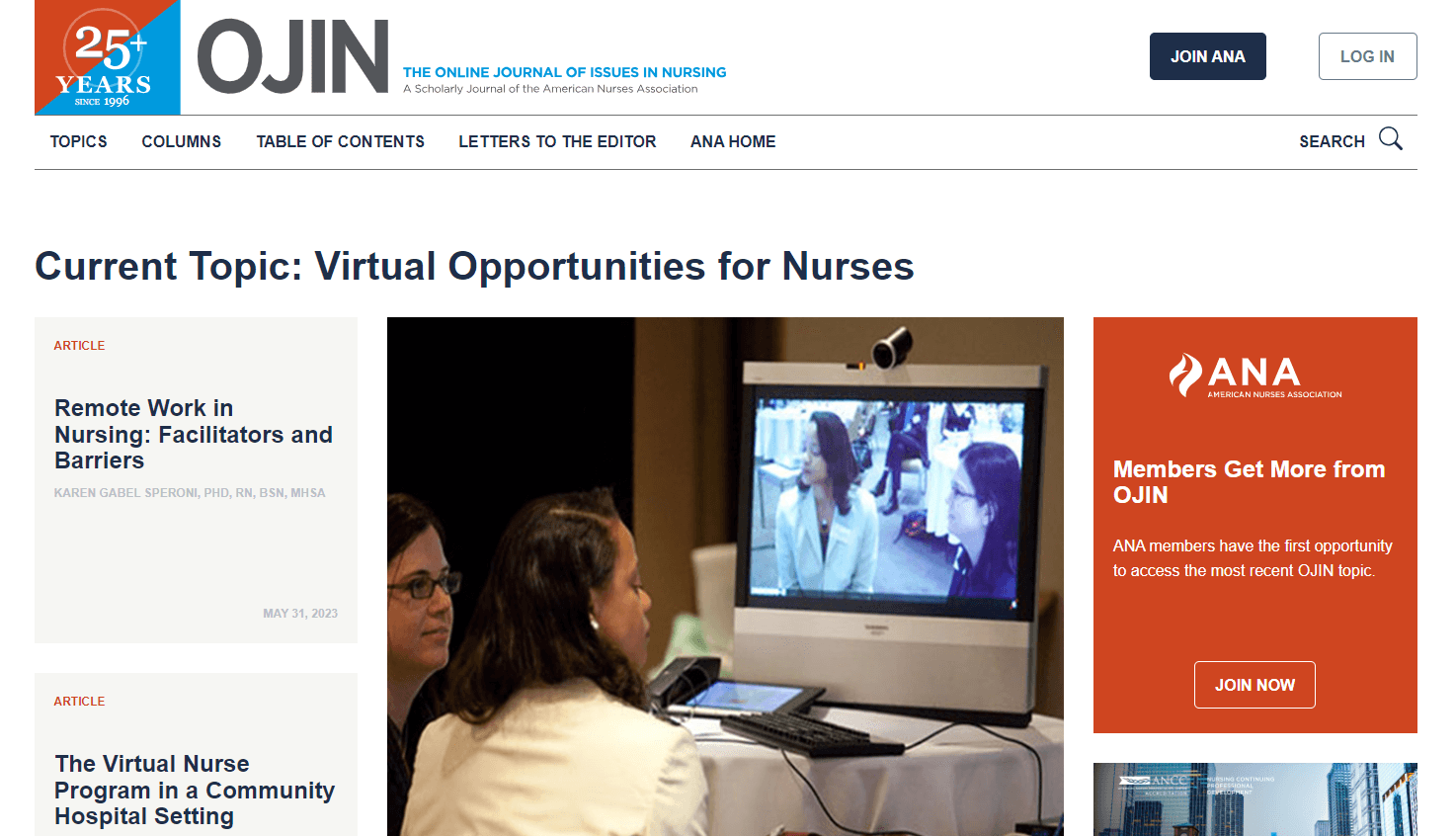 This website feels like a book club where every member has decades of nursing tales to tell. Their nurse blogger team is truly professional.
You know those controversial topics that get whispered around the break room? OJIN dives headfirst into them. It challenges your thinking, makes you ask questions, and often leaves nodding in agreement.
In short, OJIN is like that wise nursing professor you loved in school. They give topics for deep, meaningful discussions. Definitely worth adding to your reading list for those introspective evenings with a cup of tea.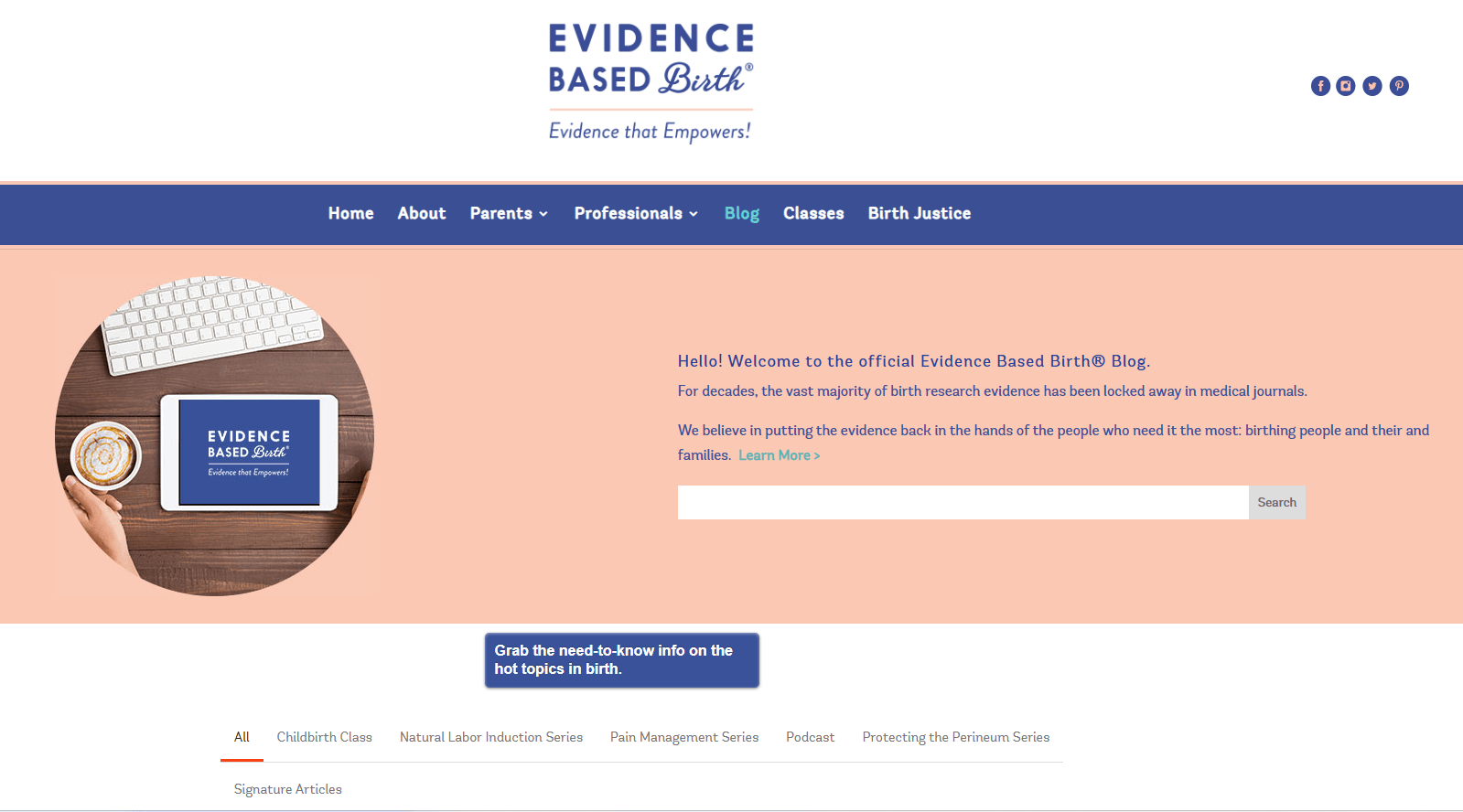 This is one of the best nursing blogs where passion meets science. They talk about birth with such warmth, but also back it up with real, hard facts.
The articles aren't just informative; they're stories. Stories of mothers, fathers, doulas, midwives – the big variety. It is a collection of personal experiences but with scholarly insight thrown in. It's enlightening, personal, and very informative for your nursing career.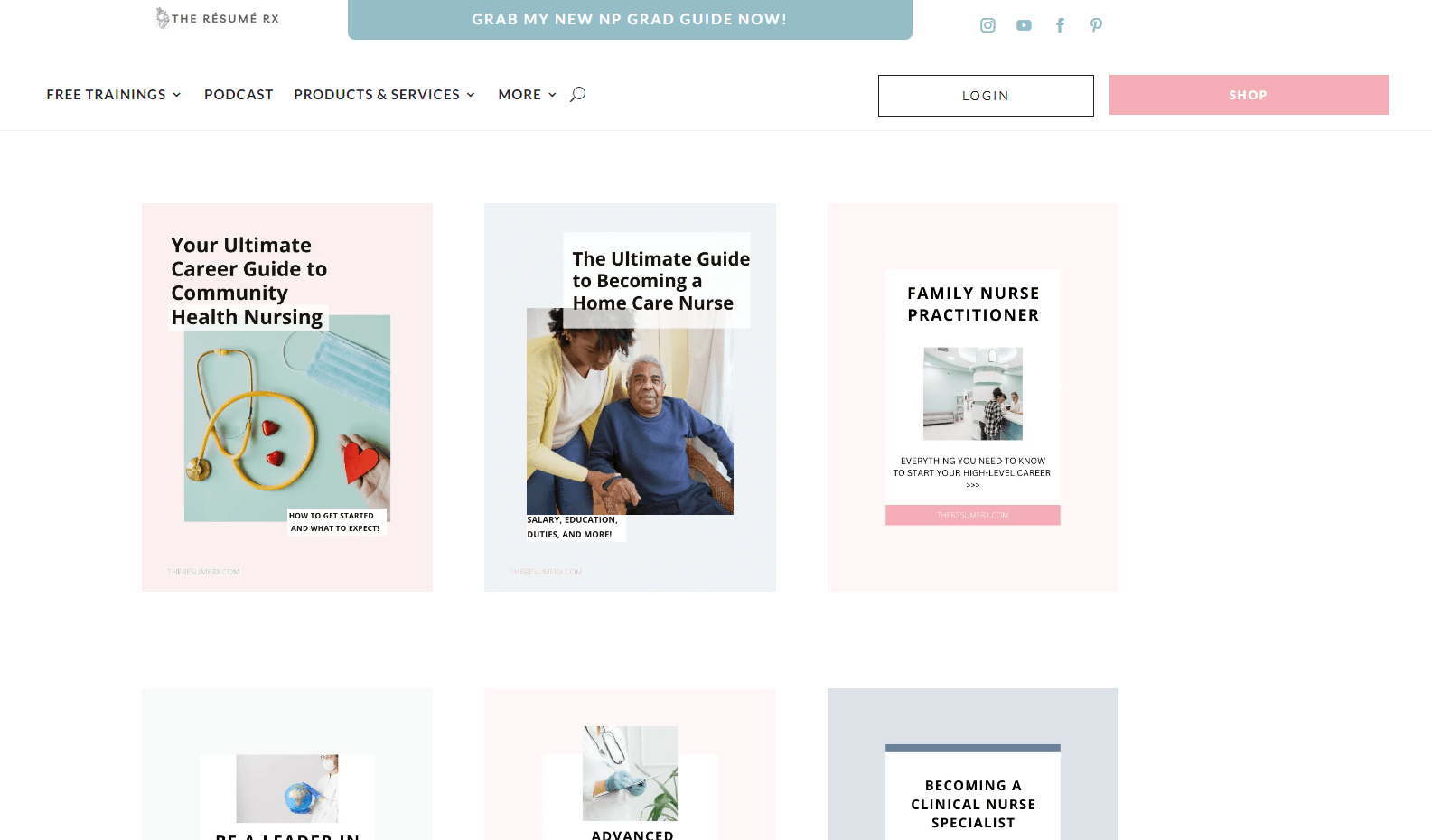 Job hunting – we've all been there. Updating résumés, prepping for interviews, the whole shebang. That's where The Résumé Rx gives you assistance.
The beauty here is this nursing blog's simplicity. It gets straight to the point: how to present the best version of yourself. But, more than tips and tricks, it's the confidence boost it offers that's amazing.
In essence, The Résumé Rx is a reminder that, hey, you've got skills, experience, and a whole lot of awesomeness to offer. Time to shine and get that dream job.
Nursing Blogs for Updates 💉
Ah, the ever-changing landscape of healthcare, right? One minute you're mastering a new procedure, and the next, there's updated research throwing you a curveball.
These top nursing blogs lead you to new information. Nut they aren't just about staying informed. They're about staying connected.
Being a part of the larger nursing community, sharing the joys, the struggles — that's the best part.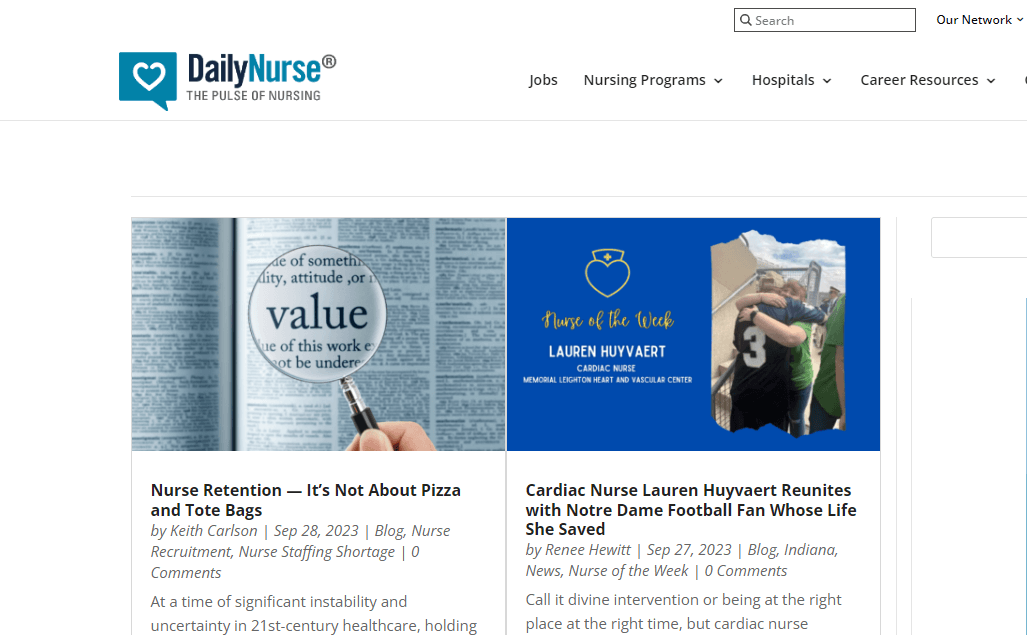 This website is similar to morning news but focused on your beloved profession. Their nurse blogger team keeps you informed with the latest clinical practices or feel-good stories from the wards every day.
Now, what we personally adore about Daily Nurse is its community-driven spirit. It's like that warm, busy nurse's station where everyone gathers, swapping stories and tips. They share study tips, career advice, or just a dose of motivation.
This blog is that reassuring pat on the back and the gentle nudge forward. A perfect mix of inspiration and information.
2. 🏅 Our Favorite - NurseBuff
One moment you're chuckling over a funny meme, and the next, you're writing down some career advice. It's that work buddy who knows when to make a joke and when to lend a listening ear.
It's a collection of the serious, the surreal, and the super-hilarious sides of nursing. It's something you need after a tough shift.
They also have these amazing lists of everything and anything related to nursing. So you will definitely find something for yourself.
Why is NurseBuff our Favorite Nursing Blog?
This frequent posting means that nurses can rely on NurseBuff to learn about the latest developments, trends, products and more in nursing. Whether it's new research, changes to regulations, or hottest new gear, NurseBuff covers it. The blog also touches on many different areas of nursing like education, careers, specialties, and lifestyle. This broad coverage ensures that no matter what area you work in or are interested in, you'll find relevant updates.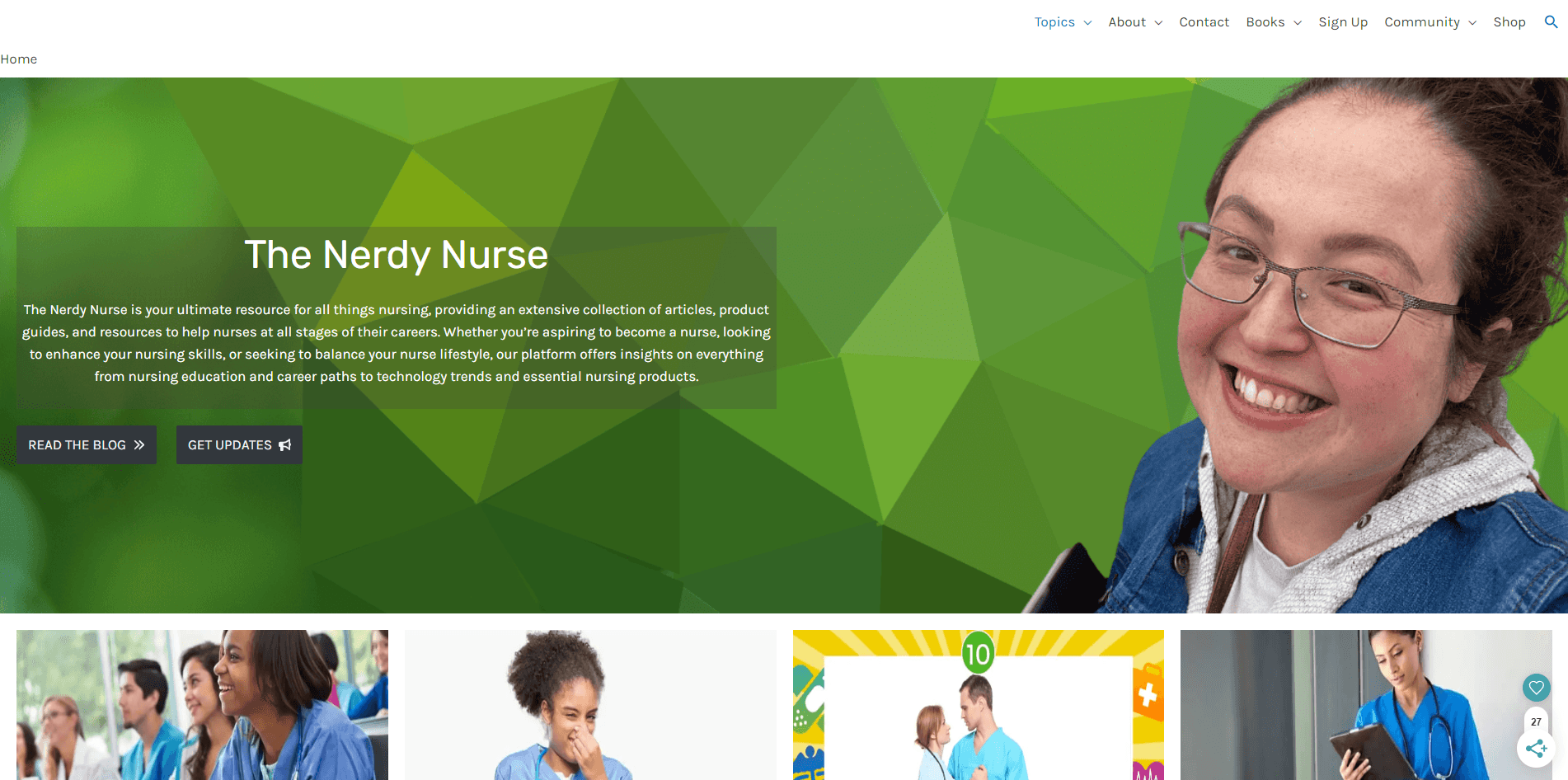 This blog is like a bridge between traditional nursing values and the fast-paced world of healthcare tech. They keep you in touch with technological development, so you don't go crazy about not being informed.
Latest healthcare apps, and gadgets that make a nurse's life a bit easier, there's so much to explore.
But don't let the "nerdy" part fool you. This blog has a heart. Alongside tech deep-dives, you'll find stories, musings, and reflections that touch the soul of what it means to be a nurse in this day and age.
Diversity Nursing Blog is about individuality. They are one of the top nursing blogs because they embrace nurses from all backgrounds, cultures, and walks of life. This is a validation of your unique journey.
And it's not just telling stories - they also give you helpful stuff. For example, there are posts about how to really understand your patients' cultures when providing care. If you wanna give inclusive care in today's diverse healthcare scene, this blog is your goldmine.
When it comes down to it, this blog isn't just about the job of nursing. It captures the real spirit of nursing as it exists in our varied world - with all our backgrounds on full display. They nail what the nursing profession is truly about.
Caring for cancer patients is tough - it requires both serious skills and lots of empathy. You also have to stay on top of all the latest information. That's where ONS Voice comes in - it's like your own personal mentor for oncology nursing.
You'll find all the new research findings and strategies for treating patients. It bridges the gap between science and heart. That way nurses are expert clinicians but also know how to handle all the emotional parts of the job.
If you're in oncology now or thinking about making the switch, ONS Voice is your handy guide. They point out best practices, share patients' inspiring stories, and take on the challenges nurses face head-on.
Nursing Blogs for Specific Specialties 👩‍⚕️
Ever had that moment when you're deep into a conversation and suddenly realize, "Oh wow, this person gets it"?
Specialty nursing blogs can feel exactly like that — a refreshing space where every challenge you face, every nuance of your role, and every "only in this specialty" moment is truly understood.
This blog is all about the nomadic nurse life. If you're a new traveler figuring stuff out or a seasoned pro, these blogs have you covered.
This nurse blogger talks about assignments at different facilities around the country, share housing tips and review agencies so you pick the best ones. They also unload on all the cool places they've worked.
Maybe you'll find your next trip or just live vicariously through all their adventures. Overall these blogs make traveling feel less lonely and help you make the most of this flexible lifestyle as a travelling nurse. You can also check out the latest travel blog post ideas.
Why is Travel Nursing our Favorite Nursing Blog?
It has clear guides that explain everything you need to know about becoming a travel nurse, such as what it is, how it works, and how to get started. These guides break the process down into simple steps. The blog also shares important details about travel nursing salaries, jobs, housing options, and companies. Having all this core information in one place makes it simple to learn about travel nursing. Not only does the blog cover the basics, it also provides many helpful updates.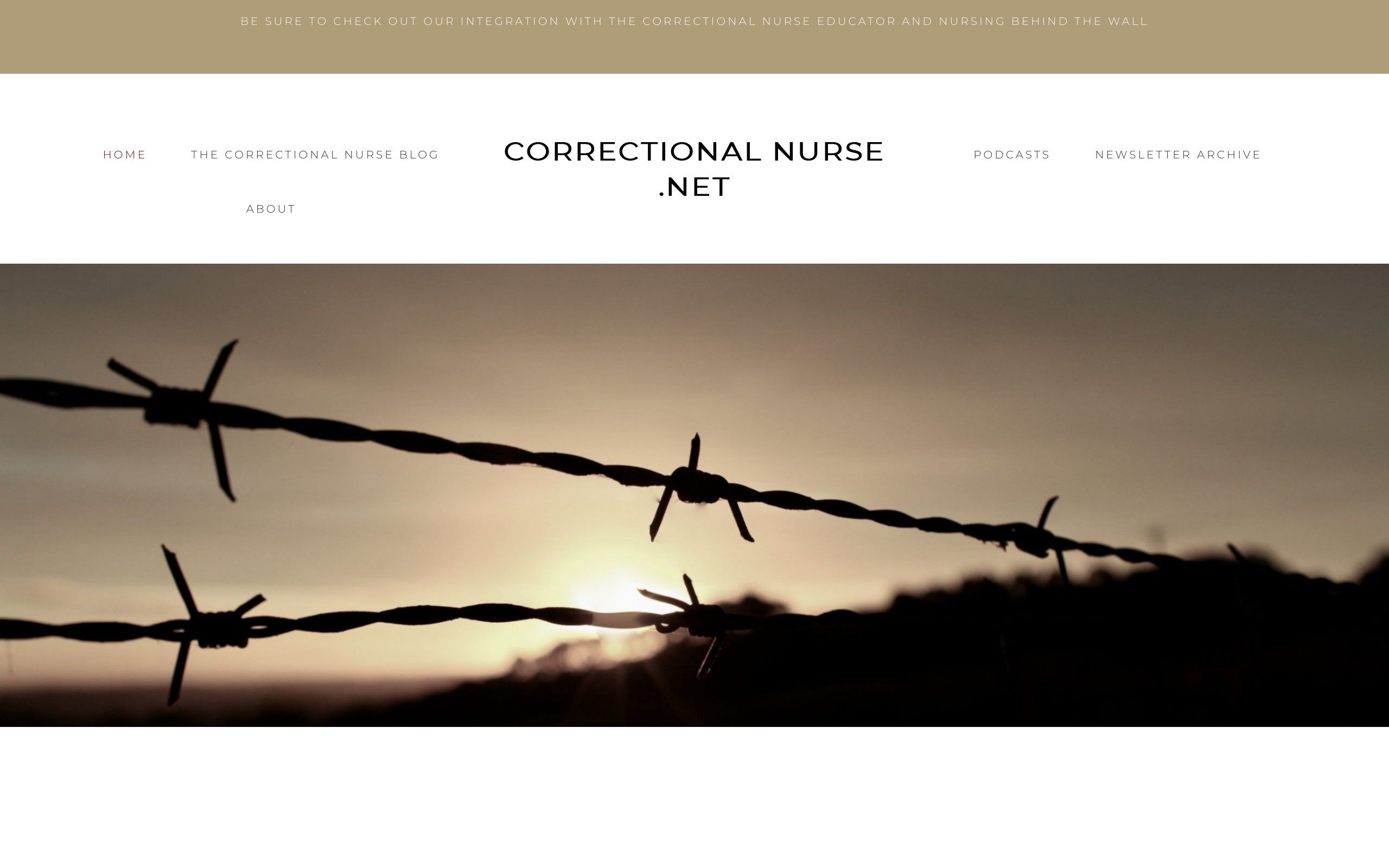 Working in a prison is no joke but this blog shows there's more to it than meets the eye. As well as discussing security concerns and unusual health cases, they go deep on the psychological aspect of the job too.
You'll learn how to deal with compassion in a high-stress environment and escape burnout. You'll also get perspective on rehab and social issues.
This blog proves correctional nursing is rewarding in its own way and shows why advocating for inmates is so important. It gives insight into a specialty most people know little about.
If you can't stay put as a nurse, this is one of the top nursing blogs for you. Unlike travel nursing, these nurses take contracts globally whether that's remote islands, cruise ships, international hospitals or mission work.
They share their cultural experiences, languages learned and the adventure of it all. Reading their stories might inspire you to take a leap out of your comfort zone too.
It offers a glimpse of an unusual lifestyle most can only dream of. Overall it captures the spirit of experiencing the world through nursing outside the box.
Nursing Blogs With Useful Resources 📖
Many nursing blogs know that in professions like this, there's limited free time available, so they make accessing helpful resources as easy as possible.
So these best nurse blogs do all the work so you don't have to, helping you balance learning with your other responsibilities.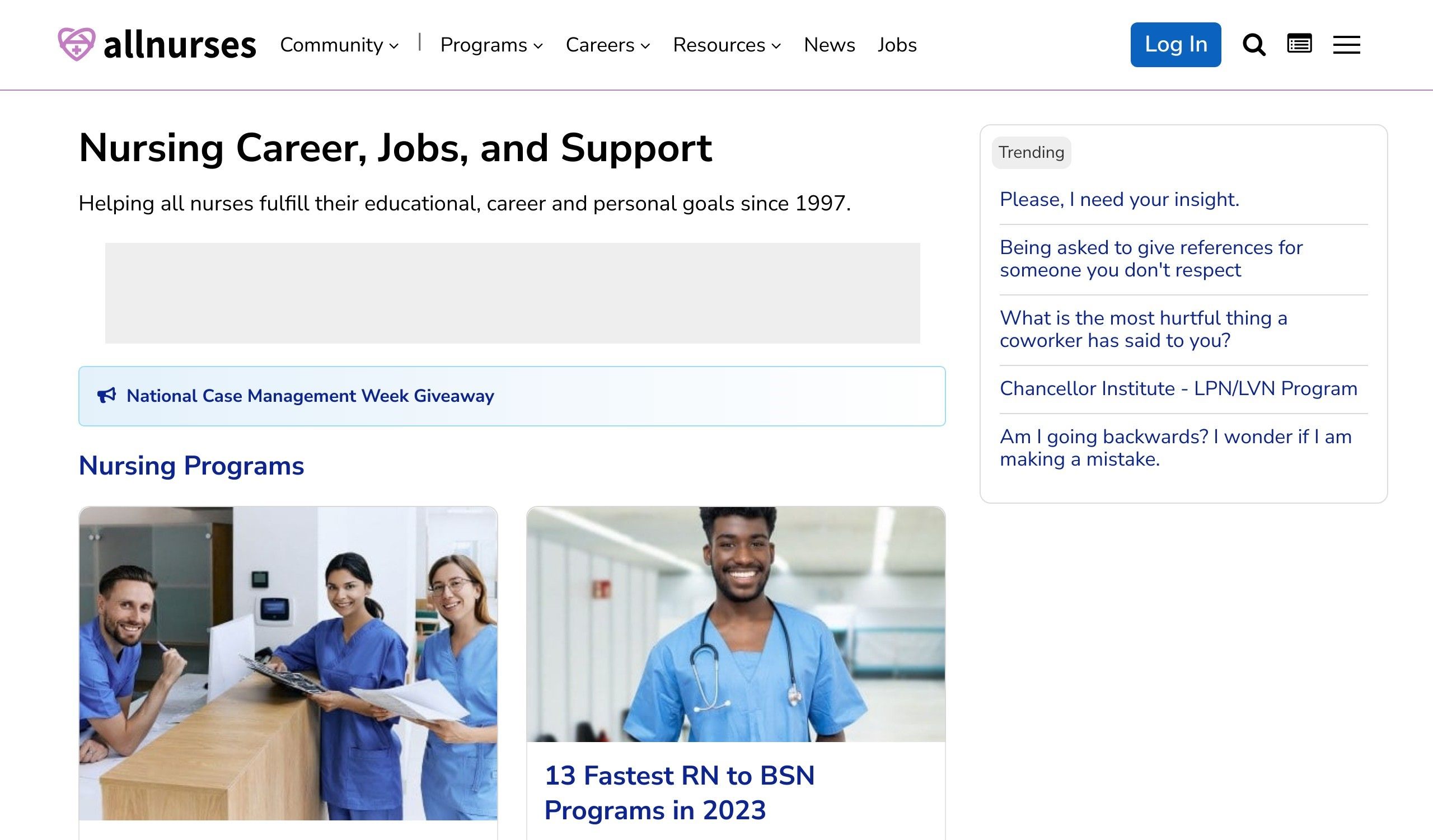 It's huge - it's like the Facebook of nursing sites. You'll find RNs from all different specialties helping each other out. Always someone online too if you need your burning question answered really quick. Just like the best blogs for women exclusively, but for nurses.
Doesn't matter if you're brand new or a veteran, the message boards are popping. You can also get career advice or brainstorm about tough patient cases - someone is bound to weigh in.
This source is among the nursing blog sites that basically gives nurses a chance to teach each other on the daily, which is a super useful thing these days.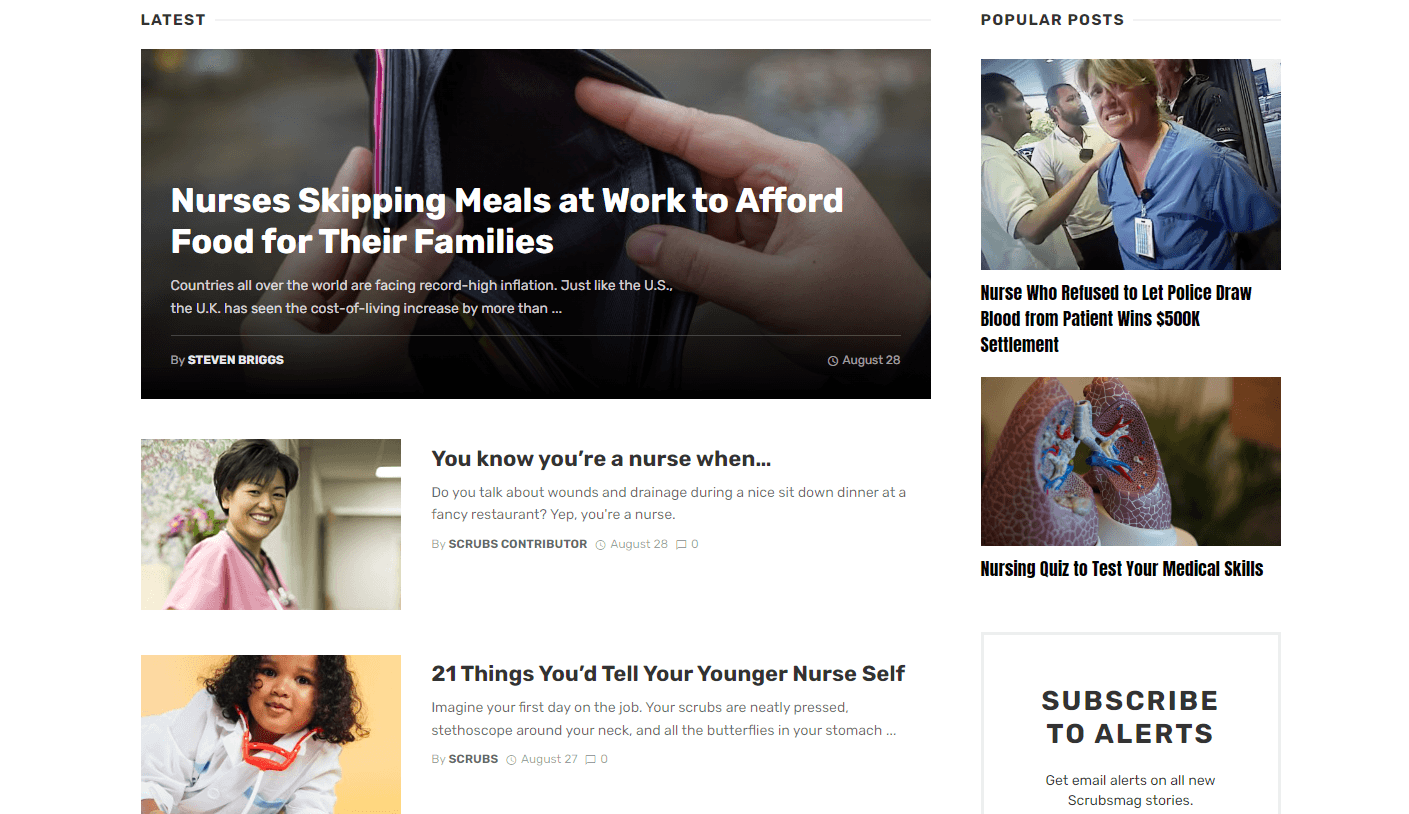 This option is among the sweet nursing blog sites if you want to stay in the know. It updates you on all the latest trends, policy changes, wellness tips and more happening around nursing.
But they don't just talk about stuff on the surface - their articles really go in depth too. If something in the blog catches your eye, you can also find full magazine stories diving even deeper.
It's nice to have everything nursing-related in one convenient place, you know? The blog makes it effortless to learn new things while chilling at your crib.
This website is among the most important and best nurse blogs advocating for diversity in nursing. They give nurses of color a platform to share their experiences.
Through personal stories and research articles, it highlights the unique struggles of working in the field while Black, Brown, Indigenous, etc. The blog also keeps it real about inequalities that still exist.
At the same time, they celebrate the contributions of all backgrounds. If the nursing world wants to become truly inclusive, blogs like this one will help guide the way. Their message deserves to be heard.
This is a great blog published by the big actor of nursing organizations, the American Nurses Association. They talk about everything from advocacy efforts to throwing a shine on nurses changing the world.
It's also got cool podcasts and webinars if you want some worthy insights. Since it's linked to such an icon in the field, the blog keeps you in the loop on major nursing news nationwide.
You'll feel connected to the wider profession for sure.
This is one of the best nurse blogs that feels like a breath of fresh air if you're feeling burnt out - the writer's posts are all about finding meaning and joy in this crazy field.
The nurse blogger shares thoughtful reflections on making a difference at the bedside and crafting a sustainable career.
Sometimes you just need a pick me up, and this blog never fails to remind you why you do what you do. Even on your worst day, her positivity is sure to put a smile on your face. It is written specifically for nurses, by a nurse.
Why is The Inspiration Nurse our Favorite Nursing Blog?
The articles cover a wide variety of topics relevant to nursing such as leadership, communication, work-life balance, and advocacy. Donna draws on her decades of nursing expertise to share insightful advice, stories, and lessons that nurses can apply to their own careers. In addition to practical nursing articles, the blog also features links to other useful resources. It signposts Donna's many nursing webinars, ebooks, and recommendations for nursing websites and publications.
If you were looking for best nurse blogs that keep it funky - check out this recommendation. They celebrate how cool and weird nurses can be.
Join in as they nerd out on true crime stories, medical mysteries and strange specialties. Whether you're into space medicine, ER gore, or zombie apocalypse protocols, these bizarre blogs have you covered.
No judgment here - it's a fun spot to nod your head in agreement that nurses are one-of-a-kind people. This is truly one of those motivational blogs.
Summed Up
Nursing is a full-on lifestyle.
And if there's one thing we know about the healthcare world, it's that it doesn't stand still.
Why stick to old tricks when there's so much to explore, right? Every patient you meet, every wonky shift you pull — they've all got something to teach you.
And lucky for you, the internet's bursting with top nursing blogs to help you master that tricky procedure.