"Sports do not build character. They reveal it." — John Wooden, basketball coach
For any true sports fan, nothing gets the competitive juices flowing like diving into some thought-provoking blogs and websites about your favorite teams, athletes, and leagues.
If you're looking for insider analysis, epic game recaps, or just a few laughs, sports blogs and websites are a must-read for staying in the know.
For those of us who live and die with our favorite teams, the real test doesn't end when the final buzzer sounds. It's in the hours and days afterward when we take to Twitter and Reddit to celebrate victories or debate close calls.
Where do you go to sound off on the latest trade rumors, argue over MVP selections, or find your people to enjoy epic highlight reels with?
That's where this list of top sports blogs and sites comes in.
🚀 How We Picked Best Sports Blogs
First off, we looked for top sports blogs that covered everything from the big leagues to your favorite college teams. Had to have variety for all kinds of fans.
We also peeped for blogs that dropped fresh articles all the time. None of that outdated shit - you sports heads need constant updates.
Engagement was mad important too. Leave it to you dudes to spot the blogs with the sickest commenting. Tight communities are where the real talks happen.
Design-wise, clean pages you can focus on reading was key. Can't have flashy nonsense distracting from the sports deets.
🤝 Why You Should Trust Us
We've been blogging for a long time and our blog is always full of cool articles. We know what it takes to make a website interesting.
At Code Supply Co, we make great WordPress themes that lots of blogs use every day. We've helped many different blogs become popular.
We have a lot of experience with writing blogs and helping people set them up. We've learned all the ways to get readers and start talks.
We really love doing this and know how to pick the best sports blogs out there!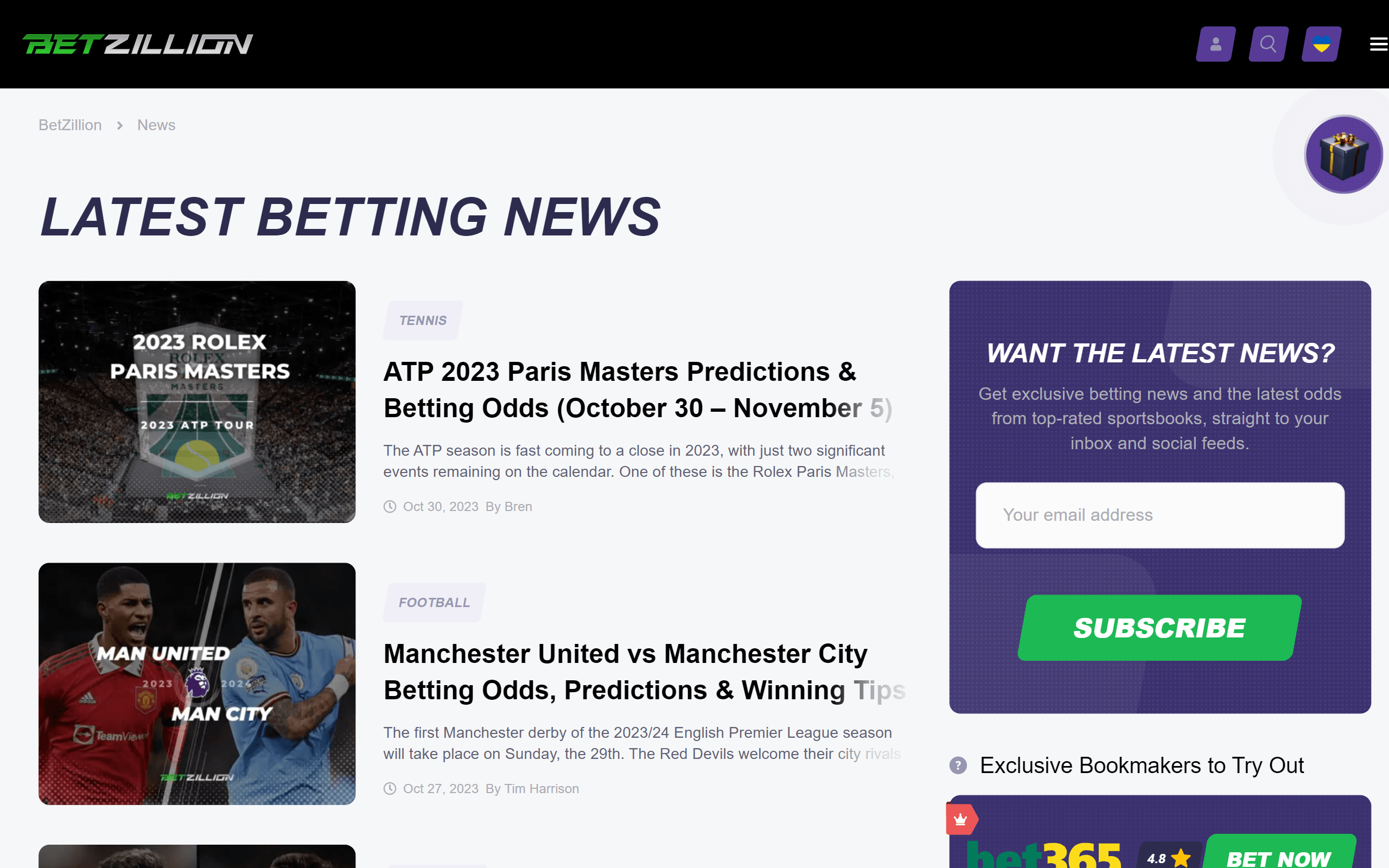 BetZillion.com offers an unparalleled wealth of knowledge in the realm of sports. Whether you're new to betting or a seasoned enthusiast, we offer expert insights, strategies, and engaging content. Stay updated on industry trends and enjoy diverse topics from game strategies to global sports analysis. BetZillion's team of experts provides only proven and high-quality content, which is why they took first place in our top sports blogs.
They go beyond just predictions too. There are guides explaining the ins and outs of different types of bets like parlay bets or props bets if you want to mix it up from the regular game winners. What makes it one of the top sports blogs is that you can check out their odds comparison section to shop around and make sure you're getting the best price available for your picks.
2. 🥇 Our Favorite - ESPN
You can't have a sports blog list without including the big dogs. First up, ESPN - the worldwide leader that started it all. Even if you just need a score update in a pinch, it's hard to beat their nothing-but-sports approach. But what sets ESPN apart is the unique writing from top contributors like Wright Thompson and Mina Kimes - those guys know how to take you behind the scenes.
Why is ESPN Our Favorite Sports Blog?
They cover literally every league and team, so this is one of the sports blogs that suits everyone. No matter what your favorite sport is, ESPN's got you covered with constant updates. The insights are best in the game too. These dudes got connections everywhere so you know the rumors and behind-the-scenes scoops are on point.
While their hot take-heavy headlines can rub some the wrong way, their roster of in-depth features truly delivers. This is one of the coolest sports websites if you just wanna know what happened last night in the NFL or what trades your favorite NBA team just made.
Ex-NBA star Kendrick Perkins gives an unvarnished look at the league you won't get on broadcast TV. Gilbert Arenas' wild playing days stories are obligatory reading. Joe Tansey's deep statistical analyses take football sabermetrics to new heights. They also have a great app to get highlights and alerts at a moment's notice.
When it comes to one-of-a-kind sports commentary, Deadspin really sets the bar. Have you read some of the owner takedowns they've published over the years? It's like the writers have no fear, and we love it. And their fan interaction features! Some of the stuff they recount just has us in stitches.
Speaking of varied interests, they hit all the leagues - even stuff like surf competitions or hot dog-eating records. It's always a total mystery of what you'll find but it's never boring. This is one of the best sports websites if you want a more alternative take. This is the spot.
One of the best sports blogs, BBC Sport, has been putting US sites on notice with how they cover more than just the Premier League. Their worldwide soccer coverage is top-notch, going way deeper than mainstream American places. These guys really know how to find a niche for a blog.
And don't even get us started on the quirky stats analysis they do, this is one of the top sports websites for analytical staff. These guys will find correlations between weather patterns and home-field advantage like no one else. Or break down how full moons actually may impact scoring trends over time - seriously!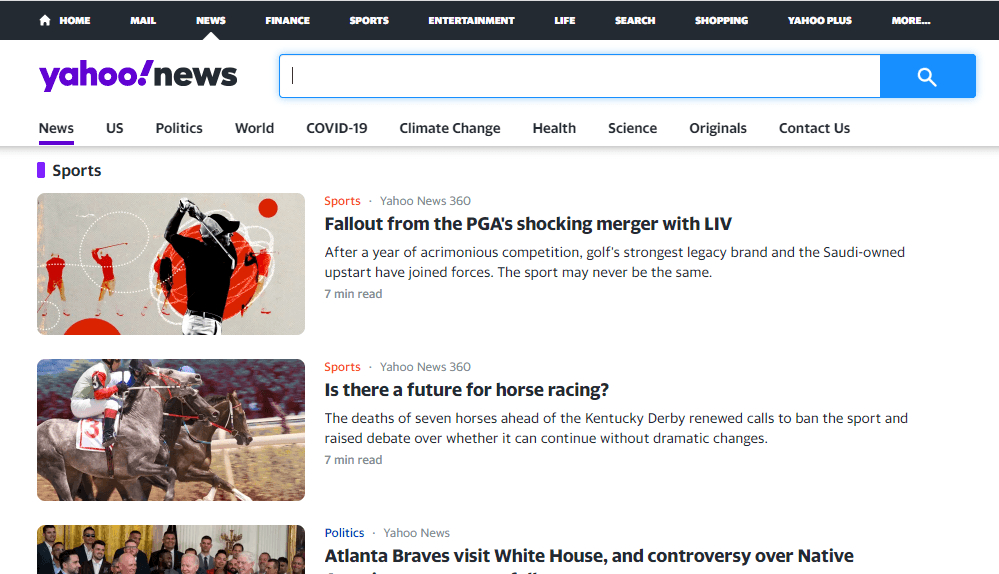 For a site that's been around forever because it is one of the best sports blogs. They keep finding ways to stay relevant in my feeds. I gotta give their app props - really well designed for getting quick score alerts or notifs about breaking news.
This website is among those sports blogs that have come such a long way. A few years ago it was pretty much just rewrites of AP stories. But now their top sports bloggers interview guys like Pete Thamel breaking stuff and features from established stars like Dan Wetzel.
Fantasy integration is top-notch too if you're into that. No other place has stats and lineup tools as comprehensively integrated right into their mobile site and desktop experience as these guys. They are truly one of the best sports websites.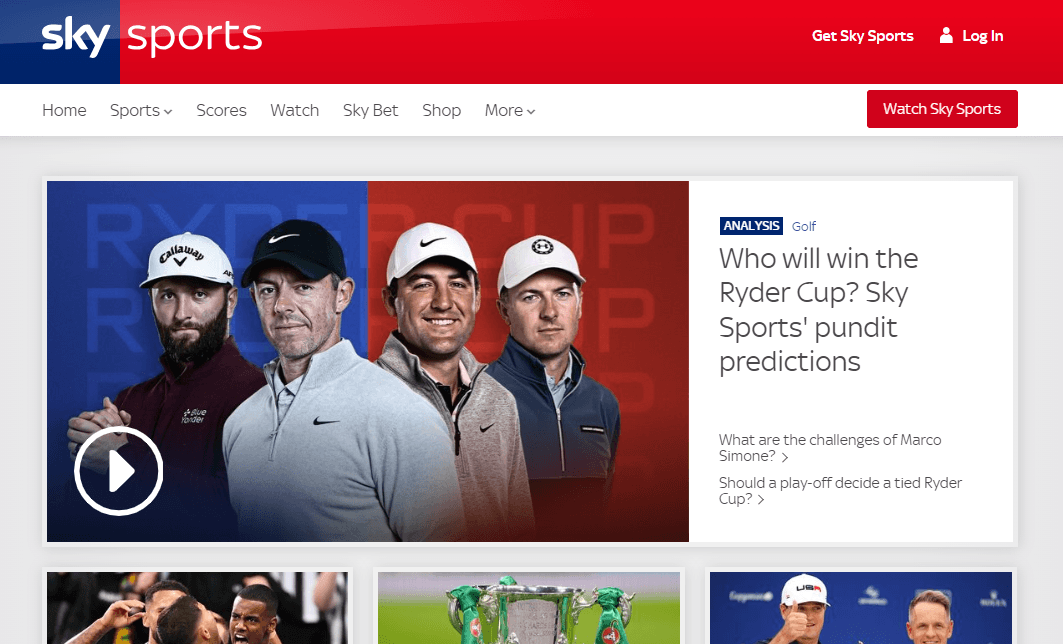 Their game blogs are prime. Post-game analysis and fan reactions got you covered long after the final whistle blows. And preview content gets you right about the upcoming tilts as well, making it one of the top sports blogs out there.
Then it's not just reading material - videos, and visuals keep fans engaged across all kinds of formats. Animated graphics teach abstract schemes straight up. Clips are right there so you never miss the sickest highlights or full highlights. They have pretty cool quizzes and free contests, so it's downtime interactive too. Community areas let every club and league spar forever more.
SBNation, one of the best sports blogs, covers major professional sports leagues like the NFL, NBA, MLB, as well as college football and basketball. You'll find niche sports like soccer, MMA, boxing and more, too. They have the top sports bloggers who cover different perspectives.
They have dedicated sites for every pro team too. So you can slide through and find all the Lakers chatter or whatever team you support. The fans definitely be vibrant in the comment sections. Honestly for how much ground they cover across so many sports, it's impressive how they make it all feel connected too.
This is one of the biggest sports websites. You can easily bounce around to check scores for the NFL, MLB, NBA games or get the rundown on what's happening in the NHL, Premier League, NASCAR, college ball, and more.
They make it simple to find standings, schedules, team news, and anything else you need to know about your favorite sports. You can also stream some live games right there on the site, so you don't miss any of the action. Or if you missed a game, this is one of the top sports blogs with highlights and lowlights so you're not behind on what went down.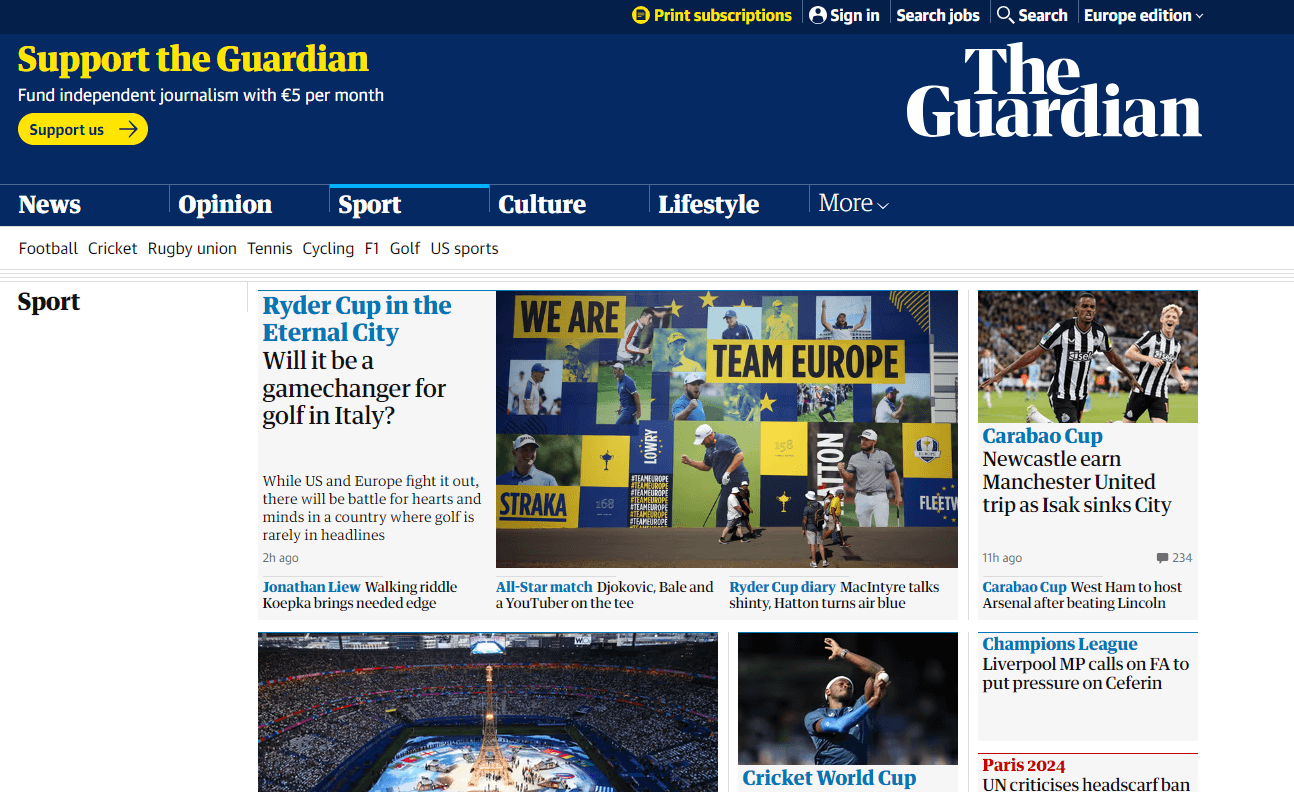 They've got you covered on all the major sports like soccer, American football, basketball, baseball, hockey, golf, rugby and more. You can easily bounce between sports to check scores, results and standings. They also have in-depth articles breaking down what's been going on recently in major leagues and tournaments. Handy videos, guides, and interactive graphics help explain stuff too.
Their crew of writers and columnists are always dishing out the latest sports gossip. Other sites' news also gets aggregated so you know what's up. If you want, you can even sign up for weekly newsletters to get the highlights sent to you. What makes it one of the top sports blogs, is off-field topics like politics in sports, business/economics, social issues, controversies and more.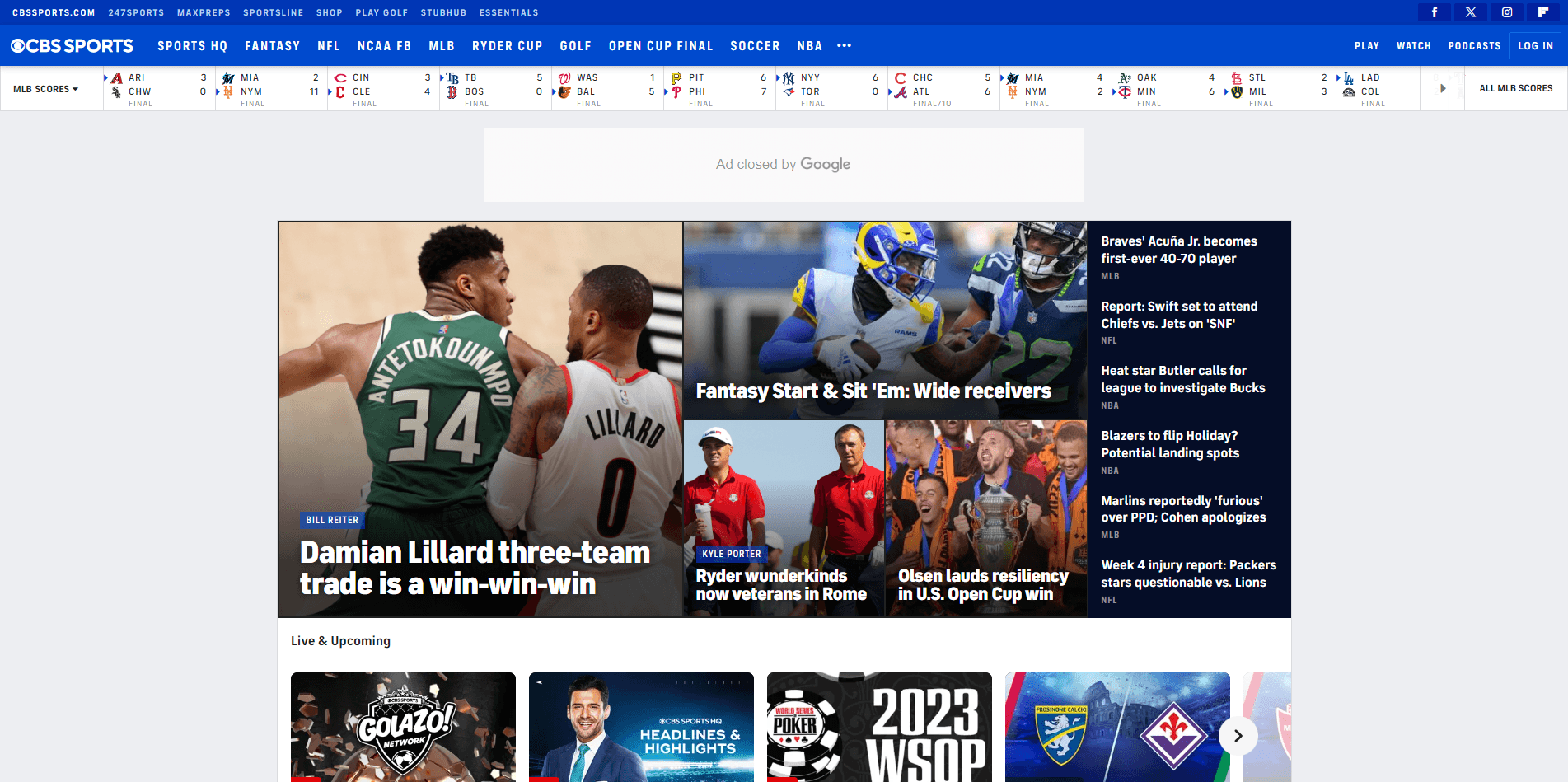 This is one of the best options of sports blogs, if you're looking for all things sports in one spot. It's easy to bounce around between sports for scores, standings, player stats and the latest team scoops. They also have in-depth articles breaking down games and what's going down in different seasons. So this is definitely one of the best sports blogs to check out.
You can play a bunch of free fantasy sports games there, or pay for some premium leagues too. Plus they have CBS Sports HQ streaming 24/7 with sports talk and highlights. Pretty cool videos too. It's not just major pros - they report on college ball, MMA, boxing, the Olympics and more sports too. Experts also have podcasts if you want to geek out on sports stuff.
This sports blog use stats and numbers to predict games, seasons and whole tournaments. It's pretty cool to see them break down what's really going on under the surface. Their top sports bloggers analyze things a bit differently than your typical sports site. Everything is super stats-driven. They cover all the major pro leagues like NFL, NBA, MLB and NHL.
You can check out their projections and see how they think stuff is gonna play out. Even college ball gets the stats treatment, with rankings, odds, and analyses of big conferences and teams. International tournaments like the World Cup too. If you like getting deeper than the box scores and want to understand the stats and data that drive sports, this is one of the best sports blogs for it.
A lot of their stuff is about trades obviously, since that's in the name. But you can also find plenty of free agent signing updates and injury news too. The writers do a great job of staying on top of who's scouting who between teams and what contract negotiations are looking like.
They've also got you covered with stuff like arbitration cases and option decisions so you know who's locked up where. It's super useful for keeping track of all the roster construction stuff across the league.
When big news breaks, they're always on it with alerts too. So if a surprise trade goes down or a big free agent finally signs, MLBTR will have the deets faster than just about anywhere.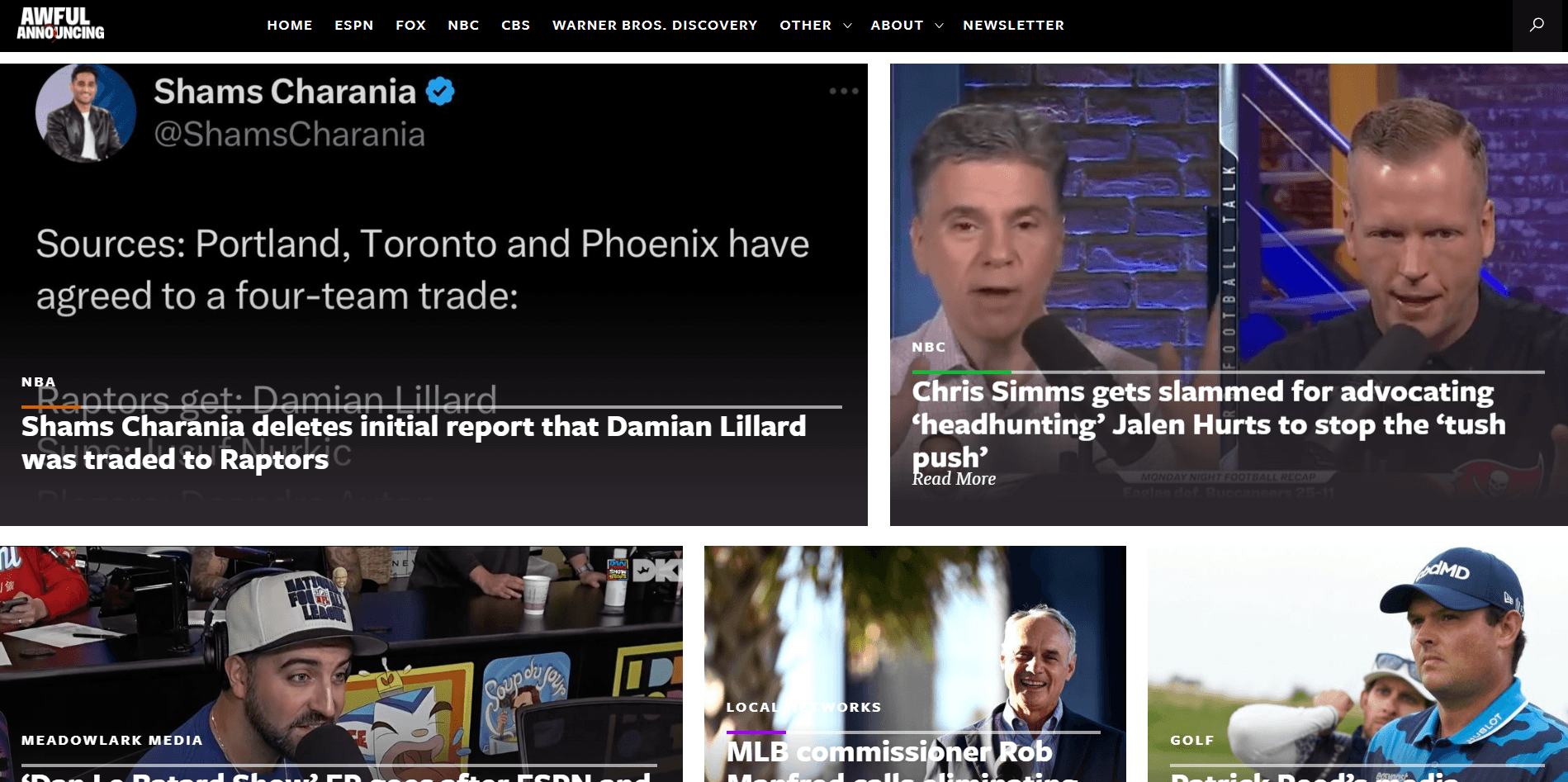 Awful Announcing is the sports blog to get all the inside info on what's happening behind the scenes in sports media. They do a great job keeping us fans in the know. They break news on announcer signings, tell us about new shows in the works, and give the lowdown on hot topics like increasing diversity. It's like our own personal connection to the industry, that's why it deserves .
Even better, they do it with a fun, lighthearted spirit. Sure, they'll point out flubs or bad broadcasts now and then. But generally it's in a playful way to make us smile, not dump on anyone. This is one of the popular sports blogs that pokes fun at goofs but also provides interesting insider scoops.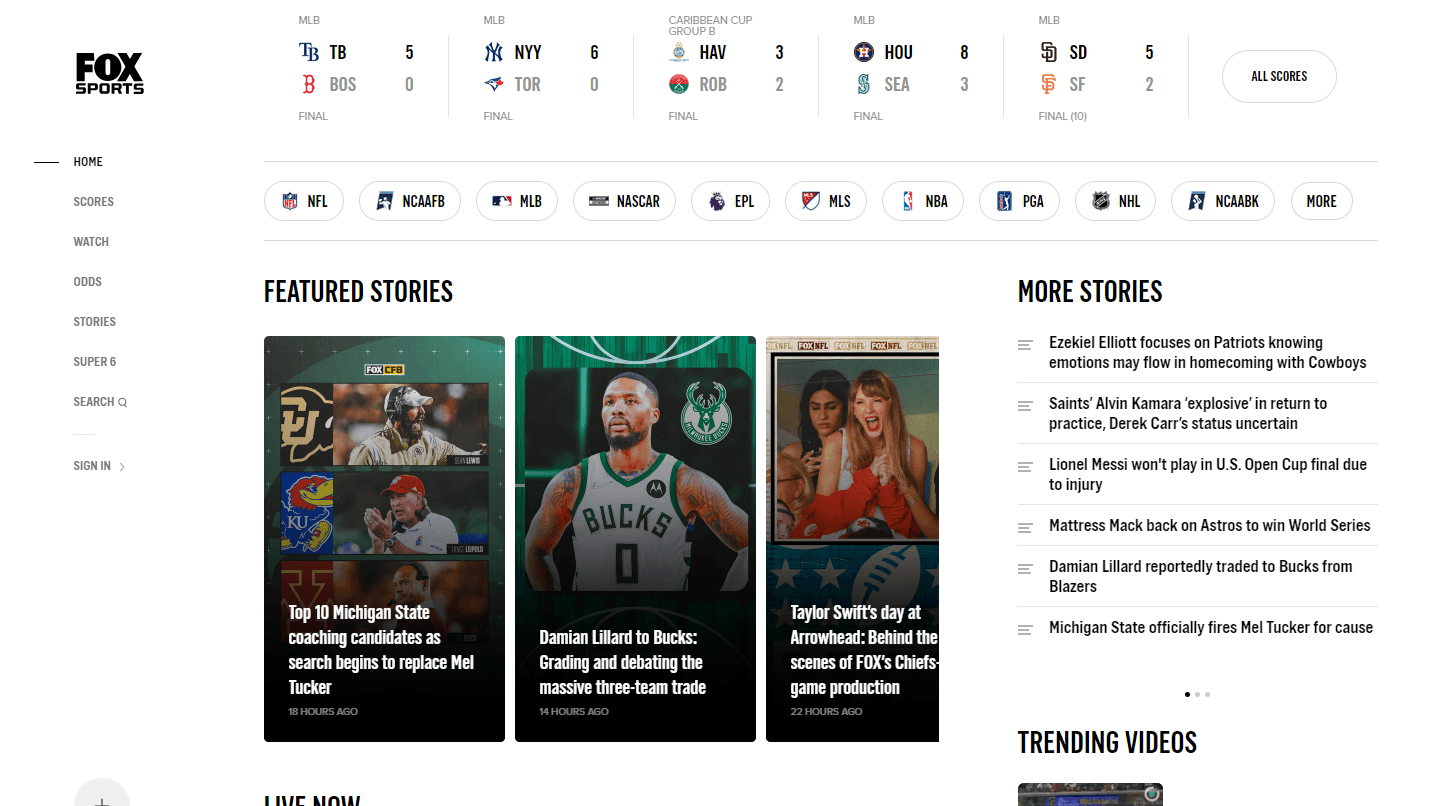 It is one of the sports blogs that give you scores, schedules, odds and an incredible depth of sports coverage. On the site, visitors can get live scores and game updates for all major North American sports leagues like the NFL, MLB, NBA, NHL, NASCAR and more. Detailed team pages have stats, rosters and news all in one place.
This is one of the sports websites that also boast a wide variety of original sports shows and programming available to stream on demand. Popular FOX analyst shows like Undisputed with Skip Bayless and The Herd with Colin Cowherd offer compelling debate and discussion.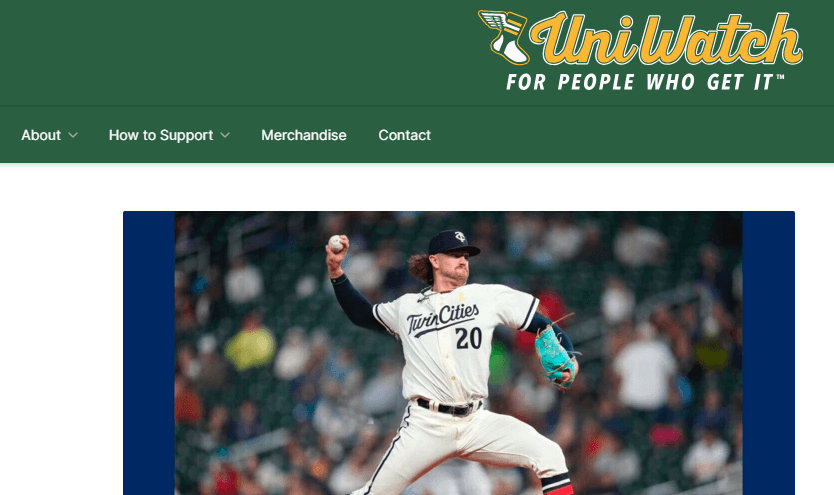 This is one of the biggest sports websites for university sports. You'll find tons of interesting articles diving into the history of different uniforms and inspirational stories about iconic designs. This is one of the most popular sports blogs where you can learn about upcoming tributes or throwbacks teams have planned.
Some days it's exciting news like a fresh concept jersey, other times it's remembering classic looks from the past. Either way, it always puts a smile on my face. Paul has such a gift for seeing the heart in the details and sharing that. If you join their Uni-Watch Plus community, you enter this whole other dimension too. It's so encouraging to connect with others as passionate as you.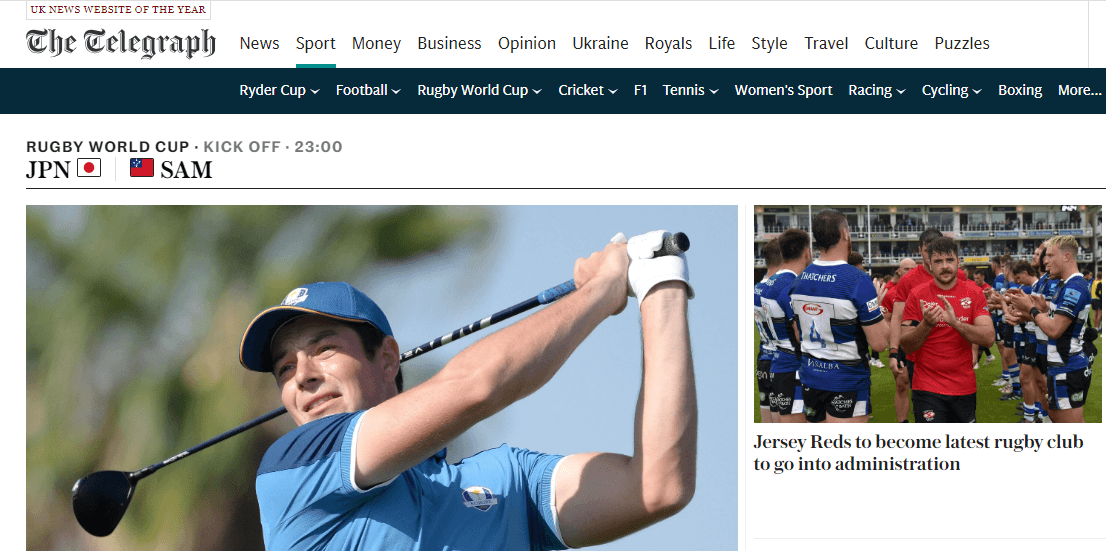 If you're a fellow sports fan in the UK looking for some great sports content, check this out. Their website is top-notch. Whatever your favorite sport is, they've got you covered. Football, rugby, cricket, Formula 1 - all the big leagues are there. It's so inspiring to follow world-class athletes and your hometown teams. Their live blogs really draw in.
They have insightful articles. Some of their columnists are truly gifted writers who motivate fans with their passion and knowledge. It's really uplifting reading different perspectives. This is one of the sports blogs examples if you want to keep up with what's happening in UK and international sports.
You'll find basically any number you could want. Traditional statsand metrics like WAR, FIP, wOBA and more. You can compare players, teams, and leaders in different seasons. There are also predictive stats like projections and prospect content.
In addition to the huge database of numbers, FanGraphs contributors like Eno Sarris, Alex Chamberlain, and others write fascinating analysis pieces daily. From prospects to MLB trends, they provide knowledgeable perspectives you won't find elsewhere. The site also has great fantasy tools if that's your thing. You can check projections, lineup trackers, injuries reports and more. And RotoGraphs delivers daily articles specifically for fantasy fans.
This is a one-of-a-kind sports site that mixes hard-hitting journalism with irreverent commentary you won't find elsewhere. The writers aren't afraid to ruffle feathers and call things as they see them. This is one of the best sports blogs from which you can expect hot sports takes with plenty of personality.
Behind-the-scenes insights are also there for you. Long-time sports journalists give a candid look at the business with surprising stories fans don't always see. If you want sports coverage that isn't afraid to get a little rowdy and offers deeper perspectives, this, among other sports blogs, is worth checking out.
This site is among the top sports blogs that have everything you need to follow all the big leagues up North. As soon as you get to the homepage you'll see highlights of what's popping off in hockey, football, baseball and more.
They got sick coverage of all the main sports too. Sections for each league where you can peep dope articles and live stats updates as games are happening. You can stream games right there, which makes it one of the best sports websites. Catch your local NHL squad or tune in to a national baseball matchup seamlessly. The streams are super easy to pull up.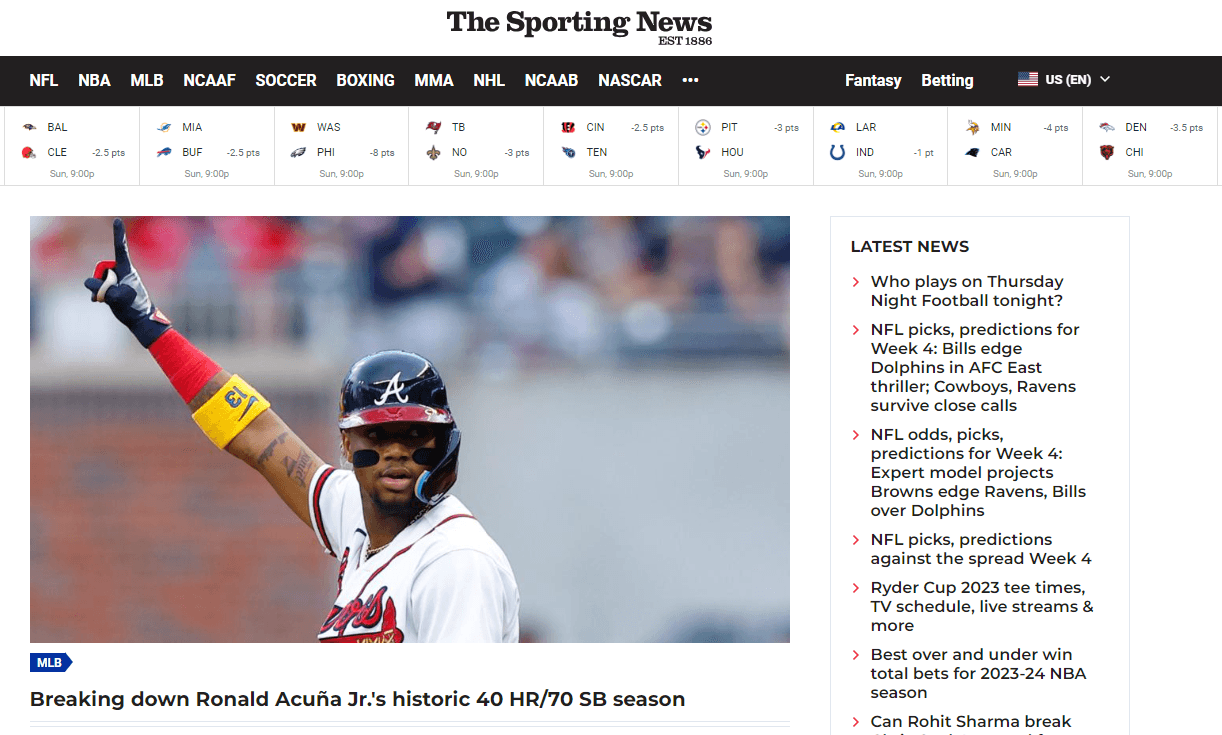 They got you covered on whatever your jam is - football, basketball, baseball, hockey, it's all there. Homepage puts the big stories right in your face so you always know what's happening. If you were looking for sports websites with diverse content, we found it for you.
Then you can dive deeper into each sport's section for more bites. Stats, videos, live scores - it's easy to follow your squads close. Don't forget they also hold it down on boxing, soccer, racing and golf too. So no matter if you're into the big leagues or more niche stuff, SN can be counted as one of these top sports websites for any purpose.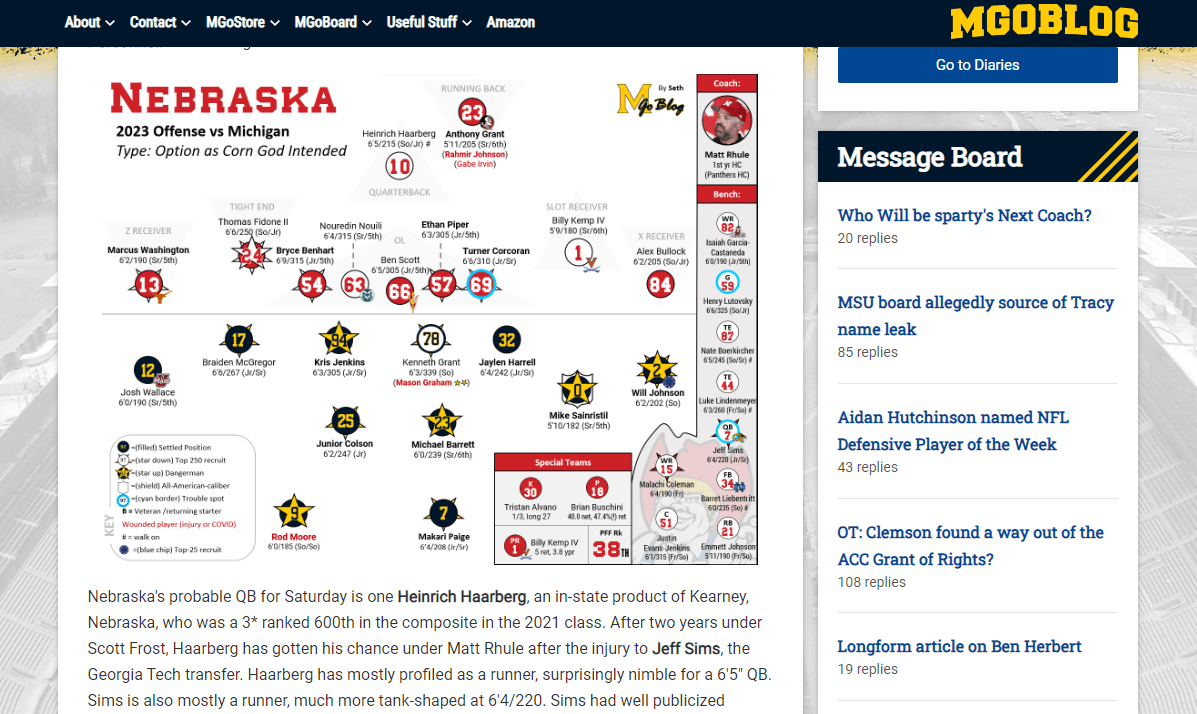 If you're a hard Michigan sports fan, this is the spot for you. They been holding it down covering U of M football, basketball and hockey for over 15 years. While going through dozens of popular sports blogs, we got instantly interested in this site.
The film breakdowns and stats are next-level - stuff you won't find anywhere else. And they stay on top of recruiting updates and season previews too. From game breakdowns to recruiting news, and from fan diaries to podcasts, the blog serves as the heartbeat of the Michigan Wolverines fandom. So, this is one of the sports blogs examples that focuses on a specific niche.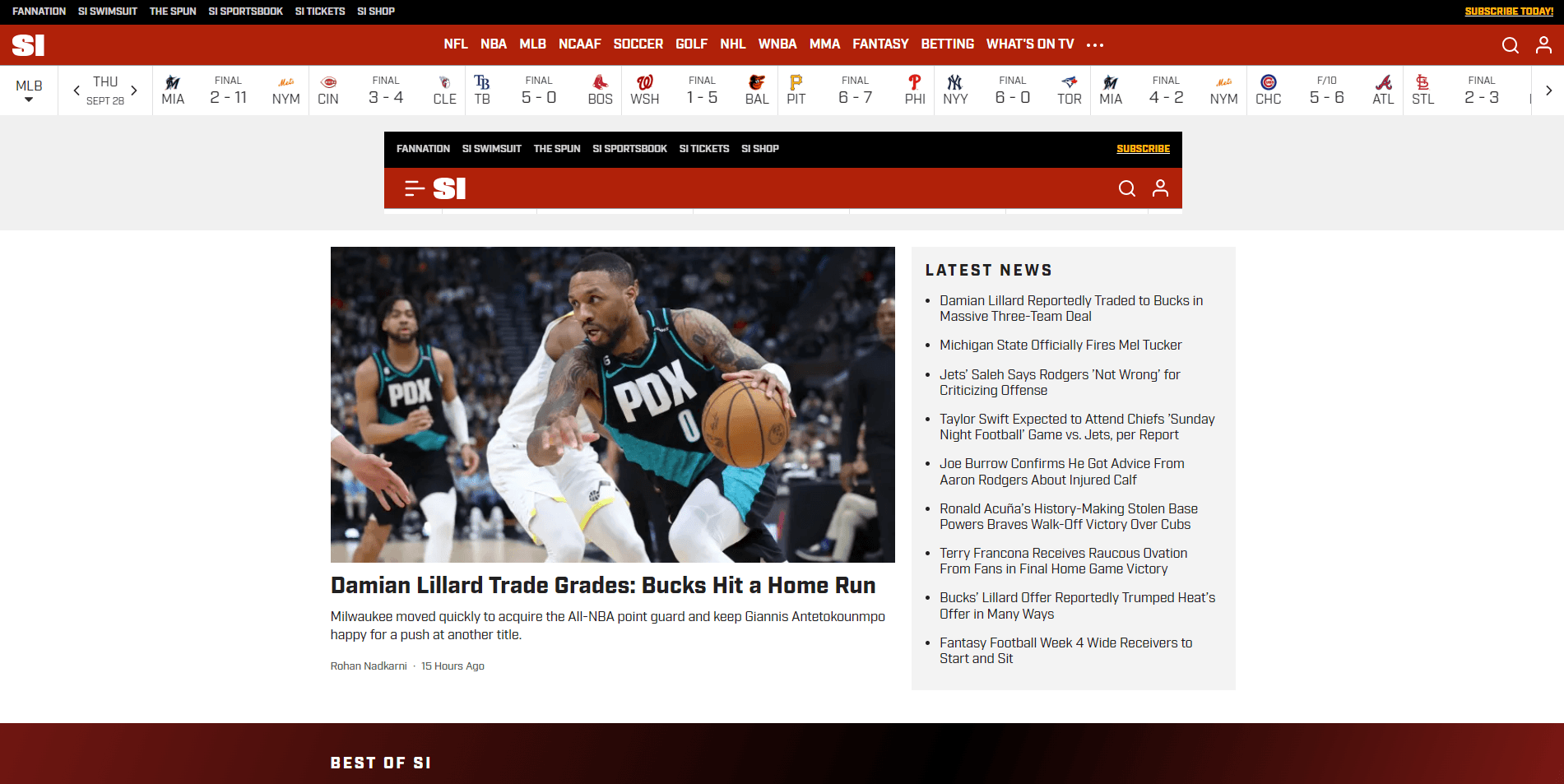 They cover everything from the big ball leagues to the niche sports. They always got their finger on the pulse, which makes it one of the most popular sports blogs out there. The homepage lays it all out - you see the biggest headlines and videos popping off right away. Easy way to get a feel for what's good.
Then you can dive into specific sports sections. More in-depth write-ups, stats, scores - keep close tabs on your squads. Their long-form content is very cool too. Behind-the-scenes features, oral histories, investigative joints. Really worth checking out.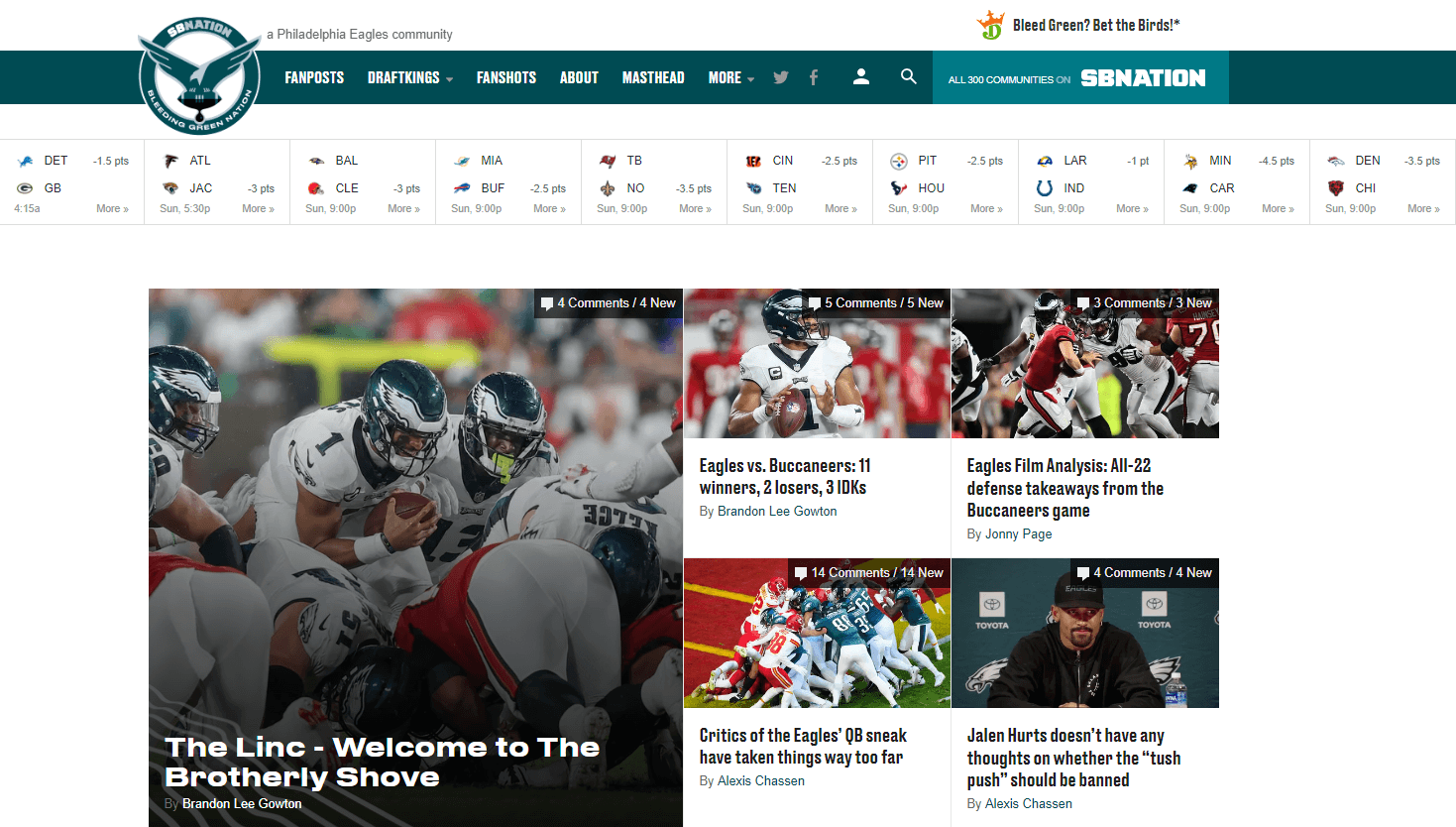 BGN is among the Philadelphia Eagles news and discussion specialized sports blogs. These Birds fans cover their squad with intense passion and analysis. The site lays it all out - you got your latest stories, rumors, highlights and news breaking down the front page.
Dive into the specific sections for deeper discussions on rookies, free agency, the draft and more. Their stable of writers really knows their stuff too, so it is one of the sports websites with top-quality content. In-depth film breakdowns, stats nerdery, you name it. Always educating fans on the X's and O's.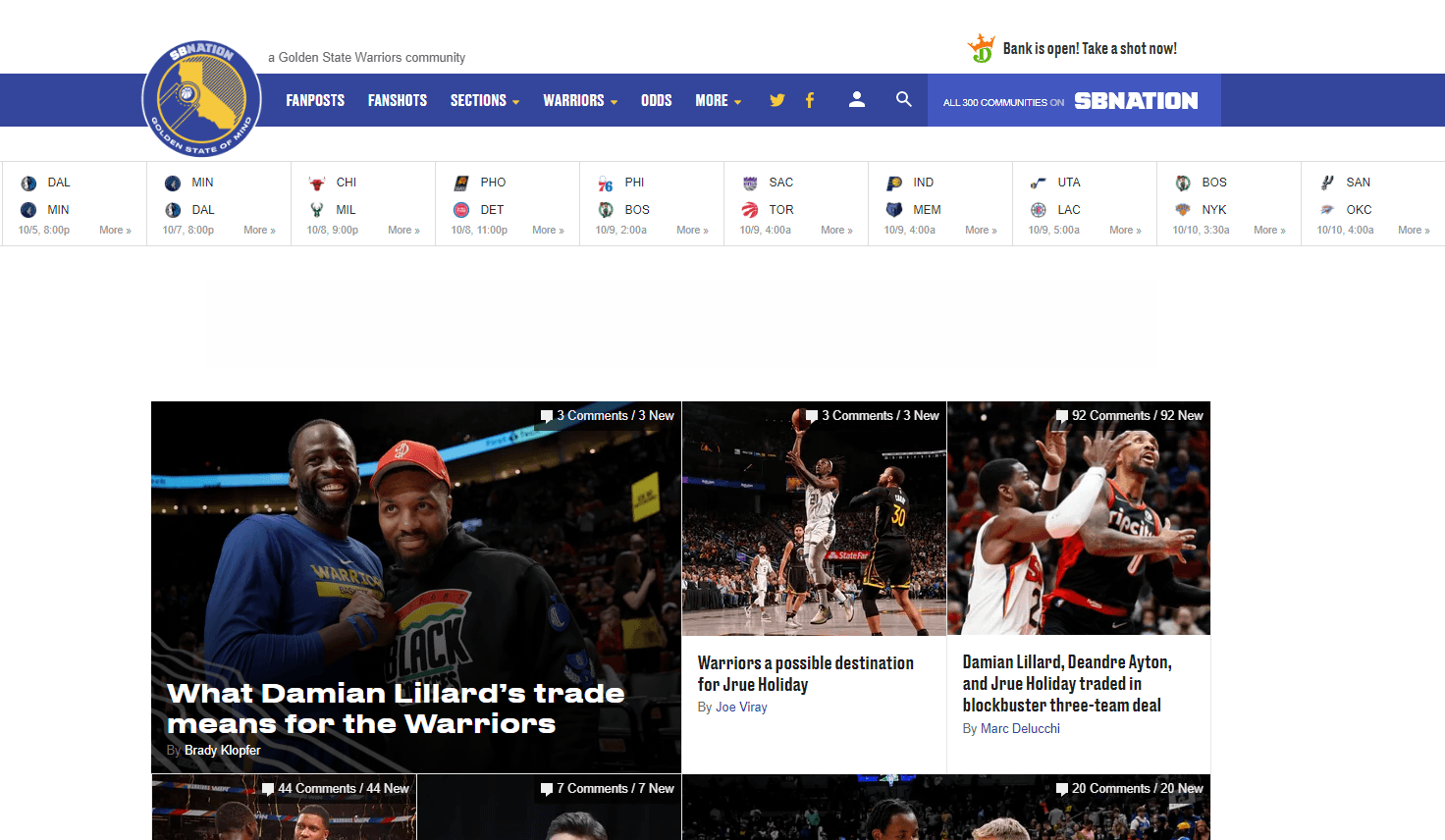 This blog is the premier crunchy for all things Golden State Warriors. As one of the most iconic teams in the NBA, the Warriors have a long and rich history and a bright future. We included this website on our list of best sports websites for a reason, so be sure you won't miss a beat with it.
If you're looking for in-depth game analyses, updates on player movements, or insights into the team's strategies, the Golden State of Mind has it all. The blog is more than just news and scores; it's a whole community.
This is one of the sports blogs that lays it all out there. Any key you need to know about sports news and analytics. They analyze the numbers behind the games we love. If you were looking for sports blogs take are about analyzing and studying various economics and business aspects related to sports, this is the best option for you.
The blog shares the latest expert investigations. Deeper dives into leagues, sports, gambling and more just a click away in the sections. The writing squad at TSE knows their job - insightful econ breakdowns and stat crunching to help you see the games different. Always schooling readers on the business beneath the buckets.
SLAM lays it out when it comes to basketball coverage. This spot has you covered on all things NBA, WNBA, college hoops and more. Quality interviews and profiles that give fans insight beyond the stats are always there. Always educating heads on and off the court.
SLAM also keeps cooking up content through other channels. Informative podcasts, videos and galleries for any hardwood head. Count this as one of the top sports websites that focus on basketball culture beyond just the game - including shoes, fashion, music and lifestyle.
FOS gives insights into the business and business personalities behind the games. You can find deep analytics and exclusives into revenue streams, stadium deals, league expansion, and more. Always helping readers understand the money moves. So whether it's learning about new sponsorships or TV contracts, FOS has you covered with cutting-edge info. Business never stops!
So if you like hearin' about the business behind the scores, then check out Front Office Sports. This is one of the sports blogs with lots of interesting reads on how the bigwigs in sports are playing the game.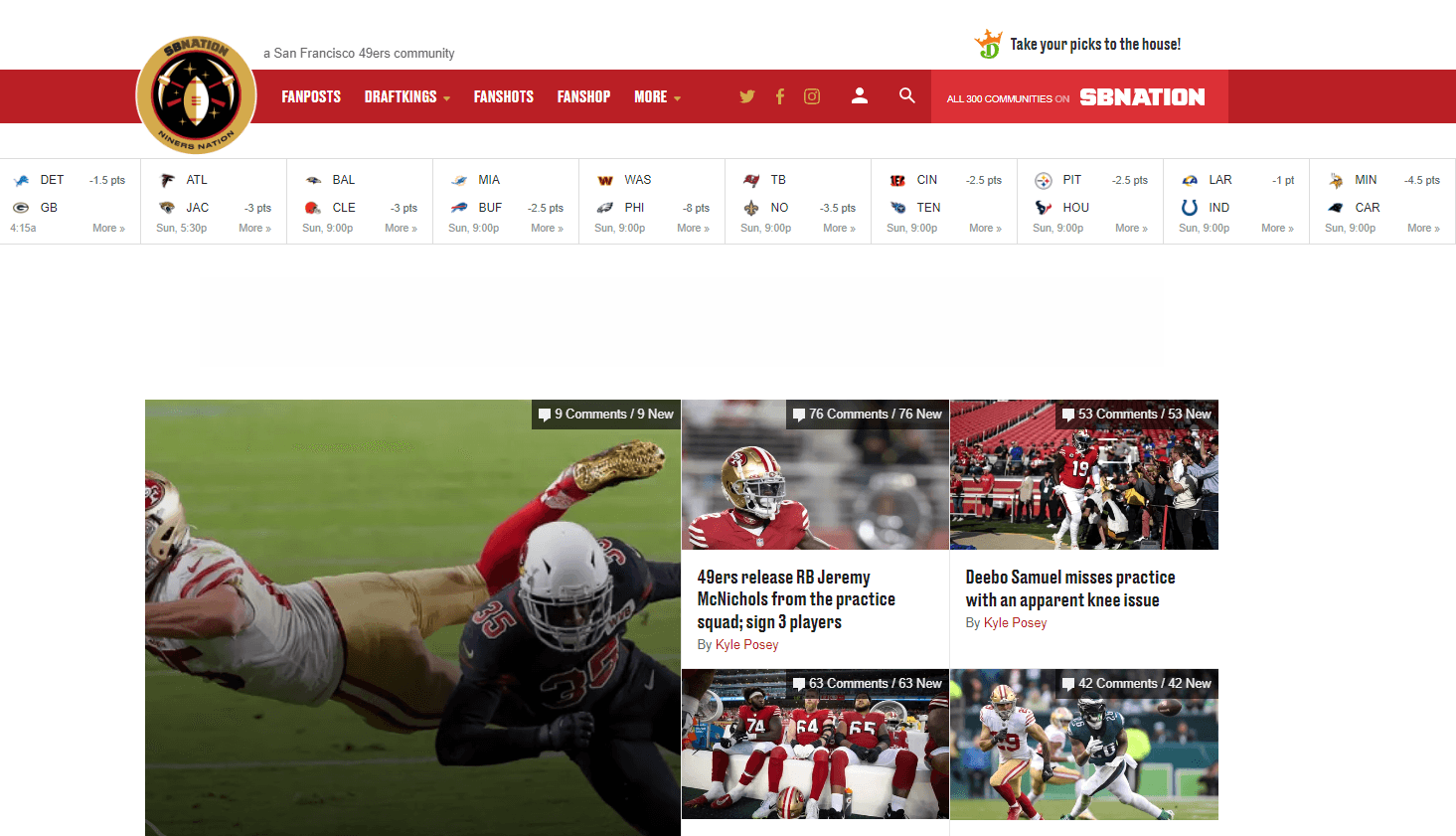 So, this is also one of the popular sports blogs dedicated to a specific niche. Nines Nation is a blog and fan community dedicated to the San Francisco 49ers. They break down the latest 49ers signings, trades, injuries and other news updates on the team. There are match preview and discussion threads for each game to analyze opponents and make predictions. Live game blogs too.
Writers give in-depth tactical and statistical analysis of the team, players, coaches and front office. What's even better, the fan post section allows 49ers fans to start their own discussions on topics and get community feedback.
FTW focuses on the fun, viral and pop culture side of sports. It's not just stats and scores - they deliver entertaining sports stories fans want to read. As the most popular US sport, the NFL gets a lot of coverage. Articles on viral fan moments, quirky player stories, offseason fun, and other stuff.
While sports are likely covered here, their focus seems most tuned into the sports driving youth culture and social chatter. This is the type of motivational blogs. So, this one is among the most popular sports blogs that's fun to read.
Expect some deep dives and serious sports content from them. This is also one of the sports blogs that got juicy behind-the-scenes stories, in-depth player profiles, and the kind of content that'll make you the smartest person in your fantasy league.
They've got the big national stories, sure, but they're also all about that hometown love. Your local team? They're on it. Whether you're an NBA junkie, an NFL fanatic, or even into college sports, The Athletic's got something for you.
This blog is kind of like that friend who's just obsessed with football and knows every tiny detail about it – in the best way possible. If you're into stats, PFF is your jam. They break down every. single. play. in the NFL and college football. Like, who even does that? PFF, that's who.
If you're looking to crush it in your fantasy football league, PFF's insights might just be your secret weapon. They've got all the stats and analysis to help you draft and manage your dream team, so it's like those top sports blogs examples that always got uour back.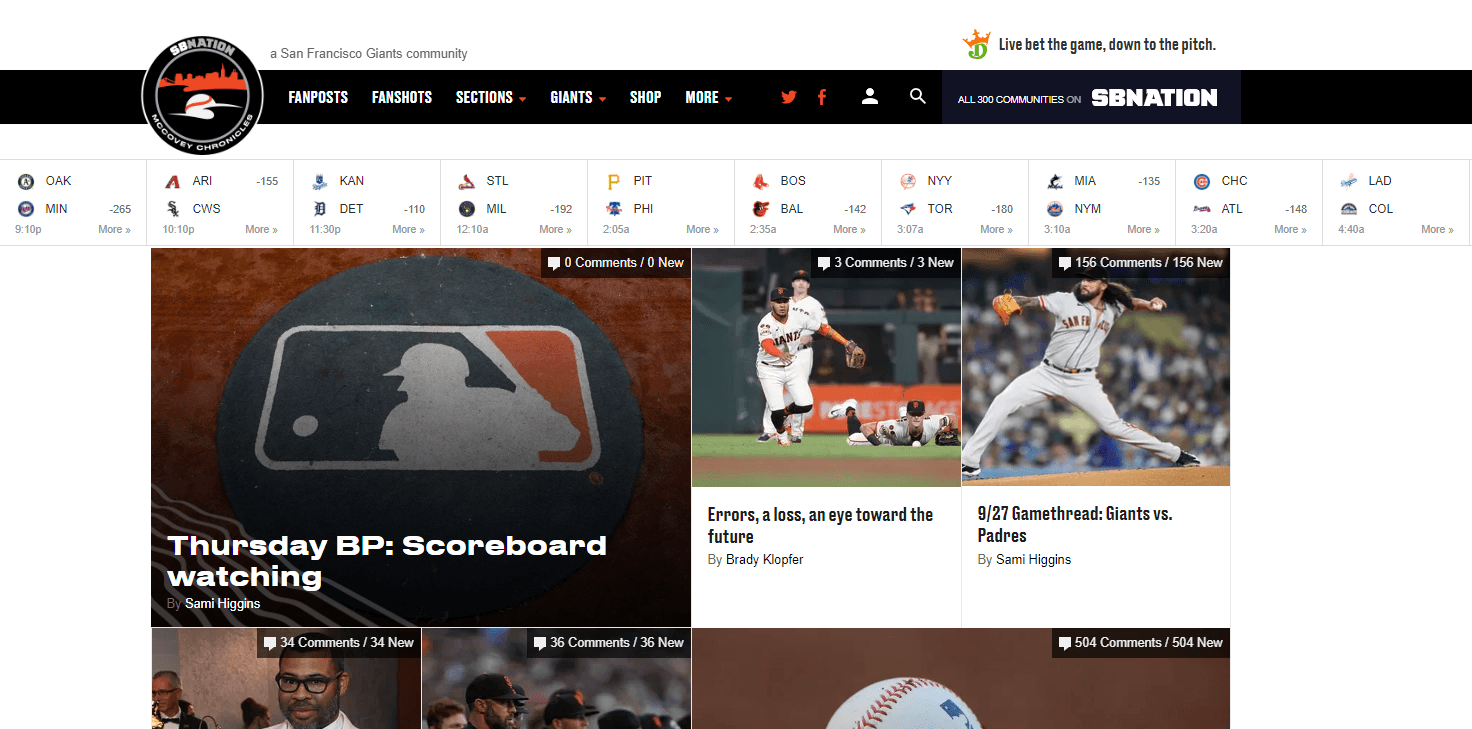 If you're a San Francisco Giants fan, you probably know this is THE place to be. There are not so many sports blogs like this. This one has got that passionate, die-hard fan vibe. It's like watching the game with your best buds and just nerding out on all things Giants.
Dissecting the latest game, speculating on trades, or debating which player had the best 'stache in the '80s, they cover it all. The articles? Full of personality, humor, and sometimes a dash of salt.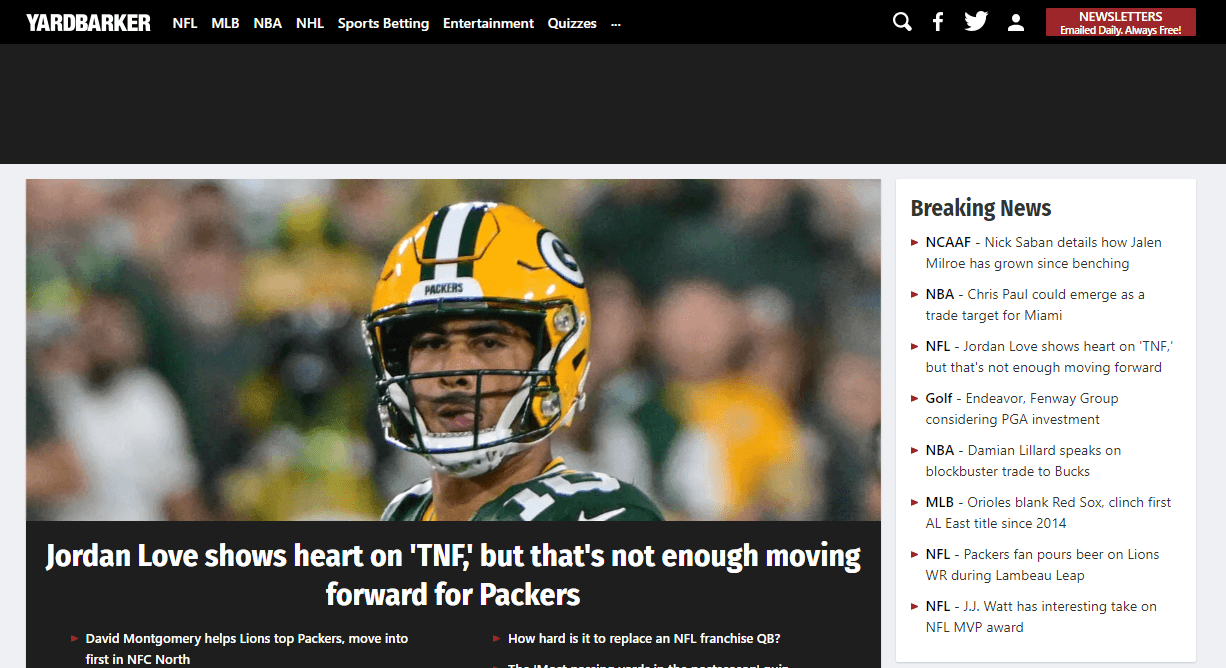 This is the type of sports blogs that cover everyting you need. If you're into football, basketball, baseball, or hockey – even golf and racing – this blog's got you. Ever wanted to know who's feuding with whom or which athlete just launched a new shoe line? YardBarker's got the lowdown. They blend the worlds of sports, pop culture, and a sprinkle of drama, making it more than just scores and stats.
Let's be honest, half of the internet's joy is in the memes, right? YardBarker gets that. They've got a pretty solid meme game, adding some humor to your daily sports digest. When it's time to get serious, they've got some top-notch analysis and in-depth pieces that'll make you feel like a sports guru in no time.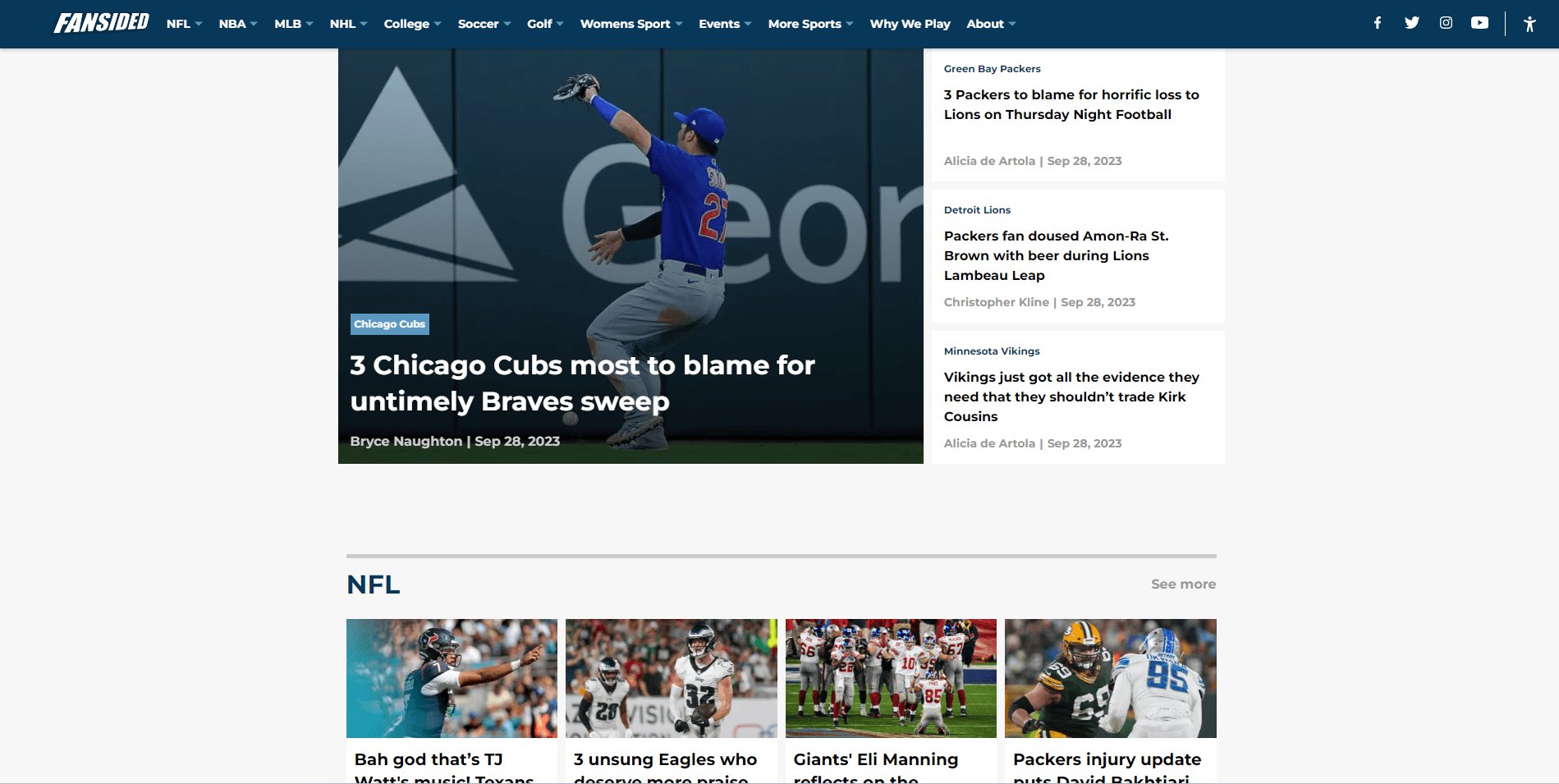 First off, FanSided isn't just a blog; it's like this massive network of fans by fans, for fans. Imagine a party where everyone's wearing different jerseys but still sharing the same grill. That's FanSided.
One of the best bits? The voice. It's not like those stuffy, all-business sports write-ups. FanSided feels like you're chatting with a buddy who's equally obsessed with dissecting last night's game. But here's the real MVP move: FanSided's all about building a community. Their platform feels like a global fan club. So, it's not just reading articles; it's being part of a fandom.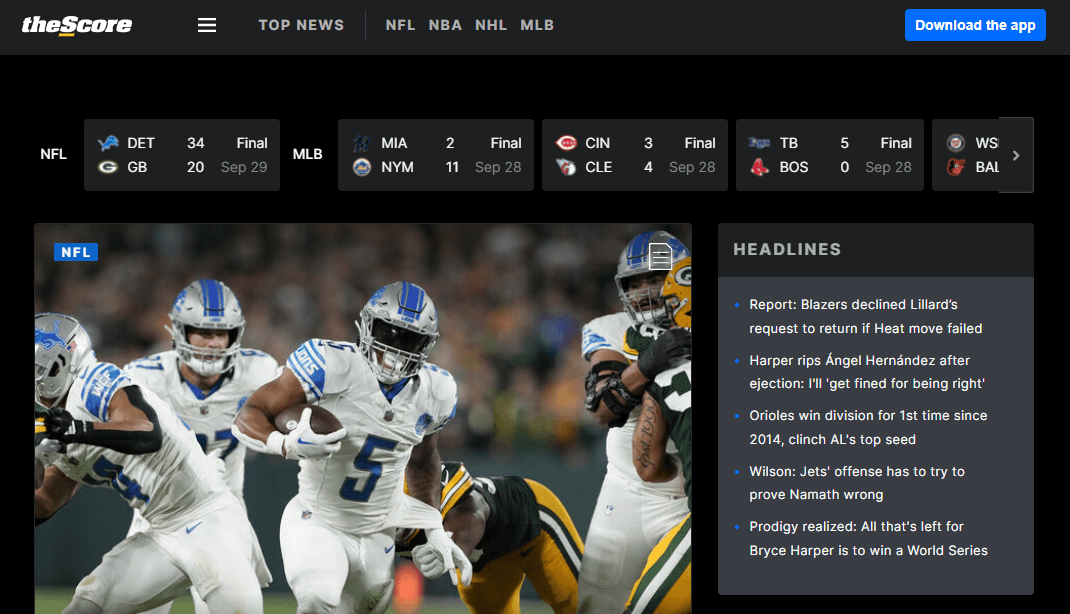 So, ever had that friend who's like a walking sports encyclopedia, always updated with every score, stat, and scandal? If that buddy were a sports blog, it'd be The Score. It's sleek, techy, and super mobile-friendly. It's like the smartphone of sports blogs – always in your pocket and crazy fast with updates.
Basketball, football, hockey, soccer...you name it. All covered. They serve up the latest news, analysis, and everything in-between. Imagine your news feed and sports chat group had a baby; that's what their content feels like. There are not so many sports blogs this insightful!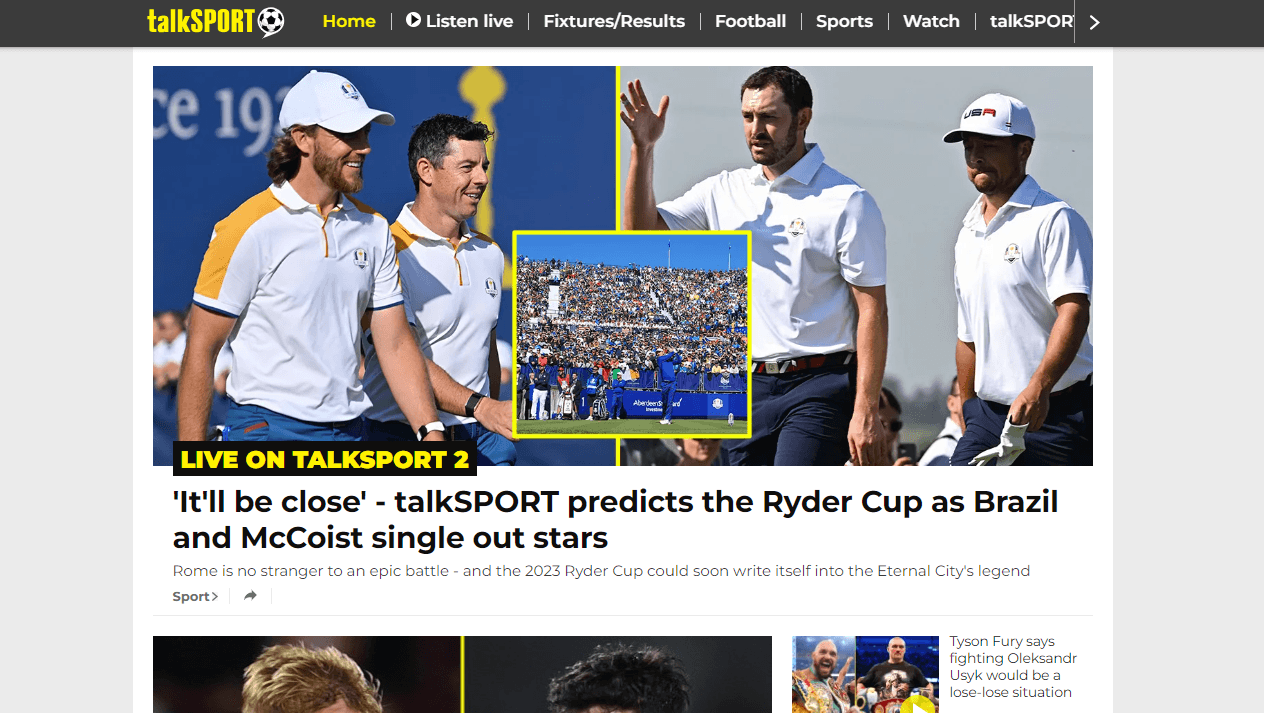 Welcome to TalkSport, one of the best sports sites for those who just can't get enough of the sporting world. This isn't a small-town gossip column. TalkSport goes global, covering everything from the Premier League's wild weekends to the latest MMA throwdowns across the pond.
It's called TalkSport for a reason! Their audio content is on top. Radio shows, interviews, and tidbits, all ready for your earbuds. It's like having a 24/7 sports radio station in your pocket.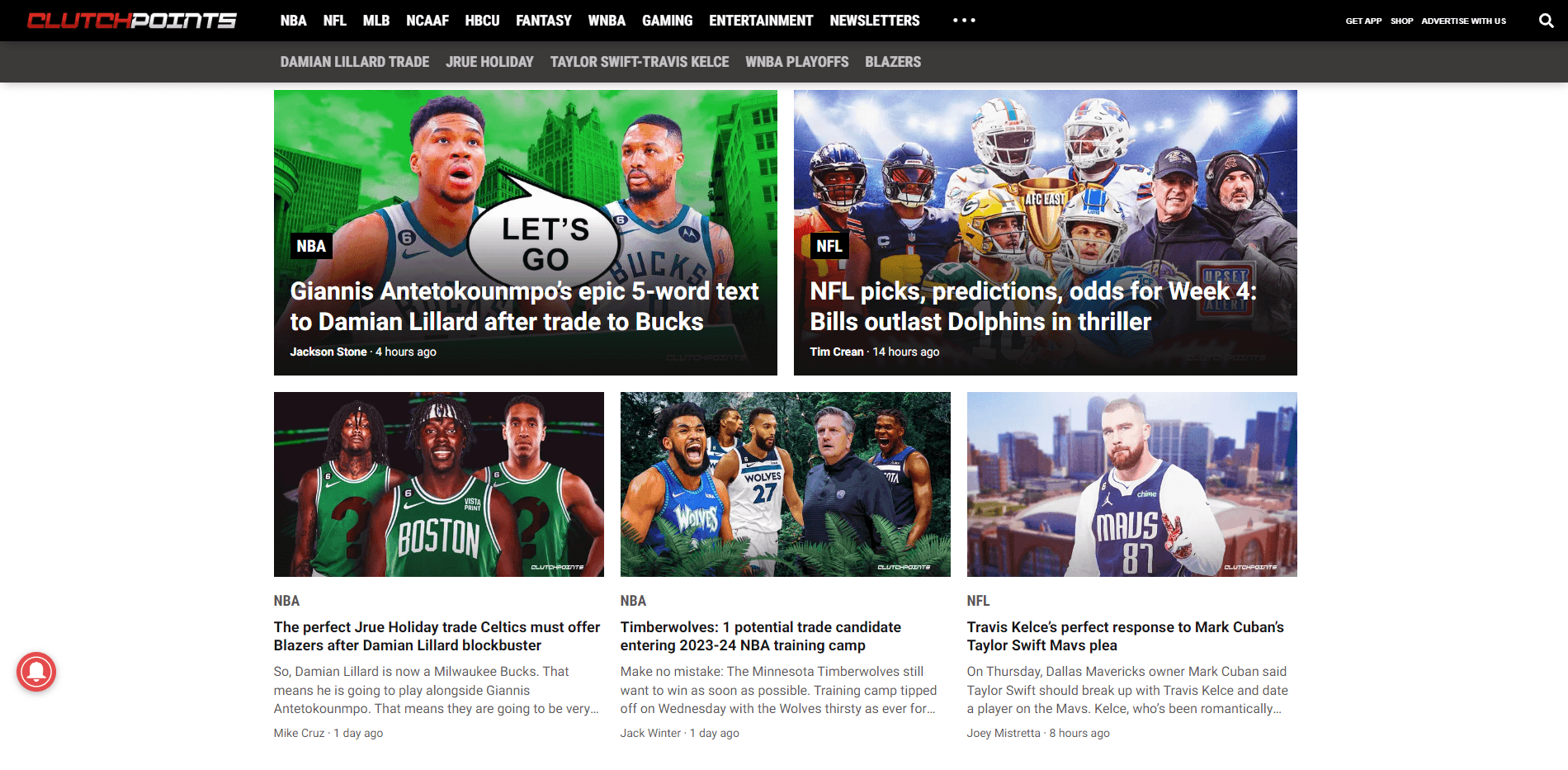 If you missed the game, no sweat! This is one of the ultimate sports blogs that got your back with those highlight reels. They make you feel like you were front row at the stadium.
This isn't just a surface-level talk. ClutchPoints gets into the nitty-gritty of games, offering in-depth analyses that'll make you the wisest owl in your sports group chat. Their app? A must-have for any sports fans. Live scores, play-by-play breakdowns, and news updates in real-time. It's like having a mini sports command center in your pocket.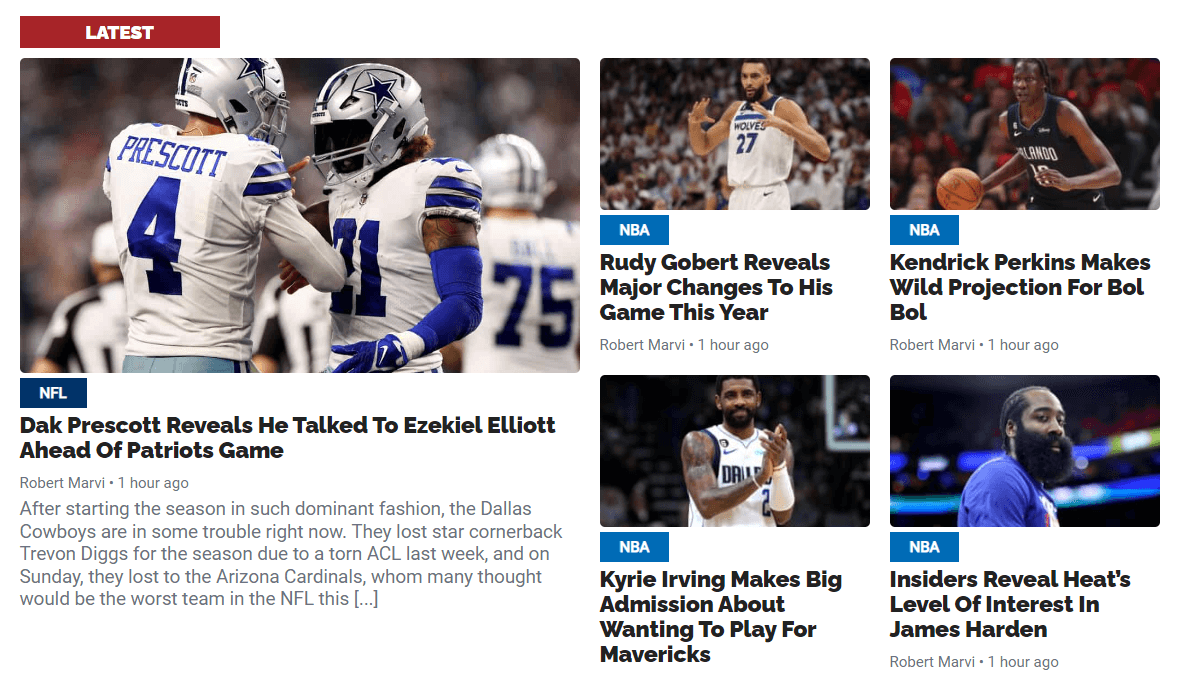 Some cool content here! From football tackles to basketball dunks to baseball homers, they've got every base (and basket and end zone) covered. Sports blogs like this are a rare find, trust us.
No fluff, no fillers. The Cold Wire serves up hot takes and cold-hard facts in a straightforward style. You want the lowdown without the runaround? This is your spot. It's where candid thoughts meet professional analysis. Agree or disagree, but you're guaranteed an authentic viewpoint.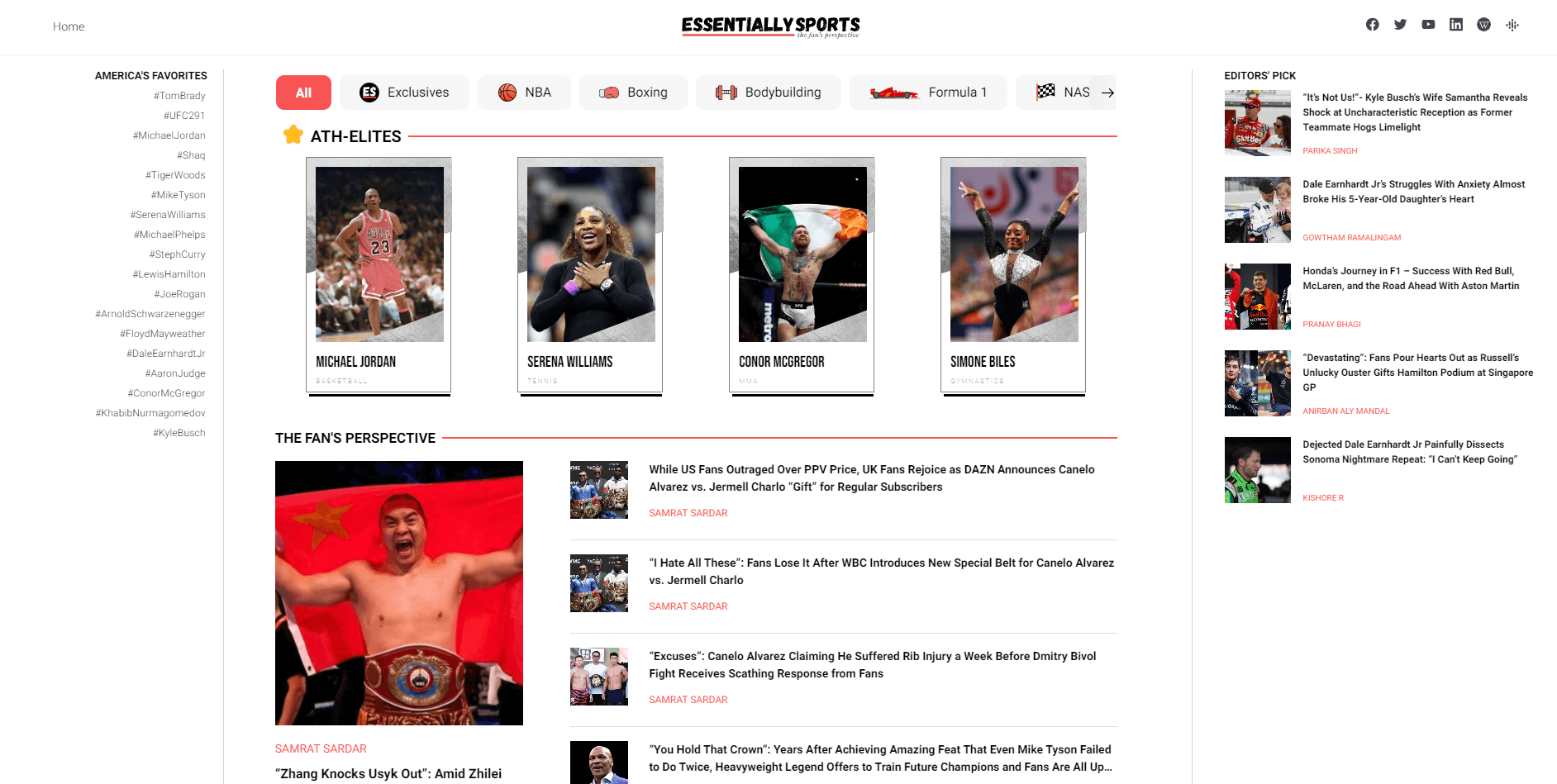 While some blogs focus on one region, EssentiallySports is like your globe-trotting friend who's got stories from every corner. NBA? Check. EPL? Check. Cricket? Why not. You know those nights when you fall into a Wikipedia rabbit hole? That's the vibe here. They don't just scratch the surface; they dive deep, exploring angles you didn't even know you were curious about.
One thing's for sure: their community is something else. Everyone's got a take, and they're all about that fan interaction. This is the inspirational example of how to start a blog that creates a strong community.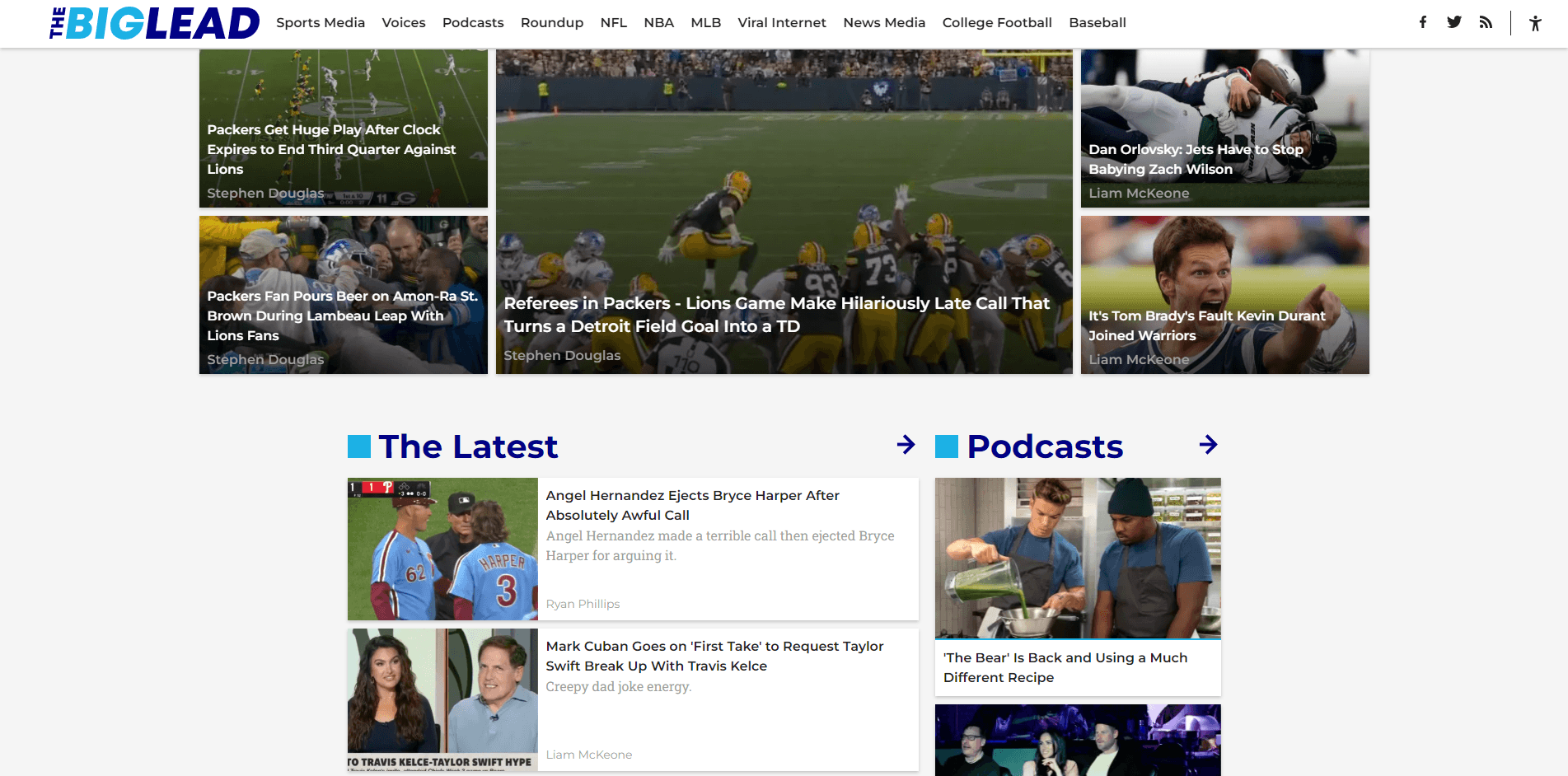 The Big Lead? More Like The Big Deal! When you're craving sports, pop culture, and media chatter all rolled into one dynamite package, The Big Lead is among the popular sports blogs you want to check out.
While some blogs stay in their lane, The Big Lead is all about merging highways. Sports? It's here. Entertainment? Of course. Hot takes on media happenings? Oh, you know it! With their mix of in-depth articles, quick hits, and fiery takes, your reading list is sorted. And there might be a spicy debate or two you'll want to jump into.
Wrapping Up 🚀
Now that we've sorted out some of the coolest sports blogs on the block for you, it's your turn to explore and find the right fit.
Don't be the last one to know about that epic game-winning shot or the latest trade rumors. Hit these sports blogs, get lost in the content, and be the sports guru among your friends.