For all the photography pros it's super important to have a good-looking website to show off the best shots. The right visuals attract potential clients, so you can never overestimate the role of a pleasant website.
That's where WordPress photography themes come in - they can help you create a stunning portfolio site without all the confusing computer code.
WordPress gives you tons of flexibility to make your site totally match your style.
We are going to tell about 29 amazing themes for our fellow photographers. We'll go into detail on each one so you can picture yourself using it.
So pour yourself something tasty, and get ready for a visual theme tour that's sure to find your perfect match!
⭐️ How We Picked Best WordPress Themes for Photographers
Here are the main factors we considered when picking the best WordPress themes for photographers:
Portfolio Layouts: Themes needed to have attractive design templates specifically meant for showcasing photography work through portfolio pages. This includes grid, masonry, featured images layouts.
Responsive Design: Themes had to be fully responsive, adapting photos and layouts nicely on both mobile and desktop screens for optimized viewer experience.
Customizable Templates: Themes provided portfolio archive pages, single project pages, about pages etc that could be customized easily through backend options.
Image Optimization: Important that images were compressed and optimized for fast loading on all devices so photography isn't pixelated or blurred.
SEO Friendly: Photography themes came with built-in schema data, meta tags and other features that help photos rank higher on search engines.
Support: Themes had to offer timely support either for free or via paid plans for any issues faced while using the themes.
Pricing: Both free and premium paid themes were considered based on features catering to differing photographer budgets.
🤝 Why You Should Trust Our Recommendations
We've been crafting themes for quite some time now, having kicked things off on ThemeForest back in 2015. Since then, we've developed over 20 themes for WordPress and various other platforms.
Quality is our priority. Our themes consistently rank high with a solid 5-star rating from more than 600 reviews. But it's not just about what we say – our users are really into our work. With over 23,000 customers, and our standout theme, Authentic, being picked up almost 9,000 times, we've earned people's trust.
Earning the "Power Author" title is a testament to our dedication and commitment to quality, which clearly resonates with our users. So, when it comes to choosing great WordPress themes, you can count on our expertise and experience.
Best Minimalist WordPress Photography Themes 🧑‍💻
1. 🏅 Our Pick - Astia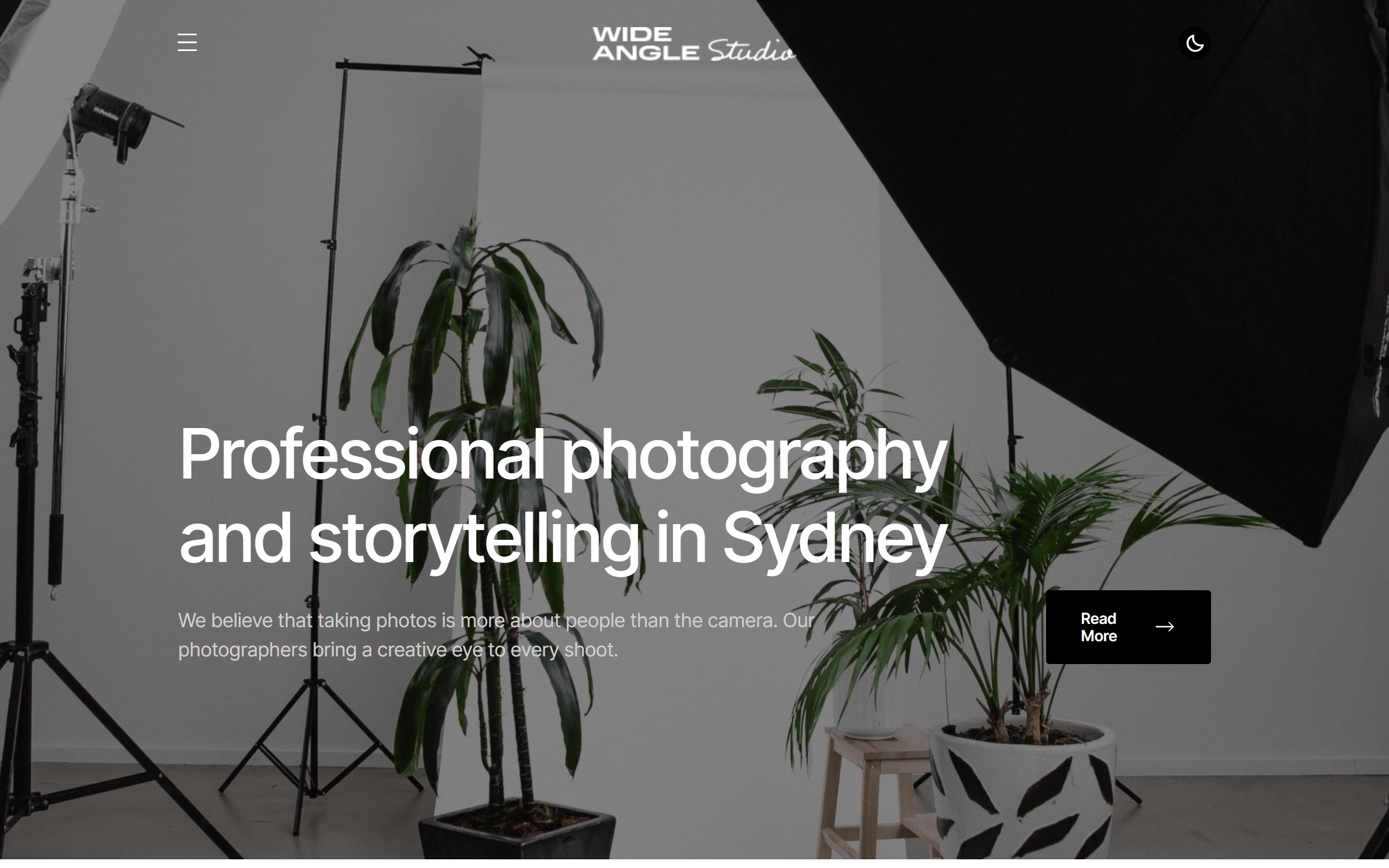 Astia is one of the best-looking WordPress photography themes you can find! There are 8 outstanding but at the same time minimalist demos in this theme. With a focus on simplicity and aesthetics, Astia is perfect one among minimalist WordPress themes.
Key Features:
Portfolio Layouts: With this theme, you can pop in some cool sliders that look great on any device – they work with touch and swipes on your phone.
Classic Project Pages: Set up your project pages however you like – just like your other pages. Pick between Gutenberg or Elementor, your call!
Fast & Easy Installation: They provide ready-to-go demos to get a fabulous site up and running in no time.
Easy to Customize: Choose from Google Fonts, Adobe Fonts, or even add your own custom fonts.
Pricing
The regular license will cost you $69. This price includes a bunch of things like a guarantee of quality checked by Envato, future updates, and 6 months of support from codesupplyco.
Get a whole year of support by adding $21.38 to the regular price.
Why Is Astia Our Top Pick?
First off, it looks super clean and minimal which is perfect for showing off photos without distractions. You can see right away how easy the layouts are to browse pics. Also, they include a bunch of different demo options so if you get bored of one look, you can totally change it up with another theme - without messing with your photos. How cool is that!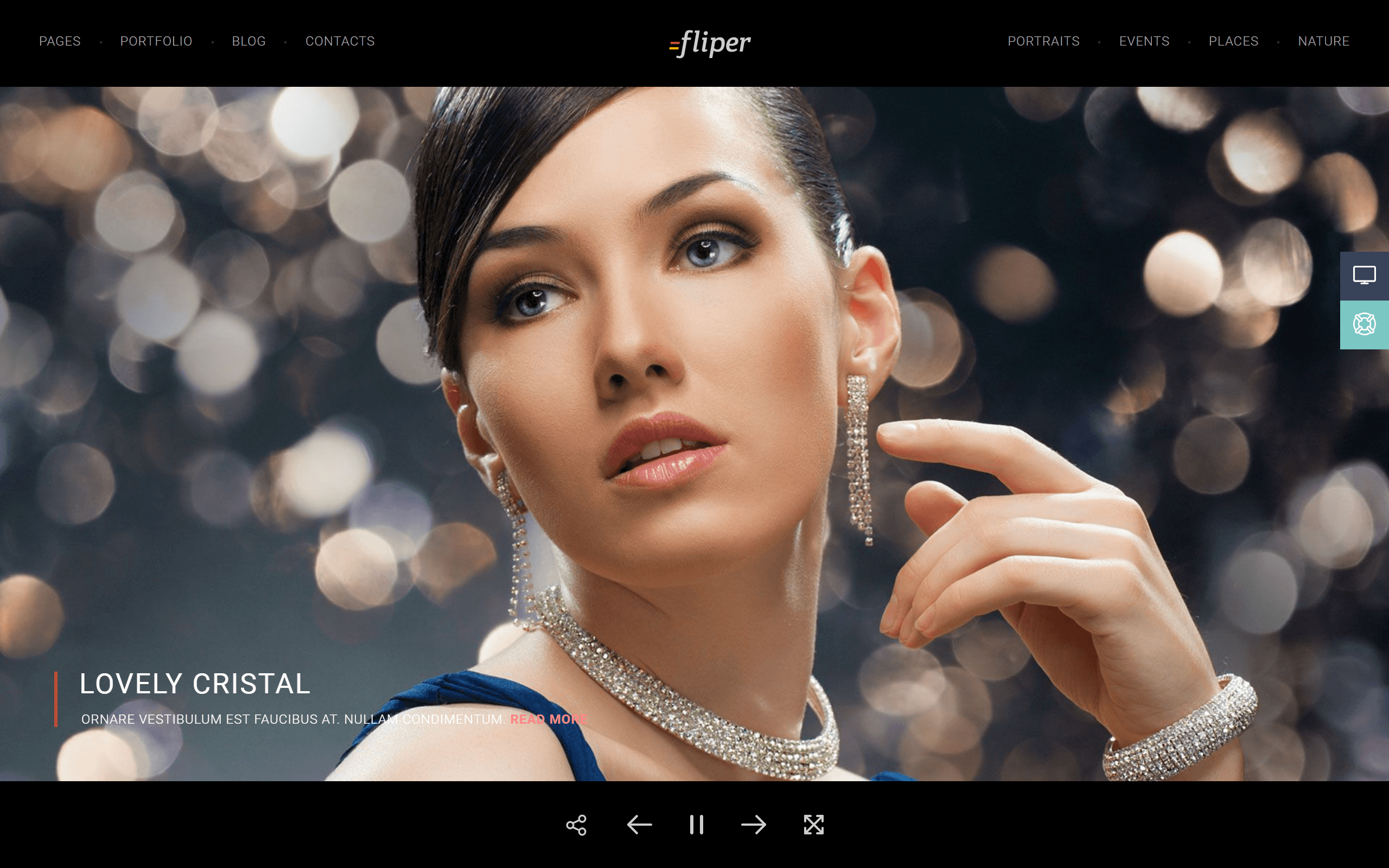 Another one in our list of best minimalist photography WordPress themes. Fliper is your laid-back, minimalist photography WordPress theme. Perfect for those who want a no-fuss look with all the advanced features. It's user-friendly, adapts in no time to any device, and, guess what?
Key Features:
Visuals: it has a unique design that'll definitely turn heads. There's a drag-and-drop page builder.
Customization: This theme's got you covered. Its highly customizable design is not only flexible but also has a highly responsive layout.
Easy Installation: With its one-click install, you'll be up and running in no time. The setup? Super simple.
Pricing
The theme's priced at a cool $59, which gets you a package that's been quality-checked by Envato and comes with future updates to keep things fresh. Just a heads up though: the author doesn't provide support for this item, so you'll be handling that on your own.
Another perfect choice among WordPress themes for photographer! Ocularus is a sleek photography WordPress theme, all about showcasing your portfolio pics in the classiest way possible. Sporting a clean design with some top-notch typography, this minimalist theme is guaranteed to make your site stand out and look fantastic!
Key Features:
Design and Responsiveness: Ocularus shines with a responsive layout, making sure your content looks top-notch on any screen size.
Ready-to-Go Setup: To give you a head start, the theme comes packed with an XML demo content file.
Showcasing Your Work: This theme is all about showcasing. Whether you're using the dedicated "Portfolio" post type or playing with the simple image and carousel sliders, your visuals are bound to pop.
Customization: Ocularus is designed with flexibility in mind.
Pricing
Ocularus is priced at a neat $59. And for that, you're getting a bunch of goodies: It's passed the quality test by the profs at Envato, so you know it's top-tier. Plus, you'll be getting future updates to keep everything fresh and up-to-date. Need a hand? No worries! CocoBasic has got you covered with 6 months of support.
And here's a tip: if you want a whole year of support, there's a good deal - add $17.63 to the price, and you get it.
Kathy is the perfect theme if you're a photographer or visual artist looking to showcase your art online. The design is super minimal so nothing gets in the way of letting your photos take all the attention.
Key Features:
Fits All: Kathy makes it super easy to showcase your photography across different devices.
Portfolio Features: The page templates let you set up cool listings of select works in a visually appealing way. Through the customizer you can tweak all kinds of style options too.
Different Formats: You can showcase your portfolio items in different formats too - showcase individual images, embed video clips, or mix it up with a combination of pics and vids.
Pricing
The price for this deal is $49. Of course, you get a licensed product approved by a reliable Envato team. The price gives you access to all future updates and customer assistance for 6 months after purchase.
This theme is perfect for photography and art sites. It has a clean and simple look that makes your pics pop. Opta adapts to any device like phone, tablet or computer so your site looks great everywhere.
Key Features:
Responsive Design: This theme resizes nicely no matter if you view it on a phone, tablet or computer.
Image Focus: It has special portfolio and gallery post types to gallery and showcase your photos.
Customizable: Don't like something? No problem - Opta is easy to tweak. You can change colors, fonts, and layouts to make the site look just how you want.
Pricing
The price for this theme is $59. You'll get a licensed product tested by Envato team. You'll also have all future updates and customer support in case of any issues for 6 months after the purchase.
Best Wedding Photography WordPress Themes 🥂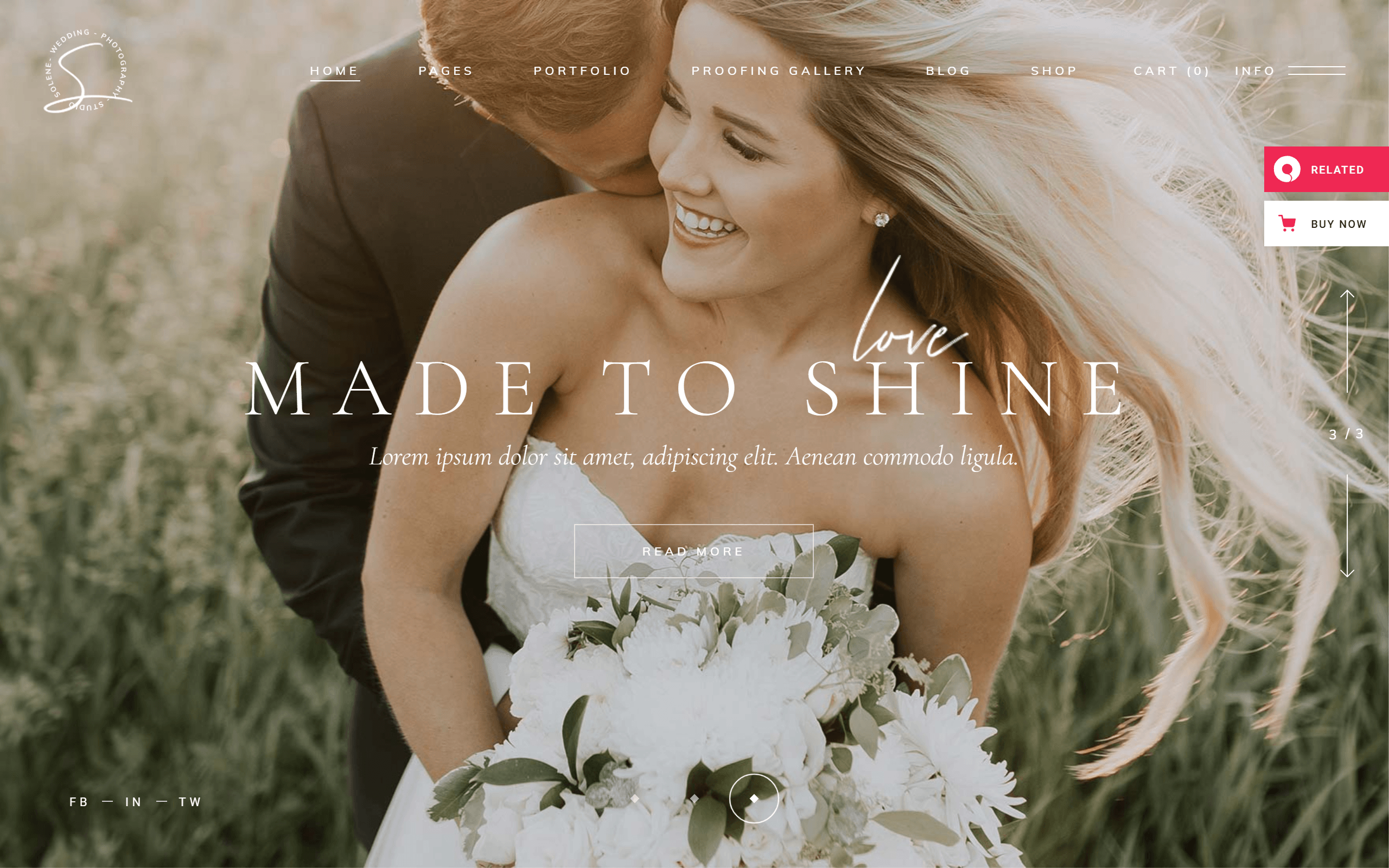 Capture those moments and make them look like magic with Solene - a seriously stylish photography theme. This is one of the WordPress photography templates with heart - they give everything you need to showcase your shots in a way that does them complete justice to your art.
Key Features:
Portfolio Designs: It's got tons of great gallery styles and portfolio designs like masonry, exhibition, slider, and single pic/vid layouts.
Photography Features: Comes packed with handy features like lightbox, blog styles, contact pages plus shortcodes. Also has plugins for Instagram and Twitter feeds.
Customizable: You get full control with 12 homepage variations, 7 inner pages, and choices for colors, fonts, and integration with page builders like Elementor and WPBakery Page Builder.
Pricing
The cost for Solene is $79. The experts at Envato will give it a test run before sending it over to make sure it's good. You'll also get future updates included whenever the devs add new stuff or squash bugs forever. Also, six whole months of support from the creators at Elated-Themes if you run into any issues or have questions.

Can even upgrade the support to a full year for an extra $25.13.
2. 🏅 Our Pick - Artale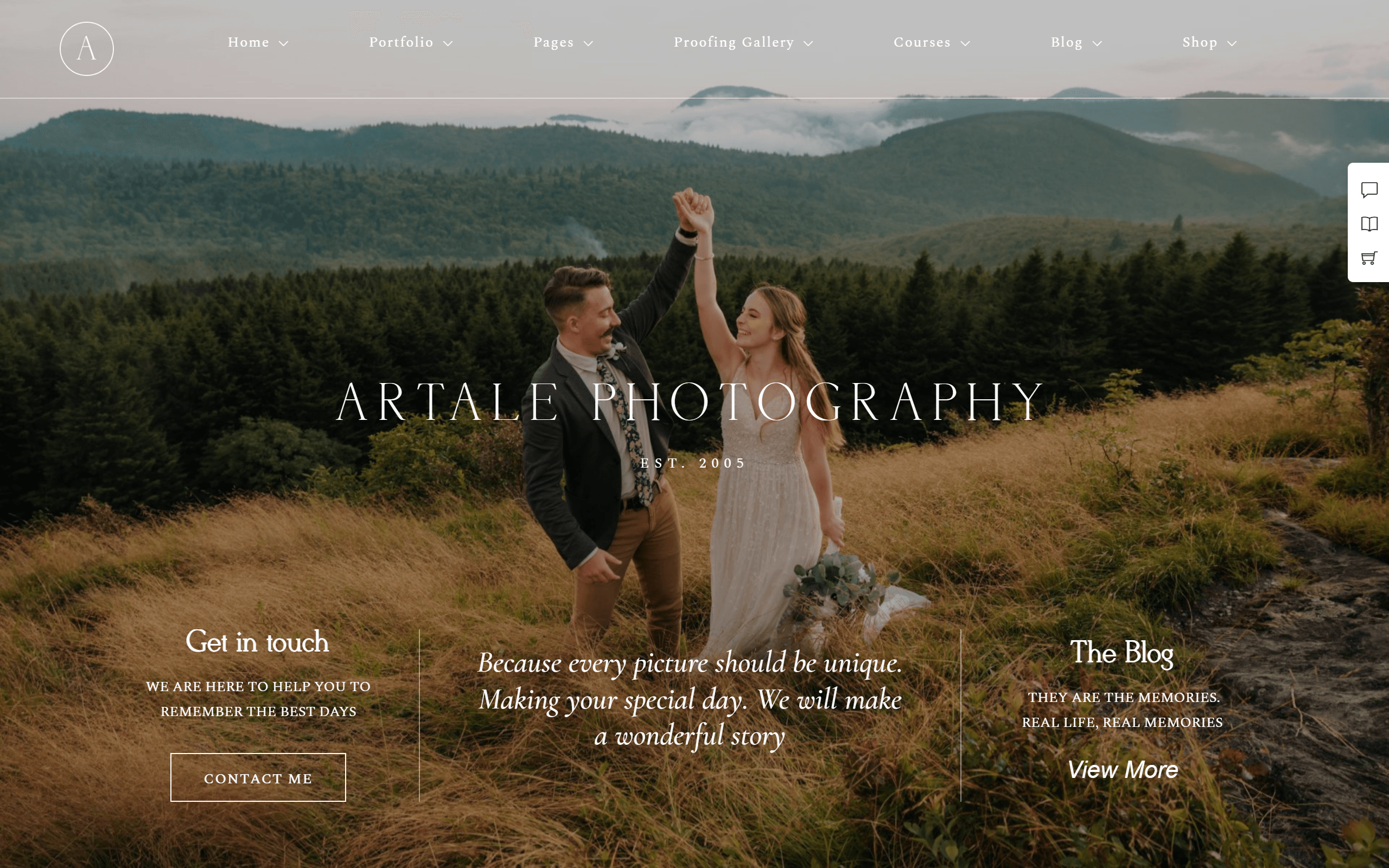 Artale is among best WordPress photography themes where everything is optimized for photographers to showcase their work online in a polished way. This theme is perfect for wedding photographers or any creative studio running a photography business.
Key Features:
Variety of Layouts: It comes with 12 pre-built home page designs so you can pick a layout that best suits your brand without any coding.
Make it Custom: The theme is also fully customizable with the Elementor page builder. You can design custom headers, footers and even build a mega menu with drag and drop.
Gallery: It has advanced gallery features too like image sorting, lightweight boxes, and fullscreen slideshows.
Pricing
They have the regular pricing of $59. As a standard rule, you can be sure that the theme is legit - it is checked by Envato. You will get regular updates and support from the dev team for 6 months straight.
Add $17.63 to the regular price and make it 12 months instead.
Why Is Artale Our Top Pick?
First off, it's super customized for photographers specifically. The layouts and designs are all optimized to really make your photos shine. There's special slider sections, galleries, and full screen modes perfect for showing off big gorgeous wedding shots. Plus it's customizable. You can tweak basically every little part of the site with their drag-and-drop page builder.
Amie is one of the WordPress photography themes that scream elegance and help to capture special moments in a beautiful way. It's perfect for wedding photographers to display all their photos from ceremonies and receptions. All the fun candid shots too! It gives photographs the spotlight they deserve in an elegant design.
Key Features:
Design: You can choose from different header and footer styles to find the perfect look. It also switches flawlessly across devices from mobile to desktop.
Proofing Gallery: Just send your client a quick login and they can happily flip through all the options right on your site. No more back-and-forth emails.
eCommerce Functionality: With the built-in WooCommerce support, selling prints, albums or whatever else is super easy.
Pricing
The usual price tag is $59. And just so you know, it's got the Envato stamp of approval, so it's all legit. With this, you're set to receive updates and have the developer team at your beck and call for half a year.
Do you want to double that support time? Just toss in an extra $17.63.
Yet another one among the best photography WordPress themes that can be your go-to choice for wedding photography vibes. Perfect for those wedding moments, beautiful bridal shots, or wild event highlights. Luminis is all about making your pics look as awesome as they really are.
Key Features:
Building Your Own Way: It uses Elementor as the page builder so you've got total control over how everything looks. There's multiple portfolio layouts and gallery styles to showcase your photos/
Layout Options: The home page has different layout options and a built-in slider so you can feature some of your latest work right up front.
Customization: Other nice touches include different header styles, SEO optimized code for search engines, built-in contact forms, sticky menus, social media integration, and over 700 Google Fonts.
Pricing
You can have this all only for $32. The product is tested and quality-approved by Envato team, so you don't have to worry about the technical performance of the theme! Additionally, you get 6 months of customer support in case of any difficulties and can make the updates for free.
By paying $7.50 over the regular price, you get a whole year of support.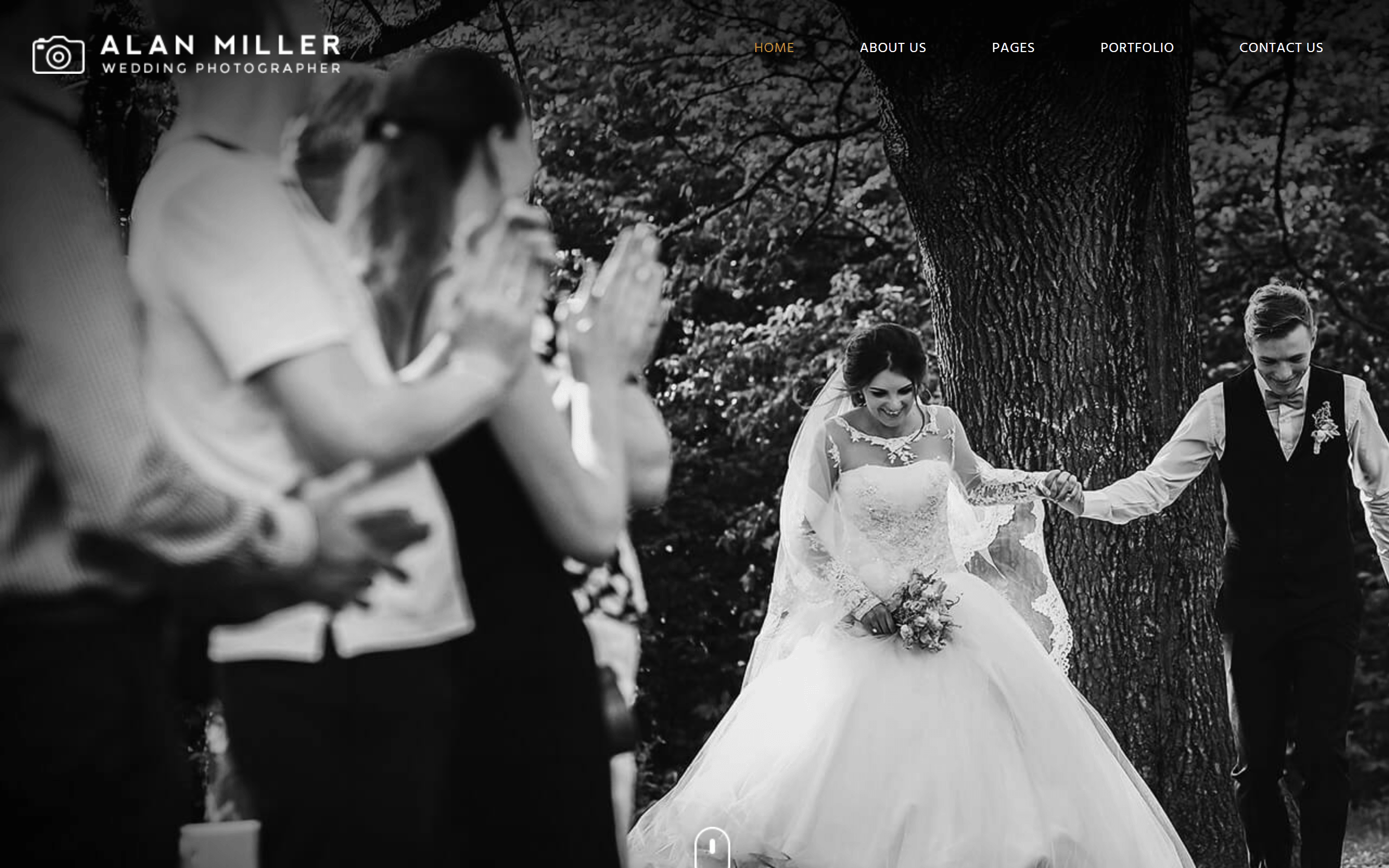 Vivagh is also in the list of best WordPress photography themes crafted especially for wedding photographers. It offers a platform to beautifully showcase those magical moments from "I do" to the reception dance-off. With its user-friendly features and clean design, Vivagh ensures every captured moment shines brightly on the website.
Key Features:
Plugins: The Vivagh theme comes bundled with several useful free and premium plugins to make managing a photography website more efficient.
Single Click Demo Install: Demo content can be easily imported with a single click, allowing users to quickly set up the site and then customize elements like logos.
Instagram Integration: The theme allows displaying multiple Instagram feeds on different pages throughout the site using a simple shortcode.
Pricing
The regular price for the theme is $49. Approved by Envanto, the theme is high-quality. The price includes future updates and customer support from the developers any time in next 6 months after the purchase.
There'a good deal - pay extra $13.88 and get quick support assistance not for 6 months, but for a year!
Best Creative WordPress Photography Themes 📷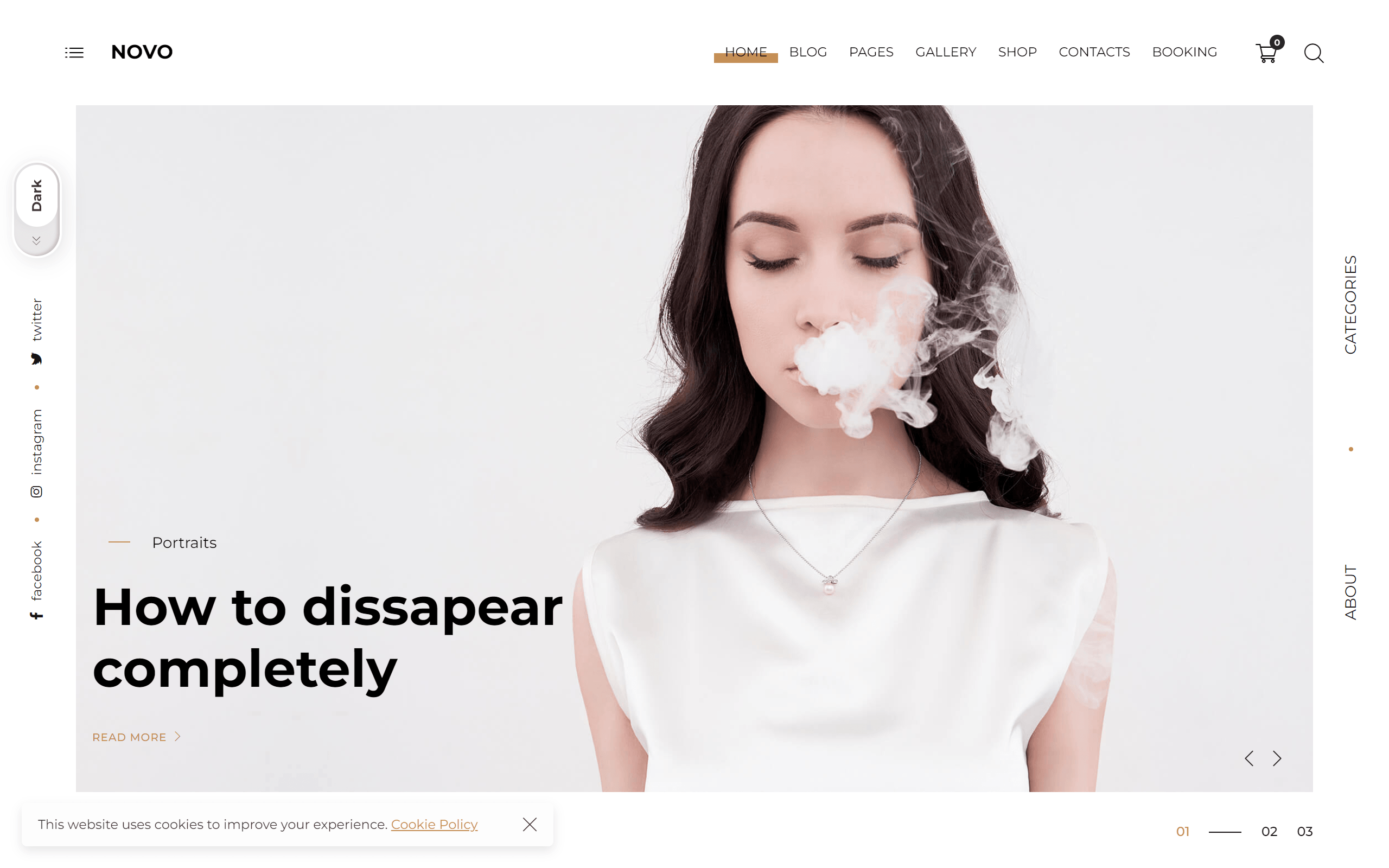 One of the most creative WordPress photography themes out there! Different galleries let your work shine in its own unique way, and a straightforward, user-friendly store helps you sell those awesome photos or other goodies.
Key Features:
Lots of Styles: It features different gallery styles like grid, masonry, and horizontal to showcase work. Unlimited portfolio pages allow displaying multiple projects.
Handy Plugins: Popular page builder plugins like Visual Composer are supported for easy customization without coding.
eCommerce Option: Selling photos through WooCommerce integration is simplified. YouTube and Vimeo embeds are also integrated cleanly.
Pricing
It's $79 for a regular license. Of course, the theme is approved by Envato. You'll get future updates to keep your site running smooth. And if you ever find yourself in a pickle or just need a bit of guidance, AncoraThemes offers 6 months of solid support.
Add $25.13 and make it 12 months!
This theme is rather classical, making your works stand out in the web. Core keeps it clean and simple so people can focus on your stellar photos. The clean and rich looks will definitely add professionality to your works.
Key Features:
Easy to Use: Displaying your portfolio couldn't be easier. Core has different styles like grid, masonry, and horizontal feeds to mix it up.
Sharing: Bloggers will dig the built-in options for posting updates and letting subscribers know what you're up to.
Additional: There's also handy widgets like Twitter and video embeds to engage people and bring your content to life.
Pricing
For the Regular License priced at $39, you're not just getting a license, but a package of trust and support. It comes quality-checked by the trusted team at Envato. You can look forward to future updates, keeping things smooth and up-to-date. And should you need a hand, it has got you covered with 6 months of dedicated support.
12 months for an extra $10.13.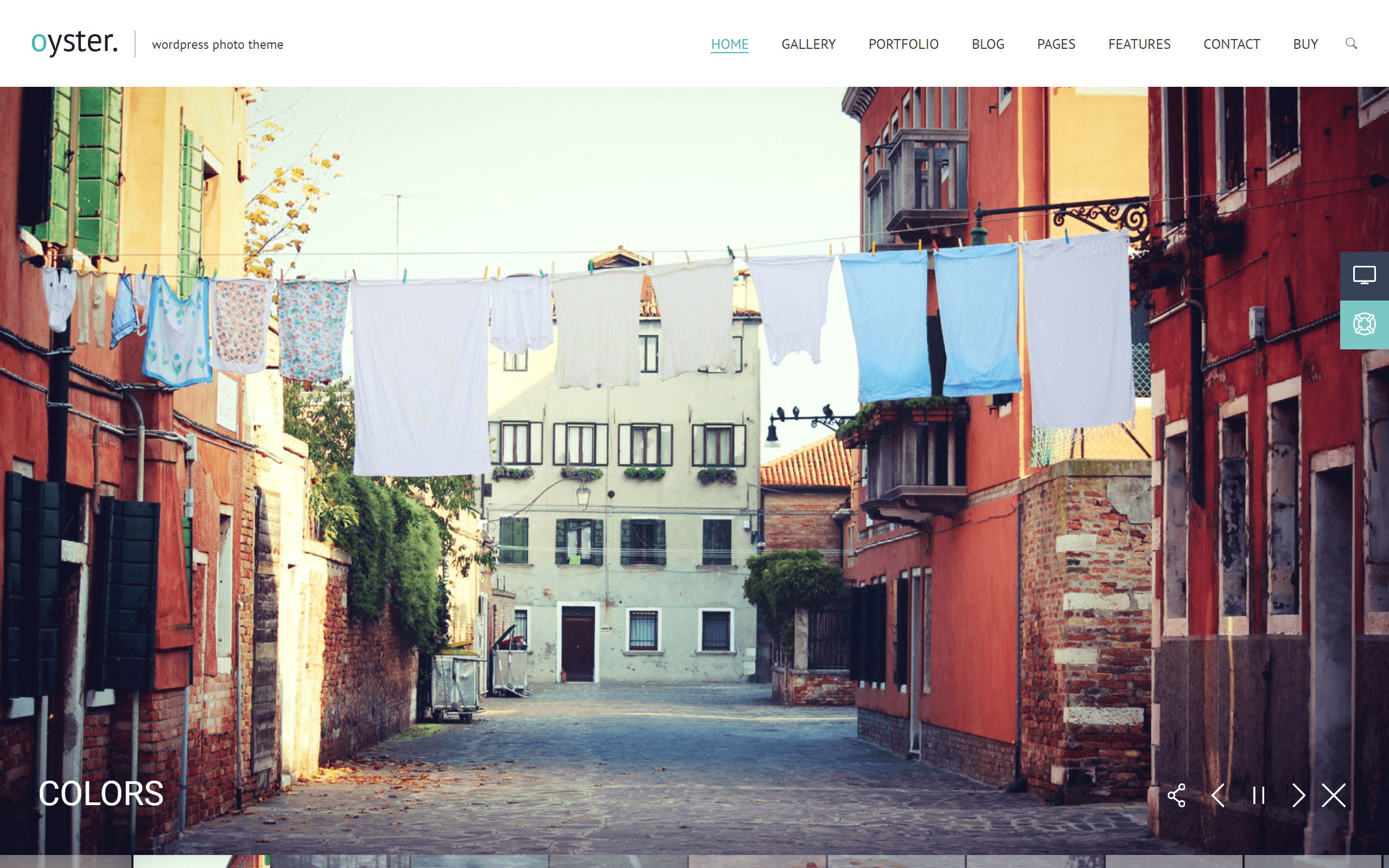 Made for photographers who want their shots to stand out, Oyster's got this cool, clean vibe – kind of like the inside of an oyster shell. It is also a perfect example of WordPress themes for travel bloggers.
Key Features:
Responsive Design: This theme keeps things flexible with a super responsive design that works on any device - phones, tablets, desktops.
Page Builder: There's a built-in page builder that lets you visually put together pages without coding - just drag and drop content blocks where you want them.
Portfolio Functionality: You can display projects in fullscreen layouts, grid/masonry views, filter them, and add tons of custom details for each one.
Photo Galleries: There are cool styles like fullscreen sliders, masonry, ken burns effects and ribbons.
Pricing
The theme's price tag with a discount is $39. Before it lands in your hands, the pros at Envato give it a once-over to ensure it performs well. You'll keep getting updates, whether it's fresh features or bug fixes, indefinitely. Got questions? The team's got your back with 6 months of help.
Want to double down on that period? Just chip in another $10.13, and you're covered for a year.
4. 🏅 Our Pick - Wiso
Meet Wiso: one of the laid-back, no-drama WordPress photography templates for photographers. Whether you're capturing wild adventures or quiet moments, Wiso's got the vibes to make your shots shine online.
Key Features:
Responsive Design: This theme has got you covered for all your photography biz needs. It's fully responsive so your site will look fly on any device.
Portfolio Display: Displaying your work is easy with features like fullscreen layouts and galleries integrated. It also handles selling prints or digital files through WooCommerce e-commerce if you want to offer that.
Appointment Booking: Managing gigs and appointments is so easy with the booked plugin.
Pricing
$39 is the price of the theme. But before you get it, the experts at Envato do a quality check, making sure it's perfect. And the perks? Constant updates for the theme. And if you're ever puzzled? Don't sweat it, the crew offers 6 months of solid support.
Toss in an extra $10.13, and you're good to go for a full year.
Why Is Wiso Our Top Pick?
This theme has all the features you need to showcase your best shots and run your photography business online. It's got slick galleries, albums, full screen views - everything you need to really make your photos shine. Setting it up is super easy too. They've got professionally designed layouts ready to go straight out of the box. You can customize the look totally with different colors and fonts too.
The Reflector theme is really nice looking and lets you be creative. It's perfect for photographing businesses and studios. You can make albums, galleries, event listings, full screen photos, proofing pages, pricing lists, and blogs.
Key Features:
The Grid: This Grid plugin lets you display all kinds of stuff on your site in a customizeable responsive grid.
WPBakery Page Builder: WPBakery is an easy drag-and-drop page builder. Create any layout you want quick without much coding know-how.
Contact Form 7: There's a contact form plugin included to make capturing leads simple. Design custom forms however you like with basic code.
Pricing
That theme you're eyeing? It's a neat $49. Before it's all yours, the team at Envato checks it out to make sure it's top-tier. The cherry on top? Ongoing updates. And their dev crew's got your back for 6 solid months.
For an additional $13.88 you'll get a year of customer support.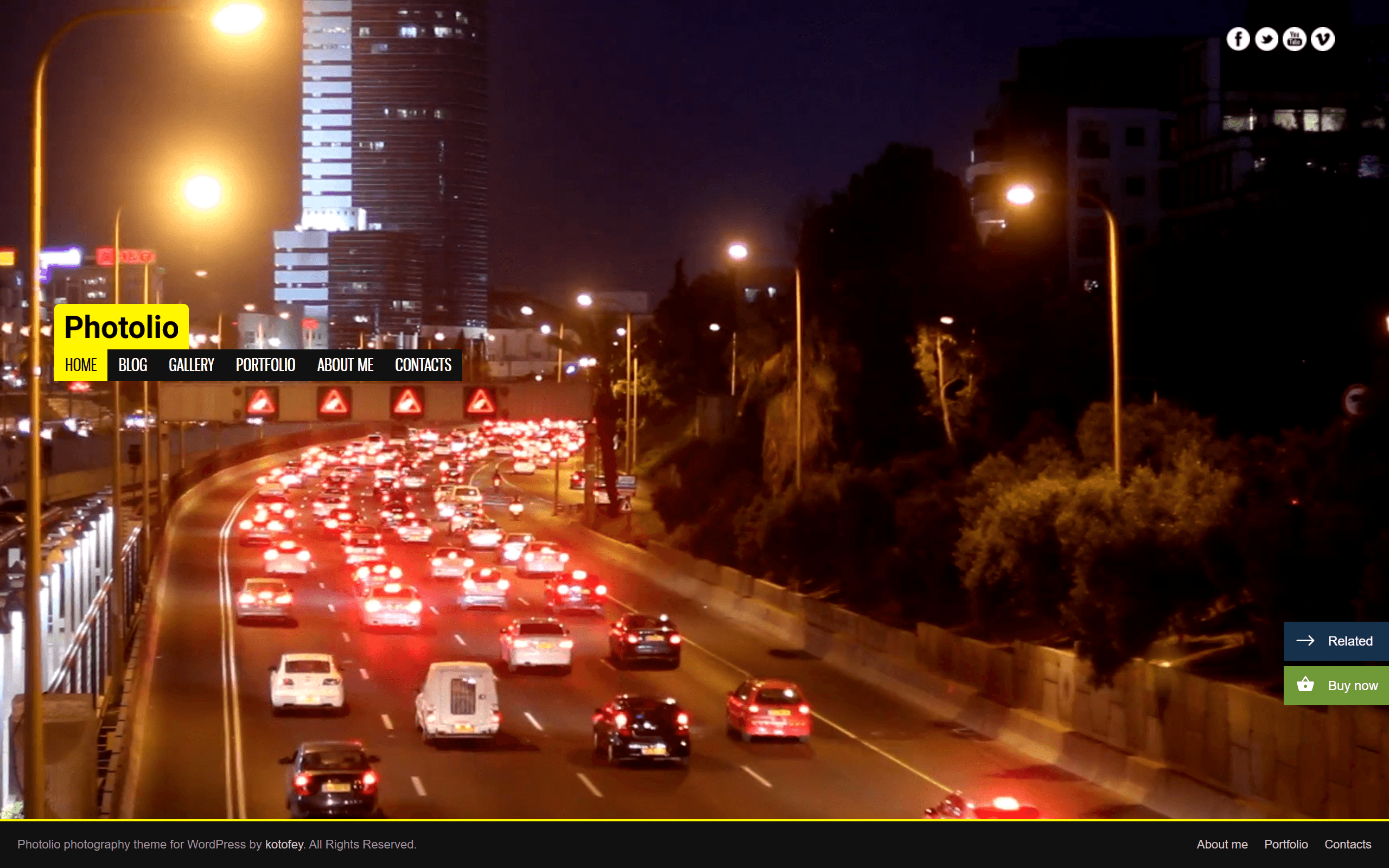 Another one among easy-going WordPress themes for photographers that's all about showing off your killer photos. It's got this cool vibe that makes your shots look even better (if that's even possible).
Key Features:
Gallery Management: Creating and managing galleries is simple with Photolio. Just upload images and it handles displaying them beautifully in different gallery templates.
Portfolio Display: Ten ready-made portfolio templates give clean and engaging designs to showcase your best photos and videos.
Background Styles: Choose from fullscreen image/video sliders, single images or music to set the background on any page.
Performance Optimized: Clever lazy-loading scripts improve page speeds without compromising on features. Google will love it.
Pricing
The price is $49. But before you buy, Envato's team gives it a look over to ensure it's high quality. And as an added bonus, you get automatic updates so it never goes out of style. Plus the devs who made it will help for a full 6 months if anything goes wrong.

Not enough support time for you? No worries - just add another $13.88 and they'll have your back for a full year if any issues pop up.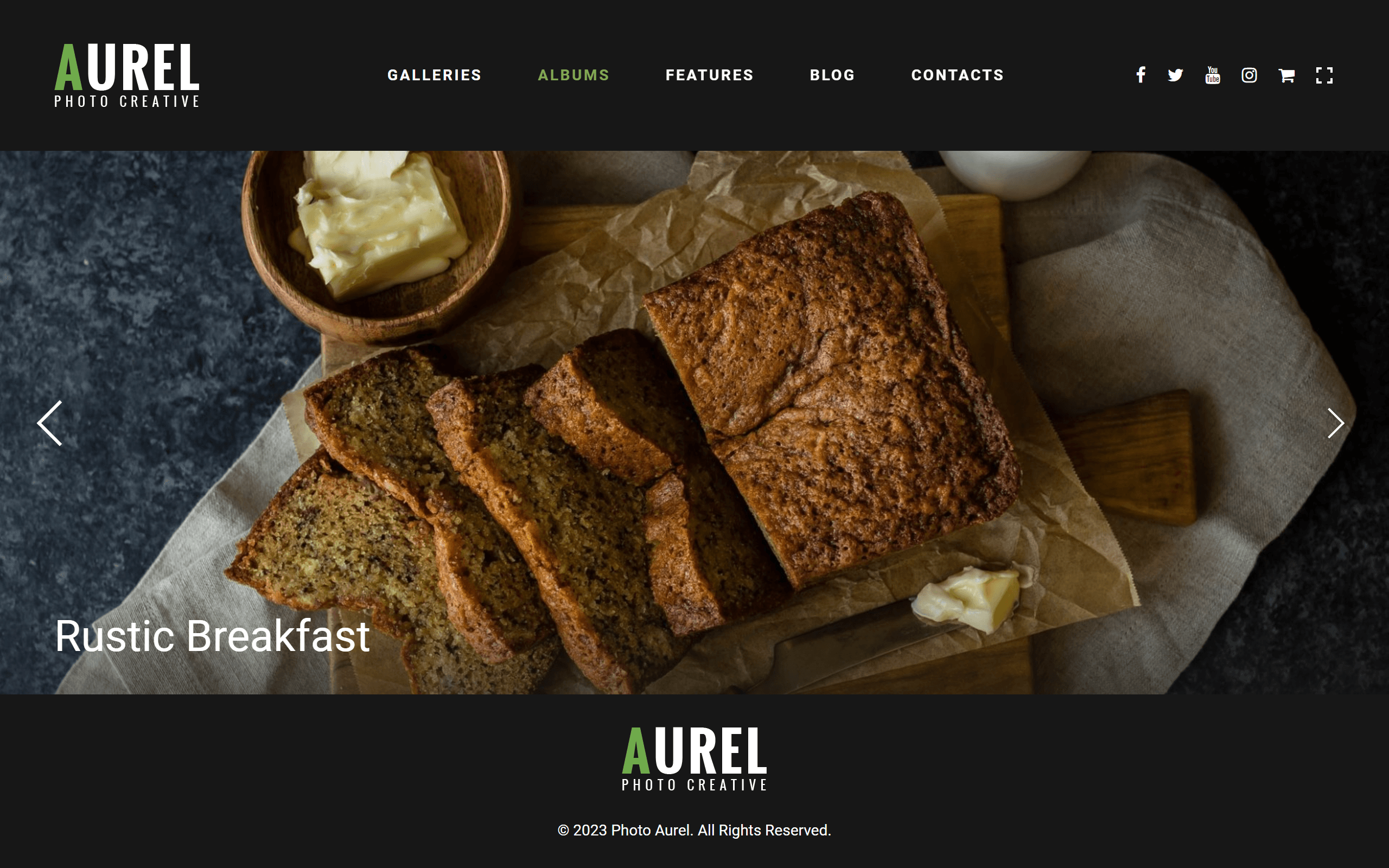 Check out Aurel: it's like the dream pad for photographers on WordPress. Made with style and usability in mind, it's the cool spot to show off those awesome shots of yours.
Key Features:
Visual Page Builder: Built using the popular Elementor page builder plugin, there's fully live visual editor so you can create and customize any pages without touching any code.
Page Builders: You can load up photo albums, spice up your blog, slide in some cool sliders, or mess around with carousels and galleries.
Visuals: And for those who love sharing stories with their snaps, the blog layout is spot-on.
Pricing
For a cool $59, Aurel isn't just another pretty theme. It's rock-solid and got a thumbs-up from the Envato crew. And yep, you're in for regular updates to keep everything working. You'll get 6 months of customer support from the developers.
Want to play it extra safe? Add another $17.63, and they're all ears for a whole year.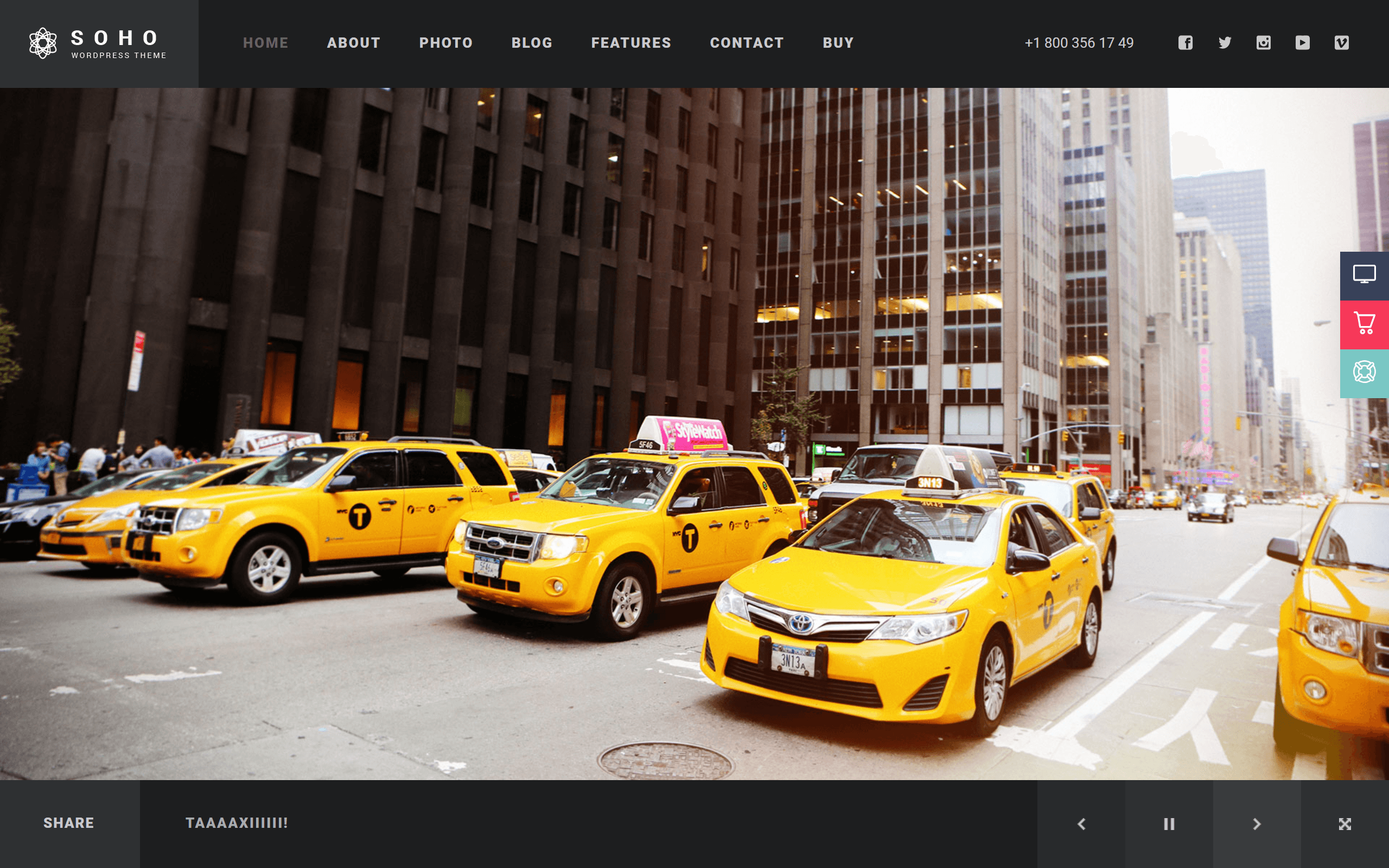 SOHO is yet another perfect option among WordPress photography themes WordPress theme designed for photographers. It provides a clean and easy-to-use platform to showcase photos and galleries.
Key Features:
Latest WordPress: This theme was built using the newest WordPress tech so all your features will stay up to date.
Fullscreen Layout: The whole layout takes up the whole screen without clutter so your pics really pop.
Custom Page Templates: You get some pre-made page types like album pages, portfolio pages, and "About" or "Contact" pages you can select real easy.
Drag & Drop GT3 Page Builder Plugin: This theme incorporates a slick drag and drop editor on the front end so you can lay out pages without touching any code.
Pricing
At just $65, Aurel is more than your average theme - it's built to last. The Envato team gave it the stamp of approval so you know its quality. Plus automatic updates are included so everything stays running smoothly. Developer support is also part of the package for a full 6 months if any issues come up.

But if you want that extra security, you can boost the support time to a full year for only $19.88 more.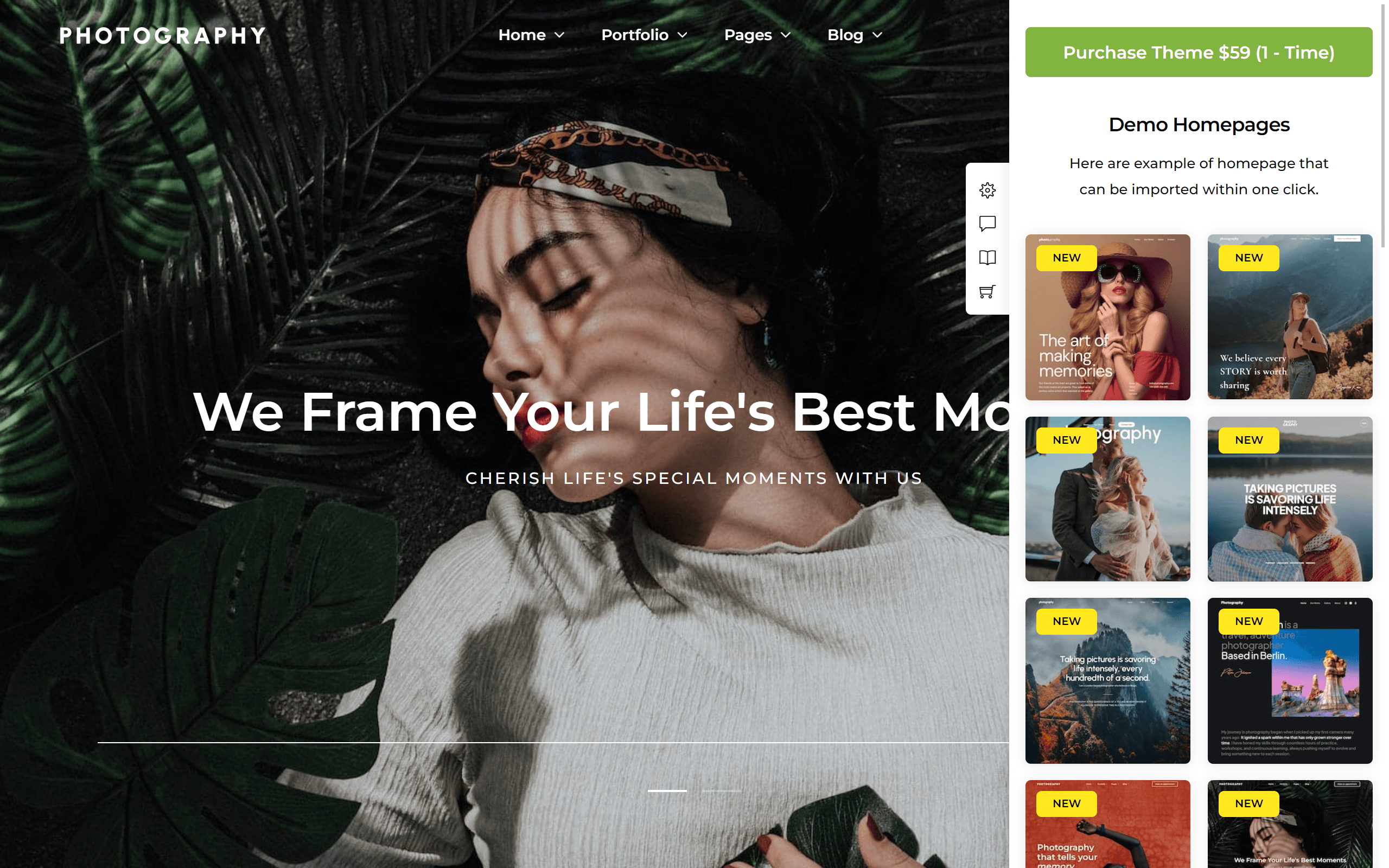 This theme is perfect for photographers and other creative folks who want to make a website to show off their work.
Key Features:
Gallery Styles:
This theme has tons of great options for showing off your photos. Things like masonry layout, where pictures are like tiles that fit together nicely.
Portfolio Builder: Whether it's weddings or products you shot, the filtered portfolio builder helps visitors find what they want.
Blogging Templates: In addition to galleries, this theme includes blog templates if you want to add written posts or tutorials too. The layouts work nicely on mobile too.
Pricing
The price for this theme, approved by Envato team, is $59. You will get regular updates and customer support for 6 months.
Make the support period a year by adding $17.63.
The Kinetika theme is a powerful fullscreen photography theme designed for photographers and photography-related sites. It features fullscreen slideshows, videos, images and page elements that can be used as page backgrounds.
Key Features:
Fullscreen Page Elements: It has different fullscreen elements like slideshows, videos, and photos that can take up the entire browser window.
Handy Page Builder: Kinetika comes with a nice page builder so you don't have to know any code. You can drag and drop lots of pre-made sections, galleries, buttons and more to create custom pages super easily.
Photography Focus: It has special post types just for events, portfolios and photo galleries that make your photos look amazing.
Pricing
The single-site license $59. Envato crew gave this theme a thumbs up. The developer team will keep the theme updated for you and will be there for you 6 months.
Add an extra $17.63, and they've got you covered for a whole year.
Best Portfolio Photography WordPress Themes 📸
TopPic, the WordPress theme is perfect for photographers and those who love showing off their art, like best photography blogs. It's super user-friendly, making sure your pics get the spotlight they deserve.
Key Features:
Responsive Design: It dynamically formats to phones, tablets, and desktops so everything stays crisp and clean viewing experience wherever people see your work.
Built-in Page Builder: No coding skills needed - you can throw together pages and tweak layouts visually in a snaps.
Extensive Gallery Options: When it comes to showing off your shots, this theme's got you covered with 15 different slick gallery designs.
Pricing
The regular price is $69. It's got the Envato crew's thumbs up, ensuring it's top-tier. And don't stress about keeping it updated – that's all automatic. Got a glitch or question? The devs have your back with 6 months of solid support.
And hey, if you're the play-it-safe type, toss in an extra $21.38, and they've got you covered for a whole year.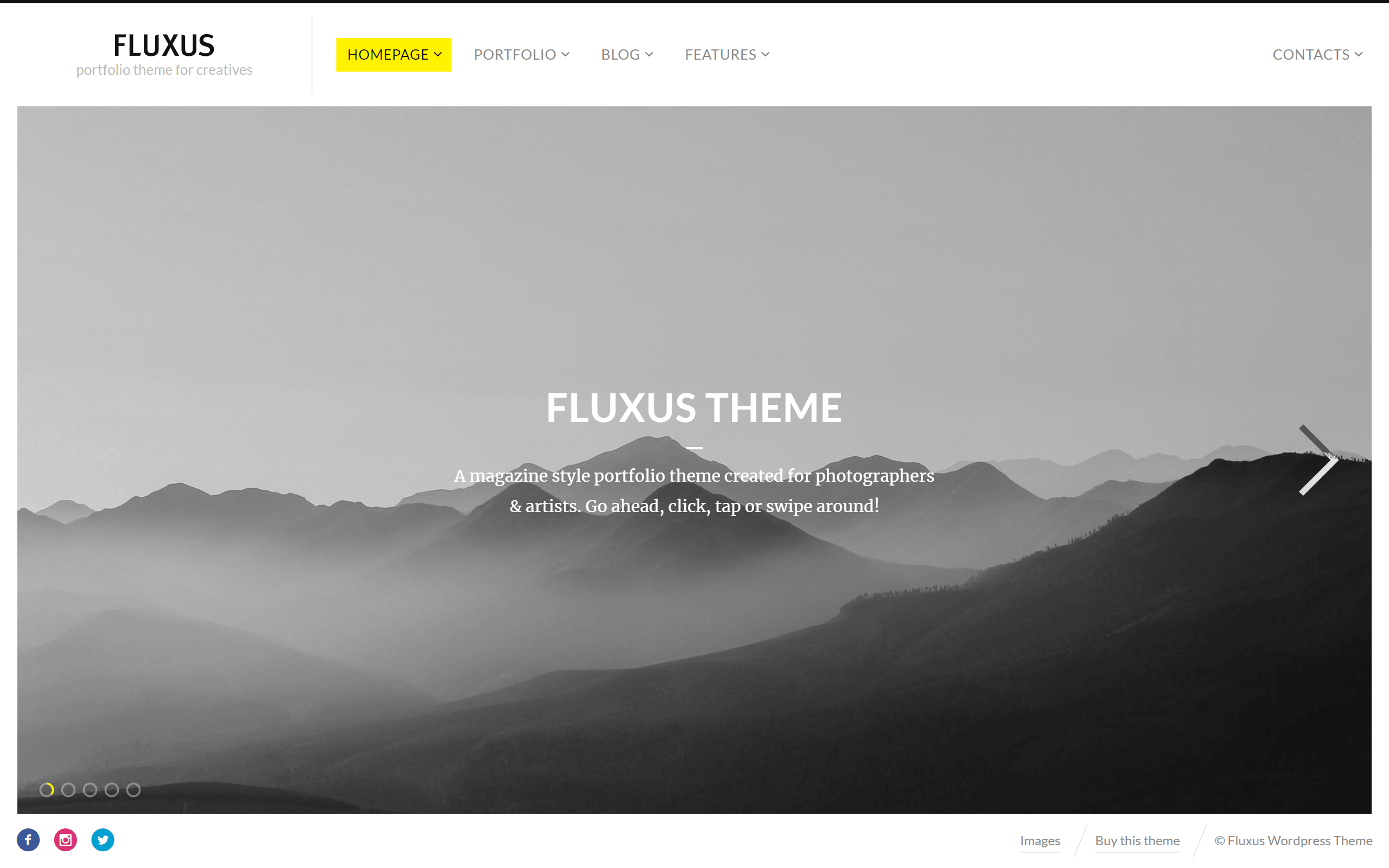 Step into the world of FullScene, where every pixel is crafted for photographers and creatives alike. This one is among the best WordPress portfolio themes that are about capturing the essence of your craft.
Key Features:
Dark/Light Skins: Choose between a fresh light mode or sleek dark mode for your site aesthetic with one click.
Customizable Accents: Add your own accent colors to make the joints your own.
Custom Backgrounds: Set crisp fullscreen or regular page backgrounds however you like using pics or solid colors.
Pricing
$55 is the price of the theme. With a nod from the Envato crew, its quality is approved. And you don't need to worry about staying current – updates are all on auto-pilot. The developer team's will be there with 6 months of customer support.
Fancy a longer safety net? Throw in an extra $16.13, and you're set with support for an entire year.
It's designed to beautifully showcase the best photography blogs, making it easy for users to display their best work.
Key Features:
Events: Create and manage photography events on the site with event listings and registration.
Photo Proofing: You can add a photo proofing area for clients to view and order photos online.
Client Management: Integrated client manager to track client projects and payments.
Protected Galleries: Password-protect specific photo galleries and portraits.
Pricing
The theme usually costs $59. Like all things on ThemeForest, it will be checked by Envato to make sure it works good. You'll get any new updates so your website stays looking new. The people who made it will help for 6 months if anything goes wrong or you have questions.

If you want, you can pay $17.63 more to get their help for a whole year instead of just 6 months.
4. 🏅 Our Pick - Gleam
It's all about putting your pics front and center, making sure they shine bright. Whether you're snapping professionally or just for yourself, Gleam is a perfect fit to display your works.
Key Features:
Fully Responsive: The theme looks great on all devices like your phone, tablet and computer.
Lots of Homepage Layouts: You get 19 different layout options for the front page so you can switch it up and try different looks.
Easy Demo Import: With one click you can add all the demo content and photos so you have a head start on your site.
Made with Elementor: This visual builder lets you drag and drop elements to customize pages how you want without any coding.
Pricing
The price is $43. The specialists at Envato checked it out and gave it a big thumbs up, vouching for its awesomeness. You get auto-updates to keep things ticking just right. If you hit a snag or got a burning question, there's 6 months of developer backup waiting for you.
Add an extra $11.63, and you're secured with support for a whole year.
Why Is Gleam Our Top Pick?
First off, those galleries and albums are super clean and easy to use. You can really make your photos shine with all the different layouts. It's also simple to switch things up and customize the look with different colors and fonts if you want. Setting it up is easy too. They've got fully designed pages already made so you can be up and running fast without any coding.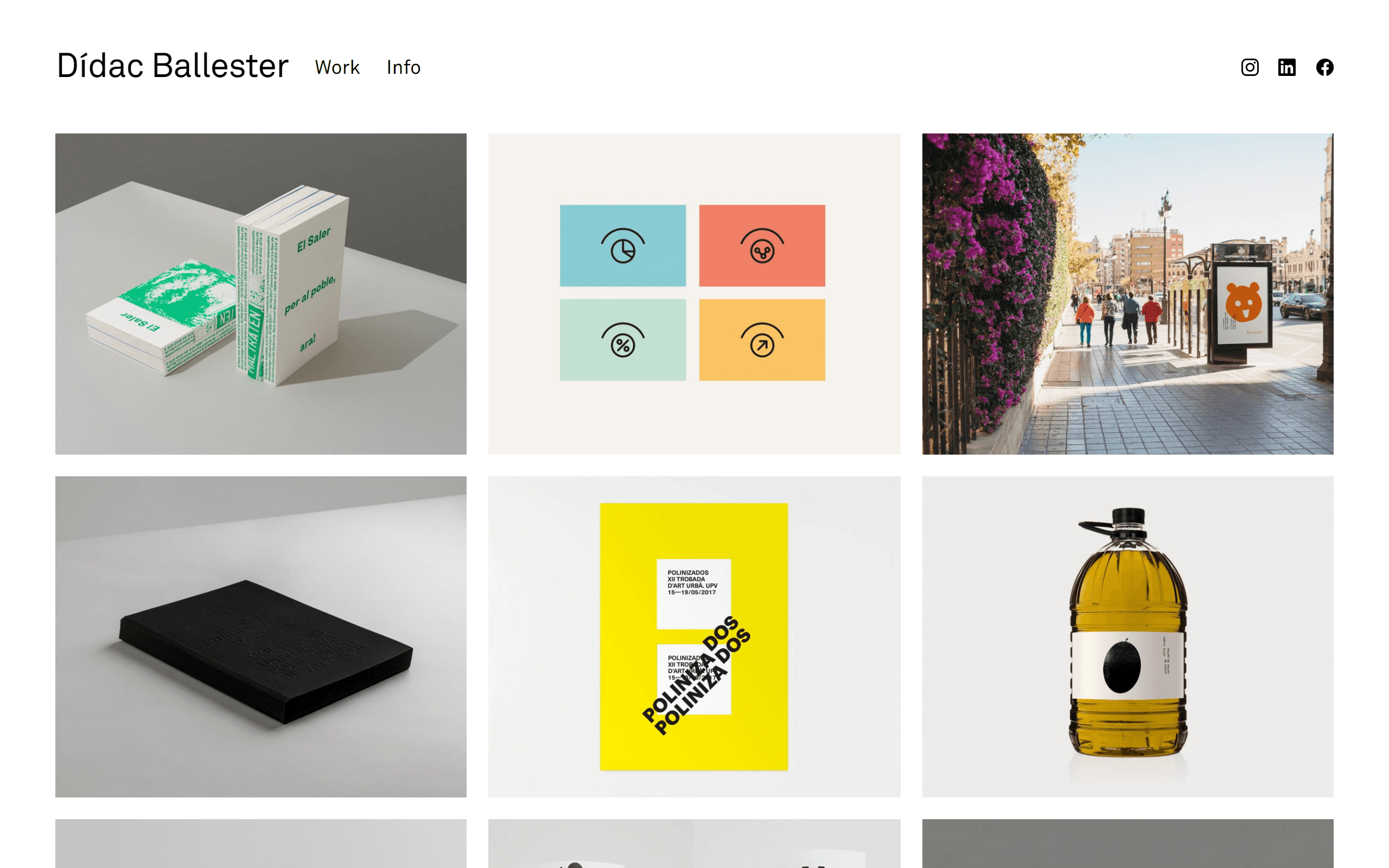 Whether you're a seasoned photographer or just someone who loves capturing memories, this is one of the best WordPress photography themes to put your best shots on display.
Key Features:
Tons of Photo Options: Show images in different styles like covers, thumbnails, masonry grids, or with a cool Ken Burns effect slider.
Customizable Design: You can change colors, fonts, spacings and see updates live with the settings panel.
Drag and Drop Builder: This theme has an awesome page builder that lets you create any layout you want without touching any code.
Pricing
The regular price is $59. It is surely checked by Envato team for quality. You will get regular updates included in the price and guaranteed customer support for half a year.
By adding $17.63 you can prolong the period for a year.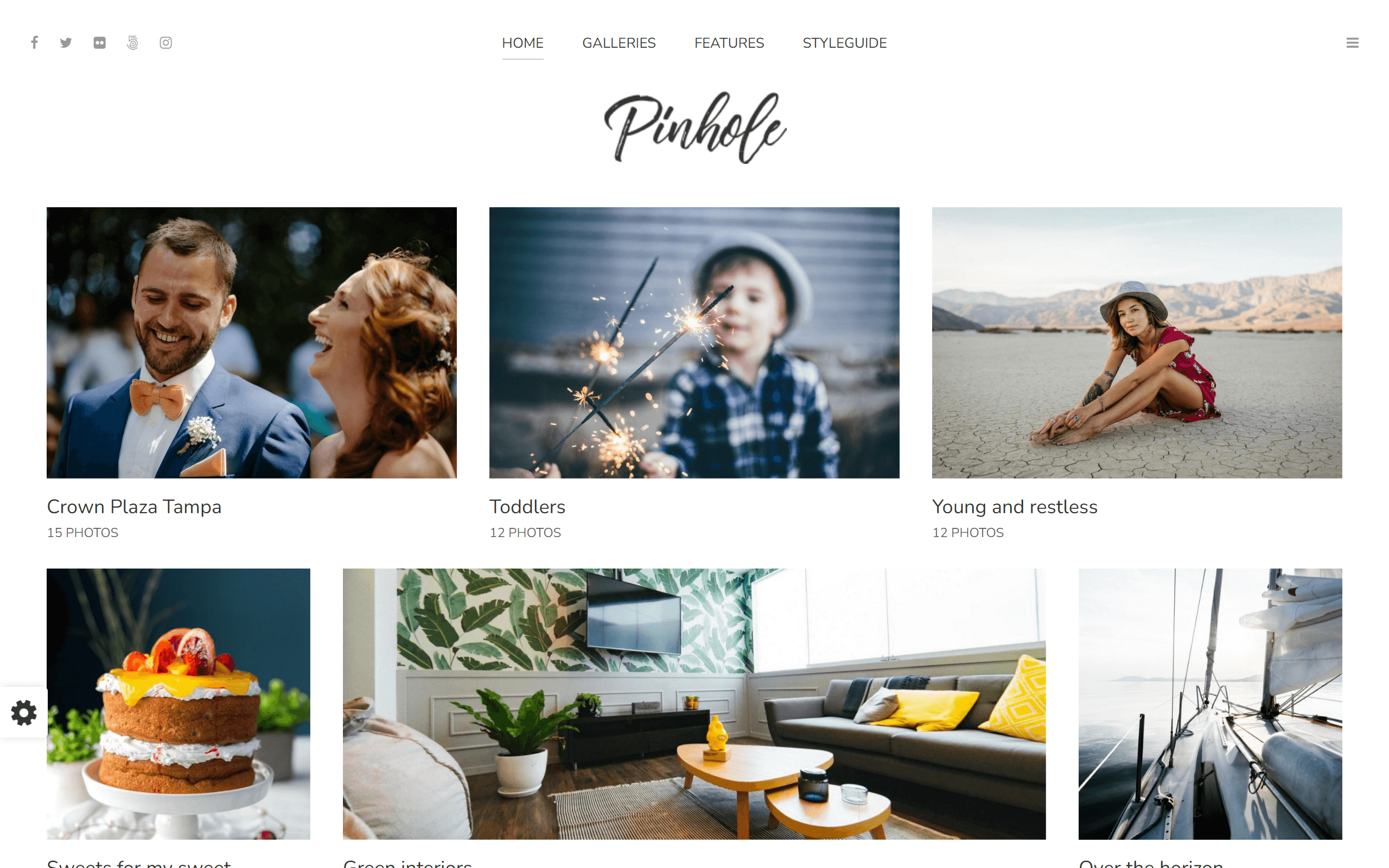 This is the WordPress theme that turns your photos into masterpieces. Designed for photographers and visual storytellers, Pinhole is all about giving your work the spotlight it deserves.
Key Features:
Photo Focus: The clean and minimal design makes sure your shots are always the star of the show.
Lots of Looks: Choose from over 30 different styling options like grid, masonry and justified styles to display your galleries.
Organize EZ: Use standard WordPress methods to build out your gallery structure and hierarchies without extra plugins.
Pricing
For a cool $69, you get this theme that's got approved by the Envato squad. Not only do you get all upcoming updates, but there's also 6 months of customer support.
Thinking of doubling down on peace of mind? Toss in another $21.38, and you've got a full year of support.
This theme is all about letting your photos take center stage. With its clean lines and intuitive design, Fotonia is perfect for photographers looking to make a digital splash.
Key Features:
Clean and Smooth: The minimal responsive design means your pics look great anywhere.
Lots of Layouts: Choose from masonry, grid and full screen styles to showcase your snaps.
Easy Editing: Throw elements into pages using Elementor's drag and drop editor.
Basic Set Up: The one-click demo gets you looking pro fast without hassle.
Pricing
For $29, grab this theme that has a seal of approval from the Envato team. Beyond the theme itself, you're set with future updates and 6 months of customer support.
Want some extra support? Throw in an additional $6.38, and the support team's with you for an entire year.
Designed for those who love to snap and share, this theme's all about giving your shots the attention they deserve.
Key Features:
Tons of Display Options: Show off your shots with masonry, grid or full screen styles.
Easy: Throw elements onto pages however you like with the drag and drop editor.
Responsive Design: The layout looks good no matter if you view it on a phone, tablet or computer
Pricing
For $59, you can have this theme that's been checked for quality by the Envato crew. You're not just getting the theme; you're also signed up for future updates and a solid 6 months of customer help.
Add $17.63 to the tab, and you're sorted with a whole year of support backup.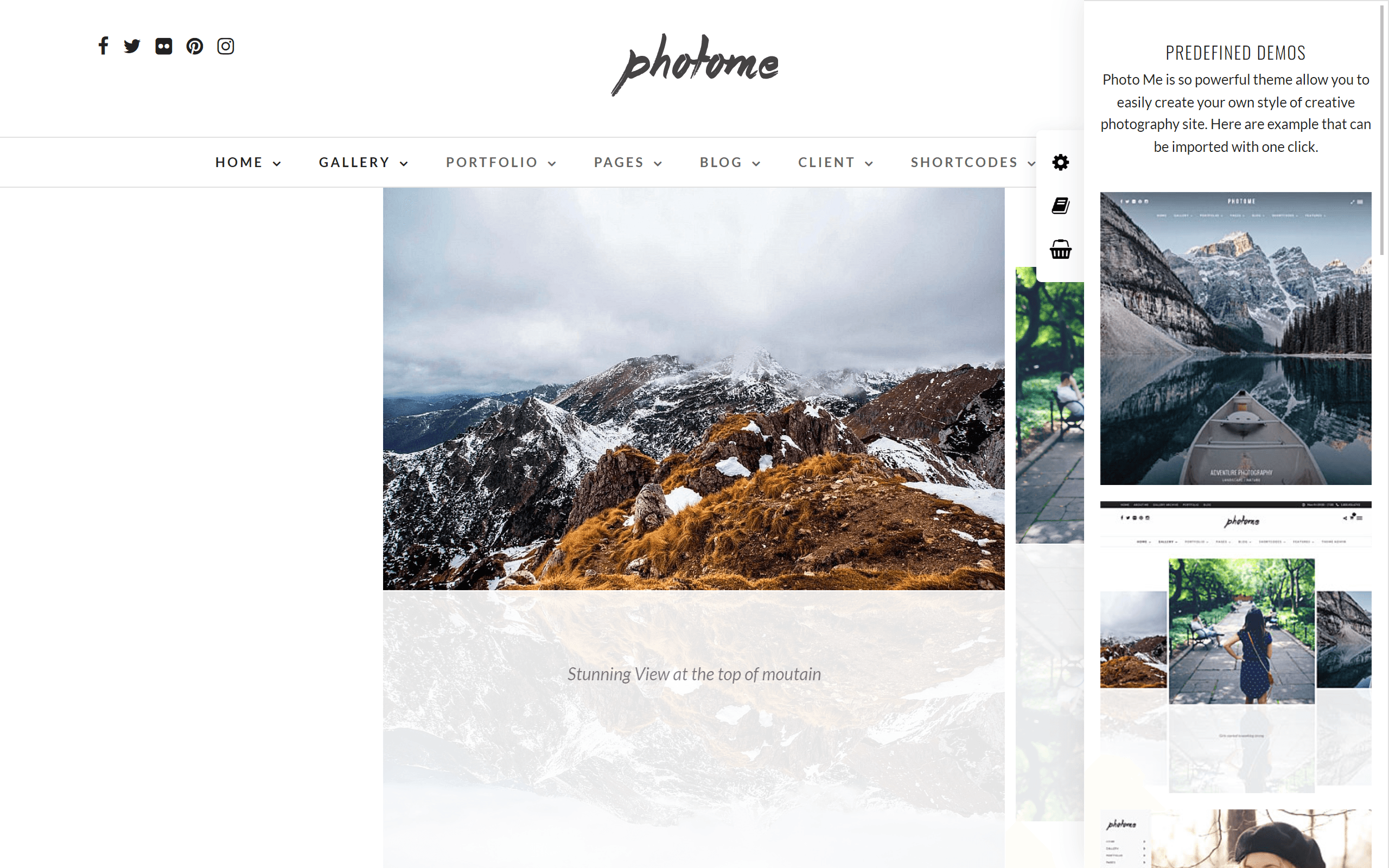 It's the cozy corner on WordPress for all your epic photo moments. Made for photographers it gives you a chance to share the best moments you capture.
Key Features:
Easy Customizing: Drag and drop elements wherever you want on pages with the cool builder.
Quick Setup: The demo importer gets you up and running real quick.
Flexible Homepages: Six different ways to showcase your works on the front page.
Locked Galleries: Protect private proofing galleries with a password.
Pricing
For $59, score this theme that's got the Envato team's approval. Along with the theme, you get the latest updates and 6 months of solid customer support.
Pay an extra $17.63, and you've got a full year of the support team watching your back.
Summing Up
Now that we have gone through the best WordPress photography themes picked for your professional success.
Keep in mind to check if the theme of your choice got plenty of dope layout options, customizing options, mobility and other very important points.
If a theme handles all that with some flyness, then it's perfect for you - just take your time choosing to find the one that lets your art really express itself.