If you want to provide quality content to the users but are confused about which themes to choose for your WordPress website, then you are in the right place. In this post, we have pulled together a list of some of the best free and premium minimalist WordPress themes that will make your site clean, engaging, and fast.
Minimalist themes are one of the most popular choices for WordPress because they are pleasing and help you appear professional. They enhance the user experience and help readers focus on the content. In addition, these themes will allow you to design effortlessly and create a stunning site without writing a single line of code. Additionally, some choose to outsource the design of their website or product. You can also read more on design rush to find out how to market and promote your brand.
So, we handpicked the top WordPress minimalist themes for you to save your time.
🌐 What is a Minimalist WordPress Theme?
A minimalist WordPress theme is essentially a design approach for WordPress websites that emphasizes simplicity. When we talk about minimalist WordPress themes, we're referring to themes that focus on content without overwhelming users with excessive design elements or flashy features.
Key characteristics of minimal WordPress themes include:
Clean layouts: Clear alignments, generous spacing, and a limited color palette.
Typography-Focused: Fonts are chosen for readability and aesthetics, often becoming a standout feature.
Reduced Graphics: Fewer images and animations, ensuring faster page loads.
Intuitive Navigation: Streamlined menus and clear call-to-action buttons.
Minimal WordPress themes are especially popular among content creators, like bloggers or writers. That's why you'll often hear about minimalist blog themes. They allow the content to shine without distraction, making them an ideal choice for writers who want their words front and center.
Budget-conscious or newbie users aren't left out either. The WordPress ecosystem offers free minimalist WordPress themes that still maintain quality design standards. While they may lack some premium features, they're a solid starting point for those looking to establish an online presence without committing financially. So, you should consider your budget for WordPress minimalist themes before making a choice.
In summary, if you're looking to create a WordPress website that provides a clear, direct focus on your content without unnecessary extras, exploring simple WordPress themes is a practical route. They provide a modern, professional look that can cater to various niches, from blogs to portfolios and more.
💻 How We Chose the Best Minimalist WordPress Themes
Here's a concise guide to help you choose the right minimalist WordPress theme for your needs.
Define Your Purpose: Before diving in, ask yourself: What's the primary goal of my site? If it's blogging, minimalist blog themes might be right up your alley. For a portfolio, you might want a minimal theme with an emphasis on imagery.
Quality Over Quantity: Don't get distracted by the sheer volume of minimal WordPress themes out there. Instead, focus on the quality. Look for themes with good reviews, solid customer support, and regular updates.
Budget Accordingly: While there are stellar free simple WordPress themes, sometimes it's worth investing in a premium theme for added features and support. Determine what you're willing to spend and filter your options accordingly.
Check Responsiveness: With many users accessing sites via mobile devices, ensure the minimalist themes you're considering are mobile-responsive. This ensures your site looks and functions well across all devices.
Test Drive: Most WordPress minimalist themes offer demos. Play around with them! This gives you a feel for the user experience and whether it matches your vision.
Consider Customization: How much do you want to tweak the theme? Some minimalist WordPress themes offer a range of customization options, while others stick to a fixed design.
Compatibility Matters: Make sure the minimalist blog themes you choose are compatible with essential plugins or tools you plan to use. This can save you a headache later on.
Remember, the goal is to find minimal WordPress themes that complement your content, align with your objectives, and offer a seamless user experience. With careful consideration of the points above, you'll be better equipped to make an informed choice.
🤝 Why You Should Trust Us
We've been doing this WordPress theme thing for over 8 years now so we know our stuff. Over 20k designs sold and a perfect 5-star rating from tons of happy customers show we get what makes a theme rock.
We've made 20 of our own premium themes and our most popular sold like over 8,600 times! That don't happen by accident - it means we understand what sites need to succeed online. Whether it's how they look or work, our themes are designed real careful to help folks make engaging spaces.
Plus we stand out as a Power Elite seller on ThemeForest, and only around 200 creators get that title. It shows we constantly put out quality designs.
When you pick a theme we suggest, you're in good hands. With our reputation and experience under our belts, you know our recommendations will do the job for your project. Let us help take the risk out of choosing - our expertise will point you towards themes that fit your style.
🔍 Top 14 Premium Minimalist WordPress Themes for Creating Incredible Websites
Astia is one of the contemporary and minimal WordPress themes meticulously designed for those who wish to showcase their photography and videography works with an elegant touch. This theme seamlessly merges simplicity with functionality, ensuring your media grabs the spotlight it deserves.
Key Features:
8 Importable Demo Sites in One Theme: With the unique Demo Switcher, you can effortlessly change the look of your site without affecting its content. When one style gets mundane, switch to another for a fresh look. So, if you are a creator, consider this one of the top minimalist blog themes.
Dark Mode: Astia is one of the best minimalist WordPress themes with dark mode. Enhance your user's viewing experience in low-light settings. The Dark Mode not only adjusts the aesthetics but emphasizes the content, and can be activated based on browser preferences or via a manual toggle.
Smart Colors: This intuitive feature adjusts text and link colors based on your header or footer's background color. Simplifying the design process, it determines the optimal color contrast for readability.
Pricing:
Astia is priced at $69, offering users a wealth of premium features that not only enhance website aesthetics but also its functionality. Given its extensive range of tools and adaptability, Astia is a valuable investment for professionals aiming for a standout portfolio.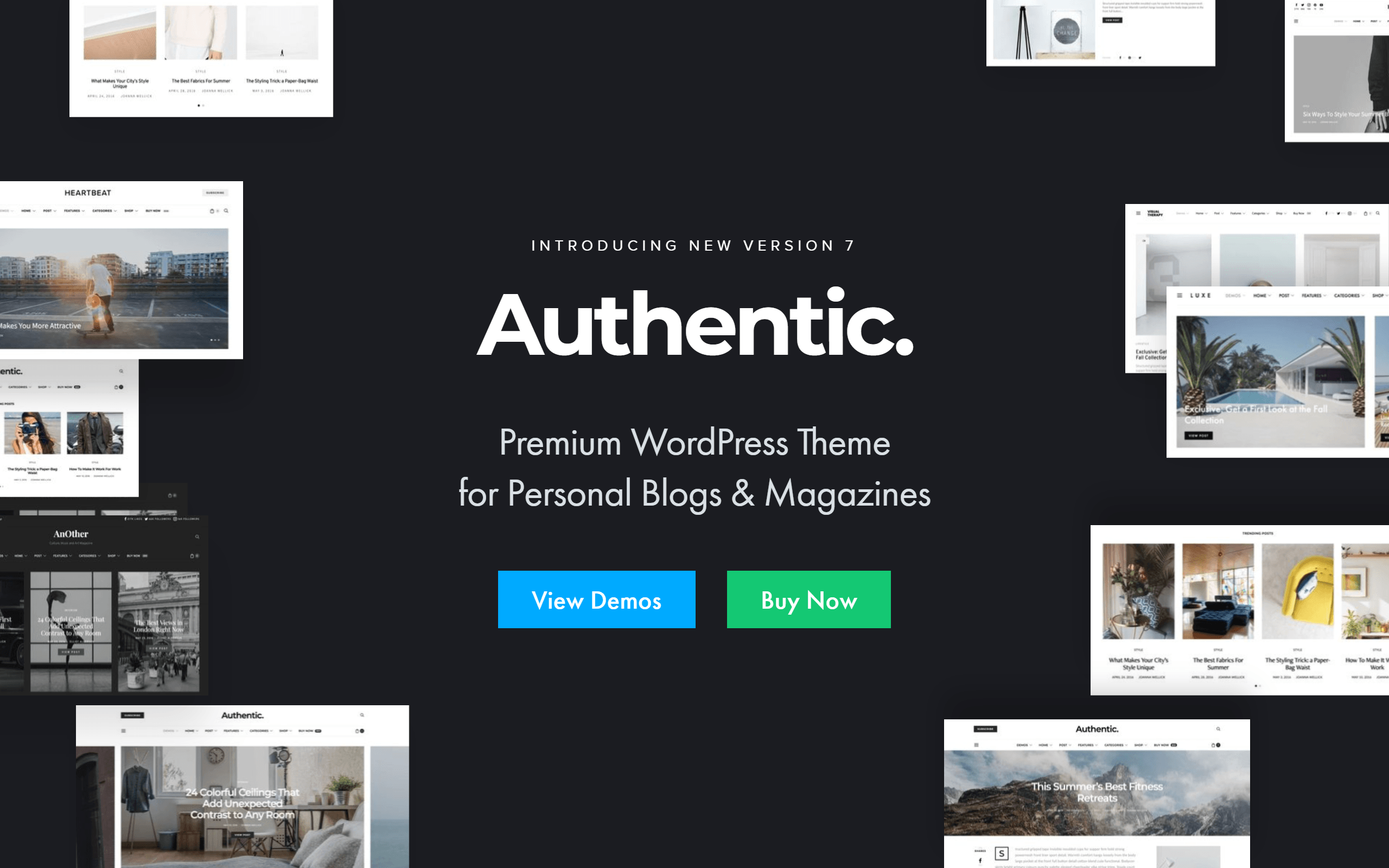 Authentic by codesupplyco is one of the most used premium WordPress minimalist themes for designing light and minimal websites. The theme is best suited for blogs and magazines and comes with hundreds of features to make your site unique and striking.
Authentic gives your site a super clean look to allow better readability and a pleasant user experience. Although the theme has many customizable options, it is still effortless and less time-consuming to design. You will get multiple post header variants, archive types, and gallery types to display your content as you desire.
Authentic provides social media buttons to allow readers to share your content and increase reach on Facebook, Twitter, and Instagram. In addition, it has a highly responsive design and excellent content formatting features to make your site look stunning without using any code. Furthermore, the great after-sales support makes Authentic trustable.
Key Features:
Super Clean Design: Authentic offers a minimalistic approach to content, ensuring visitors a focused and enjoyable reading experience.
High Customizability: With only the essential options available, this theme is easy to set up while still providing a personalized touch.
Social Engagement Tools: Integrated Pinterest buttons and sticky share icons guarantee maximum online engagement for your content.
Pricing:
The Authentic WordPress Theme offers incredible value and stands out in its class, all available at a competitive price of just $69.
Why is Authentic Our Top Pick?
It has a super clean and minimal design that will keep your site looking sleek without getting in the way of your content. Things are laid out nice and simple so readers can easily scroll through. And that's exactly what we are looking for.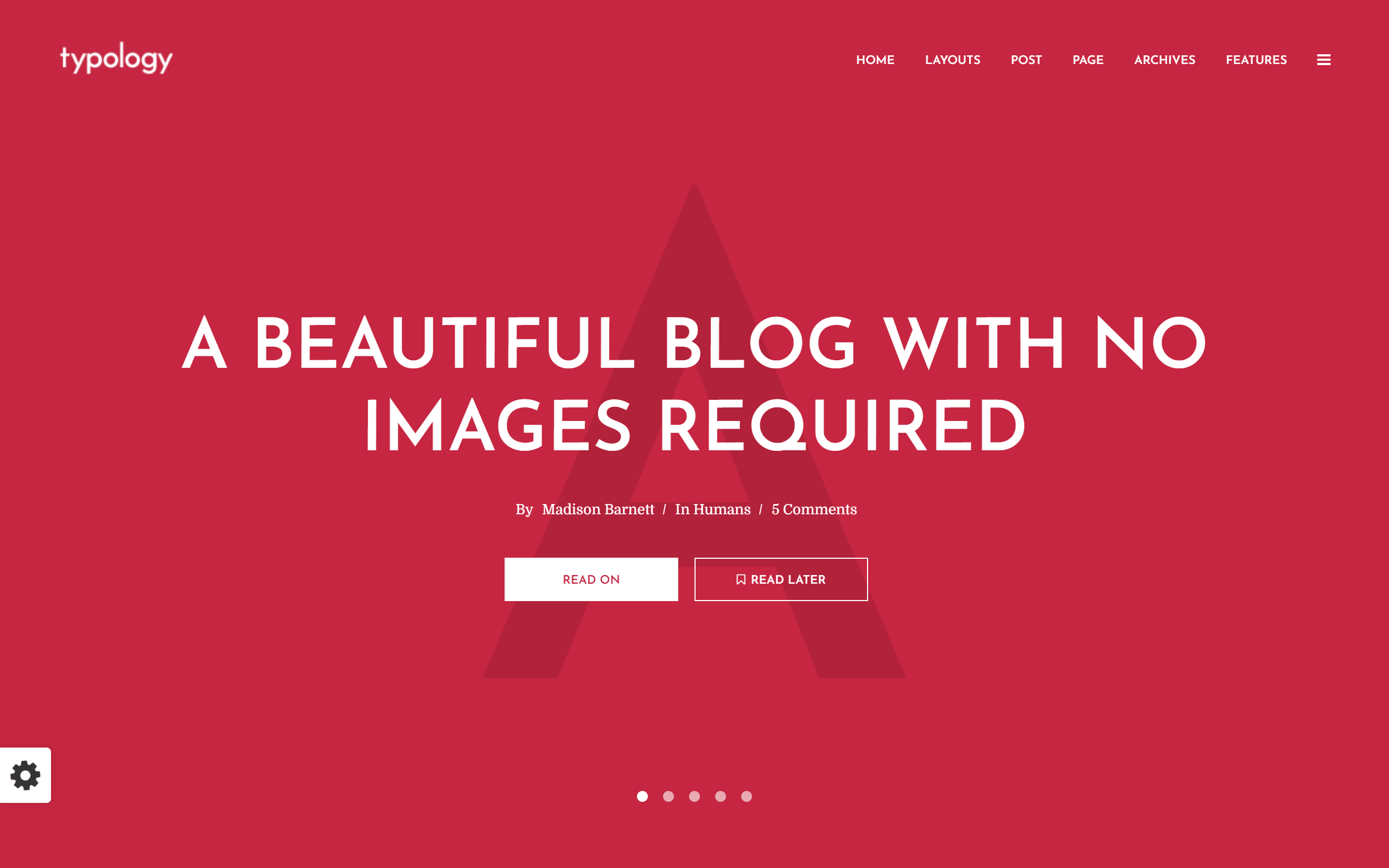 Typology is a modern, text-centric WordPress theme ideal for writers, authors, bloggers, and anyone who wishes to focus primarily on the written word. This one is included on our best minimalist WordPress themes list for a reason!
Its unique minimalist design, which emphasizes typography over imagery, ensures that your content remains the focal point. Whether you're an author, a poet, a developer, or simply someone who cherishes a distraction-free writing environment, Typology offers a space where words can shine.
Key Features:
Emphasis on Typography: At its core, Typology is a celebration of the written word. It provides users with a broad range of fonts and meticulous typography controls, allowing for precise customization of text size, letter spacing, and overall appearance.
Customizable Home Page & Post Layouts: Typology is not just about aesthetics; it's about functionality. The theme gives users the ability to curate their homepage with various content sections. Additionally, it offers multiple textual post layouts to ensure that every piece of content is presented in the most fitting manner.
One-click Demo Import & Updates: For those who wish to set up quickly, Typology comes equipped with a one-click demo content import. Moreover, with its integration with the Envato official API, users can receive and apply updates effortlessly.
Pricing:
Priced at $59, Typology is an investment in clarity and minimalist design. Considering its extensive range of features, from typography controls to WooCommerce support and more, this theme offers considerable value.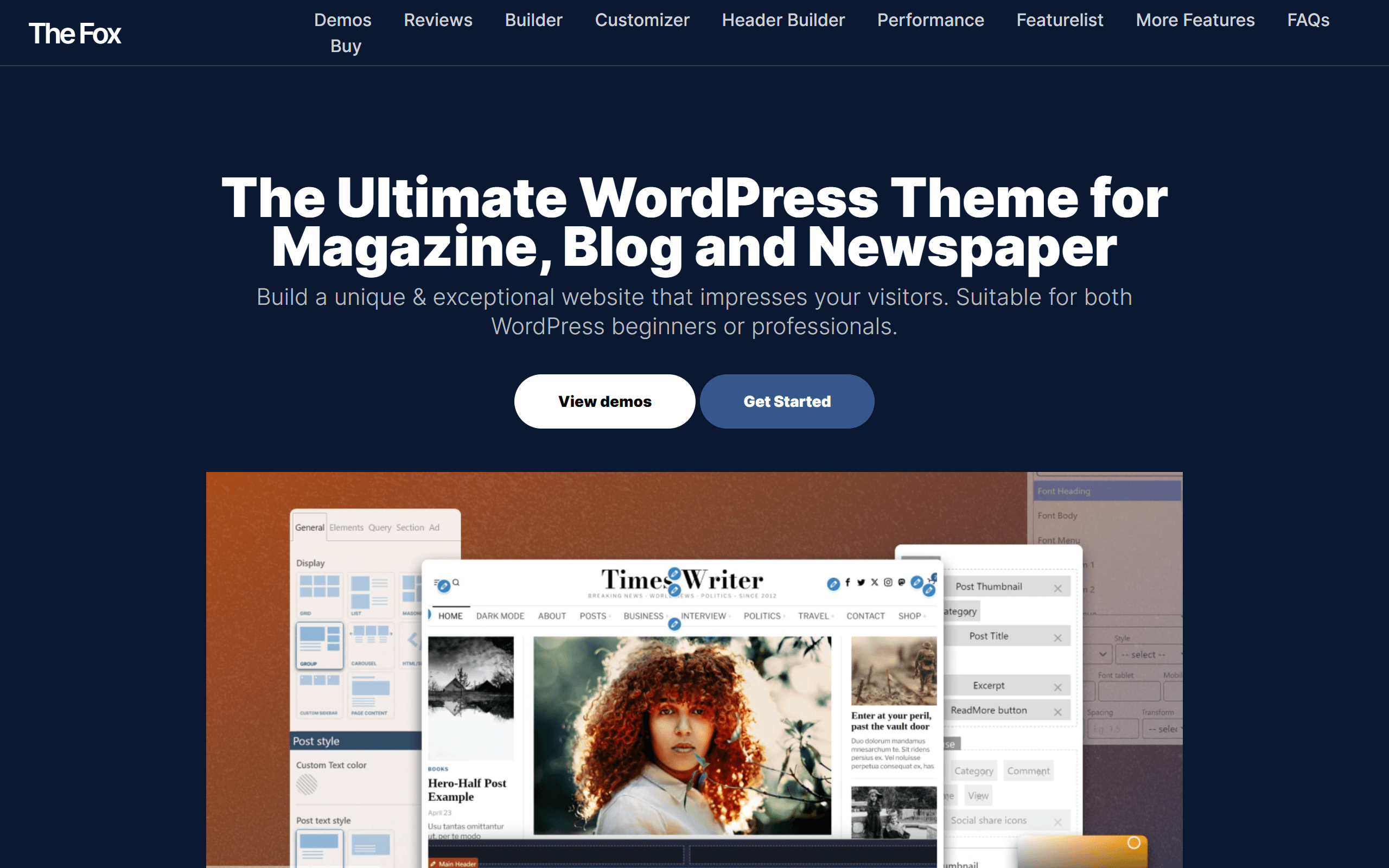 If you are looking for a fast, SEO-friendly theme that allows you to create a fabulous website within minutes, you should go for Fox. The theme provides you with 20+ pre-built demos that you can import with one click and further customize to adjust every little detail on your site.
The Fox has an impressive dark mode option that gives a dramatic look at low light. It comes with a useful homepage builder to help you make an appealing home page. From Helvetica, Arial, and Georgia, to many Google fonts, Fox provides you with plenty of options for fonts so that you can express your persona freely. Moreover, there are five header layouts, nine footer layouts, and unlimited sidebars to meet all your needs.
Key Features:
Live Posts: The Fox is the best minimalist WordPress theme that allows you to broadcast live events on your website, enabling you to engage with your audience in real-time. This feature is particularly useful for covering live sports events, conferences, webinars, or any other live content you want to share with your readers.
Product Review System: The Fox comes with a built-in product review system that allows you to create and display detailed product reviews on your website. This feature is particularly useful for affiliate marketers or businesses that sell products and want to provide in-depth reviews to their audience.
Different Post Formats: The theme supports various post formats, such as standard, gallery, video, audio, and quote formats. This flexibility allows you to present your content in different ways, enhancing the visual appeal and engagement of your website.
Pricing:
The Fox WordPress theme is available for purchase at an affordable price of $59. This one-time fee provides you with a lifetime license for the theme, including access to future updates and customer support.
If you are looking for the best minimalist WordPress themes for a creative blog or magazine, you will love this theme. The Affair makes it into our list of premium minimalist WordPress themes because of its striking design and highly effective features.
The theme comes with seven creative demos with entirely different elements and multiple archive layouts to easily create your homepage or archive page. You can integrate your social media feeds on the site to increase your following on Instagram, Facebook, Pinterest, etc.
You will get numerous valuable options like a hero section for displaying an attractive logo or title, a featured post section for creating an amazing grid of posts, ads spots to easily monetize your blog, optimized image size for saving disk space, retina images to make your site look stunning, and so on. All these options mixed with creativity will make your site unstoppable.
Key Features:
Minimalist Design: The Affair stands out with its clean and uncluttered design. This minimalist approach ensures that the content, be it text or visuals, remains the main focus, providing an enhanced reading experience for visitors.
Versatile Content Presentation: The theme comes equipped with a variety of options and features such as slideshows, galleries, and the ability to highlight specific text and images. This versatility ensures that content creators have ample tools to present their work in a unique and engaging manner.
Adobe Fonts Integration: While some demos utilize Adobe Fonts (previously known as Typekit), the theme offers flexibility. If Adobe Fonts are unavailable, they will seamlessly be replaced with default fonts or Google Fonts, ensuring that the typography remains consistent and elegant.
Pricing:
The Affair WordPress theme is priced at $59. This investment includes not just the theme itself but also the regular updates and features it comes with.
A common misconception is that minimalist themes make your website boring and unattractive. Veen is one of the best examples that challenges the above thinking.
This super modern theme gives your site an incredible look and, at the same time, enhances its readability. The light pages decrease the load time and make it fast even with a slow internet connection. The best thing about Veen is that it provides numerous options for home pages, post styles, and widgets to control every minute detail.
The theme is the best for personal blogs like photography, travel, cooking, art, crafts, etc. Furthermore, you get premium support to overcome bugs or ask any site-related questions. No doubt, if you want to make an eye-catching website, Veen can help you achieve your goal.
Key Features:
Optimized Performance: Veen stands out with its light and modern design, boasting a minimal size of just 1.5 MB. The theme is equipped with multiple techniques to ensure excellent Google scores, optimized and minified code, as well as AMP support in transitional mode.
Versatile Content Display & Customization: The theme offers various post-disposition styles, from full-width options with or without sidebars to classic image-inside-article styles. Additionally, it supports Lazy Load for posts, lists, and embeds, enhancing page load times. Custom pages like Tag, Author, and 404 are also available, enriching the user experience.
Extensive Widget & Ad Support: Beyond the 11 custom widgets, Veen incorporates dedicated advertising sections at strategic positions such as below the header, around post content, and between grid posts. The theme also champions sticky sidebars, Disqus and Facebook comment support, and widgets tailored for personal elements like "About Me" or custom galleries.
Pricing:
Priced at a competitive $45, the Veen is one of the minimal WordPress themes that offers bloggers and creators a feature-rich platform that doesn't compromise on aesthetics or functionality.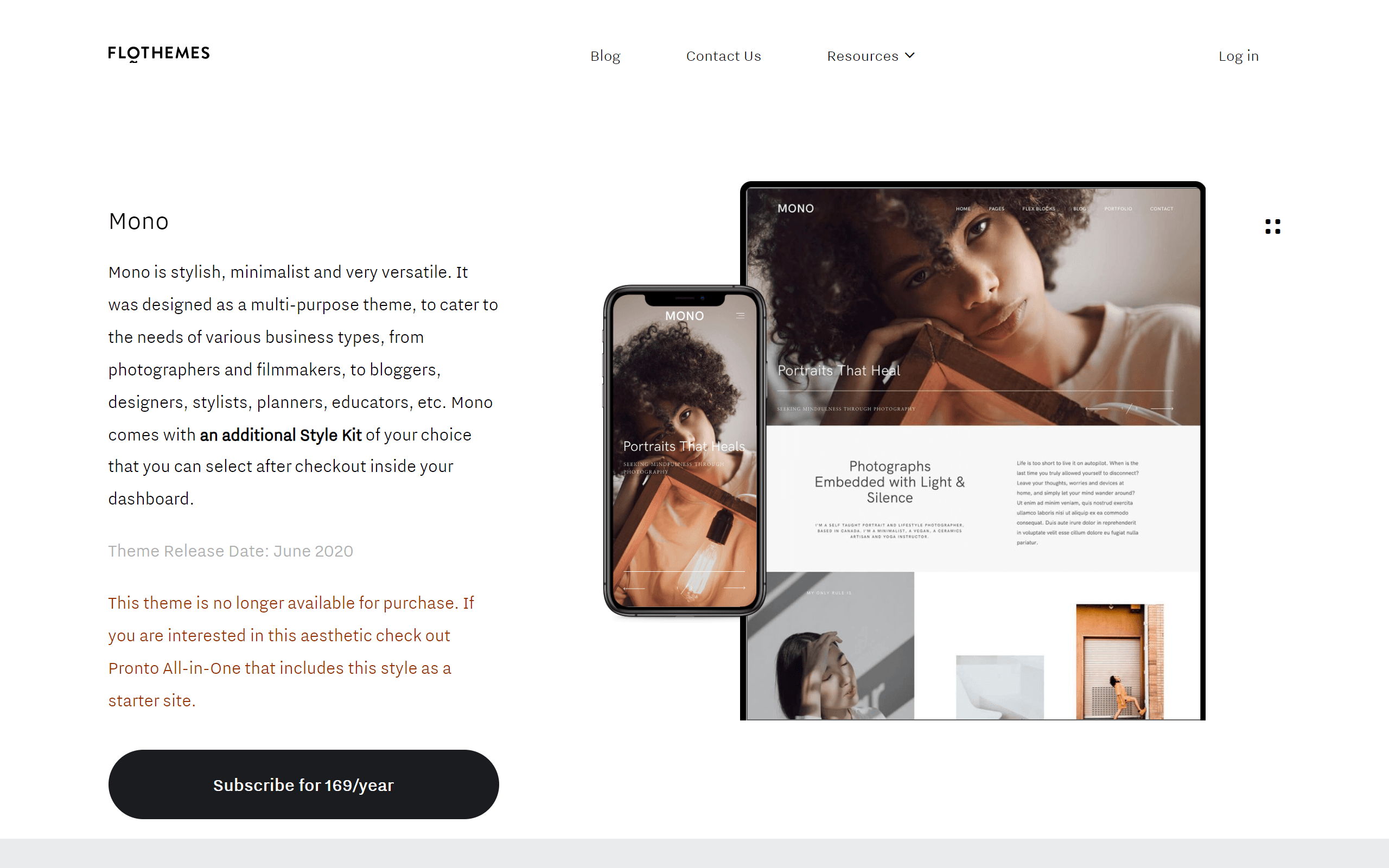 If you want your visitors to spend more time on your content and not get diverted by the complex and overwhelming design, you will certainly love Mono. This minimalist WordPress theme ensures a simple and coherent design to make your site stand out from the crowd.
The theme is an excellent choice for bloggers, stylists, and educators. It can be fairly considered the best WordPress theme for photographers and filmmakers. If you want to design and manage your site effortlessly without writing any code, Mono will be a good choice.
Key Features:
Versatility with Style Kits: Mono stands out with its ability to transform aesthetically through various style kits. Users can easily get a preview of how the theme adapts to each style kit with a simple click, ensuring that the theme resonates with their brand's personality and requirements.
Comprehensive Page Templates & Blocks: The theme comes packed with 23 distinct page templates, granting users the flexibility to craft their online presence meticulously. Additionally, with over 90 predefined FlexBlocks and 30+ WP base Blocks, users are equipped with the tools to create unique, dynamic pages seamlessly.
Extended Support & Add-Ons: Those looking to enhance their experience with Mono can opt for the Extended Support package, which not only offers prolonged technical support but also provides free access to the newer Flextheme version, "Pronto", and two years of complimentary access to FloForms Pro.
Pricing:
The Mono theme is one of the best minimalist WordPress themes and is priced at a premium of $169 per year, reflecting its expansive feature set and adaptability.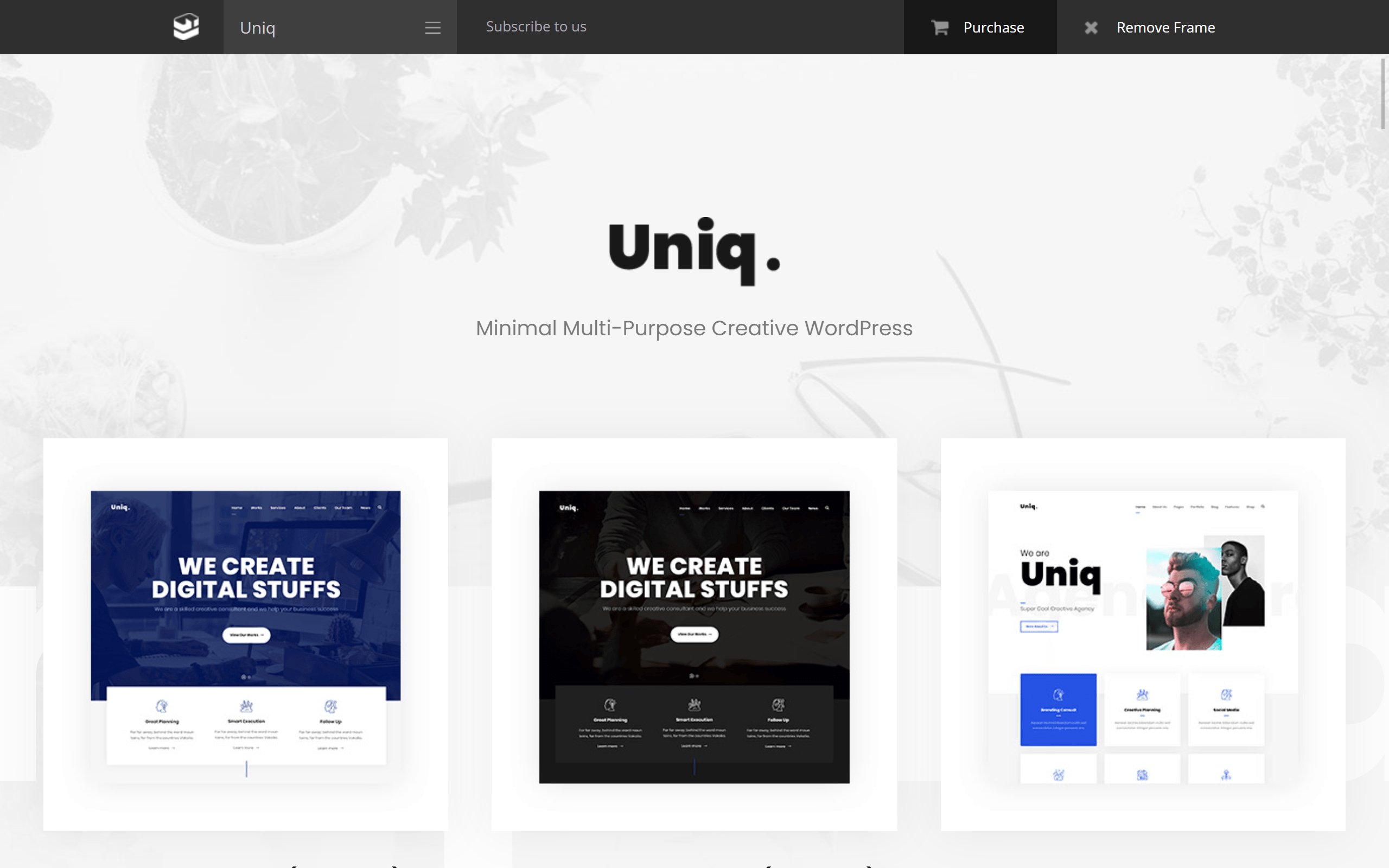 It is very challenging to find a minimalist theme that can be used for more than one purpose. Uniq is one such theme, which finds its application in creating responsive sites for businesses, creative agencies, freelancers, artists, graphic designers, etc.
Uniq comes with high-quality demo pages that give your site a professional look with a single click. Demo importer, multiple header and footer layouts, floating navigation, and sidebar options allow you to take complete charge of your site and design every corner. The theme provides an advanced admin panel that lets you control everything like layout, style, color, template, etc.
Key Features:
Drag Drop Page Builder & Customization: Uniq comes with a Drag Drop Page Builder, allowing users to craft their web pages with ease and precision. Coupled with the WP Live Customizer, users get real-time feedback on the changes they make, streamlining the design process.
Versatile Layouts for Content Presentation: Catering to a variety of content types, Uniq boasts 14 distinct blog layouts, 9 portfolio layouts, and 6 gallery layouts. This diversity ensures that users can present their work or content in a manner that aligns best with their vision.
Extensive Support & Integration: Beyond its design functionalities, Uniq offers comprehensive support features, including in-depth documentation and video tutorials. The theme is also primed for global audiences with WPML support and for e-commerce enthusiasts with full WooCommerce support.
Pricing:
Priced at $64, the Uniq theme offers a gamut of features that justify its cost. The theme not only provides design versatility but also ensures that users have all the tools they need to set up, customize, and run their websites with ease.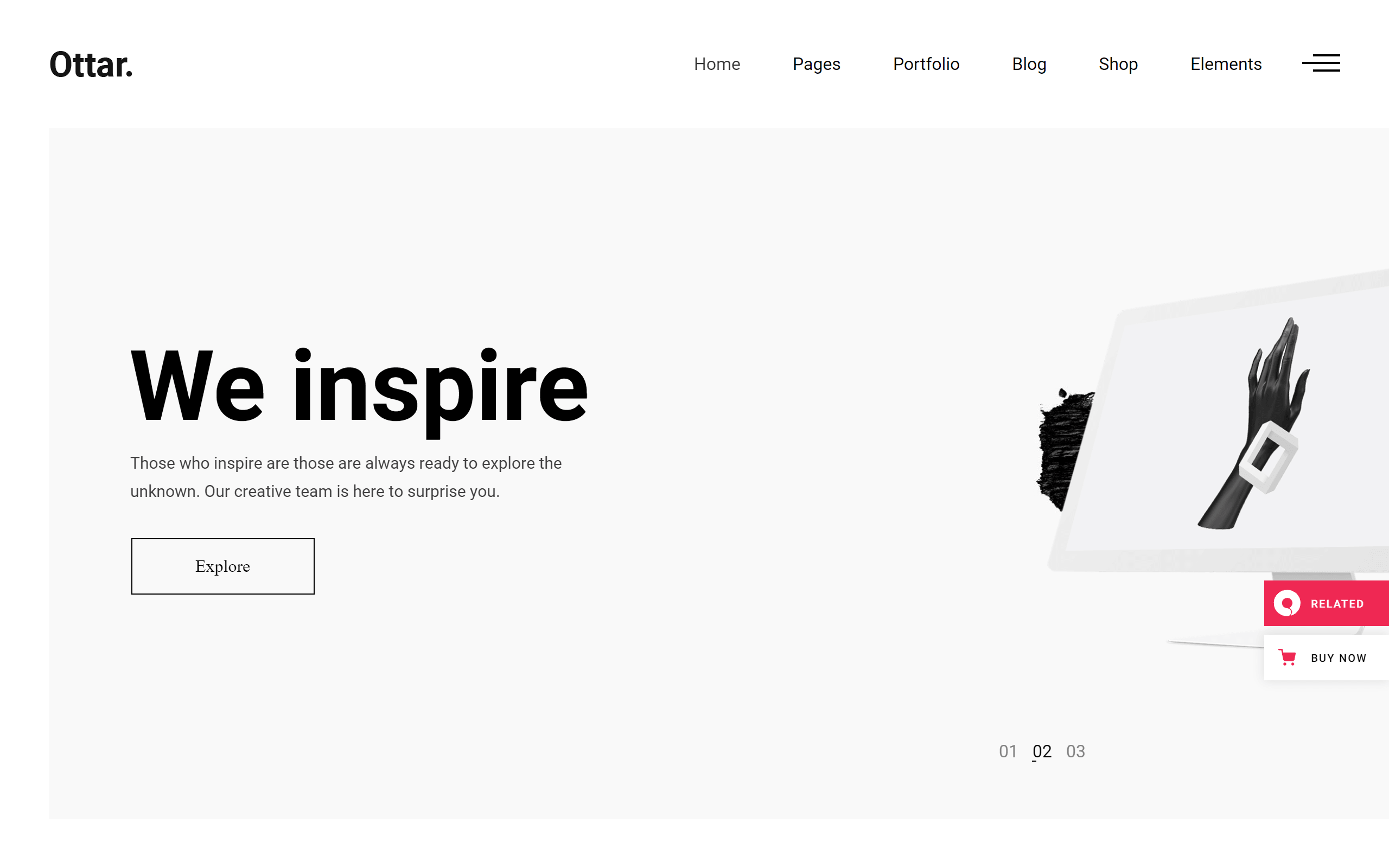 Ottar is a powerful portfolio WordPress theme that provides clean and simple design features. It will help you create an impressive showcase of your work.
The best thing is the retina-ready responsive style of Ottar, which gives a website a stunning look. Furthermore, you will get valuable shortcodes like Portfolio List, Element Holder, Testimonials, Animation Holder, Twitter List that will allow you to create extraordinary portfolios.
Ottar is definitely the best minimalist WordPress theme, it also has tech-easy widgets like Instagram Feed, Blog List, Social Icons, Header, etc., to help you achieve various goals with one click. The theme has plenty of excellent features, and we encourage you to take a look at the demo.
Key Features:
Diverse Portfolio Layouts: Ottar is not just about showcasing; it's about showcasing with style. Users have multiple portfolio layouts at their disposal, from masonry and carousel to metro styles. Portfolio lists come with various hover types, pagination options (like Standard, Load More, and Infinite Scroll), and even article animations.
Comprehensive Shortcodes and Plugins: Ottar comes bundled with the WPBakery Page Builder Plugin and the Slider Revolution Responsive WordPress Plugin, enriching the website-building experience. A plethora of custom shortcodes, including Portfolio Slider, Vertical Split Slider, and Bordered Carousel, ensure versatility in design and function.
Advanced Customization and Responsiveness: The theme prides itself on its powerful admin interface, allowing one-click demo imports. Responsiveness and retina readiness guarantee that the site looks impeccable across devices. With additional features like parallax images in sections, video and image backgrounds, and customizable headers, the flexibility and adaptability of Ottar is beyond commendable.
Pricing:
Priced at $85, Ottar is more than just one of the typical minimalist WordPress themes — it's an investment into an online brand identity. Its extensive feature set, combined with its aesthetic appeal, justifies the price tag, especially for those in the creative realm looking to make a striking online impression.
Remake is another minimalist portfolio WordPress theme that helps you enhance the user experience on your site. You can use this modern theme to showcase your own creativity or make an agency website to increase platform engagement.
Remake is among the best minimalist WordPress themes that comes with super amazing layouts, beautiful typography, and versatile demos that enable you effectively design a website effectively. The theme supports GPU-accelerated animations, fully optimized code, and on-request thumb generation that dramatically increases the page speed.
What makes Remake one of the best minimalist WordPress blog themes is compatibility with the most useful plugins like Elementor, WooCommerce, Mailchimp, etc.
Key Features:
Versatile Templates and Layouts: Remake boasts 7 distinct Project Sliders and numerous Portfolio Styles, ensuring that every project gets its deserving spotlight. With 10 pre-configured templates, users can easily highlight their projects and weave intricate digital agency narratives. Whether it's a personal portfolio or an expansive agency presentation, Remake is adaptable to diverse content needs.
Built with Elementor and CoWidgets: Remake seamlessly integrates with the revered Elementor page builder, offering a real-time design experience. With the addition of CoWidgets, users get a plethora of customization options. From crafting unique headers and footers to curating unique website sections, the combination of Elementor and CoWidgets makes website building a breeze.
Performance and User Experience: Beyond its design, Remake is engineered for speed and efficiency. It's programmed to load only essential resources, ensuring a swift and smooth browsing experience for visitors. Features like the Dot Mouse Cursor and parallax backgrounds add layers of interactivity and depth to the user experience.
Pricing:
Priced at a competitive $59, Remake is not just another theme in the market; it's a comprehensive toolkit for digital storytelling. This is a minimal WordPress theme that promises not just a platform to host content, but an interactive space that resonates with audiences.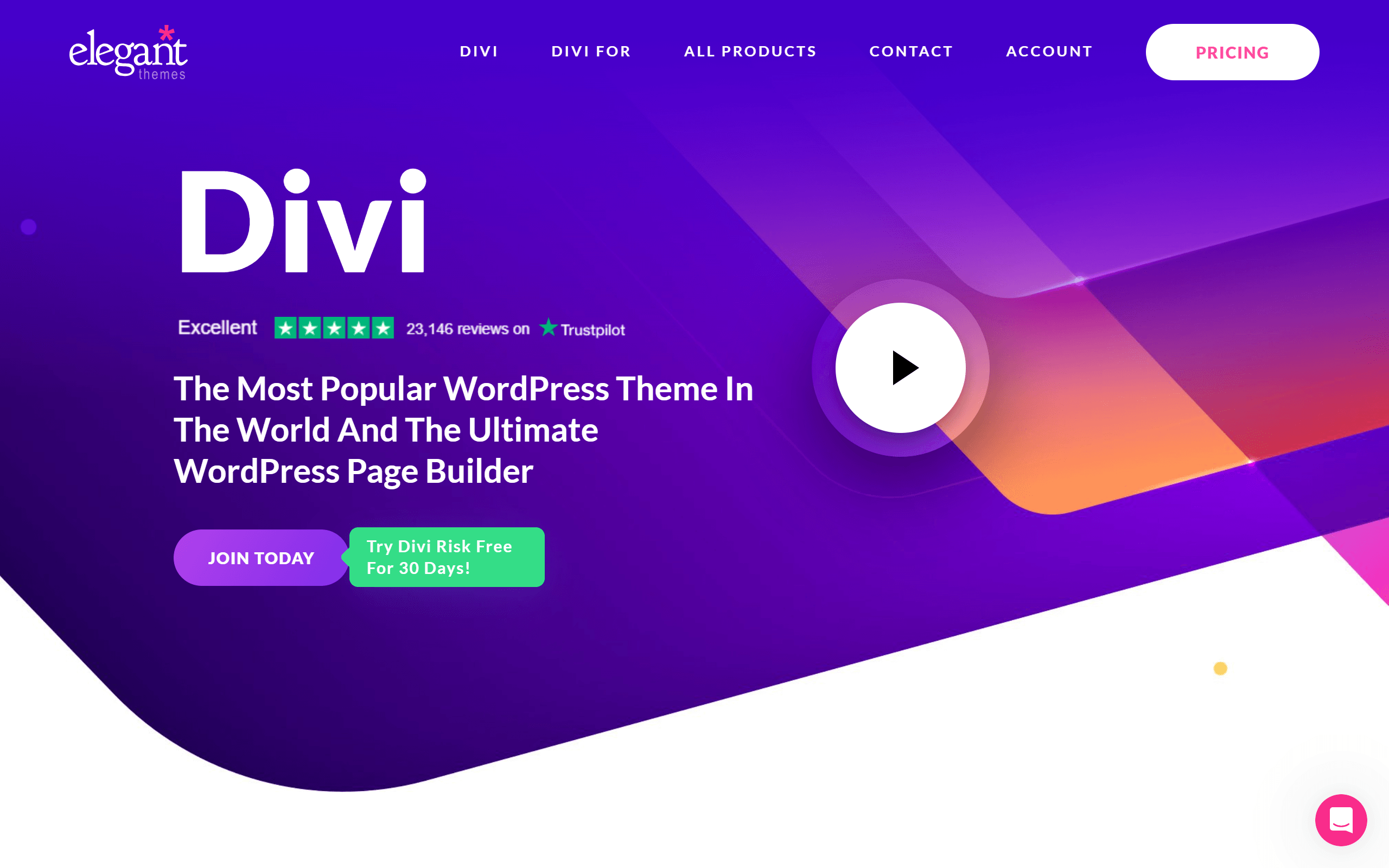 Divi is one of the most popular minimalist WordPress themes, which takes website design to a whole different level. It's more like a website-building platform that provides you with an advanced visual editor to make splendid designs effortlessly.
Divi supports inline text editing to help you see the results as you type. It provides you with global element design settings to manage how your entire site looks and have better control.
You will find more than 40 templates for a call to action, galleries, testimonials, blogs, etc. In addition, Divi comes with over 800 website demos for various niches like business, technology, beauty, health, services, etc.
Key Features:
Innovative Visual Building: At the heart of Divi is its groundbreaking Drag & Drop Building feature. With Divi, you can seamlessly add, delete, and rearrange elements on the front end, all without delving into code or sifting through backend options. Its True Visual Editing ensures that what you see is precisely what you get, allowing you to mold your design in real time with instantaneous results.
Extensive Design Options & Global Elements: Divi is a treasure trove of design elements and options. With a myriad of unique page elements and a plethora of design options, Divi puts you in the driver's seat, giving you unrivaled control over your website's aesthetics. Beyond individual pages, Divi's Global Elements & Styles empowers you to oversee the design of your entire website, ensuring a coherent and captivating design language across all pages.
Efficient Design Management & Undo Features: Divi is not just about crafting; it's also about efficiency. With the ability to save and manage countless custom designs, you can quickly bootstrap new pages using previously crafted designs. Additionally, mistakes are no longer a cause for panic. With Divi's modern software-like interface, you can effortlessly undo, redo, and navigate through your editing history, ensuring that you're always in control.
Pricing:
Divi's pricing structure is as flexible as its design capabilities, starting from $89 and scaling up to $249 based on the licensing you choose.
To get this best WordPress theme builder, don't miss grabbing the Divi Discount to get a 10% price cut offer.
There are very few minimalist themes that can make your site super light and dramatically increase the scores on Google. Reco is one of them. It is one of the fastest WordPress themes that takes around 2s to load, even in 3G networks.
The code used to make this theme is highly SEO-friendly, which will help you get high traffic from search results. Reco also supports RTL and multi-languages, including English, Spanish, French, Russian, etc., allowing you to target audiences from various countries. In addition, it comes with many custom pages, post styles, and custom widgets to let you efficiently design your site like a pro.
Key Features:
Performance & Design: Reco's essence lies in its super light and contemporary design. Built with multiple techniques, Reco is optimized to ensure top-notch performance, making it an excellent choice for those prioritizing speed without compromising on aesthetics.
AMP & Multilanguage Support: Recognizing the need for faster mobile experiences, Reco is equipped with AMP support, ensuring your content loads swiftly on mobile devices. Moreover, Reco is one of the rare minimalist WordPress themes that transcends language barriers, coming prepackaged with translations for English, Spanish, Russian, Turkish, and French.
Ease of Customization & Updates: With a potent theme options panel, 9 custom widgets, and bundled tools like ACF Pro, Reco simplifies the administration and customization process for its users. Additionally, with features like One Click Updates, you can ensure that your theme remains up-to-date, leveraging the latest features and optimizations.
Pricing:
Priced at $54, Reco offers a treasure trove of features and capabilities that truly make it a value proposition. For those seeking a harmonious blend of design elegance, speed, and versatility, Reco's price point offers significant value, making it one of the best minimalist WordPress blog themes.
Most news websites are tightly packed with content, designs, ads, and widgets that never allow you to focus on one thing and reduce the user experience. Newsblock is one of the best minimalist WordPress themes that acts as a savior in this case.
This minimal theme for news and magazine websites ensures a clean and modern design for increased readability. Newsblock comes with nine incredible demos that you can import at any time without affecting the content on your site. These demos ensure that you never get bored with any one template.
Furthermore, this is one of the best minimalist WordPress themes that has features like dark mode to increase the viewing experience, modern customization with real-time preview, multiple archive layouts for flexibility, sticky navigation, and a sidebar for efficient design. Newsblock makes your news website stand out from the crowd and helps you make your content more engaging.
Key Features:
Dynamic Demo Switcher: One of Newsblock's standout features is its Demo Switcher, allowing users to effortlessly transition between its 9 exquisitely designed demos without impacting existing content. This ensures your website can have a fresh look whenever you desire, offering versatility and adaptability.
Dark Mode with Smart Color Adaptation: The dark mode isn't just a trend, but a feature that offers comfort and focus to users, especially in low-light settings. This is one of the minimalist blog themes with dark mode that's intuitively designed, automatically adjusting based on browser settings or manual toggle. Furthermore, its smart color adaptation ensures that when dark backgrounds are selected, the textual content adjusts to maintain visibility and readability.
Live Preview Customization: Say goodbye to the redundant cycle of adjustments followed by manual page refreshes. With Newsblock, every change made in the theme options can be previewed live, streamlining the customization process and offering an instant glimpse of the end result.
Pricing:
For a price tag of $69, Newsblock stands out as a comprehensive solution for content-driven websites. This price isn't just for a theme but for a multitude of features that can revolutionize the way you present your content.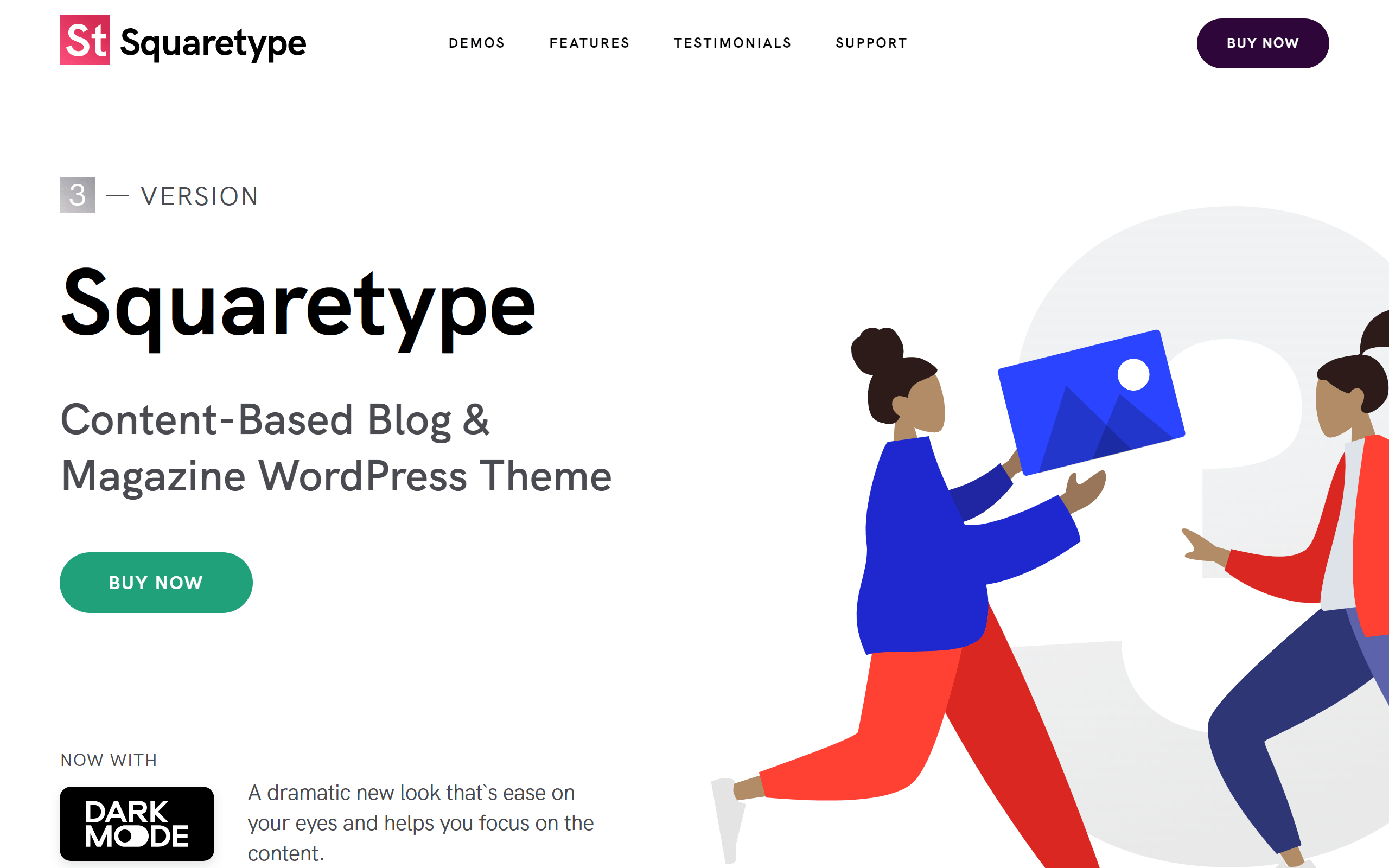 Squaretype is another best minimalist WordPress themes that you can use for content-based blogs and magazine sites. This modern theme lets you post your content in a neat and readable format making readers spend more time on the platform.
It supports optimized CSS and optional loading which makes it extremely lightweight and fast. Just like the above theme, Squaretype has nine demo sites that can be changed anytime to get exciting new designs. In addition, it comes with a mega-menu option that shows previous posts with a thumbnail in the menu dropdown.
The pagination option helps you divide your posts into more than one page and lets readers easily navigate your site. The dark mode further gives an incredible look and helps readers relax their eyes in low light conditions. Trust us, we picked the best minimalist WordPress blog themes that are super useful if you are a beginner and want to start your blog.
Key Features:
Adaptive Hero Section: The Hero Section is your website's spotlight. This is one of the minimalist WordPress themes that showcase your featured posts in diverse layouts and variations, enhancing your homepage's visual appeal. From solid colors and gradients to engaging post-preview images, the Hero Section also offers different heading sizes and customizable background options.
Smart Color Technology: Squaretype's intelligent design automatically adjusts text and link colors based on the chosen background color for headers or footers. This ensures optimal readability and aesthetic coherence, eliminating the hassle of manual color adjustments.
Instant Live Preview Customization: Experience a dynamic and real-time customization process. Squaretype integrates the native WordPress customization feature, allowing you to preview changes live. Gone are the days of toggling between settings and your live site; now, see your edits come to life instantly.
Pricing:
For a competitive price of $59, Squaretype offers many features that propel it beyond just another WordPress theme. It encapsulates the essence of modern-day digital publishing by providing functionalities like the Hero Section, smart color adjustments, live previews, and many more.
🖥️ 5 Best Free Minimalist WordPress Themes for Beginner Creators
Phlox by Averta is one of the best free minimalist WordPress themes, which is lightweight and highly customizable. You can use this theme for different types of sites, including blogs, magazines, businesses, WooCommere stores, travel and photography websites, etc.
The theme is impressively fast and responsive, which makes a website efficient on all types of devices - computers, tablets, phones. Besides, Phlox is SEO-friendly, has professional portfolio features, and contains many exclusive widgets and elements that provide an easy way to control the design without writing any code.
Key Features:
Expansive Template Library: Phlox is one of the free minimalist WordPress themes that boasts an extensive collection of over 200 pre-designed website templates, catering to a diverse array of niches such as business, shopping, services, creative works, and more. This vast selection ensures that users, regardless of their industry, can find a design that resonates with their brand and purpose.
Visual Page Builder with Advanced Elements: At the heart of Phlox lies its Visual Page Builder, an advanced tool that emphasizes real-time editing and customization. This builder introduces features like "Copy Paste", "Undo & Redo", and over 30 exclusive elements for Elementor, ensuring that users can craft their sites with precision and creativity.
Responsive Design & Advanced Image Handling: Recognizing the diverse range of devices used to access websites today, Phlox has been designed with a "Mobile First" approach. It ensures optimal viewing and interaction experiences across all devices. In addition, Phlox's advanced image handling capabilities, including adaptive images and advanced image preloading, ensure swift loading times and an enhanced user experience.
Pricing:
At the competitive price of $39, Phlox presents a compelling offer for those in search of a comprehensive WordPress theme. Given its vast array of templates, advanced visual page builder, and an assortment of features aimed at enhancing site performance and aesthetics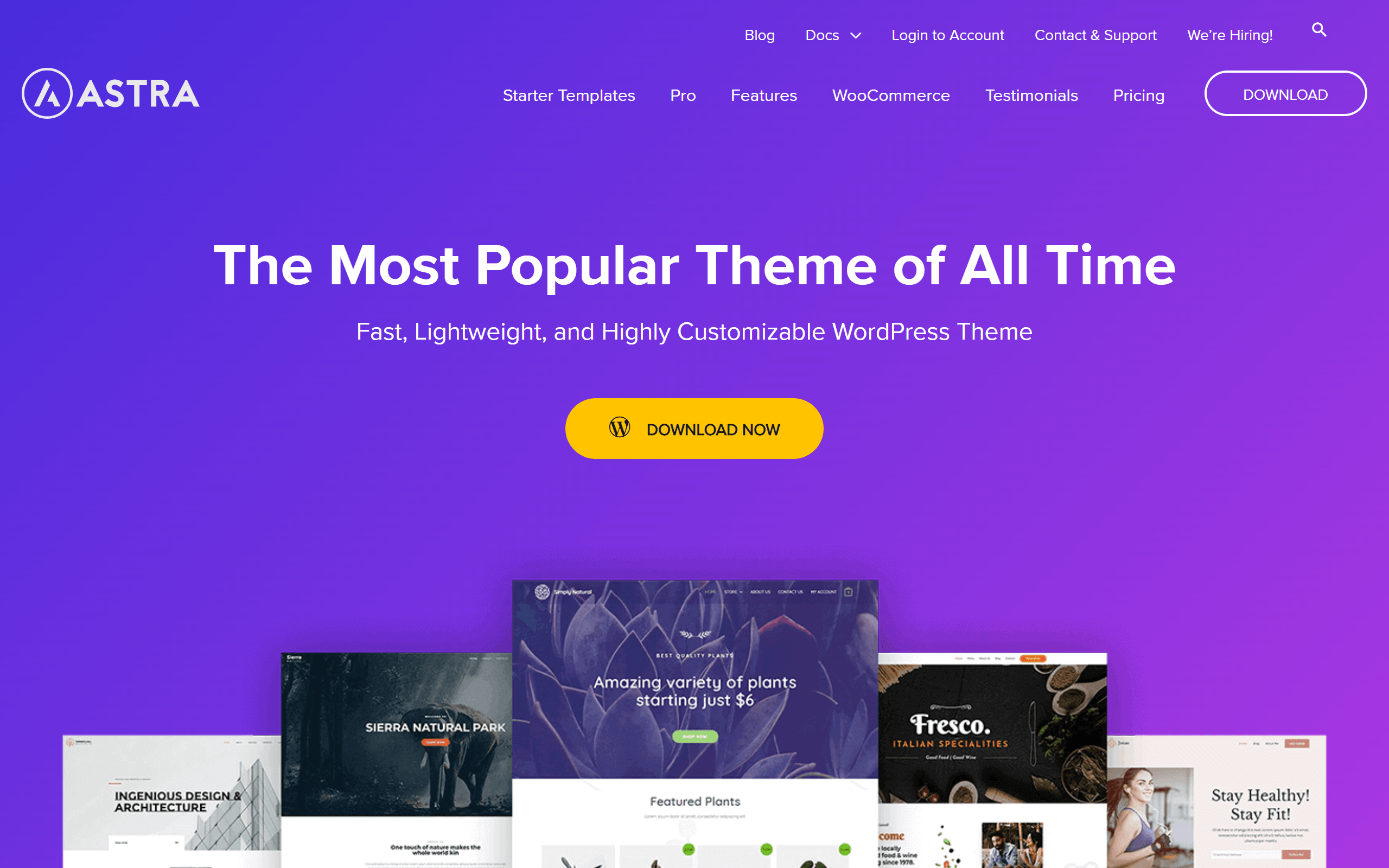 Astra by Brainstorm Force is the most popular WordPress theme which is used in more than 1.6 million websites and has been rated five stars by more than 4500 users. The theme provides a perfect minimalist look and makes a website appear systemized and splendid.
Astra is known for its lightweight websites with unparalleled speed. It has the most extensive library of pre-built demos and starter templates, making website design fast and effortless.
In addition, it gives you complete freedom to develop as you want, providing you with many settings for headers, footers, and sidebars. Not to mention, you can use this theme for almost all niches.
This option is among free minimalist WordPress themes that also support popular page builders like Elementor, Beaver Builder, Visual Composer, SiteOrigin, etc. If you are looking for a trustable, fast, and SEO-friendly minimalist theme, you have got to choose Astra.
Key Features:
Pre-Built Websites: Reduce the time you spend designing a website with the help of pixel-perfect ready-to-use demos from Astra's starter template library.
Customize Without Code: Astra is one of the top minimalist WordPress themes that's built with the user in mind. It offers extensive design options via the WordPress Customizer, eliminating the need for any coding expertise.
Made for Page Builders: Enjoy complete design freedom with features like turning off the page title and sidebar, enabling you to create full-width pages seamlessly.
Pricing:
Astra offers its services at a range of $47 to $187. The variety in pricing ensures that users have the flexibility to choose a package that fits their needs, be it for a basic blog or a comprehensive e-commerce platform.
3. 🏅 Our Pick - Neve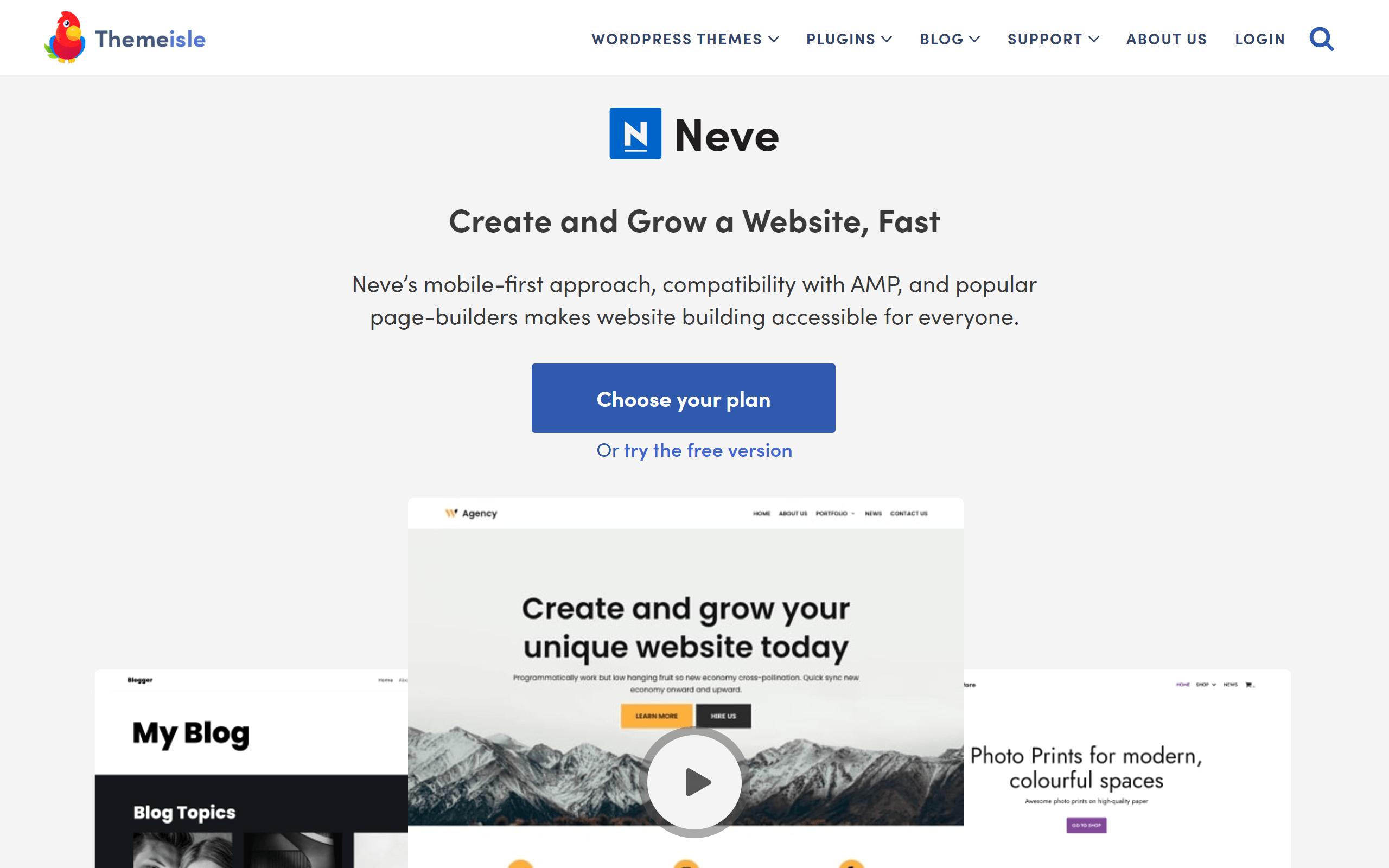 Neve by Themelsle is another free minimalist WordPress theme with clean code to make your website fast and lightweight. The theme designs appear lucid and aesthetically pleasing without useless details and distractions.
Neve is AMP optimized and has a responsive design, which allows a website to load quickly on any device without damaging the style. In addition, it is SEO-optimized to ensure that search engines prefer your site over others and it gets high traffic. Besides, the theme supports the Guttenberg editor and other page builders like Elementor, Brizy, Beaver Builder, etc.
You can use this minimal WordPress theme for blogs, businesses, and WooCommerce storefronts and experience the flexibility, simplicity, and effectiveness of the theme.
Key Features:
Custom Header and Footer Builder: You can tailor the look and feel of your site's header and footer using a drag-and-drop interface with this best minimalist WordPress theme.
Integration with Page Builders: Neve seamlessly integrates with popular page builders such as Gutenberg, Elementor, Beaver Builder, Brizy, Visual Composer, and Divi, making website design a breeze.
100+ Ready-to-Import Starter Sites: A vast collection of pre-made designs to help users set up their site in no time, with new designs added regularly.
Pricing:
Neve's pricing ranges from $69 to $259. The investment offers users access to a variety of premium features and add-ons that can elevate the website's functionality and design.
Why is Neve Our Top Pick Among Free Minimalist WordPress Themes?
This is one of the rare free minimalist WordPress themes that has a really clean, minimalist design. Everything is nicely simplified so the focus is on your content, not a bunch of flashy distractions. Even though it's one of the most minimalist WordPress themes, it still packs in tons of features. The developers found a nice balance of keeping things simple but also customizable.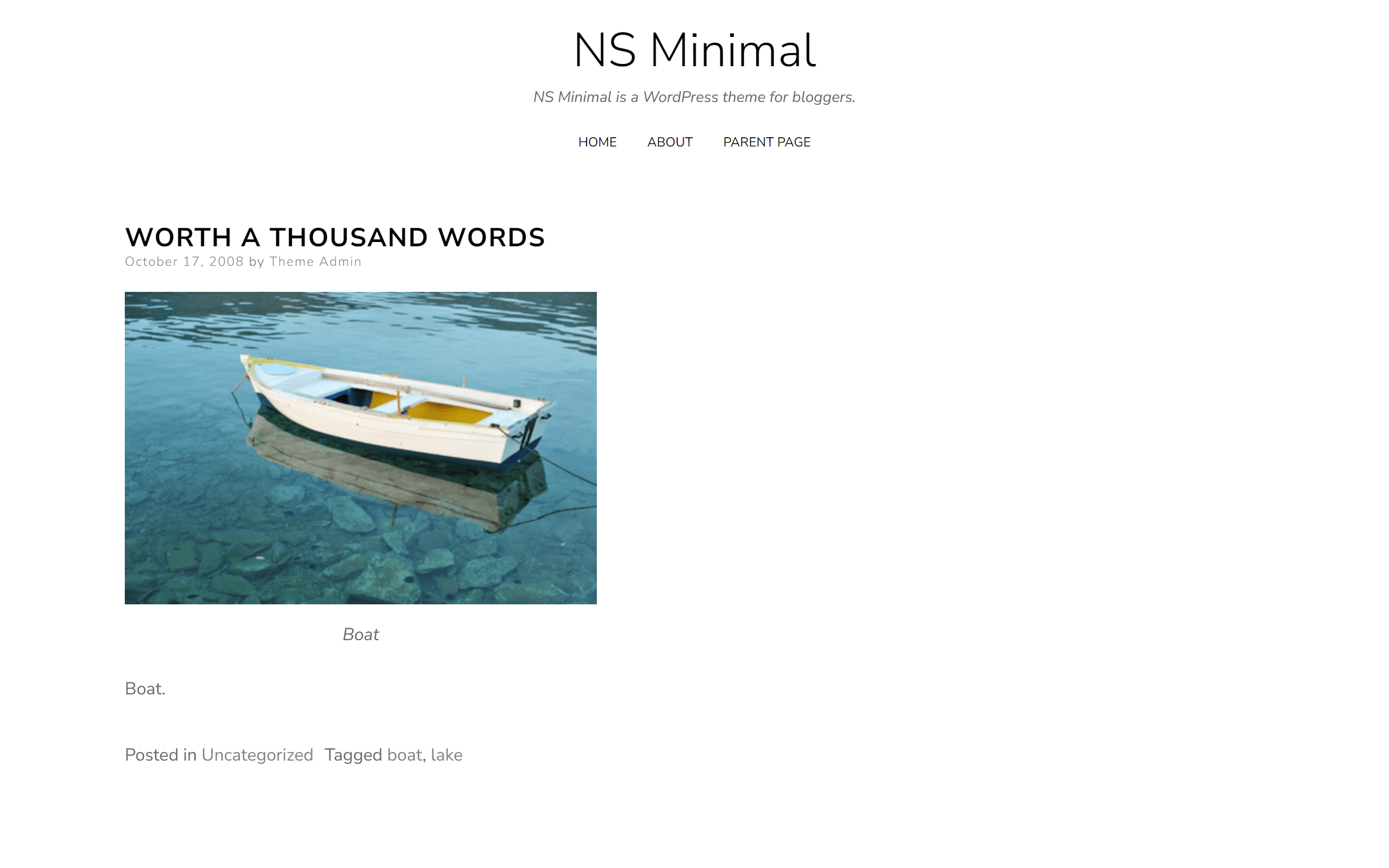 As the name itself suggests, this is the best minimalist WordPress theme out there. If you are a blogger looking for the best minimalist WordPress theme, you will love NS Minimal by Nuno Sarmento. The theme gives a simple, clean yet charming look to a website. The use of white space and perfect fonts makes the design extraordinary.
NS Minimal comes with lightweight characteristics to make your site load faster and has a mobile-friendly design to allow the best results in every device. Besides, the theme is optimized for search engine results to ensure significant results in ranking. Not to mention, you can use this theme to easily design a site according to your needs.
The best thing is that this is one of the rare free minimalist WordPress themes that has all these features entirely free, making them accessible to all digital creators.
Key Features:
Responsive Design: NS Minimal ensures a flawless viewing experience on all devices, be it desktops, tablets, or mobile phones.
Typography & Color Customization: Allows users to tweak fonts and colors to match their brand or personal style, ensuring a unique website look.
SEO Optimized: Built with best SEO practices in mind, NS Minimal ensures that your content gets the attention it deserves on search engines.
Pricing:
NS Minimal stands out as a simple free WordPress theme, offering its core features without any cost. This makes it an excellent choice for individuals or startups on a tight budget but still wanting a professional-looking and functional website.
If you want to give your website a plain and elegant look, this is one of the minimalist WordPress blog themes to check out. Kokoro by ZThemes Studio is another minimalist theme with plenty of customizer options to create the designs that best suit your needs.
You will get options for uploading logos, adding social media share buttons, and useful sidebar settings. The theme is SEO-friendly and responsive to ensure complete effectiveness. If you want to create and share interesting content while maintaining simplicity, the theme will help you do it.
Kokoro is excellent for creators because it allows you to use the power of storytelling and convert your readers into customers. Give this free theme a try, as there is nothing to lose.
Key Features:
Elementor Compatibility & Large Featured Slider: Kokoro is the minimal WordPress theme that boasts seamless compatibility with the Elementor page builder and sports a large slider to highlight featured posts, ensuring that your top content always catches the eye.
Visual Customizer & Typography Options: With over 900+ Google Fonts available and a visual customizer, users can easily tailor the theme to match their branding, ensuring a unique and personalized look for their site.
Mobile-Optimized & Speed Centric: Not only is Kokoro the best minimalist WordPress theme, but it's fully responsive, ensuring a seamless experience on all devices, but it's also optimized for speed. With a focus on essential features and avoiding unnecessary bloat, the theme ensures quick load times, enhancing both user experience and SEO benefits.
Pricing:
Kokoro offers a flexible pricing structure, with plans ranging from $29 to $169. This range allows users to choose a package that best fits their needs and budget. The base price gives access to fundamental features, while the higher tier offers advanced functionalities and extended support.
🌟 Wrapped Up
This is the list of some of the best free and premium WordPress minimalist themes that will increase the search engine ranking and engagement on your site. Undoubtedly, these themes can take your blogging career to a whole new level.
We would encourage you to check the demo of each theme before buying to ensure that they suit your needs. Also, you can let us know in the comments which of the above you found really exciting and are planning to integrate into your WordPress.