myvoyage-wp-travel-blog-themeAs a travel blogger, your website serves as a digital gateway to the captivating world of exploration and adventure that you share with your audience. In the vast landscape of the internet, it's crucial to have a visually stunning and user-friendly platform that entices visitors to embark on a virtual journey through your travel experiences. This is where WordPress themes come into play.
WordPress themes are powerful tools that allow you to transform your blog into an irresistible destination, capturing the essence of your wanderlust and storytelling prowess. However, with a plethora of themes available, each offering unique designs and features, choosing the right one can take time and effort. You can also create a unique website experience by working with a web design company that will help you find the best layout and theme composition for your blog.
In this article, we have selected a collection of 25+ irresistible WordPress themes designed specifically for travel bloggers like you. These themes have been handpicked for their aesthetic appeal, functionality, and ability to showcase your travel stories in a compelling manner.
But first things first, let's see the benefits of a well-designed travel blog and how to choose the one theme that suits your blog.
Key Considerations When Choosing a WordPress Theme
When choosing a WordPress theme for your travel blog, there are several key considerations that can significantly impact your website's performance, functionality, and overall user experience. Here are the key factors to remember:
Responsive Design and Mobile Optimization: In today's mobile-driven world, it's crucial to select a theme that offers responsive design. This will help your blog to look great visually and functions seamlessly across various devices and screen sizes. Mobile optimization improves user experience, reduces bounce rates, and expands your reach to a broader audience.
Loading Speed and Performance: Website speed is a critical factor that affects user satisfaction and search engine rankings. Opt for a theme that is optimized for performance, ensuring fast loading times. Look for themes that utilize clean code, efficient scripts, and optimized images to deliver a smooth browsing experience for your visitors.
SEO-Friendliness: Search engine optimization (SEO) plays a vital role in driving organic traffic to your travel blog. Choose a theme that is built with SEO best practices in mind, including proper HTML structure, schema markup, and optimization for page speed. An SEO-friendly theme can give you a head start in ranking higher on search engine result pages.
Plugin Compatibility: WordPress plugins extend the functionality of your blog, allowing you to add features like social sharing buttons, contact forms, or even e-commerce capabilities. Be sure that you choose a theme that is compatible with popular plugins and supports the specific functionality you require. This compatibility ensures seamless integration and flexibility in expanding your blog's capabilities.
Customization Options: Your travel blog should reflect your unique style and branding. Search for themes that offer a range of customization options, such as customizable color schemes, font choices, layout variations, and widget areas. This flexibility allows you to personalize your blog's appearance and make it truly unique to your travel niche.
Support and Updates: Choose a theme from reputable sources offering regular updates and reliable support. Regular updates ensure compatibility with the latest WordPress version and security patches. Additionally, responsive and helpful support can assist you in troubleshooting issues and making the most of your theme's features.
User Reviews and Ratings: Before finalizing a theme, think about checking the user reviews and ratings. Read feedback from other bloggers who have used the theme to get insights into their experiences. User reviews can provide valuable information about the theme's ease of use, performance, and support quality.
By carefully considering these key factors, you can choose a WordPress theme that suits your travel blog's goals, provides an optimal user experience, and facilitates future growth and customization. Remember, choosing the proper theme is an investment in the success of your travel blogging journey.
Curated List of Irresistible WordPress Themes for Travel Bloggers
Stunning Photography-Focused Themes
Roam is a modern and stylish WordPress theme designed specifically for travel bloggers. With a beautiful and fully responsive design, it offers stunning visual effects and various blog layouts to help you create an even more engaging experience for your audience. The theme comes with a powerful destination page builder, allowing you to display your travel adventures in an organized and visually captivating manner. Roam is easy to customize, SEO optimized, and compatible with popular plugins like WooCommerce and WPML.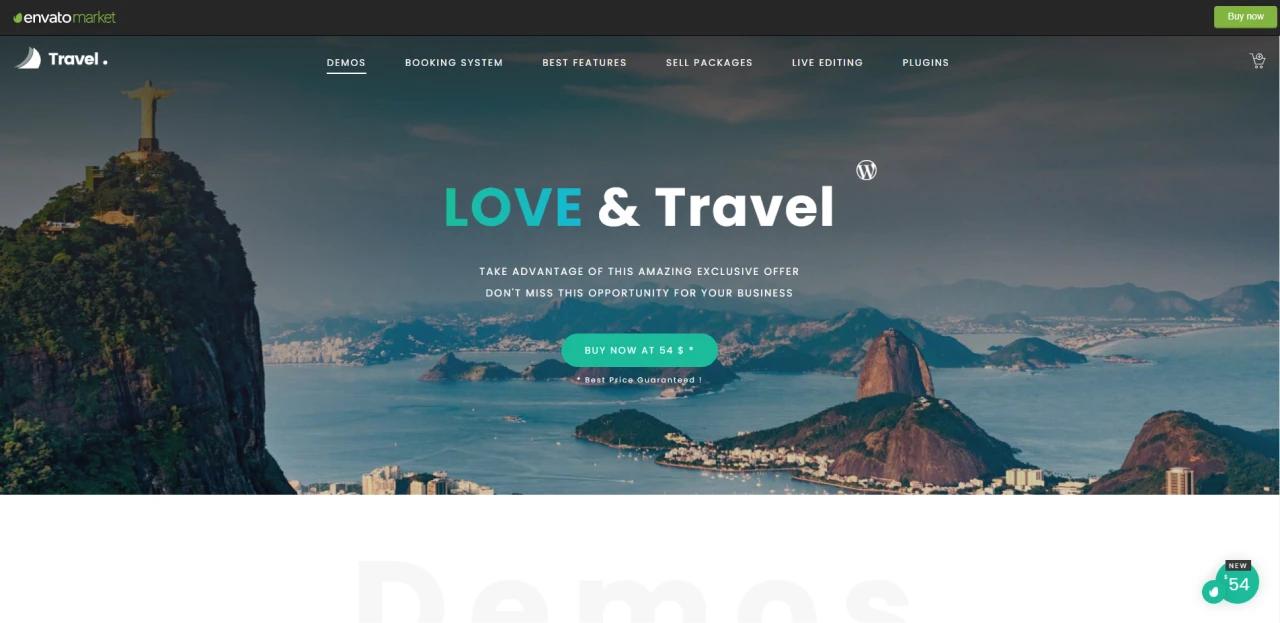 Love Travel is a creative and versatile WordPress theme catering to travel agencies, tour operators, and blogs. With its multi-page structure and multipurpose design, Love Travel is perfect for showcasing your tourism-related services, such as hotels, resorts, honeymoon packages, cruises, and more. The theme features a clean, modern, flat design with vibrant graphics and a visually appealing and well-structured layout, allowing you to discuss your travel experiences in both summer and winter. Love Travel comes with monthly updates, ensuring compatibility with the latest WordPress features. The theme includes a custom filtering system for booking, the premium Revolution Slider plugin, and is fully responsive and SEO-friendly.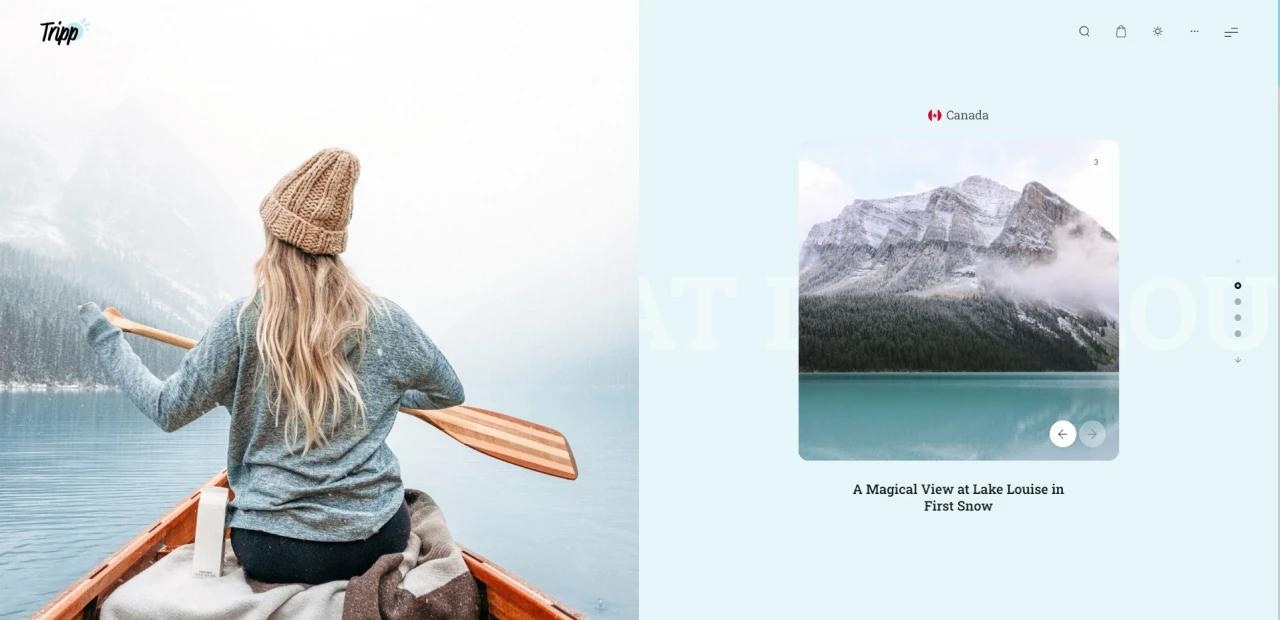 Tripp is the ultimate WordPress theme for travel bloggers seeking to share their adventures and inspire others. Tripp has a plethora of tools and features to help you showcase your travel stories and captivate your audience. Promote and monetize your blog with Tripp's built-in support for promo codes, deals, and coupons. Engage readers with reviews and ratings, and take advantage of vertical video support for a modern and mobile-friendly experience. Tripp ensures optimal performance with its adaptive images and retina-ready graphics.
Adventor is a sophisticated WordPress theme designed for outdoor adventure websites, including hiking and camping, trekking, travel agencies, and accommodation services. The theme is also perfect for eCommerce businesses such as adventure stores, outdoor touring stores, sports outlets, and trekking stalls. Adventor comes with the Design Themes Core Features Plugin, which simplifies the design and layout process with its collection of shortcodes and custom post types. The theme is reconciled with Elementor and other third-party APIs for seamless integration.
Discover is a responsive WordPress blog theme that offers RTL support, ideal for bloggers, creatives, portfolios, and personal websites. The theme is highly customizable and user-friendly, allowing for quick installation and customization. Its elegant and intuitive design, complemented by beautiful typography, creates a unique and attention-grabbing look. With its unique design, Discover offers a fully responsive layout and live theme options. Discover also includes Font Awesome icons and provides dedicated support for users. Whether you're a blogger, photographer, freelancer, or agency, Discover is a perfect platform to showcase your work and tell your story.
Minimalist and Clean Designs
EightyDays stands out as a visually appealing travel theme for WordPress. While it offers a solid foundation for travel bloggers, customization options are somewhat limited. Built for performance and SEO optimization, EightyDays is lightweight, fast, and compatible with all modern browsers. Its responsive layout ensures a seamless experience across all devices, while the intuitive customization options in the WordPress Customizer make it easy to personalize your website in real-time. With EightyDays, you can enjoy infinite scrolling for effortless browsing and a distraction-free reading experience.
Trawell is a stunning and responsive travel blog WordPress theme designed to bring your travel experiences to life. Trawell is ideal for building a tour blog, travel guide, or travel magazine website. With its professional travel blogging design, Trawell is the perfect choice for showcasing your adventures. The theme includes embedded Google maps, customizable sidebars, and advanced theme options, allowing you to control every aspect of your site's design. Its unique stylistic features enable you to adjust your travel blog's look, feel, and color scheme to your preferences. Additionally, Trawell has seamless Instagram integration, mobile-friendly design, and support for all screens.
Designed with modern aesthetics, MyVoyage comes packed with a travelogue, tourism blog, travel guide, and travel blog layouts, all fully compatible with Elementor Page Builder for effortless page creation and editing. The theme includes Slider Revolution and is compatible with WooCommerce and Contact Form 7, offering an extensive collection of practical shortcodes, various blog list layouts, and customizable Google Maps. With extensive documentation and video tutorials, as well as dedicated support from our team, MyVoyage is the perfect theme to bring your travel adventures to life online.
Travel Blog is a modern and versatile WordPress theme designed for personal blogs, news, and magazine websites. Focusing on travel, journey, tour, lifestyle, and fashion, Travel Blog features a contemporary design perfect for creating an engaging online presence. Travel Blog is optimized for AMP, ensuring your website looks great on mobile devices. With SEO optimization, search engines will easily crawl your website and identify your main keywords. The theme supports both list and grid layouts, as well as comprehensive or boxed styles. Customize your site with separate colors for categories to make the experience more engaging.
Maaya is a delightful Travel Blog WordPress theme perfect for travel, food, fashion, music, lifestyle, fitness, DIY, sports, finance, politics, parenting, business, personal, movie, car, news, pet, gaming blogs, and more. Maaya offers a variety of homepage variants, including Fashion, Beauty, Food, Travel, and Lifestyle, all fully responsive and retina ready. In addition, the theme is equipped with four sets of shortcodes, enabling you to customize your site easily. This theme is designed for simplicity and convenience, offering a one-click demo importer and compatibility with popular plugins like WooCommerce, Contact Form 7, and Easy Social Share Buttons for WordPress.
Maps and Itinerary-Based Themes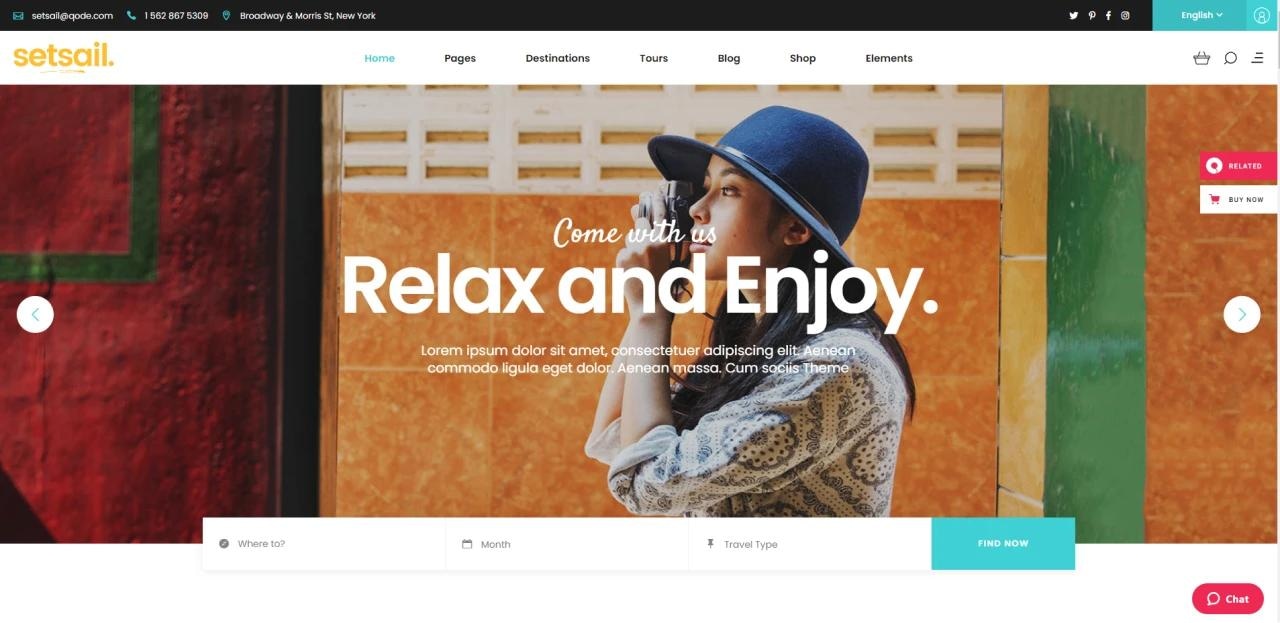 SetSail is the ultimate WordPress theme for travel agency websites, featuring incredible options to showcase your tourism and traveler projects. SetSail comes with a variety of stunning pre-designed homepages, easily customizable to suit your travel business needs. With its user-friendly admin interface, customization is effortless, even without coding knowledge. The theme includes a range of practical shortcodes, multiple header types, and various layout options for tour lists. SetSail is fully responsive, retina-ready, and translation-ready, making it perfect for a global audience. With over 800 Google Fonts and numerous icon packs, you can create a visually stunning and engaging travel website that stands out.
Backpack Traveler is the ultimate travel companion and WordPress theme designed specifically for travel bloggers. Featuring a highly customizable and extensive admin interface, Backpack Traveler requires no coding knowledge and includes a plethora of custom shortcodes. The theme is responsive, retina-ready, and comes with custom post types and shortcodes for destinations. With various blog layouts, Mega Menu, customizable Google Maps, and smooth page transitions, Backpack Traveler is perfect for showcasing your adventures. The theme is translation-ready, WooCommerce compatible, and supports Contact Form 7. With 800+ Google Fonts, powerful typography options, and boxed layout options, Backpack Traveler is the ideal choice for creating a captivating travel blog that stands out from the crowd.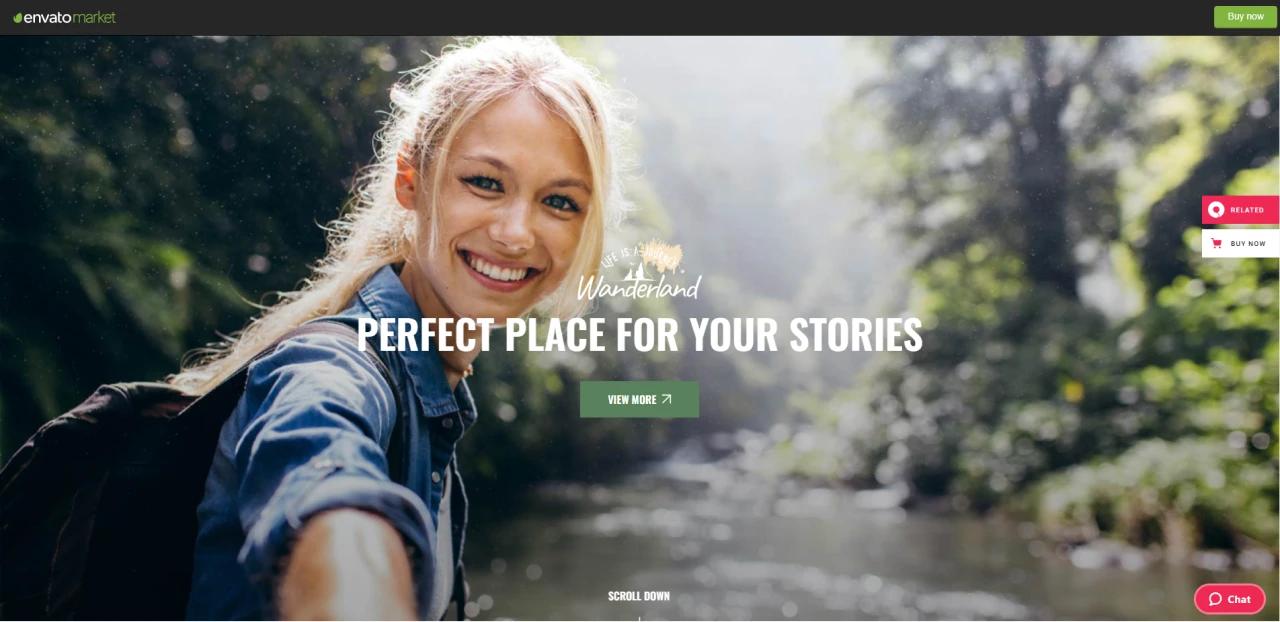 Designed specifically for travel and tourism blogs, Wanderland offers a seamless experience with its captivating destination layouts and a wide selection of blog page templates. Thanks to its highly customizable features and extensive admin interface, no coding knowledge is required. With the simple one-click import of demo content, you can get started in no time. Wanderland also includes premium plugins like Slider Revolution and Visual Composer, ensuring stunning visuals and accessible page building. Moreover, the theme is fully responsive and retina ready, guaranteeing a flawless display on all devices.
Eaven is the perfect WordPress theme for travel blogs and magazines, offering a modern design and an extensive selection of features to create a unique and impressive website. With six beautifully designed demos to choose from, you can easily import your preferred layout with just one click. The theme's built-in WordPress customizer allows for effortless customization, offering hundreds of options to fine-tune your site's appearance and structure in real-time. Eaven provides five single post templates, giving you the flexibility to choose the ideal layout for different types of content. The theme is fully optimized for the Gutenberg Block Editor, making editing a seamless experience. Additionally, Eaven offers clear post structures with icon bars generated from selected headings, enabling easy navigation for readers.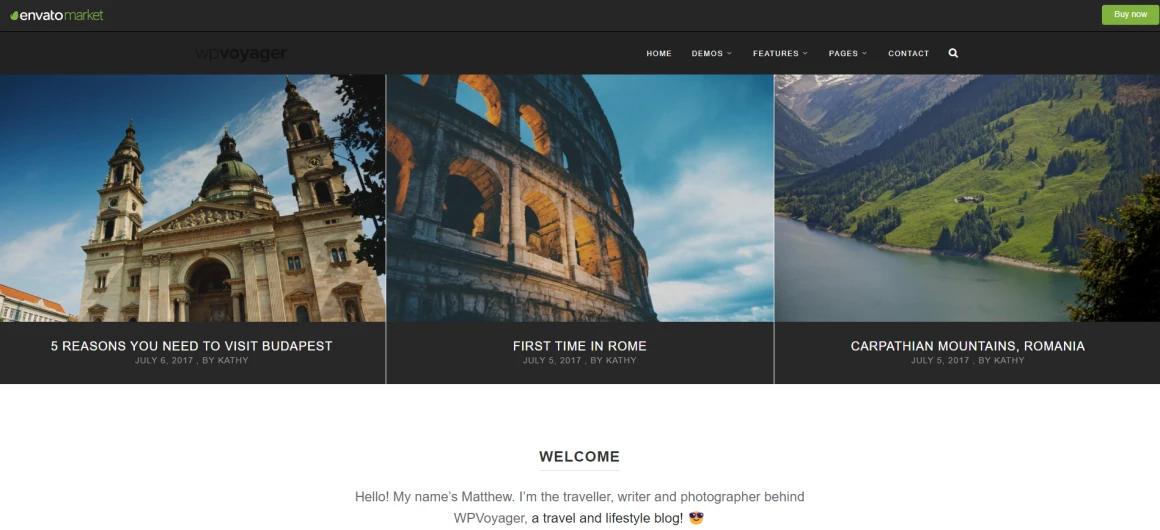 WPVoyager is a premium travel blog theme for WordPress that will leave a lasting impression on weary travelers. With its bold and modern design, WPVoyager offers seamless integration with the Google API, enabling you to showcase your travel destinations through captivating maps. In addition, WPVoyager provides an array of features to help you organize and showcase your travel memories. From elegant photo grids to KML support for displaying geographic data, the theme offers versatile options to enhance your storytelling. With one-click demo installation and a fully responsive layout, WPVoyager ensures that your travel blog looks stunning and functions flawlessly on all devices.
10-Step Guide on How to Start Your Travel Blog
Starting an interesting and engaging travel blog is an exciting way of documenting your memories, sharing them with others, and even having an income. But it requires creativity, passion, consistency, and a unique approach. Here is an intriguing and easy 10-step guide to help you start your travel blog:
Step 1: Pick a niche that suits you
The most crucial step for starting your travel blog is choosing your niche. First things first, it is fundamental to understand the type of travel you would like to concentrate on. For example, you can choose adventure tourism, eco-tourism, and even dark tourism, etc. Choosing the niche will help you find your audience and create exciting content.
Step 2: Choose your blogging platform
There are plenty of blogging platforms, for example, WordPress, Wix, Squarespace, etc. All of them have their advantages; therefore, pick the platform that will work for your blog. WordPress is the best one for beginners as it is easy to use, customize and has a lot of available plugins and themes.
Step 3: Choose your domain name and hosting provider
Choosing the right domain name and hosting provider is fundamental for creating a successful online presence. Your domain name is your website's address; hence it is vital to pick a unique name that will reflect the niche of your blog. Once you are done with the domain, pick a hosting provider that will host your website on the Internet. Bluehost, HostGator, A2 Hosting, and SiteGround are among the popular ones. You can research their offerings in order to choose the right ones for your blog.
Step 4: Create an exciting design for your website
Designing a visually appealing and user-friendly website is crucial for attracting and retaining visitors. Customize your website by making it visually appealing, user-friendly, and responsive. Choose an engaging design that will work for your niche, make an outstanding logo, customize the color palette, fonts, and layout, and create your pages, such as About Me, Contact, and Home.
Step 5: Create a unique content
Content is king in the modern blogging world; creating unique and engaging posts will help you attract and retain your audience. Write in your unique voice, share your personal experiences, and provide valuable tips and insights for your readers. Remember to include high-quality visuals such as illustrations, pictures, and clips to help you make your posts more visually appealing for your audience. Once you are done, test website and refine your design. Gather feedback from other users and make all the needed adjustments with the expectations to improve the user experience.
Step 6: Promote your blog
You can promote your travel blog by utilizing different social media platforms such as Instagram, Facebook, Pinterest, and Twitter. Promoting your blog on those platforms can attract a new audience and help you make more money. It is preferable to constantly be in touch with your audience, respond to comments, and collaborate with other bloggers. By utilizing SEO techniques, the rankings of your website on search engines will improve.
Step 7: Monetize your blog
Monetizing your blog can help you generate income from the content you create. There is a wide selection of methods that will help you monetize your blog; for example, you can do affiliate marketing and sponsored advertising. In addition, creating your own products, such as travel guides, services, courses, and merchandise, and selling them will be another great way of monetizing our travel blog. Choose the method that will fit your blog, build a loyal audience, and have guaranteed successful blog monetizing.
Step 8: Incorporate multimedia
Multimedia content such as photos, videos, and podcasts can make your blog more engaging and shareable. Incorporate multimedia content into your posts to enhance your storytelling and make your blog more visually appealing. You can design your blog posts with eye-catching visuals, including high-quality photos, infographics, and creative typography to grab your reader's attention.
Step 9: Create a strong brand identity
Creating a strong brand identity for your travel blog is crucial in setting yourself apart from the competition and building a loyal audience. Choose a memorable name, develop a unique logo and color scheme that reflects your personality and niche, and create a strong brand identity. Ensure that every aspect of your blog, from your website design to your content and social media presence, aligns with your brand identity.
Step 10: Share and Offer practical advice
In addition to sharing your travel experiences, offer practical advice for your readers. For example, provide valuable information, hacks, and tips to help your readers plan their travel by saving time and money or enhancing their travel experiences. With this method, you can include packing hacks, budgeting advice, or recommendations for off-the-beaten-path attractions.
To sum up, those steps, starting a travel blog requires passion, consistency, dedication, hard work, and a bit of patience. But it also offers many opportunities for creativity, self-expression, and growth. Remember to stay authentic, and have fun exploring the world while sharing your experiences with others!
Tips for Customizing and Enhancing WordPress Themes
Customizing and enhancing your chosen WordPress theme is essential to create a unique and personalized travel blog that truly reflects your brand and resonates with your audience. Here are some valuable tips to help you make the most of your theme customization:
Customize the Colors and Typography: Take advantage of the theme's customization options to select colors and fonts that align with your brand and evoke the desired atmosphere for your travel blog. Experiment with different combinations to find the perfect balance between readability and aesthetics.
Utilize Custom Widgets and Sidebars: Most WordPress themes offer custom widgets and sidebar options. Make use of these to enhance the functionality and organization of your blog. Add widgets for displaying social media feeds, popular posts, newsletter sign-ups, or related content to engage your readers and improve user experience.
Optimize Images for Web: High-quality images play a crucial role in travel blogging. Optimize your images for web by compressing them without compromising their visual appeal. This will ensure faster loading times, improve overall site performance, and provide a better user experience for your visitors.
Create Engaging Navigation Menus: Design intuitive and user-friendly navigation menus to help visitors explore your travel blog effortlessly. Consider creating drop-down menus, sticky headers, or mega menus for improved accessibility. Organize your content into logical categories and ensure that important pages are easily accessible from the main menu.
Incorporate Social Sharing Buttons: Encourage readers to share your travel stories with social sharing buttons. Add buttons to prominent locations on your blog, such as below blog posts or in the sidebar. This will increase your blog's visibility and reach, allowing your content to be shared across various social media platforms.
Integrate SEO Plugins: Optimize your travel blog for search engines by integrating SEO plugins. These tools can help you optimize your meta tags, generate XML sitemaps, improve page load speed, and enhance overall search engine visibility. Utilize the plugin's features to maximize your blog's potential for organic traffic.
Experiment with Page Layouts and Templates: Explore different page layouts and templates offered by your chosen theme. Experiment with full-width layouts, grid-based designs, or magazine-style formats to present your content in a visually appealing and engaging manner. This variety will add depth and creativity to your blog's overall presentation.
Incorporate Call-to-Action Elements: Guide your readers to take specific actions by incorporating call-to-action (CTA) elements. Whether it's encouraging them to subscribe to your newsletter, follow you on social media, or explore a particular travel guide, strategically place CTAs throughout your blog to drive user engagement and conversions.
Regularly Update and Maintain Your Theme: Ensure that your theme is always up to date with the latest version. Regular updates often include bug fixes, security patches, and new features. Additionally, regularly maintain your theme by removing any unused plugins or widgets and optimizing your database to keep your blog running smoothly.
Test and Iterate: Continuously test different elements of your theme customization to gauge their impact on user engagement and overall performance. Monitor analytics, gather user feedback, and make data-driven decisions to iterate and improve your blog's design and functionality over time.
By following these tips, you can customize and enhance your WordPress theme to create a visually appealing, user-friendly, and engaging travel blog that stands out in the crowded online space. Remember, customization is an ongoing process, so regularly evaluate and refine your blog's design based on your audience's preferences and feedback.