Alright, let's get real for a minute, teachers. Ever hit that mid-week slump and thought, "Ohh, I need some fresh ideas"? Or have you scrolled through social media, wondering if there's more to online content than just viral dances and funny cat videos? Well, there absolutely is. In the world of education, it's essential to keep our game strong. And yes, sometimes that means seeking a little boost from those in the know.
That's where this list comes in. We've searched high and low on the internet and rounded up some of the best teacher blogs that pack a punch with practical advice, new strategies, and those "aha!" moments we all crave. No fancy words, no beating around the bush—just solid content that can help.
So, before you prep for your next class, take a scroll through these teacher blogs. Elevate your teaching game, share a laugh, or snag a new classroom hack.
🔝 How We Picked the Best Teacher Blogs
Finding the top teacher blogs is no easy task. With endless blogs out there, it's tough to narrow it down. We did a lot of searching to pick the cream of the crop.
Frequency of Updates: We wanted teacher blogs that are updated at least weekly so you always have fresh ideas and discussions.
Quality of Content: Things like how helpful, engaging, and immediately useful the blog for educators is. Not just random lesson plans dumped online.
Ease of Navigation: Can you easily find what you need without wasting time scrolling forever? Menus and tagging of teacher blogs should be user-friendly.
Involvement in the Teaching Community: Do the bloggers actively comment on other teaching blogs and chat with fellow teachers? Interaction helps the sharing of knowledge.
Overall Readability and Writing Style: Is the teacher blog easy and enjoyable to read even on busy teacher days? Good writing keeps readers engaged.
🤝 Why You Should Trust Our Recommendations
At Code Supply Co, we've been creating blog content and themes for websites for a long time. Our own company blog is full of interesting stuff that's easy to read. We've also designed themes that make other blogs look really good.
From all that experience with blogs, we've figured out what keeps readers engaged and coming back. Like the types of posts people want to see and what features are helpful.
Our themes also help blogs stand out so more people find them. All that time blogging means we know how to help other blogs grow their audiences.
So when we share our picks for teacher blogs that are worth following, it's coming from a place of expertise. We really understand what makes a blog high quality since we do it all the time ourselves. Feel free to trust our teacher blog recommendations!
Best Blogs for Teachers 📚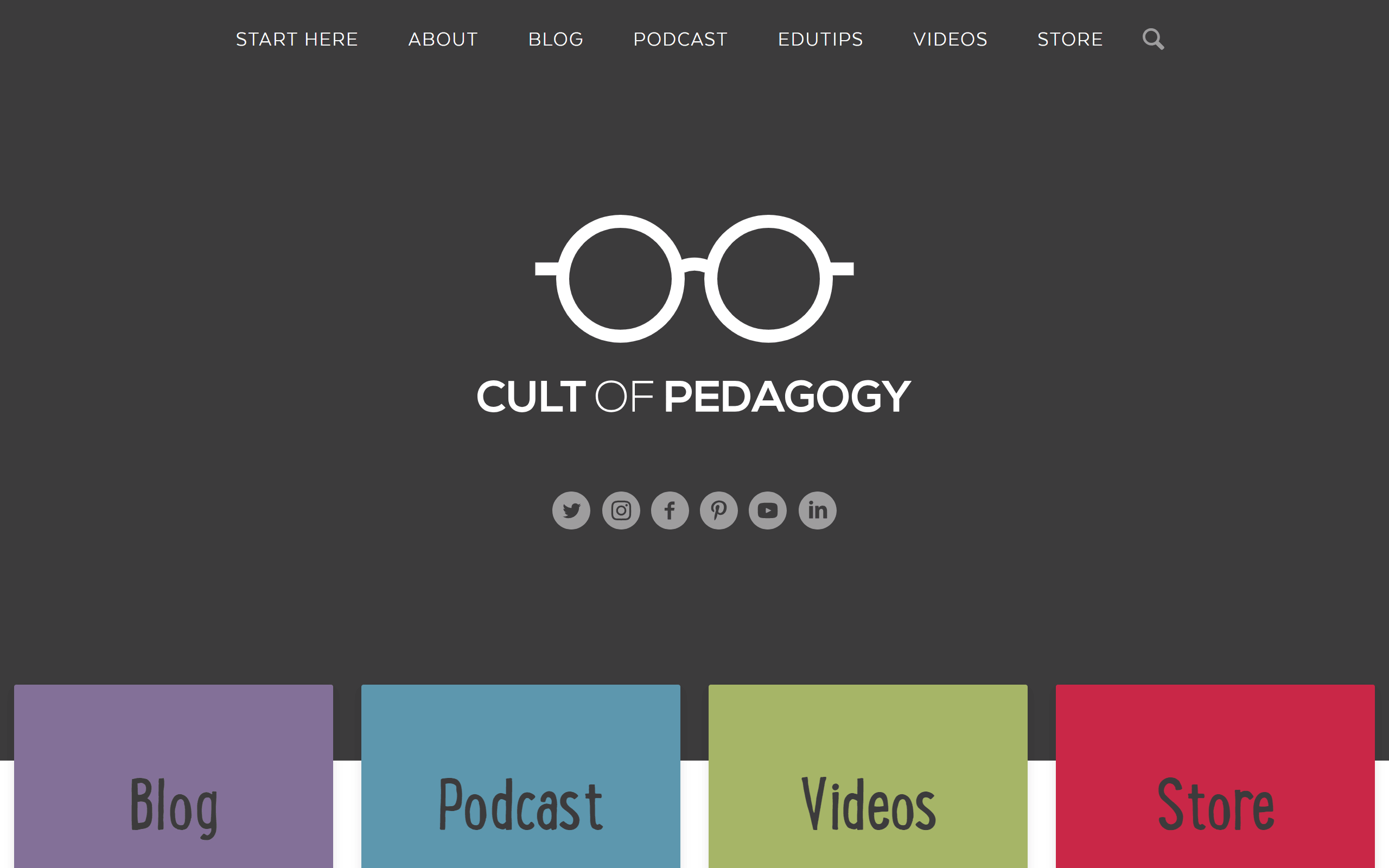 Looking for a teacher blog that's genuine and practical? Meet Cult of Pedagogy that's all about creating a tight-knit community for educators seeking real-world insights.
Managed by a bunch of real-deal educators, this blog shares practical teaching tactics, tech how-tos, and literacy guidance—indispensable tools for teachers who might recommend a professional essay writer service to students needing extra help. The cool part? It's like hearing advice from a diverse group of teacher buddies, each from different teaching backgrounds.
The layout? Super user-friendly. So, finding stuff you care about, including resources on essay writing services, is a snap with this best teacher blog. Whether you're sorting out classroom issues, hunting for tech tips, or diving into gifted education – they've got something for you. And hey, it's not just about reading. It's about chatting, swapping stories, and leveling up with other teachers.
2. 🏅 Our Favorite - Edutopia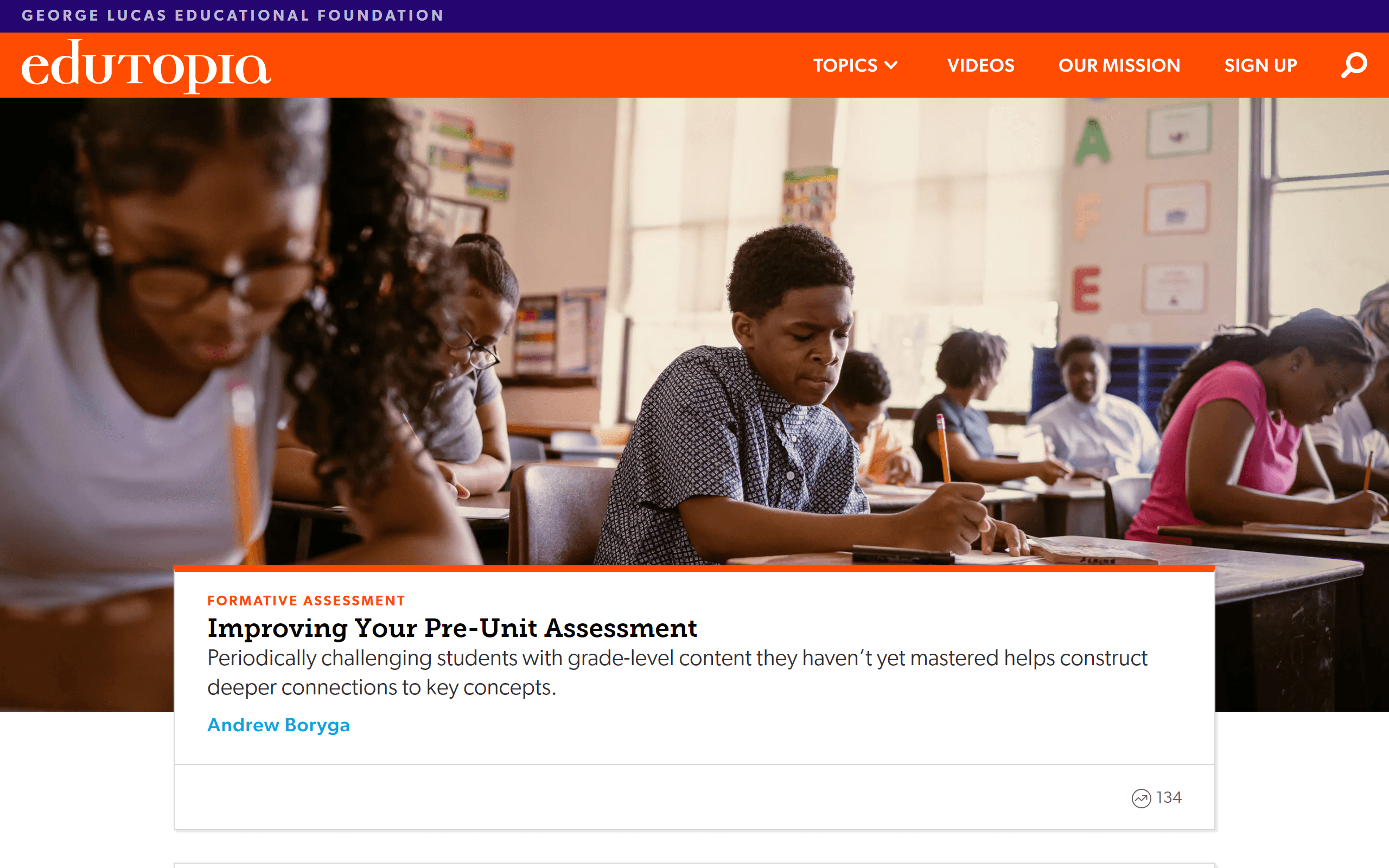 Ever heard of George Lucas? Yep, the Star Wars guy. Back in the '90s, he decided to dive into the world of education. His goal? Rethinking how we teach our future Jedi... erm, students. So, this is a must-follow blog for teacher.
Firstly, they're all in on project-based learning. Think less "sit and get" and more hands-on discovery. They're also blending subjects together, like mixing history with art, making lessons feel more connected. Alongside all the academic stuff, they're pushing social and emotional learning. And if you're a tech geek? They've tips on integrating it in classrooms without going overboard.
In a nutshell? If you're scouring teacher blogs or just curious about modern learning, this is one of the best blogs for teachers to give scroll. It's like a refreshing drink for your educator soul.
Why Is Edutopia Our Favorite?
This is one of our favorite teaching blogs because all the ideas and lessons shared on Edutopia have been tested in real classrooms. Teachers can learn what directly works based on experience, not just theories. Important issues like project-based learning, social-emotional skills, technology use, assessment, and more are addressed. So, this is one of the top teacher blogs out there.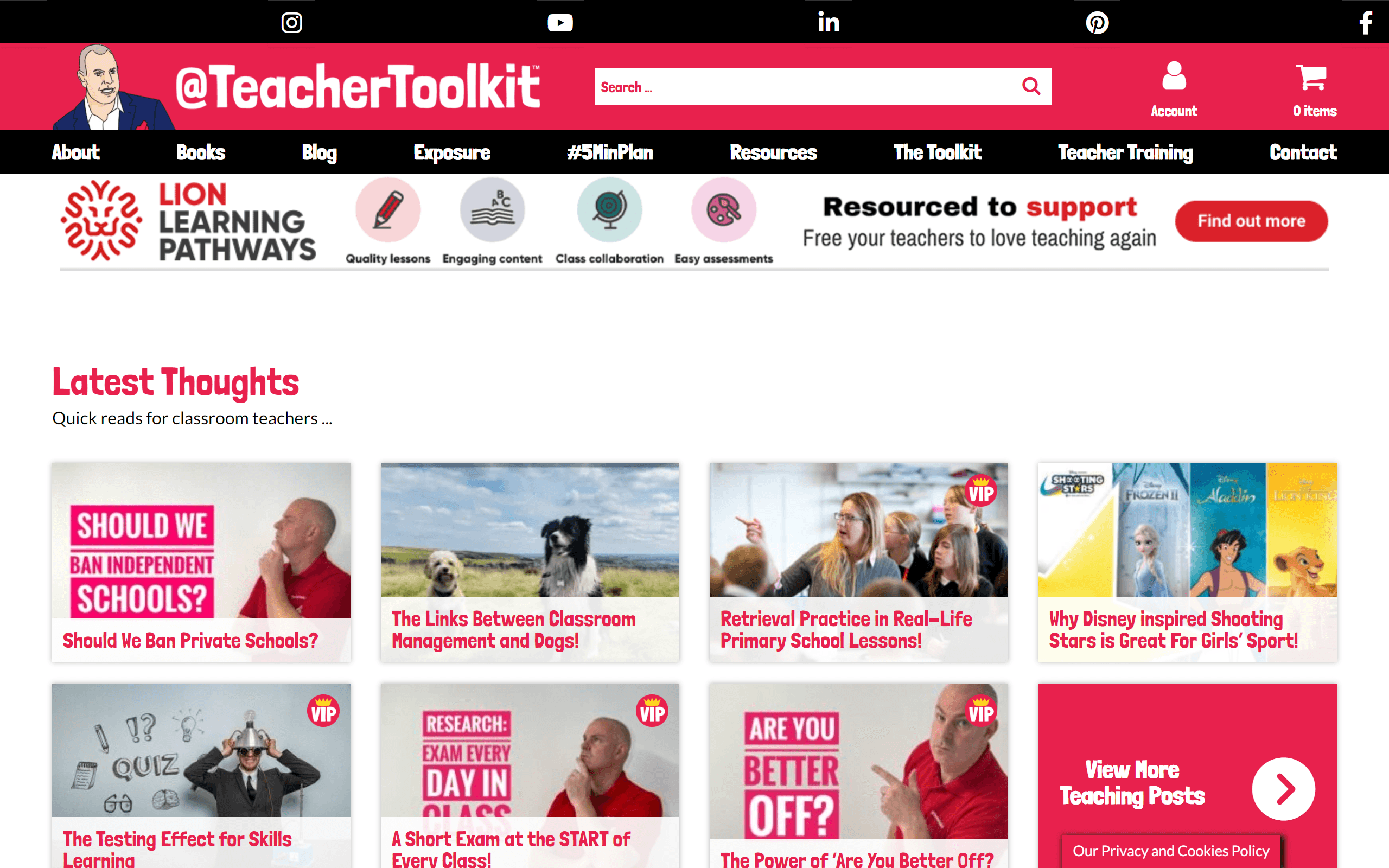 Founded by Ross Morrison McGil, this is one of the best teacher blogs that has grown HUGE. We're talking 18+ million readers worldwide. So, what's the buzz about? Ross started sharing his education blog insights back in 2000, and since then, his platform has become a hotspot for over 250,000 monthly visitors. Need a lesson plan or a fresh teaching strategy? There's a good chance you'll find it among their 3,000+ teaching blogs posts.
But here's the kicker: Ross is all about making teachers' lives easier. His mission? Helping educators reduce that ever-growing workload with smart, research-backed strategies. Plus, for those who love a good podcast, TeacherToolkit has plenty to binge on.
In short, if you're in the education world and haven't checked out TeacherToolkit yet, you might be missing out on some top teacher blogs!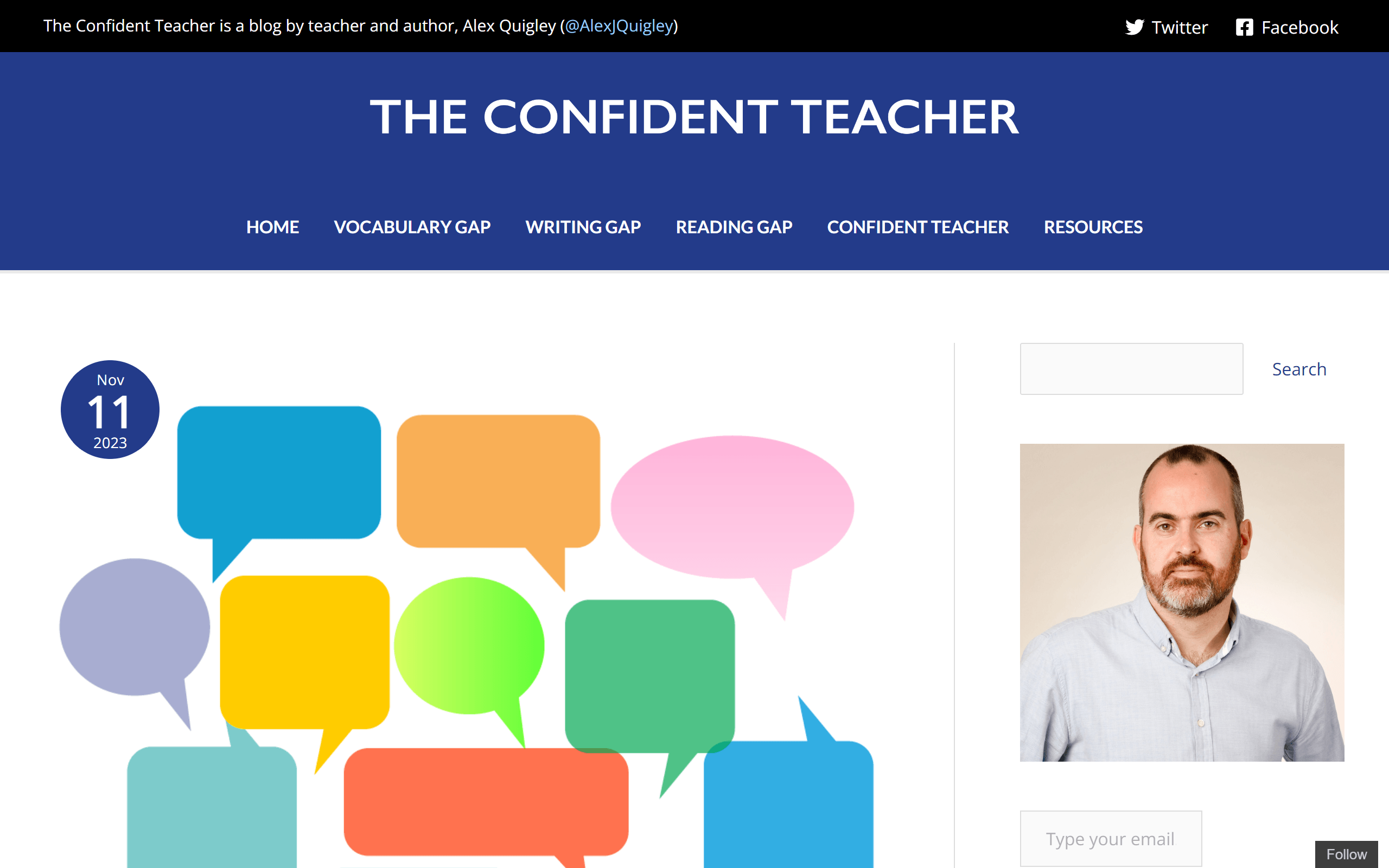 Jumping into the rest of teacher blogs, you've got to check out Confident Teacher by Alex Quigley. Among the best teacher blogs out there, Alex stands out not just because he's an experienced educator with over fifteen years in the classroom. This guy wears many hats! Beyond sharing wisdom on his blog, he's penned books like 'Closing the Reading Gap' and 'Closing the Writing Gap'.
Stepping out of the classroom, he's now backing the education cause from an outside perspective, working with an educational charity. For anyone keen on education blogs with a mix of hands-on experience and fresh insights, this is your go-to teacher blog. Plus, if you're wondering how to start a blog, Alex's journey is a fantastic blueprint.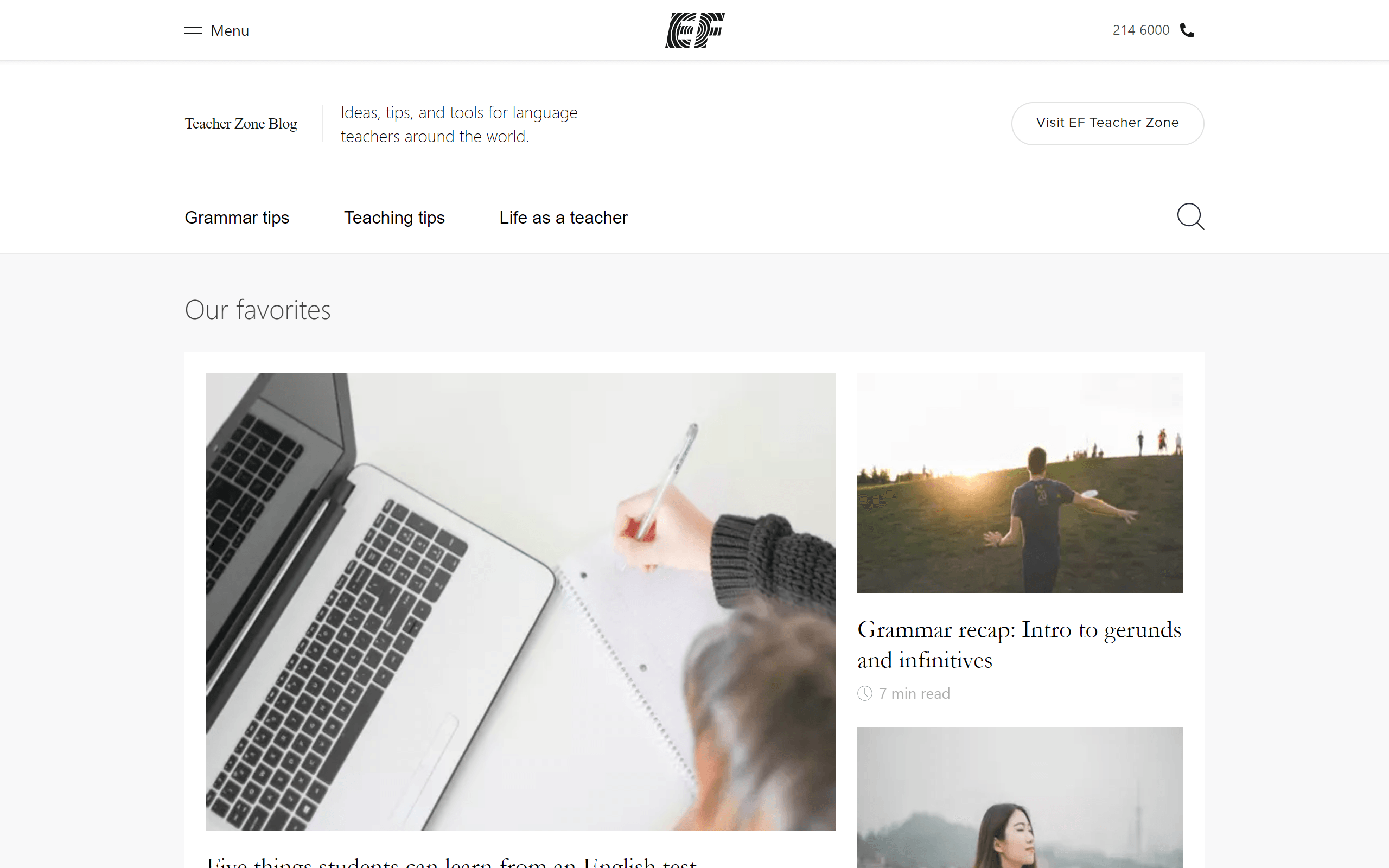 If you're eager for a worldly education EF Education First is the best choice. Their education blogs showcase how they're not just talking the talk. From academic studies that pave the way to top-notch universities to epic educational travel experiences, they've got it covered.
Dream of chatting in a new language? With EF, you can immerse yourself in over 10 languages in vibrant cities globally. Or maybe you've got a taste for cultural exchanges? They offer authentic experiences, letting young adults live the American dream with local host families.
To sum it up, whether you're itching to learn, travel, or both, this teacher blog is your gateway to a bigger world.
Best Elementary Teacher Blogs 🖍️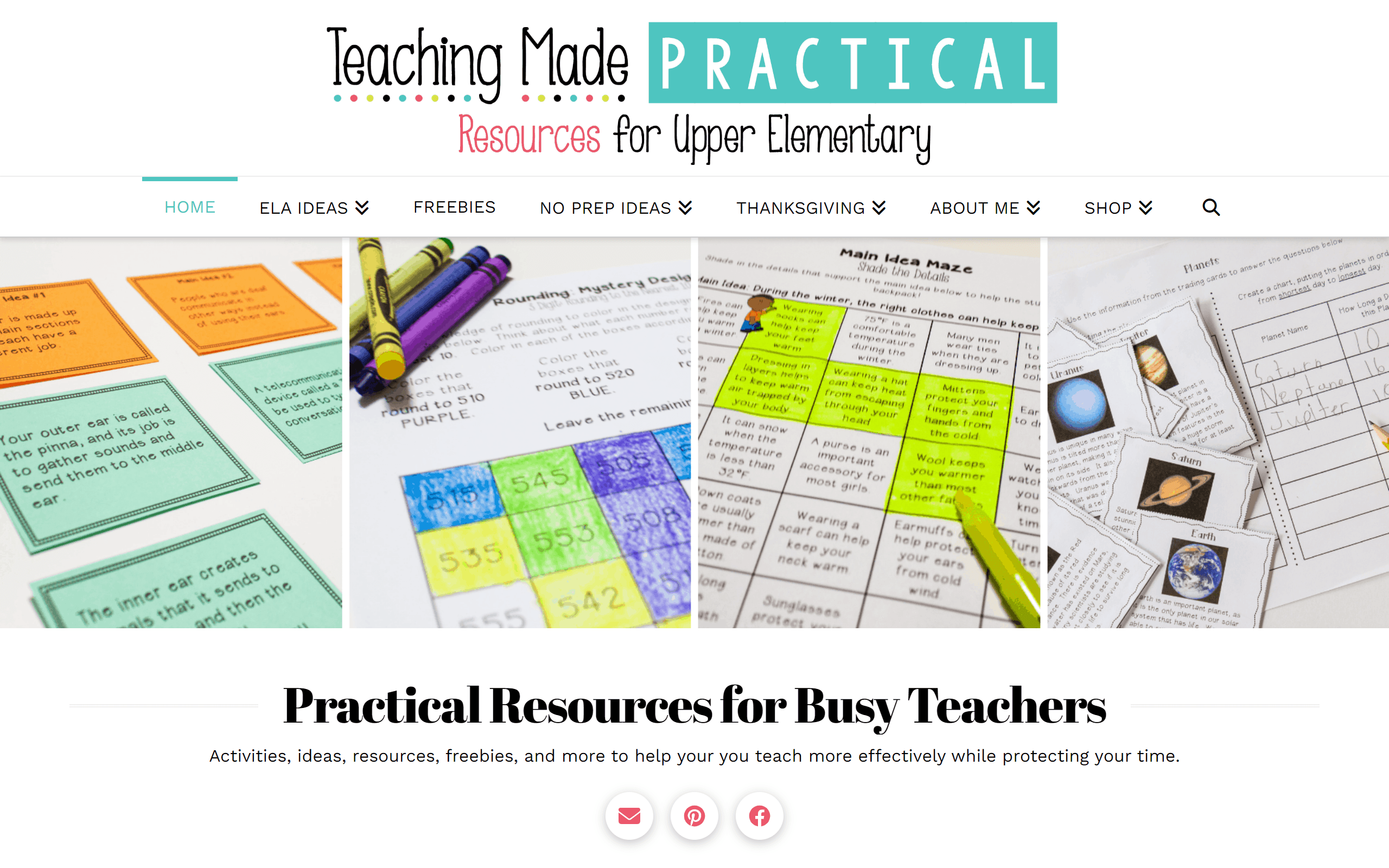 Teaching Made Practicalis a leading among elementary teachers blogs. Born out of a blend of gymnastics training and elementary teaching, this blog is all about keeping kids engaged and making lessons... well, practical.
The site is a goldmine for time-saving tips. If you're tired of lengthy processes or overly decorative materials that just eat into actual learning time, you'll find a friend in Teaching Made Practical. Dive into strategies that emphasize efficient classroom routines, practical resources, and meaningful learning experiences because this is one of the best teacher blogs out there.
So, teachers and educators, if you want a resource that values your time and prioritizes real results in the classroom, this teacher blog is your go-to.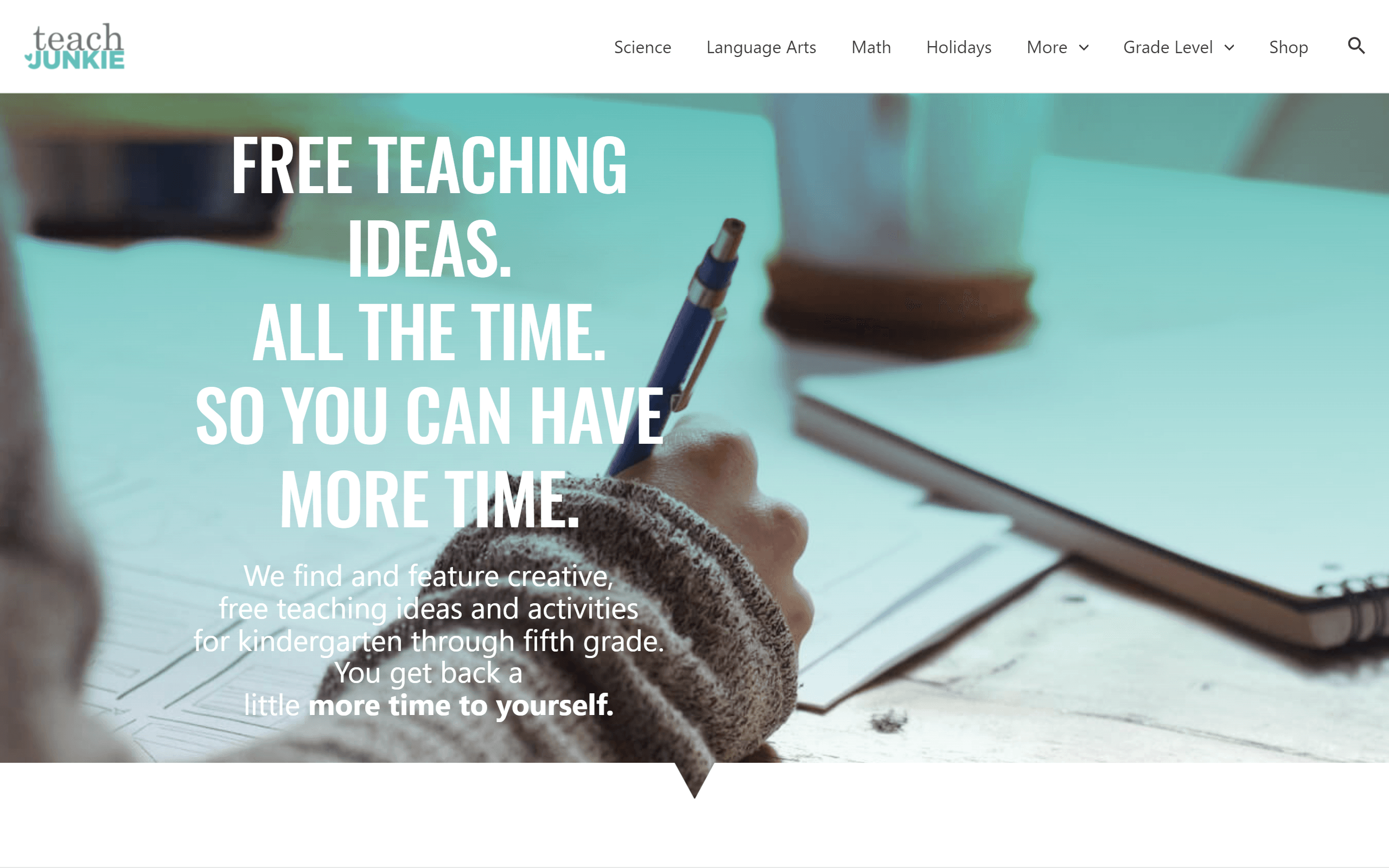 Teach Junkie is one of the go-to elementary teachers blogs for all K-5 teaching goodies. Struggling to keep those lesson plans fresh? Leslie's on a mission to sprinkle some magic into your classroom with her innovative ideas and activities! This teacher blog is the caffeine jolt your teaching routine has been craving.
But, hold up – Leslie's not about hoarding all the good stuff. She's your curator, gathering the creme-de-la-creme of teaching hacks and resources. And because sharing is caring, she's all about giving shoutouts to other rockstar teachers, guiding you straight to their genius content.
Plus, who can resist freebies? Dive into this best teacher blog and snag a handful of top-tier goodies without breaking the bank.
Learning in Wonderland stands out as an invaluable resource for educators. Since its inception in 2012, this best teacher blog has been dedicated to providing practical teaching solutions and innovative ideas, transcending the confines of just second-grade topics.
Maribel, the adept educator behind the platform, consistently offers a wealth of knowledge derived from her experiences in the classroom. The blog features insightful teaching techniques, detailed children's book reviews, and ingenious classroom setup ideas.
While Maribel's narratives add a layer of authenticity, the core strength of the platform lies in its actionable advice tailored for educators.
Meet Teaching with a Mountain View. This gem started in 2011, by a super creative educator while she was on bedrest, awaiting her twins. It began as a cozy little space to share nifty classroom ideas, primarily on Teachers Pay Teachers.
Now, it's blossomed into one of the best teacher blogs, loaded with inspiration and neat teaching tricks! Whether you're looking to spice up your teaching methods or just in for a dose of inspiration, this blog's a keeper!
So, next time you're sipping on your coffee (or tea, we don't judge) and looking for a mix of educational gold and some engaging reads, this is the blog for teacher for you.
Why Is Teaching with a Mountain View Our Favorite?
This is one of the rare elementary teachers blogs that shares lesson plans, activities, projects and other ideas that have been tested in the author's classroom. Teachers can learn from practical experiences. Materials are designed specifically for upper elementary grades and cover important subject areas like literacy, grammar, math and more.
Have you had a taste of Imagination Soup yet? It's a cool mix of an elementary teachers' blog with a dash of a real mom blogs vibe. Trust me, it's a journey!
Looking for the perfect read for your kids? There are book lists that are spot-on, all sorted by age! And hey, if STEM is your jam, you're gonna find loads of fun and brainy stuff in there – it's practically a treasure trove of Science, Technology, Engineering, and Math goodies.
Parents and teachers! You'll find a corner packed with real, relatable parenting wisdom and tips. Need some fresh reading and writing ideas? You're totally covered. And, for the love of playful learning, there's a section jam-packed with cool toys and game recommendations.
Best Secondary Teacher Blogs 📘
We Are Teachers is all about valuing every kiddo's individuality and backing the educators to make the right calls for their students. It's a hub for pushing diversity, equity, and inclusion and for holding those necessary, tough conversations.
Safety? A big YES! This teacher blog is steadfast about creating safe havens for learning and is all in to end gun violence in our schools. And hey, it's also about balancing work and life and fighting for the pay that teachers totally deserve!
So, if you're all about getting the real deal on education, swinging by best teacher blogs like this is a must. It's your spot for some honest-to-goodness insights and some serious professional growth vibes!
If you've been looking for ways to integrate new learning models into your classroom, like project-based learning, TeachThought might be a spot to bookmark.
The blog doesn't just toss around buzzwords; it breaks down essential concepts and shines a light on critical thinking and inquiry-based learning. Their approach feels modern and in-tune with today's teaching challenges. There's also a noticeable emphasis on the smart use of technology to foster innovation.
What' special? Their podcast. It dives deep into topics like well-being and offers a fresh perspective on creating an engaged learning environment.
Ever stumbled upon a teacher blog and thought, "This is exactly what I needed!"? That's the kind of vibe you get from Dr. Catlin Tucker's blog. She's all about blended learning and seriously knows her stuff.
Her blog? Packed with solid advice and tools for teachers wanting to switch things up. Plus, the way she breaks down complex topics makes everything feel super approachable. And if you're into podcasts or online courses? She's got those too.
Out of all the education blogs I've scrolled through, this one feels like chatting with a fellow teacher over coffee. Trust us, give it a read!
Why Is Catlin Tucker Our Favorite?
This is one of the top teacher blogs. Posts discuss timely issues like using AI, troubleshooting flipped classrooms, and feedback strategies. Teachers get fresh, relevant ideas. Advice comes from research and Dr. Tucker's experience implementing new techniques in real classrooms over many years. Ideas are classroom-tested.
Best Higher Education Blogs 🎓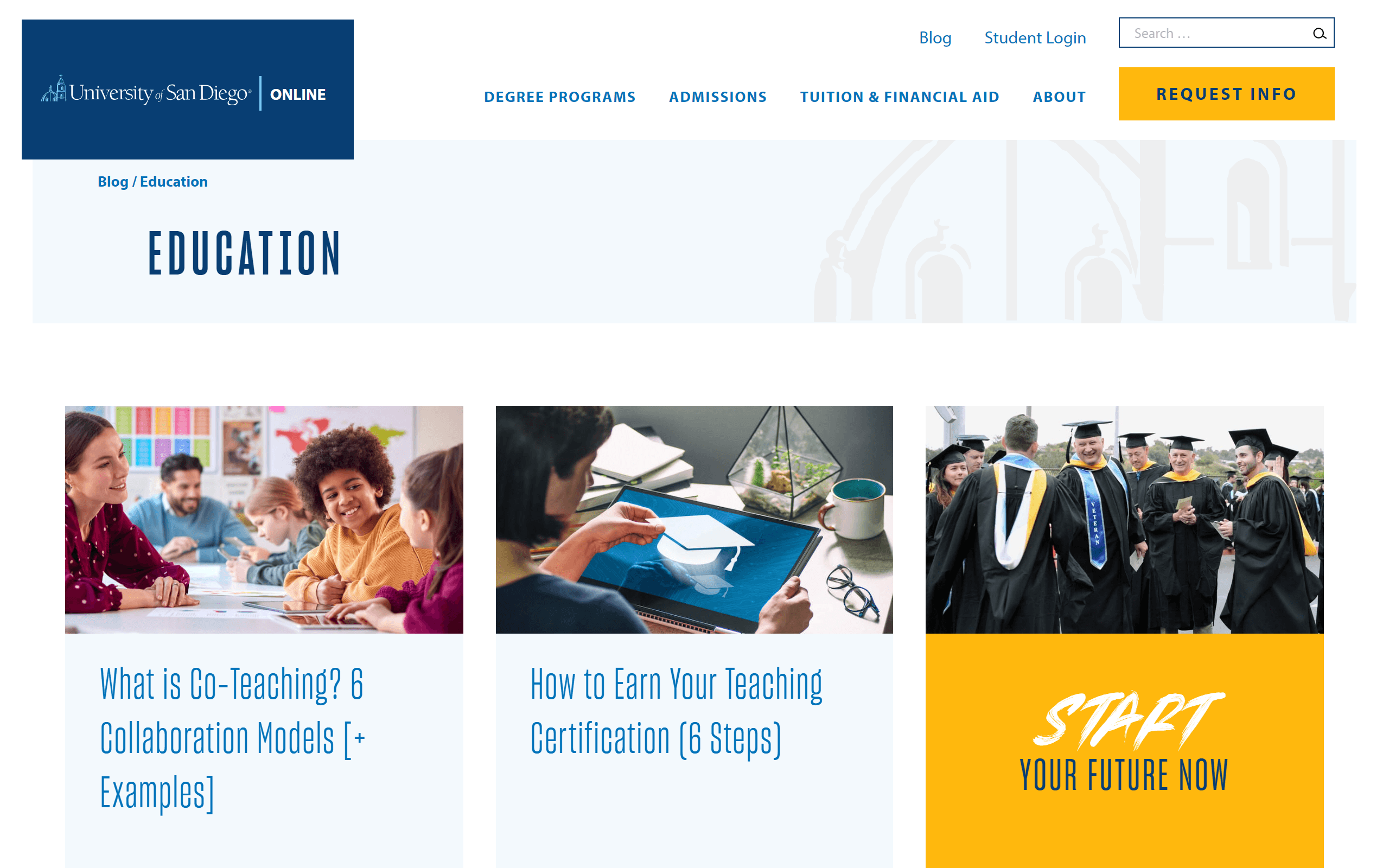 The University of San Diego Education Blog is a great spot if you're looking for clear info on higher education. Straight from the University of San Diego, they share updates on teaching, curriculum changes, and more.
What's refreshing is their hands-on approach. You get a feel of real classroom experiences mixed with expert perspectives. Plus, they occasionally spotlight influential educators and thought leaders, which adds an extra layer of depth.
This is one of the best blogs for teachers that is easy to read and super helpful. If you're involved in higher education or just curious, this education blog is a good place to start.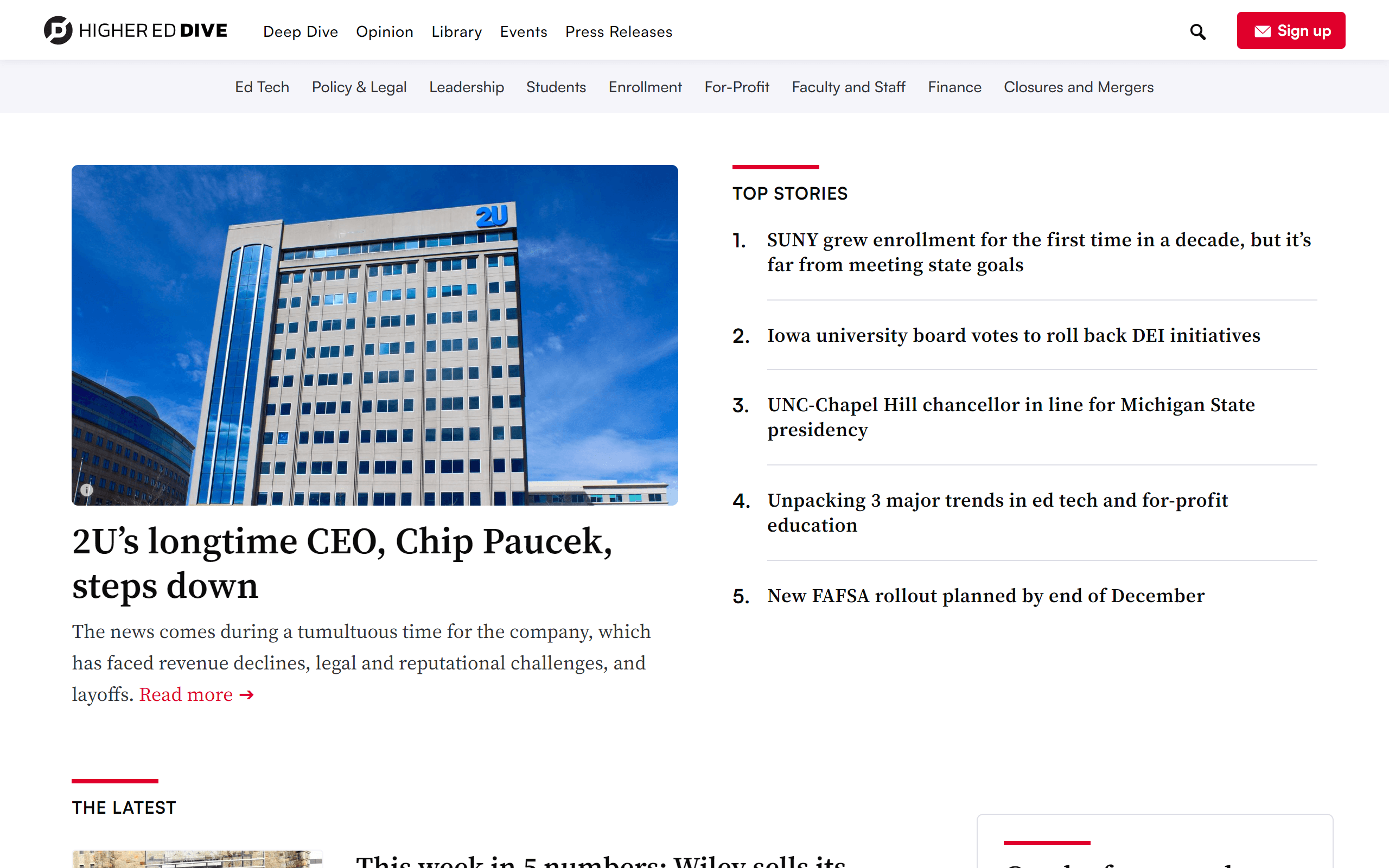 If you've spent some time on Higher Ed Dive, you'll know it's not about frills and fluff. It's a comprehensive spot that delves into the core aspects of higher education. The content is rich with insights on online learning, policy dynamics, and the many facets of leadership in academia.
What stands out? Their clarity. They don't just skim the surface; they dive deep (as the name suggests) into each topic. It's refreshing to find an education blog that cuts through the noise and offers genuine, actionable insights.
For anyone invested in the world of higher education, Higher Ed Dive provides a reliable pulse on what's current and crucial in the sector. Definitely worth adding to your reading list.
Why Is Higher Ed Dive Our Favorite?
It reports on all aspects of higher ed including policy, technology, admissions, finances, personnel and more. No topic is overlooked in this blog. Readers can stay constantly informed as new articles are published every weekday. This blog for educators ensures the latest developments are not missed.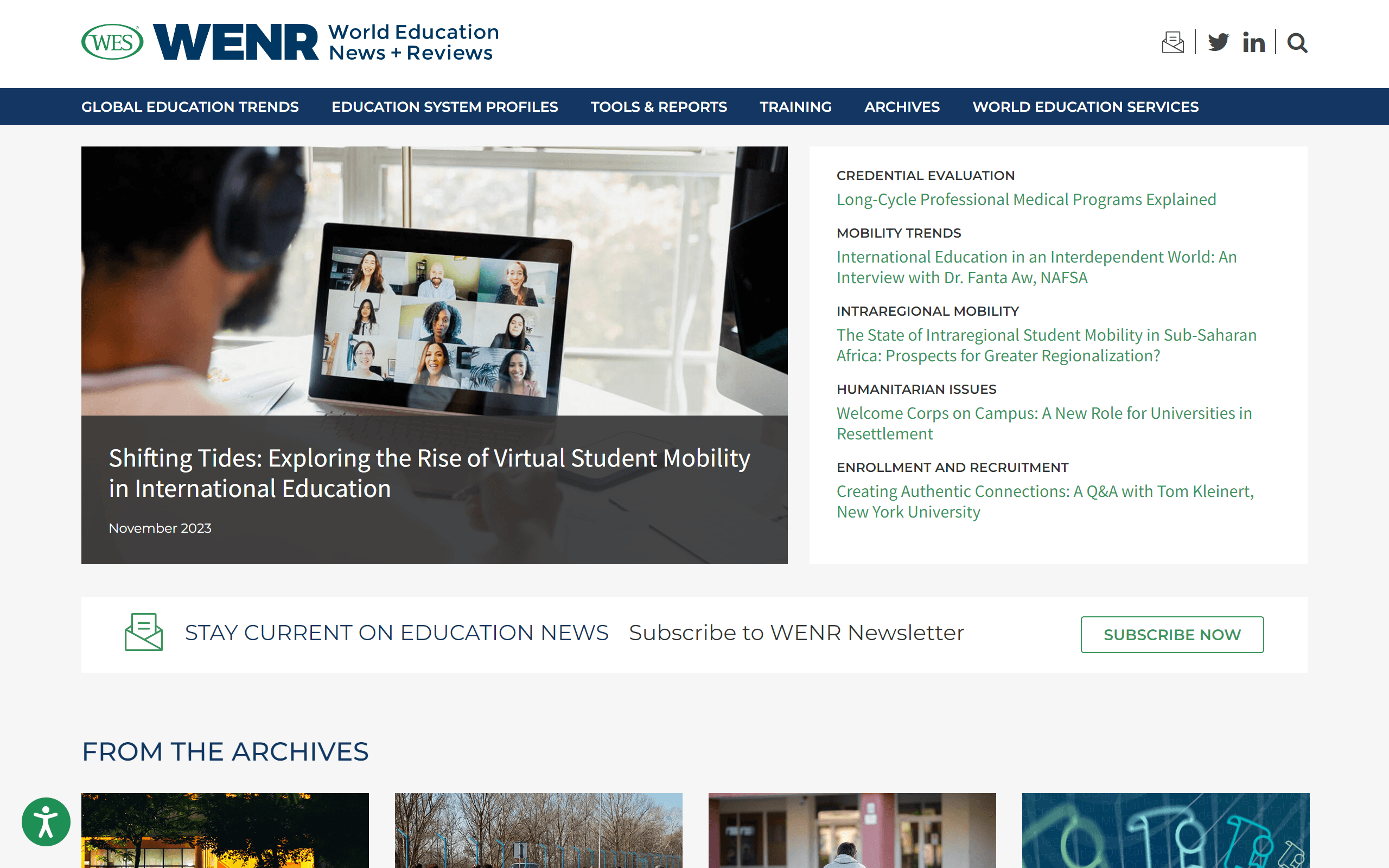 Diving into "World Education News + Reviews" feels like embarking on a global educational adventure. Trust me, this isn't your run-of-the-mill teaching blog. It offers a unique perspective, blending worldwide insights with current educational trends.
Each article provides a fresh, insightful look at teaching and learning from various corners of the globe. The balance between in-depth analysis and relatable content is just right, making it a joy to read and absorb.
If you're keen on expanding your educational horizons or just curious about how learning happens worldwide, this site is a treasure. Grab a cup of your favorite brew, find a comfy spot, and dive in.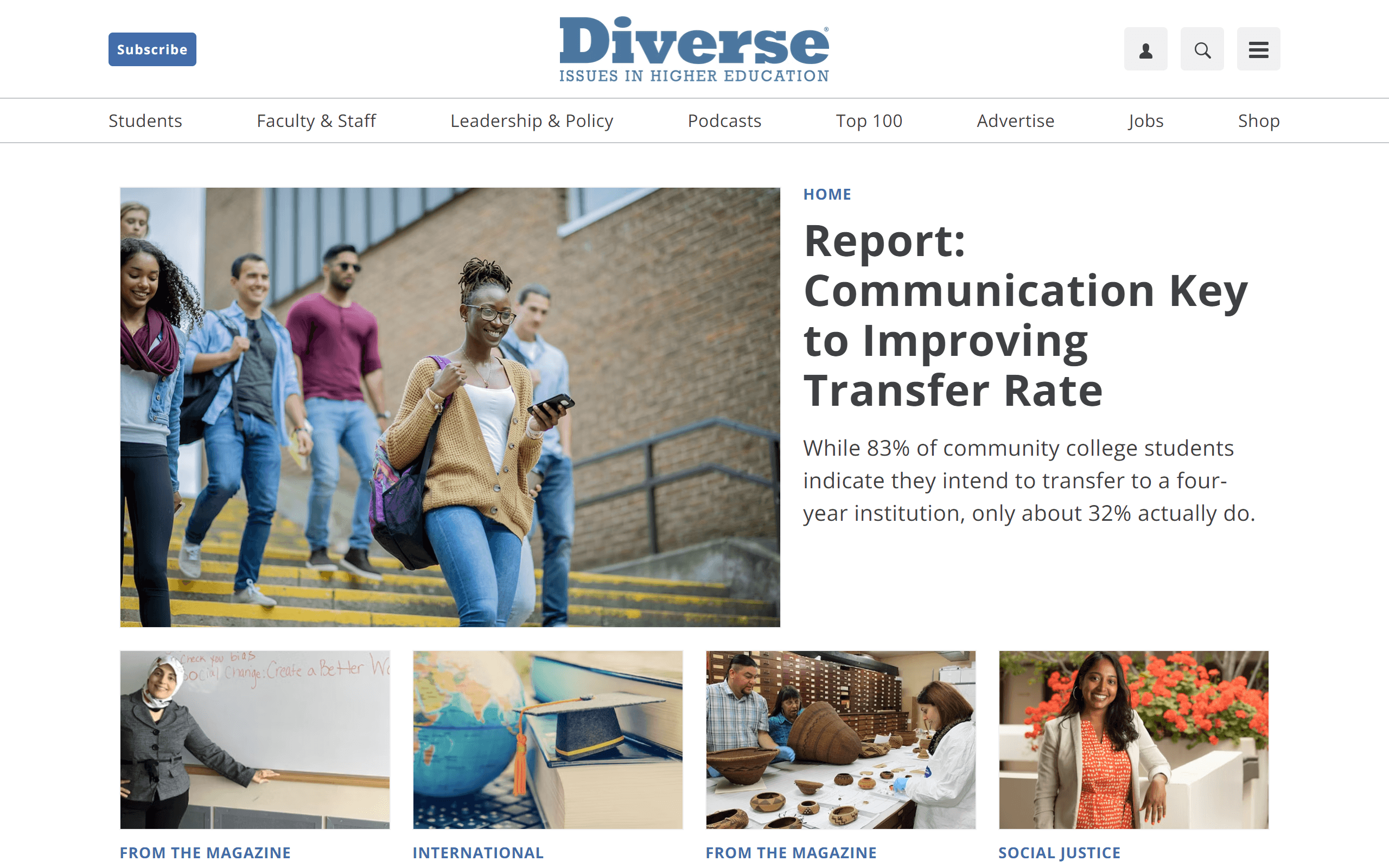 So, if you've been on the hunt for some real talk about diversity in higher ed, you've got to check out "Diverse: Issues In Higher Education." It's one of those education blogs that doesn't hold back. They dive deep into everything – from what educators are grappling with to the myriad of student experiences out there.
What's cool about them? They're not just rehashing the usual. They're shedding light on perspectives that many don't even think about.
Seriously, if you want to get clued in on the state of diversity in the academic world, make "Diverse" your next online pitstop. This blog for educators is like a fresh cup of coffee for your brain.
If you're an educator and were looking for teacher blogs, "Faculty Focus" is definitely worth a browse. It's not just another teacher blog. It's a hub brimming with articles that cater to a wide array of teaching environments, whether you're into online, in-person, or even those tricky hybrid classrooms.
But the goodness doesn't stop there. They've also rolled out the "Faculty Focus Live" podcast. It's a fantastic listen, serving up handy tips, techniques, and real-world teaching stories that can be quite the game-changer in your teaching journey.
On top of all that, their special reports and a plethora of other resources make it a go-to spot for educators looking for continuous professional growth.
Best EdTech Blogs 💻
The "Cool Cat Teacher Blog" isn't just cool by name; it's genuinely one of the coolest educational blogs I've come across! Whether you're a tech enthusiast, someone looking to stay atop of the latest teaching trends, or simply searching for nifty stuff to introduce to your students, this blog has it all covered.
Designed as a comprehensive blog for teacher enthusiasts of all grade levels, it doesn't matter if you're working with kindergarteners, high school seniors, or college students; there's a section tailored just for you. And the variety is immense! You've got everything from technology tips, subject-specific strategies, to engaging activities for all age brackets.
But one of my absolute favorites? It has to be the "10-Minute Teacher Podcast." It's perfect for those short breaks, giving you quick, actionable insights to better your teaching game.
This here blog is run by Gwyneth, a librarian from Maryland. She shares random stories and tips from her job in a middle school. This is one of the ultimate teaching blogs to find all the relevant information.
You can find teaching tips, book reviews, Ed Tech ideas, rants about censorship, and more. Basically anything related to libraries, schools, books and learning.
Gwyneth tries to post once a week or so talking about whatever's on her mind. Could be new books she found, tech tools for class or just funny things the kids said.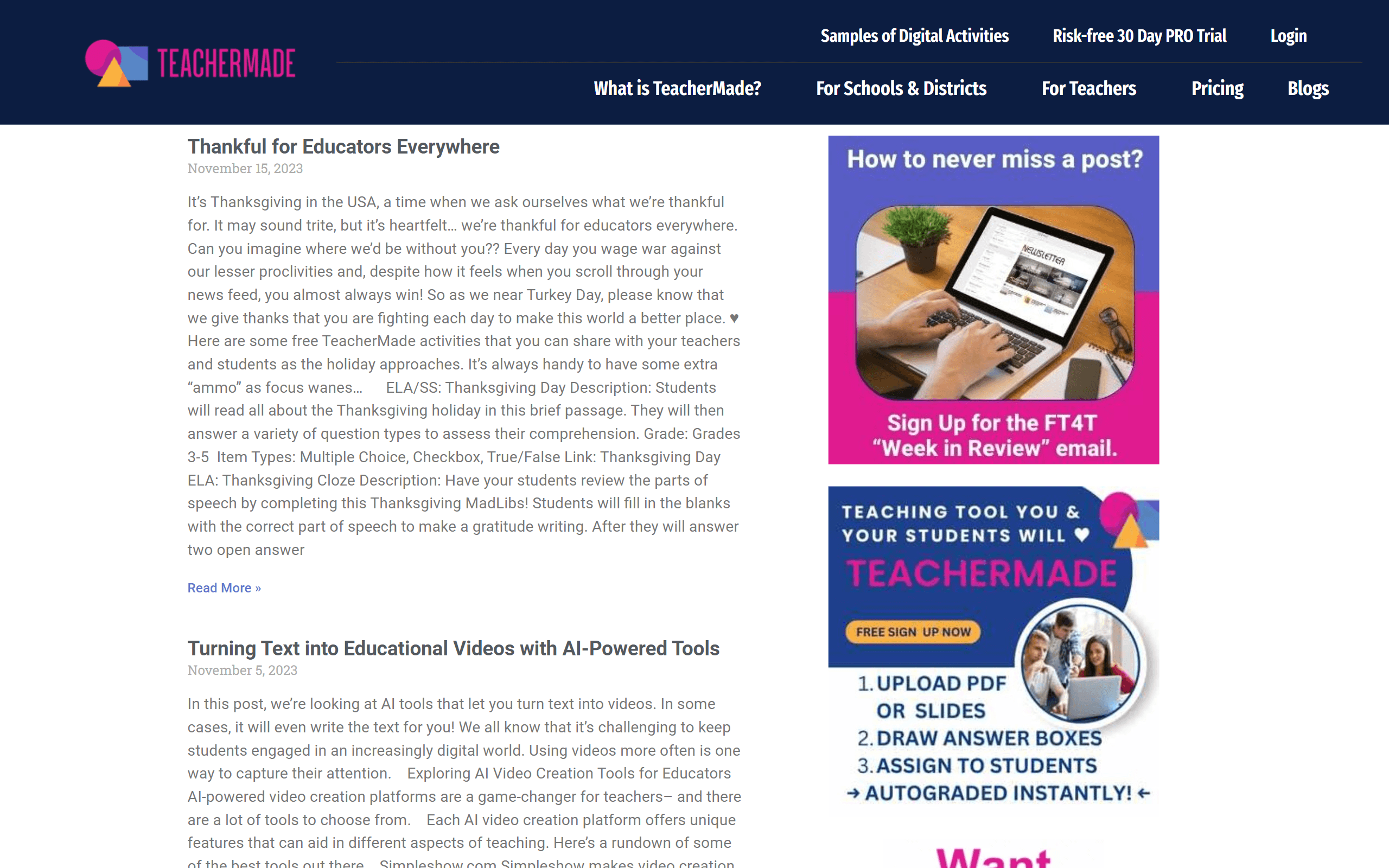 Free Technology for Teachers is a lifesaver for modern educators. The blog offers nifty tools allowing teachers to transform traditional printed lessons into interactive digital ones.
Think of the possibilities! Instead of students passively flipping through textbook pages, they can engage with dynamic online activities. For educators on the hunt for fresh ways to engage their students, this blog is a treasure trove of inspiration.
Best of all, you don't have to break the bank to access these resources. Everything on the blog is available for free. For those teachers eager to stay ahead of the curve and make learning more engaging, this blog should be bookmarked on their browser.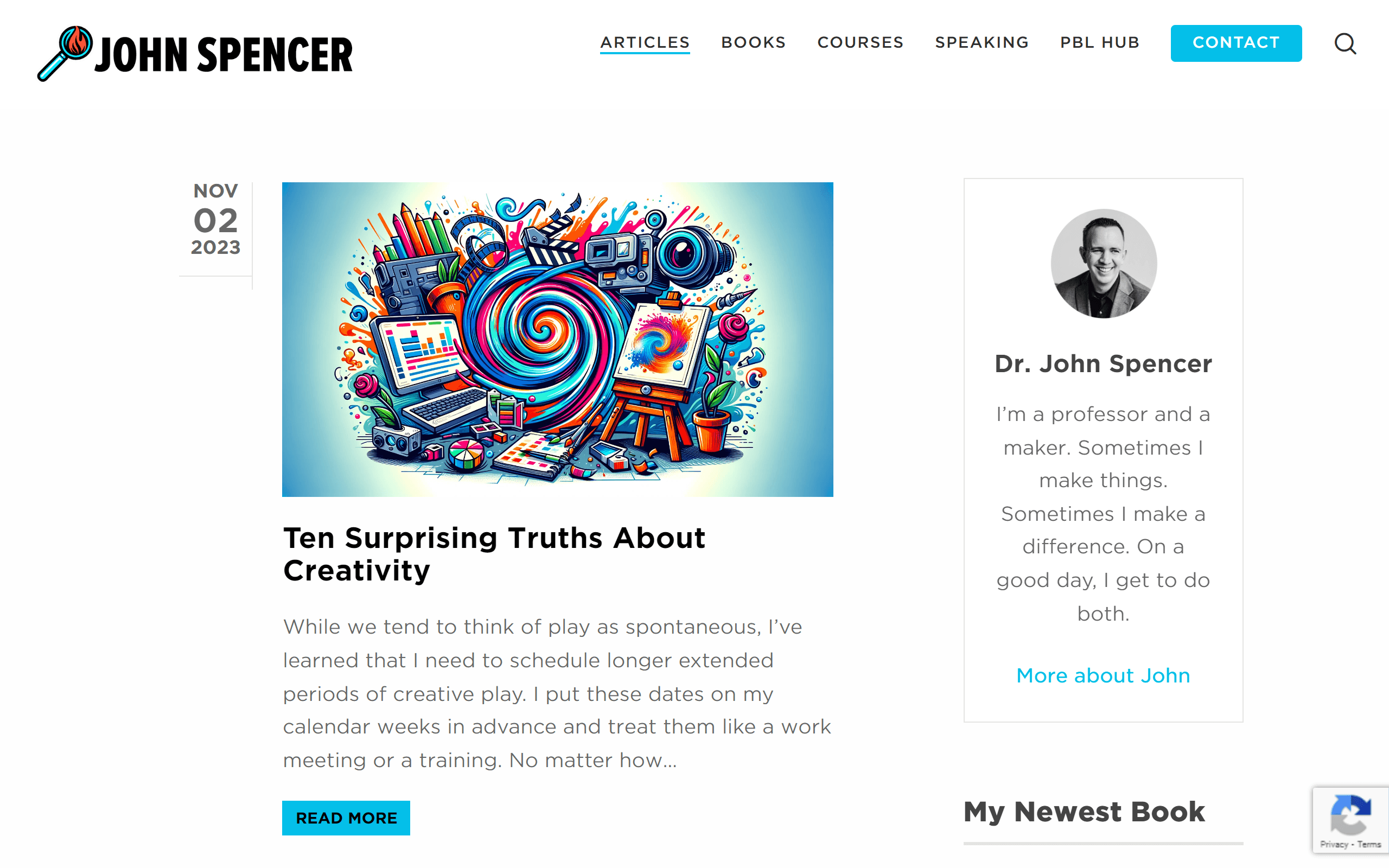 The John Spencer Blog is like a toolkit for teachers who want to bring more creativity into the classroom. His blog is chock-full of useful tips, videos, and podcast episodes.
He dives deep into practical ways to transform traditional lessons into engaging creative experiences. Whether you're searching for ways to get students more involved or simply hunting for a fresh perspective on teaching, John's insights can be a game-changer. Reading through his posts, you'll find stories from his teaching journey, real-world examples, and even a few failures he's learned from.
If you're eager to spark creativity and wonder in your teaching methods, the John Spencer Blog is the place to be. With every post, there's an opportunity to learn and grow, making it an essential read for educators everywhere.
Why Is John Spencer Blog Our Favorite?
John Spencer is a very experienced educator, author and speaker. Readers can trust his advice comes from years of classroom practice. Posts don't just discuss topics but provide real examples and actionable activities teachers can apply right away in their lessons.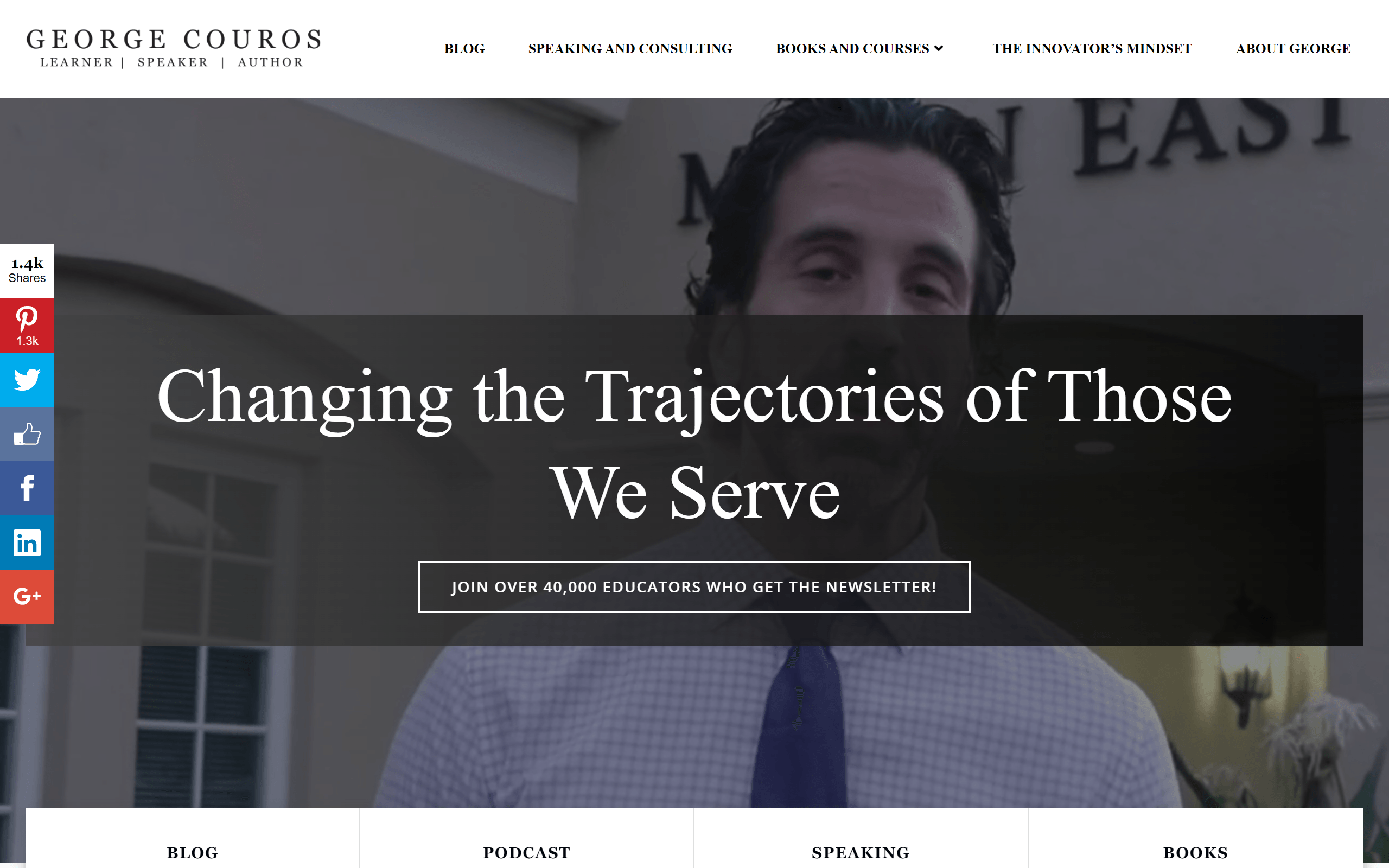 Ever felt like education needed a bit of a shake-up? George Couros' runs one of the top teacher blogs out there. It's jam-packed with fresh perspectives on innovative teaching and leadership. Instead of the same old textbook approaches, this blog pushes the envelope, making you rethink how learning can be done.
From hands-on strategies to creative solutions for age-old classroom challenges, there's always something that'll catch your eye. It's not just about getting students ready for the world; it's about lighting that spark so they can make the world even better.
Whether you're an educator or just someone curious about the future of learning, there's a hook for you in every post.
Best News Websites for Teachers 📰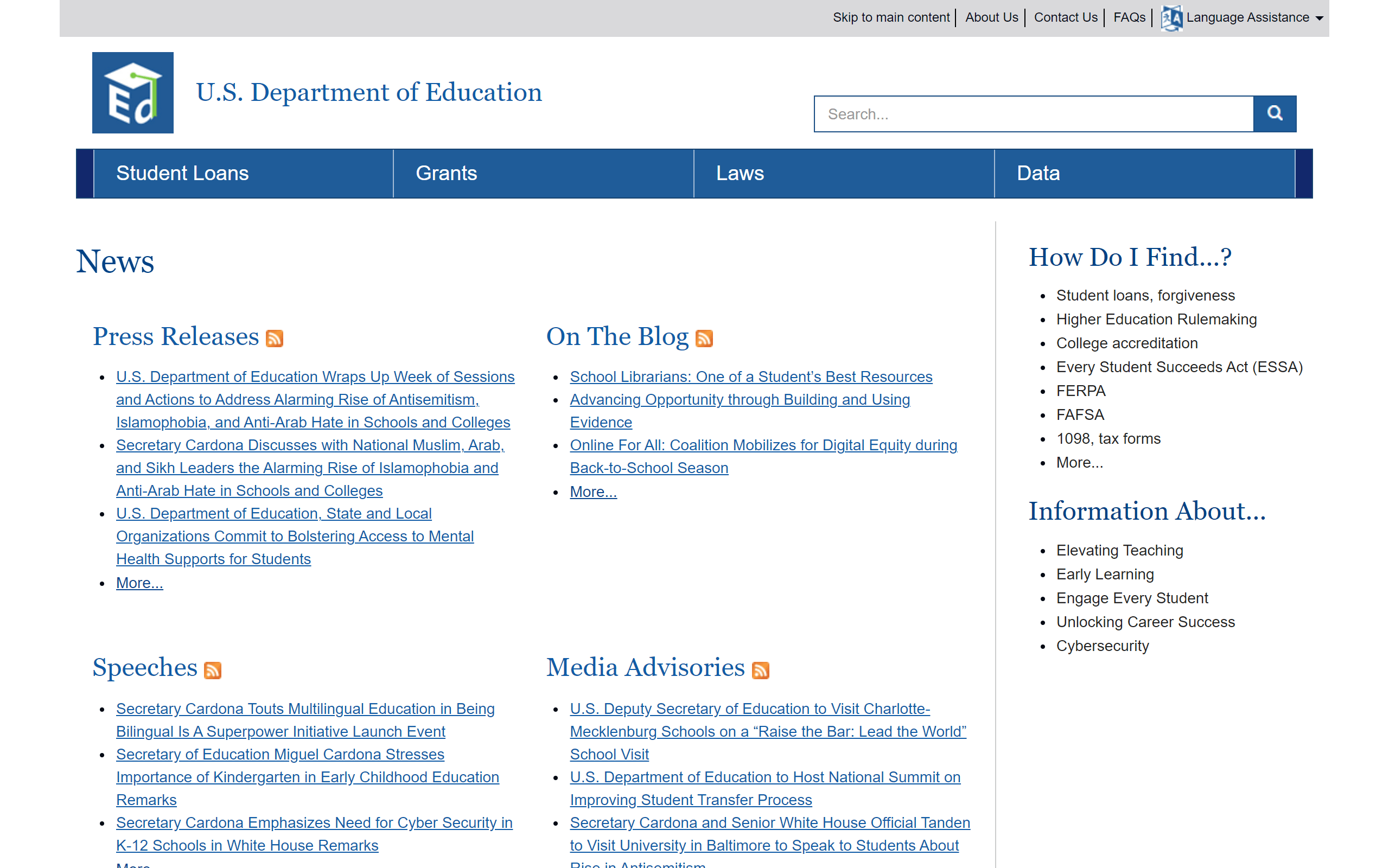 When it comes to getting the most authoritative and up-to-date news on education in the United States, the U.S. Department of Education's official website is a must-visit for every educator. It's not just a portal; it's a hub where educators can get reliable insights straight from the source.
Latest policies, updates, or federal initiatives related to education? This site has it all. Plus, with detailed reports and research data, teachers can gain deeper insights into nationwide education trends and statistics.
But it's not just about the dry facts. The website also offers resources, toolkits, and guidance to help educators in their daily roles. Grants, regulations, or professional development opportunities, it's all in there.
Ever checked out Education Week? It's like a goldmine for anyone involved in education. From teachers to policymakers, this site serves up everything you need to know about the education world.
The beauty of this blog is its diverse range of topics. You'll find articles penned by veteran educators sharing their wisdom, analyses of current education news, and highlights of innovative classroom practices. Plus, it's not just about the U.S. – there's a global perspective on education, too.
So, if you're looking to stay in the loop, learn, and maybe spark some change in the education space, Education Week is your go-to.
Why Is Education Week Blog Our Favorite?
In addition to reporters, the opinions and perspectives of leaders, teachers, researchers are featured providing varied insights. Content is organized cleanly into sections for easy navigation to find relevant material quickly according to readership's interests.
eCampusNews.com is all about higher education and the latest trends. If you're curious about online learning, IT in education, or what's new in degree programs, this blog's got the info. They've been sharing news and updates for 25 years!
This website is among the best blogs for teachers that connects you with innovators in education. And with over 300,000 people checking it out every month, it's a popular spot. They tell you about colleges doing great things like helping more students graduate and improving classes.
Simply put, if you want to know what's happening in higher ed, eCampus News is a go-to source.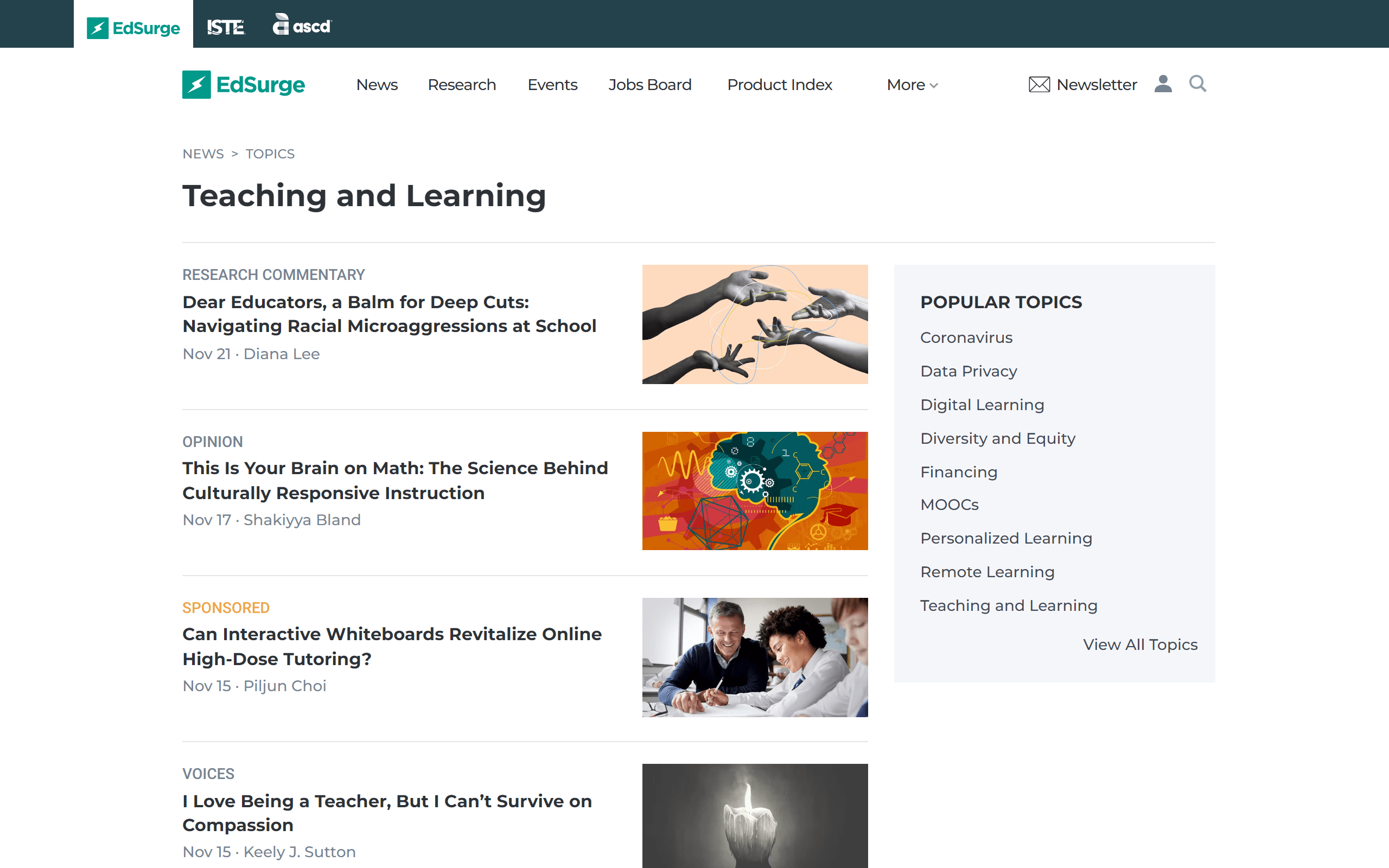 Have you checked out EdSurge? It's this digital hub jam-packed with insights all about education. They really get into the heart of what educators and students experience, talking about the highs, the lows, and everything in between. And guess what? For 2023, they're diving deep into topics like youth mental health and how the U.S. education scene is changing.
What's cool is they're not just sharing news. They've got feature stories, deep dives, and some personal tales. Whether you're into reading articles, catching up with newsletters, or tuning into podcasts, they've got you covered.
On the side, they offer handy tools like a Product Index and a Jobs Board. So, if you're curious about the world of education, EdSurge is totally worth a look!
Ever wondered where to find the lowdown on all things K-12 education? Well, K-12 Dive is your go-to spot. They dive deep into the world of K-12, chatting about everything from cool tech in classrooms to innovative school models and even how teachers are upping their game with professional development.
But here's the kicker: K-12 Dive isn't just another education site. They're part of the big league with Industry Dive. Their team serves up fresh insights for millions who want to stay ahead in their fields.
And the best part? Their blog feels like a conversation. It's not just about news; it's about understanding trends, getting inspired, and being part of a community that cares deeply about education.
Best Blogs for STEM Teachers 🔬
Ever thought math could be, well... yummy? That's exactly what YummyMath.com is all about. Brainchild of Brian and Leslie, this cool site brings real-world math problems straight to the classroom. No more "When will I ever use this?" questions. Instead, students get to tackle math challenges that they can actually relate to.
What makes this blog stand out? It's packed with math activities that make numbers fun and relevant. From everyday scenarios to quirky problems, it's all about making math engaging and relatable. Plus, they're in line with major educational standards, so teachers, it's a win for you too!
Since 2010, they've been dropping fresh content regularly, all for free. So, if you're looking to spice up your math lessons or just have a fun brain workout, Yummy Math is the place to be.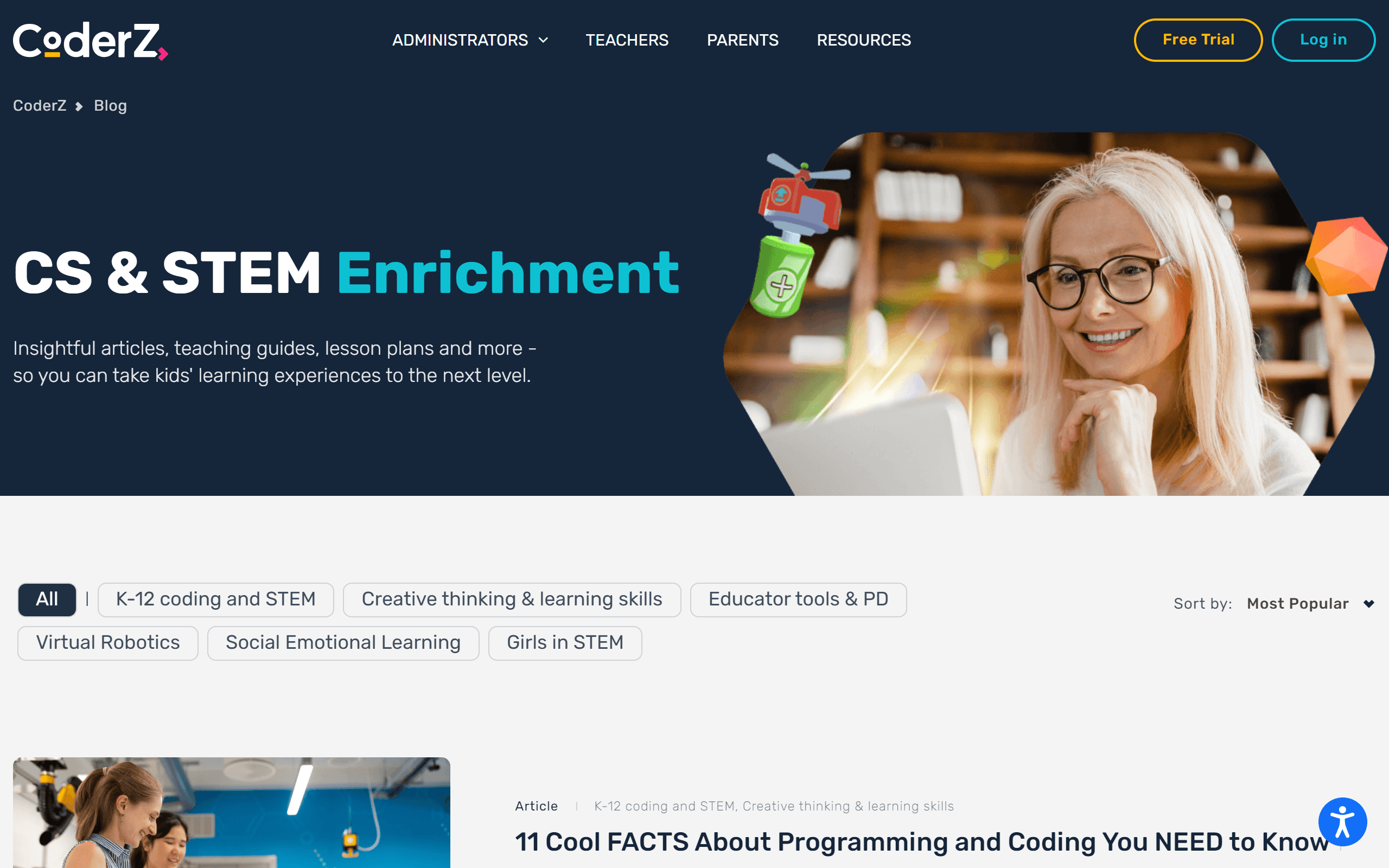 Ever wonder what happens when a bunch of tech nerds, gaming fans, and robot enthusiasts team up? Enter CoderZ Blog. These guys are on a mission to make coding and STEM cool and accessible for everyone, especially from 4th grade and up.
CoderZ tosses students into real-world challenges, making them flex their coding muscles. Teachers, don't sweat! Their platform's super user-friendly, no fancy tech know-how needed.
It's not just coding; it's about thinking on your feet, teaming up, and having a blast. They're all about those big Cs: Critical thinking, Collaboration, Creativity, and Communication.
Why Is CoderZ Blog Our Favorite?
The articles, guides and lessons are written in a simple, easy to understand manner suitable for both teachers and students new to these subjects. The blog is written by experts at CoderZ who are experienced in teaching these topics and understand the needs of classrooms. Videos and images are also used to demonstrate concepts making dry topics more fun and understandable.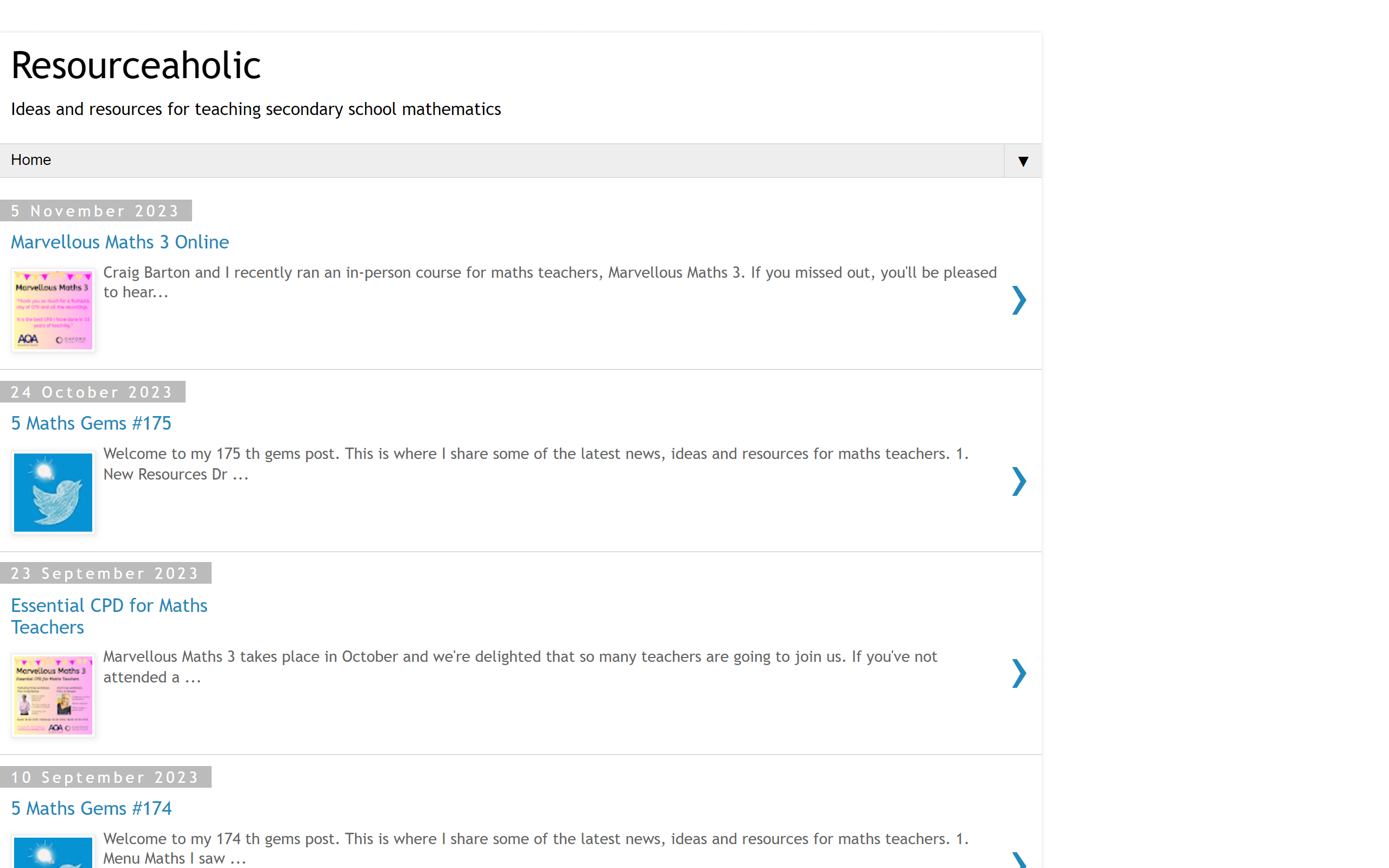 Lastly, let's chat about Resourceaholic. If you're into teaching math at the secondary level, you're in for a treat. This blog is like a treasure chest of math goodies. From algebra to trigonometry, Resourceaholic has got you covered.
So, what's the vibe? Think of it as your friendly neighborhood math teacher sharing their top-secret stash of awesome resources. Worksheets, lesson plans, cool math tricks – it's all there. And guess what? It's all about making math not just understandable, but downright fun.
What stands out about Resourceaholic is its dedication to modern teaching methods. The world's changing and how we teach math should too. This blog is always up-to-date with the latest teaching trends and techniques.
Before the Bell Rings: Our Last Words
Alright, teacher friends, that's a wrap! We've journeyed through the cream of the crop when it comes to teacher blogs. From hands-on classroom tips to the techy side of things, there's a blog out there tailored just for you.
Curious about where to find some pep in your teaching step? Dive into motivational blogs to reignite that passion. Remember, every blog for teacher out there is a store of shared experiences and new ideas. So, explore, innovate, and let's keep making learning awesome! Cheers to being forever learners! 🥂