Business is changing fast. To succeed over time, companies must keep watch on competitors. New players enter markets all the time. Traditional competitor research can't keep up.
You need tools with current data on what rivals are doing. Their strategies, messaging, focuses - having these real-time insights is important.
We'll look at some top competitive analysis tools. They give up-to-date info on industry shifts and competitor moves. This helps companies make smart calls to compete well as things change around them.
Staying informed is key in unpredictable times.
🏆 How We Picked the Best Competitor Analysis Tools
Comprehensive Research: We evaluated over 100 competitor analysis tools based on key features, pricing options, integrations and reviews from actual users
Tool Functionality: Top considerations included competitor data collection, analytics capabilities, reporting features and how intuitive tools were for analyzing strengths/weaknesses.
User Experience: Ease of use, UI/UX design and onboarding processes heavily influenced our choices to ensure tools are user friendly.
Pricing & Plans: We analyzed pricing models at various business levels and frequencies to find most cost effective options.
Customer Support: We read reviews mentioning support quality, from 24/7 help to transparency on capabilities/limitations.
Industry Coverage: Tools provided robust competitor benchmarking across diverse sectors like SaaS, retail, finance, healthcare and more.
Data Sources: Reliable data sources and how often they were updated was important for accurate real-time competitor insights.
Reporting Customization: Best tools offered flexible, white-label reports customizable for stakeholder needs.
Integration Capabilities: Seamless integrations with other business tools proved valuable for easy workflow.
🤝 Why You Should Reply on Our Recommendations
Lots of experience: We've sold themes on ThemeForest since 2015 with over 23,000 sold.
Successful track record: As a top author, our 20 professionally made themes help us know what works.
Deep understanding: From years in the industry, we understand features and designs people want based on real sales.
No payment from tools: Our reviews looked at tools without payments influencing our choice.
Careful testing: We tested tools using what we know works and real user reviews to pick the best.
Recommend only good ones: As a top seller, we only suggest tools we're sure will meet business needs.
Why Do You Need a Competitor Analysis Tool?
Wondering what all the hype around competitor analysis tools is about? We've got the scoop on why they should be part of your success toolkit.
Let's face it - we all love being lazy. But as the old saying goes, knowledge is power in business. Frequently tracking what your competition is up to using the right keyword tracking tools is anything but lazy - it's strategic. Staying on top of trends helps you create highly targeted SEO efforts and email marketing services.
Putting yourself in your rivals' shoes with competitive analysis tools reveals improvements you may not see otherwise. Competitor research uncovers blindspots before the competition does. It's like getting an insider's peek under their hood!
We're not saying spy, but do keep casually peeking over that fence now and again. You can elevate your game with the right mix of respect and a little friendly espionage. And wouldn't you rather be at the top of your game than scrambling to catch up later?
So invest in yourself, future-proofing your success. Competitor analysis doesn't need to be hard, with the right automated competitor analysis software making it efficient. Consider it like a spot of market research - just a little more focused on those trying to beat you. Knowledge is power, guys. Now go empower yourself!
Competitor Analysis Tools for Social Media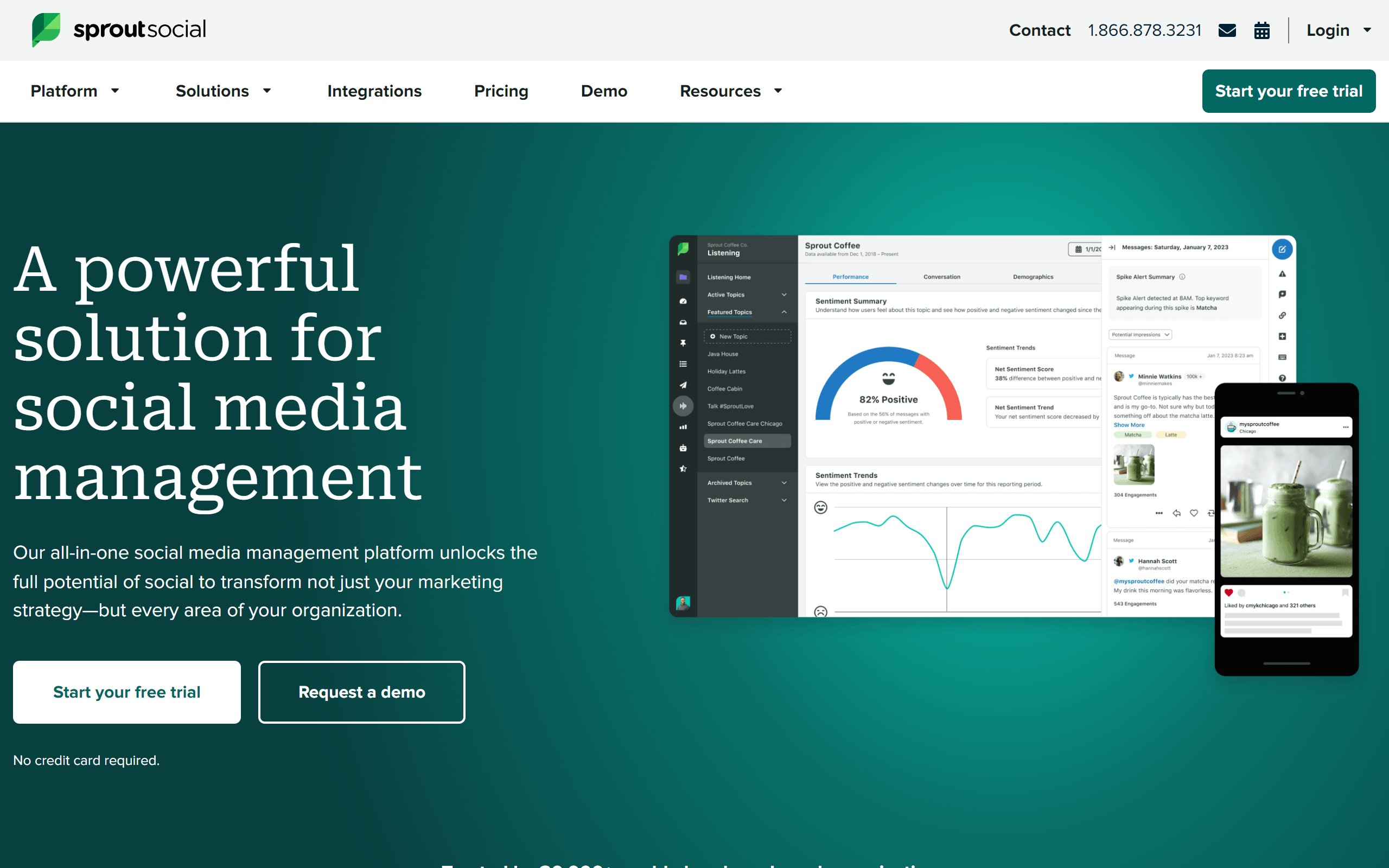 Connecting with customers isn't just about products - it's relationships. Sprout lets you engage across networks directly from its centralized dashboard. Save time by avoiding separate tools.
Smart algorithms uncover influencers and brand advocates, boosting word-of-mouth with less effort. AI insights reveal top strategies
Sprout supports all company sizes, perfect for optimizing social efforts without losing sanity. If spreadsheets still manage your efforts, it's time to upgrade with Sprout's comprehensive system.
Key Features:
This centralized social media hub stores all TikTok, Facebook, Instagram, LinkedIn, and WhatsApp messages in one simple stream. Forever done with network hopping - all customer care is conveniently located here.
Keyword alerts and competitor research tools stand sentry over your company name 24/7. No sneaky social slight will slip past watchful virtual eyes again!
By keeping comprehensive histories of all past customer interactions visible, teams can deliver seamlessly stellar service time after time. Replies stay fully informed with important context a breeze away.
Limitations:
The basic plan limits you to one user and up to 3 social profiles. If your team is larger or you manage multiple brands, it may not scale up well without paying extra.
You're tied to their interface - there's no easy way to export your data for analysis in other tools. For number-crunching folks, this lack of flexibility could be limiting.
It doesn't play nice with other major CRM or marketing platforms out of the box. Getting seamless integration would require building custom connectors yourself.
Pricing: $249/month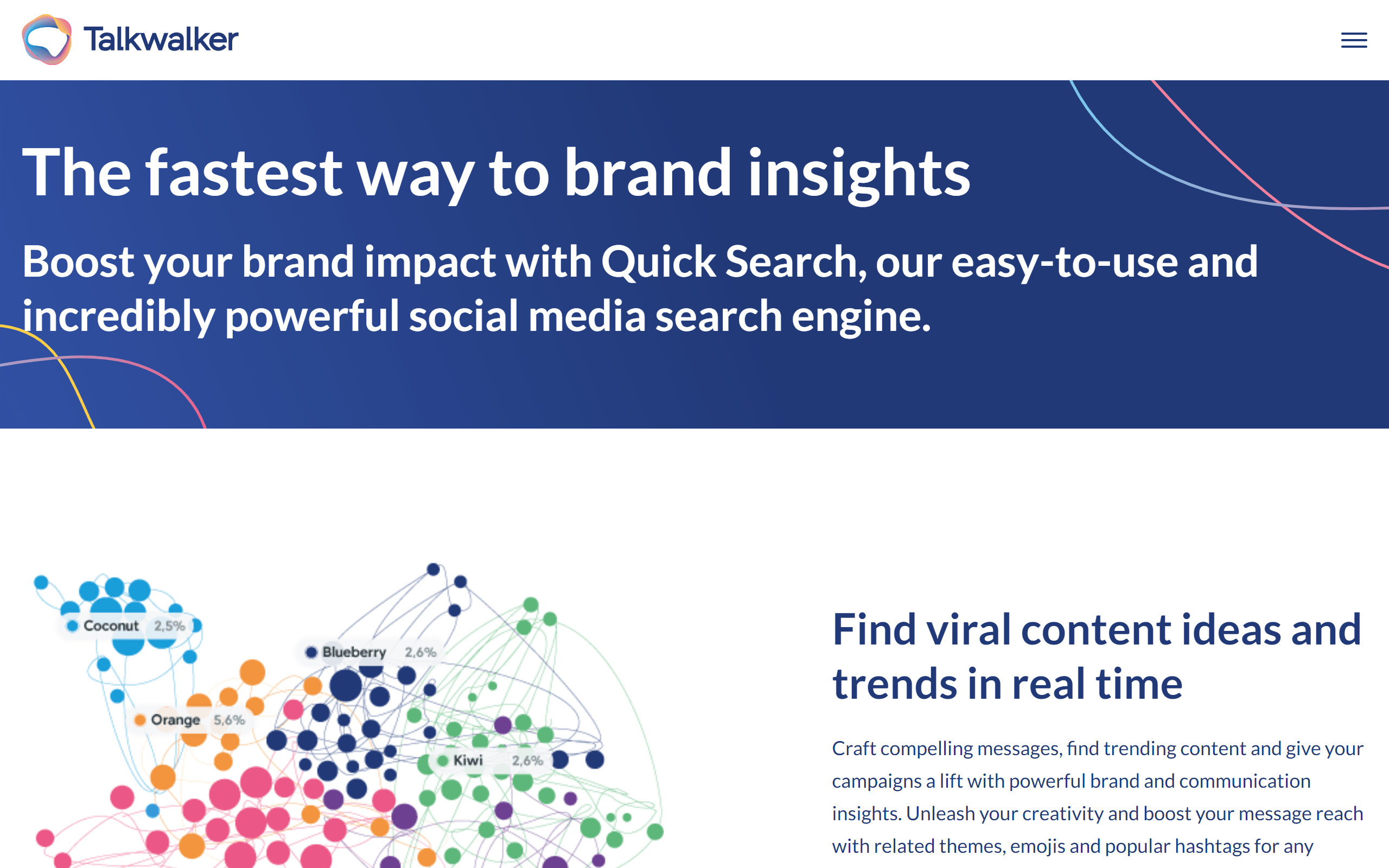 Quick Search saves search time. It queries titles, content, and an index as you type, displaying matches that you can follow.
No more menu digging - start typing to navigate. Wildcards like "tuber*" cover alternatives. Hover over colored boxes for quick result sources.
Imperfect queries still work via flexible suggestions. Next time you're looking for a hard-to-find section or snippet, try Quick Search for fast, fuzzy cross-document searching. Easy navigation arrives.
Key Features:
Their blazing-fast search taps into massive data lakes, locating what you need in seconds. Gone are the days of waiting anxiously - results come quickly as a flash!
Precisely hone in on what matters most for your business using our wide range of filter options. Slice and dice searches to your heart's content.
Make Quick Search your one-stop shop for all information trials and tribulations. Leverage our treasure trove of business guides, articles and community wisdom like the quick-witted pro you are.
Limitations:
It only scans your website's pages - you don't get insights into how customers search and click beyond your domain.
There's no integration with analytics tools, so linking clicks and behavior to specific keywords takes extra work.
The free version caps results at 250 keywords a month. For large sites with thousands searched, this could leave some gaps in your keyword data.
Pricing: $19.97 one-time payment
Why is Quick Search our Top Pick?
We picked Quick Search as the best tool because it finds what you need incredibly fast. As you type, it shows matches across titles and pages. No more menu digging - typing takes you where you want to go. It even helps with unclear searches through suggestions.
Quick Search taps huge amounts of data to return results instantly. You can filter searches exactly as needed too. It has lots of handy information so it's a one-stop shop. While it just searches your own site, Quick Search saves lots of time with its easy and rapid searching.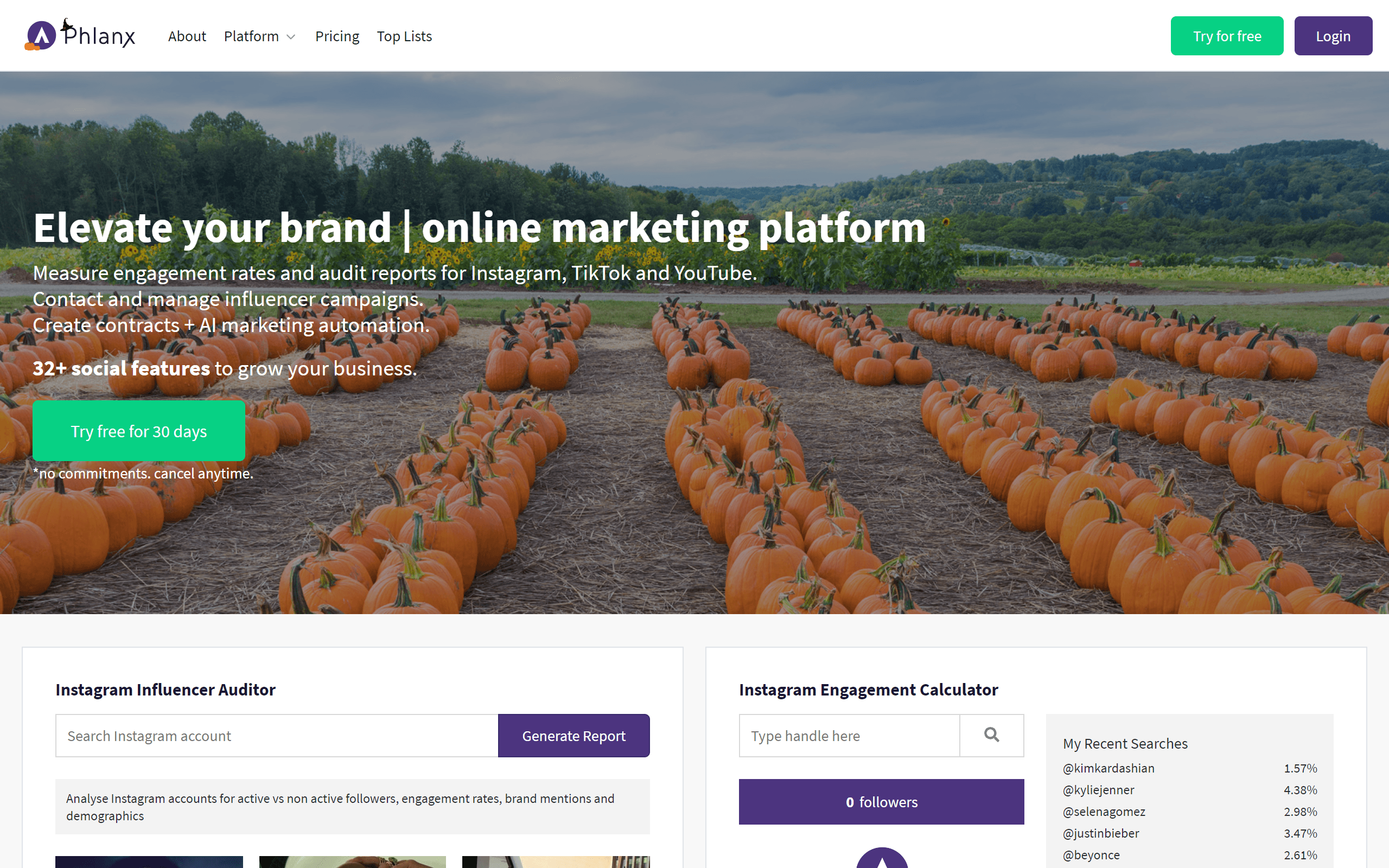 Phlanx aims to simplify social marketing partnerships.
Its all-in-one platform offers engagement analytics, SEO competitor analysis tools and calculators across networks. Measure performance from one login.
Effortlessly connect brands and influencers through Phlanx's directory. Directly contact and collaborate on partners. Automated contracts and workflows efficiently scale campaigns while ensuring compliance.
Say goodbye to disjointed competitor analysis tools and tedious manual tasks. Phlanx integrates all social efforts into a single powerful command center.
Key Features:
Phlanx keeps tabs on social media 24/7 to catch any mentions of your brand. Eagle-eyed monitoring spots trends and issues swiftly.
Locate exactly what you're looking for with powerful faceted search filters. Drill down on keywords, networks, sentiment and more.
Phlanx sniffs out the most effective influencers and creators in any industry. Leverage their discoveries to boost your reach.
Limitations:
The configuration takes time - it's not a simple plug-and-play solution. You need the skills to properly integrate and customize it for your site.
Uptime isn't guaranteed to be 100%. Bot blocks aren't foolproof so some automated traffic may still sneak through on rare occasions.
It can't stop certain types of advanced bot attacks that are constantly evolving tactics. For cutting-edge protection, you'd need a managed security provider too.
Pricing: $49-$100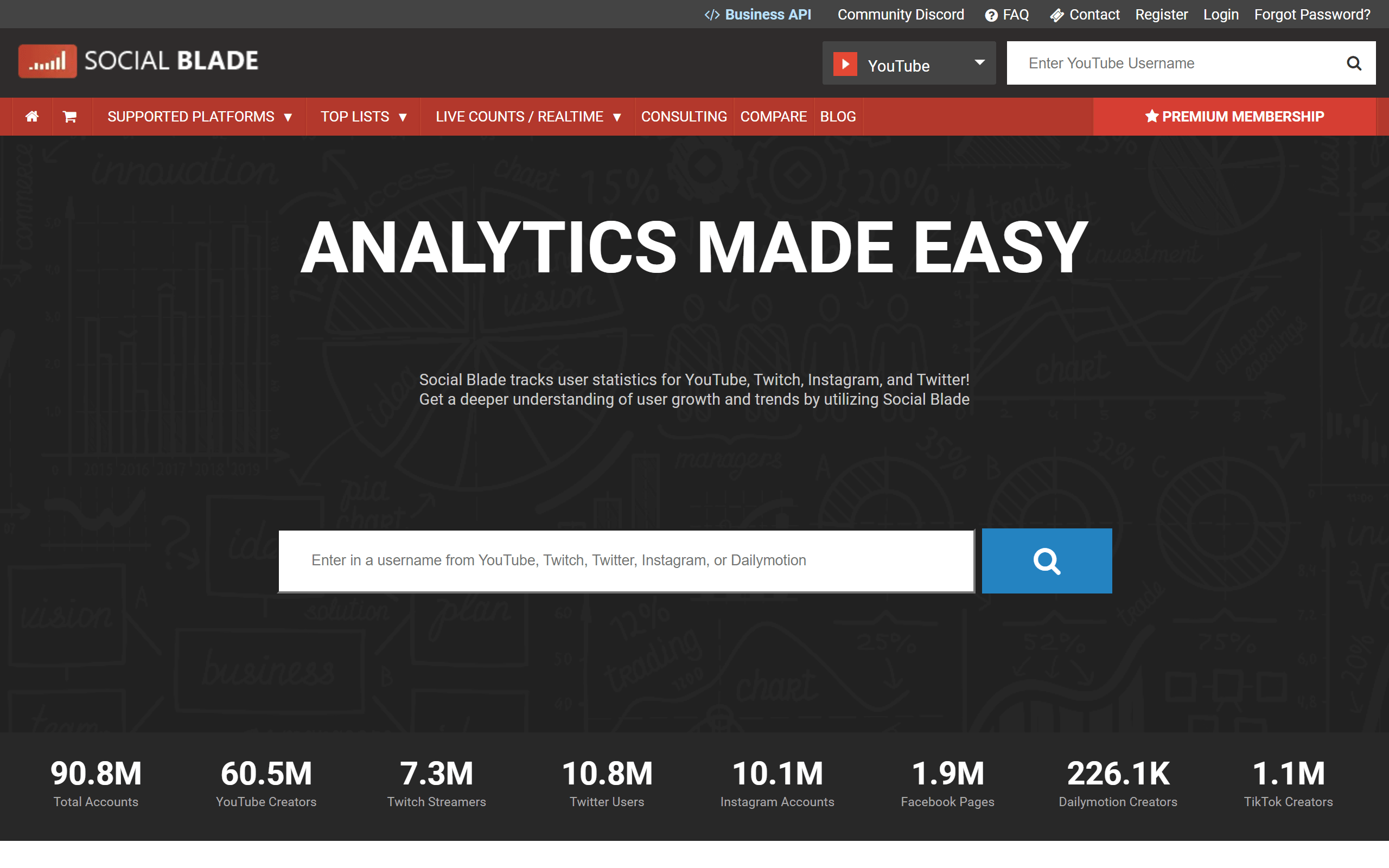 Social Blade deeply analyzes top social platforms like YouTube and Instagram. Their all-in-one dashboard aggregates detailed metrics like views, likes and comments from multiple days.
Effortlessly monitor more than just follower counts. predictive algorithms also auto-generate trends for deeper insights.
Make Social Blade your new competitor analysis tool for robust data analytics beyond basic stats. Leave no metric untouched with their data-packed platform.
Key Features:
See subscriber and view projections to anticipate your growth trajectory. Make informed plans thanks to crystal ball estimates into weeks and months ahead!
Visualize your daily and monthly performance via colorful charts. Social Blade makes stats simple so you always know exactly what's clicking.
Inspect support from colleagues via the in-depth featured channels section. Benchmark networking against others to maximize promotion potential across all rosters.
Limitations:
Data shown is just estimates - there's no guarantee of complete accuracy since they don't have direct access to every platform's internal stats.
Only covers big YouTube and Twitch stars - smaller influencers don't hit their reporting thresholds. So you miss insights on grassroots competitors.
Metrics are limited to subscribers/followers over time - they don't provide deeper analysis of engagement patterns, content themes, demographics and more. For strategizing, those extra dimensions could be valuable.
Pricing:
Bronze: $3.99/month
Silver: $9.99/month
Gold: $39.99/month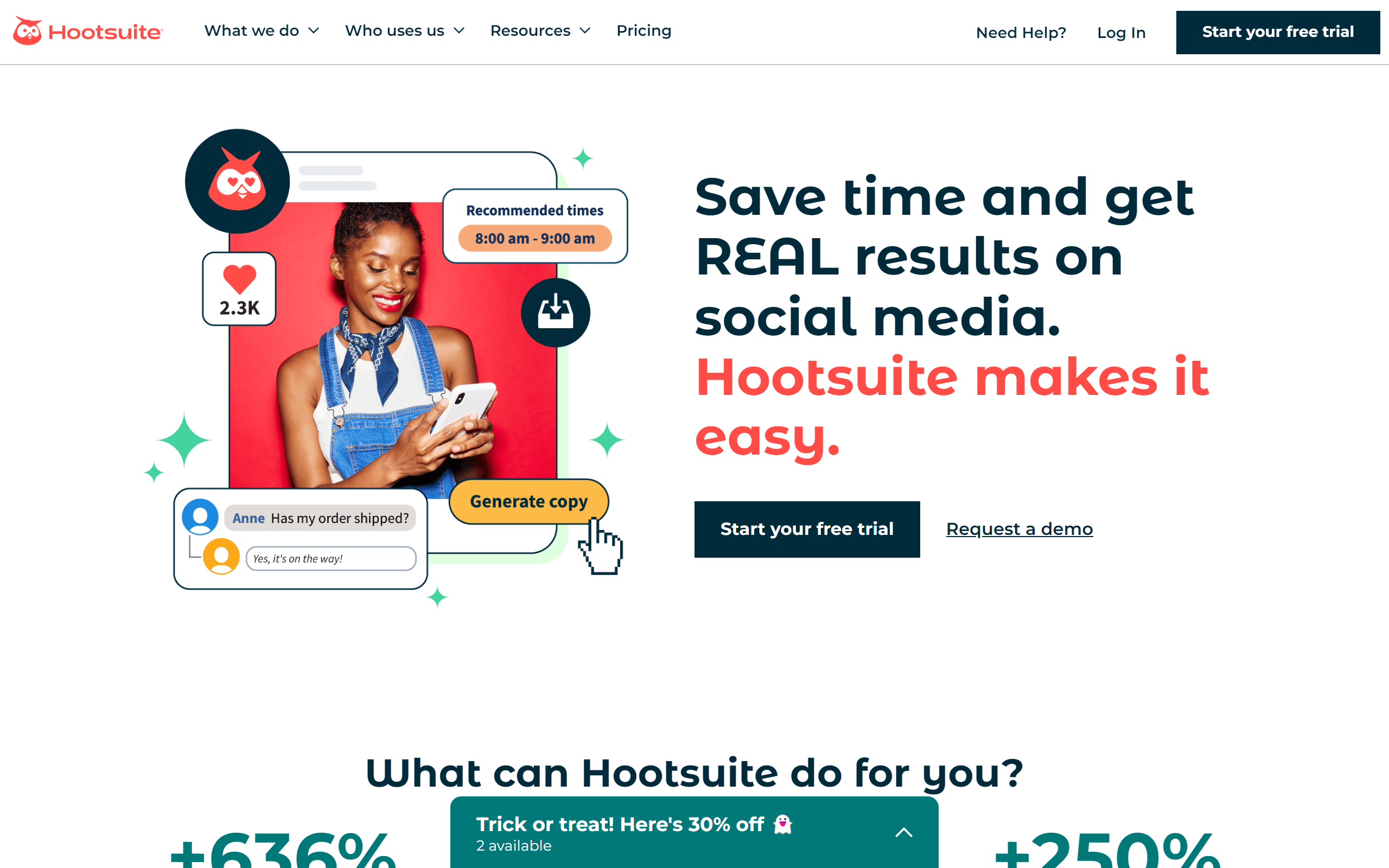 Hootsuite's "Streams" keep you on top of vital conversations across channels with centralized monitoring.
Sweet reports crunch all stats into easy-to-read analytics. Finally prove social ROI without hassle. Once you go Hootsuite, your social life will never be the same. Kick efforts up a gear with its synchronized awesomeness.
Key Features:
Hootsuite helps you corral all your social posts. Their calendar keeps schedules straight so your updates fly free as a bird.
Let this AI assistant spread your social wings. Owly lends a wing when you're stuck for ideas mid-post.
Crack the yolk of your day and see updates laid out neatly with Hootsuite's planner. Schedule squeezes in seconds to feast on a full feed later.
Limitations:
It can get pricey if your team or networks grow beyond the basic plan limits. Those extra users and platforms come at a cost.
You're not as customizable as using each channel's native tools. Some power users may prefer more options to set up custom automations or integrations.
Content publishing is limited to pre-scheduled or timed posting, rather than true autoresponders linked to platform activity in real-time. For advanced response marketing, that could be an issue.
Pricing:
Professional: $99/month
Team: $249/month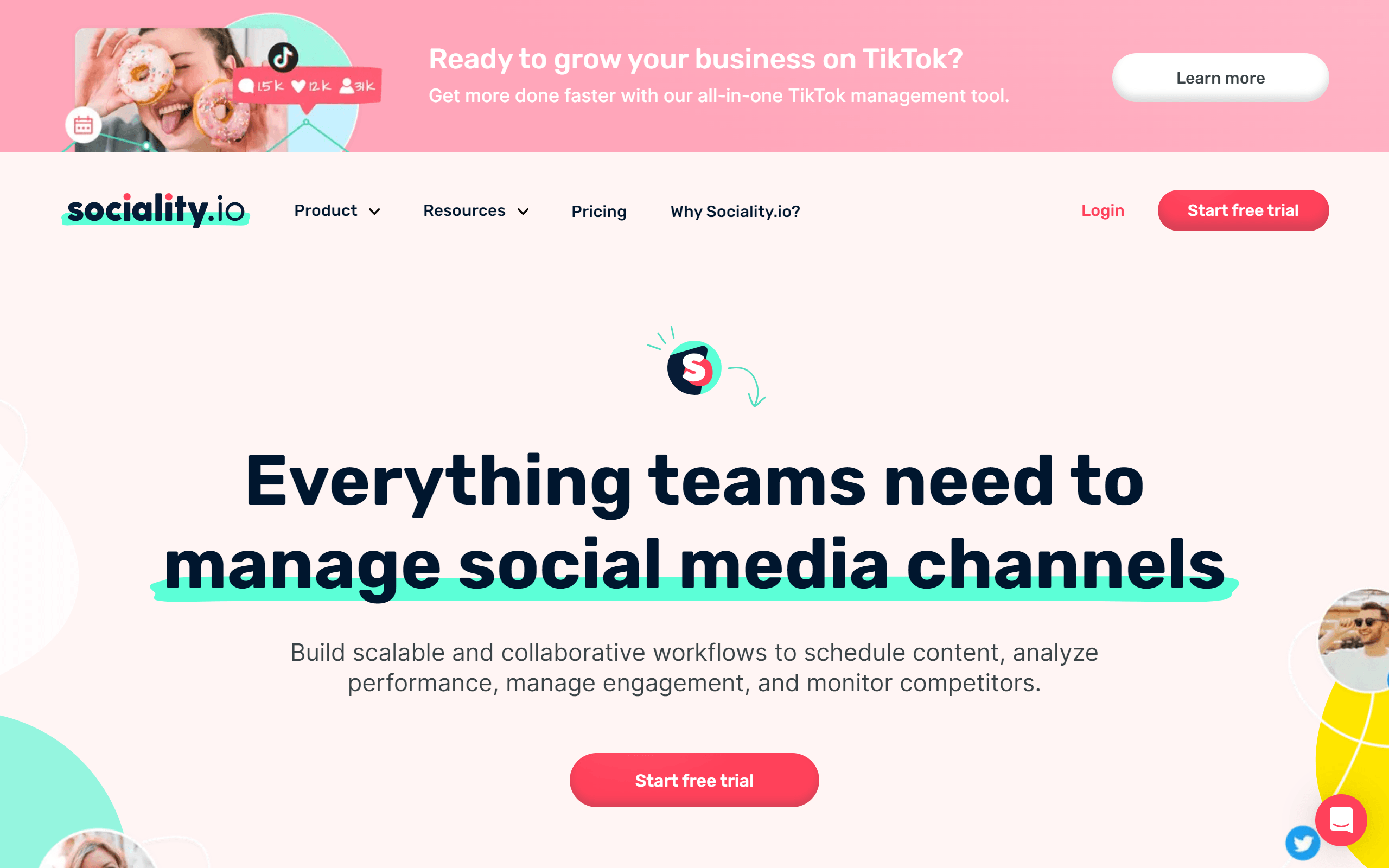 Schedule posts, zip through campaigns, and deeply analyze results in one simple dashboard. No more platform switching lag.
Oversee brand health while keeping tabs on competitors. Stay on top effortlessly. Their MVP-level support breezes through any issue in under 15 minutes. Finally, customer care fit for champions.
Key Features:
Sociality.io's all-in-one dashboard lets you easily post, engage, and analyze across platforms. Coordinate efforts and watch results in real-time from your control tower.
Generate custom reports in a snap with Sociality.io's intuitive metrics maker. Slice data by channel, dates, demos - you name it.
Always stay one step ahead. Sociality.io tracks rival leaders to uncover trends. Leverage their techniques or find untapped opportunities that'll catapult you forward in the game.
Limitations:
It has limited functionality on the free plan. To fully automate workflows and gain access to competitive insights, you'll need a paid upgrade.
The platform is more suitable for teams rather than solo use due to its focus on collaboration. Individual solopreneurs have simpler needs.
There may be a learning curve to customize the platform to your exact brand's processes. While it comes with great guidance, configuration does require some technical know-how.
Pricing:
Pro: $99/month
Business: $199/month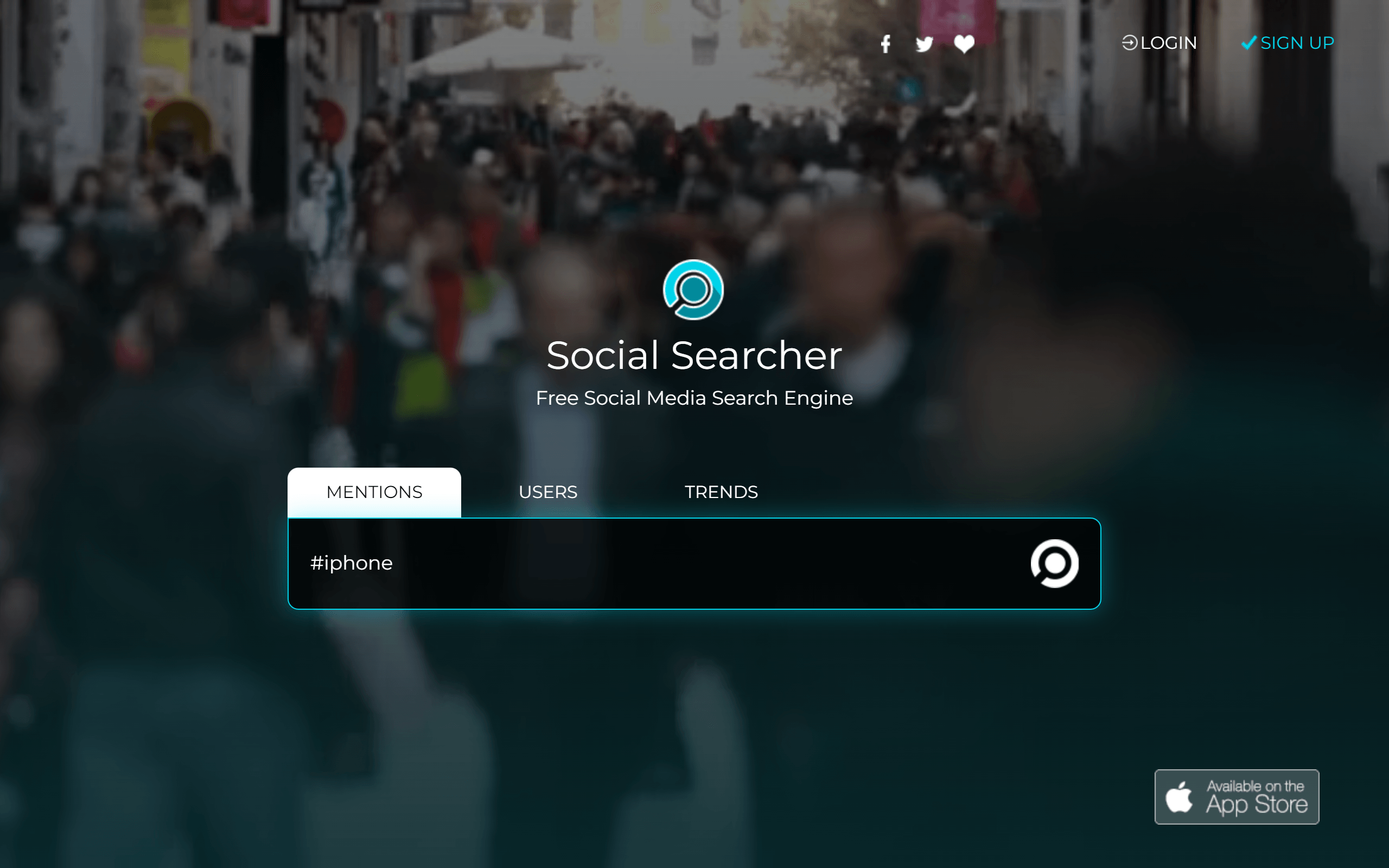 Social Searcher effortlessly unifies social conversations.
Through one intuitive search, easily discover real-time posts across networks like Twitter and Facebook. No platform switching is needed. Free competitive analysis tools offer substantial situational awareness. Premium takes analytics further with unlimited historical data, custom alerts, and API integrations.
Key Features:
Social Searcher's sentiment analyzer clued us in on positive and negative chatter. Stay on top of customer emotions.
Social Searcher plays Sherlock to deduce who's swaying audiences. Recruit heavy hitters to spread your message far and wide.
Every Twitter chirp and Facebook mention pulls Social Searcher in like metal to a magnet. Monitor what folks say about your brand around the clock.
Limitations:
It only tracks organic search results, not paid ads. To see your full competitive landscape, a tool with broader visibility may be needed.
Keyword insights are limited to searches on your own brand name or site. There's no way to proactively find untapped related terms consumers are using.
The free version caps results at 15 keywords per month. For businesses monitoring long tails or changes regularly, this constraint could leave blind spots.
Pricing:
Standard: 8.49 €/month
Professional: 19.49 €/month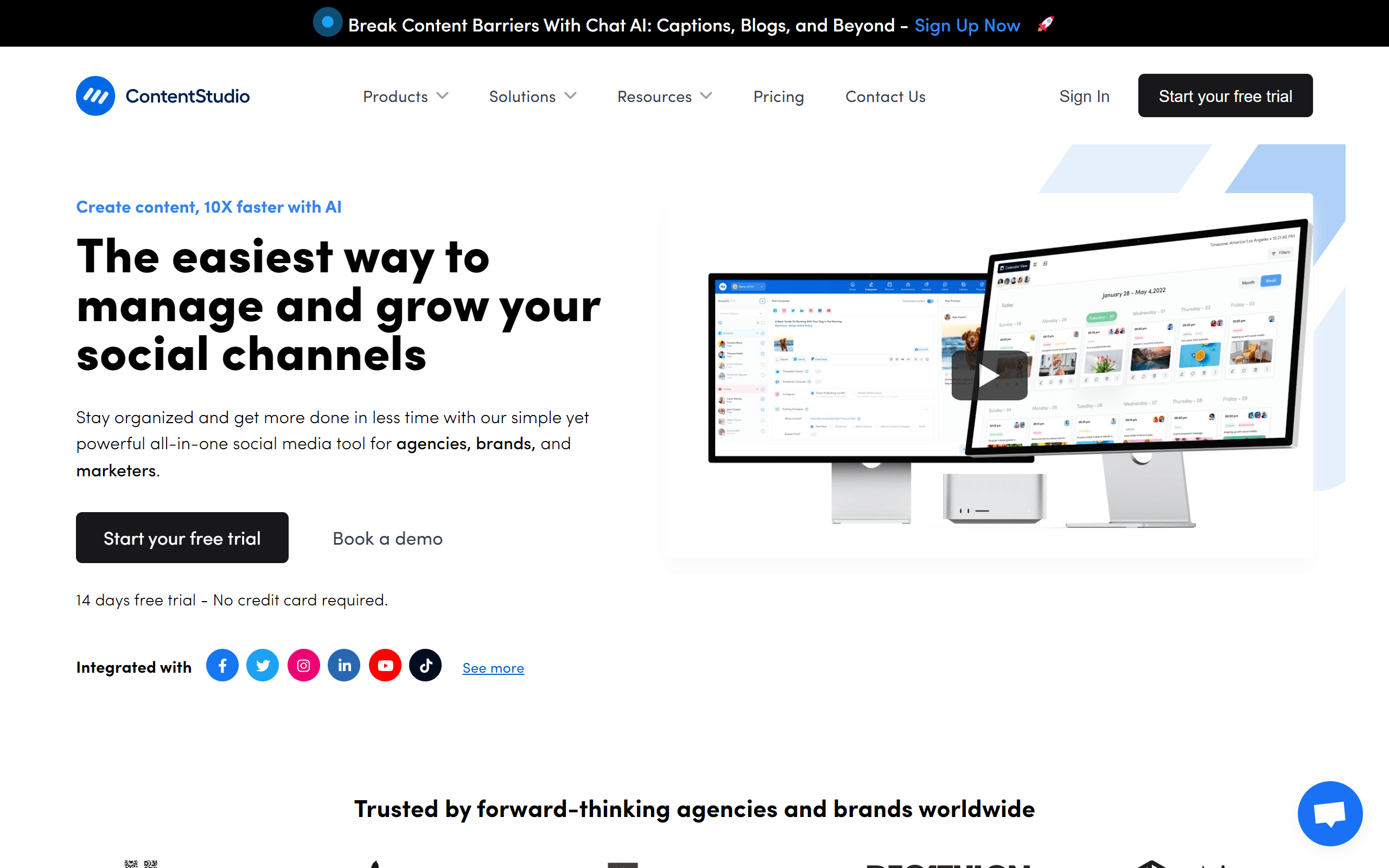 ContentStudio strengthens real connections.
Their fully loaded social suite combines management, customer care and analytics. Deeply focus on meaningful relationships across channels. Steady content inspiration on tap fuels growth. It's no surprise their worldwide customer base proves this approach.
Machined with ease in mind, every new feature lifts brands to stronger heights. Finally, impactful social made simple and superb.
Key Features:
ContentStudio keeps tabs on what folks say about your brand across channels. Never miss a mention with their round-the-clock monitoring.
Ensure a steady stream of snaps, tweets and posts with their planner. Schedule Sponsored pins weeks in advance so your feed is always poppin'.
Reign over media with ContentStudio's library and organizer. Tag, store, and surface assets from one easy place. Keep creations corralled so marketers can quickly deploy strategic campaigns.
Limitations:
It's mainly focused on content planning and drafting, with limited analytics. For a full content marketing suite, you may need multiple tools.
The free plan is very basic - you get access to just one team member and a handful of assets. Bigger teams require an paid upgrade.
There's no built-in publishing to sites or CMSes. You'll need separate tools for posting and distributing content beyond the ContentStudio interface.
Pricing: $5/month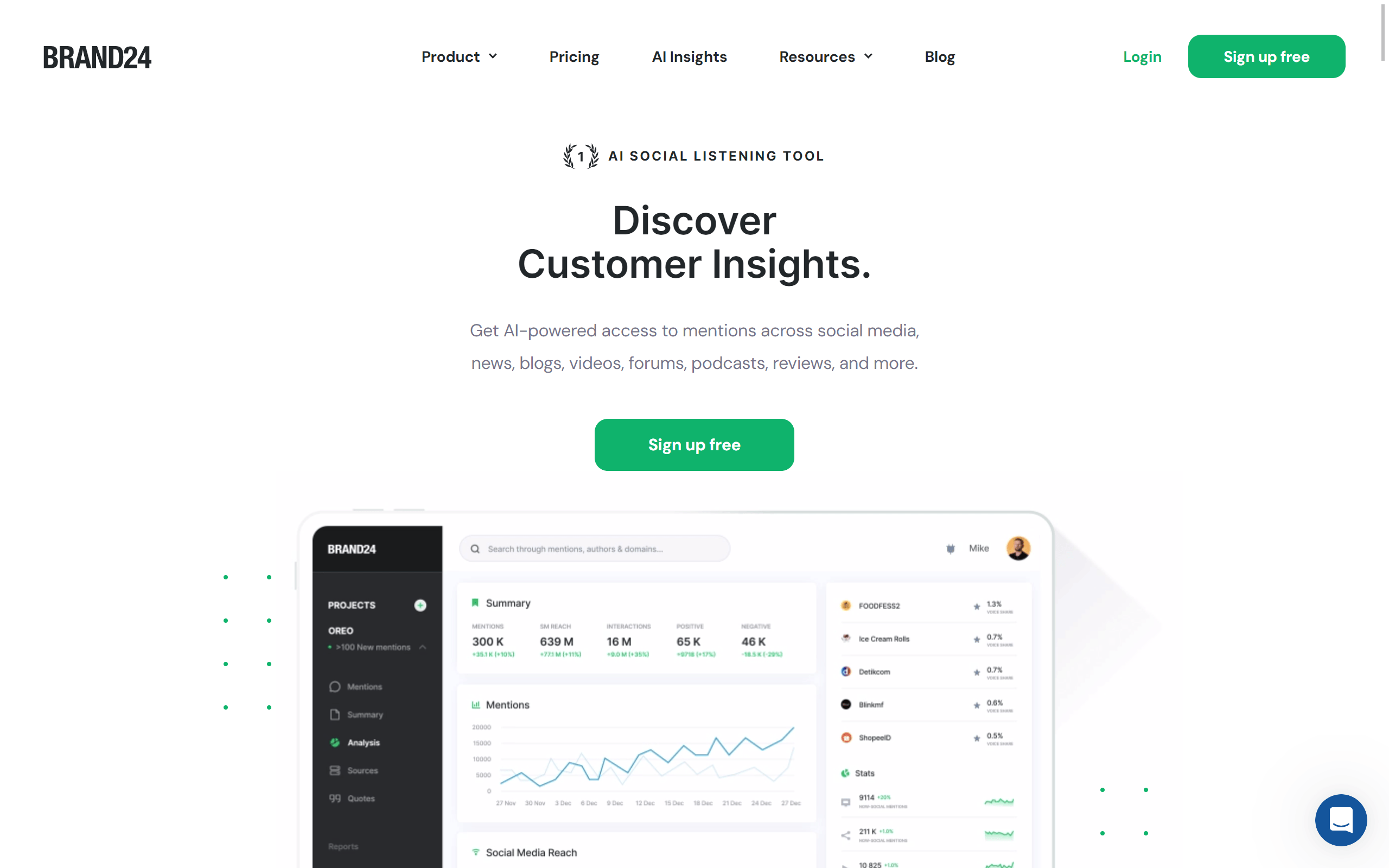 Brand24 adds flavor with powerful monitoring.
No stone left unturned in its web-wide keyword searches across blogs, videos and all sites in between. Savor the savory stats revealing brand perception's true colors in every online nook. PR, marketers and more benefit greatly.
Competitor insights provide extra seasoning for thought. Quality intel elevates your reputation to new heights.
Key Features:
Stay on top of all social mentions with its searchable, filterable feed across platforms to track buzz in real-time.
Quickly visualize discussion trends with its conversation competitor analysis tools. Slice and dice metrics to understand what topics and messaging resonates most.
Gain valuable insights about marketing efforts through its robust analytics and reporting competitor analysis tools. Brand24 offers powerful yet easy-to-use analytics so marketers can analyze social data and crunch numbers.
Limitations:
Tracking is limited to public social profiles rather than the full firehose of data from premium social platforms.
It only provides alerts and dashboards - there's no built-in social publishing or response functions like you get with dedicated social media management tools.
The free plan caps search volume fairly low. For huge, globally-known brands, it may not cover all relevant conversations and data.
Pricing:
Individual: $79/month
Team: $149/month
Pro: $199/month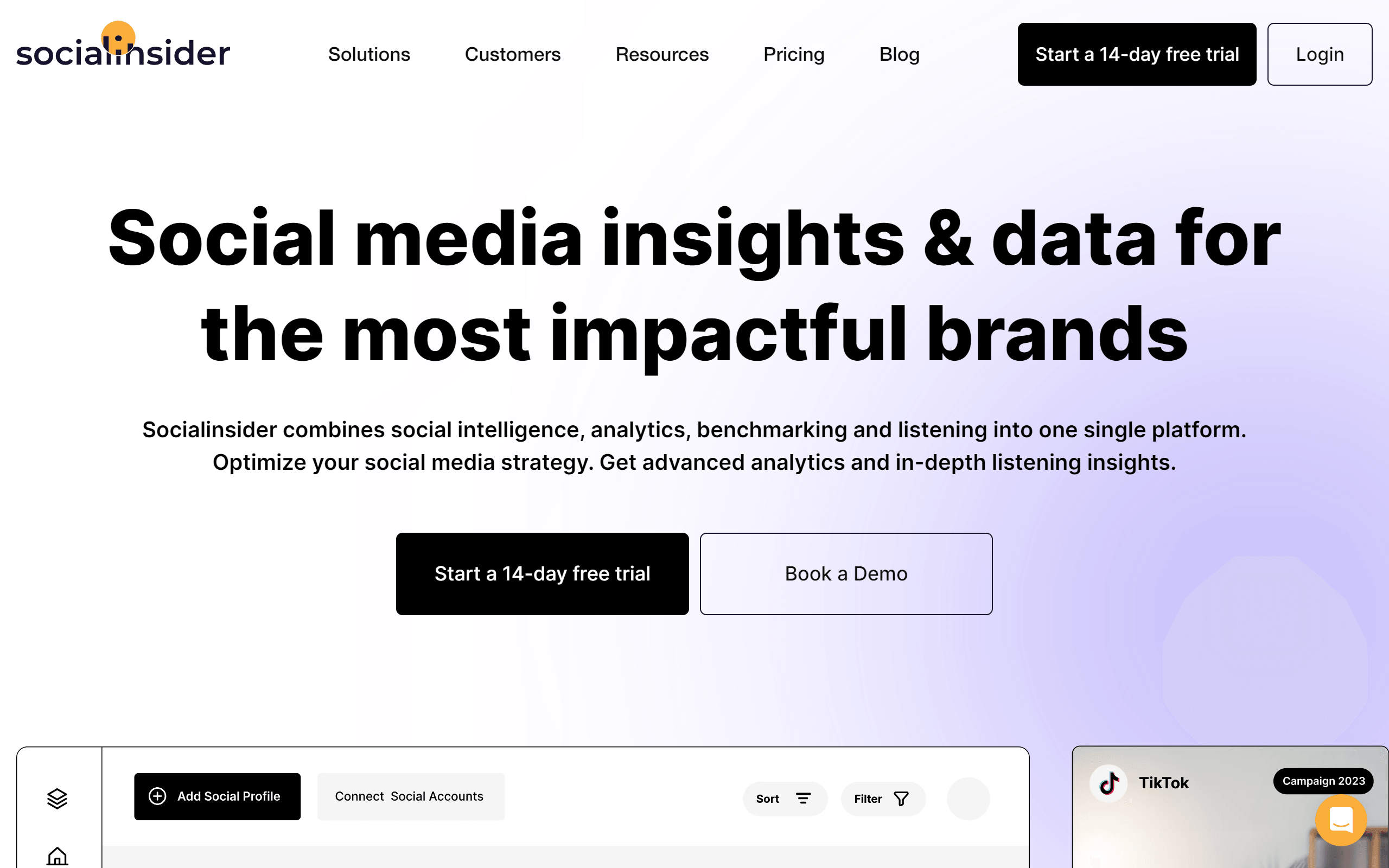 SocialInsider streams illuminating insights.
Robust tracking across platforms like Instagram, Facebook and Twitter reveals metrics that matter. Benchmark your performance against competitors. Point them to your pages and watch clarity on stats like engagement and followers quickly glow. PR and marketers benefit greatly from industry standards.
Key Features:
Track all forms of engagement across networks like retweets, shares and comments. SocialInsider gives full visibility into how audiences interact with your brand.
Pull powerful metrics on reach, impressions and more through SocialInsider's performance analytics. Deeper insights allow marketers to benchmark, optimize and refine strategies.
Run sophisticated campaign analyses. Their reporting breaks down results by objective, creative, location and other dimensions. This helps maximize ROI from each social advertising spend.
Limitations:
The free plan only allows tracking of three social profiles. For companies with a larger footprint, this would quickly become limiting.
There is no direct publishing or engagement capabilities. You'd need separate social media management tools to actually post and respond to conversations.
Advanced analytics like sentiment analysis and comment clustering are only available on higher tiers. Basic users just get top-level metrics and alerts.
Pricing:
Competitors: $124/month
Strategy: $166/month
Competitor Analysis Tools for SEO
Their all-in-one toolkit eases Multi-channel efforts across PPC, content and social media. Page audits and keyword plus competitor insights illuminate an optimized path.
Heavy decision-loads lifted, just let Semrush's optimizers work magic. Traffic will soon school rivals as strategies dunk the house.
Key Features:
Track exactly where you rank for target keywords on search engines like Google with Semrush's position tracking tool. Know how well your SEO is really working.
Audit the on-page elements that search engines love to see with their in-depth technical SEO report. Semrush helps identify issues to boost your rankings.
Generate optimized blog post and article ideas tailored to target keywords using Semrush's content templates and topic research. Kickstart fresh material to attract searchers.
Limitations:
Tracking is limited to 25 keywords/domains per month on the basic plan. Power users need a paid upgrade for unlimited searches.
There's no built-in publishing or collaboration features like you get from dedicated social media management tools.
The interface can be complex, with a lot of data thrown at you. It requires taking time to learn how to effectively analyze the insights.
Pricing:
Pro: $129/month
Guru: $249/month
Business: $499/month
Why is Semrush our Top Pick?
We chose Semrush as the best tool. Its all-in-one toolkit makes PPC, SEO, and social media easy. It shows what pages need work and competitor insights.
Semrush also finds the best keywords and content ideas. You can see exactly how results are looking online. It lifts heavy decision loads so traffic keeps growing. The basic plan still tracks well monthly. Semrush saves tons of time even if publishing elsewhere. While its interface has data, learning analysis provides top benefits. Overall, Semrush streamlines marketing success.
Ahrefs is a leading SEO competitor analysis tool that helps marketers optimize strategies. It scours the web for valuable metrics like backlinks, keyword opportunities and competitor insights.
Users can discover new angles from Ahrefs' extensive databases. The tool audits sites to spot any issues hurting visibility too.
Key Features:
Find websites that may want to link to yours through Ahrefs' extensive backlink database and scraper. Grow your authority through strategic outreach.
Discover optimal keywords to target using Ahrefs' competitor research tools like keyword gaps, search volume, and difficulty. Optimize your content for the terms most likely to win.
Continuously monitor your rankings 24/7 for chosen keywords across search engines big and small using Ahrefs' tracking feature. Jump on rank increases or remedy slips quickly.
Limitations:
The basic plan only allows 7,500 monthly impressions. Bigger brands need an upgraded plan for unlimited data.
It focuses solely on SEO insights like backlinks, keywords, and technical pages. You'll need other competitor analysis tools for social reporting.
The interface can be very technical, optimized for seasoned analysts. New users may find the learning curve steep.
Pricing:
Lite: $99/month
Standard: $199/month
Advanced: $399/month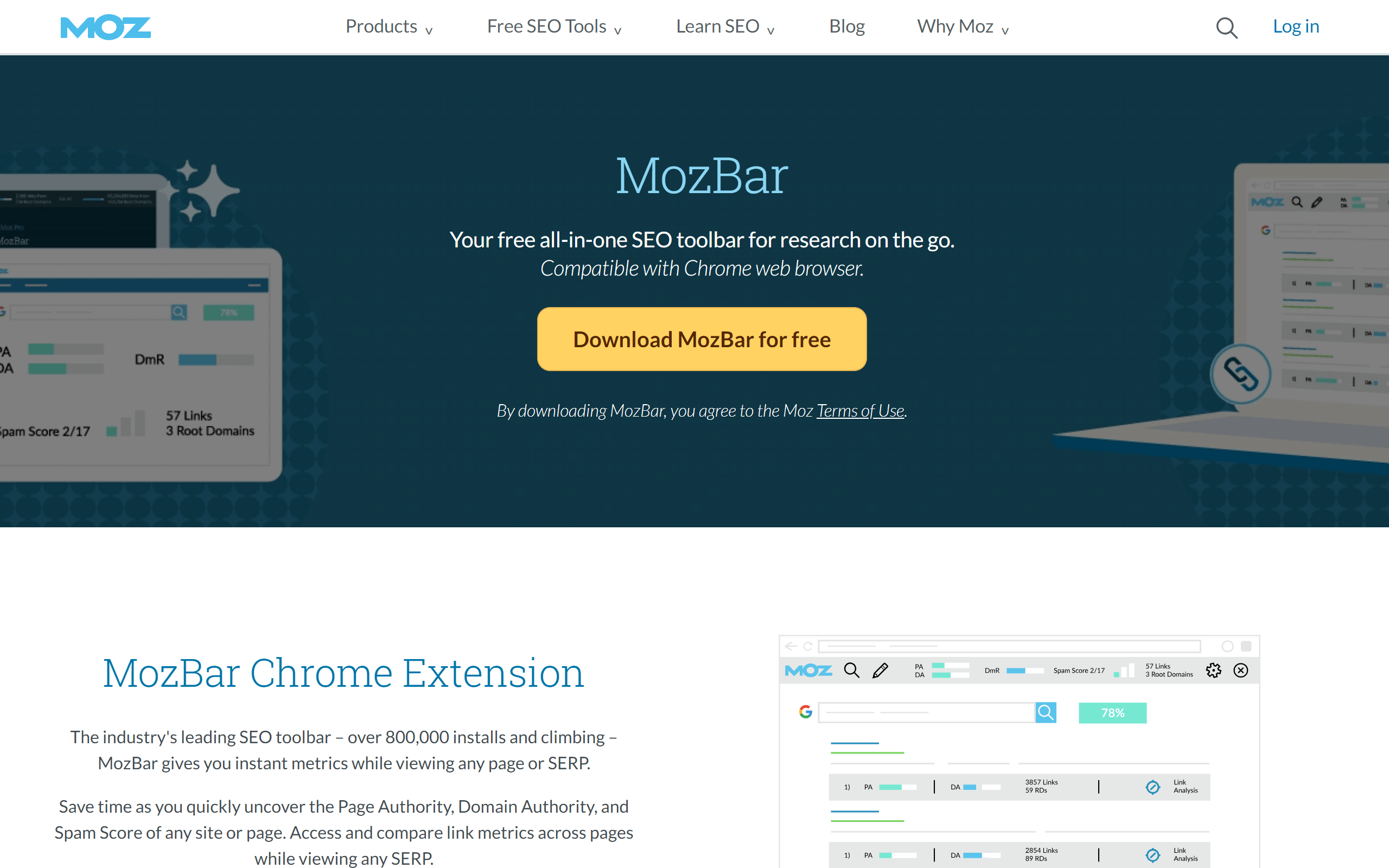 MozBar is a handy Chrome extension that equips SEOs with insights as they browse. It seamlessly surfaces key metrics like authority, backlinks and link types directly in browser.
Custom profiles focus findings while highlights and audits spot optimization chances. When paired with Moz Pro, unlimited reports offer benchmarking at your fingertips wherever you roam.
Key Features:
Run custom searches across engines, regions, and countries to better understand search behavior worldwide. MozBar broadens your keyword research horizons.
Check vital metrics like links, domain ratings, and traffic for any page displayed in search results. It empowers you to quickly evaluate SERP competitors.
Leverage the on-page highlighter to identify and don't elements on your own pages. This helps fine-tune content for improved communication with search engines.
Limitations:
It's a browser extension rather than a standalone software, so you need to use Chromium-based browsers like Chrome or Brave to access its features.
Functionality is limited to quick checks rather than deep analysis - there's no comprehensive dashboard as other SAAS tools provide.
Being a free product, it has fewer features compared to Moz's premium offerings. More advanced capabilities require a Pro or Enterprise subscription.
Pricing:
Standard: $99/month
Medium: $179/month
Large: $299/month
Premium: $599/month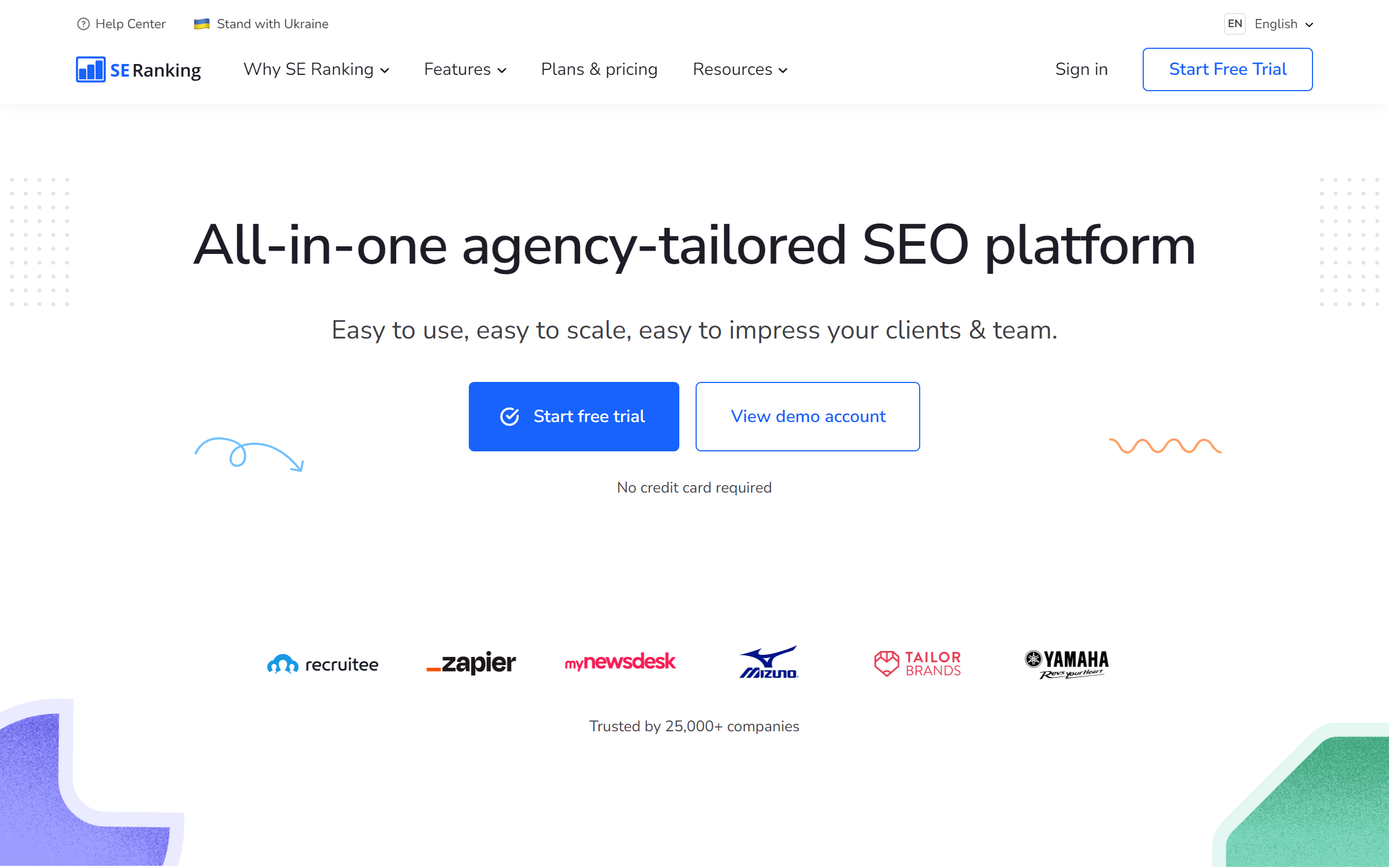 SE Ranking is a robust cloud platform housing potent SEO competitor analysis tools. It automates tedious tasks like site audits, competitor analyses and ranking tracking.
Regular updates keep key metrics and insights accessible at a glance. Users can plug findings straight into plans without sweat.
Key Features:
Discover goldmine keywords through comprehensive research on search volume, competition analysis tool, and trends. SE Ranking tools light the way to high opportunity terms.
Audit your backlinks and find prospects for outreach using network mapping and domain reports. Strengthen your web of authority through strategic link-building.
Continually monitor target keyword positions across major search engines with centralized rank tracking. Stay ahead of the algorithm curve by addressing any slips or surges fast.
Limitations:
The free version only allows tracking of 10 keywords, which could quickly prove limiting for businesses monitoring many terms.
Functionality is limited to rankings and index status compared to more robust tools offering additional insights like backlinks and competition.
The interface is quite basic, lacking advanced features for customized reporting or collaboration with teams found in other Ranking tools.
Pricing:
Pro: $87.20/month
Business: $191.20/month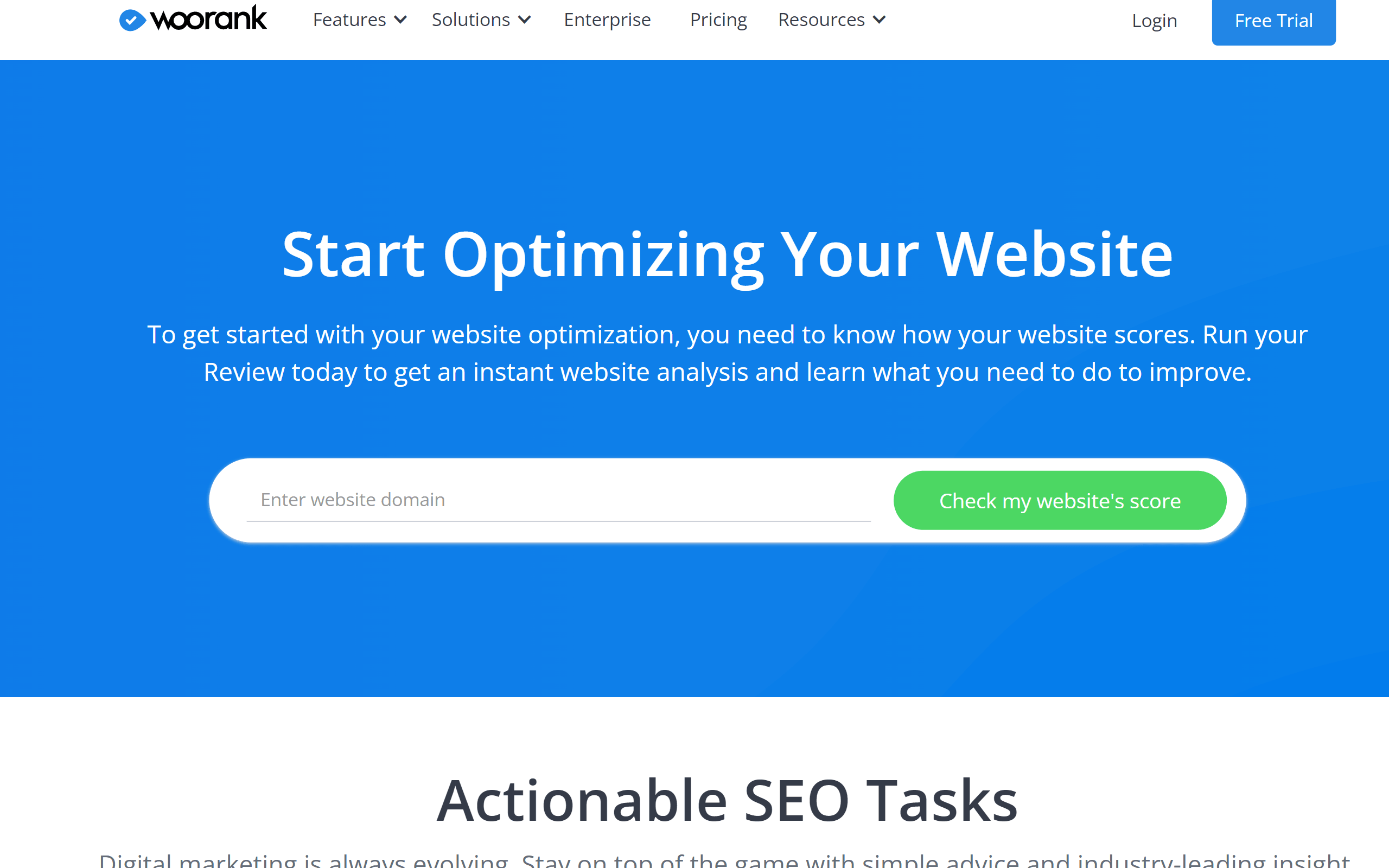 WooRank streamlines site scans with instant analysis. A snap audit examines technical, on-page and off-page facets as Google would.
Prioritized insights and intuitive updates fuel progress. Vital facets from links to structural strengths fall under its watch.
Personalized prescriptions lift strengths while mending weaknesses. This versatile assistant keeps contextual clues convenient as optimization evolves.
Key Features:
Generate comprehensive website audits with scores across categories like on-page SEO, backlinks and mobile friendliness. Clearly present findings to get buy-in from clients or teammates.
Closely monitor your competitors' websites for things like new pages, backlinks and rankings through WooRank's in-depth analysis. Stay a step ahead of industry rivals.
Track your targeting keywords' search performance over time with WooRank's position tracker. Quickly address detoriating rankings or capitalize on improvements in the SERPs.
Limitations:
Only analyzes public-facing website data, no insights into internal site structures or content planning.
Audits provide recommendations but no direct optimization services, businesses need their own technical expertise.
Competitor tracking relies on public data, missing any private links or unindexed internal pages competitors receive.
Pricing:
Pro: $89.99/month
Premium: $199.99/month
SpyFu streamlines competitive tracking online. Its competitor analysis software surface purchased ads, keywords, and other metrics for peers.
Users access rivals' tactics instantly. Personalized alerts notify of changes as strategies evolve rapidly. All without tedious browsing between sites.
By automating visibility into others' activity, SpyFu aims to optimize own efforts efficiently. Marketers can seize openings armed with industry pointers.
Key Features:
Dig deep into competitors' SEO strategies like top ranking pages,keywords and linking domains. SpyFu helps you stay updated on what tactics are working for others.
Analyze rivals' paid search campaigns through SpyFu's PPC research. Know who's bidding on what terms and their average costs to better optimize your own ads.
Discover goldmine keyword opportunities with SpyFu. Find related searches, monthly volumes and difficulty scores so you can target the terms most ready for the taking.
Limitations:
It only tracks rankings and keyword research, providing limited insights compared to wider-scoped analytics platforms.
The free version caps the number of keywords and domains you can monitor each month, which may not cover your full competitive analysis needs.
As a relatively basic tool, it lacks collaborative capabilities and advanced reporting features that larger teams need for workflows.
Pricing: $39-$299/month
Majestic keeps tabs on evolving industry tides. This independent solution surfaces commercial clues from linked keywords to sector stats.
Round-the-clock insights deliver need-to-know nuances, readying strategies seamlessly. Users optimize vision freely without tedious discovery. Personalized patterns guide progress. By automating visibility into market mysteries, Majestic aims to stay ahead.
Key Features:
Map out linking domains and analyze the types of sites reaching out to yours. Majestic sheds light on your link profile structural power.
Discover prospects for quality backlinks through Majestic's enormous database of websites. Filter options help narrow your outreach targeting.
Check metrics that search engines follow like citations, trust flow and links for your own sites or competitors'. Dive deep into the linking relationships that strengthen SERP positions.
Limitations:
The free version only allows tracking of around 200 domains monthly. Power users likely need a paid plan for larger volumes.
It focuses exclusively on backlink data without things like rankings, keywords, or social insights from integrated platforms.
The interface shows a lot of raw backlink metrics rather than synthesized conclusions. Drawing insights requires analytical skills.
Pricing:
Lite: $41.67/month
Pro: $83.33/month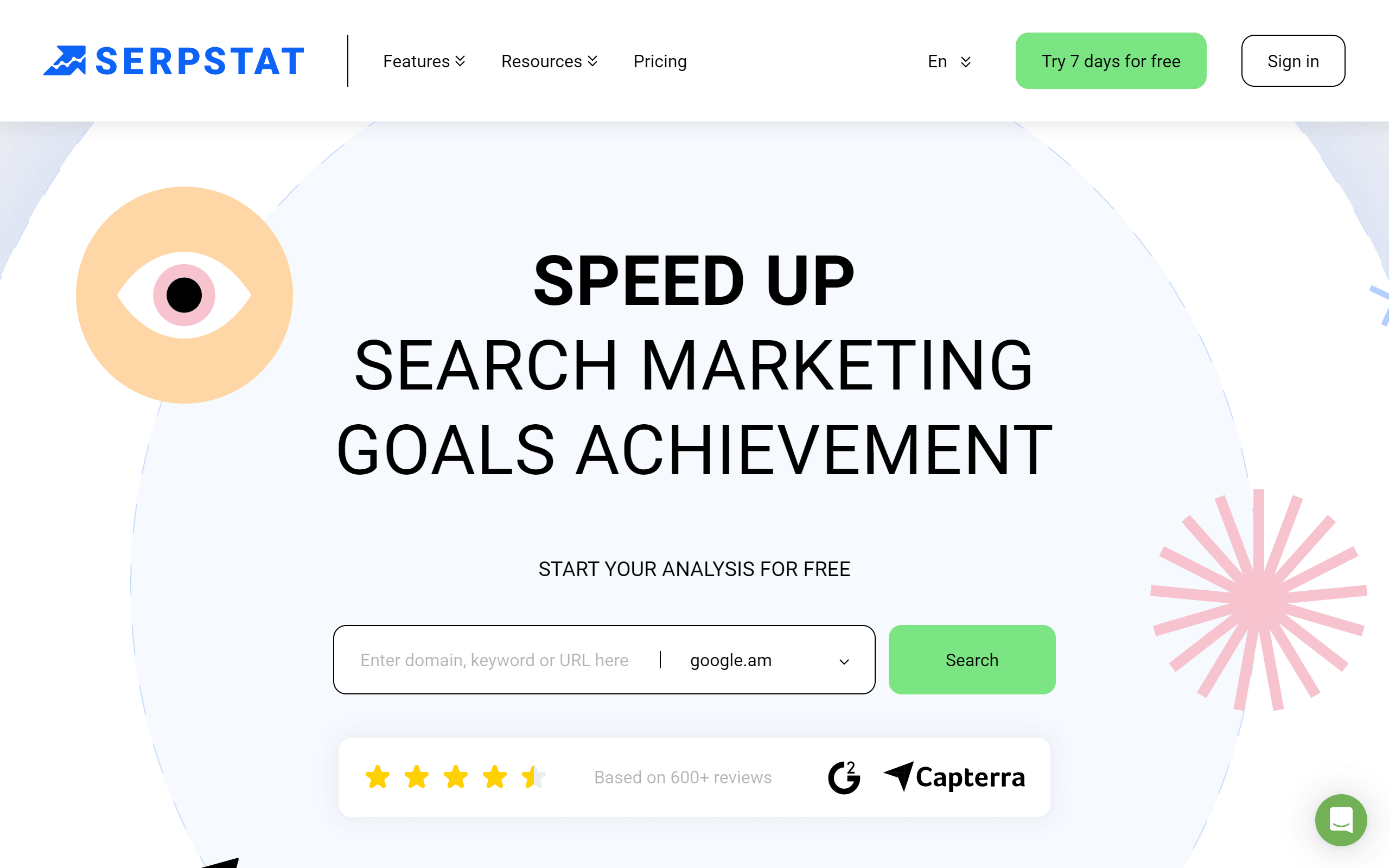 Serpstat streamlines digital discovery with auto analytics. Keywords unveil competitor tactics like links and search placements.
Vital signs track performance intuitively. Affordable yet potent, it optimizes efforts succinctly. Users access actionable strategies casually.
Key Features:
Find potential keyword opportunities through extensive search volume data and competitive analysis. Serpstat helps you discover new searchers to target.
Monitor your ranks and changes for chosen keywords 24/7 across search engines. We'll notify you of drops or improvements so issues can be addressed promptly.
Perform in-depth audits of competitors' strategies like top ranking pages, keywords and more with Serpstat's competitve analysis tools. Stay ahead by benchmarking high-performing industry players.
Limitations:
It focuses only on organic search data without more rounded capabilities like social monitoring, links, etc.
The free version caps results at 50 keywords and domains per month. Power users likely need a paid plan.
Basic users only get insights like rankings, forecasts and competitive glimpses rather than deep metrics for technical SEO.
Pricing:
Individual: $59/month
Team: $119/month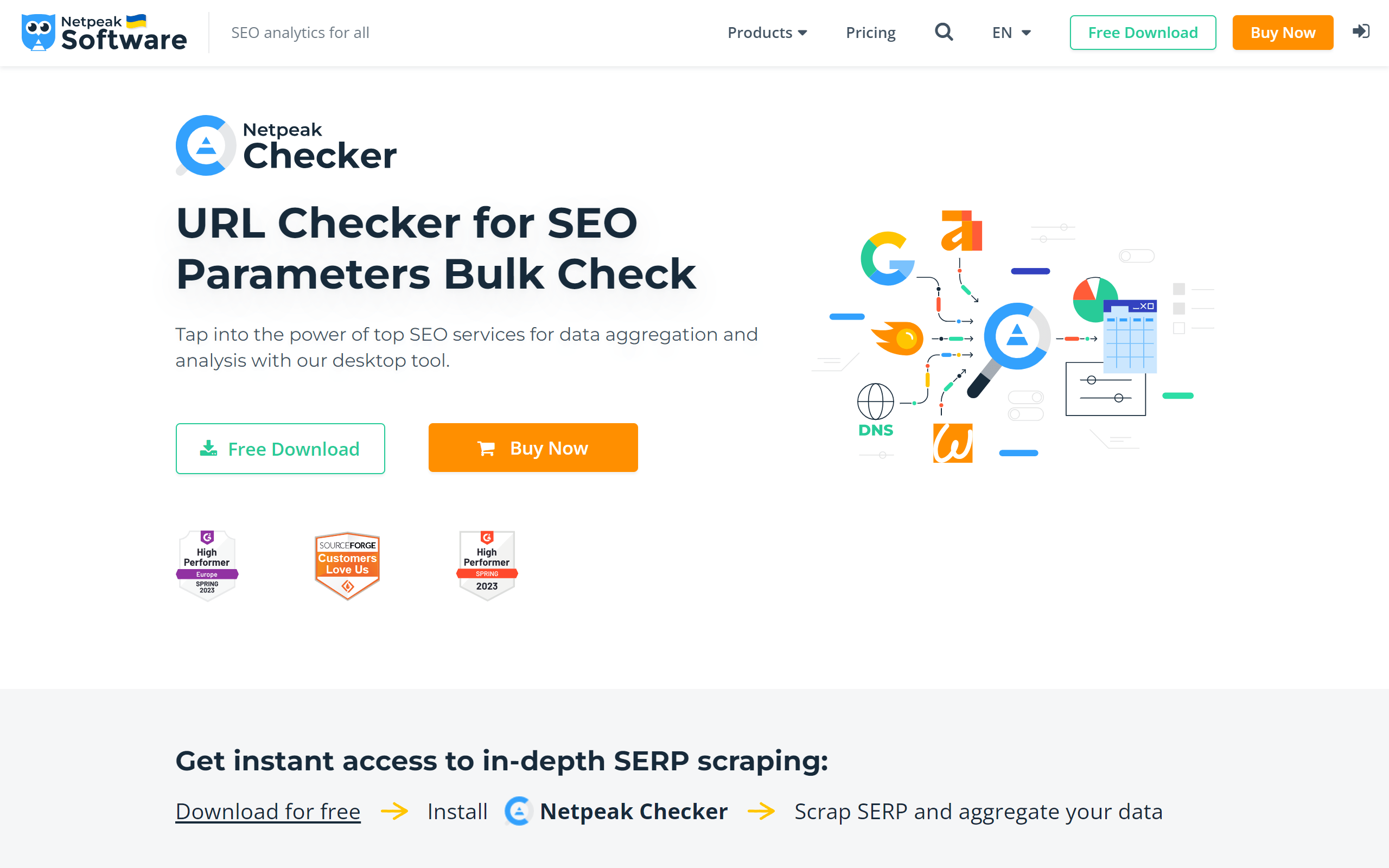 Netpeak Checker is a competition analysis tool for website analysis. It looks at important SEO metrics for your site and your competitors.
You get info on things like tech, content, and search rankings. This helps you make smart choices to improve online. The tool shows what's working well and spots to boost.
It also analyzes rivals so you can grow past them. Users get the full picture to move up. Guides help attract more customers to business.
Key Features:
Netpeak Checker crawls your website to gather information about on-page elements like meta descriptions, titles, and header usage. This identifies any issues that could impact search performance.
It parses your pages to verify contact details like addresses and phone numbers are structured correctly. Properly formatting this information helps users and search engines understand your business.
The tool examines DNS configuration looking for potential problems that could slow site loading. It analyzes settings like SPR, CDN integration, and more to determine if optimizations can be made for speed.
Limitations:
As a crawler tool, it only focuses on technical SEO audits without broader analytics like keywords, links or rankings.
The free version is limited to 10 checks/month which may not cover all client sites needing optimizing.
The reports are fairly technical, geared towards developers - marketers may find more user-friendly interfaces easier to extract strategic value.
Pricing:
Starter: $7/month
Advanced: $12/month
Pro Bundle: $12/month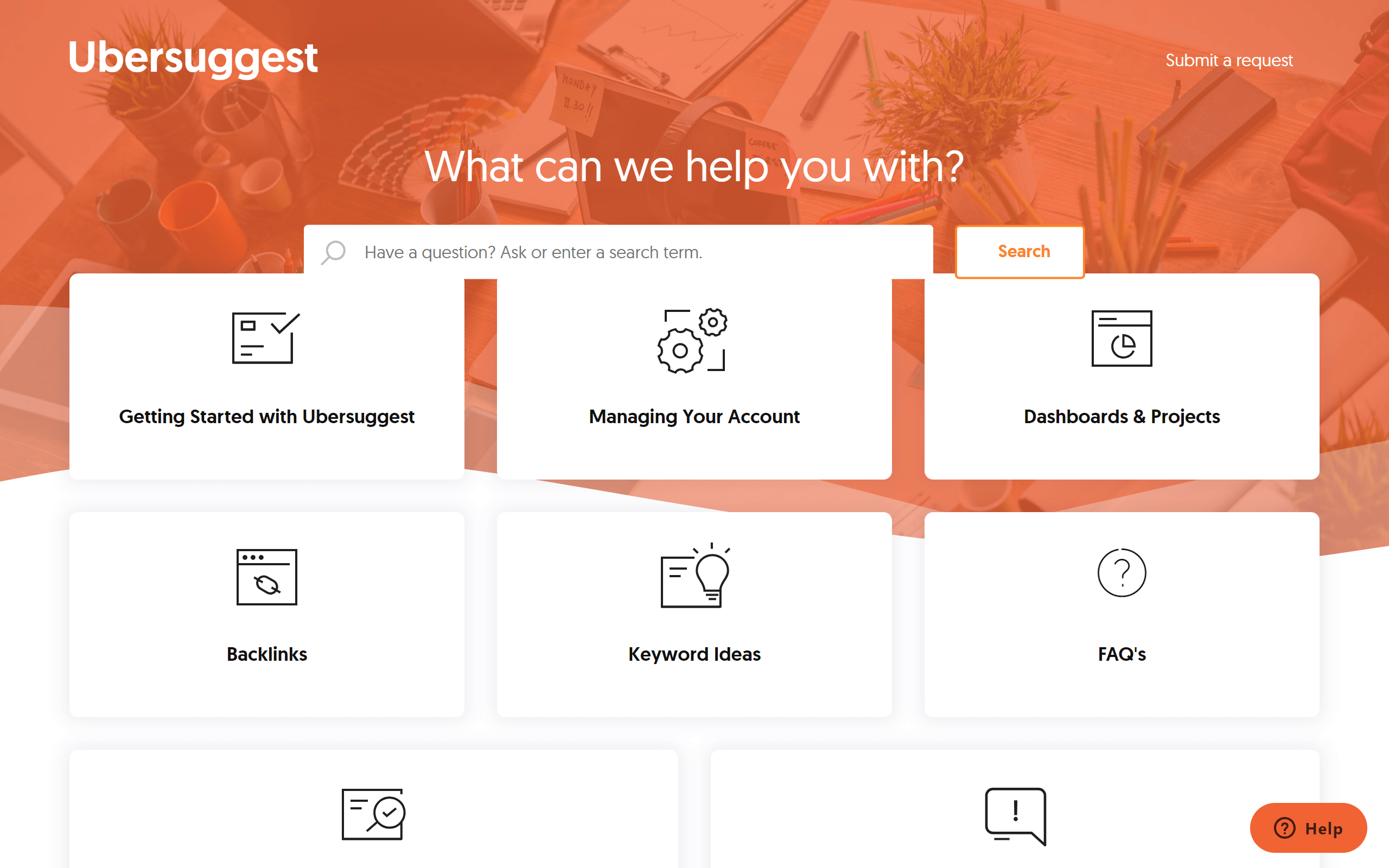 Ubersuggest streamlines keyword discovery. Its browser extension reveals metrics for searches across Google, YouTube, Amazon and more.
Monthly volumes, costs and related phrases surface seamlessly. Users gain granular insights simply by normal searches. Comprehensive intel optimizes strategies effortlessly without interrupting workflow.
Key Features:
Ubersuggest watches your website's backlinks. It will notify you about new ones or potential problems. This helps you keep tabs on how your links change over time.
It examines sites linking to competitors for keywords you want. You can learn from rivals who rank high by seeing who links to them.
All the important SEO and keyword data lives on one main dashboard. Customize it to see metrics at a glance like missing keywords, links, and more.
Limitations:
As a free Chrome extension, it has more limited functionality compared to Ubersuggest's comprehensive online software.
Keyword volume data relies on third-party sources so won't be as real-time or complete as proprietary search tools.
The UI is targeted towards individual users rather than teams, lacking integration and reporting features of more full-service SAAS platforms.
Pricing:
Individual: $12/month
Business: $20/month
Competitor Analysis Tools for Content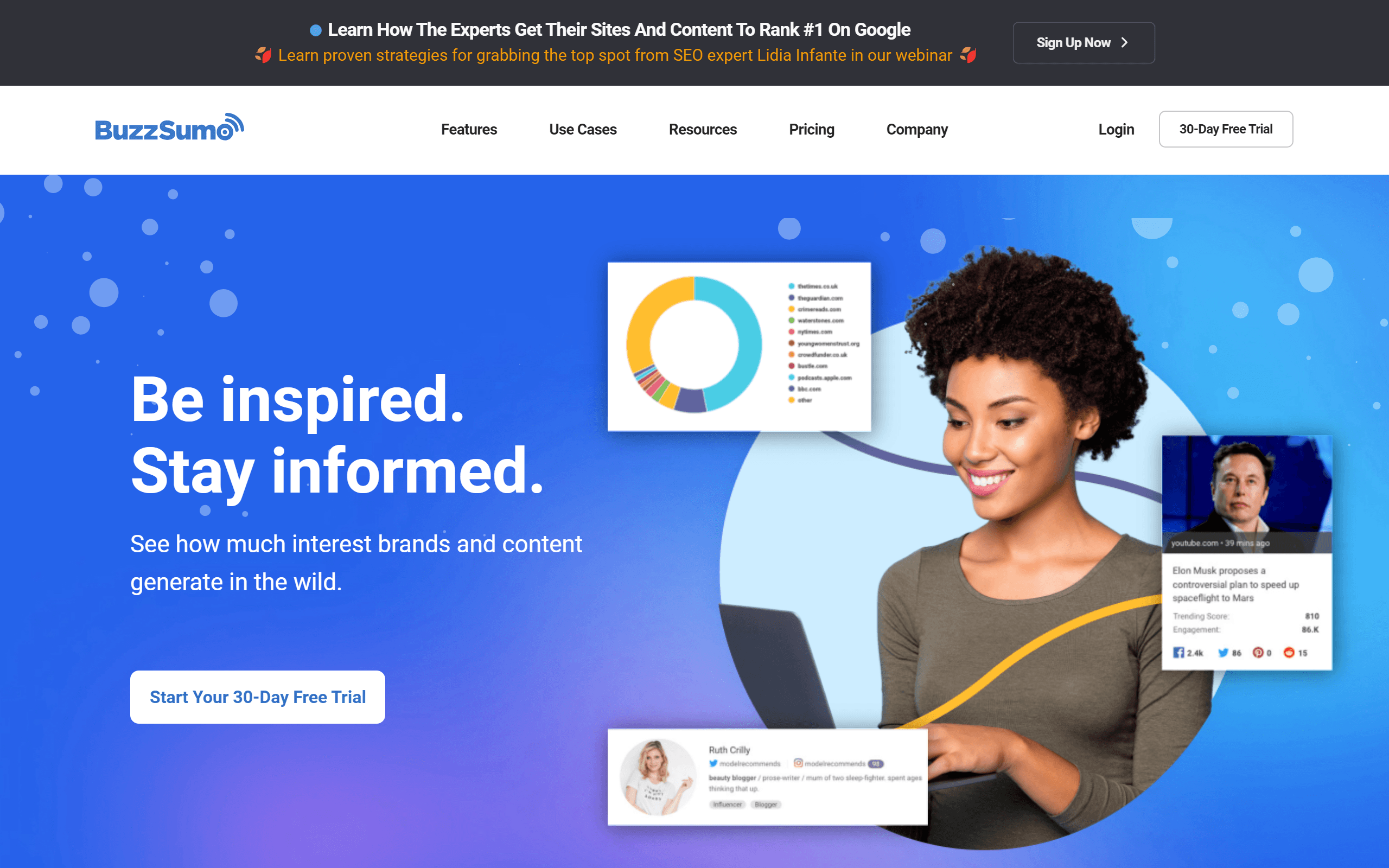 Buzzsumo efficiently discovers influencers and engaging content. Simply search keywords to uncover social victors with strong reach.
The tool also identifies notable figures within fields. Users gain insightful prospects for outreach through trend tracking and backlink hunting made effortless.
Key Features:
Buzzsumo offers unmatched content and social engagement data from across the web. It tracks performance metrics for content on blogs, news sites and social media globally.
The tool provides data in many different languages, giving insights into what article types resonate with target audiences worldwide.
It offers features that allow entire teams, from writers to executives, to access insights from a single unified data source. Different interface options cater to various user needs.
Limitations:
It focuses only on content performance data like shares and engagement without broader rankings or keyword insights.
The free version limits searches and some data points are only available on paid plans starting at $99 per month.
Advanced metrics like sentiment analysis or customized reporting require more expensive Enterprise plans, making it cost-prohibitive for some smaller companies or individual users.
Pricing:
Pro: $79/month
Plus: $139/month
Large: $239/month
Similarweb efficiently reveals competitor insights. Simply enter a URL to uncover top referral sources, social promoters and high-value keywords.
This handy traffic recon tool removes guessing from growth. Emerging avenues surface seamlessly, empowering users to refine strategies before rivals react.
Key Features:
It tracks search queries over time so you see rising and falling trends. This helps spot up-and-coming keywords to target.
The tool provides fresh data to discover new searches. You'll always have your finger on the pulse of changing search behaviors.
Real visitor insights mean taking advantage of traffic numbers. Similarweb shows which sites and pages people actually use, not just searchers.
Limitations:
It focuses exclusively on digital marketing and web analytics without integrated SEO, social or competitive analysis tools.
Some detailed metrics require paid plans, and the largest sites hit data limits on lower tiers.
The interface can feel complex, making it harder for casual users to extract insights without training.
Pricing: Free
Why is Similarweb our Top Pick?
We chose Similarweb as the best tool. Entering a URL quickly reveals a competitor's traffic sources, keywords, and promoters. This removes guessing from growth strategies. Emerging chances surface, allowing Strategy changes before rivals. Keyword trends spot new targets. Fresh data finds developing queries. Real visitor insights use true traffic, not just searches. It focuses on digital insights but accelerates optimization. More data requires higher plans, though value stays at all levels. With use, the interface provides benefits, and simplicity remains key.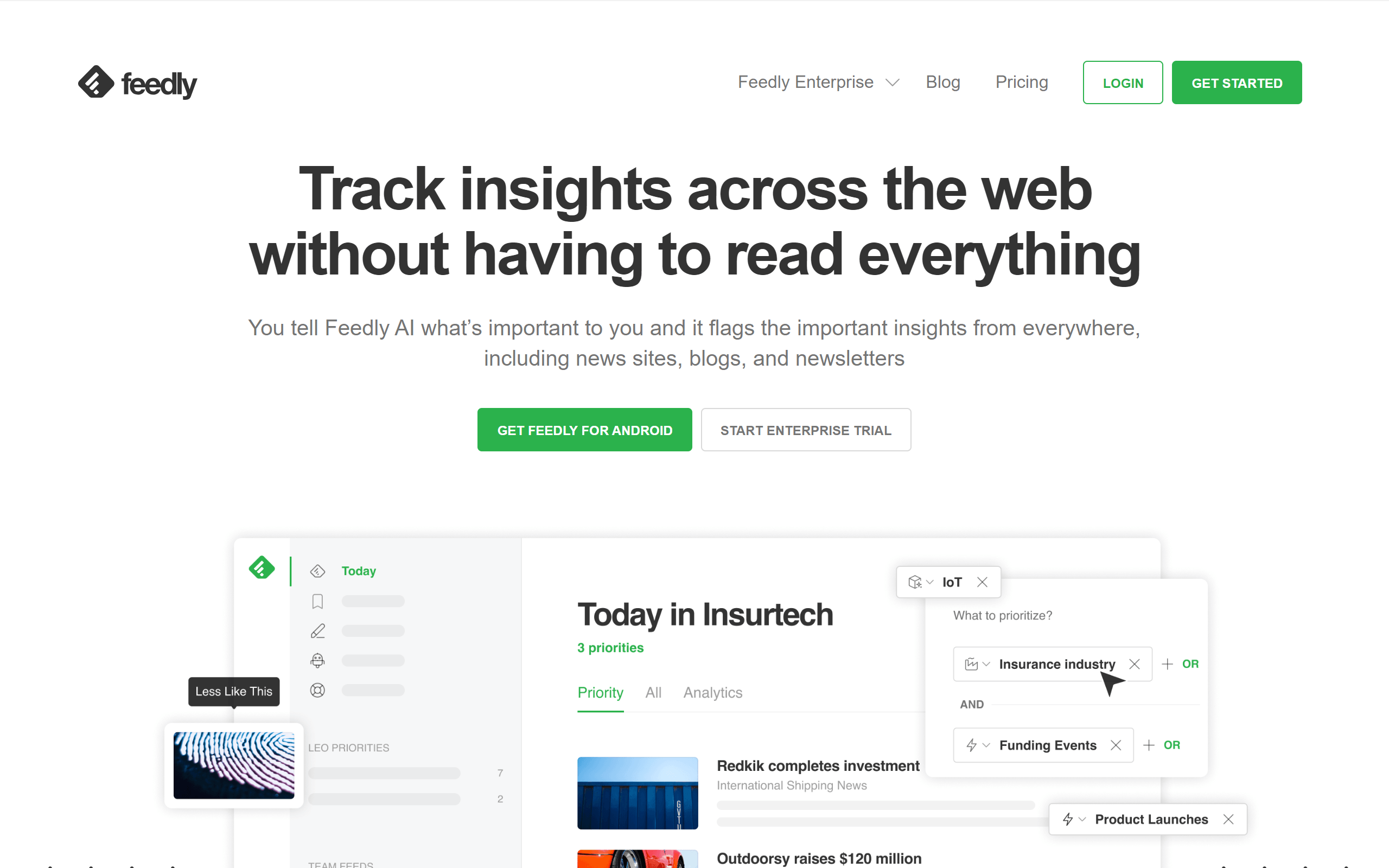 Feedly streamlines news discovery. The aggregator customizes topic clusters from extensive sources for convenient access anywhere.
Searching stress dissolves as it effortlessly organizes online publications. Free cloud sync keeps streams snappy across devices too. Users collaborate seamlessly on collections through invites.
Key Features:
It allows you to follow 1,000 RSS feeds, keeping you up to date on topics from around the web. Never miss the latest news.
The notes and highlights feature means making connections between articles. Tag important points to revisit later.
Power Search scans your subscriptions and beyond to quickly locate stuff. Find that perfect article without endlessly scrolling your feeds.
Limitations:
It focuses only on feed aggregation and article discovery without deeper analytics capabilities.
The free version has basic features, but advanced sorting, collaboration or archiving require paid upgrades.
Customizing streams takes time and effort - it works best for general content discovery versus highly tailored workflows.
Pricing: $8/month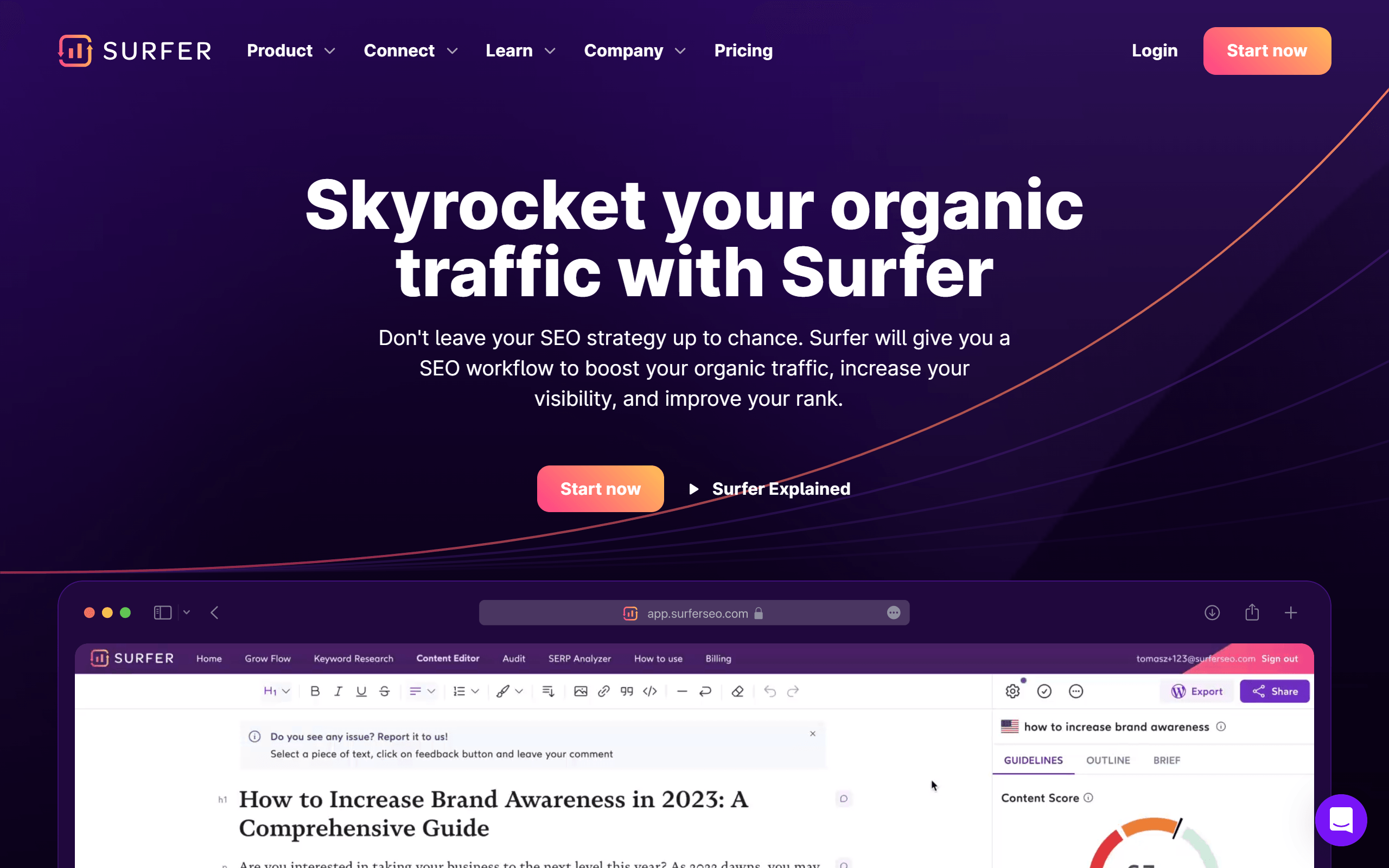 Surfer, APAC's SEO mainstay, streamlines strategies seamlessly. Curious arrows trust its insight heft once reworking rulesets from niche to zenith worldwide.
This free ally facilitates without friction; optimizing trickery it surfaces metrics naturally elsewhere buries. Effortless runs ensue through focus, relaxing complexities that fracture rivals off course.
Key Features:
It automatically finds new and trending content for you. Surfer scours the web so you can discover articles without hunting for hours.
The algorithm pulls topics you're interested in based on your browsing history. It gets smarter about your preferences over time.
You can save stories easily to read later or share. With Surfer, it's simple to build up articles to engage with each day.
Limitations:
It focuses mainly on link prospecting and outreach functionality rather than full-funnel SEO like content, technical or social aspects.
Some of the more advanced link building features require upgrading to a premium plan starting at $99/month.
The database of sites/contacts isn't as robust as competitor analysis tools specialized in link prospecting like LinkResearchTools or SEMrush.
Pricing:
Basic: $49.20/month
Pro: $82.50/month
Business: $165.83/month
Ontolo is a marketing data extraction tool created by Ben Wills. It automates time-consuming research tasks that others said weren't possible.
Through years of refining skills, Ontolo can analyze millions of web pages in minutes. It extracts and indexes far more data at much faster speeds than other solutions. Ontolo provides targeted data at scale, eliminating huge time costs of traditional research.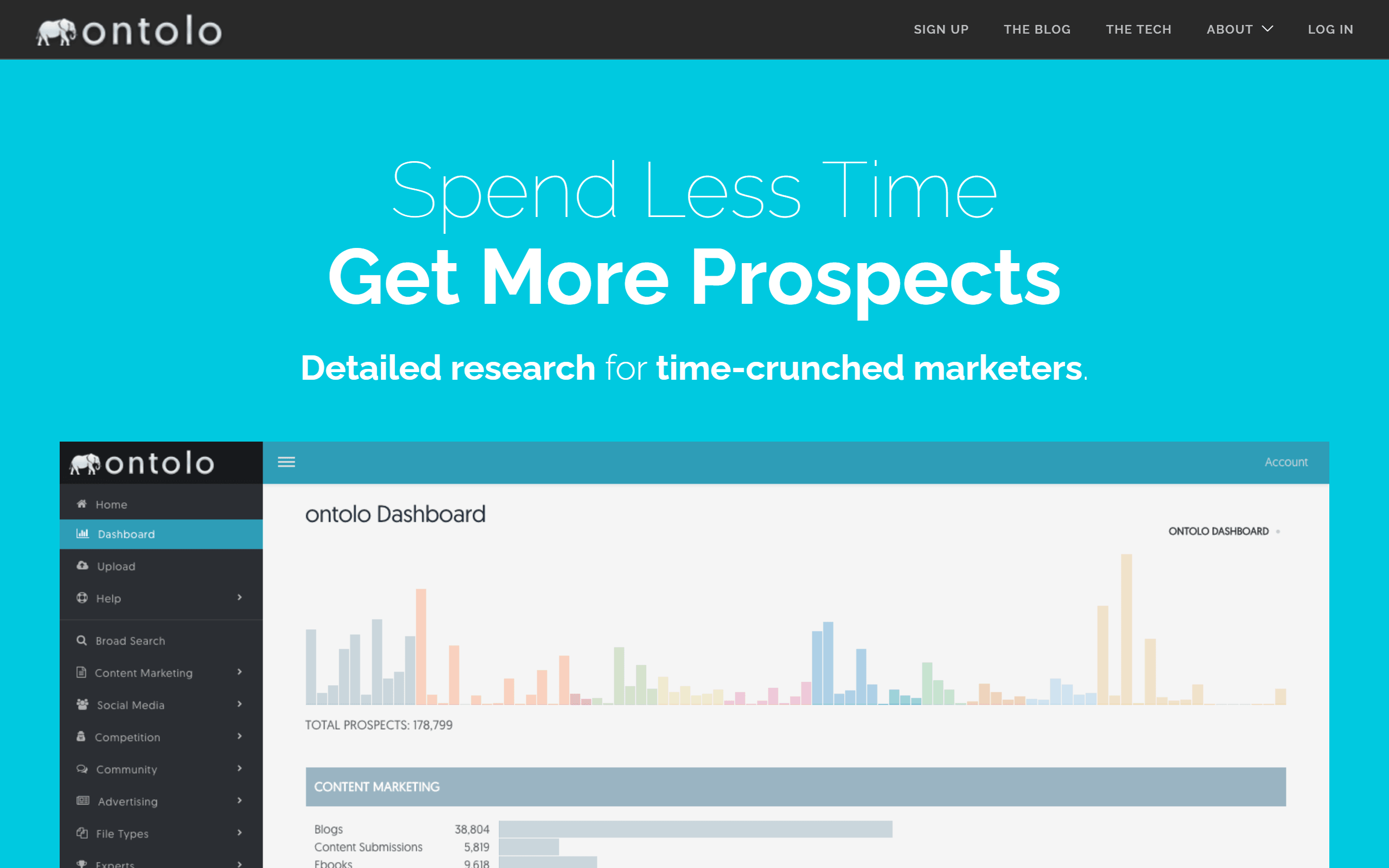 Key Features:
Analyzes millions of web pages very fast, in just a few minutes.
Extracts a huge amount of data from pages much faster than other tools.
Gets large amounts of useful marketing data quickly, saving lots of research time.
Limitations:
Only analyzes data from web pages, not other sources like social media.
Processing millions of pages rapidly requires powerful hardware.
Output of extracted data needs further analysis, does not provide full insights itself.
Pricing:
Pro: $97/month
Agency: $297/month
Competitor Analysis Tools for Emails and Paid Ads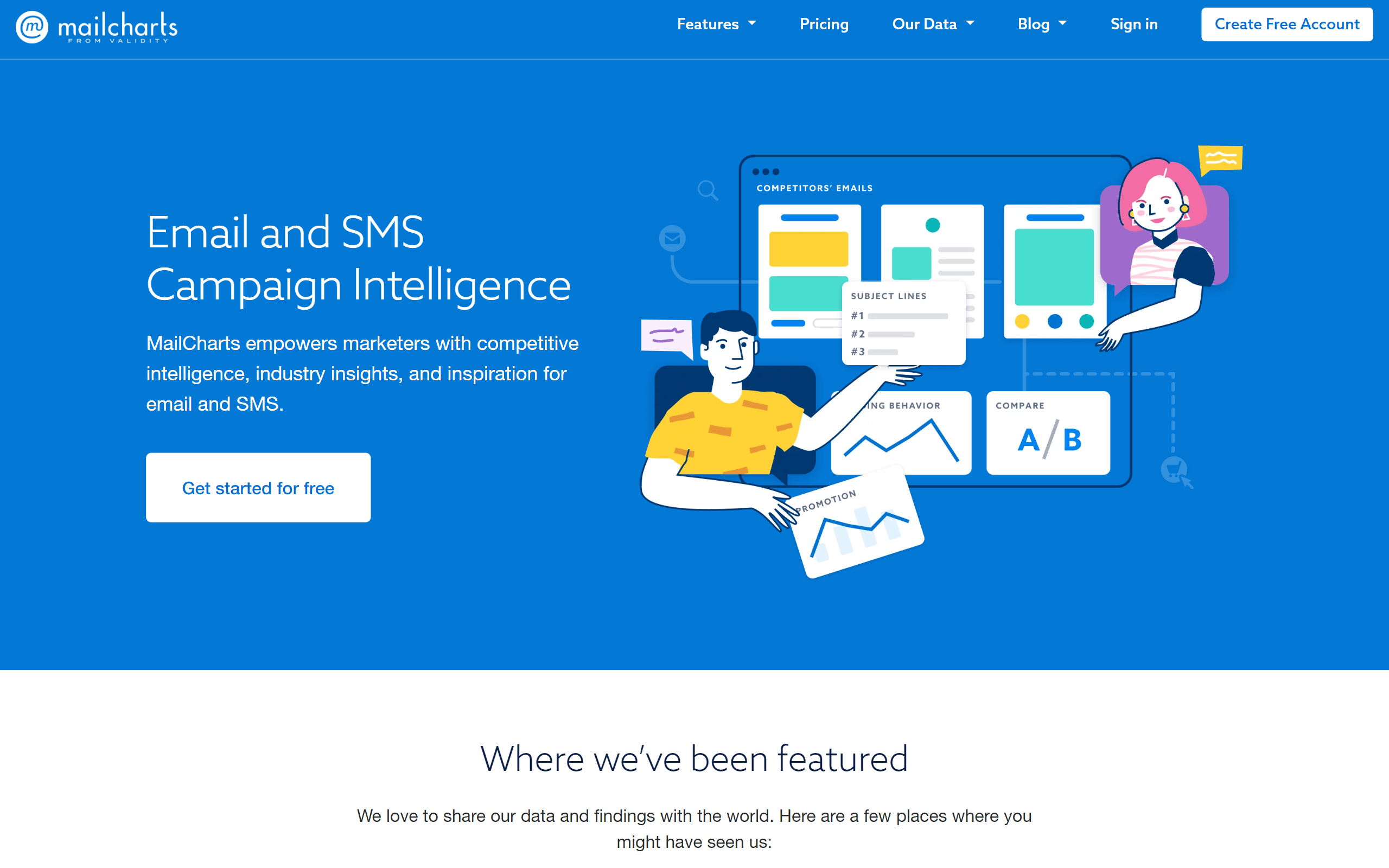 MailCharts equips strategies seamlessly through top brand insight. Peek peer campaigns or customize sequences effortlessly within curated category boards.
No fishing needed - its data dynamism tracks trends for streamlined focus. Discover lucrative niches through carefully clipped viewboards and industry groups numbering over 80 representing commerce's pulse.
Key Features:
It provides real-time and past performance metrics so you can make smart email decisions. See what content hooks people in delivery and open rates.
The platform lets you browse, comment on, and share actual campaign emails from well-known and up-and-coming brands. Get inspiration from top examples.
Messages are organized by category so you can easily find ideas tailored to your products. We're talking triggered receipts, newsletters and more - all at your fingertips.
Limitations:
It focuses only on email analytics without tools for building full campaigns or tracking additional channels.
Their free plan limits time-series charting to the past 30 days, while paid plans start at $29/month for businesses.
The pre-built templates aim for functionality over creativity, so marketers may prefer design-focused platforms for visually-impactful reports.
Pricing: $149/month
Why is MailCharts our Top Pick?
We chose MailCharts as best. It smoothly fills strategies with top brand insights. See similar campaigns or customize emails easily by category. No digging needed -tracking shows trends clearly.
Over 80 industry groups present useful ideas. It provides metrics to understand past and present results. See what messages engaged people. Copy real examples from known brands too. Finding newsletter and receipt templates is quick by topic. Only email analytics are shown, not full campaigns. But free and low-cost insights benefit marketers greatly.
Owletter streamlines competitor email analysis. The tool automatically archives screenshots and annotations for seamless review.
No more manual monitoring - simply assign sites to effortlessly track pertinent messages. Amass insightful intel to imitate innovators or best also-rans.
Key Features:
It makes testing newsletter designs a breeze. Easily swap text, images and layouts to see what performs best with your subscribers.
The split testing lets you run A/B or multivariate tests to find winning combos. See measurable differences directly in your mail client.
Personalization tools allow tailored messages at scale. You can customize content and calls to action for each reader segment.
Limitations:
It focuses only on email newsletter creation and delivery without broader campaign or engagement tools.
The free tier limits designs, email lists, and deliveries which may not meet larger publishers' needs.
Compared to full-featured platforms, it lacks advanced segmentation, personalization, or analytics capabilities expected by power users.
Pricing:
Starter: $19/month
Pro: $39/month
Unlimited: $79/month
SendView streamlines email tracking effortlessly. Insights inventory campaigns from clients and competitors anonymously, sparing flooded inboxes.
Curious how others click? Revealed strategies immunize surprises and guesswork. Assign profiles to monitor stealthily.
Key Features:
It provides clickstream analytics so you can optimize each part of your email. Precisely see which headlines, buttons and sections drive results.
Heat maps help discover high and low performing areas of messages. You'll spot where eyeballs linger or get lost in a snap.
Smart lists bring together contacts that interact similarly. Send more effective, targeted messages to groups based on open and click patterns.
Limitations:
It focuses only on email analytics metrics versus full campaign building and list management capabilities.
The free plan limits users to 500 emails or 5 campaigns per month which may not cut it for higher volume senders.
Compared to platforms integrated with ESPs, it lacks deep personalization features and requires manually uploading send/open data.
Pricing:
Standard: $49/month
Pro: $99/month
Agency: $179/month
iSpionage equips local SEO effortlessly. Insights inventory ads, rankings and competitor climbs anonymously. Alerts surface rival keyword shifts while gap surveys unlock PPC puzzles.
Landing looks leaving locals cold? Just view versions vitally. Run split tests or automate tailored reports for rapid reviews.
Key Features:
You can run split tests on pages or campaigns to see which version does better.
You can get notified right away about ranking drops or other changes, so you can react fast without constant monitoring.
You can see how top competitors in your industry are doing. Their metrics help you find ways to up your own game.
Limitations:
It focuses only on competitor research and backlink analysis without comprehensive SEO capabilities.
Some features like custom reports require higher paid pricing tiers starting at $99/month.
Compared to all-in-one suites, it lacks tools for content, social media and technical SEO optimization.
Pricing:
Starter: $50/month
Professional: $84/month
Advanced: $254/month
Instantly is a cold email marketing platform. It lets you send unlimited emails from multiple accounts with one subscription. You can track campaign metrics like opens and clicks in real-time.
Instantly helps businesses and agencies get leads and sales through outbound emails. It has a free trial to try before paid plans. Good for serious email marketers focused on scale.
Key Features:
You can send emails from multiple accounts without limits with a single subscription.
There are detailed tracking of campaign metrics like opens, clicks, and unsubscribes.
New email addresses are prepared before full deployment for better delivery rates.
Limitations:
Focused only on email marketing, no tools for additional channels like social or web.
Free plan limits time-series data to past 30 days, paid plans start at $29/month.
Templates provided are functionality-focused, marketers may prefer more design options from other platforms for visually impressive emails.
Pricing:
Growth: $37/month
HyperGrowth: $97/month
Conclusion
In conclusion, keeping up with competitor analysis tools is really important nowadays. Businesses are always changing quickly.
The tools talked about try to give current info on what rivals do and how markets change. They look at websites and ads. They put together a lot of competitor data in one place.
But not all tools are the same. Some work better than others for different companies.
It's important to pick the right one that fits your business. Then you can make good choices. Knowing what competitors are up to helps adapt. And you can find ways to do better. Always watching competitors allows you to do well even as things change.