Email is one tool that continues to remain as the top choice for marketers to reach their audience.
It's also the single marketing channel with a high ROI of 4200%. That means you earn $42 for every dollar you spend.
So, what can you do to ensure your email marketing efforts yield the same returns?
That's where the best email marketing services and software come in.
In this guide, we have handpicked the top 20+ email marketing solutions so you can find the best one for you. We'll also be telling you our top five picks.
So, keep on reading to find out.
Best Email Marketing Tools
1. ActiveCampaign – The Overall Best Email Marketing Solution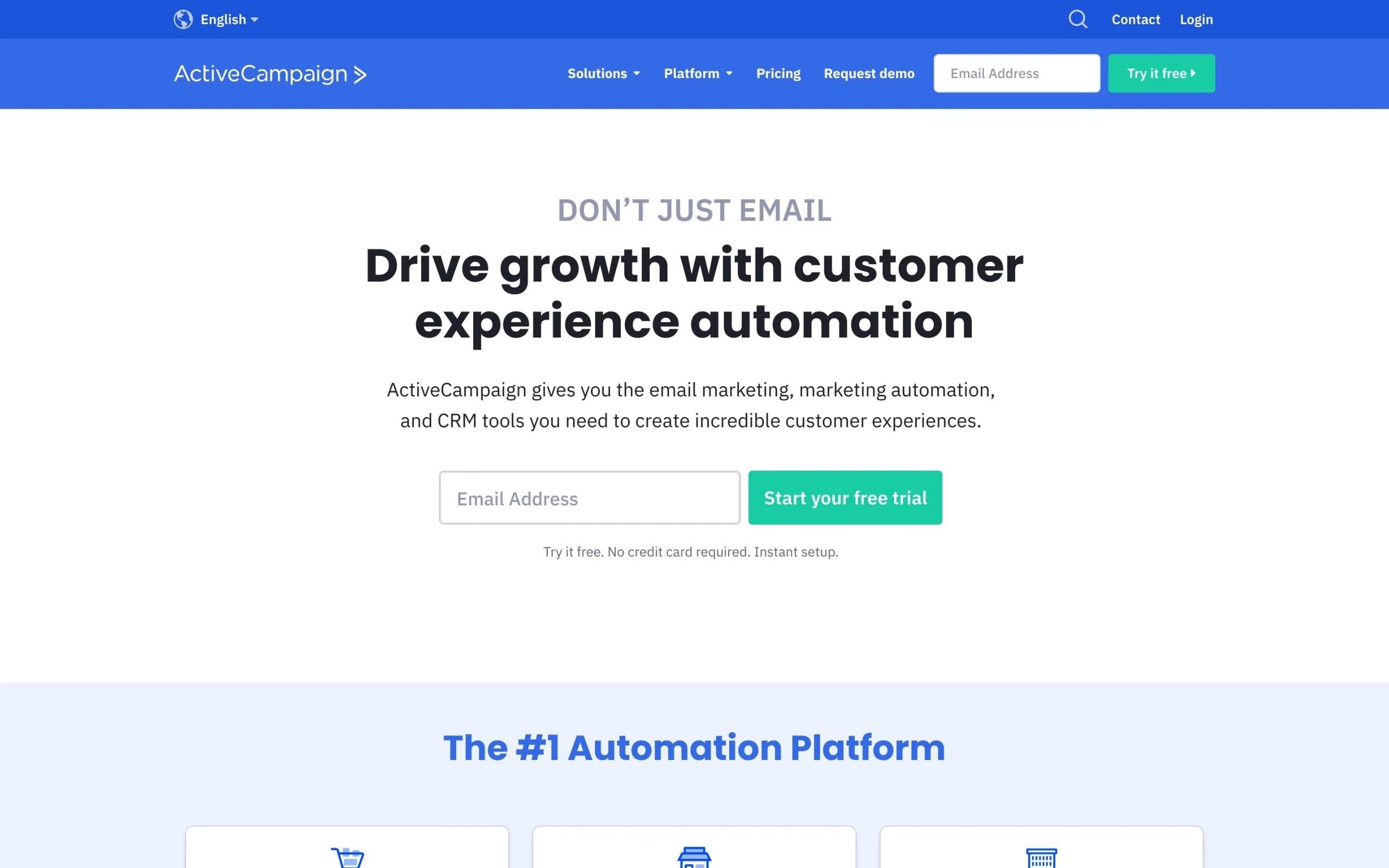 ActiveCampaign is among the top email marketing services, with over 150,000 users across the globe.
With ActiveCampaign, you get access to a collection of CXA (Customer Experience Automation) tools. Some of them include marketing automation, CRM, and email marketing functionality.
The CRM tools and live chat available on the platform further help in streamlining your marketing activities.
ActiveCampaign also lets you send personalized emails by segmenting your subscribers.
Thanks to its intuitive design, anyone can create powerful email sequences from scratch.
ActiveCampaign supports over 850+ app integrations, including Shopify, WordPress, and Zapier.
You also get access to 125+ customizable email templates. As such, you can send beautiful and responsive messages quickly. Also, ActiveCampaign has great deliverability rates.
Pricing
ActiveCampaign features four unique plans, including Enterprise, Professional, Plus, and Lite.
Their cheapest option starts from $15/month (500 subscribers) for the monthly subscription while $9 a month for the yearly subscription.
The Lite package features all the basic marketing tools, including event tracking, email marketing, and unlimited sending.
Key Features
Split testing: Identify high-performing emails.
850+ Integrations: Connect with different apps for increased efficiency.
Dynamic content: Send personalized emails to contacts based on their preferences.
Event tracking: Helps monitor your contacts' actions for hyper-personalized content.
Mobile App: Access your CRM, track customer activity, & check your reports.
Who is ActiveCampaign for
As an all-in-one email marketing platform with several automation features, ActiveCampaign is an excellent choice for businesses of all sizes.
It's also ideal for seasoned marketers who prefer complete control over all their automation.
2. Automizy – Best Solution for Improved Open Rates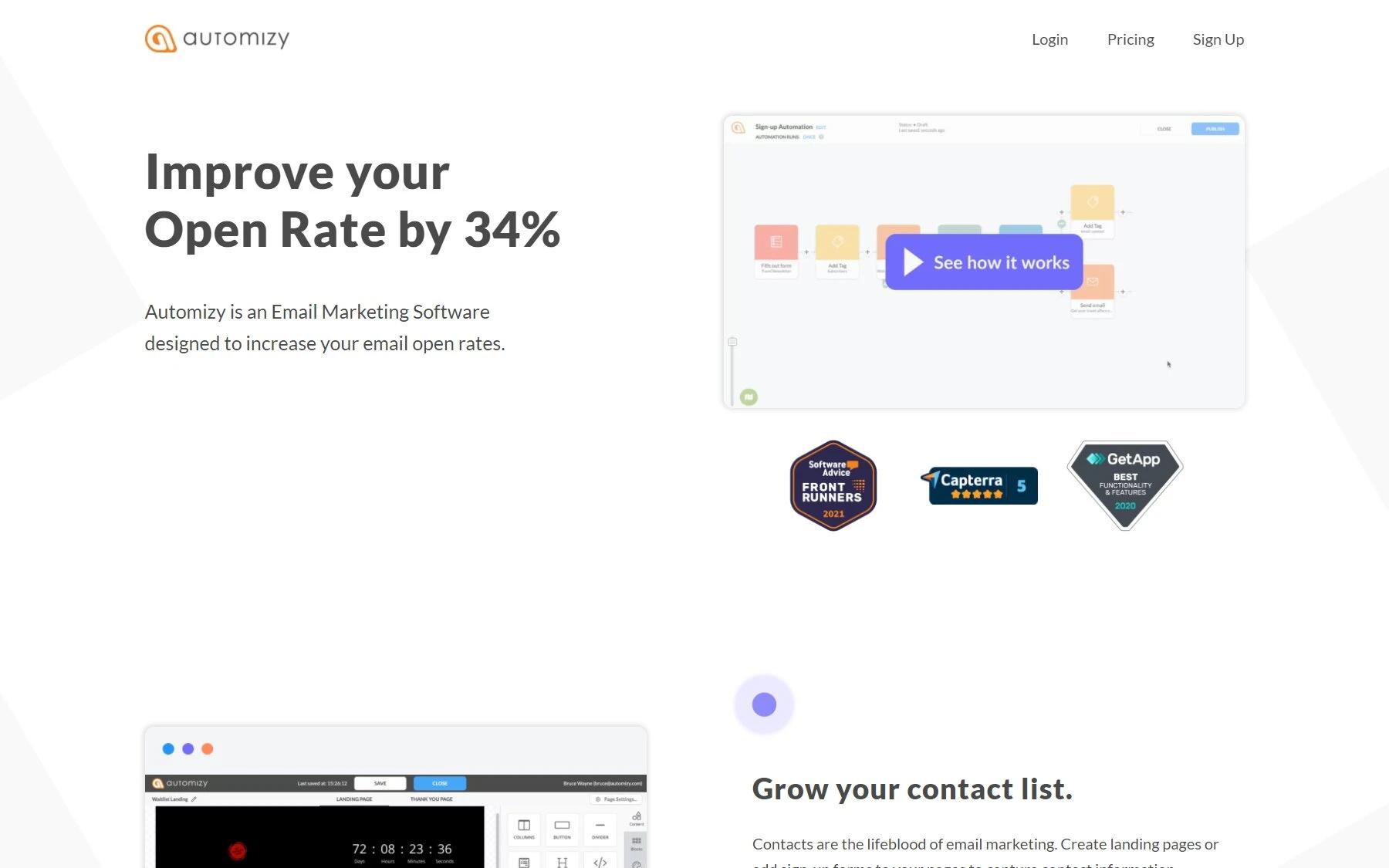 Automizy is another leading automation platform that claims to help you get an increase of 34% in open rates.
The platform has email marketing features, like automation, contact management, subscription forms, and more.
In addition, Automizy's email editor allows you to craft high-performing emails with ease. And, you don't need any coding skills.
But, the unique selling point of Automizy is Mizy, an AI-driven subject line tester. This AI-powered tool predicts your subject lines' performance by comparing it with data based on 1million+ campaigns.
Furthermore, Automizy delivers another email automatically with a better subject line if your subscribers didn't open the previous email
You also get 20+ fully customizable and responsive email templates to help you send great-looking emails in no time. The platform also features a visual email marketing builder.
Pricing
Automizy only offers one plan, and the price varies depending on your subscriber list. That said, you can get their email marketing services for as low as $9/month for 200 subscribers.
With Automizy, you also get a free trial option for 14-days along with a money-back guarantee.
Key Features
User-friendly interface: Every user (beginner or seasoned) can navigate the platform easily.
AB testing: Test subject lines to identify ones that perform well with your audience.
Powerful automation: Features visual automation builder to help you design high-performing email automation.
20+ Integrations: Integrate with your favorite tools, including Zapier.
Free analytics: Offers several email marketing analytics & conversion metrics.
Who is Automizy for?
Automizy is ideal for new email marketers (or anyone) who want to automate and improve their current email campaigns. It comes with all the necessary email marketing features, a user-friendly interface, and responsive customer support.
3. AWeber – Perfect for Small Businesses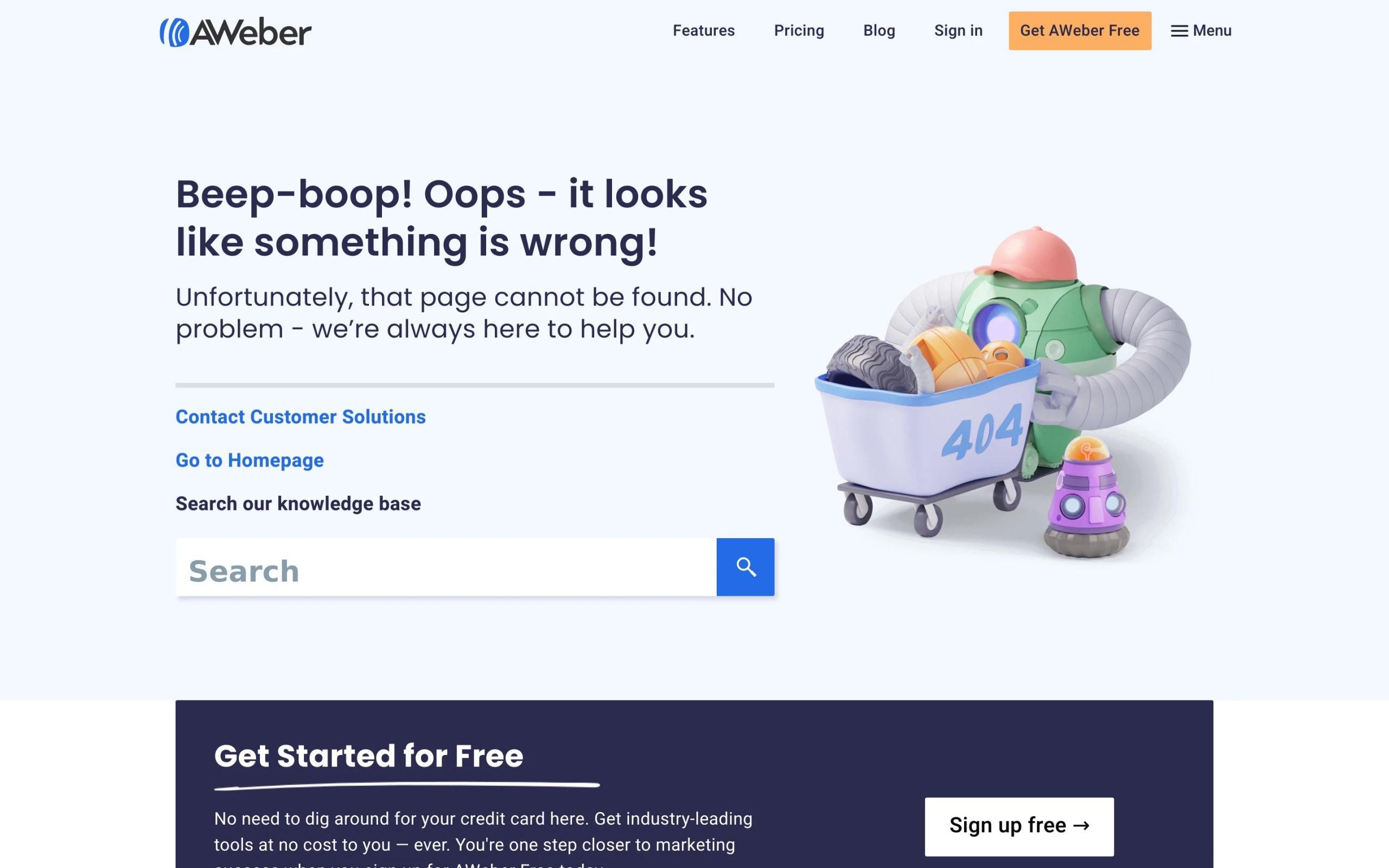 AWeber is a popular platform for email marketing, with over 1 million users. It comes with a complete suite featuring all the necessary email marketing tools.
Like most top services, AWeber offers 100+ integrations. With AWeber, you also get tons of automation features to curate and deliver targeted messages and email marketing campaigns.
In addition, the platform offers pre-made customizable email campaigns to start sending messages in no time.
Moreover, the platform's simple user interface makes it easy for you to access every feature.
Plus, there's no limit to the number of monthly autoresponders, emails, landing pages, and signup forms.
With AWeber, you also get access to 600+ free email newsletters & marketing templates that are fully customizable, responsive.
AWeber's segmentation & tagging features further enable you to send targeted messages to the right prospects. Other helpful features include the Drag & Drop tool, Email Designer, and free stock images.
This email marketing software also has two mobile apps: AWeber Atom and AWeber Stats.
Pricing
With AWeber, you can either go for the free or the paid plan. The free subscription offers essential email marketing tools like email automation, creating & sending newsletters, and email templates.
Aweber's paid plan starts from $16.15 a month for 500 contacts, and you can opt for annually, quarterly, or monthly payments. Plus, there's a money-back guarantee for 30 days.
Key features
Two Mobile Apps: The Atom app lets you add subscribers, while the Stats allow you to monitor your campaign's statistics. However, you can't edit or create emails with them.
AI-based email template builder: Automatically create attractive emails.
Drag & Drop: Easily make breathtaking emails from scratch.
Email automation: Build triggers and workflows to automate your marketing process.
Auto-newsletter: Automatically inform your subscribers about any new content.
Who is AWeber for?
With 600+ email templates, a reliable and responsive support team, and several automation tools, AWeber is a perfect choice for any small business owner.
4. Benchmark – The Ideal Software for Agencies & SMBs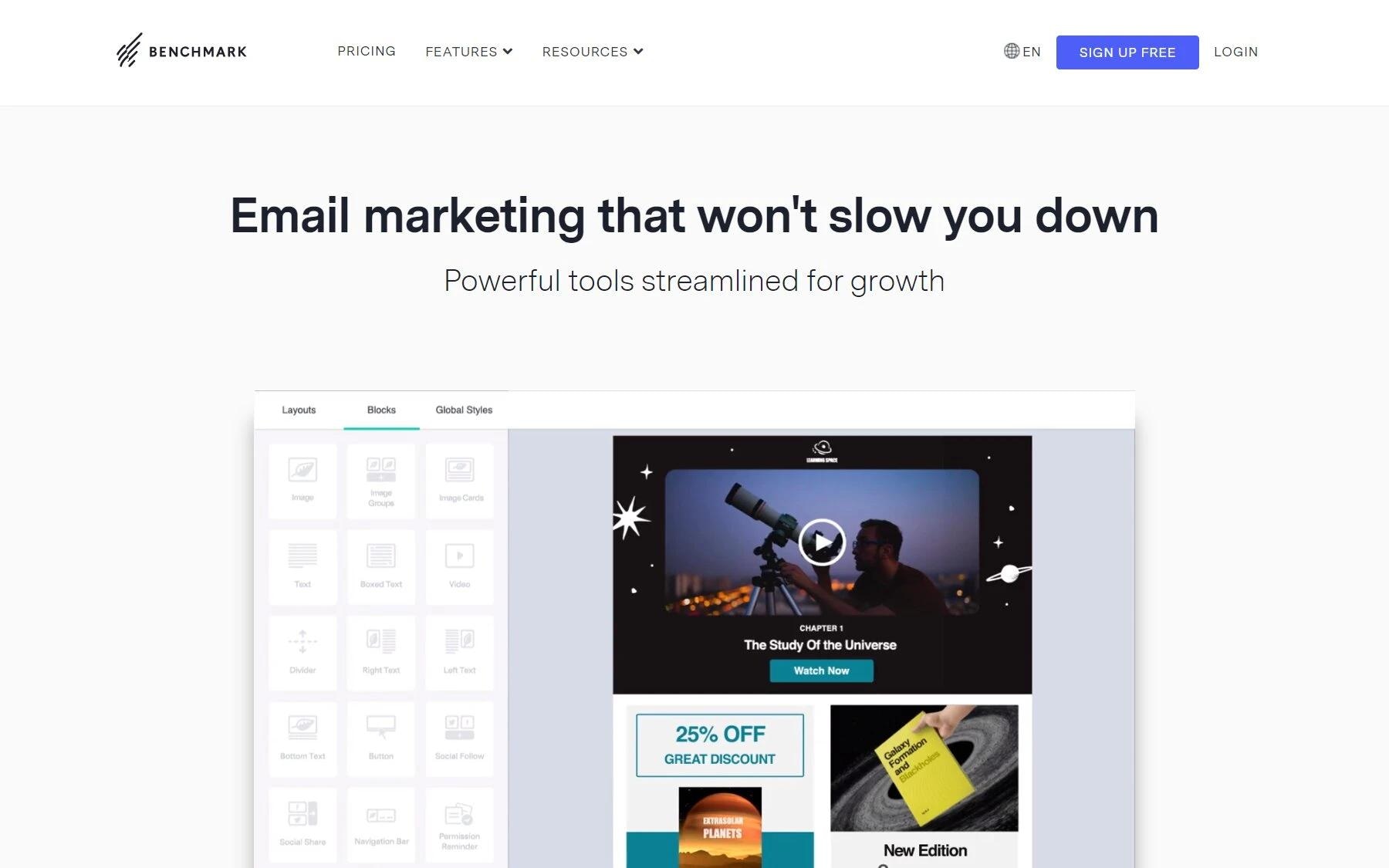 If you're looking for a user-friendly and well-designed email marketing tool, Benchmark is an ideal choice.
As a full-featured platform for email marketing, Benchmark offers online sales & marketing solutions for every business to thrive.
The platform's key features include advanced automation campaigns, an intuitive email designer, and tools like polls, surveys, etc.
Benchmark's email popups and signup forms are helpful to get prospects to join your list.
Using triggers lets you add new subscribers to automated workflows like post-purchase series, welcome series, and more.
With Benchmark, you get analytics features like A/B testing content, delivery times, and subject lines. The platform also offers an inbox checker, which lets you preview how your emails look on different email platforms.
Benchmark comes with pre-made templates for every occasion. Further, the email builder allows you to customize the templates with ease.
Its photo editor is also a great addition as it lets you edit images without having to leave the platform.
Additionally, the RSS feature helps inform your subscribers of any update related to your RSS feed or blog.
Benchmark also boasts over 1500+ integrations, allowing you to connect with services like PayPal, Zapier, Google, Facebook, and more.
Pricing
Benchmark provides one free plan along with two paid plans (Pro and Enterprise). With the free subscription, you can enjoy basic email marketing solutions, have unlimited contacts, and send 250 emails.
The paid subscriptions start at $13 a month for 500 contacts, and you get to enjoy their advanced email marketing tools.
Key Features
Photo editor: Enhance your pictures by adding effects, adjusting colors, and adding texts.
1500+ integrations: Connect with other popular platforms like Shopify, Facebook. WordPress, and more.
Drag & Drop: Helps you create stunning landing pages, emails, subscription forms, etc. with ease.
RSS Emails: Inform subscribers about any new blog or RSS feed update.
Inbox Checker: Preview emails before sending them.
Who is Benchmark for?
Benchmark is ideal for agencies and businesses of all sizes. The platform comes with tons of powerful email marketing tools to create and deliver high-performing email content.
Campaign Monitor is among the premier all-around platforms for email marketing.
With Campaign Monitor, you'll find everything you need to create beautifully-designed email campaigns with ease. This isn't surprising, considering it boasts an impressive customer satisfaction rate of 99%.
The platform's strongest points are its ease of usability and customization options.
Like most providers, ware, Campaign Monitor features a drag & drop email builder. With this tool at your disposal, you can bring your vision to reality.
Moreover, the minimalistic dashboard with intuitive settings and buttons enables anyone to navigate through the platform easily.
Campaign Monitor also lets you hyper-targeted segments by using the available customer data. As such, your contacts receive highly personalized emails every single time.
The platform's powerful marketing automation feature further streamlines every task involved in creating your email campaigns.
On Campaign Monitor, you can choose from a wide collection of free email templates that are responsive, fully customizable, and mobile-friendly.
In addition, the platform lets you integrate it with popular CRM, sales, and lead generation tools.
Pricing
You don't get any free plan on Campaign Monitor. However, there are three paid options available: Basic, Unlimited, and Premier.
The basic package is their cheapest, starting from $9/ month for 2500 monthly email sends and unlimited users.
Key Features
Signup forms: Access ready-made subscription forms and grow your mailing list.
Intelligent segmentation: Group your audience by their expectations and needs.
Visual journey builder: Build unique customer journeys and automate the process.
Professional templates: Create engaging email campaigns on the go.
Drag & drop email builder: Craft custom emails as per your needs with ease.
Who is Campaign Monitor for?
Campaign Monitor is ideal for marketers and business owners looking for premium email marketing software with impressive personalization capabilities.
6. Constant Contact –Best Software for Most People
Constant Contact is among the oldest agencies for email marketing, considering it started in 1995.
As an industry leader, Constant Contact provides some of the top-notch email marketing services. The platform also offers the best solutions for event hosting, eCommerce, multichannel marketing, and website building.
The platform also boasts a high deliverability rate of 87.7%, thanks to its powerful marketing tools and functionality.
For instance, proactive monitoring, different forms of authentication, blocklists, and an intuitive user interface helps create emails that don't bounce.
Getting started with Constant Contact is a breeze, and once you do, the platform will eliminate much of the email marketing tasks. That's because Constant Contact lets you automate the process and get everything done effectively and faster.
The platform also boasts an intelligent automation feature. With it, you can segment contacts, deliver welcome email content to new subscribers, resend messages, and much more.
There are many other reasons why Constant Contact makes such an excellent choice for most people. Some include custom and professional templates, unlimited email sends, A/B testing subject lines, campaign performance tracking, Survey, RSVP, and Poll.
Plus, it offers a mobile app that lets you craft, send, and monitor emails from anywhere.
Pricing
Constant Contact's email marketing services are available in two different plans. Plus, the price of each tier depends on your subscriber list. Nevertheless, you can get started with $20 a month.
Key Features
Mobile app: Create, deliver, and track your campaigns from anywhere.
Campaign performance tracking: Track how your campaigns are performing.
Smart email editor: Create professional and engaging emails with ease.
Advanced automation: Automate and let the platform handle everything.
Signup forms: Boost your list growth with dynamic subscription forms.
Who is Constant Contact for?
This fully-featured marketing platform with a user-friendly UI will be suitable for most users, including beginners.
7. ConvertKit – Best for Content Creators and Bloggers
ConvertKit is an excellent choice for every creator out there. So, if you're a blogger, artist, or podcaster, the services it offers will be of great value to you.
It'd also ease your mind knowing that ConvertKit boasts an astounding 98% deliverability rate.
Thanks to the email designer, you can easily edit and enhance how your emails look before sending them.
You can even set up landing pages and add signup forms to your blog in minutes. This, in turn, helps you in growing your mailing list.
You can even use their customizable templates to build stunning pages quickly without any coding skills.
Rather than having several lists of subscribers, ConvertKit groups all your contacts in one list.
These options help you segment your audience better so you can create highly-targeted emails based on their needs.
Also, you can monitor your email campaigns and analyze how they're performing. You can even A/B test your subject lines. As such, you get to deliver winning copies every time.
Pricing
You can get started with Convertkit with their free plan, which includes 1000 contacts and limited features.
The paid packages start at $29 a month for 1000 subscribers. The pricing will vary according to your subscriber list.
Key Features
70+ integrations: Integrate with multiple 3rd party applications.
Tag-based contact segmentation: Group your contacts and send targeted content.
Email automation options: Send emails to your contacts automatically.
Subscription forms builder: Build professional signup forms for lead generation.
Personalized content: Create personalized email campaigns.
Who is ConvertKit for?
ConvertKit is perfect for every content creator out there, and it comes with every essential email marketing feature that is useful for creators.
8. GetResponse – Best all-in-one Marketing Platform
GetResponse is a popular and all-inclusive marketing platform with over 100,000 users worldwide.
The platform offers some of the finest marketing tools to run effective email marketing campaigns. For instance, you can create and deliver high-performing emails in a few minutes using their user-friendly drag & design tool.
Plus, if you need to create effective email campaigns within a short timeframe, the free, professionally-made templates collection can come to your rescue.
GetResponse also boasts excellent segmentation features to help you deliver targeted, personalized emails.
In addition, they organize your list automatically and ensure your contacts receive the right emails at the best time.
The autoresponder feature is another helpful addition as it sends messages to contacts based on a particular event or time. Further, you can use marketing automation and send trigger emails based on behavior.
Other valuable features include advanced analytics, landing page builders, transactional emails, and webinar software.
But, the tool that stands out amongst all the offerings is the Autofunnel. You can use it to build funnels for webinars, leads, sales, and more. Plus, it's easy to use and fully automated.
Pricing
GetResponse offers a free plan and four premium packages (Basic, Plus, Professional, and Max).
With GetResponse's free plan, you get unlimited emails and a 500 contacts list limit, along with some useful marketing tools.
The pricing for the premium packages starts from $12.30/month for 1000 contacts.
Key Features
150 Integrations: Connect with top online services and tools.
Autofunnel: Create funnels for webinars, sales, leads, and more.
Advanced analytics: Monitor how your emails perform and make necessary changes.
Autoresponder: Send emails to new subscribers automatically.
Marketing automation builder: To deliver better-personalized email marketing experiences – on autopilot.
Who is GetResponse for?
If you're a marketer and need a robust marketing solution with advanced features, GetResponse is a worthy choice.
Moreover, you can always try their free 30-day trial option to see if the platform meets your needs.
9. GetGist – Email Marketing Service with Robust Marketing Automation Tools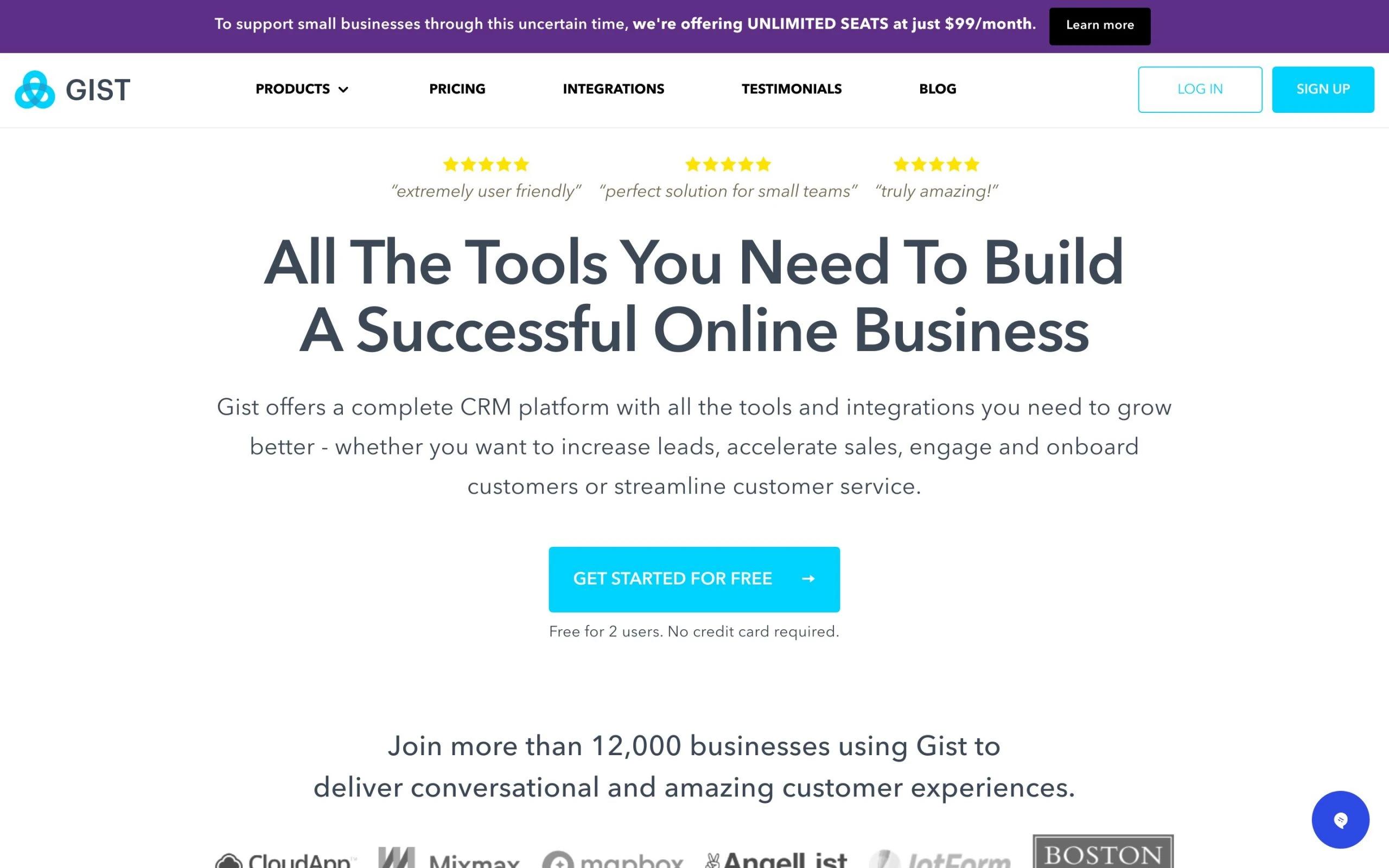 GetGist is another incredible all-in-one marketing platform that offers everything you need for running a successful business.
With live chat, automation, and email software, GetGist provides you with a complete overview of your business.
You can boost traffic, conversions and run powerful email marketing campaigns with GetGist's advanced.
With GetGist, you can create any type of email, including broadcast emails, automated emails, scheduled emails, and more.
Creating beautiful emails has never been easier, thanks to GetGist's user-friendly drag & drop editor. Also, the clean, professional pre-designed email templates help get your message across clearly and quickly.
Marketing automation is among the main reasons why most people choose email marketing services. And with GetGist, you have access to some of the top-notch automation tools.
Got a new promo sale or a blog post? You can schedule broadcast emails or send right way to your subscribers to inform them about it.
Segmentation is another useful feature that helps you send relevant emails based on individual interests.
You also get access to Gist's performance monitoring tools to analyze important email metrics. This capability helps you in improving your email marketing strategies for better results.
Get Gist even resends previous emails automatically with new subject lines to non-openers. The platform also has several popular integrations so you can connect your favorite apps with Gist and grow your audience.
Pricing
If your subscriber list has 500 contacts or less, you can access some of Gist's marketing features for free.
They also offer two paid plans, with the cheapest option priced at $29 a month. The 100% Satisfaction Guarantee is a plus.
Key Features
Segmentation: Group your audience based on specific criteria for better personalization.
Event tracking: Monitor and improve your email campaigns' performance.
Popular integrations: Link your favorite apps to Gist and increase your reach.
High-performing templates: Quickly create beautiful, professional-looking email campaigns.
Intuitive workflow builder: Set up visual workflows for better engagement and conversion.
Who is Get Gist for?
Any business or blogger looking to boost their reach will find Get Gist's offerings quite valuable.
10. HubSpot – Best Automated Email Marketing Platform
HubSpot is an all-encompassing marketing platform featuring every tool a business needs to grow.
The platform is quite easy to navigate, and they have tons of free, professional-looking email templates.
HubSpot also features an email editor that's among the most user-friendly and easiest tools to use.
You can even preview your email based on different devices, recipients, or email clients like Microsoft 360, Gmail, and Apple Mail. This functionality allows you to ensure your messages look fantastic in any inbox.
In addition to that, personalization is another area where HubSpot shines through.
With this platform, you can customize your emails according to the list segment, user's device, or geographic location. You can use merge tags to send personalized content.
Furthermore, you can A/B test content and subject lines to ensure you boost your email click rates and open rates.
The Smart Send functionality, integrations, and analytics tool are some other incredible tools offered by HubSpot.
With a 99 percent deliverability rate, HubSpot also ensures that your emails always reach your recipient's inbox.
Pricing
HubSpot offers a free option that offers 2000 email sends/month, 20 landing pages, and popup or embedded forms.
To email more per month and access other advanced features, you'll have to go for their paid plans, which start at $50 for 1000 contacts.
Key Features
Lead generation tools: Use landing pages, popups, live chats, and forms.
Pre-built templates: Customizable templates for creating beautiful emails quickly.
Personalization tools: Tailor your emails to match your recipient's needs.
Smart Send: Maximize engagement by adjusting send time.
A/B test: To identify winning campaigns.
Who is HubSpot for?
HubSpot is going to be an excellent investment for anyone looking to procure the services of a top-notch, all-in-one marketing company.
The free forever plan further makes it a great choice for those who want to test the water before going all in.
11. MailChimp – Best Solution for Designing Newsletter
With 1billion+ emails sent daily and 14 million users as of 2017, MailChimp is among the top providers in the email marketing space.
This platform is also a favorite of most small business and beginner bloggers because of their free plan. MailChimp is well-known for its excellent email marketing tools.
Their email builder makes it super easy to design and deliver high-performing emails.
To ensure your campaigns perform well, MailChimp offers cross-device testing. It lets you identify the elements that work well with the target audience.
The platform also has an intuitive landing page maker to improve your lead generation.
In addition, MailChimp has some great automation features, including multi-step workflows.
This feature allows you to create drip campaigns and complex onboarding series for your audience. If you have an eCommerce site, you can use this tool to send welcome emails to new visitors.
MailChimp also has some powerful insights & analytics tools, including reports, smart recommendations, surveys, content optimizer, and A/B testing.
You also get access to some other features like marketing automation, creative tools, and audience management.
Pricing
MailChimp features a free package, which gives you a 2000 contacts limit followed by 12000 email sends a month.
Besides the free option, they also have three premium options, starting at $15/month for 500 contacts.
Key Features
Powerful analytics: To monitor and improve campaigns.
Behavioral targeting: Send targeted emails based on specific actions.
Subject line helper: Get tips to improve subject lines in real-time.
Integration: Sync and connect to other apps.
Landing pages: Build stunning landing pages to improve list growth.
Who is MailChimp for?
MailChimp is perfect for new bloggers or small businesses because of their free plan. You get every essential tool to run effective email campaigns.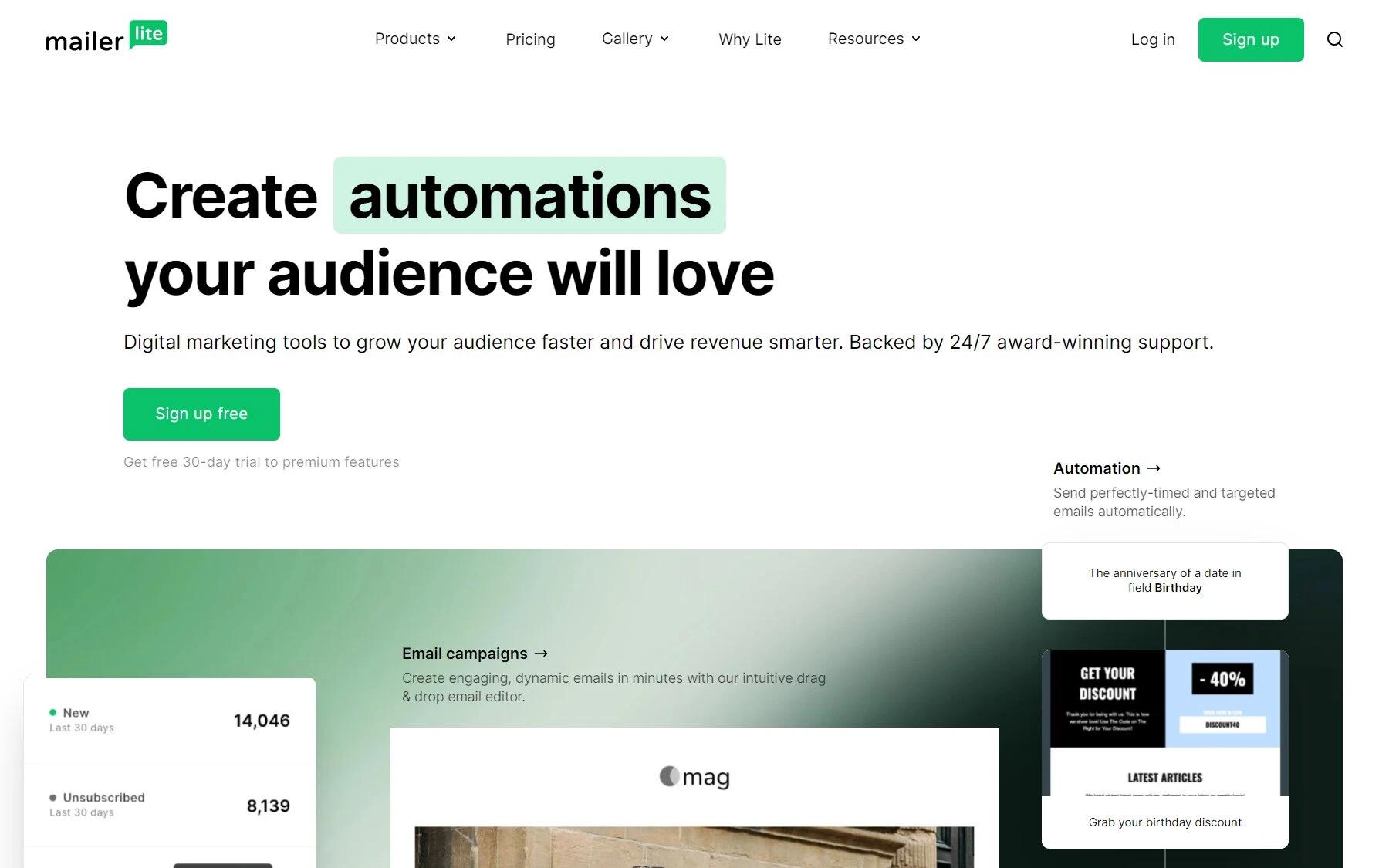 Mailerlite is a leading platform with an incredible user satisfaction rate of 97%.
If you're new to email marketing, you're going to love their easy UI, as you'll have no trouble navigating the platform.
Besides the ease of usability, Mailerlite provides professional-grade automation and integrations. The responsive email designs and exceptional 24/7 support team are two other reasons for Mailerlite's popularity.
With Mailerlite, you get powerful tools designed to help you build dynamic emails easily.
For instance, they offer three intuitive editors, including custom HTML, drag & drop, and rich text to design smarter newsletters. You can even speed up the process by using their customizable pre-made email templates.
The platform also boasts some incredible tools for lead generation. They include their website builder, free landing pages & page builder, signup forms, and popups.
With features like surveys, segmentation, and A/B testing, you can optimize your emails for better conversions.
Mailerlite also lets you automate workflows and targeting with advanced automation features. They even offer 100+ integrations with different platforms, including BigCommerce, Stripe, PayPal, and more.
Pricing
Mailerlite features a free plan with most of its basic email marketing services. The free package also includes a limit of 1000 subscribers & 12000 emails/month.
The pricing for the premium plan starts at $10/month for 1000 contacts and unlimited emails.
Key Features
24/7 Customer support: To help you with your queries via chat and email.
Landing page builder: Build professional landing pages.
100+ integrations: Connect with other top platforms.
Email templates: Create beautiful newsletters in minutes.
Results tracking features: Improve your email marketing tactics using reports from multiple tracking features.
Who is Mailerlite for?
Mailerlite is perfect for freelancers and small businesses looking for an affordable email marketing solution with useful features.
If you're a beginner, you'll also appreciate the platform's easy learning curve and functionality.
13. Mailigen – Suitable for SMBs
Mailigen is a robust email marketing platform that offers high-end marketing solutions for running successful email campaigns.
Like most top services, Mailigen has an email builder that lets you quickly build highly responsive emails.
The library of unique pre-made templates further speeds up the email-making process.
You can even preview your emails before sending them. For instance, the inbox preview tool lets you see how your emails look in 100+ email clients.
With Mailigen, you can drag images, text boxes, and other components to build the best marketing emails. Moreover, you get tons of configurable templates, email styles, and design tools to help you create and optimize your campaigns.
Mailigen has nine different content blocks that help you configure your emails quickly.
The open API functionality is another great feature that Mailigen offers. The platform has integrations with top plugins like WordPress and Zapier.
They also integrate with different social platforms like Twitter and Facebook.
Other power email marketing features include campaign analytics, email list segmentation, signup form builders, and email automation.
Additionally, you get access to text messaging capabilities and online survey integrations.
Pricing
The pricing for Mailigen's email marketing services is tiered, and they scale based on your subscriber count. If you have a list of 500 contacts, it'll cost you $10 a month.
Key Feature
Powerful integrations & API: Connect with your e-commerce system or blog.
Online surveys: Gain valuable insights and improve response rates.
Transactional emails: Deliver triggered emails based on website or purchase activity.
A/B testing: Identify the best performing emails.
Robust email automation: Create perfectly-timed campaigns or targeted email sequences using triggered responses.
Who is Mailigen for?
If you're looking for a cost-effective platform that offers email marketing services, then Mailigen is worth a try. If you're new to email marketing, you'll also like the user-friendliness of this platform.
14. Mailjet – Best Budget Email Marketing Platform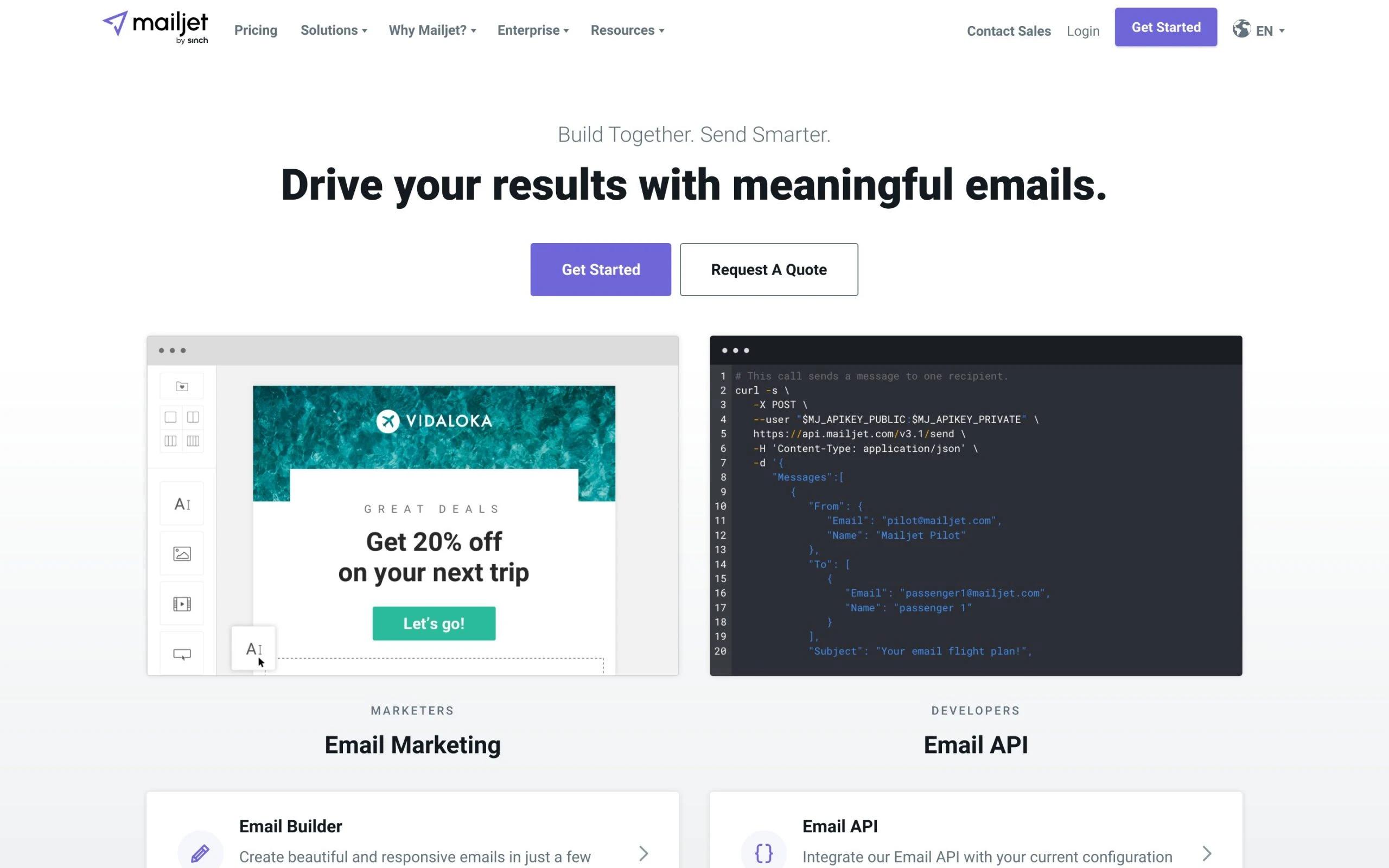 If you wish to run efficient email campaigns but have a limited budget, then Mailjet might be a great choice.
The platform has some excellent email marketing tools and boasts a user-friendly interface with a fantastic design.
With Mailjet's unique collaboration feature, you can work on your email strategy with other users in real-time.
The platform also supports 80+integrations so that you can connect with different apps for blogging. Like all the other providers, Mailjet features an email builder to craft beautiful, responsive emails in minutes.
Additionally, Mailjet includes a contact management feature so you can effectively manage, group, and expand your reach.
With Mailjet's analytics tool, you can monitor your campaigns and optimize their performance.
One useful personalization feature available on the platform is the templating language. It lets you customize your emails using loops, conditional statements, and variables.
Other useful features include Email API, transaction emails, and SMTP relay.
Pricing
Mailjet has a free subscription, where you get unlimited contacts along with a limit of 6000 emails/month.
The paid packages start at $15/month, which may increase depending on how many monthly emails you wish to send.
Key Features
Advanced email builder: Start creating responsive emails quickly.
Email API: Schedule, send, and track emails.
Transactional emails: create successfully triggered emails.
Segmentation: Segment your audience for better personalization.
100+ integrations: Easily integrate with different platforms.
Who is Mailjet for?
Mailjet is for anyone who needs a reliable and cost-effective email marketing solution. They have everything you'll need to create successful campaigns on a budget.
15. Marketo Engage – Best Personalization & Segmentation Solution
Adobe's Marketo Engage is another high-end marketing platform designed to help you run successful campaigns.
Like all providers, you get an intuitive editor that's pretty easy to use, allowing you to create your emails quickly & easily.
Plus, you can use their responsive templates to ensure your emails look fantastic on all devices. As 53 percent of emails get opened on smartphones, this can be a great advantage for you.
With Marketo Engage, you can use your subscribers' behavior to deliver relevant emails at the most appropriate time.
Furthermore, you can improve your campaign's performance with Marketo's A/B testing, triggered emails, and predictive content.
Marketo lets you customize intricate workflows using behavioral triggers. The platform also offers a unique tool called Adobe Sensei, and it uses machine learning and AI to create personalized content.
With Sensei, you can analyze your assets' performance, identify what works for who, and optimize emails accordingly.
Pricing
There isn't any free plan available for Marketo Engage's marketing services.
But they do offer four paid plans, including Select, Prime, Ultimate, and Enterprise.
To know the pricing, you'll have to contact them. Nevertheless, we found that the pricing could start at $895.
Key Features
Powerful personalization tools: Ensure you continuously send emails that are tailored for each target audience.
Marketo Moments app: Review, reschedule, or get your email marketing campaign performance from anywhere.
Visual email editor: Create engaging and attractive emails within minutes.
Segmentation: Segment subscribers based on specific behavior and attributes.
Marketing Automation: Features every marketing automation tool to get measurable results, keep your audience engaged, and more.
Who is Marketo Engage for?
Marketo is suitable for anyone with no budget constraints and just wants a robust marketing tool for all your marketing initiatives, including email campaigns.
16. MoonMail – Best Cloud-Based Platform for Email Marketing
If you're looking for a cloud-based platform for email marketing, MoonMail is worth checking out. They even operate with Amazon AWS.
Moreover, as a great omnichannel platform, they offer you the option to send messages via SMS, email, Voice, Whatsapp, chatbots, and even Facebook Messenger.
As such, MoonMail is a perfect option, especially if you're looking to expand your messages beyond just emails.
Like most of the platforms on this list, MoonMail offers a drag & drop editor along with templates. They also have interactive email headers, which is an added bonus.
Additionally, with CSS and HTML, you can adjust or add features like fades, opacity changes, menus, and more.
And if you have got any queries or need assistance with something, their reliable support team is there to help.
Some other cool features include spam reports, email bounce management, automation, and compliance tracking.
Ecommerce merchants can even use their Shopify app to send abandoned cart emails or autoresponders to potential clients.
Pricing
MoonMail gives you the option for a free account, which includes 2000 contacts and one daily email sends.
You can even choose one of their four paid subscriptions, starting from $44/month for the Lite package. With this option, you get 10000 active contacts, 50000 email sends, and some essential marketing tools.
Key Features
Shopify app: Easily mail abandoned cart emails or autoresponders.
Smart APIs: Deliver messages to subscribers via FB messenger, Whatsapp, or other chatbots.
HTML & CSS: Customize your email campaigns with ease.
Templates: Create emails that look fantastic and professional with ease.
Excellent customer support: Get all your queries answered.
Who is MoonMail for?
If you're a marketer or a small business owner looking to deliver more interactive and dynamic emails, MoonMail is an ideal option.
17. Moosend – Best Affordable Email Marketing Software
Moosend is another best email automation platform that helps you personalize your emails, grow your reach, and automate tasks. All these allow you to focus more on building customer relationships.
Creating email campaigns is pretty easy when using Moosend, thanks to their innovative drag & drop editor. You can use it to add social icons, text blocks, images, and other elements to your campaigns.
They even have an extensive library of responsive and customizable templates that look pristine on all devices.
You can even run delivery &spam tests to make sure your messages get delivered to your contact list. Moosend also has advanced automation features for better email list segmentation, automating your marketing campaigns, and providing hyper-personalized emails to subscribers.
Furthermore, their real-time reports and analytics help measure your campaigns' performance so you can optimize them for better results.
Pricing
Get started with Moosend's free plan, where you get a 1000 subscribers limit and unlimited email sends. Signup forms and reporting are other useful features included.
The paid options start at $8/month. Remember, the rates will increase depending on your subscriber count.
Key Features
List segmentation: Segment your emails for better personalization.
Custom subscription forms: Design and create subscription forms.
Automation workflows: Easily personalize your campaigns & nurture customer relationships.
Support team: Reliable support with each plan.
Landing page builder: Build custom pages with signup forms to improve conversions.
Who is Moosend for?
The platform offers tons of features for an affordable price, making it ideal for small businesses. Plus, the minimal learning curve means both seasoned and new users can quickly get around with the tool.
18. Omnisend – Best for Online Stores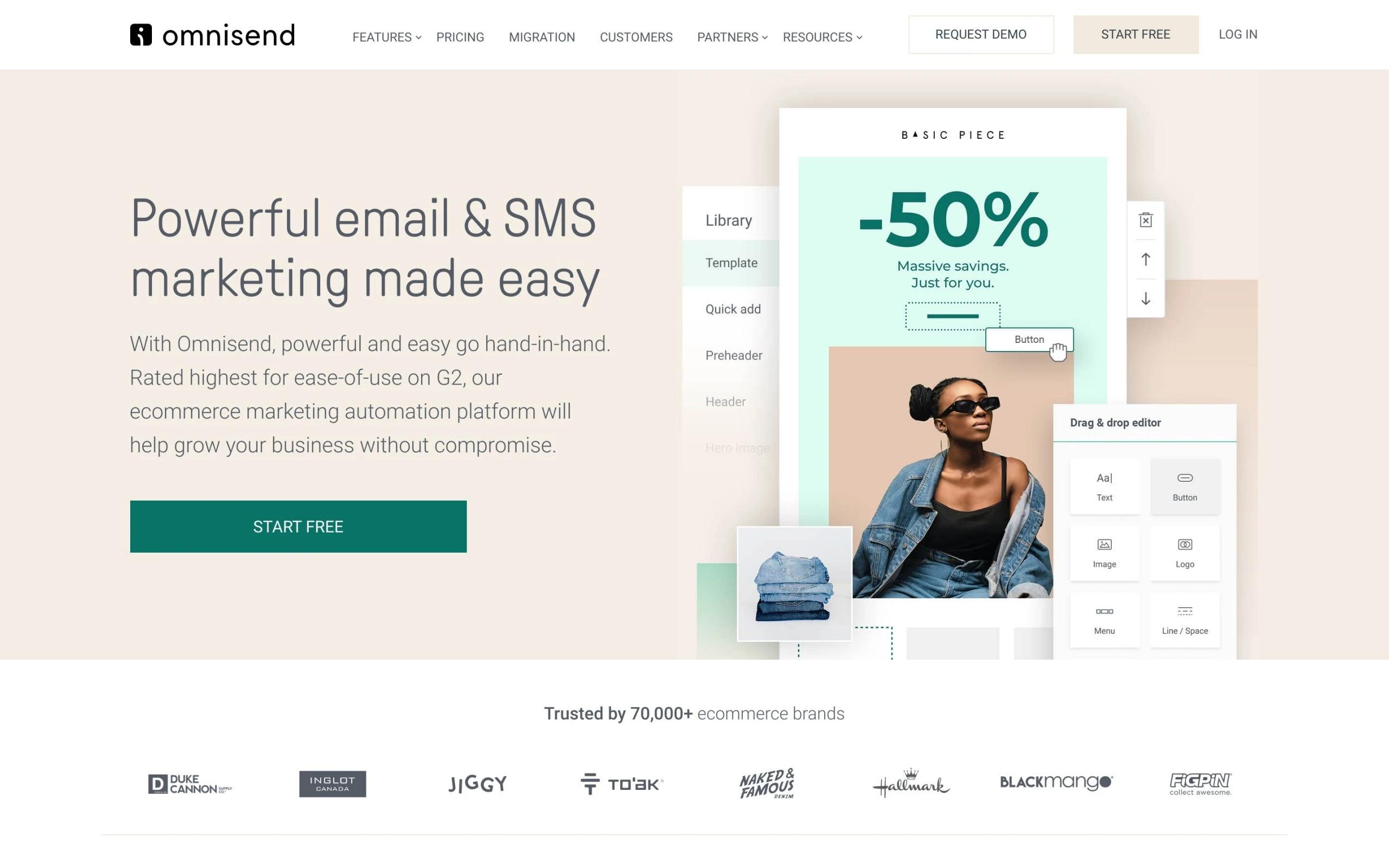 Omnisend is another user-friendly software for email marketing, and they have over 40,000 users worldwide. They provide multiple features, including Automated SMS and email messaging to convert prospective leads into clients.
Omnisend lets you send more relevant content to visitors across different devices and platforms for online business owners.
Omnisend lets you track your visitors' actions and deliver automated emails like abandonment emails or welcome emails.
The platform also supports integrations with leading eCommerce platforms. As such, you can connect with WooCommerce, Shopify, or other eCommerce sites that you use to boost sales.
Pricing
Omnisend has a free email marketing package that includes 500 emails/ month with unlimited subscribers.
Upgrading to their paid plan will cost you $16/month for 500 subscribers. It also includes 6000 monthly email sends & some advanced features.
Key Features
Performance testing: A/B test campaigns for better optimization.
Automated emails: Send order confirmation or abandoned cart emails automatically.
Top integrations: Connect with popular eCommerce sites for more sales.
Mobile-friendly templates: Retain mobile audience.
Free plan: Unlimited subscribers with useful marketing tools.
Who is Omnisend for?
Without a doubt, Omnisend is among the most suitable email marketing tools for those with online stores.
19. Ontraport – Excellent Email Marketing Platform With CRM
Though mainly known for being an excellent CRM (Customer Relationship Management) solution, Ontraport's also a great email marketing tool.
The Campaign Builder is their signature feature, which is a visual automation & live-reporting tool.
Campaign Builder lets you create advanced email sequences & even collaborate with different members in real-time.
Ontraport also has a robust block-based editor featuring tons of helpful hover buttons and contextual help.
See how your campaigns are performing in real-time, thanks to their unrivaled campaign reporting. Plus, the platform boasts many pre-made templates.
Ontraport has an integrated CRM, which helps in segmenting your audience better.
Other helpful features include task automation, form builders, WordPress integrations, mobile app, and more.
Pricing
There are four plans available, with prices starting from $79 a month.
However, the subscriber limit isn't scalable, meaning you only get a 1000 contacts limit for the Standard plan.
Key Features
Follow-up emails: Create and send follow-up messages using customer data.
Campaign automation: Automate the tasks and save time.
WordPress integration: Get more with WordPress integration.
Mobile app: Track your campaigns from anywhere.
Form builders: Grow your list by creating creative forms.
Who is Ontraport for?
If you need excellent marketing software that prioritizes sales workflows and automation more, Ontraport is an ideal option.
20. Pabbly – Best for Email Delivery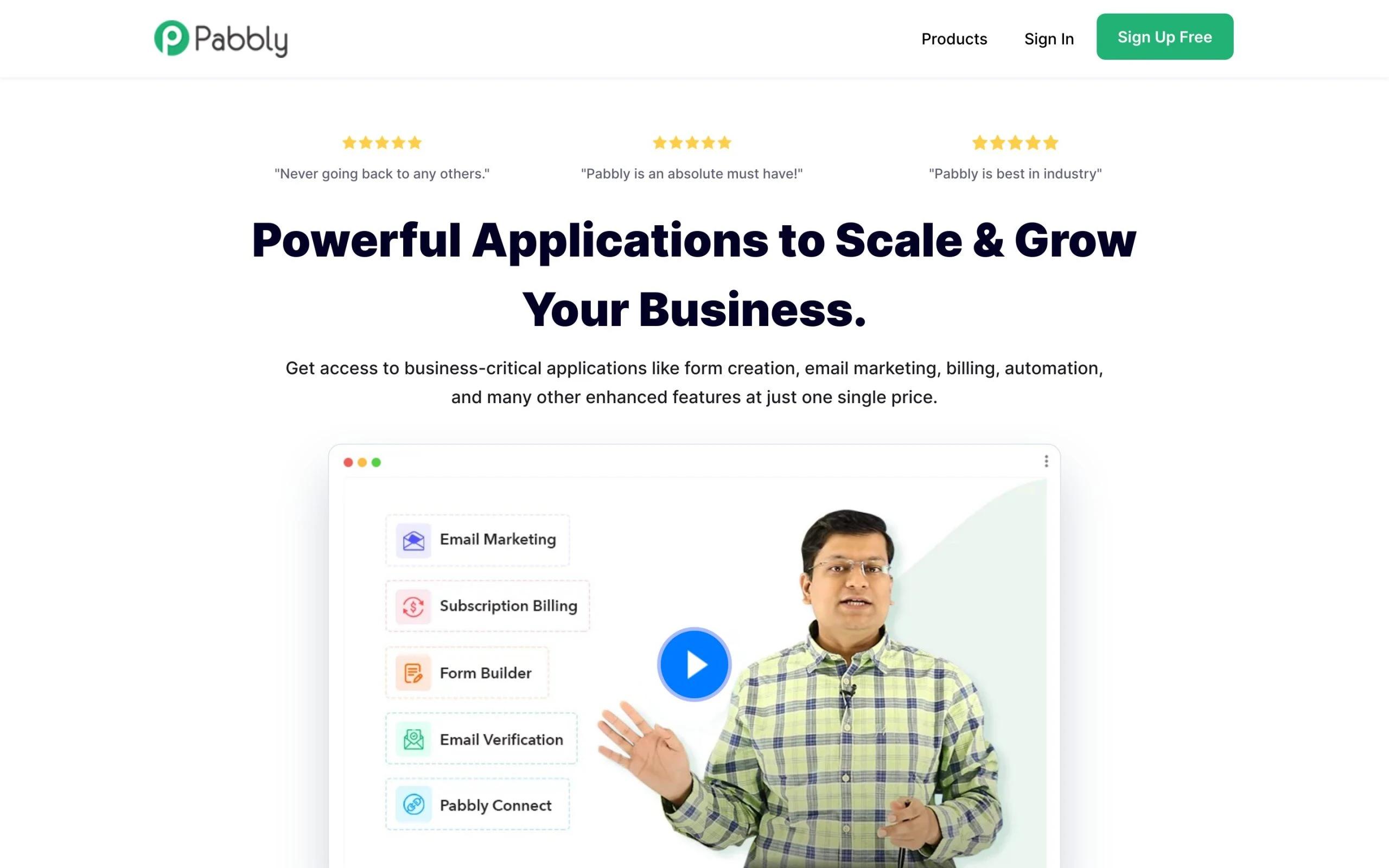 Pabbly is a great digital platform that offers a comprehensive marketing tools suite.
Whether it's email marketing, online form building, email list cleaning, or subscription billing, Pabbly has got you covered.
Pabbly has all the key features for email marketing, including autoresponder emails, list management, contact segmentation, etc.
The platform even lets you integrate built-in or over 50 external SMTPs without any additional cost.
With Pabbly, you can run tests and improve your email campaigns' performance. You can even mail bulk emails to your subscribers with just one click.
Moreover, Pabbly handles spam and bounce complaints related to all top SMTP services like SendGrid, Mandrill, MailGun, etc.
Pricing
Pabbly offers a free subscription with restricted features. The paid packages start from $24/month, and it includes a 5000 subscribers limit per month and unlimited emails.
Key Features
Campaign performance tracking: track and improve your campaigns.
Auto follow-ups: Send follow-up messages to non-openers.
Free email templates: Build professional-looking emails within minutes.
Email personalization: Deliver emails that are more personal for each subscriber.
300+ integrations: Integrate with top apps to gain more leads.
Who is Pabbly for?
Pabbly is ideal for every blogger, professional, and business looking for an easy email marketing tool with advanced features.
21. Sendinblue – Best Solution for Email List Growth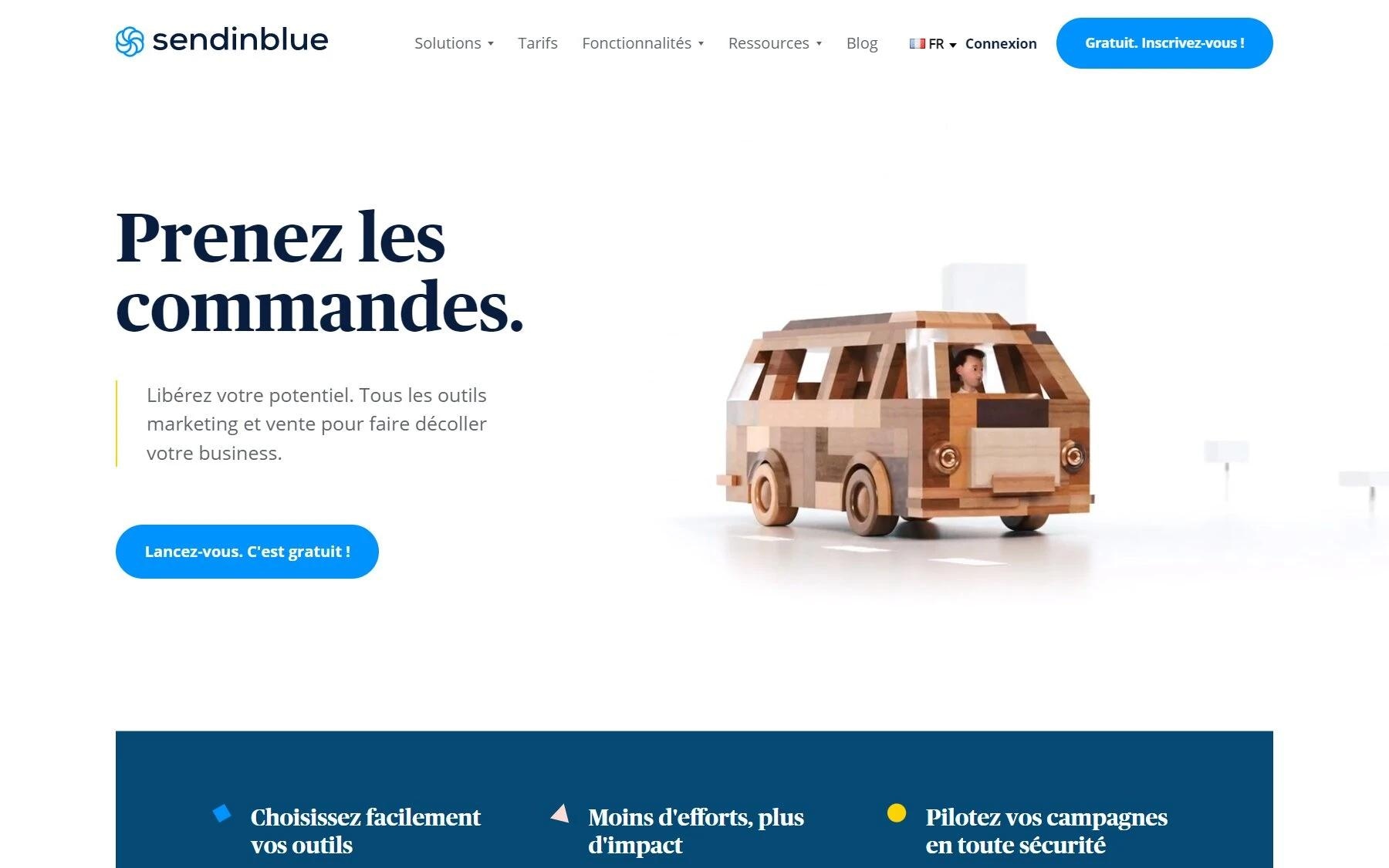 Are you looking for a unified SMS, chat, CRM, Facebook, and email marketing solution? If so, Sendinblue is an excellent choice, and it's also among the top email marketing platforms.
Sendinblue hosts tons of tools that require very little training. Plus, its drag & drop editor makes the process of creating personalized, high-performing email campaigns less tedious.
With Sendinblue, you also get access to a collection of lead nurturing features.
For instance, the retargeting option ads help send powerful emails as per the user's past online interactions. You can even integrate signup forms into your site and gain valuable user information.
Segmentation is another great feature that Sendinblue offers. It helps you create more relevant emails by targeting different groups with a personalized message.
You can further make the segmentation process with the help of Sendinblue's marketing automation tool. Additionally, you can A/B test your email campaigns to determine the best-performing one.
The platform also features integrations with popular platforms, including MailChimp, WordPress, WooCommerce, and many more.
Pricing
You can start with their free email marketing package, which lets you mail 300 emails/day to unlimited subscribers.
You can also pick one of their paid plans and access powerful features. The starting price is $25/month for the cheapest premium package, which includes a limit of 10000 emails a month.
Key Features
Advanced automation: Automate and streamline your marketing tasks.
Unlimited subscribers: Each plan includes unlimited contacts.
A/B testing: Evaluate how your emails perform.
User-friendly email editor: Create your campaigns with ease.
Multiple integrations: Integrate with platforms like Intercom, Salesforce, and Shopify.
Who is Sendinblue for?
If you have got tons of subscribers but don't have to email all of them, Sendinblue is perfect for you. Plus, you won't have to pay a dime for it. The platform's free account lets you send 300 emails a day to as many contacts as you want.
22. SendPulse – Best Multichannel Email Marketing Tool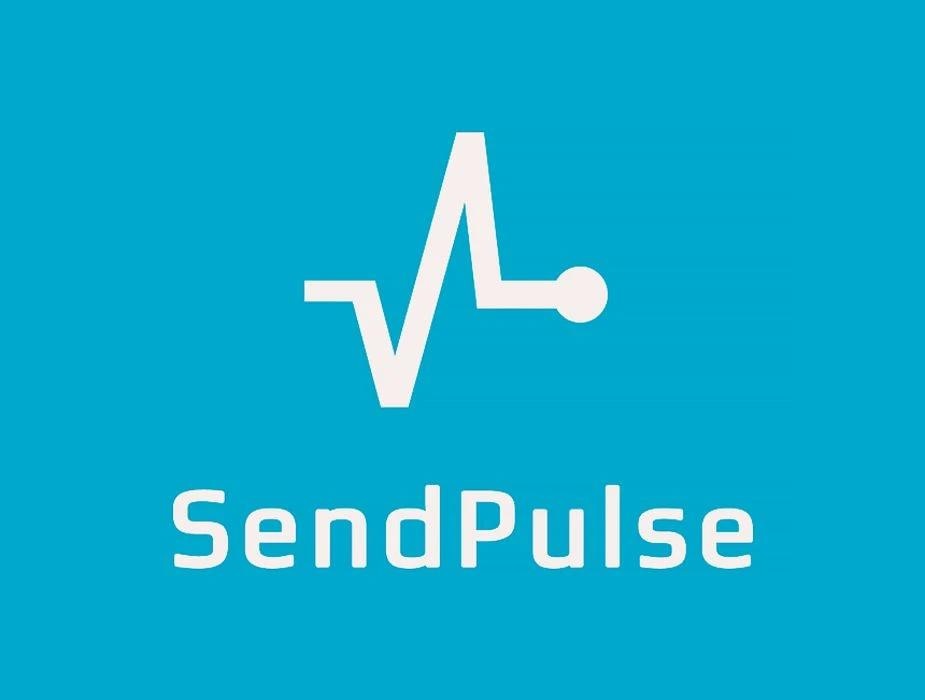 SendPulse is an omnichannel platform designed for both email & messenger marketing.
The platform boasts an impressive suite of all the innovative email marketing tools. Thus, everything from collecting contact information, creating automated workflows, and designing responsive templates is streamlined.
For instance, its convenient email editor lets you build responsive and professional-looking emails easily and quickly. No HTML skills are required whatsoever.
The 130+ pre-made templates are a live-saver for marketers with limited time. The platform has a design for any promotion or event, allowing you to create that perfect email within minutes.
In addition, with Automation 360, you'll only be sending relevant emails at the best moment.
Other advantages of this tool include sending automatic trigger emails based on your audience's actions. After completing the initial setup, Automation 360 will handle the rest.
Like all top services, SendPulse has an analytics tool to evaluate your email campaigns using graphs and reports. Also, the built-in CRM further helps automate your sales and communication with your audience.
Another useful feature that SendPulse offers is its Email Verifier. This tool helps you remove spam traps, addresses with typos, and non-existent email IDs, keeping your mailing list clean. This, in turn, improves your deliverability rates.
Pricing
SendPulse offers a free plan, where you get a limit of 500 subscribers and 15000 emails. Plus, you get all the essential features to get you started.
The cheapest paid subscription starts at $6.40/ month for unlimited emails and 500 subscribers.
Key Features
Email Campaign Analytics: Track your email campaigns for better results.
Email Verifier: keep your mailing list clean.
Automation 360: Automate and streamline your email marketing process.
Integrations: Connect with other popular platforms like Zapier, SalesForce, Shopify, etc.
130+ templates: Send professional emails quickly.
Who is SendPulse for?
If your business uses transaction or web push emails, a multichannel platform like SendPulse can save you money and time.
23. Zoho Campaigns – Best for Non-Technical Marketers
With Zoho Campaigns, you get tons of impressive email marketing services. As such, small businesses and marketers will find everything they need in one platform.
The platform boasts a user-friendly interface with simple, easy-to-use dashboards. As such, non-technical users can not only navigate the platform easily but also master their domain.
The Drag & Drop editor lets you personalize your emails by adding images, social buttons, text boxes, and more.
This platform also offers a segmentation tool to target contacts based on their behavior and contact information. You can even A/B test your email campaigns for better results.
Additionally, it lets you set up autoresponders easily using their pre-built templates. You can find beautiful ready-made templates for different purposes like birthdays, newsletters, welcome, etc.
In Zoho Campaigns, you also have options for more complex workflows. It'd also please you to know that the platform has integrations with leading eCommerce, contact management, and CRM products.
Other useful tools include real-time analytics, team collaboration, subscriber management, merge tags, and email automation.
Pricing
There are three unique paid plans available, with the subscriber-based plan being the most popular option for many. It starts at $4.50/month, which gives you unlimited emails and 500 subscribers.
You can also try their Forever Free plan, which has a limit of 12000 emails and 2000 subscribers a month.
Key Features
Email template builder: Craft beautiful and engaging emails quickly and easily.
Contact management: Easily manage your subscribers.
Automation: Speed up the process with automation.
User-friendly interface: Anyone can easily navigate through the platform.
Forever free plan: Start creating great email campaigns for free.
Who are Zoho Campaigns for?
Anyone searching for a powerful yet user-friendly email marketing software to manage simple campaigns will find Zoho Campaigns ideal. It's also perfect for users with zero technical experience.
How to Find the Ideal Email Marketing Software for You
Email marketing platforms are loaded with features to help streamline the process of creating high-performing campaigns.
After extensive research, we found six key factors that every best email marketing solution has in common.
So, consider the following factors to ensure you pick the ideal email marketing platform for you:
i. Easy of Use
The first thing you should consider looking into is whether the marketing tool you pick is user-friendly.
What good would it do if it takes you hours to craft an email template that looks acceptable on a smartphone?
As you browse, see if the email marketing tools offer user-friendly interfaces and visual email builders. Pay attention to pre-made workflows and templates available on each email marketing agency.
It'd also be quite helpful if your solution features intuitive visual design features to create emails and workflows.
Picking services with an intuitive user interface ensure low learning time and quick adaptation, especially for inexperienced teams.
Fortunately, the email marketing tools featured on this list come with easy-to-learn editors that you can use right away without any coding skills.
The best services will also provide documentation, walkthroughs, and support to educate you and ensure their solution is actually self-service.
ii. Automation
As a marketer, you know very well that email marketing involves manual, repetitive tasks that require constant attention.
For this reason, the second important thing to consider is easy marketing automation.
When you choose an email marketing service that offers this feature, you save both time & marketing resources.
An email marketing tool that fully "understands" every contact & their customer journey is what you get with automation.
With marketing automation, for instance, you can group your subscribers. Plus, you can personalize campaigns around specific customers' behavior and workflows.
Plus, automation eliminates the need to constantly check if your new subscribers are in the correct sales funnel. The tool will automatically send emails to the right contacts.
The perfect email marketing tool will allow you to send out welcome emails to new subscribers before mailing a comprehensive newsletter about your business.
Following are some other automation features available in most top email marketing platforms:
Anniversary or birthday emails.
Recent purchase emails.
Abandoned cart emails.
iii. In-Depth Analytics
If you're a marketer, you know that data is crucial for making sound marketing decisions. That's because you can only improve something if you can measure it.
To that end, top email marketing service agencies will offer all the necessary reporting tools to acquire detailed KPIs and metrics.
Having access to this information can have huge benefits for your business. That's because you'll acquire key details about who your subscribers are, where they live, and what they need from you.
Moreover, it'll help you build better marketing strategies and services in the long run. The email marketing tool you choose should allow you to monitor how your emails perform and whether your campaign needs any changes.
So, pick an email marketing tool that lets you track:
CTR (Click-through rates): Determine how many times your subscribers clicked the links present in the emails.
Open rate: It helps you determine if your subject lines are effective.
Conversion rate: How many people respond to your CTA.
Number of unsubscribers: How many people have unsubscribed from your mailing list.
Bounce rate: Determine old email addresses or spelling errors in the address.
iv. Simple Email Segmentation
Another crucial thing to look for when picking your email marketing tool is the list segmentation feature.
Email marketing software that provides a powerful segmentation feature will allow you to acquire tons of valuable information about your audience. This, in turn, will help you send personalized emails and improve your open rates.
In fact, email personalization has improved the open rates for 82% of marketers.
So, the email marketing service you pick should give you powerful yet easy-to-use tools to segment your mail list.
It should also let you send targeted emails based on your subscribers' email open rates, demographics, interests, engagement, interaction with your brand, and more.
v. Email Templates
Whatever your reasons are for wanting an email marketing tool, there's one sure thing – your emails must look good.
Therefore, you should pick an email marketing agency that eliminates the stress associated with typesetting and formatting.
Luckily, most services on this come loaded with email templates that are suitable for all your needs.
For instance, they offer drag & drop email templates for designing beautiful-looking emails with ease. Most of them even provide different template types to suit specific purposes.
A good service will also feature a collection of pre-made sales email templates for you to use right away. If you want, it'll even let you customize the template as per your preference and save them to use whenever needed.
vi. Cost-Effectiveness/Affordability
Many of the top email marketing services provide free packages for a limited subscriber list or time, and they're all worth trying.
But what if you want something that can manage an increasing subscriber list for a more extended period?
In that case, you'll have to opt for a service that offers a scalable package that won't break the bank.
Fortunately, many of the services above are affordable and cost-effective, with the cheapest packages starting at $9 a month for 500 contacts.
Of course, to avail more features, you'll have to invest more. Nonetheless, the service and benefits you get will make it worthwhile.
That said, look through the different packages offered by different email marketing platforms and compare them. Doing so will help you pick one that matches your needs and your budget.
Summary
Don't know which email marketing service to go for? This quick summary of our top 5 recommendations might help:
If you're new to email marketing, then starting with Zoho Campaigns is a great idea. The platform boasts user-friendly features and comes with a free plan.
For those looking to grow their email list, Sendinblue's email marketing features will serve the purpose. Plus, the services aren't that expensive.
Constant Contact is another great option, especially if you run an online store. You get all the essential marketing tools coupled with some advanced features to run high-performing email campaigns.
ActiveCampaign and MailChimp are two other top choices that will work for most users. For bloggers, especially those who are new to email marking, MailChimp will be a perfect option.
Conclusion
So, this concludes our guide on the best email marketing services and software.
Whether you're new to email marketing, looking for new providers, or need a budget-friendly option, there's one for you on our list.
Remember that each platform on this list is unique and comes with different subscription plans (including specific limits). So, take your time and go through each service carefully before picking one for you.
Have you got any other queries or recommendations related to email marketing services? Feel free to let us know below!