Let's face it, parenting can feel like trying to assemble a piece of IKEA furniture - complicated, sometimes frustrating, but oh-so rewarding when you see the results of your hard work. Sometimes, all we need is a little guidance, a tip, or even a friendly suggestion to help us on this journey. That's exactly where parenting blogs come into play!
Imagine having a vast array of experienced parents and experts sharing their tried-and-true advice, their do's and don'ts, and even their 'I wish I had known' insights; all compiled in one place for easy access. We are talking about a goldmine of resources, from advice on handling the tough moments to sharing the joyous milestones.
And here's the good news; you don't have to surf the Internet full of information to find the best resource. We have done the legwork for you, compiling the ultimate list of the top 33 parenting blogs to follow right now. These blogs are your go-to places to find everything: daily tips, educational insights, and heartwarming stories shared by people who've been right where you are.
So, stay tuned, because you are about to discover a wealth of knowledge that makes your job as a parent a bit easier and a lot more fun!
📌 How We Picked the Best Parenting Blogs
So for this post, we wanted to share some of the top blogs out there that parents can get value from. But there's like millions of blogs out there, so how did I pick the best ones? Here are some the factors we considered while choosing parenting blogs:
Covers Different Topics: Blogs selected provide articles on parenting at every stage - from pregnancy to teens. Parents can find what they need no matter the age of their kids.
Written by Parents and Experts: These types of blogs have more legitimate and relatable advice compared to company-run sites. Writers know what parenting is truly like.
Offers Variety: Blogs included provide not just articles but also videos, podcasts, product reviews. This keeps parents engaged and prevents boredom. Competitions are a bonus.
Quality Content: Analyzed if articles provided tangible tips to use at home. Not just long filler pieces. Engaging, educational writing styles preferred.
User-Friendly Design: Busy parents need sites that are easy to browse on any device like phones, tablets. Visual elements help content stand out more.
Large Article Libraries: High-output blogs preferable with constantly updated advice on many topics. Archives are valuable parenting resources.
🤝 Why You Should Trust Our Recommendations
So over at Code Supply Co, we really know our stuff when it comes to blogs. Our company blog is top-notch - always got heaps of good content that's fun to read. You probably noticed!
As well as having a sweet blog ourselves, we also make super easy-to-use blog themes for WordPress. Lots of other blogs use our designs to make their sites look awesome.
We've been doing the blog theme thing for ages now. Our templates help blogs look professional and attract more readers.
If you wanna take your blog up a notch, you can trust us to help ya out. We've picked up all the best strategies for success over the years working with blogs.
So you can feel confident in the top parenting blogs we recommend. We know quality content when we see it!
👨‍👩‍👧‍👦 Best Overall Parenting Blogs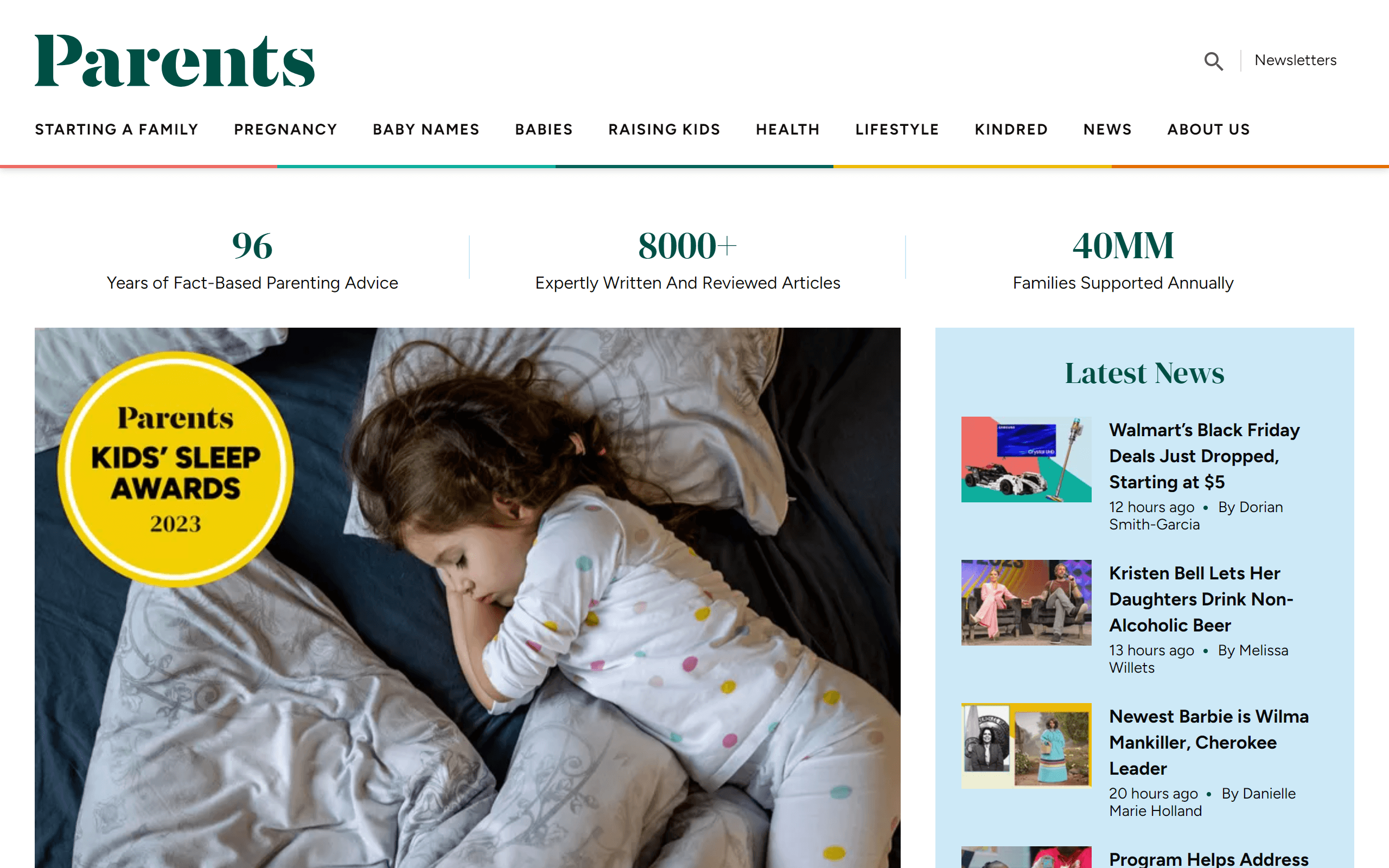 If you're a parent seeking advice or looking to join a community that understands your journey, you might want to check out "Parents Magazine" parenting blog. Having been around since 1926, it's a well-established hub where you can find a wealth of information that is grounded in expertise and real-life parenting experiences.
One thing I personally appreciate is their Expert Review Board; it's a team of professionals from various fields who ensure that all the advice provided is scientifically backed and up-to-date. With a wide range of topics covered, from mental health discussions to practical advice, it has proven to be a reliable resource for 9 million caregivers every month.
Need some pregnancy or parenting advice? "What to Expect" is like that friendly, experienced parent you turn to for help. Created by Heidi Murkoff, this parenting blog is a place where you can find practical info checked by doctors, and it has a cool community of fellow parents.
From day-to-day pregnancy guidance to your baby's first-year milestones, it's all covered in their user-friendly mobile app available for iOS and Android. Moreover, the blogs for parents section on their website is a treasure trove of information, bustling with a vibrant community sharing joys, concerns, and a good dose of empathy and humor.
Are you feeling a bit lost on your journey as a parent? Aha! Parenting could be the help you're looking for. Created by Dr. Laura Markham, a psychologist and a mom herself, this blog offers simple, easy-to-follow advice based on real science and real parenting experiences. Imagine having a guide to help you build stronger relationships with your kids, without all the yelling and stress.
Dr. Laura's approach is all about peaceful parenting. She helps you understand your child better and guides you in raising happy and responsible kids. And it's not just words; she offers real solutions to everyday problems like tantrums and sibling fights. If you want to enjoy being a parent more and stress less, Aha! Parenting is the best among parenting blogs.
Why is Aha!Parenting Our Favorite?
You can find articles on everything from getting your kid to sleep, to ending tantrums, to helping them make friends. And it's all written in a real easy way to understand too - none of that fancy psych jargon that goes straight over your head!
Looking for a heartwarming corner on the internet to explore family life? Family Focus Blog is one of your go-to parenting blogs! Curated by the enthusiastic Scarlet, it has grown over ten years to become one of the most popular family blogs around.
Here, you'll find everything from the sweetest tips to mouth-watering family recipes, all from the lens of a person with a rich history of evolving roles — a student, a retail manager, and now, a dedicated blogger sharing her journey with the world.
Scarlet's inviting narrative, combined with practical resources, is designed to resonate with parents in various stages of their parenting journey, offering a sense of companionship and a reassuring nod saying, "You're not alone."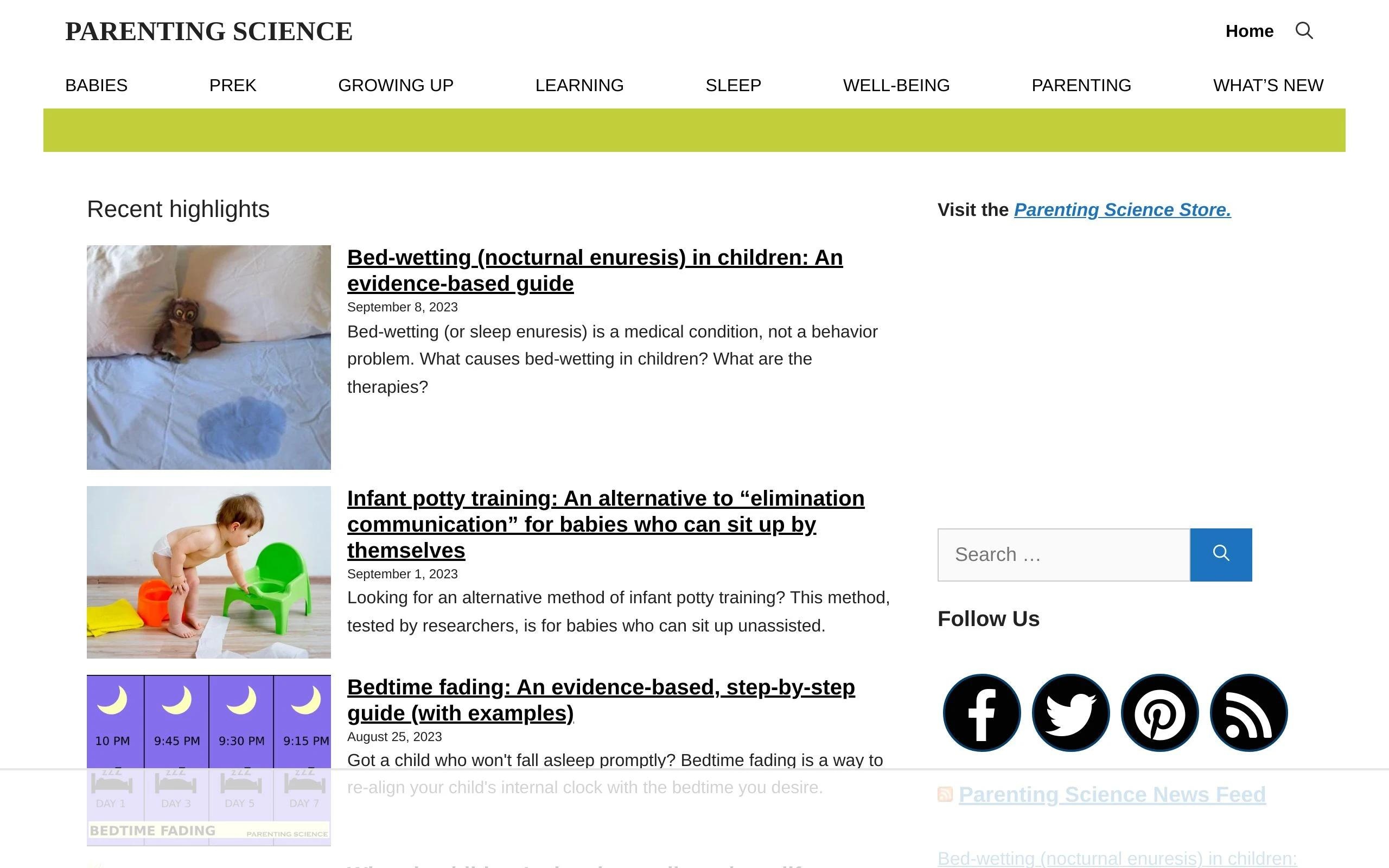 In search of a resource with science-backed advice? Parenting Science might be your new go-to. The founder, a Ph.D. graduate with deep knowledge in child development, started this platform over 12 years ago to help parents like you get information that is based on real science and research.
What sets this website apart from other blogs is its deep dive into different fields like psychology and anthropology to give you the "big picture" of parenting. You're not just getting opinions; you're getting facts supported by studies and research.
So, if you're eager to approach parenting with knowledge this is among the best parent blogs to follow.
"Scary Mommy" is one of the blogs for parents that speaks the truth about motherhood. It is a space for all moms: single, married, working, stay-at-home, and more.
What makes it one of the best parenting blogs is its bold and no-nonsense approach. It doesn't sugarcoat; it shares the real and sometimes messy parts of being a parent.
"Scary Mommy" celebrates all moms and shows that being a mom is a strong job. It is a great place to find support and understand that no mom is alone in this journey. It's a friendly spot where you can also find tips and advice. If you are a mom, or going to be one, it could be one of the best mom blogs to follow.
This parenting blog is not just for moms. It is for all parents to share and learn. They have a big Facebook group where parents chat and help each other. Grown and Flown is more than those typical parenting blogs. It is a community where parents can find help, advice, and friends. It is one of the top parenting blogs for parents with older kids.
When it comes to college, they share tons of advice for choosing schools, paying tuition, dorm life and adjusting to independence. Heaps of tips for parents on how to support their kids through this change too. So, if you were looking for the best parenting blogs for your teenage kiddo, this is the right place.
Since 1996, FamilyEducation has been helping parents with tips and advice. This one is among the best parent blogs that cover a lot of topics, from choosing baby names to dealing with teen problems.
The team makes sure all the advice is trustworthy. They have experts like doctors and teachers to check the information. The team is always looking for new things to help parents with day-to-day issues. The site also has fun stuff like crafts and activities to do with your kids.
If you're a parent, grandparent, or guardian looking for some help or new ideas, FamilyEducation could be a great place for you to check out. It's a site that knows being a parent isn't always perfect, and that's okay.
The Simple Parent is a blog run by Mariah, a mom, and a former teacher. It all started in 2011 under the name "Formula: Mom", and later changed to The Simple Parent to better reflect the easy, fun parenting ideas she wanted to share.
In the website, Mariah opens up about her personal life, including her experience with online dating and being part of a big, happy family with her mom and pets living together. She shares not just personal stories, but also simple recipes, crafts, and easy family fun ideas that everyone can enjoy. This resource stands as one of the go-to blogs for women. If you were looking for the best parenting websites with a diverse range of content that paints a realistic picture of family life, this is the right option.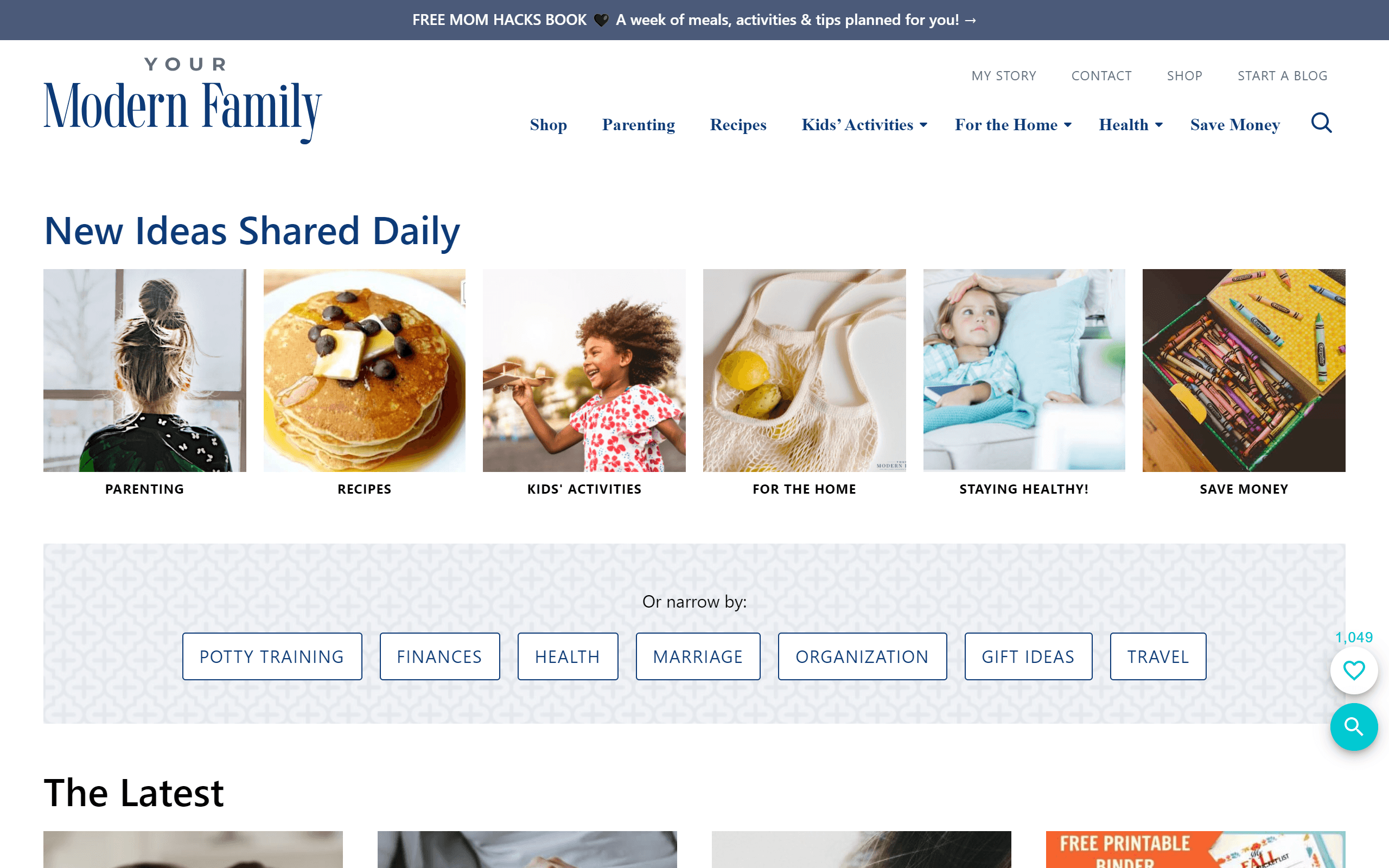 If you are looking for a place full of family love and helpful tips, check out the Your Modern Family blog. The person behind it is Becky, a mom with a big heart and lots of stories to share, she is an expert when it comes to parenting blogs.
Becky used to be a teacher, and now she shares tips on how to make homes happier on her platform. She talks about fun activities for kids, cool places to visit, and how to save money. She even shares her own love story and how her family grew over time, making it one of the best parenting blogs to find real, heartwarming stories. It's a great place for parents to find simple, easy-to-follow advice, making it a top pick in blogs for parents.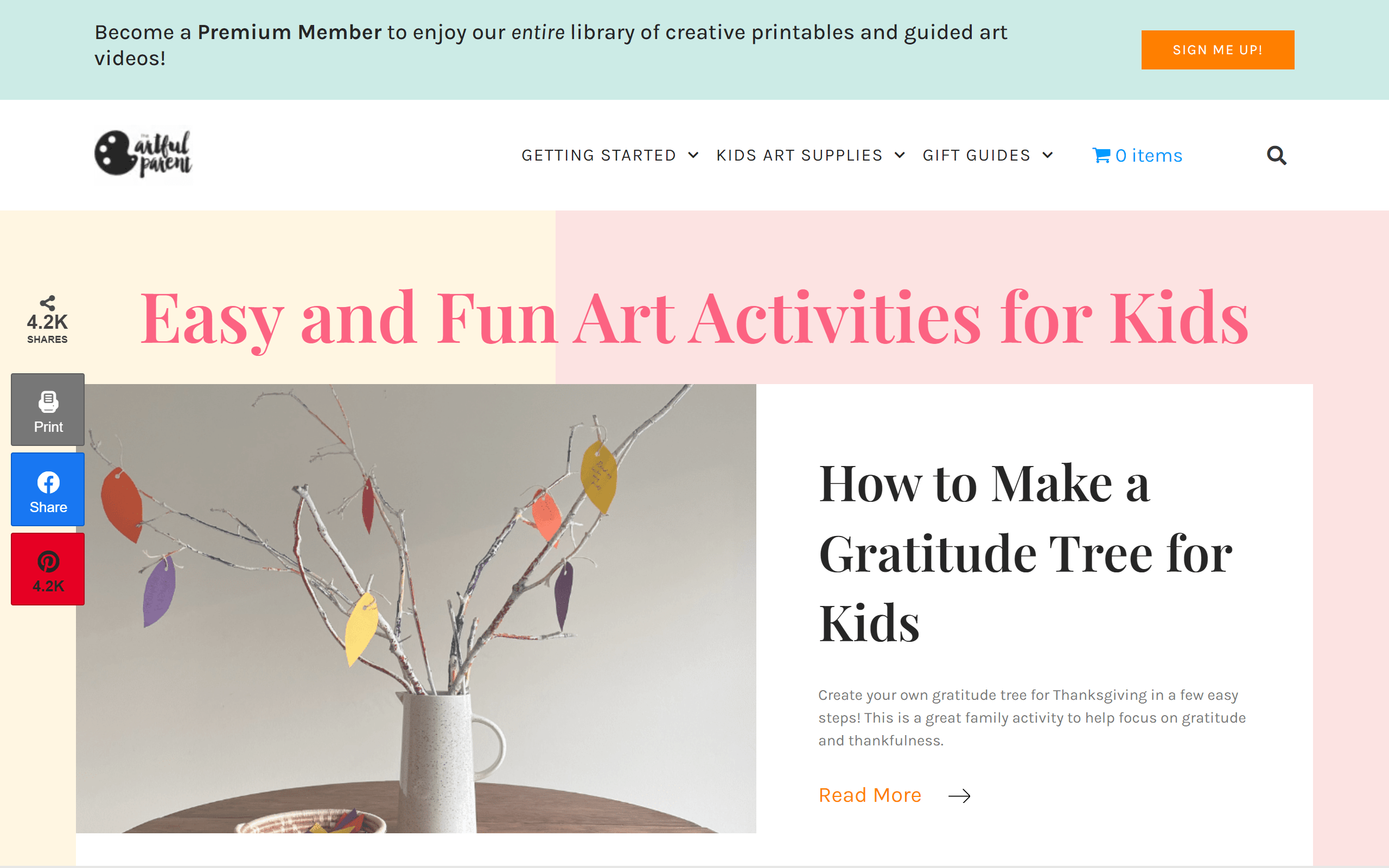 In search of a blog to add a splash of creativity to your family's life? The Artful Parent might be one of the top parenting blogs for you. Started by Jean Van't Hul in 2008, this blog is all about fun art and crafts for kids.
Jean and her team share easy and fun art ideas to do with kids. You can also find books by Jean that have even more cool art ideas for families. From drawing prompts to seasonal crafts, the website offers a lot of ways to make art a big part of your family's day. Whether it's messy creativity or simple crafts, The Artful Parent is there to guide you, making it one of the best parent blogs for art-loving families. These guys are the best in blogs for parents.
Are you dreaming of a home filled with emotional health and happiness? That's were the best parenting blogs come to help. Parents with Confidence is your go-to guide. Angela, the heart and soul behind this blog, uses her knowledge from 15 years as a family therapist to guide parents on nurturing emotionally healthy kids.
With a rich background in child psychology and firsthand experience as a parent, her tips are both professional and practical. Whether it is grasping the underlying currents of your child's emotions or encouraging a healthy way to cope with frustrations, Angela empowers you with the scientific knowledge and practical insight to nurture a confident new generation.
The "Happy You, Happy Family" blog is run by Kelly, a mom of four and a certified parent educator. She shares her own experiences and gives tips on how to build a warm and loving home without feeling too stressed, and it makes this site one of the best parent blogs.
A big part of her message is that small changes can make a big difference. Kelly wants parents to know it's okay not to be perfect and that you can still build a strong relationship with your children by just being real. One cool thing on her blog is the Family Connection Cards. They help parents spend quality time with their kids easily every day. The cards make it simple to show your kids they are loved and build a strong bond.
"Lasso the Moon" is one of the best parenting blogs for families wanting to build happy relationships. It gives simple tips to connect with your family and find joy in everyday life.
Want to have fun and learn with your kids at the same time? This is one of those blogs for parents that guide you. From craft ideas to book suggestions, it's a great spot for parents to find new ideas. It encourages kids to be independent and to love learning, putting it high on the list of best parent blogs.
Also, it shares cool tips on handling tech time for kids and enjoying photography, making it one of the top parenting blogs.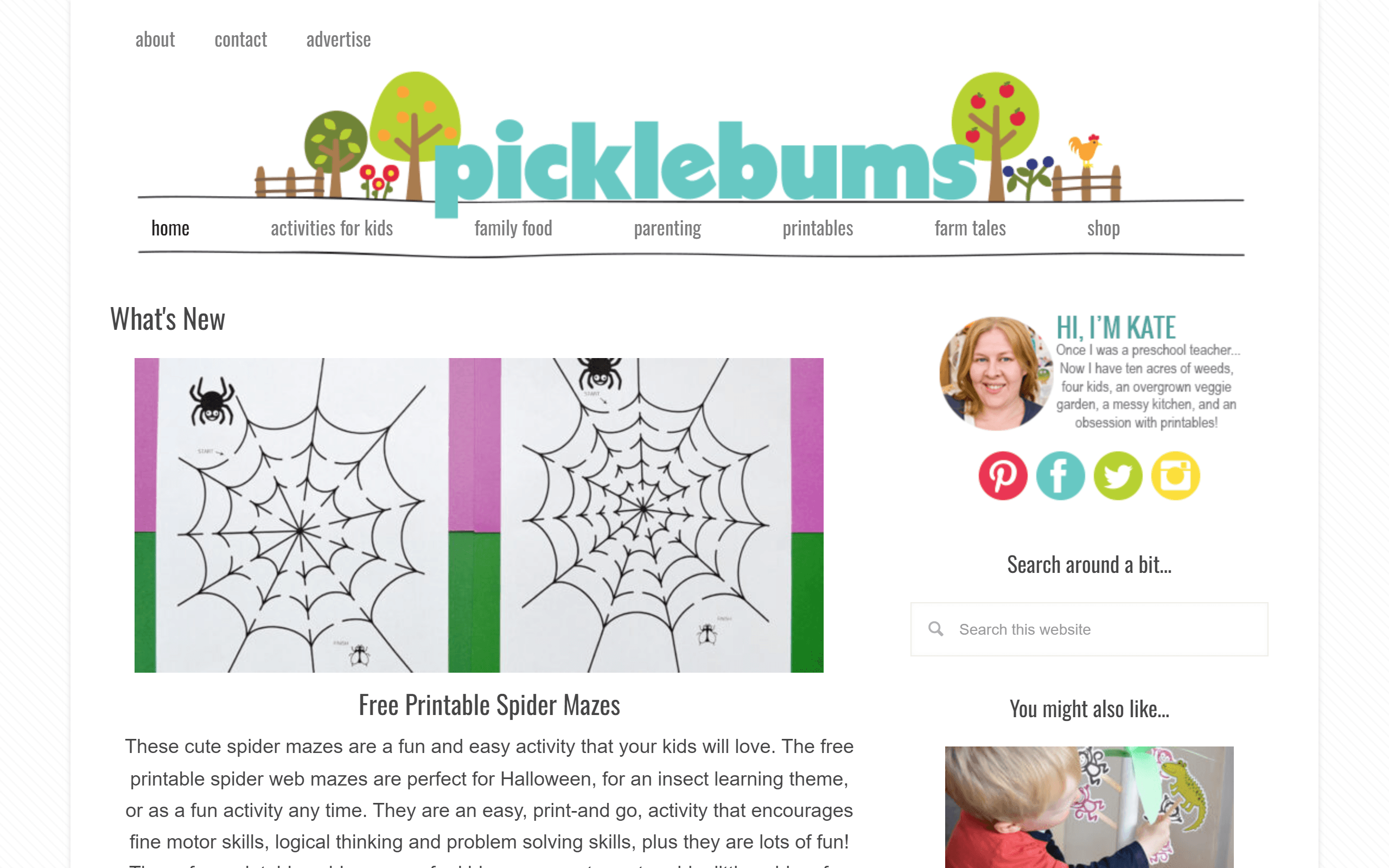 Picklebums is a great stop for parents. Run by Kate, a mom and former early childhood teacher, it has something for everyone. It is one of the blogs for parents that shares the funny and true stories from Kate's life in Australia.
Kate talks about many things — from tasty recipes to fun kids' activities. It is one of the best parenting blogs because it also covers gardening and sustainable living. Her stories are like a warm hug, making it a top choice.
If you like real-life stories and good laughs, this is one of the parenting websites to check out. Kate makes her website a friendly place where parents can find new ideas and feel at home. So, it's definitely included on our list of best parenting websites out there.
"We Are THAT Family," also among the top parenting blogs, is a warm and inviting resource where you can be yourself. It's a place that reminds you it's okay to be different and real.
In the world of family blogs, this one stands out for being a safe place where you can share your true stories and feelings without judgment. It's a platform that understands all the funny, messy, and loving parts of being a family.
If you are a mom or a wife looking for advice and a community that gets it, this blog for parents is for you. It's one of the best parenting blogs to find encouragement and feel understood. It shows that in some way, we all are "THAT" family.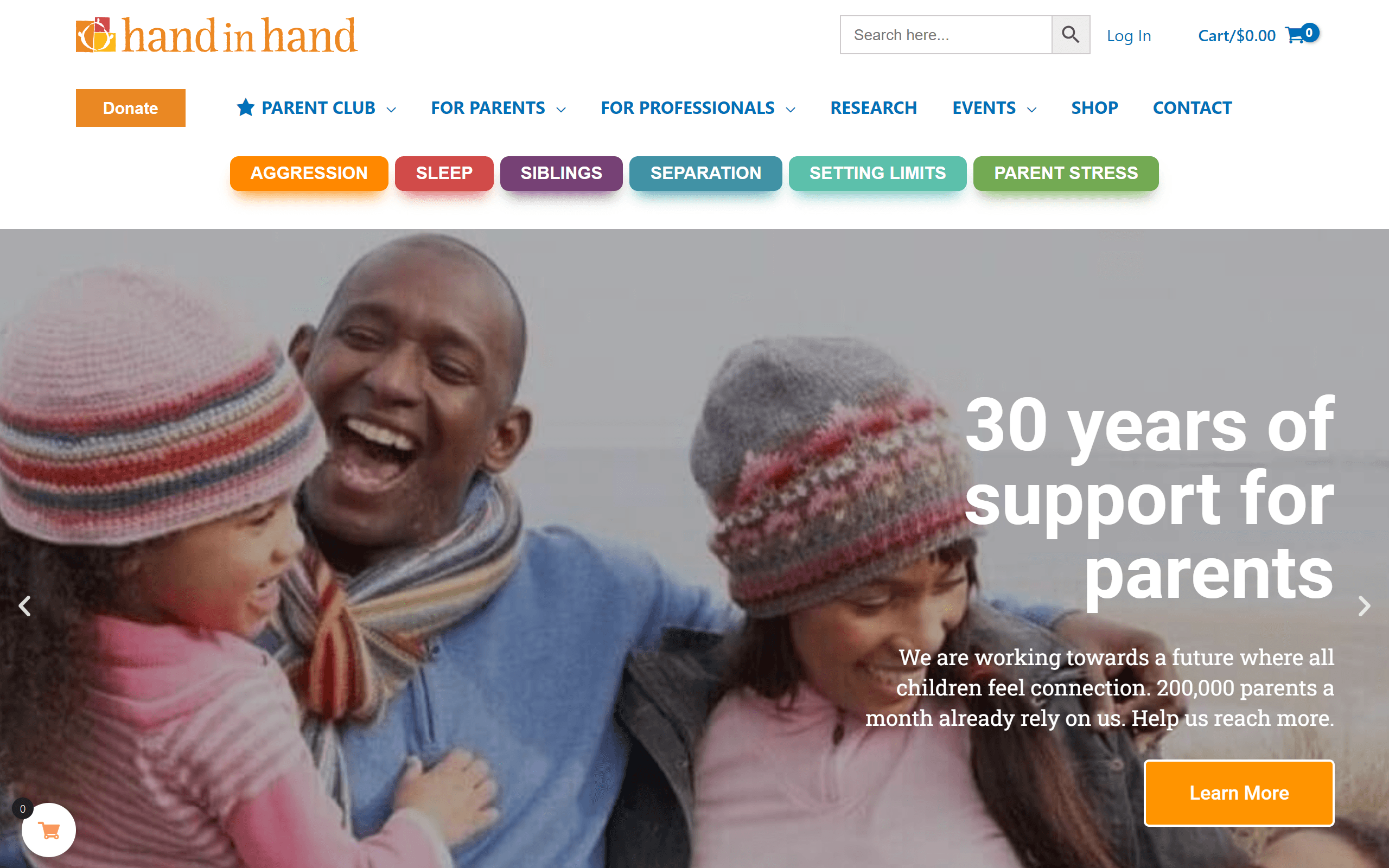 This is one of the parenting blogs that wants to build strong families and friendly communities. It's a place where respect is the big rule, and everyone learns to listen and understand each other better. If you want to find simple and caring tips, it stands as one of the best parenting blogs out there.
Not just a blog for parents, it's a space where you can find big ideas to help your family grow happily and healthily. It believes that with the right help, every family can shine.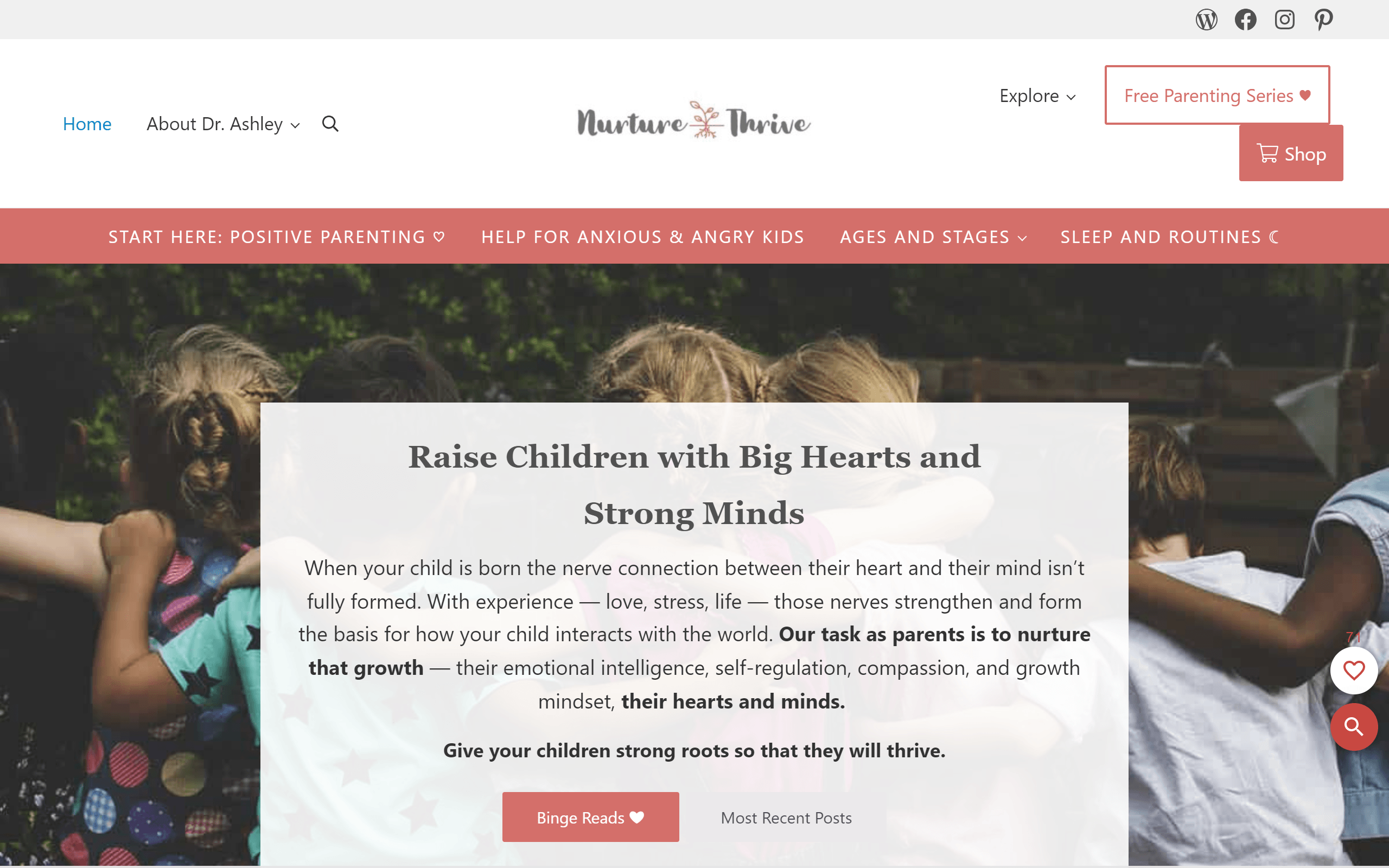 "Nurture & Thrive" is a top pick in the parenting blogs world. It is run by Ashley, a mom and an expert on how kids grow and learn. She has worked more than 15 years learning about kids and wants to help parents use what she has learned.
On this blog, Ashley talks about the deep connection between the heart and the mind, guided by a big nerve called the vagus nerve. It helps you understand how little kids feel and think, and it gives tips on helping them deal with big feelings in a good way.
Ashley believes that understanding and guiding your child's emotions from a young age can help make the world a better place
The Popsugar Parenting blog is one of the top parenting blogs for fans of famous families. It's a fun platform that shares stories and pictures of celebrities and their kids.
If you like to know what famous parents are up to, this is the right place for you. It's easy to read and full of exciting news. You not only get to see cute photos but also learn tips from the stars, making it one of the best blogs for celebrity news.
With updates on star families, it quickly got included on our list of blogs for parents loving star gossip and parenting websites. It is a great mix of fun stories and useful tips, which is why many see it as one of the best parent blogs out there.

The HuffPost blog is a great place to find stories from real people. It is one of the best blogs for parents because it cares about all kinds of different people and shares news from everywhere in the world.
They make sure to include voices that are sometimes left out, making it one of the top parenting blogs for everyone. They listen to what readers care about, and work hard to share stories that matter to them.
HuffPost is very careful to tell the truth in their stories, fixing mistakes quickly if they find any. This makes them a trustworthy resource to read.
👨🏻‍🍼 Blog for Expecting Dads
1. 🏅 Our Favorite - Fatherly
You were looking for the best parenting blogs for dads specifically? Fatherly is here to help men be the best dads they can be. It is filled with advice, tips, and reports to help dads raise great kids. It understands that being a dad can be hard but also very rewarding.
On this website, you will find original stories and expert advice. This makes it one of the top parenting blogs for dads looking to learn and grow in their role as a parent.
The goal is to help fathers enjoy a rich life by being great parents. So, if you are a dad aiming to raise great kids, Fatherly is one of the best platforms to guide you on this exciting journey.
Why is Fatherly Our Favorite?
A lot of the articles are written by dads, so you know it's all coming from a dad perspective. They don't shy away from real topics either, like how to balance family with your career, mental health issues dads face, all that kinda stuff.
If you're on the lookout for a fresh and funny perspective on parenting, the "How To Be A Dad" blog might just become your next favorite read. As the title suggests, the website is designed primarily for dads but brings joy and a smile to anyone involved in the journey of being a parent.
Unlike other parenting blogs, "How To Be A Dad" does not focus on providing structured advice or guidelines. Instead, it brings a collection of personal experiences, anecdotes, and hilarious "how-not-to-do-it" guides, all designed to offer parents a chance to laugh at the trials and tribulations of parenting.
The website showcases the lighter side of being a father, making it stand out among the best blogs for its unique style and content. So, this one if definitely among the best parent blogs for future dads.
Stepping into the role of a father? Started in 2016, they first wanted to make a great diaper bag just for dads. It's not here yet, but there's a lot more now.
One of the highlights of this blog is its detailed baby product reviews. From giving the lowdown on the much-talked-about Snoo bassinet to a plethora of other baby essentials, Fathercraft extends a helping hand to dads maneuvering through the overwhelming world of baby products.
Through honest reviews and insightful details, it simplifies the decision-making process for expecting parents, making shopping for baby items less daunting.
👶 Best Blogs for First-Time Parents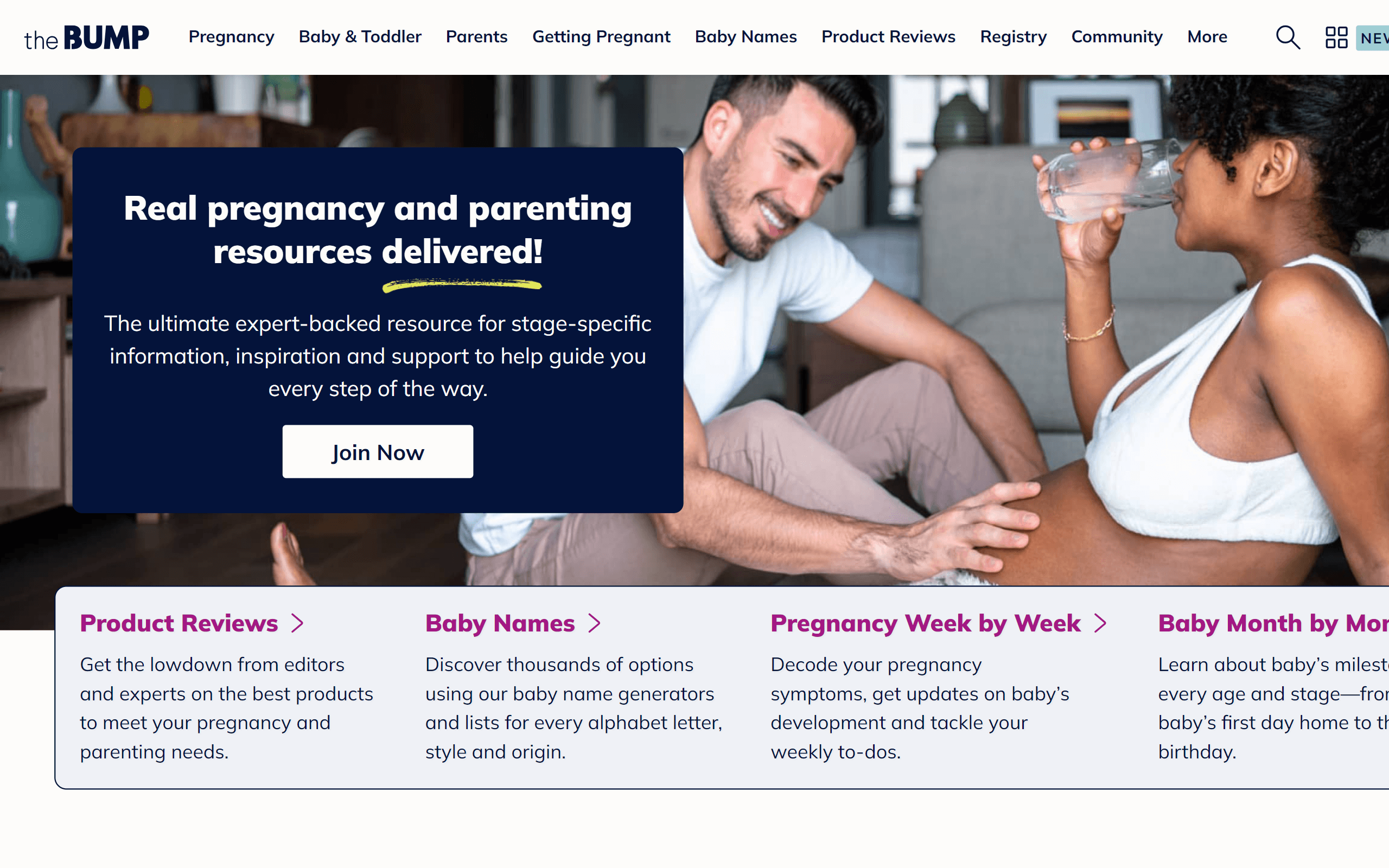 Starting a family? The Bump is here for you. Made by the team behind The Knot, it guides parents at every stage, from thinking about having a baby to raising one.
Find expert tips on getting pregnant, being pregnant, and taking care of your baby, because this is one of the best parenting websites that got it all. They do the hard work in finding and telling you about the best baby stuff.
Plus, they share the latest news on what's safe and what's hot in the world of parenting. And their handy tools help with big decisions, like choosing your baby's name. Want daily tips? Get them on your phone with The Bump app. A friendly space for all parents and parents-to-be — that's The Bump.
2. 🏅 Our Favorite - My Baba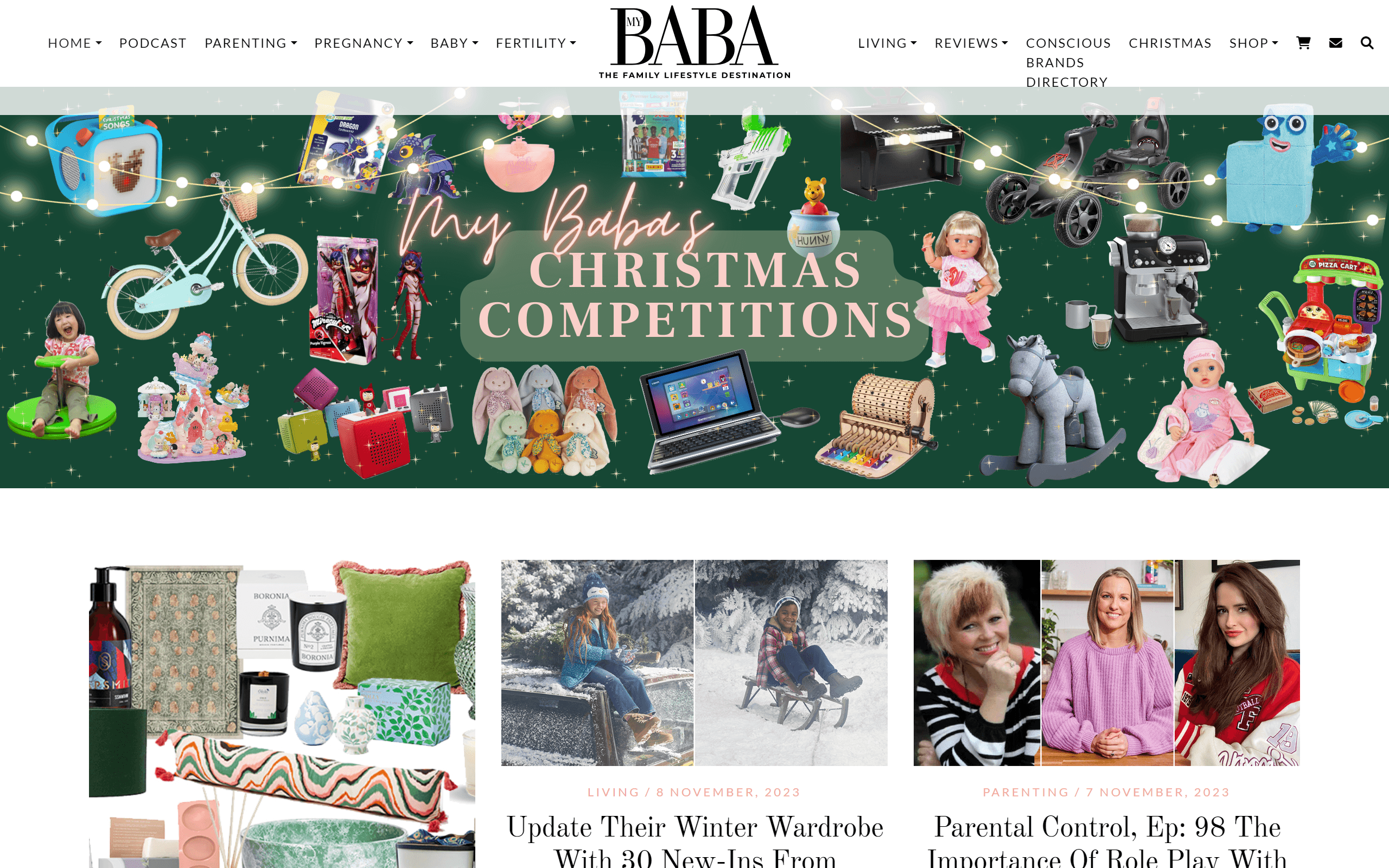 My Baba is a UK blog run by Ellie and her sister Christina. They share real stories and tips from their own parenting journeys. The blog started as a small project but now has expert advice, product reviews, and even a podcast.
The site is a big help for moms and moms-to-be. You can find simple advice on choosing a pram to serious discussions on fertility issues. It also guides you on different parenting stages, from pregnancy to handling toddler tantrums.
Whether it's about what to pack in your hospital bag or finding the best baby recipes, My Baba has got you covered. It is like a friendly chat with someone who has been through it all. It's a space where you can find a lot of good advice and feel supported on your journey.
Why is My Baba Our Favorite?
Why is it one of the top parenting blogs, you ask? It's not just articles - they also do product reviews so you can find out what gear is actually worth buying. And they've got competitions running all the time to win cool toys and stuff. There's even a podcast you can listen to for more tips on the go. Plus their Instagram is full of cute pics to look at.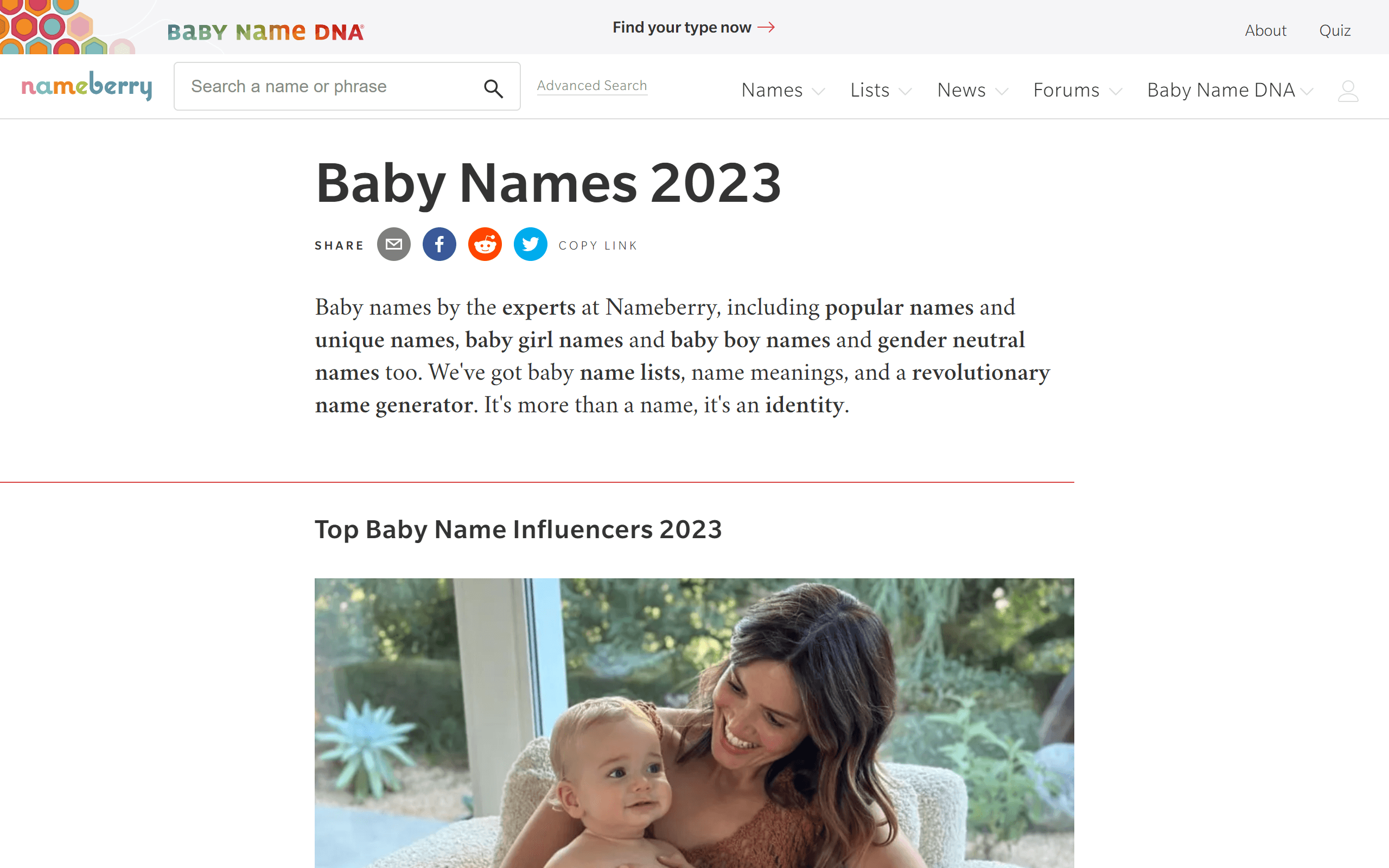 NameBerry is a helpful website where you can find a lot of baby names. It has a big collection of names from all over the world. Each name on the site comes with information about what it means and where it comes from. This is really great for parents trying to find the perfect name for their new baby.
They also have lists of names that follow different themes. This can be good for parents who have a specific kind of name in mind. They even help you know how popular a name is. So, if you want a common name or something more unique, NameBerry can help you find it.
If you have questions or need advice, you can also talk to other people on the website. It's a great place to share ideas and get help from other parents who are choosing a baby name too.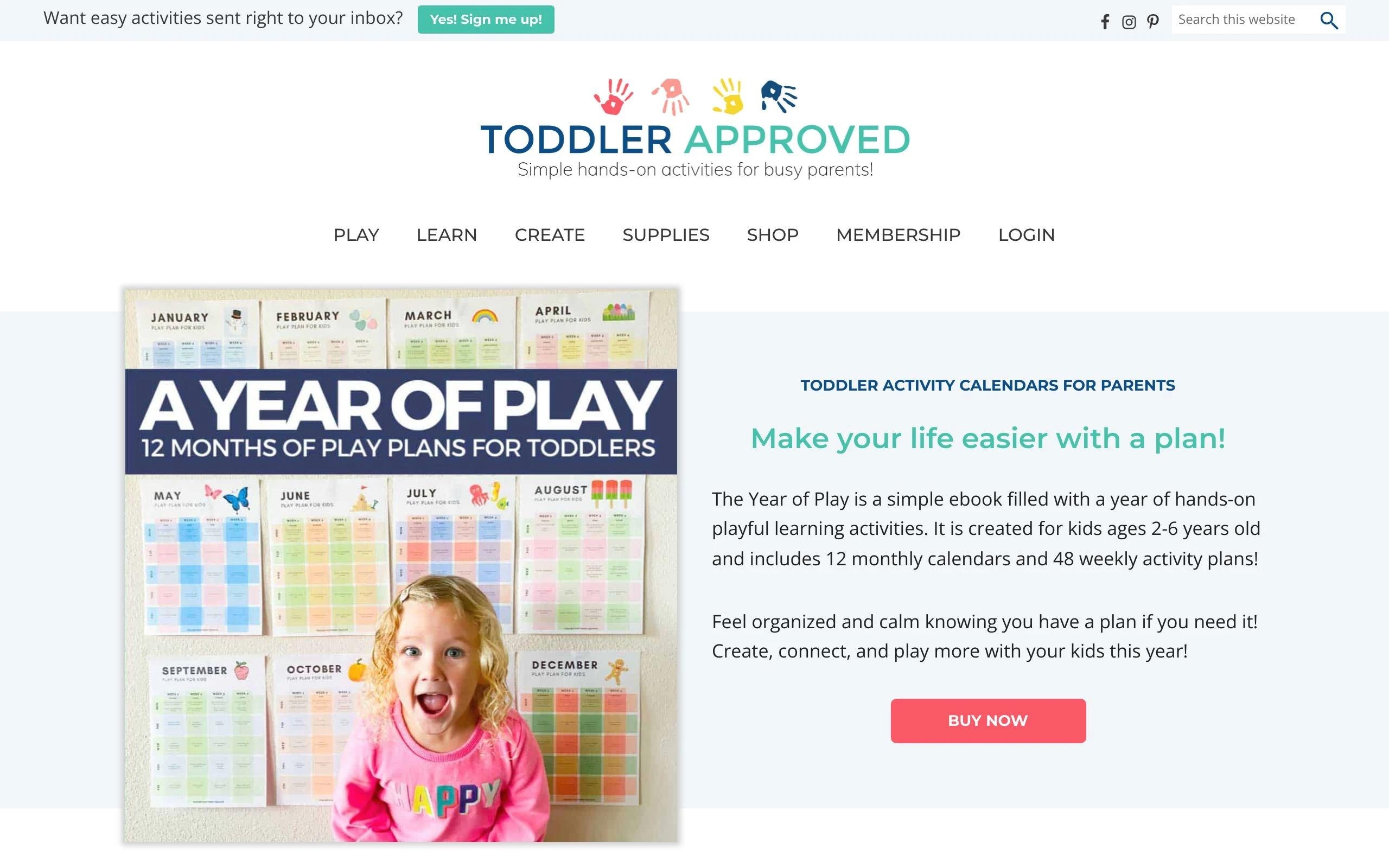 Toddler Approved is a place where parents can find a bunch of activities for little kids. If you are looking for fun crafts, learning games, or things to do with your toddler, this is the place to go. It has a lot of different ideas that can help parents keep their kids busy and happy.
On this site, you can also find reviews of different products for toddlers. This means that before you buy something, you can see what other parents think of it. It's a good place to get advice and find the best things for your little one.
Another great thing about Toddler Approved is that it's not just for parents. Teachers and other caregivers can find useful tips and resources here too. It's a blog that understands little kids well, offering help and ideas for anyone taking care of them.
Busy Toddler is a space where parents can find a treasure trove of activities to keep toddlers engaged and learning. The blog shares easy and fun activities that often use materials you already have at home. This makes it a pocket-friendly option for many families.
The website is pretty straightforward to navigate. It categorizes activities based on age, making it simpler to find age-appropriate activities for your kids. Whether it is sensory activities or easy art projects, Busy Toddler has got it covered.
Besides activities, the site offers tips on parenting and teaching little ones. For parents navigating the busy toddler years, this site serves as a great companion offering helpful advice and creative ideas to make the journey smoother.
New Parent is a site that is indeed a boon for fresh parents. It carries a vast array of information that spans from pregnancy to the initial years of parenthood. Not just articles, they offer guides and even videos which can be a great resource for learning the nuances of parenting.
A notable feature is the variety of calculators and tools available for expecting parents. These tools can help you track various aspects during pregnancy and after, making things a bit less daunting for new parents.
Besides providing a helping hand to new parents, it also entertains readers with fun articles and quizzes.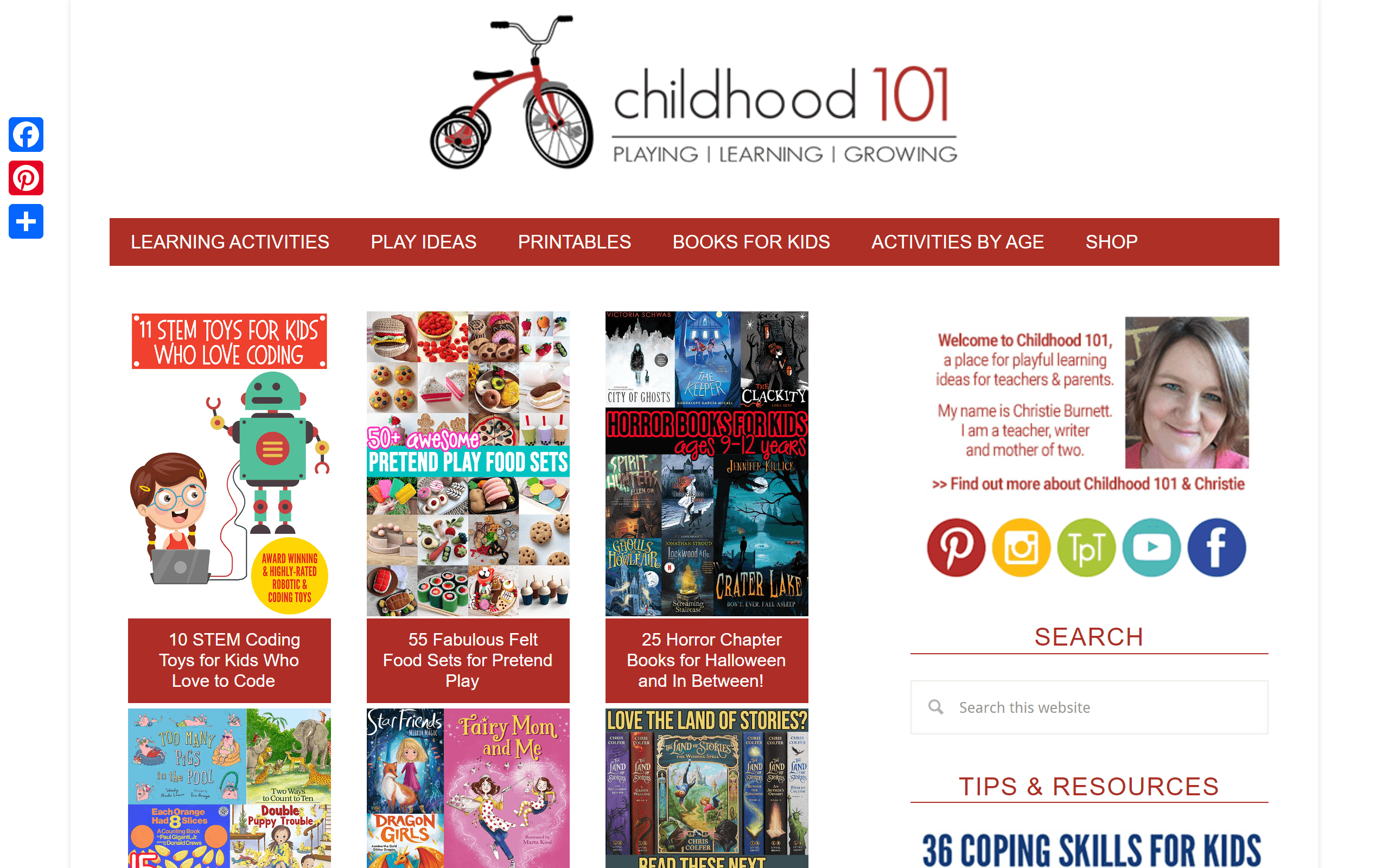 Childhood101 is packed with insights on raising kids with a focus on learning and play. The site has a rich repository of articles that touch upon different facets of a child's life including education, creativity, and health.
What stands out on the site is the 'Play & Learn' section. It houses a collection of activities that encourage learning through play, a vital aspect in early childhood education. It fosters a space where parents can find innovative ideas to facilitate active and creative learning for their children.
Moreover, the blog offers printable resources which can be a handy tool for both parents and educators.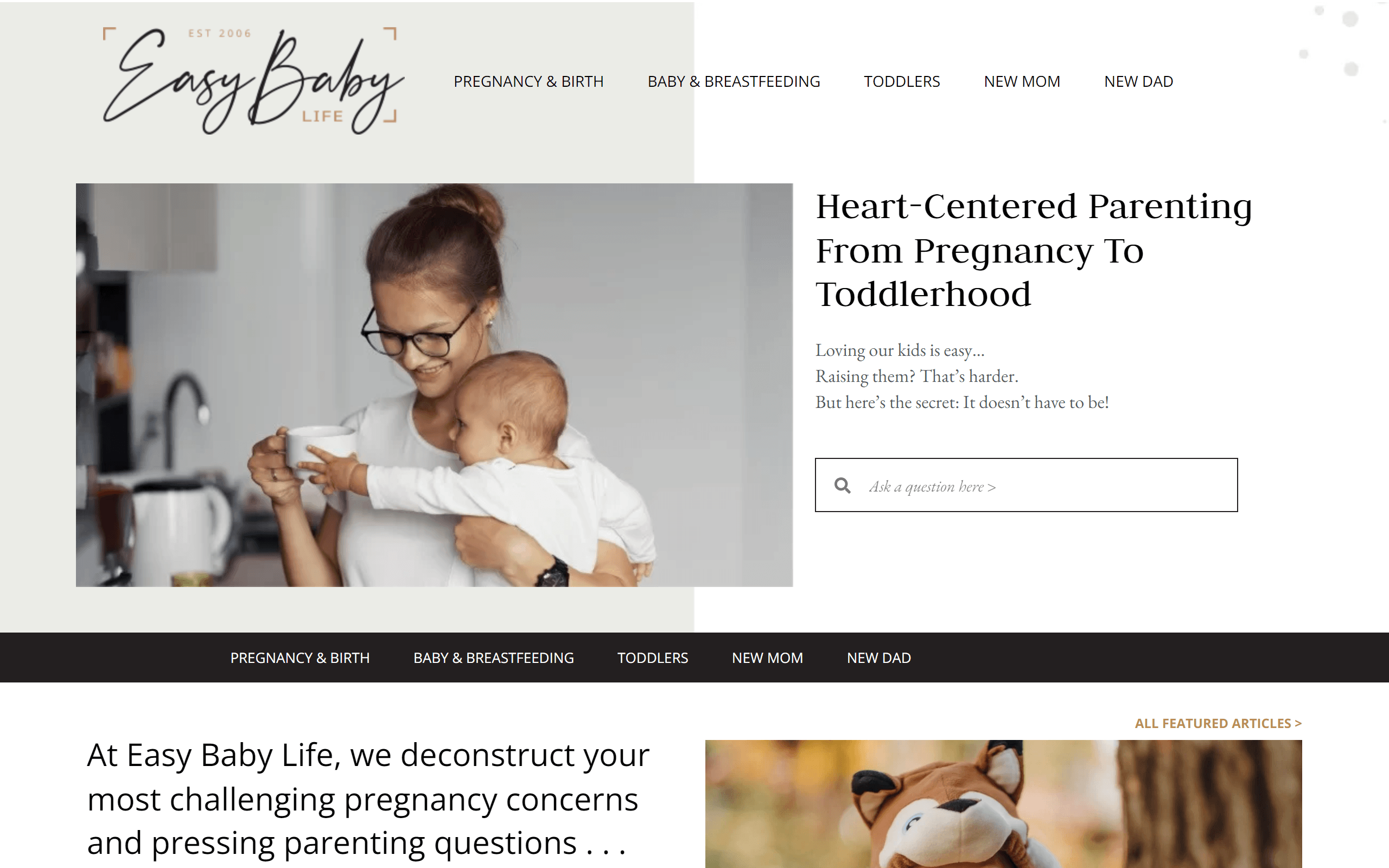 Easy Baby Life aims to offer support and advice to parents in the early stages of parenthood. It tackles a wide range of topics, from pregnancy to baby care, providing tips that are easy to follow.
An interesting section of the site is the 'Baby Helpline' where parents can share their concerns and get advice from other parents who have faced similar situations. This community feature adds a personal touch, fostering a space of shared experiences and solidarity among parents.
Moreover, the blog also shares product recommendations to aid parents in making informed decisions when purchasing products for their babies.
Baby Center is a renowned platform providing a wealth of information to parents and expecting couples. It has a strong focus on guiding individuals right from the pre-pregnancy stage, offering a step-by-step guide to every phase of the parenting journey.
The site has interactive tools like a baby name finder and a pregnancy tracker, which are both fun and useful. Apart from this, they have a thriving community where parents can connect, share experiences, and seek advice.
Whether it's learning about developmental milestones or finding the right baby gear, Baby Center has information on almost every topic a new parent would be curious about.
Pregnancy & Newborn focuses mainly on the journey from pregnancy to the newborn stage. It offers a rich source of articles that give insights into the different phases of pregnancy and the initial months of parenting a newborn.
A special feature is their monthly e-magazine which can be a great companion to expecting and new mothers. It covers topics ranging from baby fashion to health advice, providing a balanced view of the multifaceted journey of parenting.
The blog also features product reviews, helping parents make an informed choice when shopping for their newborn.
🚼 Parting Words
Parenting is a big job, and it helps to have good advice! We created this lists of the best blogs to help parents at all stages. From new dads to people with toddlers, there is advice and stories for everyone.
Want more tips? Don't forget to check our other article on the best mom blogs. Get ready to learn and have fun as a parent with these amazing parenting blogs!