Planning your wedding day is an exciting time full of decisions - but it can also feel overwhelming!
As a soon-to-be wedded couple, you likely have many questions and crave inspiration for turning your dreams into reality. That's why we've compiled this list of the best wedding blogs to provide both motivation and practical tips.
From dresses to decor, photography to playlists, these wedding blogs will guide you with beauty, humor, and heart.
Scroll through to discover your perfect planning partners and start envisioning the amazing celebration you'll have!
💡 How We Picked the Best Wedding Blogs
When it comes to wedding planning, there are tons of bridal blogs out there to get inspiration from. But it's important to find the really good ones to follow since they'll be your go-to resources.
Here are the main things we looked at when deciding which wedding blogs to feature on our site:
Quality of Content: We wanted blogs that shared creative ideas, detailed planning guides, vendor recommendations, and real wedding recaps. The best blogs deliver high-quality, useful content.
Updates: Consistency is key when trying to gain insights over time. We chose blogs that stay active and regularly post new articles so you always have fresh wedding planning ideas.
Personal Touch: The most engaging wedding blogs aren't super commercial. We liked ones run by real couples who share personal stories and tips from their real weddings.
Aesthetic: Pictures are a huge part of wedding planning inspo! Top blogs have lovely visuals of real weddings, decor details, fashion and more to fuel your vision.
Expertise: Some blogs are managed by experienced wedding pros. You know their advice is legit if they really know the wedding industry inside and out.
🤝 Why You Should Trust Our Recommendations
Code Supply Co. has been in the blog game for ages. We've got a dope company blog with heaps of cool stuff that's breezy to read. And we've made bomb themes to make other blogs look fly as well.
With all that time blogging, we've figured out what keeps people engaged and coming back for more. Like what kind of posts people want to see and what tools are actually useful.
Our themes also help blogs stand out so more people can find them. It means we know how to help other blogs expand their audiences, and what makes the blog worthy to follow.
So when we drop our picks for the best wedding blogs worth following, we know what we're on about. You can put your trust in our wedding blog recs for sure!
30 Must-Follow Wedding Blogs for Couples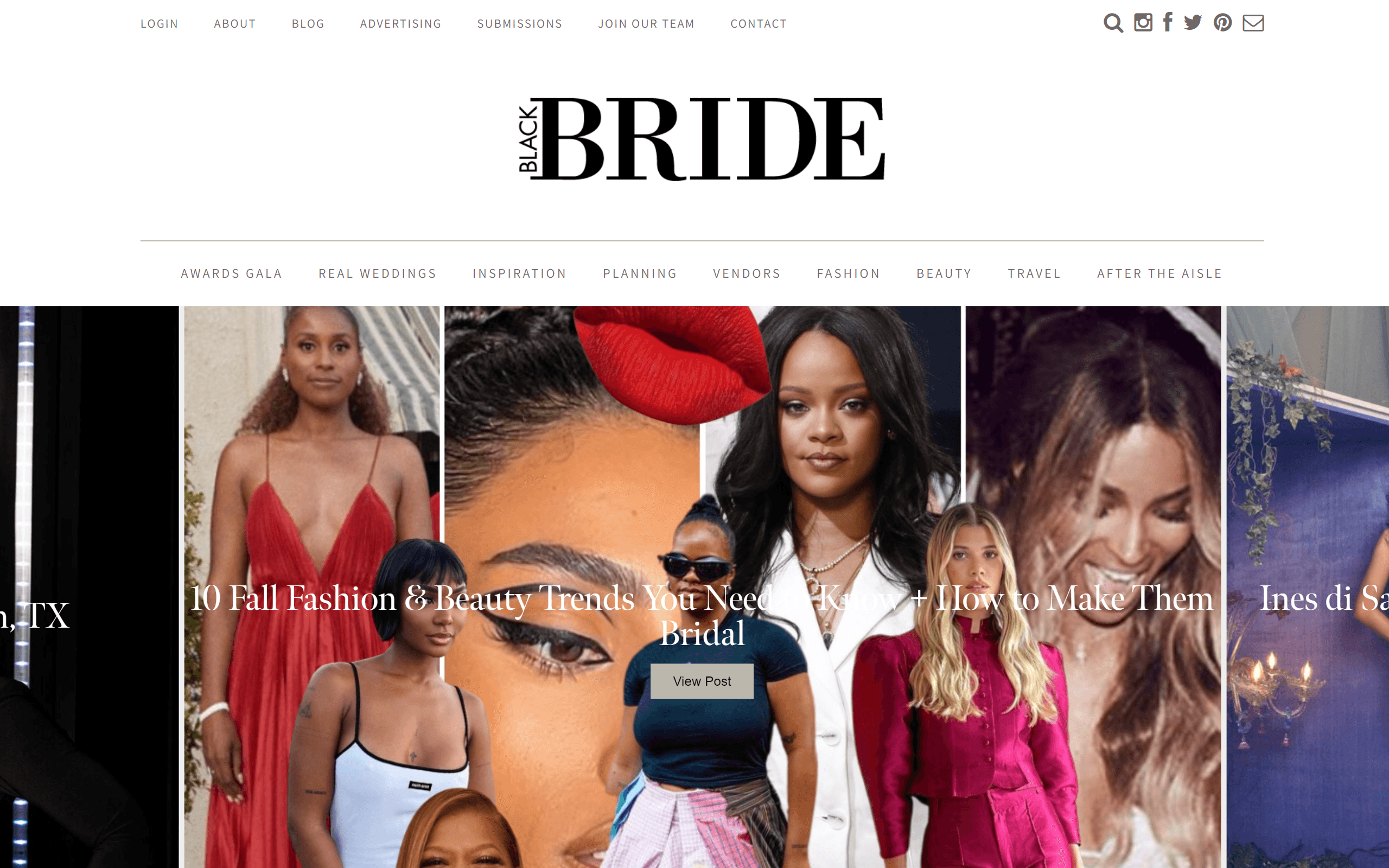 Black Bride has been serving brides of color since 1998 by providing inspiring wedding content and connecting them to vendors. As the first multi-cultural global company in the $200 billion wedding industry, Black Bride shares diverse love stories through their digital magazine, blog, events, and 'After the Aisle' resource. They celebrate the journeys of women of color toward love, marriage, and motherhood while honoring varied cultures, beauty, and style.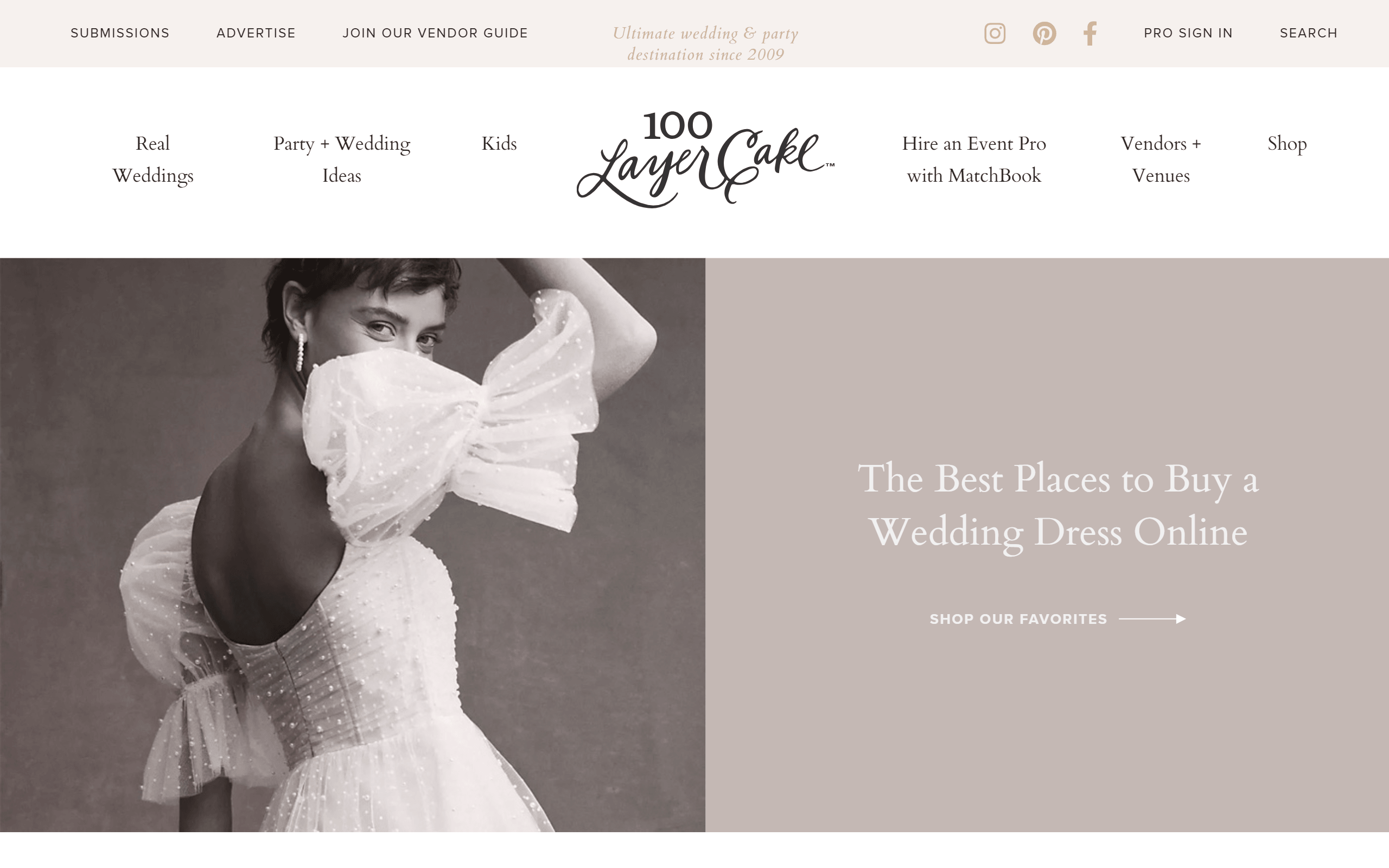 Launched in 2009, 100 Layer Cake curates content celebrating life's special events like weddings and birthdays. It is one of the best wedding planning blogs that help its audience, along with MatchBook connecting clients to vetted Event Pros for quality service. 100 Layer Cake's global reach earns praise from top publications. Though focused on celebrations, its message is truly about love - making the most of every moment and living richly.
Why is 100 Layer Cake Our Favorite Wedding Blog?
100 Layer Cake stands out because it has something for every part of wedding planning. Whether you need inspiration, vendor recommendations, or tips - it's all in one easy to browse place. They have beautiful real wedding photos to get ideas from as well as articles on every wedding topic. This makes it a really useful one-stop shop for anyone in the process of planning. Brides and grooms can find vendors by location, date, style and more through their Matchbook feature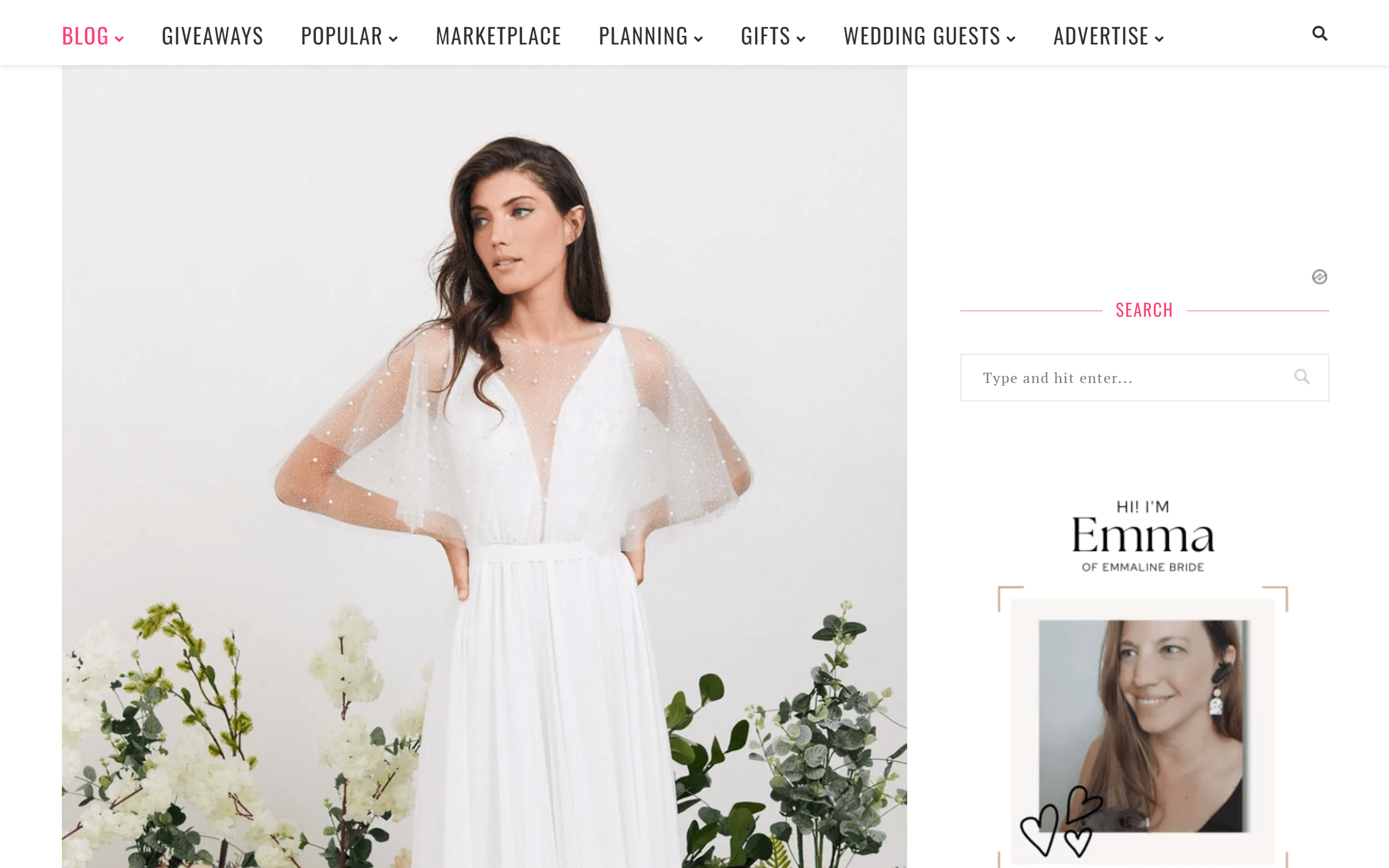 Emmaline Bride is one of the best wedding blogs. It helps detail-obsessed brides plan personalized weddings through a handmade-focused blog. They want to hear about venues, colors, and DIY triumphs/struggles to help in innovative yet stress-free ways with vendors, free gifts, inspiration, and encouragement in every wedding planning step - from unique themes to romantic nights and lifelong memories.
Something Turquoise blog was created by Jen, a self-proclaimed master crafter with over 12 years in the wedding industry. Sharing handmade creations and detailed DIY blogs, she celebrates the artisan in every bride. Real weddings, advice, and projects inspire all crafting levels. Jen brings her turquoise passion for weddings and creativity, striving to significantly contribute wedding inspiration with a personal touch brides won't find elsewhere.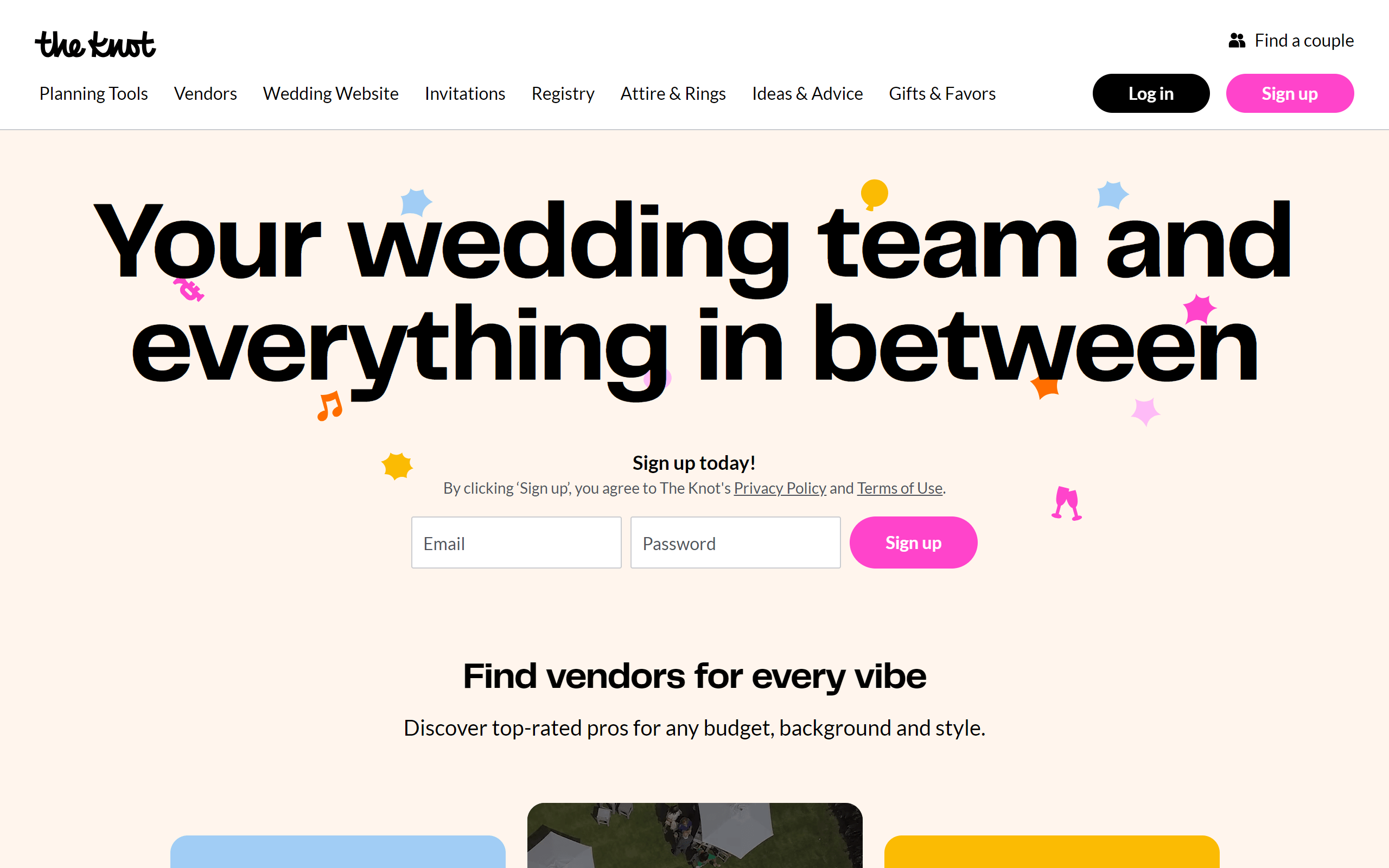 The Knot Worldwide is one of the ultimate wedding planning blogs that guides millions globally to celebrate deeply through resource-packed, customized celebration websites in over 16 countries. Their industry-leading vendor marketplace connects couples to 850k+ professionals annually, whether inspiration is needed or actions are in progress. With the purpose of empowering unique celebrations, The Knot envisions everyone celebrating authentically during life's most important moments.
The Plunge, as one of the finest wedding blogs, helps grooms through every step as the definitive site when other resources focus on brides. They cover proposals, bachelor parties, tuxes, charming in-laws, honeymoons, and more to provide guidance lacking elsewhere. With humor and expertise, it guides men toward becoming better husbands through the thrilling but expensive transition of marriage, ensuring a successful moonwalk instead of stumbling down the wedding aisle.
Wedding Chicks is an essential resource envisioned by stylish brides. They aim to make wedding planning easy by thoughtfully curating timely trends, actual weddings, handmade ideas, top products, and practical advice to inspire individuals to set their own trends down the wedding aisle. If you were looking for top wedding blogs to find inspiration, resources, tips, and anything else, you are in the right place.
Bespoke Bride believes creativity and color make memorable weddings. Founders Emily and Jessica share global inspiration for personalized celebrations through rustic retreats, beach bashes, or DIY dreams. Their curated boutique now connects one-of-a-kind businesses for couples to showcase unique personalities. Awarded excellence, this wedding planning blog advocates individuality to design celebrations as wild as dreams with daily doses of stylish wedding loveliness and tutorials.
Modern Weddings offers a fresh take on real wedding design inspiration for couples' most important days. They've curated top wedding photography and event planning from modern museums to garden affairs to share the brightest, most beautiful wedding designs. Whether chic or elaborate, the hand-picked content in this wedding ideas blog covers innovative ideas and exceptional works to spark creativity in planning meaningful celebrations.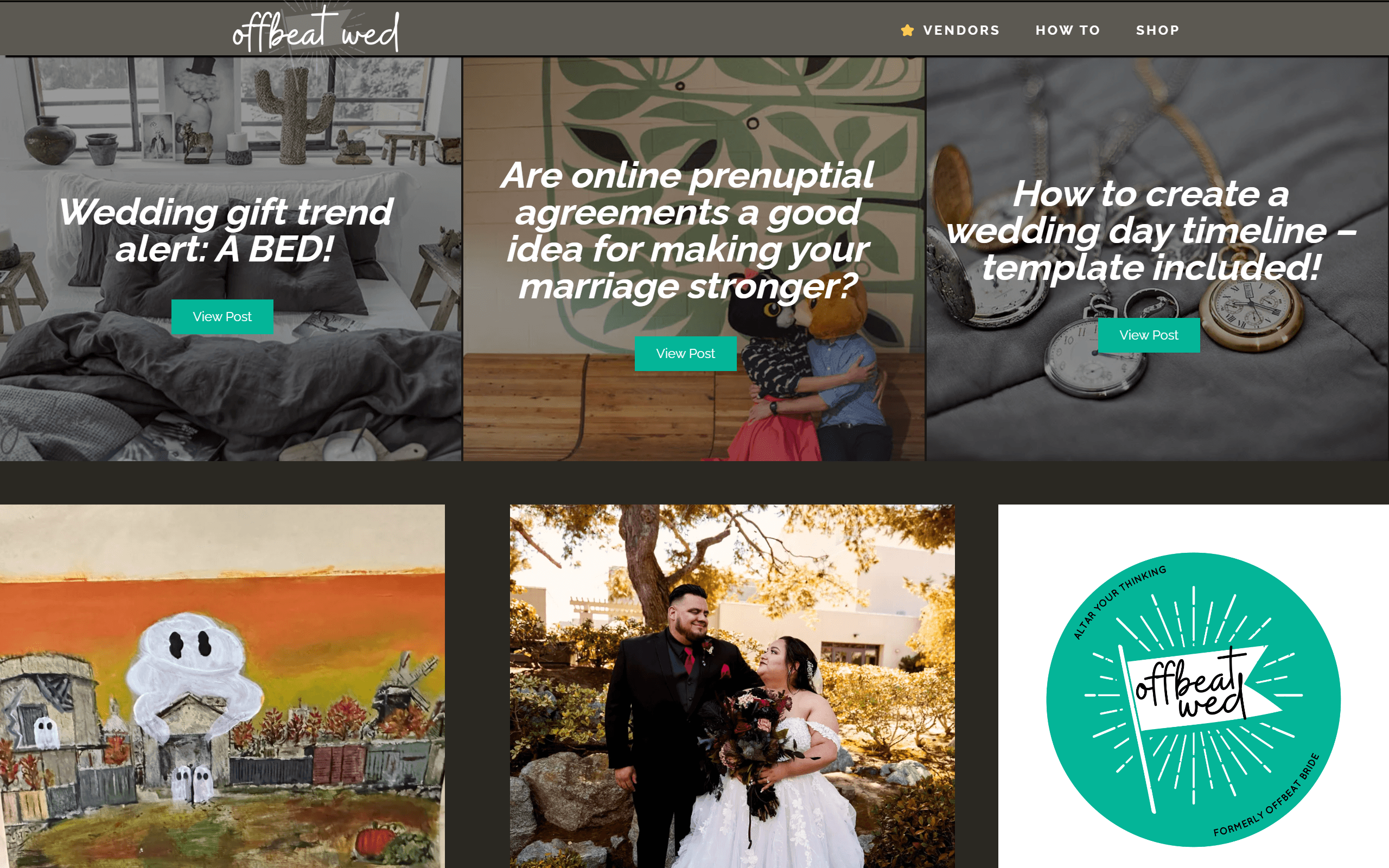 Offbeat Bride launched in 2007 to showcase eccentric weddings and represent all underserved communities through Ariel's book. Now a 60 million-strong and unique wedding blog, their 7,000 alternative posts inspire BIPOC, LGBTQA+, disability-friendly, age-diverse, and beyond through tactical planning help. Dedicated to preserving personalities amid wedding pressures, they celebrate uniqueness through constructive conversations online. Their diverse staff ensures advertising supports inclusive guidance for non-traditional couples to reflect authentic love through photography and stories, not conformity.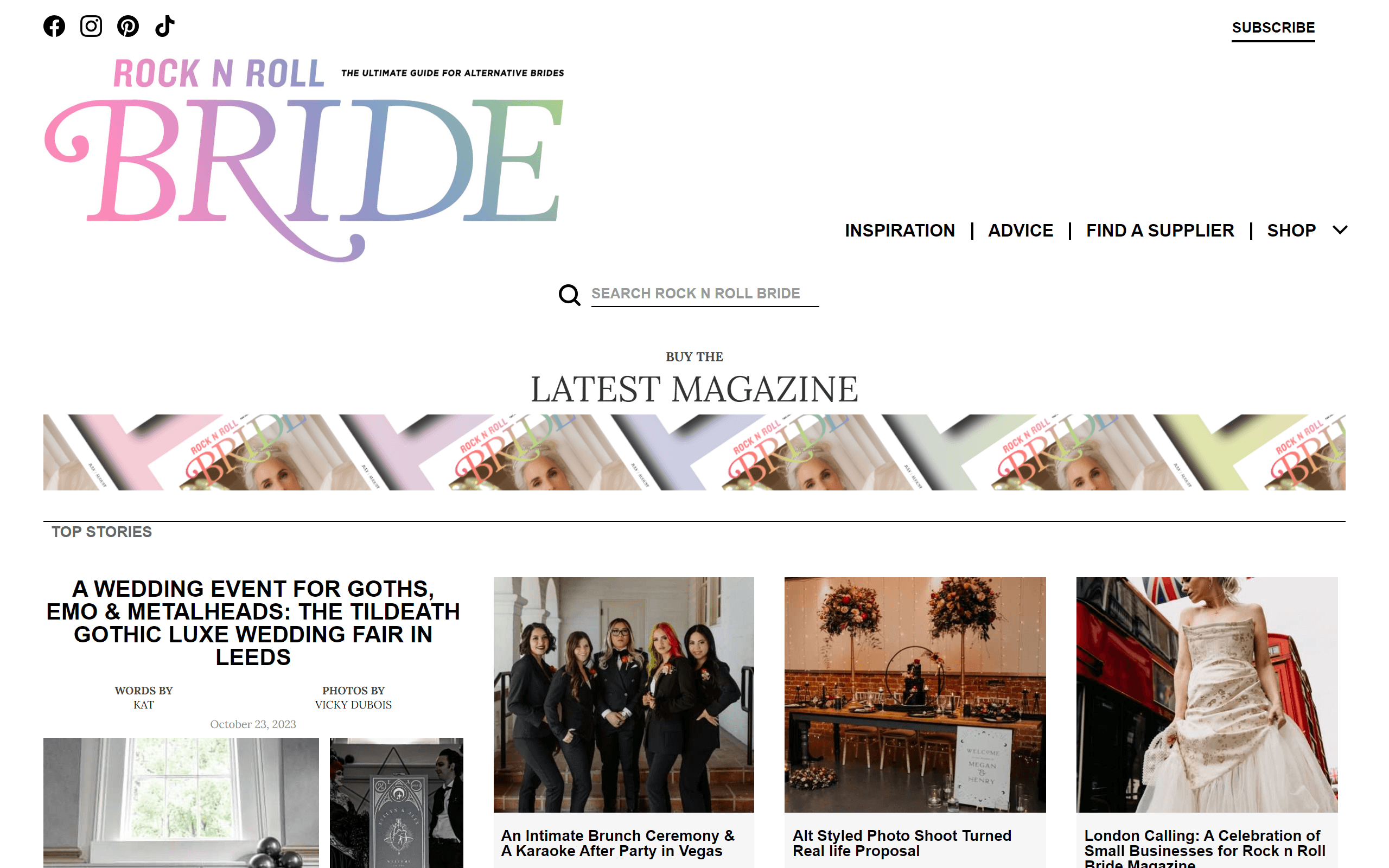 Rock n Roll Bride is one of the best wedding blogs that supports untraditional weddings. It's a magazine and website inspiring couples to plan weddings that show their personalities. Founded in 2007, it offers inspiration beyond typical weddings. The publication gives people the freedom to break rules and customs by creating celebrations that feel real to them.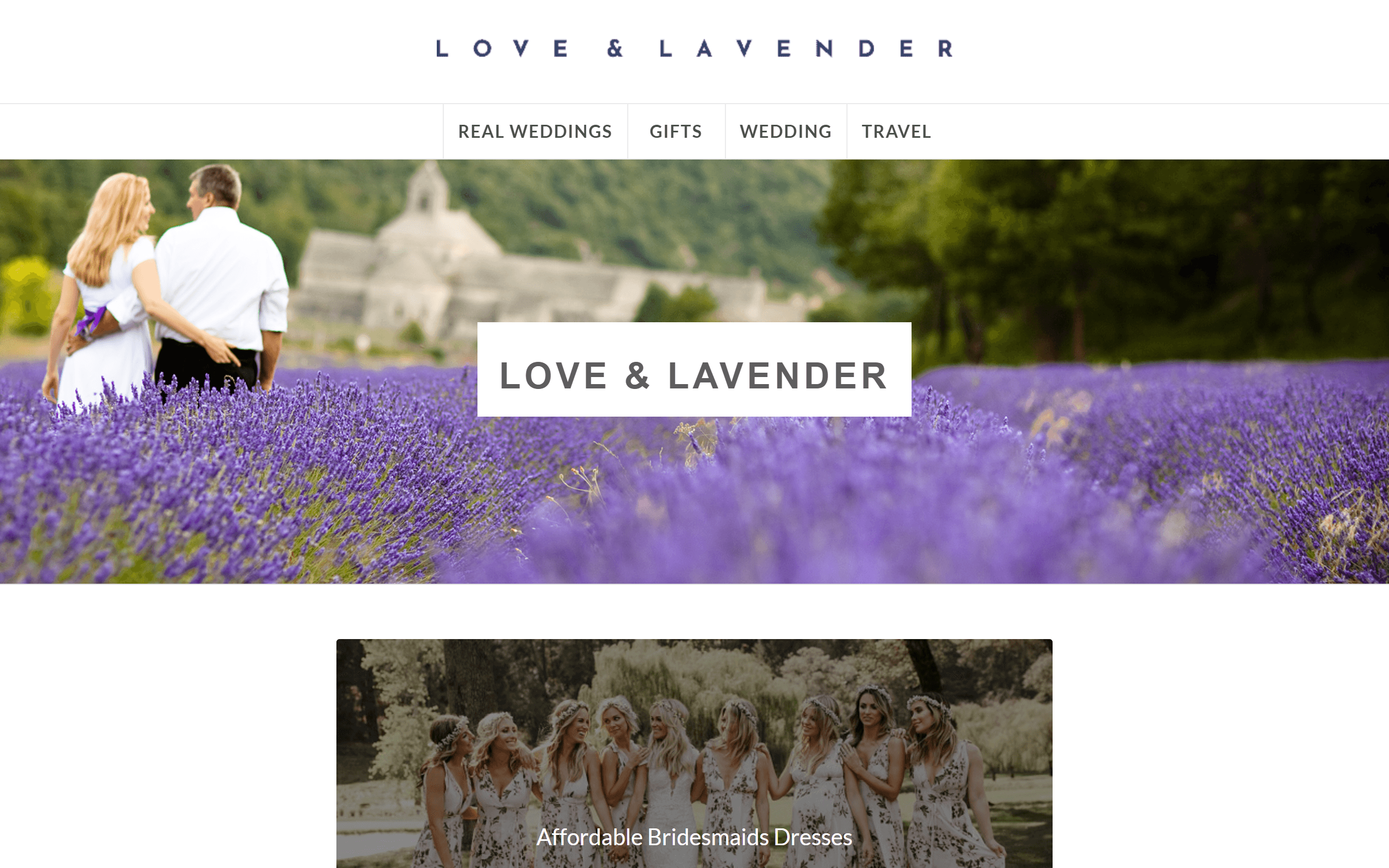 Love & Lavender is a wedding blog by digital nomads Meredith and Andrew showcasing unique experiences around the world. As seasoned veterans of the industry, they provide balanced perspectives on bridal blogs fashion, decor, stationery, and more. Through helpful guides, reviews, and lists they aim to inspire brides, grooms, and vendors. With a focus on epic celebrations globally, this elegant wedding blog offers a leading voice in wedding media.
Sweet Violet Bride is a nature-inspired wedding blog founded in 2012 by floral-obsessed Naomi Farr. Focusing on rustic, ethereal, and vintage styles, it features real weddings, editorials, and wedding professionals understanding natural aesthetics. Whether beach, garden, or forest affairs, this is one of the bridal blogs that offers elegant inspiration for couples planning outdoors. Although Naomi stepped down in 2017, her vision of distinctive yet lovely botanical details lives on through talented contributors.
A Practical Wedding is a wedding media company founded in 2008 by Meg Keene to make the industry more feminist and diverse. As one of the top wedding blogs, it features real weddings highlighting inclusivity. Its popular books and engaged online community offer accessible planning help. Through inclusive vendor promotion and respectful discussions on relationships, sexuality, and budgets, the site aims to celebrate diverse wedding realities. This is one of the best wedding planning blogs that you need to follow.
Bridal Guide is among the top wedding blogs for engaged couples. Its magazine and website work together to provide the latest wedding planning advice and detailed information. From dress galleries and venue ideas to checklists and etiquette guides, brides and grooms can find inspiration and answers on trending topics. As a leading wedding publication, Bridal Guide aims to be the complete wedding planning companion with its mix of professional yet lighthearted tone.
16. 🏅 Our Favorite - Brides
For 89 years, Brides has been the most experienced voice in weddings. Now digitally, they inspire over 4 million with real stories and epic plans. Their team shares tips from decades in parties, showers, and yes, planning their own big days. Whether same-sex or mixed, they celebrate all love. Brides invited you in - now let them guide your special journey with humor, heart, and all the answers to "I do!" it flawlessly.
Why is Brides Our Favorite Wedding Blog?
In addition to articles, they feature real weddings, wedding fashion trends, ideas by budget, expert advice columns, and more. This wide selection of content ensures that no matter what stage of planning visitors are in, they can find relevant inspiration. The variety also keeps the site fresh and engaging with new updates. Being such a large website, readers can connect with other couples planning weddings. Vendors and designers benefit from the exposure the site provides.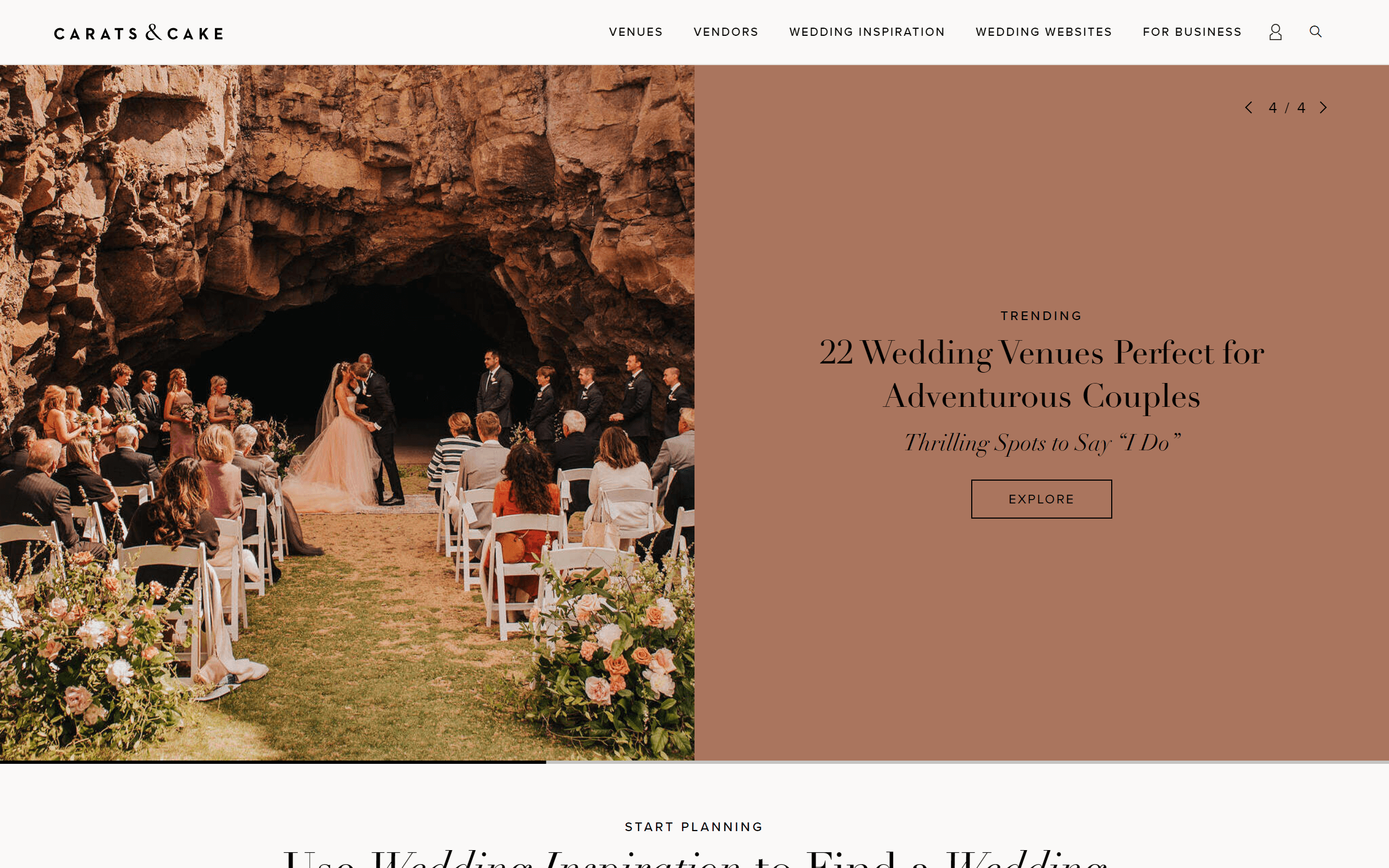 Carats & Cake connects over 100 million engaged people with top vendors through their helpful digital platform. Founded in 2013, they believe diversity and inclusion are key to success. By partnering with major hospitality groups, they help wedding pros unlock new customers. Whether you prefer diamonds or donuts, their safe, loving space celebrates all love. This wedding planning blog can be your guide through planning bliss!
Finding the perfect outfit for your wedding role can be tough. Let this wedding ideas blog be your stylish guide! From wedding dresses to bridesmaid gowns to chic guest looks, they make shopping a breeze with visual collections. Get inspired by their real fashion blogs and get clickable links right to retailers. No need to stress over what to wear - let their friendly experts take the work out of getting the wedding ready!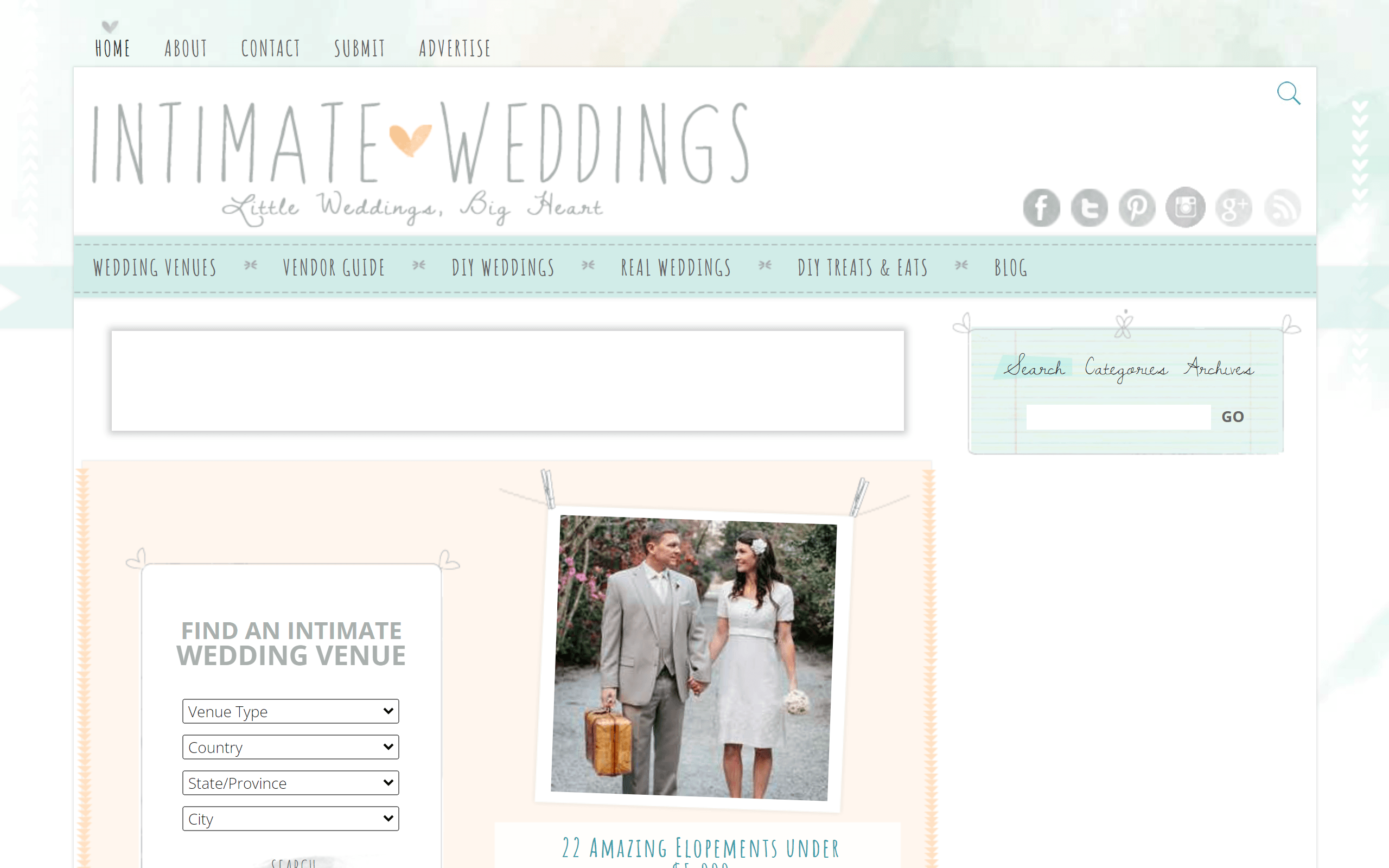 Intimate Weddings lets you plan a unique wedding your way. While their writer once shunned weddings, crafting DIY decor and intimate nuptials became a fun adventure. Whether you elope or host 50 friends, her book offers real insight for rebel brides. Say goodbye to princesses - get inspired to express yourself through celebrations as thoughtful as you are. Your wedding is your personal story, and this unique wedding blog has your back!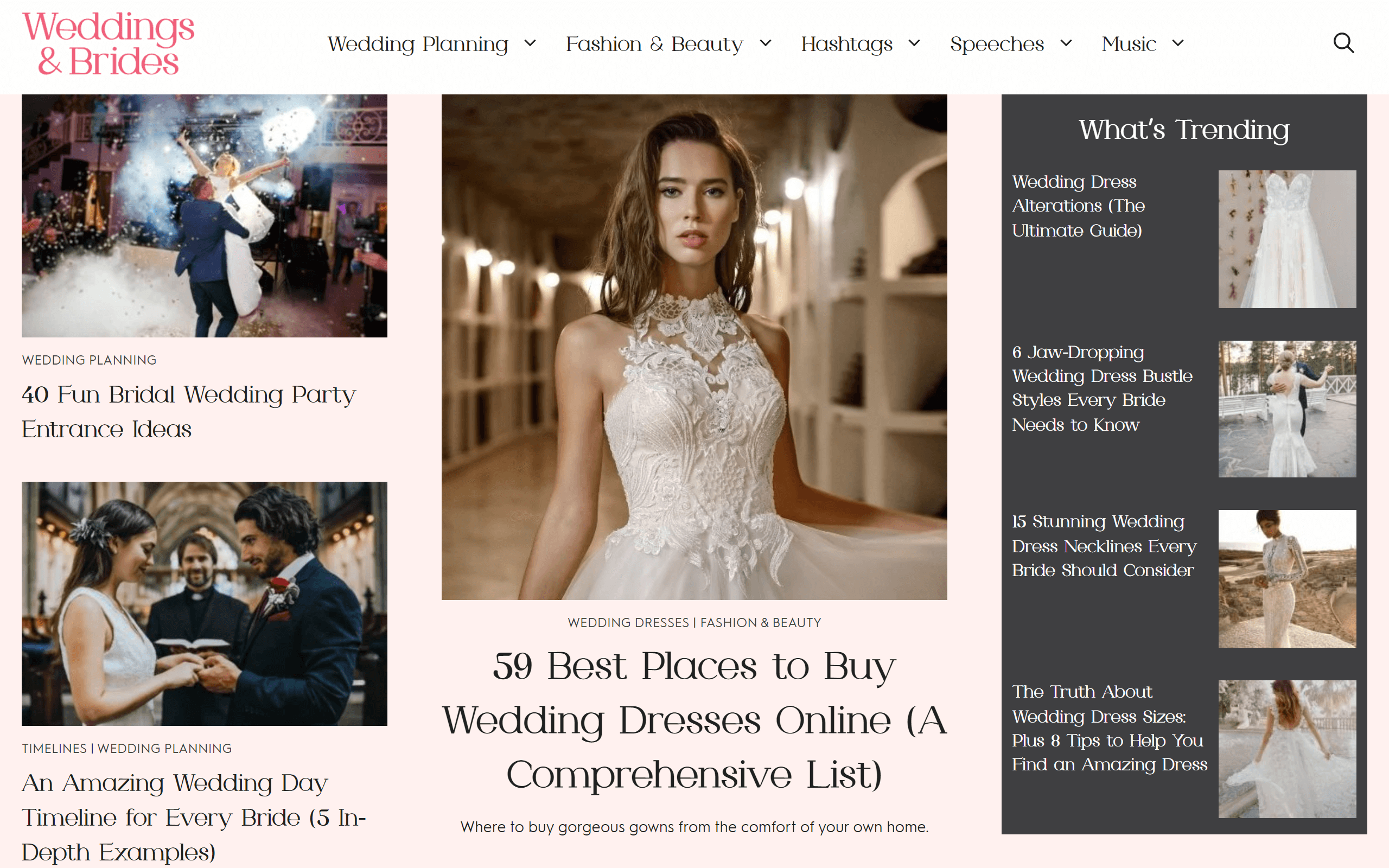 Weddings & Brides is your go-to elegant wedding blog! Their team is dedicated to bringing you high-quality guidance. While other sites may leave gaps, W&B covers those overlooked topics to take stress out of planning. Unique tools are also in the works, so you'll always have helpful friends by your side. Whether you need decor ideas or etiquette experts, let their fun community be wedding planning made easy!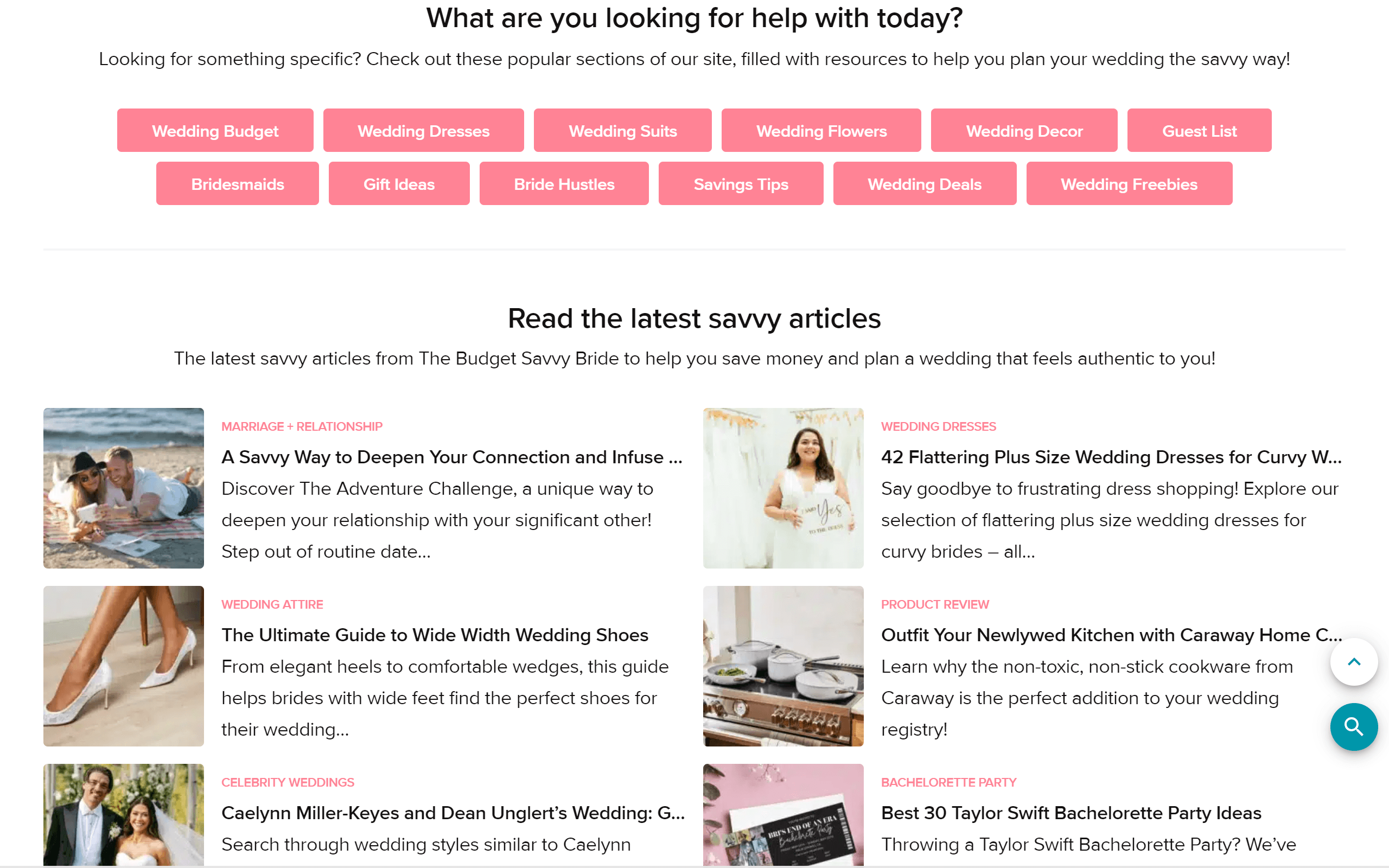 The Budget Savvy Bride has been helping couples plan fun, affordable weddings for over 15 years. With founder Jessica's experience in cakes, catering, and more, this blog is wedded to savings. Peruse budget breakdowns of real weddings for inspiration. Or download a free printable to personalize your day for less. This wedding planning blog has a friendly community that aims to prove a lavish wedding doesn't mean lavish spending!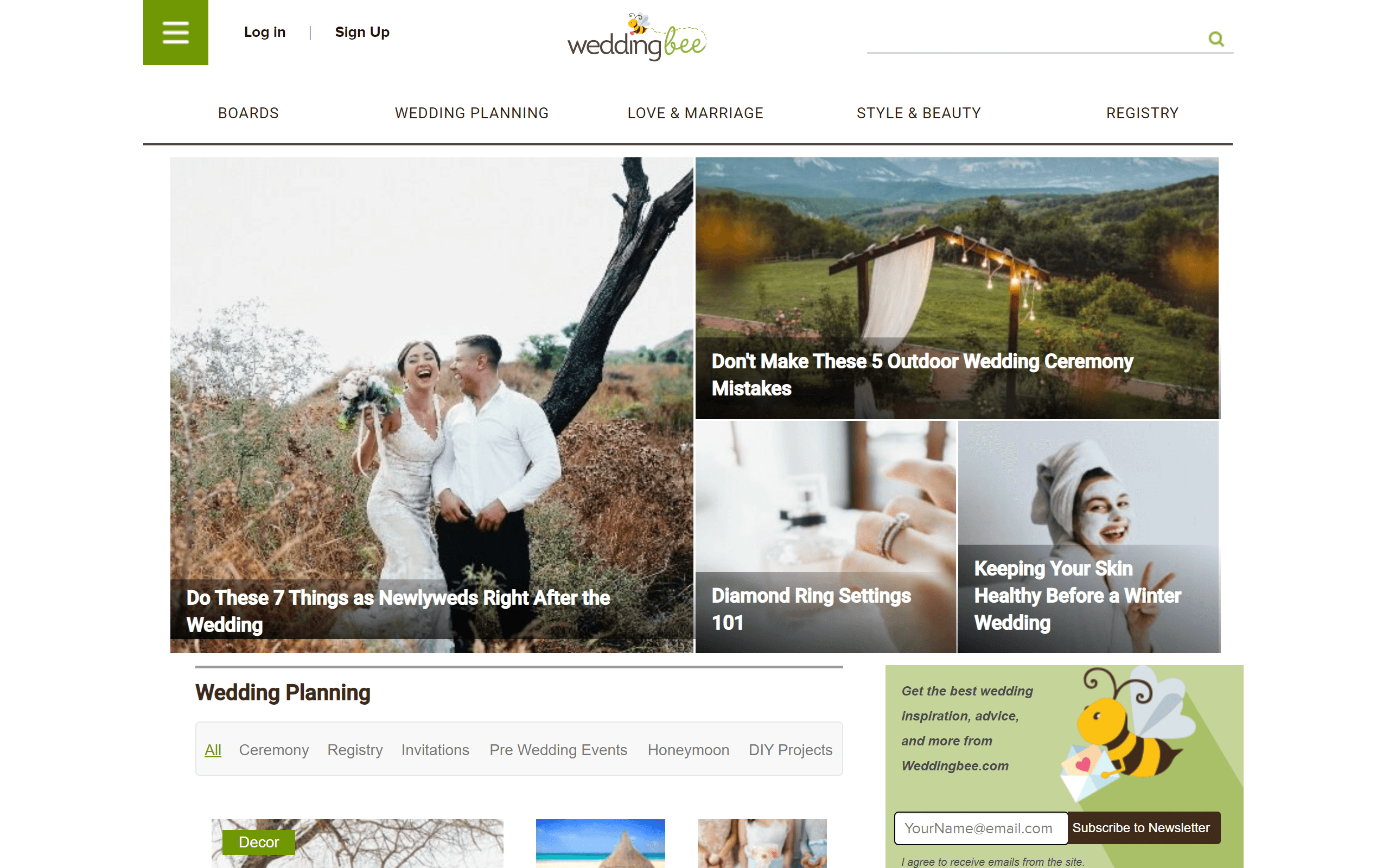 Whether you're getting hitched or just attending weddings, Wedding Bee, one of the top wedding blogs, is the happy hive for you! This community was founded by Bee Kim during her wedding planning. Now they buzz with inspiration, advice, and forums to connect couples worldwide. Check out real couples' weddings for ideas or join in the helpful conversations. Wedding Bee wants everyone to experience the joy of wedding planning!
Whimsical Wonderland Weddings brings magic to your big day! Founder Liz is a wedding planning pro who'll make your day unique. Browse ideas from real couples who followed their personalities instead of trends. Say yes to fun and memories over strict traditions. Liz will transform your wedding nightmares into a modern experience filled with personality. Join the whimsical celebrations! If you are looking for wedding planning blogs for inspiration before your big day, you need to check out this website.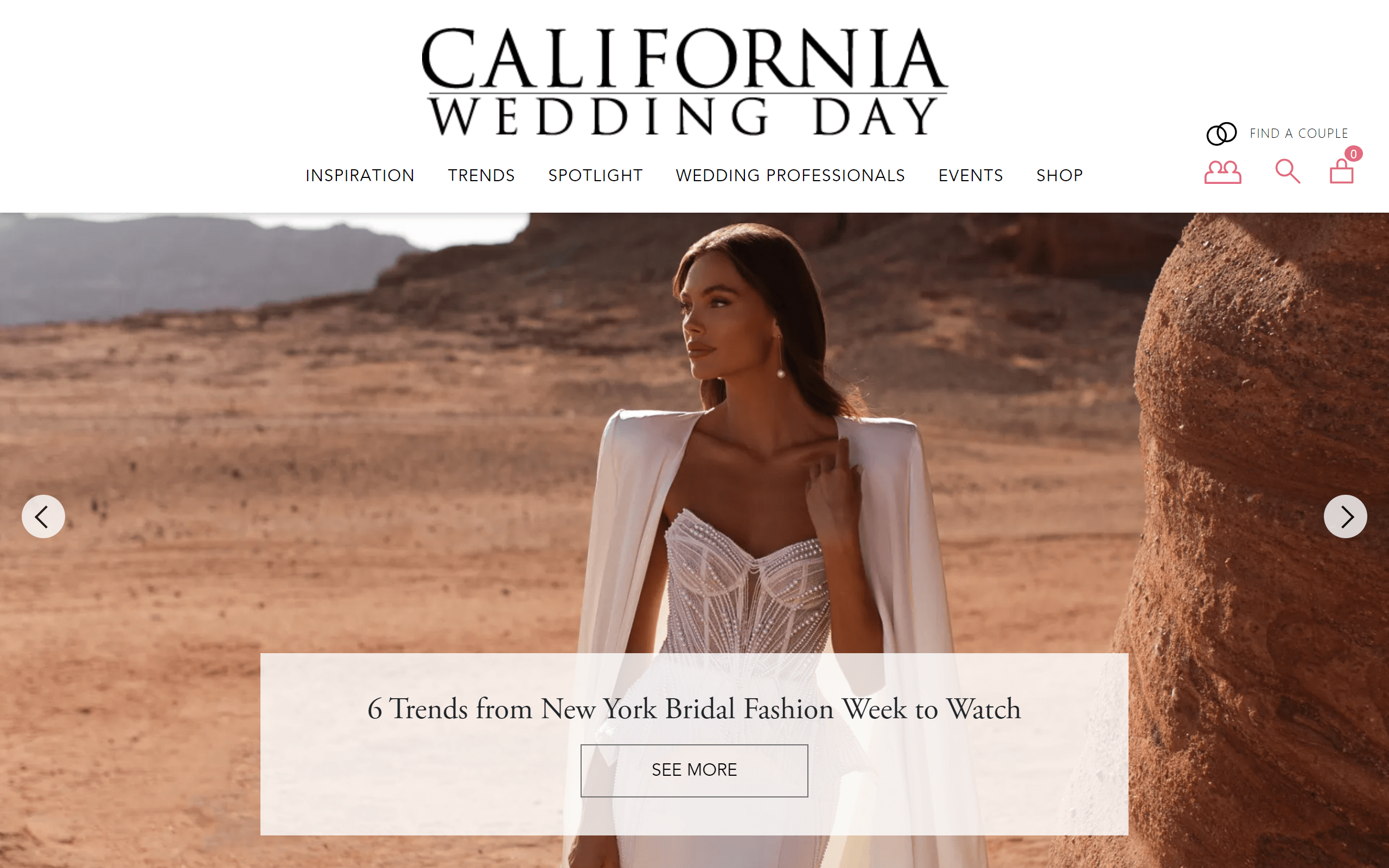 California Wedding Day is one of the go-to bridal blogs for Golden State nuptials since 2002. Based in California, this magazine and website feature the top wedding vendors across regions. Browse wedding inspiration and stay updated on their daily website tips. California Wedding Day publishes twice yearly but aims to make planning easy whenever you need - both in print and online. Join their community of SoCal brides!
Destify Blog is among the best wedding blogs that aim to make destination weddings stress-free! Their experienced planners personalize every detail with meticulous care. Unique venue packages cater to your tastes. And cutting-edge tech makes planning more fun. Whether beachside or mountain-top, Destify guarantees an unforgettable experience. Let their friendly experts build lifelong memories - and a fabulous wedding as flawless as it is!
Boho Weddings believes your big day should reflect you! Founded in the UK in 2009, it's explored bohemian-chic and modern styles for unique couples worldwide. Wedding expert Kelly shares ideas to help you do things differently and make your wedding truly about your personality. Find inspiration to create a celebration all your own at this award-winning wedding planning blog! Individuality is what weddings should celebrate.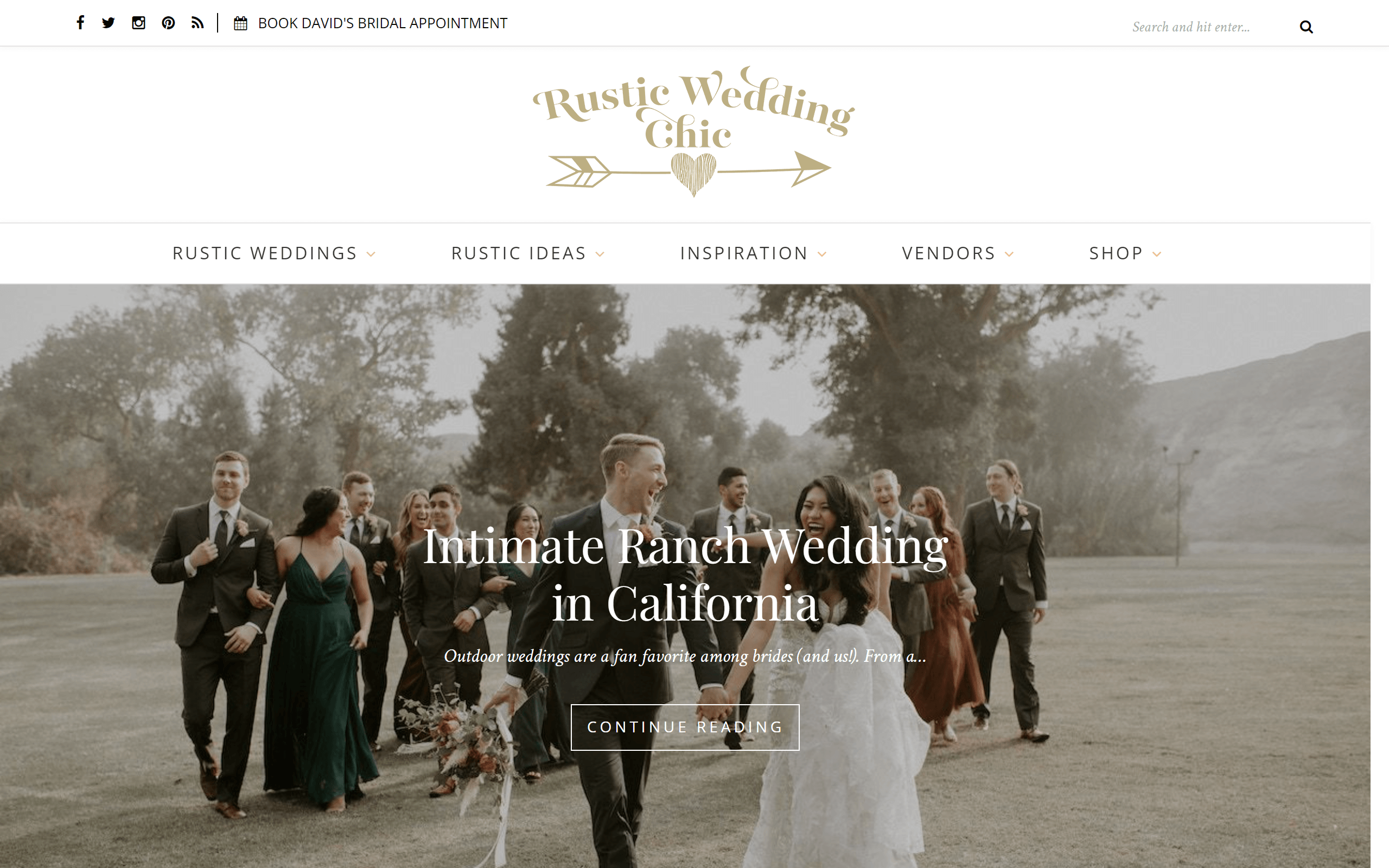 Rustic Wedding Chic launched in 2008 as Maggie planned her own countryside celebration. Now as part of David's Bridal, this top blog remains a fun fave for modern couples. Browse real weddings for ideas and chat with Maggie herself! Their engaged following proves how this creative site charms with dreamy photos, DIY inspo, and carefully matched vendors for your own rustic rites. This website is on our list of top wedding blogs for a reason!
Ruffled launched in 2008 with Amanda sharing her love of vintage. Now over 4 million followers flock for pretty inspiration! Mix retro charm with your own style at this free-spirited blog. Chat with Amanda herself and find pre-loved goods at Recycle Your Wedding. Ruffled proves that dreams really can come true - in the form of the wedding fete of your wildest imaginations! Truly one of the wedding planning blogs you really need to follow.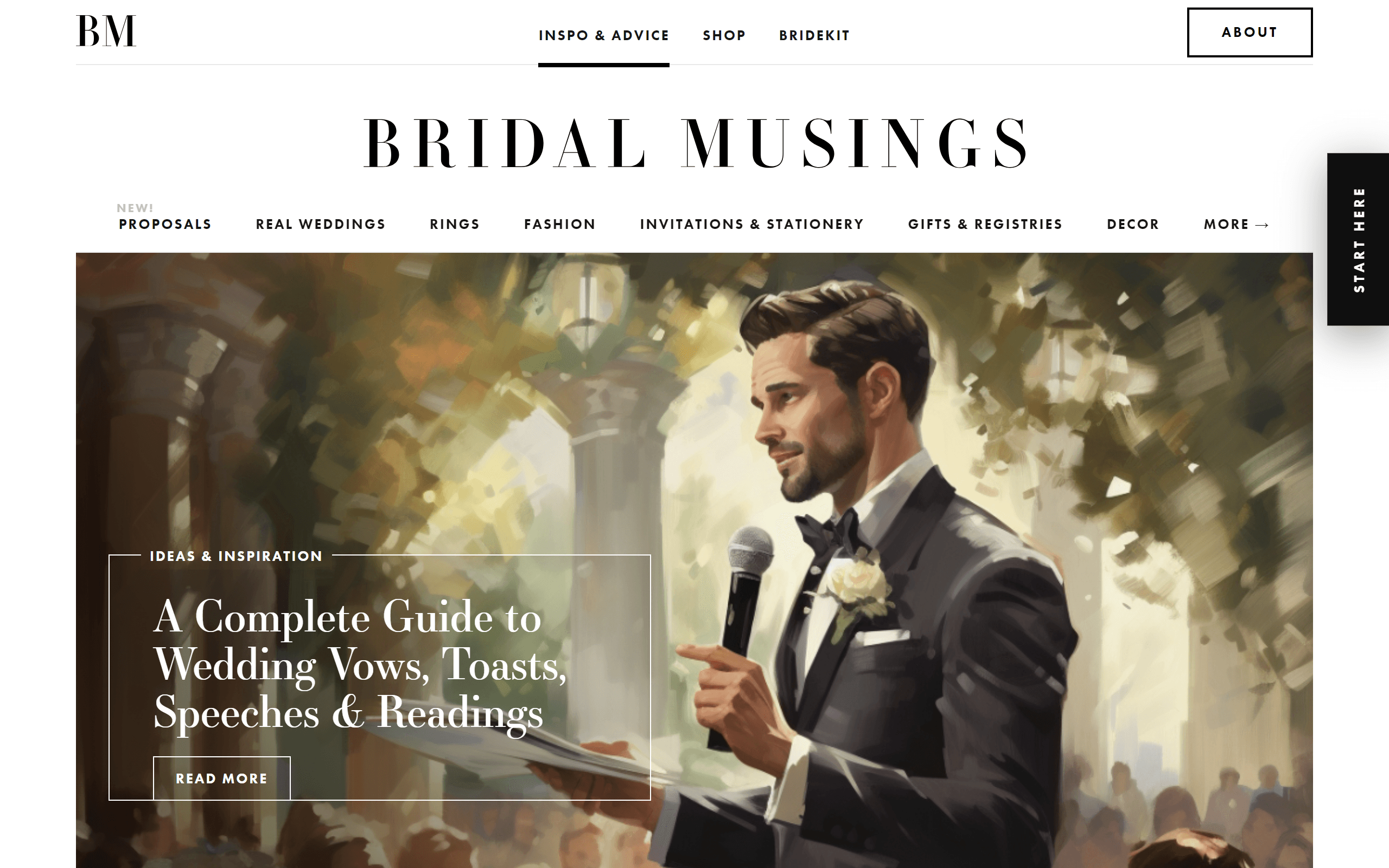 Bridal Musings is considered one of the greatest bridal blogs. It believes there's no single perfect wedding - just your perfect day! Launched in 2011, they provide vibrant inspiration and honest advice. Chat with Editor Elizabeth about spanning cultures, sizes and more. Browse styled shoots and real weddings for joyous ideas to craft celebrations as unique as you. This inclusive community of over 3 million knows wedding magic.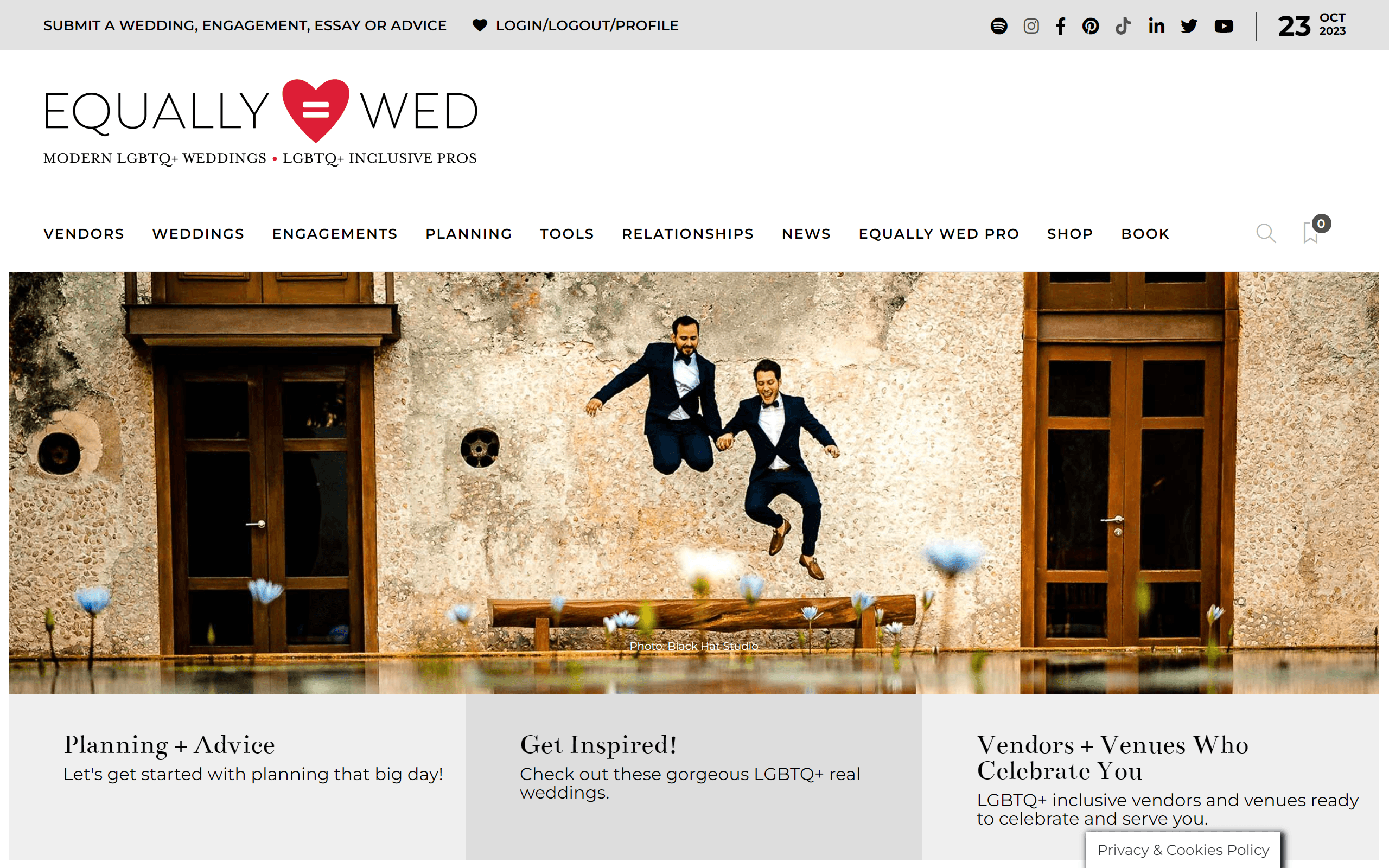 Equally, Wed believes all couples should feel celebrated! As an international LGBTQ+ wedding guide they provide vibrant inspiration gathered from real weddings worldwide. Chat with their welcoming community about your own marriage magic. Whether beachside or mountaintop, Equally Wed wants your happiest day to feel equally full of love.
Happy Union
Congratulations on your engagement!
We hope these wedding blogs get your creative wedding planning juices flowing. Each blog is lovingly created by industry pros. They share real weddings, money tips, and ideas galore. Browse colorful photos and personal tales for encouragement.
We know you'll plan an amazing celebration turning your wedding wishes into wonderful wedded bliss!
Best wishes to you!