Growing with God is important for Christians.
Following Jesus isn't always easy. Believers try learning more about him and trusting him more each day.
But sometimes faith can be hard. People may need extra help. There are tough times when guidance or support makes a difference.
Now there are many websites that can aid spiritual growth. Christian blogs share daily Bible lessons, others' stories of God, and ways to connect anytime from anywhere.
For those in tough spots or who want to study the Bible more, top Christian blogs provide helpful ways to get closer to Christ.
👍 How We Picked the Best Christian Blogs
With so many Christian blogs online today, it's difficult to discern which ones are truly excellent. We took the time to review a wide variety of faith-based blogs to find the ones best suited to help and inspire our readers. In selecting the top Christian blogs to feature, we looked at several key factors:
Quality of Content: We looked for blogs that publish deeply insightful and thought-provoking articles about God, faith, spiritual growth and practical living out of one's beliefs.
Biblical Foundation: The blogs we chose clearly root their teachings and perspectives in scripture, with a solid doctrinal foundation.
Engaging Style: The best blogs present their content in an engaging, easy to read manner that draws readers in and keeps them learning.
Consistent Updates: An actively maintained blog that publishes new posts regularly ensures readers always have fresh faith lessons and perspectives.
Additional Resources: Some blogs we found especially valuable because they provide extra material like online Bible studies, podcasts or community forums.
Wide Appeal: The top Christian blogs cover diverse topics that speak to a broad Christian audience, not just one denomination.
Credible Authors: Writers with recognized expertise, education and ministries make their blogs a go-to source of reliable spiritual wisdom.
🤝 Why You Should Trust Our Recommendations
At Code Supply Co., our expertise in blogging is pretty high. Our own company blog, which offers content on a daily basis, is crafted for you to enjoy.
Our forte extends to creating sleek, aesthetically pleasing WordPress themes. Numerous blogs rely on our designs for their online presence, a testament to our commitment to quality. We have a significant track record in blog design, ensuring that our themes not only enhance the professional appeal of blogs but also boost their functionality and visibility.
For those searching for the best Christian blogs, look no further. We've mastered the essential elements that distinguish exceptional blogs. Rest assured, we have a deep understanding of what it takes to achieve blog success!
⛪ Top Christian Blogs and Religious Websites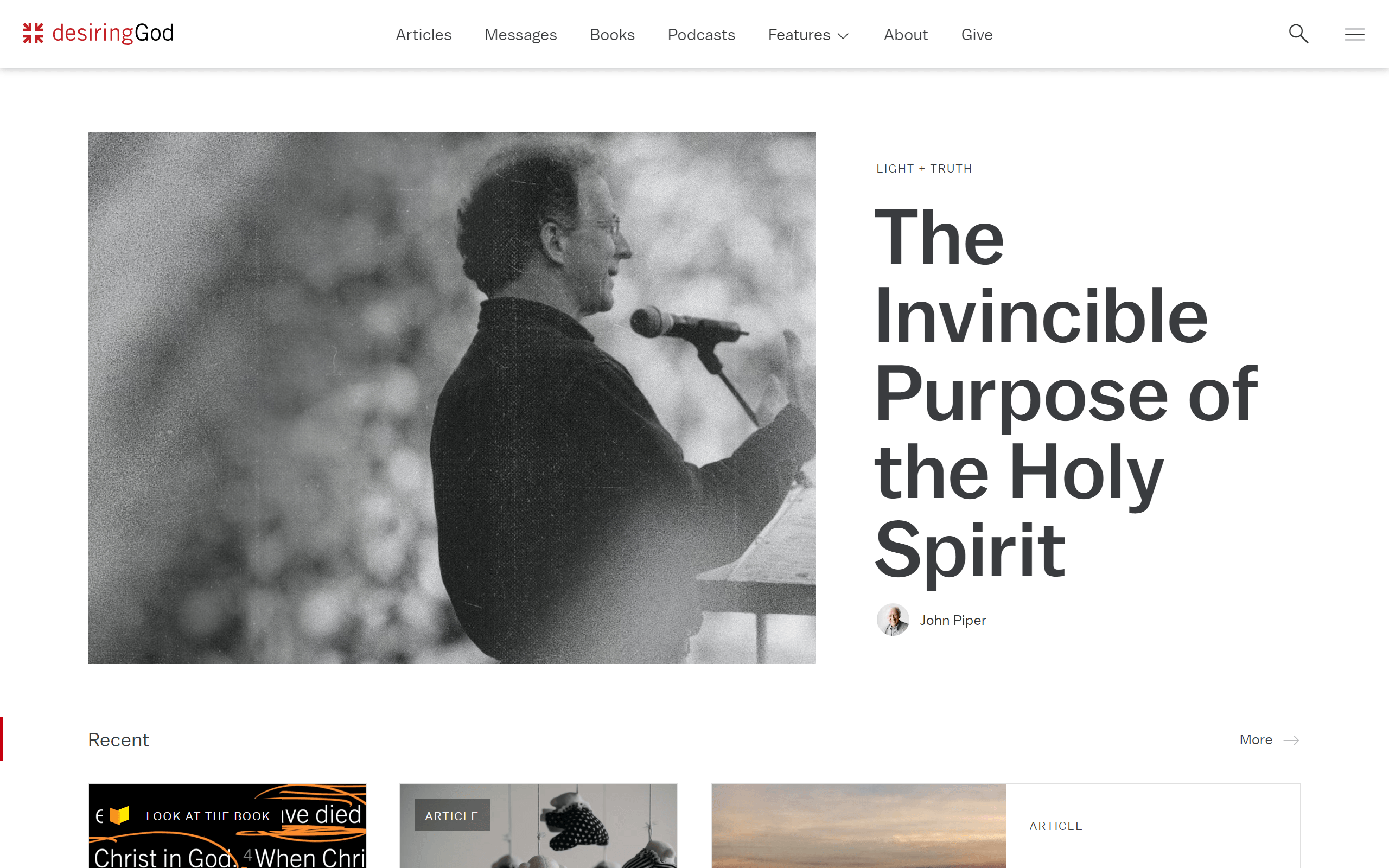 For over 25 years, the Christian blog Desiring God has helped over 3.5 million seekers find a blog niche that truly satisfies them being one of the best religious blogs.
Led by Pastor John Piper since 1994, this globally-reaching Christian blog is fueled by donors like you. Whether through Ask Pastor John, daily devotionals, or freely sharable resources, Desiring God exists so all may embrace the glory of knowing Christ through his word.
Join their lively community online!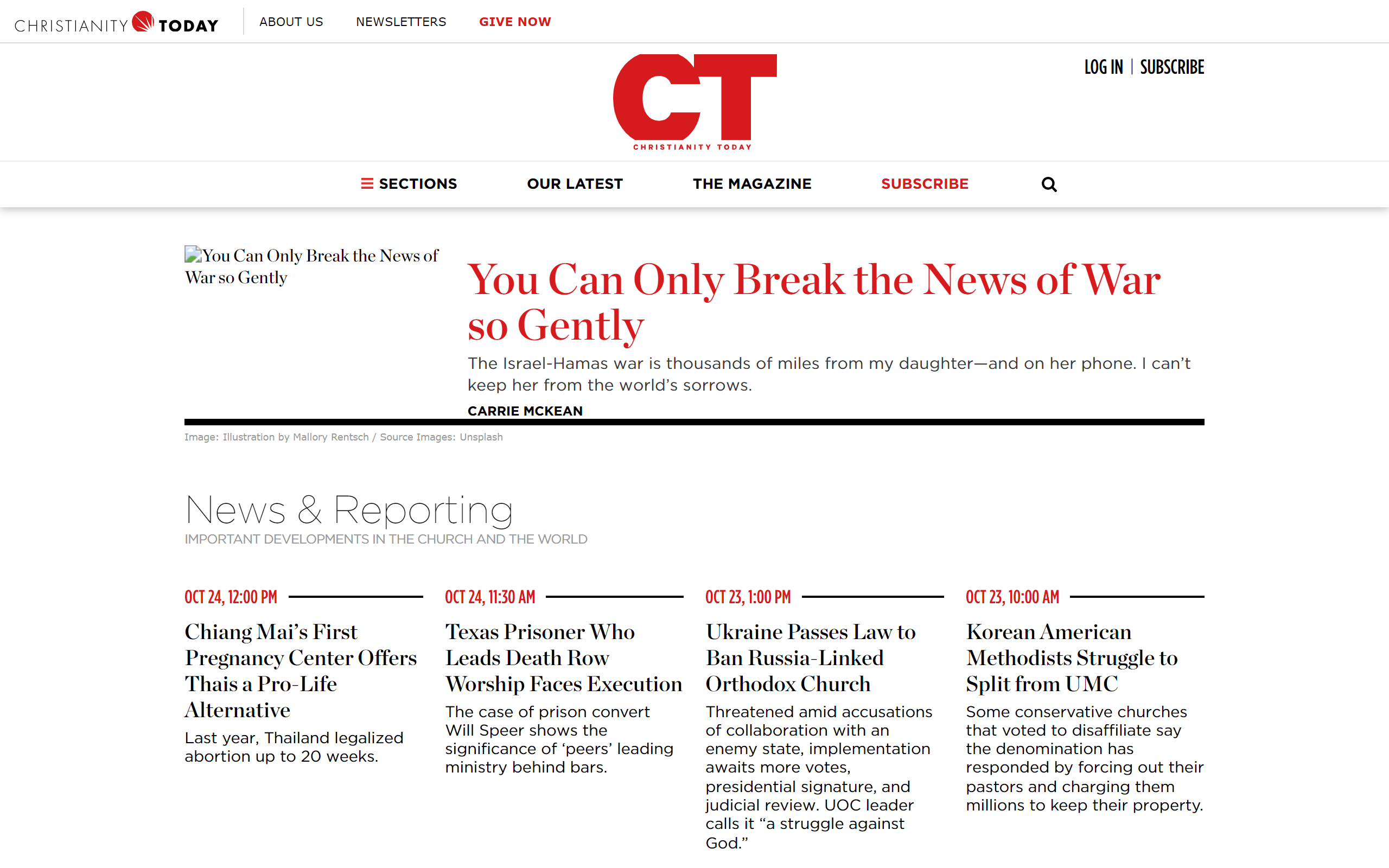 Since 1956, Christianity Today is the most popular Christian blog that has uplifted inspiring stories of faith to over 4.5 million church leaders monthly.
Founded by Billy Graham, they provide in-depth reporting and thought-provoking commentary to empower the global body of Christ. Through striking digital content and groundbreaking podcasts, CT gives us dynamic tools to live out our call as hands and feet of Jesus in today's crucial moment. Join their engaged community of believers online!
Why is Christianity Today Our Favorite Christian Blog?
The writers and editors at Christianity Today are experts in their fields. They include pastors, theologians, biblical scholars and journalists. This means the content is grounded in biblical knowledge and reflects diverse viewpoints. A wide range of topics are covered related to theology, social issues, worship, missions and more. This breadth of coverage keeps you informed on discussions happening across the global church.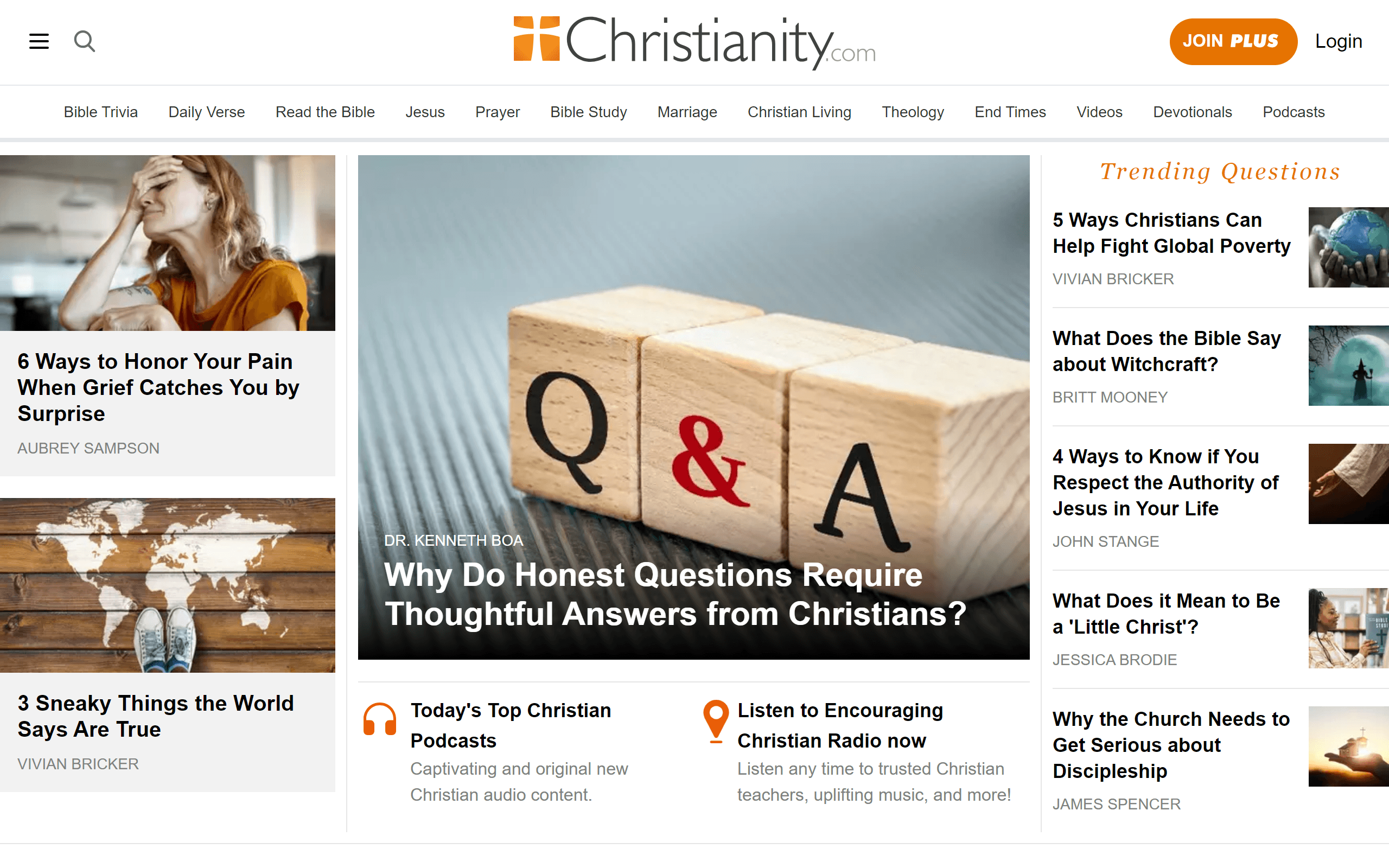 Since 1999, Christianity.com has welcomed over 4 million seekers monthly with accessible yet deep dives into what we believe.
Their band of writers aims to make God's truth clear and relevant through insightful articles, videos, and more. Whether exploring Christian history or growing in prayer, this globally-reaching site is here to inform and inspire you on your faith journey. Come dive in - the water's fine!
Since 2007, The Gospel Coalition has rallied evangelicals to renew focus on what really matters - the good news of Jesus!
With a worldwide base, they equip the church through conferences, articles, and more from respected leaders. Whether exploring tough doctrines or finding encouragement, their community offers frank yet friendly dialogue. Come see how centering on Christ joyfully transforms faith and practice! This is another favorite choice among popular Christian blogs that we recommend.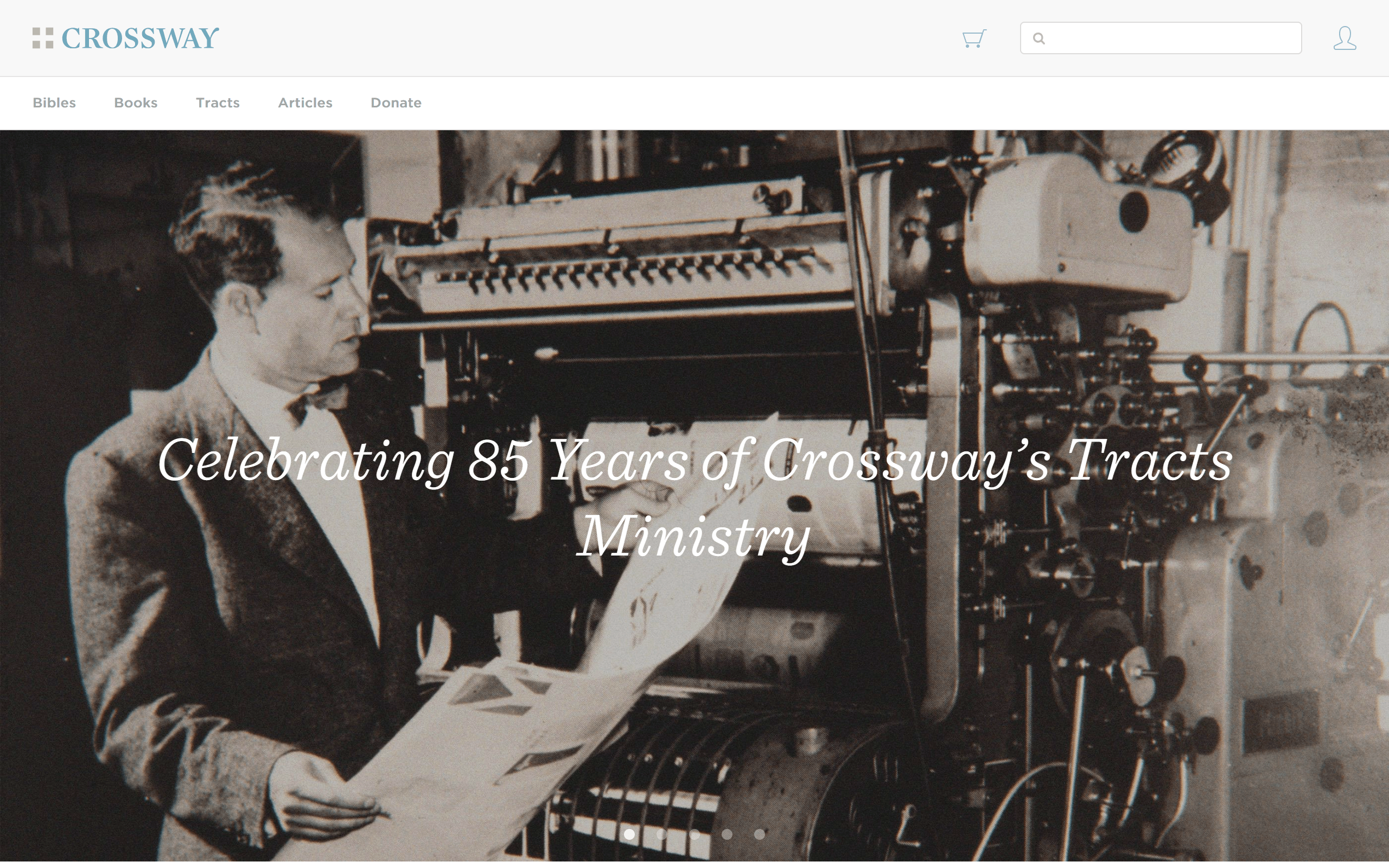 For over 80 years, Crossway. the most popular Christian blog, has shared the good news through their publishing.
As a nonprofit, they create Bibles, books, and online materials to both glorify God and strengthen the worldwide church. Whether digging into difficult topics or seeking encouragement, you'll discover wisdom from trusted writers. Join them in learning more about faith each day, while supporting their work for believers everywhere!
Since 2002, Tim Challies, one of the best Christian blog sites, has been thoughtfully exploring faith online.
This is one of the Christian blogs with humor and humility, he dives deep into doctrine while gently guiding seekers. Through countless articles and bestselling books on prayer, culture, and church history, this pastor-blogger equips Christians everywhere. Come chat theology over coffee on his thriving blog community dedicated to understanding God more fully.
For over 20 years, iBelieve.com has been inspiring Christian women with beautiful, faith-filled content written by the best Christian bloggers.
With daily devotionals, articles on relationships, motherhood, and more written by top bloggers, you'll grow closer to God. Whether you need encouragement or just want to feel connected, their warm community of millions of readers is here to uplift you.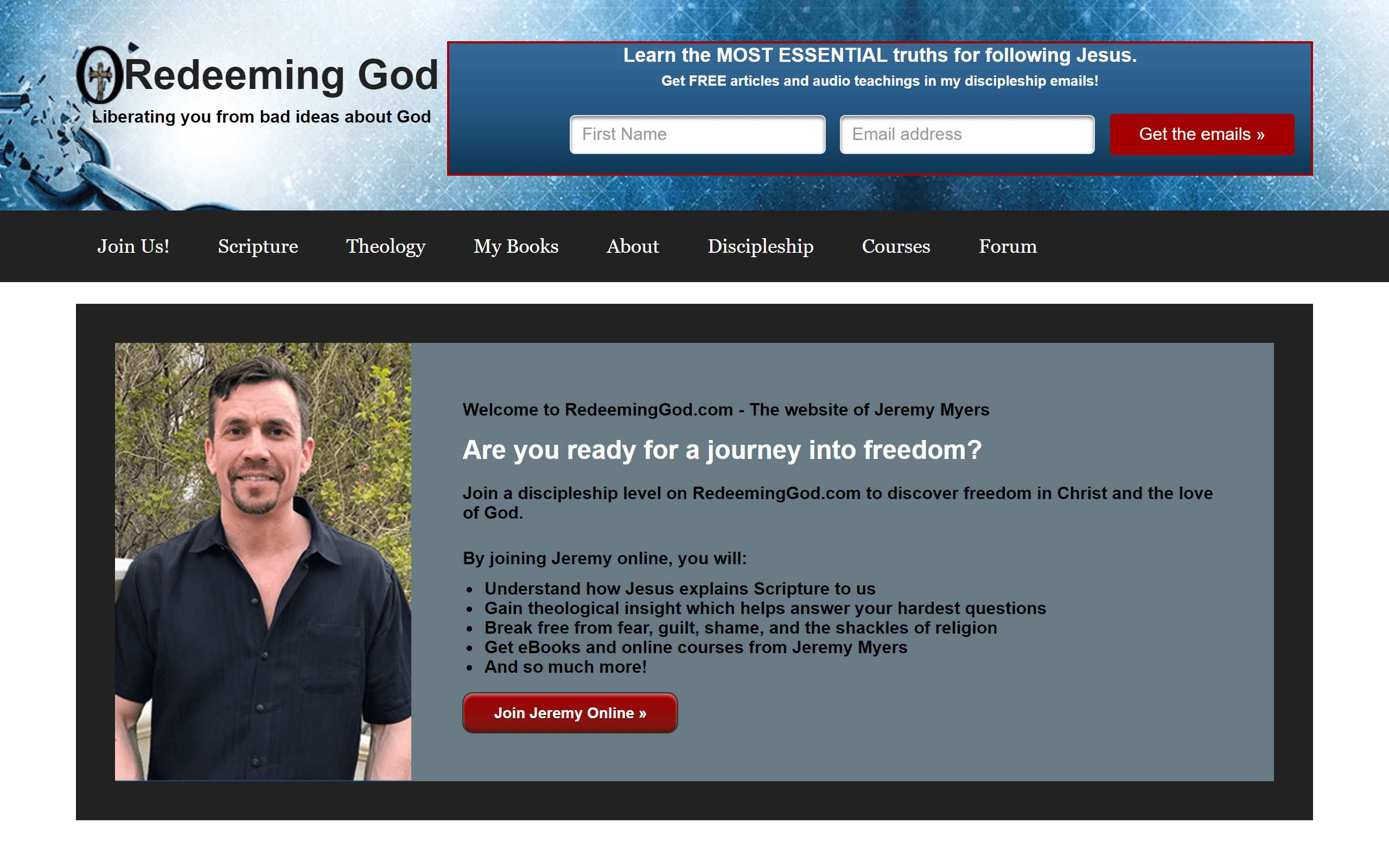 Through deep dives into Scripture, theology, and the true nature of the church, founder Jeremy Myers kindly guides an innovative online flock toward freedom. If you were looking for popular Christian blogs, this one is worthy to check out.
With thought-provoking Christian blogs, self-paced courses, and lively discussion forums, this growing community is empowering seekers everywhere to break free from religion and embrace the radical love of our Redeemer.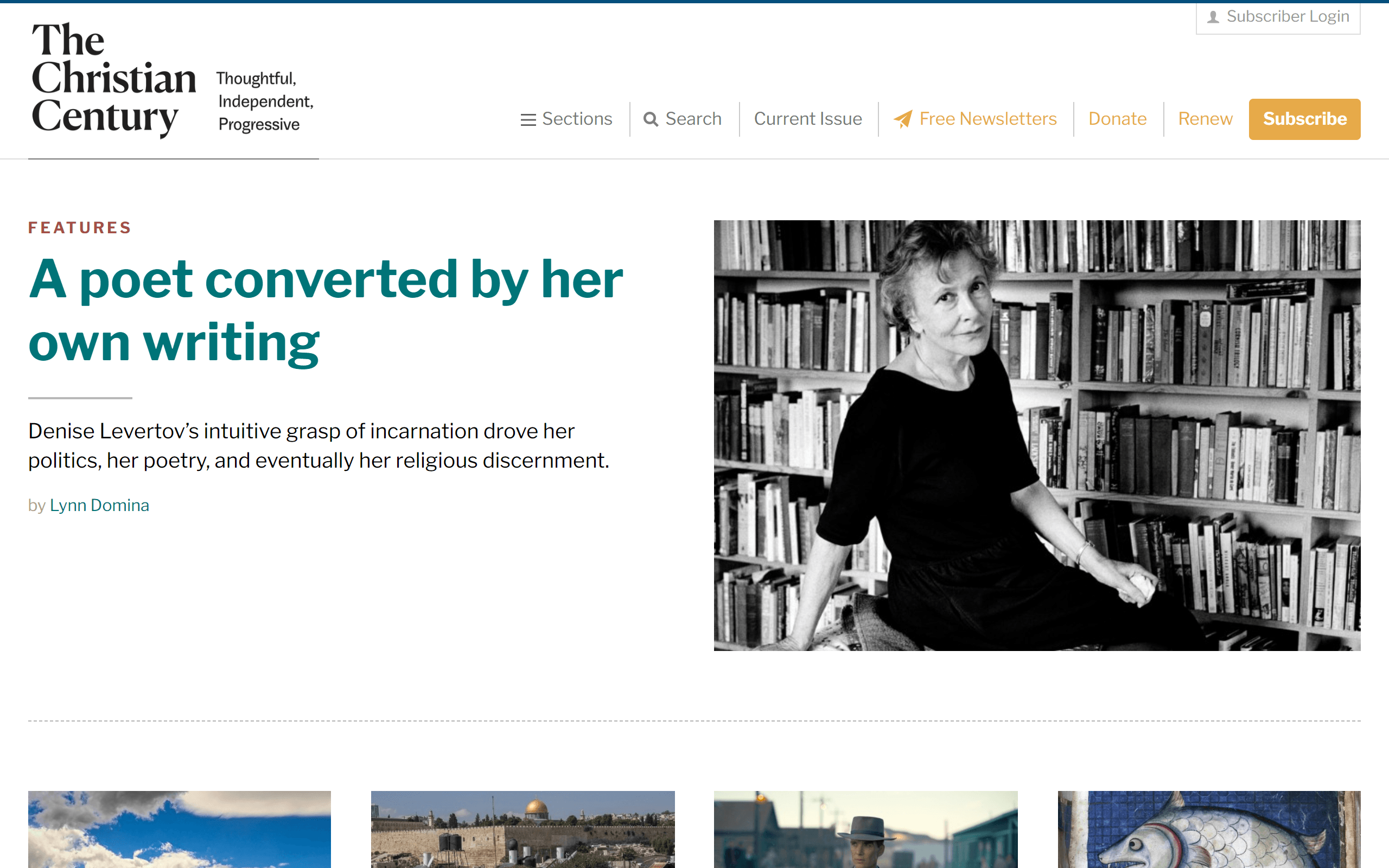 For over 135 years, The Christian Century has been sparking thoughtful discussions on faith, politics, and culture.
From MLK Jr. to today's sharpest minds, their insightful essays, interviews, and reports help readers make sense of it all. Their take on issues is progressive yet gently guiding. Exploring their site and social pages is recommended. Whether readers are steeped in theology or just starting their journey, The Century is sure to broaden perspective in the best way.
Give them a read.
The Mindful Christian blog offers faith-centered content for believers seeking spiritual growth. Their posts explore how to live out values through daily living and reflection on scripture.
Contributors provide prompt ideas to encourage insightful yet conversational entries on topics like prayer, service, and personal development.
Why is The Mindful Christian Our Favorite Christian Blog?
This most popular Christian blog is well-organized with different categories for posts: Books, Training, Christian Virtues, Guides for Practice, Resources, and the main Blog section. This makes content easy to find. Many posts discuss how readers can apply mindfulness practices to their faith, encourage experiential reflection, and foster personal growth. It isn't just information but helps with implementation.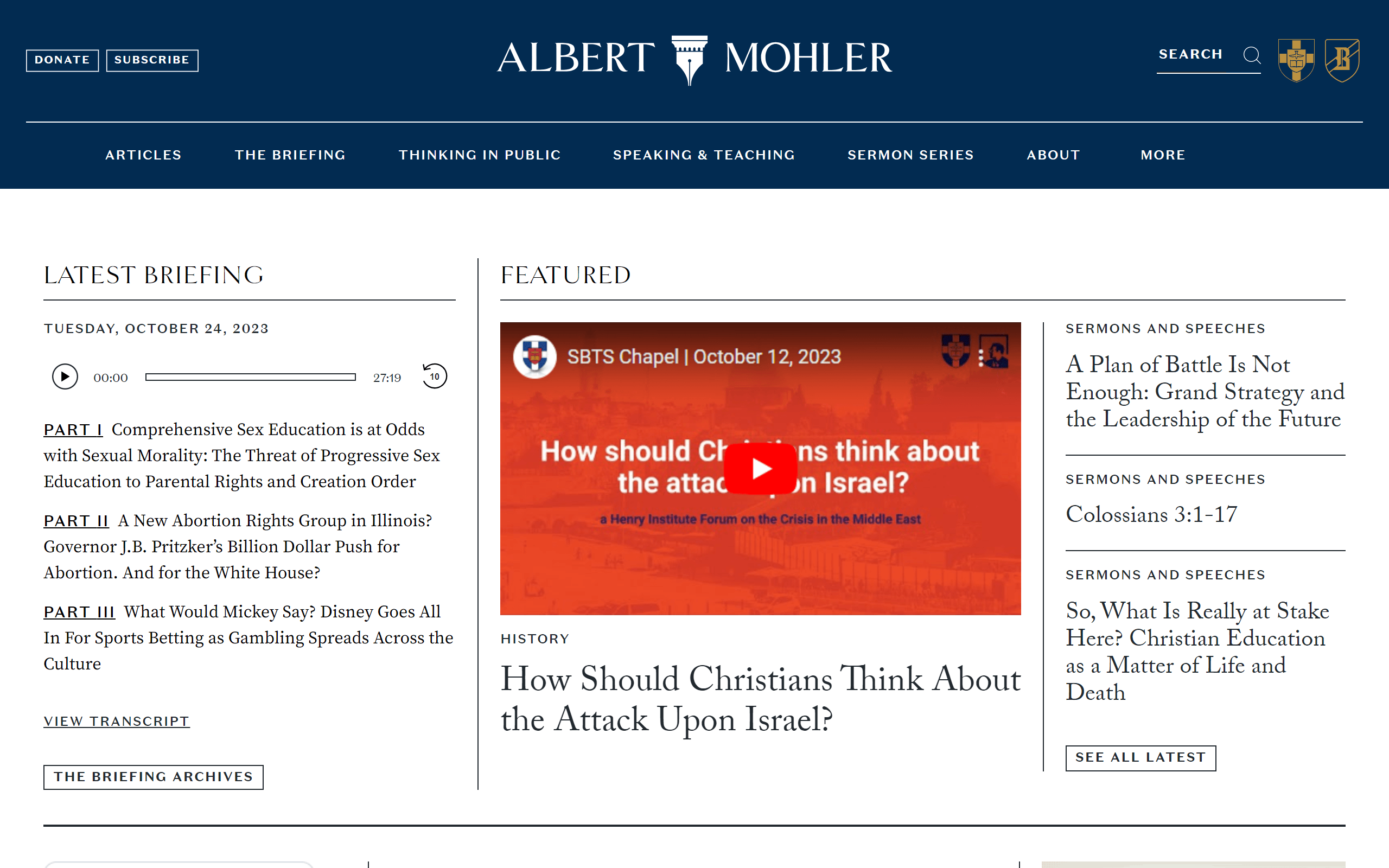 As president of Southern Baptist Theological Seminary, editor, popular podcast host, and frequent media commentator, Mohler consistently applies biblical wisdom to today's issues.
Mohler has published extensively, earned numerous honors, and even advised the SBC. For decades, his insightful perspectives have guided Christians everywhere on matters of theology, culture, and politics. No question that Mohler's influence and experience make him one of evangelicalism's foremost thinkers.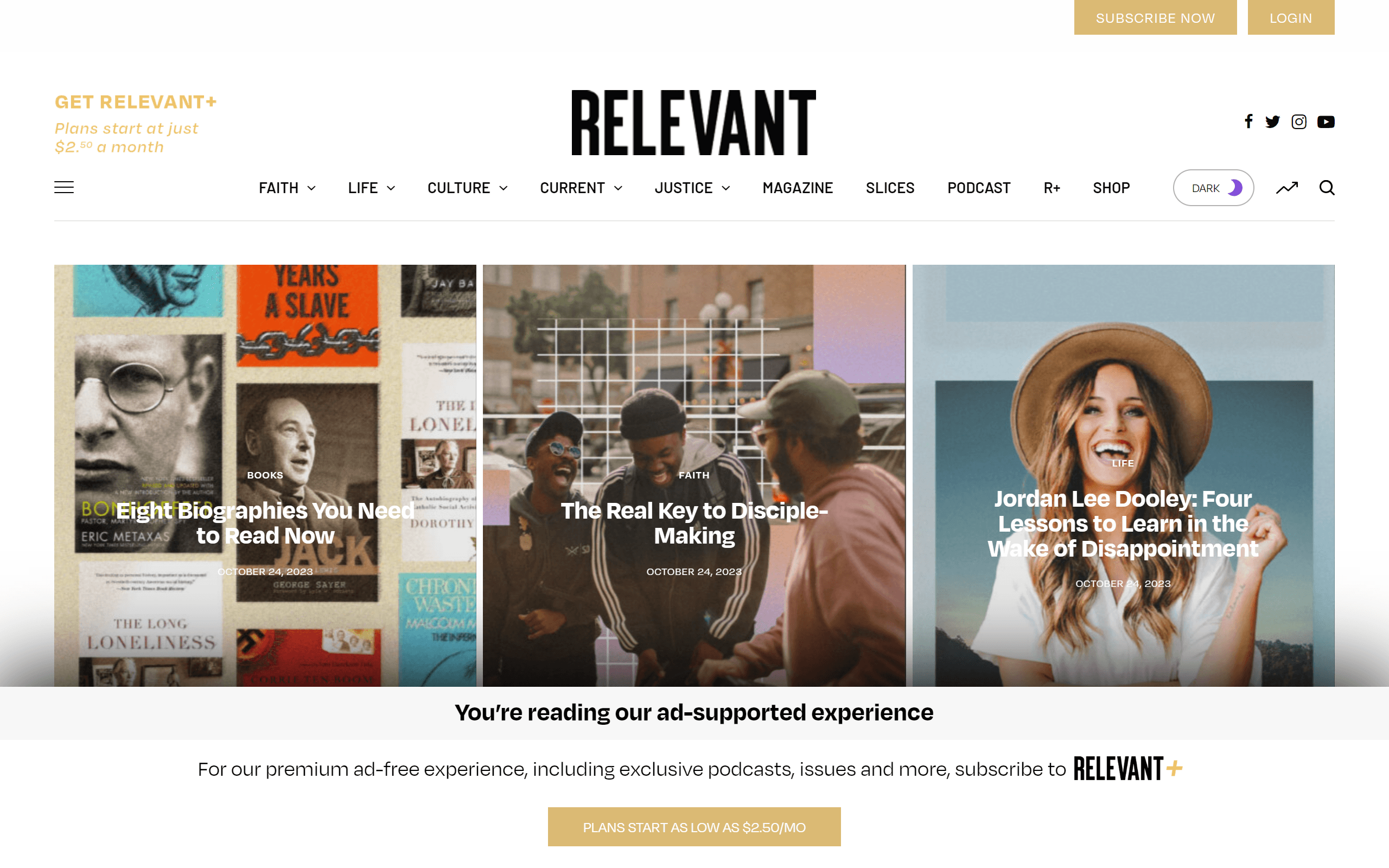 This blog has talked about faith and life for over 20 years. It writes about relationships, jobs, justice, and how faith connects to them. Writers aim to have friendly talks about culture, careers, God, and spirituality. Readers can learn new views but still feel hopeful. It's a great single place with best Christian bloggers to get updates on faith topics that matter today.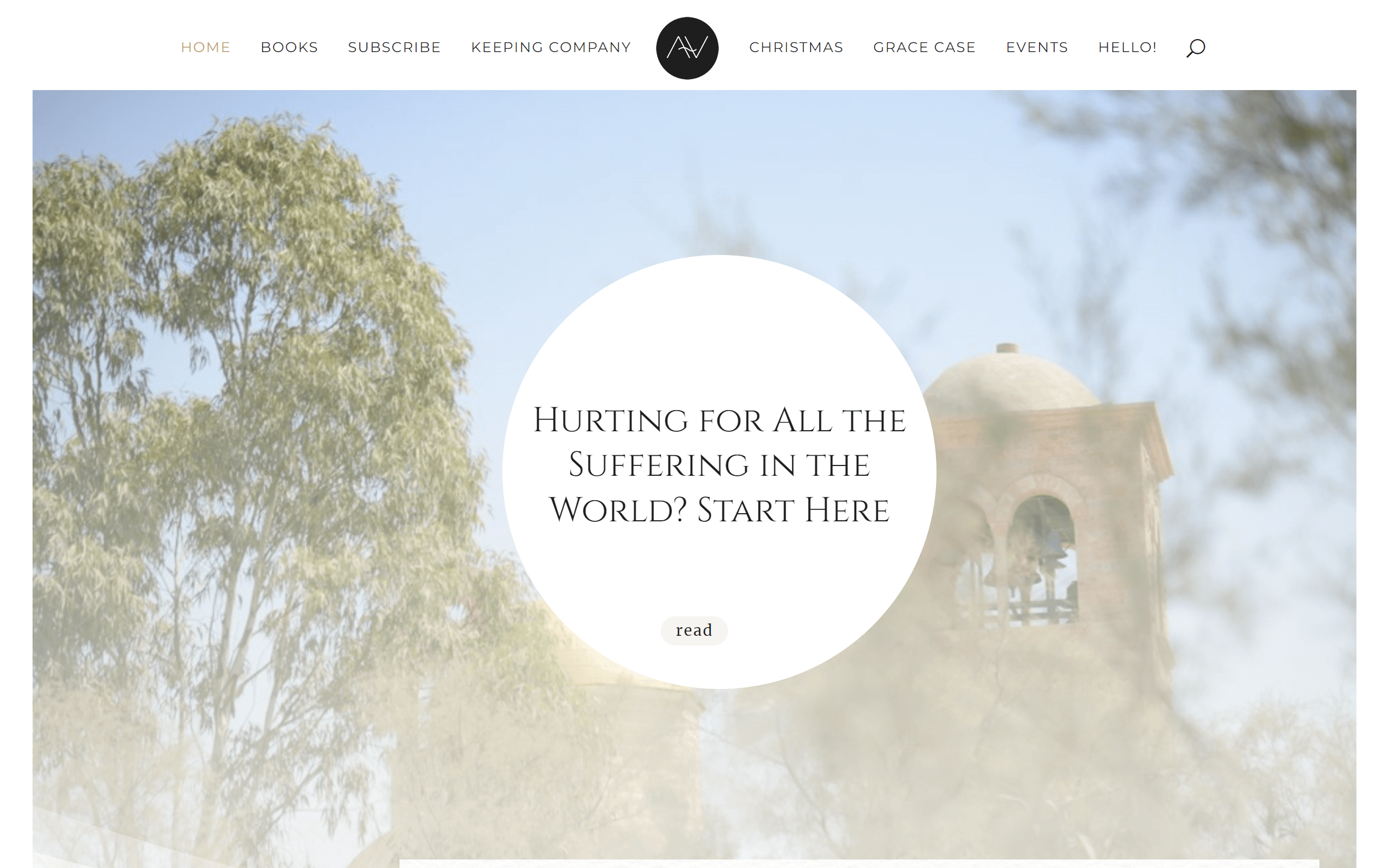 Ann Voskamp writes a popular Christian blog and books.
She helps readers see God in normal everyday things like nature, cooking, home and family. Ann shows how being thankful for small blessings can bring you closer to God. Her writing from A Holy Experience and books like One Thousand Gifts have inspired many people. She shines light on the world with her uplifting message.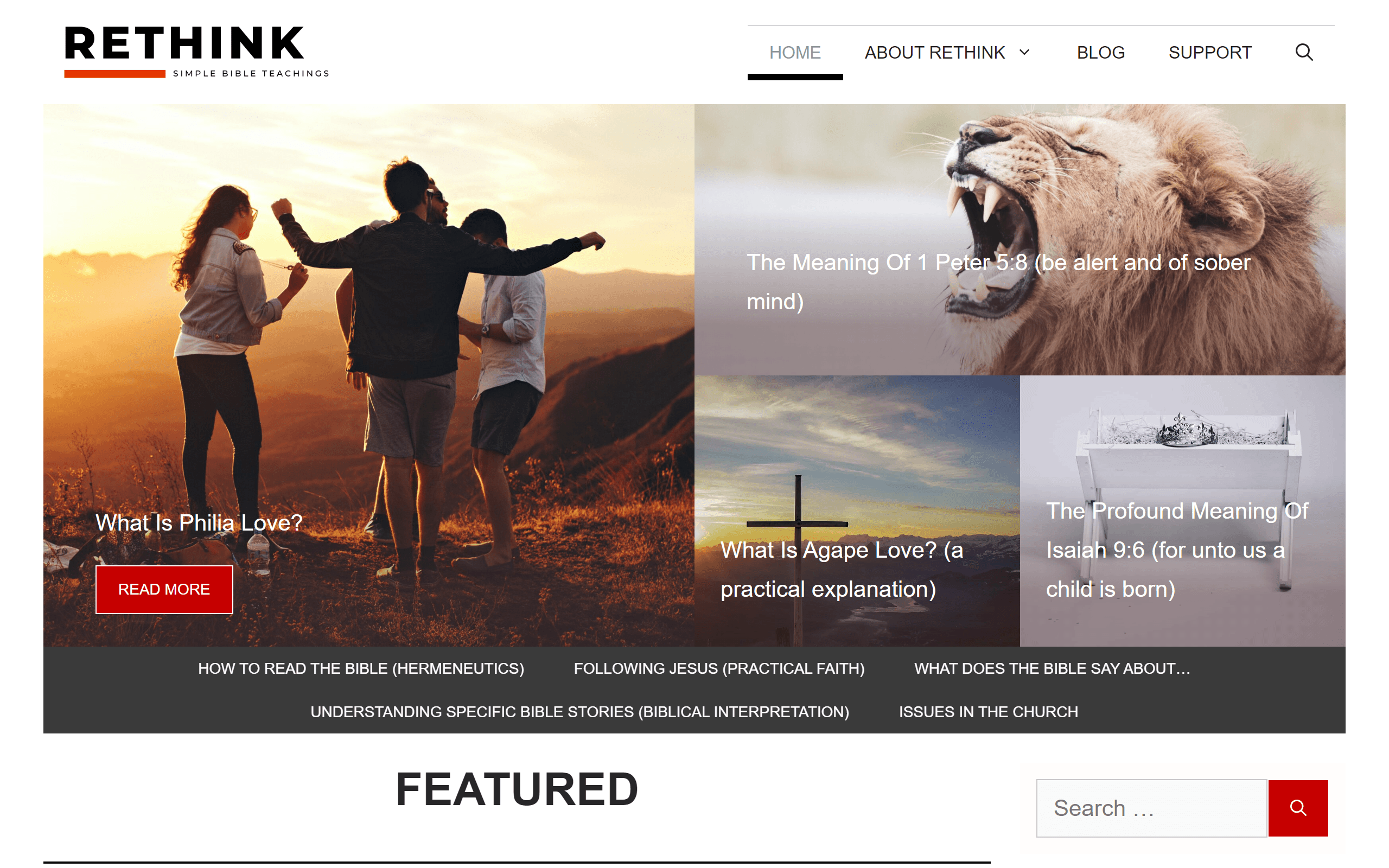 Rethink is one of the best Christian blogs created by a pastor to help people learn from the Bible in their daily lives. He has been a pastor for over 12 years and has degrees in studying the Bible. This experience led him to start Rethink with the goal of making Biblical topics easy to grasp.
The blog uses his expertise from years of ministry and education. It aims to help readers follow God's word better. It also wants readers to strengthen their faith through clear Bible teachings.
Russell Moore is a prominent evangelical leader and writer. As former head of the Ethics and Religious Liberty Commission of the Southern Baptist Convention, he showed strong advocacy for religious freedom.
Moore is also editor-in-chief of Christianity Today magazine and a professor as well as an active podcaster. He brings significant scholarly expertise and governmental experience to addressing issues at the intersection of church and society.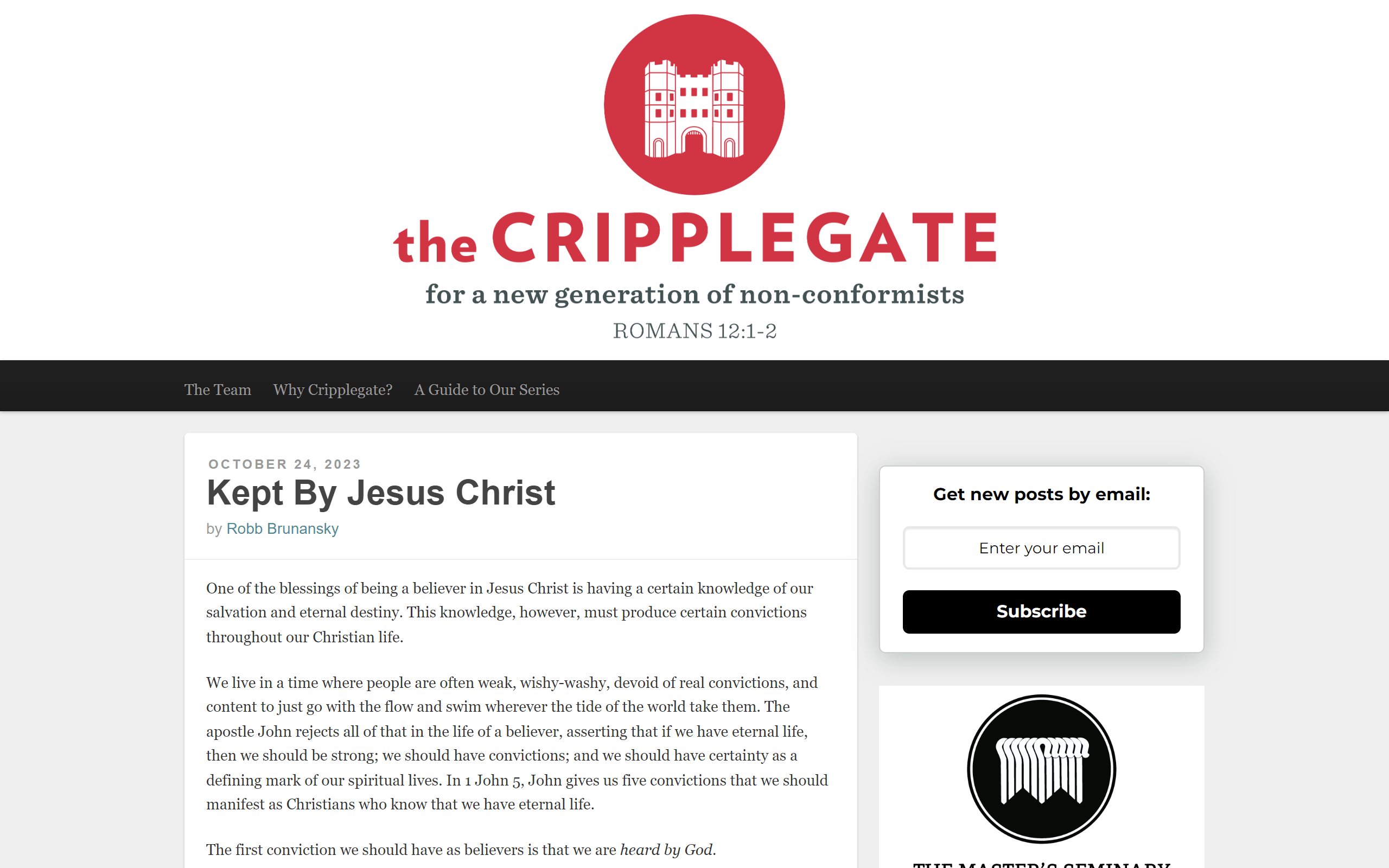 The Cripplegate is a blog with top Christian bloggers dedicated to equipping and encouraging believers to joyfully proclaim the superiority of Christ.
Run by pastor Kyle McDaniel and hosted on the website of Grace Community Church in Tennessee, the blog aims to present articles and commentary that uphold Scripture accurately. With a name referring to those suffering physical difficulties, the Christian bloggers seek to minister to Christians regardless of ability or struggles, pointing all to the sufficiency of the gospel.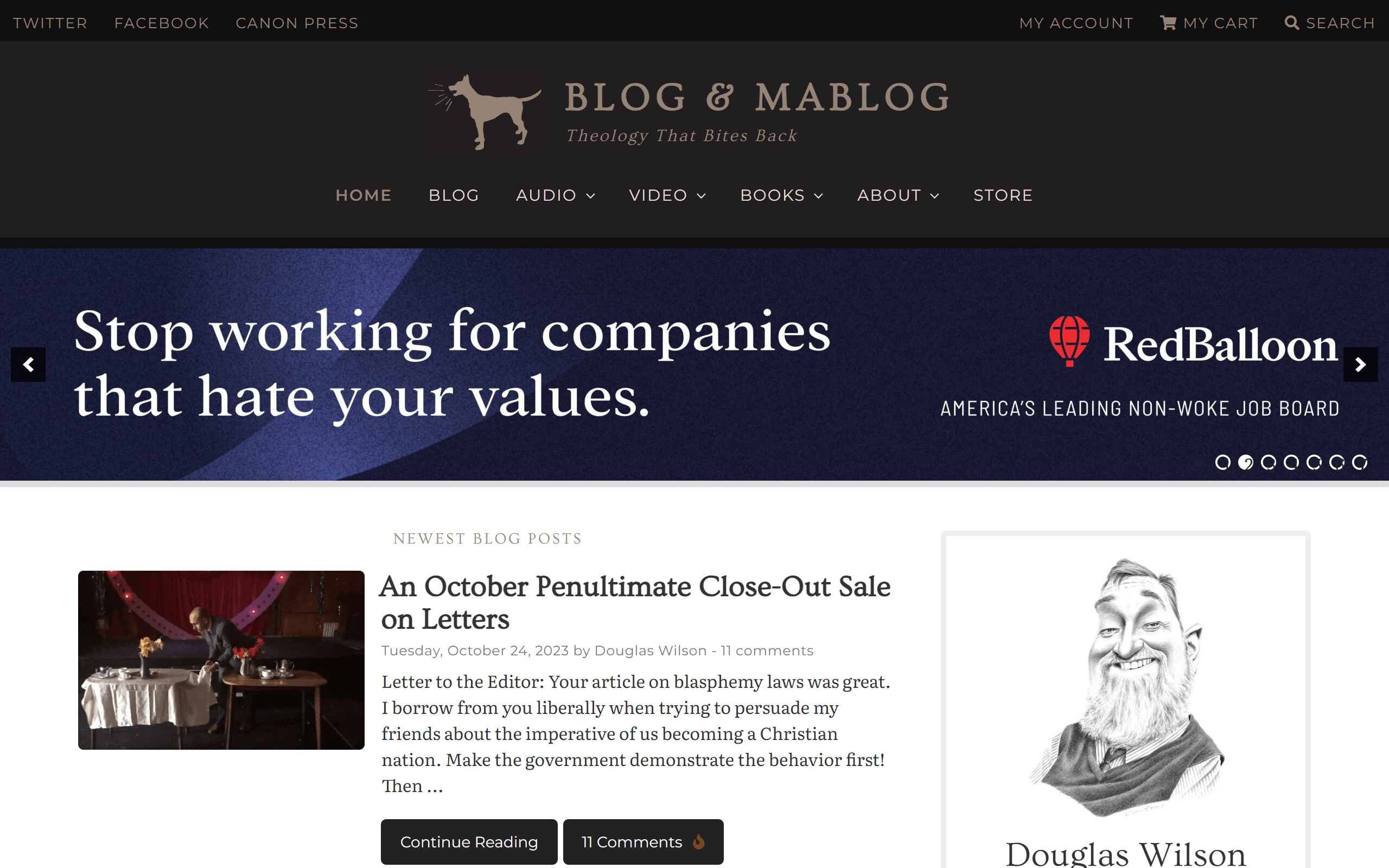 Blog & Mablog is a theological blog written by Douglas Wilson, a pastor and author.
With a name referencing Old Testament prophecy, the blog explores Christianity's relevance for all areas of life through Wilson's distinct "Chestertonian Calvinist" lens. Posted several times weekly, topics include theology, education, culture, politics, and other issues addressed with humor and an unapologetic Reformed perspective. The aim is to thoughtfully advance these views and engage timely topics, applying Scripture comprehensively as "all of Christ for all of life."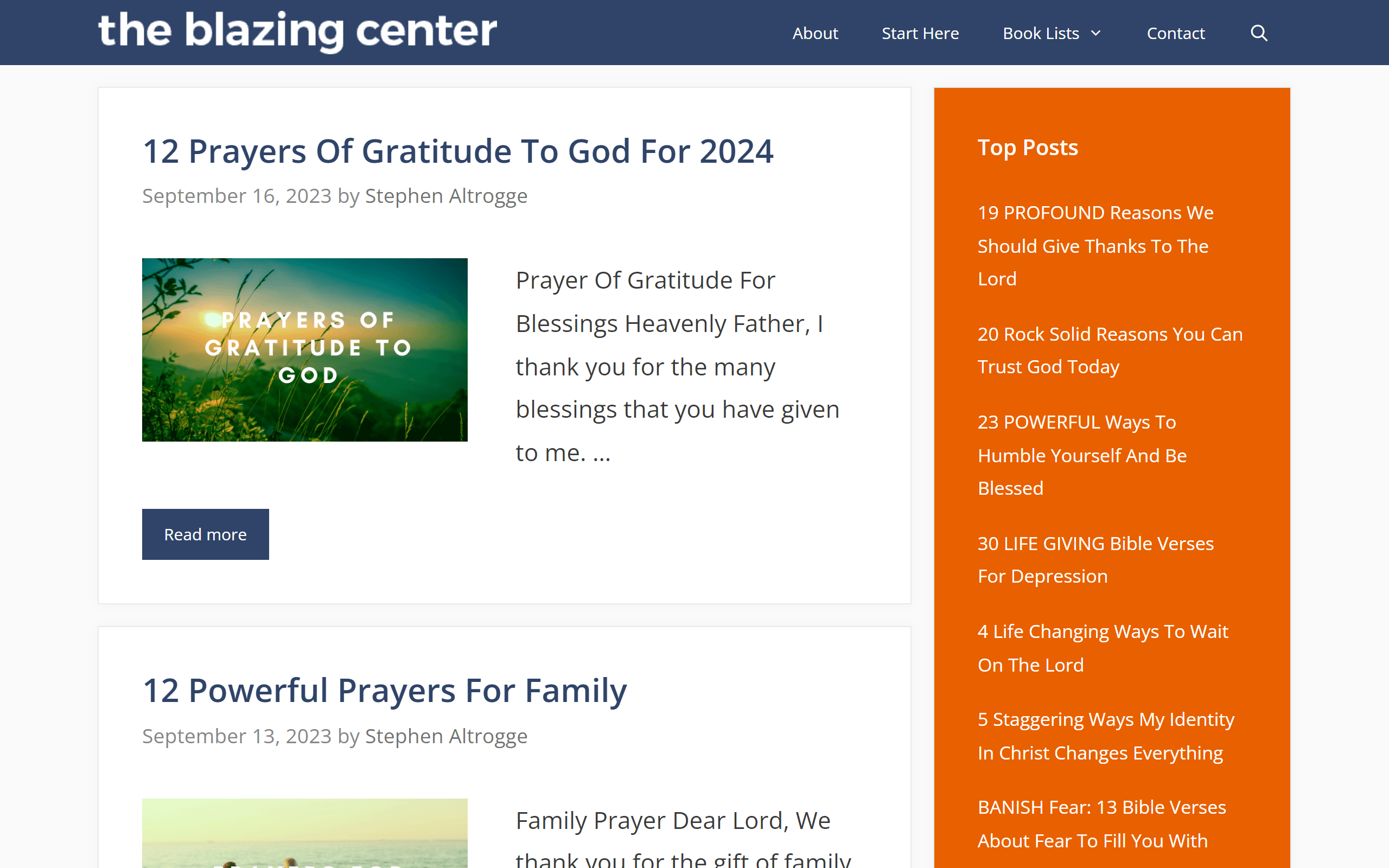 The Blazing Center is a blog created by Stephen Altrogge, who also regularly contributes articles along with other writers. Taking a fun, conversational approach, the blog aims to discuss Christian faith within everyday life experiences.
By sharing about parenting, pop culture interests, and more through a lens of biblical insight, The Blazing Center is one of the Christian blog sites that brings relevance and humor to exploring what it means to follow Christ in the modern world.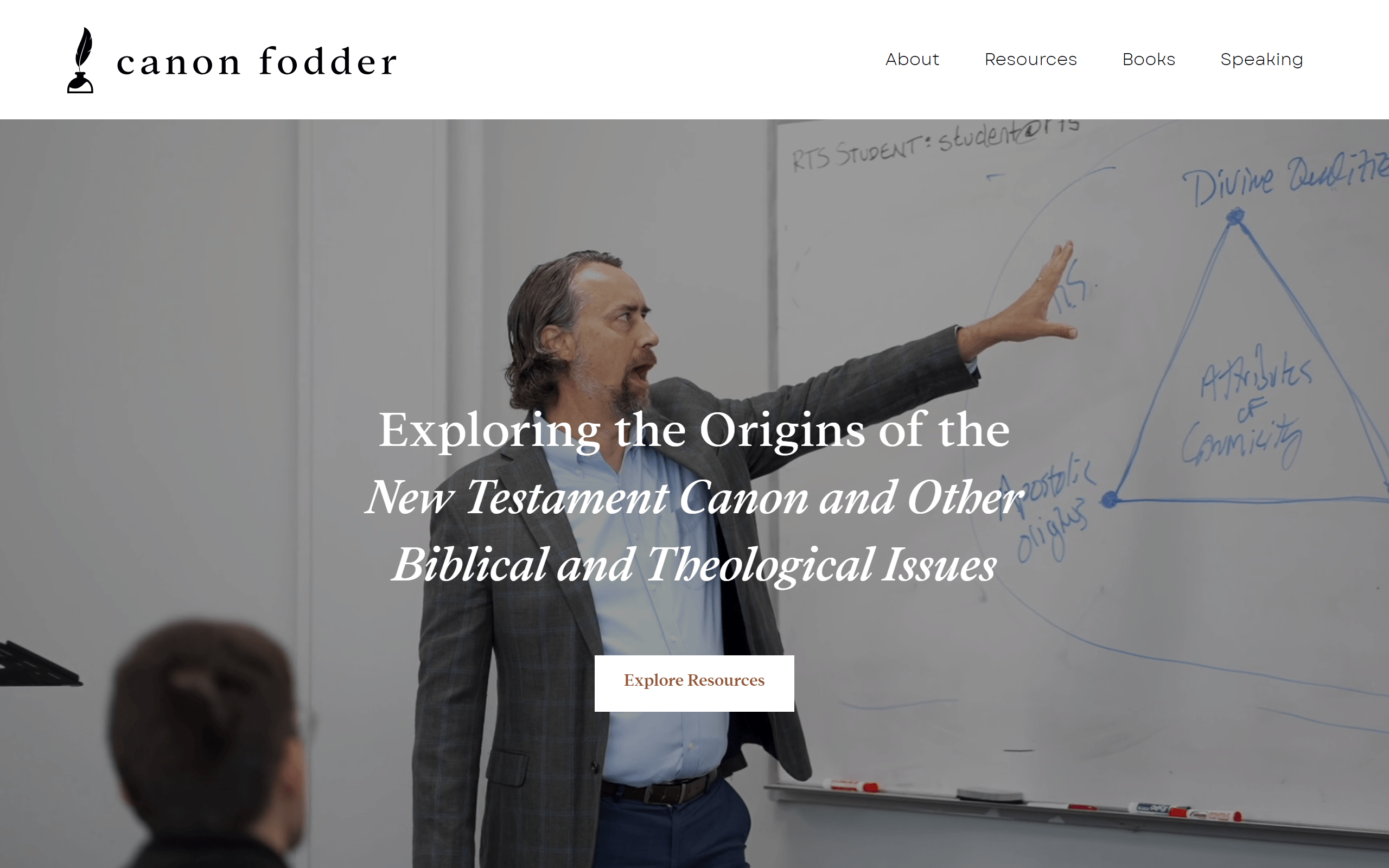 Canon Fodder is Dr. Michael Kruger's blog. He teaches about the Bible. As a Bible expert, he writes about where the Bible comes from.
Dr. Kruger uses what he learned to talk about faith and learning. His goal is to help Christians with good talks. Under him, Canon Fodder became a big place to look at the Bible's power. Readers learn from his blog post ideas about belief and life. He ties faith ideas to real life things. Dr. Kruger explains important topics that are easy to understand.
Courageous Christian Father is Steve Patterson's blog. He writes about being a dad. Steve shares stories of raising his daughter and step-sons in an easy way.
From helping with church groups, he gives support for parenting with faith. Steve shares what's hard and good, using the Bible. He wants to encourage dads guiding their families to follow God. Readers learn practical tips from Steve's experiences. They see dad things they can relate to. His blog gives help and insights to fathers leading their home in faith.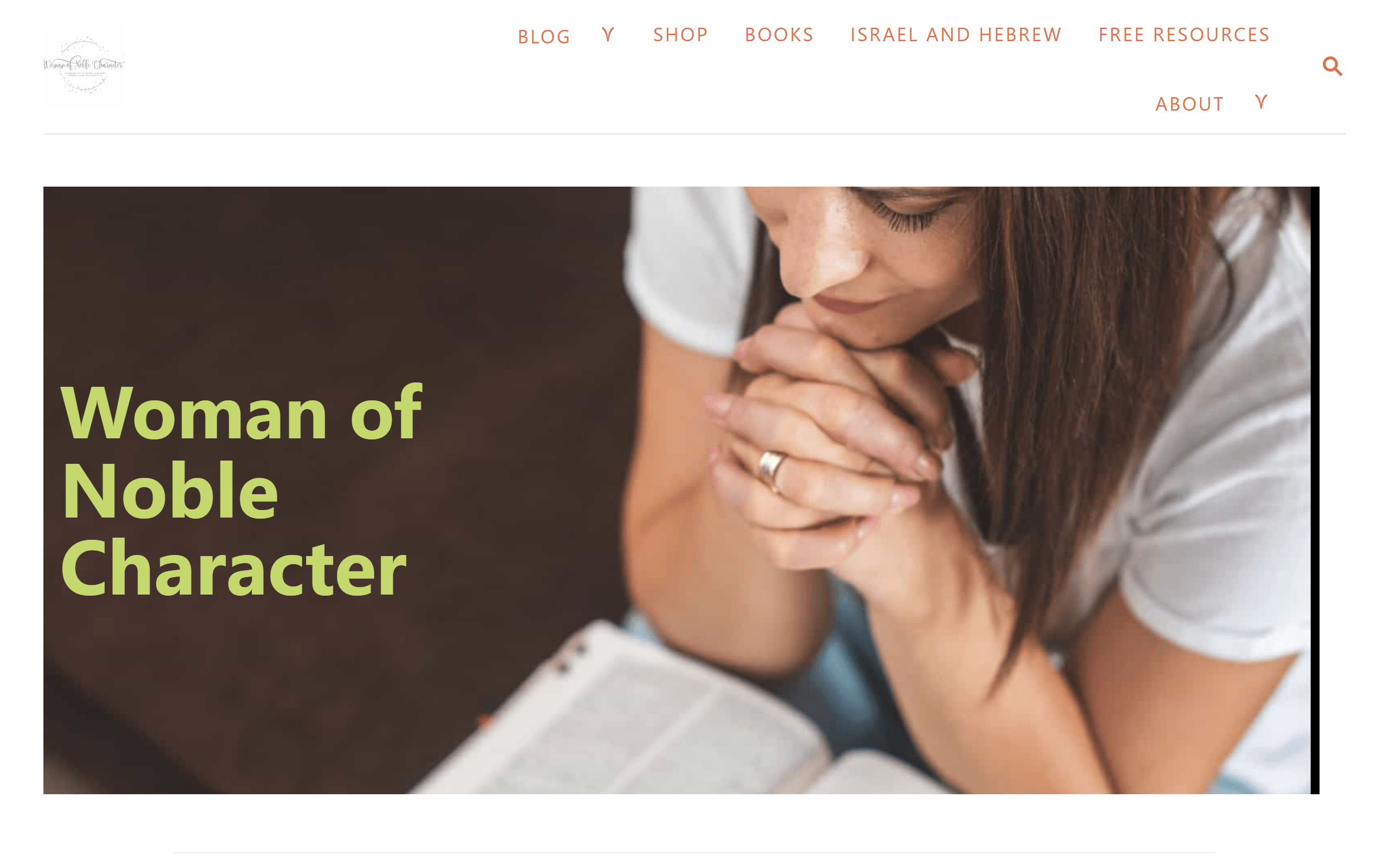 Woman of Noble Character is Susan Nelson's Christian blog. She shares her experience becoming a believer later in life. Inspired by Proverbs 31, Susan writes to deepen others' faith.
Susan draws from Bible study and life lessons. She aims to practically apply Scripture's wisdom. Readers learn from Susan's informal yet insightful perspective on spiritual growth. Motivating faith through everyday godliness, Susan serves as a relatable example. Her blog nourishes those pursuing intimacy with Christ. This is definitely one of the Christian blog sites you need to follow.
9Marks with its top Christian bloggers aims to help churches thrive through focusing on nine biblical marks of a healthy church, like faithful preaching and membership.
They create many resources including books, articles and podcasts to equip pastors toward this goal. Resources are also translated globally to assist international churches. 9Marks' goal is renewing and reforming local congregations according to the gospel through practical advice and training resources.
Church Answers supports church leaders. With years of experience, founder Thom Rainer provides guidance on topics like growth, health and leadership. Leaders can access free resources, customized help and a community platform. Rainer draws on roles including professor, consultant for many churches, and author. The goal is equipping pastors to help their congregations thrive through challenging issues.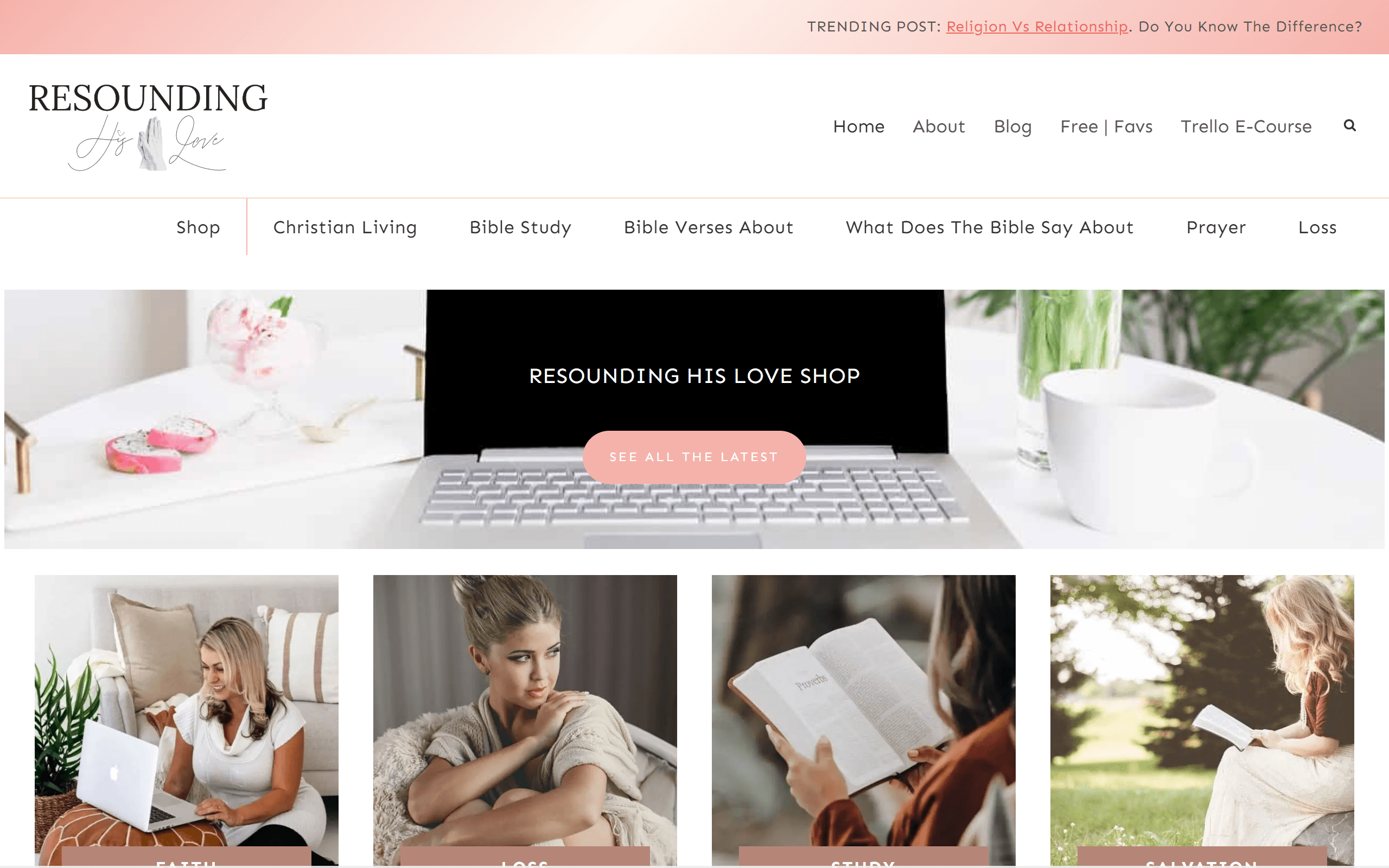 Resounding His Love is a blog by an author passionate about sharing how Jesus transforms lives.
She writes openly about her own story to help others facing trials. Through vulnerable posts, she aims to encourage faith over sight—relying on God especially in hard times. The blog hopes to guide women into deeper trust that allows God's leading, even amid struggles. By planting seeds and letting Him work, her goal is non-believers accepting Christ and all growing closer to Him as troubles draw us nearer to His care. This is one of the most inspirational Christian blogs out there.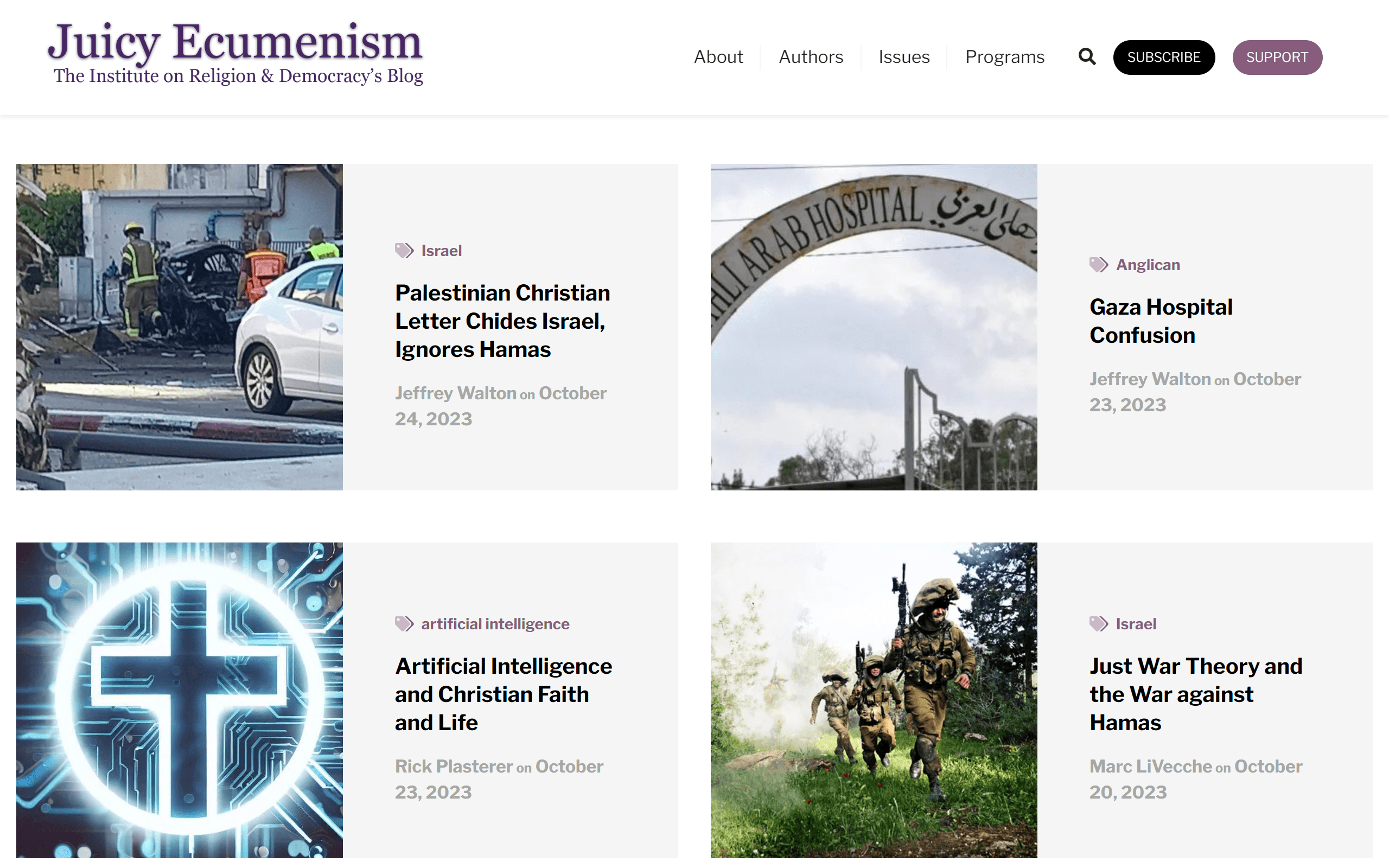 Juicy Ecumenism is a Christian blog that addresses intersections of faith, culture and public issues. It promotes discussion between diverse Christian views.
The platform shares perspectives outside typical denominational lines. By publishing articles, the blog aims to further understanding between faiths and demonstrate unity within diversity in the church. It curates nuanced, solution-focused dialog on topics key to faith communities.
Denny Burk is also among top Christian blogs that offers commentary on a wide range of topics through theology, politics, and culture lenses.
As a Boyce College theology prof and pastor, he started blogging in 2005 to connect God's revelation across disciplines. Usually focusing on theology and current events, Denny also discusses college football and whatever piques his interest. With an informal yet insightful tone, he comments on life's diversity - as messy as a hodgepodge. Denny's engaging perspective and wit makes for an enjoyable read whether agreeing or differing on issues.
If you were looking for the best religious blogs, you need to follow this website. Randy Alcorn's blog details his faith journey in ministry and activism.
An author and founder, he reflects on theology, culture and social issues through engaging storytelling. Readers learn of challenges like abortion lawsuits that led to his ministry's founding. Alcorn finds God faithful amid hardships. His down-to-earth sharing of wisdom from experience uplifts and motivates audiences.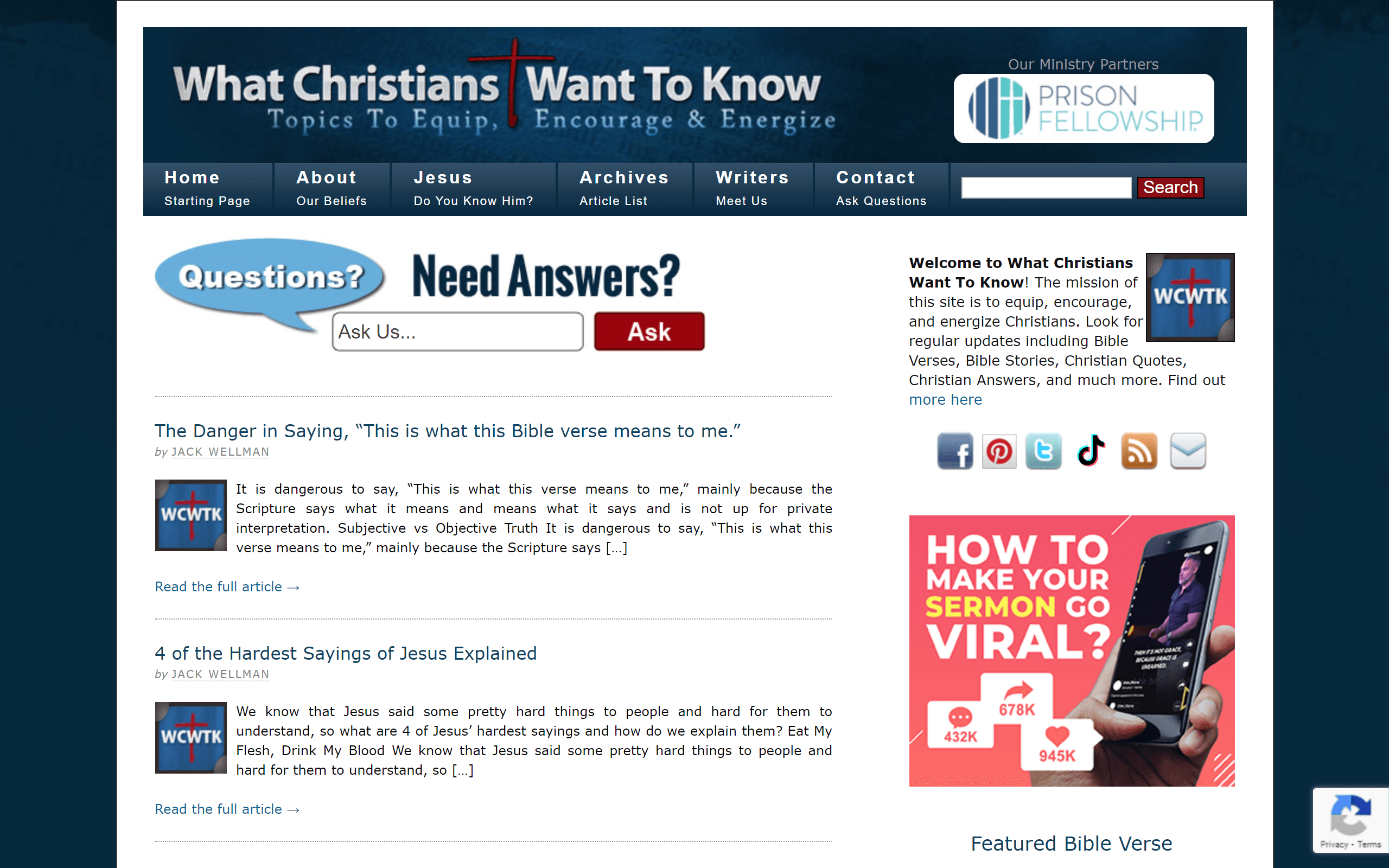 What Christians Want to Know is one of the best Christian blog sites answering common faith questions to equip believers.
Writers from various backgrounds rely on scripture to encourage growth in Christ. The mission is to be a trusted source within the Christian community by discussing highly searched topics. Core values include unity, fellowship and spreading the gospel. Beliefs expressed center on essential doctrines like Jesus' divinity and salvation through His sacrifice. The resource aims to strengthen the faith of Christians.
Reformation 21 is a blog that shares stories about religion.
It talks about important Bible doctrines and how to live the Christian life. Writers try to start good conversations and give new ideas. Different authors write about God, culture, and life issues. They help the church use timeless Bible truths today. Pastors, teachers, and students contribute different voices united by key beliefs in Scripture alone and grace alone. In a friendly but serious way, Reformation 21 works for reform in Christian thinking and doing.
Mere Orthodoxy shares Christian ideas online. It offers wisdom during uncertain times.
Writers follow the Bible and church teachings on God. They treat people nicely instead of being angry. Articles talk about leaving church, politics, and technology. Amid worries, content spreads hope in God's control, not fear. Different voices agree on truth over opinions. Original stories online influence thoughts away from extremes. This blog calls believers to calmly trust God through changes.
Gospel Relevance is a blog with top Christian bloggers that shares resources for faith.
The writer aims to help Christians grow through articles focusing on God's grace. As a church leader and author, he wants to reach believers and non-believers alike. Two free eBooks are offered to email subscribers, along with weekly posts. Readers learn from sections on theology and life issues. The site connects people through social media too. Overall, the goal is giving tools for gospel-driven lives through thoughtful pieces grounded in scripture.
Bart Ehrman's blog shares academic knowledge about Christianity's beginnings in an accessible way.
As a religion professor, he aims to inform all backgrounds. Posts cover Jesus, the New Testament and early church. Membership offers extras and supports charity. Bronze gets over 5,000 articles. Silver adds discussions. Gold includes audio versions. Platinum offers special webinars. However viewers join, they gain insights while helping people in need.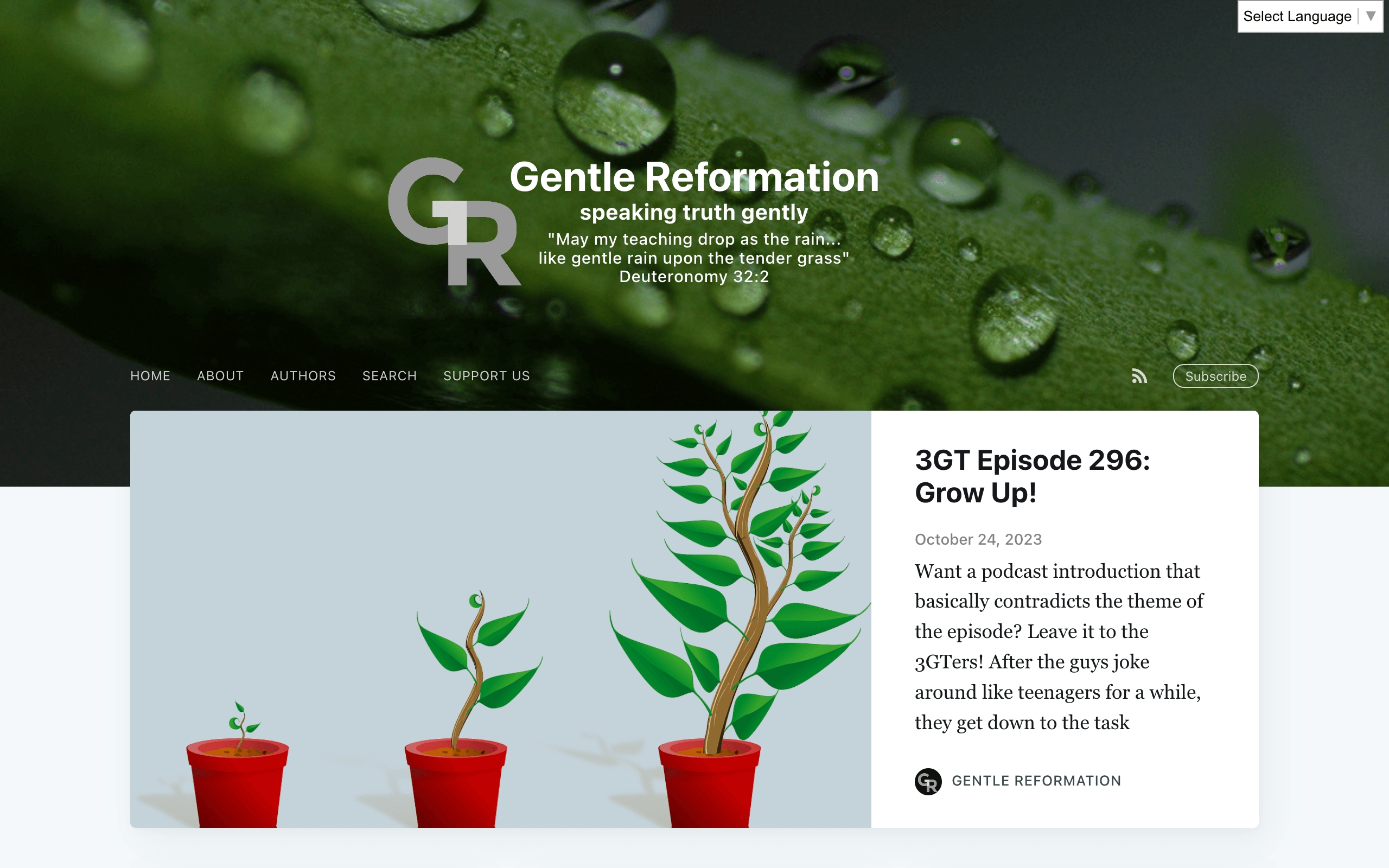 Gentle Reformation is among the religious blogs that are focused on sharing the gospel message.
Writers hope to start thoughtful discussions, not arguments. As fellow believers in Reformed theology, they see each other as equals depending on God's grace. Articles speak to ordinary church attenders as much as religious leaders. Working together online, this group spreads the good news of Jesus persuasively and kindly. While faithfully warning about false teachings, Gentle Reformation aims to do so respectfully. Their goal is strengthening faith through understanding God's word in relevant ways.
Gospel-Centered Discipleship supports Christian growth.
They provide resources on making, maturing and multiplying Jesus' disciples. Articles focus on following Christ through his grace, not rules. While salvation comes from the gospel, believers don't always keep it central. Returning daily to God's forgiveness renews life. Their team addresses gaps in discipleship and church teachings. Approachable discussions grounded in scripture strengthen faith in Christ.
Deep Spirituality is one of the best Christian blogs that aims to help seekers experience God personally.
They produce content making spirituality accessible without religion's rules. Resources like devotionals, videos and podcasts help strengthen faith regardless of beliefs. The goal is growing closer to God through deepening one's own relationship with Him. Tools invite discovering spirituality's power to transform both individuals and the world, as Jesus did. Their material welcomes exploring faith's potential for change from within.
Aaron Armstrong shares how he came to faith. In college, God powerfully met with him. This experience led to features on Christianity Today and 100 Huntley Street.
Now Aaron writes and leads ministry to encourage people in their relationship with God. He also helps the church through his work with a publisher. When not teaching or mentoring others, Aaron enjoys exploring different topics of interest to readers. He talks about faith in a way that is engaging and shows its importance in life.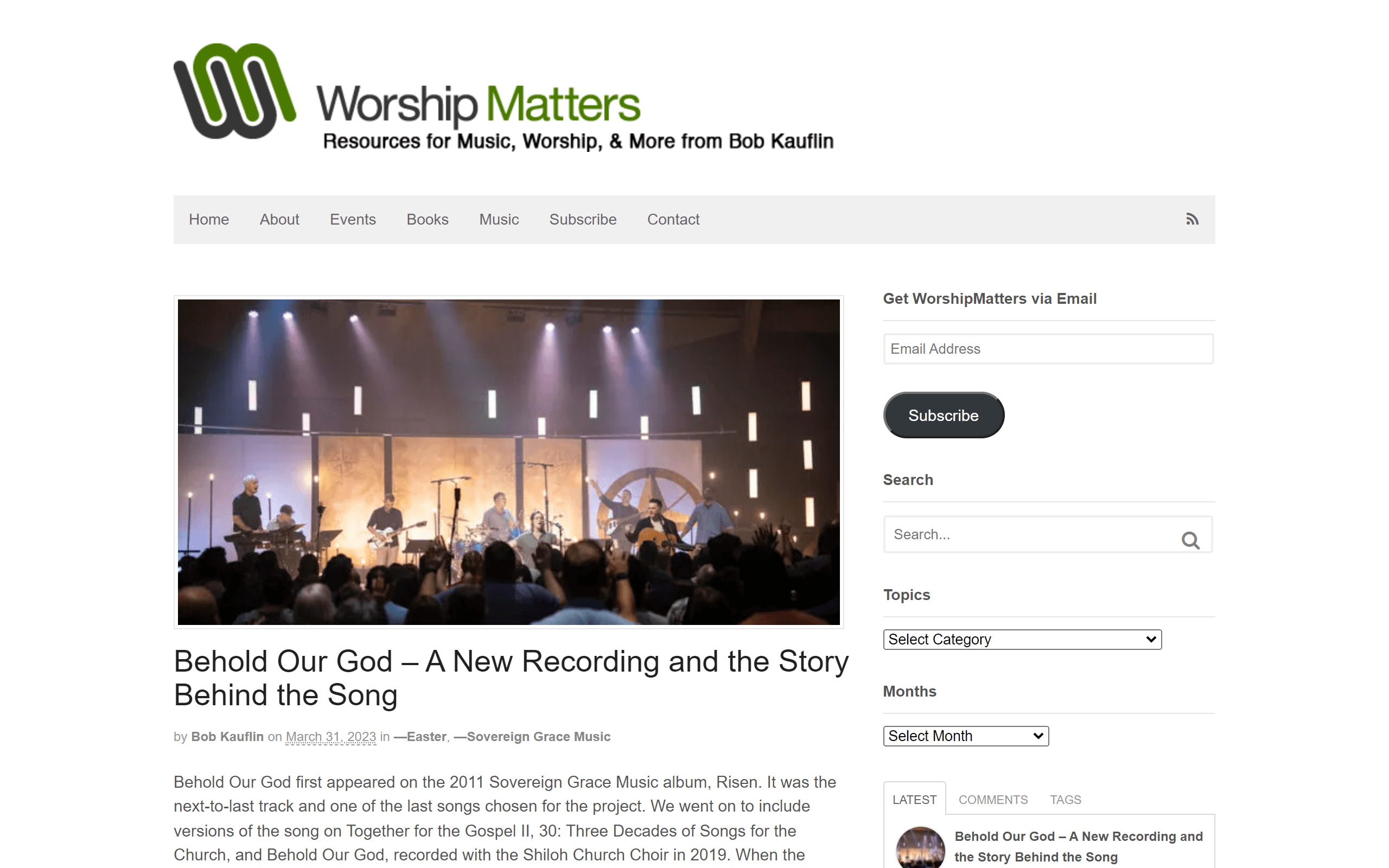 Worship Matters aims to equip churches through music. Led by Bob Kauflin, it supports Sovereign Grace Churches and oversees worship albums. With years in ministry, Bob knows the important connection of doctrine and practice.
Once planning missionary work, God redirected his path through Campus Crusade sharing. Now he guides others in spiritual growth while also faithfully serving at Sovereign Grace Church of Louisville with his family of six married children and 22 grandchildren. Clear worship tools and encouraging discussions help readers praise the Lord!
American pilot Ryan Koher returns home after a year of false charges overseas. Flying aid flights for MAF in Mozambique, he and two others were wrongly accused of aiding insurgents. Held over five months in a maximum security prison, Koher and the men strongly denied the allegations.
Through it all, his Christian faith sustained him until cleared to finally reunite with his family in the US.
Life.Church is one of the finest Christian blogs that believes the whole church can reach the world together. Their Open Network freely shares resources, training, and apps with any church to help more people follow Christ.
Started by Craig and Amy Groeschel, it grew from a garage to multiple campuses using innovative technology. Values like generosity and doing anything 'short of sin' to reach the unreached motivate partnership, believing together they can accomplish more spreading the Gospel globally.
The Council on Biblical Manhood and Womanhood (CBMW) supports what the Bible teaches about gender roles.
They help churches by saying men and women are equal and important, but also have different roles. CBMW believes the Bible's authority and healthy families/churches depend on these roles. They think disobeying gender roles could hurt spreading the gospel. If churches don't follow the Bible's roles, people may not obey other teachings either.
Boundless is one of the rare religious blogs that assists young adults through life's transitions. A ministry of Focus on the Family, helps this season of opportunities and choices feel less boundless.
Boundless encourages honoring God in all aspects like growing up, owning one's faith, dating purposefully, and preparing for marriage and family. Resources like articles, podcasts, and community aid navigation to maximize these years through biblical wisdom and intention.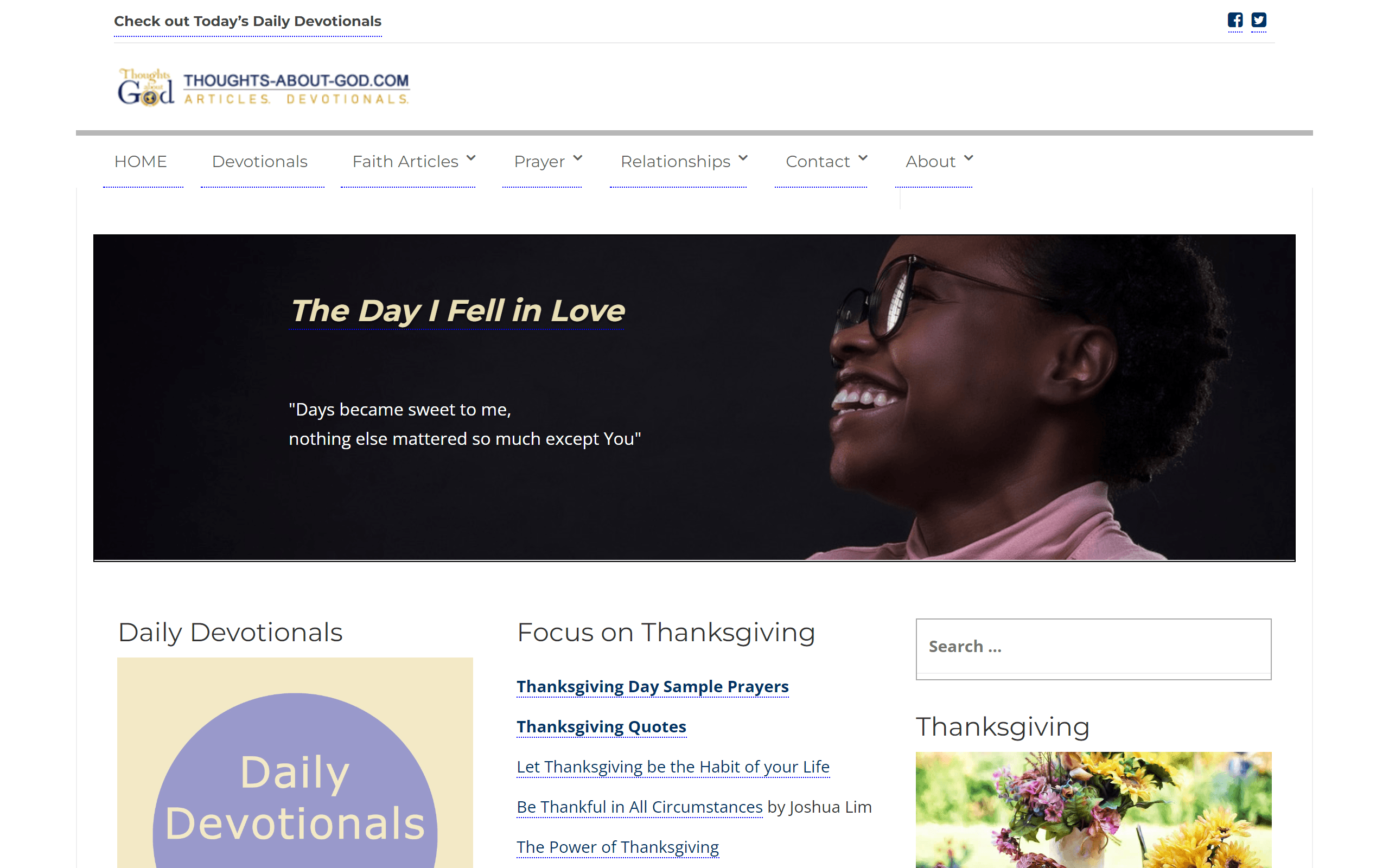 Thoughts About God aims to help all people grow closer to God.
Founded by Marvin and Katherine Kehler, its mission prays content and mentors inspire readers on their spiritual journey. Believing an emptiness exists in every heart only God can fill, articles introduce Jesus and teach obeying and knowing God through His Spirit's power.
The website fulfills purposes of walking in God's power, inspiring obedience to Him and introducing people to His Son for a closer relationship with their Creator.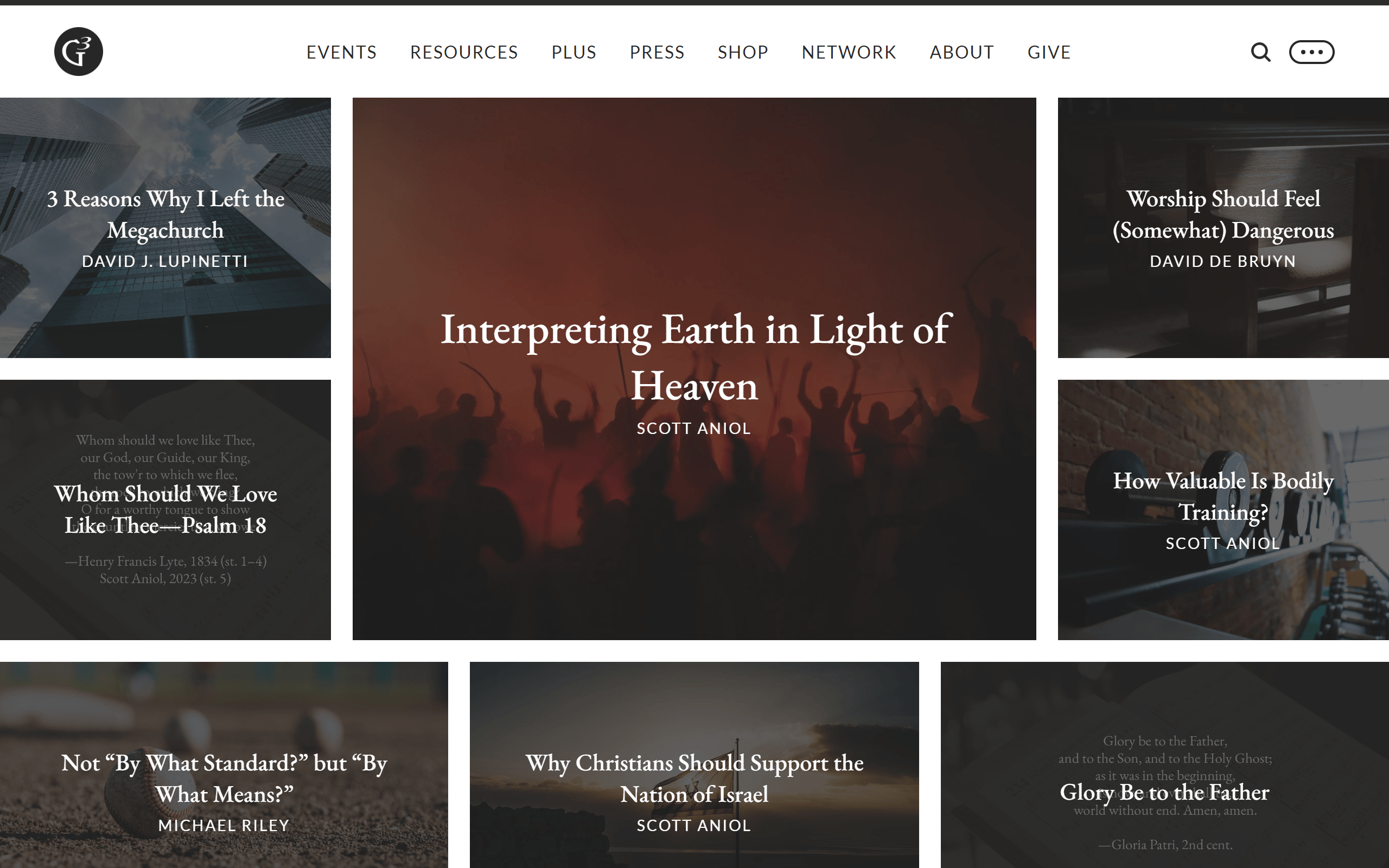 G3 Ministries was started by Dr. Josh Buice to help churches through investing in pastors. Beginning with a theology conference emphasizing God's Word over pragmatism, G3 has grown exponentially.
What began as a 750 person event is now a 6,500 person national conference. Expanding beyond the annual event, G3 now offers churches worldwide articles, podcasts, preaching/worship workshops and curriculum - all to educate, encourage and equip local churches with sound biblical theology for God's glory.
Red Letter Christians is one of the best Christian blogs. It aims to unite people around fully following Jesus and his teachings about justice.
It began as authors and pastors like Tony Campolo discussing issues. They want Christianity to focus more on Jesus and helping poor and marginalized people like he did. Red Letter Christians tries to change views of faith and politics by spreading stories of real people living like Jesus.
Their goal is for churches to return to truly loving and serving others as Jesus loved and served.
Women of Faith is a Christian blog that aims to encourage and equip Christian women through challenges in life.
Its leader found Jesus redeeming her own difficulties unexpectedly. She wants WOV to support all women as they grow spiritually stronger and develop deeper relationships with God. WOV believes empowering this relationship allows women to fulfill greater purposes beyond their imagination through community and living as Jesus intends. It works to inspire women of diverse backgrounds to discover their God-given lives.
Levaire is one of the Christian blogs that offers Christian content across multiple topics. They provide biblical teachings, prophecies, and apologetics. Their team researches important issues and shares easy-to-understand lessons. Levaire's websites attract thousands of visitors each month seeking spiritual guidance and answers to their questions about faith. They hope that through their efforts more people come to understand God's incredible love and salvation plan.
The Bible Gateway Blog, one of the best best Christian blogs out there, shares new Bible-related posts weekly. Readers learn about Scripture through author interviews and Bible Gateway updates. Guest writers from an evangelical view discuss different topics. They use a friendly tone to help people understand and like reading the Bible more. Comments allow online discussions between readers.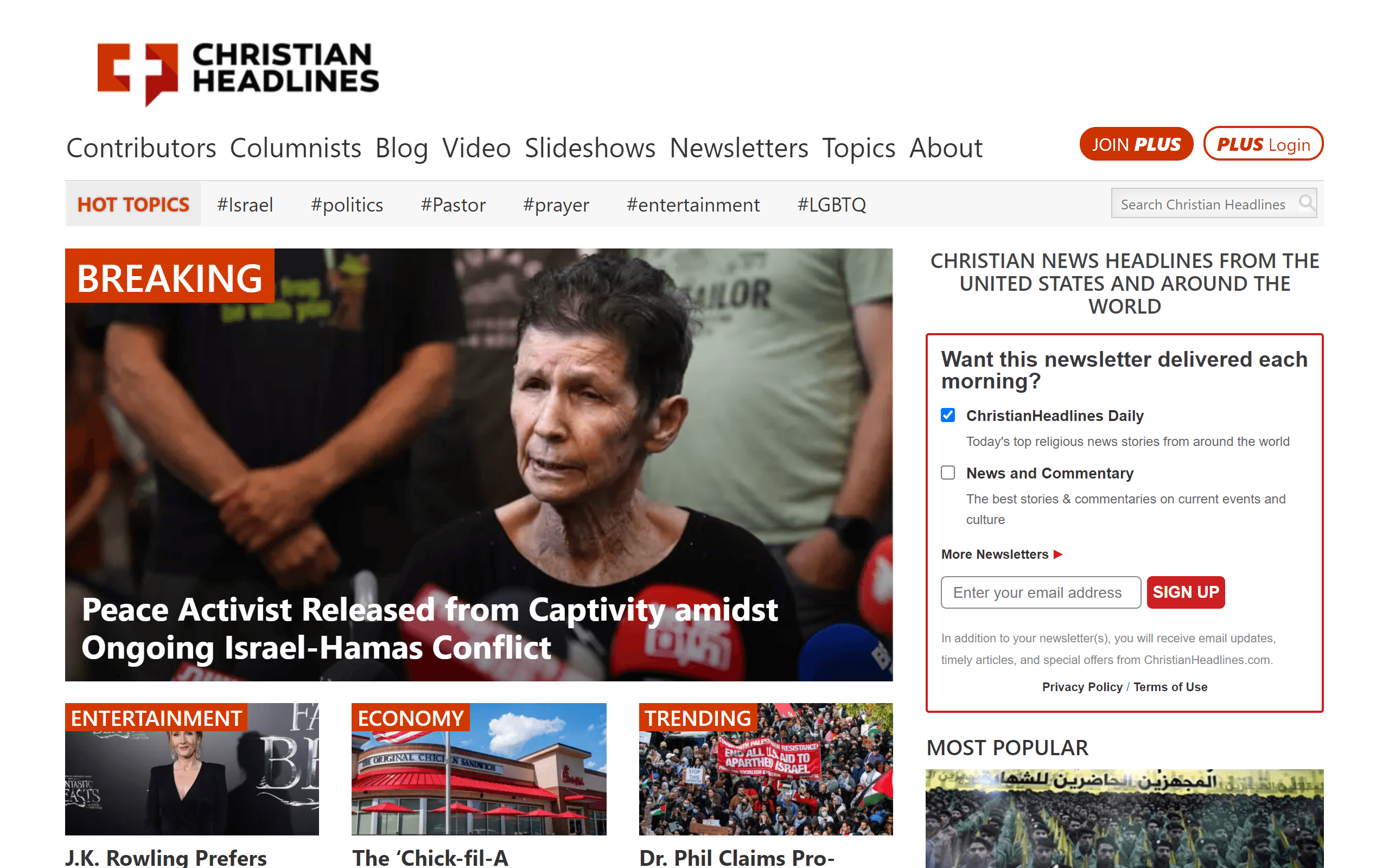 Christian Headlines is one of our favorite Christian blog sites to check everyday for the latest Christian news.
Their writers do a great job of covering trending stories and opinions that matter to followers of Christ. Whether it's breaking news stories or thought-provoking columns, we appreciate how they analyze major issues from a biblical perspective. It's also nice to hear different voices through their network of contributors.
Cold Case Christianity is one of the most unique religious blogs that examines how a homicide detective uses evidence-based investigation to explore Christian faith.
Led by J. Warner Wallace, their approach looks at biblical claims the same way unsolved cases are handled. As a former atheist and law enforcement veteran, Warner brings unique expertise. Through books, events and media, Cold Case Christianity equips people with investigative tools to build confidence in Christianity's truth. Their work has enlightened many seeking answers in a thoughtful, accessible way.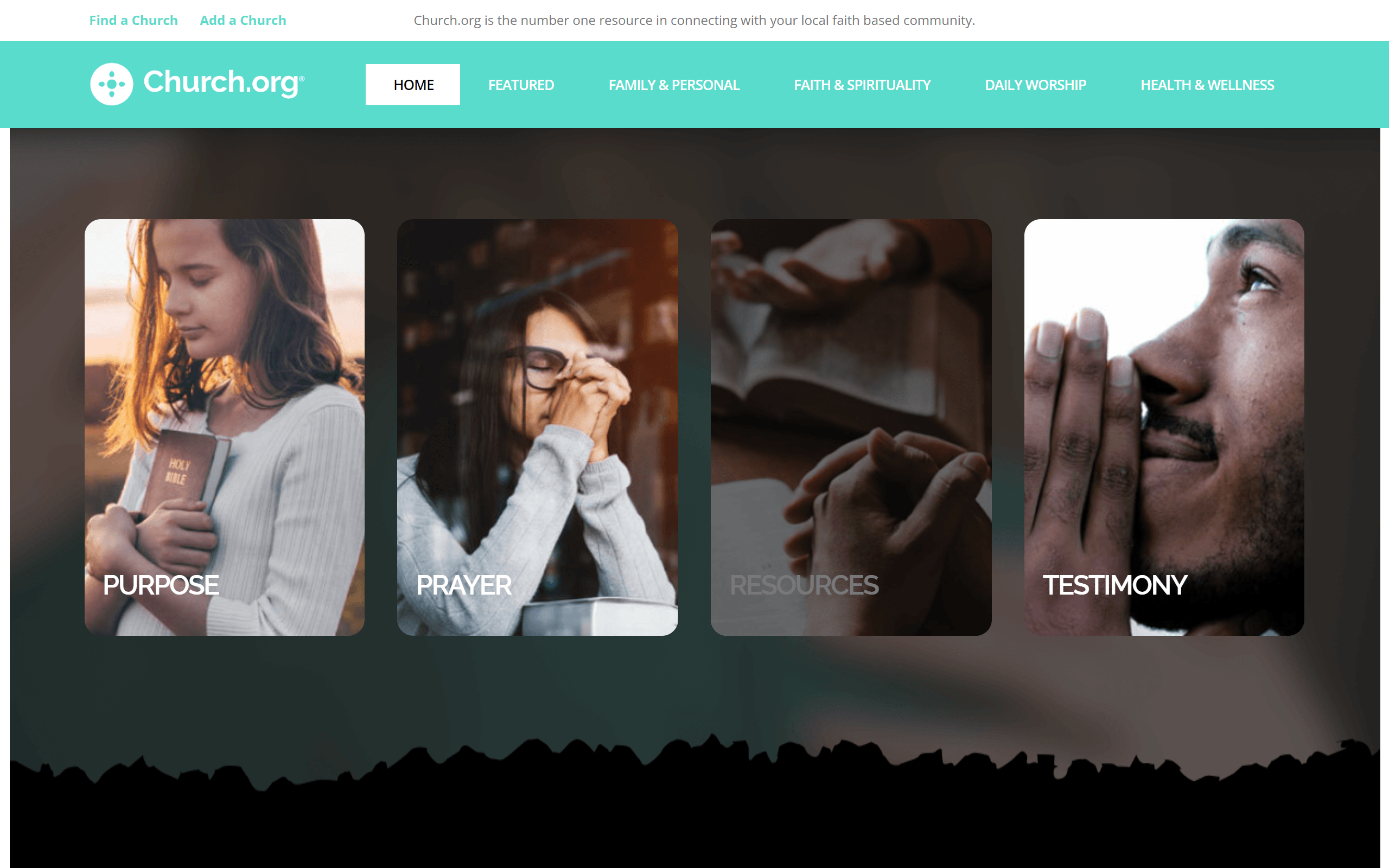 Church.org makes it easy to find and connect with local faith communities. This website is among popular Christian blogs for a reason.
As the one of the top Christian blogs, they give both churches and individuals useful tools. People can search their large database to visit congregations near them. Individuals can also submit prayer requests, testimonies, and praise, allowing the online community to provide support. It's a great central hub whether you're looking for an in-person church home or want to share prayer needs with others.
Conclusion
The journey of faith is lifelong but growing closer to God becomes sweeter with experience. While obstacles will arise, staying connected to spiritual community smooths the path.
We encourage you to explore Christian blogs and see how others' faith stories stir your own.
Connecting virtually alongside local churches maintains revival wherever life may lead. Digital doors also open for those lacking in-person groups, finding support nonetheless.