Starting an online store? It's a whole mood! But when it comes to jazzing it up with the right design, things can get tricky. Yep, choosing the right among the vast number of WordPress eCommerce themes can be like hunting for that elusive pair of shoes - they need to look snazzy but also need to be super comfy (or in this case, user-friendly). But hey, no more theme-scrolling till your eyes blur. We've got your back! Dive into our handpicked list of the best eCommerce WordPress themes for 2023. Let's give your online store the glow-up it's been waiting for!
🏆 How We Picked the Best WordPress eCommerce Themes
Design and Aesthetics - The theme needs to have an attractive, professional, and responsive design that sells products effectively on different devices.
Features for Selling - We prioritized themes with robust product galleries, shopping carts, checkout flows, and other core eCommerce features.
Customizability - Themes allowing free and extensive styling without coding are preferable for buyers to shape their brand individuality.
Performance - Themes must load quickly, be optimized for mobile speed, and not harm Google rankings or conversions with slow sites.
Support - Active developer support is important in case buyers have customization or technical questions down the road.
Integrations - Strong compatibility with popular WordPress plugins like WooCommerce, analytics, and other seller tools is a big plus.
Price - While quality isn't defined by cost alone, affordability allowed us to add more budget-friendly yet still powerful options.
Reviews - User feedback, star ratings and case studies help validate theme quality beyond just promotional claims.
Current Development - Themes with recent rule updates ensuring compatibility with newest WP/WC versions.
🤝 Why You Should Trust Our Recommendations
Extensive Experience: As a ThemeForest leader since 2015, CodeSupply Co. has years of development experience to evaluate quality effectively.
Proven Track Record: With over 20k sales across 20+ themes, CodeSupply's successful track record on ThemeForest speaks to delivering value.
Top Author Status: As a Power Elite Author with only 154 others earning this status, CodeSupply passes stringent performance thresholds.
User Ratings: Boasting a top 5-star average rating from hundreds of reviews, actual buyers validate CodeSupply's commitment to support.
Best Sellers: Top themes like Authentic consistently outperform others, further proving their optimization for high sales conversions.
Continuous Improvement: CodeSupply is actively developing new themes and updating old ones to keep pace with emerging technologies.
Unbiased Reviews: Unlike affiliates, our recommendations are based on factual analysis not financial incentives to promote any one vendor.
Expert Testers: Our team rigorously trials all themes on multiple live shops to uncover any issues usually missed in idealized demos.
Customer Focus: CodeSupply prioritizes helping buyers succeed with their themes through documentation, services and responsive help.
What is an eCommerce WordPress Theme?
Alright, let's break it down. Imagine you're about to open a physical store. Before you welcome customers, you'll spend some time setting up the interior, making sure everything looks on point, right? In the digital world, an eCommerce WordPress theme does just that for your online store. It's the virtual decor, the layout, and the overall vibe of your shop.
These themes aren't just about looks, though. They come packed with features tailored for selling stuff online. Whether you're all about the latest fashion, passionate about quirky gadgets, or even plotting a mega online marketplace where multiple sellers come together, there's a theme tailored just for you. And here's the cool part: they're built to gel with big-time plugins. We're talking WooCommerce for the online shopping magic and tools like Elementor and WPBakery Page Builder for when you want to get your hands dirty customizing every nook and cranny.
So, in a nutshell? An eCommerce WordPress theme is like the DNA of your online store. It defines how it looks, feels, and functions. If you're eager to make some digital sales and impress your visitors, choosing the right theme is step one.
What to Look for in a WordPress eCommerce Theme?
A WordPress eCommerce theme should not merely be a container for your products but a strategically designed pathway that intuitively leads users from first glance to final purchase. You deserve more than 'meh' and 'just okay', right?
🚀 Versatile Demos and Templates
Check out themes that shower you with a plethora of demos and templates. It's not just about looking good - it's about finding what fits! Themes like Shopfront and Cascade bring a bouquet of choices to the table, making sure you're not building from zero.
🎨 Flexibility and Customization
Your brand's unique - and your store should be too! Themes like Gaelle and Clotya offer fabulous customization options, giving you the freedom to flaunt your brand personality vibrantly and uniquely.
🛒 Smooth User Experience (UX)
Ensure your customers sail smoothly through your store. Marketo guarantees a user-friendly experience while meshing stylish design with slick UI features, and ensuring your customers don't just shop, but enjoy the voyage!
🤝 Multivendor Functionality
Scaling the business seas means expanding horizons. A theme that's friendly with multivendor plugins like Dokan ensures your eCommerce ship sails steadily, even as you bring more vendors aboard.
🛠 Robust Support and Updates
No sailor should battle the tech-storms alone! Go for a theme like Mr. Tailor that promises a diligent support crew, ensuring your shop stays afloat and sails smoothly, even through the choppiest of tech seas.
🔗 Plugin Compatibility
A smooth sea never made a skilled sailor, but a compatible theme sure makes a savvy webmaster! Ensure your theme syncs well with essential plugins to avoid any mutinies on your digital ship.
🌐 Multilingual Capabilities
Speak the global language, or better yet - all of them! Themes like KALLYAS help you communicate with an international audience, making your business journey not just successful, but globally resonant!
🚚 Seamless Shopping and Checkout Experience
An easy, breezy checkout process ensures your customers won't abandon ship midway. Peek at themes like Suprema that guide users smoothly from selecting items to checkout, ensuring their journey - from browsing to buying - is seamless!
27 Best WordPress Ecommerce Themes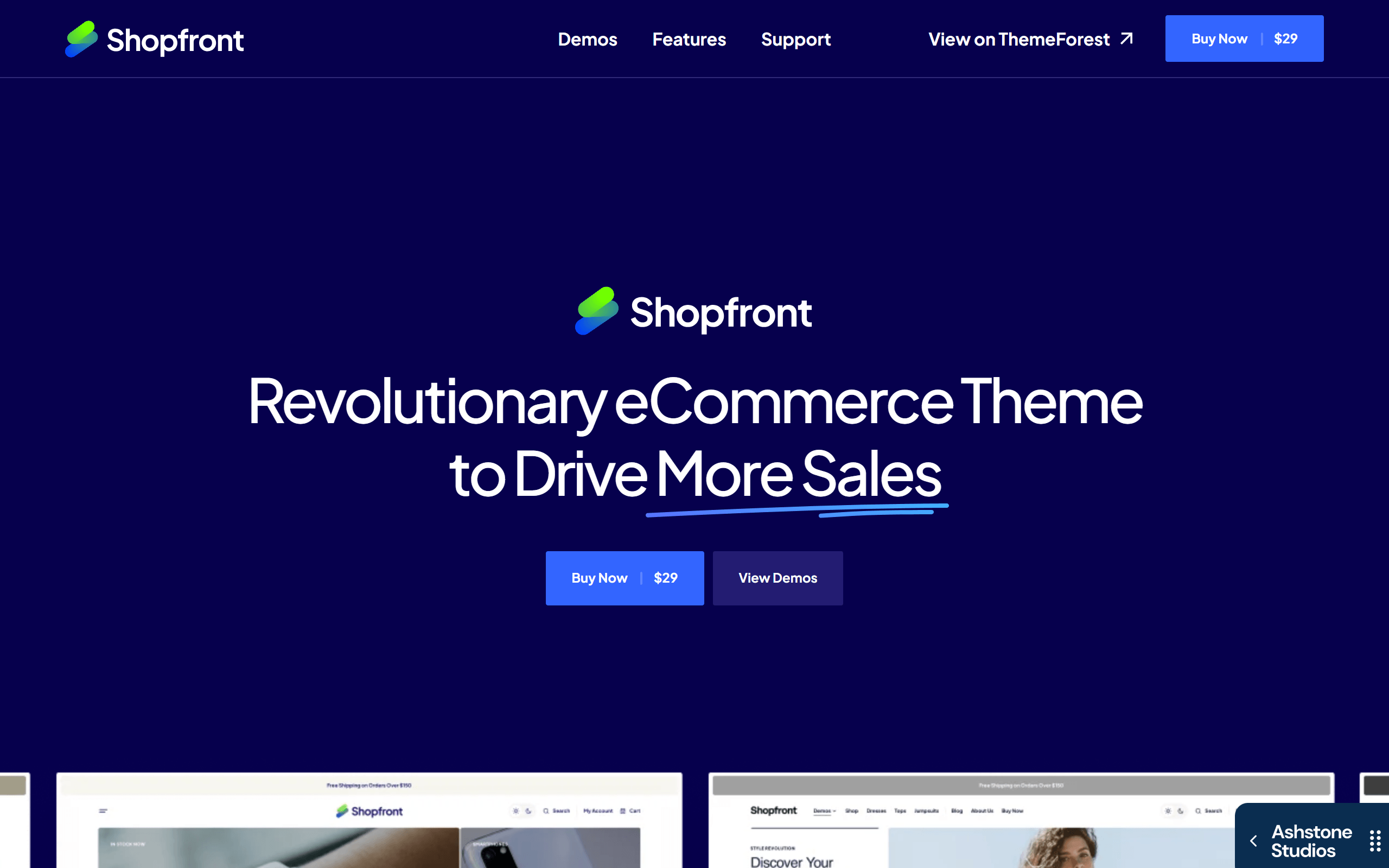 Shopfront is a WordPress e-commerce theme that focuses on providing an optimal shopping experience while highlighting your products in a visually appealing way. It's packed with features that both you and your customers will appreciate. From diverse gallery showcase styles to user-friendly navigation features, it's built to facilitate sales and ensure your products are the stars of the show.
Key Features:
Versatile Gallery Showcase Styles: Shopfront allows you to present your products in various eye-catching ways, offering different layouts and customizable views to ensure your items always look their best.
Effortless Filtering and Smooth Navigation: Help customers easily find what they're looking for with intuitive filters and straightforward navigation.
Dynamic Slideshow & Smart Countdown Timers: Engage visitors right from the get-go with interactive slideshows and create urgency with countdown timers that can help drive sales.
Best For: Shopfront is a versatile theme suitable for any e-commerce entrepreneur. Whether you're selling apparel, tech gadgets, or handcrafted items, it provides a clean and focused platform to showcase and sell your products effectively.
Pricing and Licensing: You can grab Shopfront for $29, which includes future updates and 6 months of support. This pricing model ensures that you have a reliable platform to build your e-commerce store without breaking the bank, plus support to help navigate any bumps along the way.
2. 🏅 Our Pick - Cascade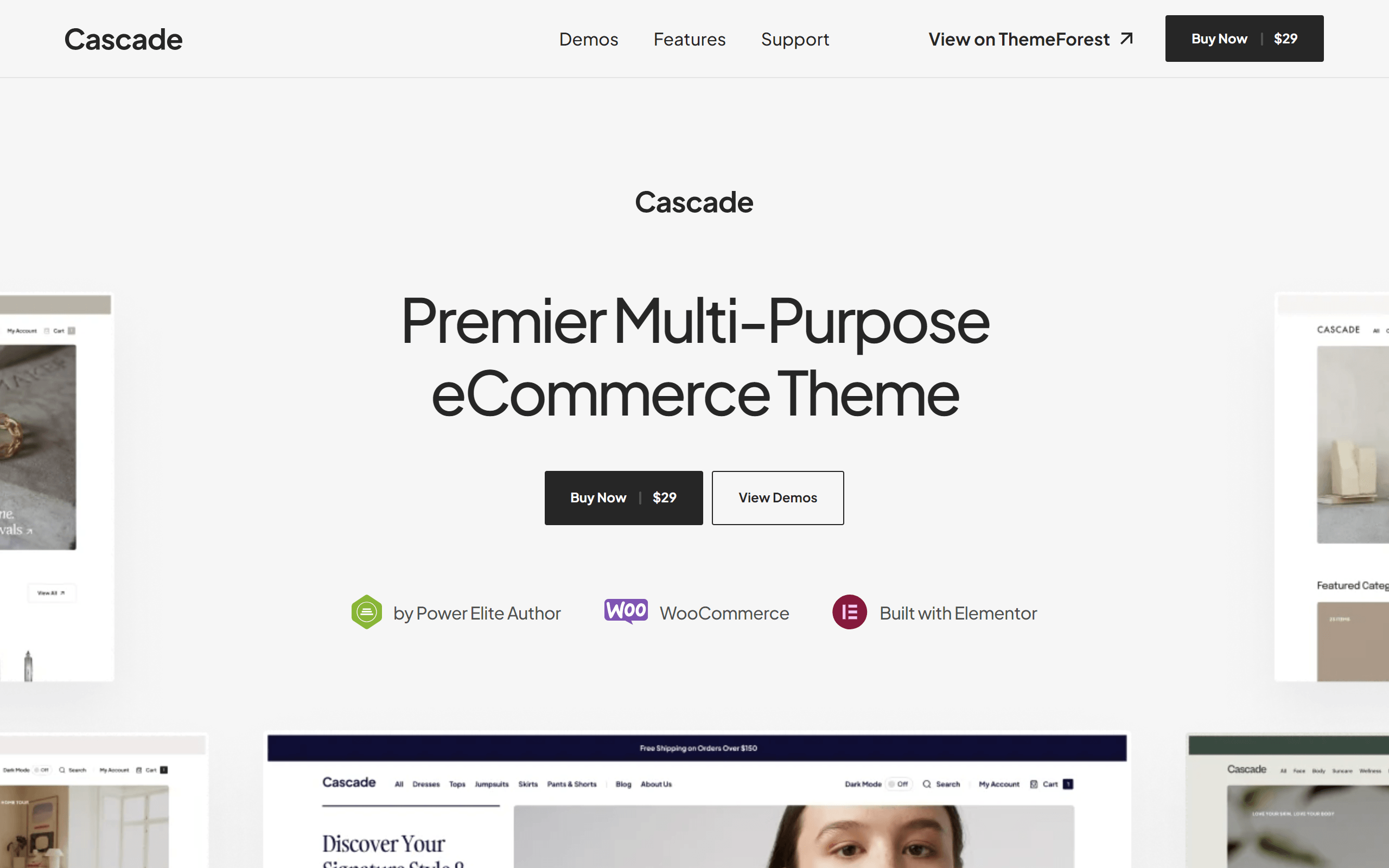 If you're hunting for a theme that'll make your e-commerce store not just "another online shop", but the go-to spot, you're in the right place. Think of it as your store's cool makeover—sleek, efficient, and ready to wow. It's like giving your online shop that edge it's been waiting for. Why be ordinary when you can stand out?
Key Features:
One-Click Demos: Setting up should be easy, and Cascade understands that. With just a single click, your site gets a professional edge, making setup woes a thing of the past.
Elementor Inside: Cascade boasts the power of Elementor. So, for all the non-techies out there, this means easy customization without diving deep into the coding realm. Edit, tweak, and perfect - all in real time.
Sleek Dark Mode: Giving users a comfortable viewing experience? Cascade nails it with its Dark Mode. It's not just about aesthetics; it's about making browsing a comfortable affair, day or night.
Best For: From chic fashion boutiques to tech gadget stores, Cascade is versatile. It's especially perfect for businesses aiming to provide a streamlined, memorable shopping experience. It adapts, resonates, and ensures your brand shines through.
Pricing and Licensing: Alright, the numbers! Cascade comes in at $29. That's an investment for a theme that's built to impress and convert. And hey, if you're all about longevity and long-term relationships, an additional $6.38 gives you peace of mind with expert support for a whole year.
Why is Cascade Our Pick?
Cascade is our top recommendation because it helps online stores really stand out from the crowd. With features like one-click templates and drag-and-drop customization through Elementor, small business owners can create beautiful, professional-looking websites without any coding knowledge. The theme also focuses on the customer experience with things like a dark mode option that's easier on the eyes. Whether you're selling clothes, electronics or other products, Cascade allows you to showcase your brand in an attractive yet user-friendly way.
Compared to basic templates, it gives stores a high-end, polished look that makes customers want to browse and buy. But simplicity is still key - it's very intuitive to use. Plus excellent 24/7 support is included to help with any questions.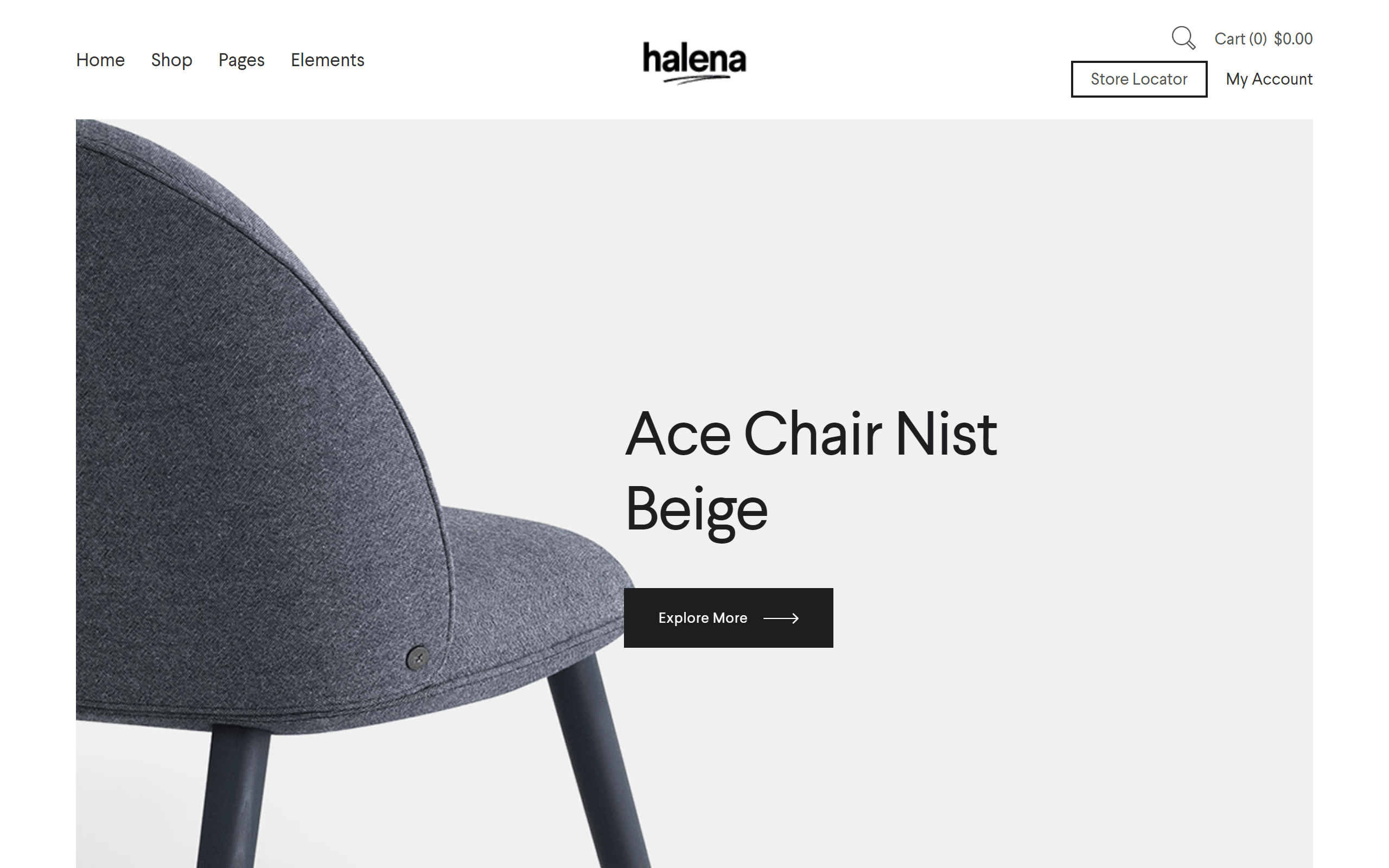 Halena provides a sleek and efficient solution for those wanting to kickstart their online store using WordPress. Designed with a modern touch, it effortlessly caters to a range of eCommerce niches, whether it's fashion, jewelry, or home goods. With its adaptable design architecture, Halena is versatile enough to be molded into any brand's identity, making sure your products are the spotlight, all set within a virtual stage that resonates with professionalism and style.
Key Features:
Quick Browsing with AJAX: Streamlined shopping is the future. With Halena's AJAX tools, page reloads become a thing of the past, ensuring swift browsing for your customers.
Interactive Product Views: Showcase your products with dynamic displays. Be it short video clips or 360-degree visuals, Halena brings your products to life.
Drag-and-Drop Design: Craft your site's aesthetics without the coding hassle. With Halena's intuitive drag-and-drop feature, customization becomes a breeze.
Best For: Fashion boutiques, jewelry showcases, and elegant home goods platforms. Halena enhances the digital presentation of luxury items.
Pricing and Licensing: Priced at $49, Halena combines affordability with a suite of premium features, setting your online store apart from the competition.

If there's one thing we can't get enough of, it's a theme that does its job and does it well. Enter Clotya. This WordPress e-commerce theme is purpose-built for modern online storefronts, focusing on fashion and apparel. With sleek visuals and a bevy of features, it's a solid choice for anyone looking to make a mark in the e-commerce world.
Key Features:
Enhanced Product Catalog: Shopping online should feel like a breeze, and Clotya ensures it does. With features like convenient filters, unique hover styles, and optimized product displays, your customers will navigate your offerings with ease and joy.
Elementor Advantage: We've seen some site builders in our time, but nothing quite as intuitive as Elementor. Craft your store's look pixel by pixel, and enjoy every second of it.
Mobile Performance: It's 2023, and if your site isn't mobile-friendly, you're swimming upstream. Clotya is not just mobile-responsive, but it's optimized for mobile performance. Smooth shopping, even on the smallest screens.
Best For: Those entering the fashion, apparel, and accessories world. From high-end boutiques to fun and quirky pop-up brands, Clotya offers a platform that caters to varied styles and vibes.
Pricing and Licensing: For $39, not only do you get this powerhouse theme, but also future updates to ensure you're always on top of your e-commerce game. Need some hand-holding? No shame in that! The theme comes with a 6-month support from Select-Themes.
5. 🏅 Our Pick - Marketo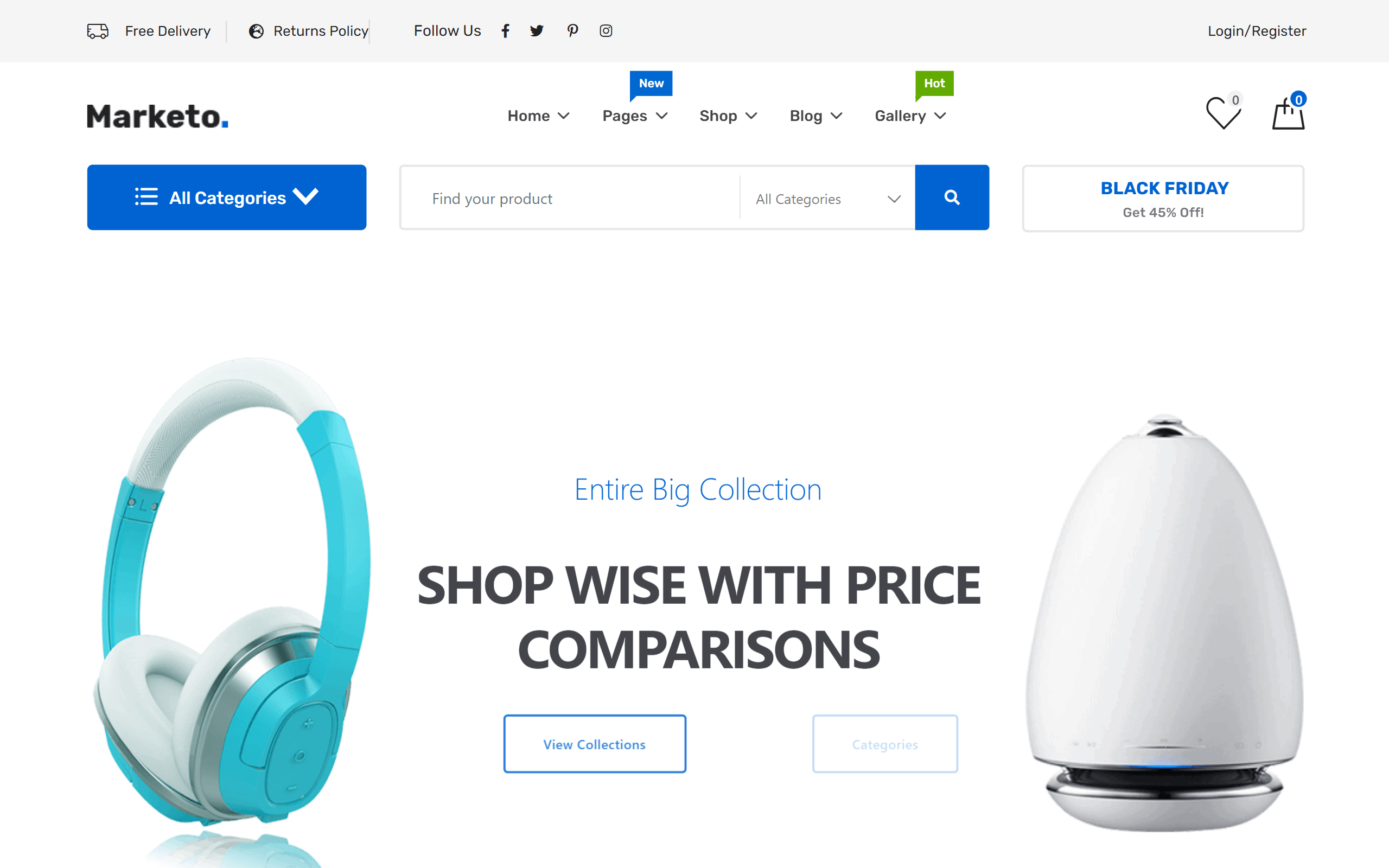 Let's talk about a showstopper, shall we? Enter Marketo, a WordPress eCommerce theme that's more than just a pretty face. It's a powerhouse designed especially for your WooCommerce electronics and multivendor store. From furniture to eye glasses, shoes to jewelry - Marketo doesn't just adapt; it dazzles.
Key Features:
Unlimited Color Customization: Your brand, your style. Marketo comes with nine pre-defined colors. But guess what? It hands you the reins! Customize it to match your brand, and let the theme reflect you.
Elementor Builder: Drag, drop, and craft your site effortlessly! No more spending hours figuring out code. With Elementor, if you can imagine it, you can build it.
Multivendor Supported: Think Amazon or eBay vibes. Marketo's integration with Dokan lets you create your own multi-vendor marketplace. Whether it's digital goodies or trendy sneakers, start your store and earn through commissions.
Best For: Electronics enthusiasts, home-goods heroes, and fashion-forward vendors. In short, if you're in the e-commerce game, especially with a multivendor approach, Marketo is your ultimate toolkit.
Pricing and Licensing: The best things in life come with a price, but here's the catch: Marketo won't burn a hole in your pocket. At a mere $59, this all-rounder theme, with all its future updates, can be yours. But hey, challenges may arise, and when they do, you've got 6-month support from the Marketo team to back you up.
Why is Marketo Our Pick?
Marketo stands out as our number one pick because it perfectly balances functionality and flexibility. As an ecommerce site owner, you want a theme that allows easy customization so you can match your brand stylistically while also providing robust features to sell effectively. Marketo excels on both these fronts. It utilizes the powerful Elementor page builder to give you drag-and-drop control over colors, designs, and layouts without any coding headaches.
At the same time, its integrated modules provide a full-featured platform for any type of online store through multi-channel sales, vendor marketplaces, and more. Plus, its affordable pricing makes this level of control even more accessible.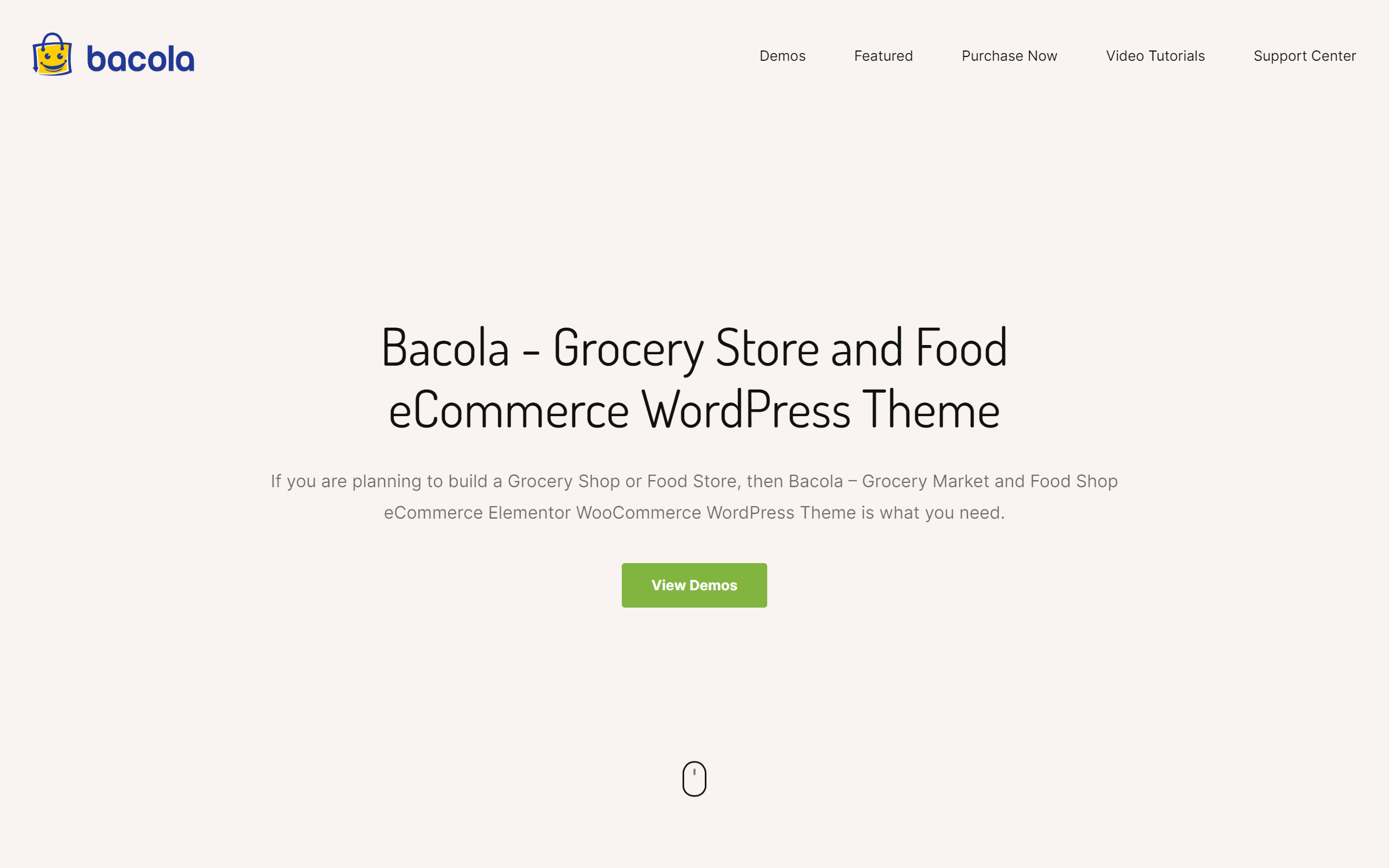 Alright, foodies, eco-warriors, and savvy shoppers listen up! Bacola is the ultimate ally for anyone looking to set up a slick online grocery market or organic food store. Ever thought about starting a food delivery service? Or how about gathering all those fabulous organic food stores under one digital roof? Yep, Bacola is the leading on the list of best WordPress eCommerce themes designed to make those dreams come true.
Key Features:
Elementor Page Builder: No more hair-pulling or late-night Googling. Customize your site with ease using the drag-and-drop features. Yep, it's as fun as it sounds!
WooCommerce & Multi-Vendor Ready: Whether you're going solo or want to create a bustling digital marketplace, Bacola's got the integrations to get you there.
Location Filter & Ajax Product Search: Help your users find exactly what they're craving, whether it's by location or a quick product search.
Best For: Emerging e-grocers, organic enthusiasts, and anyone looking to digitize their store (be it food, fashion, or electronics). And hey, if you ever want to document your foodie adventures, maybe consider one of those WordPress themes for travel bloggers.
Pricing and Licensing: Bacola, with all its bells, whistles, and sustainably sourced goodness, comes at a rather tempting $47. And that's not it! Future updates? They're on the house. Need some backup? You've got 6 months of support included.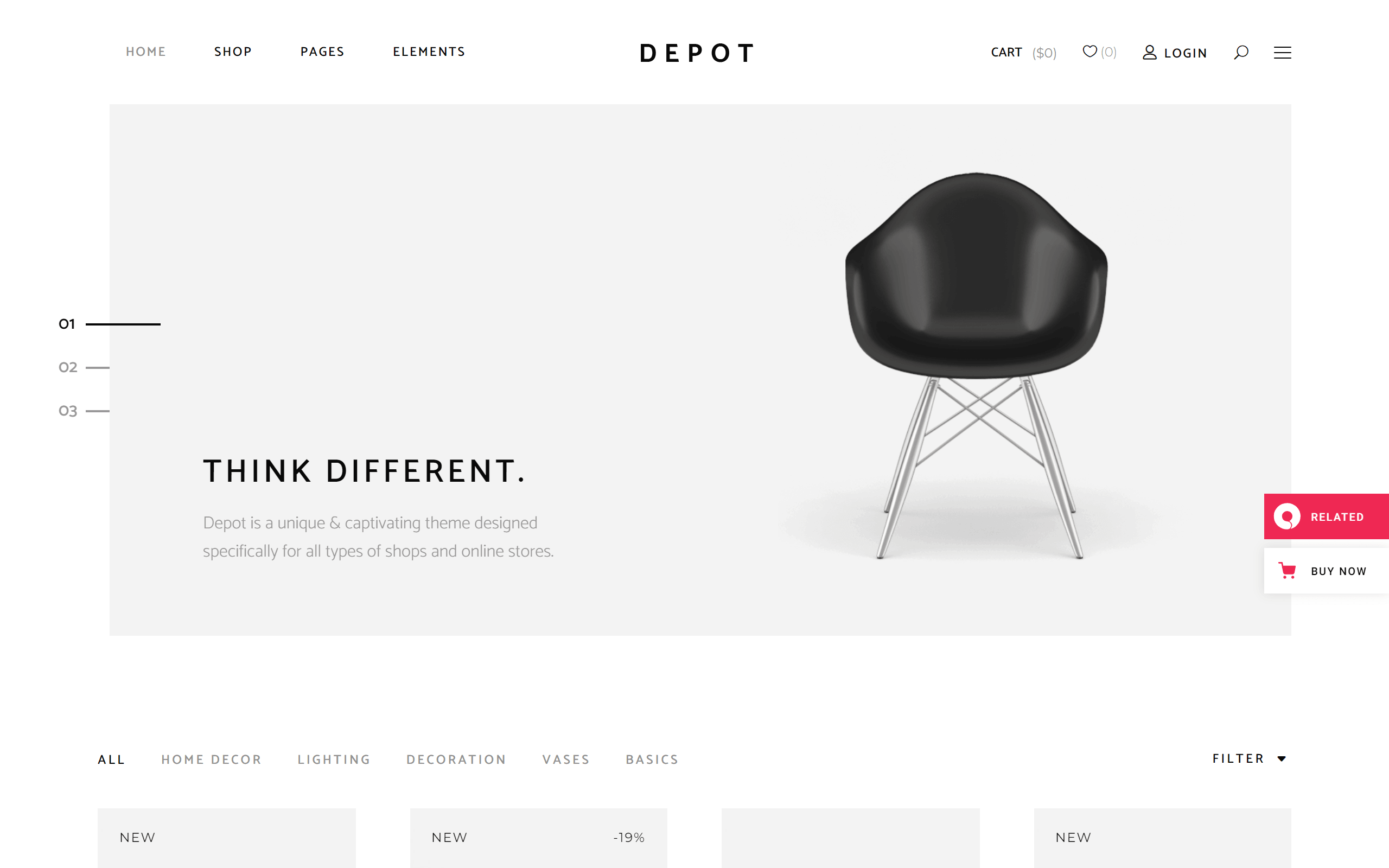 Depot is a rare blend of style, functionality, and sheer brilliance. With a collection of 12 stellar homepages and an extensive range of inner pages, Depot is all about versatility. It's one of the best WordPress themes for business owners and digital marketers. So whether you're showcasing digital gadgets, artisan chocolates, or bohemian jewelry, Depot provides a backdrop that makes everything pop.
Key Features:
Extensive Customization: Unleash your inner designer. With Depot's intuitive interface, tailor-making your site without touching a single line of code is the reality.
WooCommerce Ready: Transform your site into a bustling digital marketplace. From product listings to dashboards, everything screams professionalism.
Mega Collection of Shortcodes: Whether you're designing a slider, carousel, or anything in between, Depot's vast shortcode collection has got you covered.
Best For: Versatile. That's the word. Whether you're launching a digital marketplace, a lifestyle brand, or simply showcasing a diverse product range, Depot's adaptability is its superpower. For those searching for the best eCommerce WordPress themes, this might just be the ace up your sleeve.
Pricing and Licensing: The Depot's pricing speaks value. At $85, you not only get this dynamic theme but also a promise of continuous updates. And that's not all. You're backed by 6 months of professional support.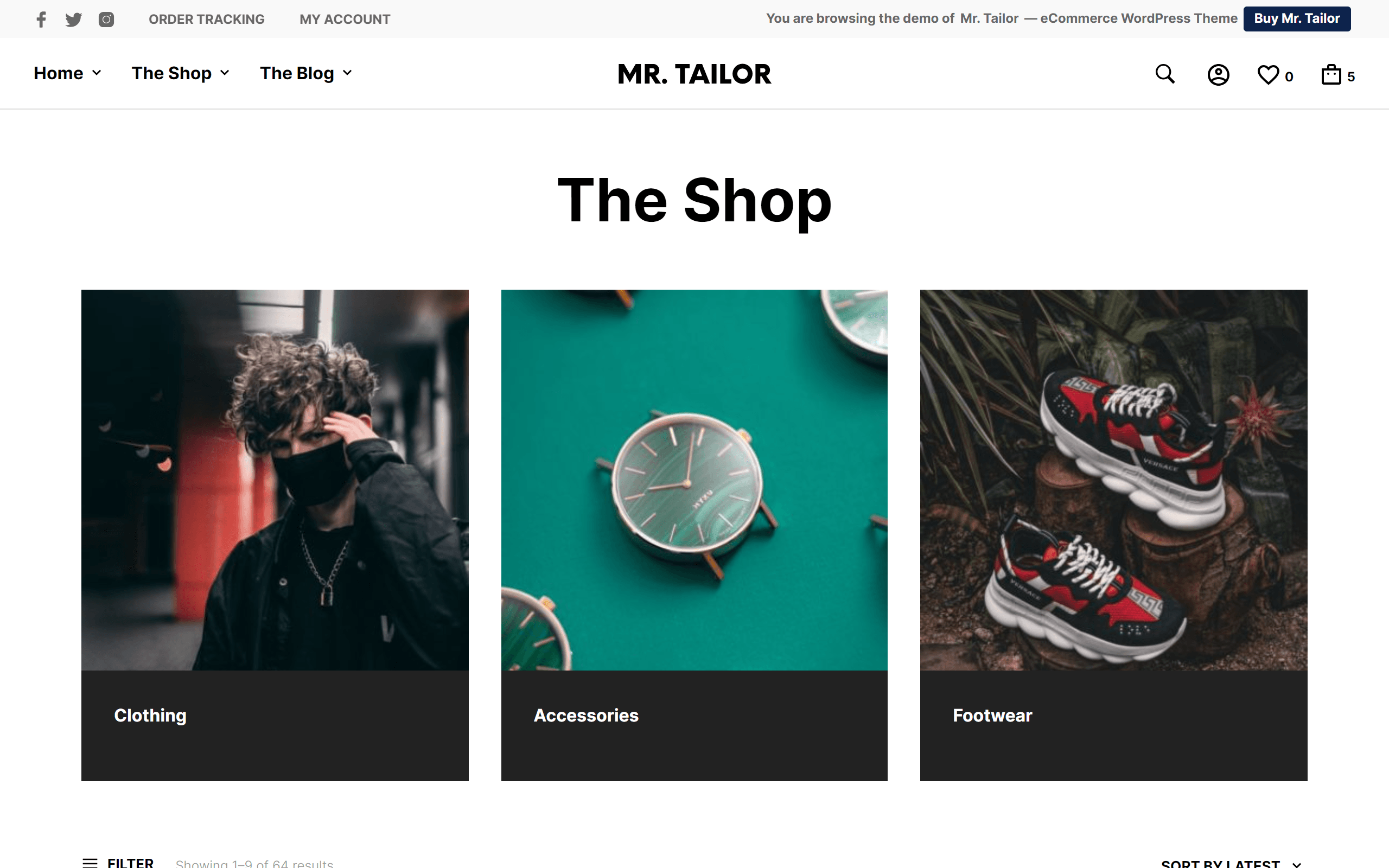 Ever dreamt of launching your online store where every pixel sings your style? Enter Mr. Tailor - not just another eCommerce WordPress theme but your virtual storefront's dream come true. With seamless integration with WooCommerce and the power of WordPress Block Editor (Gutenberg), your dream e-shop is just a few clicks away. Whether you're a seasoned retailer or a fresh digital entrepreneur, Mr. Tailor is tailored (pun intended) for you!
Key Features:
Extensive Customization: Dive into an extensive admin interface that requires zero coding knowledge. From fonts to colors, tailor everything to fit your brand.
Premium Plugins Included: With the Slider Revolution and WPBakery Page Builder bundled in, you get $72 worth of tools at no extra charge.
WooCommerce Wizardry: From product listings to one-click refunds, the best WordPress eCommerce theme functionalities are at your fingertips. Create an engaging shopping experience that speaks volumes.
Best For: Small businesses, individual sellers, or anyone ready to turn their retail dreams into a digital reality.
Pricing and Licensing: Think top-notch features demand a hefty price? Think again! At a modest $59, Mr. Tailor packs an unbeatable value. It's not just about having a beautiful eCommerce wordpress template, but about having a functional, evolving platform that grows with your business.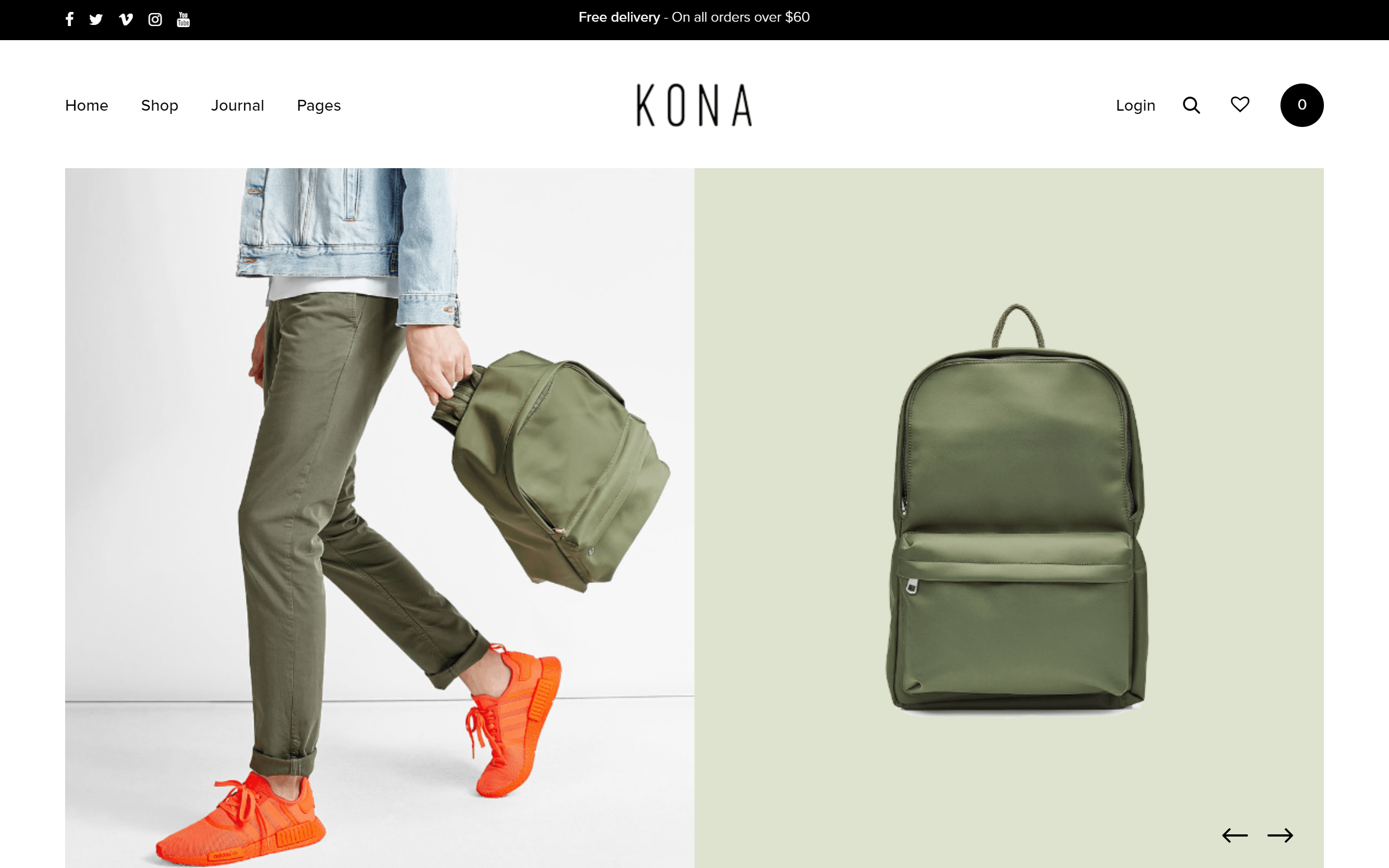 Kona stands out with its clean and modern design, perfect for online sellers who want their products to shine. This theme isn't just about looks; it's also packed with features that make online shopping a breeze for your customers. If you want a website that's as stylish as it is functional, Kona is your match.
Key Features:
Live Ajax Tools: Elevate your customer's browsing experience. With Kona's live Ajax search and filter, finding the perfect product becomes instantaneous and hassle-free.
Lookbook & Wishlist Options: Enhance the visual appeal of your product line and allow users to bookmark their favorite items with an integrated wishlist.
Variation Swatches & Product Videos: Provide a detailed and immersive view of your products. With variation swatches and the ability to embed product videos, your customers get a comprehensive understanding of what they're purchasing.
Best For: E-commerce shops focus on sectors such as fashion, technology, beauty, and sports. Its versatility also makes it an ideal choice for niche marketplaces like luxury watches, high-end jewelry, artistic portfolios, or event ticketing platforms.
Pricing and Licensing: Kona is set at an accessible price of $44, ensuring you get a blend of top-tier features and value. For those aspiring to lead in the eCommerce space, Kona is the tool to elevate your online presence.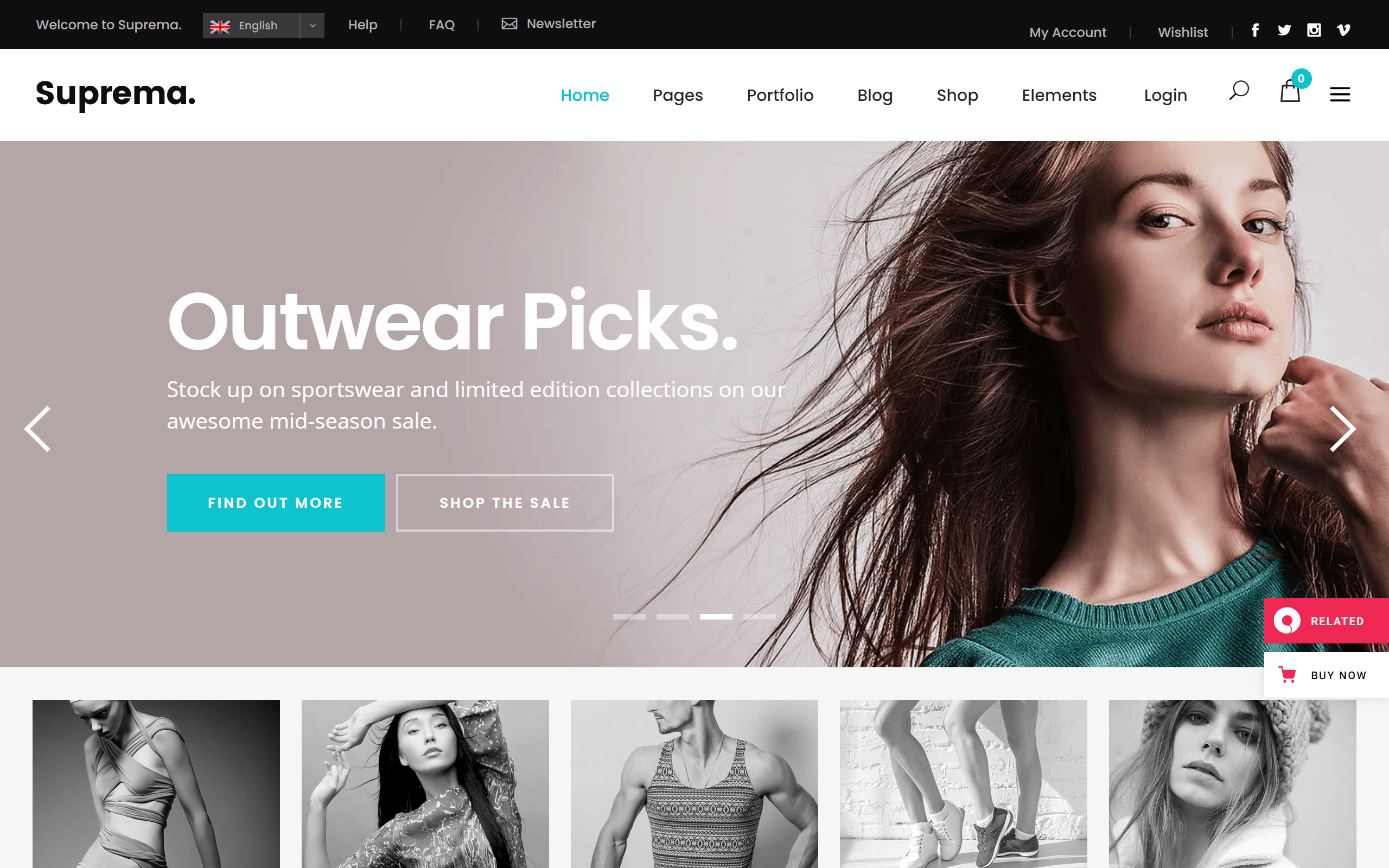 Setting up an online store has never been easier! Introducing Suprema, the ultimate eCommerce WordPress theme that brings your professional website to life. With its stunning design, customizable layouts, and practical features, Suprema fulfills all your eCommerce wishes. Plus, it seamlessly integrates with WooCommerce, the most popular and free eCommerce plugin.
Key Features:
Powerful Admin Interface: Suprema provides a robust admin interface that puts you in control of your website. Easily manage and customize your store's appearance, layout, and functionality without any coding knowledge required.
Highly Customizable: With Suprema, you have the freedom to customize every aspect of your online store. Tailor the look and feel of your website to match your brand identity, choose from multiple layouts, and create a unique shopping experience for your customers.
WooCommerce Integration: Suprema seamlessly integrates with WooCommerce, the leading eCommerce plugin for WordPress. Benefit from a wide range of eCommerce features, including product management, inventory control, secure payments, and a smooth checkout process.
Best For: Suprema is ideal for entrepreneurs, retailers, and businesses of all sizes who want to establish a professional online presence. Whether you're selling fashion, electronics, home decor, or any other type of product, Suprema provides the flexibility and functionality needed to create a visually appealing and user-friendly ecommerce shop.
Pricing and Licensing: Suprema is available for the affordable price of $79. This one-time payment includes future updates and access to customer support. With a single purchase, you can unlock the full potential of Suprema and build a successful online store.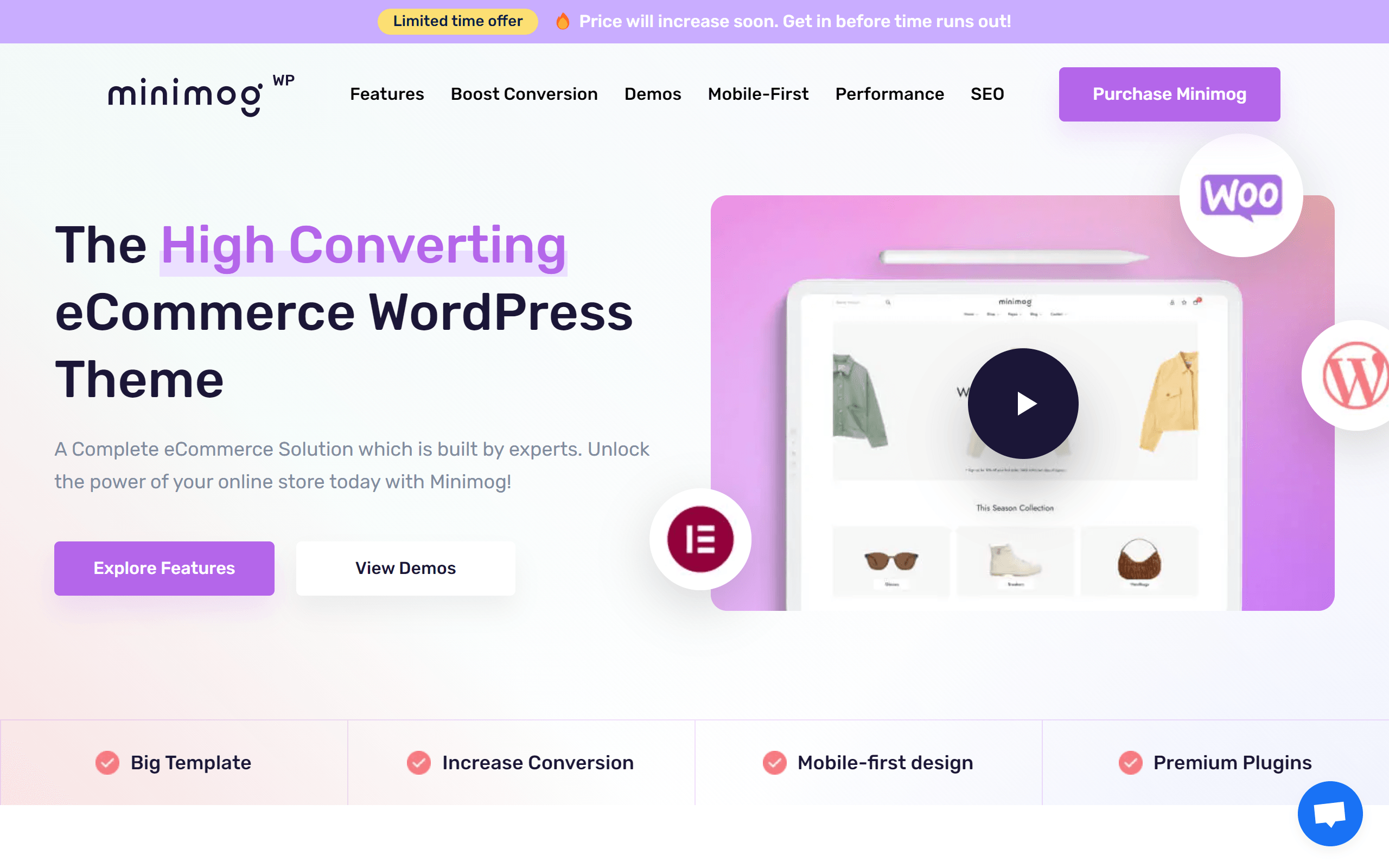 When you think of creating an online shop, it's not just about slapping products on a page and waiting for the magic to happen. It's about creating an experience, and that's where Minimog steps in. Drawing from its vast number of features, this theme is like that architect you hire to transform a drab space into a penthouse suite. It's got the charm, the finesse, and most importantly, the functionality.
Key Features:
Customization at its Finest: Beyond its initial appeal, Minimog offers a substantial range of shop layouts, product page styles, and headers. The customization options seem to cater to both novices and those with a keen design eye.
Tailored for Conversion: A slew of features from Product Bundles to Sale Countdown Timers suggests Minimog is not just content with driving traffic; it wants to convert. It's a theme that seems to understand the e-commerce game.
Integration Prowess: It's commendable how Minimog integrates with big players like Dokan Multivendor and WooCommerce Simple Auctions. Features such as Shoppable Images are a fresh take, indicating a trend-aware approach.
Best For: Fashionistas, tech gurus, or even those cozy indie bookstores – Minimog seems ready to be whatever you want it to be. It's like that versatile black dress or that Swiss army knife (but for online shops)!
Pricing and Licensing: At $59, Minimog seems reasonably priced given its touted features and flexibility. For those committed to crafting a standout online store, this theme might offer good value. Continuous updates and support could mean this isn't a one-off purchase but more of an ongoing partnership.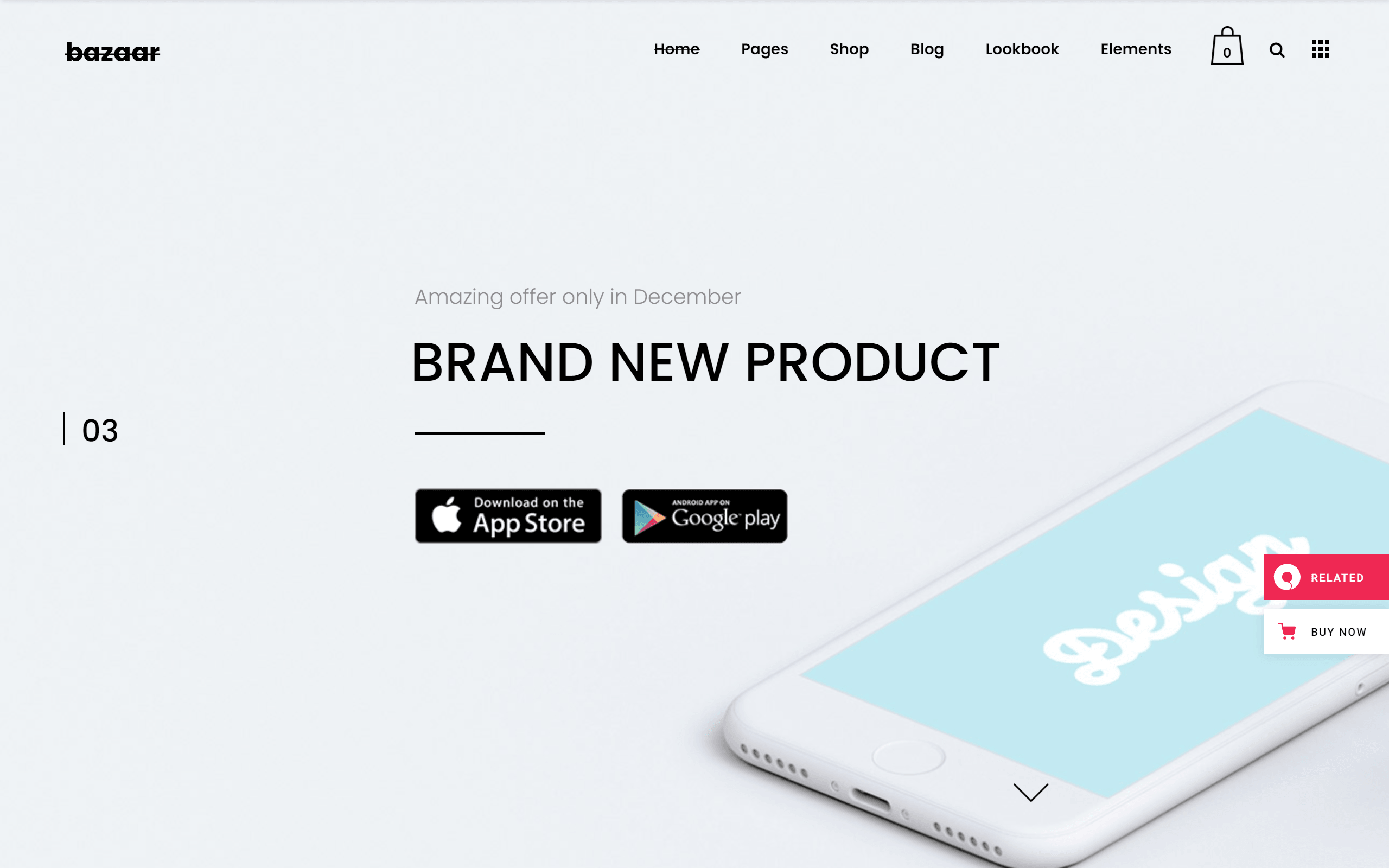 Streamlined, focused, and crafted with precision, Bazaar integrates everything an online store could wish for. Its slick design and functional elements stand testament to its commitment to offering an enhanced user experience, without the fluff. As you dive deeper into its features, you'll discover the attention to detail and dedication to creating an optimal user journey. It's not just about making sales; it's about delivering a memorable shopping experience.
Key Features:
Versatile Shop Layouts: Bazaar provides an array of shop layouts, catering to diverse preferences. Whether you're looking to spotlight a single product or showcase an extensive collection, Bazaar has got you covered.
Animated Product List: This feature ensures your products are highlighted in an interactive manner. It's not just about listing the products; it's about making them come alive, drawing the viewer's attention.
Lookbook & Uncovering Showcase: Bazaar pushes the envelope with its Lookbook feature, allowing brands to curate their products in an immersive, story-like format. The uncovering showcase enhances the unveiling of your products, making every reveal an event.
Best For: Primarily crafted for fashion-forward outlets, Bazaar fits snugly with clothing brands, and accessory sellers, and even extends its charm to furniture stores. Its dynamic layouts and features make it adaptable for various retail segments, emphasizing aesthetics and functionality.
Pricing and Licensing: Priced at $85, Bazaar is more than just a cost—it's value. This theme offers an array of features and design elements that are geared toward enhancing the online shopping experience. Given its robust capabilities, the investment ensures you're setting your store up for success from day one.
The Hanger is an elegantly designed WooCommerce theme tailored for savvy online entrepreneurs. With a promise to make your digital storefront stand out, The Hanger seamlessly combines style with substance. Its suite of features and user-friendly tools make setting up and managing an online store a breeze, even for those new to the world of eCommerce.
Key Features:
Adaptive Design: Optimized for a range of devices, it ensures every customer enjoys a uniform shopping experience.
Deep WooCommerce Integration: Dive into advanced features like product bundles, wishlists, and a snappy quick view option.
Boundless Customization: A plethora of layouts for shop displays, products, headers, and footers empowers you to design a store that truly mirrors your brand.
Best For: From chic fashion outlets to tech-centric shops, The Hanger fits the bill. It's the go-to choice for brands that aim for a polished look without compromising on functionality. Its adaptability makes it perfect as a minimalist WordPress theme for niche collections or as a sprawling digital marketplace for larger inventories.
Pricing and Licensing: Coming in at $59, The Hanger offers more than just an appealing facade. It's a comprehensive WordPress eCommerce theme that gives you the tools to establish and grow your digital presence.
Marketica is more than just a theme; it's a solution for those wanting to create a multi-vendor marketplace with WordPress. It gives your website the capability of allowing multiple vendors to sell on a singular platform, much like Amazon or Etsy. With an emphasis on flexibility and ease of use, Marketica is designed to suit both the solo seller as well as a full-blown marketplace with multiple vendors.
Key Features:
Multi-Vendor Marketplace: The core value of Marketica is turning your WooCommerce store into a dynamic vendor platform. Each vendor has a dedicated space, but all products are also accessible through the main shop.
Compatible with Leading Plugins: Marketica seamlessly integrates with free plugins like WC Vendors and WooCommerce. Plus, it's ready to work with WPBakery Page Builder and Revolution Slider, offering enhanced site-building capabilities.
Comprehensive Customization: With the WP Customizer, Marketica allows for real-time visual edits. It supports various post formats, from standard and audio to gallery and video, ensuring your content looks its best.
Best For: Anyone aiming to establish a multi-vendor platform or a marketplace where different sellers can list and manage their products. Whether it's art, fashion, tech, or services, Marketica molds itself to fit your niche.
Pricing and Licensing: Priced competitively at $37, Marketica is an investment towards creating a comprehensive online marketplace. Its vast features and compatibility with essential plugins ensure that you get value for every penny spent.
The Camp theme stands out among WordPress eCommerce themes. Designed for versatility and ease of use, it offers businesses a sleek platform to showcase their products or portfolios. On purchasing, users are provided a meticulous help file that simplifies the understanding of the theme, enabling even those with minimal technical know-how to set up and navigate their online store.
Key Features:
WooCommerce Shop Integration: Ready-to-use for eCommerce, Camp makes launching an online store straightforward. From listing products to managing sales, it's all integrated seamlessly.
High-Resolution Retina Support: To ensure visuals remain sharp and engaging on every device, Camp is optimized for high-resolution displays such as Macbook Pro with Retina Display, iPhones, and iPads.
Adaptable Responsive Layout: Regardless of the device - mobile, tablet, or desktop - Camp ensures a fluid and optimized viewing experience. Its adaptive design ensures consistency across various screen sizes.
Best For: Businesses looking to seamlessly blend their portfolios with an online store. Whether you're a designer showcasing your art, a store displaying a range of products, or even a photographer selling prints, Camp's layout and features make it a match for diverse eCommerce needs.
Pricing and Licensing: Camp is priced at $59, which includes all its standout features along with a comprehensive help guide. The theme's pricing is a one-time fee, ensuring users get all the mentioned features without any recurring costs.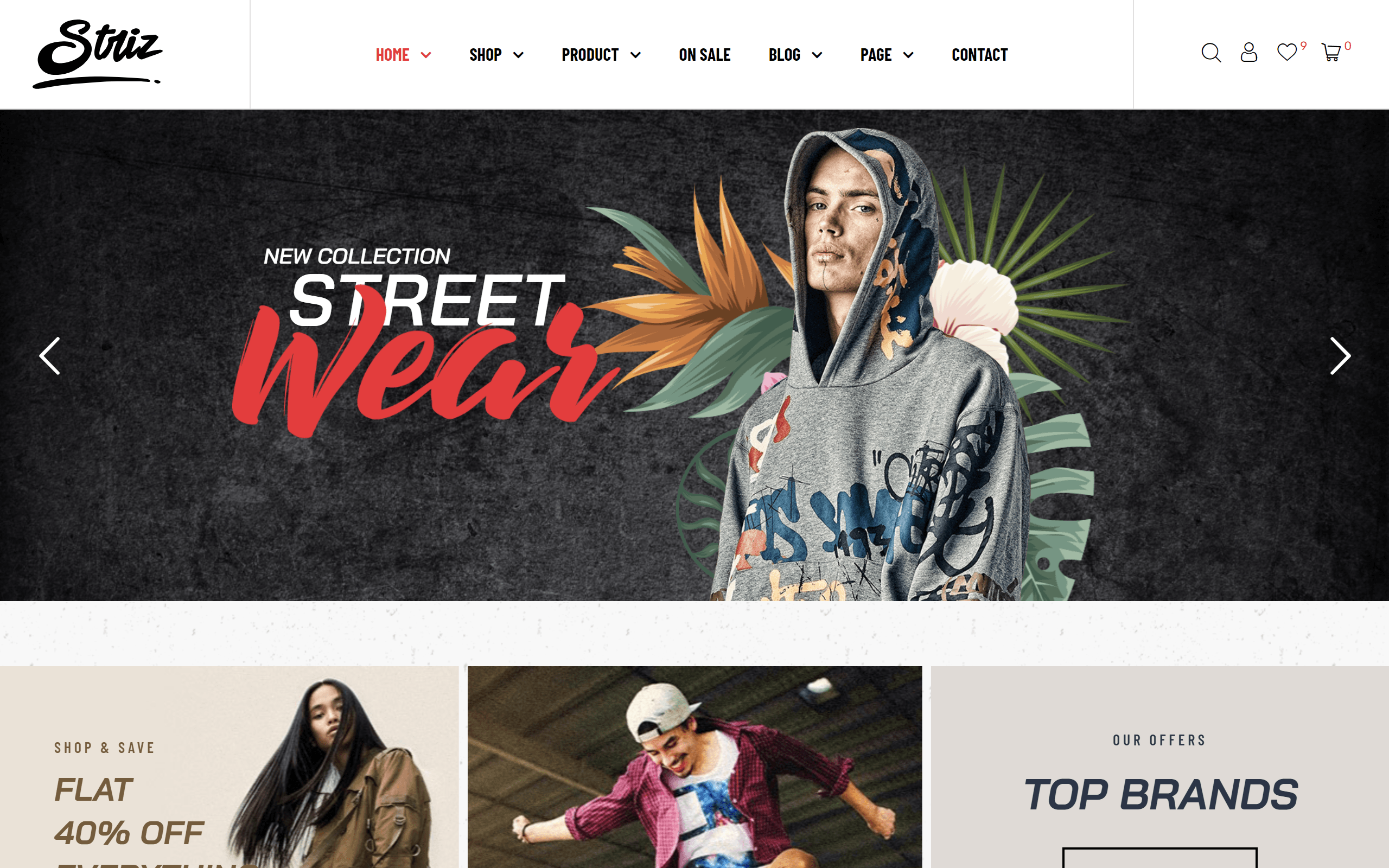 Striz is a contemporary and chic WordPress eCommerce theme specifically crafted for street-style fashion niches like streetwear, menswear, and fashion street trends. Integrated with advanced features and an elegant interface, it stands out as a premium choice for those wanting to make an impact in the fashion eCommerce realm.
Key Features:
Elementor Integration: The incorporation of the renowned drag-and-drop page builder, Elementor, ensures that building your website is as smooth as it gets. You can design in real time, witnessing every change as you make it.
Retina and Responsiveness: Striz offers impeccable clarity on high-resolution devices like Macbook Pro with Retina Display and iPhones, ensuring your products and layouts look sharp. Plus, its design remains consistent across mobiles, tablets, and desktops.
Varied Homepages: With 04+ uniquely designed homepage layouts, you have the luxury to choose the face of your fashion eCommerce site. Each layout is tailored to give your website a distinct look and feel.
Best For: E-commerce businesses aiming to capture the essence of street-style fashion. Whether you are selling urban wear, accessories, or exclusive street trends, Striz offers an impeccable platform to allure fashion enthusiasts.
Pricing and Licensing: Priced at $59, Striz offers a comprehensive package of features essential for a dynamic eCommerce platform. This fee is a one-off cost, granting you access to all the features mentioned.
Lusion is a top-tier multi-purpose eCommerce theme that's taking online shops to a whole new level. Designed with precision and a keen eye for modern aesthetics, this theme stands out in the crowded digital marketplace. If you're seeking a design that communicates elegance and efficiency, Lusion could be the game-changer you've been searching for. Ready to make your online store pop? Dive into Lusion's features!
Key Features:
Multipurpose Design: With over 25 demo homepages and 28 landing pages, Lusion offers a plethora of design choices. Whether you're showcasing electronics, fashion, or home goods, there's a design tailored for you.
Elementor Page Builder: A feature that can't be understated, the built-in Elementor enables real-time customization. Adjust and perfect every page section directly from the front end without any fuss.
Advanced Shopping Features: Lusion excels in creating an immersive shopping experience. Features like an Ajax product filter, fake sales popup, and Ajax search autocomplete make browsing and shopping seamless. Add to that color swatches, a built-in mega menu, and over 10 product page styles, and you have a shopping environment that customers will love.
Best For: For online business owners who want a blend of sophistication and functionality, Lusion is a perfect match. Especially recommended for those who want their products to shine in a modern and interactive shopping platform.
Pricing: The Lusion theme is priced at $31. An affordable choice for those looking to elevate their online store with quality and functionality.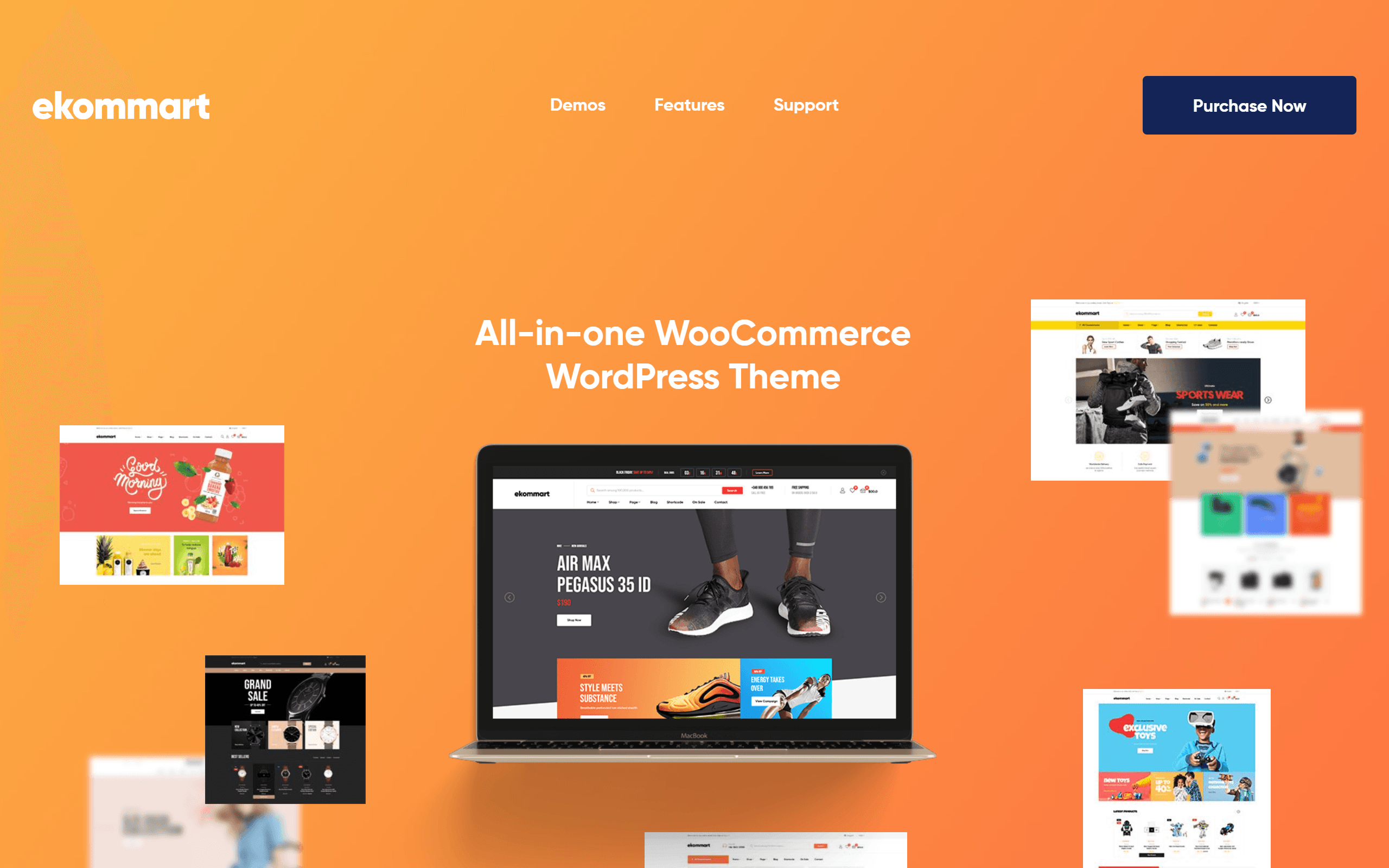 Ekommart is your all-in-one solution for a standout eCommerce WordPress experience. Built to cater to any niche, from toys, electronics, food fashion, and more, this theme is a versatile powerhouse. It's not just about looking good; with Ekommart, your online store will run smoothly, ensuring your customers stay and shop. Plus, it's responsive, ensuring your website looks its best on any device.
Key Features:
23+ Ready-to-Use Homepages: No need to start from scratch. Choose from over 23 prebuilt homepages and set up your favorite look with just one click.
Dokan Multi-Vendor Marketplace: Bring in multiple sellers and create a bustling online marketplace. This integrated feature ensures both vendors and customers have an enriched experience.
WPML & RTL Support: Go global! With multi-language support, translate your site easily. It also supports right-to-left scripts for languages like Arabic, Persian, and others.
Best For: Anyone looking to set up a versatile online store, from solo entrepreneurs to established businesses expanding their reach.
Pricing and Licensing: For all the premium features and functionalities you get, Ekommart is priced at $58.
Mr. Bara offers a modern approach to eCommerce, blending the essence of style with functionality. Crafted with attention to detail, it stands as an ideal choice for various online stores, be it digital gadgets, watches, clothing, or luxury jewelry. Its versatile nature, underlined by its compatibility with WooCommerce and Visual Composer, ensures that your shop, regardless of its niche, stands out in the digital marketplace.
Key Features:
Responsive and Varied Layouts: Mr. Bara brings to the table 46 predefined homepages, 15 header styles, and 8 footer styles. Whether you're setting up a men's store, a women's collection, or a bookshop, there's a layout tailored just for you.
WooCommerce Integration: This theme's core strength lies in its full compatibility with WooCommerce. From selling variable products to downloadable ones or even affiliate goods, it simplifies the online shopping experience. Features like order tracking, intricate tax settings, and a customer review system further elevate its eCommerce capabilities.
Visual Composer Powered: Forget about delving into code. With the drag-and-drop functionality of Visual Composer, customizing your store becomes a breeze. Coupled with the Revolution Slider, dynamic and interactive web elements are just a few clicks away.
Best For: Online retailers aiming for a digital transformation. Specifically, stores that cater to streetwear, high-tech products, luxury jewelry, or even furniture can leverage the unique design aspects of Mr. Bara.
Pricing and Licensing: For a price tag of $29, Mr. Bara offers a robust set of features and design elements. This includes regular updates to ensure compatibility with the latest versions of WordPress and WooCommerce.
Big Point is a well-rounded multi-purpose WordPress eCommerce theme tailored for various business operations. Whether you're aiming to set up a blog, an eCommerce platform, or a corporate website, Big Point envelops all these needs in a comprehensive, easy-to-use package.
Key Features:
Drag & Drop Page Builder: Big Point offers a straightforward approach to page customization. You can easily arrange content on your pages without a deep dive into coding, thanks to the drag-and-drop feature of the incorporated "Lollum Framework" plugin.
WooCommerce Integration: As an essential feature in eCommerce WordPress themes, Big Point integrates flawlessly with WooCommerce. It's the stepping stone for businesses looking to dive into the online retail space swiftly.
Retina-Ready Graphics: For businesses looking to make a visual impact, this WordPress eCommerce template is optimized for Retina-Displays, ensuring crisp, high-quality graphics that impress visitors.
Best For: Big Point shines as a versatile option for various businesses. From eCommerce platforms, agencies, and portfolios to blogs, this theme adjusts to cater to different requirements.
Pricing and Licensing: At the competitive price point of $59, Big Point offers a rich array of features that can enhance the look and functionality of any online platform.
Qualis is a theme tailored for organic food shops. Crafted for small to medium-sized organic retailers, Qualis simplifies the process of showcasing and marketing organic products. With an emphasis on user experience and responsive design, it strikes a balance between functionality and aesthetics, ensuring your organic offerings get the spotlight they deserve.
Key Features:
WPBakery Visual Composer Page Builder: Qualis integrates the renowned WPBakery Page Builder, which allows users to craft their site layouts with ease and without touching a line of code.
WooCommerce Ready: Recognizing the pivotal role of online sales, this WordPress eCommerce theme seamlessly integrates with WooCommerce, offering a platform to kickstart your online organic store.
Multilingual Support: With the global demand for organic products on the rise, it's imperative to cater to a diverse audience. Qualis is compatible with the WPML plugin, enabling you to translate your site and cater to various linguistic groups.
Best For: Qualis is a perfect fit for organic food retailers, farms, and those in the agricultural sector who are aiming to boost their online presence and sales. Its adaptability ensures you're not just limited to organic products; the WordPress eCommerce template can be molded to fit any niche market needs.
Pricing and Licensing: Priced at $49, Qualis provides a plethora of features that are essential for running an efficient and user-friendly online organic store.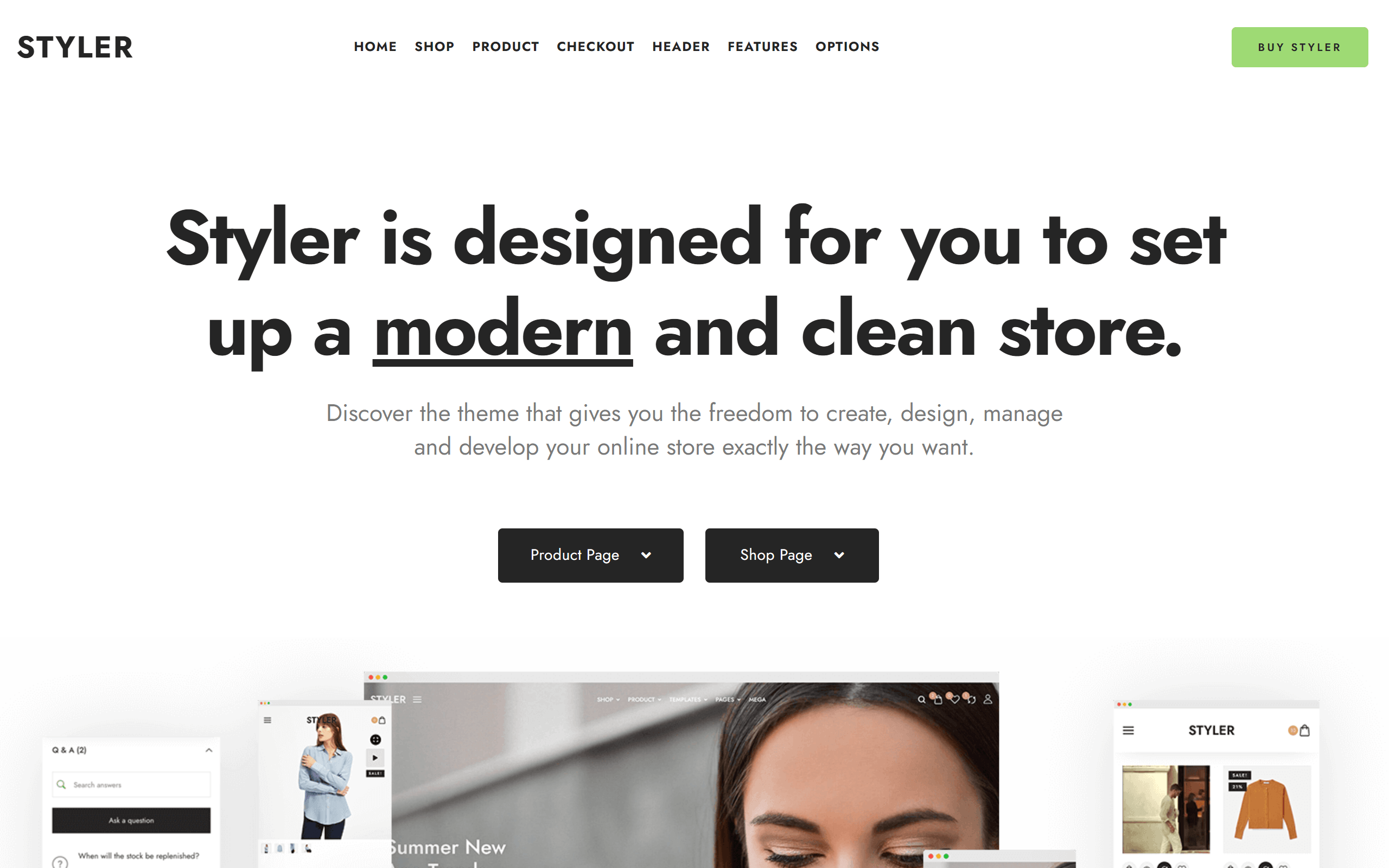 Are you on the hunt for a sleek, fast, and adaptable theme for your online store? Styler is a high-performance WooCommerce theme built with Elementor that's not only up-to-date with all WordPress and WooCommerce versions but is also crafted for a myriad of niches. Whether you're selling apparel, furniture, cosmetics, or organic food, Styler's versatile design ensures a seamless fit for your online business.
Key Features:
Empowered Elementor Page Builder Features: Craft and customize your web pages with ease, using the renowned Elementor Page Builder. Whether you're a novice or an expert, Styler ensures a smooth web-building experience.
All-in-one WooCommerce Widgets: Integrated with the latest version of WooCommerce, Styler equips you with advanced widgets designed specifically for e-commerce, making it an apt WordPress eCommerce theme.
Unique Easy Setup Wizard: Begin your online journey effortlessly with Styler's unique setup wizard. This feature ensures you're not spending endless hours configuring the basics.
Best For: Styler's flexibility makes it ideal for virtually any online store. Whether you're an established eCommerce WordPress shop or a start-up, this theme can cater to niches like clothing, accessories, decor, and even organic foods.
Pricing and Licensing: Available at a competitive price of $23, Styler offers an array of features that would typically come with pricier themes. With its blend of design and functionality, it provides value that's hard to beat.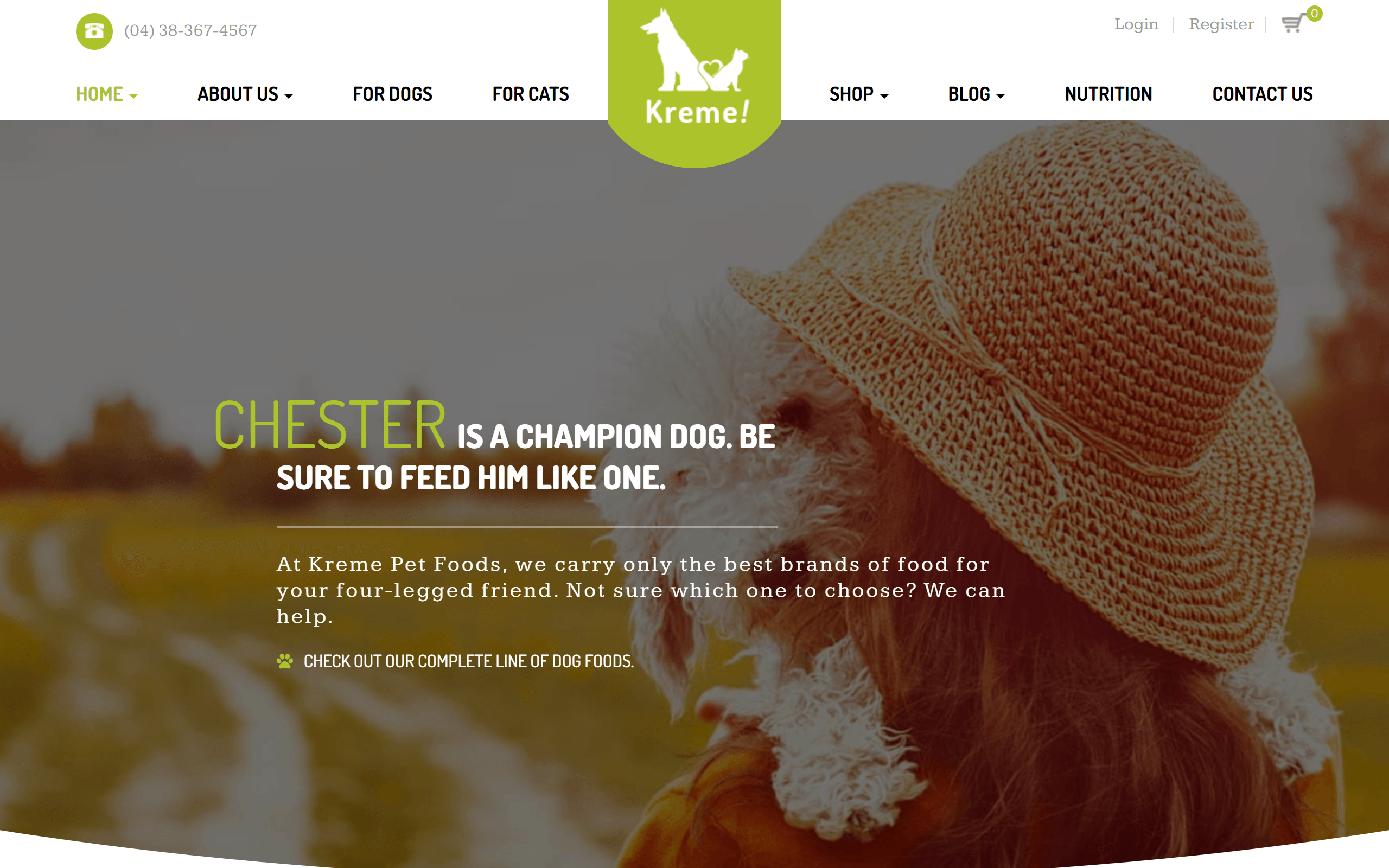 Kreme is a vibrant and flexible WordPress theme curated with care for pet store owners. Tailored primarily for puppy shops, Kreme offers a versatility that makes it the go-to choice for a spectrum of pet-related businesses. A harmonious blend of aesthetic appeal and functionality, Kreme promises a user experience that's both intuitive and engaging. Its meticulous design ensures it isn't just another WordPress eCommerce theme, but a platform that truly resonates with pet enthusiasts.
Key Features:
Specifically Designed for Pet Stores: Tailored with precision, Kreme offers features that resonate with the needs of pet businesses, setting it apart from generic eCommerce WordPress themes.
Highly Customizable Interface: Kreme's user interface is adaptable, featuring color-coordinated layer groups and components that are a breeze to edit, ensuring your website looks and functions exactly how you envision.
1146 Grid System: Built on the renowned 1146 grid system, Kreme guarantees a structured and harmonious layout, enhancing visual appeal and ensuring consistent display across devices.
Best For: Kreme is the perfect choice for pet store owners who wish to transition to an online platform or revamp their current digital presence.
Pricing and Licensing: With a competitive price tag of $45, Kreme is not just an investment in a theme but an investment in a digital storefront that mirrors the warmth and passion of a physical pet store.
Adot is an elegant and modern eCommerce WordPress theme tailored specifically for online shops. With its sleek design and comprehensive list of features, it provides a seamless online shopping experience. Adot is not only user-friendly but is also highly customizable, allowing you to tailor the theme to fit your brand's identity.
Key Features:
Advanced Customization Panel: Set up your website effortlessly with Adot's advanced customization panel. Its intuitive interface lets you tweak every detail of your website, from typography to color schemes, ensuring a unique and brand-consistent look.
Right-To-Left (RTL) Support: Cater to a global audience with the theme's RTL support, making it suitable for languages like Arabic, Hebrew, and Chinese.
Bootstrap 3 & FontAwesome Integration: With the latest Bootstrap and FontAwesome integration, Adot offers faster and more efficient front-end design and development.
Best For: Adot is an ideal choice for businesses aiming to establish an online presence in the fashion sector. However, its versatile design and functionalities make it suitable for selling a diverse range of non-digital products, from home essentials to personal care items.
Pricing and Licensing: Priced at an affordable rate of $29, Adot offers an unparalleled combination of style and functionality. The license guarantees seamless integration of features and future updates.
Crazy Diamond emerges as a versatile eCommerce & corporate WordPress eCommerce theme, adeptly tailored for a diverse range of businesses. Whether you're venturing into eCommerce, launching a corporate website, showcasing a portfolio, or setting up a blog, Crazy Diamond seamlessly marries elegance with efficiency. Embedded perfectly with WooCommerce, this theme is an enticing gateway to swiftly inaugurate your online marketplace.
Key Features:
Drag & Drop Page Builder: Crafting and structuring your website becomes a breeze with this feature. Without diving into intricate lines of code, you can simply drag and drop elements, making web designing a user-friendly affair.
Latest WooCommerce Support: Ensuring compatibility and seamless performance, Crazy Diamond is updated to synchronize effortlessly with the latest version of WooCommerce, paving the way for a hassle-free online retail experience.
Advanced Reviews and Wishlist: Beyond the standard eCommerce features, the theme brings to the table an advanced review system, ensuring transparency and trustworthiness. The wishlist option allows potential buyers to bookmark their favorite products, enhancing user experience.
Best For: Given its multifaceted design and diverse features, Crazy Diamond is an exemplary pick for online fashion outlets, corporate sites, agencies, and creative portfolios. Its adaptive nature also makes it a go-to choice for bloggers aiming to blend content with a dash of eCommerce.
Pricing and Licensing: Priced at $59, Crazy Diamond offers a competitive package laden with premium features. This price not only grants you access to the core theme but also includes additional perks such as the Revolution Slider Plugin, valued at $15.
Gloria emerges as a contemporary WordPress eCommerce theme tailored meticulously for bloggers, news agencies, and magazine editors. Combining modern aesthetics with functional features, Gloria promises to transform your content platform into a visually appealing and user-centric hub. The theme doesn't merely offer an exquisite design but integrates seamlessly with platforms like YouTube and Vimeo, making multimedia content integration an effortless endeavor.
Key Features:
Integrated Multimedia Support: Gloria provides native support for video content from platforms like YouTube and Vimeo. Whether you're a blogger looking to diversify content or a magazine integrating video reviews, Gloria has got you covered.
SEO-Optimized: In the age of search engine prominence, Gloria adheres to the best SEO practices. This ensures that while you focus on creating content, the theme backs you up by making it search-engine friendly, amplifying your content's visibility.
Integrated Rating System: Whether reviewing the latest gadgets or rating movies, the built-in rating system enhances your reviews, making them interactive and trustworthy for your readers.
Best For: Gloria is an ideal choice for News outlets, Magazines, Lifestyle bloggers, and Review platforms. Its versatile design and features also make it suitable for bloggers who are looking to seamlessly integrate multimedia content into their posts, creating a more dynamic reader experience.
Pricing and Licensing: Tagged at a competitive price of $59, Gloria isn't just another WordPress eCommerce theme. It's an investment in a platform that promises to be future-proof with lifetime updates at no extra charge.
Onzo is a meticulously crafted WordPress eCommerce theme that is both feature-rich and user-friendly. Designed to spotlight your work with elegance, Onzo is equipped with state-of-the-art tools and capabilities to make website creation a breeze. Whether you're an online retailer or a creative individual showcasing a portfolio, Onzo is tailored to meet a diverse range of needs, making it stand out among the best eCommerce WordPress themes.
Key Features:
Drag & Drop Page Builder: Streamlining the website building process, Onzo's intuitive page builder allows for easy drag-and-drop operations. Whether you're a newbie or a seasoned web developer, this feature ensures a hassle-free experience.
Boosted Elements Add-on: This premium add-on, included with Onzo, empowers you to craft sliders, integrate maps, design popups, and more. It's a suite of tools designed to elevate your site's functionality and aesthetics.
eCommerce Support: Onzo isn't just a regular WordPress eCommerce template; it's a full-fledged online selling platform. Whether you're launching a new online store or migrating an existing one, Onzo's robust eCommerce integration has got you covered.
Best For: With its versatile features and contemporary design, Onzo is apt for both online retailers and professionals looking to display their portfolios. It's an ideal choice for creative agencies, freelancers, and online boutiques.
Pricing and Licensing: Priced at $59, Onzo offers a plethora of premium features that ensure value for money. It isn't just about offering a WordPress eCommerce template but delivering a comprehensive digital platform.
Final Thoughts on Top WordPress Themes
So, we've dived deep into the world of WordPress eCommerce themes. The sheer number of options is mind-blowing. But here's the cool part - with so many choices, there's bound to be something that fits your vibe and vision. Whether you're going for minimalist WordPress themes or looking to showcase a collection with WordPress portfolio themes, the range is vast and varied.
Now, if you were to ask us for a couple of personal picks? We'd totally point you towards Shopfront and Cascade. We mean, they're kind of the best of the best in the theme world. Stylish, functional, and easy to get along with. Definitely worth checking out if you want your site to be functional and visually appealing at the same time.
Remember, whatever your dream vision of an online store is, there's a theme out there ready to help you bring it to life.