Need a little help managing your time and boosting productivity? Well, you've come to the right place. Today, we're here to explore time-tracking software and apps. Trust me, these nifty tools are game-changers when it comes to getting stuff done efficiently. So, let's buckle up and explore how tracking time can take your productivity to new heights!

Now, you might be wondering why on earth tracking time is so important. Well, my friend, time is a precious resource – it's like the elusive unicorn of productivity. We all have the same 24 hours in a day, but how we use them can make all the difference. Time tracking helps you understand where those hours are going, and more importantly, how you can make the most of them. In the rest of this article, we're going to explore the 30 best time-tracking software and apps to use in 2023. We'll take a deep dive into each one, providing you with high-level overviews, juicy statistics, and even a sprinkle of examples.
What is Time Tracking Software?
So, what exactly is time-tracking software? Think of it as your trusty sidekick, keeping tabs on how you spend your precious minutes and hours. With time-tracking software, you can effortlessly monitor the time you spend on tasks, projects, and even specific clients. It's like having a personal time detective, capturing every moment of your workday.
But it doesn't stop there! Time-tracking software also helps you stay focused and accountable. You can set timers, receive reminders, and even analyze your productivity trends. It's like having a friendly coach cheering you on and keeping you on track.

Now, you might be thinking, "Why do I need this? Can't I just rely on my trusty old pen and paper?" Well, my friend, let me drop some mind-blowing statistics on you. Studies have shown that time tracking can increase productivity by a staggering 30%. That's like unlocking a secret power-up that propels you ahead of the competition!
🏆 How We Chose the Best Time Tracking Apps
When it comes to choosing the best time tracking app, you want to make sure it's a match made in productivity heaven. So, let's dive into some key factors to consider:

Ease of Use: You don't want a time tracking app that's more complicated than understanding quantum physics. Look for an app with a clean and intuitive interface, where you can start tracking time with just a few clicks.
Flexibility: Your time tracking app needs to be as flexible. It should adapt to your unique needs and allow you to track time for different tasks, projects, clients, or even specific activities within a project. The more flexible, the better!
Integration Powers: Your time tracking app should be a master of integration. Look for apps that seamlessly integrate with your favorite project management, collaboration, and invoicing tools. It's all about creating an unstoppable productivity ecosystem.
Reporting and Analytics: Numbers may not be exciting, but they're crucial for making informed decisions. Look for a time tracking app that offers robust reporting and analytics features. You want to see colorful charts, insightful trends, and data that makes you go, "Wow, I'm a productivity genius!"
Mobile and Desktop Compatibility: As a busy business owner or digital marketer, you need a time tracking app that can keep up with your on-the-go lifestyle. Make sure the app is available on both mobile and desktop platforms, so you can track time wherever your adventures take you.

Now, let's sprinkle in some mind-blowing statistics to convince you even further. Did you know that businesses that actively track their time are 30% more likely to be profitable? That's like having a secret revenue-boosting power in your hands.
Why You Should Trust Our Recommendations
Extensive Experience: As a leader on ThemeForest since 2015, CodeSupply Co. has sold over 23,000 themes with a top rating of 5 stars from over 600 customers.
Proven Track Record: As a Power Elite Author on ThemeForest (just 154 hold this distinction), we've launched 20 professionally designed themes to wide acclaim.
Most Popular Themes: Our Authentic theme has over 8,600 sales, demonstrating our ability to create themes people love and want to purchase.
Deep Industry Knowledge: With years on ThemeForest, we understand what features and designs are most useful and appealing to modern users based on real market data.
Vetted Reviews: Our high rating is based on genuine reviews left directly on ThemeForest, not controlled websites, so you know our themes truly deliver excellent experiences.
Constant Improvement: We're continuously optimizing our themes and processes based on new technologies and customer feedback to stay at the cutting-edge of web design.
30 Best Time Tracking Tools for Freelancers and Remote Teams
It's time to explore the 30 best time tracking tools and unleash your productivity powers. Get ready to save time, increase efficiency, and take your business to new heights!
Toggle is a robust time tracking tool designed to simplify and streamline the process of tracking and managing time for individuals and teams. It offers a range of features that make time tracking easier, more accurate, and integrated with other tools and applications.
Key Features:
Calendar View: Toggle provides a calendar view that seamlessly integrates with your Google and Outlook calendars. This allows you to visualize and manage your time entries in a calendar format, making it easy to track and schedule your tasks.
One-Click Timers: With Toggle, starting and tracking time is as simple as a single click. You can easily initiate timers for different projects or clients, ensuring accurate tracking of your work. Additionally, you can add or edit details later, providing flexibility and convenience.
Integrations: Toggle offers over 100 integrations with popular tools such as Trello, Todoist, ClickUp, Asana, GitHub, Slack, and more. These integrations allow you to track time within the tools you already use, eliminating the need for manual switching and ensuring seamless workflow integration.
Reporting and Insights: Toggle provides a range of reporting options, including summary, detailed, and weekly reports. You can customize and filter your data, export reports in various formats (CSV, PDF, Excel), and even create dynamic permalink reports to share with clients.
Project Management: Toggle offers project management features such as project dashboards, task management, project estimates, and alerts. These tools help you stay on track, manage budgets and timelines, and monitor project progress effectively.
Limitations:
May require some time to get accustomed to the tool.
Higher-priced plans required for more advanced functionality.
Some users may find the level of customization to be limited.
Pricing:
Free Plan - $0 per user per month
Starter Plan - $9 per user per month (billed annually)
Premium Plan - $18 per user per month (billed annually)
Enterprise Plan - Custom pricing for large organizations
These plans include different features and benefits tailored to meet the needs of individuals and teams at varying levels.
Why is Toggle Track our Top Pick?
We picked Toggle as the best time tracker. It has easy one-click timers and syncs with your Google/Outlook calendar so scheduling is simple. Toggle also connects to over 100 tools like Trello and Asana. This means you can track time directly in the apps you use every day. We liked its clear reports to see how you spend your time.
Toggle helps manage projects too through features like estimating tasks. While some plans cost more, Toggle's pricing options suit individual use or whole teams. Overall, Toggle makes time tracking easy and lets you use it anywhere in your workflow.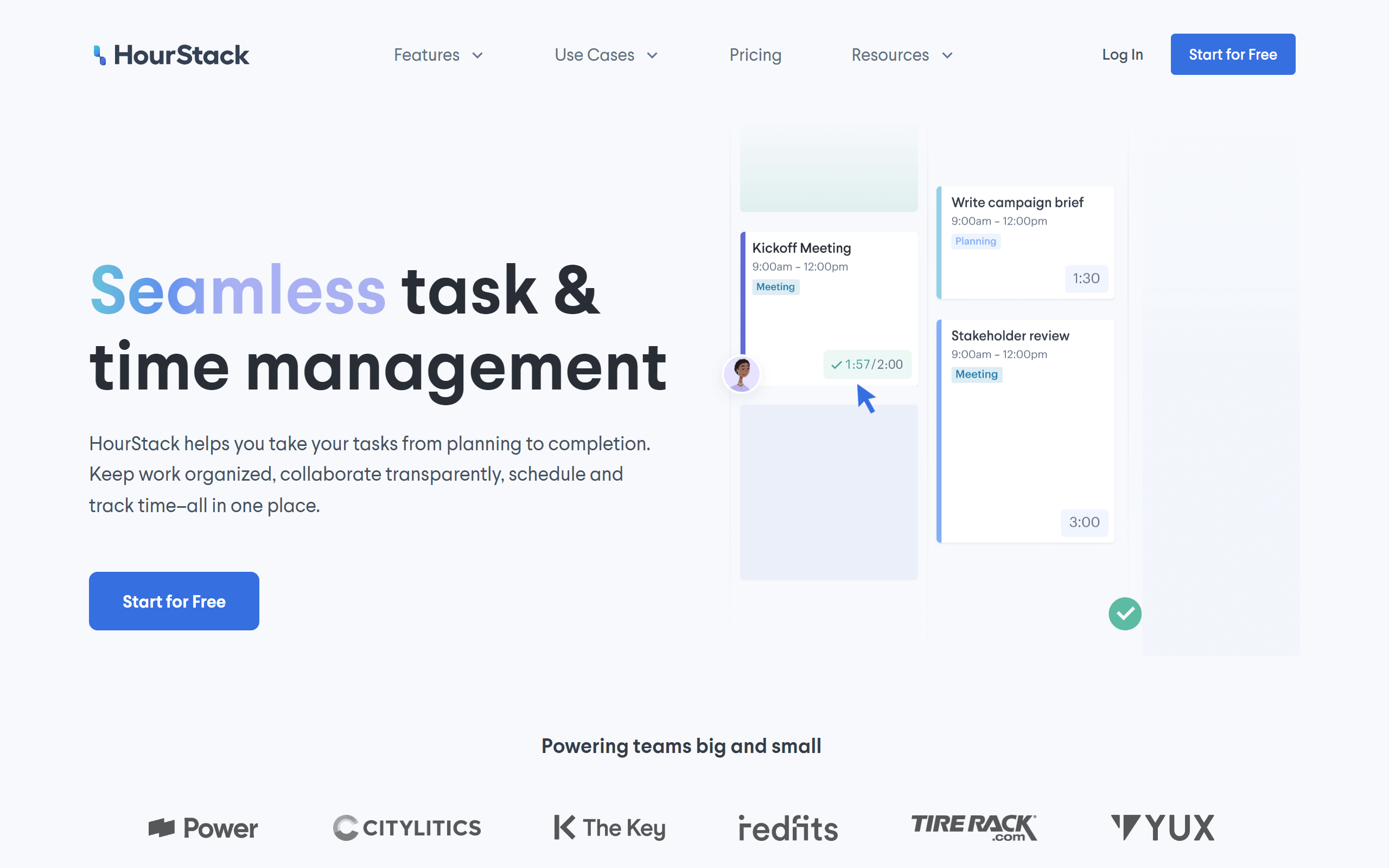 HourStack is a powerful project management and time tracking tool that helps you take projects from planning to completion. With HourStack, you can manage projects with ease by organizing tasks in flexible list, board, and calendar views. This allows you to keep work visible and stay on top of deadlines and budgets.
Key features:
List, board, and calendar views: Organize your tasks in whichever view works best for you and your workflow. Easily switch between a to-do list, kanban board, or calendar schedule.
Integrations: Connect apps like Google Sheets, Slack, and Trello to import tasks and sync data. HourStack integrates seamlessly with the tools you already use.
Team collaboration: Keep your team on the same page by adding task details, notes, due dates and assigning work. Track progress transparently.
Visual scheduling: Plan your time using the intuitive drag-and-drop calendar. Create a focused schedule and manage workloads.
Reporting: Generate real-time reports to gain valuable insights. Filter and group data to identify trends and improve time utilization.
Limitations:
Time tracking is web-based only, no Android or iOS app.
Some custom fields and forms have low flexibility.
Best for task and time tracking versus fully-featured project management.
Pricing:
Personal plan - $12/month
Team plan - $15/member/month
Features include teams, reporting, and integrations.
3. 🏅 Our Pick - Timely
Timely is an AI-powered time tracker that effortlessly records where you spend your time, both on desktop and web-based apps. It automates time tracking in the background without any clicks or reminders required on your part. Timely provides a full snapshot of your workday with zero effort.
Key features:
Automatic tracking: Timely monitors your app usage to track time without you having to do anything. Just work as normal.
Accurate timesheets: Pull timesheet data directly from your usage to bill clients accurately without estimates.
Privacy-focused: It never takes screenshots or monitors keystrokes, solely tracking usage data you control sharing.
Natural workflow: No interruptions from manual logging so you stay focused on the task.
Computer and web app support: Track time across documents, emails, calls, websites and more.
Limitations:
Desktop and web app only for now.
7 day free trial data storage, premium required for full usage history.
More advanced metrics and customization in premium.
Pricing:
Free plan - Basic tracking and 7 days storage
Premium plans from $5/user/month - Unlimited tracking and storage, enterprise features.
Why is Timely our Top Pick?
We chose Timely as our top time tracker because it's very easy to use. Instead of interrupting your work to log hours, it automatically watches which apps and programs you have open to track your time for you. Even though you don't have to do anything, Timely gives you detailed timesheets broken down by project, client and task. It takes the real numbers from monitoring your computer instead of guessing like other trackers.
Timely also lets you store and see your work history forever if you get a paid plan. So if you want accurate tracking without hassle, Timely is the clear best choice since it happens in the background while you focus on your tasks.
TrackingTime is an all-in-one solution for managing your entire company's operations from one central dashboard. It streamlines time tracking, project management, timesheets, attendance, and invoicing & reporting.
Key features:
Automated time tracking: Track time easily across any device with flexible manual and automatic options.
Project management: Organize big picture projects and tasks on customizable boards to stay on top of progress.
Built-in timesheets: Sync directly with tracked hours to generate timesheets without extra data entry.
Attendance tracking: Monitor schedules to help ensure your team is on track and productive.
Invoicing: Generate beautiful, detailed invoices and bills directly from logged time reports.
Limitations:
No desktop software for Mac/Windows.
Basic free plan limited to 3 users and basic features.
Yearly plans are billed annually with processing fees.
Pricing:
Free - $0/month, up to 3 users
Pro - $5/user/month, unlimited users
Business - $10/user/month, advanced features
All plans have a 14-day free trial and no credit card required upfront.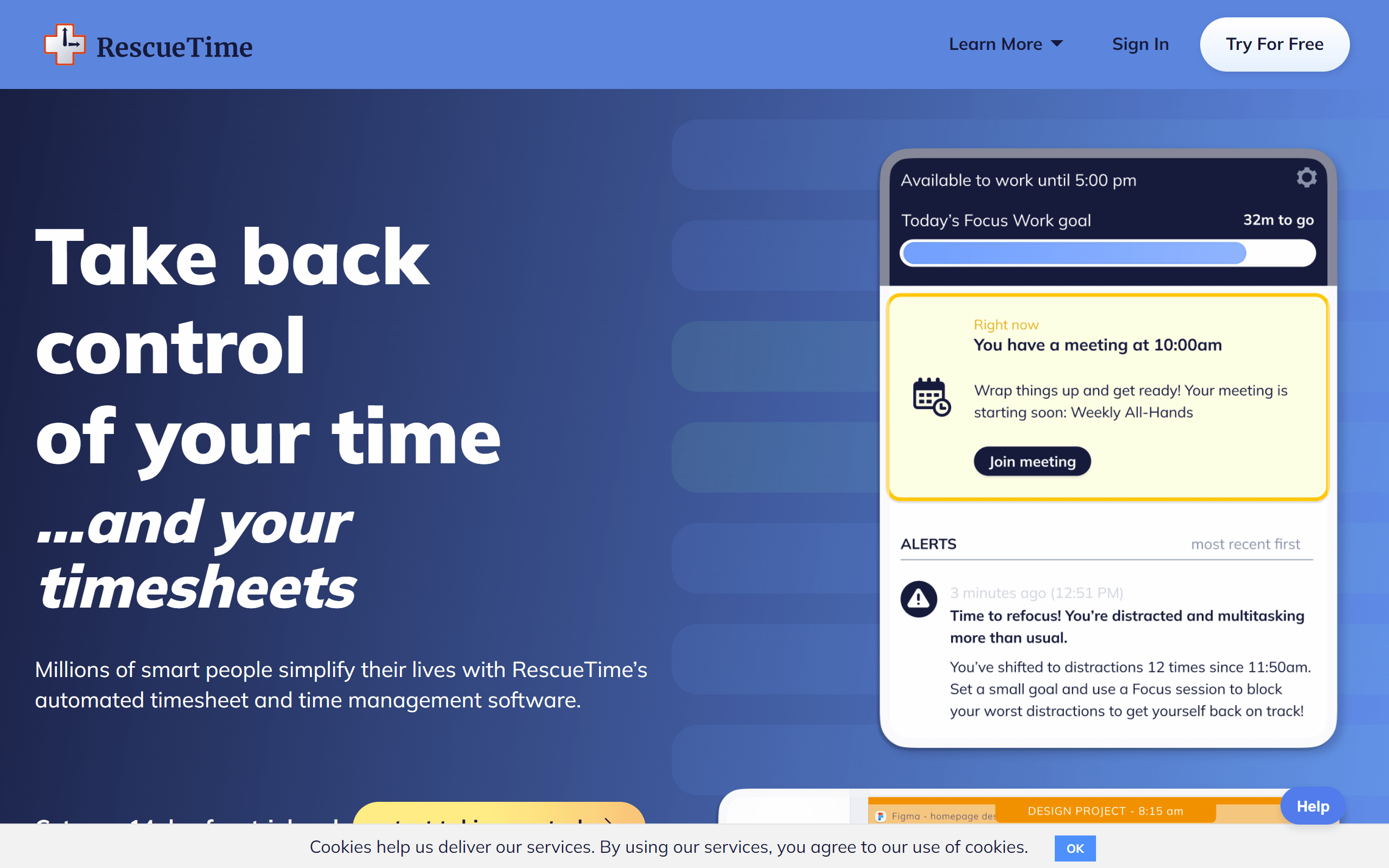 RescueTime is a leading time management and productivity solution that takes a holistic approach to helping users make the most of their time. More than just a basic time tracker, RescueTime focuses on providing insights, automation and features that address the full spectrum of time and focus management.
Key features:
Distraction blocking: Block distracting websites and apps with one click to stay focused during important sessions.
Automatic time tracking: RescueTime runs invisible tracking to log time spent in all apps, websites, documents without bothering you.
Detailed reports: Generate beautiful, accurate timesheets broken down by client, project or tag directly from your usage data.
Scheduling insights: It monitors your calendar and provides focus suggestions to optimize your workflow.
Multi-platform: Track time and focus on Mac, Windows, iOS and Android devices seamlessly.
Limitations:
No Windows/Mac desktop app.
More detailed metrics and analytics require a premium plan.
Free trial only stores 7 days of history.
Pricing:
MyHours is a leading online timesheet and project management solution used by over 100,000 companies worldwide to efficiently track time and manage projects. MyHours is a versatile time tracking solution that simplifies managing timesheets, projects, and teams. MyHours provides a comprehensive suite of tools to simplify end-to-end operations for teams of all sizes.
Key features:
Intuitive timesheets: User-friendly interface allows quick timesheet logs from any device.
Project management: Organize projects and tasks with custom fields, assign owners, and track estimates vs. actuals.
Reporting: Generate detailed, professional invoices and reports directly from tracked time data.
Team management: Control roles, track capacity, set approvals and audit changes made to logs.
Real-time insights: Monitor budgets, task progress, and time spent on projects and clients.
Limitations:
No native desktop or mobile apps.
Basic free plan limited to personal use with fewer features.
More advanced configurations require long-term learning of the interface.
Pricing:
Free - Personal or small teams
Pro - $8/user/month billed annually - All features for growing teams
At its core, Clockify allows intuitive time logging through both manual entry and automatic background tracking across platforms. Users can easily toggle timers to track hours spent on various clients, projects, tasks or activities. This granular data capture syncs seamlessly across devices.
Key Features:
Intuitive time tracking: Log hours easily with a timer or manually from any device.
Project management: Organize workflows with tasks, milestones, budgets and team assignments.
Detailed reporting: Generate professional, customized reports from tracked time data.
Team management: Monitor teammates' hours, vacations, and performance all in one place.
Auto-tracking: Clockify runs invisible tracking to attribute hours to specific activities.
Limitations:
As a web/mobile-based solution, an internet connection is needed to access features.
More detailed usage analytics and customizable dashboards require Premium plan.
Only a set number of custom fields are available.
Pricing:
Free - Personal or individual use
Premium - $6/user/month billed annually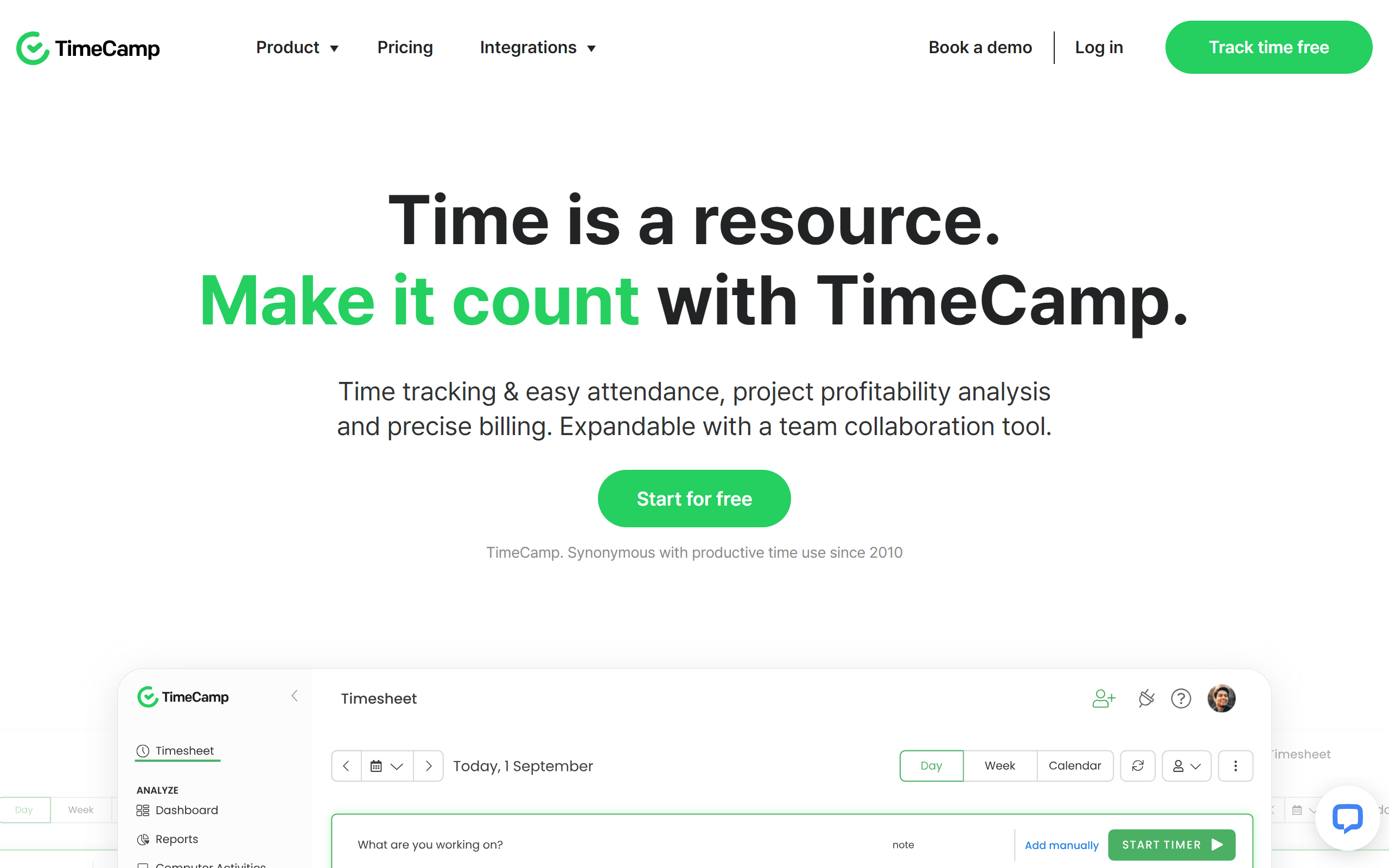 TimeCamp is an intuitive time tracking software that aims to optimize productivity, billing, and team efficiency. With significant improvements reported within 3 months of its implementation, businesses have witnessed better budgeting, increased revenues, and enhanced productivity.
Key Features:
Attendance Management: A comprehensive solution to log work hours, process payrolls, and oversee employee attendance seamlessly.
Project Time Efficiency: Keep a vigilant eye on your project timelines, ensuring maximum productivity and profitability.
Team Performance Optimization: Delve into your team's workflow to identify and rectify productivity bottlenecks.
Precise Billing: Accurately bill clients for every moment, ensuring transparency and trust.
Geofencing & Kiosk: Specifically designed for mobile teams, these features offer precision time tracking and simplified clock-in-clock-out processes.
Limitations:
New users may need time to understand all features.
Not all tools or platforms are supported.
PRO plan features might be excessive for small teams.
Pricing Plans:
Free - $0: Unlimited users, projects, and basic tracking tools.
Starter - $2.99/user/month: Enhanced task and report features.
Basic - $5.99/user/month: Extended integrations and tools.
PRO - $7.99/user/month: Comprehensive features.
Enterprise - Custom pricing tailored for specific business requirements.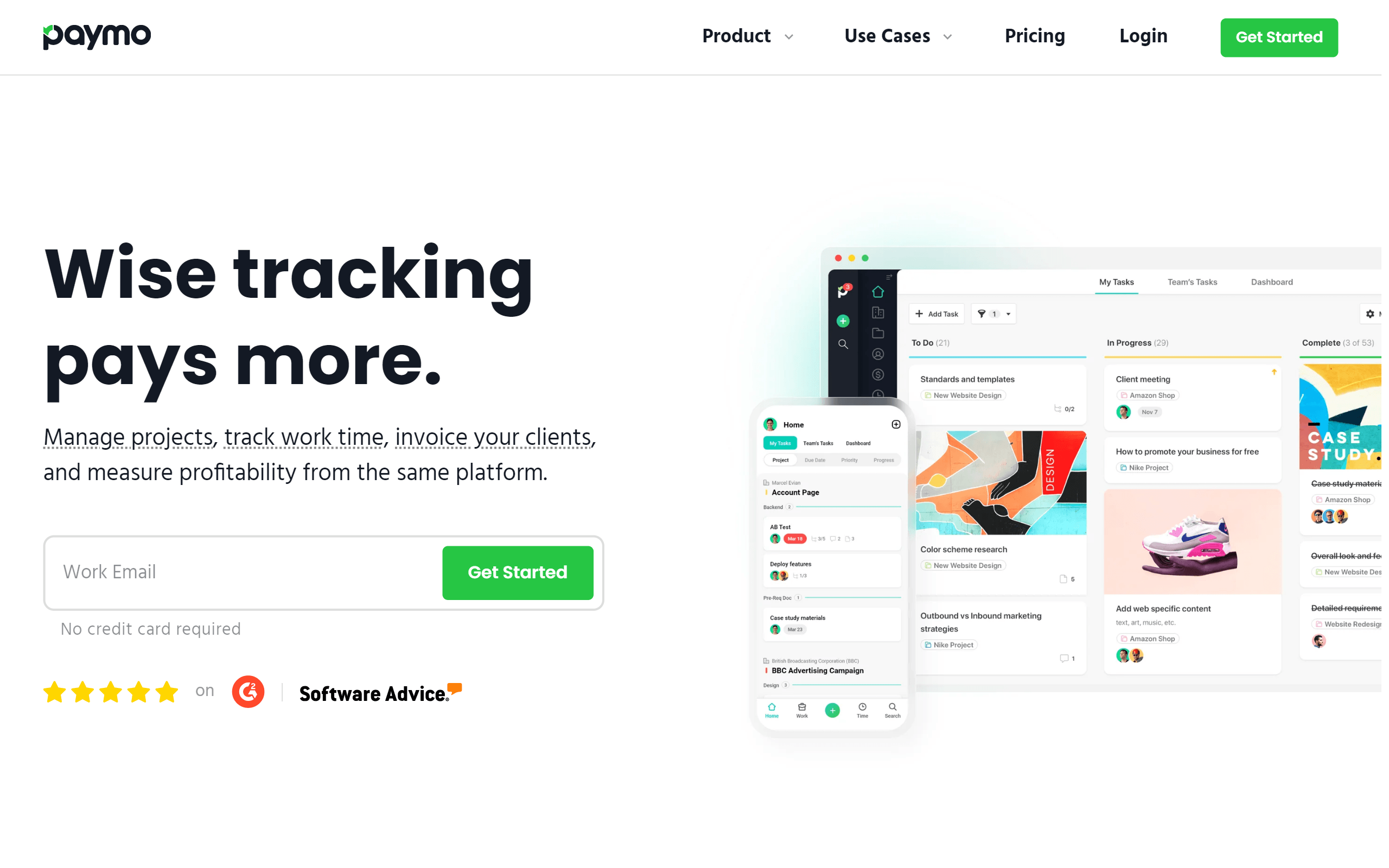 Paymo is a comprehensive project management and time tracking tool designed to help teams and individuals streamline their work processes, enhance collaboration, and deliver projects efficiently.
Features:
Multi-user Assigning: Allows assigning of tasks to multiple members ensuring collaborative efforts.
Comments on Tasks: Enables direct communication on tasks, improving clarity and feedback loop.
Task Templates: For repetitive tasks, templates can be created to save time and ensure consistency.
Kanban Boards: A visual representation to manage and track the progress of tasks and projects.
Time Tracking: Features like the Pomodoro timer and automatic time tracking help in precise time management.
Limitations:
There's a learning curve for those unfamiliar with such tools.
Limited storage, especially on the lower-tier plans, may not cater to larger projects.
Limitations on the Free Plan: The free plan is limited to 1 user, 3 clients, and 50 tasks, making it less suitable for larger teams or projects.
Pricing:
Free - $0/user/month - Basic tools for individual users.
Starter - $4.95/user/month - Designed for freelancers.
Small Office - $9.95/user/month - Suitable for small teams.
Business - $20.79/user/month - Tailored for medium to large teams.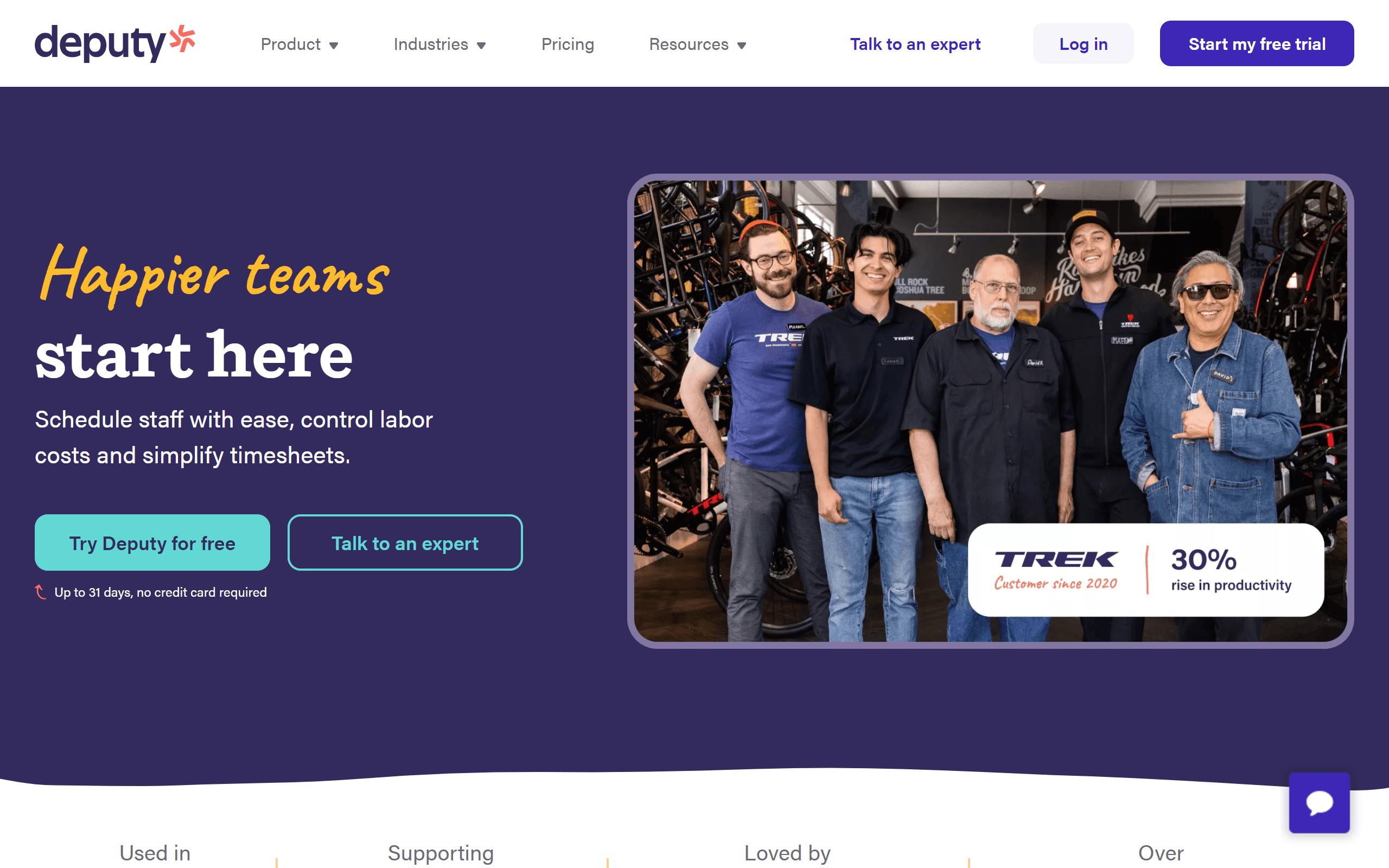 Deputy is a widely-recognized tool used in over 100 countries, supporting 340,000+ workplaces and favored by 1.3 million shift workers for scheduling and time management. With over 500 million shifts scheduled, it's evident that businesses globally, from brands like Nike to Aesop, rely on Deputy to optimize their operations.
Features:
Scheduling Software: This feature makes employee scheduling effortless, eliminating the need for cumbersome spreadsheets and ensuring that businesses like UNTUCKit cut down their scheduling workload by half.
Time Tracking: Deputy allows businesses to capture accurate timesheets and automate intricate pay calculations, which can lead to healthier profit margins and cost savings like the 10% YOY payroll cost reduction achieved by Thornton and Hidden Lakes Ace Hardware.
Time Clock App: A versatile feature that turns any device into a secure time clock for employees.
Labor Compliance Tools: These tools are designed to help businesses navigate meal breaks, fair workweek, and other wage and hour laws. This ensures businesses stay compliant and avoid costly mistakes.
Integrations: Deputy can be seamlessly integrated with a variety of payroll, POS, or HR software, such as Shopify, Quickbooks, and Square POS.
Limitations:
With its diverse features, newcomers might need some time to get accustomed to the platform.
Businesses with more than 250 employees need to inquire separately for pricing, which might not offer instant clarity on budgeting.
While Deputy does offer labor compliance tools, it may not cover every specific regional, state, or country labor law.
Pricing:
Scheduling - $3.50 per user per month.
Time & Attendance - $3.50 per user per month.
Premium - $4.90 per user per month (or $4.20 if billed annually).
Enterprise - Custom pricing for businesses with more than 250 employees.
Monday.com stands as a transformative Work OS, purpose-built to centralize tasks, projects, and collaborations. With its adaptability, it serves as the go-to solution for businesses and professionals eager to consolidate their workflows and enhance productivity.
Features:
Dynamic Visual Boards: Beyond mere task lists, Monday.com's boards provide a visual representation of project stages, team responsibilities, and deadlines, ensuring everyone stays aligned and informed.
Versatile Visualization Options: Catering to diverse project needs, Monday.com offers a range of views like the Kanban for agile projects, a timeline for phased tasks, and a Gantt chart for complex projects with dependent stages.
Insightful Dashboards: Offering more than just an overview, these dashboards allow teams to pinpoint bottlenecks, overruns, and outstanding tasks, driving actionable insights from raw data.
Seamless Third-party Integrations: Monday.com isn't just an isolated platform—it synergizes with tools you already love, ensuring uninterrupted workflows across Slack, Dropbox, or even your Adobe design tools.
Smart Workflow Automations: Reduce the repetitive task syndrome. Monday.com's automation recipes ensure routine tasks trigger automatically, letting teams focus on what truly matters.
Limitations:
Given its array of functionalities, newcomers might need a buffer period to harness the platform's full potential.
Advanced functionalities come with a price, available only in the higher-tiered plans.
Depending on your subscription, there might be storage caps which could impact larger teams or media-heavy projects.
Pricing:
Free - Tailored for individuals or startups.
Basic - $8 per seat/month for growing teams.
Standard - $10 per seat/month for established teams needing more features.
Pro - $16 per seat/month for large teams and complex projects.
Enterprise: -Custom pricing for extensive organizations with unique requirements.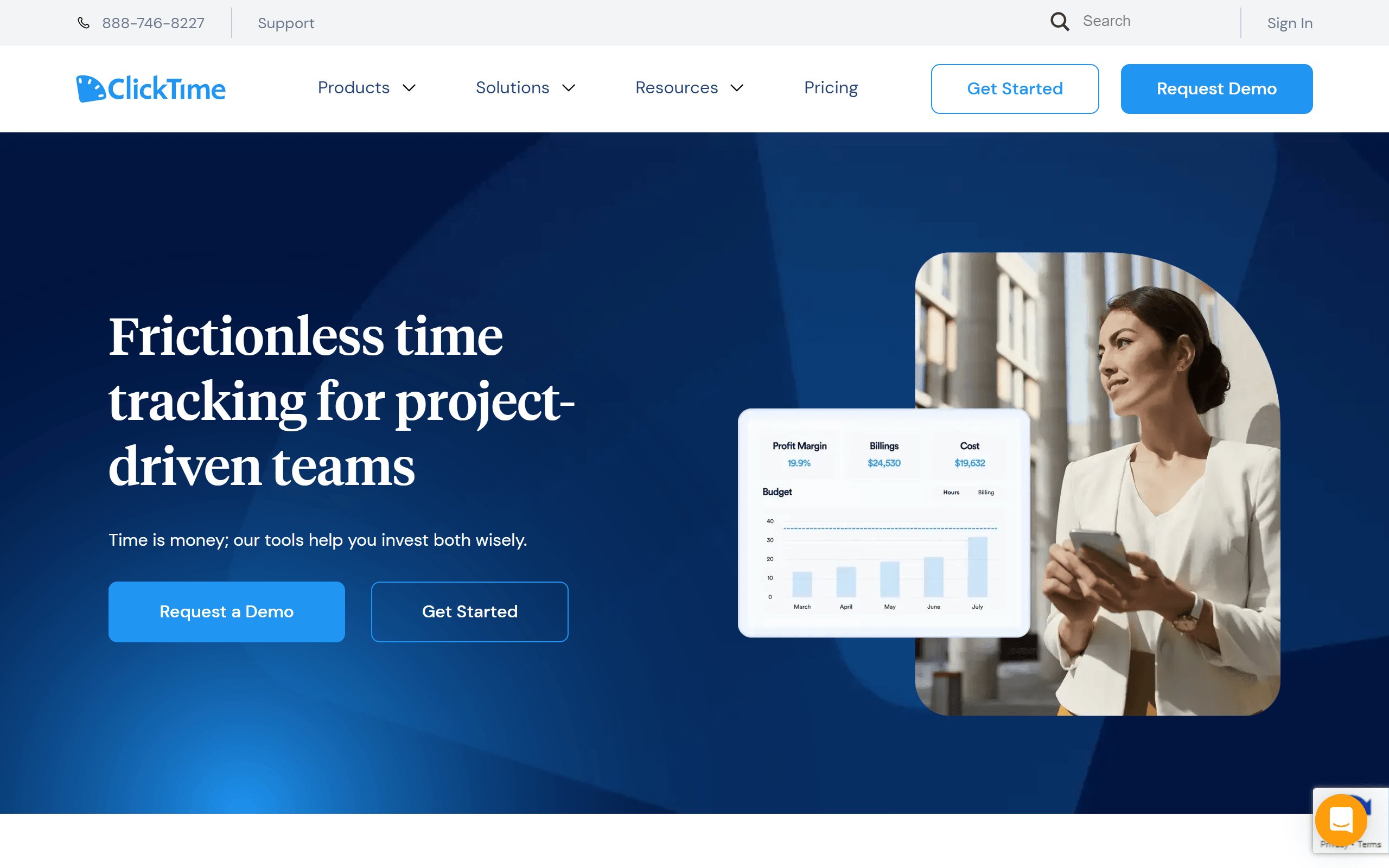 ClickTime is a comprehensive time tracking and project management platform designed to empower businesses to optimize their operations, budgeting, and workforce planning. With a blend of customizable features and intuitive designs, it offers a holistic solution for organizations seeking precise time management and project insights.
Key Features:
Dynamic Project Costing: Harness the ability to monitor profits, costs, and billings for every project, ensuring that all operations remain within the budget. It's especially crucial if you're trying to determine how to start a blog and need a handle on costs.
Advanced Workforce Planning: Efficiently allocate employee hours and set clear time objectives, ensuring everyone is aligned with company goals.
BI Analytics Tool: With this feature, you can visualize data effectively, enabling better decision-making, which could be pivotal if you're searching for blog post ideas in niches like christian blogs or top christian blogs.
Accurate Time Logging Suite: ClickTime prioritizes accuracy and completion. With automated reminders, managerial approval workflows, and a mobile app, the platform guarantees correct time tracking across the organization.
Customizable Timesheets: Adapt the platform to your unique business needs, whether you're running one of the best christian blogs or managing multiple projects. From custom fields to detailed notes on every time entry, ClickTime offers unmatched configurability.
Limitations:
Given the wide range of features, some users might find the platform initially overwhelming.
While its strength lies in customization, businesses will need to invest time to tailor the platform according to their needs.
Plans accommodate up to 200 users, but larger organizations may need to discuss custom solutions.
Pricing:
Starter - $10 per user/month (Up to 25 users).
Team - $13 per user/month (Up to 200 users).
Premier - $24 per user/month (Up to 200 users).
Enterprise - Custom pricing tailored to unique business requirements.
ClickUp is a cutting-edge project management and productivity tool geared towards assisting teams in streamlining their workflows and achieving optimal efficiency. Suitable for a variety of purposes, from launching top christian blogs to corporate project management, ClickUp boasts intuitive designs and a multitude of features to ensure your tasks and projects stay on track.
Key Features:
Dynamic Progress Percentages: Update projects seamlessly using a drag-and-drop feature, promoting real-time collaboration. This provides an insightful snapshot of your project's status, helpful if you're determining how to start a blog or jotting down blog post ideas.
Task Dependencies: Create tasks and set interdependencies. Adjusting a task with dependencies intuitively reschedules linked tasks, ensuring a coherent flow in projects.
Intelligent Dependency-Path Tracking: Anticipate potential bottlenecks and eliminate them before they emerge. ClickUp's smart tracking promotes efficient workflow management.
Global Time Tracking: With ClickUp's comprehensive time tracking, you can record, adjust, and monitor your time across various devices. Whether you're working on a christian blog post or managing a corporate project, you can easily switch between tasks using the global timer.
Reporting & Integrations: Generate detailed timesheets to assess where time is spent, and integrate with popular time-tracking apps like Toggl and Harvest. This ensures seamless synchronization of time data within ClickUp.
Limitations:
Given its vast array of features, newcomers might require some time to fully understand and utilize the platform effectively.
With so many functionalities, some users might find the interface overwhelming or cluttered.
While ClickUp offers extensive customization, teams might need to invest considerable time to tailor the platform to their unique needs.
Pricing:
Free Forever - Personal use with 100MB storage.
Unlimited - $7/member/month. For small teams, unlimited storage.
Business - $12/member/month. Mid-sized teams, advanced features.
Enterprise - Custom pricing. Large teams, premium features.
It's an advanced time tracking software designed to simplify your workload. Gone are the days of traditional timesheets; with Replicon, AI takes charge, ensuring your hours are logged without you having to manually enter them. Plus, it seamlessly integrates with popular work apps like Slack and Zoom, ensuring no hour goes unaccounted for.
Key Features:
Smart Time Tracking: With AI capabilities, Replicon auto-captures work data from over 100 apps, eliminating the need for manual entries.
Flexible Timesheets: Whether you're on your phone or computer, you can easily check and submit your timesheet.
Accuracy at its Best: Replicon ensures that your timesheet is correct, reducing the chance for errors.
Global Compliance: For businesses operating internationally, Replicon stays updated with global work laws, ensuring you remain compliant.
Insightful Data: More than just a time tracking tool, it transforms your time data into actionable insights, helping you understand the value of every hour.
Limitations:
Occasionally, there might be some issues integrating with older systems.
As with any advanced tool, it can take a moment to get fully acquainted with all its features.
For highly specific requirements, Replicon might not always be the perfect fit.
Pricing:
Project Time Tracking - Starts at a reasonable $12/mo.
Time & Attendance - Priced at $6/mo.
Professional Services Automation (PSA) and Project Portfolio Management (PPM) - A more comprehensive solution starting at $29/mo.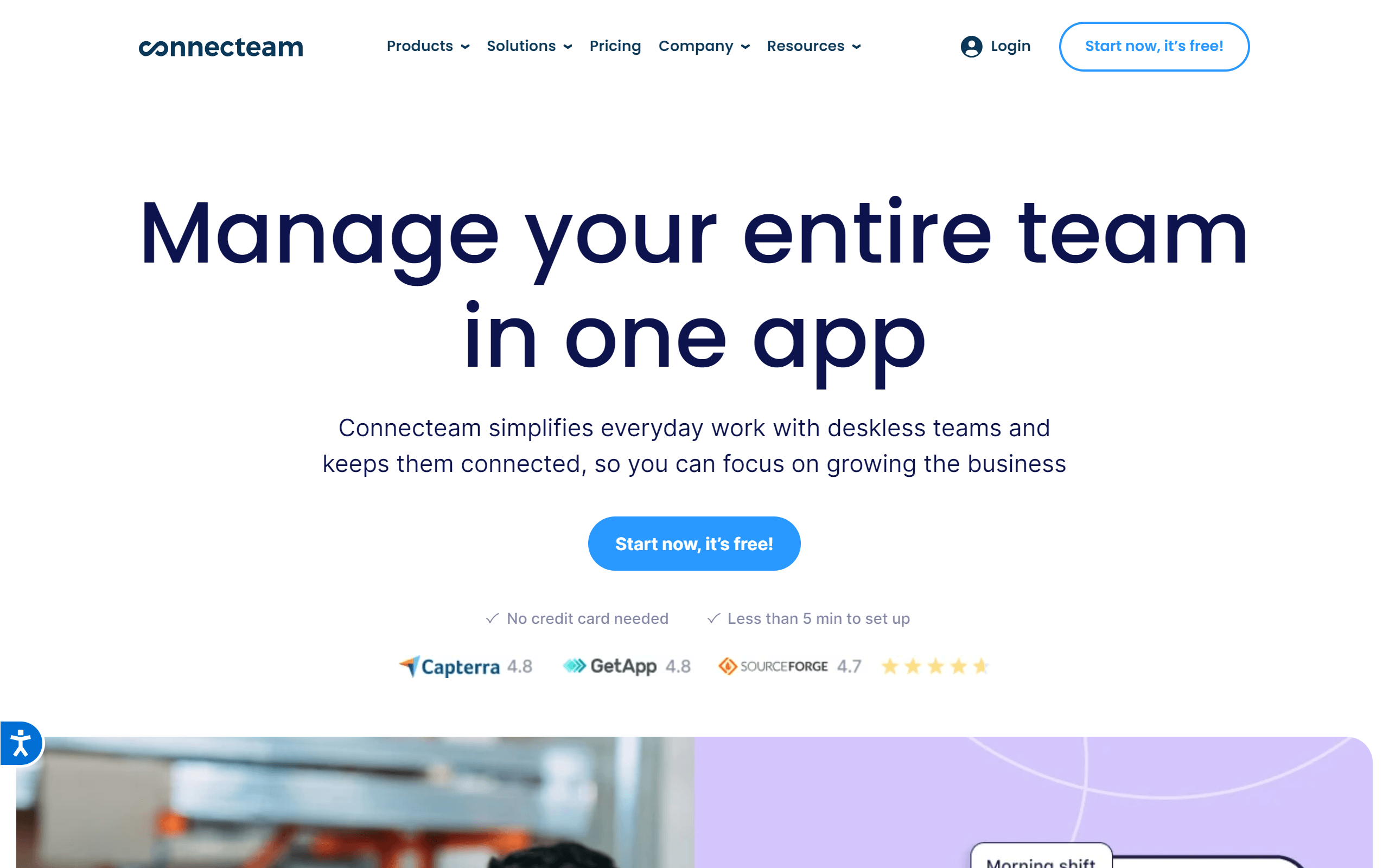 Connecteam is a time tracking system designed for streamlining business operations. Serving over 36,000 global companies, including giants like McDonald's and Volvo, this platform offers tools ranging from employee scheduling to task management.
Key Features:
Employee Scheduling: Say goodbye to scheduling woes. Replicon allows for easy assignment of shifts, oversight of shift-related tasks, and ensures everyone stays informed.
Time Clock System: Among the best time tracking apps out there, Replicon offers an unparalleled time clock solution. With features like GPS location tracking, geofence, and online timesheets, it's built for the modern, mobile workforce.
Task Management: Streamline your tasks with Replicon. Create, delegate, and keep track all from one place, with real-time notifications to keep you updated.
Digital Forms & Checklists: Move away from cumbersome paper tasks. With Replicon, you can digitize processes, allowing team members to fill forms on the go.
Payroll Integrations: Seamlessly shift from tracking time to processing payroll. Replicon supports exportation of timesheets to major payroll systems such as Gusto and QuickBooks.
Limitations:
Beginners might face an initial learning curve.
Some advanced features could be overkill for smaller businesses.
Integration with third-party platforms may need manual adjustments.
Pricing:
Expert - $119/mo for the first 30 users. Additional users at $3.6/month.
Advanced - $59/mo for the first 30 users. Additional users at $1.8/month.
Basic - $35/mo for the first 30 users. Additional users at $0.6/month.
The Small Business Plan - Free, offering full access tailored for small business requirements.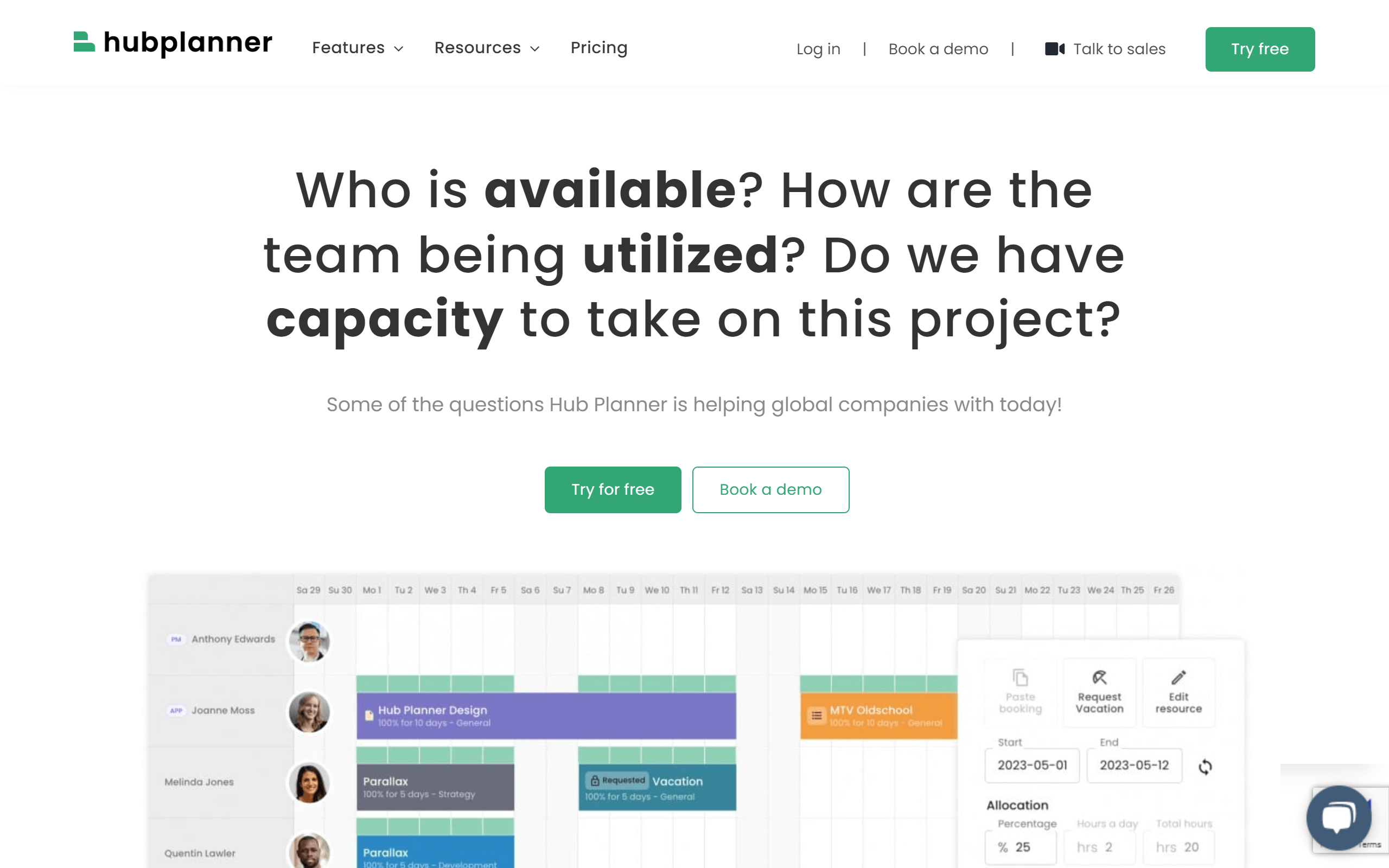 Managing a team can be challenging. However, with Hub Planner, the intricacies of team management become significantly easier. This resource management software provides a bird's eye view of your entire team, allowing for a real-time overview of everyone's schedules, tasks, and availabilities. If you're in search of the best time tracking apps or the best time tracking software, consider the features, limitations, and pricing options of Hub Planner to determine if it's the right fit for your team.
Key Features:
Instant Availability Insights: Quickly see who's available with easy-to-use filters for refining schedules.
Team Transparency: Understand team availability at a glance, allocate work, and spot gaps swiftly.
Target Date Range: Adjust date ranges for specific views on resource availability and utilization.
Filter Teams by Utilization: Evaluate team load and find overbooked or underutilized members easily.
Seamless Integration: Enhance scheduling with smart schedules, custom fields, and smart groups. Also, track time efficiently with its Time Tracking for Teams using Timesheets feature.
Limitations:
Can be complex for beginners.
Not as extensive as specialized time tracking tools.
Might not support all third-party tools.
Pricing Options:
Plug & Play - $7/resource/month. Core features and M-F support.
Premium - $18/resource/month. Advanced features and 24/7 support.
Business Leader - Custom price. For large teams with added benefits.
Smartsheet offers flexibility in managing work, ranging from small projects to large-scale processes. Its key objective is to operate at peak human performance, enabling teams to be connected, aligned, and supported. This fosters focus, allowing individuals to realize their maximum potential.
Key Features:
Project Management: Smartsheet provides time tracking software that allows users to track and visualize their work using various views like Grid, Card, Gantt, or Calendar. This adaptability makes it one of the best time tracking apps available.
Team Collaboration: Smartsheet goes beyond just being a time tracking app. With capabilities like forms, data collection, content management, and intuitive apps, it's a top-tier time tracking system designed for team collaboration.
Task Automation: Smartsheet's time tracking tools enable efficient task automation, making repetitive tasks a breeze.
Integration Capabilities: As one of the best time tracking software, Smartsheet offers seamless integrations with a variety of tech stacks, enhancing information sharing and decision-making.
Executive Visibility: This feature ensures leaders and executives have a clear overview of operations, which is vital for any effective time tracking system.
Limitations:
Limited features in the free version.
Potential learning curve for newcomers to work management software.
Integration challenges with some third-party tools.
Pricing Options:
Free: $0 - For beginners in task and project management.
Pro: $7 per user/month (billed yearly) - For teams aiming for advanced project management capabilities.
Business: $25 per user/month (billed yearly) - Ideal for larger businesses with extensive project needs.
Enterprise: Pricing available upon request - Best suited for large-scale organizations with specific demands.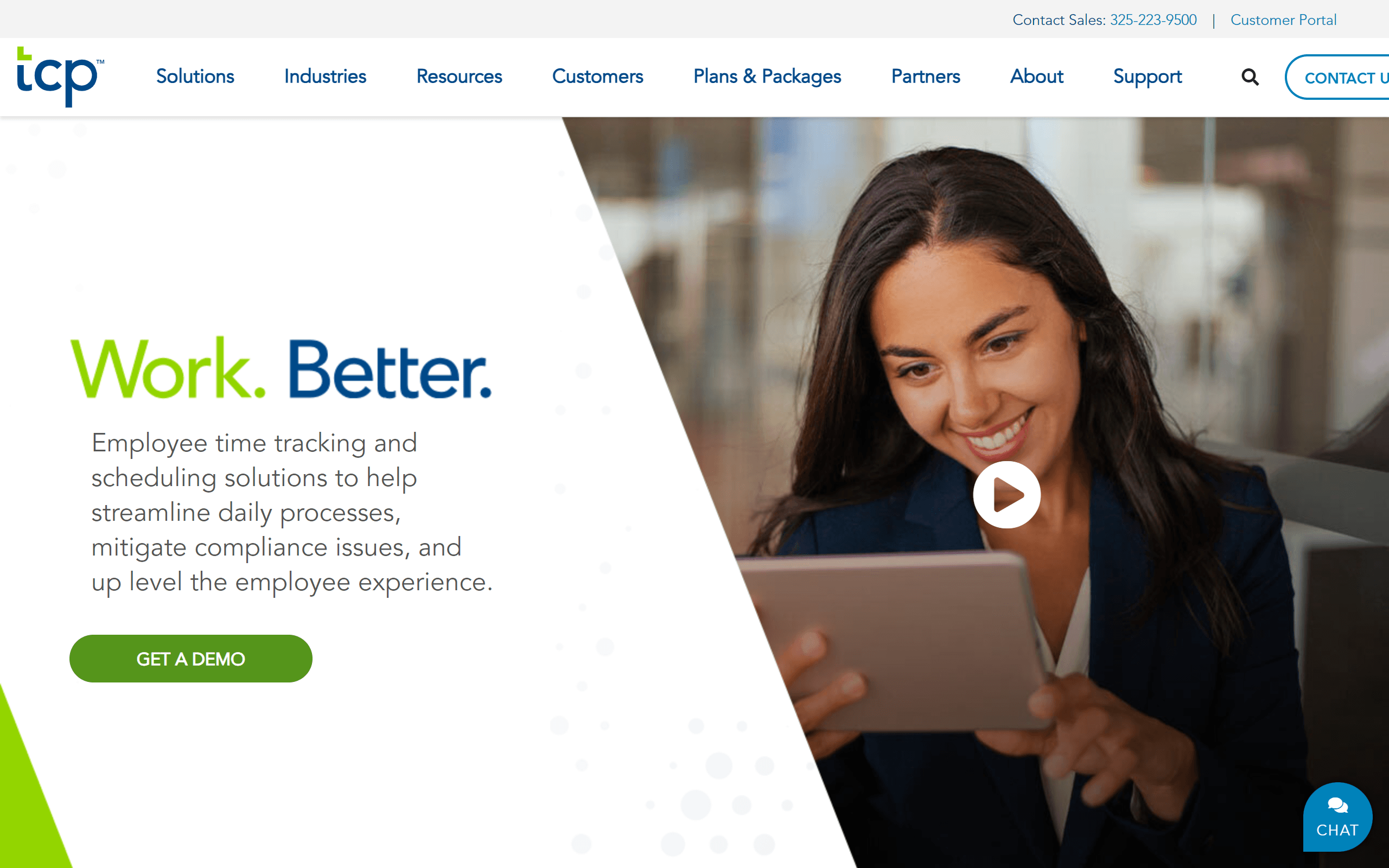 TimeClock Plus (TCP) is a powerful time tracking software that streamlines time and attendance for businesses. Offering a range of tools, from scheduling to job costing, it provides companies with detailed insights into their workforce activities, ensuring efficient operations and reduced human errors.
Key Features:
Employee Scheduling: TCP's time tracking system lets businesses ensure that their employees are at the right place at the right time, making it a strong contender among the best time tracking apps.
Leave & Absence Management: The time tracking tool offers flexible solutions to streamline administrative tasks related to employee time off.
Labor Tracking & Job Costing: This feature of the time tracking software provides businesses with accurate job costing tools, offering insights into labor costs and management.
Mobile Solutions: Recognized as one of the best time tracking apps, TCP empowers mobile and remote workers with a secure method to check in and out seamlessly.
Integrations: TCP integrates smoothly with major payroll, ERP, and HCM providers, proving its utility as a comprehensive time tracking system.
Limitations:
Advanced features limited to higher-tier plans.
Potential learning curve due to numerous features.
Add-ons may lead to extra costs.
Pricing:
Essentials: Basic time and attendance tools.
Professional: Expanded features for reporting, scheduling, etc.
Enterprise: Advanced tools for larger, complex organizations.
Insightful is a state-of-the-art time tracking software tailored for productivity-focused teams, offering actionable data insights to foster efficient workflows and amplify team performance. Its advanced features facilitate effortless time and attendance tracking, regardless of the global location of your employees.
Key Features:
Automated Time Clock Software: With Insightful's time tracking apps, employees can easily clock in and out. Their time and attendance are captured the moment they log into their devices, streamlining workforce management.
Real-time Attendance Insights: This time tracking system offers a complete view of when and what your employees are working on. It ensures employees adhere to assigned hours and promotes healthy breaks, all displayed on an intuitive dashboard.
Simplify Payroll Processes: The software seamlessly integrates with payment systems, ensuring accurate hours worked calculations, payroll computations, and promoting efficient budgeting.
Screen Monitoring Capabilities: Insightful, recognized as one of the best time tracking apps, goes beyond basic time monitoring. It offers screen monitoring to provide real-time screenshots, app/website usage tracking, and overall productivity insights, ensuring team alignment.
Data-Rich Reporting: Understanding your team's productivity becomes easier with Insightful. Generate push-button reports to track project progress, budgets, or even filter timesheets by individual or team, providing deep insights into company time.
Limitations:
Some users might need time to familiarize themselves with all its features.
Screen monitoring can be seen as invasive by certain employees.
Doesn't connect seamlessly with all payment systems.
Pricing:
Employee Monitoring: $6.40 monthly per employee (billed annually).
Time Tracking: $8.00 monthly per employee (billed annually).
Automatic Time Mapping: $12.00 monthly per employee (billed annually).
Enterprise: Pricing available upon request.
BigTime is a leading time and expense tracking software that's easy to use, yet powerfully efficient behind the scenes, especially for reporting. As one of the best time tracking software available, BigTime offers a blend of simplicity and advanced functionality that aids in efficient management of time and resources, making it one of the top choices among time tracking apps.
Key Features:
Simplified Time Tracking: BigTime's time tracking system reduces the effort required in tracking time and expenses. With features like auto-fill repetitive data, auto-save, and smart lookups with user-specific presets, it stands as one of the best time tracking apps for efficiency.
Granular Access Control: Managers can allocate specific user rights for reviews and approvals, limit the visibility of information to employees, and set required fields that must be filled out before saving, ensuring accuracy and reduced errors.
Detailed Expense Management: Reviewing expenses submitted by staff becomes effortless. Expenses can be tied to internal or billable projects, and you can categorize them as reimbursable, non-reimbursable, billable, non-billable, or even service fees. Additionally, the software allows for easy posting to QuickBooks.
Resource Allocation and Skill Matching: BigTime's time tracking tool ensures optimal resource allocation based on skills, experience, and availability. It also features a Skill Matching Software, which facilitates the assembly of competent project teams by matching skills and competencies to projects, accounting for PTO and global holidays.
Advanced Reporting: This time tracking software boasts data-driven reporting capabilities. Make informed hiring decisions, forecast skills requirements, monitor metrics by department or role, and centralize project data for full visibility into project progress.
Limitations:
Some users might find BigTime overwhelming due to its vast features.
Adjusting columns and fields can have a learning curve.
BigTime might not seamlessly integrate with all platforms.
Pricing:
Essentials $20 per user/per month
Advanced: $35 per user/per month
Premier: $45 per user/per month
Projector: From $60 per user/per month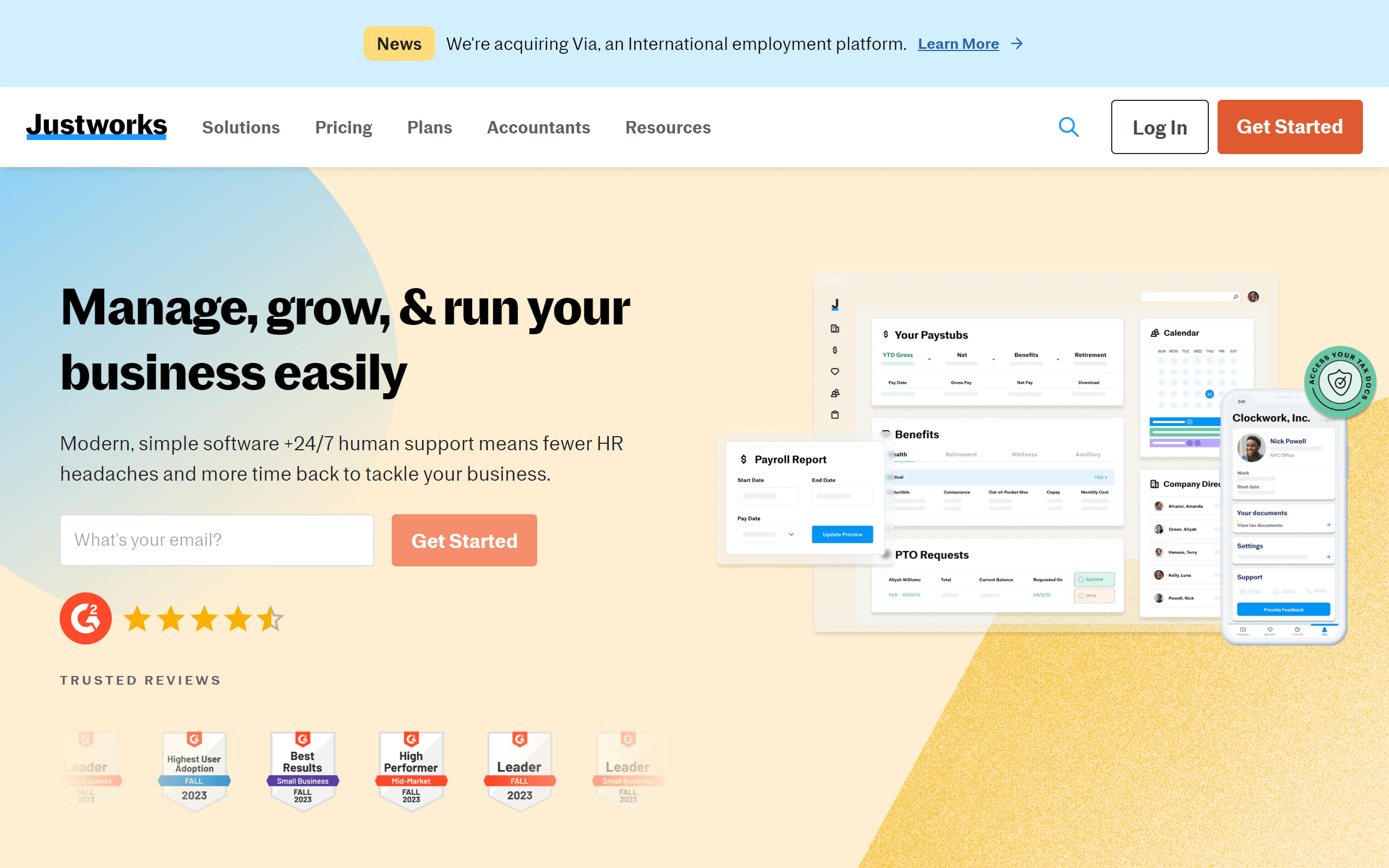 Justworks is dedicated to providing entrepreneurs peace of mind by simplifying work and life navigation. From onboarding to benefits enrollment, payroll to HR management, Justworks offers a comprehensive solution with a human touch. Its commitment is evident in its 24/7 full-service support, ensuring users always have an expert to turn to.
Key Features:
Onboarding in Minutes: Using Justworks, businesses can onboard new employees swiftly, allowing them to set up direct deposit and review company policies either on the PEO or Payroll platforms.
Benefits Enrollment: Employers can specify the benefits they wish to offer, and employees can then enroll online, eliminating the need for paperwork.
Payday Notifications: Employees receive automated notifications detailing their pay, ensuring clarity regarding taxes and deductions.
Work Hours Tracking: Justworks simplifies the process of managing employee time with features like geo-location tracking, overtime alerts, and integrations to sync timesheets to payroll. This positions it among the best time tracking software available.
Mobile HR Access: With the Justworks PEO mobile app, employees can access essential information such as paystubs, health insurance, and PTO anytime, anywhere.
Limitations:
Not clear if international employees or regulations are catered for.
The multitude of features might be overwhelming for some users.
Might not offer extensive customization for unique business needs.
Pricing:
Basic Plan: $59/month per employee ($49/month from the 50th employee).
Plus Plan: $99/month per employee ($89/month from the 50th employee). Includes added medical, dental, and vision benefits.
DeskTime is a comprehensive time tracking software designed to improve team productivity, streamline work processes, and optimize resource allocation. By providing insights into how time is spent and the effectiveness of team members, DeskTime serves as an essential tool for managers and employees alike.
Key Features:
Automatic and Manual Time Tracking: With DeskTime, track computer activities automatically or account for time spent away from the computer.
Performance Evaluation: Delve into data not just on work hours but also on the activities performed. Features like URL & app tracking, productivity calculation, and document title tracking offer a complete picture.
Reporting: Gain a detailed understanding of team performance through charts, tables, and downloadable data using the reporting features.
Scheduling: Manage team work hours effortlessly with shift scheduling and an absence calendar.
Customizable Settings & Integrations: Tailor DeskTime to fit your needs by activating or deactivating features, and integrate it with other project management and calendar apps.
Limitations:
Features like screenshots might infringe on employee privacy.
Comprehensive features may require initial adaptation.
Not all specific customization needs might be met.
Pricing:
Pro: $7/user/month. Basic tracking and reporting.
Premium: $10/user/month. Additional features like screenshots.
Enterprise: $20/user/month. VIP support, unlimited projects/tasks.
DeskTime Lite: Free for 1 user. Basic tracking.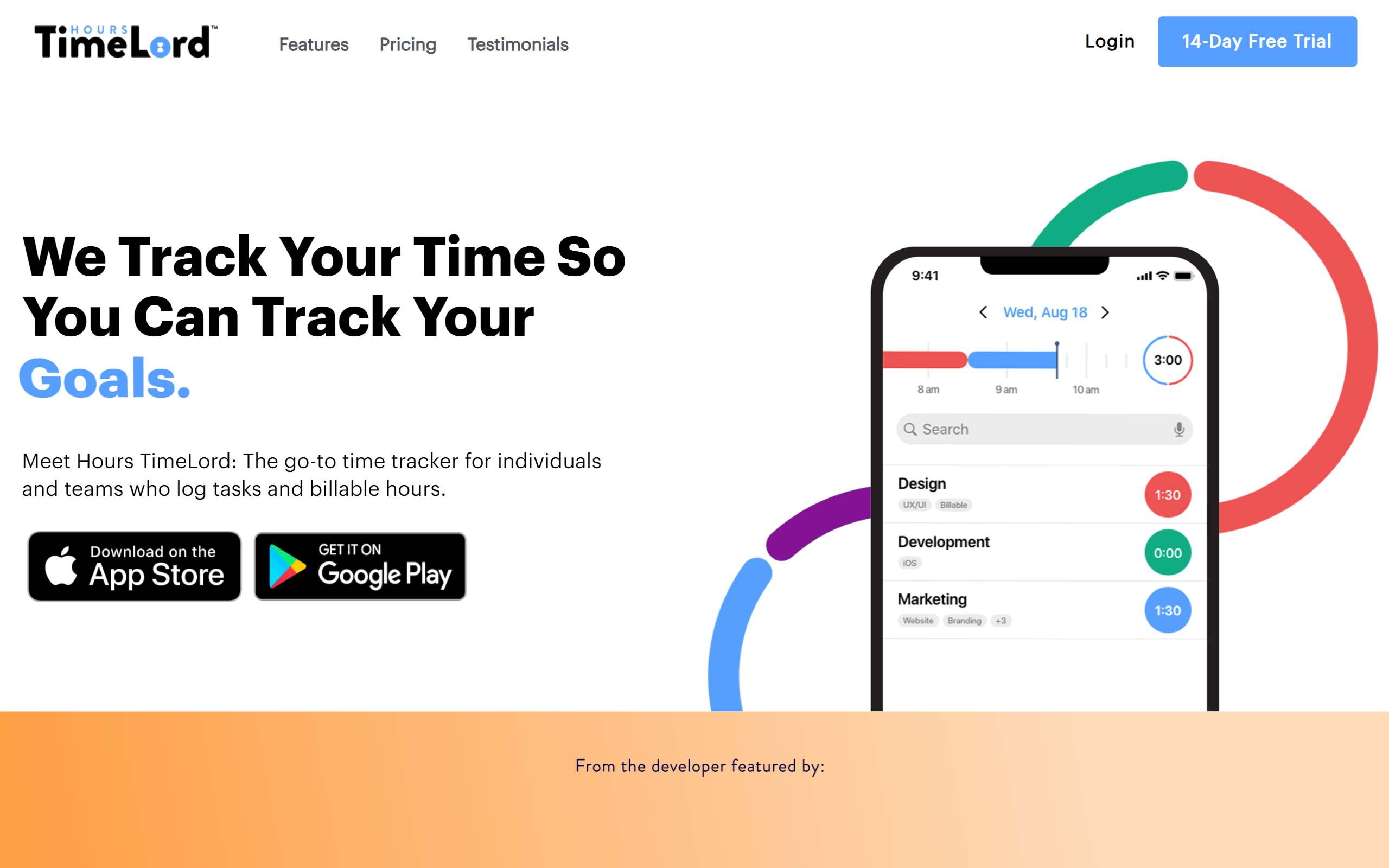 Hours TimeLord seamlessly integrates into your workflow, offering you the ability to visualize, customize, personalize, and organize your workday. With Hours TimeLord, time tracking is not just about logging hours; it's about understanding and optimizing how your time is spent.
Key Features:
Visualize Your Day: A timeline feature allows you to see your entire day's activities, offering insights into how your time is spent.
Customizable and Exportable Reports: Analyze your activity patterns over days, weeks, or months and share your findings by exporting reports as PDF or CSV.
Personalization Options: With over 100 color choices, you can title, tag, and track your entries in a way that aligns with your unique style.
Organize Entries with Tags and Notes: Streamline your reporting by tagging timers with client, project, or task-related tags, and use notes to specify what you're working on.
Advanced Reporting: Delve deeper into your time data with advanced reporting features, understanding nuances in your work habits.
Limitations:
Free version offers only 5 timers.
Invoicing limited to the Pro plan.
Team features available at a premium price.
Pricing:
Forever Free: $0 (Basic features)
Personal: $9.99/Year (Enhanced personalization)
Pro: $49/Year (Invoicing and advanced reporting)
Teams: $199/Year for 5 Users (Team-centric features)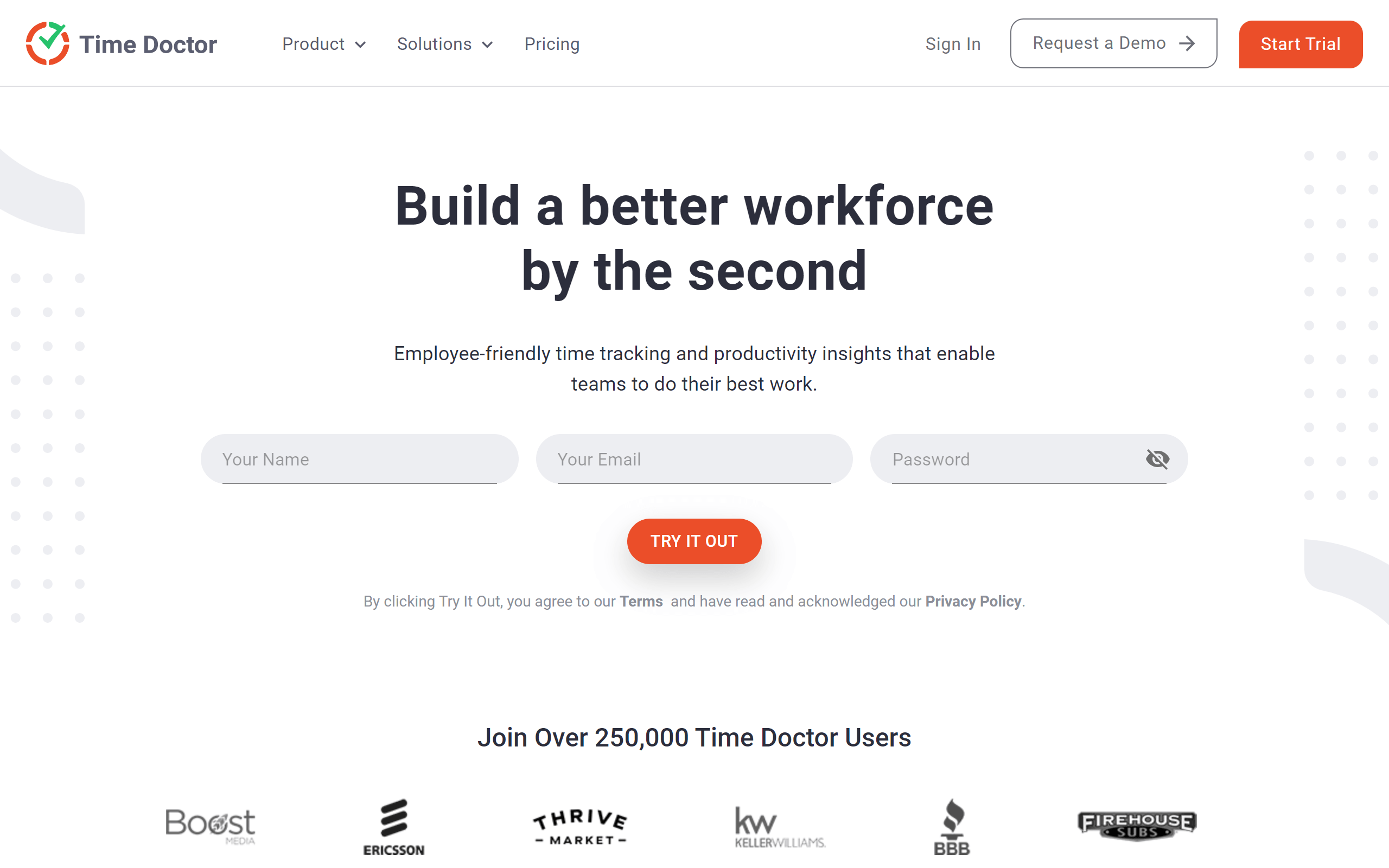 Time Doctor is a leading time tracking software that provides businesses with actionable insights to optimize efficiency and revenue. Catering to various workforce setups, from remote to in-office, Time Doctor ensures that teams are focused and productive.
Key Features:
Automated Time Tracking: Say goodbye to manual entries and boost timesheet accuracy.
Productivity Analytics: Dive deep into inefficiencies, coach your team, and harness the power of accurate data.
Web and App Usage: Analyze employee work patterns by understanding website and app usage.
Project and Task Management: Keep track of project progress and time allocation.
Real-time Dashboards: Provide instant insights to leaders and clients for enhanced visibility.
Limitations:
Free version lacks advanced features.
Employee monitoring may raise privacy concerns.
Integration largely relies on browser extensions.
Pricing:
Basic: $5.9/user/month (Billed annually) or $7 month-to-month.
Standard: $8.4/user/month (Billed annually) or $10 month-to-month.
Premium: $16.7/user/month (Billed annually) or $20 month-to-month.
Hubstaff stands as a paramount time tracking software designed to foster productive work environments. Tailored for businesses of all types, it enhances workforce efficiency by delivering smart time tracking tools for comprehensive management.
Key Features:
Smart Time Tracking: Hubstaff allows users to meticulously track the hours spent on diverse projects and tasks, making it one of the best time tracking apps.
Employee Productivity Tracking: Monitor efficiency rates based on mouse and keyboard usage, ensuring that the time tracking system contributes to effective work patterns.
Online Timesheets & Approvals: Generate, review, and approve online timesheets for a detailed view into your workforce's activities.
Automated Payroll & Invoices: Eliminate manual invoicing. With Hubstaff's time tracking tools, automatically compute and dispatch pay based on recorded hours.
Field Workforce Management: Using the Hubstaff app, get location-based time tracking features, including GPS locations and geofenced job sites.
Limitations:
Might be perceived as intrusive due to monitoring features.
Complexity can be overwhelming for some users.
Free versions lack many advanced features.
Pricing:
Starter: $4.99/user/month (2 user minimum).
Grow: $7.50/user/month (2 user minimum).
Team: $10.00/user/month (2 user minimum).
Enterprise: Custom pricing available.
Tick is a time tracking software that turns the tedious process of time management into a seamless communication tool. Whether for individual freelancers or larger teams, Tick provides a straightforward way to monitor time against set budgets, ensuring efficient project management.
Key Features:
Intuitive Timecard System: In just three easy steps, users can select their project, task, and enter their time. This simplifies the process, making Tick one of the best time tracking apps for quick entries.
Running Timers: The app's built-in timers allow users to easily track their hours, start and switch between multiple tasks, and enter the time directly once done, demonstrating its efficacy as a time tracking tool.
Instant Budget Feedback: As soon as a team member logs time for a task, the software displays the remaining project and task budgets, reinforcing Tick's stature as a leading time tracking system.
Versatile Time Entry Options: Tick, known among the best time tracking software, is designed for convenience. Users can log their hours on various devices - be it phone, watch, tablet, desktop, or browser.
Detailed Project Overviews: Administrators can quickly delve into project details, seeing the breakdown of hours per task and team member, making it easier to keep projects within the budget.
Limitations:
No advanced analytics for deeper insights.
Lacks integrations outside Basecamp.
Recurring project feature limited to higher-tier plans.
Pricing:
1 Project: Free.
10 Projects: $19/month.
30 Projects: $49/month.
60 Projects: $79/month.
Unlimited Projects: $149/month.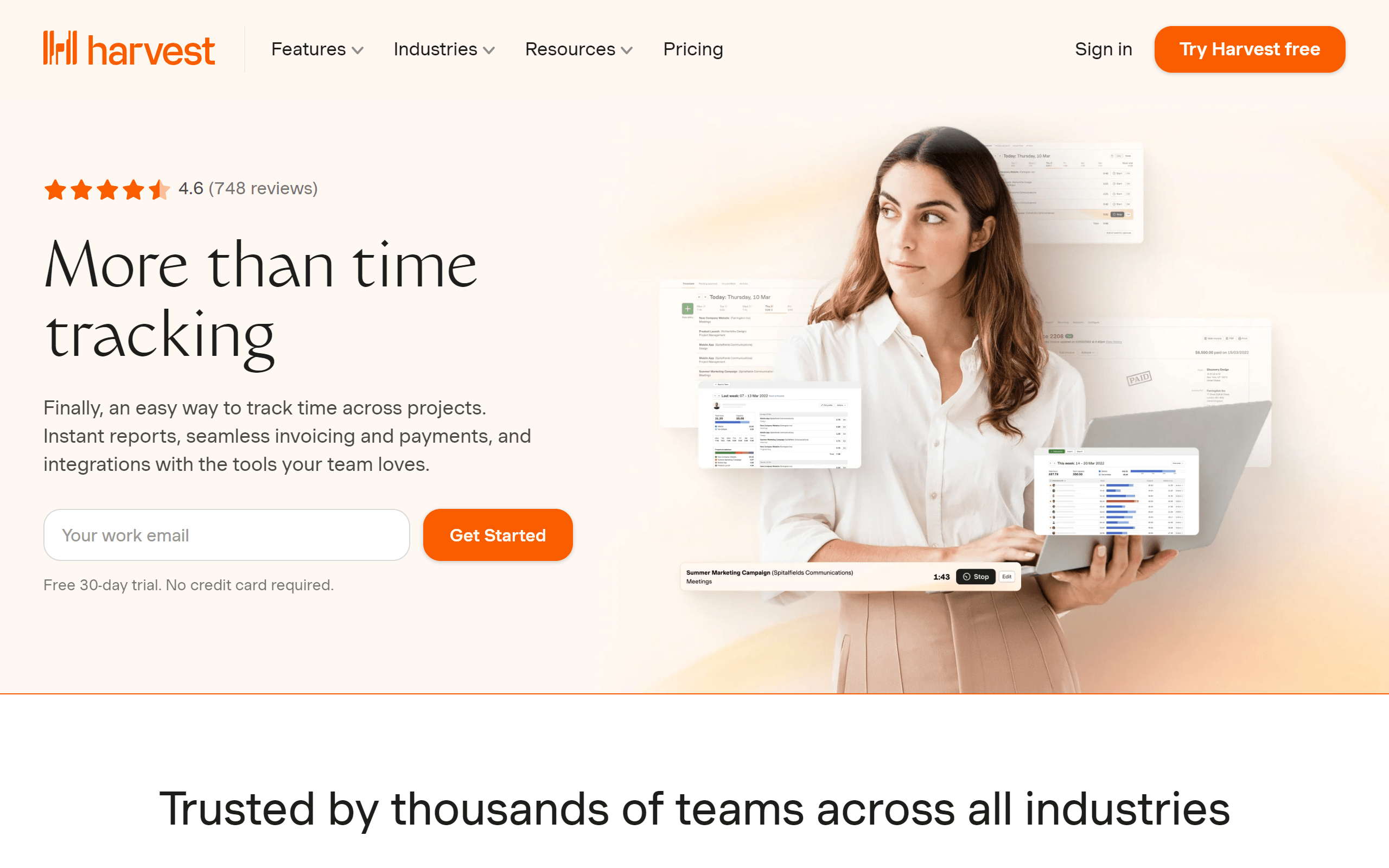 Harvest goes beyond traditional time tracking software, offering a comprehensive solution that integrates seamlessly with other tools your team uses. With features that span from time tracking to invoicing, Harvest proves to be an intuitive platform that supports teams in managing projects efficiently.
Key Features:
Versatile Time Tracking: With Harvest's time tracking tools, team members can log hours from a browser, desktop, or mobile, ensuring convenience in time capture regardless of the device.
Workflow Integration: One of the best time tracking apps, Harvest integrates seamlessly with familiar tools, enabling teams to log time in their existing workflows.
Data-Driven Reports: Dive deep into the details or get an overview with visual reports. From understanding costs to analyzing time spent on tasks, Harvest's time tracking software is designed for insights.
Budget Monitoring: Harvest provides real-time budget updates based on tracked time, positioning it among the best time tracking software for keeping projects profitable.
Invoicing & Payments: Turn tracked time into invoices and receive payments quickly via integrated online payment options.
Limitations:
Limited free plan with only two projects.
Advanced features locked behind the Pro plan.
No built-in advanced analytics for deeper insights.
Pricing:
Free: 1 seat, 2 projects, $0 forever.
Pro: Unlimited seats, Unlimited projects, $10.80 per seat per month (billed yearly).
QuickBooks Time is a robust time tracking software designed to align with your business's unique needs. This time tracking system seamlessly integrates with your business operations, enabling on-the-go time tracking and ensuring efficient payroll and project management.
Key Features:
Simple Timesheets: Manage multiple timesheets, review, and approve time whenever you're ready, giving you control over your team's time tracking tools.
Mobile Time Tracking: With the QuickBooks Workforce app, tracking, submitting, and approving time has never been easier.
Real-Time Monitoring: Always know who's working, their tasks, and their job role, making it one of the best time tracking apps for real-time supervision.
Customizable Reports: Gain invaluable business insights with reports tailored to predict job costs, plan payroll, and enhance profitability.
Seamless Integrations: Sync your time tracking data to your accounting or payroll system, making invoicing and payroll tasks efficient.
Limitations:
Pricing might be steep for small businesses.
Geofencing and some features are app-dependent.
Integrations might require additional setup.
Pricing:
Simple Start: $15/mo
Essentials: $30/mo
Plus: $45/mo
Advanced: $100/mo
Buddy Punch is a sophisticated time tracking software designed to simplify employee scheduling, time tracking, and payroll. It provides businesses a real-time view of attendance, time off, and overtime, ensuring managers and business owners can manage their workforce more efficiently than using traditional paper timesheets.
Key Features:
Time Tracking and Management: Monitor employee hours, overtime, and locations in real-time using this time tracking system.
Remote Monitoring: Track remote workers through geofencing and IP address locking. This is essential in today's world where remote work is prevalent.
Payroll Integration: Seamless syncing with popular payroll providers like QuickBooks, Paychex, and Workday. For those without a payroll provider, Buddy Punch offers its own payroll solution.
Detailed Reporting: Customizable reports offer insights into employee hours, locations, and more, making it one of the best time tracking apps for detailed analytics.
Employee Accountability: Employ image and GPS tracking to ensure transparency and eliminate time theft.
Limitations:
Some might find the tool overwhelming.
Base fee plus per-user charges might be cost-prohibitive for larger teams.
Fixed geofencing can be limiting for dynamic locations.
Pricing:
Standard: $2.99/user/month (annual) or $3.49/monthly + $19 base fee.
Pro: $3.99/user/month (annual) or $4.49/monthly + $19 base fee.
Enterprise: Contact for details.
WebWork is among the best time tracking software solutions designed to streamline the process of tracking and analyzing remote work. This time tracking system provides a versatile platform that combines time tracking tools, employee monitoring, and collaborative functionalities to optimize productivity.
Key Features:
Task Management: Assign tasks, track time spent on them, set priorities, and attach files. This feature is essential for businesses looking for efficient time tracking apps to manage tasks effectively.
Attendance Monitoring: A significant part of best time tracking apps, WebWork's feature provides automated reports on attendance, ensuring you know when employees log in and out.
Team Chat & Video Meeting: The built-in team chat and video conferencing capabilities make collaboration seamless, ensuring you don't need separate email marketing services for communication.
Activity Level & App Tracking: Monitor employee activity based on mouse clicks and keystrokes and receive detailed reports on app and website usage. These are crucial components of top-tier time tracking tools.
Billable Hours & Invoices: Easily calculate payments based on tracked hours and create invoices directly in the platform, making it one of the best time tracking software for finance management.
Limitations:
Initial adjustment to the myriad of features.
Even with blurred mode, it may raise concerns.
Might be too invasive for some users.
Pricing:
Free: 14-day trial with standard features and support.
Pro: $3.99/user/month, encompassing essential features.
Enterprise: Custom pricing with advanced options and premium support.
Time to Wrap Up
Alright, let's wrap this up. We all know how easy it is to lose track of time when we're working, right? That's where WebWork comes in. Think of it like those grammar checker tools we use to polish up our emails or those email marketing services that help us reach our customers more effectively. Just as those tools help us do better in those areas, WebWork can be a game-changer for managing our work time. So, if you're keen on getting more done and cutting down on wasted hours, it's a good idea to give time tracking a shot. Trust me, your future productive self will thank you!