Creative blocks are a designer's worst nightmare. But never fear - we've rounded up the top graphic design websites to get your ideas flowing again.
Need UI design tools? Help with logos? Or images with blog posts? These websites for graphic designers have you covered. Small businesses and marketers will find inspiration, templates, and tutorials on how to make a logo and not only.
We tested over 25 websites for graphic designers to pick the most useful gems. In this post, we'll share our favorites for inspiration, templates, and essential tools. Let's check out some of the best websites for graphic designers.
🎨 How We Picked the Best Graphic Design Websites
Each site was evaluated on visual inspiration, stock assets, UI design tools, portfolio examples, and online learning offerings.
We read real user reviews to understand the actual design community experience on each of the websites for graphic designers.
Objective metrics like social shares, backlinks, and authority signals were analyzed to measure mainstream popularity and influence among websites for graphic designers.
We tested each site hands-on to experience the user experience firsthand and how easily they provide value.
🏆 Why You Should Trust Our Recommendations
We are CodeSupply Co, a leading theme and plugin developer on ThemeForest since 2015.
With over 23,000 themes sold, we've earned a near perfect 5 star rating from more than 600 customer reviews.
As a ThemeForest Power Elite Author, we are in the top 1% of all developers based on sales and satisfaction among websites for graphic designers.
We have over 7 years of experience developing themes and plugins for real customers.
Our most popular theme, Authentic, has over 8,600 sales proving it meets real business needs especially for those looking for websites for graphic designers.
Releasing 20 total items on ThemeForest has given us expertise in best practices for design, features, and support.
Our recommendations come from direct experience in the industry, not just seeing options from the outside among websites for graphic designers.
As leaders in the field, we only promote options we'd trust completely for our own clients.
In short, our expertise and track record ensure you can have full confidence in our recommendations for websites for graphic designers.
Best Websites for Graphic Designers
1. 🏅 Our Pick - Behance
If you make pictures and designs, you need to look at Behance, one of the finest graphic design websites. It is our favorite place to find good ideas from the best designers around the world. On Behance, you can look at nice graphic design inspiration websites, websites, photos - it is like an art show for anything you can see.
You can even learn new things and tools there. Also, it is a great way to show your own work and meet people who can hire you. You have your own page to fill with your projects. Then anyone can see it with one click. With over 10 million members, many people will see your things.
Why Is Behnace Our Top Pick?
See professional artwork: There's lots of high-quality work from top designers.
Different kinds of projects: You can look at logos, pictures, app designs, and more.
Learn from the best: You can see how famous designers made their projects.
Find styles you like: You can search for styles like simple, vintage, or animated designs.
Discover new tools: Designers share what stuff they used to make projects
Meet other artists: Share your work and follow popular designers.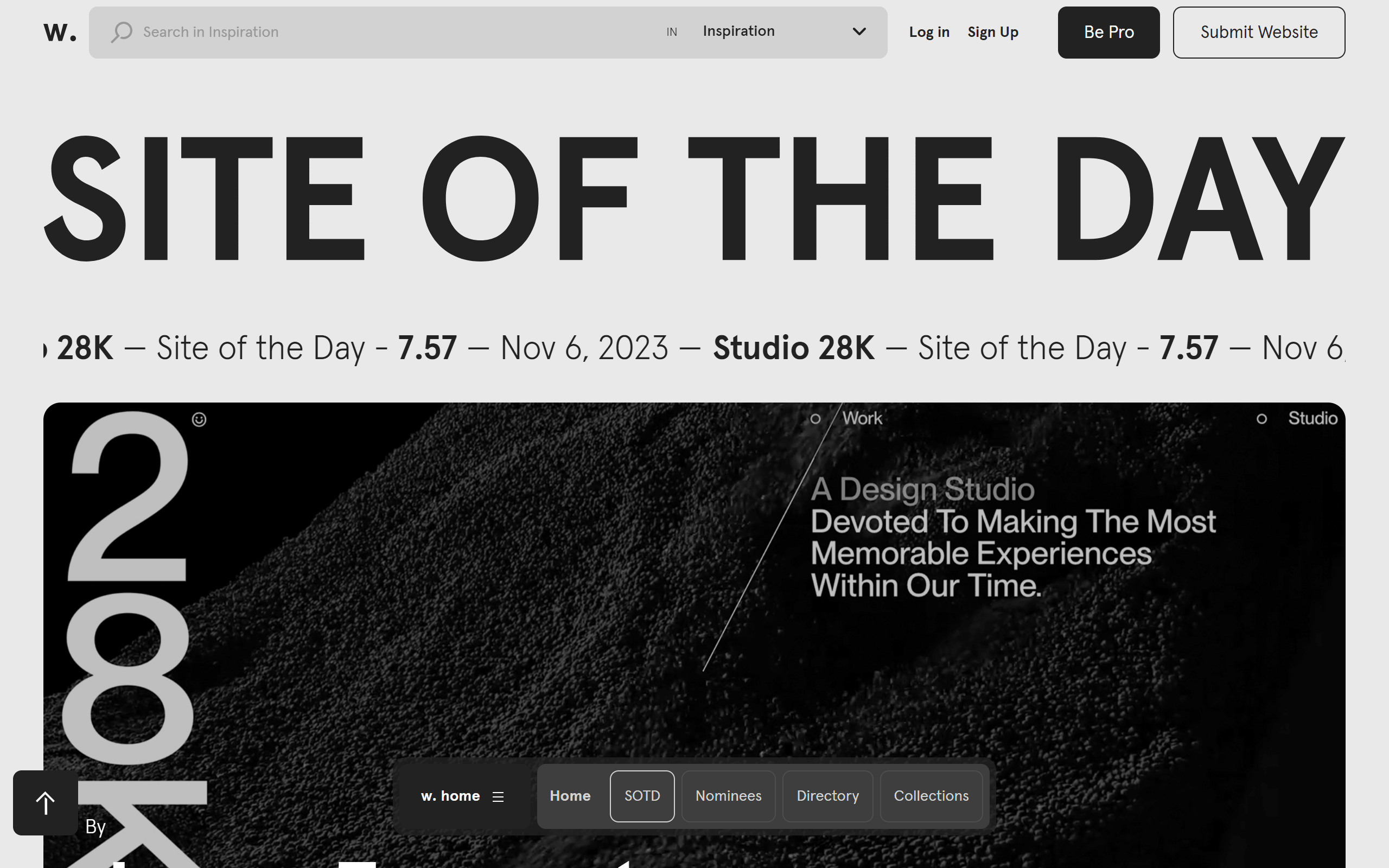 Awwwards is a must among graphic design websites for anyone who builds websites. It's like the Oscars for digital design - recognizing the best sites each year. A panel of expert designers judges all project submissions.
Visitors can find great inspiration browsing the top graphic design inspiration websites from around the world. Seeing such high-quality designs is sure to get the creative juices flowing. In addition to awards, they host conferences where attendees can connect with leading professionals. Perhaps a project will even be featured someday. With so many skilled people there, website creators are sure to gain skills and take portfolios to new heights.
Dribble is one of the most popular graphic designing websites. Millions use it to show works they are working on now and find good ideas from talented people around the world. We use it to share small pictures of current projects.
It is perfect for making your portfolio better and connecting with other creative community members. Big companies like Google, Apple, even the NBA use Dribbble to find new talent. It started a long time ago in 2009 but is still strong with all employees working remotely.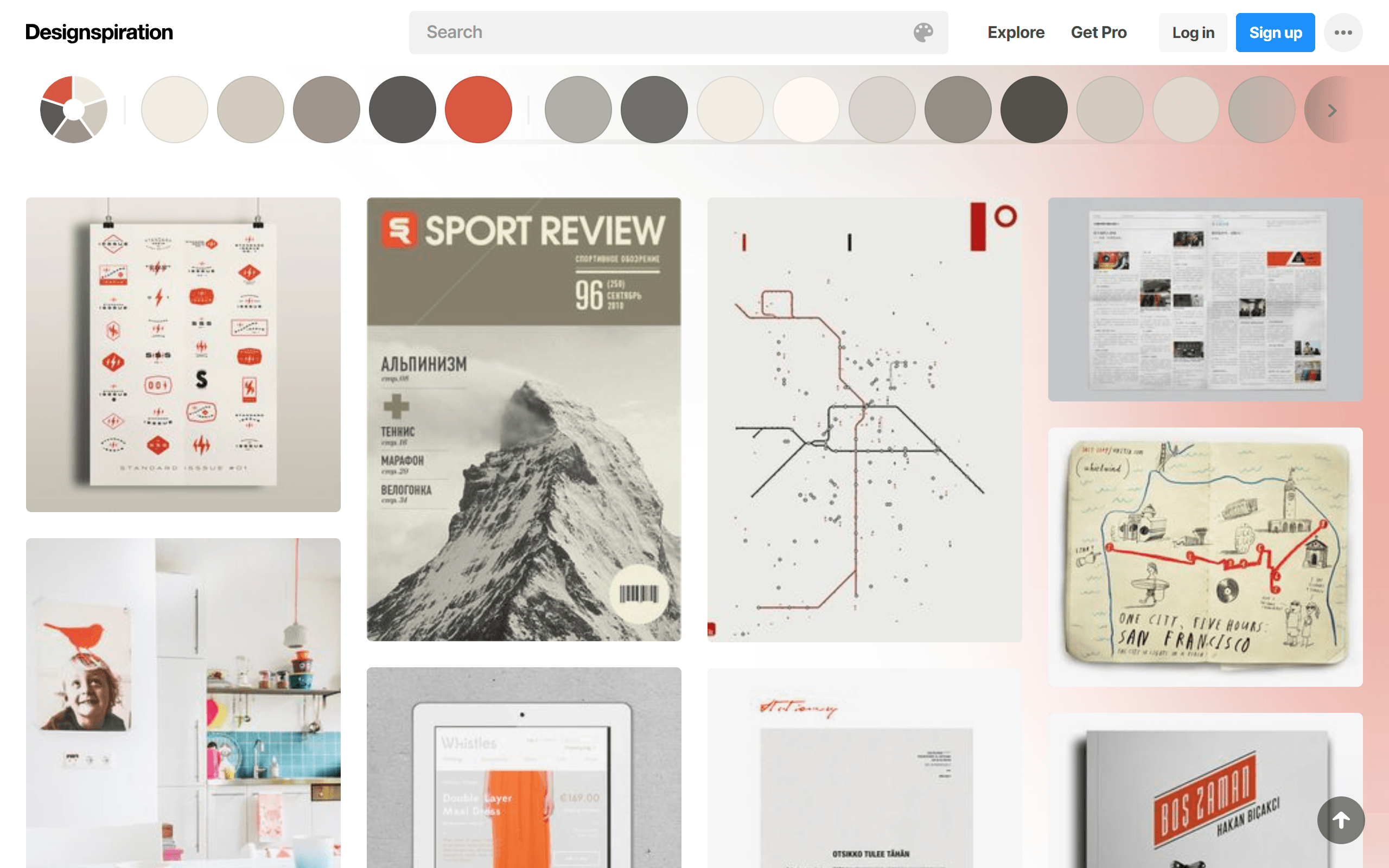 if you need new good ideas all the time then Designinspiration is the place for you. This site has a lot of beautiful graphic designer websites, pictures - anything you can think of. Whenever we cannot think of anything, this is where we go to get our minds working again.
It is basically always having new pretty things from around the world. You will see the most popular styles and techniques top designers are using. Want new pictures for your blog? How about website ideas? This site has everything you need, friends.
If your mind is always making new ideas, then you need Pinterest, one of the finest graphic designing websites. It has endless good ideas for anything - from graphic designs to recipes to vacation places. Whenever you need a nice picture for social media or your blog, this is the best place to look.
With many billions of Pins, you will spend hours looking at beautiful photos. But it is also great for planning future projects - just start collecting Pins of styles you like. Big companies and small businesses use it a lot to get new customers, so use it to reach that huge group of people.
Why Is Pinterest Our Top Pick?
Lots of examples: Pinterest has millions of pictures to look at. You'll always find designs for whatever you need.
Different styles: There are boards for every kind of design simple, with pictures, or apps and websites.
Organized: Designers make neat boards just for logos or brands so it's easy to find what you want.
Easy to look: Since it's all pictures, you can quickly look through lots of designs without getting tired.
See other artists: You can discover new designers and their cool work.
Save ideas: You can favorite boards and pictures to use later or copy for your own projects.
Know trends: By seeing popular pins, you'll know which styles are popular now with customers.
Do you ever want free design things that are as easy to get as fruit on trees? Well with FreebiesBug, they practically are! This site is one of the best graphic design websites that has a lot of things given away like paper templates, small pictures, graphics - anything your creative mind wants. Whenever we are starting a new project without a budget, this is our secret place to look.
Everything is organized well into groups too, so you can find exactly what you need quickly. We have found many great things that have made our designs better. Share the kindness by getting free things for your social media or website.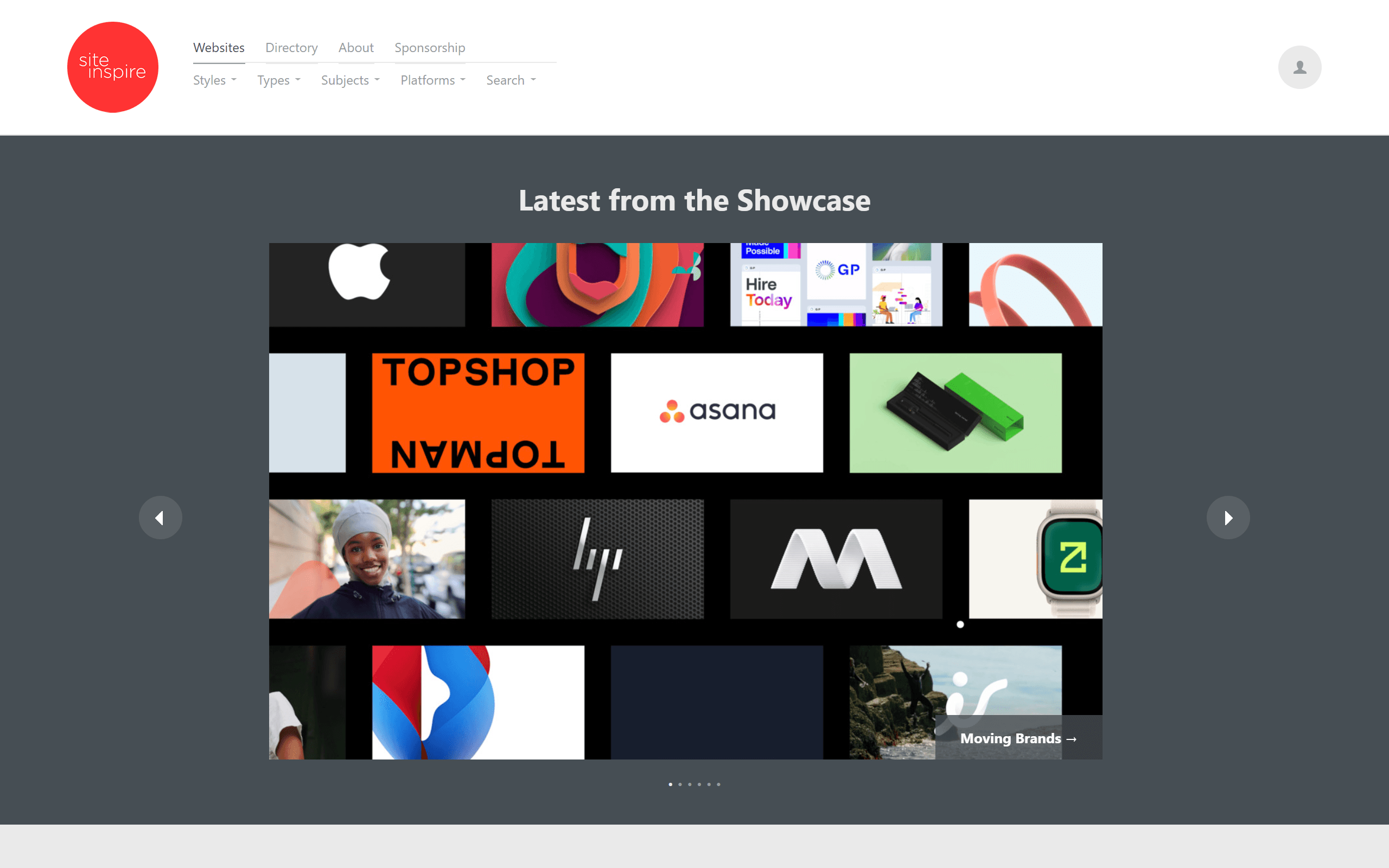 This is a graphic designer websites where designers like to look to see the newest creations. They receive many submissions every day, so it is not for sure but definitely worth a try.
Seeing your work on that site is really motivating. Big companies also check it for people to possibly work with. And if you see a site you helped make, you can add your name so you get proper credit.
You will find a lot of ready-made extras, gadgets and parts that can completely change a plain old page in one of the best graphic design websites. Everything is organized well, so finding the perfect thing is easy. We especially like that they are free to download - no need to make your own from scratch!
By looking at Pttrns, you will get new ideas and leave with tools for your projects. Trust me, adding one of their nice image sliders or hands-on menus is a simple way to seem like a professional.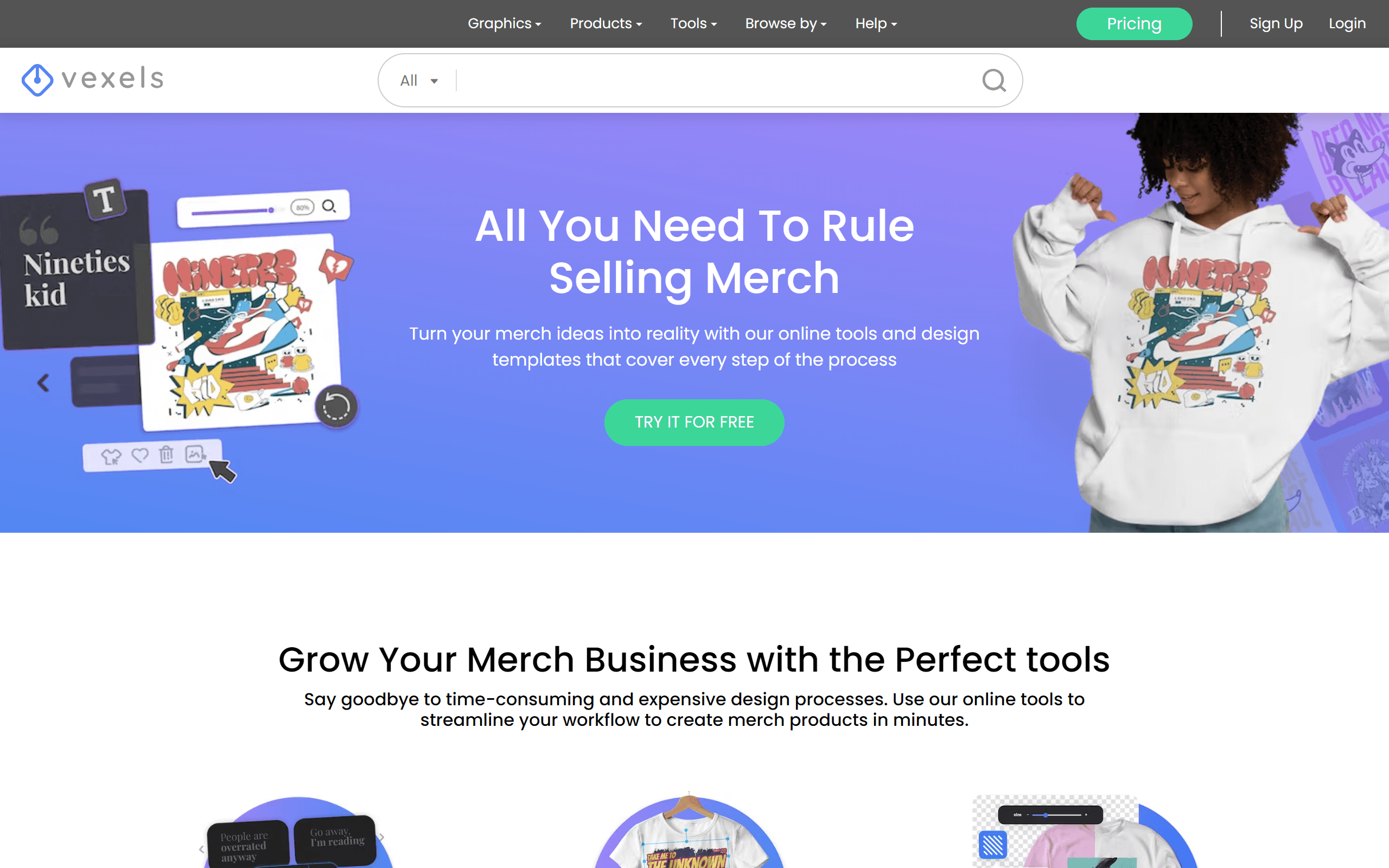 This site has a lot of very high quality free images, small pictures, patterns - you can find anything. Whenever we start a new design from nothing, this is where we go to find things.
Looking through their large group of things is like shopping in an online art store. We are always surprised by all the different types of things and how well they are made. The things are also organized nicely and very easy to look through. Plus by getting things from Vexels, you know the pictures are real because there is no stolen work.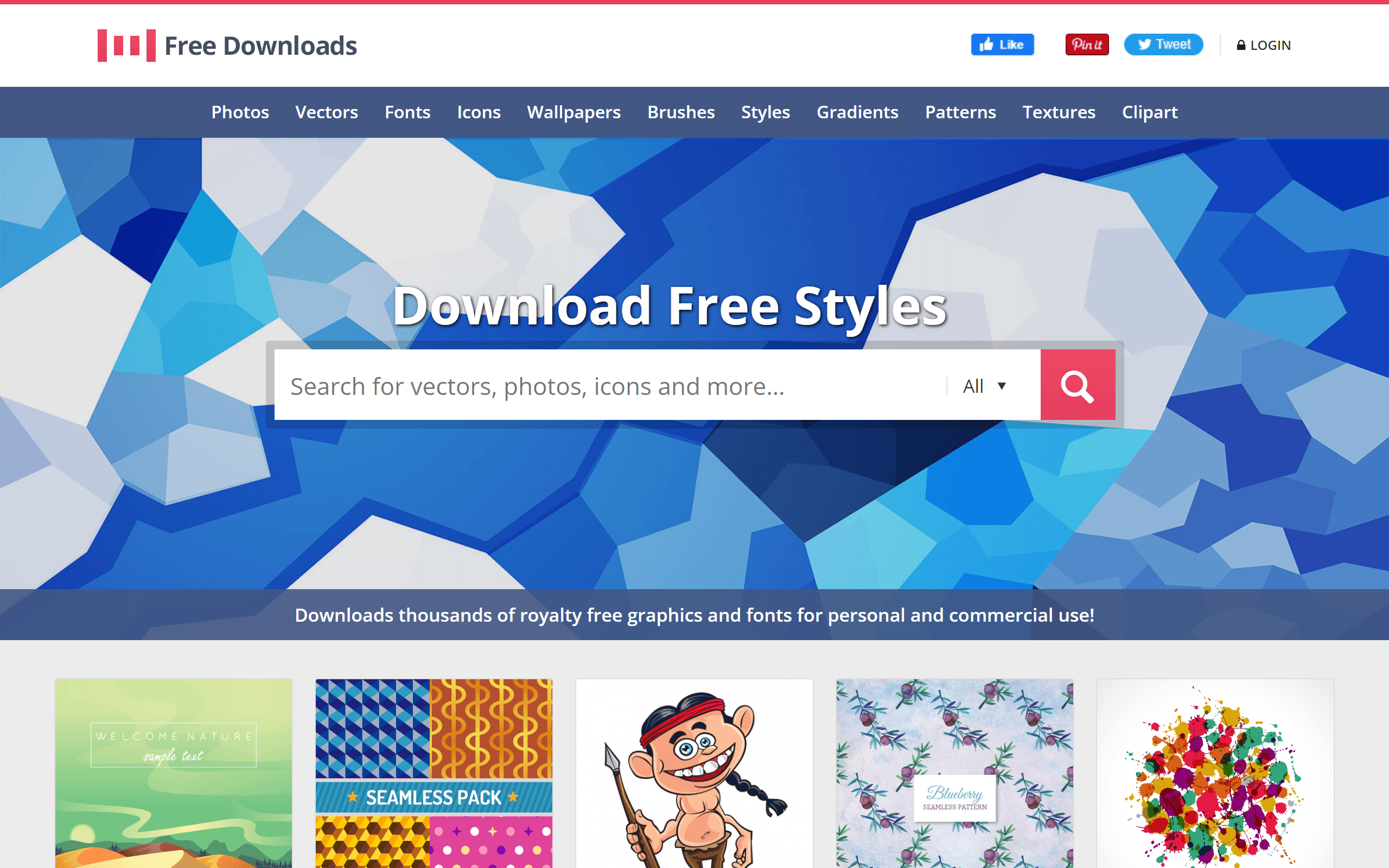 They have the net's largest catalog of high-quality images, textures, icons - it's all super organized too. Whenever we're starting a project, this is our go-to spot.
The graphics are just awesome and it's fun to browse their constantly growing collections. They even make exclusive stuff themselves! We also love supporting other designers - if you got slick work, submit it for a chance to feature. Or apply to design for them directly.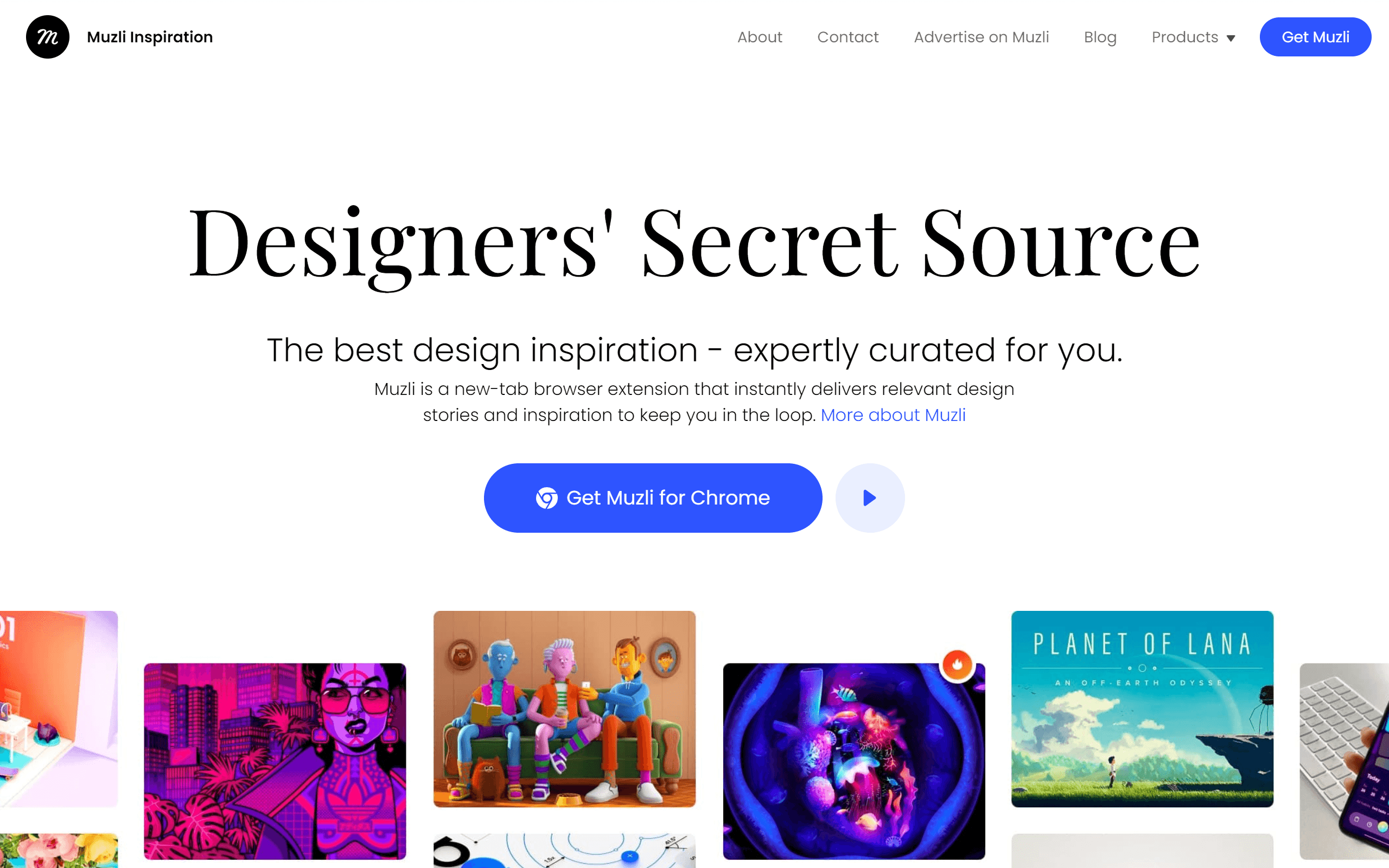 You need Muzli Inspiration in your life! Every time you open another new tab page, its automatic system will show you nice design things it has found. Those people have looked at all the big websites like Dribbble to find the best web designs, small pictures, trends, and articles.
You definitely will not find the same stuff with a basic search - Muzli combines technology smarts with people touch to serve up only new innovation. We are always surprised by the high-quality projects, tips, and skins they search for every day. It is like having your own personal helper finding gems.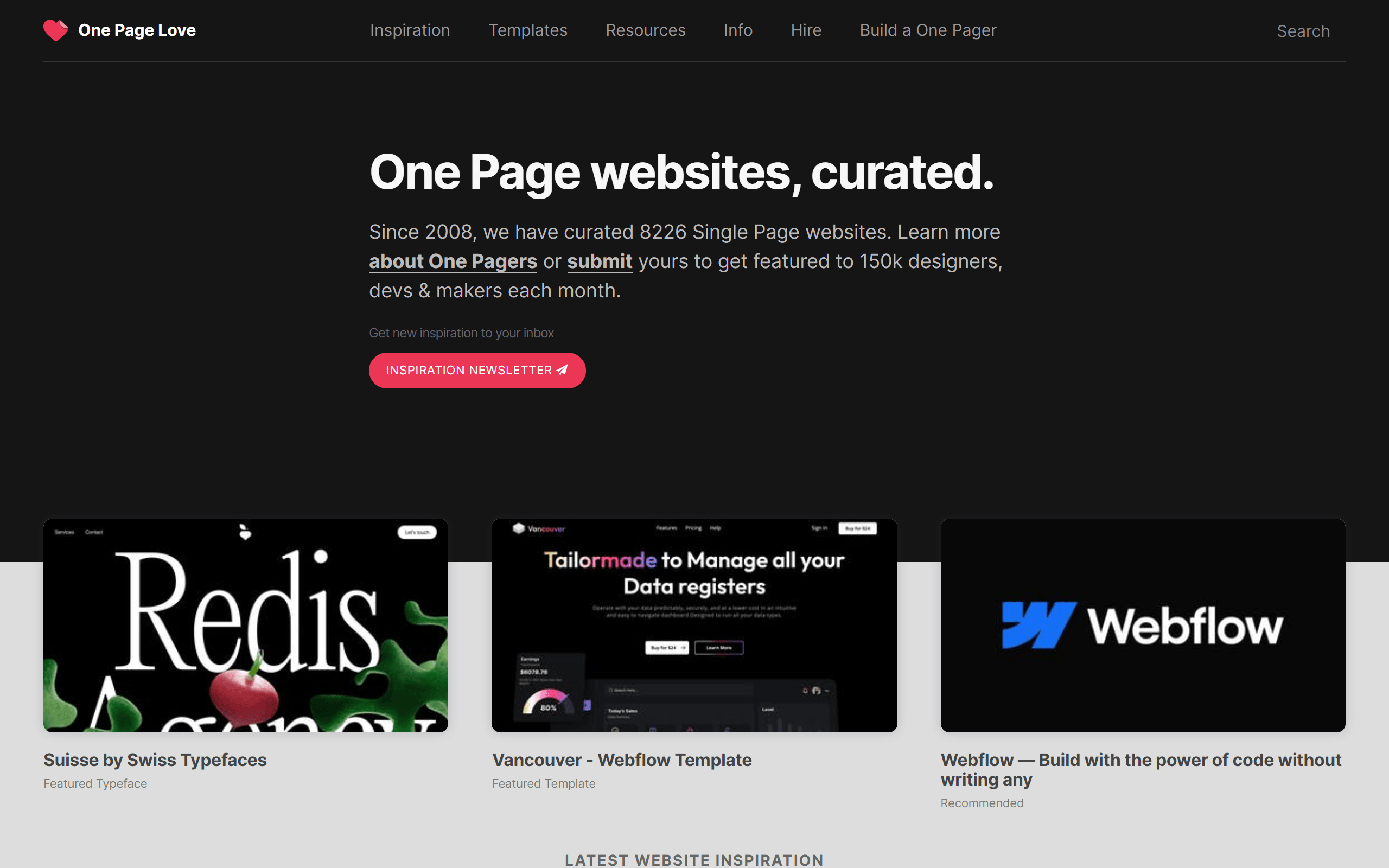 You'll find a ton of beautifully simple single-page designs spanning all kinds of businesses.This best graphic design website always leaves feeling excited to start designing. The best part is how well-organized everything is. Searching their huge catalog by tags makes hunting for certain layouts or looks a breeze.
Really recommend letting One Page Love spark the next concept. It's taught many clever tricks for packing a full site experience onto just one page. Joining their email list means fresh finds sent straight.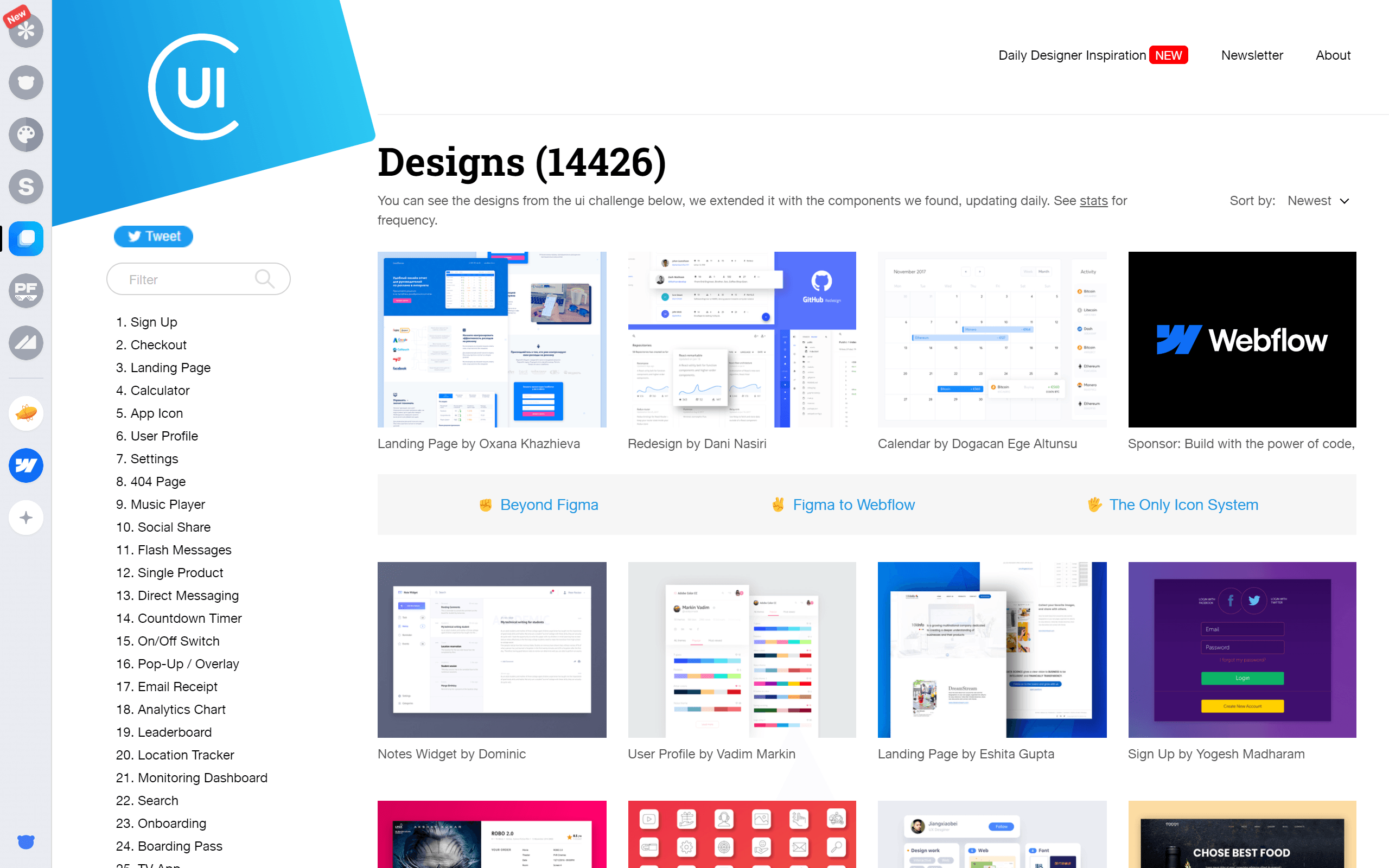 You can easily search past topics to spark your next project. We especially like how Collect UI picks only the most eye-catching layouts, colors and parts by hand. It is like having your own selected gallery of professional work.
There are over 50 challenges and growing, so there is a lot to look through. Make sure to register for their newsletter too - it is the best way to stay updated on new submissions.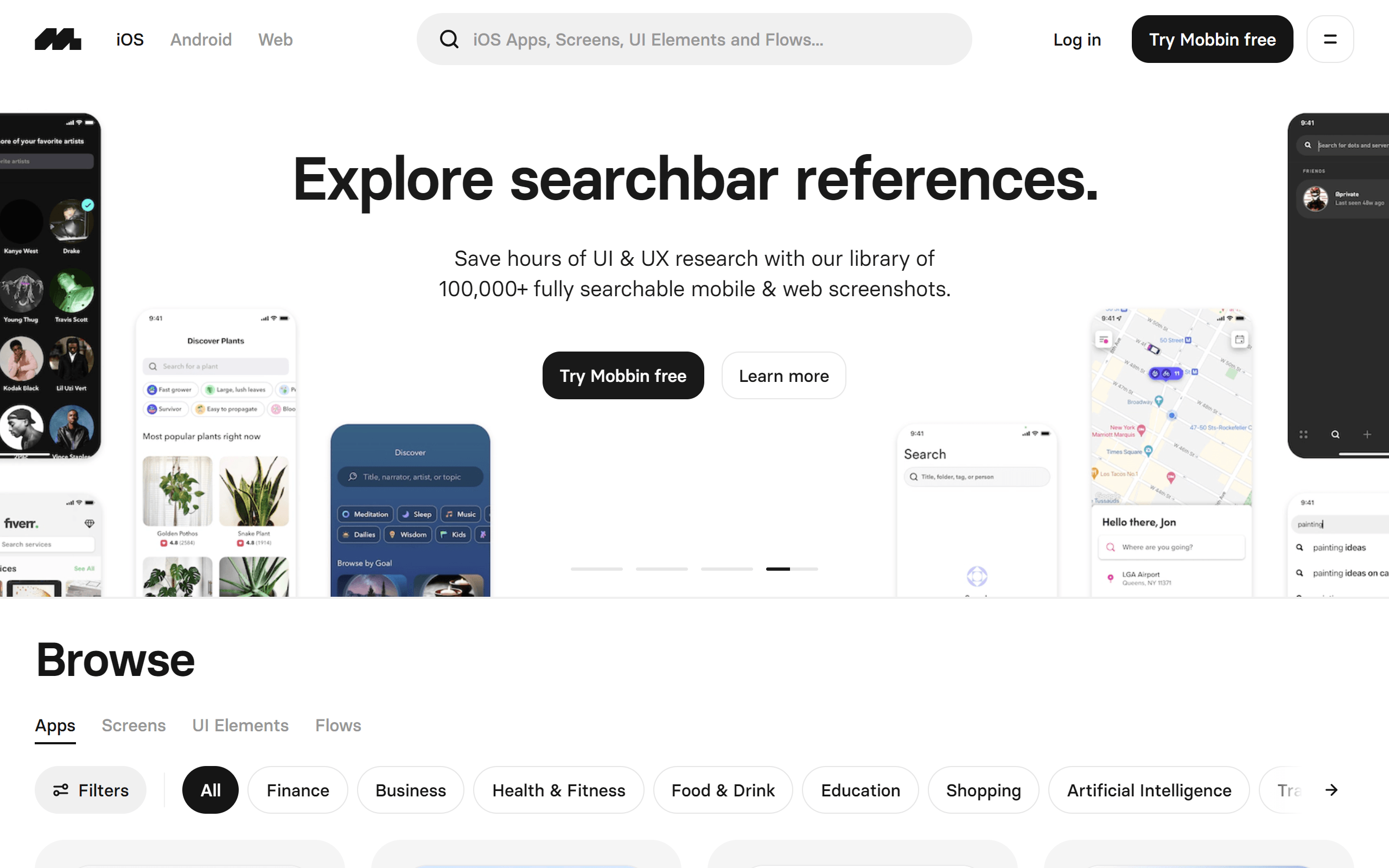 Check out Mobbin - it's a new favorite site for finding mobile design ideas. Whether commuting or needing a break from bigger screens, it's perfect for getting inspired in a small way.
They choose nice app and website designs that can be looked through easily with one hand. Layouts only have helpful pictures so understanding is fast no matter where you are. Give it a quick look right now!
Also at Mobbin they release new finds every day, so always getting something fresh. Spread the word to other creative people who are known to like it too.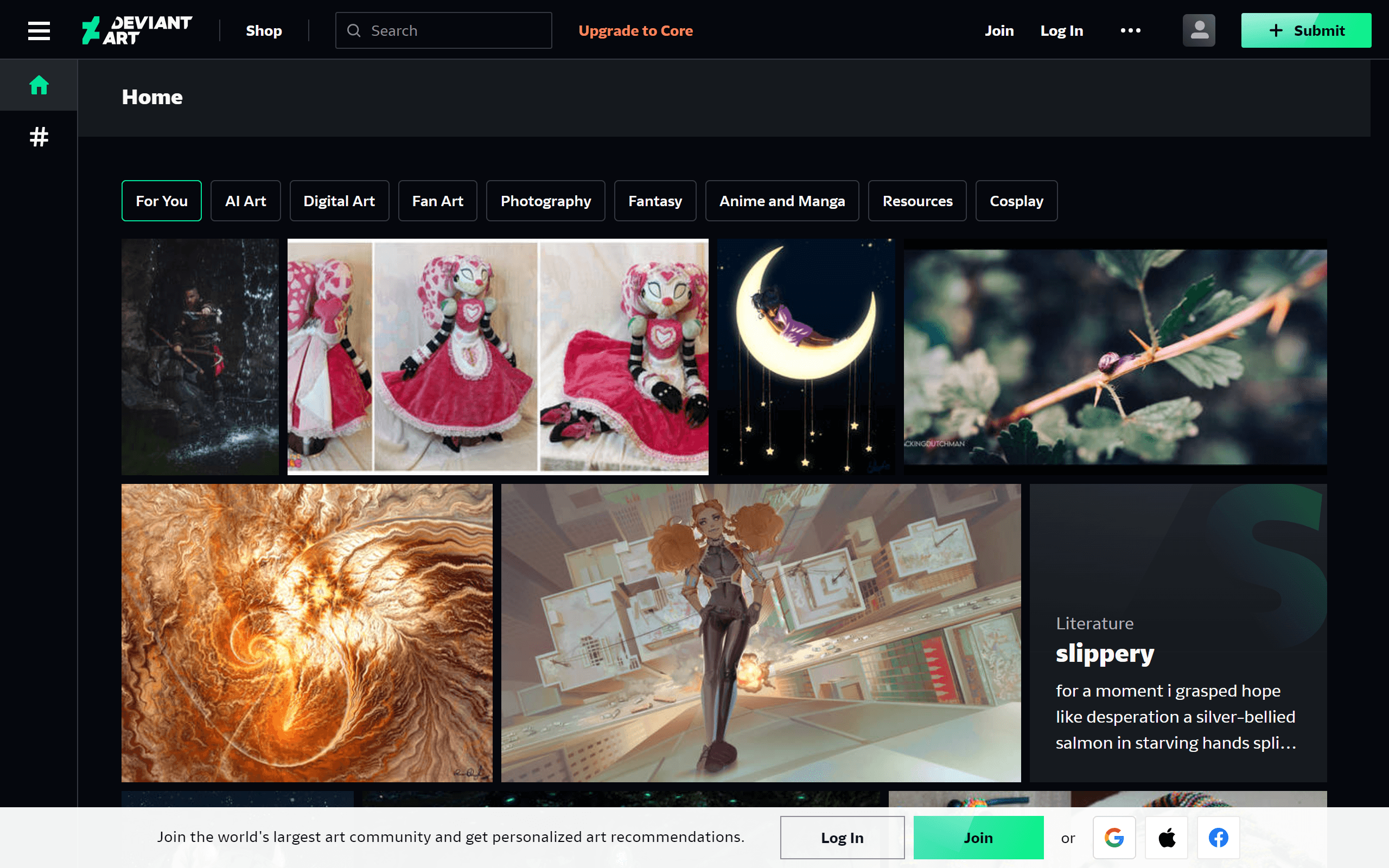 Founded in 2000, it's now one of the largest graphic designers websites for artists with over 75 million members worldwide! They host over 550 million pieces including painting, sculpture, digital, pixel, and motion art. Best of all, you can easily browse new uploads from deviants all over. Finding gems is effortless thanks to their organized galleries and categories.
Artists love DeviantArt cuz it's so supportive of self-expression. They provide helpful tools, exposure, and ways to improve skills. The end result is motivation to create more awesome works! Plus the staff work hard to make it a welcoming place.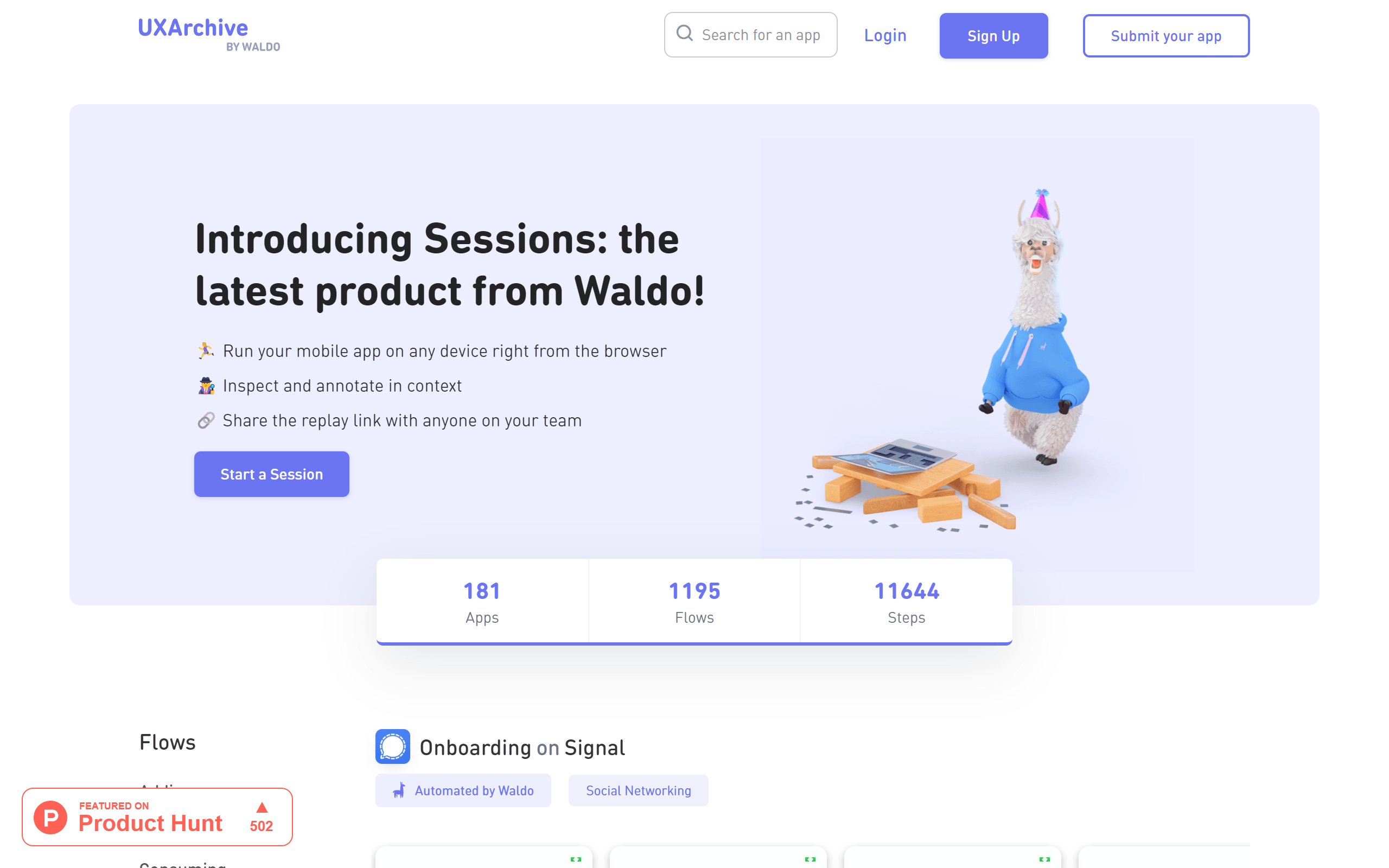 These people have scanned every issue of major interaction magazines, all the way back to the 1990s! It is a must graphic designer website.
You can easily search over 5,000 articles and case studies on any topic. It's like having a research library with you. Especially like diving into older guides to see how work processes have evolved.
But UXArchive doesn't just preserve the past. New ideas are added regularly so always getting something fresh. Snap up some knowledge from experts to spark the next project!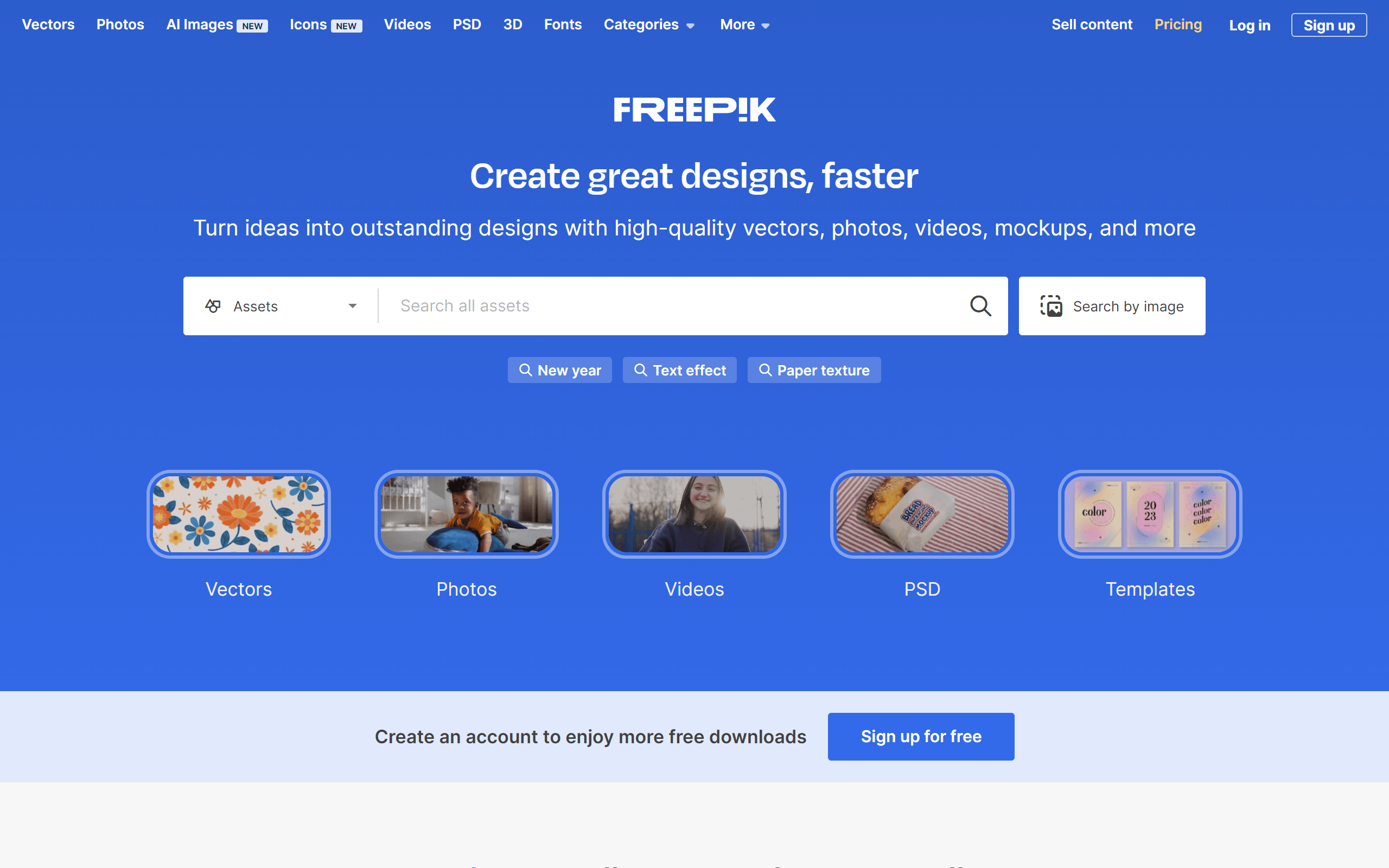 Starting in 2010, it has grown into the best graphic design website. Their goal is to offer the best quality illustrations, photos, icons, layouts, and more. Best of all, you can download thousands of works for free. Whether needing images, dashboards, or slideshows, Freepik has what you require.
The founders had a great idea to help designers access free resources. Now between Freepik, Flaticon, and Slidesgo, there are endless customizations for all types of projects. Major companies also use it, which means high-level stuff.
GraphicBurger should be your new spot as one of the best graphic designers websites. Run by Raul, it's like a buffet filled with free premium assets - but better cuz it won't make you full!
They serve up exclusive PSD files designed in-house, plus top works from other creatives. Whether you need Mockups, icons or templates, this chef has cooked up a variety.
Raul is totally addicted to perfecting pixels, so you know the quality is top-notch. He aims to share skills and inspire others too. The browsing is easy, so you'll find tasty assets for any project fast.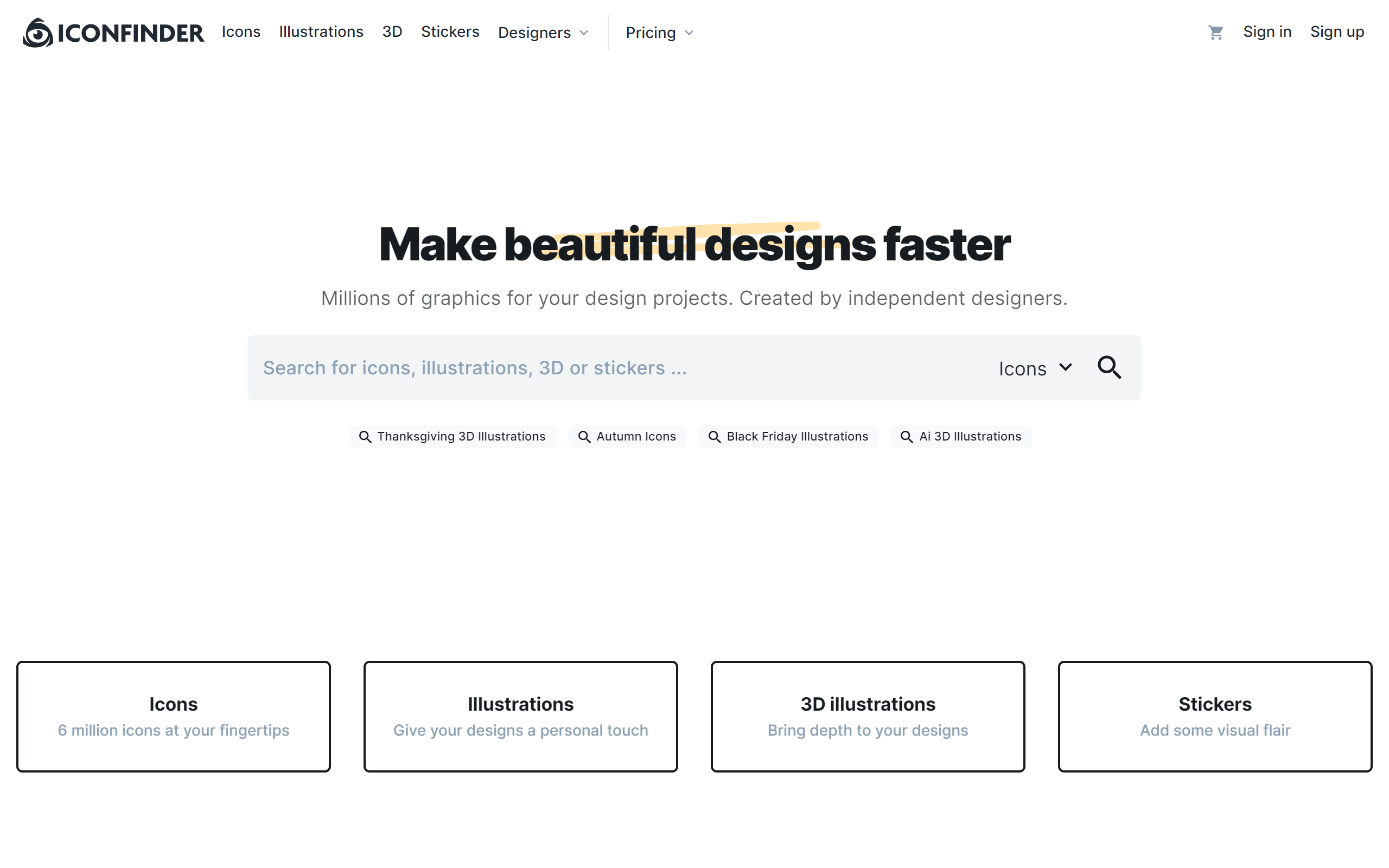 Run by Martin and a small team in Copenhagen, it's growing into the greatest icon resource worldwide. They work with talented designers contributing icons constantly. Browsing their selection of illustrations and icons is a visual feast. Whether branding, UI kits, or app designs, chances are they've got what you need.
We especially love how they ensure high quality through a review process. The easy search and filters also make finding gold effortless. Icon needs for any project will be covered!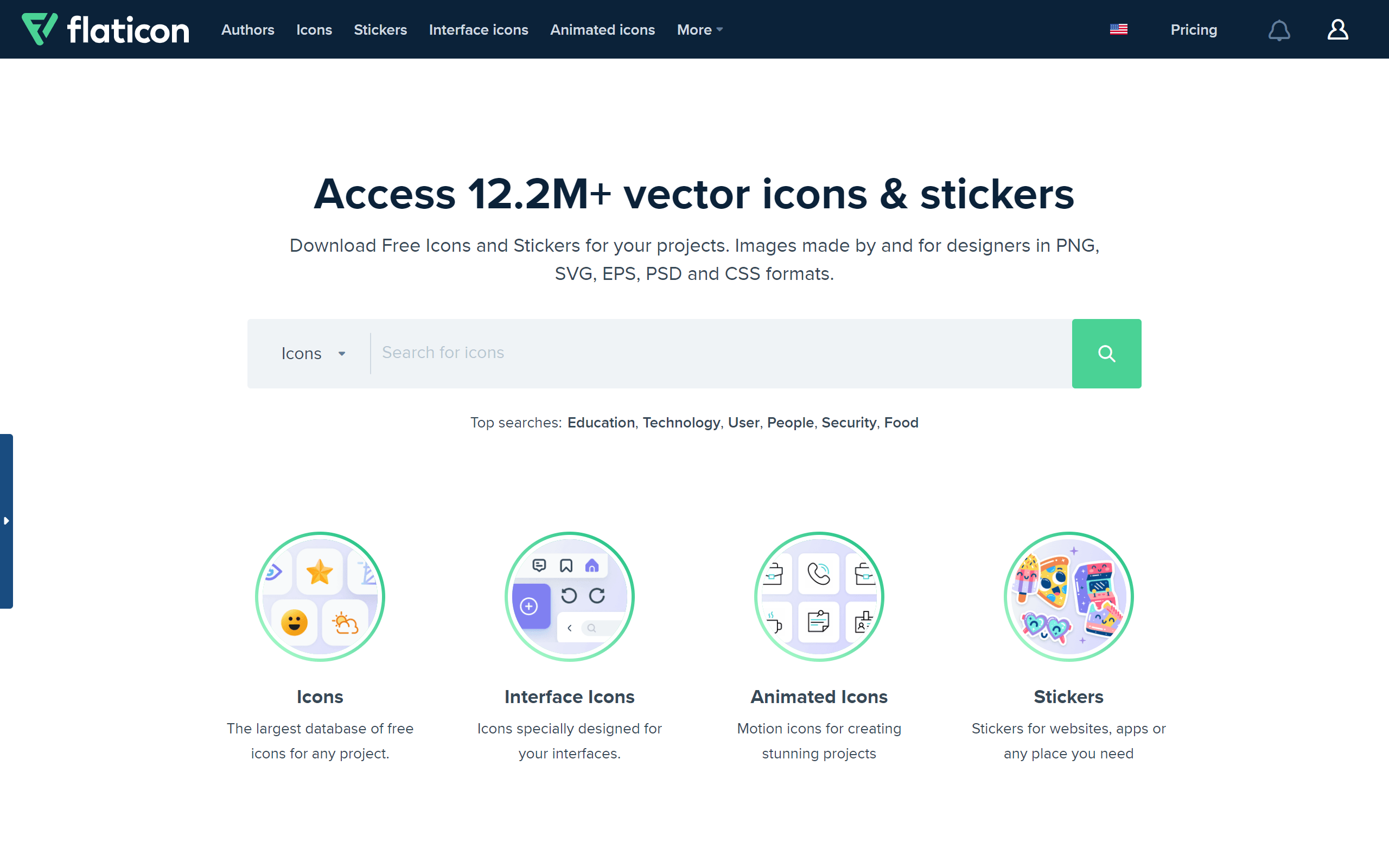 Flaticon is a must graphic designer website for your visual toolkit. As part of the Freepik universe, it offers a huge selection all for free.
Run by the Blanes brothers and friends, it's exploded with assets since starting in 2010. Browse easy through categories like business, design and more. High quality vector files mean super crisp displays on any device.
Whether you're designing an app, site mockups or social posts, Flaticon has got you covered. Plus the options for customizing files makes them perfect for any branding.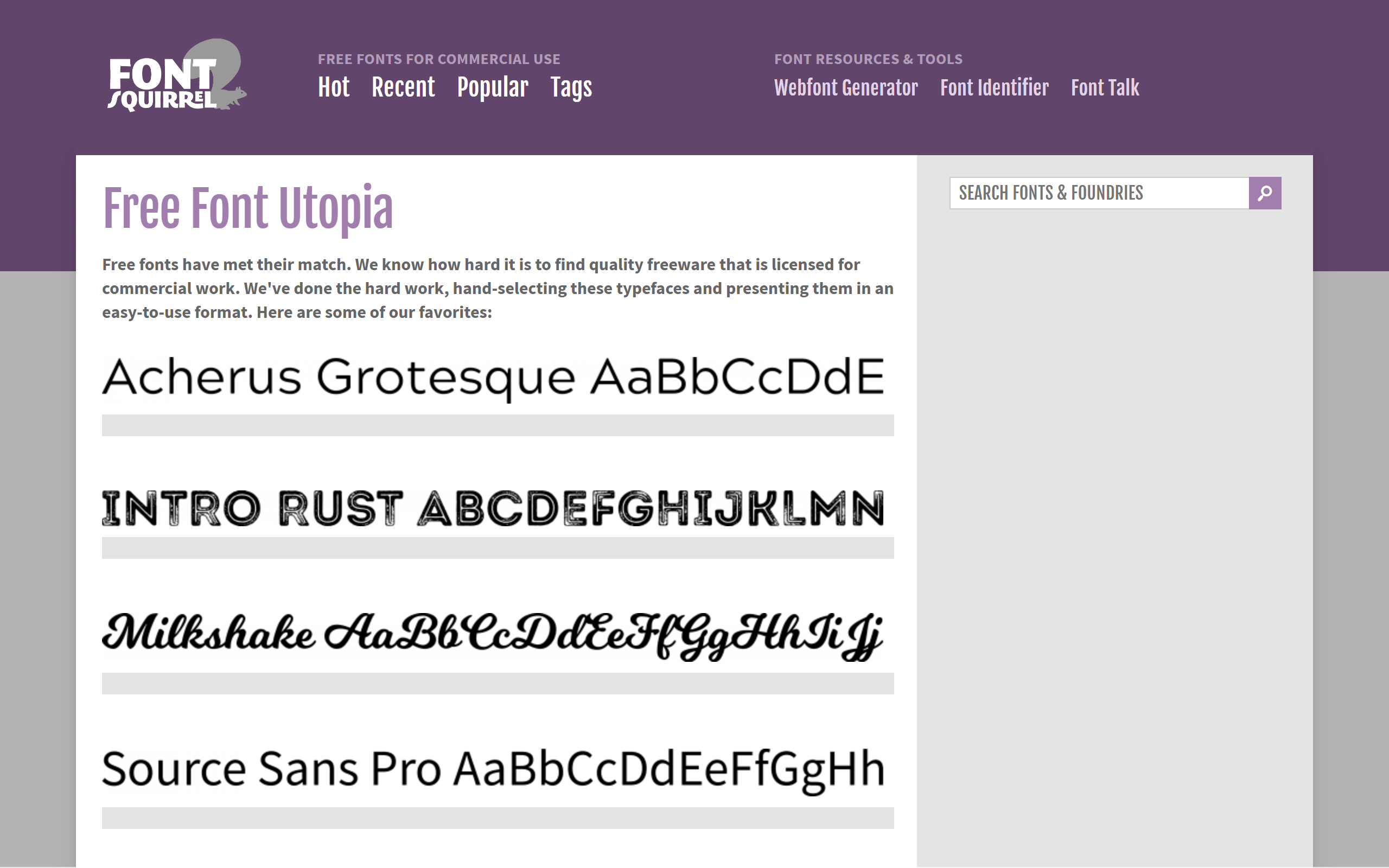 FontSquirrel is an awesome place to find typography options for all your design needs. Run by CSSLee, it's filled with over 800 free fonts that you're free to use commercially. Whether a serif, sans serif or decorative style, they likely have it.
FontSquirrel carefully selects high quality fonts. They make browsing a breeze by organizing them by categories like type, themes and styles. Need fonts for logos, headings or body copy? This site has you covered. Best of all, their licensing means no legal worries.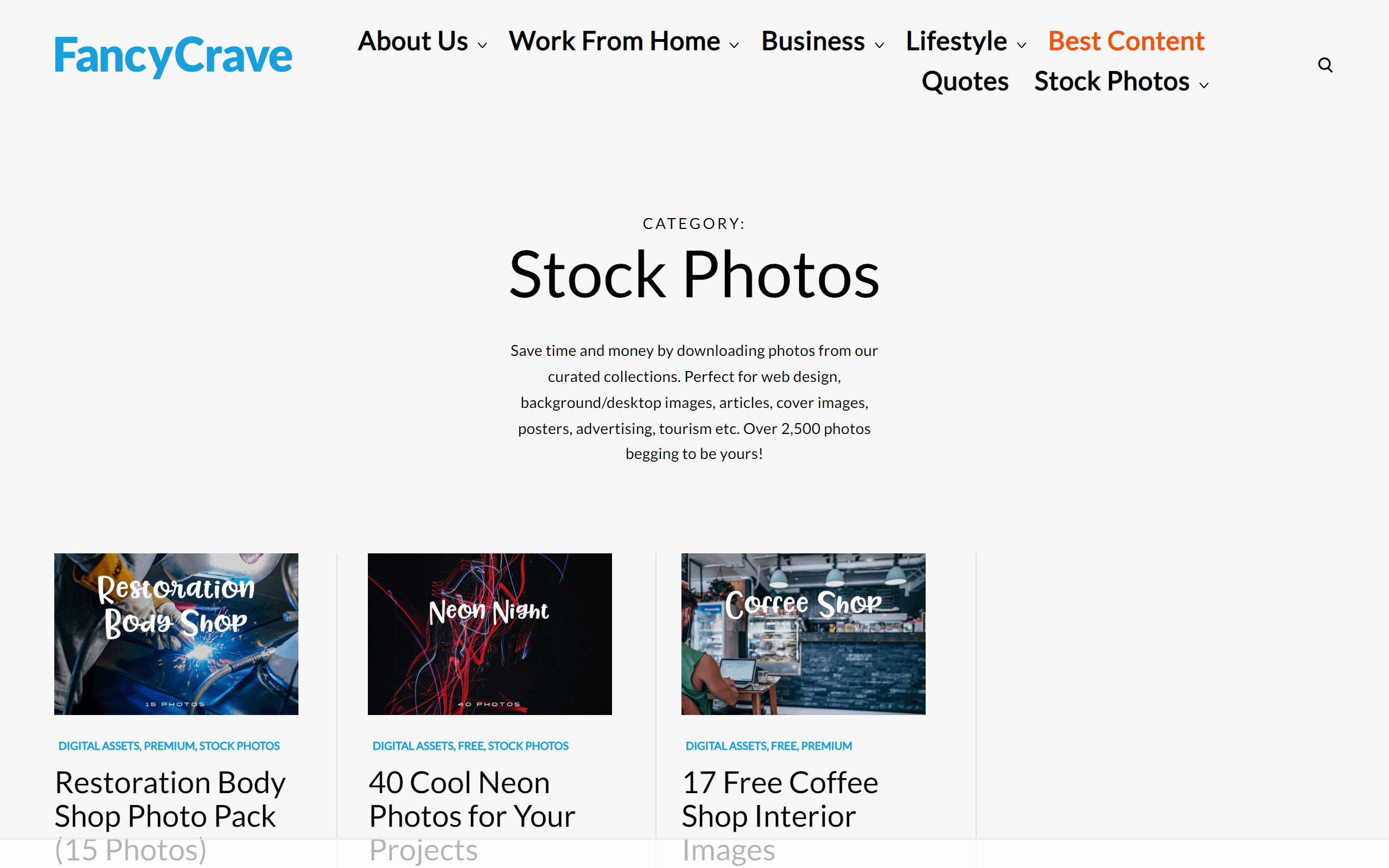 FancyCrave should be your new favorite source to turn to. It is run by an experienced team that aims to make your professional life easier. Their articles help discover new tools, trends and opportunities to grow your business.
We really like how they thoroughly test various software programs. Their reviews help determine what is truly great and simple to use. The goal is to beat working a regular 9-5 job through strategies you can apply.
Browsing categories from productivity to marketing is simple. Insights shared in each article are sure to spark fresh ideas. FancyCrave also ensures quality. Through testing similar to journalists, recommendations are always credible.
Creating websites on multiple devices can be tricky. Formatting looks awful when images stretch weirdly. Remember that pain? ScreenSiz.es helps with responsive design. It lists the dimensions and pixel densities of major phones, tablets, laptops, and desktops. Review specs there before starting projects.
Your design will display nicely across devices. It saves frustrated customers and hours of fixes down the road. ScreenSiz.es makes life easier for designers. Check it out in minutes but it helps for all future work. Easy to reference when building new sites or campaigns.
Have you ever spent way too long trying to choose colors for a project and never feeling satisfied? Others have been there too, staring at the screen as hours pass.
When developing websites, branding or visual work, many rely on Coolors. In one view it generates beautiful color combinations from images or hex codes. This takes the guesswork out of pairing colors and lets one focus on creativity. With Coolors you can explore options, save custom palettes and export directly to designs. It saves major time better spent on content. Plus it ensures colors stay cohesive across formats and devices.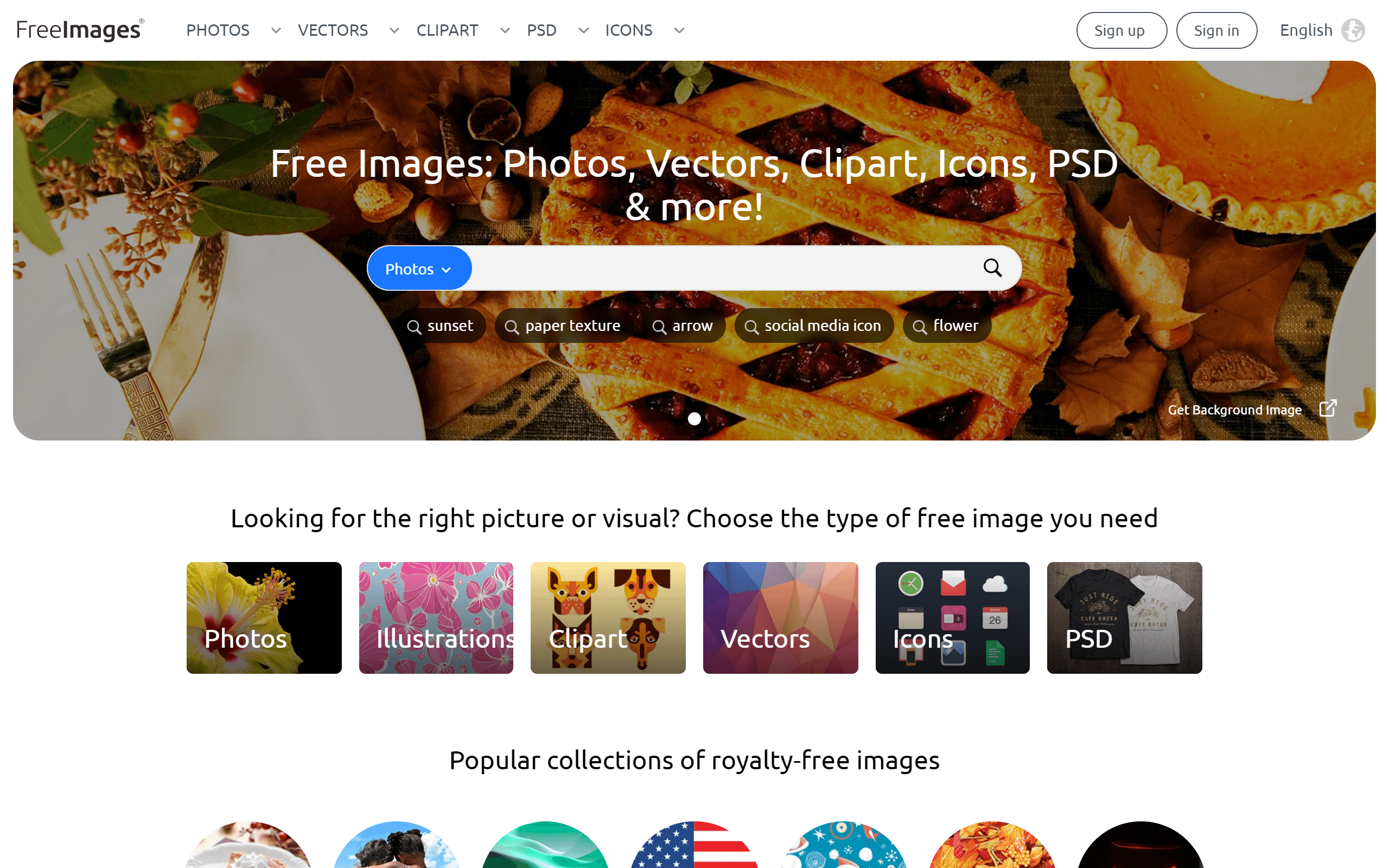 In need of images for blogs, social posts, or designs but hoping to avoid long stock site searches? Allow an explanation of FreeImages - a commonly utilized source for creative commons photos. Containing thousands of fresh shots added daily across numerous categories ensures something suitable will be found.
Best of all, the pics can be used for personal and commercial projects without copyright concerns. No longer require placeholder images just due to tighter budgets. Download, customize, and focus on messaging instead of visual hunting. Assurance exists that copyright policy is followed.
Conclusion
We talked about good websites for graphic designers. These sites can help you with your work.
You can find logos, pictures, tools, and ways to learn at these sites. We picked the best 25 sites. Use these sites to make your ideas and art better. Look at nice designs to help your own work.
The top sites will give you new ideas and help you improve. Now it's your turn to create cool things! Have fun and do your best.