We all know that freelancing online is getting really big these days.
It seems like everywhere you look, more and more people are making money doing freelance work from home. Whether you're just starting out or have been freelancing for awhile, or need to hire a freelancer, it can sometimes be hard to find new opportunities or people.
That's why we put together this list of some of the best freelance websites out there.
No matter what kind of work you do - writing, design, customer service, or whatever - we've got some suggestions for sites to check out.
What is a Freelance Website? 🖥️
Let's make it clear. Basically, a freelance website is an online place where people can go to find people like you (or post jobs for people like you!) to do contract work.
The clients could be companies, individuals, other freelancers - really anyone looking to hire someone temporarily without having to deal with all the formal employer junk.
On these sites, clients will list out jobs they need to get done - stuff like writing articles, designing graphics, sorting data, and more. Then freelancers like yourself can browse through, find something that matches your skills, and bid on or apply for the projects.
How We Chose Top Freelance Websites 📝
To find the top dog freelance platforms, we looked at a few key things. First up was the number of jobs posted. We aimed for sites that had tons of fresh new projects added every single day. No one wants to join a platform with nothing but crickets, amirite?
We also peeked at how long the sites had been around. Obviously newer sites could still be great, but we figured more established platforms probably had their act together.
Next we checked out reviews from real users - both freelancers and clients. It's always better hearing from people who have actually used a site versus just company hype.
Finally, we made sure the sites seemed beginner-friendly but also had complex jobs for more experienced peeps. A good freelance platform caters to all levels.
After reviewing dozens of candidates using these criteria, the platforms you'll meet next stood out as the ultimate All-Star All-Stars.
Best Freelance Websites to Find Work 💼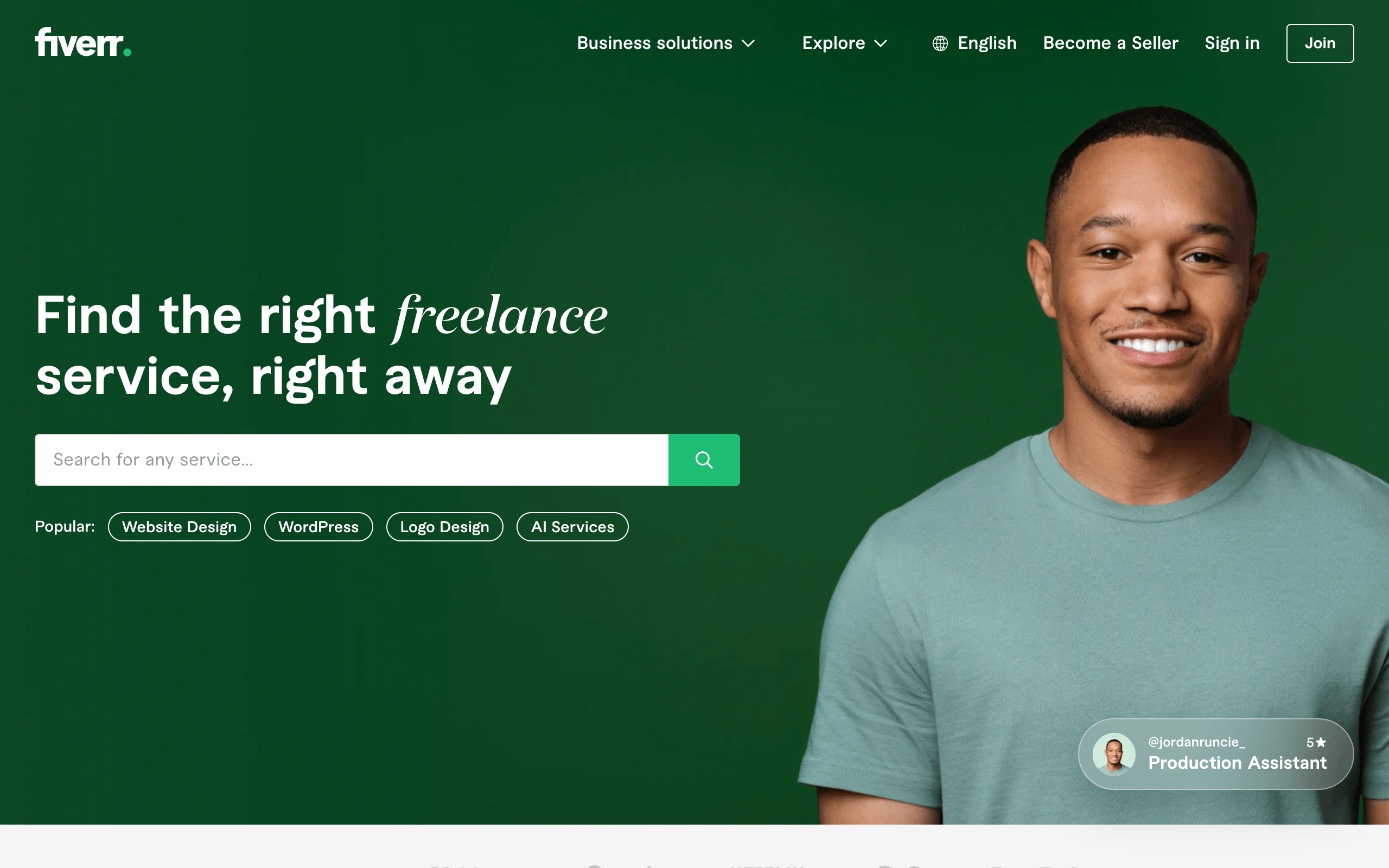 Fiverr is probably the most well-known site for small freelance jobs or "gigs" as they call them. It started out focusing only on $5 projects way back then, but has grown since then. Now you can find both tiny and bigger tasks.
Freelancing Type: graphics design, digital marketing, writing and translation, programming and probably anything else.
Benefits:
Tons of super specific gigs so you can really niche down
Easy to set up a seller profile and start taking on projects right away
Great for trying out smaller freelance tasks before tackling bigger jobs
Established marketplace means plenty of clients browsing
You get paid quick once a gig is complete
Disadvantages:
Some complain the site fees eat into already low earnings
Harder to build reputation on micro-tasks versus longer-term clients
Upwork is a major player in the freelance world. It's one of the best places to find some high-paying longer-term projects. This is probably one of the freelance websites you've already heard about. So why not try it out?
Freelancing Type: from programming and tech roles to writing, customer service, accounting, and design work. Tons of opportunities.
Benefits:
Employers tend to post bigger, higher paying jobs than other sites
Easy to create a detailed profile to show off your skills
Get hired on fixed-price contracts or hourly rates for flexibility
Great search tools to filter jobs and find perfect matches
Disadvantages:
More competition since it attracts pros from all over
May have to submit more proposals before scoring a project
Employers can be pickier since they're paying more fees
Freelancer.com is one of the mega sites where people go to find and bid on freelance work online. It's been around forever and has tons of users. Basically one of the most popular freelancing websites out there.
Freelancing Type: standard website builds and app work, but also things like writing, customer service, accounting - you name it.
Benefits:
Seriously massive pool of jobs to choose from across a bunch of skills
Easy to make a profile and start browsing listings
Payment is handled through the site so you know your cash is protected
Tons of people use it so good chance of scoring work
Great for new freelancers just starting out
Disadvantages:
Site fees eat into your earnings a bit
Interface seems a little basic for how huge it is
Toptal is a site where you can find and hire really skilled freelancers for your projects. They claim all the people on their platform are in the top 3% of freelance talent. So this is a freelance website for hiring.
Freelancing Type: developers, designers, product folks, finance experts, project managers and more.
Benefits:
People are supposedly super talented since Toptal screening is intense
Good chance projects will get done on time and under budget since folks are experienced
Can hire for short or long term work depending on needs
-Payment handled through site so you know freelancer will get paid
Useful if you need specialists not usually found elsewhere
Disadvantages:
Pricing is on the higher end since you're paying for top talent
Smaller pool of freelancers than bigger sites means less options to pick from
Might be overkill if your project doesn't require that level of expertise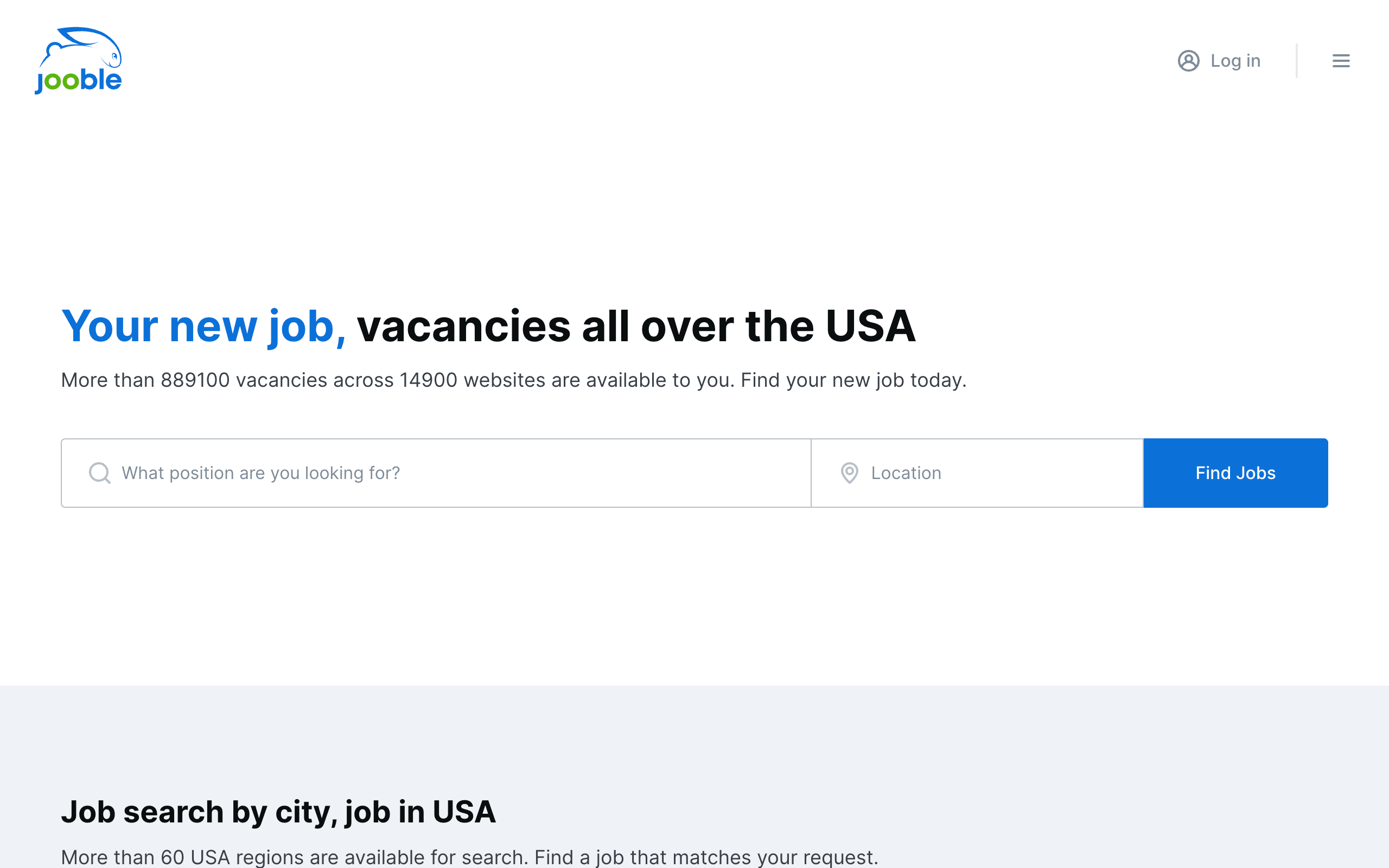 Jooble is one of those freelance platforms where you can look for work anywhere in the US and abroad. They've got listings from tons of different job boards all in one place.
Freelancing Type: any industry you can think of - office work, trades, healthcare, education, retail, food service, etc.
Benefits:
Massive selection of jobs since they pull listings from all over
Can search by location so you see only relevant options
Lets you save searches and jobs to look at later
Easy to browse popular categories like work from home gigs
Mobile app makes searching on the go convenient
Disadvantages:
Lots of listings means it can be tedious to find exactly what you want
Quality of postings may vary since they come from different sources
Need to apply direct on employer sites so Jooble is just a search engine
Aquent is a best freelance website that helps other businesses find talent, services, and solutions for their work needs. They've got multiple divisions under one roof.
Freelancing Type: marketing, design, creative roles, programming, project management, and more. They also pair companies with agencies and vendors.
Benefits:
One stop shop with different options like staffing, freelancing, and agency services
Global reach so you can find talent worldwide
Work with big name clients so credibility is solid
Provide extras like payment handling and compliance
Tools for remote collaboration and project management
Disadvantages:
More expensive than individual talent sites since they offer full solutions
Might be overkill if you just need someone for a simple role rather than a whole package
Still requires sifting through multiple sites within their network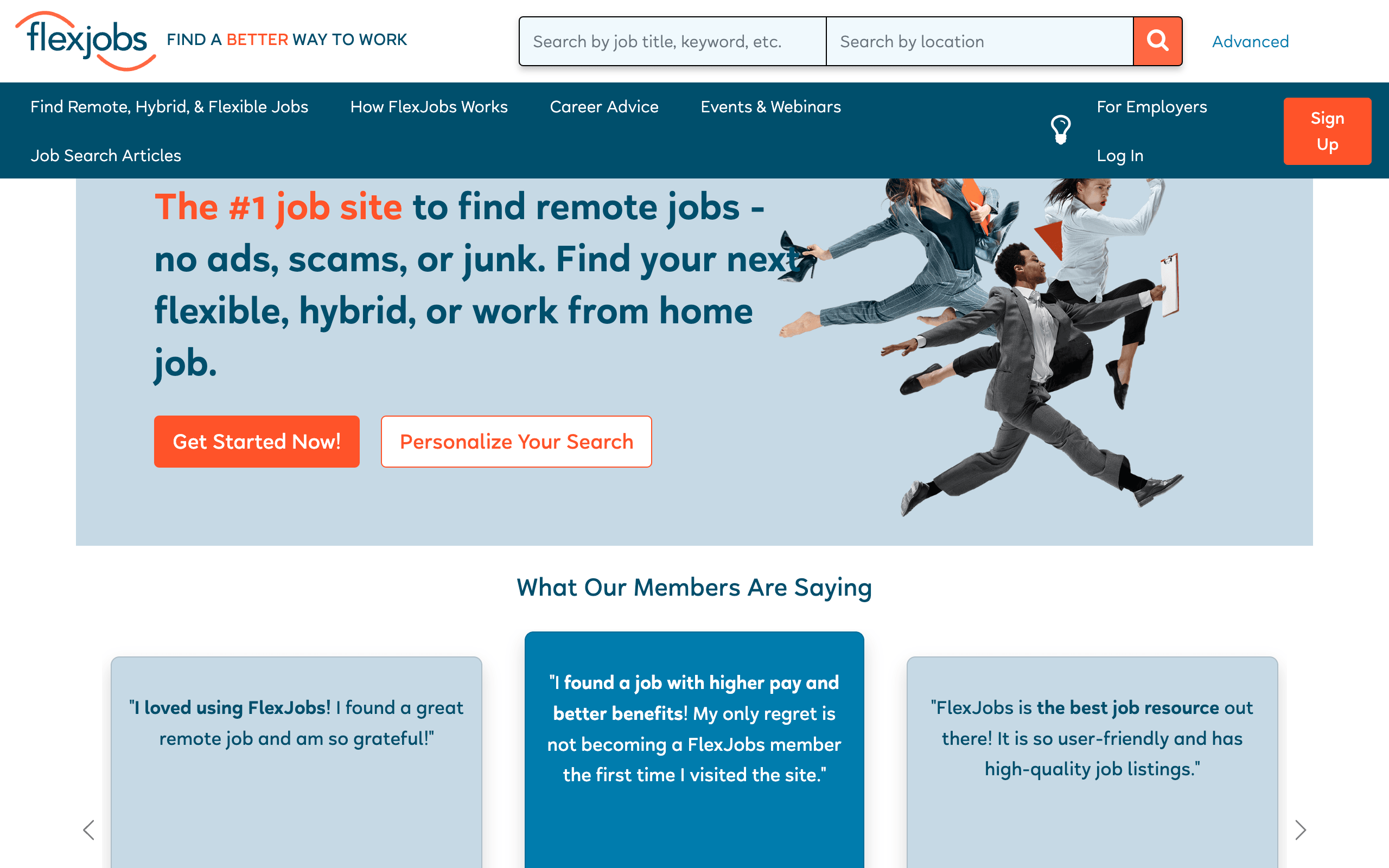 FlexJobs is a best freelance website specifically for remote, work from home, part-time, and flexible style jobs. Everything is hand-screened too so you know it's legit.
Freelancing Type: office jobs like accounting or customer service, creative roles like design or writing, healthcare, education, tech, you name it.
Benefits:
Only lists remote and flexible jobs so saves time
New jobs added daily across the US and globally
Vets each job so you avoid scams
Provides advice, skills tests and events to help your search
Customer support if you need any help
Disadvantages:
Paid membership model so you have to sign up to see full listings
More specialized than a broader job board so smaller pool of options
Some jobs may still require occasional in-office work
Guru is a freelancer website that connects businesses and individuals to freelancers from around the world. They've got professionals listed in tons of different skills categories.
Freelancing Type: design, development, writing, admin work, accounting, online marketing. The list is long.
Benefits:
Huge pool of freelancers globally in many languages
Can browse profiles and see reviews/works to pick the best fit
Payment protection and options for invoices/milestones
24/7 support if you need help with anything
Free to post jobs and get quotes from pros
Disadvantages:
Can be time-consuming to sift through long lists of freelancers
No guarantee the lowest bidders will provide great results
Some potential freelancers could lack experience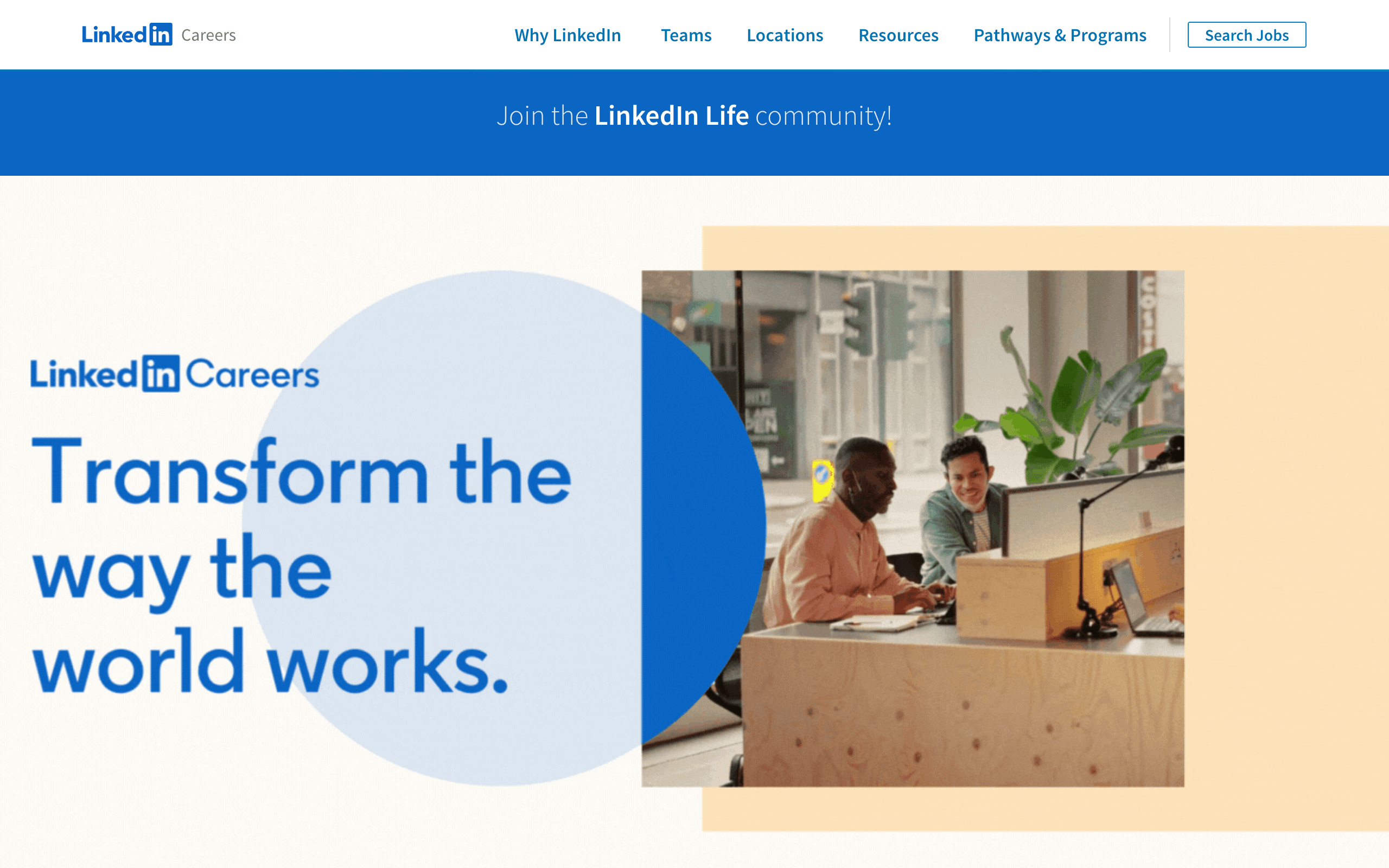 LinkedIn Jobs is a section on the popular LinkedIn social network for professional profiles and connections. It's focused specifically on finding new career opportunities.
Freelancing Type: Lots of jobs like admin, marketing, sales. Also tech, healthcare, business, design, writing, and more.
Benefits:
Leverage your LinkedIn network and profile to apply
Browse jobs posted directly by major companies
Filter by location, industry, skills, and more
Easy to keep track of applications and open roles
Profile shows employers you're active on LinkedIn
Disadvantages:
Freelance options are somewhat limited
You need a good LinkedIn network and profile built up
Job search features aren't as advanced as dedicated sites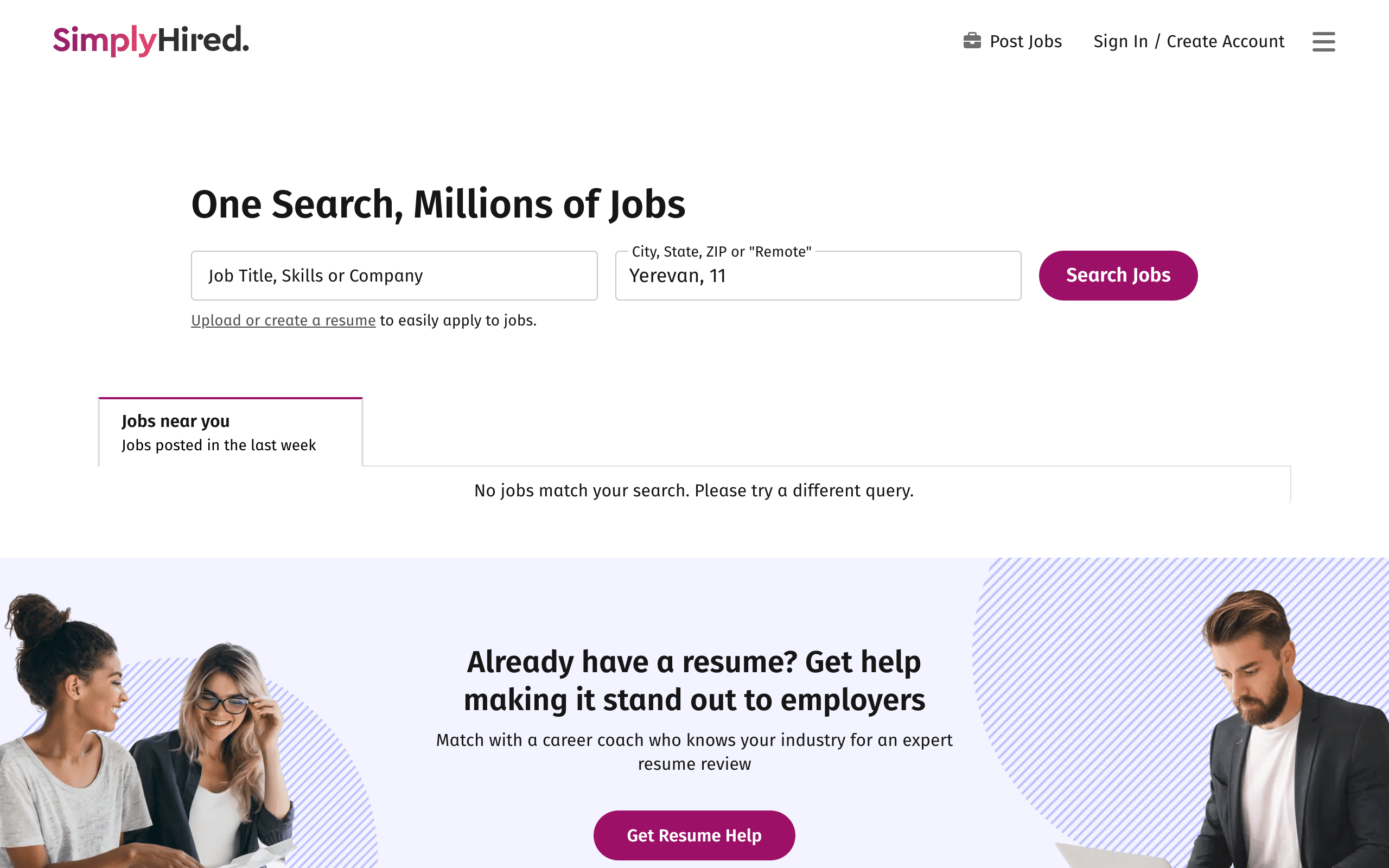 SimplyHired is one of the best AI-powered freelance websites that aggregates posts from various job boards and company sites onto their platform. Makes finding options super simple.
Freelancing Type: More general than some sites but often lists contract/freelance roles for things like writing, design, development, translation, bookkeeping, real estate, and personal assistance type jobs.
Benefits:
Searches literally millions of jobs from across the web in one place
AI assistant helps you find suitable roles
Filters by location, remote status, salary and more
Lets you easily save searches and set up job alerts
Syncs with LinkedIn so you can apply directly
Disadvantages:
Freelance picks are more limited than niche platforms
Quality of individual postings can vary widely
Has less info on companies vs going direct
Behance is mainly an online creative portfolio platform owned by Adobe. Artists/designers use it to display their skills and projects. This is one of the best freelance websites for artistic jobs.
Freelancing Type: graphic design, web design, illustration, photography, branding. Some overlaps with dev like UI/UX. Limited non-creative jobs.
Benefits:
Beautiful portfolios to highlight your work and style
Large global creative community to connect with
Potential clients can discover you through searches
Trend data on what's popular in design world
Free to set up profile and upload work
Disadvantages:
Not designed as a traditional freelance marketplace
You need to actively hunt for or be discovered for jobs
Limited filtering/search for actual freelance roles
Skill/industries not as diverse as broader sites
ServiceScape is a freelance website where you can find talented freelancers to help with all sorts of tasks. Whether you need some writing edited or a design made, they've got pros for it.
Freelancing Type: Big on writing jobs like editing, proofreading, translations. Also graphic design.
Benefits:
Huge pool of freelancers across many skills
Portfolios help you check out their work
Secure payment system for transactions
Chat feature for talking to freelancers
Filter searches in lots of different ways
Disadvantages:
More writing/creative focused than tech skills
No guarantee on quality since it varies by freelancer
Smaller community than big freelance platforms
Fellow designers, this is one of the coolest freelance platforms for you. And of course, those who are looking for some slick designs. 99designs is a site where you can source design work from all around the world.
Freelancing Type: design-based freelance jobs like logos, graphics, branding, websites.
Benefits:
A wide variety of projects to pick from
Contests get you lots of options to pick the best design
Feedback helps improve future projects
Secure payments through the site
Good options if you want quick turnaround
Disadvantages:
Limited to design/visual freelancing mainly
Contests mean spending more for revisions
Quality varies depending on designer
Smaller community than bigger freelance platforms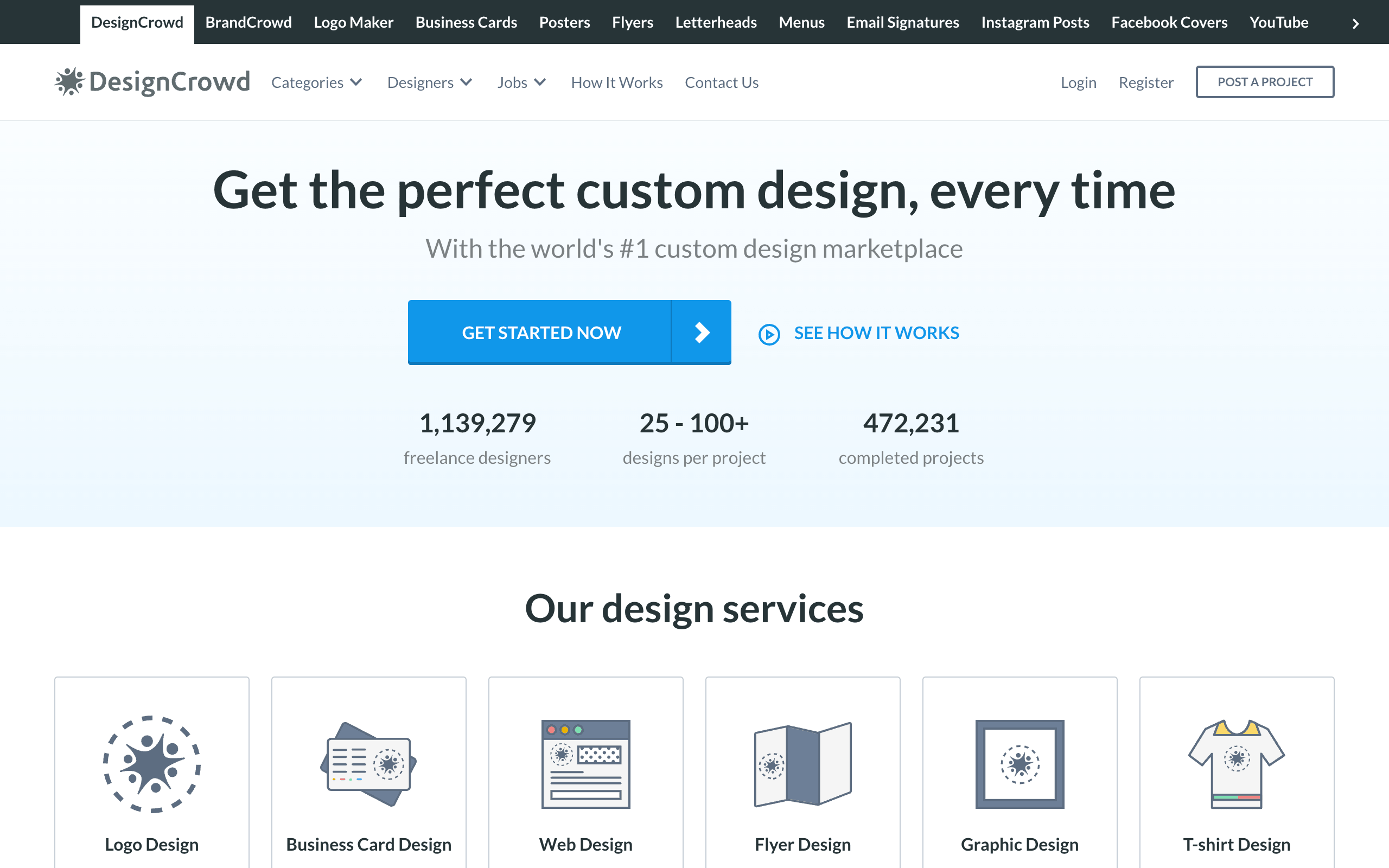 DesignCrowd is a site where you can source design work from all over the world. They connect clients with freelance designers globally. Truly one of the most practical freelancing websites out there.
Freelancing Type: visual design like logos, branding, websites, graphics etc. Lots of options for creative freelancers.
Benefits:
Huge pool of designers from different countries to pick from
Get multiple portfolio options to choose the best design
Welcoming rates from designers worldwide
Contests ensure quality options within deadlines
Easy payment and project tracking system
Disadvantages:
Limited to visual design mainly, less tech jobs
Contests mean higher cost than hiring directly sometimes
Quality depends on the individual designer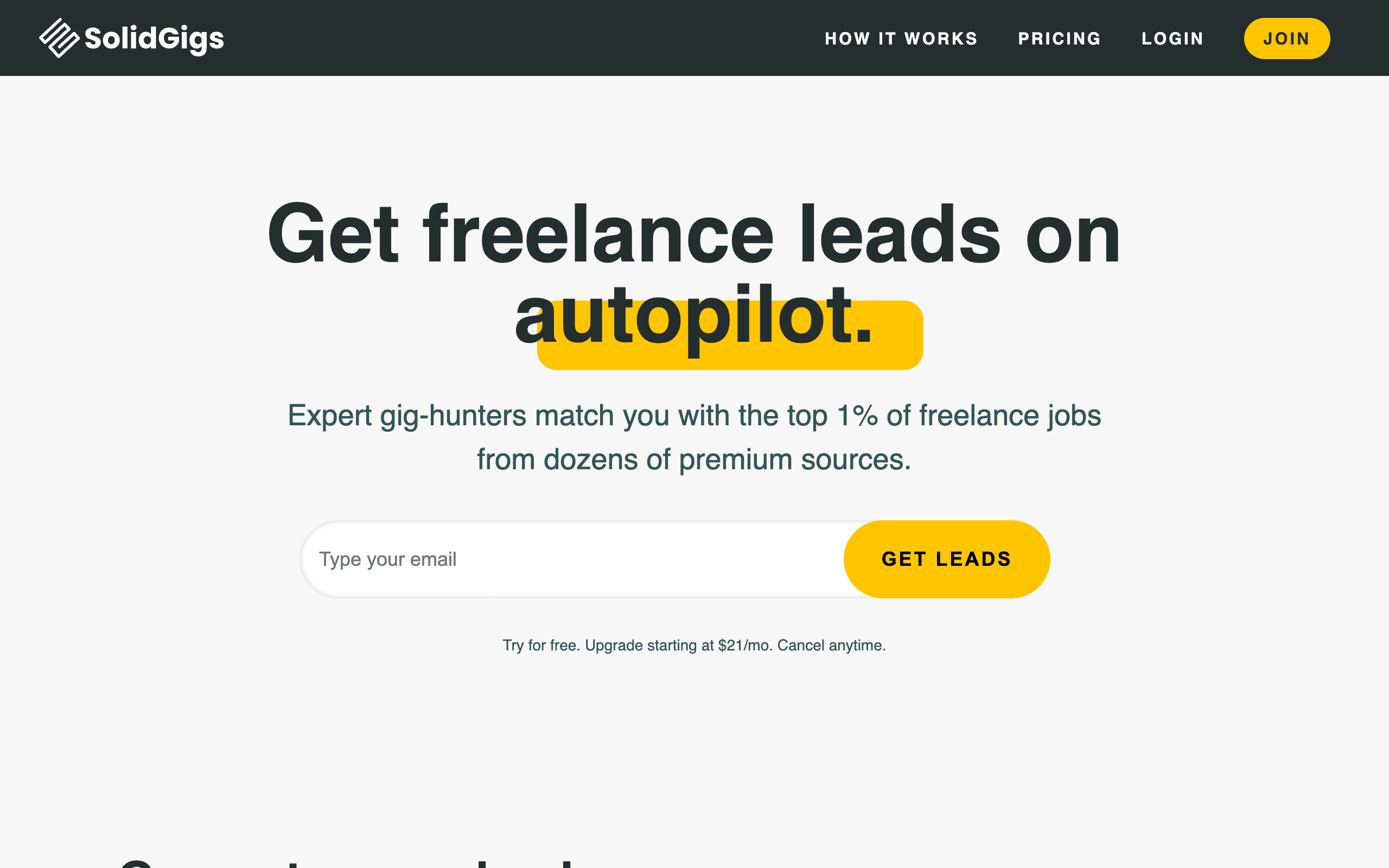 SolidGigs is one of the best freelance websites you can use to find freelance projects across many skills. Whether I'm looking for writing, design or dev work, they always have new gigs posted.
Freelancing Type: from web design to content writing. They cover everything from tech to marketing to creative fields.
Benefits:
Constant stream of new job postings keeping you busy
Detailed job descriptions make it easy to know what's required
Simple proposals and contract process
Get paid quickly once the work is approved
Account managers help land more clients
Disadvantages:
Have to market yourself across many skills
More generalist than specialist sites
Less communication with clients through the platform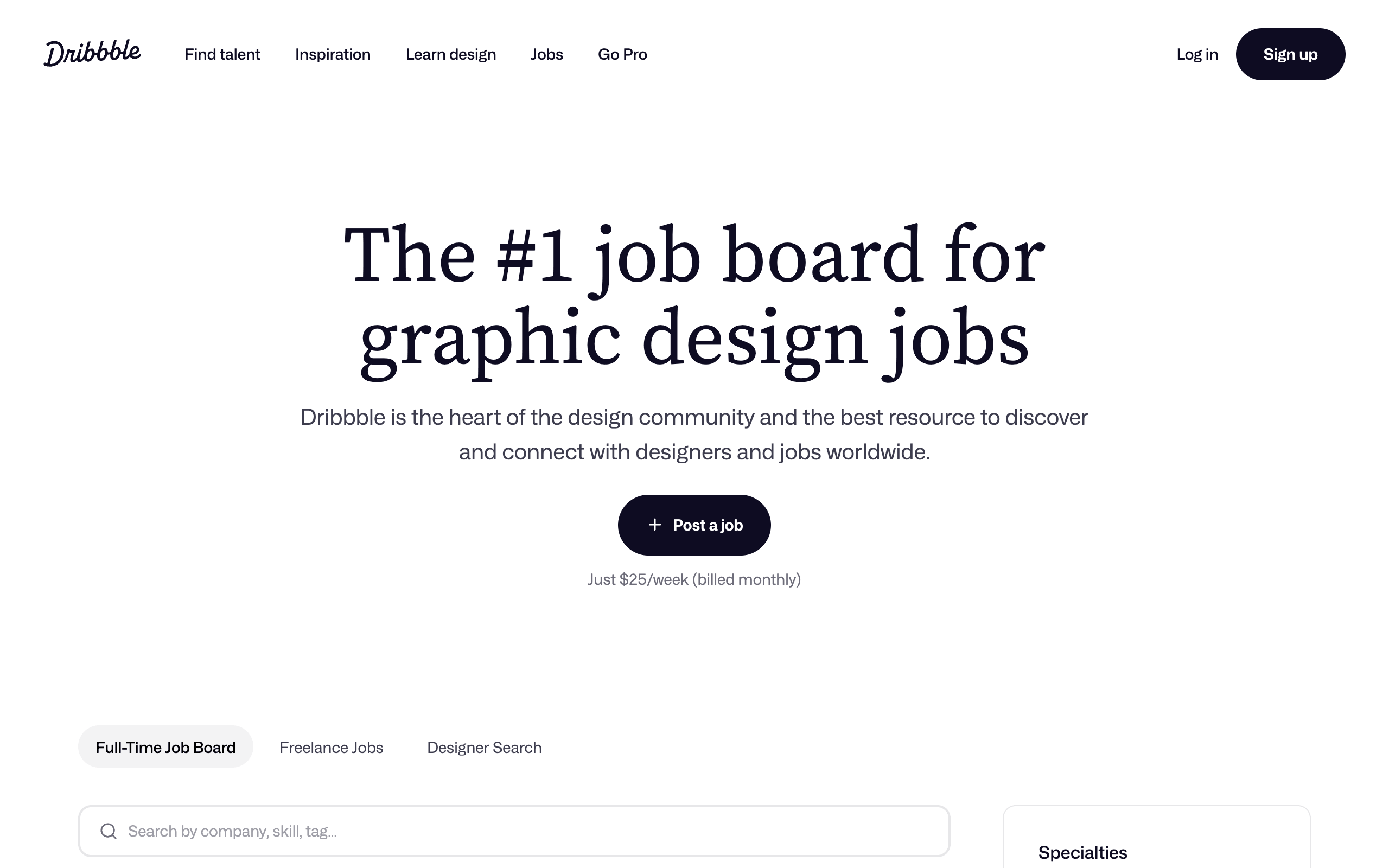 Dribbble Jobs is a part of the Dribbble community site where design work is regularly posted. It connects creative freelancers with companies globally. This is one of the mist popular and coolest freelance sites for designers.
Freelancing Type: Primarily visual design jobs like graphics, branding, illustrations etc. Great for designers.
Benefits:
Huge active community of designers to find work
Vetted job posts from reputed companies and indies
Get exposure to new employers through portfolio
Can browse jobs across locations and skillsets
Easy to apply directly from relevant job listings
Disadvantages:
Limited to visual design and creative fields
Smaller job pool than dedicated job sites
Quality of leads depends on individual posters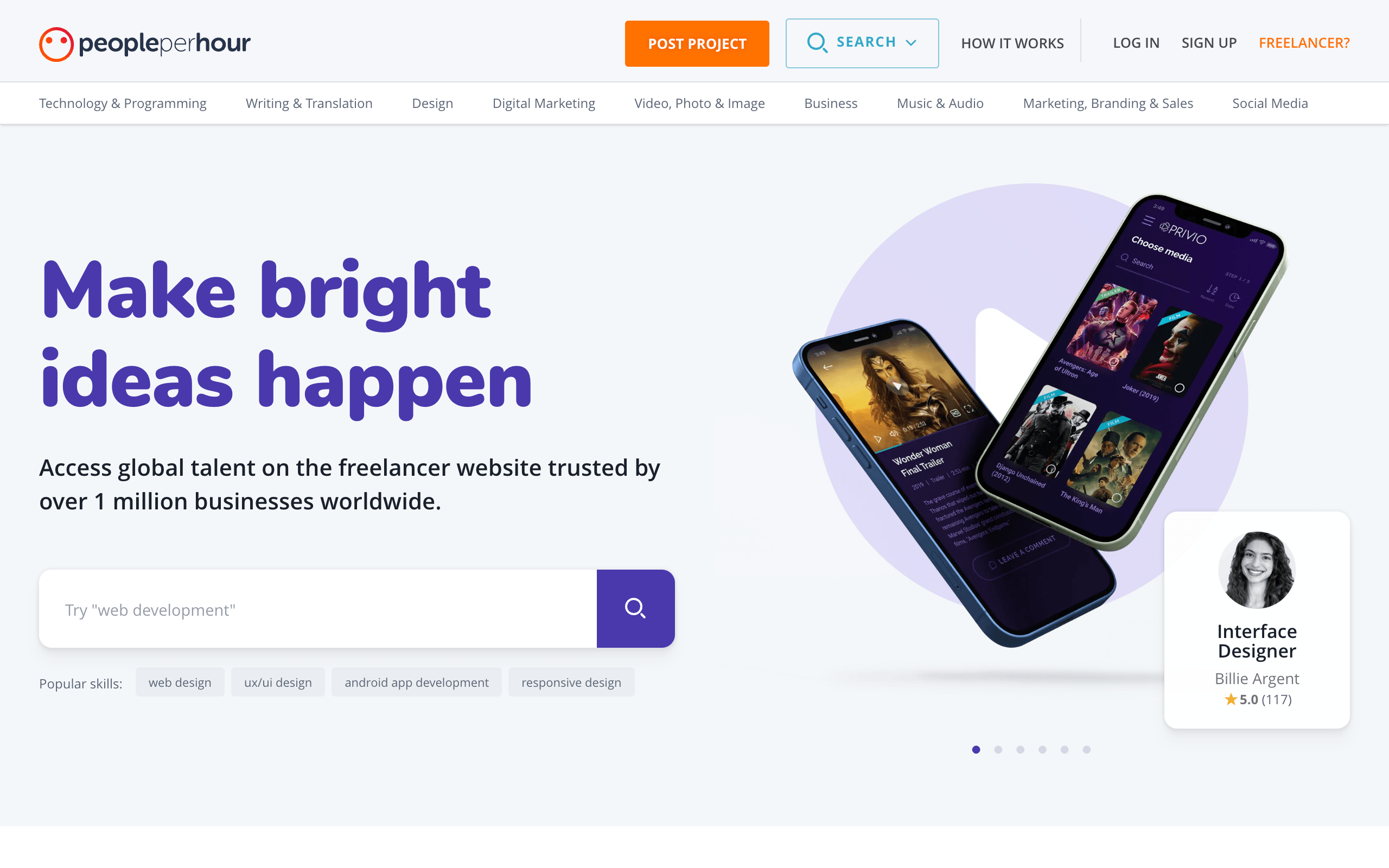 This is one of the freelance sites that offers a way to connect worldwide as an independent pro. Market your skills well, do great work and gradually develop your profile on the site over time.
Freelancing Type: design, websites, marketing, writing, or anything in between - they've got jobs posted in those areas and more.
Benefits:
Global clients and set your own hours
See competitive rates and easily contact employers
Payment is secured until projects are complete
Reputable users who are vetted businesses
Disadvantages:
Competition from many freelancers
Building a strong rating takes time
Platform fees taken from projects
Whether you're a graphic designer, illustrator or some other type of visual talent - this is one the best freelance website connect with clients worldwide. It's basically an online marketplace full of creative freelance opportunities.
Freelancing Type: logo making, website building, product packaging, t-shirt printing - pretty much anything visual. Illustrations, photos and other art projects are also available.
Benefits:
Global clients from over 100 countries
Set your own hours and rates
Get work in areas like app icons, brochures, books and more
Option to participate in design contests
Payment is secured through the site
Big network of over 150k creative freelancers
Disadvantages:
Stiff competition for gigs
Reliant on reviews for repeat work
Cut taken by the site on projects
Codeable is a freelancer website that connects WordPress professionals with clients around the world looking to hire for various projects. Even your skills in UI design tools can be handy on this website.
Freelancing Type: WordPress theme/plugin development, site upgrades, bug fixes, custom solutions and more.
Benefits:
Global pool of clients with different timezones and budgets
Vetted profile shows your skills and experience to clients
Money is secured so you know you'll be paid for jobs
Reviews and ratings help build your reputation
Quick client responses as their need is matched to your profile
Fixed price estimates mean clear costs from the start
Disadvantages:
Stiff competition from other WP pros on the platform
Flat fees taken from each project
May be less jobs listed compared to broader freelancer sites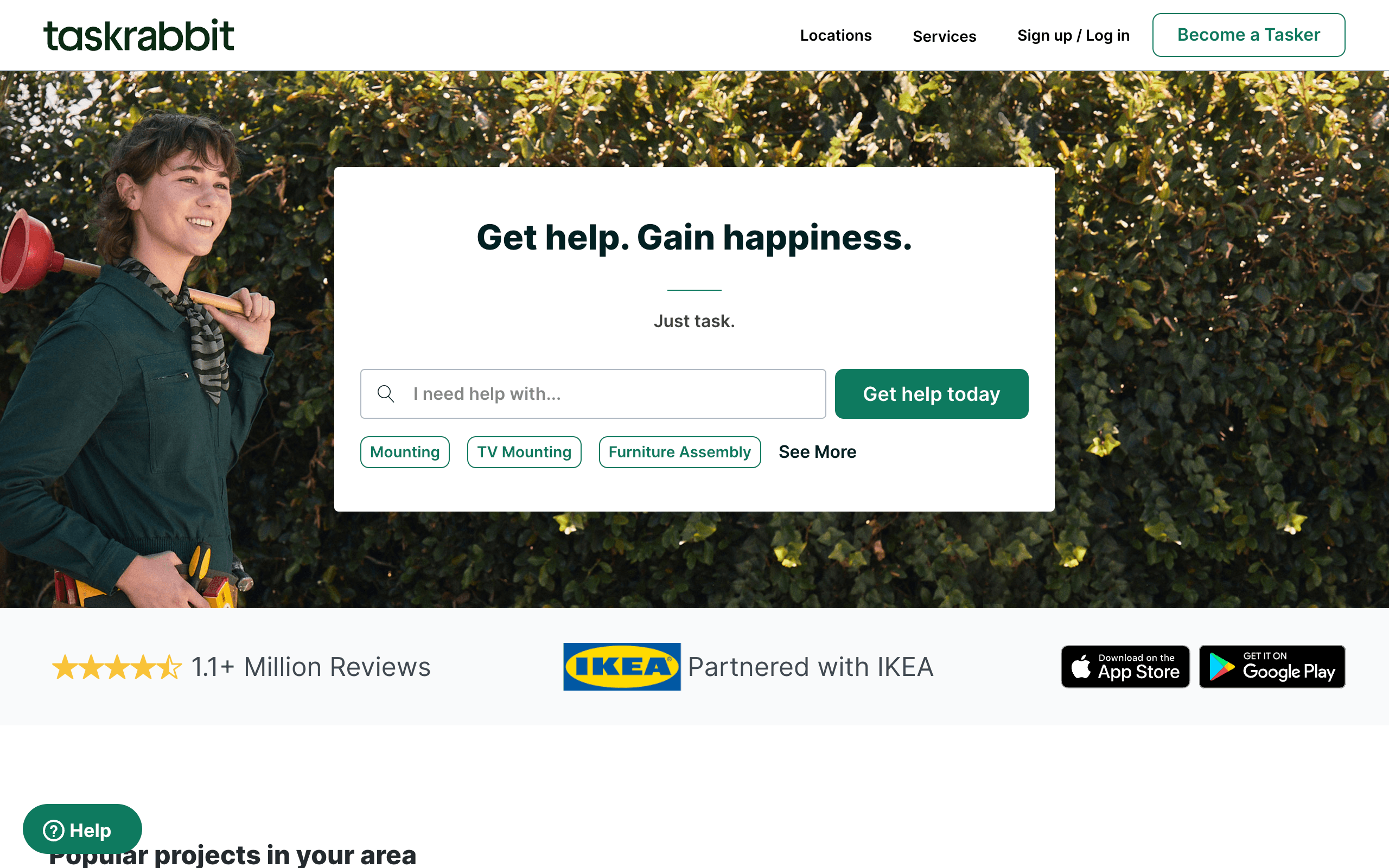 TaskRabbit is a site where people in need of misc tasks done can find helpers to do things like furniture assembly, grocery shopping or handyman work. So if you are looking for small tasks, this is one of the best freelance websites for it.
Freelancing Type: local jobs like moving help, yard work, putting Ikea furniture together, waiting in line for tickets, and more odd jobs around town.
Benefits:
Find tasks nearby anytime
Fast payments after completing jobs
Build experience and reviews from tasks
Work is flexible around your schedule
Directly message clients about jobs
wide range of small jobs available
Disadvantages:
Mostly smaller paid tasks rather than major projects
More competition from other Taskers in your area
Reliant on getting good reviews for repeat clients
We Work Remotely is the best freelance website dedicated to helping people land remote jobs in things like coding, design, sales and other flex work folks can do from anywhere.
Freelancing Type: programming jobs like front-end and back-end development, design positions, customer support roles, marketing freelance jobs and more remote friendly tasks.
Benefits:
Jobs from all over the place so more options
Dedicated to remote work so no commute
Filter by location to find gigs near you
Open roles in different fields not just coding
Employer reviews to check them out
Easy to browse categorized listings
Disadvantages:
Stiff competition for roles as it's popular
May have to dig to find hidden remote gems
Rely on employers posting openings
Wellfound connects job seekers with growing startups looking to hire help across many roles from software engineers to salespeople. This is the best freelance website to start a side hustle.
Freelancing Type: tech-related jobs like coding, product roles, designer jobs, marketing, operations, customer success and more at launching companies.
Benefits:
Tons of jobs at new and interesting startups
Profiles highlight salary and equity upfront
Global companies mean different locations
One click applications make it simple
Browse salary data to know what you should ask for
Connect directly with founders hiring
Disadvantages:
Stiff competition for roles at hot startups
Less regular updates on roles at bigger companies
Have to market yourself effectively among other candidates
Authentic Jobs is a site dedicated to helping creative specialists like designers, developers and other artistic professionals land work. You'll find lots of freelance and full-time jobs cause this is one of the best freelance websites.
Freelancing Type: from design positions to marketing freelance gigs, customer support roles, product jobs, dev work and more.
Benefits:
Only creative focused roles not other random jobs
Filter by location, employment type etc
Employer reviews to check them out
Mobile friendly browsing on the go
Resume builder tool for applications
Open community board to discuss opportunities
Disadvantages:
Might get lost in the creative crowd
Employers may not post regularly
Flowremote is one of the best freelance websites to find freelance gigs online. It has a nice clean interface that makes browsing jobs easy.
Freelancing Type: web development, design, and online marketing.
Benefits:
Tons of listings from agencies and startups all over the world posted daily
Can filter jobs by location, industry, skills needed etc to find the perfect fit
Some jobs let you get early access before they're public which gives freelancers an edge
Companies seem legit since you can view their website and LinkedIn profiles
Platform offers free resources like ebooks and webinars to help freelancers
Disadvantages:
Competition is tough as it attracts freelancers globally
Need to have a polished profile and proposals to stand out from the crowd
FreelanceWritingGigs is the best freelance website for writing jobs. It's been around for ages and has tons of regular jobs posted. You can easily browse opportunities by clicking different categories like blogs, journalism, editing, and more.
Freelancing Type: This site is strictly for freelance writing jobs. You can write a blog post, for example.
Benefits:
New jobs added daily across different genres and topics
Can apply directly on the site or find client contact info
Tools and resources section helps writers improve their craft
Forums to connect with other freelancers and industry experts
Sign up for job alerts in your niche so you never miss opportunities
Disadvantages:
Tough to stand out from the many applications employers receive
May need to build a portfolio first before getting high paying jobs
Wrapped 🆙
The freelance world can seem intimidating but honestly there's opportunities out there if you put in the effort.
Don't be afraid to try different platforms and niches to find your perfect clients. Building your portfolio and online presence takes a grind but the payoff of flexible freelance freedom is totally worth it.
Keep hustling on sites like these - we're sure with some effort you'll land awesome projects in no time. The online freelance space is only growing so keep that positive mindset.
Now get out there and happy hunting!