You have to admit it, travel makes life colorful and interesting to live. When you are out traveling, you would be excited every morning for the adventures that await you.
Many people who love traveling create blogs to document their journeys. If you also want to be a travel blogger or you already are and looking for creative ideas, you are in the right place.
In this article, we have pulled together a list of the best travel blogs on the web (not in any particular order) that will give you numerous ideas and inspiration to succeed as a travel blogger.
20 Inspiring Travel Blogs on the Web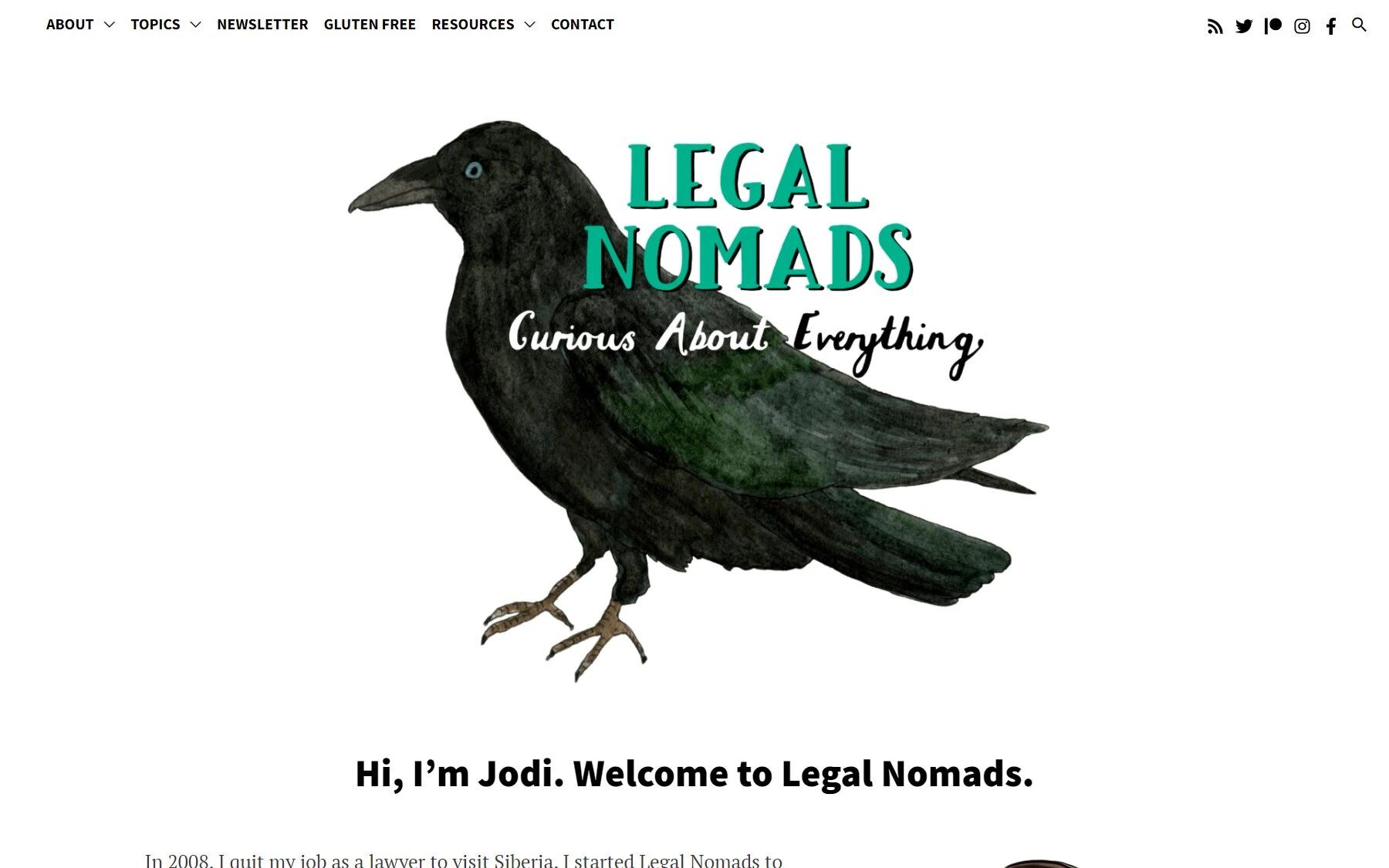 Jodi had planned to take a year's sabbatical from her corporate job to travel the world. She started Legal Nomads in this period to share her travel and food experience.
But she never returned to her job because following curiosity and discovery became her passion. Her website has helpful articles on travel, food, health, career in law, and many more.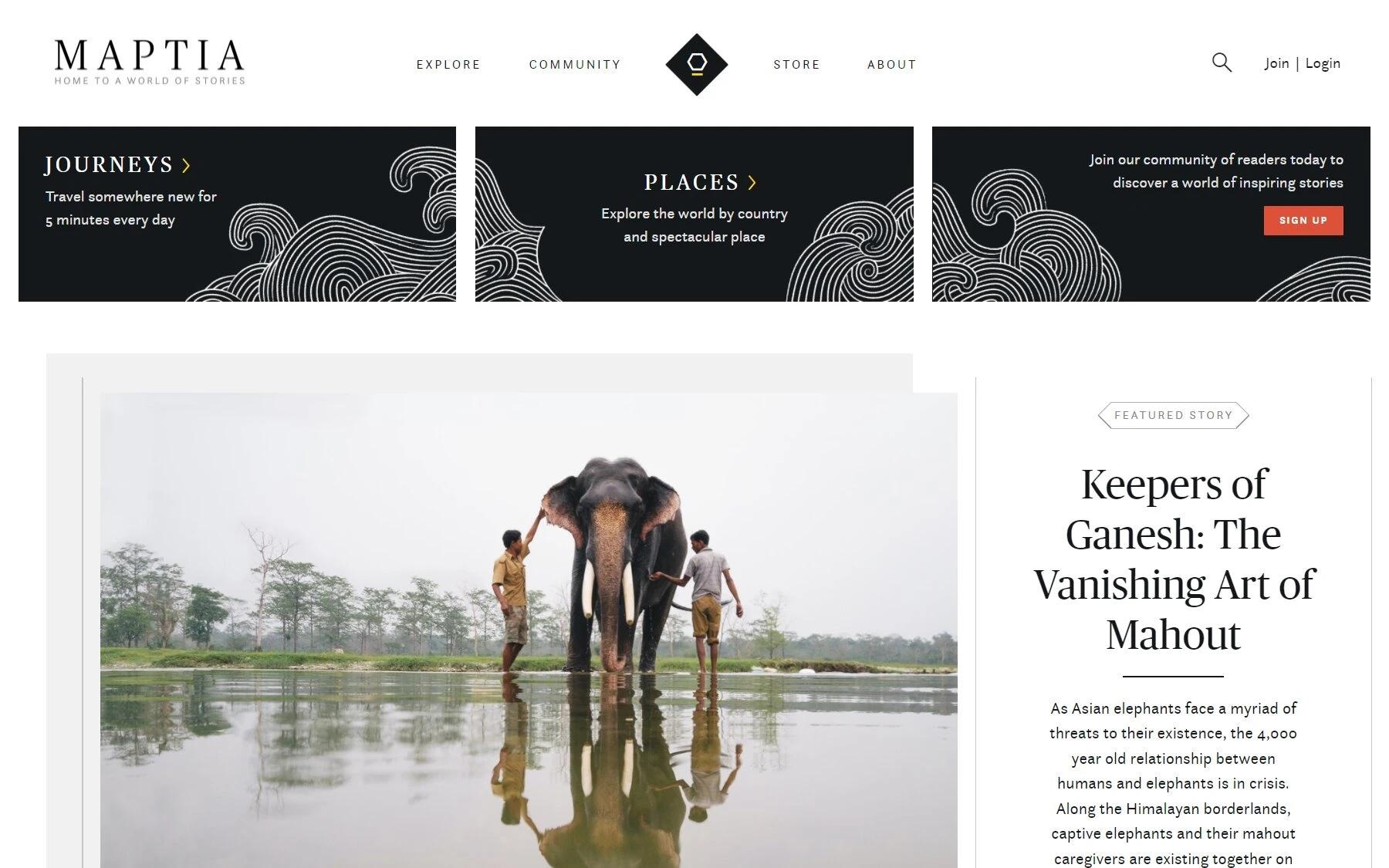 Maptia is a volunteer-run travel blog that shares captivating stories and spectacular photos of different places, people, and cultures worldwide. You can expect articles on interesting and insightful topics like adventure, traditions, and places around the world.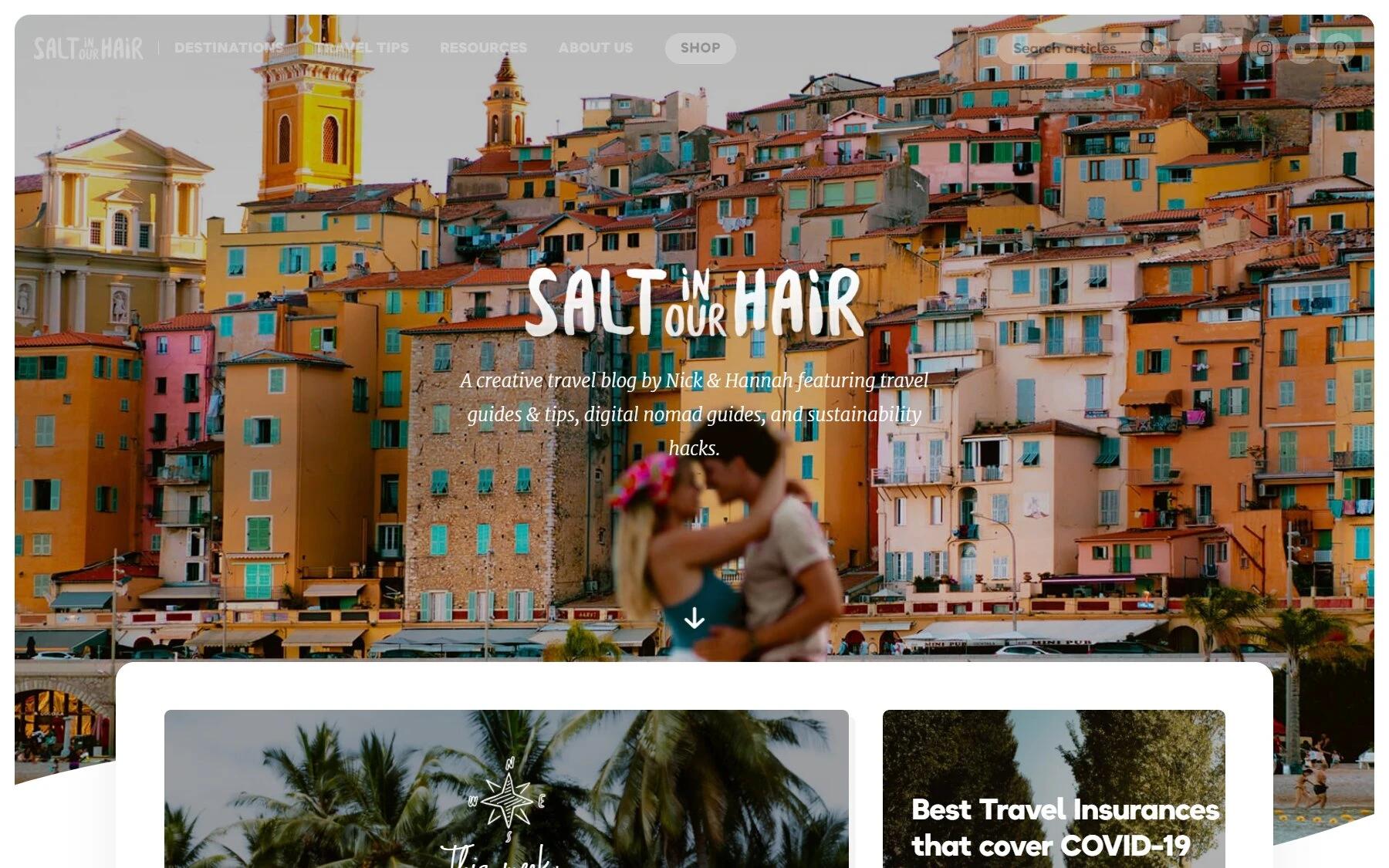 Hannah and Nick, two travel enthusiasts from the Netherlands, started Salt in Our Hair as an Instagram account. Then they leveled up, created a blog, and posted every week.
The site began to get media attention and gradually became an award-winning travel website that features sustainable travel ideas, tips, and guides.
Alex in Wanderland is one of the most popular travel blogs on the web that features almost everything you need to know as a beginner travel blogger. Alex writes about various tourist destinations, adventure sports, travel planning, photography, travel gear, etc.
Many people leave their jobs and devote their full time to adventure and exploration. If you are one of them, Wandering Earl is the blog you should check. The site covers everything related to long-term travel and will teach you how you can make it a realistic lifestyle option.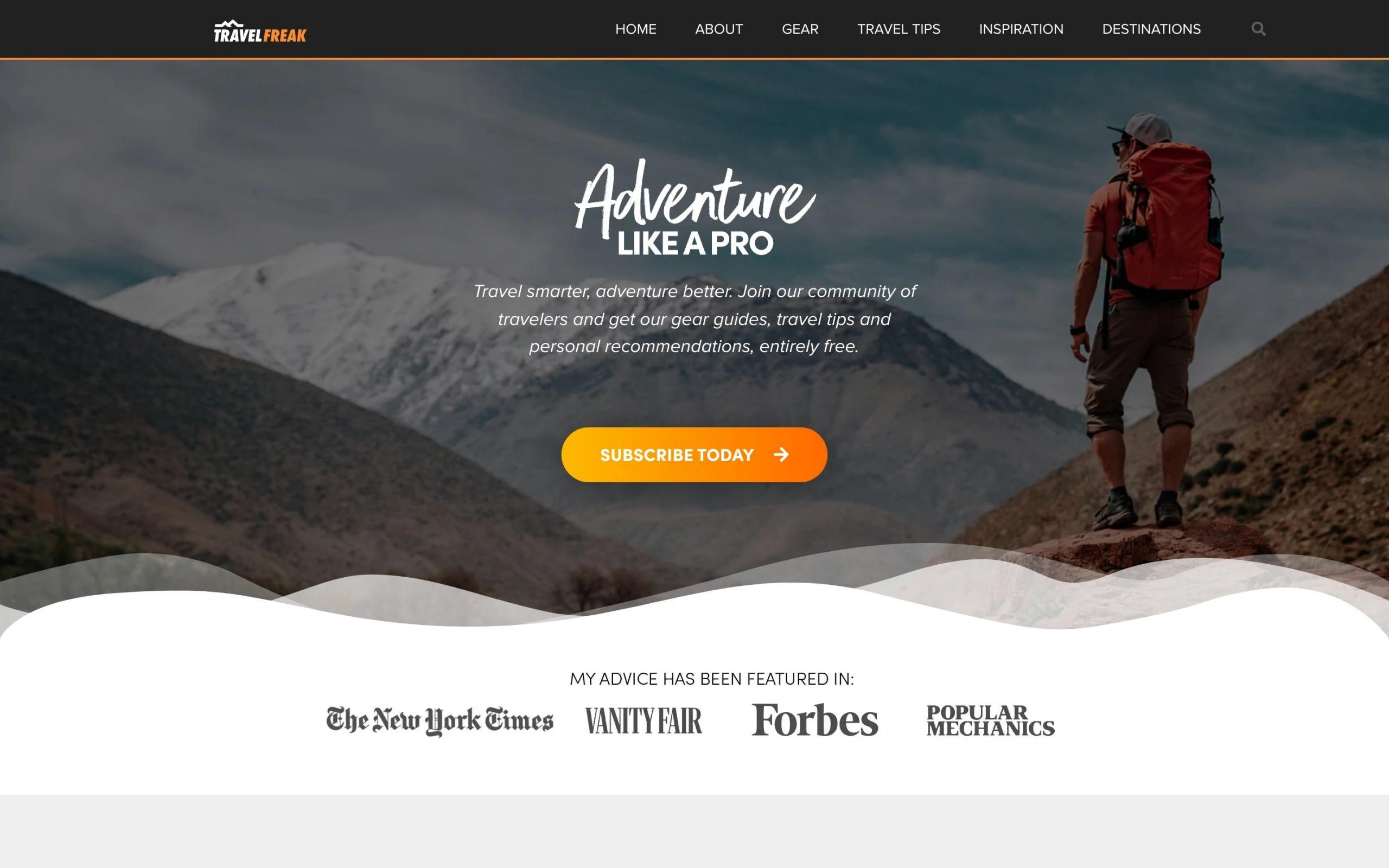 Jeremy created Travel Freak to connect and reach people who what to explore the world, live an unconventional life. His content on travel tips, mindset, and earning money got featured in many reputed platforms like Forbes, New York Times, INSIDER, National Geographic, etc.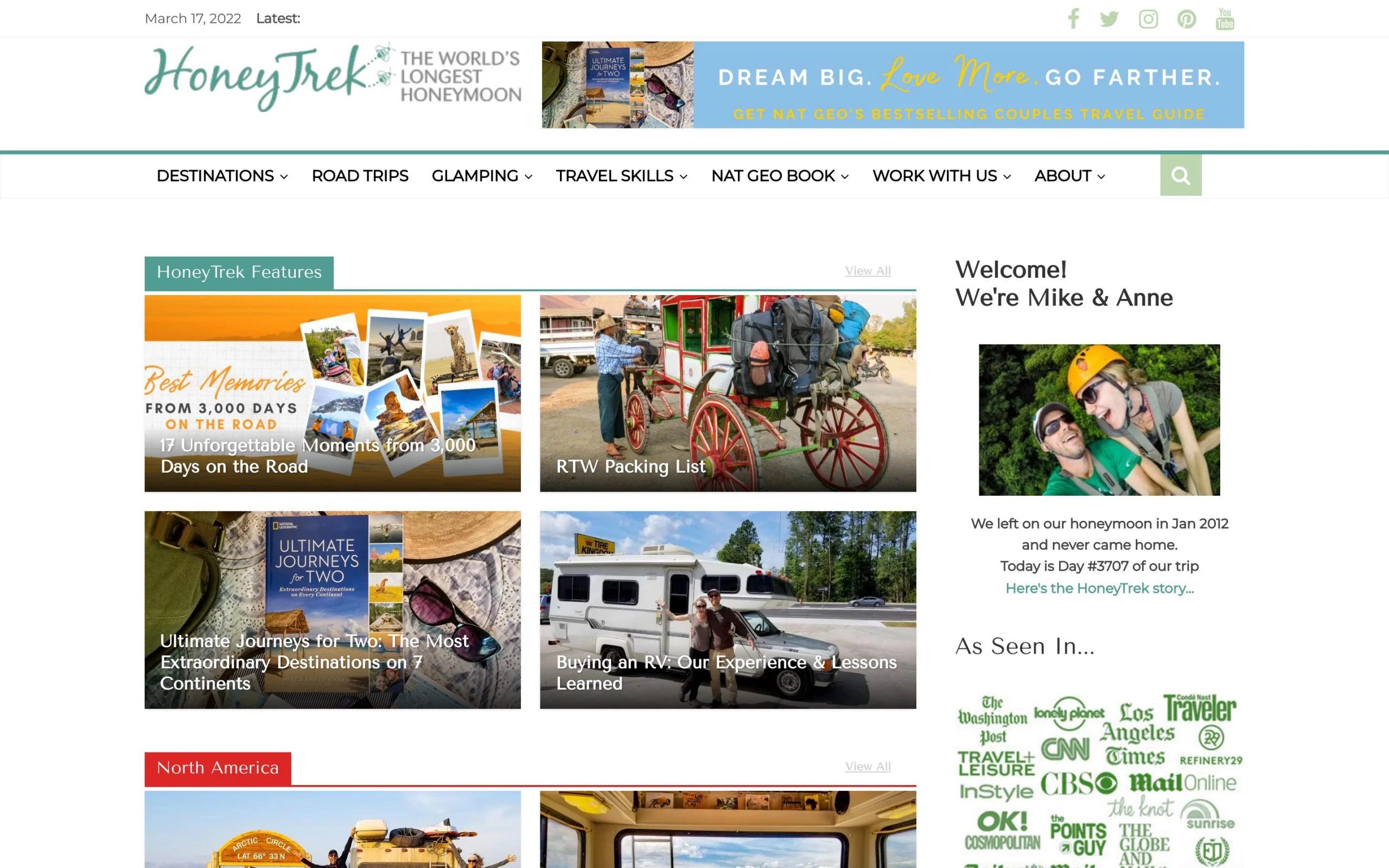 Mike and Anne Howard realized that this world is huge and their life is short. So, without wasting any time, they embarked on a trip around the world after they got married. Now they have become travel journalists and full time nomads who will tell you how you can also realize your dream of taking a multi-month trip.
David is an American traveler who discovered his interest in adventure when he was on a hiking trip to the rocky mountains in Colorado. So, he set out to travel the world and document his journeys in this blog.
Apart from informative articles, we are sure the exquisite photographs on this blog will make you fall in love with traveling.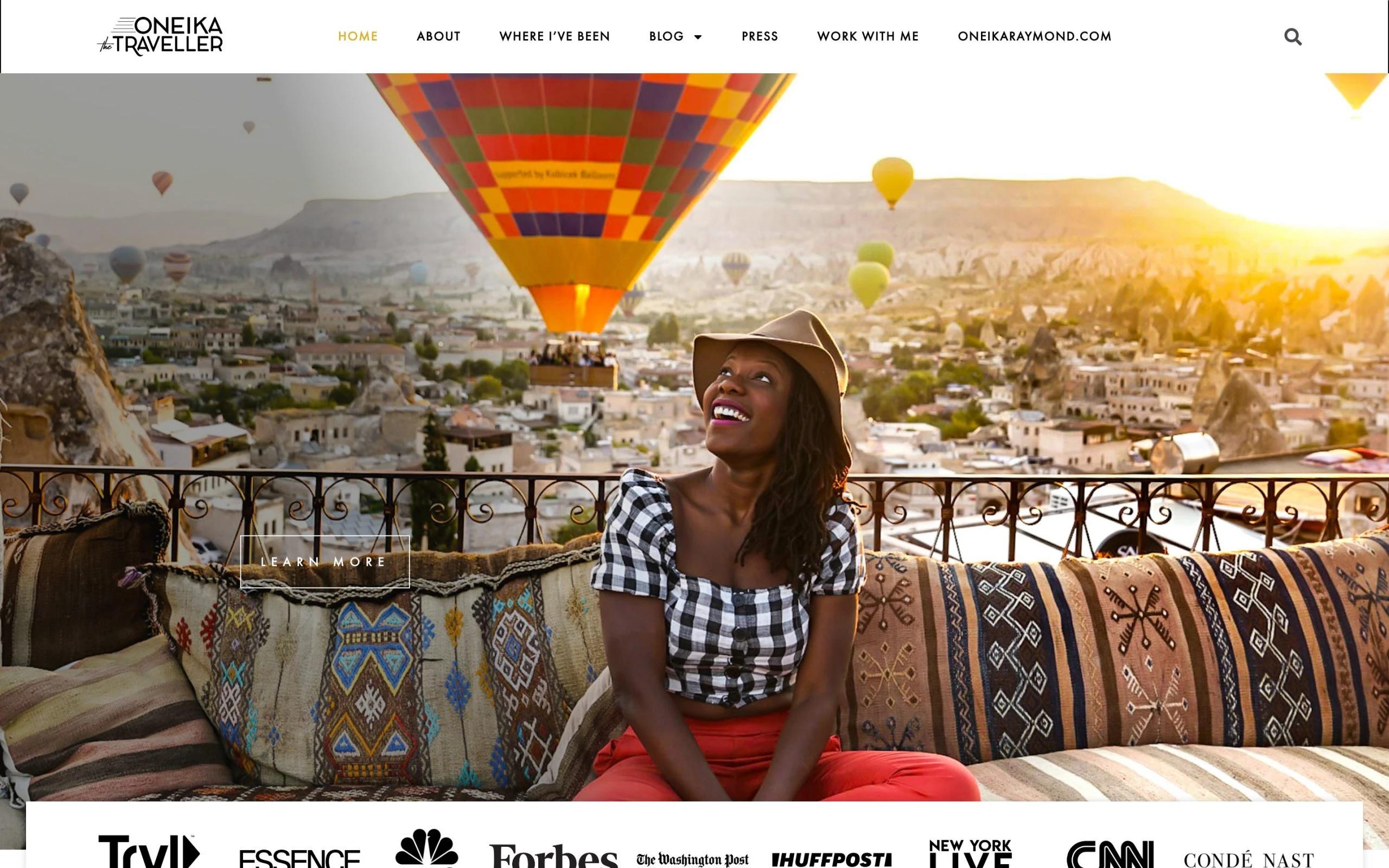 Although the contents on this blog are for every travel enthusiast, it will be really inspiring if you are a black female.
Oneika shares her experience of traveling 115 countries on 6 continents through her impressive writing skills. She has received numerous awards, like a gold medal in the 2018 SATW Lowell Thomas Travel Journalism Competition.
If you are concerned about environmental pollution and all the harm we people are doing to nature, The Travel Book is the site for you. This blog will inspire you to travel eco-friendly and lower the negative impacts on the environment as you explore the world.
Balancing a career, managing a family, and also traveling may seem complicated. Kristin Luna, the founder of Camels and Chocolate, is easily doing it and can teach you the same. She is a journalist by profession and talks about her travel experiences in her blog.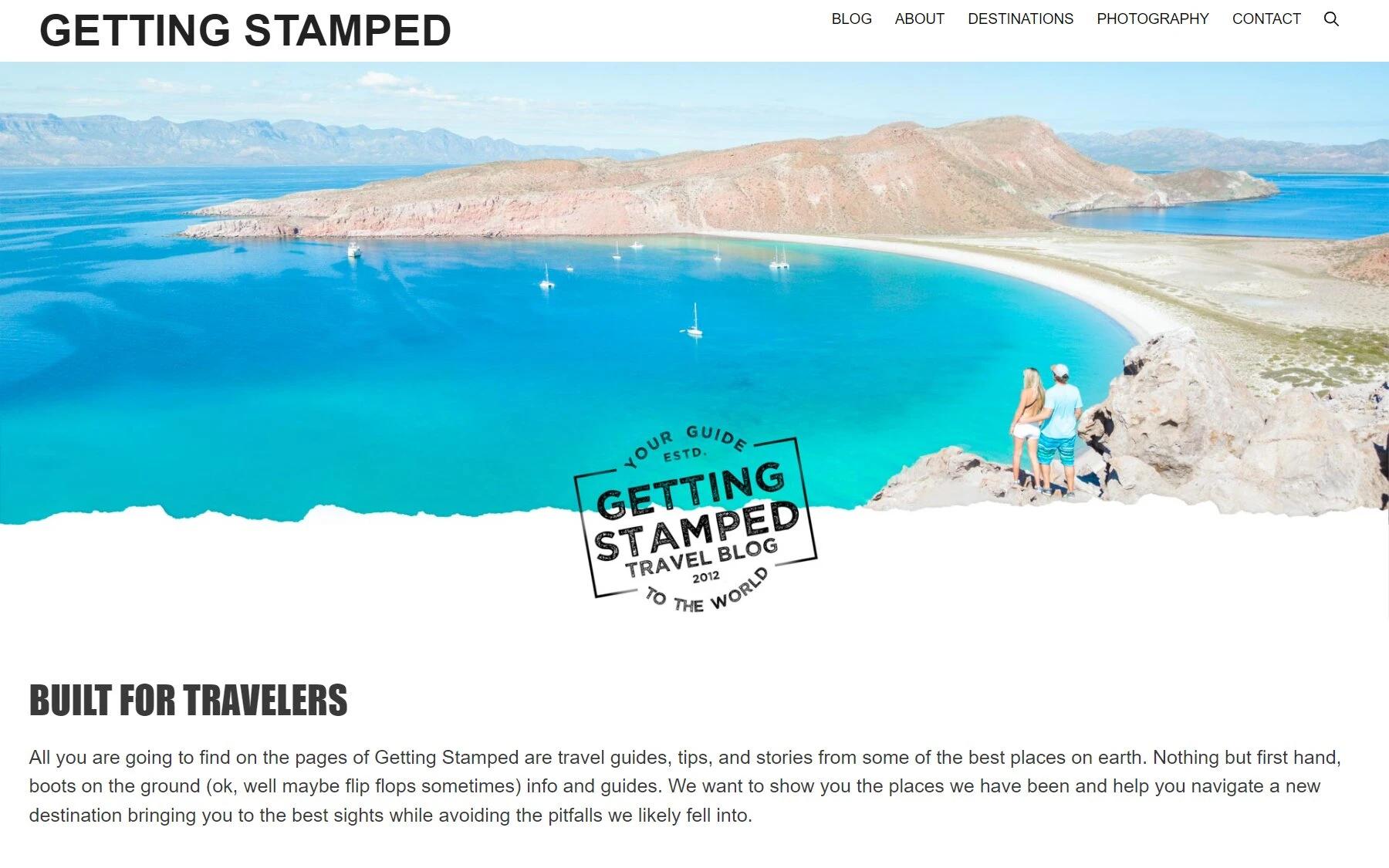 When you see the photographs featured on this blog, you would hardly be able to restrain yourself from traveling. Hannah and Adam, the couple behind Getting Stamped, became full-time travelers after getting inspired by others doing the same. Apart from travel content, they also deliver articles on photography.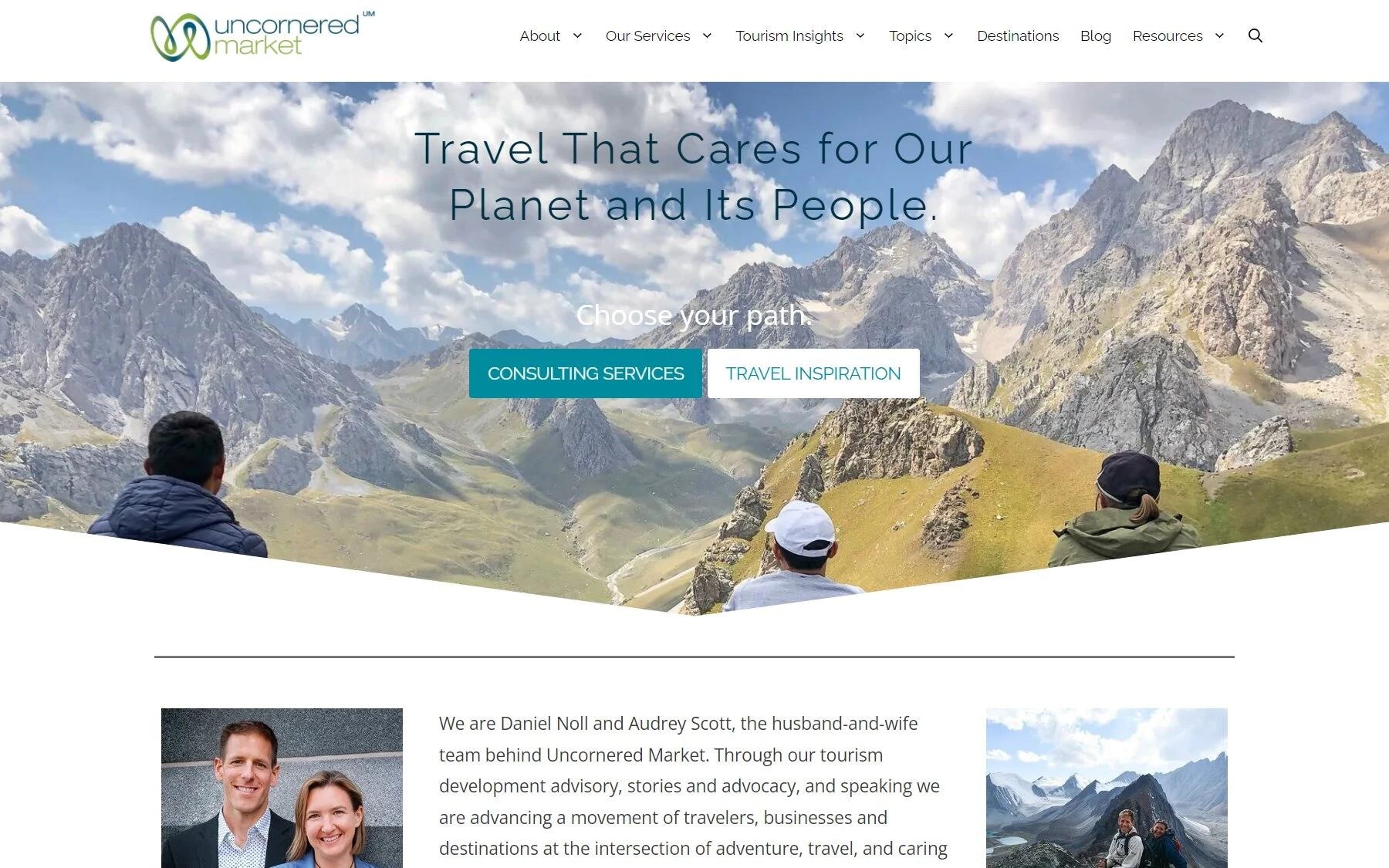 Daniel Noll and Audrey Scott are excellent adventurers and storytellers who will make you believe that you also can quit your secure jobs for traveling and making money through it.
They deliver stories and lessons that aim to teach travelers how to have memorable travel experiences and take care of the environment and people.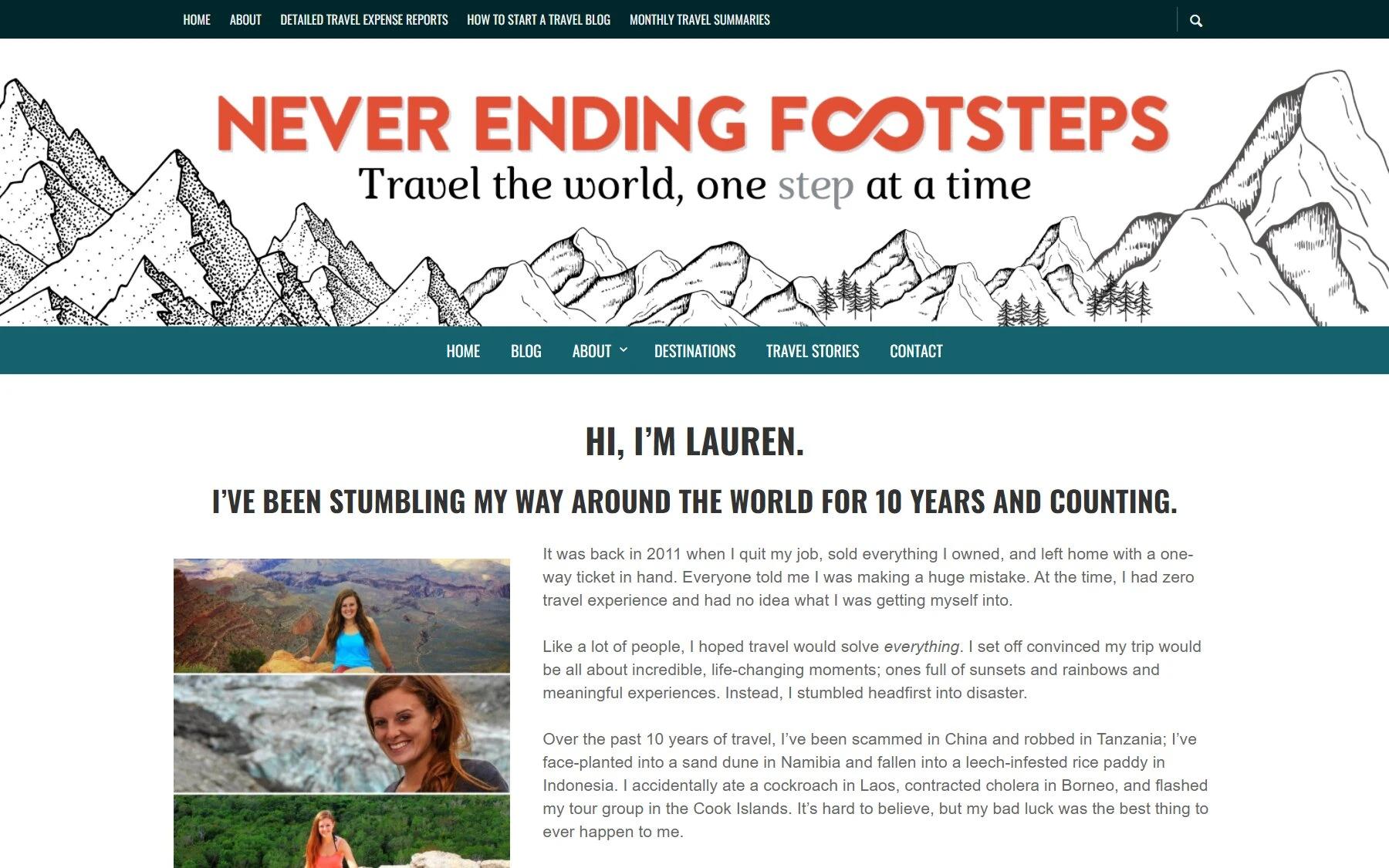 Safety is a concern for many beginner travelers. Never Ending Footsteps is one of the best travel blogs that will tell you how you can enjoy the adventure and also take safety precautions.
Lauren says that she has committed several mistakes in the past ten years while exploring the world, and she loves to share them with her readers.
Adam created this travel experience blog in 2009 to practice skills like web designing, SEO, and blogging. He also started posting about his experiences, and gradually he realized that blogging is a great way to meet new people. He shares personal destination recommendations and unique city guides.
Now, this blog pretty much covers everything you will need to know for making traveling a lifestyle. It delivers articles on travel tips, gear, blogging, digital nomad jobs, travel news, quotes, inspiration, and many more.
Mel is a Canadian travel blogger who will give you ideas so that you can stay on the road longer.
Ophelie found her love for traveling in childhood, and since then, she has always wanted to explore the globe, have an adventurous life, and take stunning photographs. Through this blog, she shares her secrets, travel advice, and recommendations for destinations all around the world.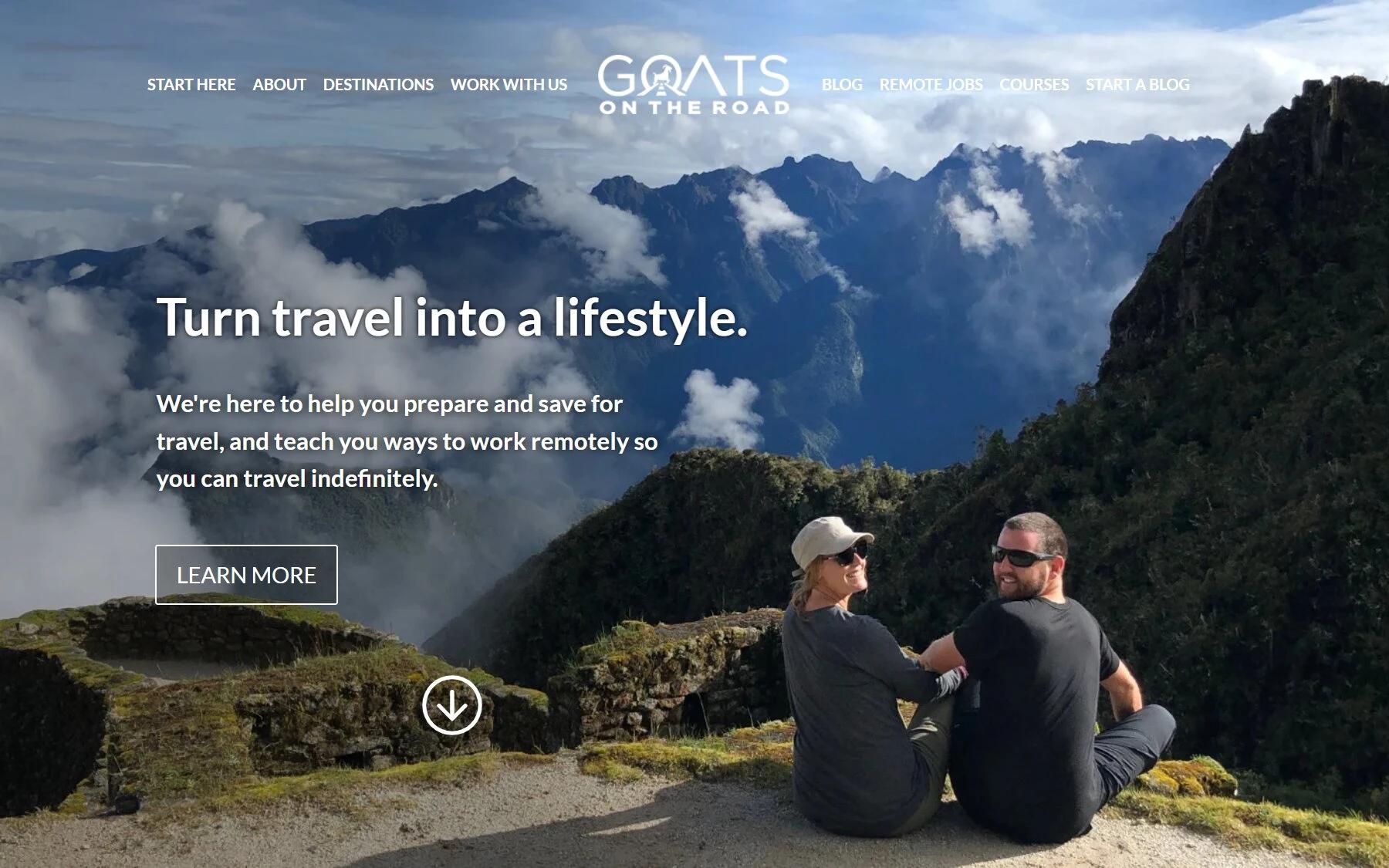 Goats on the Road is run by a Canadian couple traveling the world for more than a decade now. In addition to sharing excellent travel guides, they will also provide you with ways to earn money online while traveling abroad. If you want to learn travel blogging, this website can be a great help.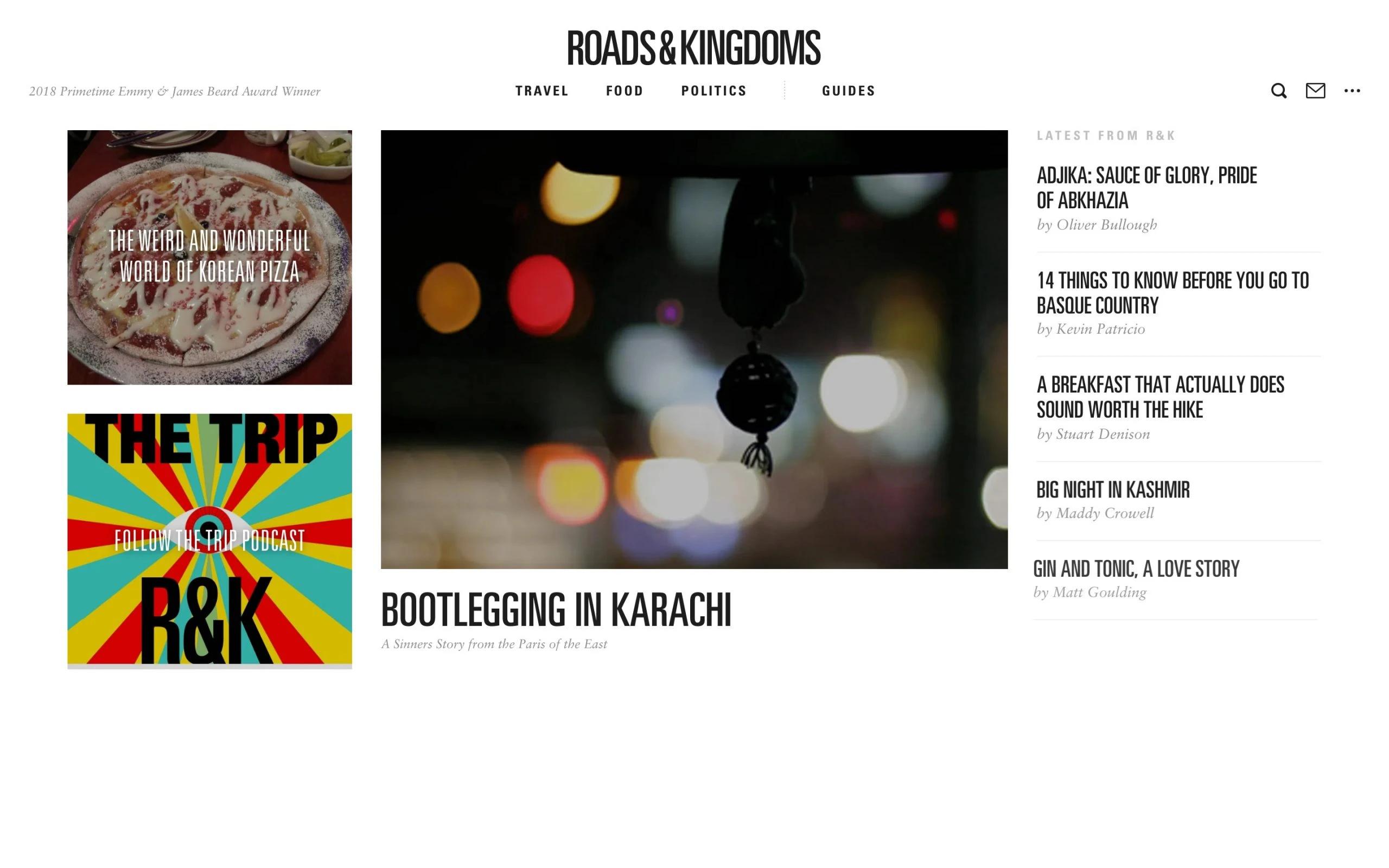 Roads and Kingdoms believes that the more you know, the better you will travel. Using this simple idea, they inform the readers about various places in the globe through storytelling and talking about food and music.
Check this website to find out how the blog won the 2019 National Magazine Award for Best Website and the 2017 James Beard Publication of the Year award.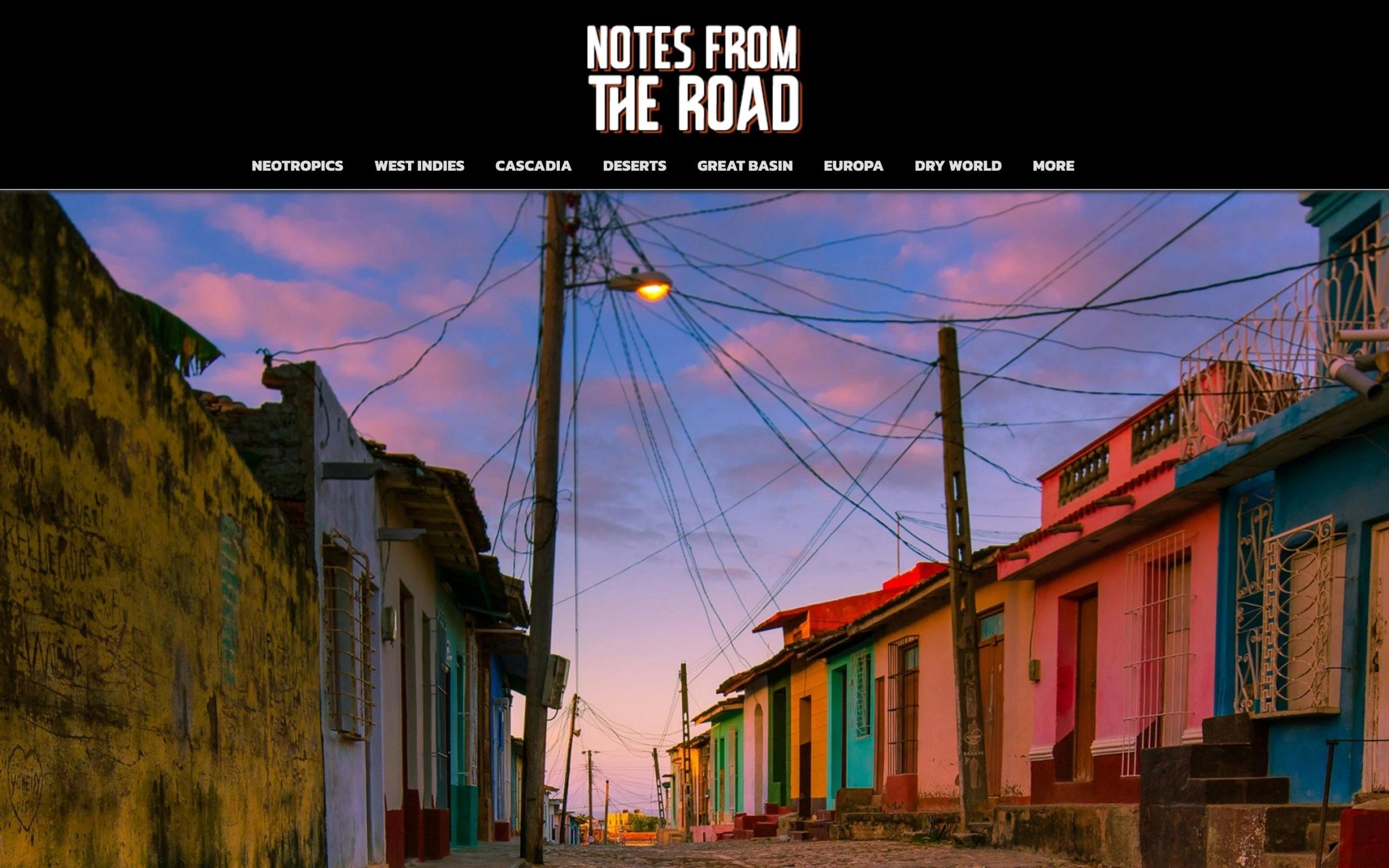 Notes From the Road is one of the oldest travel blogs that started in 1999 and is still running in full swing. Erik Gauger is a self-employed father who writes notes about the places he visits with his tight budget.
The best thing is he shares his honest and independent experiences and is not so fond of accepting money for reviewing.
Top 10 Family Travel Blogs
Jetlag and Mayhem is one of the best family travel blogs that will help you get the most out of your vacations. When Nicola had a four-month-old baby, she found it difficult to travel and even more difficult to find helpful resources on the internet.
Hence she started her own blog to help other families like her by sharing suggestions and travel hacks.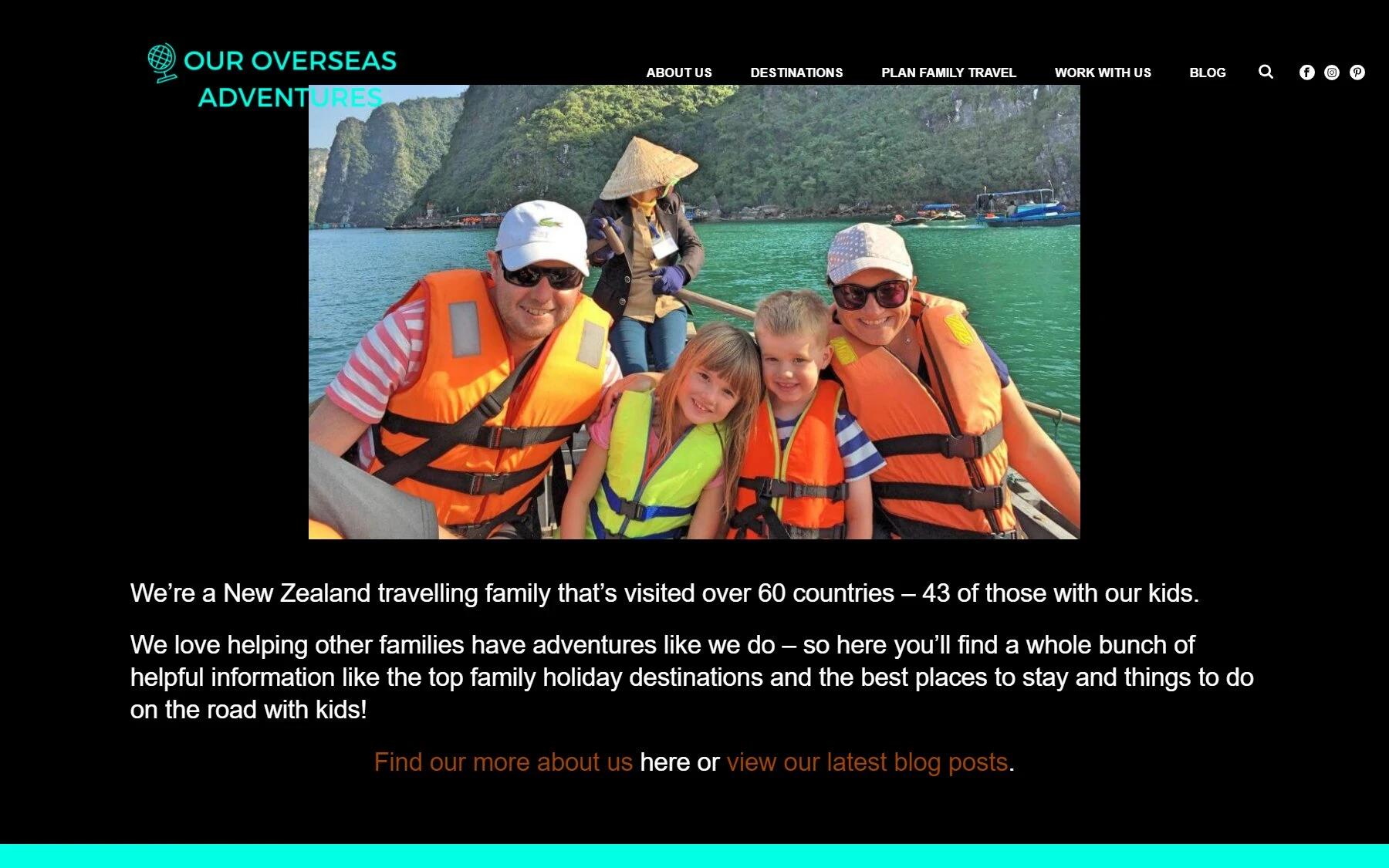 If you are searching for topics like the best family destinations in the world, activities with kids, and amazing places to stay, this is the blog you must check.
Our Overseas Adventure shares the experiences of a New Zealand family who has traveled to more than 60 countries and around 40 with their kids.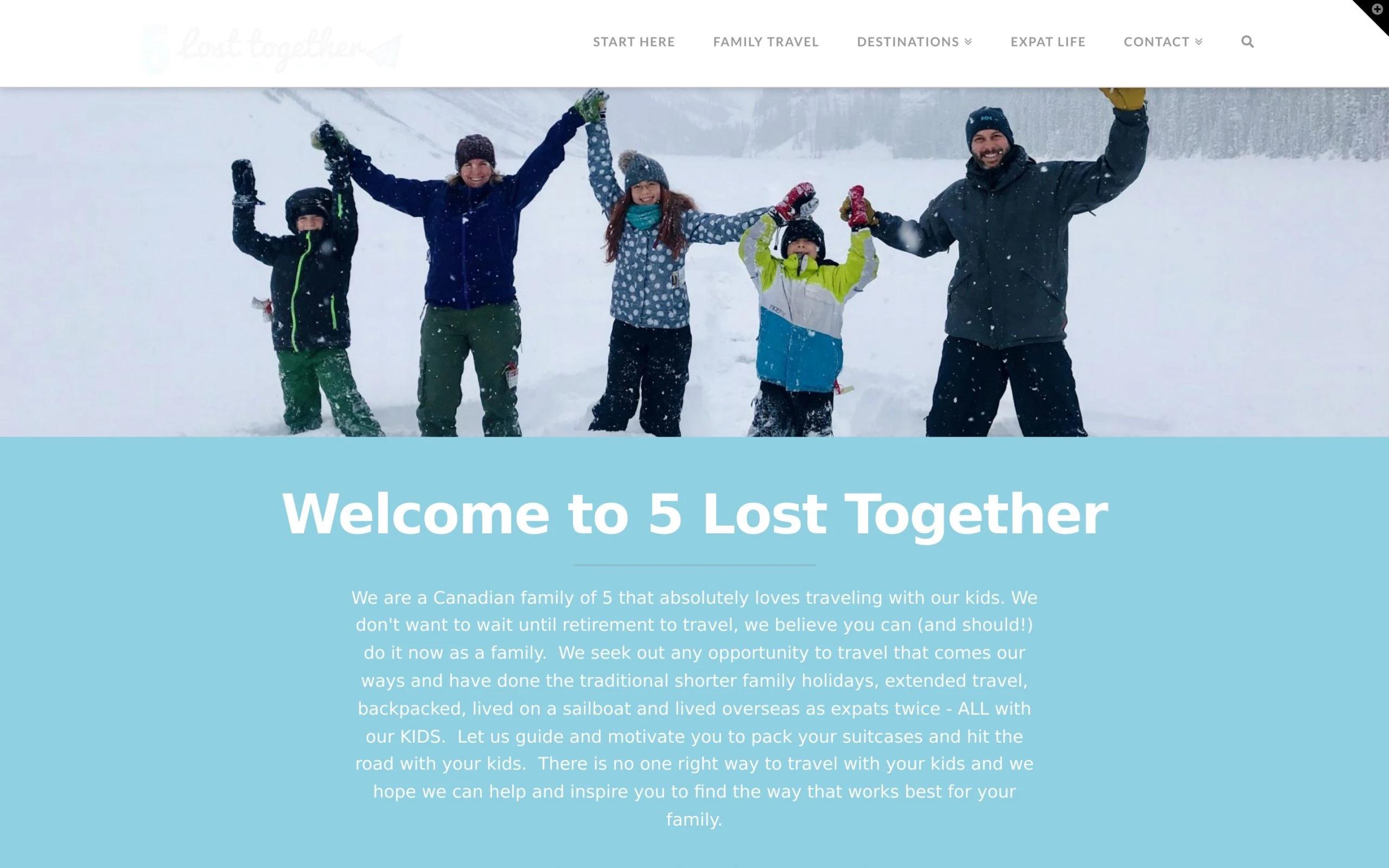 5 Lost Together is about a Canadian family of five members who enjoy their life being on the exploring mode. Dawn, the author of this blog, has traveled to more than 50 countries with her husband and three children.
They believe that there is no right way to travel and will certainly motivate you to pack your bags and set out with your kids.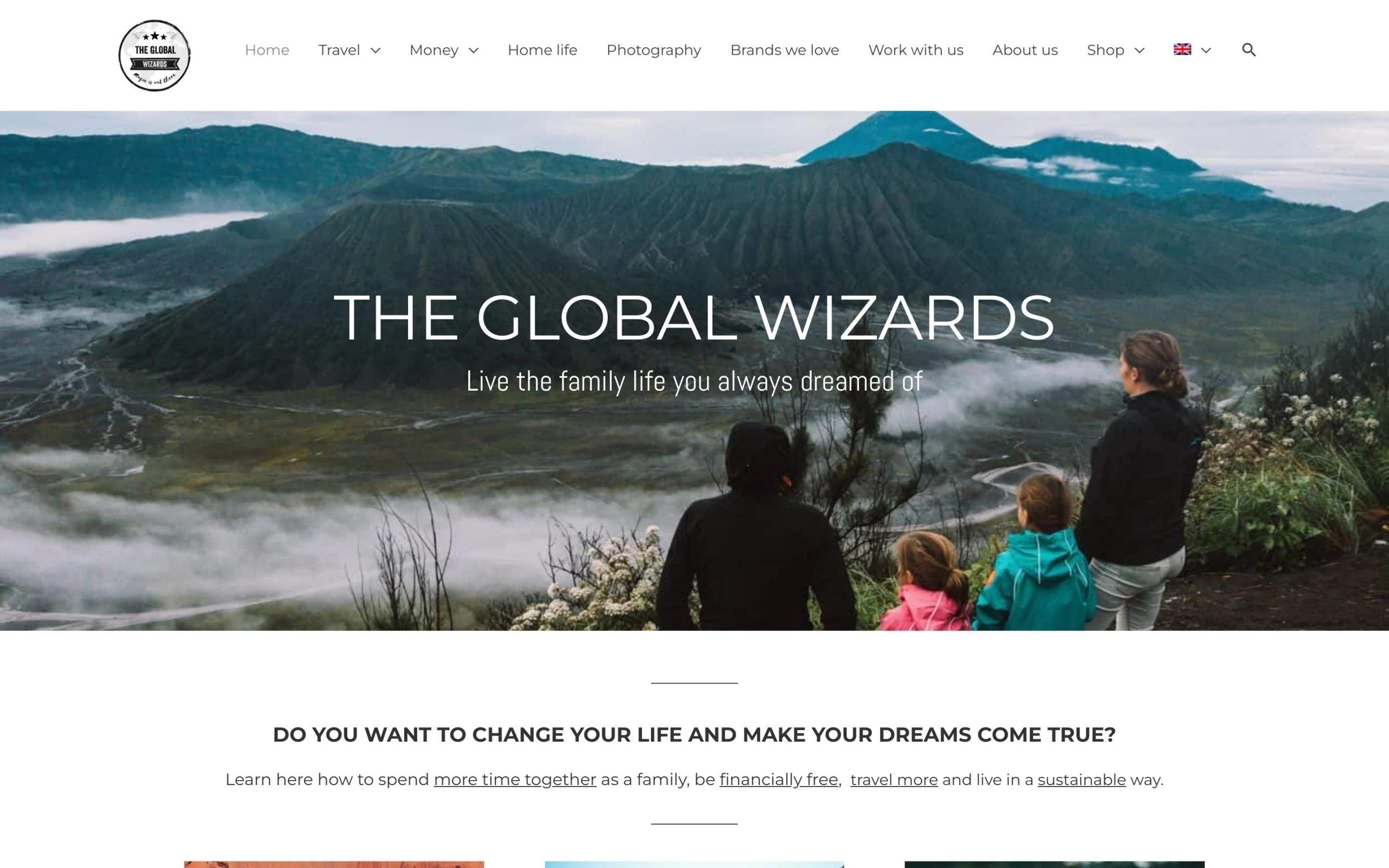 The Global Wizards is an adventurous family of four who documents their journeys, shares family travel tips and ways of earning while traveling. They will also give you ideas for budget-friendly traveling to ensure that your bank balance doesn't stop you from hitting the roads.
Some families believe that having kids means the end of travel and exploration. But Adventure and Sunshine proves this wrong. The blog is about an Australian family who is passionate about adventurers and has traveled to more than 30 countries with their kids.
This blog will deliver you helpful resources that would inspire you to travel with your family. An Epic Education believes that family trips are one of the essential things that can help you gather valuable experiences and cherishable memories.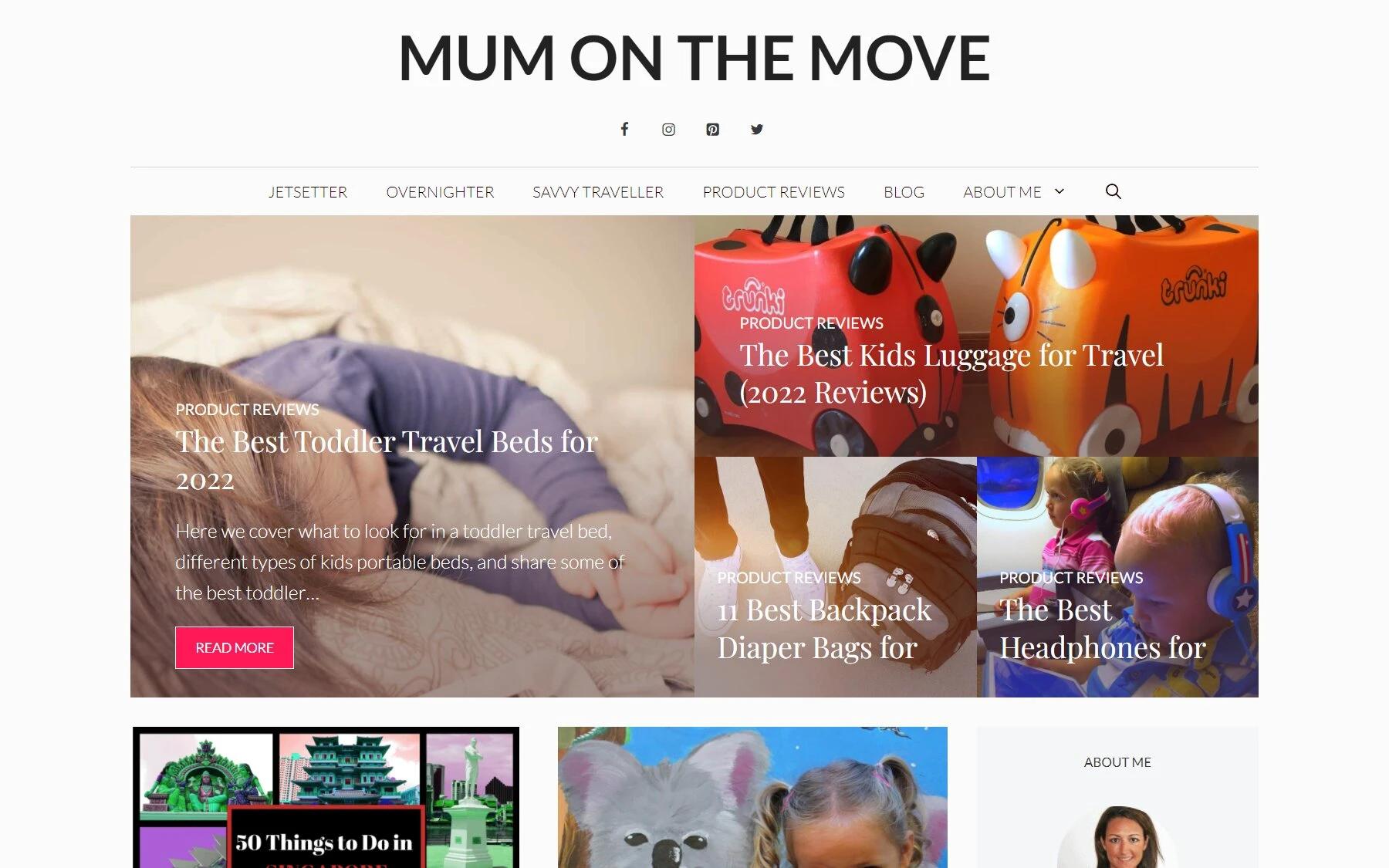 Marianne Rogerson, author of Mom on the Move, is a freelance writer and a mother of two. She will make you believe that having kids is not the end of adventurous living. In fact, her children enjoy the adventures like rafting, kayaking, snorkeling, climbing, etc.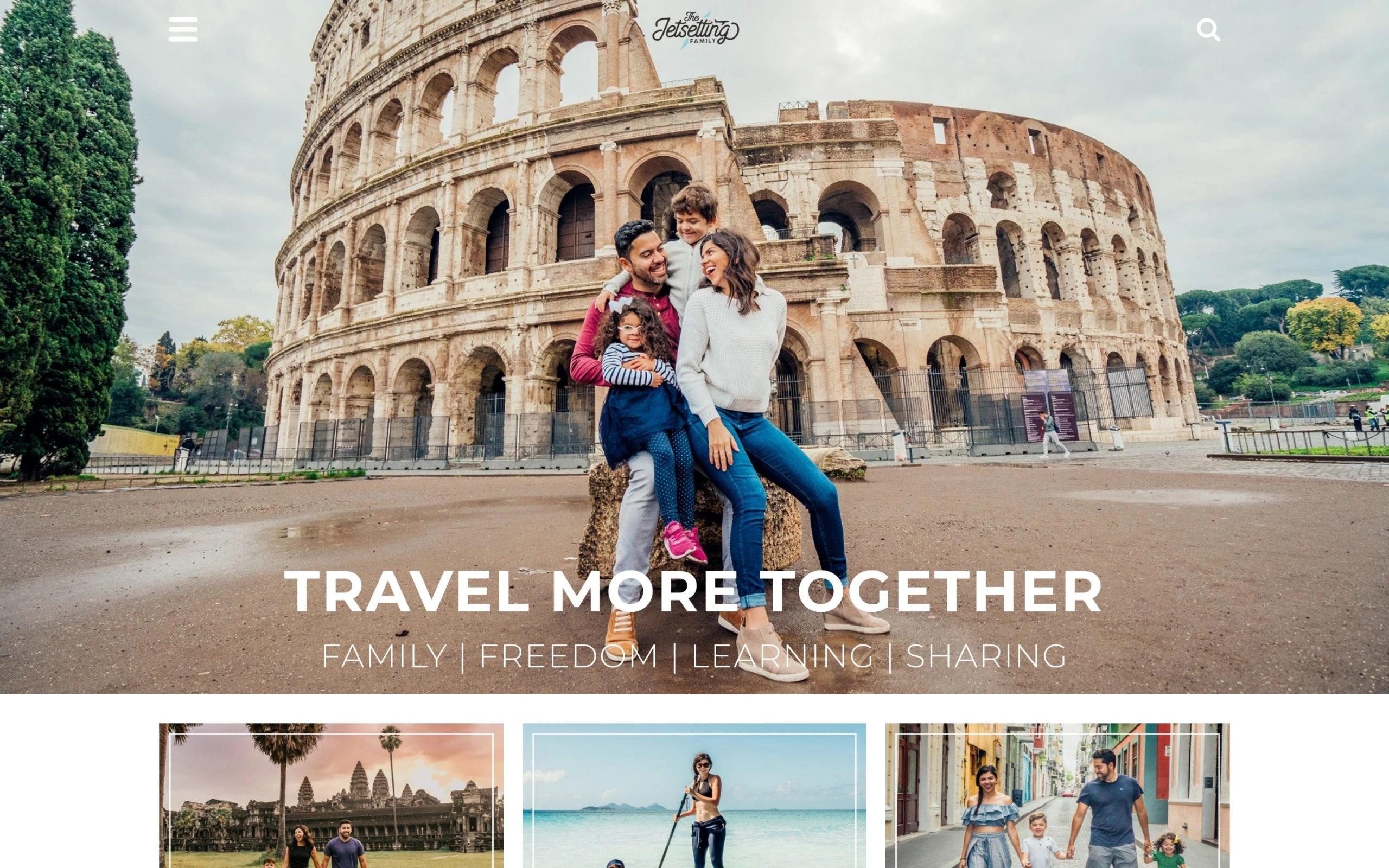 The Jetsetting Family will teach you that you don't have to wait for retirement to realize your dreams of traveling. They are a family of four who challenges the traditional lifestyle and live based on location independent online business.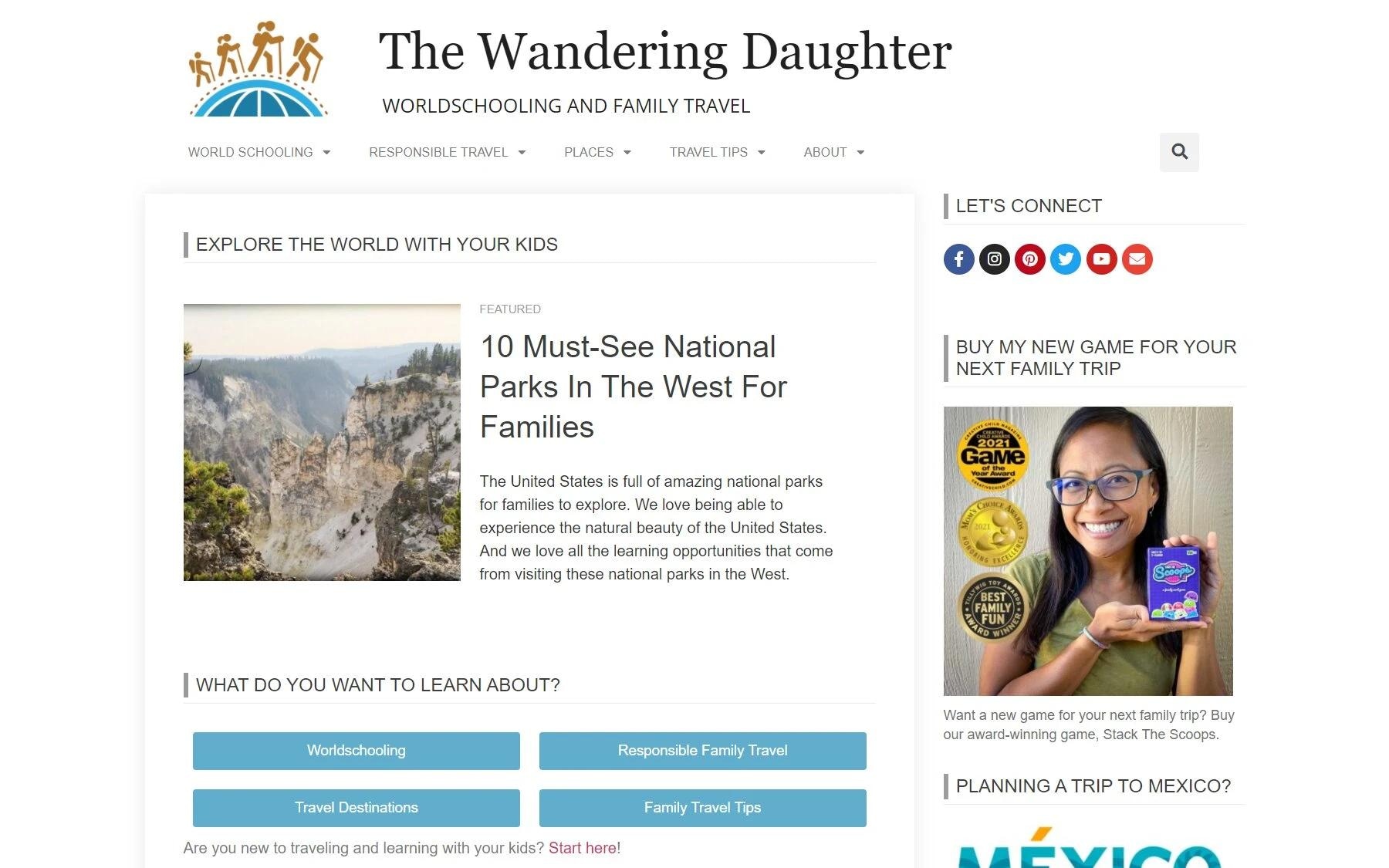 Astrid is a mother to three who help other families to travel and explore in a responsible way with their kids. She says that traveling with kids is an extremely rewarding and memorable experience, which she loves to share with her readers.
This is a community-run website that will advise you about kid-friendly travel around the globe. Families Love Travel will provide you with a platform to learn from others' experiences as well as share your own travel stories. If you want to connect with people with the same interests, you can't miss this site.
10 Best Solo Travel Blogs
Be My Travel Muse is one of the most visited female travel blogs on the web. Kristin believes that solo traveling is an excellent way to promote women's empowerment. So, she shares resources to make traveling more accessible, interesting, and adventurous for women.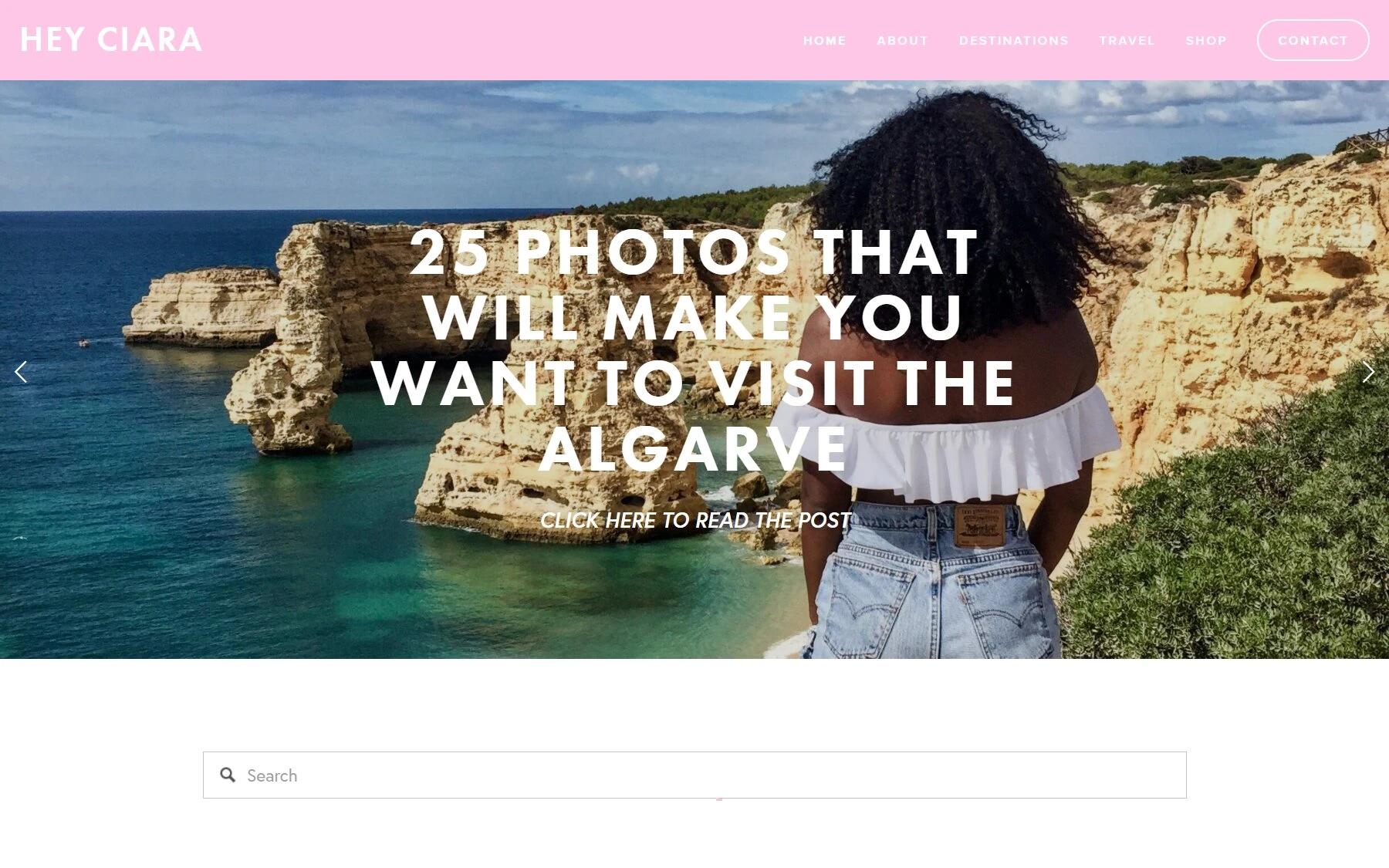 Ciara is a passionate solo traveler who made traveling a priority when she was extremely dissatisfied with her professional life. If you are looking for some unique travel advice, thoughts, stories, and photos, you can't miss her blog.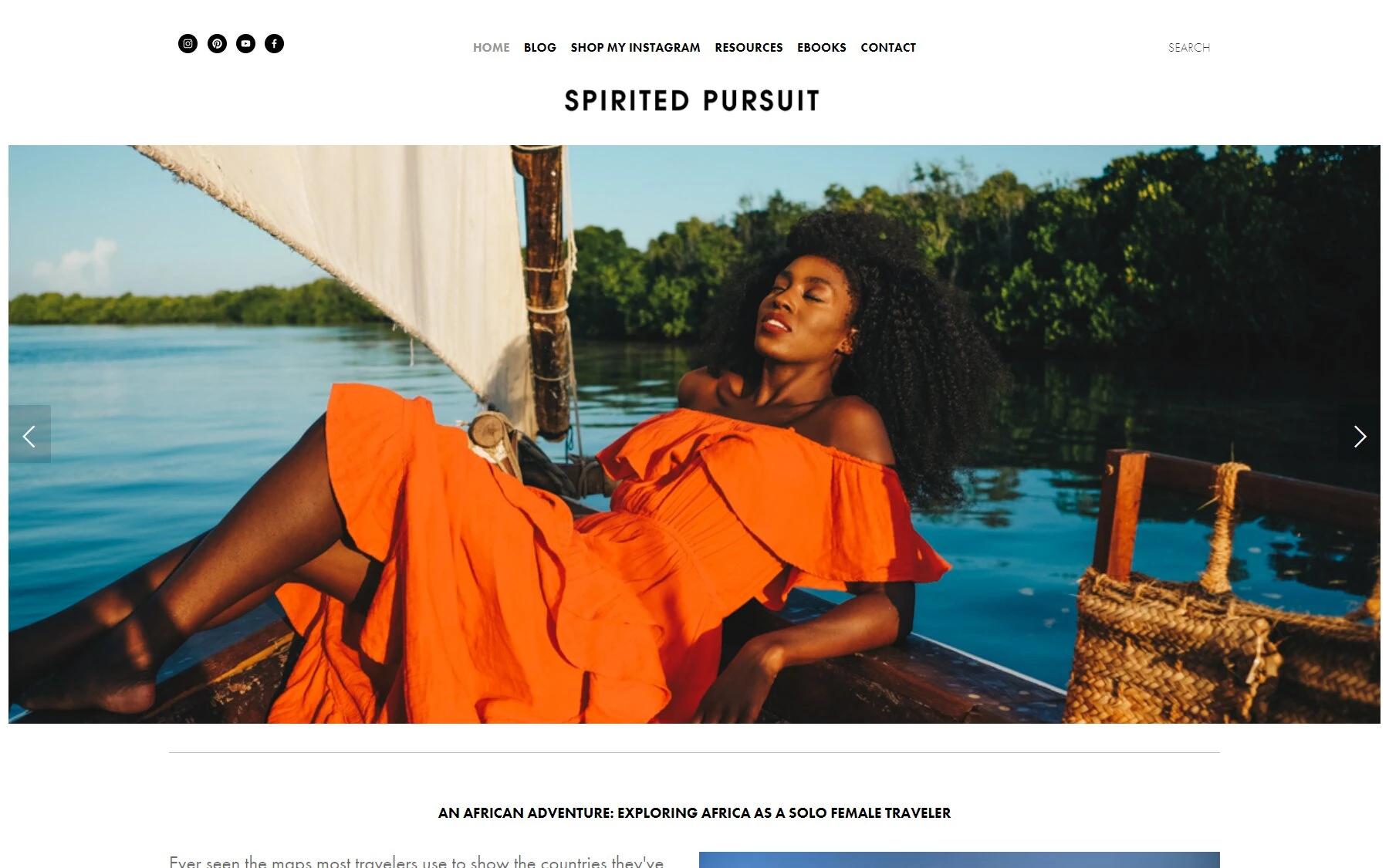 You might have noticed that most travel bloggers don't talk much about Africa, which makes it one of the most unexplored places. Spirited Pursuit, run by a solo female traveler, will tell you everything you need to know about Africa if you plan to visit this mysterious continent.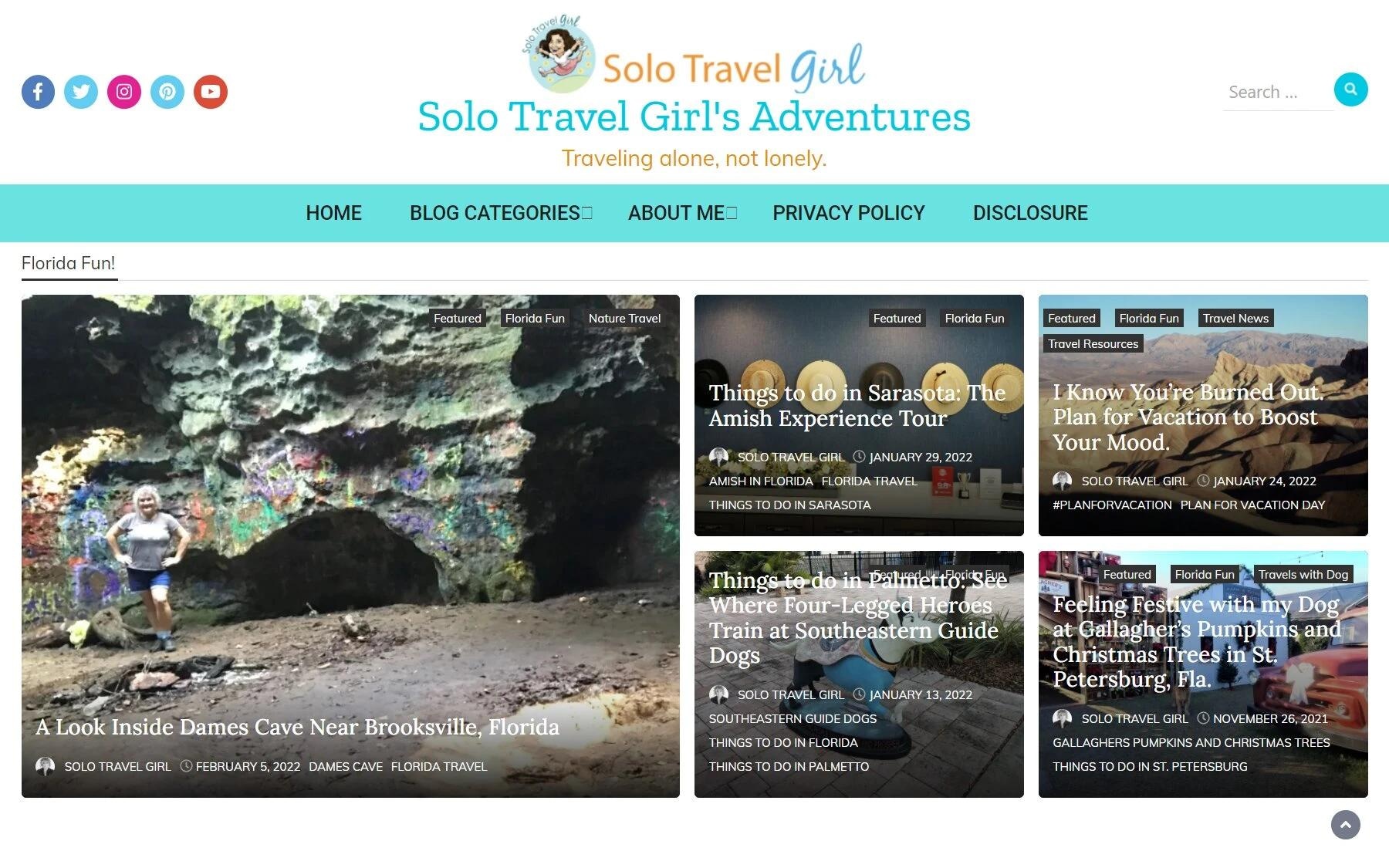 This website is a community of passionate travelers who shares their unique experiences and travel suggestions. You can expect valuable content on the importance, ideas, and destinations for solo traveling that will certainly help you get the most out of your adventures.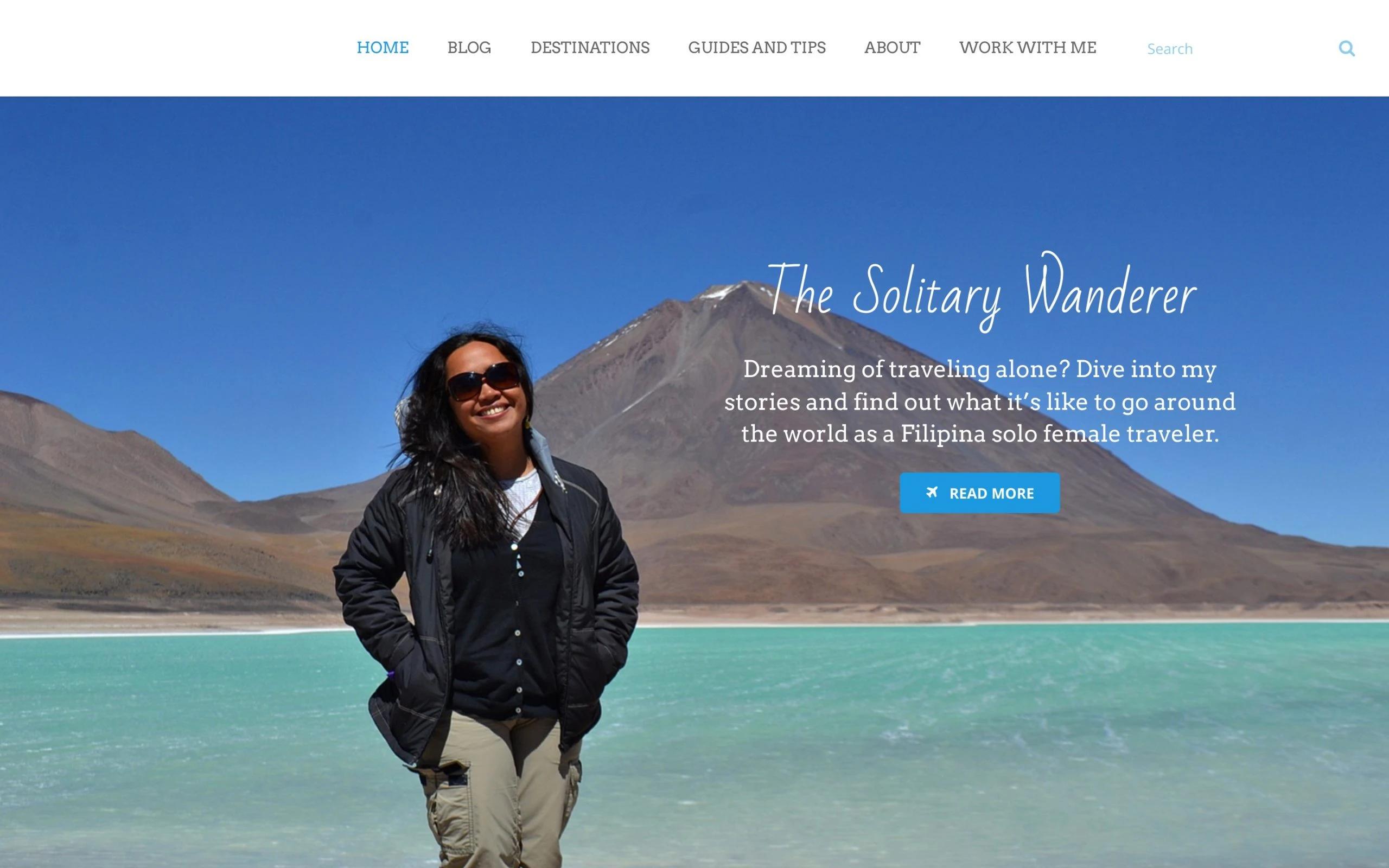 Aleah Taboclaon is an experienced digital nomad and a professional writer who created Solitary Wanderer to document her mostly solo travels.
The articles will give you advice as well as inspire you to go alone on your adventures. One of her posts, titled Date a Girl Who Travels, got viral and translated into several languages.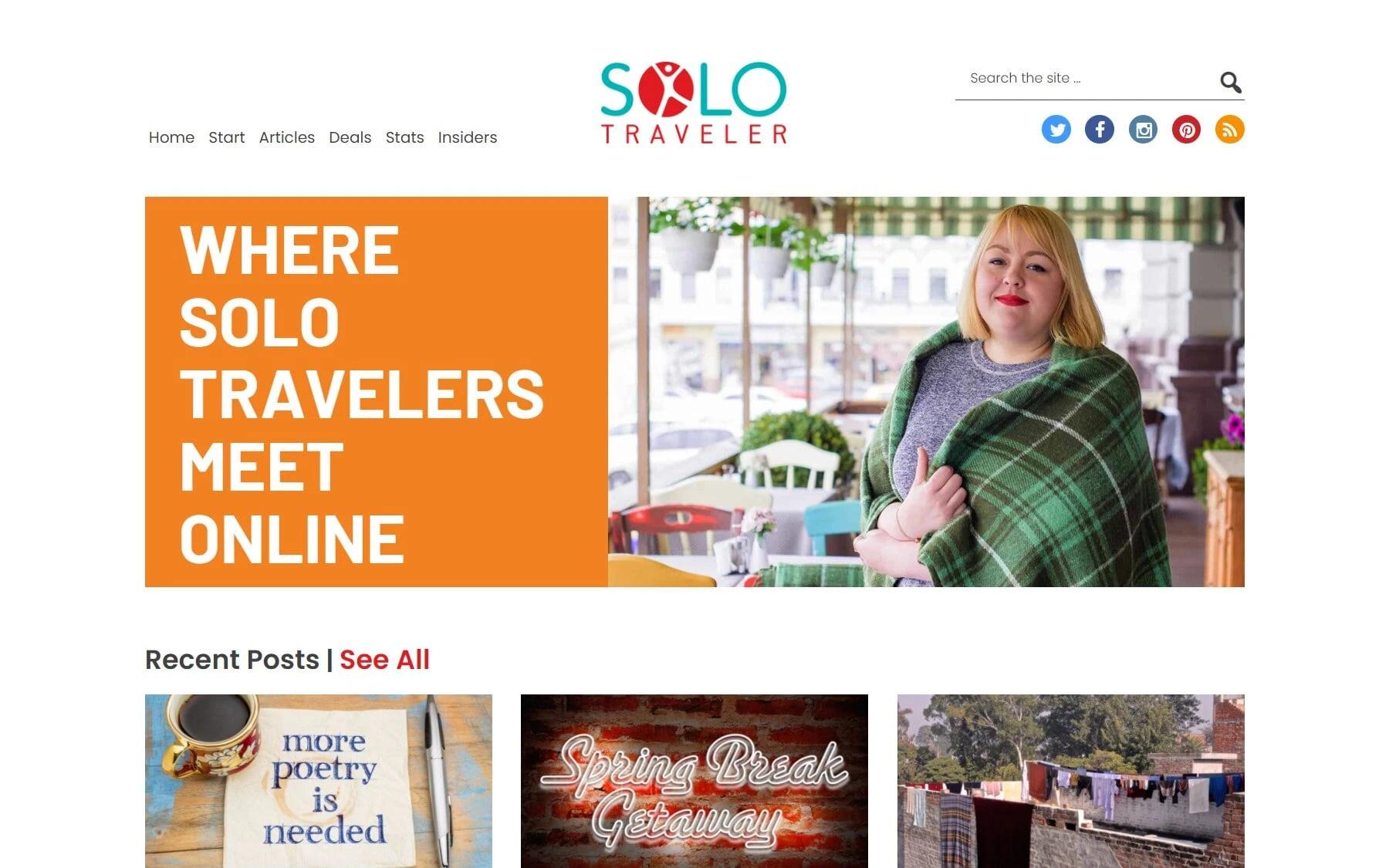 This blog is one of the best solo female travel blogs that will tell you that traveling alone and being lonely are two different things. The author is around fifty years old who loves living and navigating the world solo. Take a look at her blog, which will certainly inspire and empower you to drop your fears and enjoy being alone.
Simon Falvo is a travel blogger, photographer, and digital marketing expert who left his decade old career in the corporate world when she experienced burnout and set out to the adventures. She shares everything about her journeys through captivating storytelling and spectacular photographs.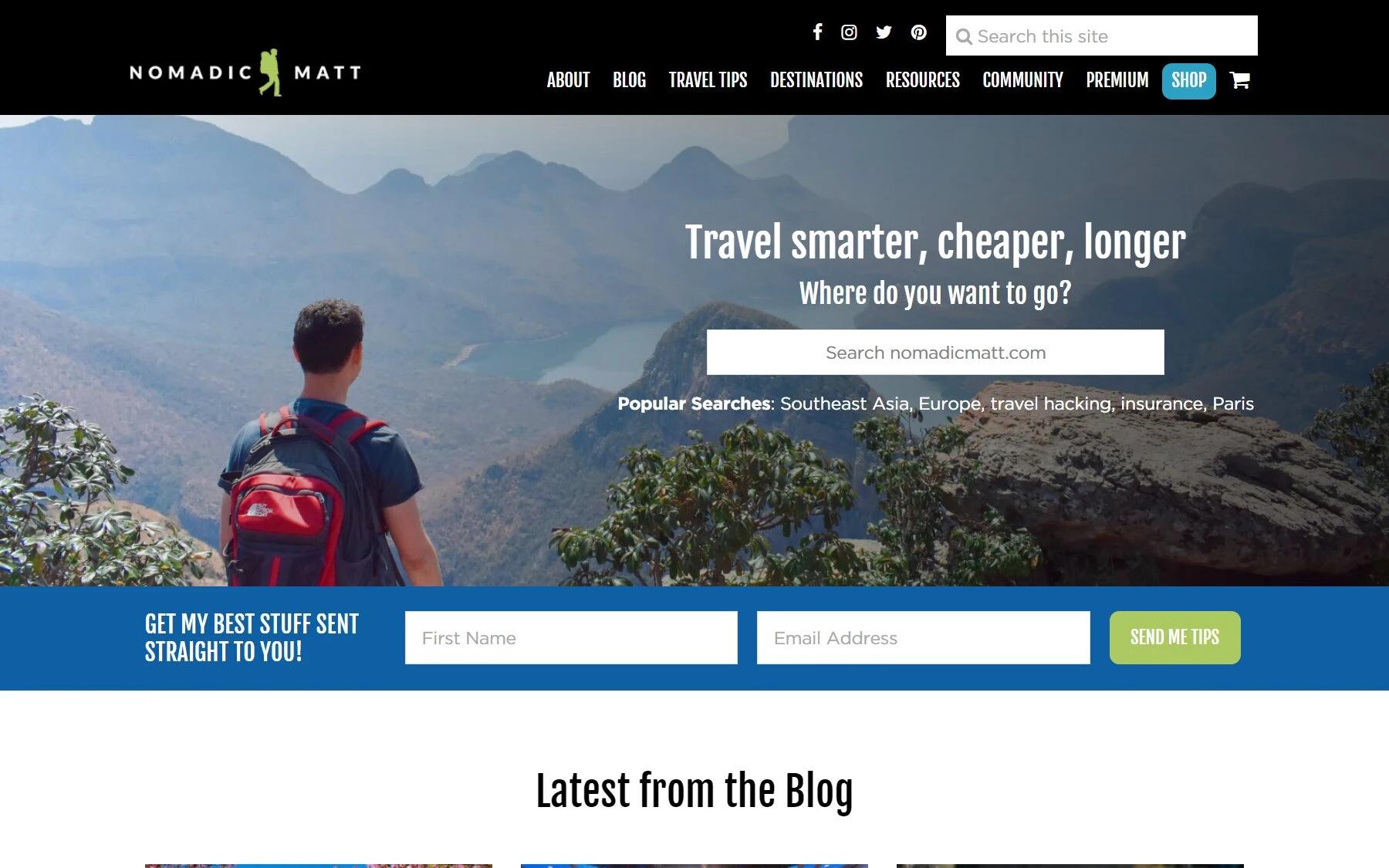 One of the biggest dream killers is a lack of money. Focusing on this fact, Nomadic Matt, with his creativity and experience, will guide you to travel wherever you want, as many times as you want.
It is one of the best budget-friendly blogs, which got featured on various media platforms like CNN, BBC, National Geographic, The Guardian, The New York Times, and many more.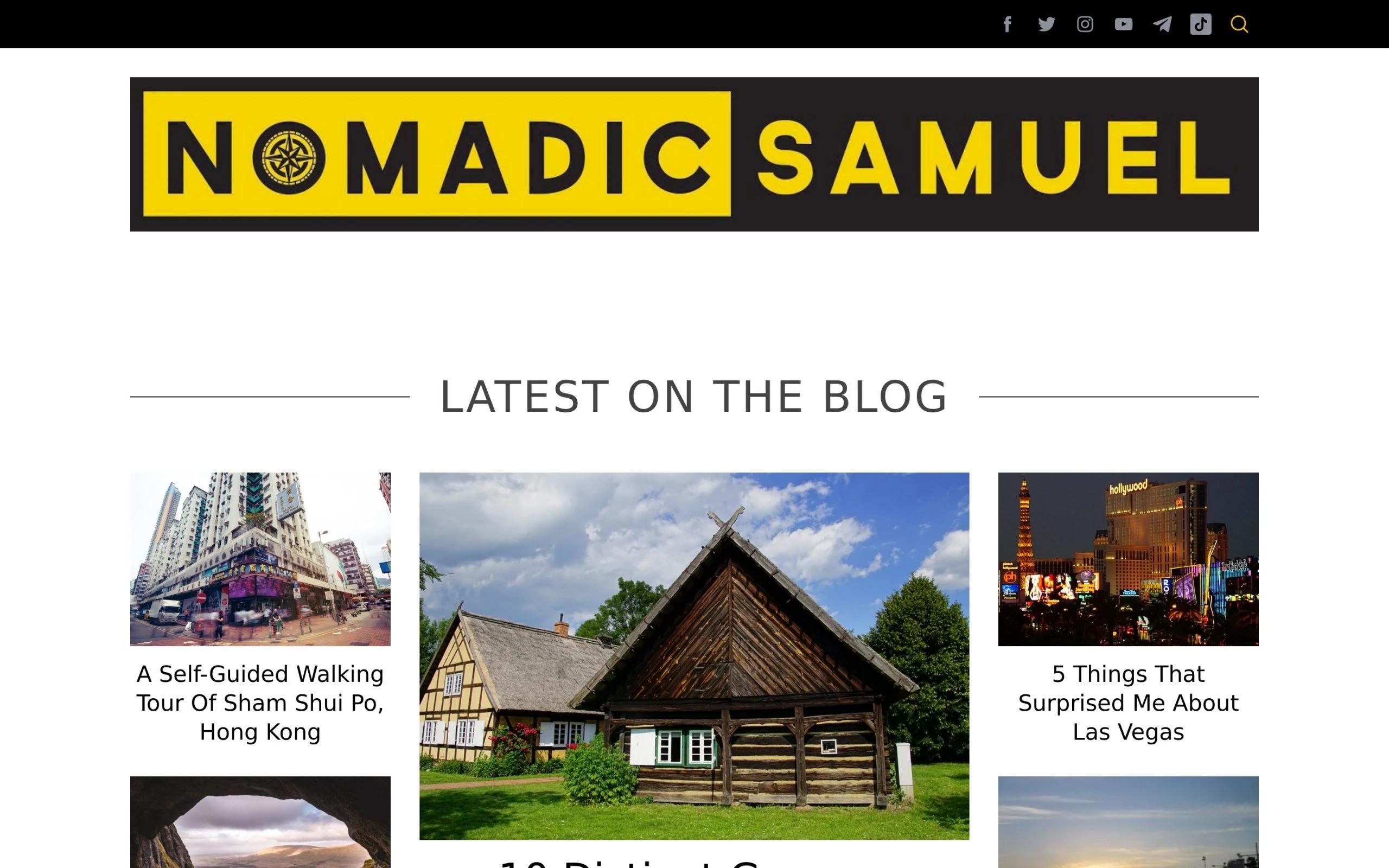 Samuel Jeffery spent most of his 20s exploring Asia and using his expertise in English, photography, and freelance writing to earn a living.
You can expect fantastic travel stories, incredible photos, and photography tips on this website. Make sure to visit this blog to learn how Samuel captures the sweet and bitter moments of travel.
You will find that most travel bloggers quit their corporate lives to travel full time. Well, it's because once you experience the real fun, you can't continue to live a boring life.
For example, Indiana Jo quit her job in law and bought a world-travel ticket, and she never returned. Her blog contains helpful articles, including city guides, travel hacks, packing lists, and many more.
10 Amazing Adventure Travel Blogs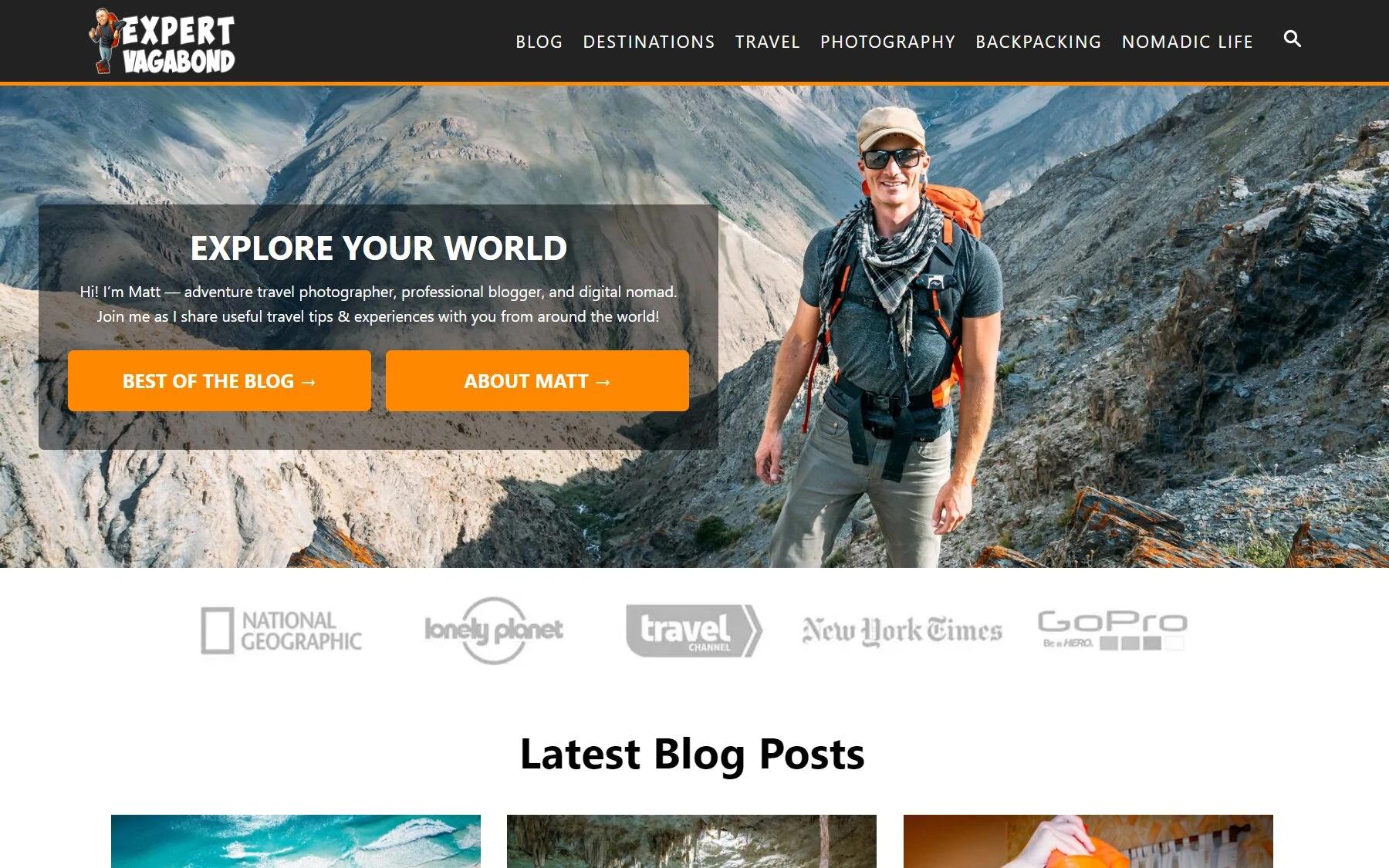 Matthew Karsten, the founder of Expert Vagabond, is an adventure enthusiast, photographer, and digital nomad. The website is packed with captivating stories, wonderful photos and videos, budget-friendly travel ideas, and advice on numerous outdoor adventures.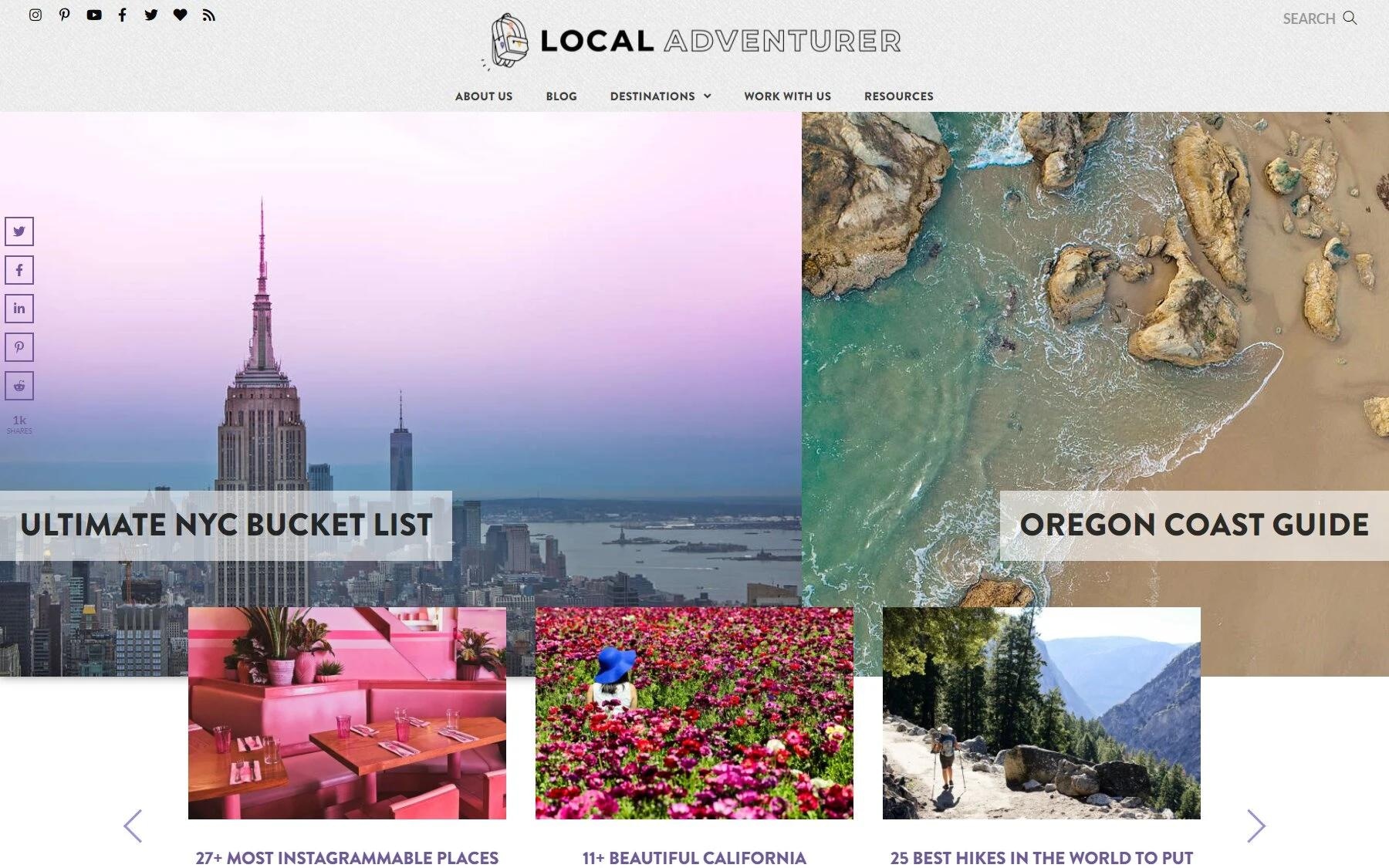 Local Adventurer is one of the top adventure blogs that will inspire you to get out of your comfort zone and embrace new experiences. From destination recommendations to adventure hacks, the blog will guide you to get the most out of your trips.
Some might believe that adventure is only for those who are ultra-rich or experienced athletes. But Dave and Deb, founders of The Planet D, will tell you that adventure is for everyone who has a desire to achieve something extra. This blog was mentioned in the list of Top Travel Influencers by Forbes Magazine.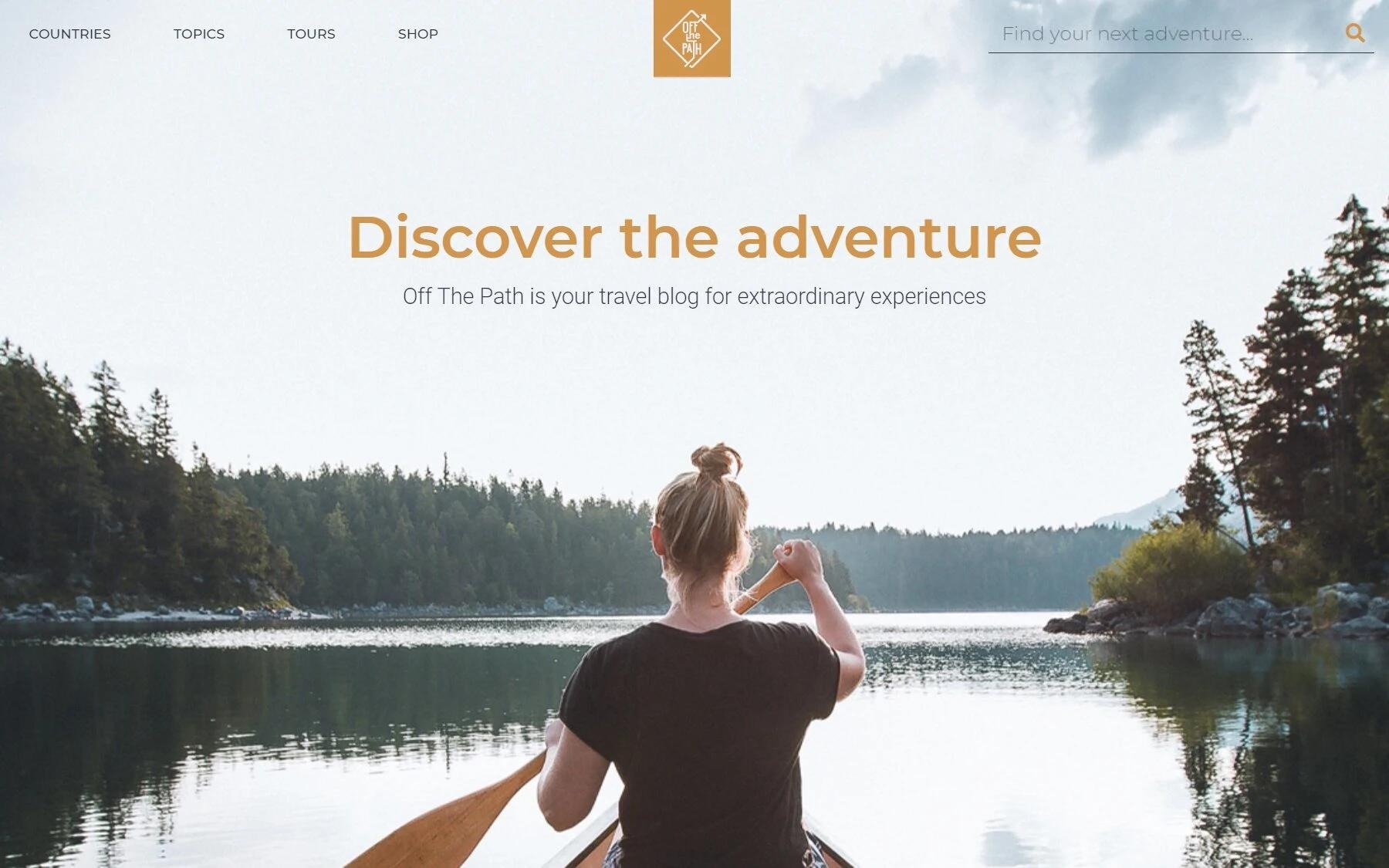 Off the Path is another best adventure blog that features articles on adventure tips, hacks, unexplored place recommendations, and city guides that will make your journey easier and, at the same time, full of adventure.
Liz discovered her passion for travel when she was 16 years old. It has been 12 years since that time, and she has visited more than 50 countries, but her excitement for travel continues to grow. She tells stories and shares her experiences that are featured in major media platforms like BBC and CNN.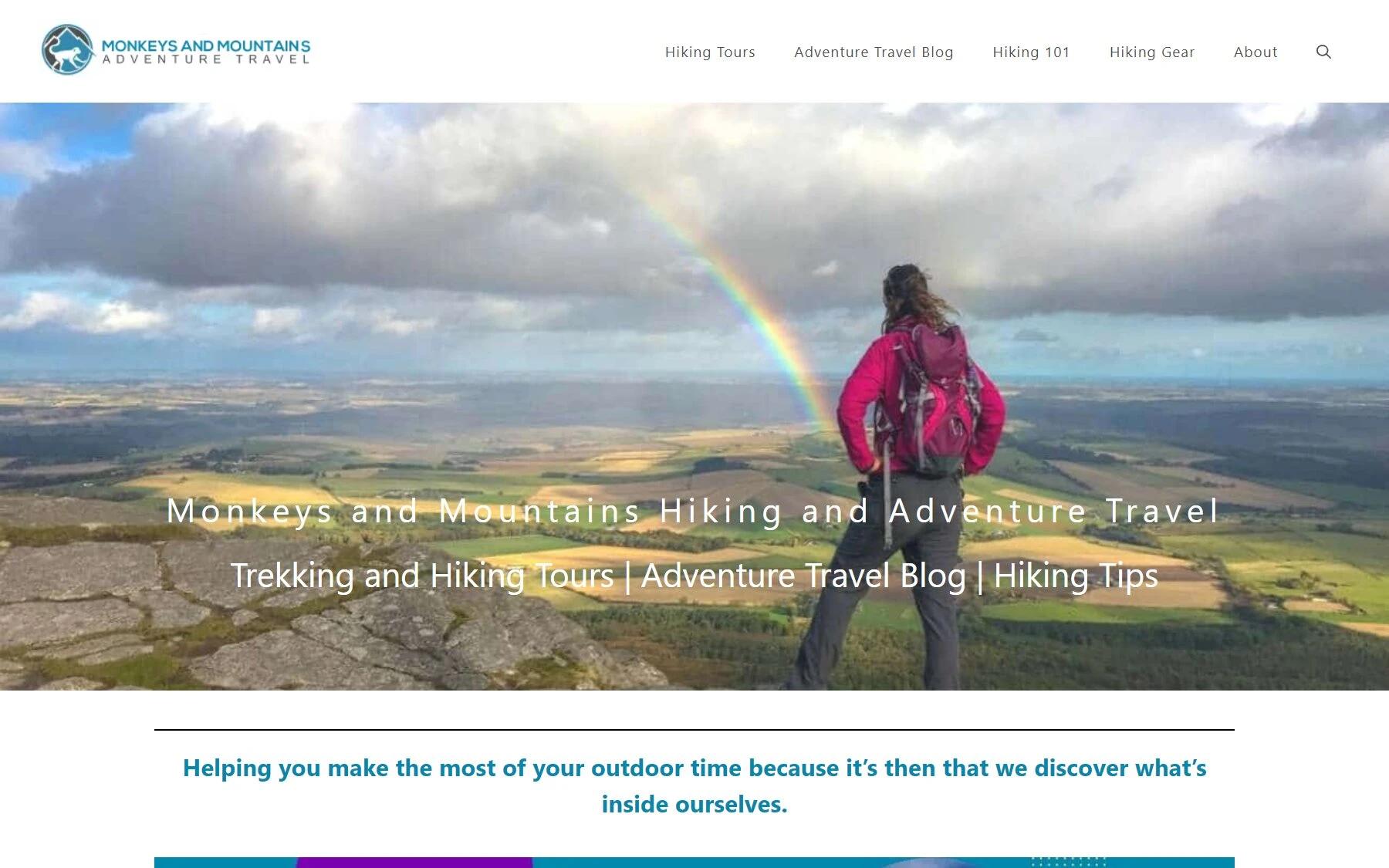 Laurel, the author of this incredible female travel blog, will help you get the most out of your outdoor time because this is what lets you know yourself fully. She believes that engaging in adventures can have a profound positive impact on your life.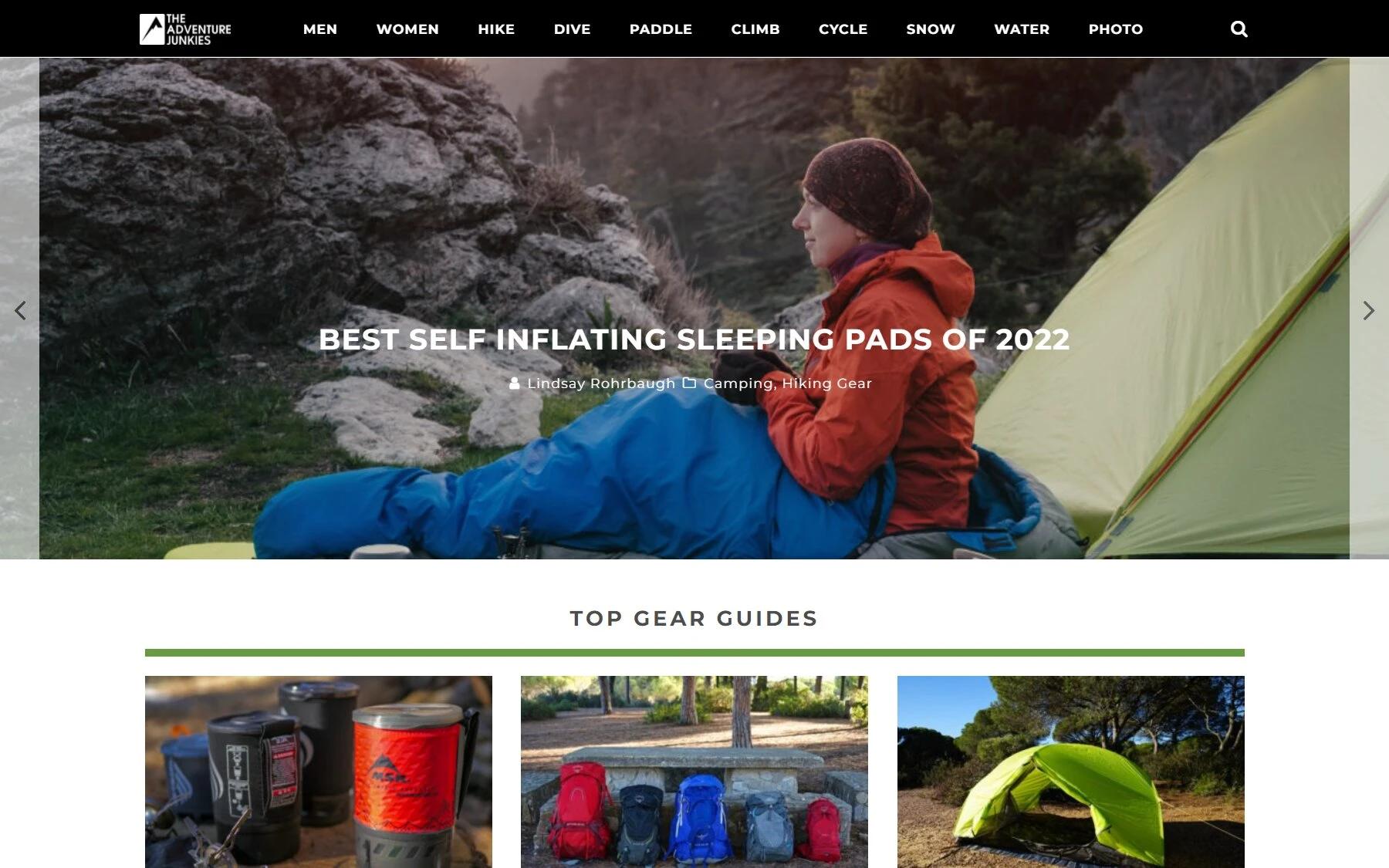 The Adventure Junkies will assist you in making the outdoors accessible to you so that you become a responsible protector of nature and the ecosystem. The blog has valuable resources that will enable you to have a profound experience of nature.
Outdoorsy Diva strives to inspire all black women to embrace uncertainty, experience travel and adventure, and get connected with nature. Lauren is a single mom who believes that we are not here just to exist but learn and leave something valuable as we go.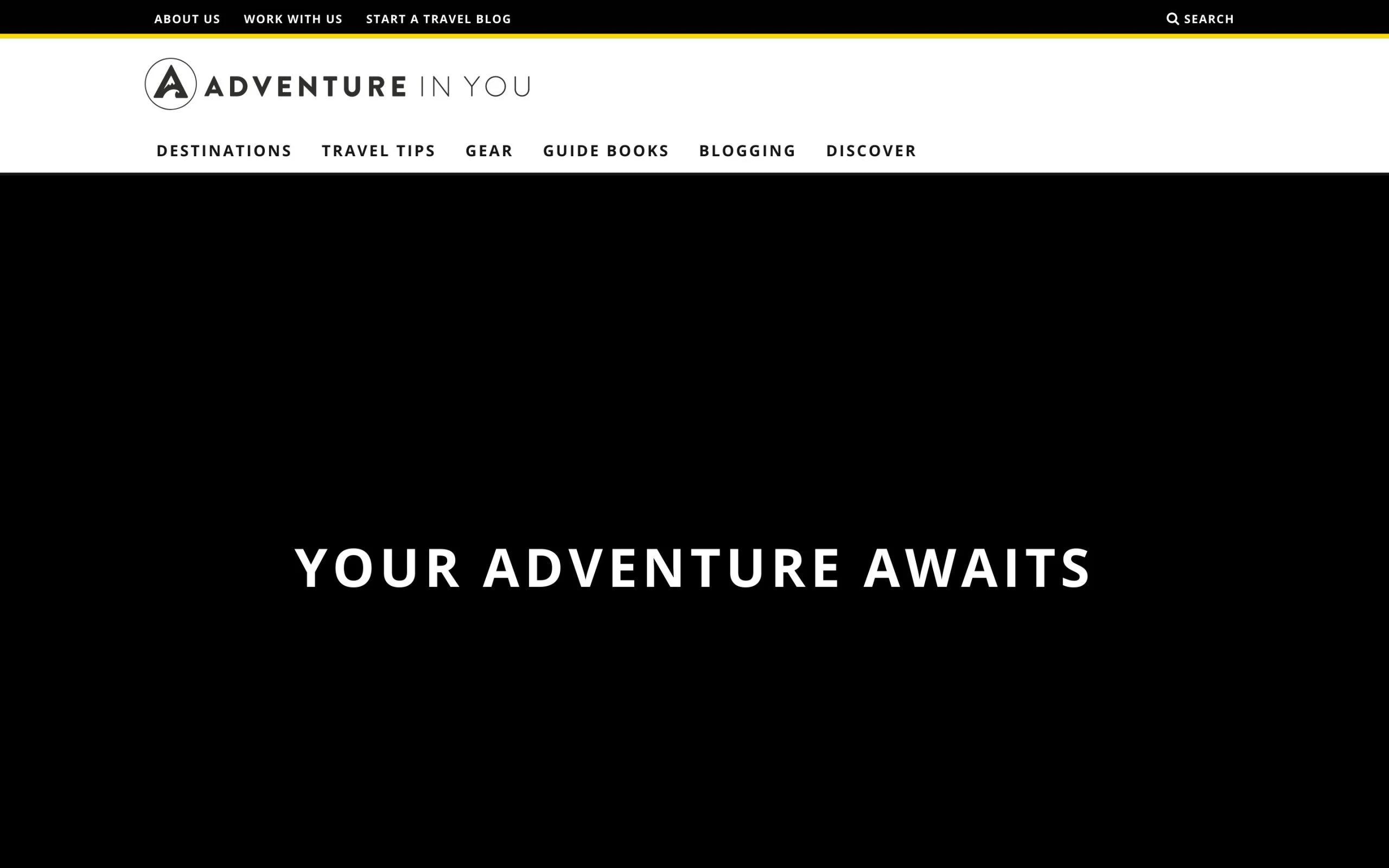 Tom and Anna, the couple behind this blog, have more than 4 years of travel experience. They share personalized destination choices and travel hacks that are read by millions of visitors every month.
Adventure Journal is one of the best online magazines that focuses on travel and outdoor adventure. You can expect inspiring stories and articles on various topics like mountain bikes, mountain climbing, cycling, camping, and many more.
5 Most Inspiring Road Trip Blogs
Whether you travel by motorbike, car, or motorhome, Wandering Bird will help you get the most out of your road trips. Kat, the author of this blog, quit her job in 2018 to get into travel and adventure with a motorhome.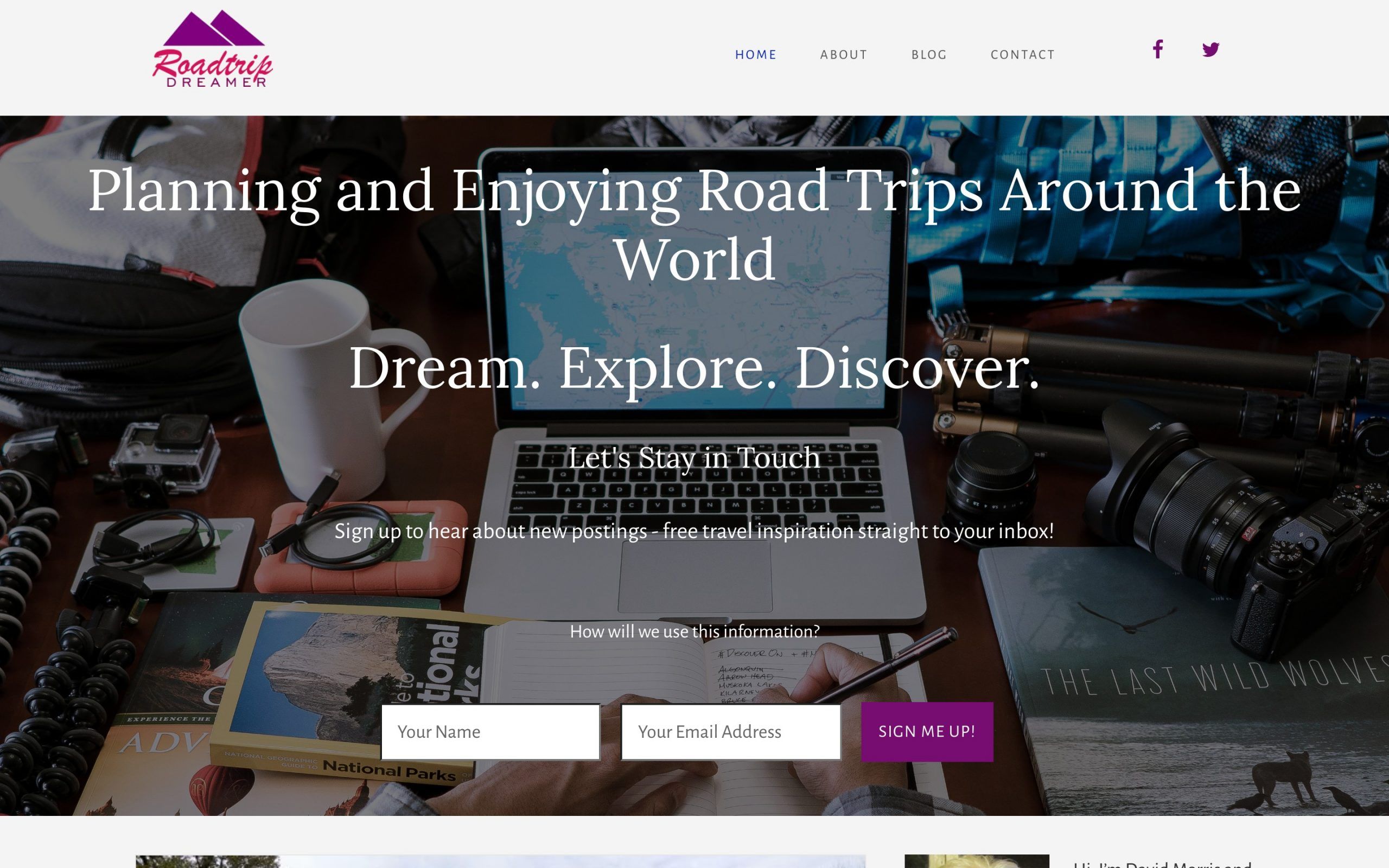 Road Trips are one of the most adventurous things to do in your life. David Morris will provide you with tips and advice to make your journeys more fun and memorable. He will pass you the lessons he has learned the hard way in his road trips.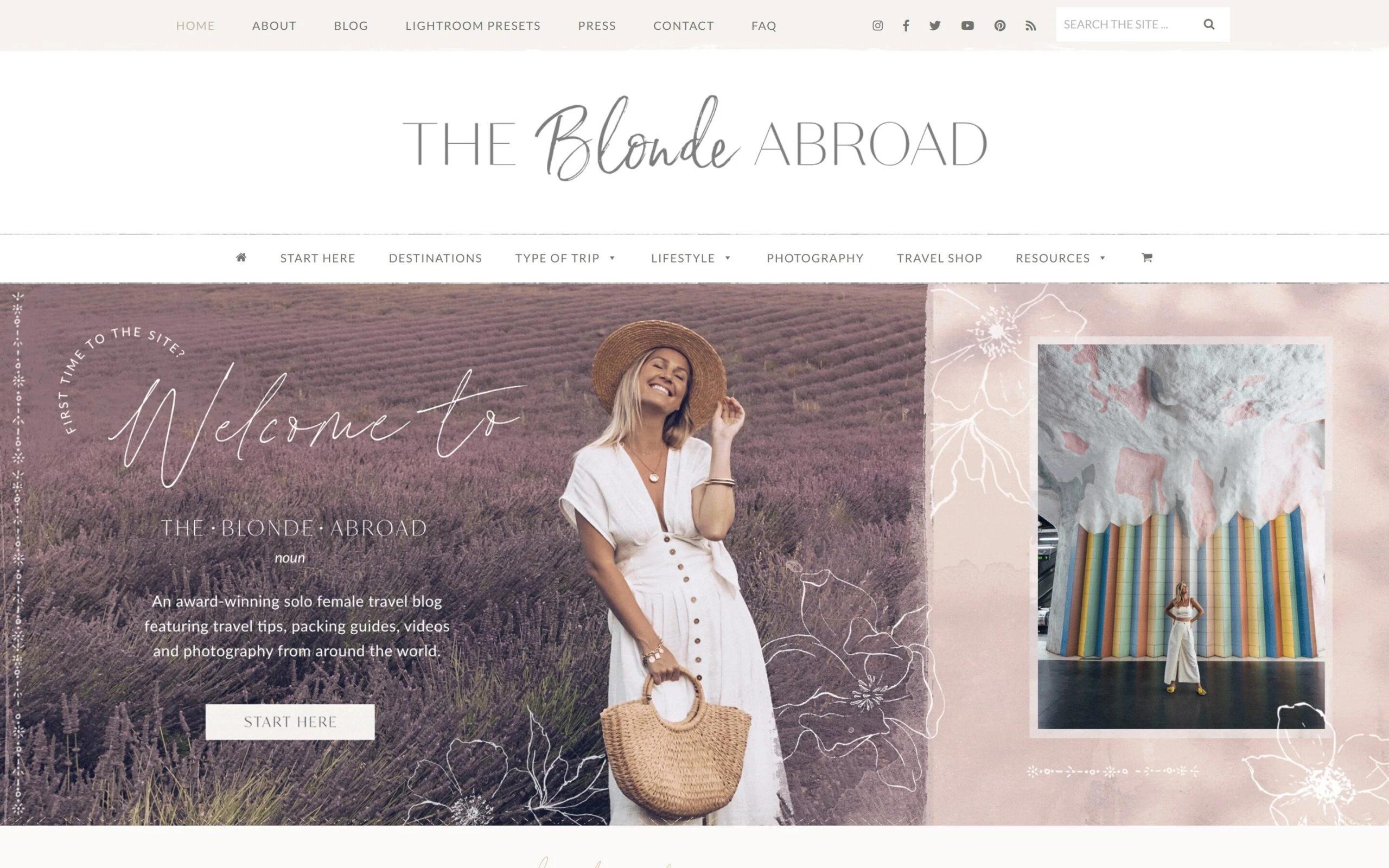 The Blonde Abroad is an award-winning solo travel blog that shares informative articles on road trips, travel tips, guides, photos, and videos of destinations around the globe.
Kiersten left her career in corporate finance to fulfill her dream of exploring the world. She has traveled to more than 70 countries on the major continents.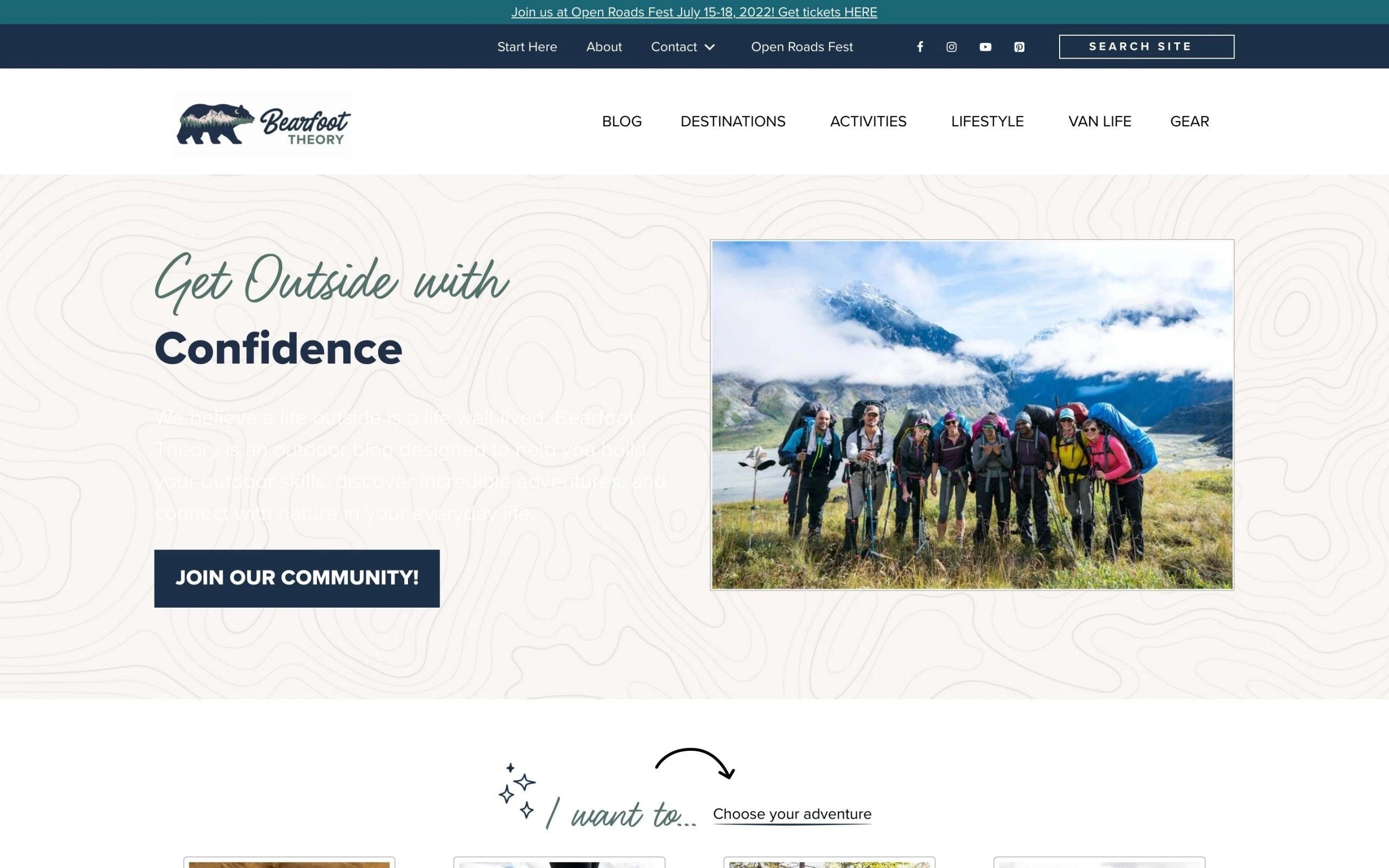 Bearfoot Theory, one of the best road trip blogs, will help you understand that road trips are not only budget-friendly but also allows you to get into the off-beat paths. From camping to living a van life, this blog covers everything you need to start your travel blog.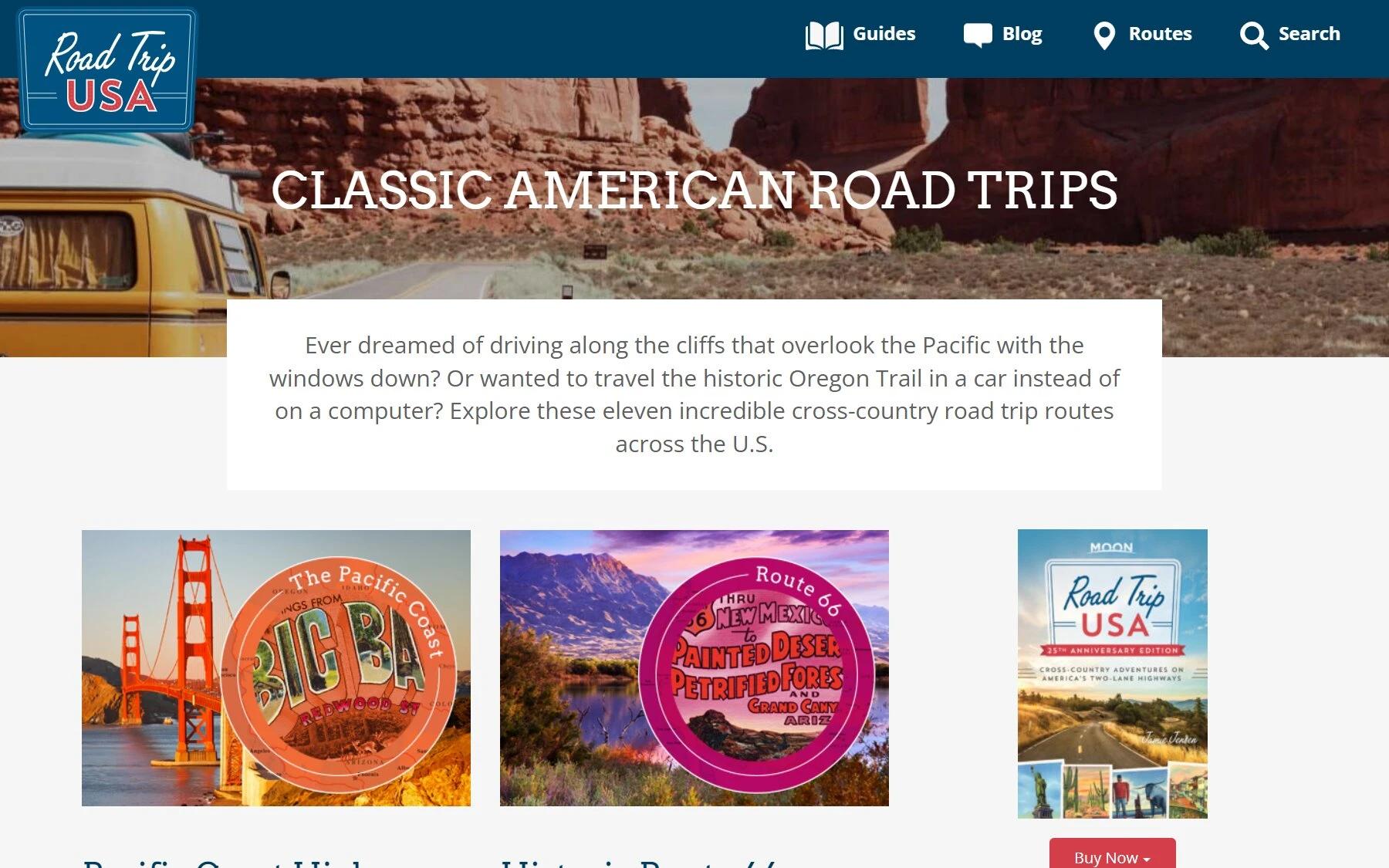 This website is another interesting blog that can give you many unique ideas for road trips in the USA. You will find content on various topics like Pacific Coast Highway, the Oregon Trail, Appalachian Trail, Atlantic Coast, and many more.
5 Best Luxury Travel Blogs
Dr. Paul Johnson and a team of around 700 writers and guest bloggers will inform you about the most luxurious hotels and resorts, best restaurants, and travel news.
This is a prominent blog that is visited by more than 130k unique visitors per month and has more than a million followers across various social media platforms.
Whether you want to visit the best destination in a country or want to dine at a luxury restaurant, Luxury Columnist covers everything that will provide you with an opulent experience. In addition, it also touches on topics like luxury trends and travel advice.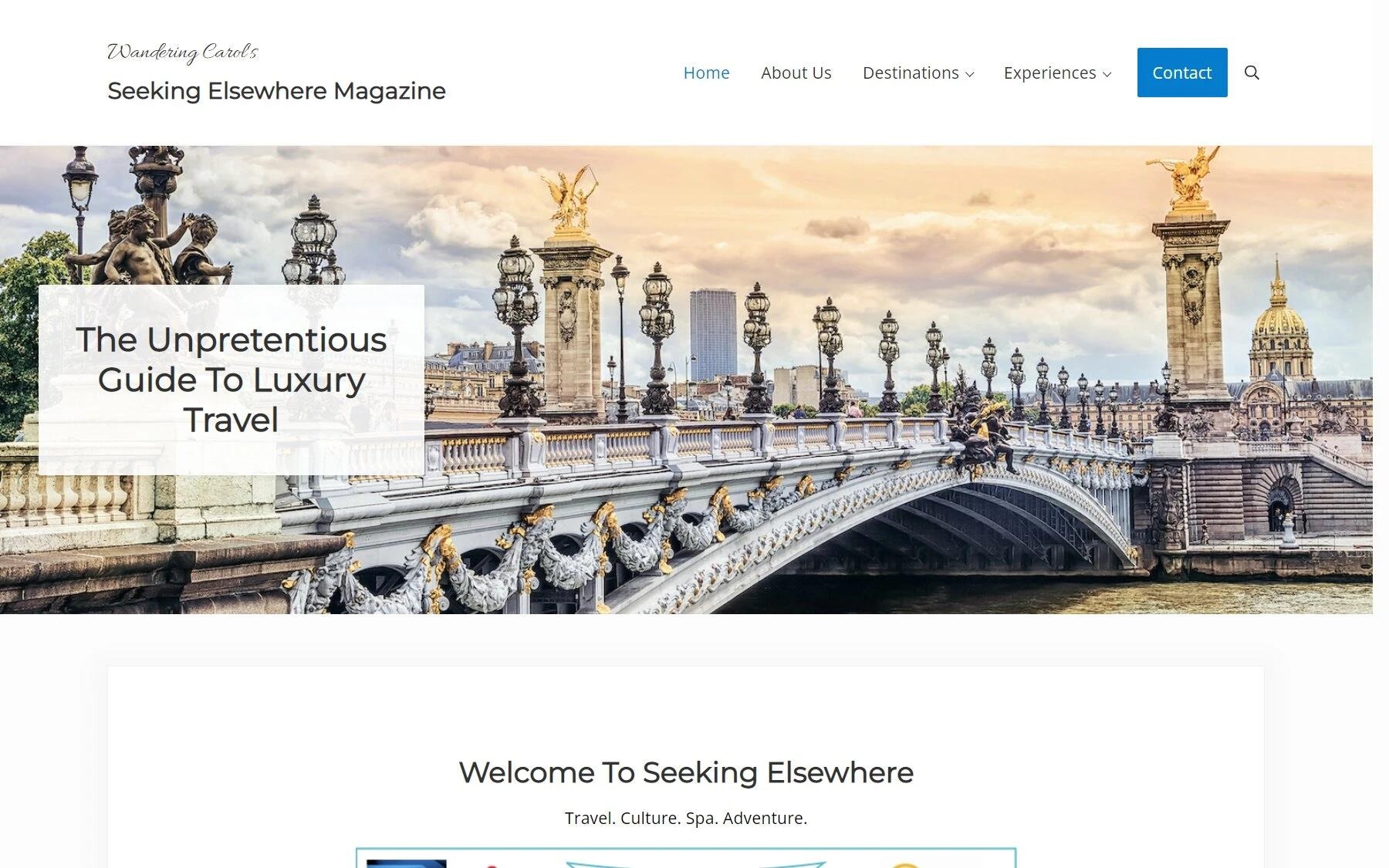 Wandering Carol believes that luxury travel is not about having plenty of money but having plenty of beautiful experiences. This is an award-winning travel website that features articles on luxury, culture, adventure, and wellness.
This online travel and transformative magazine cover pretty much everything you need to know to be a pro travel blogger. Renee Blodgett created this website to make you aware of various cultures across the world, which in turn will make you empathetic towards others.
Live share Travel is one of the best luxury travel blogs on the web. Sarah and Terry Lee, the couple running this blog, believe that luxury travel is all about authenticity. They write about their honest experiences to help the readers enjoy trips to the fullest.
Conclusion
This is the list of 60 top travel blogs on the internet. We hope they have inspired you enough to make a new beginning, get out of your comfort zone, set out to explore this amazing world, and share everything you learn in your travel blog.
Remember that you have limited time on this planet, so get started to realize your dreams without wasting any second. Also, let us know which of the above blogs you liked the most and would love to follow.