Ever wondered how some stores make shipping seem like magic?
Online businesses live and die by fast fulfillment. Poor shipping means unhappy customers, lost sales, and a dinged reputation. But organizing it all solo is a real challenge!
We have gathered a list of the best shipping apps for Shopify. Try them risk-free and see the magic for yourself.
🔝 How We Selected the Best Shopify Shipping Apps
Customer Support: Customer support quality was judged based on the reviews of real customers on Shopify App Store. The typical response time was also considered to identify apps with the fastest support when issues arise.
Considering Usability: User reviews on app stores and company sites provided real-world perspectives on ease of use so we chose apps employees would find user-friendly
Assessing Value & Costs: Cost was carefully considered to ensure any spending on apps would pay for itself over time through efficiencies rather than burden budgets. Free and trial versions were highlighted for merchants just starting out or on tighter budgets.
🤝 Why You Should Trust Us
We've quickly become one of the top theme developers on Shopify. Since launching our first theme in May 2022, we've released 7 premium themes that have thousands of downloads.
Lots of our themes are really popular choices for other online sellers and rank high when people browse for themes on Shopify. We work hard to design themes that look great and are user-friendly to help shops thrive online.
Making shop owners happy is our top goal. We're here to help with any issues and regularly update themes based on our customer feedback.
With thousands of stores already succeeding with our themes, you can trust our skills and experience. Our growing customer base shows we're committed to creating professional, high-quality Shopify themes that help shops look their best and increase sales. So you can feel confident in our abilities as Shopify experts.
🖥️ 25 Best Shopify Shipping Apps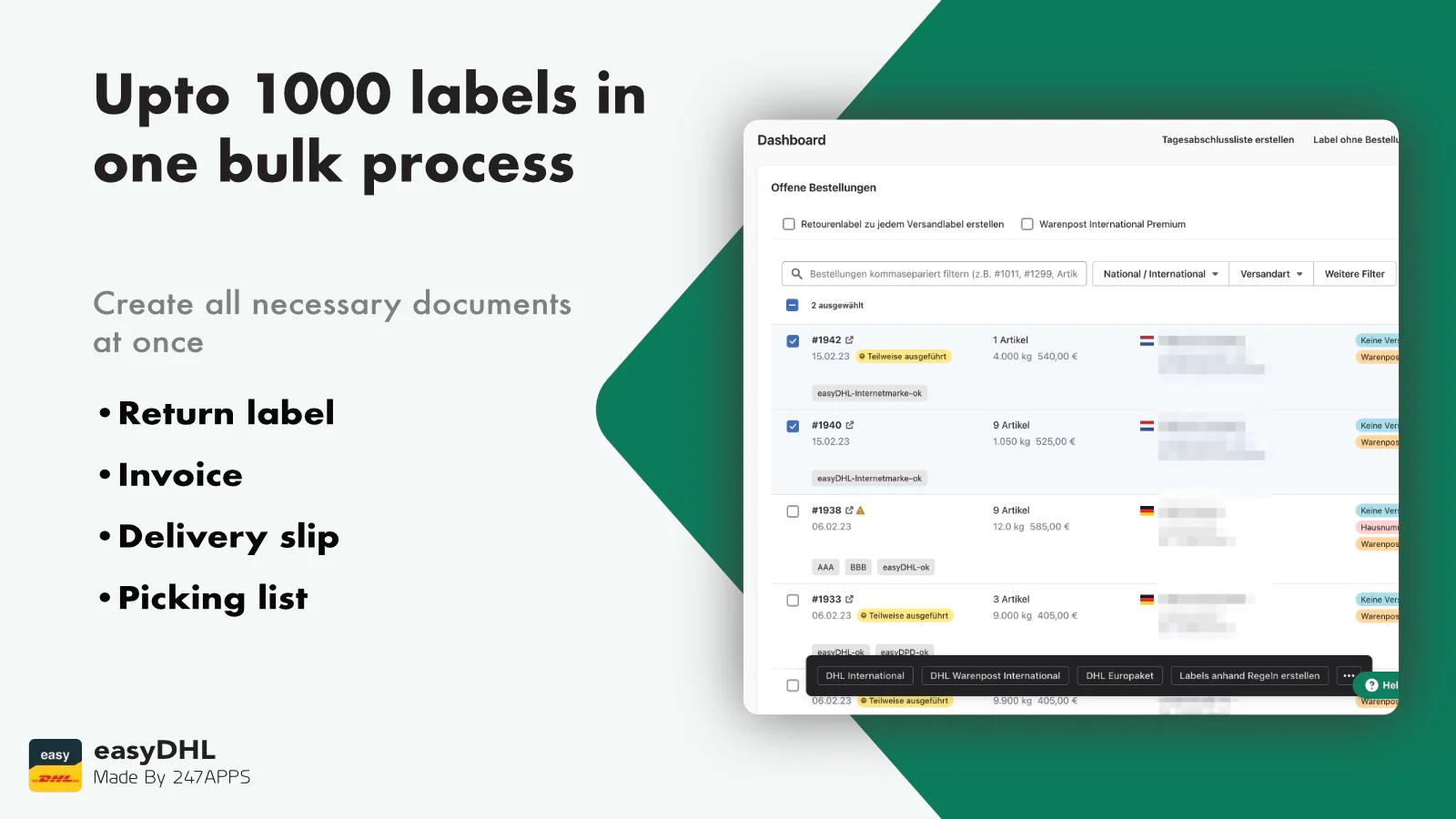 EasyDHL, as one of the finest Shopify shipping apps, takes the stress out of shipping for online businesses. It automatically makes all the labels, forms, and papers you need for imported Shopify orders. Store owners can save time and money by letting EasyDHL handle shipping worldwide from purchase to delivery.
App Features:
Order Status: It will let you know automatically when things change with orders on your Shopify store.
Easy Labels: Quickly print labels one by one or all together straight from your order info.
Customer Tracking: Send customers the numbers to track packages with one click so they always know where their stuff is.
Worldwide Shipping: Use shipping with DHL and postal services around the world to handle international orders.
Automatic Labels: Set it up so labels print by themselves when new orders come in, so you don't have to do it each time.
Flows, Not Dealbreakers:
The constant request for evaluation is sometimes annoying.
The fact that there have to be at least 100 characters is also annoying.
Shopify Rating: 5.0 ⭐
Pricing:
Starter Plan: Free
Basic: $19/month
Shopify & Advanced: $39/month
Shopify Plus: $79/month
Shipeasy figures out the best Shopify shipping apps' prices for your Shopify store. It looks at over 30 things like what you're shipping, where it's going, and who bought it. Then you can set up different prices that work for your store anywhere in the world. This helps you make the most money on shipping.
App Features:
Flexible Rates: Change prices based on order details like items, locations, and suppliers. Customize for your business.
Custom Rules: Set different rates, like discounts for bulk buyers or worldwide shipping.
Smart Pricing: Combines rates from your rules for the best deal every time. Maximize profits.
Avoid Losses: Uses codes and distance to prevent too-low prices that lose you money.
Flows, Not Dealbreakers:
The documentation they have isn't bad it just needs a lot more content since their app is so robust.
The set up was a bit complicated but the support was great
Shopify Rating: 5.0 ⭐
Pricing:
Starter Plan: $9.99/month
Smart: $14.99/month
Advanced: $24.99/month
Why is Shipeasy Our Top Pick?
We really recommend Shipeasy as it is one of the best Shopiy apps. What makes Shipeasy stand out is its powerful system for figuring out shipping prices. This gives store owners great control and insight.

Shipeasy looks at over 30 different things about each order to find the best custom price. It looks at what was bought, where it's going, and more. This allows for prices that are tailored just right.

Owners can set their own rules, like discounts for bigger orders or different international fees by country. Shipeasy then considers all the rules together and picks the perfect price. It also protects against charging too little by mistake. Plus, setup is simple since it integrates well with Shopify.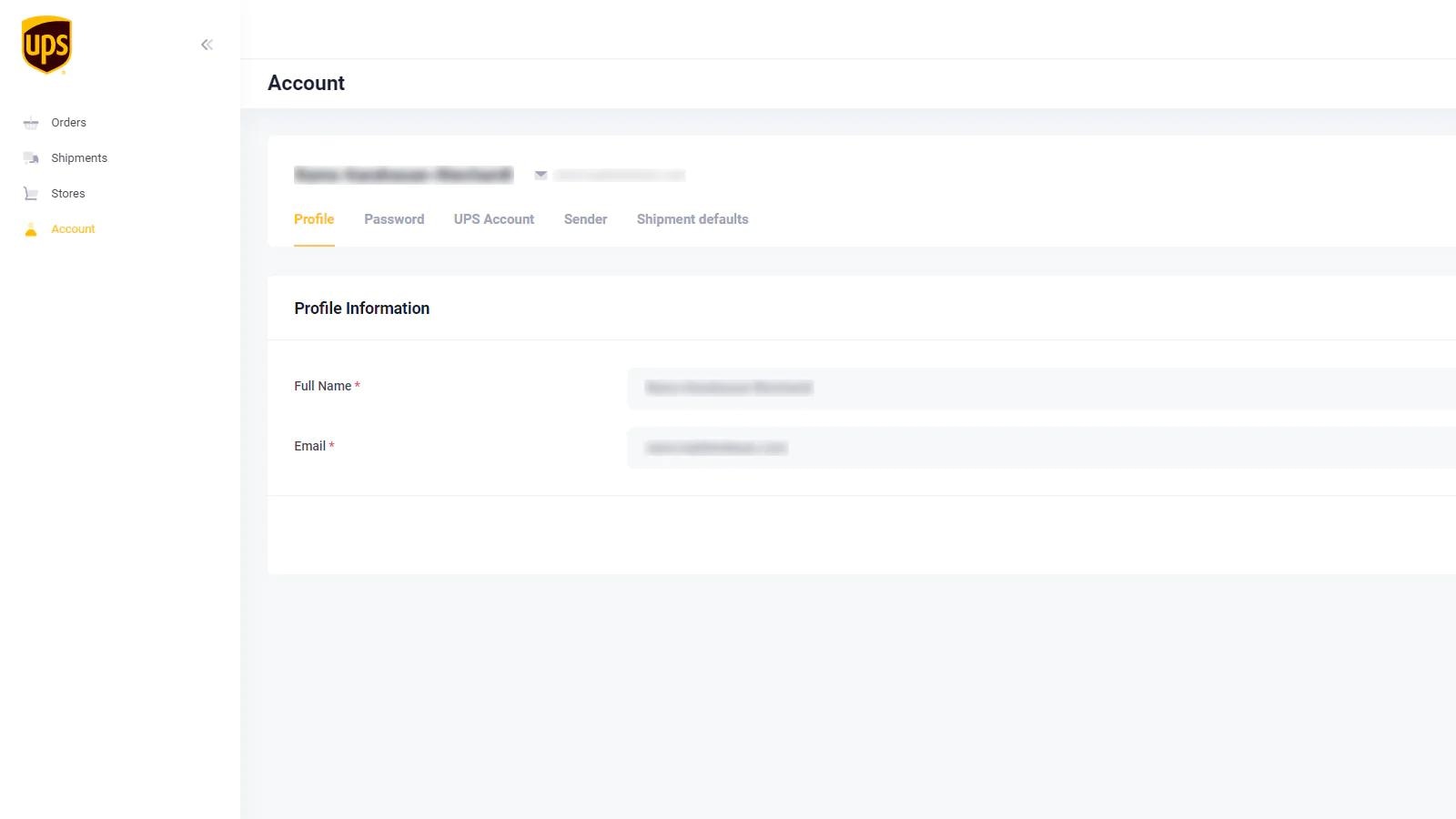 The UPS, considered as one of the greatest Shopify shipping apps and one of the best free apps for Shopify stores, connects your store to all their shipping services. It helps save time by automatically syncing orders, printing labels in bulk, and tracking packages.
App Features:
Split Shipments: If you use several warehouses, easily divide orders between locations during checkout. Select boxes that fit each item too.
Powerful Workflows: Build customized automated processes to handle complex logistics without manual work. The app thinks ahead so you don't have to.
Dashboard Support: Tap into their live chat team directly through the app if you need an assist. Questions get fast answers to fix issues ASAP.
Flows, Not Dealbreakers:
The process is definitely not user friendly.
The system messages are confusing, leading to mistakes
Shopify Rating: 5.0 ⭐
Pricing: Free
Whether changing rates by item, location or customer type, ShipZip has you covered. Adjust pricing based on weight too. Best of all, setting multiple conditions is simple through its intuitive dashboard.
App Features:
Multi-Location Management: Handle unlimited store pickup spots without double charging. Customers select time slots for a seamless experience.
Delivery Date Control: Schedule order cut-off dates within the app. Ensures items are received as promised through simple management tools.
Live Demo: Book some time with me and I'll showcase how to utilize these powerful features. See how quick and easy it is to optimize your delivery costs.
Flows, Not Dealbreakers:
A few things are lost in translation.
The videos fly through the important parts.
Shopify Rating: 5.0 ⭐
Pricing:
Set Up: Free
Shipping: $9.99/month
Delivery Date: $14.99/month
Shipping With Date: $19.99/month
Tired of slow labeling and packing? ReadyToShip streamlines order fulfillment in one simple dashboard.
App Features:
Shipment Dashboard: Total control of shipments in one tidy interface. Print, track, and manage returns - it's all there.
Local Expert Support: Questions? Their Aussie-based team is here to help get you sailing smoothly.
Growth Ready: Scales with you from day one, no matter your size. Automation handles booming volumes.
Flows, Not Dealbreakers:
Takes ages for pages load and update even when refreshed.
There is no active and functional integration with DHL presently.
Shopify Rating: 5.0 ⭐
Pricing: Free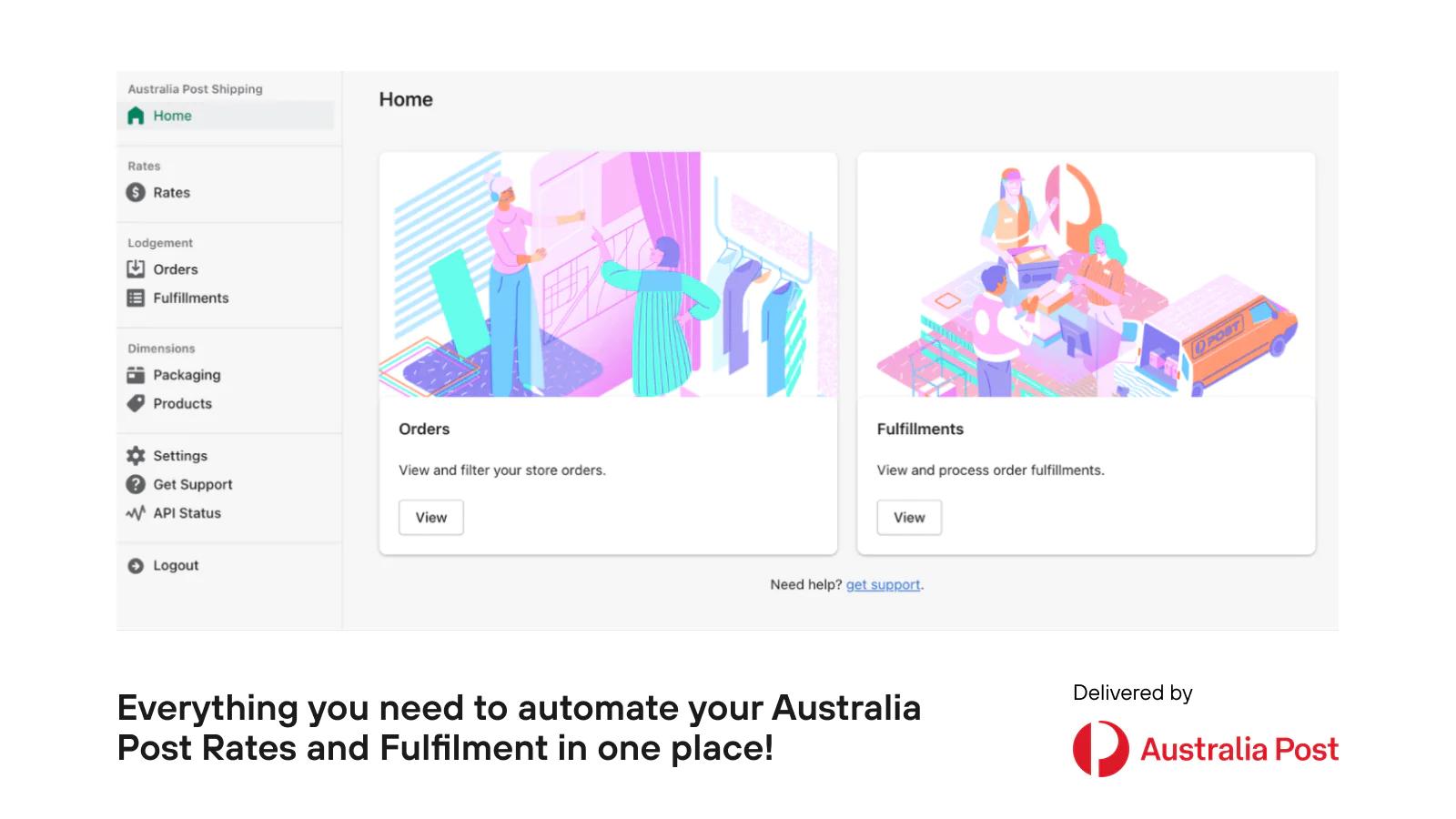 Australia Post Shipping by AMP streamlines the entire fulfillment process in one easy-to-use interface. When it's time to pack orders, you'll appreciate the one-dashboard approach.
App Features:
Real-time Rates: Always show customers accurate delivery costs upfront. No more estimates - it pulls live rates from eParcel.
Customizable Conditions: Set customized default profiles based on delivery type, destination, package weight, and more.
Accounting Integration: Have shipping fees automatically reflected in your accounting reports with Lifetimely for P&L visibility.
Flows, Not Dealbreakers:
Blocks integration with any other shipping service and only allows shipping on standard Auspost sizes.
Support is not that good.
Shopify Rating: 4.9 ⭐
Pricing:
Lite: $14.99/month
Basic: $24.99/month
Pro: $34.99/month
Pro Plus: $49.99/month
Tired of customers abandoning carts over confusing delivery details? Intuitive Shipping, known as one of the finest Shopify shipping apps, gives you full control over checkout.
Customize rates by location, carrier, and more with flexible profiles. Customers see true costs upfront
App Features:
Checkout Customization: Brand delivery options with your own naming and styles. Customize for maximum conversions.
Converter Descriptions: Add details under each choice for shoppers to feel confident picking the perfect plan.
Dimensional Discounts: Join other eco-minded sellers using accurate dimensions for rate savings with SmartBoxing.
Flows, Not Dealbreakers:
There are less how-to-videos.
The app does not notify you when any product is missing the dimensions or weight - and then customers can't check out.
Shopify Rating: 4.9 ⭐
Pricing:
Sandbox: Free
Growth: $70/month
Business: $150/month
Professional: $300/month
Bespoke Shipping gives you full control over shipping rates. Connect to multiple carriers worldwide to ensure competitive pricing. This is truly one of the best Shopify apps.
App Features:
Dimensional Deduction: 4D scanning and stacking ensures max accuracy for real rates from over 80 top carriers worldwide.
Customer Profile Pros: Target wholesale vs retail customers with their own unique shipping rules. Perfect for B2B sellers!
Product Power: Group related products and set separate rules, like services vs physical goods. Great for multi-item stores.
Zoned In: Create custom zones by city or postal code to micro-control delivery fees everywhere.
Flows, Not Dealbreakers:
The app is all code.
Zero guides.
Shopify Rating: 4.9 ⭐
Pricing: $15/month
Zenstoresas is a Shopify delivery app that streamlines domestic and international shipping from UK-based stores. It connects sellers directly to major carriers like Royal Mail, DHL and DPD.
App Features:
One-Click Imports: Automatically bring all your orders from Shopify and major marketplaces into one central dashboard.
Label Loving: Print shipping labels, packing slips and invoices with a couple of taps - saves you major time on fulfilling orders!
Pricing Power: Opt for their discounted rates or use your own carrier accounts for maximum shipping cost savings.
Auto-Awesome Order Management: Amazing automation features mean orders zip through fulfillment without manual effort from you.
Flows, Not Dealbreakers:
There is no holding tab, where I could keep orders till a later date to print.
Many enhancement requests are acknowledged, but sometimes they aren't fixed.
Shopify Rating: 4.9 ⭐
Pricing:
Basic: £59/month
Zenstores: £79/month
Pro: £399/month
Shipway is a comprehensive eCommerce fulfillment solution designed to streamline operations for online sellers. As a 5-in-1 app, it handles the full Shopify shipping apps' process from multiple sales channels to delivery tracking. It's also know as one of the best Shopify dropshipping apps.
App Features:
Carrier Connectivity: Access dozens of couriers worldwide for blazing-fast fulfillment to more places than ever. Expand your reach globally!
Automated Awesomeness: Import all orders in one dashboard and bulk print labels/invoices in seconds. Brilliant for high-volume stores.
Tracking Triumphs: Branded tracking pages on websites and notifications via text/WhatsApp keep customers always updated.
Return Rockstars: Manage the whole process from request to refund seamlessly. Both you and customers love it!
Chat Support Stars: Bye-bye wasted time on the phone! Streamlined message support reduces service calls.
Flows, Not Dealbreakers:
Sometimes the returns are charged separately which can be accomadated in the same order fulfilment package.
The is no function of highlighting suspicious customers for (COD orders especially)
Shopify Rating: 4.9 ⭐
Pricing:
Basic Plan: $19.99/month
Silver Plan: $39.99/month
Gold Plan: $99.99/month
Platinum Plan: $169.99/month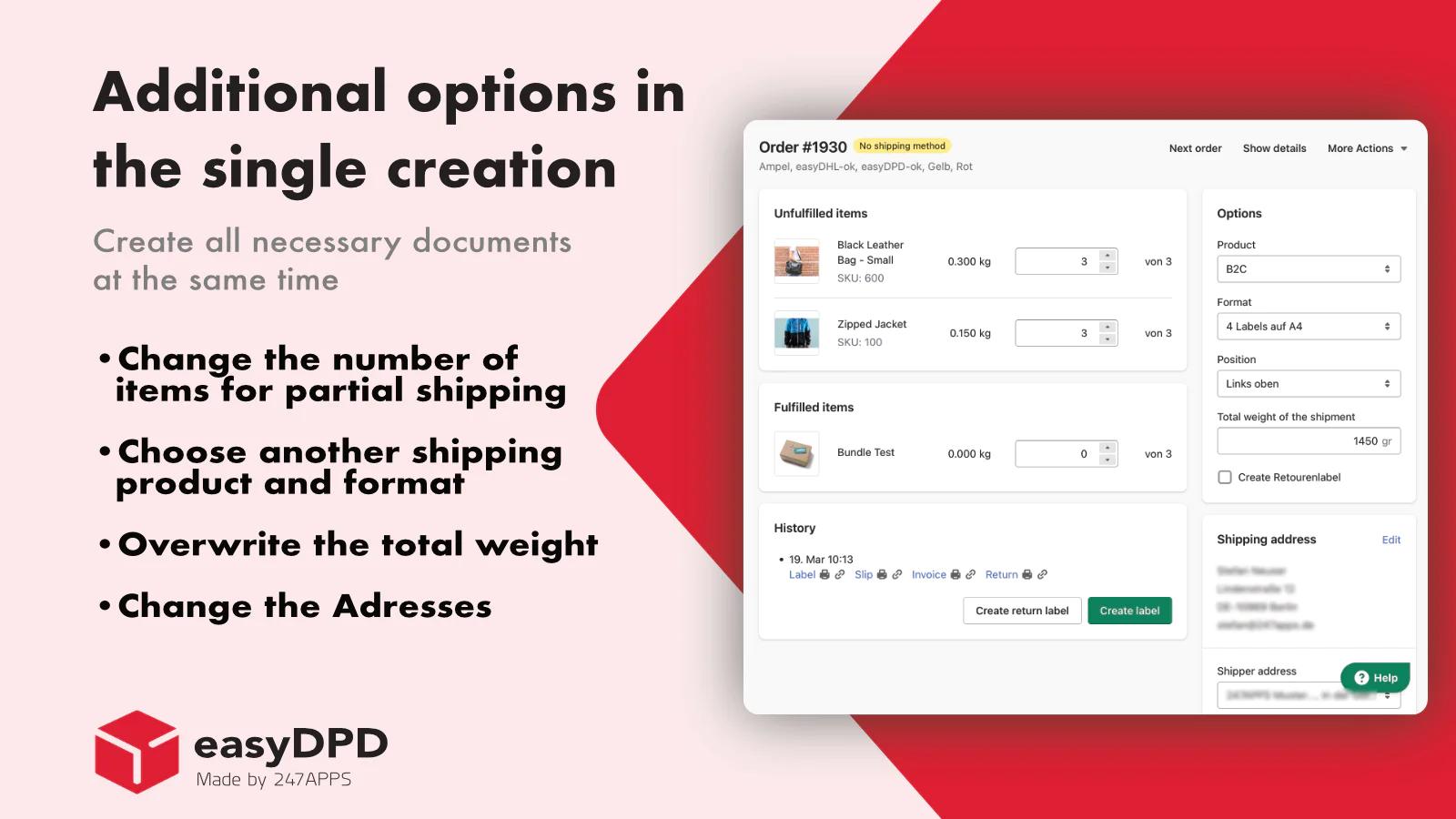 EasyDPD streamlines shipping with DPD couriers directly from Shopify stores. The app automates label creation for faster fulfillment. Labels can be printed individually or in bulk batches. All labels include tracking codes for visibility.
App Features:
Instant Account Access: Newcomers can sign up for a DPD account directly in the app, no waiting around!
Fulfillment Forever: Automated tracking updates keep businesses and buyers in the know about order statuses.
Shipment Specialists: Intuitive presets match orders to the right DPD service tiers for the smoothest deliveries.
Robust Roster: All major DPD shipping solutions at your fingertips for shipping goods anywhere they need to go.
Flows, Not Dealbreakers:
The is no function of canceling/deleting parcel labels.
Some of customers end up in areas not covered by DPD.
Shopify Rating: 4.9 ⭐
Pricing:
Starter: Free
Basic: $19/month
Advanced: $39/month
Shopify Plus: $79/month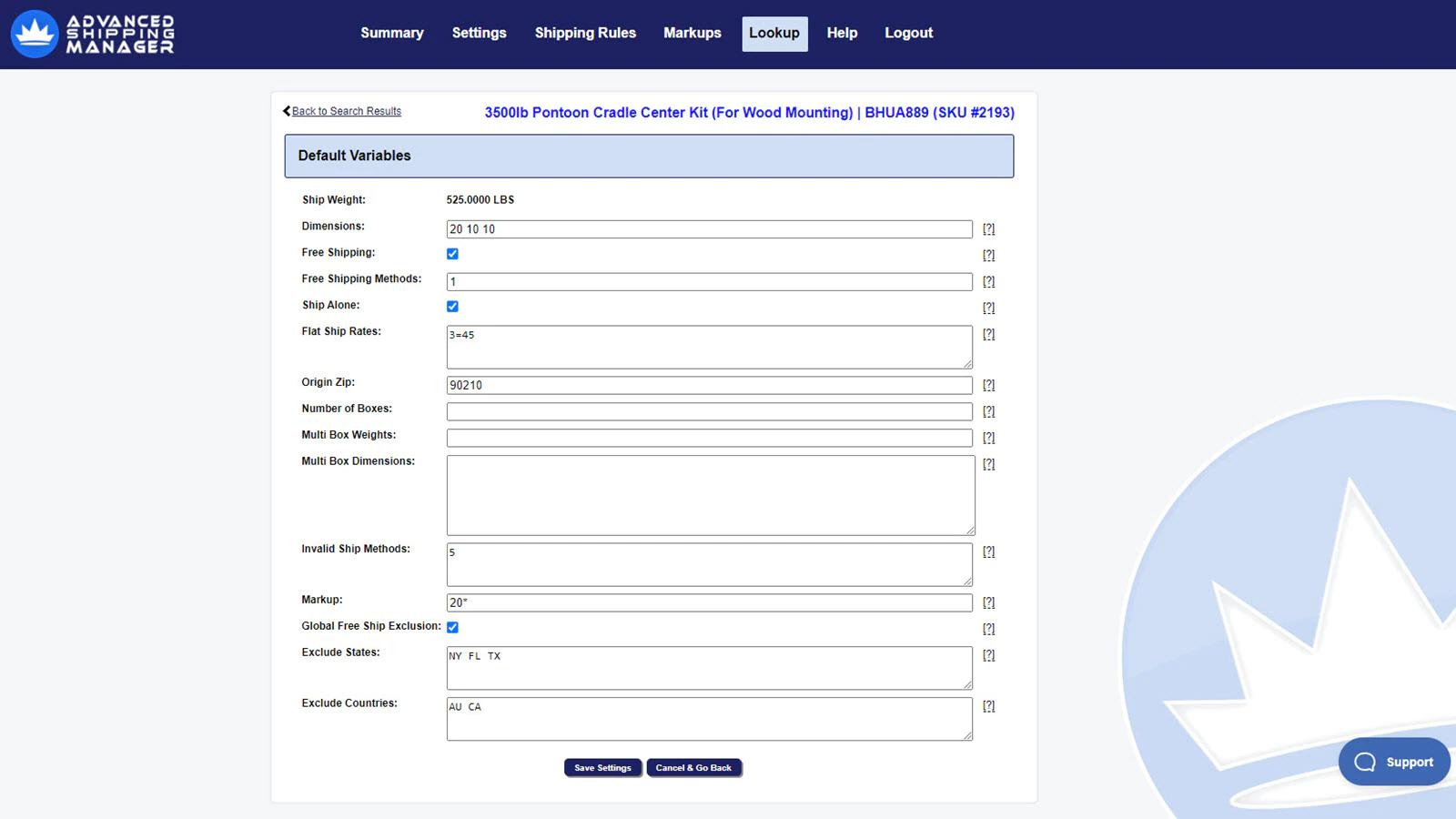 Advanced Shipping Manager appears to be one of the finest Shopify shipping apps. It gives merchants complete control over all aspects of their shipping processes. This best shipping app for Shopify provides powerful yet flexible tools to customize delivery rules.
App Features
Location Locomotion: Customize shipping and more for multiple addresses. Envied by multi-location bosses!
Product Power: Control dimensional weights, special rates and shipping rules on an item level. Precision tools for gurus!
Address Adjustment: Residential vs commercial detection streamlines delivery. Smooth sailing no matter the destination.
Limitless Potential: No caps on carriers, inventory, rules or rate requests. Go big with unlimited growth options!
Flows, Not Dealbreakers:
It's not cheap.
When you have two stores open in separate tabs and then open the app in one store, all the shipping rules are copied over to the other store.
The reply time for assistance is more than 2 days.
Shopify Rating: 4.9 ⭐
Pricing: $155/month
The Colissimo Official is the best shipping app for Shopify that provides merchants direct access and full integration with all of Colissimo's shipping services. It allows online stores to efficiently manage order fulfillment, labeling, tracking, returns and other logistics from directly within Shopify.
App Features:
One-Tap Label Printing: Create labels at home, pickup spots or customs included - fast shipping made effortless.
International Expert: Generate customs papers in a snap to reach global customers. Pros love the simplified processing.
Tracking Triumphs: Branded tracking pages on websites and notifications keep everyone in the delivery loop.
Fulfillment Flexibility: Split big orders and print multiple labels for optimized routes. Bosses adore the efficiency gains.
Return Rockstars: Manage the whole return flow easily from online or in-store. The fluid process is beloved by customers too!
Flows, Not Dealbreakers:
All prices and zones must be entered manually.
Average transit times with Colissimo can be several business days slower than alternatives.
Shopify Rating: 4.9 ⭐
Pricing:
Basic & Shopify: $19/month
Advanced Plan: $29/month
Plus Plan: $49/month
The Ordoro, Shopify shipping app, helps online sellers streamline complex fulfillment operations. It connects businesses to popular sales channels like Shopify, Amazon, and eBay to automatically sync orders and inventory in real-time.
App Features:
Omni-Channel Champ: Ship from anywhere to everywhere - your orders will be fulfilled seamlessly across Shopify, Amazon, eBay, and more.
Laser-Focus on Inventory: Never be out of stock or drown in extras with real-time visibility and control across all sales points. Bonus for scaling bosses!
Automation Awesomeness: Rules, split shipments, filters - let Ordoro do the dirty work so you can get back precious minutes in your day. You're welcome!
Carrier Cash Outs: Save big moolah on pre-set rates from FedEx, USPS, and more. More $$ for expansions, am I right?
Flows, Not Dealbreakers:
Sometimes there are some difficulties in setup.
It's only the phone support that has regular hours.
Shopify Rating: 4.9 ⭐
Pricing:
Essentials: Free
Advanced: $59/month
Premium: $149/month
Add-On Modules: $50/month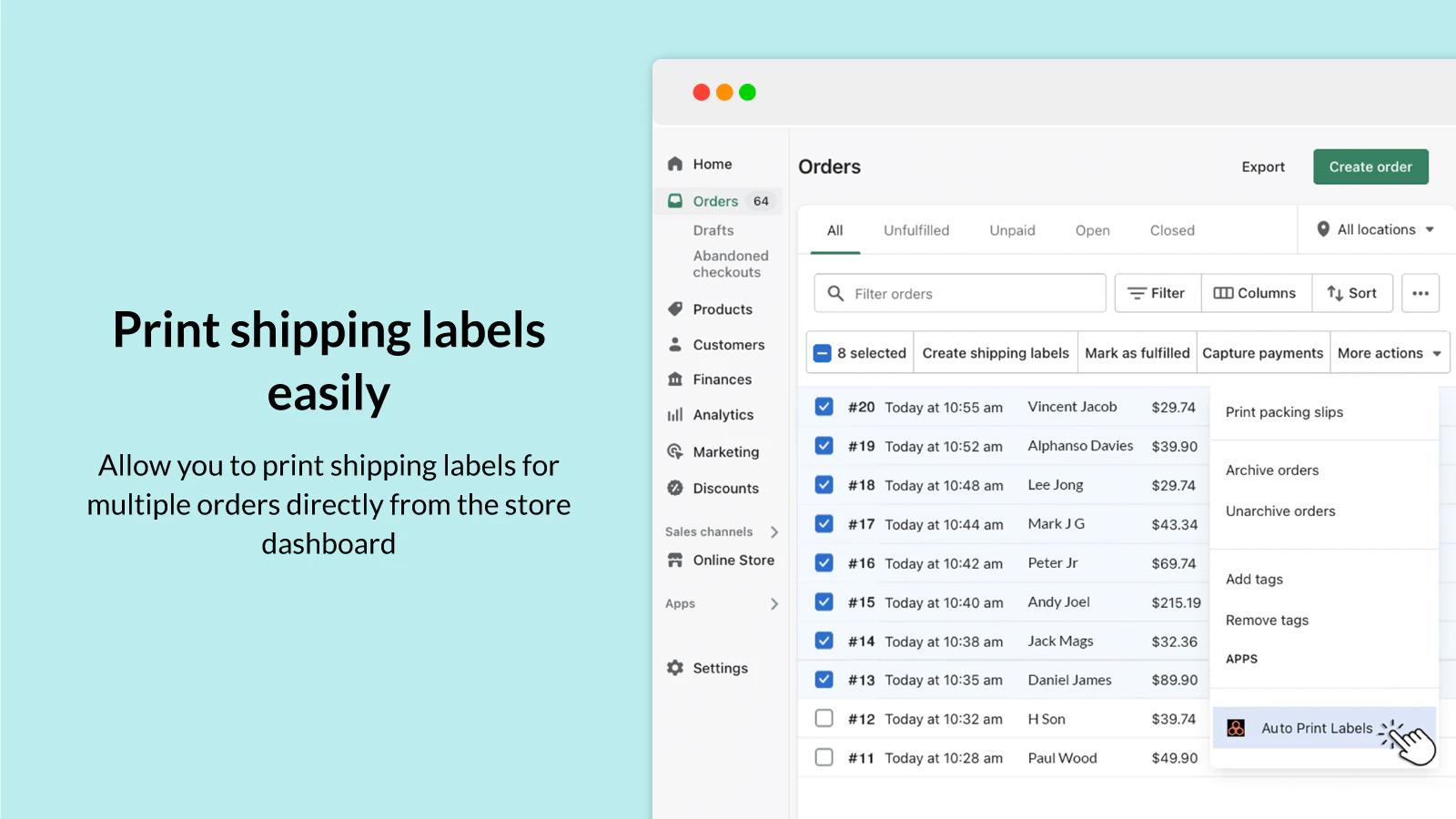 The PH MultiCarrier Shipping Label app allows Shopify merchants to print shipping labels directly from their online store for multiple carriers. It supports major carriers like USPS, Canada Post, UPS, FedEx, as well as niche local carriers.
App Features:
Cost-Cutter Central: This app automatically picks the fastest and cheapest domestic or global option. Budget bliss!
Pack Perfectly: Use your boxes or snap into flat rate envelopes - customize each order's size and needs.
Tracking Rockstar: Merchants see it all in one place while customers get sweet alerts. Super smooth journeys.
Flows, Not Dealbreakers:
The app does not label the order as fulfilled.: you have to go back and do that yourself.
Though support is good, there are a lot of options that are not explained.
Shopify Rating: 4.8 ⭐
Pricing:
Starter: $9/month
Popular: $29/month
Premium: $49/month
Unlimited: $99/month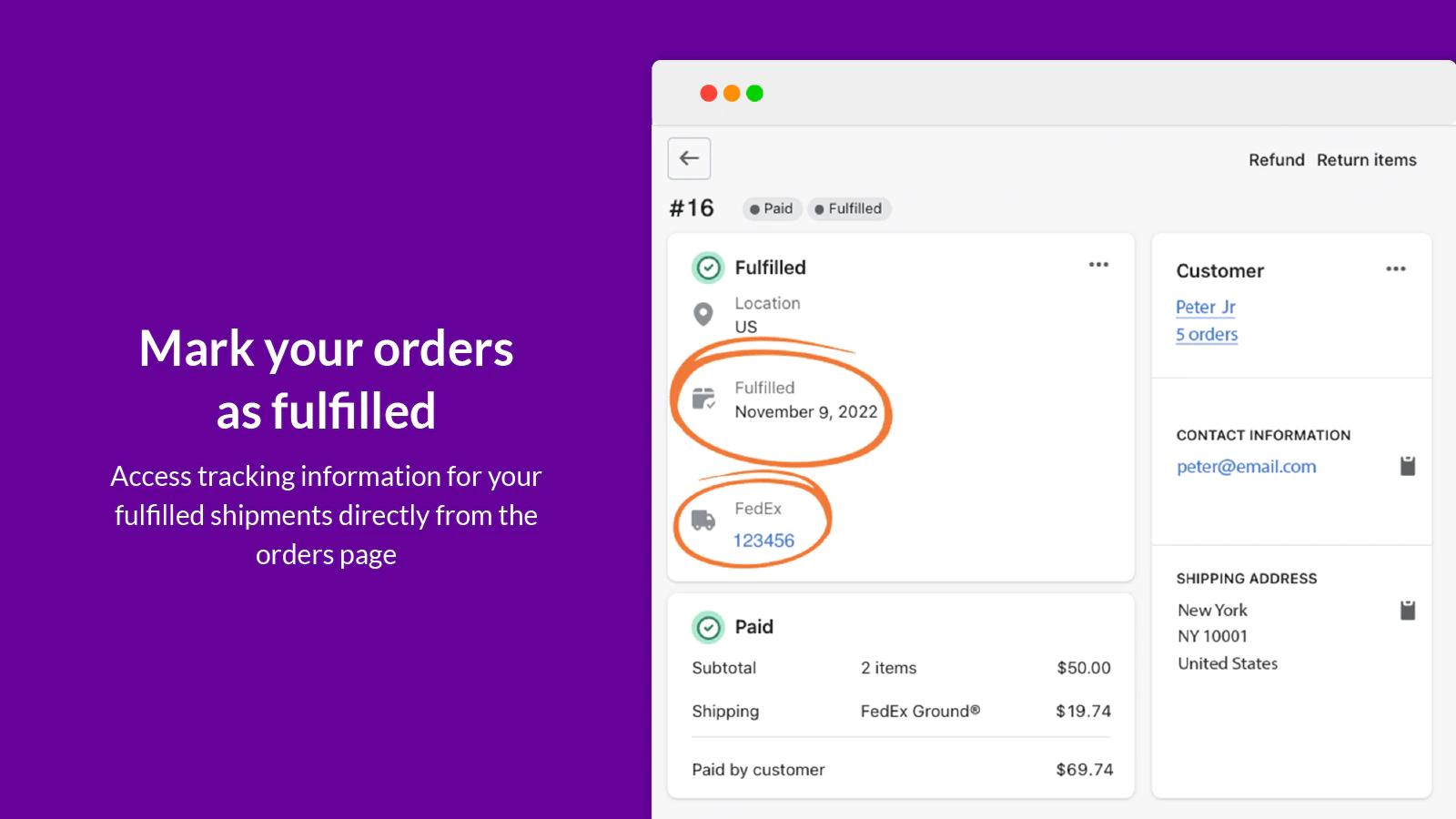 The PH Ship Rate & Track app integrates Shopify stores with FedEx shipping services for a seamless fulfillment experience. Merchants can connect their existing FedEx account to access FedEx shipping rates and labels directly within their online store. This saves time versus managing orders off-platform.
App Features:
Real-Time Rates Rock: Live estimates at checkout means money moves smoothly for merchants and customers. Woohoo!
One-Click Printing: Labels, invoices, tracking - automagically sent from Shopify with the press of a finger. Efficiency champions!
Fulfillment Fix: Mark orders shipped and deliver digital tracking to satisfied customers. Smooth sailing bliss.
Flows, Not Dealbreakers:
The app is a little confusing at first.
There is no CSV import solution for selecting which orders you want fulfilled, so instead you are ticking every single one you want.
There are some technical issues with integrating the app with Fedex account.
Shopify Rating: 4.8 ⭐
Pricing: $19/month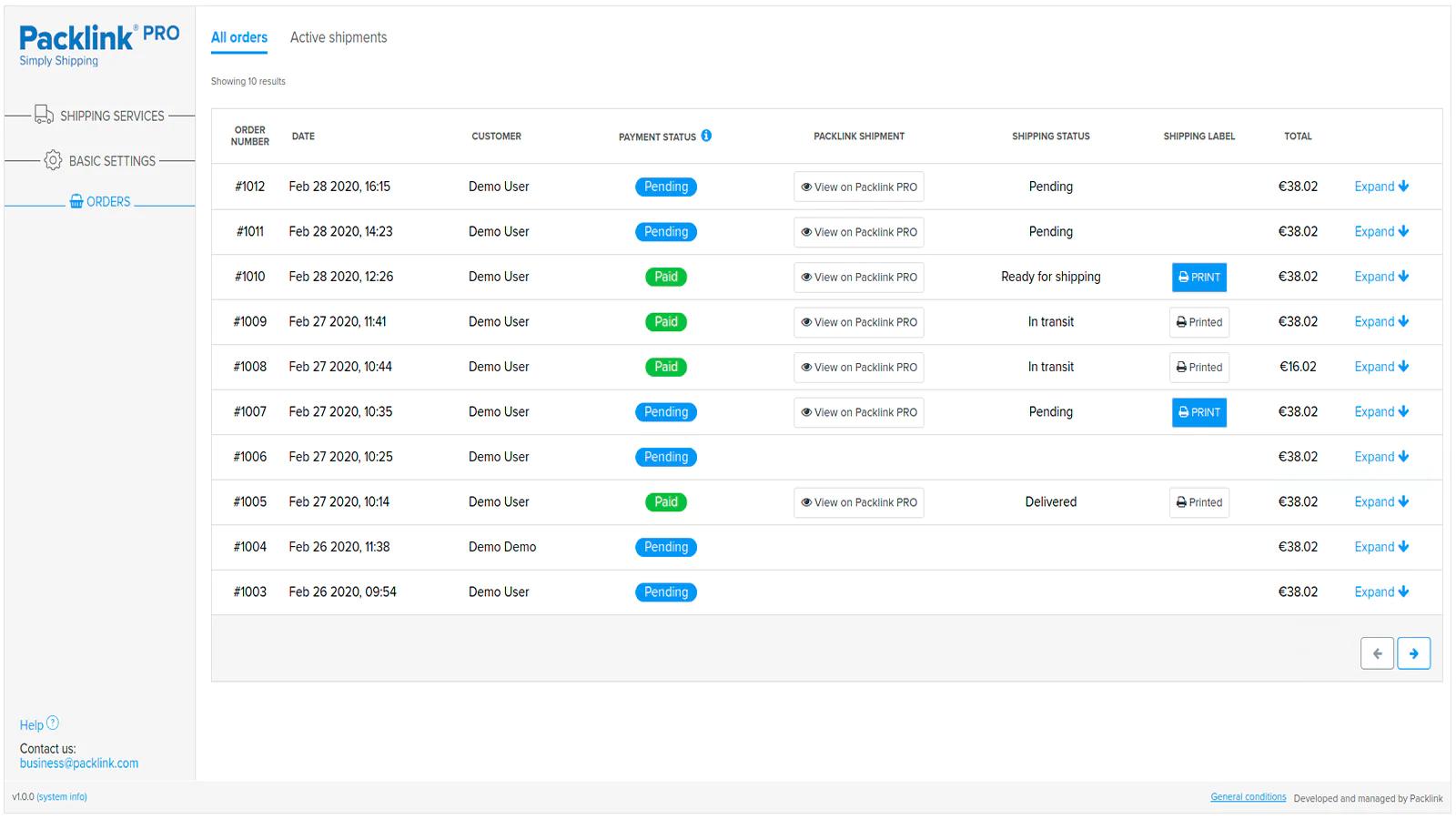 Packlink PRO is a comprehensive fulfillment management platform that helps merchants automate their entire shipping process.
The app allows businesses to import orders from sales channels, generate shipping labels, coordinate order fulfillment tasks, and manage shipments all from one centralized dashboard.
App Features:
Real-Time Syncing: Automagically import Shopify and other sales channels orders. Advanced efficiency!
Carrier Champions: Over 30 couriers worldwide at exclusive wholesale rates. Global shipping bliss!
Automation Fantastic: Build workflows to pick, pack and print like the flash. Bonus hours back in your day!
Checkout Choices: Offer every delivery type at checkout. Sales and satisfaction soar high!
Flows, Not Dealbreakers:
There can be some difficulties with setup.
No support for C.O.D. currently in the Spanish platform.
With the basic shopify plan, unless you sign up for a full year, the integration is only partial.
Shopify Rating: 4.6 ⭐
Pricing: Free
Pirate Ship offers crookedly good rates for domestic shipping in the US and beyond! They provide access to the lowest USPS Commercial Plus pricing plus sweet pre-negotiated UPS deals.
App Features:
Best Rates: USPS and UPS costs be the finest around. More doubloons for yer treasure!
Pay as Ye Sail: Use any matey's dosh to pay simple as that. No additional plunder needed.
Print Like Thunder: Labels print like a storm on any matey's printer. Fly ye scallywags fly!
Flows, Not Dealbreakers:
There is no preview for all the labels.
You're unable to customize postage i.e. adding a note under the tracking number for your customers, you can only do so if you create an order which again doesn't make any sense if the order is already imported from Shopify.
Shopify Rating: 4.7 ⭐
Pricing: Free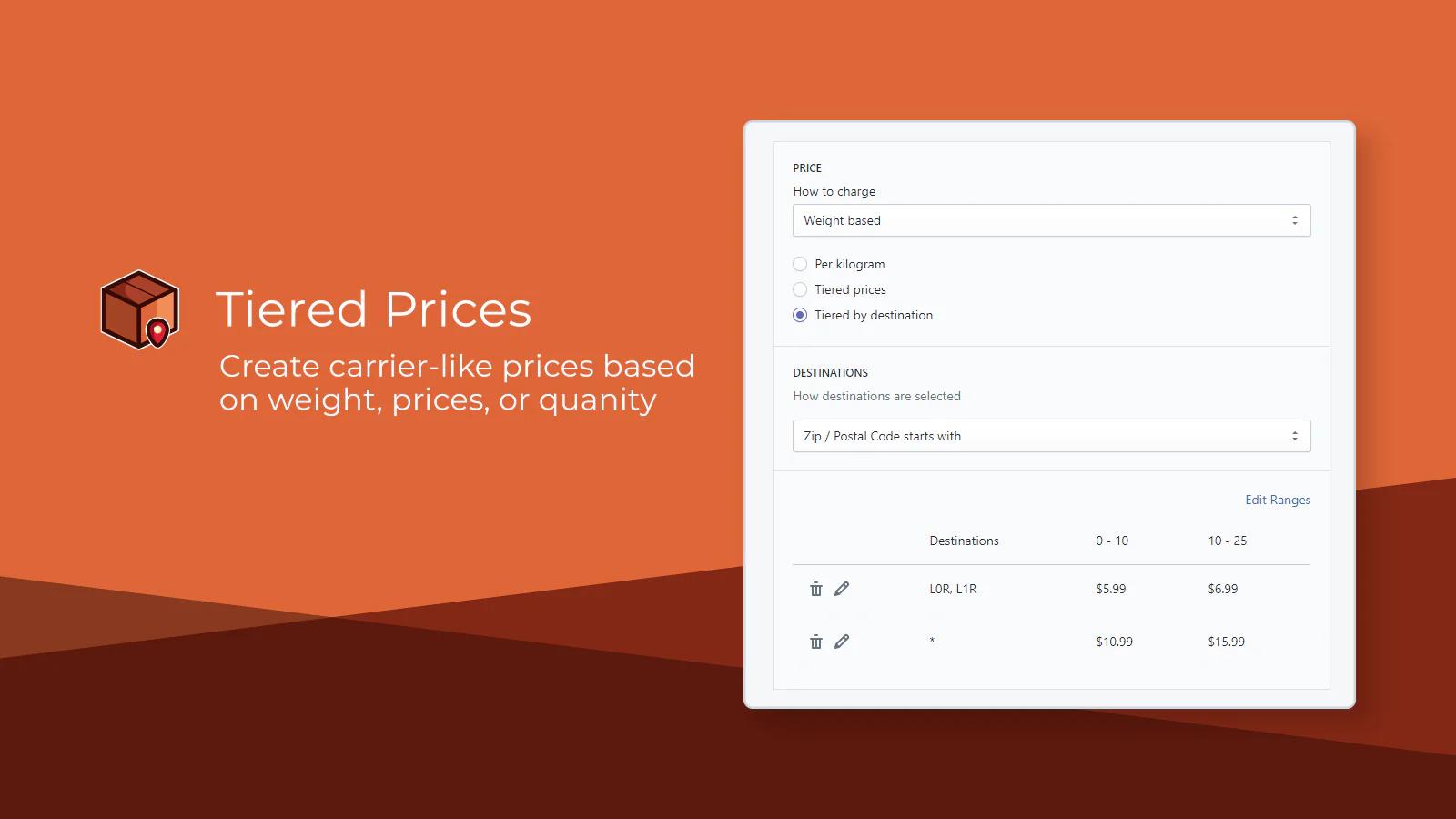 Parcelify allows merchants to create fully customized shipping rates for optimal profitability and sales performance. This makes it one of the greatest Shopify shipping apps. Businesses can set individualized pricing for locations, zones, collections, products and more. This ensures shipping fees are fair for both customers and the business.
App Features:
Product-Specific Pricing: Set custom charges based on individual items or whole collections. Great for seasonal sales or bulk orders.
Rate Calculator: Give customers accurate estimates upfront so no surprises at checkout. Repeat buys boost when shoppers are confident in costs.
Promotional Strategies: Drive more carts by targeting tactical discounts, like 20% off for 3+ items. Sales tactic goldmine!
UK Zone Mapping: Customize UK coverage visually with postcode details. Smooth shipping for cross-pond customers.
Flows, Not Dealbreakers:
There is no possibility to change extra charges to shipping level.
Not the easiest app to use if you are not familiar with regex, but the price is definitely right.
Shopify Rating: 4.7 ⭐
Pricing: $19.99/month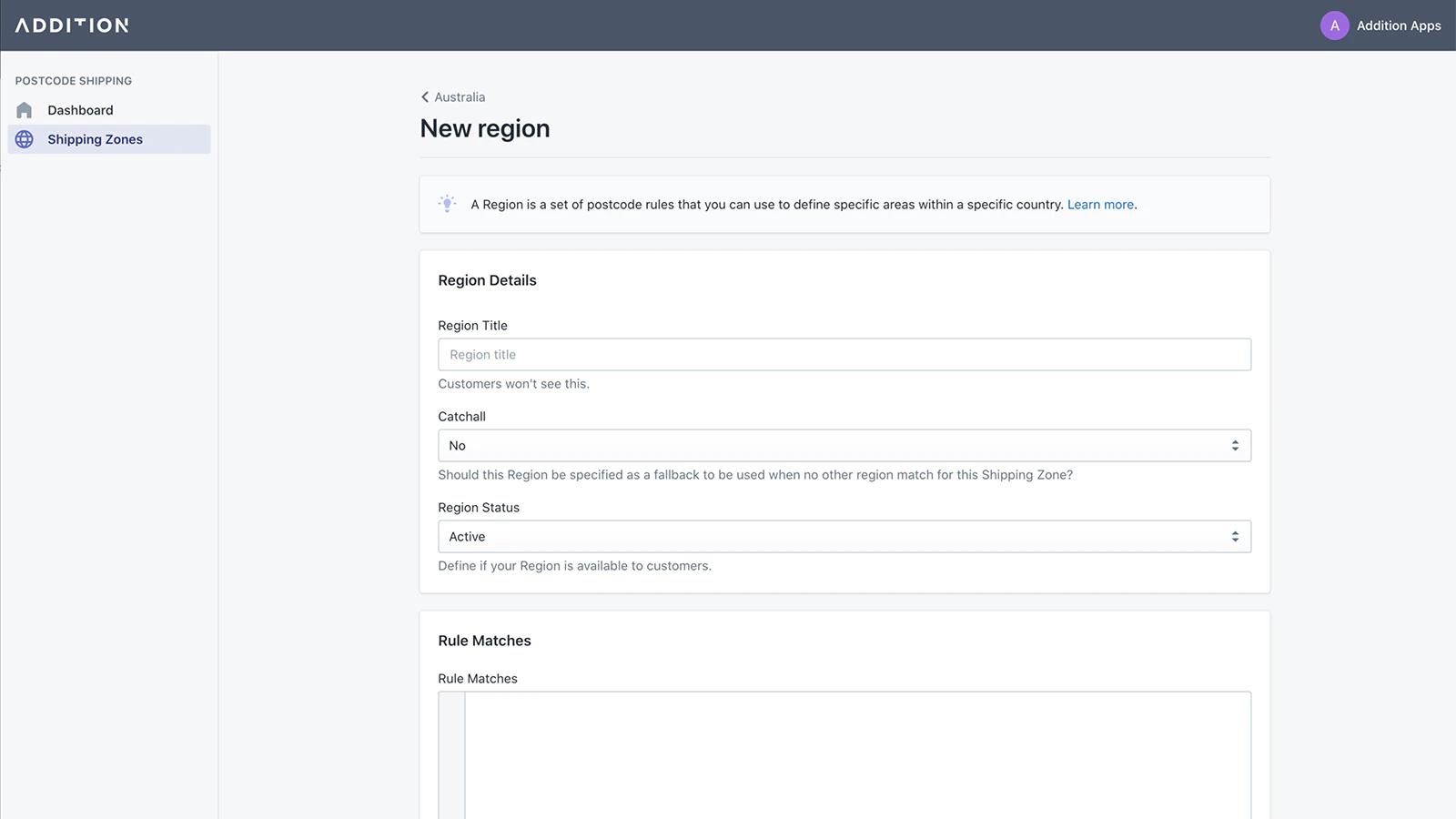 Postcode Shipping allows merchants to create hyper-customized domestic and international shipping rates based on location data. Business owners can set rates for whole countries, regions, neighborhoods or even individual postcodes/zipcodes. This level of precision ensures accurate pricing worldwide.
App Features:
Rate Factor Flexibility: Base prices on location, weight, cart contents and more. Complex formulas just got simple.
Tiered Tournament: Provide varying levels of support worldwide with bulk organization. Smooth sailing globally.
Product Pros: Custom charges keep item-specific orders affordable. Great for seasonal or niche goods.
Flows, Not Dealbreakers:
Once you have decided to go live if you need to change something (which you will from time to time) it is very easy to destroy your postcode setup and spend hours trying to fix it.
If you wish to have the App showing rates after a minimum cart amount has been reached, you still have to come up with a defined rate (not carrier rates, which is my preference) to add to their field in order to be able to continue the set up.
Shopify Rating: 4.7 ⭐
Pricing:
Rates Sandbox: Free
Active Rates: $20/month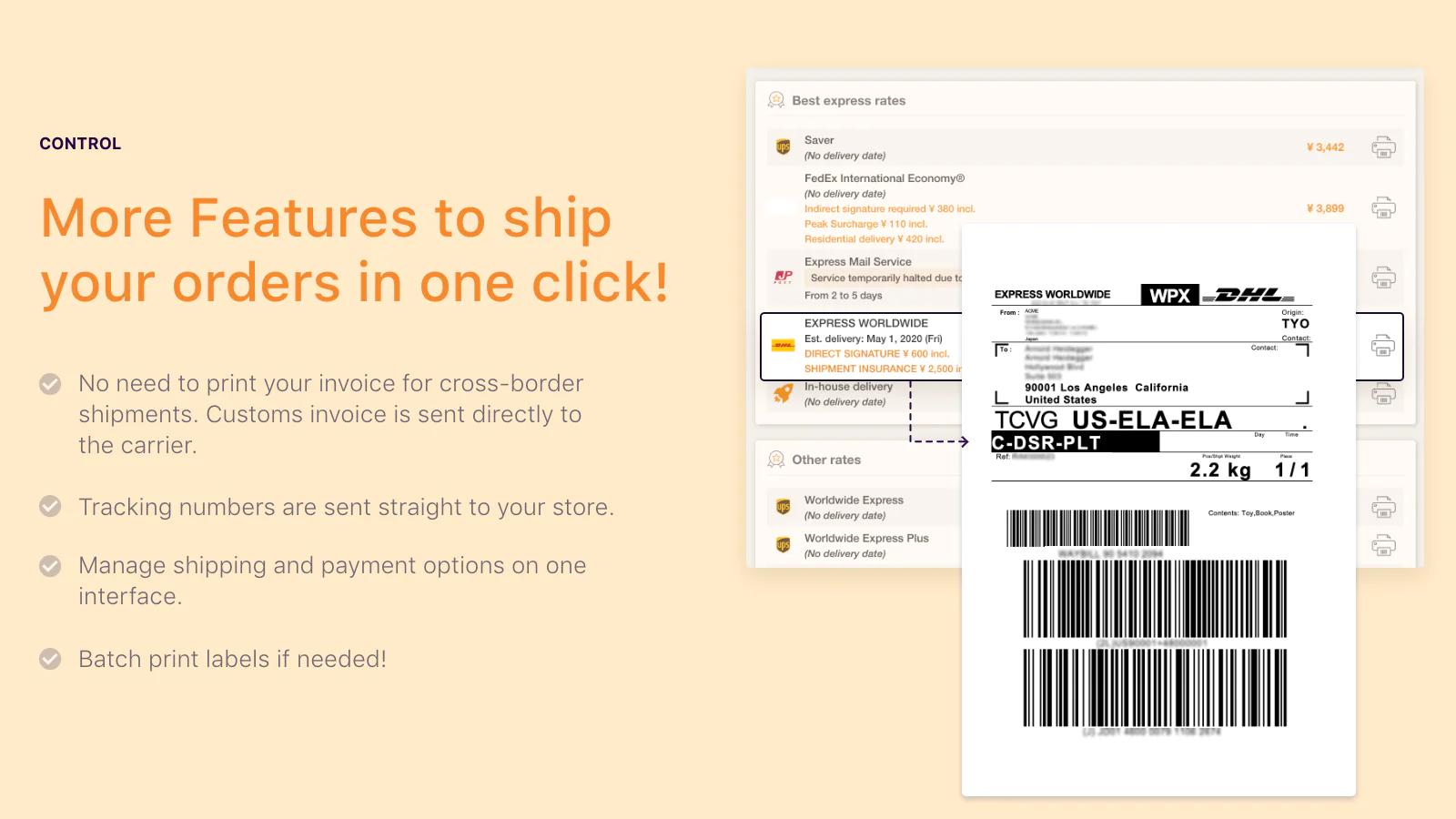 ShipandCo was created by Shopify merchants to simplify and streamline the order fulfillment process. The app syncs orders from multiple Shopify stores into one centralized dashboard. This allows owners to manage fulfillment for all stores in a single intuitive interface.
App Features:
Real-Time Order Sync: All store orders automatically import to one easy dashboard. Fulfillment bliss!
Carrier Comparisons: Find the fastest and fairest rates across providers with one smart search. Smooth sailing globally.
Multi-Location Logic: Use Shopify's full inventory no matter how many places you stash your goods. Stock savvy!
Automatic Tracking: ShipandCo takes care of syncing details to Shopify. You focus on growing your brand.
Flows, Not Dealbreakers:
The prepaid shipping and cash-on-delivery shipping buttons would be easier to understand by reversing their colors.
Merchants may need to use multiple shipping apps to provide labels across all the carriers they want to offer on their Shopify site.
Shopify Rating: 4.7 ⭐
Pricing: Free
ShippingEasy is a comprehensive eCommerce platform that streamlines the entire order fulfillment process for Shopify merchants. The app provides access to deeply discounted shipping rates directly from carriers like USPS and UPS. This results in major savings versus retail prices.
App Features:
Discounted Delivery Rates: Sweet deals directly from carriers like USPS and UPS mean major savings over boutique prices.
Cross-Channel Control: Connect all your sales outlets in one place so fulfillment flows smoothly everywhere.
Auto-Pilot Excellence: Powerful automation turns packaging and shipping into easy macros. More flying, less rowing!
Marketing Muscle: Expand your brand with email promos, loyalty programs and newsletters for customers who adore you.
Flows, Not Dealbreakers:
There are no custom forms for international shipping that could all be printed at once.
There is no opportunity to just download a shipping label without printing it.
Shopify Rating: 4.6 ⭐
Pricing:
Starter: Free
Growth: $19.99/month
Basic: $29.99/month
Plus: $49.99/month
Envia helps merchants manage order fulfillment, shipping, logistics and related tasks all in one integrated platform.
App Features:
Express Shipping at the Speed of Light: Same day or under 45 min deliveries in some areas means next level customer thrills!
Carrier Clash of the Titans: Compare pricing and timelines across providers to find the right ride for each order.
Ground, Air or Time Certain: Choose the delivery style to suit your stock, seasonal surges or rushed personalization.
Global Reach: Coverage to 195+ countries levels up international potential with ease.
Flows, Not Dealbreakers:
It cannot be calculated automatically.
There are specific features where the customer data is not transferred correctly when filling information like address and "colonia".
Shopify Rating: 4.6 ⭐
Pricing: Free
ClickShip is a comprehensive eCommerce fulfillment solution that helps merchants scale their shipping operations. The platform allows merchants to get real-time shipping rates at checkout from major carriers, ensuring accurate costs are presented to customers upfront.
App Features:
Live Rate Relief: Shoppers see accurate costs at checkout whether domestic or abroad. Smooth shopping sessions mean $$$ for you!
Automation Nation: Label and slip printing on autopilot saves major legwork with customized shipping profiles.
Bulk and Batch Blessings: Tools for pre-packing multiple orders together or speedy same-SKU deliveries level up volume handling.
Carrier Comedy Capers: Laugh all the way to the bank with deals direct from trusted parcel and LTL brands to keep costs peeled.
Flows, Not Dealbreakers:
It should be noted that it only supports transactions done in Canadian Dollars and will not work for other currencies such as USD.
The app layout could be better, if they were simpler and cleaner.
Shopify Rating: 4.5 ⭐
Pricing: Free
Better Shipping helps online stores set up their own shipping prices. This lets business owners be in control of costs. With Better Shipping, you can choose shipping prices for individual products or types of products. You pick the price, not the shipping company.
App Features:
Flexible Fundamentals: Rules let you tailor rates to nearly any store - from simple to super complex!
Individual Item Intelligence: Set unique prices for each product or style downstairs for precision.
Location Limitations: Restrict delivery areas to control costs in certain zip codes.
Additional Item Adjustments: Like $10 first then $5 each extra, for volume orders big and small.
Flows, Not Dealbreakers:
No rules based on tags, you have to manually do it.
Customer Service takes about a day to reply via email.
Shopify Rating: 4.5 ⭐
Pricing: $19.99/month
Wrap Up 🌐
Shipping packages can be hard work. Getting items to customers on time makes them happy, though, especially when you have efficient team route planning software on your side.
Dealing with boxes, labels, and tracking takes lots of time. Good thing there are shipping apps! Shopify apps for shipping help with packing, printing labels, and following orders. This saves you time and money while helping buyers.
We listed best Shopify shipping apps Each has different features or prices. But all make shipping easier.
The right app will make shipping a breeze. Then you can focus on other stuff. Try some apps out for free to find your favorite.
Happy shipping!