We all know that college is super expensive these days, so getting a scholarship can take a lot of pressure off when paying tuition and books.
But applying for scholarships is also really competitive - a lot of people apply for the same ones.
That's why we put this article together, to share some of the best websites for finding scholarships. Our goal is to make the search for scholarships easier for you, our lovely student.
We'll list a bunch of sites where you can search through lots of different scholarship options and hopefully increase your chances of getting one to help fund your studies.
How do Scholarship Websites Work? 🌍
Most scholarship websites are basically like online databases where tons of different scholarships are posted all in one place. It's super convenient because instead of searching around on a bunch of different organization's sites, you can hit up one of these sites and browse through heaps of opportunities.
Usually on these sites you can search for scholarships in a few different ways. Some let you filter by things like your year in school, major, ethnicity, special talents - whatever the criteria is for different scholarships. This helps you zone in on the ones you actually qualify for.
A lot of the time you'll need to make a free profile and account. Then you can save scholarships you want to apply for later or get reminders about deadlines. Some sites will even let you apply for scholarships directly through their platform, which is definitely the easiest way to roll.
In the end these sites just try to connect students with open scholarships.
How We Picked the Best Scholarship Websites 📝
To choose the top sites, we looked at a few key things:
Selection: Obviously we wanted sites that had tons of scholarships posted so you have more options to pick from. The more choices the better chance you have of finding one you can realistically apply for.
Ease of Use: Was the site intuitive and simple to navigate? Could you easily search and filter scholarships in a way that made sense? Sites needed to be user friendly.
Application Process: Did the site allow you to apply directly if you found a good scholarship match? We wanted ones that made applying as seamless as possible.
Feedback: We checked reviews from other students to see which sites they said provided the best experience using them to search and apply for scholarships.
Cost: All the sites we included are free for students to use. None charge any fees to search or create an account.
Reputation: We made sure the sites we listed are well known in the scholarships world and trusted by organizations providing the funding.
Based on all those factors, here are the top scholarship websites we'd recommend checking out.
Best Scholarship Websites to Help Students Find Awards 🎓
This is one of the best scholarship websites for students. It's a free site that helps you find college scholarships. It matches students with scholarships based on their details, like their major or year in school. This makes finding best options easier and faster than looking at each one individually.
Why is Scholarships.com One of the Best Scholarship Websites?
Scholarship Matching Tool: This feature matches students to scholarships they are fitting the best based on profiles they fill out, saving them lots of time searching.
Scholarship Directory: Browse 1,900+ scholarships organized by type, major, state, and deadline to easily find the right ones.
College Matches: Get a list of colleges that are a good fit based on GPA, major, activities, and other important factors.
Winning Tips: Get advice on crafting winning essays and submissions from scholarship experts and past winners.
Organization Tools: Students can keep scholarships they find organized by favorite, applied, and won status for easy tracking.
Real Student Success Stories: Be inspired by seeing others who found scholarships on the site and use their advice.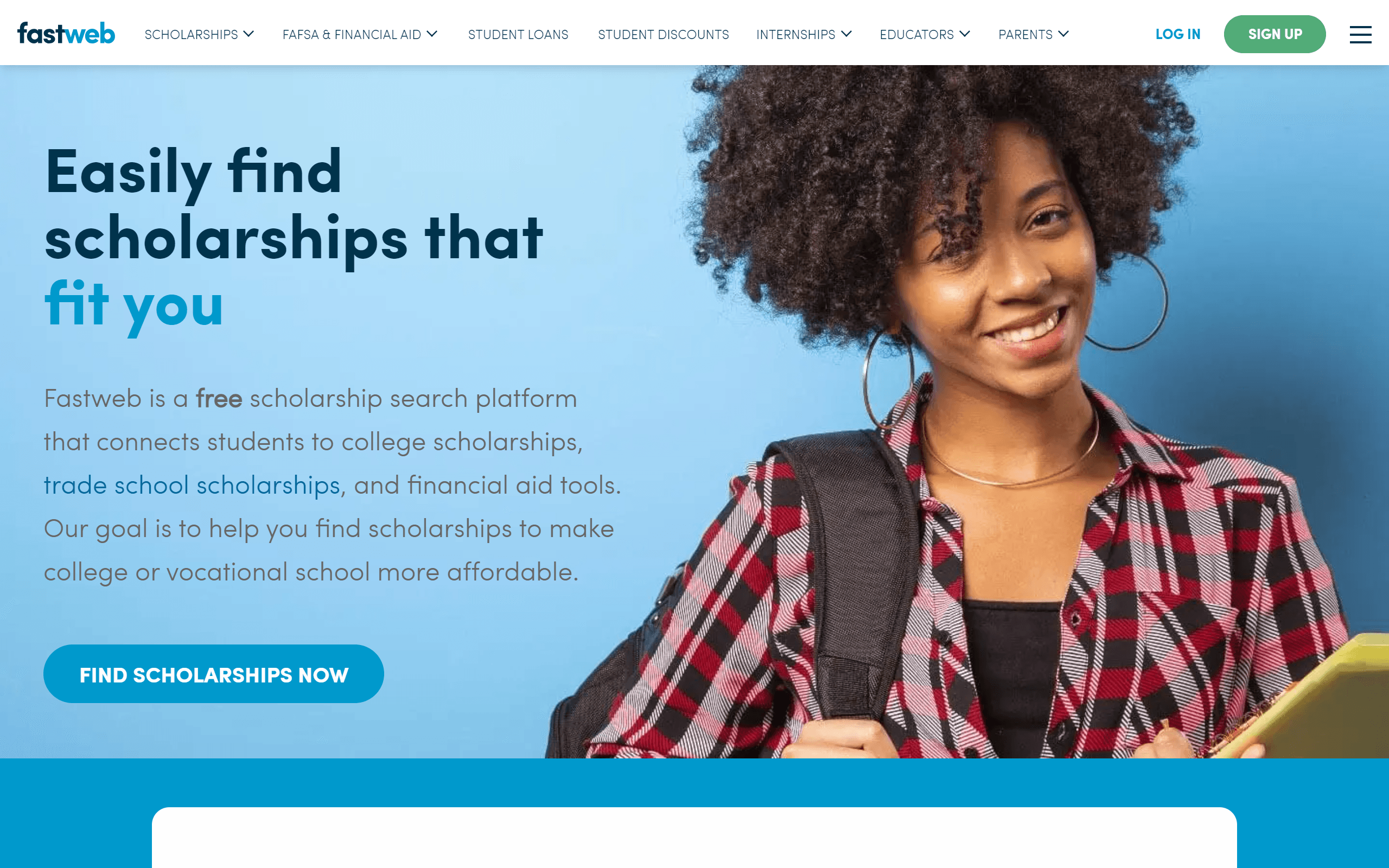 Fastweb is another reliable tool that helps students find scholarships for college or training programs. It gives personalized suggestions to increase their chances of getting money. So this is definitely one of the most legit scholarship websites.
Why is Fastweb One of the Best Scholarship Websites?
Scholarships: Students can search over 1.5 million scholarships using their personalized profile and get matched to opportunities they qualify for.
FAFSA & Financial Aid: Tools and information to assist with completing the Free Application for Federal Student Aid, which is important for many types of financial aid.
Student Loans: Resources about different loan options for students and parents to learn more about financing options.
Internships: Database to explore internship opportunities and get matched to roles based on your profile.
Student News: Updated articles on trends in financial aid, scholarships, getting into college and more written by their team of experts.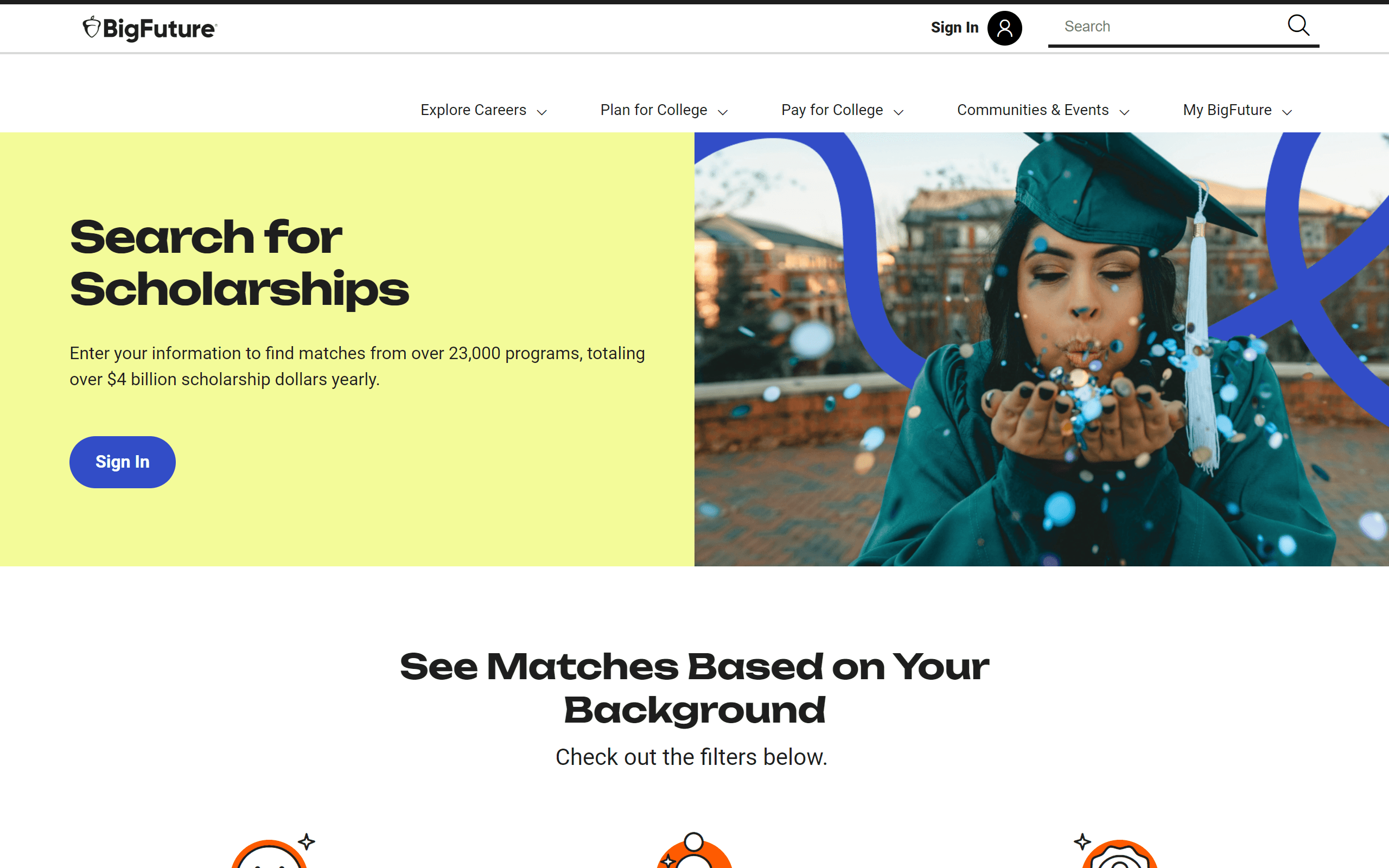 College Board? Probably one of the best scholarship websites for you. It allows students to enter some basic information to be matched with relevant scholarship opportunities from their database of over 23,000 programs totaling over $4 billion awarded each year.
Why is College Board One of the Best Scholarship Websites?
Personalized Matching: Students indicate interests, affiliations, citizenship status, desired career and more to find targeted matches.
Filters: Refine search results by filtering by various criteria like location, major, year of study, merit/need-based, and deadlines.
Profile: Sign in or create a profile to save favorite scholarships and track applications.
Open Scholarships: Access regularly-updated listings of currently open scholarships across various categories.
Eligibility Checking: Review general requirements and details to see which scholarships you may qualify for.
Frequently Asked Questions: Common scholarship questions answered to help navigating the process, so this is one of the legit scholarship websites.
Petersons.com provides a lot of tools and information to help students with college and career choices, including scholarship matching. So it is one of the scholarships websites that supports you throughout your entire college journey.
Why is Peterson's One of the Best Scholarship Websites?
Scholarship Search: Database of private, state and national awards totaling over $3 billion for users to search, filter and apply to scholarships matched to their profile.
College Search: Browse profiles for thousands of colleges and universities with details on majors, admissions selectivity, costs and financial aid. Filter options allow finding the right school fit.
College Planning: Timelines, checklists and articles provide guidance on application requirements, essays, interviews, FAFSA, and choosing a college.
Career Exploration: Quizzes, videos and articles help investigate career options in different industries. Explore education paths and salaries for different jobs.
College Admissions Advice: Tips from expert admissions counselors on how to stand out with extracurriculars, grades, test scores and letters of recommendation.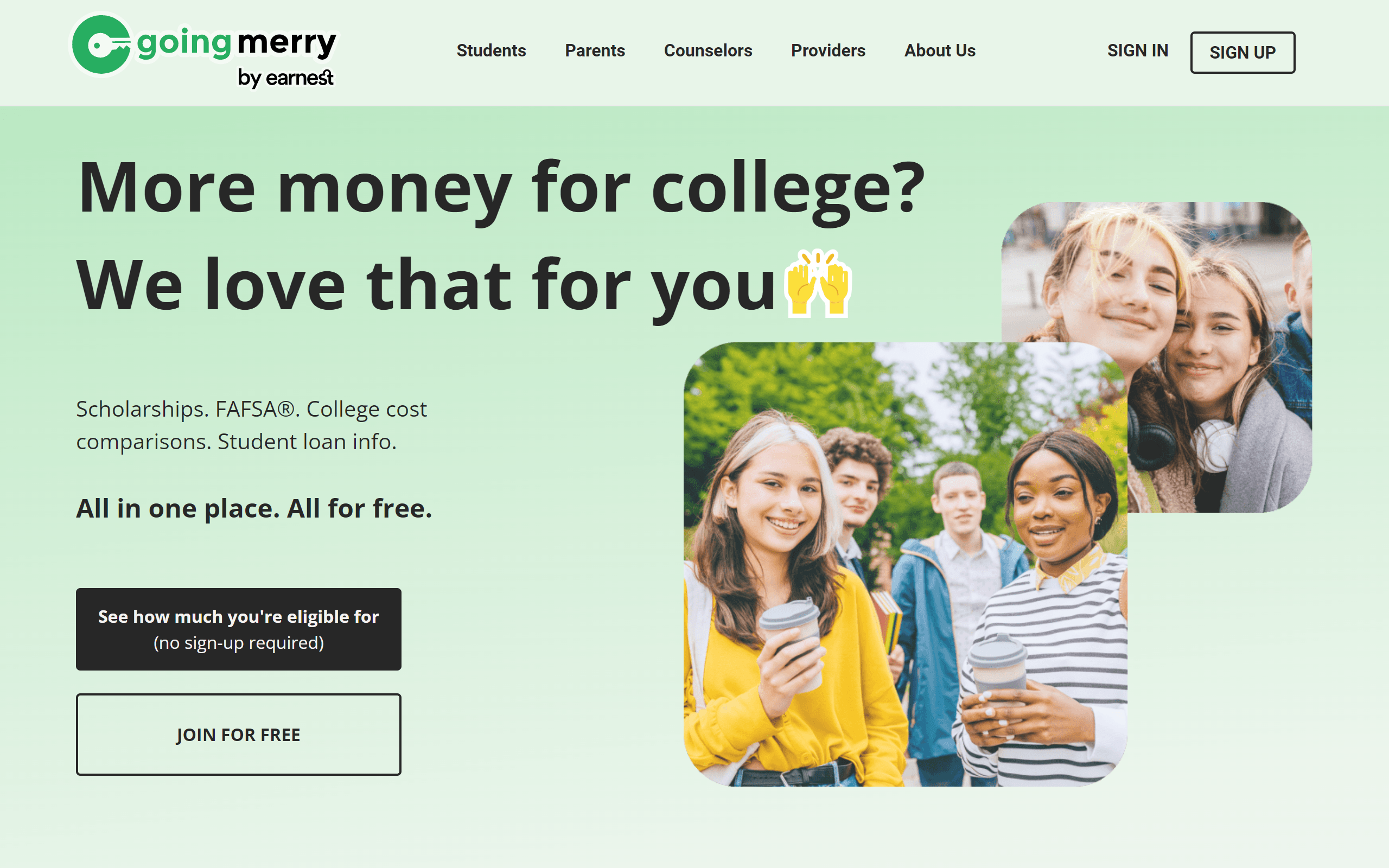 Going Merry makes it easier for students to find and apply for scholarships. It has a simple design and lots of resources, so you can concentrate on their studies and dreams. This is one of the most popular scholarship websites.
Why is Going Merry One of the Best Scholarship Websites?
Scholarship Matching: Students create a profile and Going Merry matches them to scholarships they are eligible for based on interests, identity traits, academic major etc.
Application Assistance: Scholarship applications are auto-filled with your profile data to save time. You can track deadlines and get reminders.
Student Finance Tools: Videos, articles and calculators help students learn about financial aid options like FAFSA, grants, loans and appealing aid packages.
Mobile App: Browse scholarships and submit applications on the go with their iOS and Android app.
Verified Opportunities: Going Merry reviews each scholarship to ensure it's legitimate and students meet the eligibility criteria.
Success Stories: Read interviews and essays from past students who were awarded scholarships through Going Merry.
Scholarship Owl, kind of hinting at being wise like an owl, is here to make the whole scholarship search and apply thing easy for you, thanks to its big database and cool matching tricks. A really useful scholarship website out there!
Why is ScholarshipOwl One of the Best Scholarship Websites?
Scholarship Database: It probably has a large searchable database of private and institutional scholarships that students can filter through to find matches.
Profile Matching: Creating a student profile allows the site to recommend scholarships tailored to each student's background, interests, major, etc. based on the profile data.
Application Tools: Features like auto-filling forms, organizing scholarships, tracking deadlines and submitting applications online help streamline the applying process.
Financial Aid Resources: In addition to scholarships, there may be information on other funding sources like grants, loans, FAFSA and tips for maximizing financial aid packages.
Oh, trust us, this is one of the best scholarship websites for a reason. Their goal is to link up donors with students using specific scholarship funds. Basically, they are making education more affordable for everyone. Totally have to check out.
Why is Bold.org One of the Best Scholarship Websites?
Donor Scholarships: Donors can create custom scholarship/grant funds on the platform to support people and causes of their choosing.
Profile Matching: Applicants can explore scholarship opportunities matched to their profile across various categories like merit-based, Hispanic students, nurses, graduate programs etc.
Help with Application: It handles the application and review process, making it seamless for both donors and applicants. They manage all the administrative work.
Success: The platform has reviewed over 250k applicants and awarded $22M+ in funding since launching in 2014.
Additional Support: Scholarships can offer non-traditional support like skills-based training, conference attendance, small business startup capital.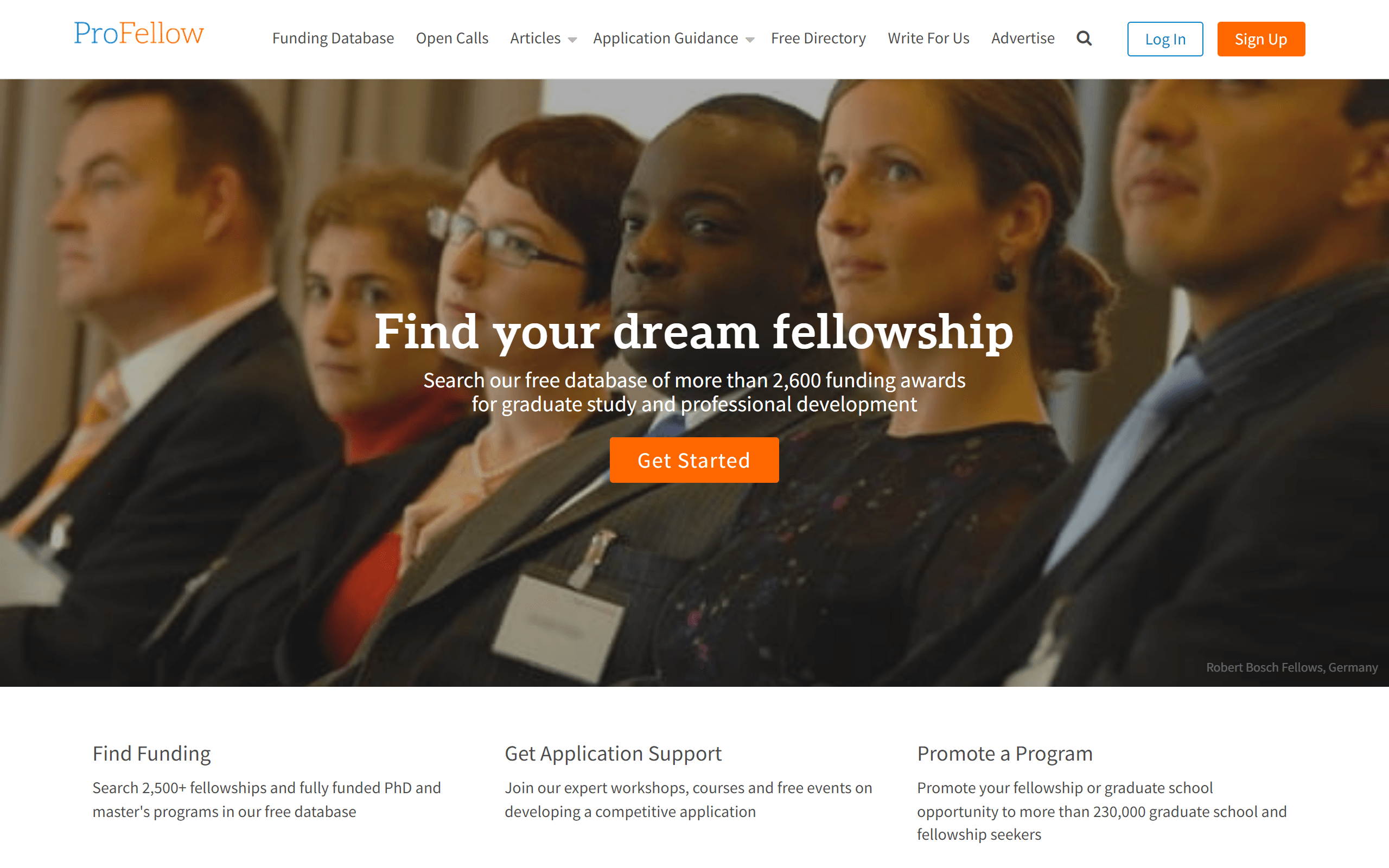 This is another option for scholarship sites. ProFellow is like a big online guide that makes the whole global fellowship thing easier. From finding one to getting support, they've got you covered. They're basically the tops in helping you with international fellowships.
Why is ProFellow One of the Best Scholarship Websites?
Funding Database: A searchable database of over 2,600 fully-funded masters, PhD, and professional opportunities from around the world.
Opportunity Exploration: Users can browse funding opportunities filtered by level of study, subject area, destination country, award amount and more.
Fellowship Articles: Educational articles provide tips on the application process, interviews with past winners, guides for specific awards like Fulbright, and more.
Application Workshops: Workshops, courses and events led by admissions experts to help fellows develop competitive applications.
Upcoming Deadlines: Users are notified of fast-approaching deadline dates to help manage the application timeline.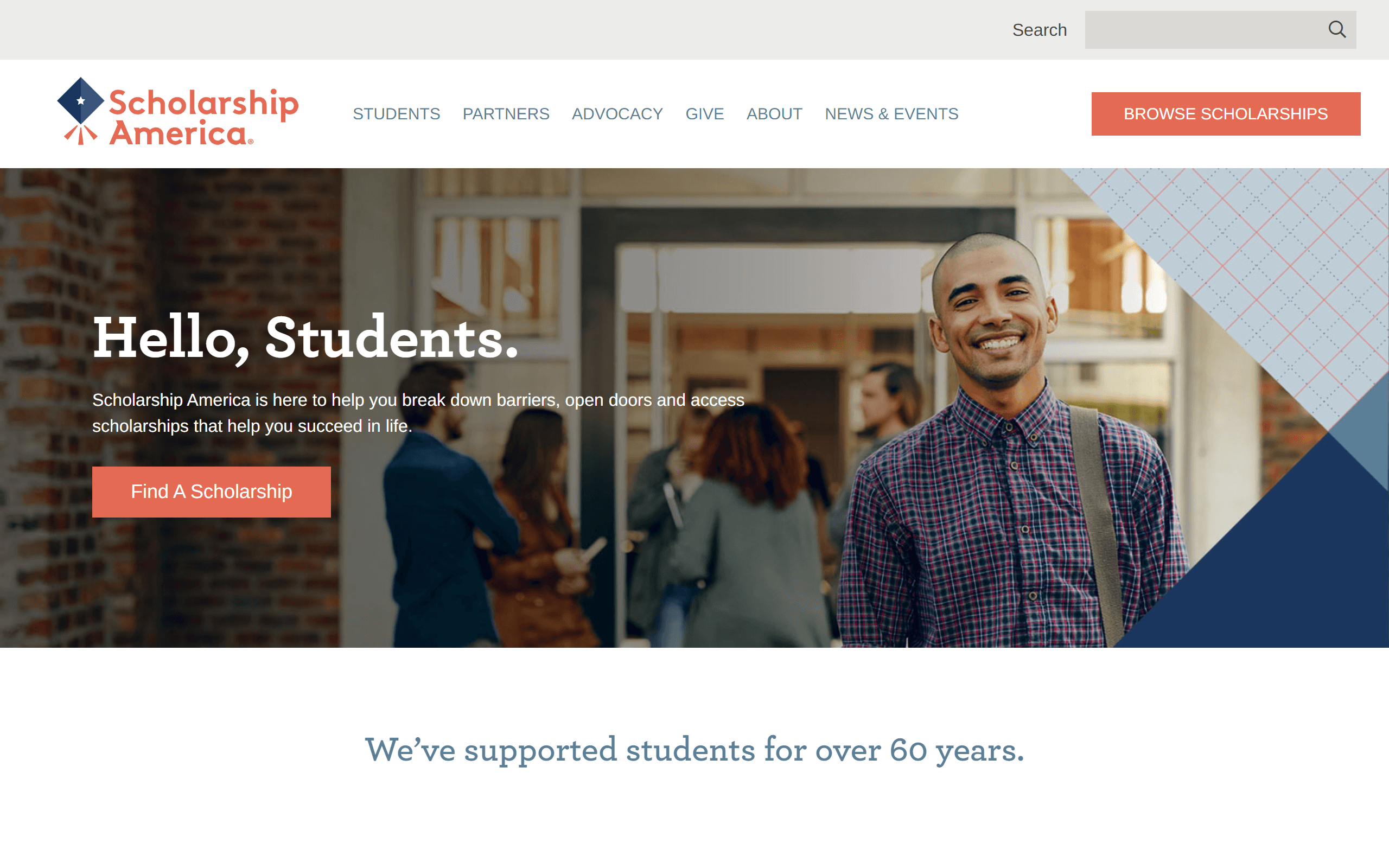 This is one of the best scholarship websites in US. Scholarship America is a cool nonprofit that's been helping students pay for college for over 60 years. Their main goal is to make higher education more accessible to anyone who wants to learn.
Why is Scholarship America One of the Best Scholarship Websites?
Scholarship Database: They have tons of scholarships listed that you can search through and apply for.
Dream Award: This is their big national scholarship that gives $2,500-$7,500 to over 100 students each year.
Scholarship Solutions: Colleges and companies can partner with them to start and manage their own scholarship programs.
Dollars for Scholars: Local chapters around the country offer scholarships to students in their hometowns.
Emergency Grants: They help students who hit financial roadblocks stay in school with quick grants.
This site's got all the goods to help students pay for school, from finding scholarships to helping with applications and even planning their careers. Basically, it's a scholarship website for all your education funding needs. Neat, right?
Why is StudentScholarships.org One of the Best Scholarship Websites?
Scholarship Database: An extensive searchable database of scholarship, grant, and financial aid opportunities.
Profile Matching: Users can create a profile to receive personalized scholarship matches and notifications.
Opportunity Filters: Funding listings can be filtered by status, level of study, major, ethnicity, and other criteria.
Articles Section: Educational articles on topics like paying for college, choosing a career or major, study skills.
Career Exploration: In-depth career profiles covering duties, outlook, wages, education requirements for occupations.
Funding Guidance: Resources and newsletters provide application tips, financial literacy advice, and deadline reminders.
Appily is like your go-to spot for all things college-hunting, you basically will get all the answers here. They take the headache out of searching for schools and getting your applications sorted. So, this is the most handy scholarships websites for students.
Why is Cappex One of the Best Scholarship Websites?
Scholarship Finder: They have a huge database where you can search and apply for scholarships. It covers everything from high school to masters programs.
Virtual Tours: Check out campuses and get a feel for places without leaving your couch using their 3D tours of colleges.
College Match: Answer some questions and they'll suggest colleges that might be a good fit based on stuff like major, location, sports etc.
Profile Creation: Making a free profile allows them to personally match you with top school options and opportunities.
Reverse Admissions: This is pretty cool - schools can recruit you with scholarship offers instead of vice versa.
This is one of those best scholarship sites that will make you forget about student debts. BrokeScholar is basically the go-to place if you're trying to pay for college without going totally broke. They've got you covered with scholarships, discounts and coupon codes.
Why is BrokeScholar One of the Best Scholarship Websites?
Scholarship Search: Use their search tool to find scholarships for whatever your major is, year of study, ethnicity, and more.
Discount Tracker: Save dough on stuff like electronics, clothes, food and entertainment with discounts just for students.
Coupon Codes: Get promo codes for big brands to save even more money on everything from takeout to toys.
Resources: Check out their guides, studies and articles about admissions, college life, loans and scholarships.
Teacher Perks: Even educators can get discounts on things like hotels, office supplies and entertainment. So this is even handy for those teacher blogs out there.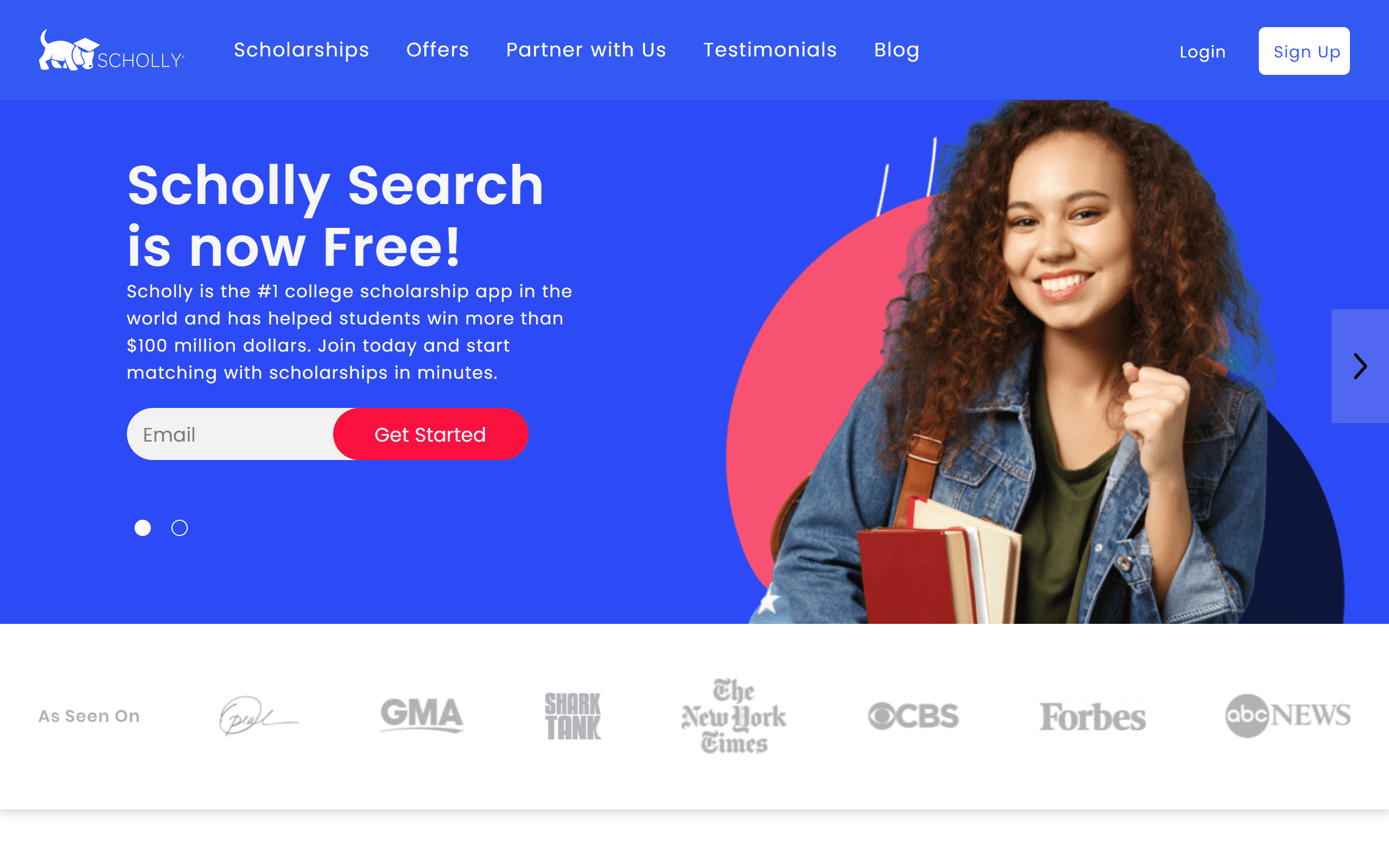 It seems like a no-brainer app if you want some extra support locating scholarships that could save you thousands. So this is definitely one of the scholarship sites that is worth a download! They make the whole process pretty simple for you.
Why is Scholly One of the Best Scholarship Websites?
Scholarship Search: Their tool matches you with scholarships based on your profile and increases your chances of finding ones you qualify for.
$ Matching: They've helped students win over $100 million total in scholarship money through the app so far.
Earn Cash Tools: Check out offers and campaigns through partners where you can get free money just for exploring financial apps and tools.
Scholly Community: Joining connects you with tons of other students and alumni who've used the app to fund their education.
Success Stories: Read profiles of real people who won big bucks through scholarships found on MyScholly.
They really help simplify the scholarship search and offer valuable application assistance to give students the best shot at securing extra funding for their education goals. Truly one of the best scholarship sites.
Why is Get Schooled One of the Best Scholarship Websites?
Scholarship Finder: Use their database to search and apply for scholarships that match your qualifications.
Application Review: Send them your personal statements and essays for feedback to improve your chances of winning awards.
Scholarship Advice: Get expert guidance on finding lesser-known scholarships, strong application tips, and submitting by deadlines.
Featured Scholarships: They highlight specific award opportunities on a regular basis including eligibility requirements and awards amounts.
First-Gen Funding: Resources specialized for first-generation students seeking grants and sponsorship through Get Schooled's partnerships.
JLV College Counseling is basically a place for all things related to figuring out colleges and funding your education. If you have questions, they gor all the answers. So it's one of the scholarship websites that is like your personal guide.
Why is JLV College Counseling One of the Best Scholarship Websites?
College Planning Advice: Tips on researching schools, essays, applications, testing, financial aid, deciding on majors and more.
Scholarship Saturday: Every week Jessica rounds up scholarships with upcoming deadlines that you can check out and apply to.
Scholarship Database: Search through a huge list of awards organized by things like major, age, circumstances and more.
Guest Posts: Read professional insights from college advisors on trending admissions topics in student guest blogs.
FAQ Files: Browse frequently asked questions about the college process with detailed answers.
This is another good source among scholarship websites. CareerOneStop is all about finding scholarships and other sources of financial aid to help pay for training, certificates or degrees. They've got you covered no matter what stage you're at.
Why is CareerOneStop One of the Best Scholarship Websites?
Scholarship Listings: Browse through thousands of scholarships in their database by things like location, field of study, skills and more.
Scholarship Scavenger Hunt: Interactive tool that matches you with potential awards based on your answers to questions about yourself.
Scholarship Estimator: Plug in info like your grades and activities to estimate how much scholarship money you could qualify for.
Financial Aid 101: Basic guides on things like FAFSA, grants vs loans, other aid like VA benefits and employer assistance.
Success Stories: Real profiles of people who were able to fund their educations through scholarships and programs featured on the site.
Scholarships360 is also an all-in-one resource for finding scholarships to help pay for your education. This is one of the best scholarship websites, and they really got you covered from high school through grad school.
Why is Scholarships360 One of the Best Scholarship Websites?
Scholarship Matching Tool: Fill out your profile and they'll instantly match you with awards you're eligible for based on your info.
Exclusive Awards: Apply for scholarships funded directly by Scholarships360 that you can apply for right in the app.
Search Filters: Browse scholarships sorted by things like type, grades required, majors, demographics and more.
Application Tracking: Keep tabs on all your open applications in one organized dashboard.
Advice Articles: Get expert tips for finding awards, completing FAFSA, understanding loans and more.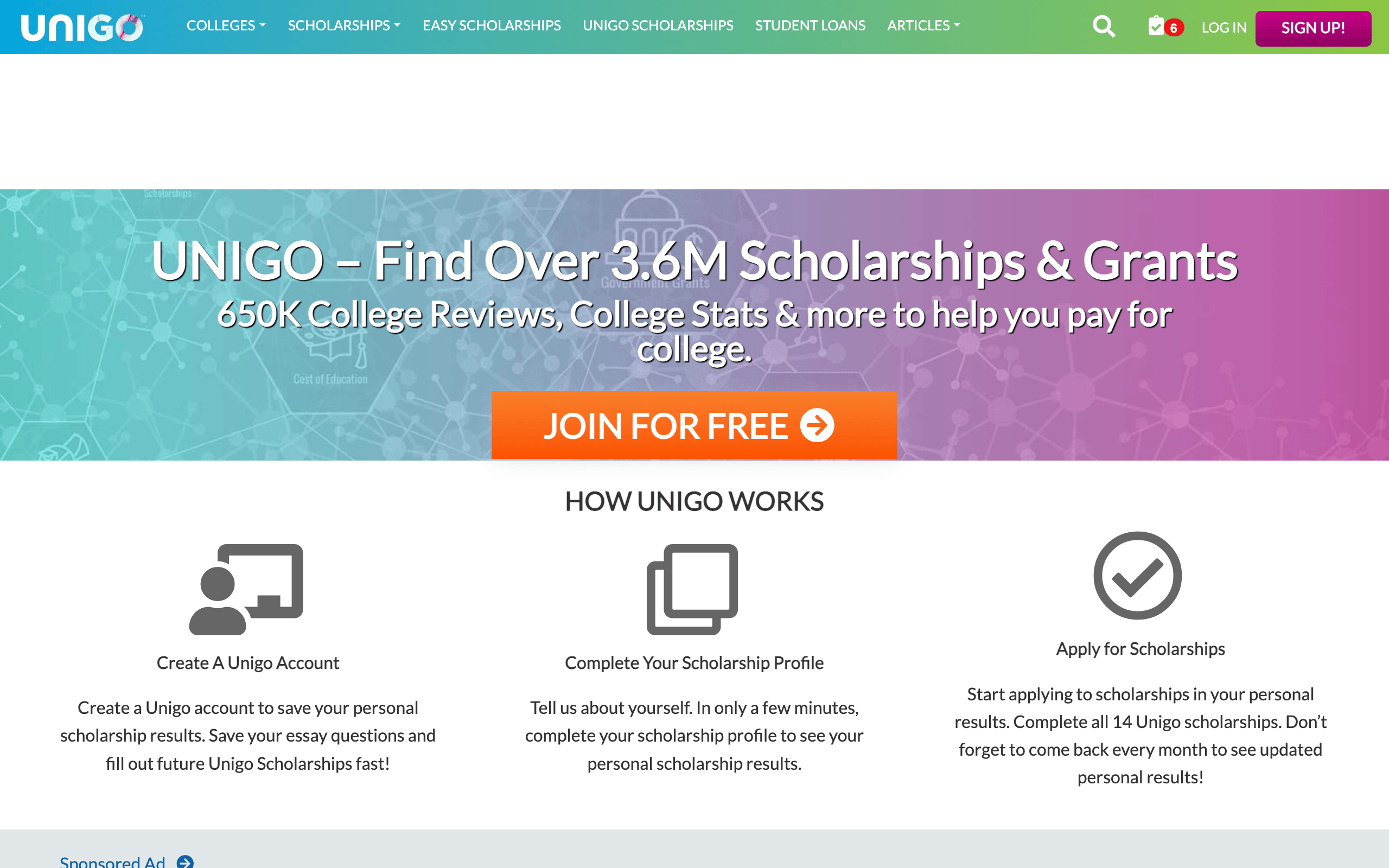 This is another one among best scholarship websites that we handpicked for you. It has everything in one convenient spot. So it's definitely worth checking out this site if you need guidance finding scholarships or schools. You can even become a student blogger after going through this site.
Why is Unigo One of the Best Scholarship Websites?
Matching Tool: Create a profile and Unigo will suggest scholarships for you.
Search Filters: Find scholarships sorted by major, GPA, or other categories.
Saved Scholarships: Keep a list of ones you want to apply for later. It will make the process less stressful.
Success Stories: Read about real students who got money through Unigo. Their experience might help you a lot.
Application Help: You can get tips for writing strong applications. And we all know how hard it can be.
College Search: They got tools to help you research and compare schools, so you can forget about getting lost in the options.
One of the scholarship websites that provides a comprehensive one-stop solution for discovering colleges, schools districts, neighborhoods and more that are right for you based on detailed profiles, reviews and advanced search filters. Of course, they'll help with scholarships too.
Why is Niche One of the Best Scholarship Websites?
Scholarships: Learn about exclusive Niche scholarships and financial awards like the $2,000 No Essay Scholarship.
Easy Search: Lets you look for scholarships based on different factors. So it makes it super easy to find something for you.
Personalized Matches: Recommends scholarships based on your profile. Basically a perfect fit is guaranteed.
Detailed Info: Each scholarship listing has details to help you understand if it's right for you.
Reviews: Read what other students say about different colleges and scholarships.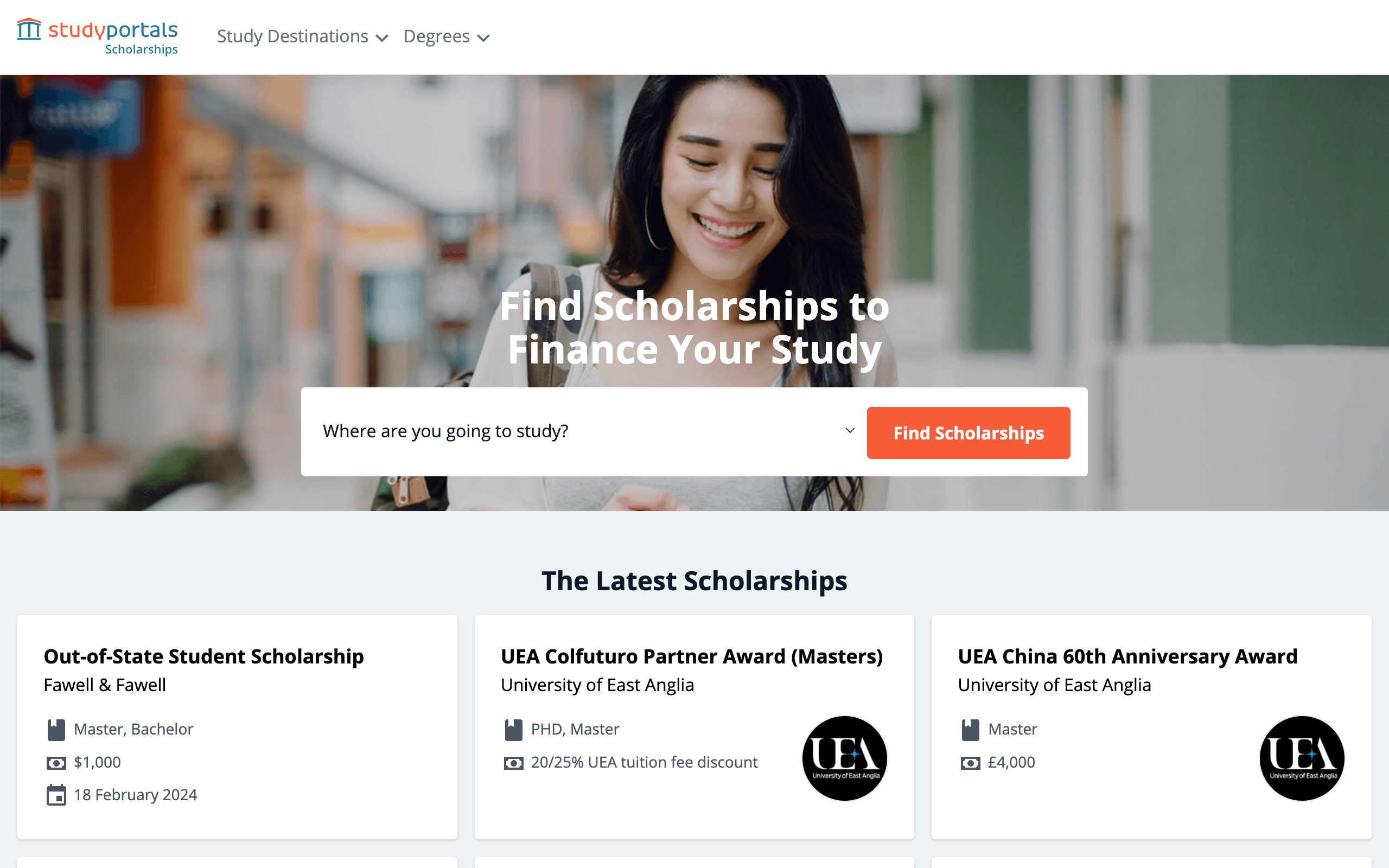 ScholarshipPortal is basically your one-stop-shop when you're on the hunt for some scholarship cash. They've got this huge list of scholarships from all over, and they'll even match you up with the ones that vibe with your profile.
Why is ScholarshipPortal One of the Best Scholarship Websites?
Scholarship Database: ScholarshipPortal boasts a vast collection of scholarships from different regions and for various fields of study.
Tailored Scholarship Matches: After you create a profile, the platform uses your details to match you with scholarships that match with your profile.
Comprehensive Scholarship Details: Each listed scholarship is accompanied by a thorough breakdown, so you don't have to panic anymore.
Direct Application Links: There are direct links to the scholarship provider's application page, ensuring you're just a click away from applying.
Scholarship Deadlines and Alerts: Never miss a deadline with their timely reminders. The portal keeps track of closing dates and sends you alerts so that you can submit applications on time.
Wrapped Up 📚
If you're dreaming of lessening that college price tag, there's no time like the present.
Start that scholarship search and grab every opportunity out there. Remember, a little effort now can save you a ton later.
So, gear up and let's get that education money! 🚀