If you're thinking about starting your own online store but don't want to deal with pesky inventory or shipping boxes, then dropshipping might be the way to go.
Dropshipping has really taken off in the e-commerce world lately. It allows you to sell products without actually stocking any inventory yourself.
Of course, with so many dropshipping platforms out there these days, it's important to choose the right one to partner with. You'll want a supplier that has a big catalog of products you can sell on your site.
They need to also handle shipping speedily so your customers get their items fast. Other key things to check are shipping costs, payment options, and customer service support.
Taking the time to find reliable dropshipping websites is worth it to help your new store succeed long-term.
📦 What is a Dropshipping Website?
So basically, dropshipping websites are online stores where the seller doesn't actually have any of their own inventory sitting in a warehouse somewhere.
When a customer buys something on the site, that's when the store owner goes and orders the product from a supplier or manufacturer. The supplier then packs it up and ships it directly to the customer.
It's a pretty handy setup because it means the store owner never has to deal with storing tons of stuff or shipping packages themselves. As soon as an order comes in, they just pass the info along to their supplier partner.
The supplier takes care of picking, packing, and shipping the item from their own warehouse. Then the customer gets their purchase without the store having to lift a finger beyond processing the sale.
Dropshipping websites can also be used with Shopify shipping apps to make your online store shine.
📌 How We Picked the Best Dropshipping Websites
So when we set out to find good dropshipping websites, we looked at a couple of main things we took into account and recommend you to check out too:
Selection of Products:
Wide range of product categories available
Large catalogs with thousands of products
Shipping Speed:
Clear policies on average handling and delivery times
Fast fulfillment centers
Customer Service:
Good reviews and ratings for support response times
Multiple channels to contact support
Costs:
Low or no setup/monthly fees
Reasonable commissions on sales
Payment Options:
Acceptance of major credit cards and PayPal
Other popular payment methods
Website Functionality:
Integration with shopping cart platforms like Shopify
Easy to use catalog and order management dashboard
Robust reporting and order tracking tools
Ease of Use:
Intuitive supplier website interface
Simple process for setting up products in your store
🤝 Why You Should Trust Us
We're a company that knows a thing or two about making websites people love. We've been developing Shopify and WordPress themes for years. In that time, we've helped thousands of online businesses launch successful sites using our templates.

Whether you need an awesome online store or a website to share your ideas with the world, our themes have you covered. We understand what makes a site great - things like easy navigation, customizeability, quick loading speeds and mobile friendliness.
So you can be sure that we have great expertise in distinguishing a good website for you.
🛒 Best Dropshipping Websites for Your Online Store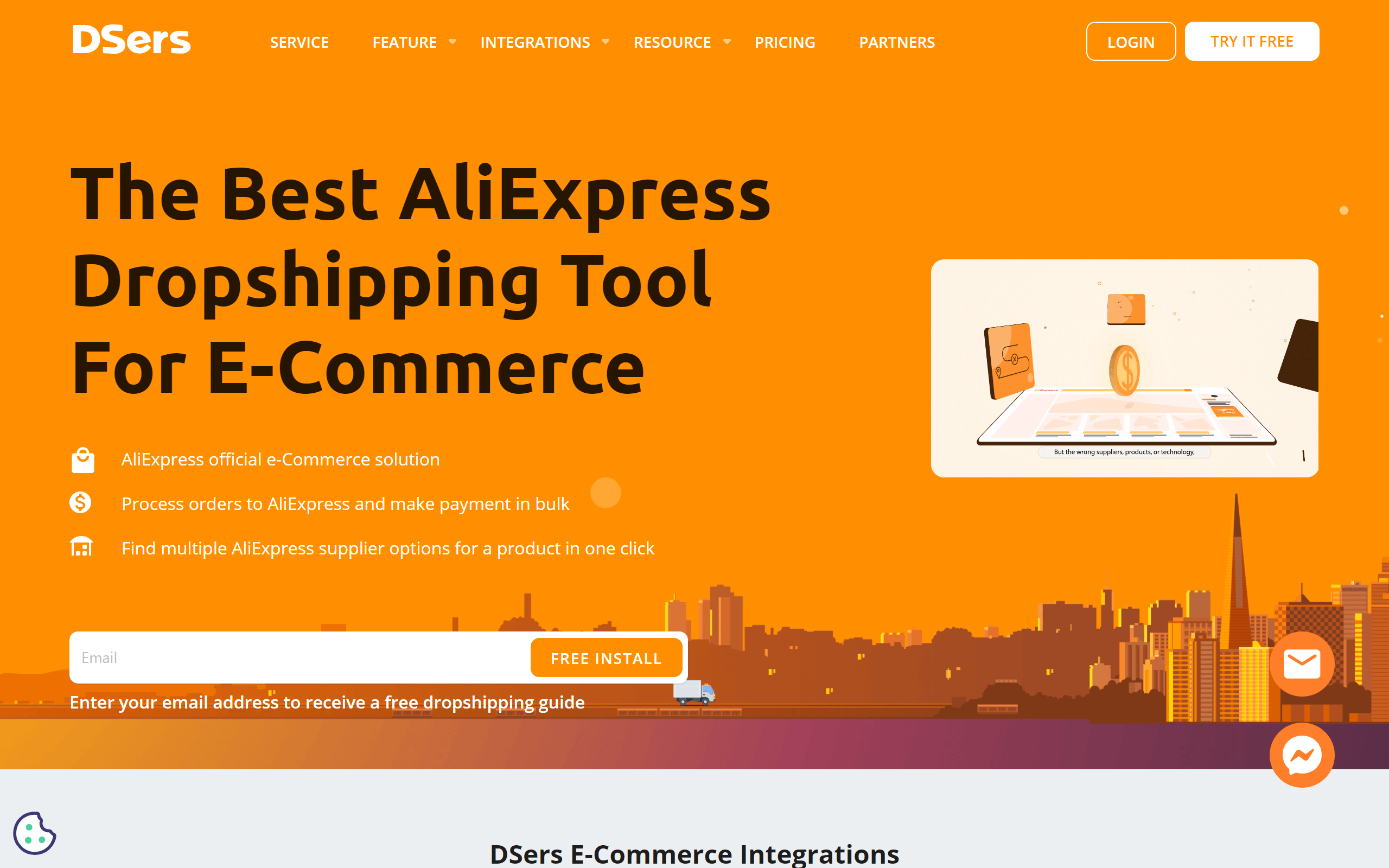 Dsers is among the dropshipping websites that offers tools and services to help people start and run an AliExpress dropshipping business online. So this is one of the dropshipping websites worthy of checking out. It is also one of the best Shopify dropshipping apps out there.
Pros:
It saves tons of time ordering from AliExpress since you can do hundreds at once with a click. No more doing each one manually.
You can track all your sales and orders from multiple online stores in one place, makes managing everything easy.
Finds suppliers on AliExpress for you and ranks them so you can pick the best ones.
Ships orders out for you automatically by sending tracking to customers. Keeps them updated.
Has great customer support if you need help, people there can walk you through anything.
Cons:
It costs money to use some of the more advanced features, the free version limits you.
Managing suppliers and products on the site takes some learning at first. Curve to get used to the system.
You're still selling someone else's products so you have less control over the brand and stuff compared to private labeling your own line.
Pricing:
Basic Plan: Free
Enterprise Plan: $499/month
Pro Plan: $49.9/month
Advanced Plan: $19.9/month
Printify is one of the dropshipping websites that allows people to design and sell customized products like shirts, mugs and phone cases. This one is among the best dropshipping websites out there.
Pros:
You can design products right on their site easily with design tools. No need for fancy graphic software.
They have a huge selection of products you can sell, over 900 different items.
Printify takes care of producing and shipping the items so you don't have to deal with printers yourself.
They integrate with major stores like Shopify, Etsy and eBay so selling is simple.
Their rates are reportedly one of the lowest in the industry since printers compete for orders.
Cons:
You don't fully control the brand or own any inventory like you would with your own print shop.
Adding tons of different designs may be complex to manage in their system.
Customers have to pay shipping costs which can affect sales for items that are further away.
The percentage of profit per item is lower than going at it alone due to Printify's fees.
Pricing:
Basic Plan: Free
Premium Plan: $24.99/month
Enterprise Plan: custom pricing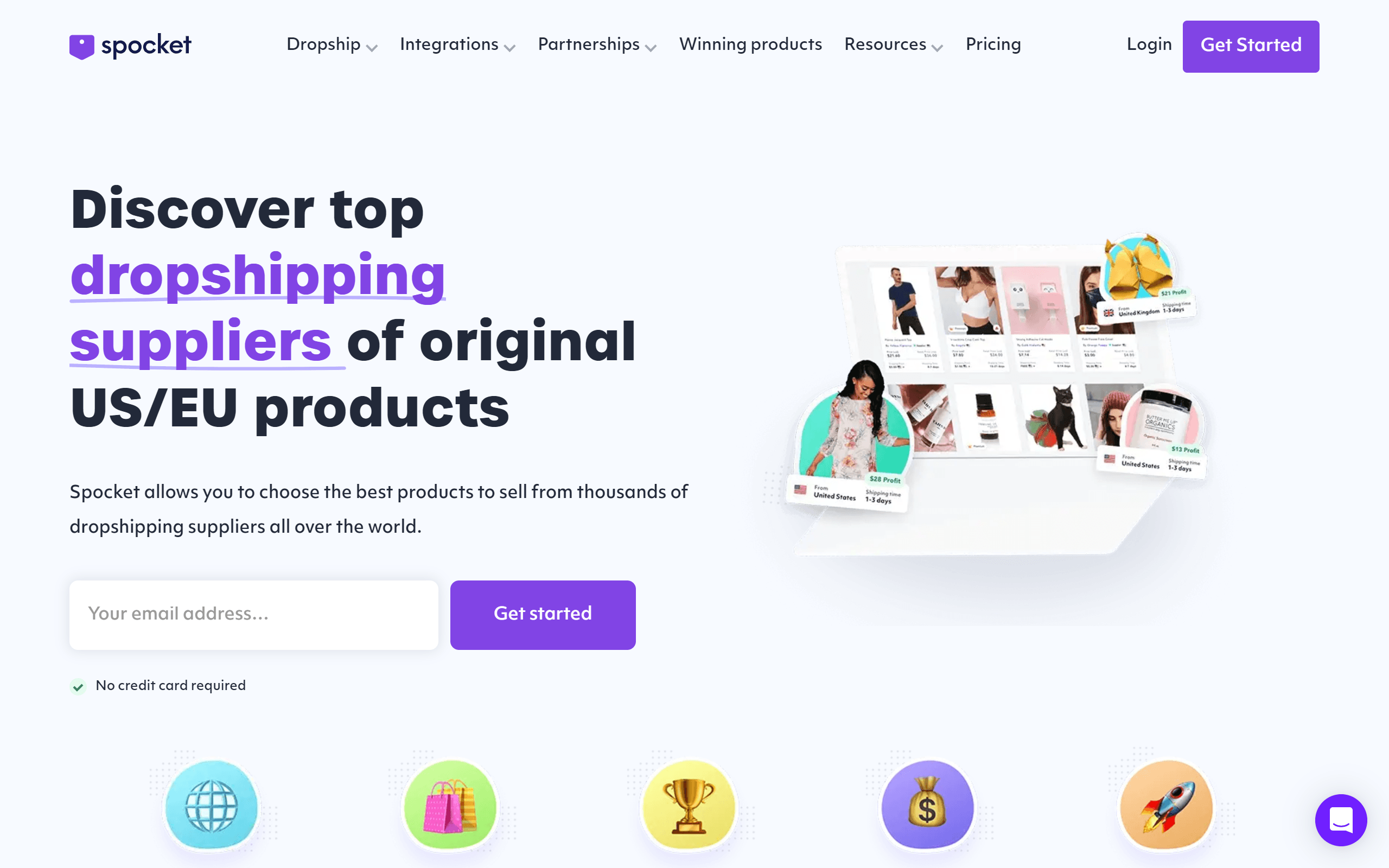 This is one of the best dropshipping websites to start an online store. They make it effortless to set up an online store without stocking inventory. This is one of the dropshipping websites that we would recommend to you.
Pros:
Huge selection of over 10,000 products like jewelry, toys, tech accessories etc.
Super fast shipping from US, UK, and Hong Kong warehouses
Really low commission rates of just 15% per order
Robust store builder platform to create your online shops
Top notch customer service available via live chat, email and phone

Cons:
Minimum order value of $20 may limit some small items
Limited payment options to just credit cards (no PayPal yet)
Product photos could be better quality for some generic items
Pricing:
Basic Plan: Free
Starter Plan: $39.99
Pro Plan: $59.99
Empire Plan: $99.99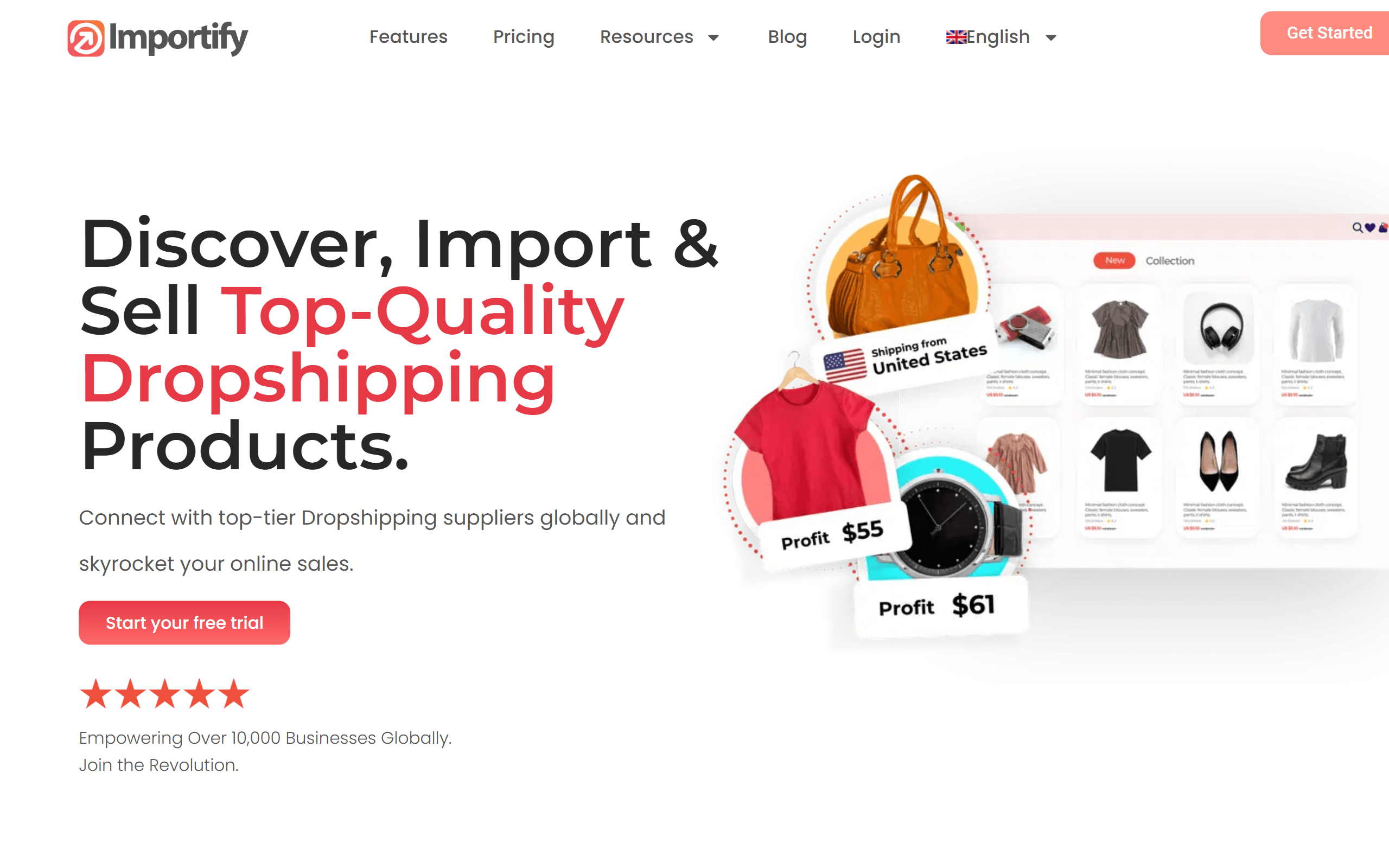 Yet another great option among dropshipping sites. Importify is a popular tool that makes it easy to find products from top suppliers and import them into your online store with just a few clicks.

Pros:
Huge selection of products from sites like AliExpress, Amazon, and Walmart
Simple one-click importing to platforms like Shopify or WooCommerce
Automatic order fulfillment by passing orders to suppliers
Lots of integration options with e-commerce sites
Good support and helpful guides available
Cons:
Pricing can get expensive for larger stores with higher tier plans
Importing custom variations can be tricky sometimes
Limited reviews on supplier pages to check product quality
Pricing:
Basic Plan: $14.95/month
Premium Plan: $27.95/month
Gold Plan: $37.95/month
Doba is a long-running dropshipping website that connects online stores to global suppliers. It allows sellers to easily find products, import catalogs, and pass orders to warehouses for fulfillment.

Pros:
Huge catalog of millions of products across many categories
Helpful tools for filtering, exploring trending items, and price alerts
Streamlined order management through supplier integrations
Dedicated account support to help grow your business
Saves time finding suppliers thanks to vetted, reliable partner options
Cons:
Steeper pricing compared to other import tools for high volume stores
Limited reviews available directly on Doba site for some products
Not as intuitive as newer systems, but extensive features for pros
Pricing:
Free trial: 14 days
Start-up Plan: $24.99/month
Business Plan: $49.99/month
Enterprise Plan: $299.99/month
SaleHoo is a best dropshipping site that helps sellers find reliable suppliers and products to dropship. Their directory has info on thousands of vetted suppliers and millions of items across many categories.
Pros:
Huge database of pre-screened wholesalers and products to choose from
Great research and filtering tools to find trending items
Good training resources to learn the dropshipping business
Integrations make it easy to move products to retailers like Shopify
Dedicated support staff on hand to provide guidance
Cons:
Pricing can get expensive for some of the premium features
Site looks a little dated compared to more modern platforms
Limited direct reviews of supplier relationships and product quality
Pricing:
Annual Access: $67/year
Lifetime Access: $127 (one-time payment)
Gelato is one of the print-on-demand websites for dropshipping that allows sellers to create products like apparel, wall art and more. Their global network handles local production and shipping in over 30 countries.

Pros:
Large selection of customizable products across many categories
Worldwide production and shipping network for fast delivery
Free to start, only pay for finished products shipped
Integrates easily with major e-commerce platforms
Good tutorials and guides for using their services
Cons:
Limited to print-on-demand items only, no other products
Platform feels a bit corporate compared to smaller competitors
Can be harder for total beginners to manage international sales
Pricing:
Free Plan: free
Gelato+ Plan: $14.99/month or $139/year
Gold Plan: $99/month, or $999/year
Platinum Plan: Bespoke pricing model
Wholesale2B is one of the best dropshipping sites that makes the bridge between sellers and suppliers from around the world. Their tools let you import products to sell on sites like Amazon and eBay.
Pros:
Huge catalog of over 1.5 million wholesale items
Good selection of integrations for sites like Shopify and eBay
They claim to take care of orders, returns, and shipping
Provide guides and an online course to learn about dropshipping
Free membership with no credit card needed to get started
Cons:
Limited reviews of actual supplier/product quality
Lots of products can make the site hard to navigate
They take a cut of sales, upping product costs a bit
Beginners may need more hand-holding support
Pricing:
Import to Your Existing Store: $37.99/month
Import to Marketplaces: $37.99/month
They Create a Store for You: $49.99/month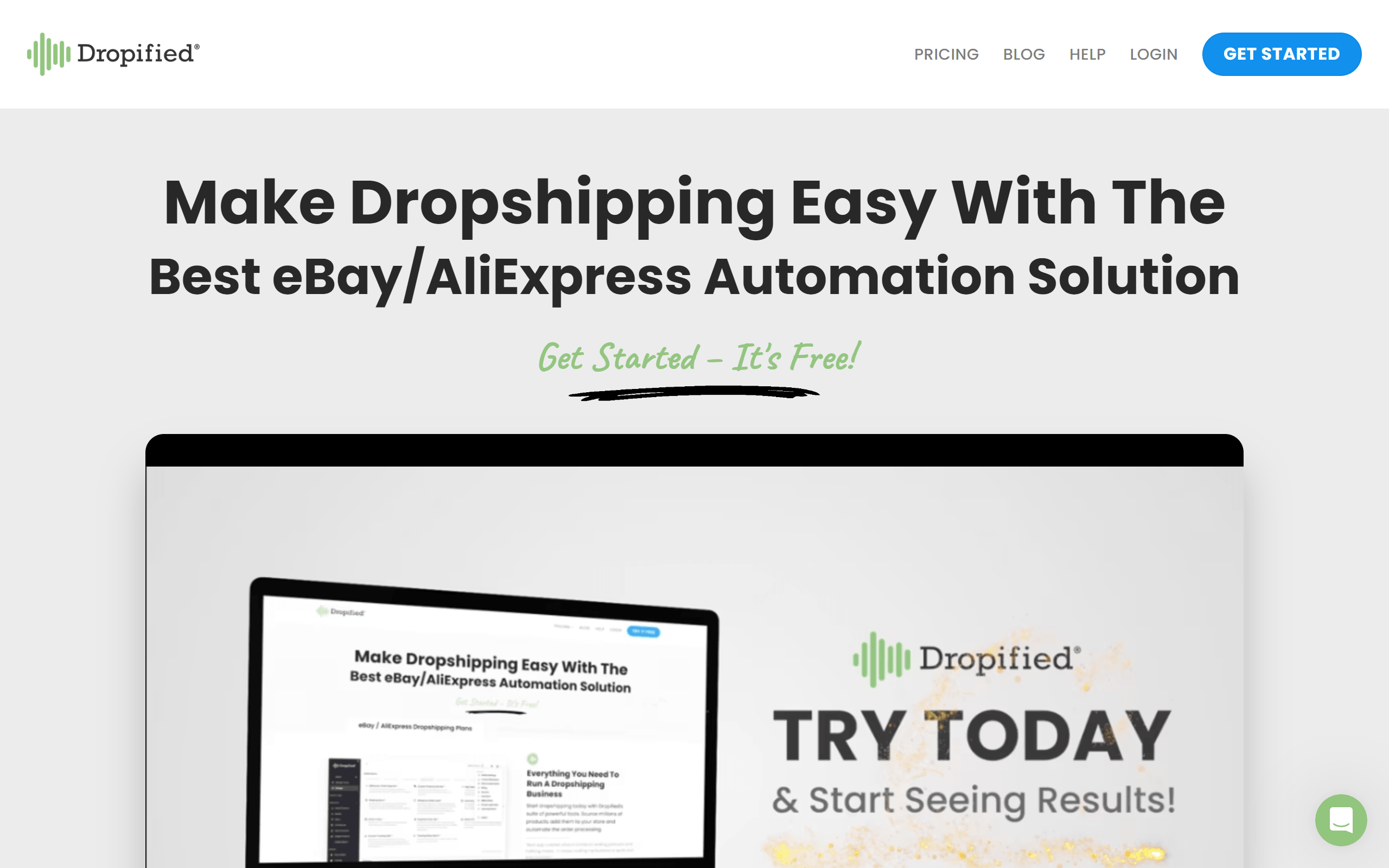 Dropified helps you do all of that with just a few clicks. You can find tons of products to sell from places like AliExpress and eBay right on their site. Adding the products to your own online store is simple too.
Pros:
Easy to search and find products for your store
Simple to import with just a few clicks to add any products
Automates orders to your supplier for shipping
Tracks inventory and can change suppliers easily if one runs out of something
Offers things like order tracking, profit reports, customer reviews
Cons:
Paid subscriptions are requires
Reliant on suppliers may be a complication
High competition
Pricing:
Get Started: free
Import: $14/month
Private Label on Demand: $83
Dropified Black: $250
Syncee is the best websites for dropshipping that connects sellers to tons of suppliers worldwide. Their tools let you easily import products to sell on stores without handling orders yourself.
Pros:
Huge selection of over 7 million products from many suppliers
Integrates smoothly with popular stores like Shopify
Lets you auto-sync orders and inventory updates
Provides good tutorials and tips for beginners
Membership starts free to test things out
Cons:
Reliant on suppliers having the items in stock
May be overkill for casual sellers just dipping toes in
Interface can look a bit cluttered at times
Pricing:
Starter Plan: free
Basic Plan: $29/month
Pro Plan: $49/month
Business Plan: $99/month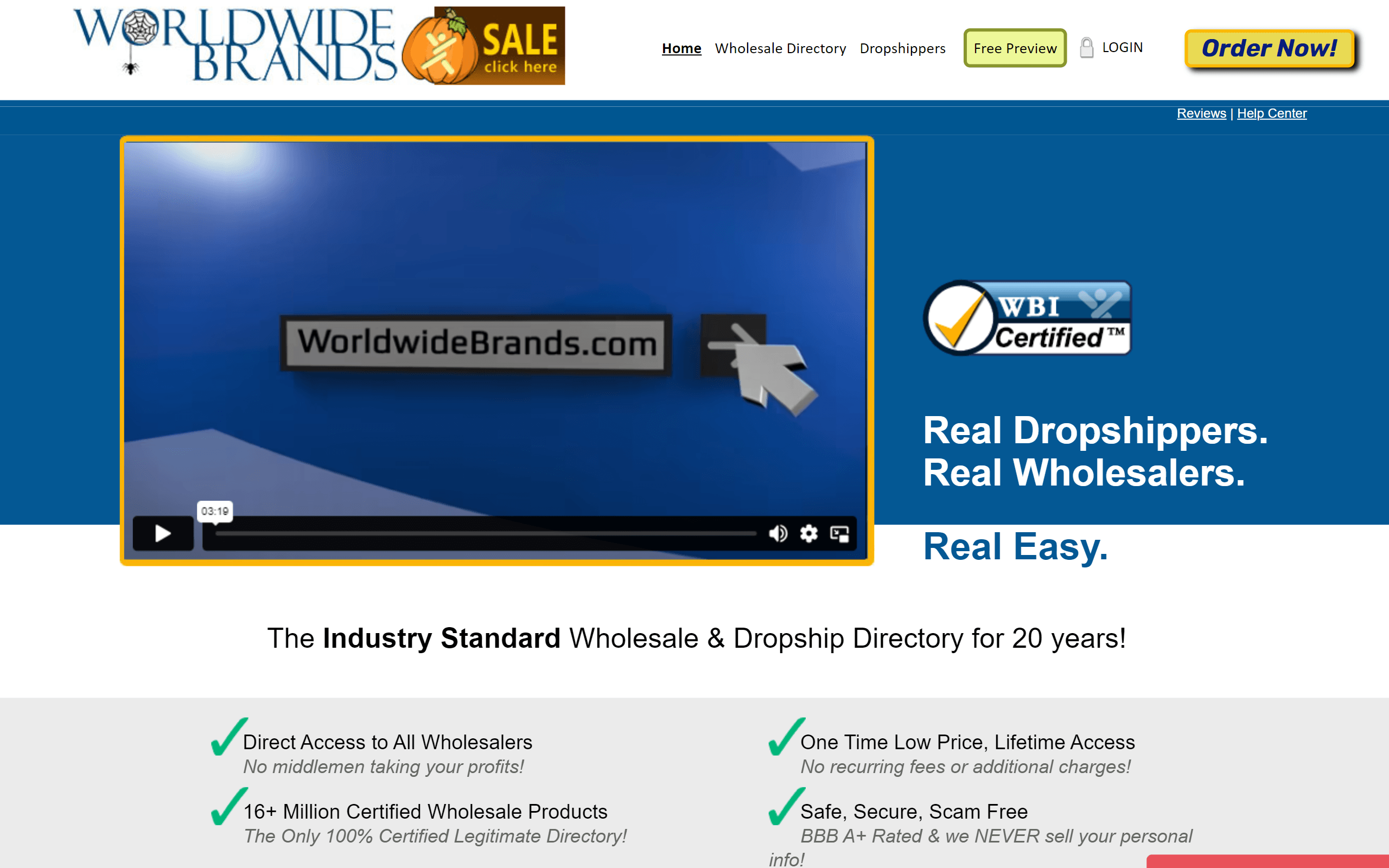 Worldwide Brands is one of the best dropshipping websites. You can search their database of wholesalers and import products to sell online.
Pros:
Huge directory of over 16 million certified wholesale products
Integrates well with stores like Amazon and eBay
Really easy to search suppliers and find contact details
Provides helpful educational articles and tips
Membership has a low one-time price instead of monthly fees
Cons:
Not as automated as some other sites, more manual work
Product selection not as vast as marketplaces
Interface a bit basic and dated looking
Signing up suppliers is a lengthy certification process
Pricing:
One-Time Fee: $299
Recurring Payment Plan: $99 down and 2 payments of $110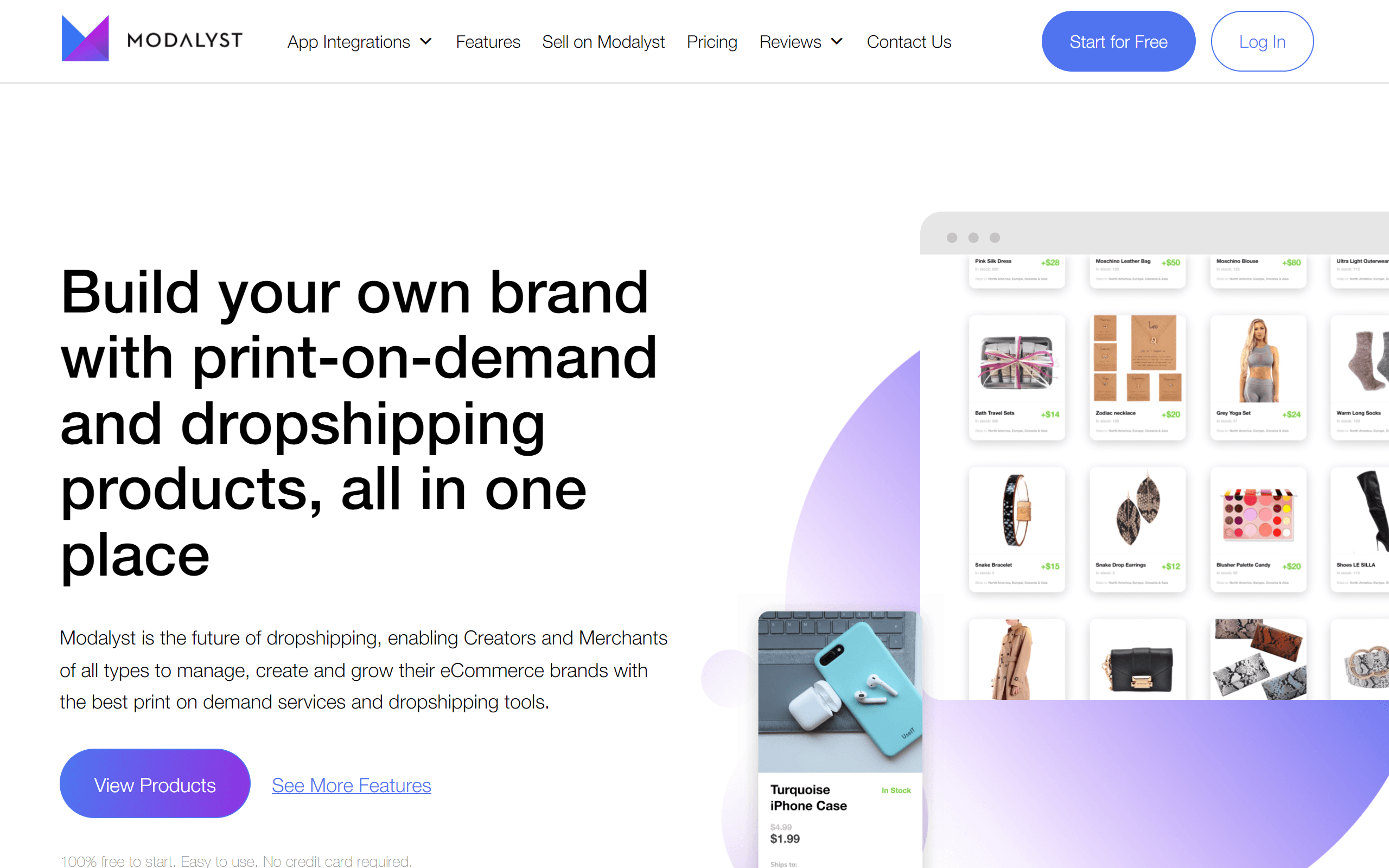 Modalyst is one of those dropshipping sites that makes dropshipping easy. You can find products from US suppliers and AliExpress to sell on your store without stocking inventory.
Pros:
Huge catalog of over 10 million products from many sources
Integrates smoothly with stores like Shopify and BigCommerce
Helps build your brand with customization options
Provides automation for orders, pricing and inventory
Free starter plan lets you try it out risk-free
Cons:
Reliant on suppliers, so out of stock items can happen
Interface can look cluttered and overwhelming
Training videos maybe too brief for total beginners
Pricing:
Hobby Plan: free
Start-Up Plan: $35/month
Pro Plan: $90/month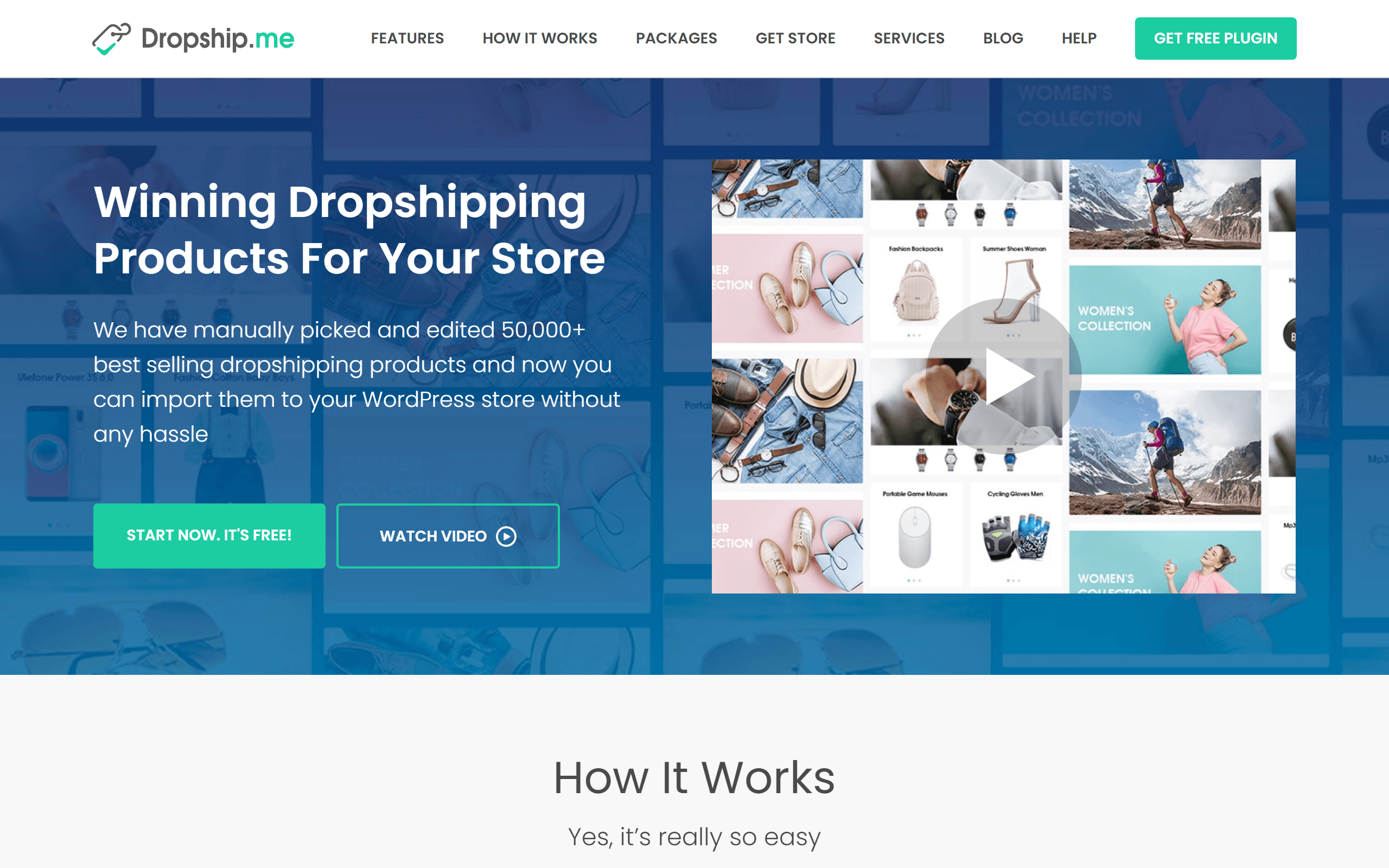 So this is a WordPress plugin that imports lots of already optimized AliExpress products to sell in your online store without dealing with edits or research.
Pros:
Saves tons of time finding and editing products
Over 50,000 products pre-picked by experts
Adds customer reviews to help conversions
One-click importing is super convenient
Free starter plan lets you test it out risk-free
Cons:
Still reliant on dropship suppliers
Webstore customization may be limited
Learning curve for WordPress newcomers
Pricing:
50 Product Imports Plan: free
100 Product Imports Plan: $29
500 Product Imports Plan: $119
1000 Product Imports Plan: $199
AutoDS is an all-in-one dropshipping website that makes dropshipping completely automated. It helps you find products, import to stores, manage orders and inventory.
Pros:
Saves tons of time finding, importing and fulfilling orders
Automates everything like prices, tracking and stock levels
Integrates with many stores like Shopify, Wix, eBay and more
Has guides, courses and live support to help at any stage
Great selection of suppliers from US, China and worldwide
Cons:
Still reliant on suppliers, so out of stock issues possible
May be overkill for simpler dropshipping stores
Learning curve to use all tools effectively
Pricing:
Import 200 Plan: $9.90/month
Starter 400 Plan: $17.90/month
Advanced 800 Plan: $32.90/month
Fulfillbot is a global order fulfillment service that handles all aspects of dropshipping for online sellers, from sourcing to warehousing to delivery. This is the best dropshipping site out there.
Pros:
Ships from multiple worldwide locations for fast delivery
Automates order management, tracking and inventory
Provides product sourcing, private labeling and FBA prep too
Integrates with major sales channels like Amazon, eBay, Etsy
Dedicated account managers and volume discounts available
Cons:
More expensive than doing it all yourself
Less control over the fulfillment process
Reliant on their warehouse locations and shipping carriers
Pricing: Free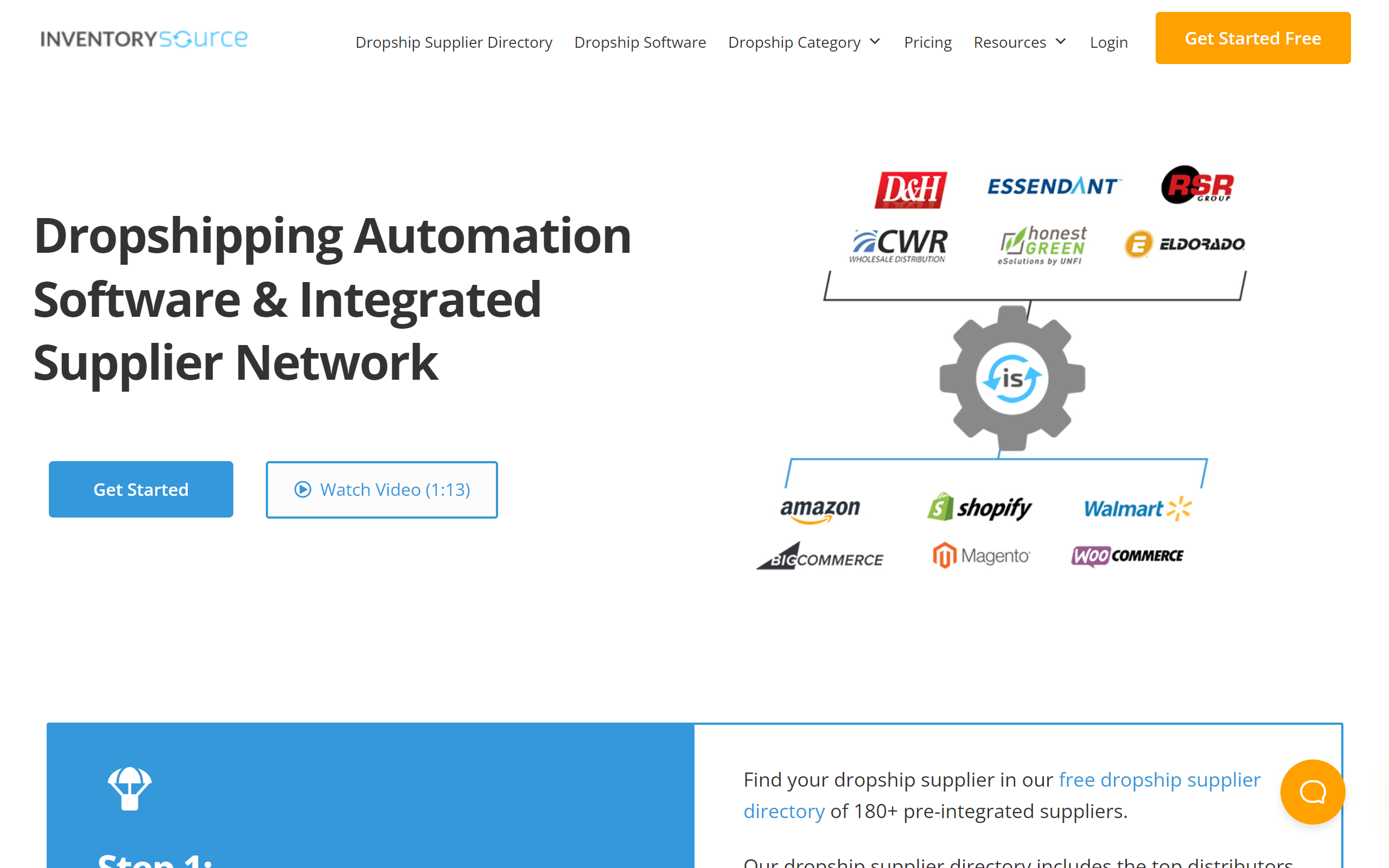 Inventory Source is a dropshipping automation platform that connects online sellers to a directory of suppliers. It helps automate order processing, so this is one of the best dropshipping websites.
Pros:
Huge network of over 180 integrated suppliers globally
Wide product selection across many categories
Automates orders, shipping, inventory updates
Integrates with shops like Amazon, Shopify, eBay easily
Provides guides, tutorials and support resources
Cons:
Pricing tiers can get expensive for larger stores
Not as customizable as standalone solutions
Reliant on partner suppliers for inventory availability
Pricing:
Directory Account: free
Inventory Automation: starting at $99/month
Full Automation: starting at $199/month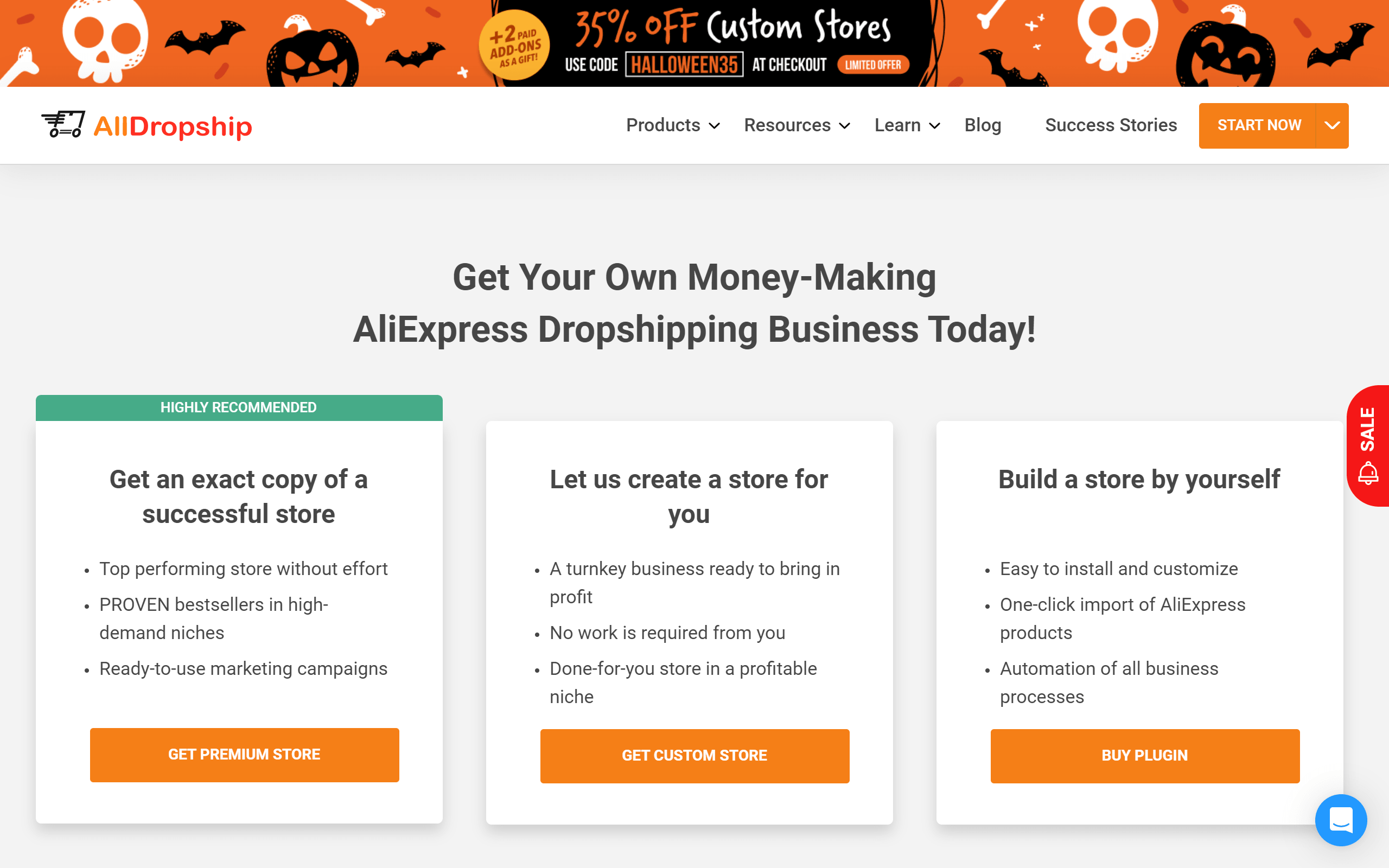 AliDropship is one of the best websites for dropshipping for starting an AliExpress dropshipping business, from plugin to build your own site to having them create a custom store for you.
Pros:
Huge selection of products from AliExpress integrated
Can order a turnkey store or build it yourself with their plugin
Lifetime support included which is handy
Provides lots of educational resources for learning
Options starting from just $89 make it accessible
Cons:
More expensive than DIY for smaller stores
Not as customizable as standalone solutions once the store is made
Reliant on AliExpress for suppliers and inventory
Pricing:
Custom Store Plan: $299
Premium Store Plan: $300
AliDropship Plugin: $89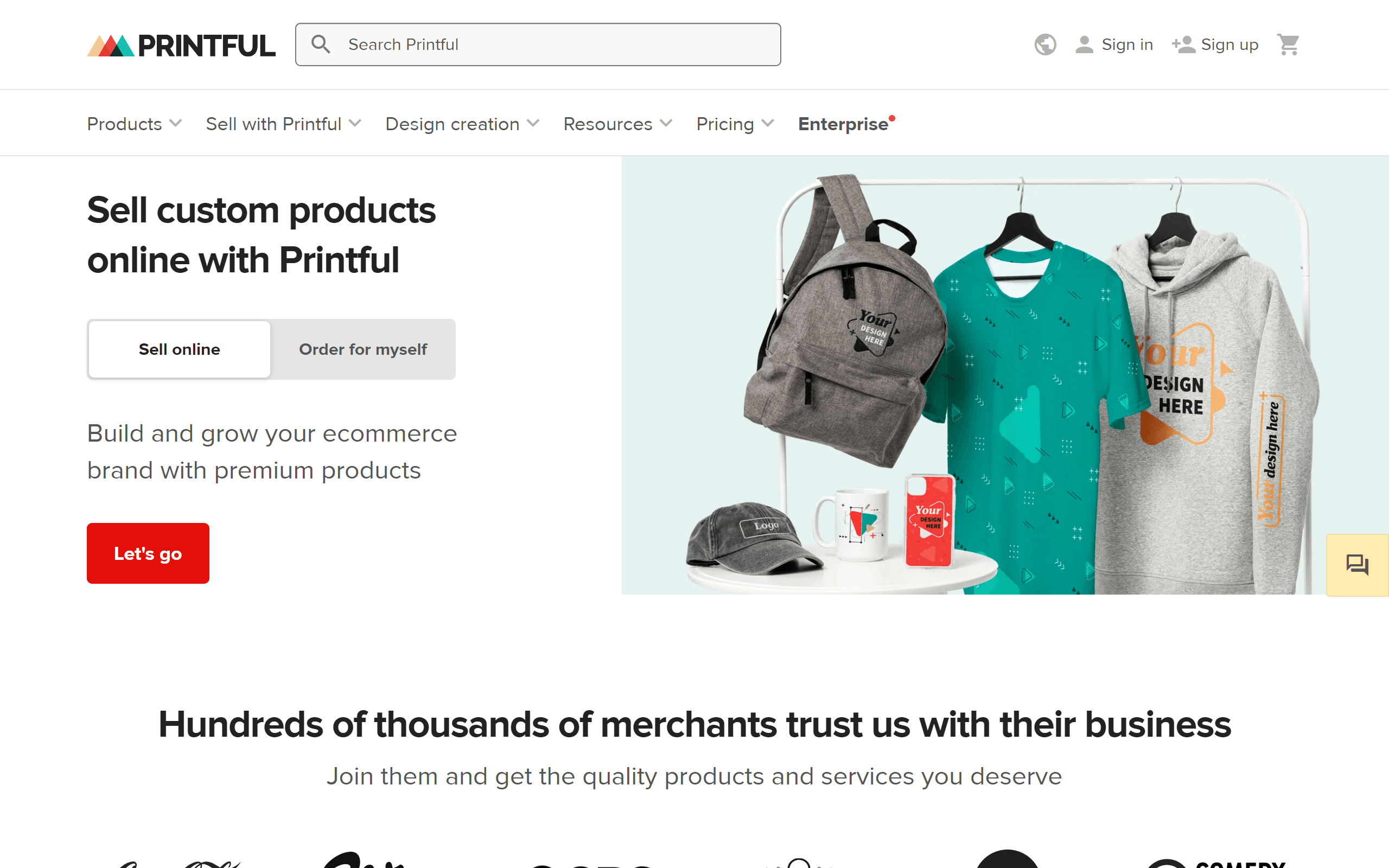 Printful is one of the dropshipping sites that helps online sellers create print-on-demand products like apparel, accessories and home goods without upfront costs or inventory worries. This website is among the best free dropshipping websites.
Pros:
No minimum orders or stocking products yourself
Wide selection of customizable products to sell
Printing and shipping handled by Printful
Integrates with major sales channels smoothly
Good quality printing and fast fulfillment
Decent profit margins on print-on-demand items
Cons:
Have to set your prices higher to cover their fees
Limited design customization on some products
Charge for samples and some revisions
Pricing:
Printful Growth Plan: $24.99/month
Printful Business Plan: custom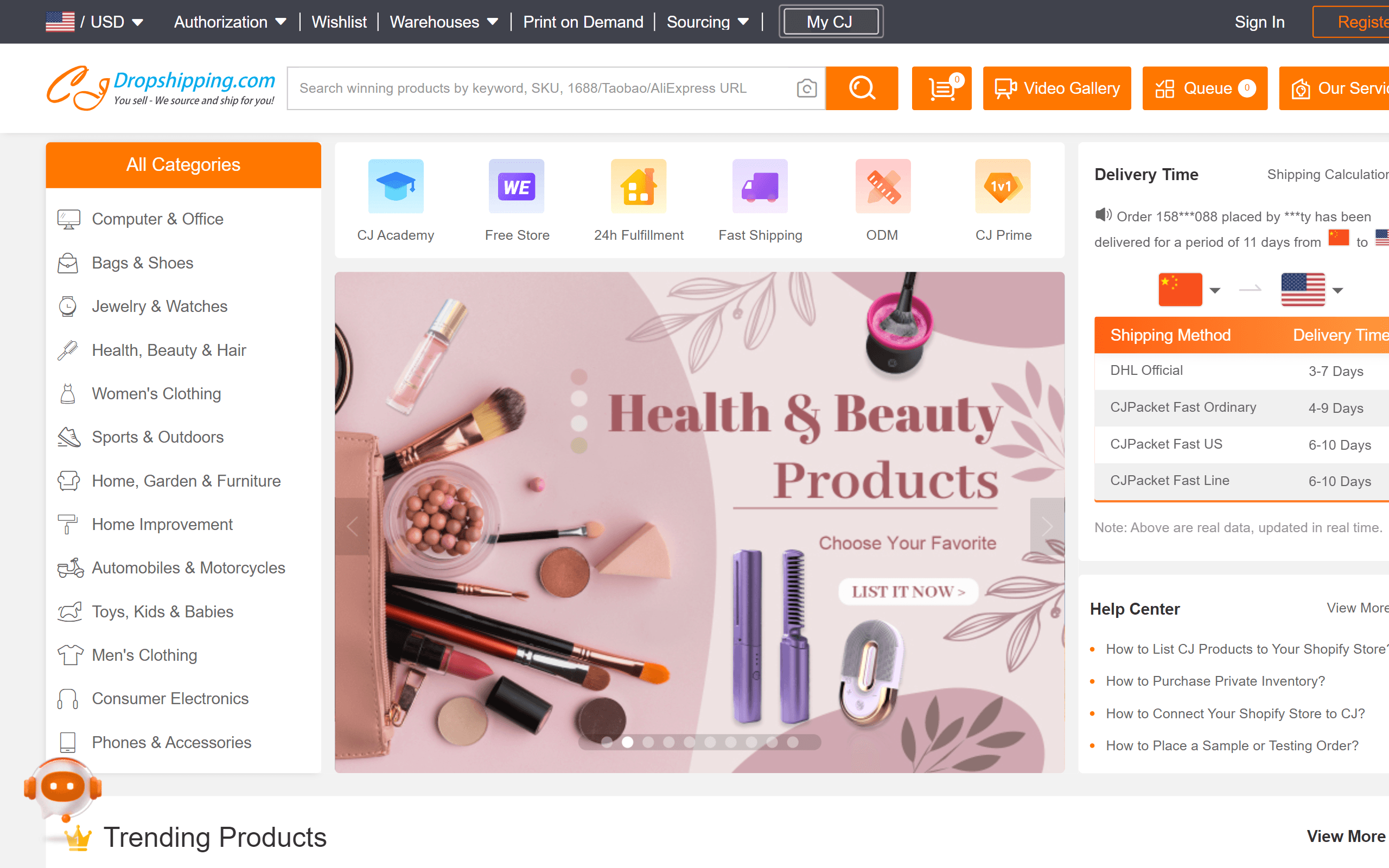 CJdropshipping is among the best dropshipping sites that connect online retailers to global suppliers. Sellers can source products there and use their fulfillment services to have items shipped directly to customers.
Pros:
Huge product catalog from many suppliers worldwide
Provides warehousing and shipping services in multiple countries
Offers plugins/integrations for stores like Shopify
Great learning resources and guides on their academy site
Free basic accounts to try them out risk-free
Cons:
Fee-based services can get costly at high order volumes
Reliant on CJ's suppliers and warehouses
No full customization if using their listings & services
Pricing: Free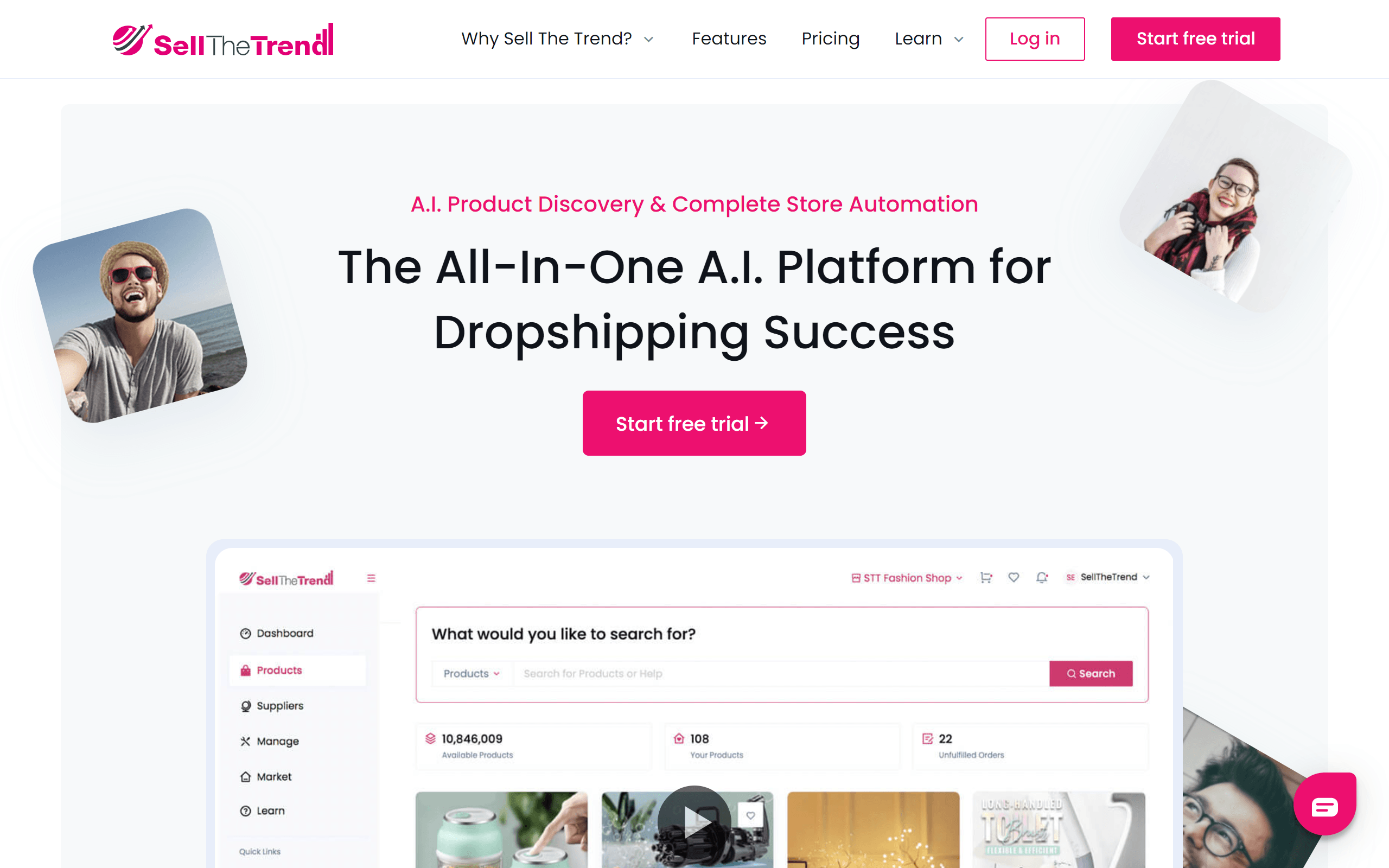 Sell The Trend is the best dropshipping websites that helps dropshippers find products, create stores, and manage orders. They use AI to analyze trends and provide integrated tools.
Pros:
AI searches millions of products to find winners
Discovers trending items on TikTok and Facebook
Lets you build nice looking stores with no coding
Order fulfillment integrates with suppliers
Good resources and learning materials included
Free trials make it low commitment to test it
Cons:
Can get expensive for higher volume stores
For simpler stores, other solutions are cheaper
Reliant on their database of products/suppliers
Pricing:
Essential Plan: $39.97/month
Pro Plan: $99.97/month
Dropship Spy is a platform that researches products and gives dropshippers data on trends and what's selling well. They provide info to help find and sell winning items. So this is one of the best free dropshipping websites.
Pros:
Has data on over 10,000 tested, selling products
Gives social proof, video ads, profit forecasts etc
Finds trending items on AliExpress too
Helps target buyers with audience insights
Free trials allow testing before committing
Good support and resources included
Automatically imports products to Shopify stores
Cons:
Monthly fees after free trial expires
Reliant on their data for research
Can't customize products as much as self-sourcing
Pricing:
Pro Membership: $39/month or $119/year
Summed 🆙
Setting up your own online store to do dropshipping can seem daunting if you've never done it before.
But dropshipping websites take a lot of the legwork out of it. By using research tools and integrated services, you can get your store up and selling winning products in no time.
They provide lots of support to help ensure your success too. So don't be afraid to just dive in - these sorts of websites and marketplaces make it super easy to start your eCommerce adventure.
Give their free trials a shot to get experience running a real online shop. With the right supplier behind you focusing on fulfillment, you can promote your items with confidence.